Hey beauty aficionados! Ever wondered why purple nails can make even the simplest sandals look chic? Today, we're not just talking about slathering on some purple polish and calling it a day. We're diving into how this royal hue can elevate your whole vibe, from its luxurious history to its mysterious allure. By the end, you'll know how to prep your feet like a pro, which purple shades look best on you, and how to go beyond a basic pedicure. Ready to turn your toes into tiny works of art? Trust me, once you dip your toes (literally) into the world of purple pedicures, you'll wonder why you didn't explore it sooner. Let's get started!
Light Purple Nails: The Understated Elegance
Let's start with the basics, shall we? Light purple nails are like your favorite pair of jeans—classic, comfortable, and fit for nearly any occasion. I remember going for a light lavender pedicure before a hectic week of meetings. It was subtle but gave me that dash of elegance and confidence every time I glanced down. You can play it safe with lighter shades while stepping out of your neutral comfort zone. Mix and match, or go for a single hue—either way, you're making a delicate yet impactful statement.
Dark Purple Nails: The Bold Statement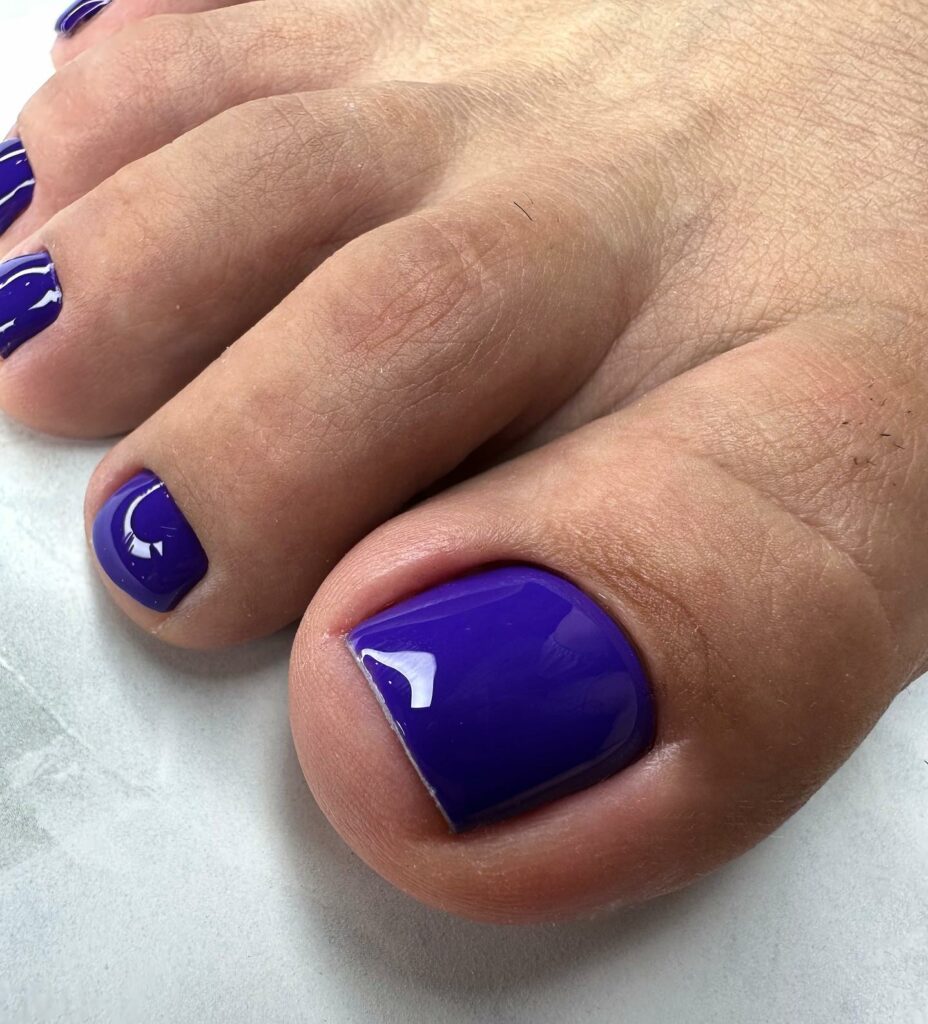 For those who love to command attention, dark purple is the way to go. I wore a deep plum pedicure to an art gala once, and let me tell you, my toes got almost as much attention as the art! Dark purples offer you a spectrum of expressions, from mysterious to regal. You can add an accent nail or tiny gemstones if you like bling, or pair it with a dramatic lipstick to tie the whole look together.
Black and Purple Nails: The Power Duo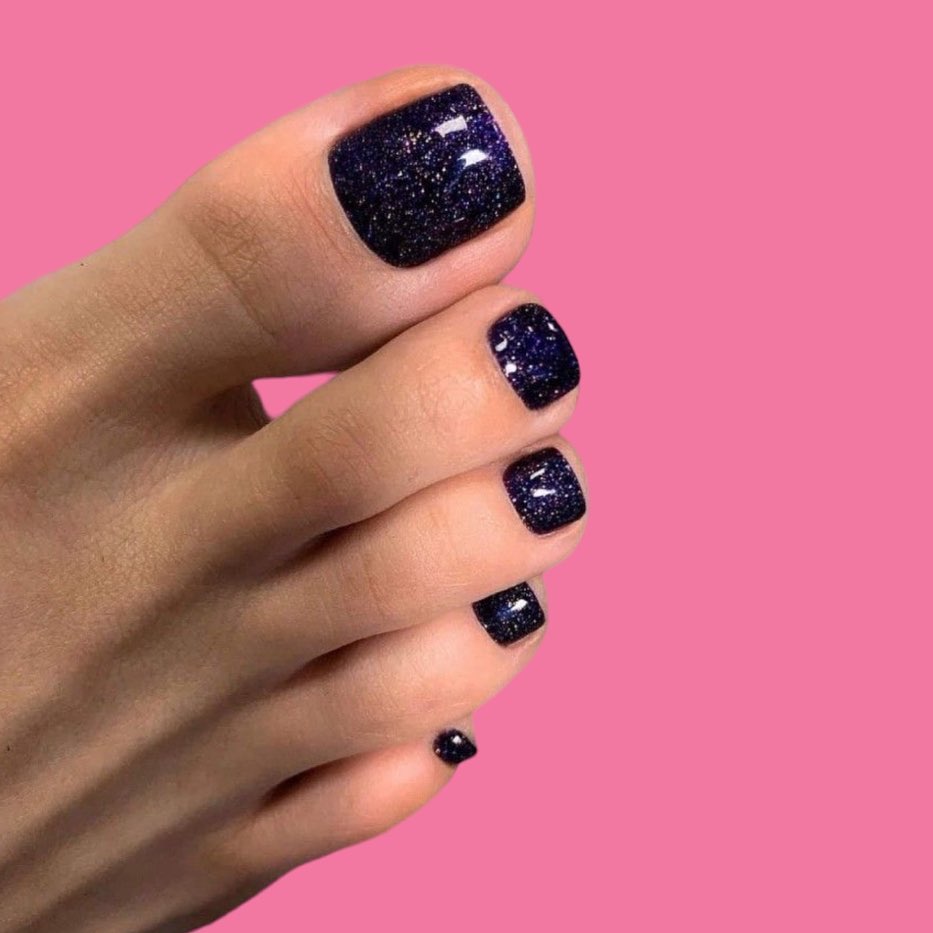 Looking to make an even grander statement? Pairing black with purple nails screams authority. It's as if you're wearing a power suit—on your toes. This combo reminds me of the night sky; it's both dramatic and deeply comforting. You can personalize this look with nail art, shimmer, or a matte finish. Trust me, you'll feel like the CEO of your life.
White and Purple Nails: Fresh and Chic
If you want your pedicure to be as refreshing as a spring breeze, mixing white with purple is your ticket. This combination offers endless room for creativity. Stripes, florals, or simple dual-tone designs—your canvas is wide open. Personally, I adore painting tiny white lilacs over a purple backdrop. It's like carrying a bouquet wherever I go!
Purple Ombre Nails: A Gradient Dream
Ombre isn't just for your hair, people! Purple ombre nails offer a sophisticated gradient that's absolutely mesmerizing. I remember trying this for a beach holiday; my toes looked like a sunset over the ocean. Light to dark or infused with other hues like white or black—each gradient tells a story. Make it yours.
Matte Purple Nails: The Subtle Showstopper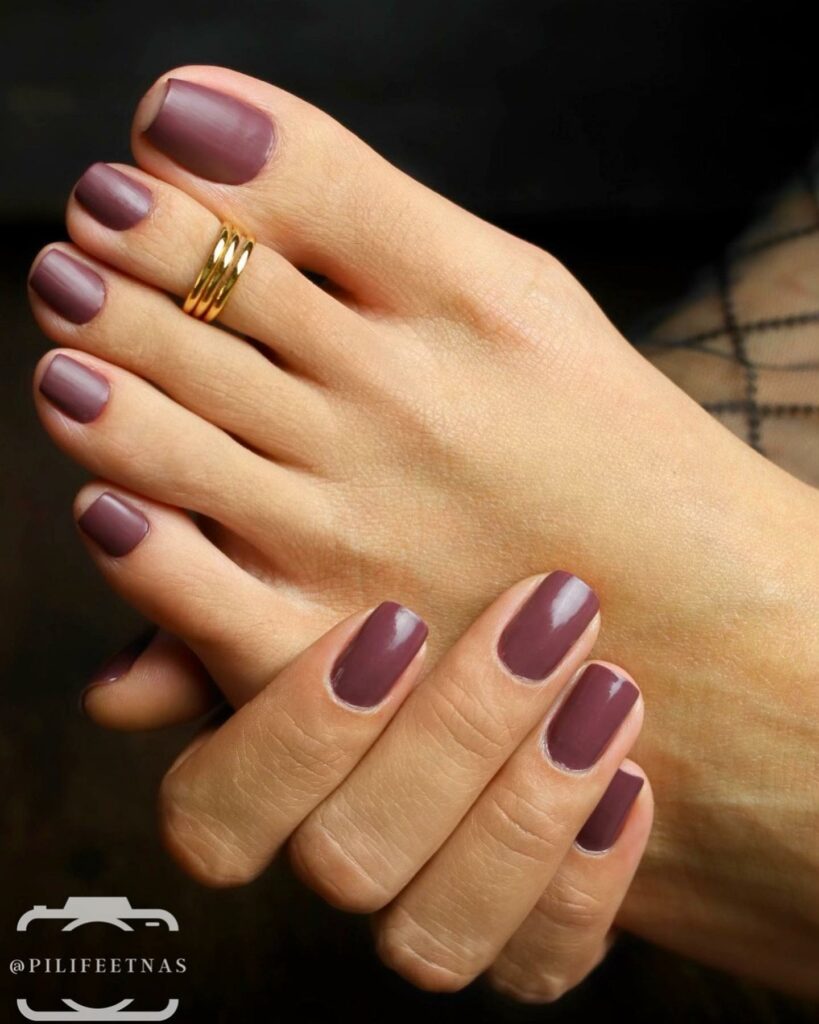 Don't want the glare but still wish to make heads turn? Go matte. Matte purple nails take that inherent 'look at me' vibe of purple and dial it down to a 'let's have a thoughtful conversation.' You can vary the shades or even go monochrome for a subdued yet striking appearance.
Purple Glitter Nails: Sparkle On!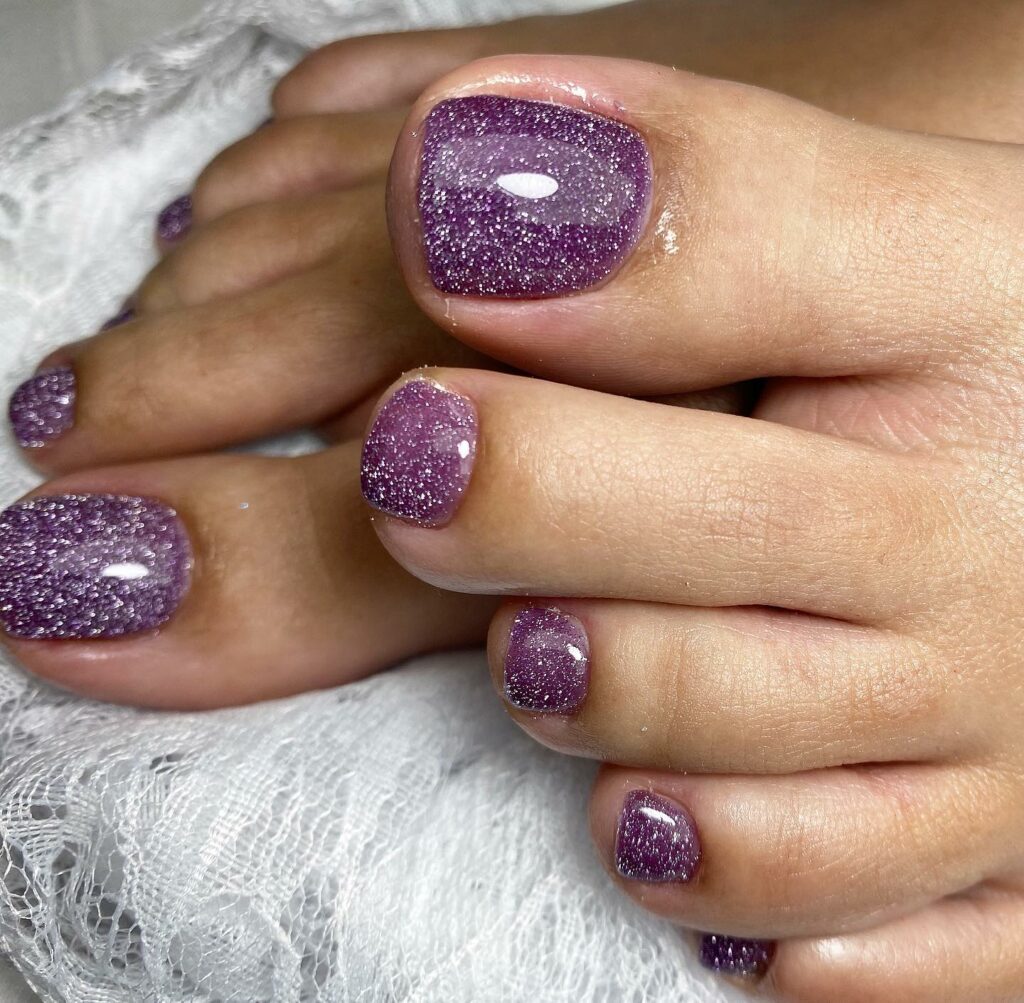 If you're anything like me and think life is better with some sparkle, purple glitter nails are your BFF. A sprinkle of glitter can glam up even the simplest pedicure. I like to place glitter on the tips for a classy yet fun look that doesn't scream "holiday season."
Blue and Purple Nails: The Cool Combo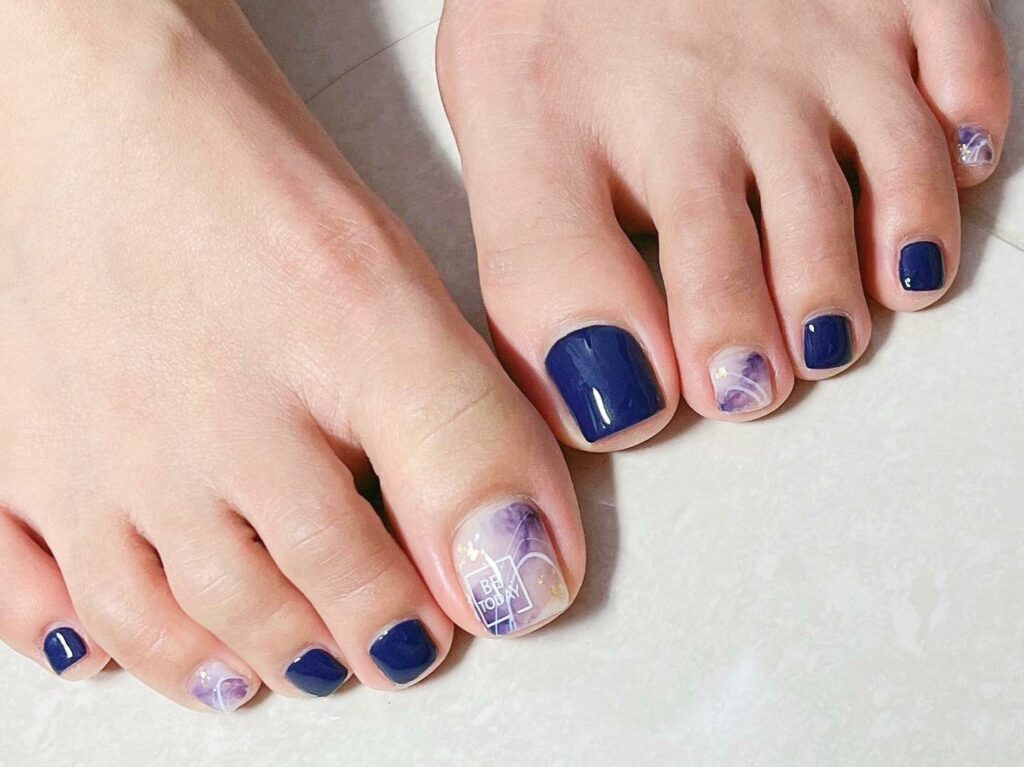 Blue and purple go together like weekends and Netflix—effortlessly fabulous. The hues blend well and offer an aesthetic appeal that's soft on the eyes but strong on impact. From shimmery to matte, these colors offer a palette as versatile as you are.
Pastel Purple Nails: Soft and Dreamy
There's something ethereal about pastel shades. Pastel purple brings in a softness that's versatile yet stylish. Whether you're going for a romantic dinner date or a laid-back weekend, this shade has your back—I mean toes!
Purple Butterfly Nails: Symbolism Meets Style
Remember the '90s butterfly clips? Well, they're back—in your pedicure! Purple butterfly nails offer a whimsical touch to your toes. They also signify transformation, so what better way to express it if you're in a phase of change?
Neon Purple Nails: For the Bold and the Brave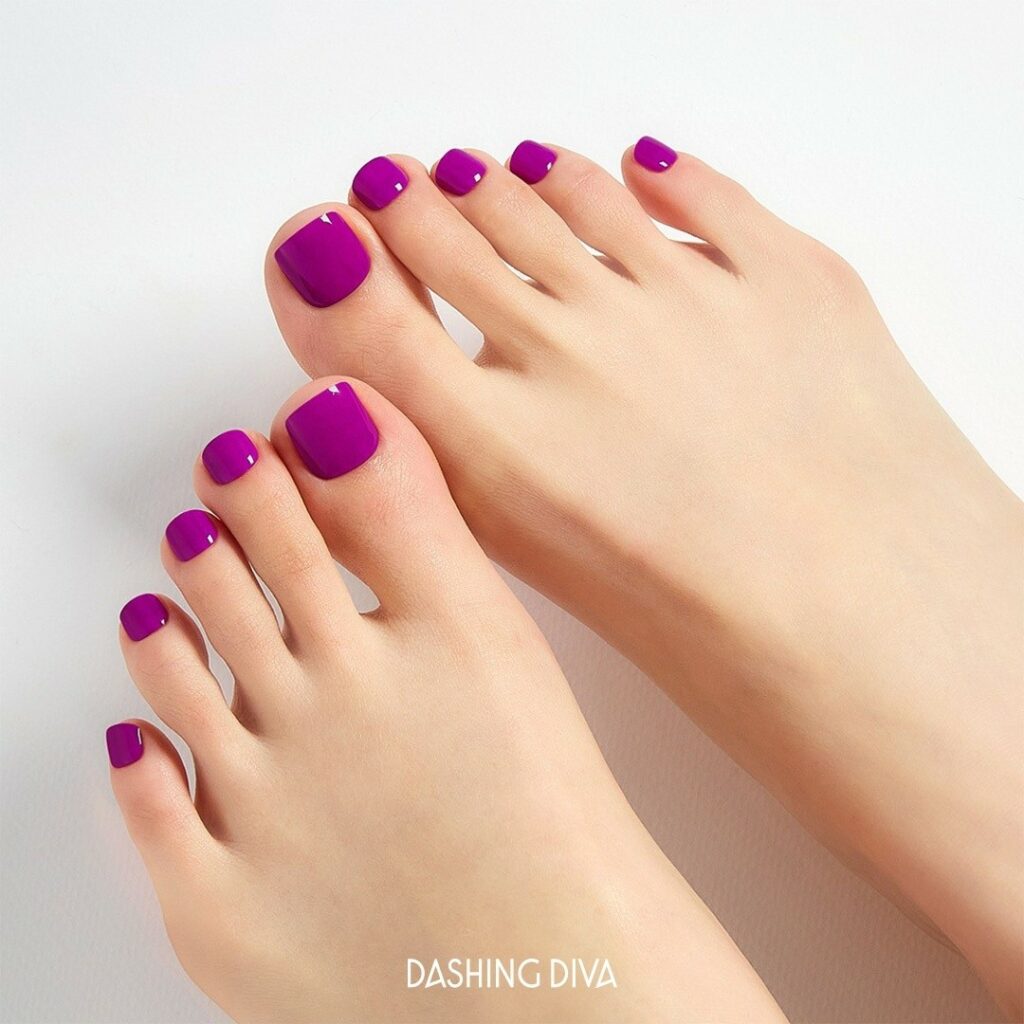 Neon purple is your jam if you love making a splash wherever you go. It's bold, it's striking, and it's oh-so-memorable. A single shade does the trick and prepares you to steal the spotlight effortlessly.
Purple Tip Nails: The French Twist
If you're a fan of the classic French pedicure but yearn for a vibrant update, purple tips are a genius way to do it. The playful burst of color transforms the usual into the unforgettable.
Purple and Yellow Nails: The Unexpected Pairing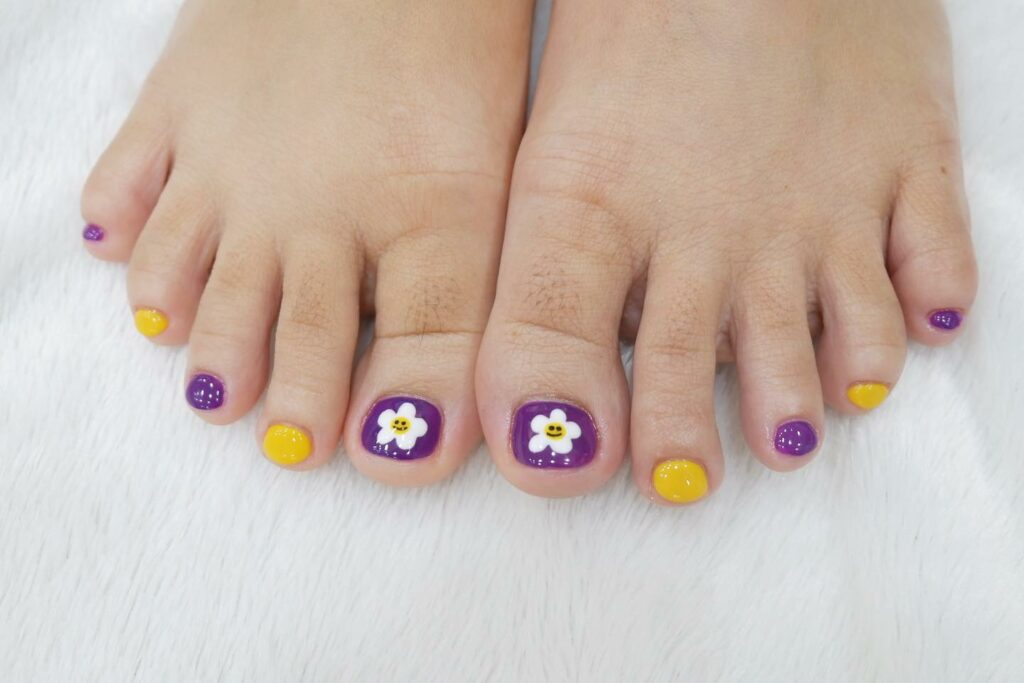 Purple and yellow nails are like that unexpected friendship—you didn't see it coming, but it's fantastic! The vibrant and visually striking blend makes even the most straightforward pedicure pop.
Pink and Purple Nails: Feminine and Fabulous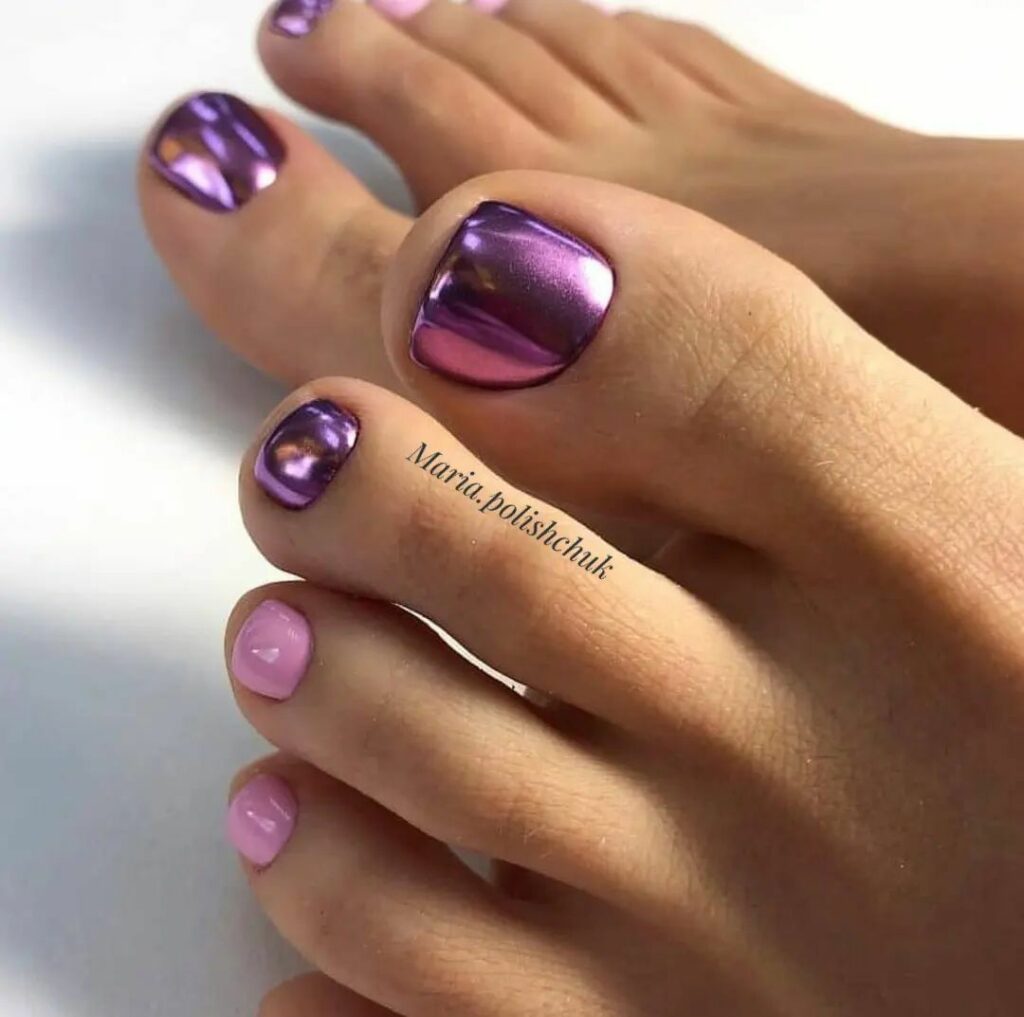 Soft yet impactful, this combination adds a sprinkle of femininity to your pedicure. It works for all nail lengths and offers a variety of shades to play with. Pink and purple are like the PB&J of the nail world—always a good idea.
Purple and Green Nails: The Playful Duo
The purple and green combo is a splash of fun in a world of neutrals. Great for summer outings or just for adding some pep to your step, this combination is as versatile as it is vibrant.
Purple and Orange Nails: Embrace Your Groovy Side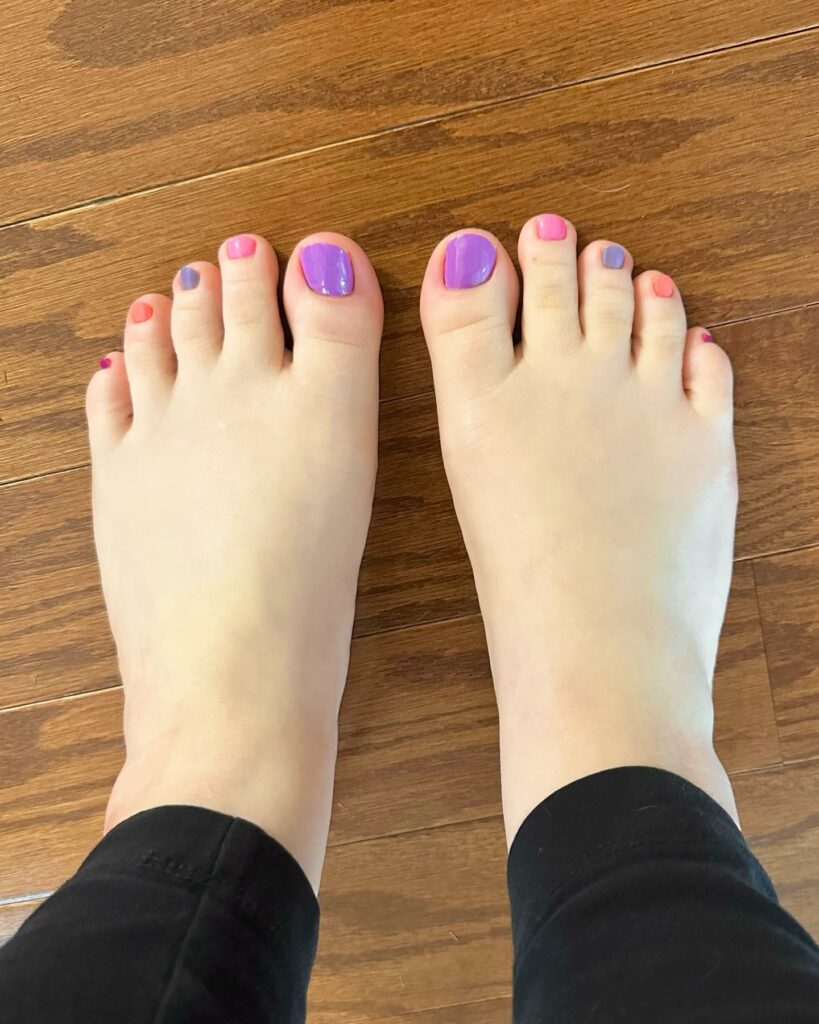 Ah, purple and orange—don't these colors transport you straight back to the disco era? I remember rocking this combo on a '70s-themed night, and the compliments kept flowing. Whether you love color-block patterns or intricate designs, this duo brings out your inner retro diva. Feeling adventurous? Pair this nail art with your favorite chunky jewelry to amplify that vintage charm.
Red And Purple Nails: The Dynamic Duo
If red is the Audrey Hepburn of the nail world—timeless and attention-grabbing—then pairing it with purple is like adding a little Lady Gaga: unexpected, intriguing, and totally memorable. I tried this combo last Valentine's Day, opting for whimsical squiggles and color-tipped edges, and it was a total hit! Trust me; this combo is for those who want to express their flair and creativity. Just a pro tip: Your toes will be the showstopper, so make sure they're up to par!
Purple And Silver Nails: Futuristic Glam
When I'm in the mood for something that screams "cosmic luxury," I love blending purple with silver. This combo adds an elegance that never fails to steal the spotlight. Last year, I wore this nail art to a tech-themed party, and it felt like I was flaunting tiny galaxies on my fingertips. Whether it's a laid-back day out or an upscale dinner, this color pairing fits the bill.
Purple And Mint Flame Nails: Be the Talk Of The Town
The first time I tried purple and mint flame nails, my Instagram DMs were flooded with questions about the salon and shades. Mint green has this effervescent quality that adds life to any color it meets, especially something as versatile as purple. This design is perfect if you want something fresh, zesty, and unconventional. Flames aren't just for show; they can symbolize your fiery passion or signal a new beginning.
Holographic Purple Toenails: Shimmer and Shine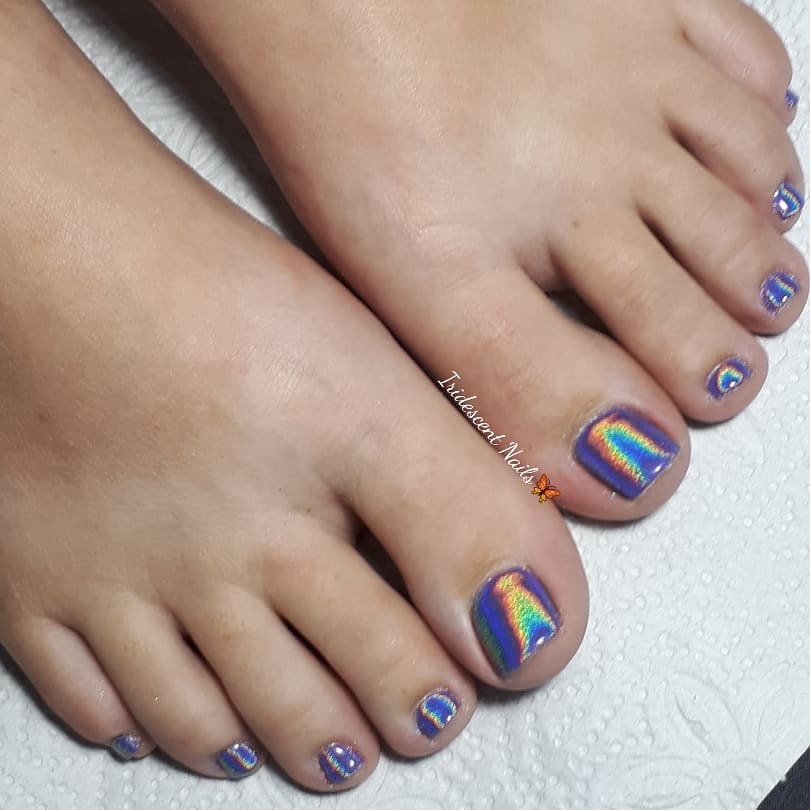 Don't let your fingers have all the fun! As someone who loves a good beach day, I know the power of a stunning pedicure. Holographic purple toenails can be your secret weapon this summer. Imagine wiggling your toes in the sand and catching those solar glares—it's like tiny disco balls at your feet! A pedicure in this high-shine shade ensures that you're a walking, talking masterpiece from head to toe.
Abstract Plum: The Art Gallery on Your Nails
Spring is the perfect season for experimentation, and what better way to do it than with an abstract plum manicure? Think of swirly designs and negative spaces that create a chic look. I remember trying this out last spring, and it was like having mini art installations at my fingertips!
Ametrine-Inspired: For the Crystal Lovers
If you've got a thing for crystals and gemstones (who doesn't?), you'll adore these ametrine-inspired nails. Light purple polish complemented by gold outlining feels as balanced and creative as the ametrine gemstone. I wore this design to a yoga retreat, and let me tell you, even the instructor was impressed!
Purple Crushed Velvet: Year-Round Glam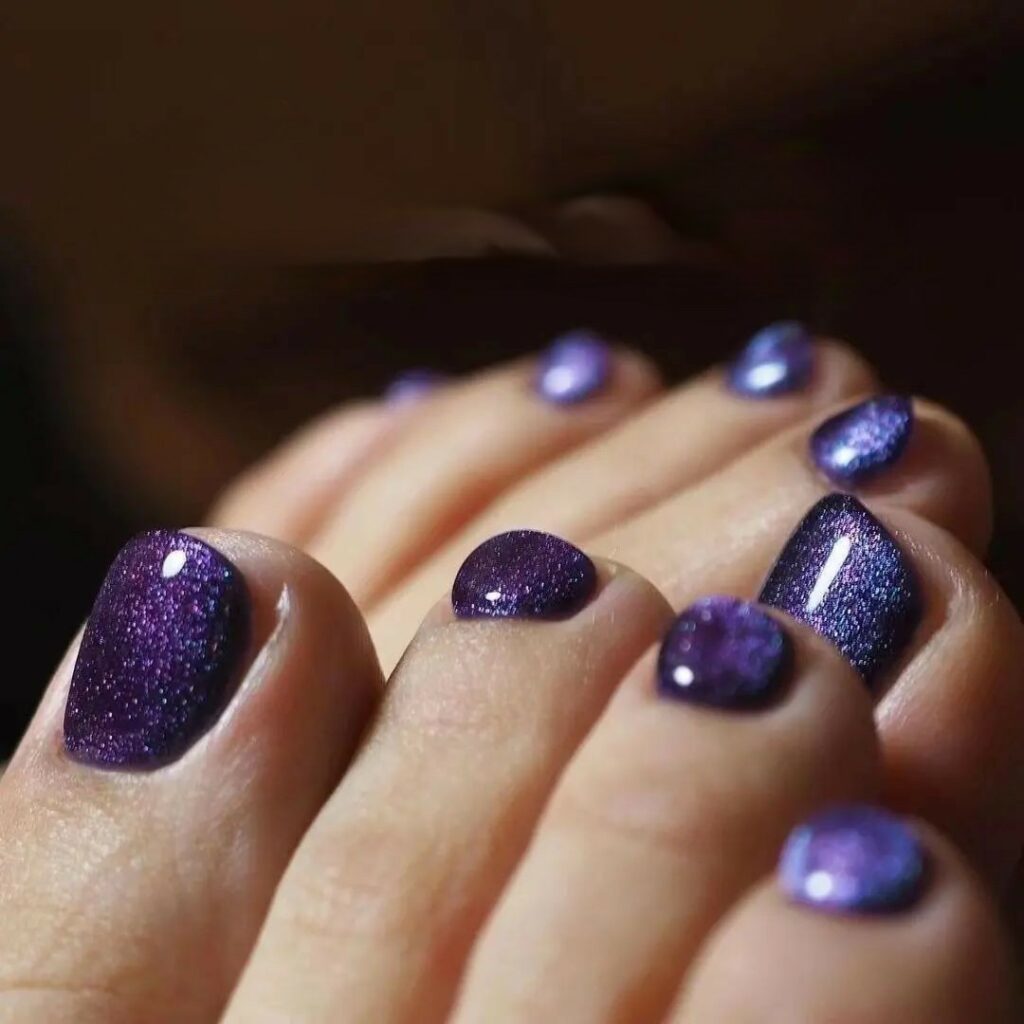 Who said you could only flaunt magnetic nails during the holidays? A crushed velvet design in sparkly purple is a real showstopper. The last time I had these, I couldn't stop staring at the mesmerizing shine whenever the light hit my nails!
Pink And Purple Swirls: Smile-Inducing Mani
Do you want a color combo that makes your heart happy? Try blending lilac and blush hues in curvy shapes. This manicure is basically happiness translated into nail art, and it's perfect for brightening up even the cloudiest days.
Purple Metallic Chrome: Floral Chic
Why settle for ordinary when you can wear a metallic chrome base adorned with understated flower and gem details? This design excited me so much that I counted down the days to my next nail appointment.
Purple Daisies: Blossoming Beauty
Smooth, chic, and super cute, this design combines purple, white, and yellow hues like dainty daisies. They're fresh air that takes you straight to a sunny day in a blooming garden.
Purple Heart-Shaped French Tips: A Modern Classic
Opt for these heart-shaped lilac tips if you love a good French manicure but want a playful twist. They're a whimsical and subtle way to infuse extra fun into your pedicure.
Gold-Lined Hearts: A Touch of Luxury
There's something incredibly refined about having gold outlines around purple hearts, especially when set against a nude-pink backdrop. It's like the golden frame around a masterpiece; only the art is on your nails!
Retro Swirls In Shades Of Purple: A Mood-Booster
Feeling nostalgic or simply in need of a mood lift? These squiggly nails, featuring gradients of various purple shades, are like little joy capsules for your fingertips.
Glazed Lavender Donut: Sweet and Shimmery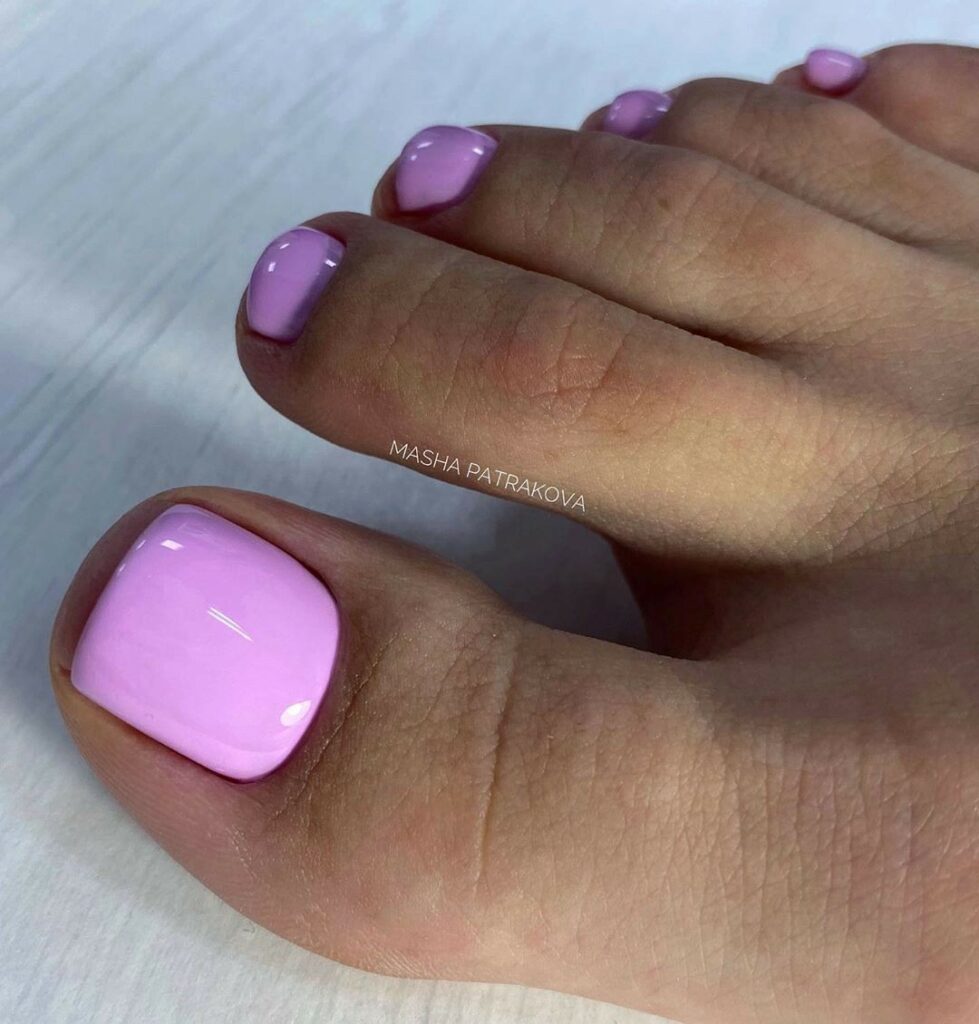 Imagine a light lavender chrome set that reflects various shades of pink and purple. These nails are so enchanting you'll feel like you have your own light show going on.
What Are The Essential Prepping Steps For The Purple Pedicure?
Essential Prepping Steps for a Perfect Purple Pedicure
Hey there, beauty enthusiasts! Before we get lost in the sea of beautiful purples, let's talk about some essential prepping steps to ensure your pedicure looks fabulous and lasts longer.
Step 1: Nail Cleanse
Before you do anything, make sure your toenails are clean. Remove old nail polish with a gentle, acetone-free remover because we want to start with a blank canvas. Ah, the promise of new beginnings!
Step 2: Soak and Soften
Soak your feet in warm water for 10 minutes to soften the skin and nails. I love adding some Epsom salt or a few drops of lavender oil for that extra touch of luxury.
Step 3: Exfoliate
Use a foot scrub to exfoliate away any dead skin cells. This makes your feet feel incredibly soft and ensures that your polish adheres better. Trust me, you don't want your beautiful nail art competing with rough skin.
Step 4: Trim and File
Once your nails are softer, trim them to your desired length. Then, file them into a shape that you love. Round or square, it's totally up to you. Just make sure all toenails are even and smooth.
Step 5: Cuticle Care
Now, let's focus on the cuticles. Gently push them back with a cuticle pusher or orange stick. If you're skilled enough and comfortable with it, you can trim any excess cuticle—but be careful. We aim for a tidy canvas for our art, not a horror show!
Step 6: Prep with a Base Coat
Before diving into that luscious purple, apply a clear base coat. This creates a barrier between your nails and the polish, preventing staining and helping your pedicure last longer.
Step 7: Dry and Dehydrate
Before applying any color, make sure the base coat is completely dry. Some folks like to swipe their nails with a bit of vinegar or alcohol at this stage to dehydrate the nail, ensuring maximum polish adherence.
And voila, you're now perfectly prepped for your purple pedicure adventure! Now, go forth and make those toes a masterpiece!
What Are The Exact Shades That Complement Different Skin Tones?
The Perfect Purple for Every Skin Tone
Hello, beauty enthusiasts! One of the most incredible things about the color purple is its versatility. Whether you're a fan of deep plums or soft lavenders, there's a shade of purple to match every skin tone. But how do you find the "one"? Allow me to guide you through this purple haze.
Fair Skin Tones
Lighter shades like lilac or lavender can look absolutely ethereal if your skin has cool undertones and tends to burn quickly in the sun. If you're into darker hues, a medium grape color can also be very flattering without overwhelming your complexion.
Medium Skin Tones
For those with medium skin tones that tan easily but can burn, richer shades of purple are your best friends. Amethyst and orchid shades can highlight the warmth in your skin, making it look radiant.
Olive Skin Tones
Olive skin tones have a greenish undertone that tans easily and rarely burns. Jewel tones like royal purple or deep plum can create a stunning contrast, making your skin look luminous.
Dark Skin Tones
The possibilities are endless for darker skin tones that rarely or never burn in the sun! From electric purples to rich violets, darker shades can provide a dramatic, eye-catching contrast. Please don't avoid high-pigmented colors; they'll pop beautifully against your skin.
Universal Shades
Looking for a one-size-fits-all kind of shade? Go for a classic mauve or muted dusty purple. These shades perfectly balance warm and cool undertones, making them universally flattering. I've had friends of various skin tones try these shades, and they've all received a heap of compliments!
Bonus Tip: The Metallic Trend
Regardless of your skin tone, metallic purples are the talk of the town right now. The shimmer adds depth and intrigue, making your pedicure an actual work of art.
So there you have it, the lowdown on which shades of purple suit different skin tones. No matter where you fall on the skin tone spectrum, a purple shade's just waiting to make your toes look like a masterpiece. Happy polishing!
What Is The Psychology Behind The Alluring Purple Hue?
The Allure of Purple: What's Behind The Hue?
Hello, beauty enthusiasts! Let's dive into a topic that's as fascinating as it is stylish—the psychology of the color purple. Have you ever wondered why this captivating shade keeps popping up in fashion, beauty, and even historical royal garments? Well, our fascination with purple goes beyond its visual appeal. There's some real psychology behind it!
A Royal Affair
First off, let's talk about purple's long-standing association with royalty. In ancient times, the dye used to create this luxurious color was extremely rare and expensive, sourced from a tiny mollusk in the Tyre region of the Mediterranean Sea. Because of its scarcity, only the wealthiest could afford it, turning purple into a status symbol. That association has stuck with us, making us subconsciously associate purple with luxury, power, and prestige.
Creativity Unleashed
Purple is often tied to creativity and imagination. If you think about it, the color blends two very different colors—calm blue and fiery red. This juxtaposition could be why purple is often linked to the arts, spirituality, and a sense of mystical experience. So, if you're rocking those purple nails, it could be seen as a nod to your creative and imaginative side!
Emotional Depth
On the emotional spectrum, purple is often connected to introspection and deep thoughts. It's seen as a calming color that stimulates the brain, encouraging a balance between physical and mental energies. This makes it a popular color for meditation spaces and also why many find a purple room calming.
The Feminine Touch
While colors don't have genders, purple is often culturally associated with femininity. This is likely because of its delicate balance between red and blue, creating a color that is neither overly intense nor subdued. It has an elegance and subtleness that many find appealing across the board.
The Universal Mystery
Let's remember purple is a color we don't frequently encounter in nature, making it somewhat mysterious and intriguing. It almost feels like a special event when you see it—in a beautiful sunset or a rare flower.
Final Thoughts
Wearing purple, especially in something as fun and personal as nail art, is like showcasing multiple layers of your personality. From evoking a sense of luxury to encouraging a feeling of calm, the psychology behind purple is as complex as it is captivating. So the next time you opt for a purple pedicure, know that you're not just making a fashion statement but tapping into a rich, multi-dimensional world of color psychology. How's that for an engaging conversation starter at your next social gathering? Now, go on and embrace the purple allure!
Conclusion
In conclusion, purple nail art is a wonderland of creativity, offering something for every mood, occasion, and style preference. When diving into these regal hues, remember that prep and aftercare are crucial to making those designs pop and last longer. Always start with clean, filed nails, and don't skip the base coat—it's your best defense against staining. As for risks, minimal as they may be, always opt for quality polishes to avoid potential irritants. Patch tests can be a lifesaver if you're trying a new brand or formulation. From abstract plum to gold-lined hearts, these designs invite you to step outside your comfort zone and express yourself in new and exciting ways. So, beauty enthusiasts, what are you waiting for? Grab that polish and unleash your inner artist! Your nails are a blank canvas just waiting to be adorned.
Feature Image Photo By nail_sunny on Instagram
Last reviewed and updated on October 10, 2023