Greetings, lovers of all things chic and eye-catching! Are you yearning to make a sartorial statement this Pride Month but want to venture beyond the expected rainbow motif? Well, you're in the right place. This blog post dives into 24 groundbreaking nail art ideas that stand out, offering a fresh take on Pride Month celebrations. From nuanced pastels to thematic elements that draw from LGBTQ+ history, these designs will elevate your nail game and deepen your connection to the meaning of Pride. So, prepare your favorite base coat and get those nail art brushes ready—this is the insider scoop you've been waiting for!
Merging Gradient Pastels: A Soft Approach to Rainbow Nails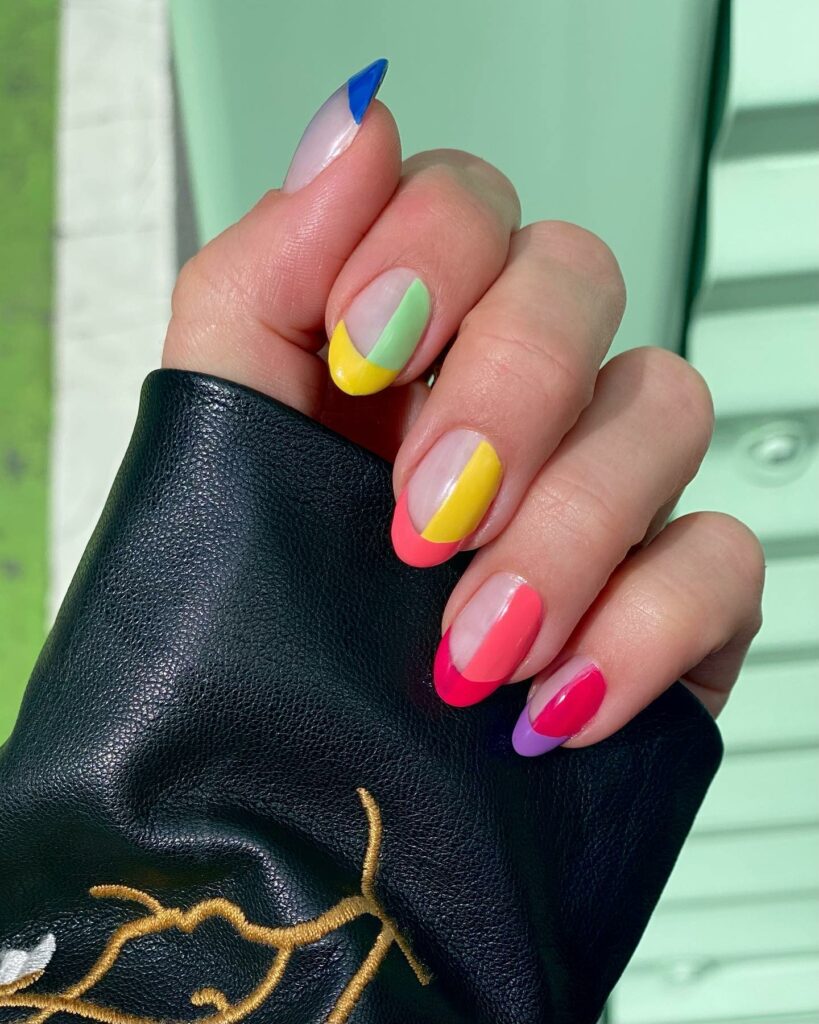 We'll discuss how to create a gradient effect using pastel rainbow colors. This is ideal for those who prefer a more subdued yet still colorful look for their nails.
Striking Neon Tips: A Bold Take on Rainbow Nail Artistry
Ready to make a statement? Neon tips in rainbow colors are the way to go. They're daring, eye-catching, and perfect for those who love to stand out.
Colorful Rainbow Nails: A Full Spectrum of Vibrant Hues
Capture the essence of the rainbow with a full spectrum of vibrant hues. It's the classic rainbow nail design that never fails to turn heads.
Swirly Rainbow with White French: A Fusion of Classic and Contemporary
Mix the timeless elegance of a white French manicure with playful swirls of rainbow colors. You get a unique blend that's both classic and fun.
Heart Patterns Rainbow Nails: Love-Infused Colorful Designs
Add a sentimental touch to your colorful nails with heart patterns. Not only is it visually appealing, but it also gives your nails a loving vibe.
Rainbow Holo Glitter: Sparkling Your Way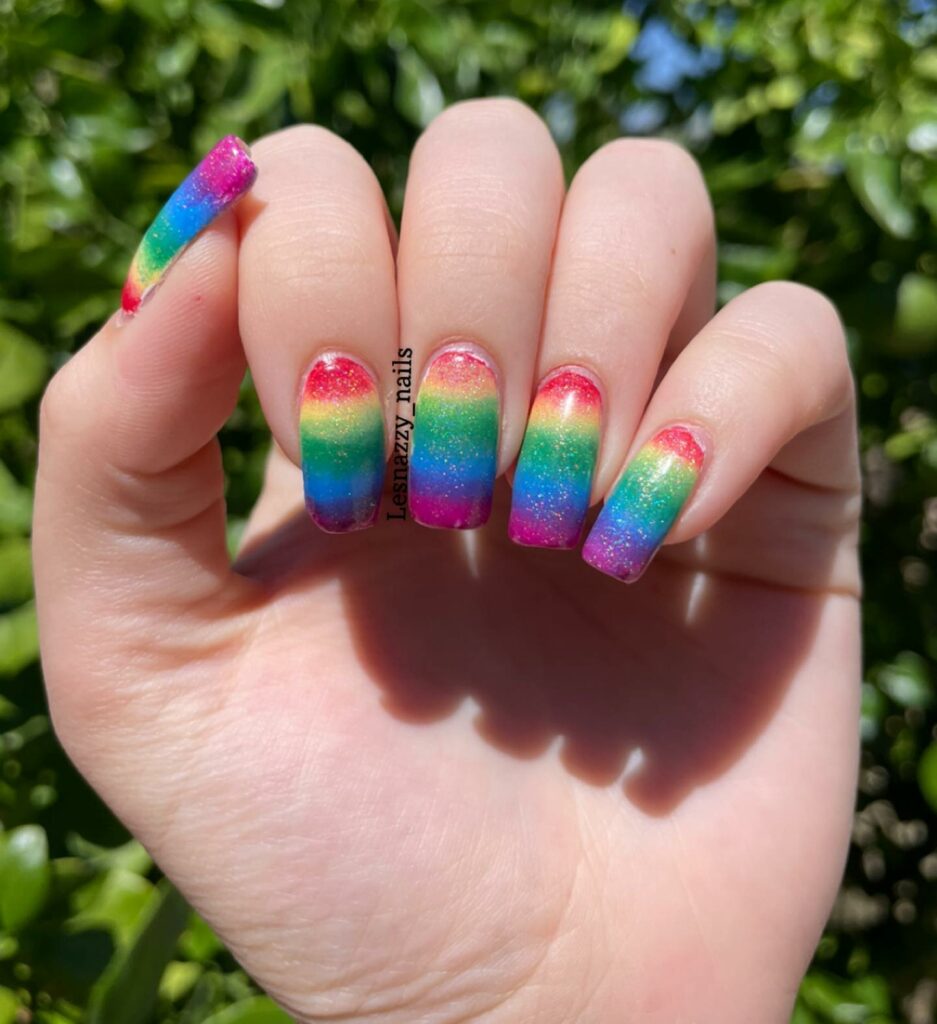 Add shimmer and depth to your rainbow nails with a holographic glitter overlay. Your nails will not just stand out; they'll practically glow.
Nail Swirl Rainbow: A Whirlpool of Colors on Your Fingertips
Get hypnotic with dynamic swirl patterns in rainbow colors. It's a look that's as mesmerizing as it is colorful.
Nebula of Colors on Nails: Cosmic Rainbow Artistry
Feel like you're holding the universe at your fingertips with a nebula-like blend of rainbow colors. It's a celestial twist that's out of this world.
A Wild Twist: Rainbow Swirls Meet Leopard Spots
Why settle for one pattern when you can have two? Combine rainbow swirls with leopard spots for a wild and colorful look.
Pastel Power Bolts: Soft Hues with a Jolt of Energy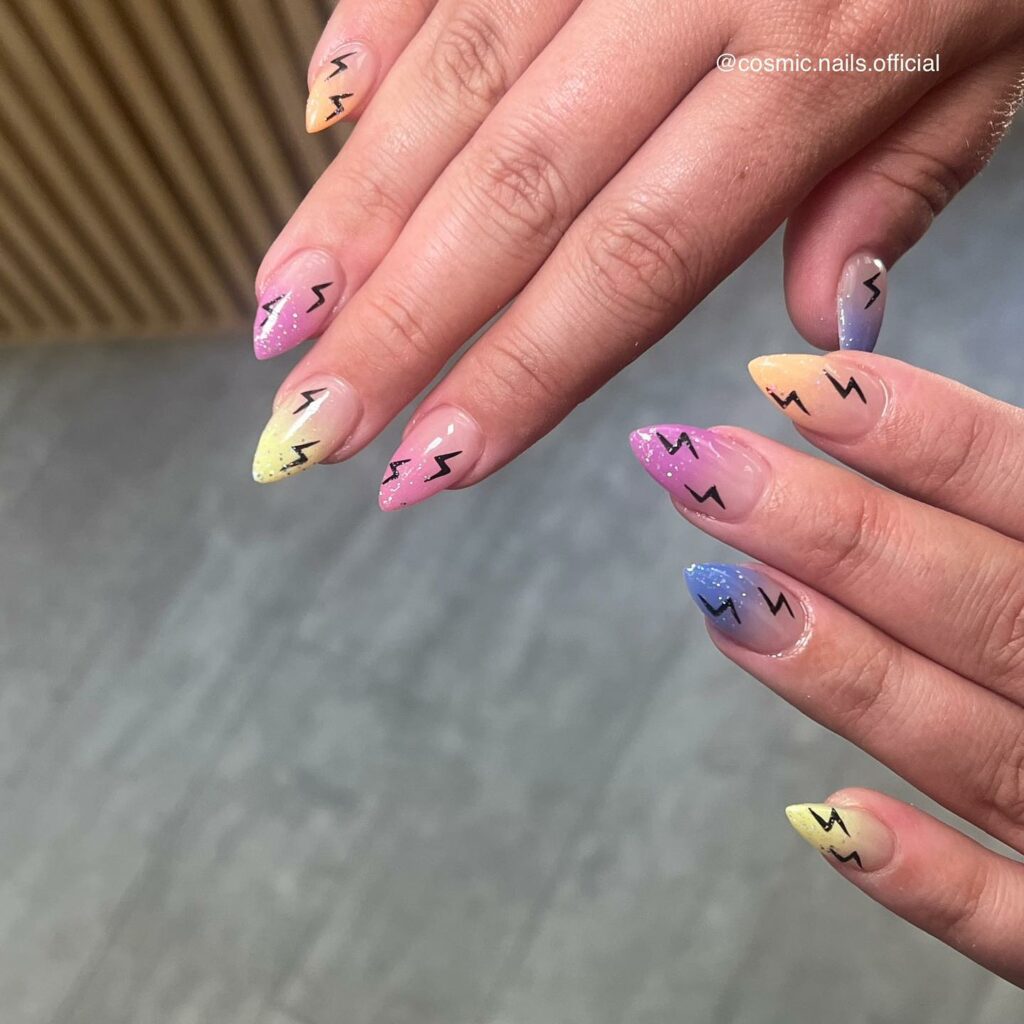 Soft pastel hues meet dynamic lightning bolt patterns. The result? It has a unique and energetic look that's as soft as it is striking.
Rainbow Swirl Adorned with Fresh Daisies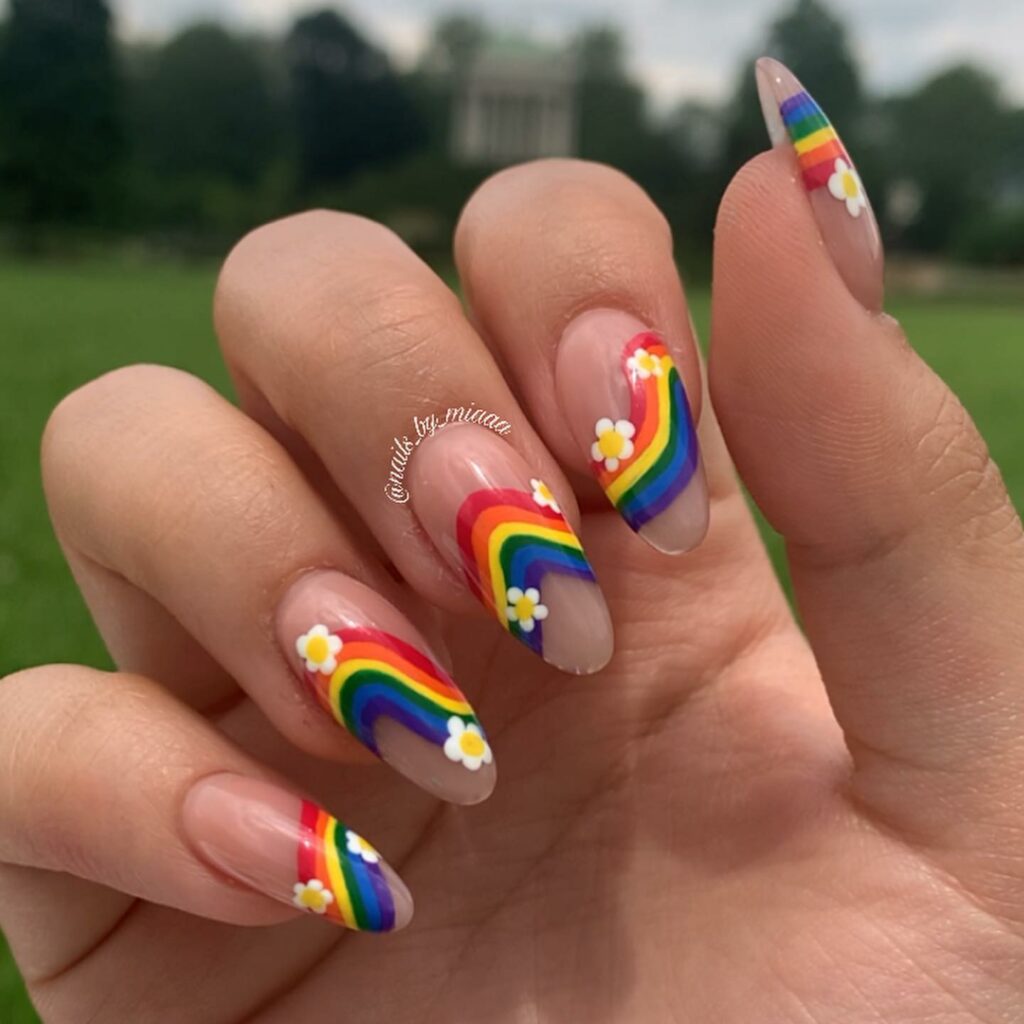 Spring has sprung on your nails with fresh daisy designs on a backdrop of rainbow swirls. It's nature meeting color most delightfully.
Rainbows Meeting Sparkling Tips
End your rainbow with a sprinkle of glitter at the tips. It's like having a pot of gold at the end of your colorful rainbow.
Hearts Rainbow Nails: A Love-Infused Palette
Show off your romantic side with heart-shaped designs in a rainbow of colors. It's a playful and sentimental way to wear your heart on your nails.
Pastel Swirl Rainbow Nails: A Whimsical Twist
Take the traditional rainbow swirl and soften it with pastel hues for a whimsical look. It's a dreamy design that captures the imagination while staying on-trend.
Pastel Rainbow French: A Subtle Elegance Meets Colorful Flair
Combine the understated elegance of a French manicure with the vibrant colors of the rainbow, all in pastel tones. It's a chic and sophisticated way to incorporate color without overwhelming your look.
Diagonal Drama: Excitement into Rainbow French Manicures
Here, we explore how to turn the traditional French manicure on its head by adding diagonal lines of rainbow colors. This style is for those who love to make a subtle yet impactful statement with their nails.
Achieving Subtle Glamour with Pastel Rainbow Nails
This section delves into the world of pastel rainbow nails with a touch of sparkle. It's an excellent choice for anyone wanting a softer, whimsical take on the rainbow trend.
The Ultimate Palette: Multicolored Designs
This part will discuss various ways to incorporate multiple colors into your nail art. From intricate designs to simple color blocks, this is for those who aren't afraid to go bold.
Incorporating Heart Shapes into Rainbow Nail Art
This heading focuses on incorporating heart shapes into your rainbow nail designs. It's an adorable way to add a touch of love and sentimentality to your colorful nails.
Artistic Flair: Creating Abstract Designs with Rainbow Colors
Here, we'll explore how to create abstract designs using rainbow colors. This is for the artistically inclined who love experimenting with shapes and shades.
Rainbow-Colored Tips for the Understated Nail Art Lover
This section is dedicated to rainbow tips, a more straightforward yet equally stunning way to incorporate rainbow colors into your nail art. It's ideal for those who want a pop of color without going all out.
Vibrant Rainbow Tips on French Manicures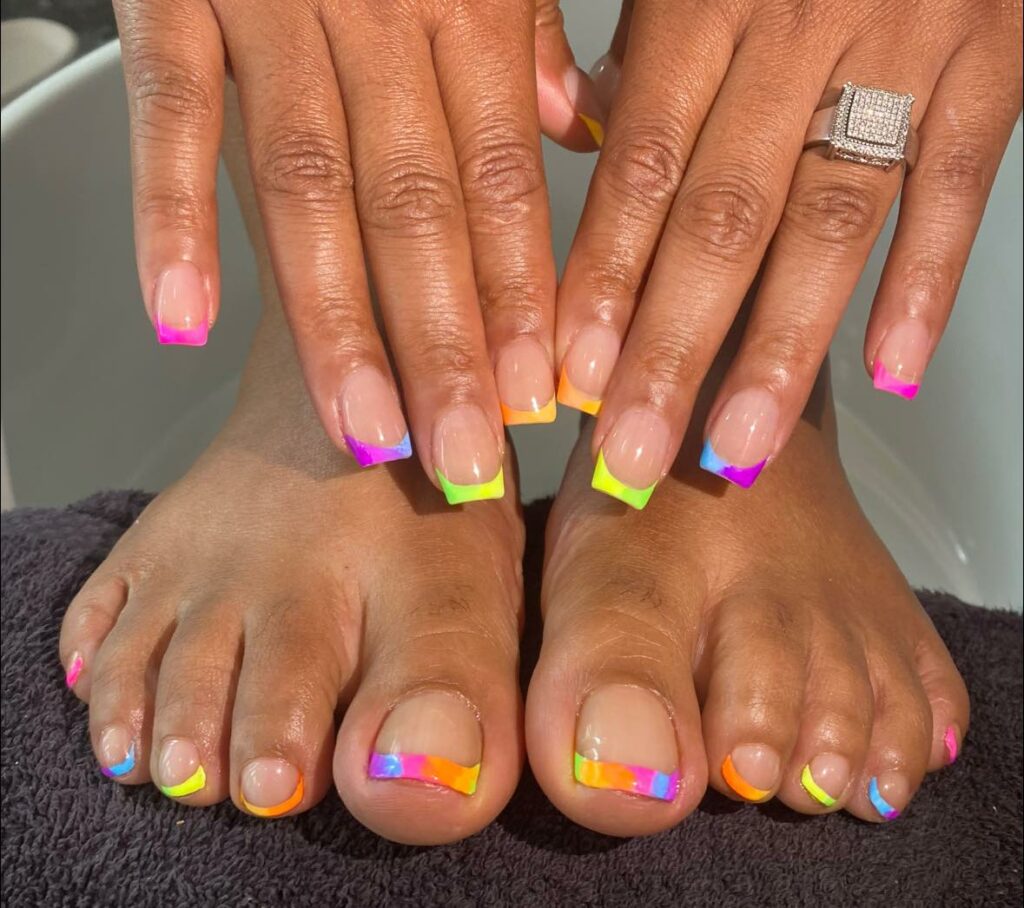 This heading is about taking the timeless French manicure and giving it a colorful upgrade with rainbow tips. It's perfect for those who love a classic look but want to add a playful twist.
Glitter Gradients: The Art of Sparkle Over Rainbow Nails
These nails are about adding a glitter gradient to your rainbow nails. It's perfect for those who love extra sparkle and want to take their nail art to the next level.
Sophisticated Chaos: Abstract Elegance in Rainbow Nail Art
These nails are for those who want to marry abstract art with rainbow colors. The result is a sophisticated yet playful look sure to attract attention.
Neon Accents into Rainbow Nail Designs
Here, we'll explore using neon colors as accents in your rainbow nail designs. This is perfect for those who want their nails to be a vibrant focal point.
Combining Daisies and Rainbow Swirls for a Nostalgic Look
These nails focus on combining daisy patterns with rainbow swirls for a unique nail art experience. It's a nostalgic nod to retro styles while keeping things fresh and modern.
Pastel Perfection: A Whimsical Rainbow Pedicure Journey
Drenched in soft pastels, these toes capture the serene beauty of a dawn's rainbow. Each nail tells a story of artful precision, blending gentle colors seamlessly, showcasing the perfect balance between creativity and elegance in nail art.
Bold Stripes and Vibrant Vibes: The Ultimate Rainbow Manicure
Taking a cue from the colorful tapestries of the sky, these nails resonate with bold, defined stripes of rainbow brilliance. A modern twist on classic designs, this manicure offers both a nod to nostalgia and a glimpse into contemporary nail fashion's vibrant future.
Polka Dots Rainbow Pedicure: A Playful Pop of Color
Who says polka dots can't be colorful? Add a fun twist to your pedicure with rainbow-colored dots. It's a playful and eye-catching design that's sure to turn heads.
Neon Rainbow: Light Up Your Toes with Electric Hues
Take your pedicure to the next level with neon colors that practically glow. This design is perfect for night outs or any occasion you want your toes to stand out.
Watercolor Rainbow Pedicure: A Soft, Artistic Touch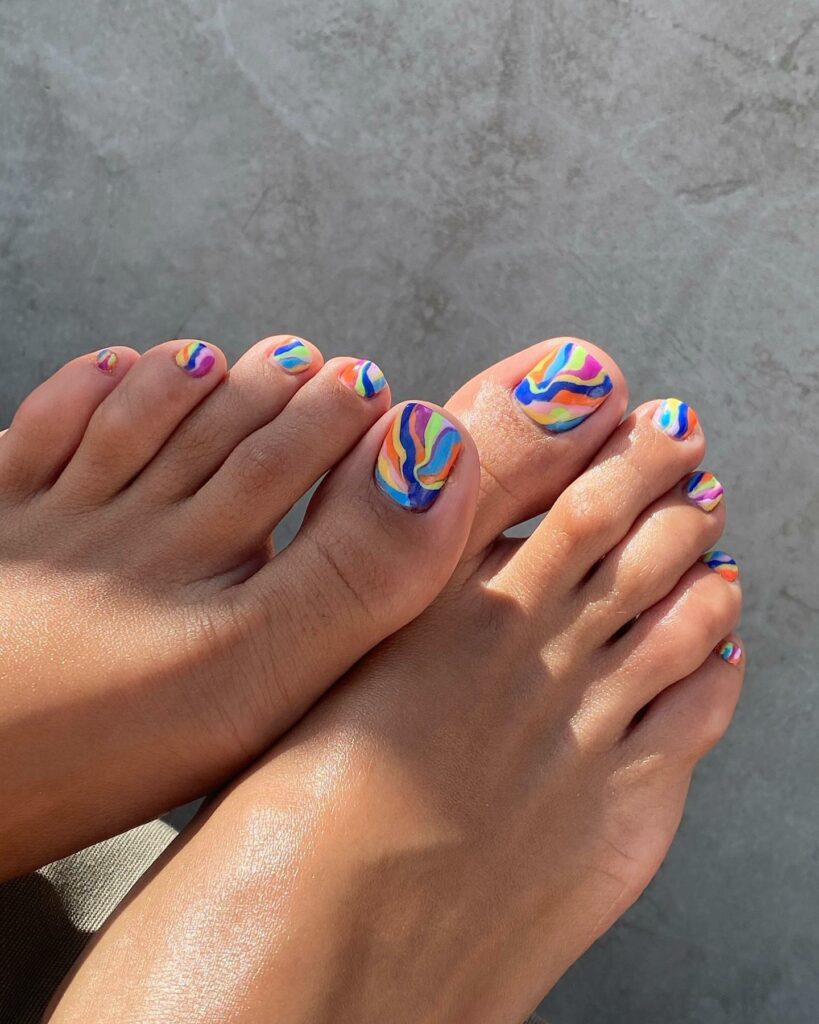 Embrace the beauty of watercolors with a pedicure that mimics this artistic style. The result is a soft, blended rainbow that looks like a masterpiece on your toes.
Happy Toes: Rainbow Pedicure with a Smiley Face
Add a touch of joy to your pedicure with smiley faces interspersed among rainbow colors. It's a cheerful design that's sure to put a smile on your face every time you look down.
Classic Rainbow Pedicure: Timeless Way to Celebrate Color
You can't go wrong with a classic rainbow design. This pedicure is a timeless choice that celebrates all the colors in their vibrant glory.
Neon Rainbow French: Modern Twist on a Classic Style
Give the traditional French pedicure a vibrant update with neon rainbow tips. It's a fresh, modern take that combines elegance with a pop of color.
Polka Dots in Silver Pedicure: Metallic Twist on the Rainbow
Add some sparkle to your rainbow pedicure with silver polka dots. The metallic sheen adds a touch of glamour, making your toes ready for any special occasion.
Light Rainbow Nails: A Subdued Yet Colorful Pedicure Option
If you prefer a more subdued look, opt for lighter shades of the rainbow. It's a softer approach to the classic rainbow pedicure but still offers a pop of color.
Tie-Dye Rainbow Pedicure: A Retro Revival for Your Toes
Take a trip back in time with a tie-dye rainbow pedicure. The swirling colors offer a retro vibe that's both nostalgic and trendy.
Rainbow French Pedicure: A Classic French Tip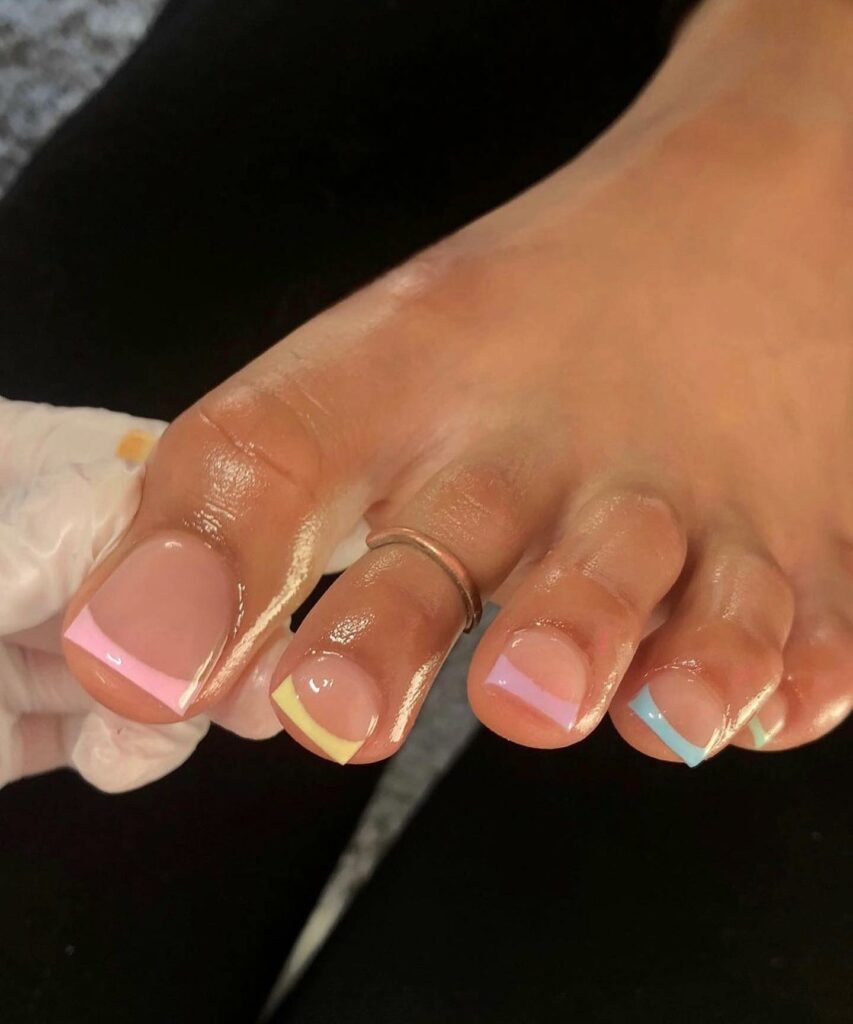 Swap out the traditional white tips for a burst of rainbow colors in your French pedicure. It's a fun yet sophisticated way to add flair to your toes.
A Tiny Revolution in Rainbow Pedicure Design
Who says cuticles can't be part of the fun? Add tiny rainbow accents around your cuticles for a subtle yet impactful design that's sure to get noticed.
Edge in Color for a Unique Rainbow Pedicure
Outline your toenails in vibrant rainbow hues for a modern and edgy look. This design focuses on the edges, giving your pedicure a unique twist.
The Classic Rainbow Pedicure: A Timeless Burst of Color
Stick to the basics with a classic rainbow pedicure that always stays in style. It's the perfect way to showcase all the rainbow colors on your toes.
Rainbow Swirly Pedicure: A Whirlwind of Color for Your Toes
Get hypnotic with swirling rainbow designs that dance across your toenails. This playful look is a conversation starter and perfect for those who love intricate designs.
Clear Rainbow Pedicure: A Subtle Splash of Color
Opt for a clear base coat with a touch of rainbow for a minimalist yet colorful pedicure. It's a subtle way to incorporate color without going overboard.
Tie-Dye and Rainbows: Retro-Inspired Color Explosion
Combine the best of both worlds with a tie-dye pattern in rainbow colors. This retro-inspired design is perfect for those who love making bold statements.
Simply Colorful Pedicure: A No-Frills Approach
Sometimes, simplicity is key. Go for a straightforward, colorful pedicure that lets each to shine in a different rainbow hue.
Colorful Rainbow Pedicure: A Full Spectrum of Shades
Why settle for one color when you can have them all? This pedicure features every rainbow color, making your toes a vibrant focal point.
Rainbow Heart: Tiny but Mighty Accents for Your Pedicure
Add tiny rainbow hearts to your pedicure for a cute and meaningful design. These tiny accents pack a big punch and add a touch of whimsy to your toes.
Rainbow Tips: An Upgrade Worth Taking for Your Pedicure
Elevate your pedicure game by adding rainbow-colored tips to your toenails. It's a modern twist that adds a pop of color while keeping the rest of the nail neutral.
Geometric Shapes: For the Artist in You, A Rainbow Pedicure
Unleash your inner artist with geometric shapes filled in with rainbow colors on your toenails. This design perfectly blends structure and color, making your pedicure a walking piece of art.
Whimsical Wonderland: 3D Artistry Meets Toenail Design
Venturing beyond traditional nail decor, this intricate design playfully marries 3D elements with vibrant hues. The unique combination of shapes, colors, and textures brings a touch of magic and whimsy to each toe, truly making them stand out in any crowd.
Fading Rainbow Dots: A Subtle Gradient for Your Toes
Opt for a softer look with fading rainbow dots that transition from one color to another. This design offers a more subdued yet equally captivating take on the classic rainbow theme.
Bold Contrast: Symphony of Colors in Nail Art for Your Pedicure
Combine contrasting colors from the rainbow spectrum for a bold and harmonious pedicure. It's a symphony of colors that will make your toes the center of attention.
The Quintessential Rainbow Pedicure
When in doubt, go for the classic rainbow pedicure that features all the colors in their full glory. It's a timeless choice that never fails to brighten up your day.
Glitter Rainbow Nails: Add Sparkle to Your Rainbow Pedicure
Who doesn't love a little sparkle? Add glitter to your rainbow pedicure for an extra layer of pizzazz. It's like having a mini disco ball at your feet!
Rainbow French with Gems Pedicure
Add small gems for that extra sparkle to take the rainbow French pedicure up a notch. It's a luxurious twist on a classic design, making your toes truly stand out.
My Top Tips For Maintaining A Rainbow Pedicure
Use Quality Products – The first step to a long-lasting pedicure starts with the products you choose. Opt for a high-quality base coat, nail polish, and topcoat. The better the quality, the longer your pedicure will last.
Apply Thin Layers – It might be tempting to lay it on thick to get those vibrant colors, but multiple thin coats are the way to go. Thin layers dry more quickly and adhere better to each other, making the whole paint job more durable.
Dry Properly – Patience is a virtue, especially when letting each layer dry. Rushing this step could result in smudging or chipping, which you don't want.
Protect Your Pedicure – Wear socks or protective footwear when you can. The less friction against your toenails, the longer your pedicure will last. If you're hitting the beach, be mindful of sand, as it can be pretty abrasive.
Refresh the Top Coat – A topcoat is your first line of defense against chipping and fading. To maintain your rainbow pedicure's vibrancy, consider reapplying a clear top coat every few days.
Hydrate Your Cuticles – Use a cuticle oil regularly to keep your cuticles—and, by extension, your nails—healthy. This also adds an extra shine that complements your pedicure beautifully.
Avoid Harmful Chemicals – Be cautious around cleaning products and harsh chemicals, as they can ruin your pedicure. If you're doing household chores that involve these, protective gloves can be a lifesaver for your pedi.
Quick Fixes for Minor Issues – If you experience a minor chip or smudge, don't fret. Touch the area with the original colors and finish it with a top coat.
Consider a Professional Touch-Up – If you love your design but notice some wear and tear, a professional touch-up might be worth it. A quick session can extend the life of your fabulous rainbow pedicure without a complete redo.
10 Simple Steps To Achieving A Rainbow Pedicure
Prep Your Toenails – Begin with clean, dry toenails. Remove any old polish with a gentle, acetone-free nail polish remover, and then soak your feet in warm water for about 10 minutes. This softens the cuticles and prepares your nails for the artwork ahead.
Shape and Smooth – Use a nail clipper to trim your nails to your desired length, then shape them using a file. Smooth rough edges and buff the tops slightly to help the polish adhere better.
Cuticle Care – Gently push back the cuticles with a cuticle pusher or an orange stick. If you're up for it, you can also use a cuticle remover to eliminate excess skin.
Base Coat Application – Apply a thin layer of a good-quality base coat to protect your nails and create a smooth canvas for the polish. Allow it to dry completely.
Map Out Your Rainbow – This is where the fun starts! Decide the order of the rainbow colors you'll be using. It's good to have a plan so you don't clash colors next to each other.
Paint Your Rainbow – Use a small brush or nail polish brush to apply the colors in the chosen sequence. If you're going for stripes, start from one side and work across. You may need a makeup sponge to blend the colors seamlessly for ombre or gradient designs. Remember, thin layers are your friend here.
Add Some Flair (Optional) – If you're feeling adventurous, this is the time to add any additional elements like glitter, stickers, or tiny rhinestones. Use tweezers for precise placement.
Seal the Deal – Once all the layers are dry, apply a quality topcoat to seal in your design and add a glossy finish. This will also help protect against chipping.
Cleanup – Use a Q-tip dipped in nail polish remover to clean up any color that may have strayed outside the lines.
Allow Time to Dry – Give yourself ample time to let everything dry. The last thing you want is a smudged masterpiece!
Still Looking for Inspiration, Then Check Out This Video
Conclusion
In wrapping up beauty enthusiasts, diving into the world of rainbow pedicures is like opening a treasure chest of creative possibilities. Whether you're into subtle dots, bold geometric shapes, or anything in between, there's a design for every level of nail art expertise. A quick tip: while going DIY is super tempting, some intricate designs may benefit from a professional touch, so choose accordingly. Remember that using quality nail polish and products is critical to making your pedi last longer and keeping your nails healthy. Risks are minimal, but if you're using new products, a patch test never hurts to avoid any allergic reactions. The bottom line? Your pedicure can be as dynamic and colorful as you are, so don't hesitate to express yourself. Ready to add a splash of color to your life? Your toes will thank you!
Feature image @lnaileditbeautysalon via Instagram
Last reviewed and updated on October 18, 2023