In this post, you'll discover forty innovative designs that meld these iconic hues in stunning ways. Whether you're new to nail art or a seasoned enthusiast, you'll find inspiration in our diverse styles, from understated elegance to bold, trend-setting creations. We'll guide you through the newest techniques and textures, offering practical tips for DIY enthusiasts and salon-goers. Prepare to express your unique style with a splash of red and pink on your fingertips!
Christmas Red and Pink Nails with Seasonal Joy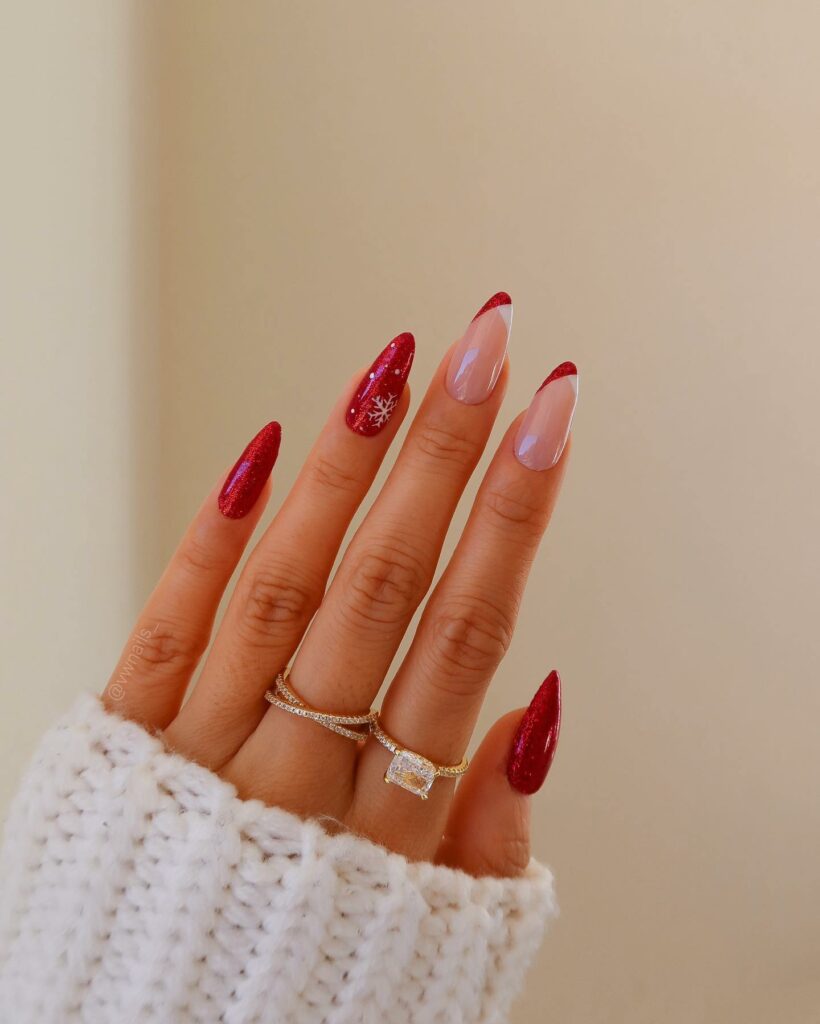 Celebrate the festive season with nails that blend the traditional Christmas red with a pink cheer. These nails are perfect for holiday parties or to infuse your daily style with some seasonal spirit.
French Heart Red and Pink Nails
Classic French tips get a romantic makeover with heart-shaped accents in red and pink. This nail art is a love note at your fingertips, perfect for expressing passion and playfulness.
Delicate Hearts on a Gradient Red and Pink Nails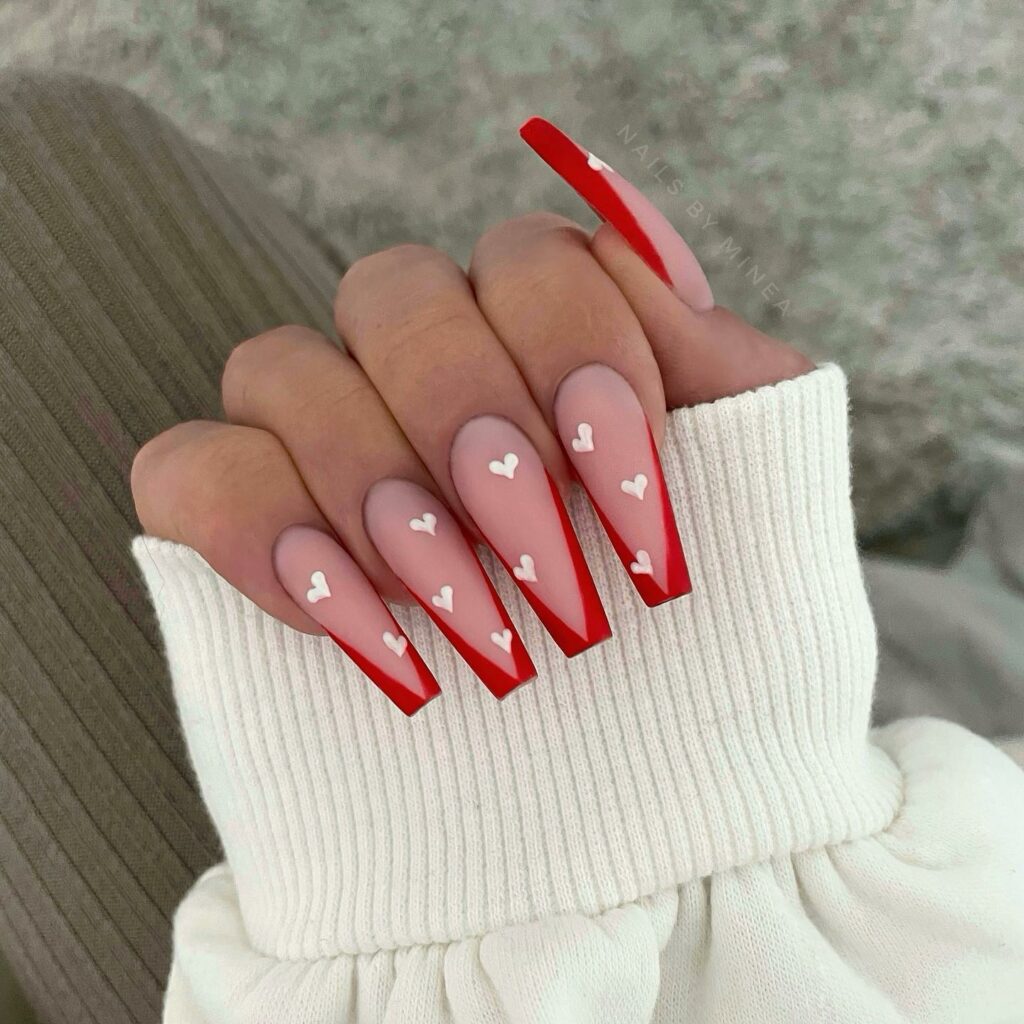 Gracefully elongated nails present a romantic narrative with a gradient from soft pink to passionate red, punctuated by petite white hearts. This design is a subtle yet powerful ode to love, perfect for those who favor sophistication with a whisper of whimsy.
Ruby Reds with Snowy Swirls on Pink Nails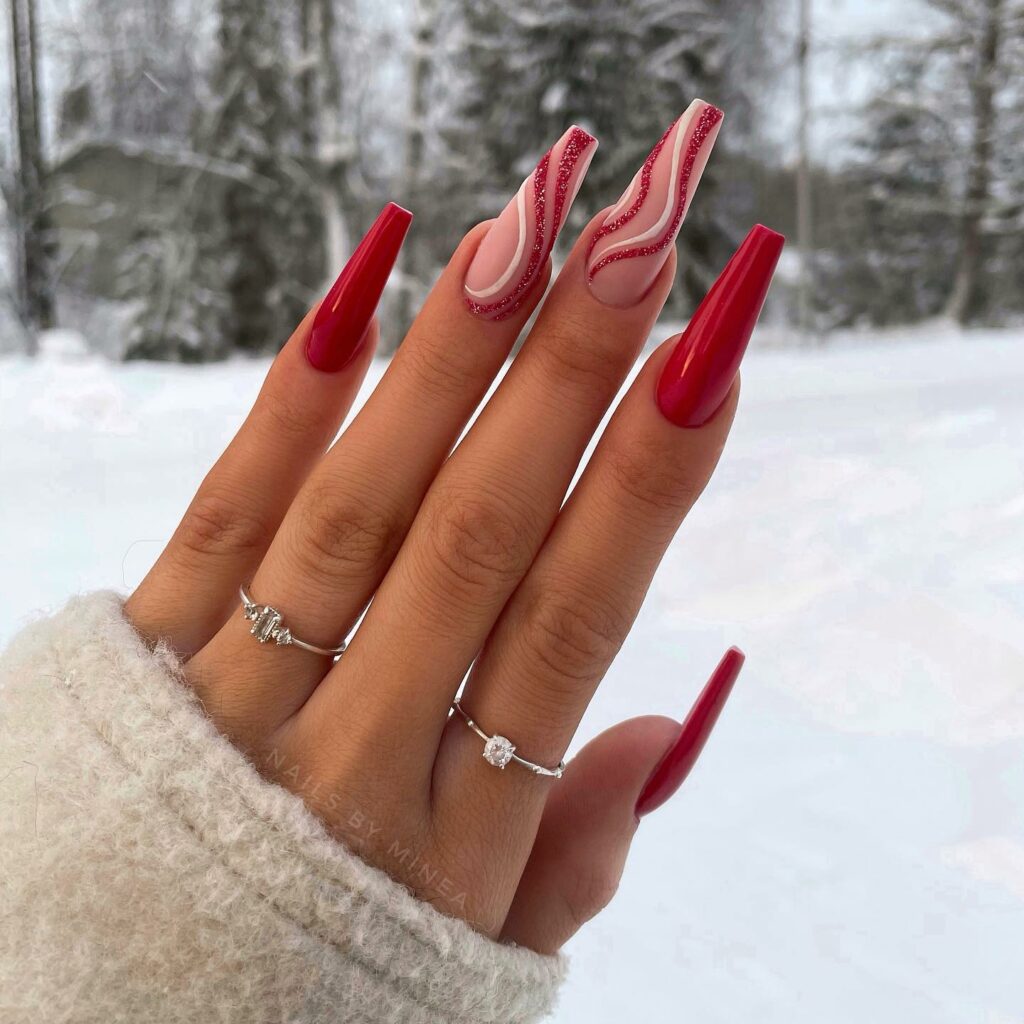 Amidst a winter wonderland backdrop, these nails make a bold statement with rich ruby reds and delicate snowy swirl accents. The contrast evokes the beauty of a frosty season wrapped in the warmth of a festive celebration.
French Red and Pink Nails with a Modern Flair
This modern take on the French manicure infuses the elegance of Parisian style with a bold red and soft pink palette. It's a chic and contemporary update to a timeless design, perfect for the fashion-forward individual.
Christmas Almond Red Nails
Almond-shaped nails painted in rich red bring to mind the joy of Christmas. This design is tailored for the holiday enthusiast who loves incorporating the spirit of the season into their beauty routine.
Red Nails with Snowflakes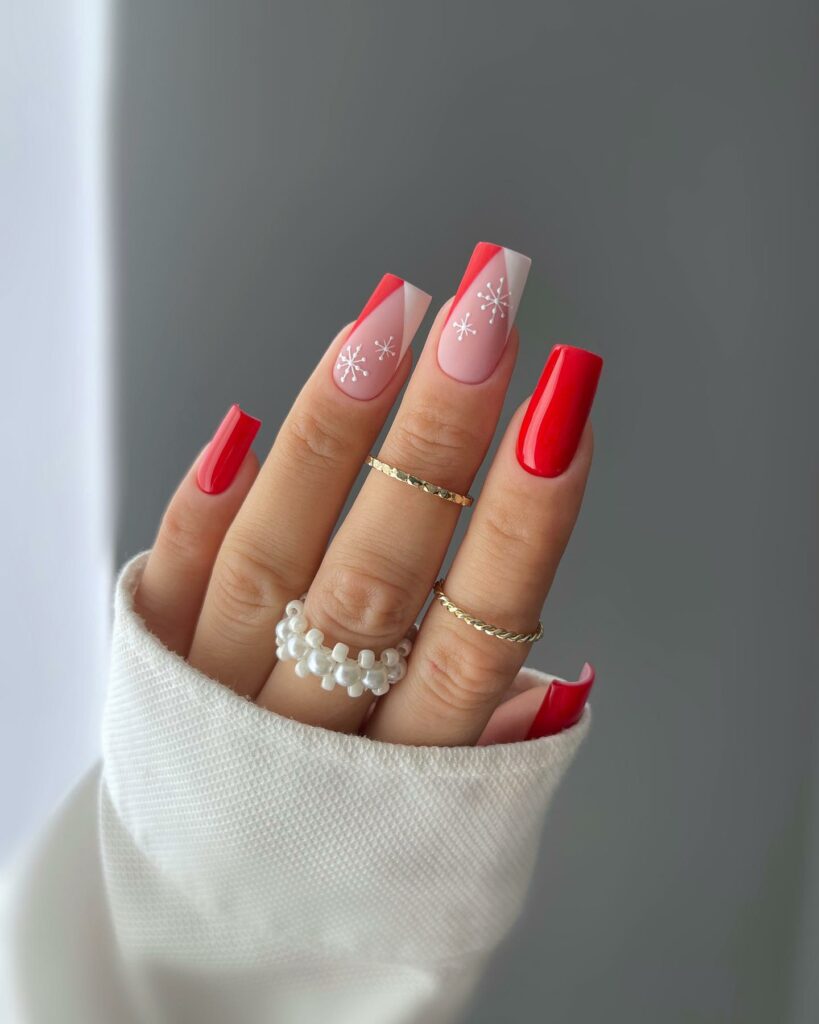 Snowflake designs over a red backdrop turn these nails into a miniature winter wonderland. Ideal for the chilly season, they're a charming way to celebrate the beauty of winter.
Ombre Pink and Red Nails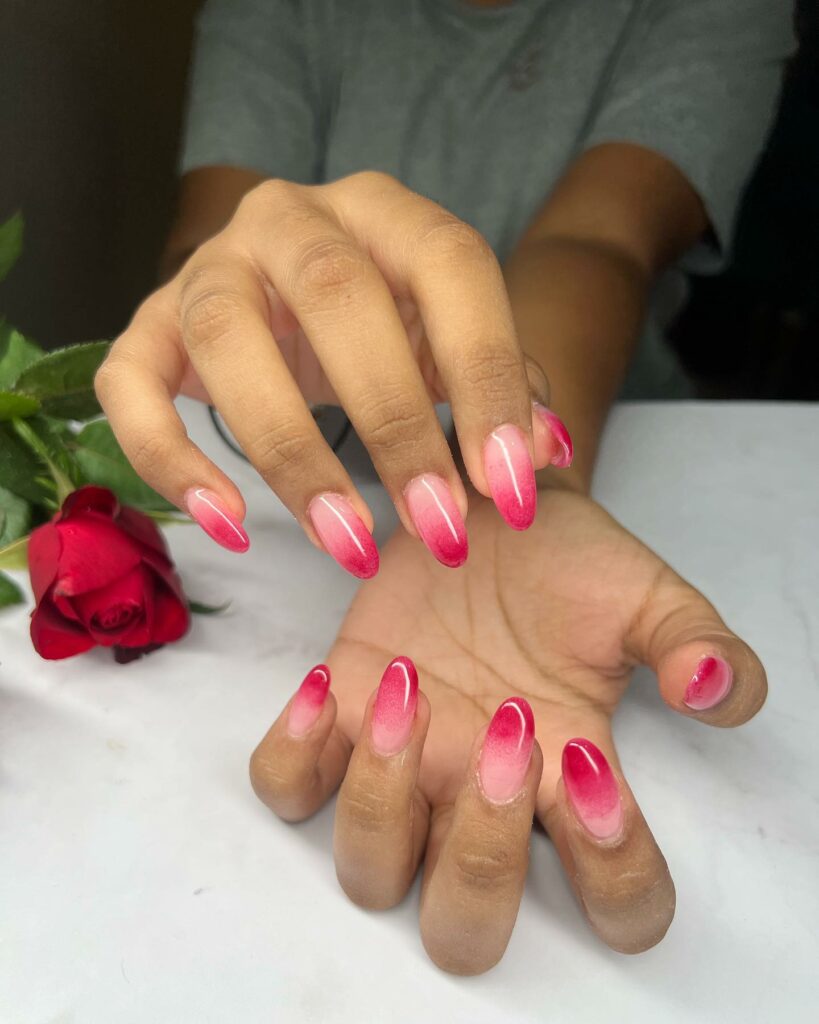 These nails' soft gradient from blush pink to vibrant red offers a sweet and contemporary look. This ombre effect is a subtle nod to romance and is perfect for any occasion that calls for a touch of femininity.
Red And Pink Nails Adorned with Pearls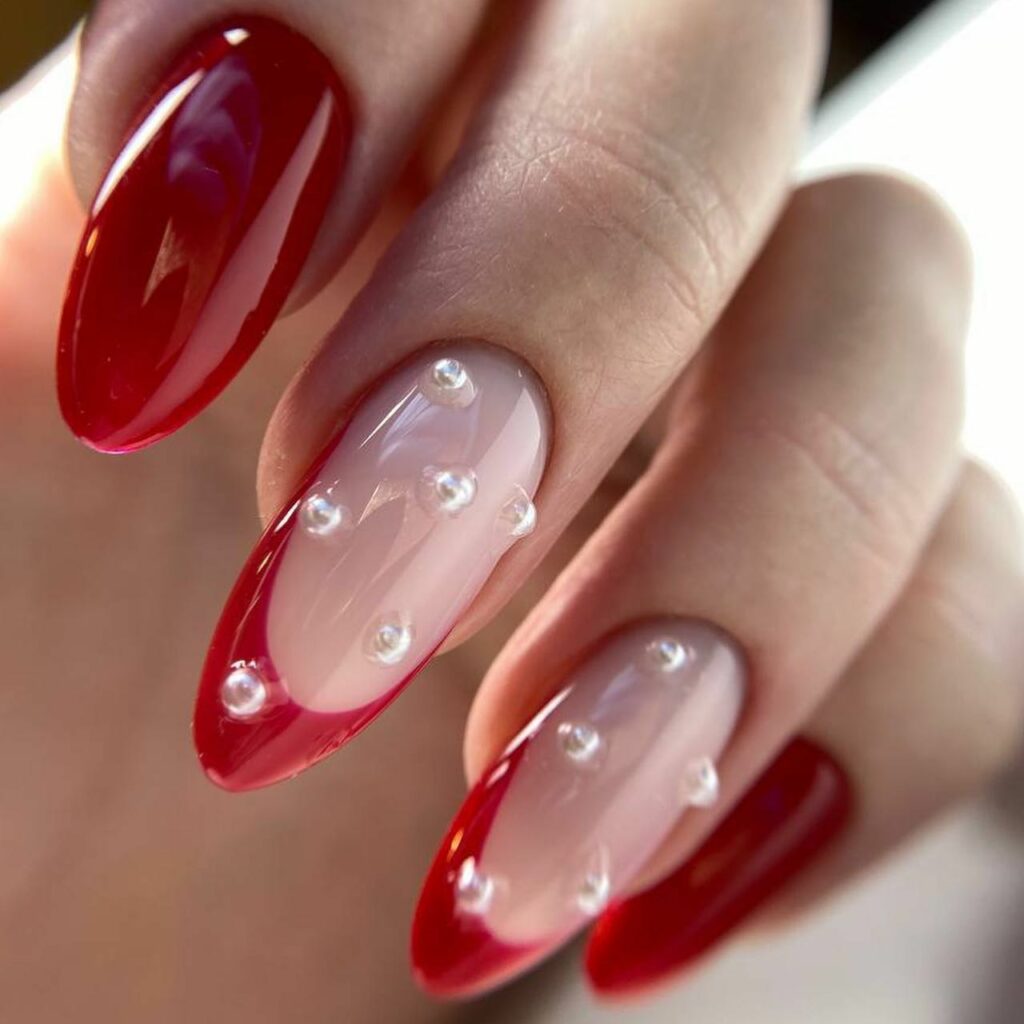 Delicately placed pearls add a touch of sophistication to the classic red and pink nail palette, creating a look of timeless elegance with a modern twist. The pearls provide a luxurious dimension against the vibrant hues, making every gesture an exhibition of grace.
Funky Pink and Red Nails with Star Accents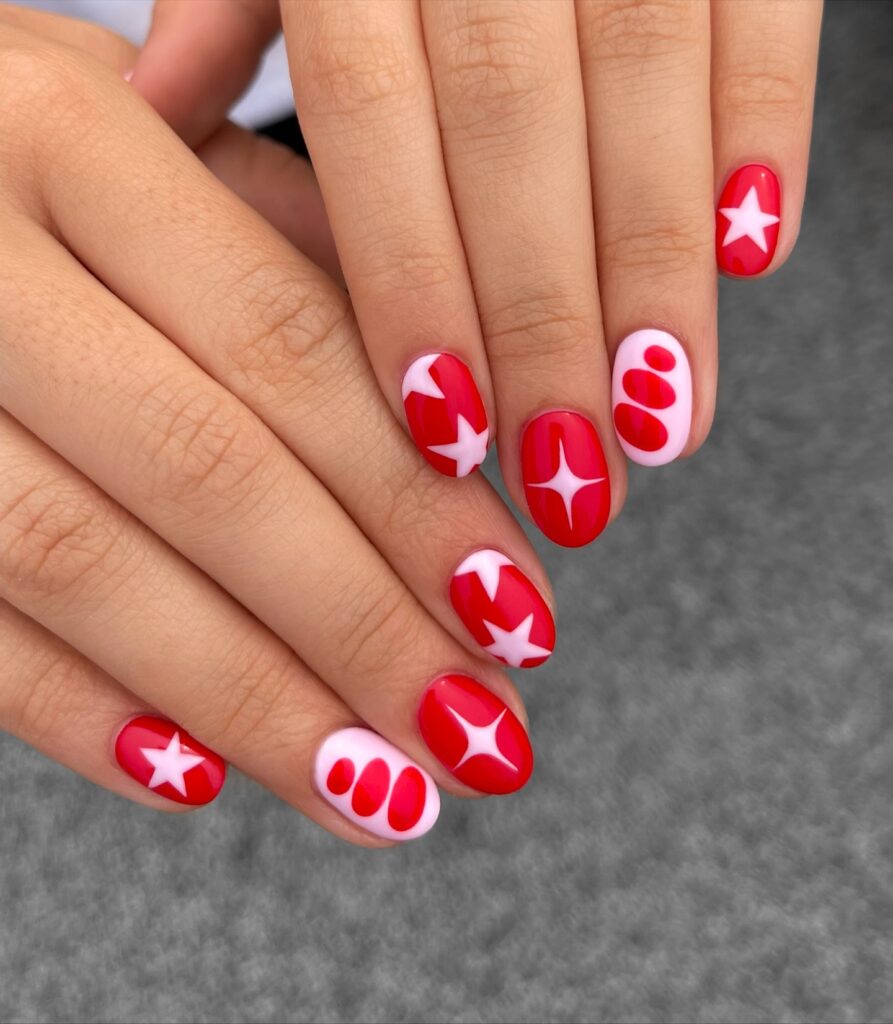 Unleash your inner whimsy with nails that feature funky stars scattered across a pink and red background. This design combines playfulness with a bold color statement, perfect for those who love to stand out.
The New Age French Manicure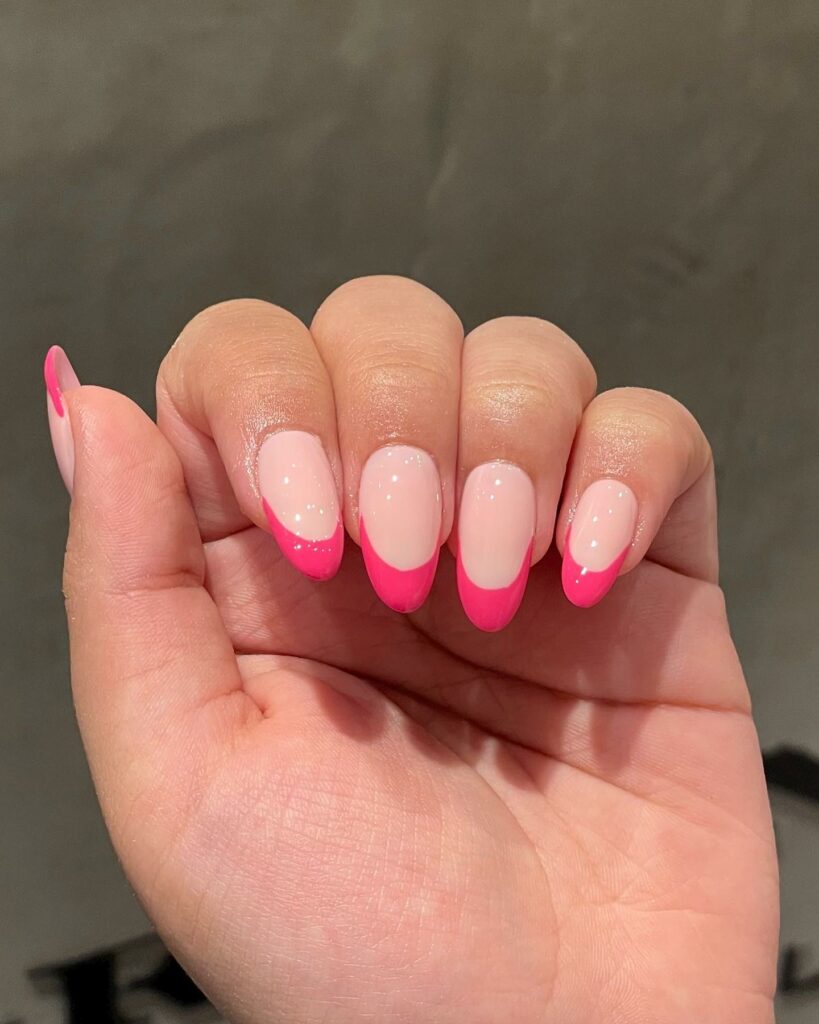 Oh, the classic French Mani, it never goes out of style. But why not give it a modern twist with hot pink tips? It's effortlessly chic and a vibrant way to update a time-tested favorite. Trust me, even the most traditional manicure aficionados will take notice.
The Ultimate Sweetheart Look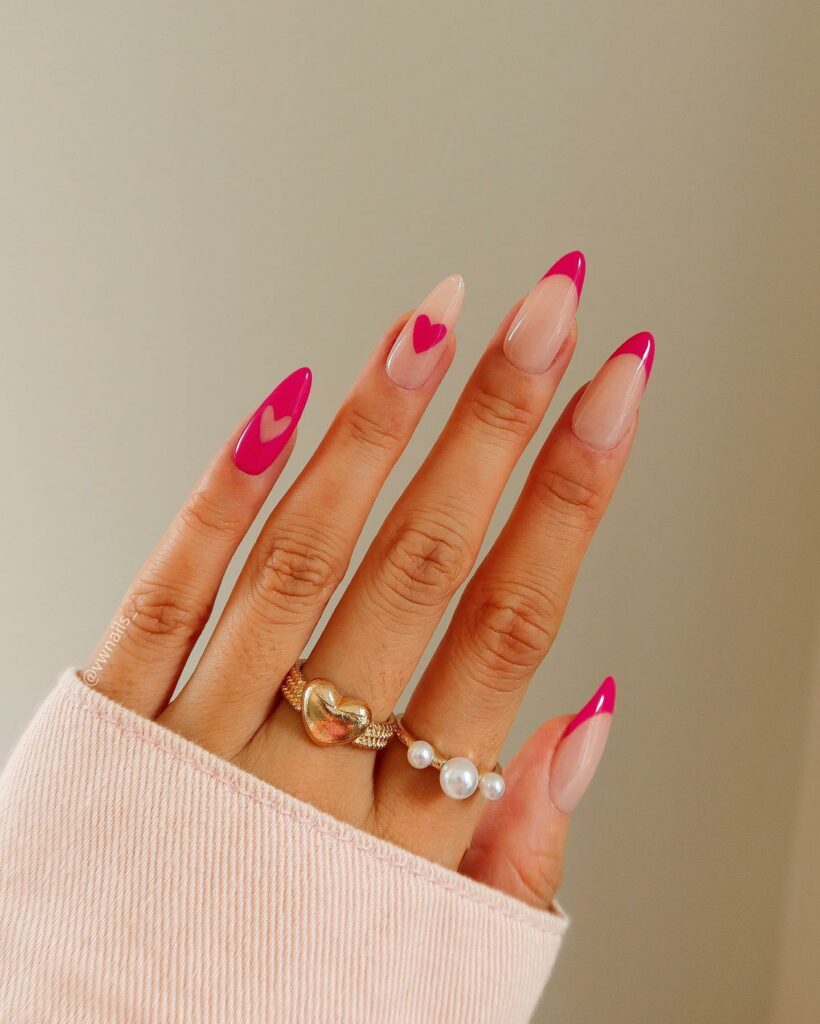 Red hearts on a light pink base with silver glitter? Yes, please! I wore this last Valentine's Day, and love was in the air.
Round Red And Pink Nails for a Feminine Touch
The round nail shape softens the boldness of red and pink, offering a more subtle approach to this color trend. These nails are ideal for those seeking a dash of color with a gentle, feminine silhouette.
Valentine-Inspired Red and Pink Nails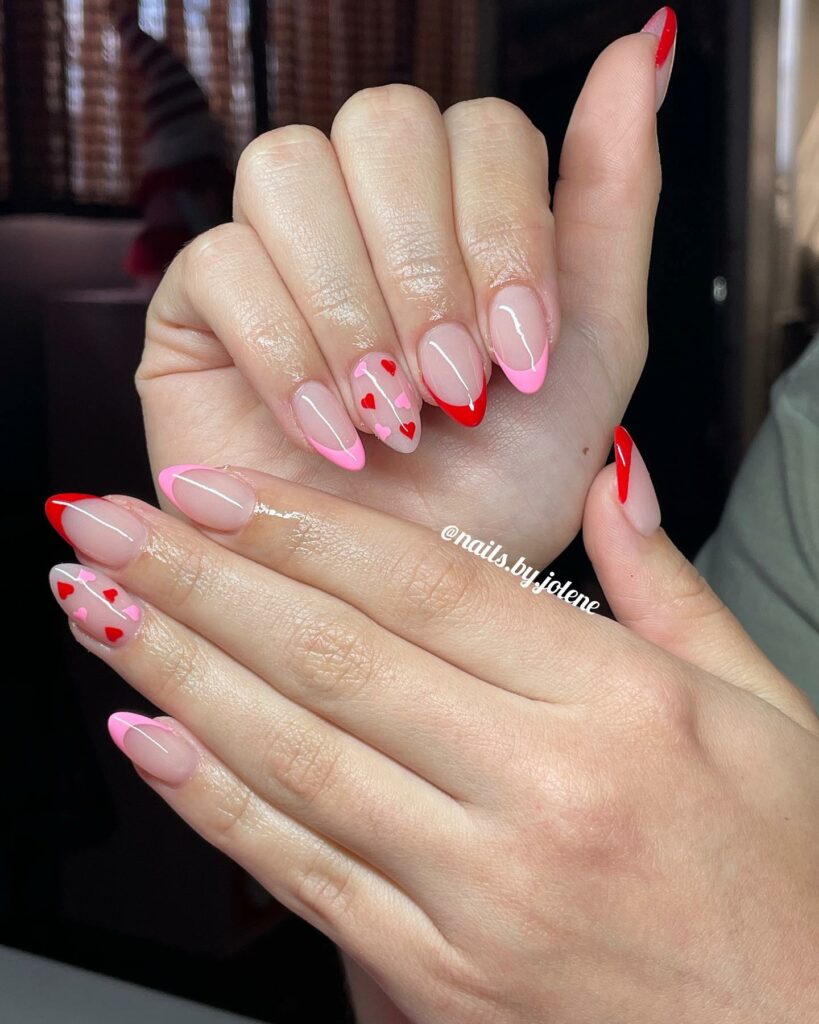 Capture the essence of Valentine's Day with nails that blend passionate reds with loving pinks. This design is the epitome of romance, perfect for celebrating love or simply enjoying a touch of romantic styling.
Coffin-Shaped Red and Pink Nails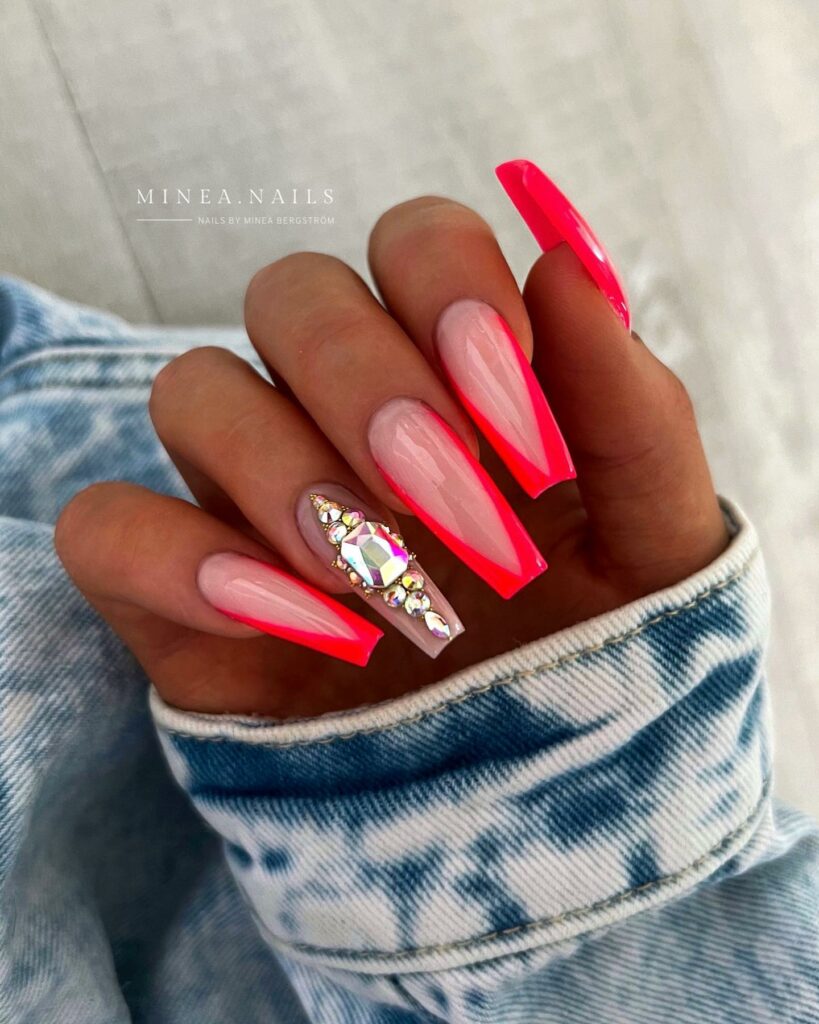 The coffin shape offers an edgy counterpoint to the sweetness of red and pink, creating a nail design that's both sharp and chic. This style is for the bold at heart who enjoys a dash of drama.
Heart-Inspired Red and Pink Nails
Encapsulating the spirit of affection, these long, sculpted nails are a canvas for the timeless duo of pink and red, adorned with hearts and fluid patterns. They're a testament to love's playful dance, perfect for those who wear their hearts not on their sleeves, but at their fingertips.
Coffin Red and Pink Nails with Rhinestone Accents
Dazzle and shine with coffin-shaped nails adorned with sparkling rhinestones over a red and pink gradient. This luxurious design combines bold shapes with the glamor of jewels, making for a truly eye-catching statement.
Classic Red and Pink Nails for Every Occasion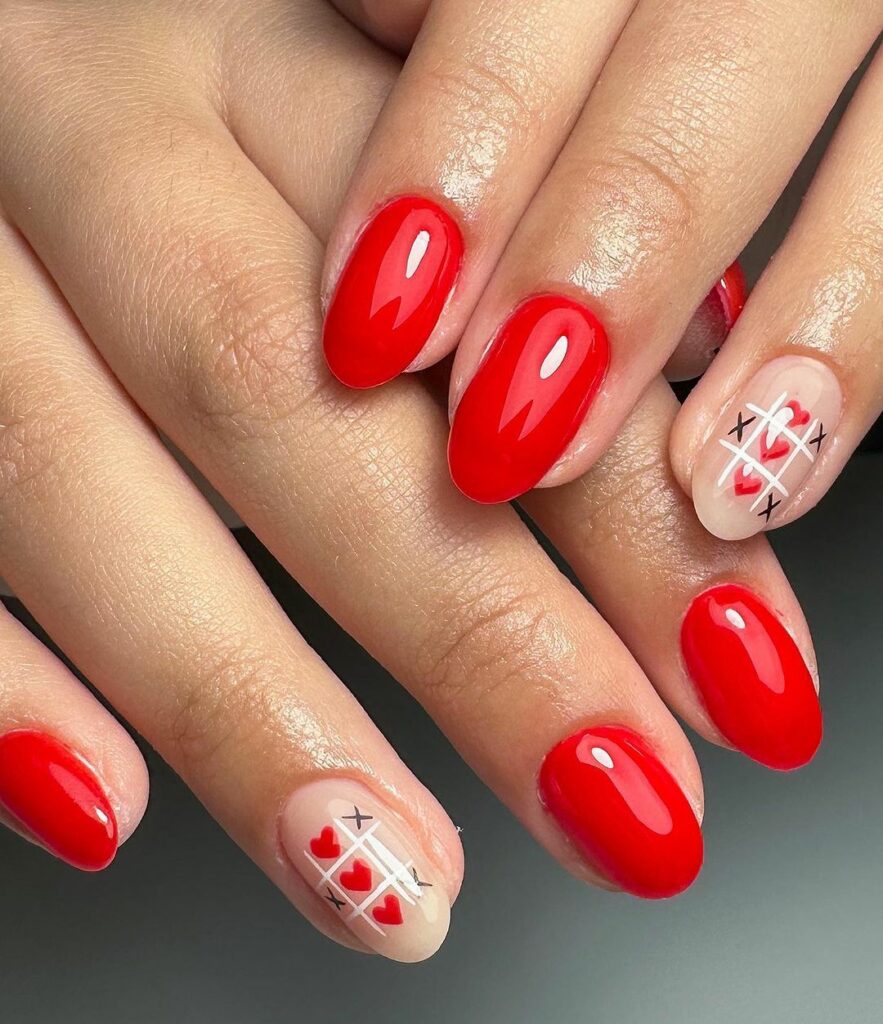 The quintessential duo of red and pink come together in a classic nail design that exudes sophistication and charm. Ideal for any event, these nails boast a color combination that is universally flattering and perpetually in vogue.
White and Red Swirl on Pink Nails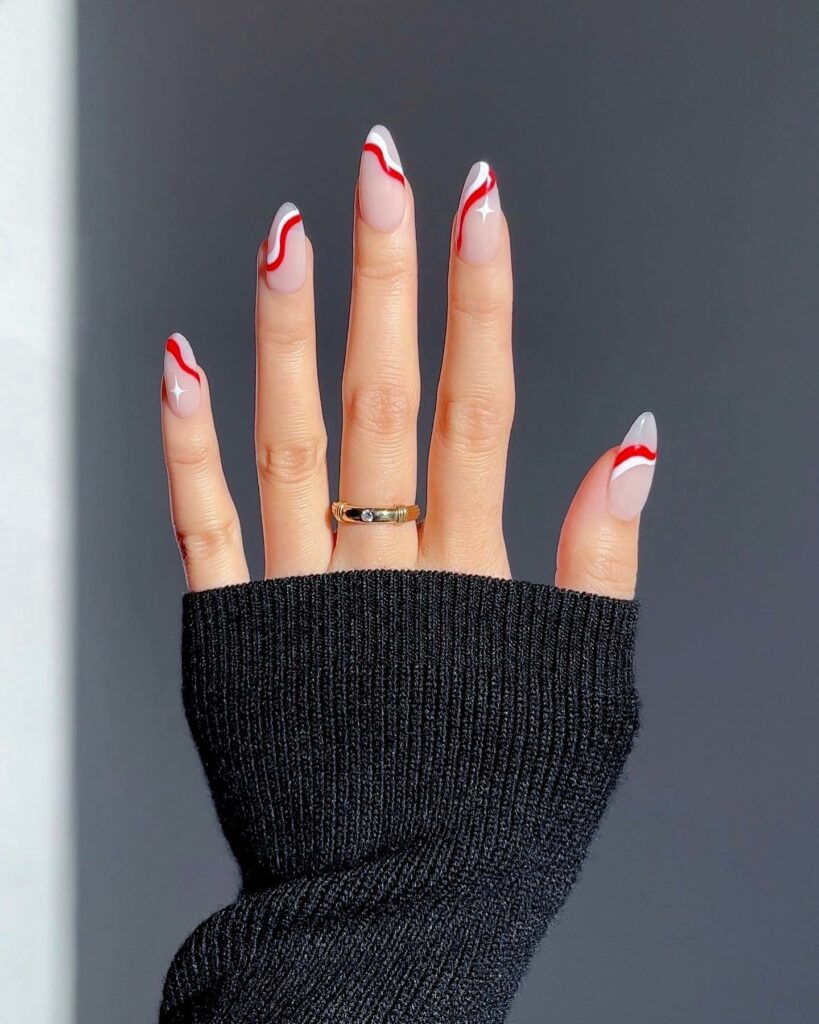 Swirls of white and red dance upon a pink base, reminiscent of sweet candy canes. This playful yet elegant design adds a touch of whimsy to your nails, perfect for those who love a creative and eye-catching look.
Marble Acrylic Red and Pink Nails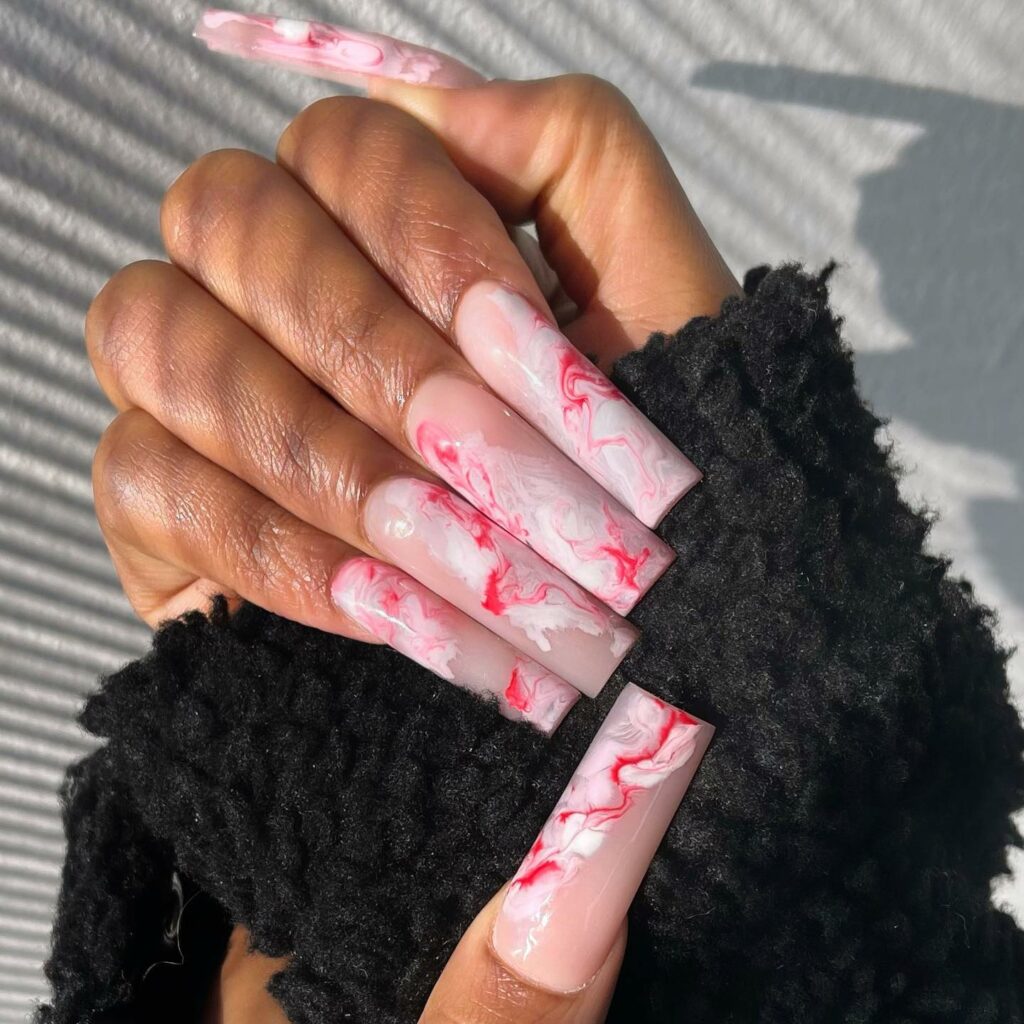 The marble effect on acrylic nails presents a luxurious blend of red and pink, resembling precious stones polished to perfection. These nails are a masterpiece of artistry, ideal for making a sophisticated statement.
Red Crystal Glamour on Matte Pink Nails
Matte pink nails serve as a canvas for the opulent adornment of red crystals, creating a luxurious feel reminiscent of velvet. This combination is for those who seek to marry matte's understated elegance with the bold crystal drama.
Acrylic Red and Pink Nails with Flame Accents
Turn up the heat with acrylic nails with flame accents, blending red and pink hues for a sizzling hot look. It's a fiery expression of creativity and boldness, perfect for those who want to make a statement.
Heart Red and Pink Nails for a Loving Statement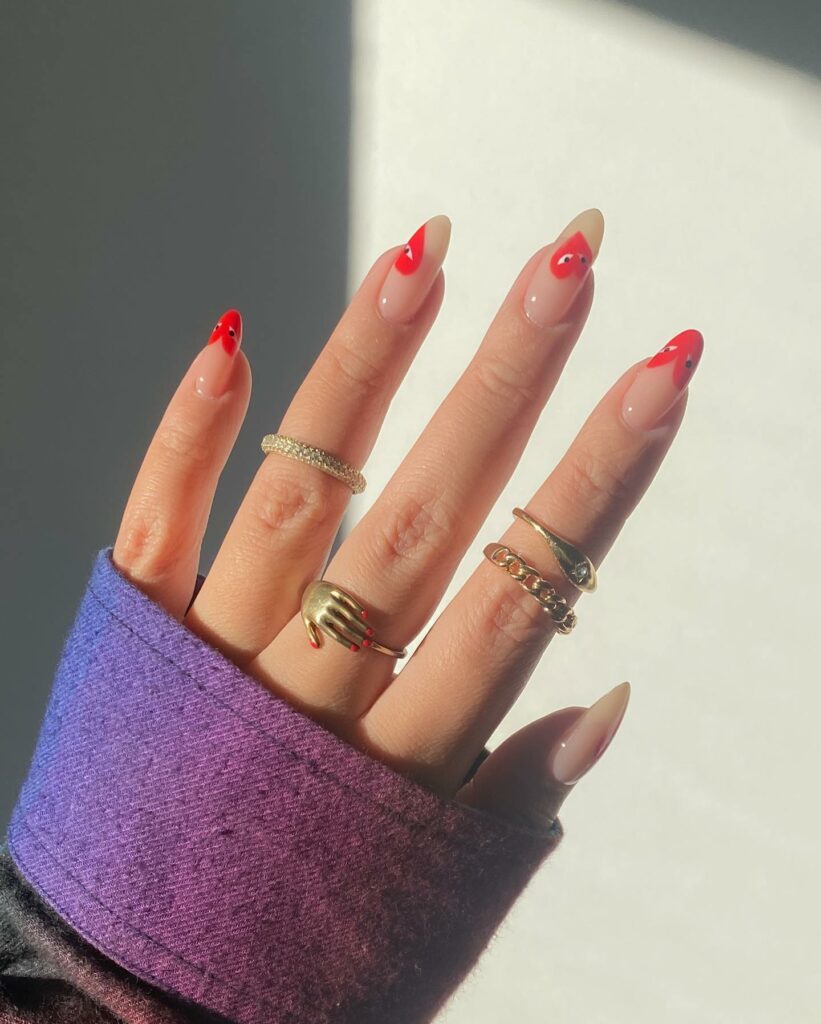 Adorn your nails with hearts in shades of red and pink for a loving statement that Cupid himself would envy. This design is perfect for those who wear their hearts not on their sleeve but on their nails.
Pink and Red Swirl Nails for a Dizzying Effect
Swirls of pink and red intertwine in a romantic dance on your nails, creating a dizzying effect that's both captivating. These nails are the epitome of a whirlwind romance captured in vivid color.
Abstract Red and Pink Nails
Abstract designs in red and pink turn nails into a canvas for modern art, reflecting a love for creativity and unique expression. These nails are for the art enthusiast who delights in wearing their artistic passion.
Glitter Heart Red and Pink Nails
Glitter hearts sparkle on a field of red and pink, adding a touch of glamour and sentimentality to your nails. This design is perfect for those who want to combine the sweet symbolism of hearts with the eye-catching allure of glitter.
Chic Heart Red and Pink Nails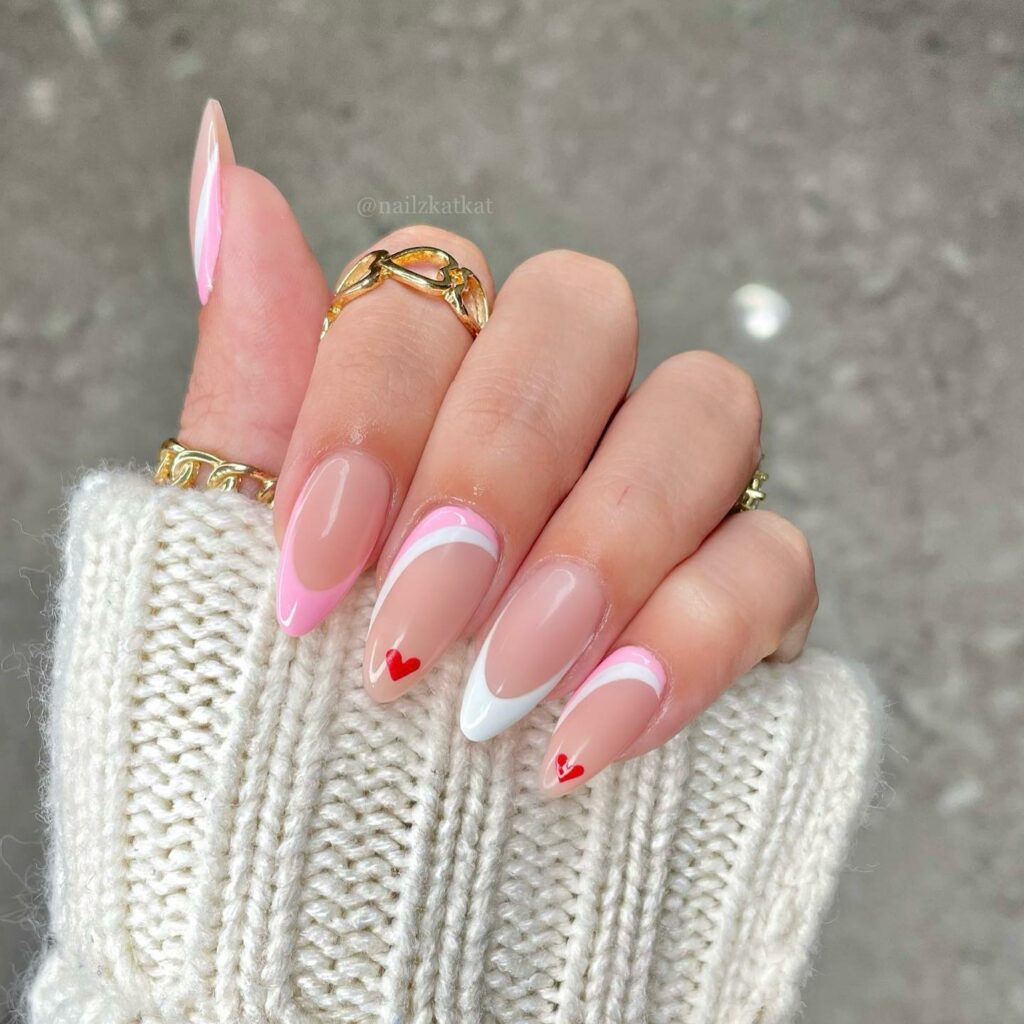 These red and pink nails epitomize chic romance with their sleek design featuring hearts. Perfect for anyone looking to add a stylish touch of love to their ensemble, these nails are a testament to modern elegance with a heartfelt twist.
Ombre Red and Pink Nails
The seamless transition from deep red to soft pink on these ombre nails captures the beauty of a fading sunset. This design is perfect for those who appreciate the subtle artistry of color blending and wish to carry the tranquility of twilight at their fingertips.
Short Pink and Red Heart Nails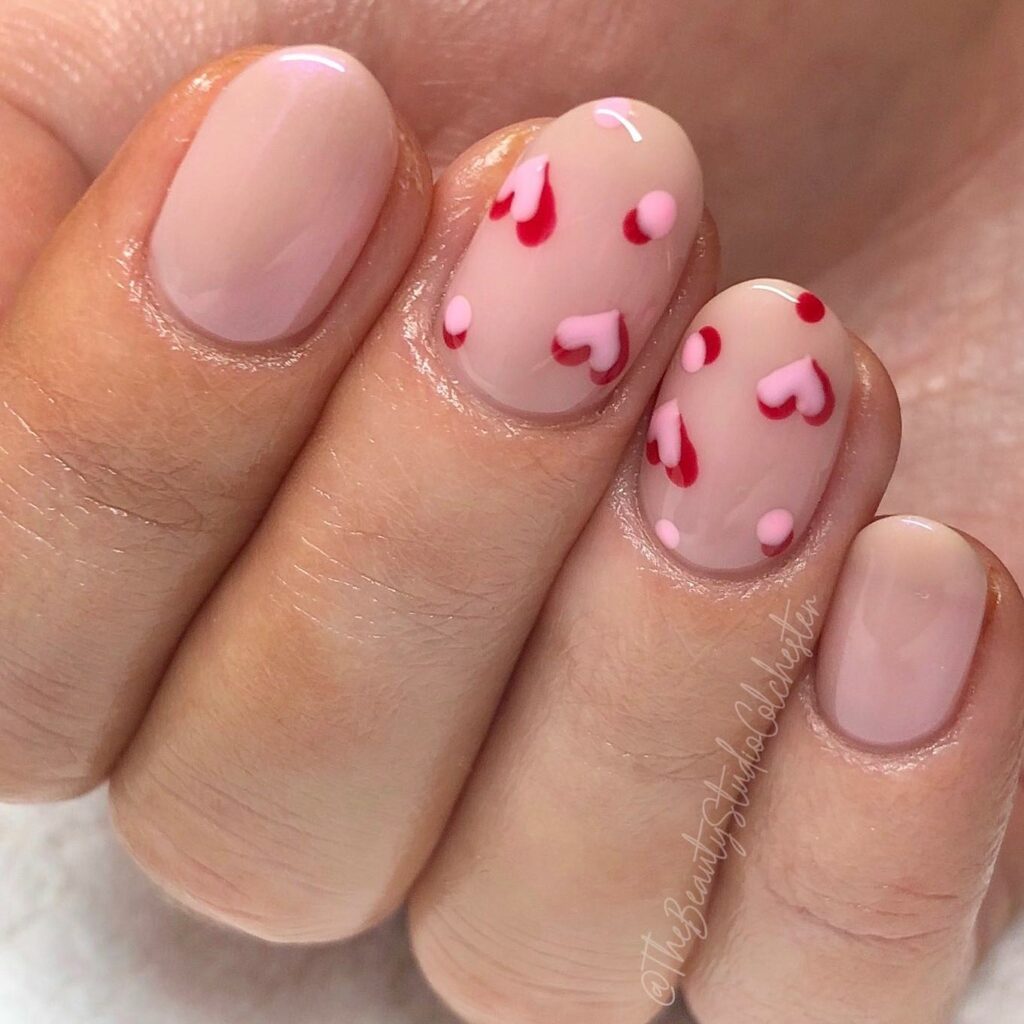 Short nails become a canvas for expression with tiny red hearts over a pink base, offering a subtle nod to romance. This design is ideal for nail art lovers who prefer a more understated and practical look without sacrificing charm and style.
Marbled Red and Pink Nails with Swirling Elegance
Red and pink come together in a marbled masterpiece, creating a swirling pattern that's as unique as sophisticated. These nails are for those who desire a touch of artistic flair and enjoy the allure of fluid, organic patterns.
French Yin Yang Red and Pink Nails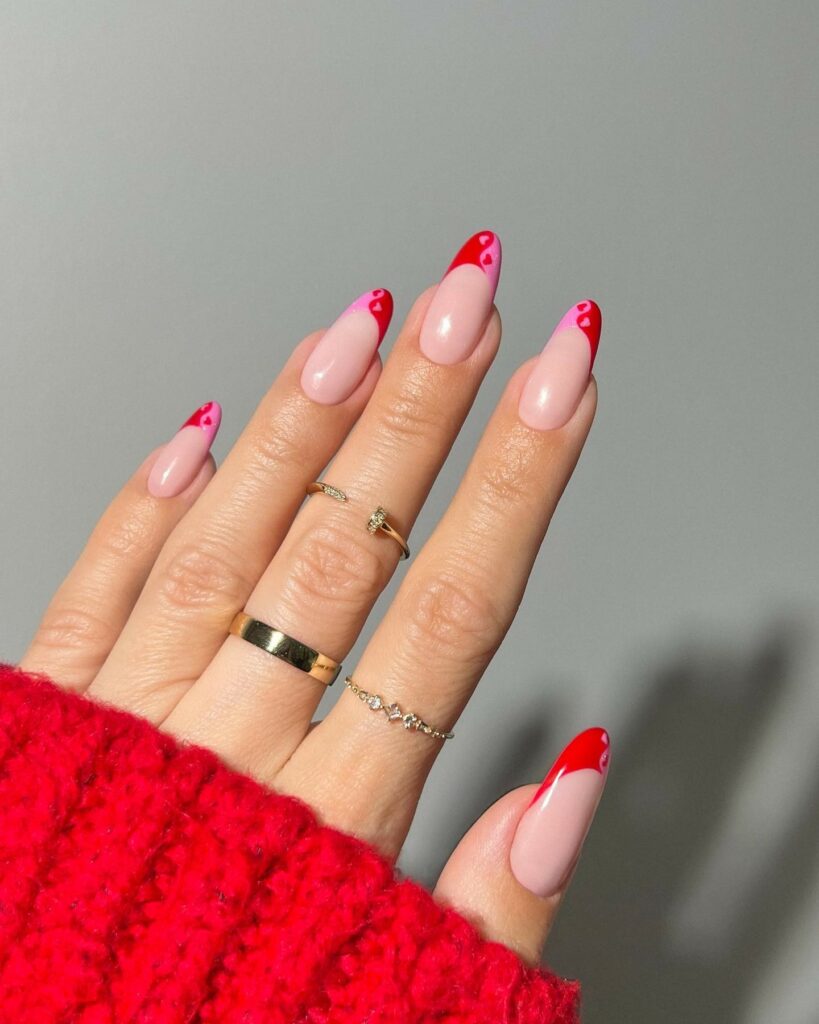 This innovative take on the French manicure presents a yin-yang design with red and pink, symbolizing balance and harmony. It's a creative and eye-catching style for those who enjoy a unique twist on classic nail art.
Red and Pink Nails with Polka Dot Charm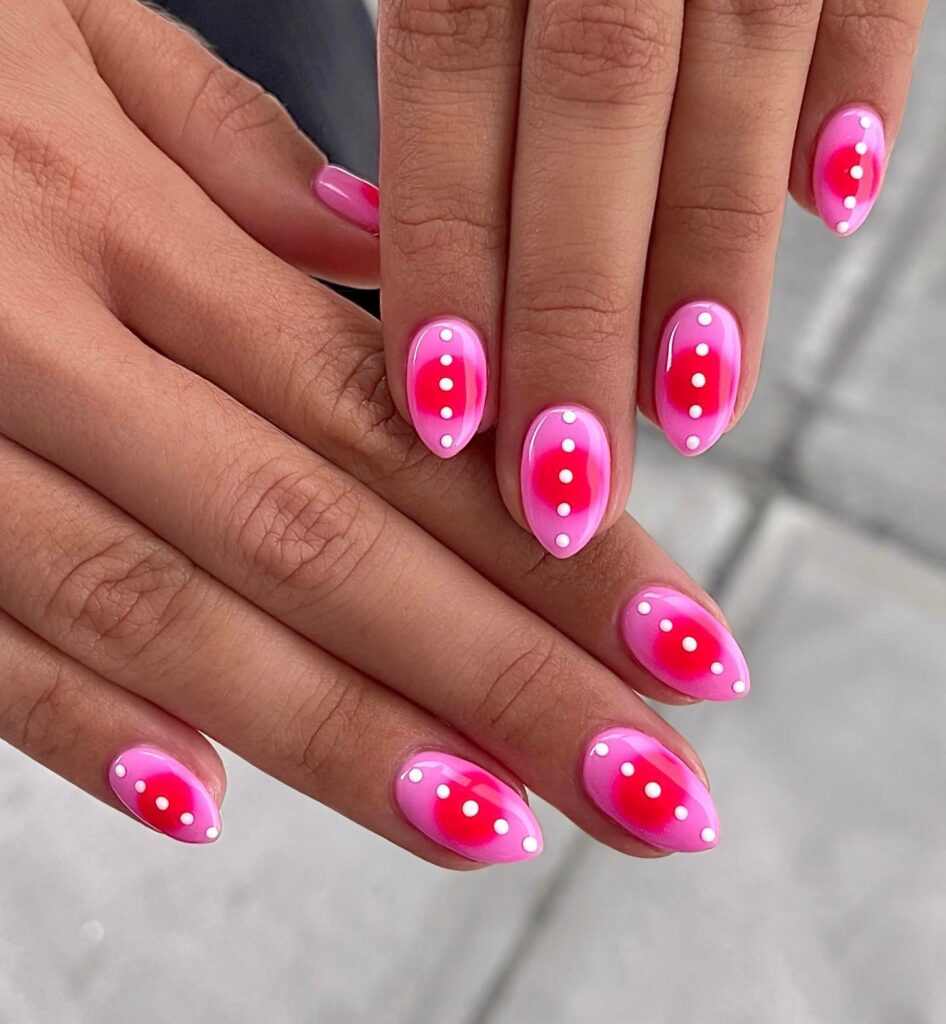 Polka dots scatter across a red and pink background, bringing a playful and retro vibe to your nails. This look is for anyone who loves to combine fun patterns with vibrant colors for a cheerful and stylish nail design.
Floral Finesse in Pink and Red Nails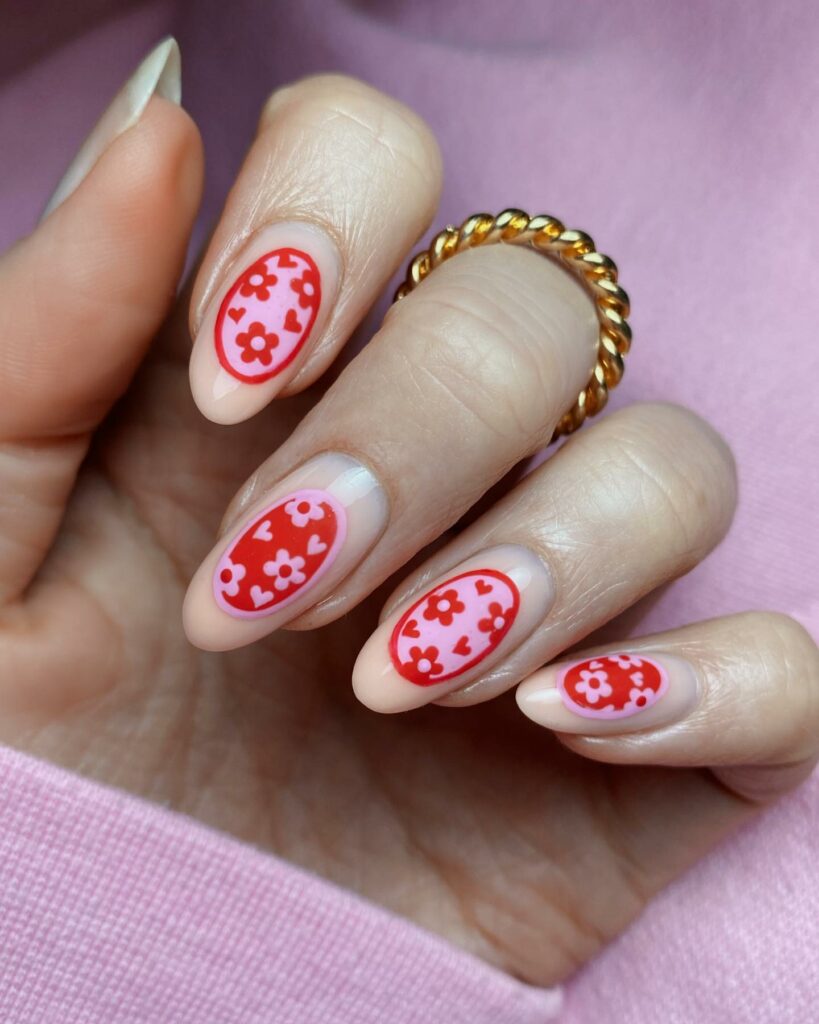 Floral patterns breathe life into the vibrant red and pink nail colors, evoking the beauty of a blossoming garden. This design speaks to the romantic and the nature lover, blending art with the allure of flora.
Red And Pink Nails with Floral Embellishments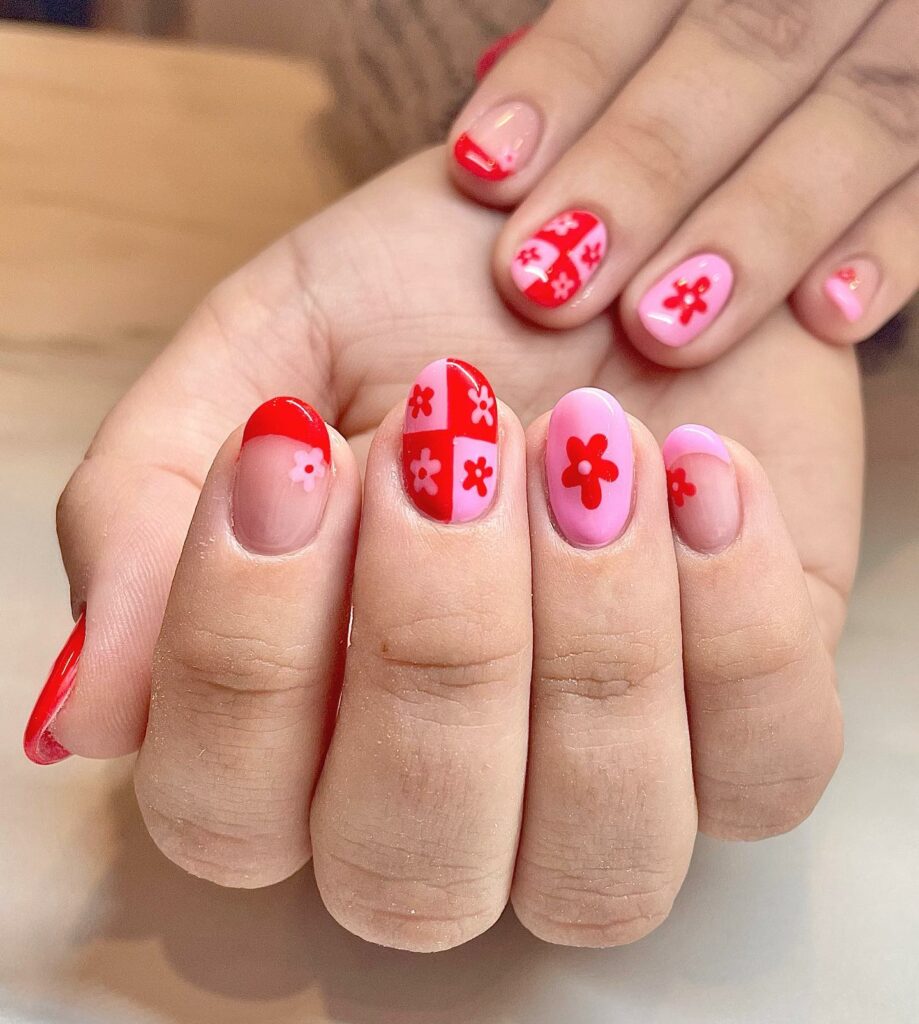 Invoke the splendor of a floral gala with red and pink nails featuring intricate floral art. This design is like a stroll through a vibrant garden, with your nails as the inviting blossoms.
A Symphony of Red and Pink on Your Nails
This striking nail ensemble sings with the boldness of red and the sweetness of pink, a harmony that's as playful as it is refined. The designs, ranging from glossy solids to transparent hearts, capture the essence of modern romanticism with a daring edge.
XOXO Inspired Red and Pink Nails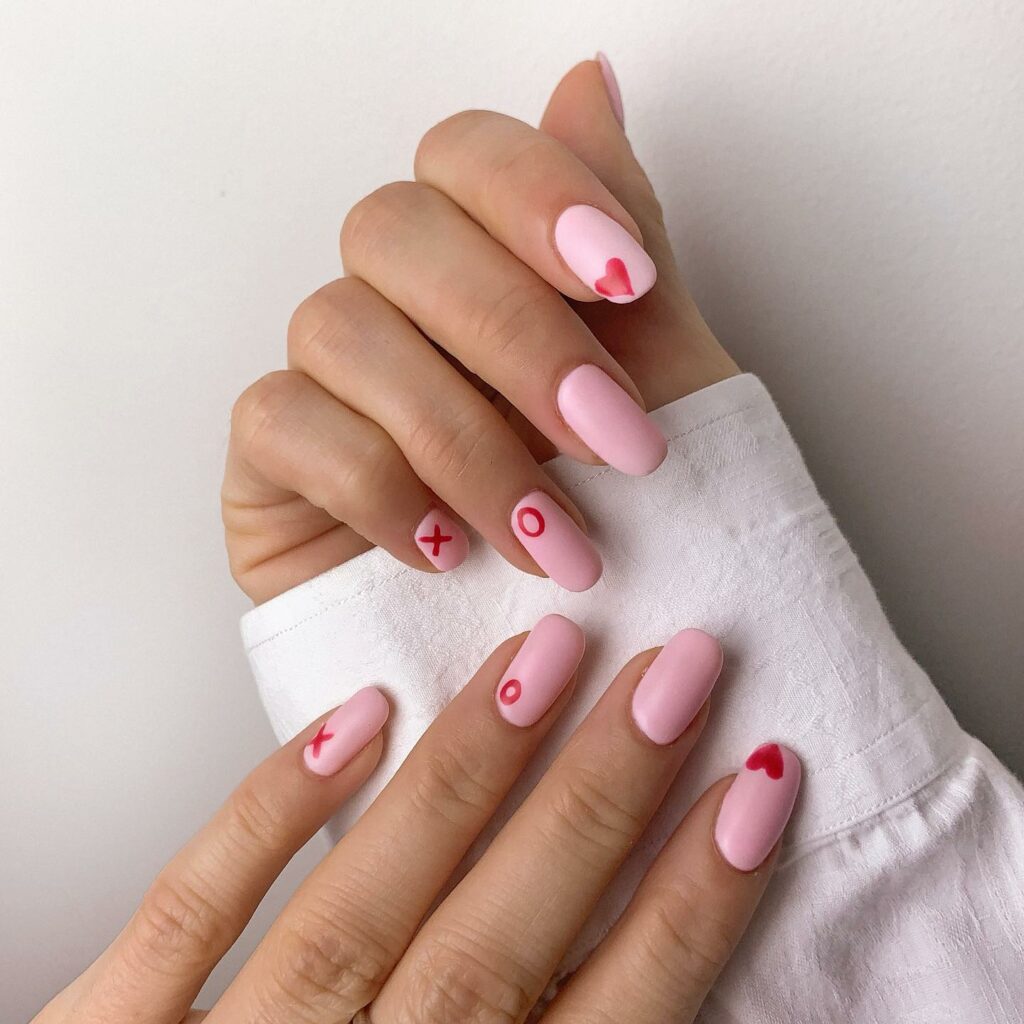 Send a message of affection with nails that subtly incorporate the XOXO motif in shades of red and pink. This design is a soft-spoken ode to love letters and secret admirers.
The Pink Parade: Bright Pink Almond Shape Ombre Nails
Dive into the delightful spectrum of pink with these almond-shaped ombre nails. I had a phase where I was obsessed with everything pink. With its quirky and varied shades, this style rekindled that love for pink, adding a fresh and modern twist to my look. Remember, the world of pink is vast and versatile, ready to complement every mood and outfit.
.
7 Key Design Themes To Try In 2024!
Y2K Retro Charm with Heart Details: This design embraces the nostalgic charm of the Y2K era, featuring a pastel pink base with cute tiny red hearts scattered randomly on each nail. A glossy top coat will ensure your nails catch the light, making them pop even more!
Classic Red and Pink Ombre: For this look, we start with a classic pink base, then blend it into a deep romantic red towards the tips. This gradient effect creates a beautiful transition between the two colors, perfect for the romantic season.
Swirly Nail Art: This trendy design combines red and pink in a swirling pattern, almost like a marble effect, creating a mesmerizing and playful design. You can even throw in some white swirls for added contrast.
Geometric Boldness: Here, solid blocks of red and pink are applied to the nails in geometric shapes, giving a modern and edgy look. You can add a touch of gold or silver for a metallic pop.
French Twist: Try a traditional French manicure with a twist for a chic and elegant look. Instead of the classic white tips, opt for red and pink alternating tips. This is a subtle yet stylish way to incorporate these colors into your Valentine's Day look.
Mixed Pattern Madness: Why settle for one design when you can mix and match? One nail could feature vertical or horizontal stripes, another with polka dots, and perhaps a third with the aforementioned heart details or swirls. This eclectic look showcases your creativity and is a guaranteed conversation starter.
Remember, each of these designs can be altered to match your style and creativity. Feel free to add sparkles, gems, or a matte top coat to switch things up! The world of nail art is your oyster. So, get inspired and let your creativity shine!
Conclusion
Whether you opt for the subtle ombre, playful polka dots, or the striking marbled effect, these designs are a fantastic way to express your style and add a splash of color to your daily life. It's essential to consider the health of your nails, so always ensure you're visiting reputable salons or using quality products at home. The world of nail art is ever-evolving, so don't be afraid to experiment and, most importantly, have fun with it! With these tips and ideas, you're well-equipped to make a statement with your nails that's all your own. Now, go ahead and let your hands do the talking!
Feature image @vivianmariewong via Instagram
Last reviewed and updated on November 29, 2023