Are you on the hunt for some fresh and fabulous short black nail designs to try out? You're in the right spot! We're about to dive into the latest trends that are making waves in the world of short black nails. From sleek matte finishes to playful patterns, this article is your one-stop guide to discovering a variety of styles that will have your nails looking on-point. Get ready to be inspired and learn how to recreate these trendy looks, ensuring your nails are anything but boring!
Short Matte Black Short Studded Nails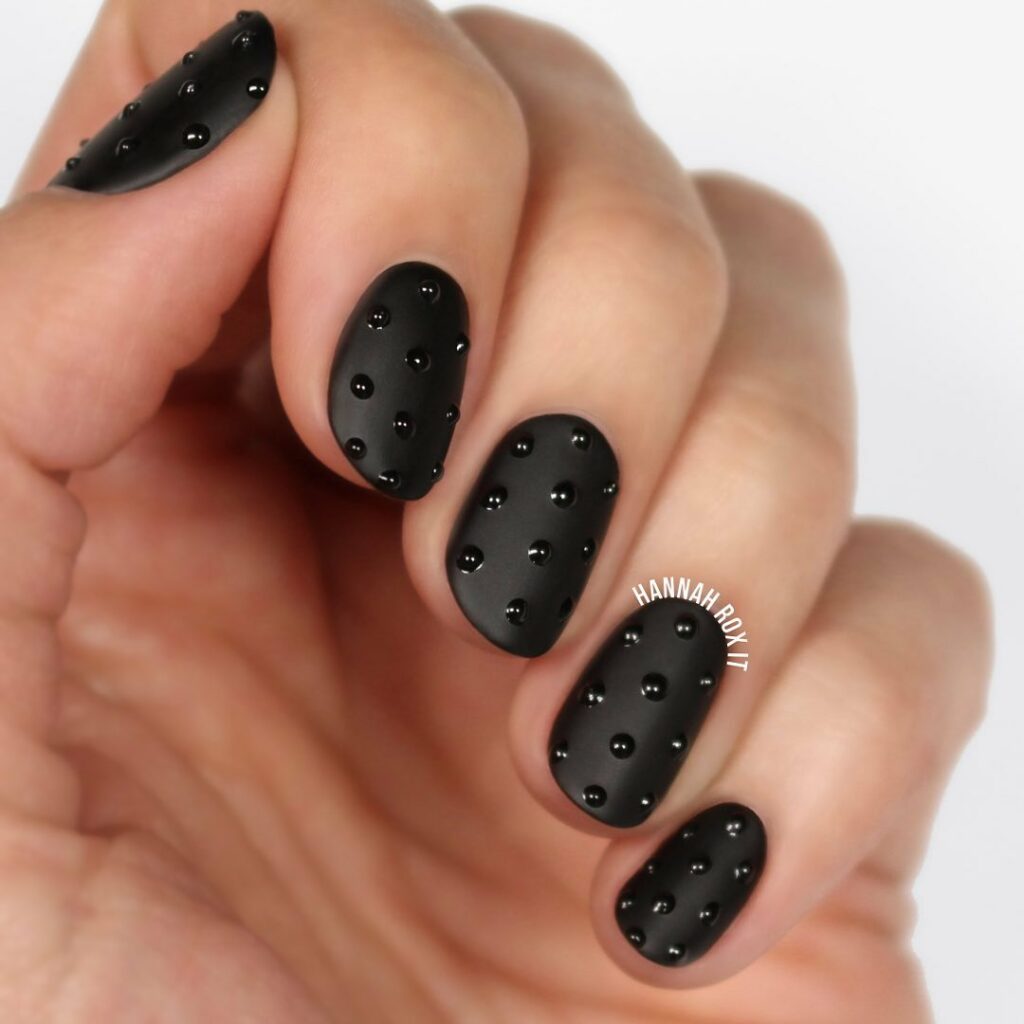 If you're into the punk or goth scene or love to make a statement, matte black nails with studs are right up your alley. The matte finish gives it an edgy backdrop, while the studs add that rebellious touch.
Into the Deep: Dark, Classy Nails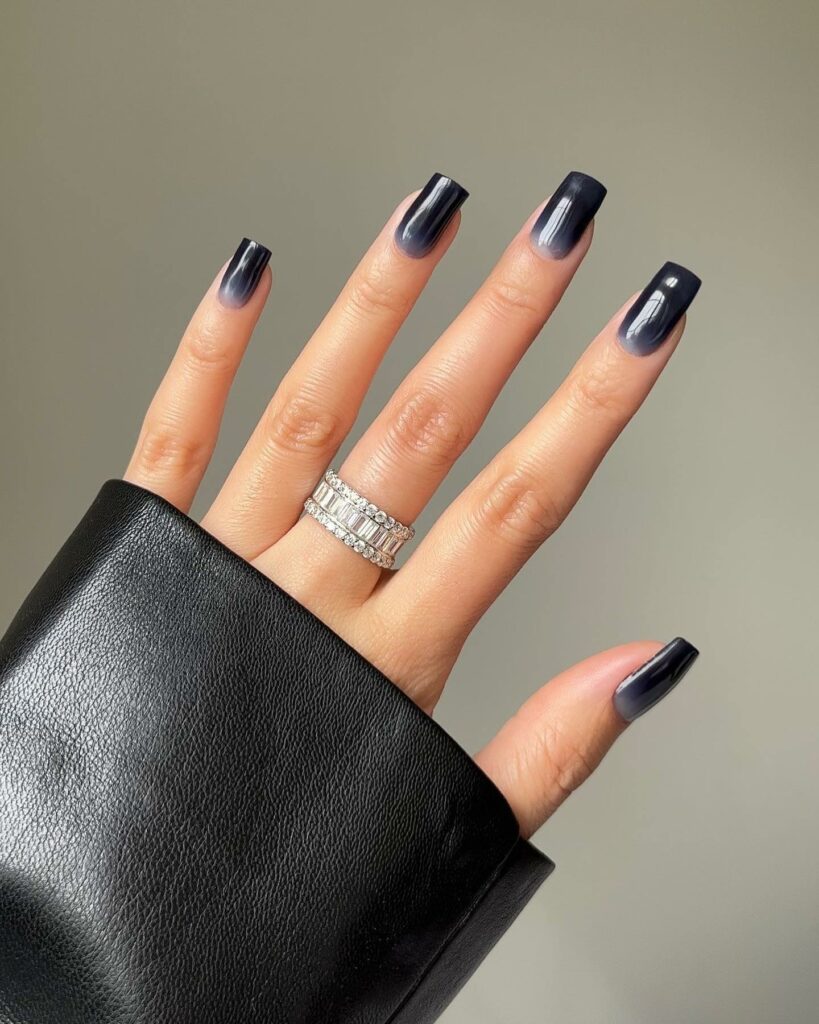 Dark nails hold an undeniable allure. Something mysteriously chic about them makes me feel like I can conquer the world (or at least my overflowing laundry basket). Popular choices include burgundy, dark green, and black, but have you ever considered dark navy? It's a game-changer!
Minimalist Black Short French Nails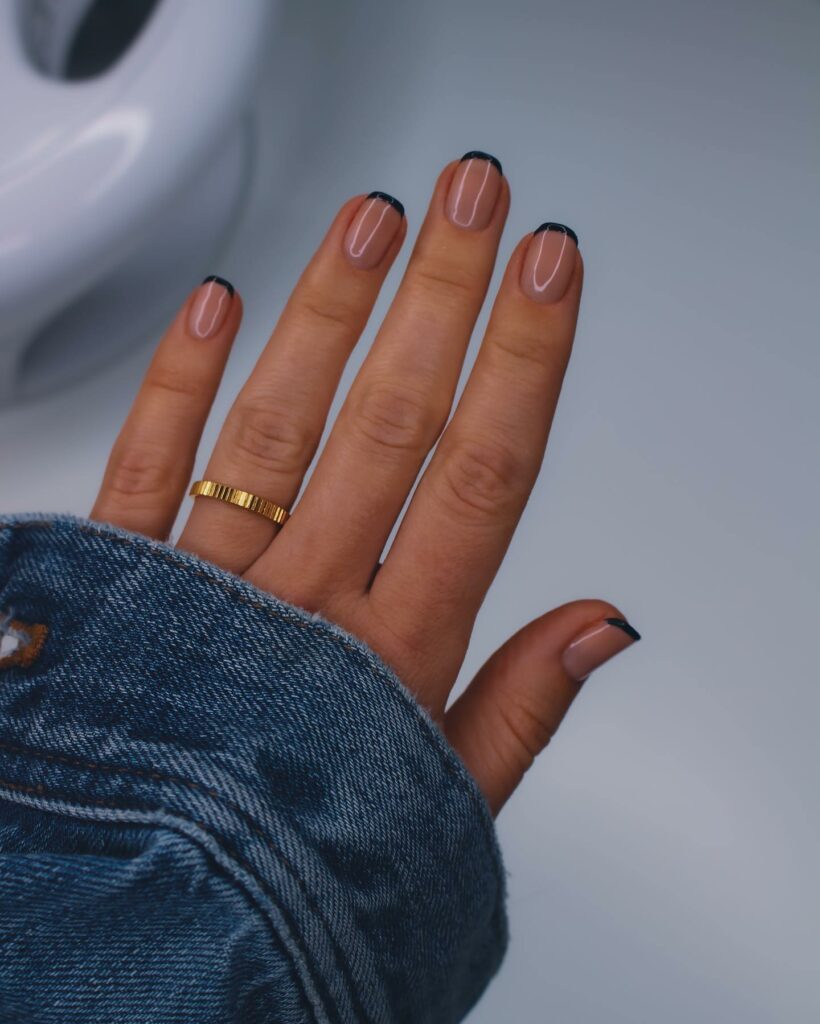 Embrace a streamlined aesthetic with minimalist black short French nails. This low-key design makes a subtle
Short Matt Black Cow Print Nails
Feeling a little mooo-dy but still want to keep things fun? Matt Black Cow Print Nails let you channel some farm-fresh flair with a stylish twist, blending playful cow spots over a matte black canvas for a look that's both whimsical and chic.
Almond Short Black French Nails
Embrace the daring combination of a stiletto shape with the classic French manicure by opting for Stiletto Short Black French Nails. This style makes a fearless fashion statement, with the pointed tips and contrasting black color offering a bold yet elegant look that can sharpen any ensemble, from casual wear to evening gowns.
Short French Nails with Sparkling Jewels
Upgrade your nail game with Matte Black Tips adorned with jewels. These Short French Nails blend the matte mystique with the sparkle of gemstones, perfect for a glamorous night out.
The Modern Chic: Matte Black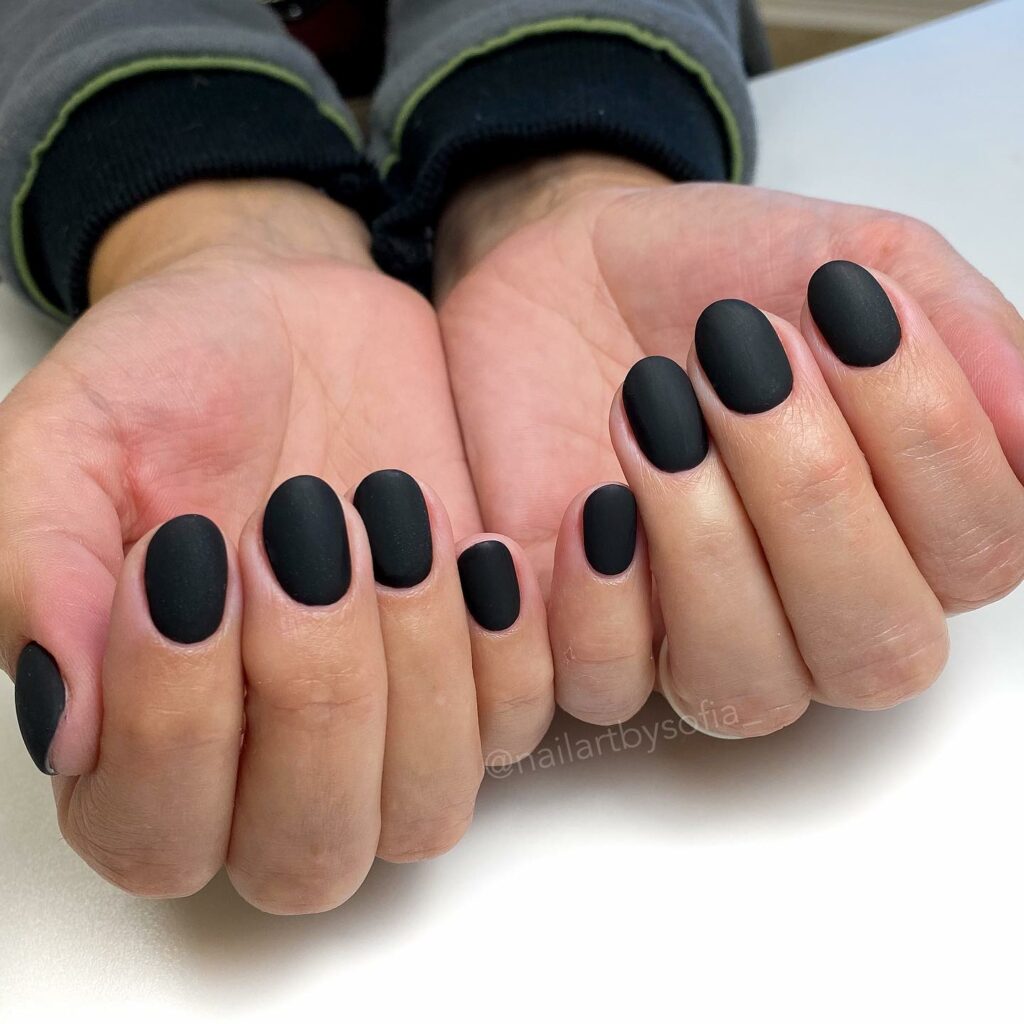 If you're going for an understated yet edgy vibe, matte black is your go-to. It's a modern twist on the glossy classic and oh-so Instagrammable. Matte finishes are way more forgiving regarding minor chips and dings. So, if you're clumsy like me, matte's the way to go.
Short French Twist: Black Tips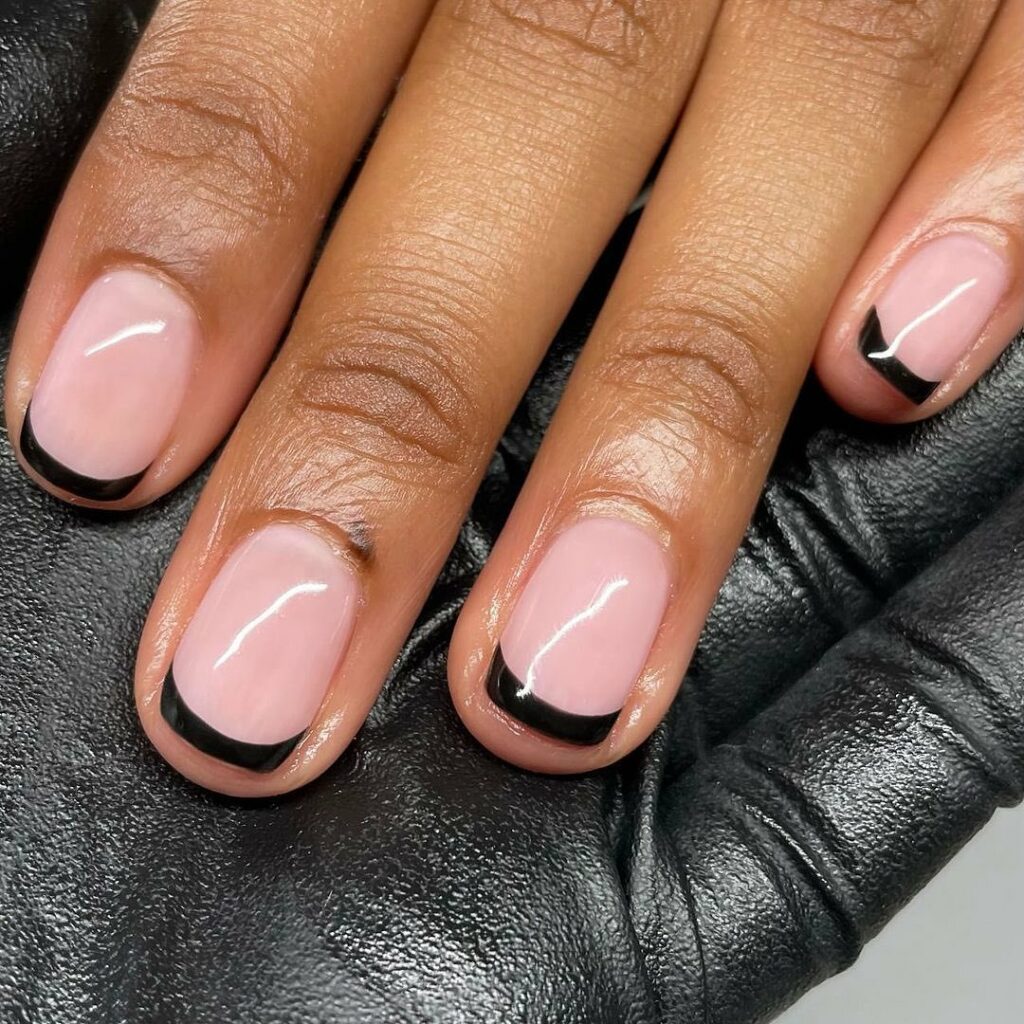 Why not take the classic French manicure up a notch? Black tips are effortlessly stylish and give your fingers a slender, elegant appearance. When I first tried this, my friends thought I had gone to a fancy salon, but it was all DIY!
Short Black & Silver Glitter Nails
Who says you can't be glamorous and edgy? Mix black with some silver glitter, and boom—you're the life of any party. I love doing this style for New Year's Eve or any event where I want to dazzle.
Cute Hearts On Black French Tip Nails
Add a dash of romance to your fingertips with Cute Hearts on Black French Tip Nails. This delightful design infuses a playful twist into the classic French tip, perfect for adding a touch of whimsy to your look.
Fiery Ombre: Short Black & Red Nails
If you're in a bold and fiery mood, why not go for a red ombre? The gradient from black to red is both mesmerizing and daring. Perfect for when you're feeling a little spicy!
Futuristic Feels: Metallic Stripes
Metallic stripes on black nails are like a sci-fi dream come true. This look adds an unexpected glam factor, whether it's silver, gold, or rose gold stripes.
Black French Tips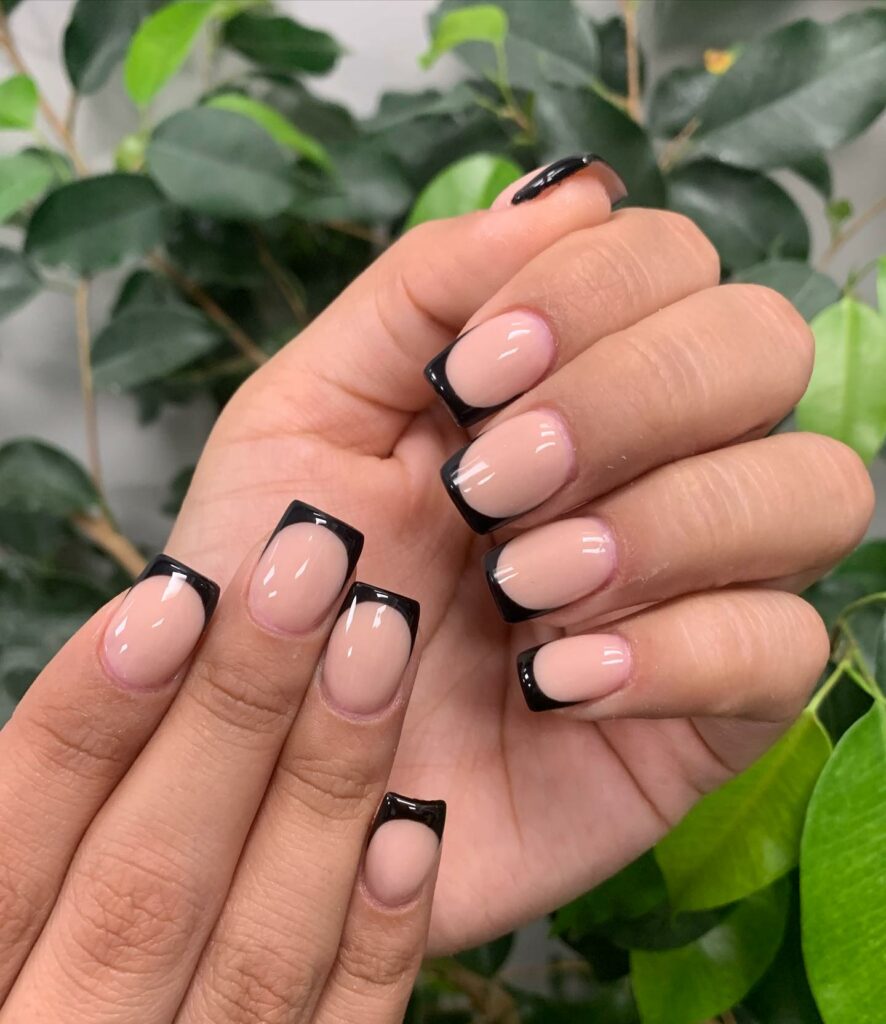 Switch out the traditional white for a black French tip on short square nails to bring a bit of drama to your look. This unexpected twist adds a contemporary vibe to the classic French, making your nails a perfect conversation starter.
Ladylike Elegance: Black Lace Designs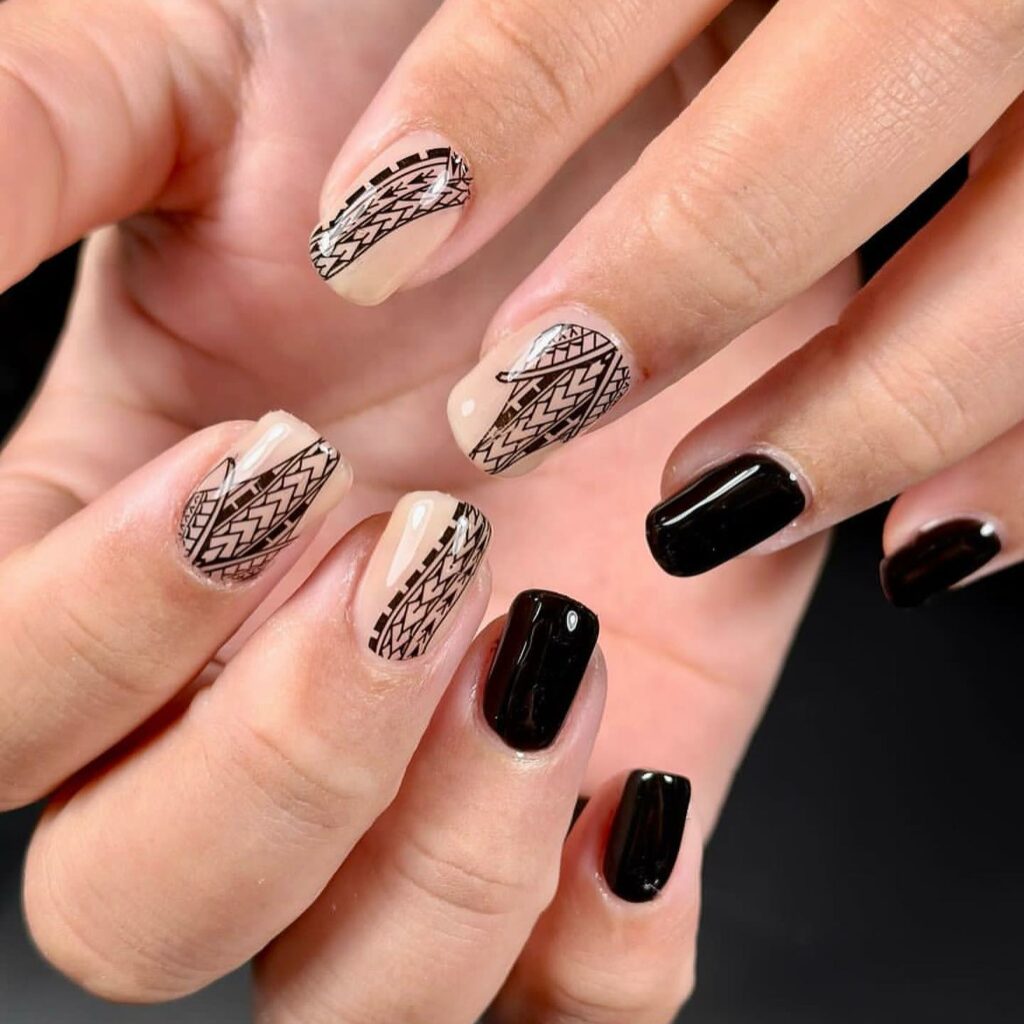 For romantic evenings or classy events, lace patterns on black nails are absolutely divine. The intricacy of lace adds a level of sophistication that's hard to match.
The Classic: Glossy Black Nails
Ah, the classic glossy black nails—timeless, versatile, and oh-so-chic. Whether you're hitting the red carpet or just running errands, this high-shine finish adds a dash of glamour that makes any outfit pop.
Short Black & Nude Nails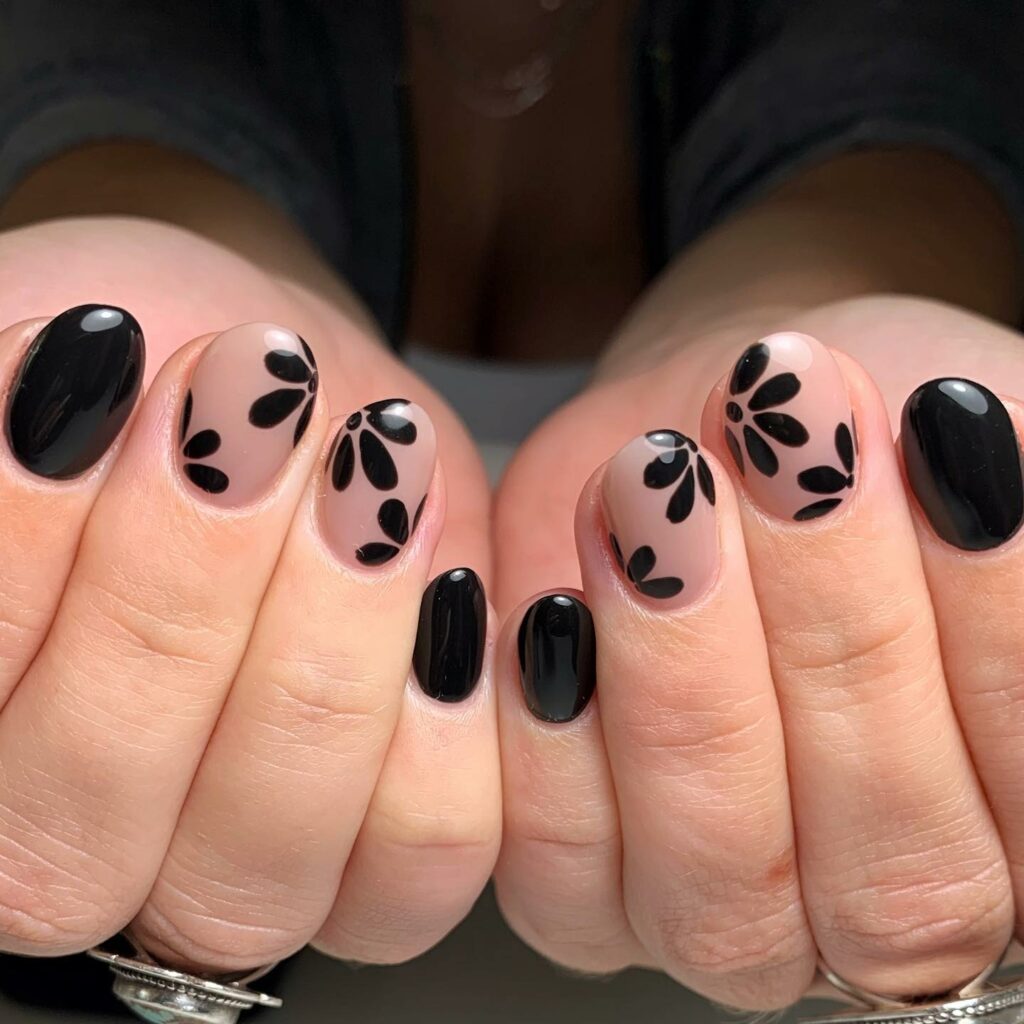 A black and nude color block works wonders when feeling chic but subtle. It's a toned-down style that still captures attention.
Short Square Nails With Silver Swirls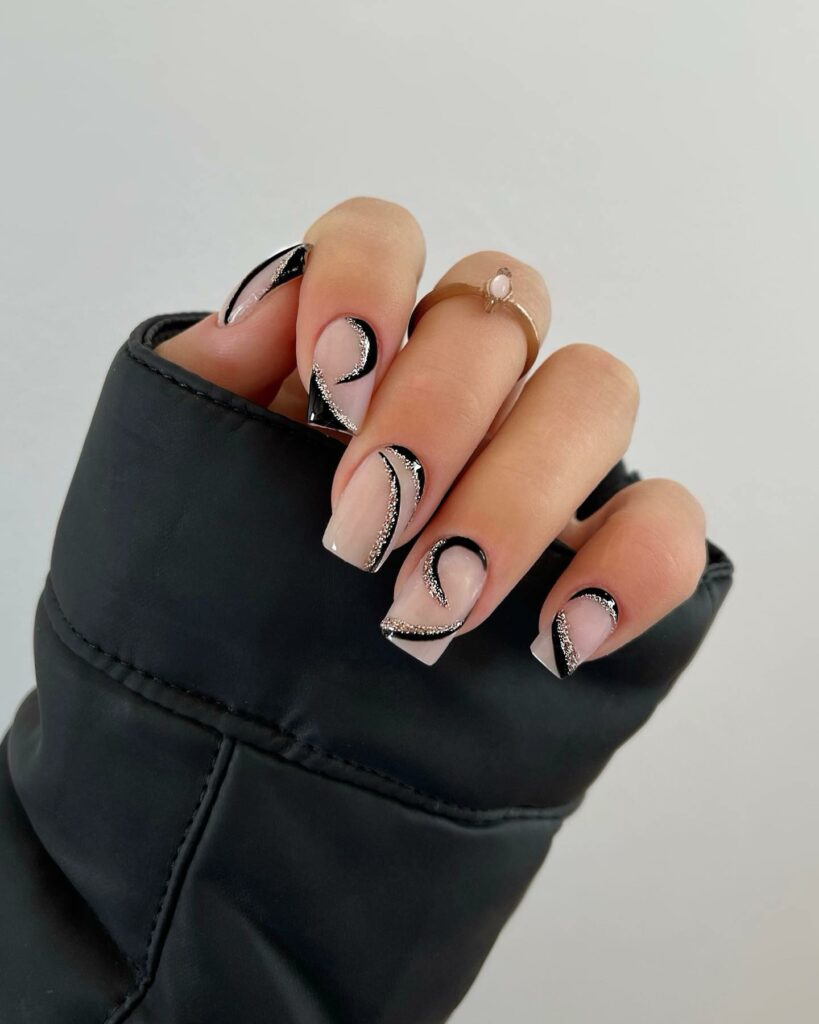 I first tried this for a formal event, wearing a classic black dress. These nails brought the perfect edge, giving the outfit an unexpected depth.
Holographic Dreams: Ethereal Short Black Nails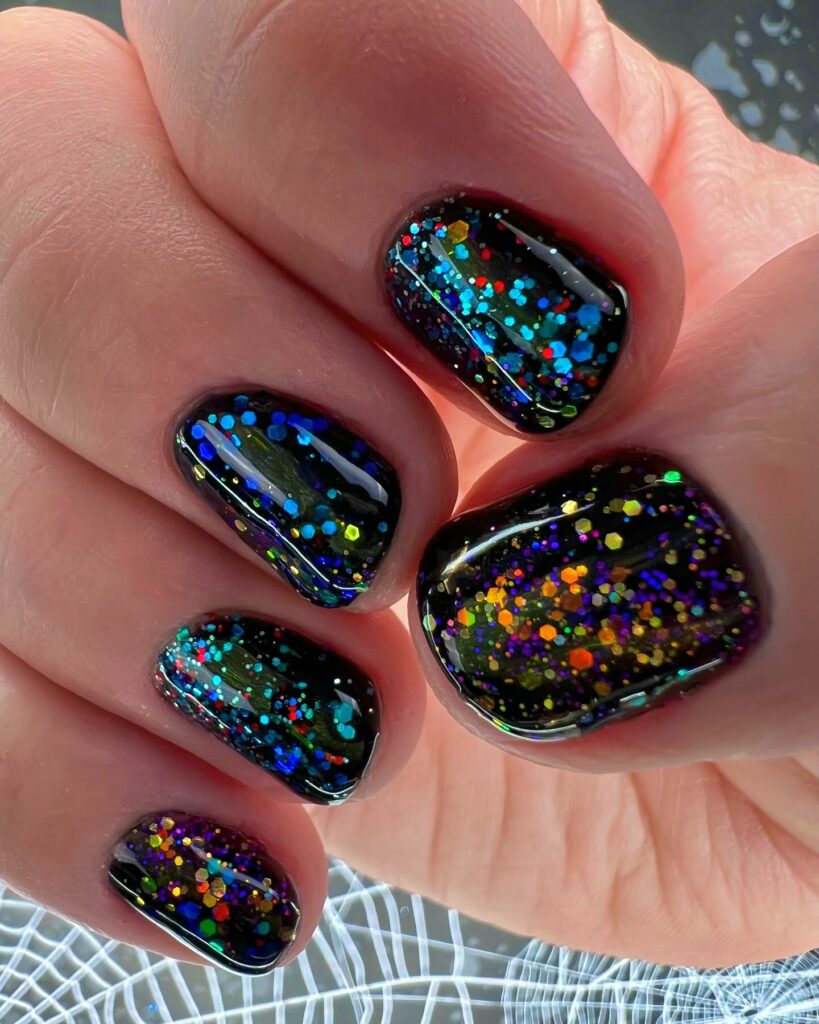 Last, let's talk about the magic of holographic glitter. When I tried this, it was like my nails had their own mini disco balls. Perfect for standing out and making a vibrant statement!
Neon Pop: Black & Neon
Summer festivals or beach getaways call for neon accents on your black nails. It's a contrast that's both electric and fun.
Mikey Mouse Matte Black Nails
If you're looking to combine nostalgia with classic Disney appeal these are amazing
Short Black Short Nail With Clover Design
Feeling lucky? Clover designs on short black nails bring a touch of Irish charm to your fingertips. This design is entertaining for St. Patrick's Day festivities or whenever you want to channel good fortune.
Edge It Up – Black French Tips On Short Square Nails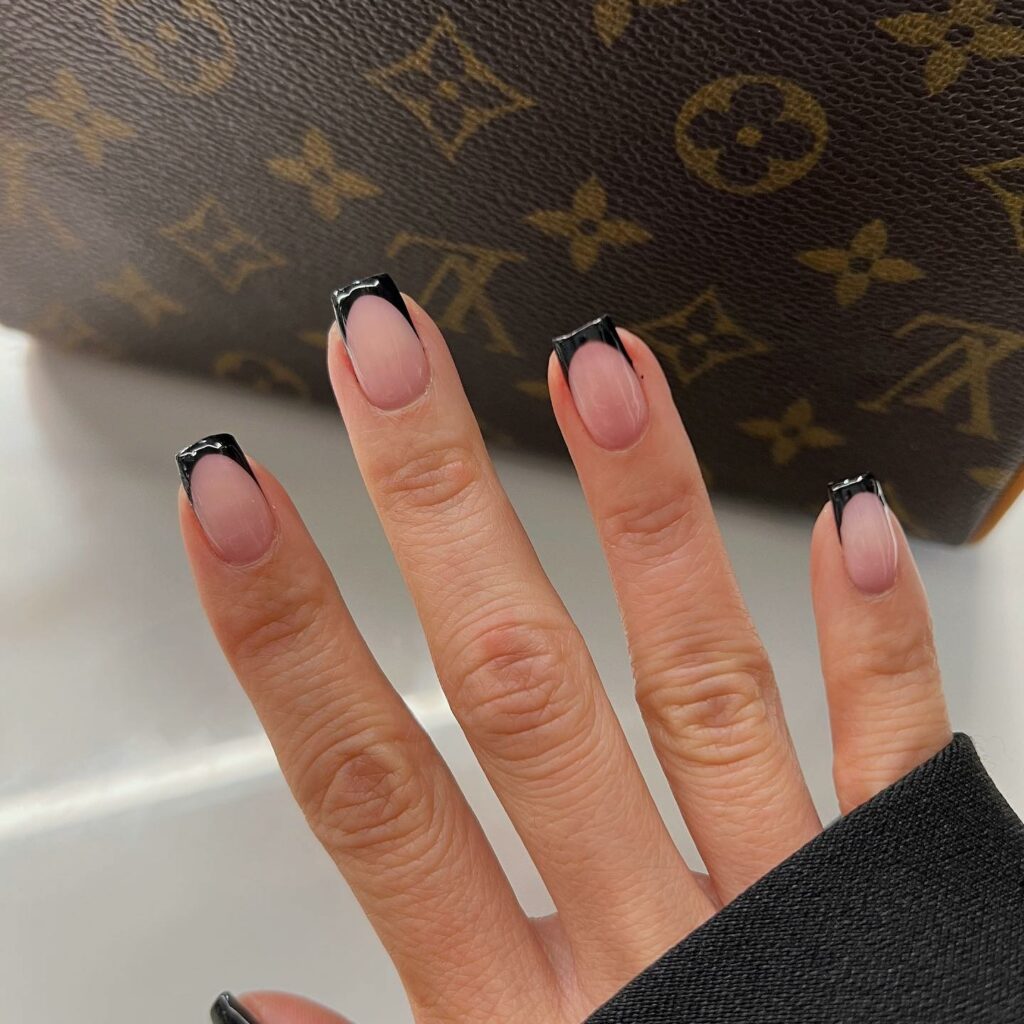 If you're like me and have a closet full of chic, monochrome pieces, black French tips on short square nails are your summer staple. It's the LBD of nails—so simple, yet a total showstopper.
Dice Nail Design
You can roll the dice on this design and know you'll be a winner. Perfect for game nights or Vegas trips, dice nail designs offer a fun and playful twist that pairs perfectly with any casual outfit. It's a quirky way to express your adventurous side!
Glossy and Nude Short Black French Nails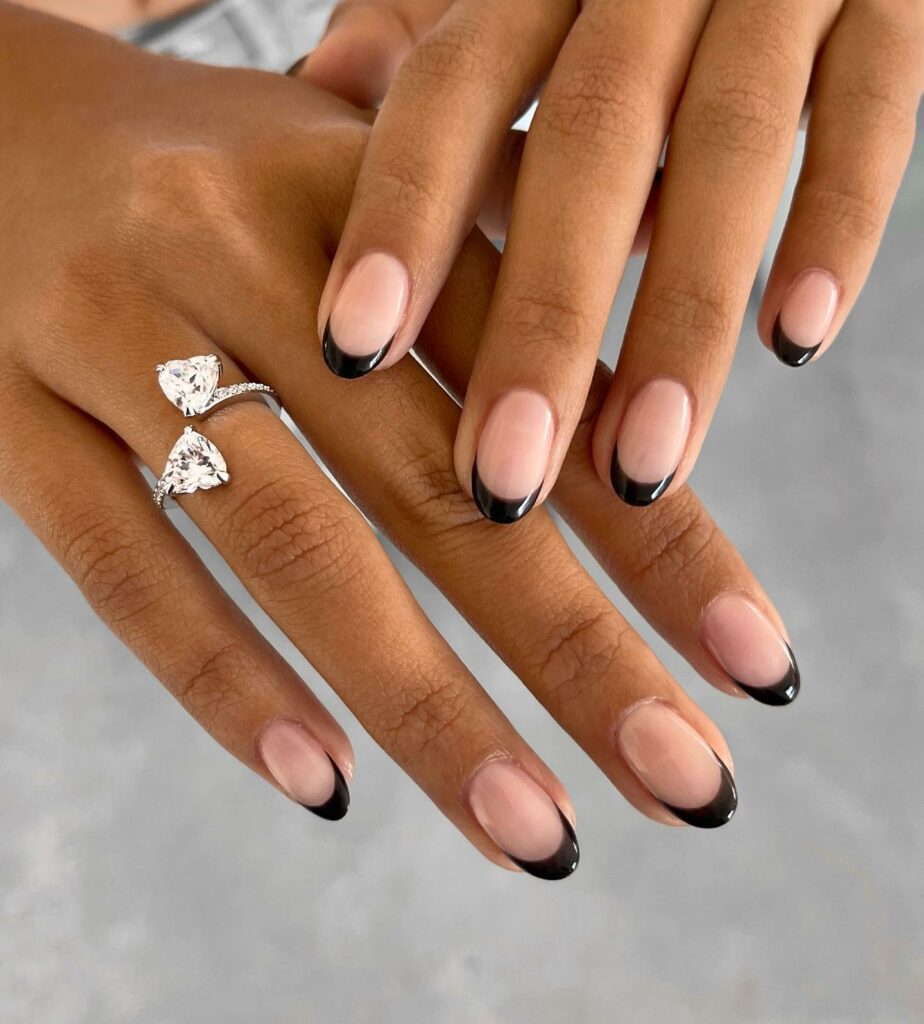 Celebrate the fusion of shine and subtlety with these Glossy and Nude Short Black French Nails. The high-gloss finish over a nude base sets the stage for the dramatic black tips, perfect for a polished, sophisticated look.
Short Black French Nails Adorned with Pearls
Opt for these Short Black French Nails embellished with delicate pearls for an infusion of grace and sophistication. This design blends classic charm and contemporary finesse, ideal for an understated yet luxurious look.
Black Ombré Acrylics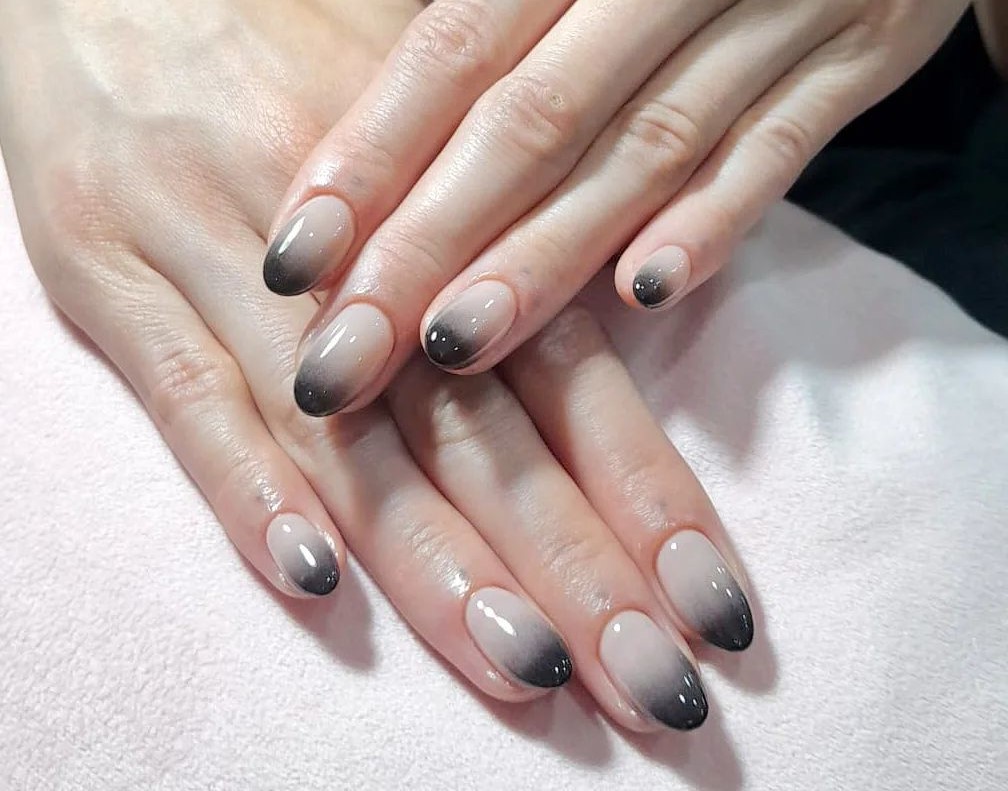 Black ombré acrylic nails offer a mesmerizing transition from black to gray or a lighter color. It's a style that adds depth and drama, making your nails look like a work of art. Highly recommended for those who love a theatrical flair!
High Gloss Short Black Nails
Short black nails are like the 'little black dress' but with an edgy, futuristic twist. Mixing the classic appeal of black polish with metallic undertones gives you an undeniably stylish look. Perfect for a night out or whenever you're feeling a little extra.
Geometric Cool: Short Black Nails With White Lines
Angular designs on black nails are a visual treat for a geometric and contemporary twist. It's modern art, but make it fashionable!
Short Black French Nails with Delicate Daisy Designs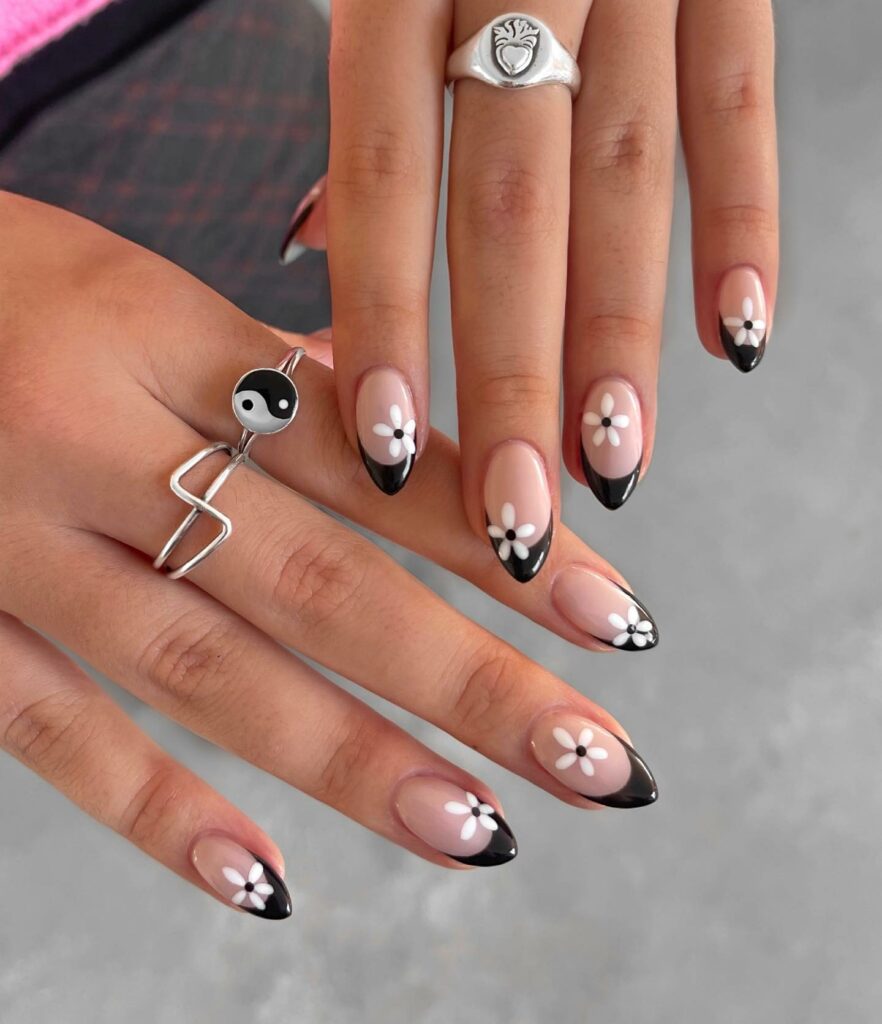 Indulge in a botanical motif with these Short Black French Nails gracefully adorned with charming daisy accents. This style infuses the sharp sophistication of black tips with the whimsical touch of floral patterns.
Short Black French Nails with a Modern Almond Shape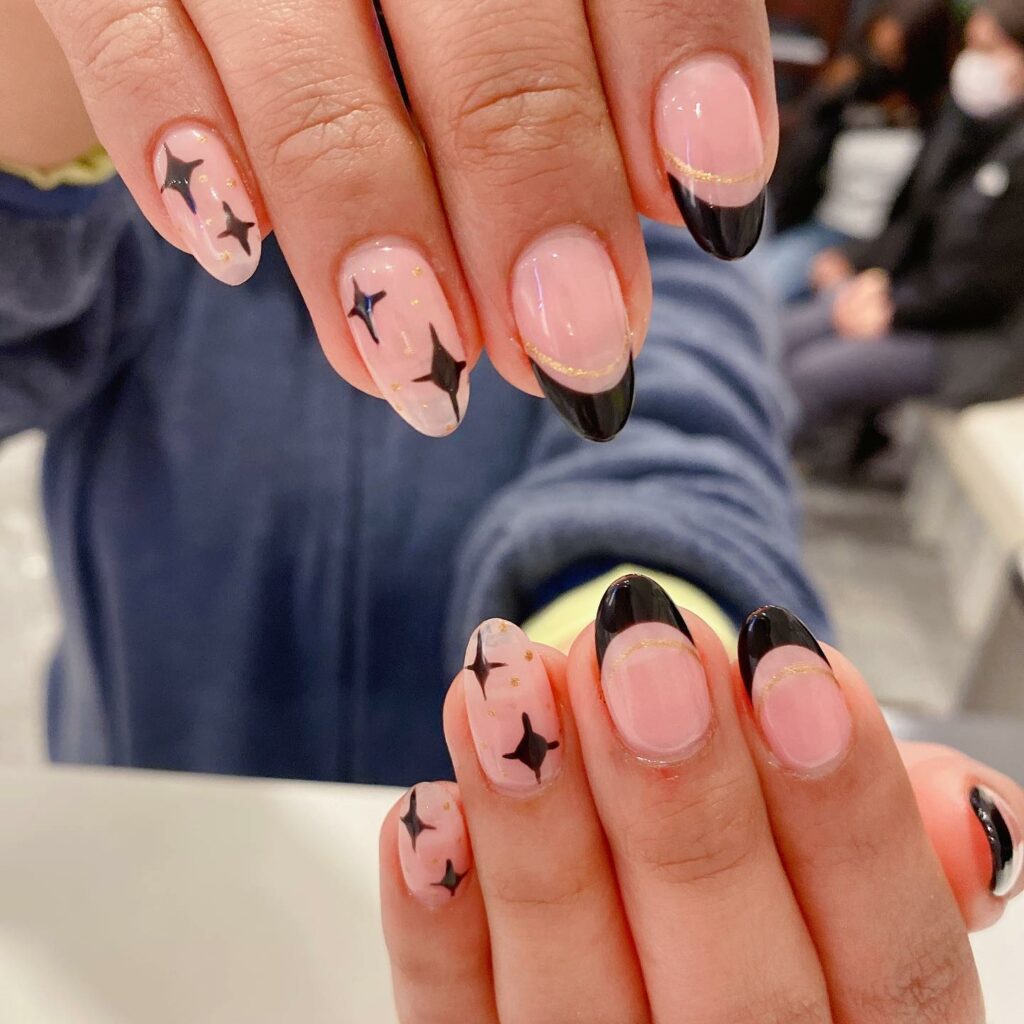 These Short Black French Nails reimagine the classic design with an almond shape, merging timeless elegance with a contemporary silhouette. The black tips offer a sleek, modern update that will complement your avant-garde style.
Black Coffin Short French Nails
Melding the daring coffin shape with the classic French tip, these Short Black French Nails are for those who dare to dazzle with a touch of drama at their fingertips.
Monochromatic Elegance on Short Fall Nails
This black and white nail art on short nails brings a monochromatic elegance to your fall wardrobe, capturing the stark contrast of the season's light and shadows.
Matt Black Cableknit Nails
Ready for some cozy vibes right at your fingertips? Matt Black Cableknit Nails bring the warmth and texture of your favorite winter sweater to a chic and modern manicure that's perfect for the chilly season.
Short Black Gel Nails With Silver Rhinestones
Ready to shine bright like a diamond? Short black gel nails adorned with silver rhinestones give you that sprinkle of glamour without going overboard. The gel keeps things durable, while the rhinestones add that special occasion sparkle.
Square Short Black And Gold Acrylic Nails
Ring in the New Year—or any celebration—with these square, short black and gold acrylic nails. The square shape offers a modern edge, while the gold accents scream party-ready. Indeed, this combo is perfect for when you want to toast to new beginnings!
Nautical Stripes
A trip to the beach inspired me to try nautical stripes on my short stiletto nails. With navy blue and white stripes, it was the perfect seaside look.
Excellent Matte Black Nails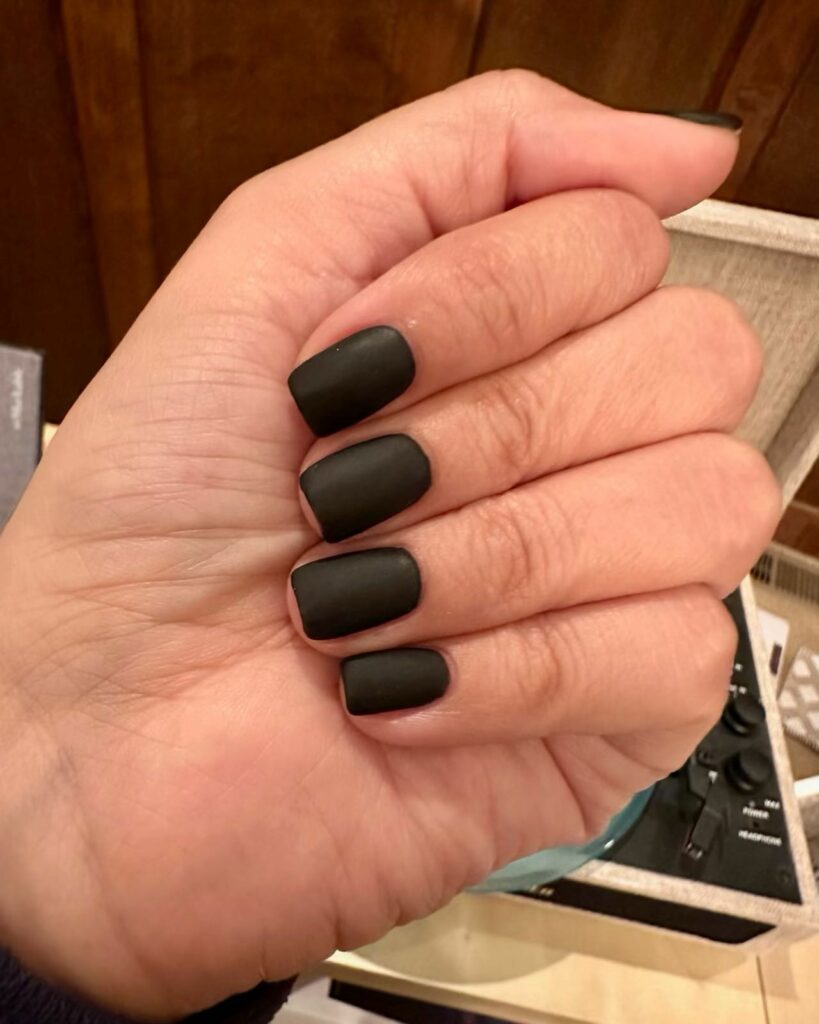 Matte black nails are the epitome of cool. They're sleek, modern, and incredibly versatile. Whether you're hitting a concert or want a minimalist yet edgy vibe, this look covers you. Plus, matte finishes are less prone to chipping—win-win!
Short Black Gel Nails
Short black gel nails are the epitome of sophistication and durability combined. The gel formula ensures your manicure stays flawless longer, allowing the rich black color to pop. It's the go-to for those who love a classic look but hate frequent touch-ups.
Diamonds Forever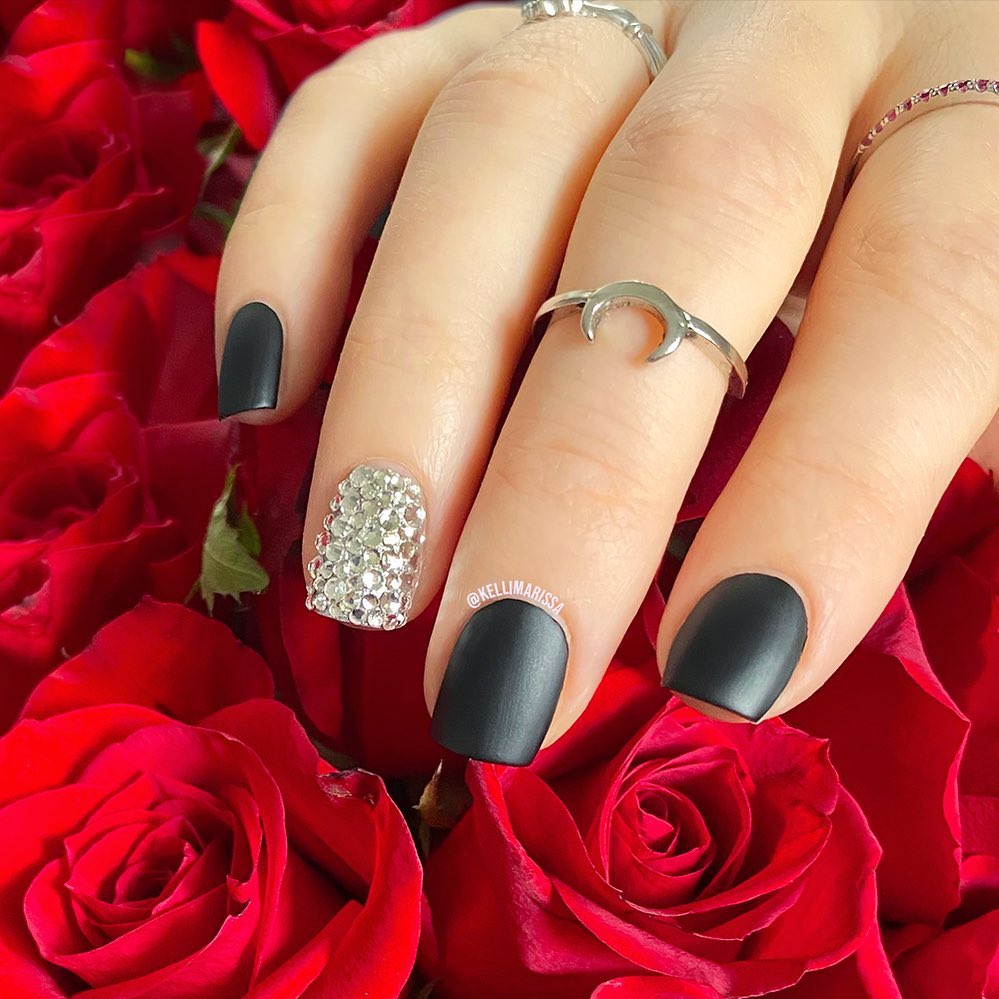 Looking to add some serious sparkle to your edgy look? Matt Black and Diamond Nails give you that high-impact contrast, blending the understated cool of a matte black base with the irresistible shine of diamond accents for a mani that's nothing short of show-stopping.
Monochrome Magic
Simplicity speaks volumes with a monochrome design. Go all in with a single color—a captivating cobalt blue—and watch how it transforms your look.
Short Bedazzled Black Nails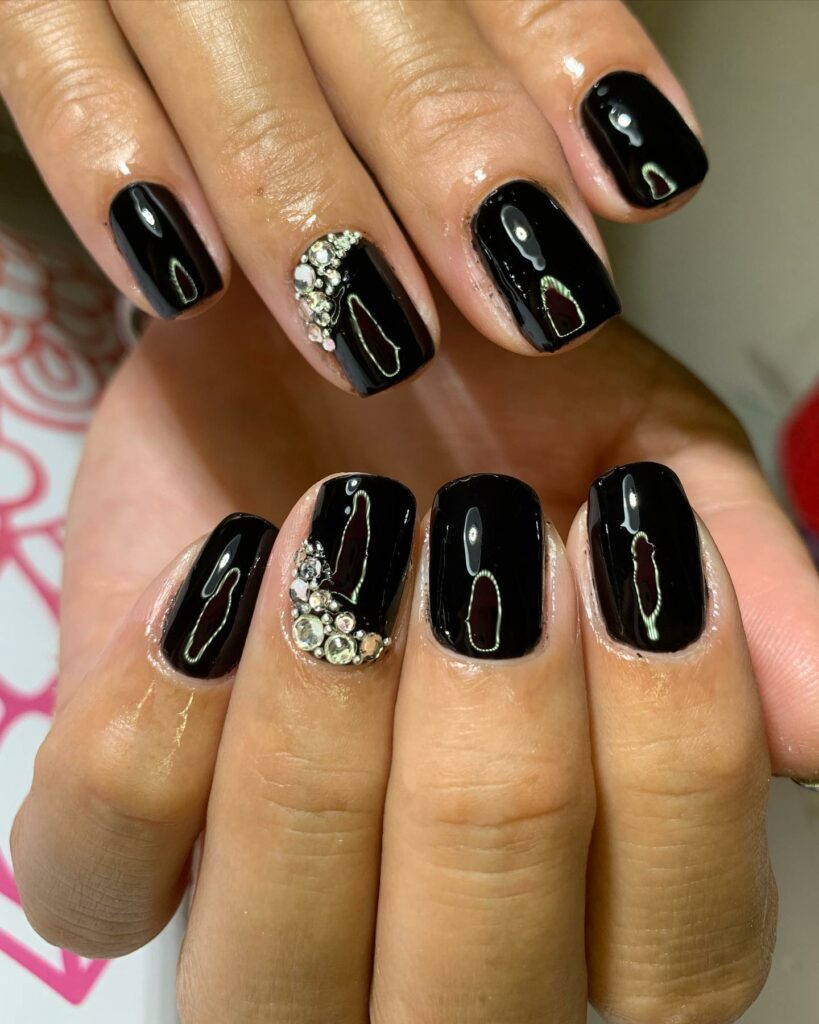 If you want to splurge a little, bedazzling your black nails with gems is the ultimate luxury. I once did this for a gala event, and let me tell you, I felt like a million bucks.
Simple Black French Short Tip Nail
When less is more, a simple black French tip on short nails hits just the right note. It's clean, elegant, and timeless—a perfect style for any setting, from professional meetings to casual brunch dates.
Short Black Nail With Moon and Stars
For the cosmic dreamers among us, short black nails featuring moon and star designs add a mystical touch to your look. It's a cute yet powerful way to connect with celestial vibes while keeping it chic.
Black Short Nail With Spider Web
Just in time for Halloween or for anyone who loves a spooky aesthetic, short black nails with spider web designs are captivating excellently. It's a look that spins a web of intrigue and showcases your edgy personality.
Minimalistic Magic: Black & White
Combining black and white in minimalist patterns is a game-changer for those who love clean, crisp lines. It's a modern, visually appealing look for art lovers and creatives.
.
My 8 Top Tips For The Perfect Application Of Black Nail Polish
Start With Clean, Prepped Nails – First, make sure your nails are clean, filed, and buffed. A smooth surface is critical for any polish to adhere properly.
Use A Base Coat – Never, I repeat, NEVER skip the base coat. It not only protects your nails from staining but also provides a smooth canvas for the polish.
Shake That Bottle – Give your nail polish bottle a good shake to mix the pigment and formula. Trust me, it'll help the color go on more evenly.
Thin Coats Are Your Friend – The trick to avoiding streaks and bubbles is to go for thin, even coats. Yes, it's black, and it might look tempting to slather on a thick layer, but resist the urge! Two thin coats are usually enough for that rich, opaque finish.
Mind The Edges – Take time and get as close to the edges as possible without flooding your cuticles. A clean edge makes your mani look professional and helps it last longer.
Use A Good Brush – A high-quality brush can make a world of difference. If the brush with the bottle is too broad or too thin for your nail beds, consider getting a separate nail brush for better control.
Let It Dry, Girl! – Take your time with the drying process. I usually give each coat 2-3 minutes to dry before applying the next one. Patience is the name of the game!
Seal It with A Top Coat – Finally, seal your gorgeous black nails with a clear top coat for that glossy, salon-like finish. It also adds an extra layer of protection because who wants chipped nails after all that effort?
.
Conclusion
Alright, that's a wrap on our deep dive into the fabulous world of short black nails! Whether you're vibing with the classics or looking to make a splash with something more eye-catching, there's a black nail style out there for you. My personal fave? I'm digging the black and gold acrylics for special occasions—it's like having a little party at your fingertips! Remember, the best part about going for black is its versatility; it can be as understated or as extravagant as you want it to be. So treat yourself to a mani that speaks to your soul. Life's too short for dull nails, am I right?
Feature Image Photo By @dtkaustin via Instagram
Last reviewed and updated on November 22, 2023