Hey everyone! Today, we're zeroing in on a style that's both timeless and versatile—Short French Tip Nails. But hold up, we're not sticking to the basics; we're shaking things up! In this guide, you'll discover ideas that range from ombre to geometric patterns, and even some 3D bling. If you're into DIY, I highly recommend trying out some soft pastels or glitter gradients for an easy yet eye-catching look. And for those planning a salon visit, why not ask for some intricate line art? Trust me, your nails will be the talk of the town. Ready to find your next go-to look? Keep reading, because it's all here!
Valentine Red Short French Nails
Turn up the passion with Valentine's red short French nails that are perfect for any romantic occasion. The vivid red hue adds a bold and sensual flair to your classic French tips.
Black Spider Web Tipped Nails
Experience the unexpected elegance that short black French nails bring to the table. This bold twist on a classic look offers an air of sophistication and modernity.
Neon Yellow Short French Nails
Illuminate your fingertips with neon yellow short French nails that can't help but steal the spotlight. This electrifying color is perfect for those who love making bold statements.
Gold Glitter Short French Nails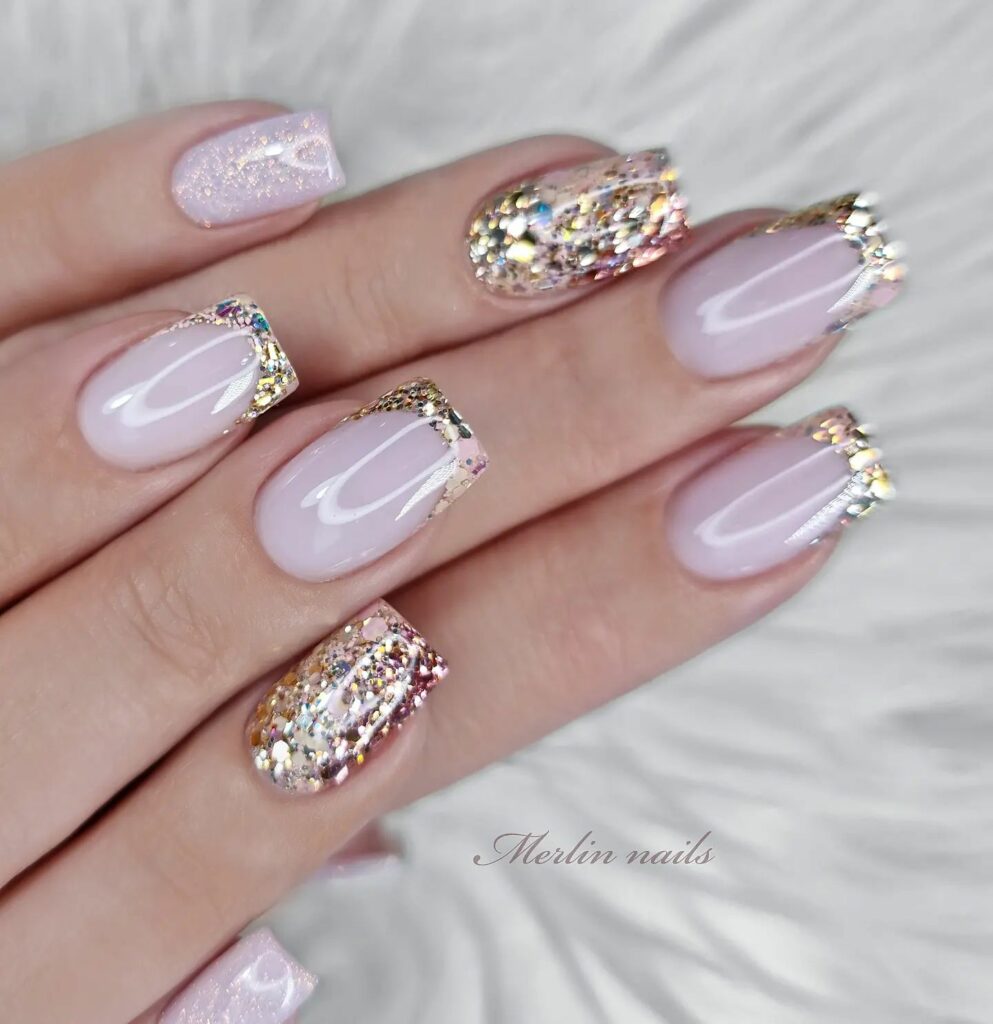 Indulge in the luxe appeal of gold glitter short French nails. The sparkly accents offer a lavish touch, bringing your manicure to new heights.
Colorful Short French Nails
Indulge in a vibrant palette with colorful, short French nails. Mixing various shades adds a pop of individuality and fun to the traditional French tip design.
Glitter on Short French Tip Nails
Enhance the classic French tip with a splash of glitter for a dazzling effect. This twinkling addition transforms your short French tip nails into a glamorous showstopper.
Florals Short French Nails
Elevate your manicure with another spin on floral designs, infusing your short French nails with a botanical elegance. Detailed florals add an extra layer of sophistication, making each nail a miniature masterpiece.
Two-Toned Blue Short French Nails
Experiment with a dynamic color contrast by choosing two-toned blue for your short French nails. The dual shades of blue create a calming yet visually stimulating look.
Snowflake Short French Nails
Bring the beauty of winter to your fingertips with snowflake designs on short French nails. The delicate snowflakes add a seasonal touch that transforms your nails into a winter wonderland.
Short French Tip Nails with Swirls
Adorn your short French tip nails with intricate white swirls for a dash of whimsical artistry. The swirling patterns add a playful twist while enhancing the elegance of the French tip design.
Neon and Pastel Short French Nails
Merge the bright and soft worlds by incorporating neon and pastel shades into your short French nails. This vivid yet gentle combination provides a unique and eye-catching aesthetic.
Minimalist French Tips on Short Nails
Dive into the understated elegance that minimalist French tips bring to short nails. The beauty lies in the simplicity of the design, highlighting a refined aesthetic.
Short French Tips Nails in Pink Hues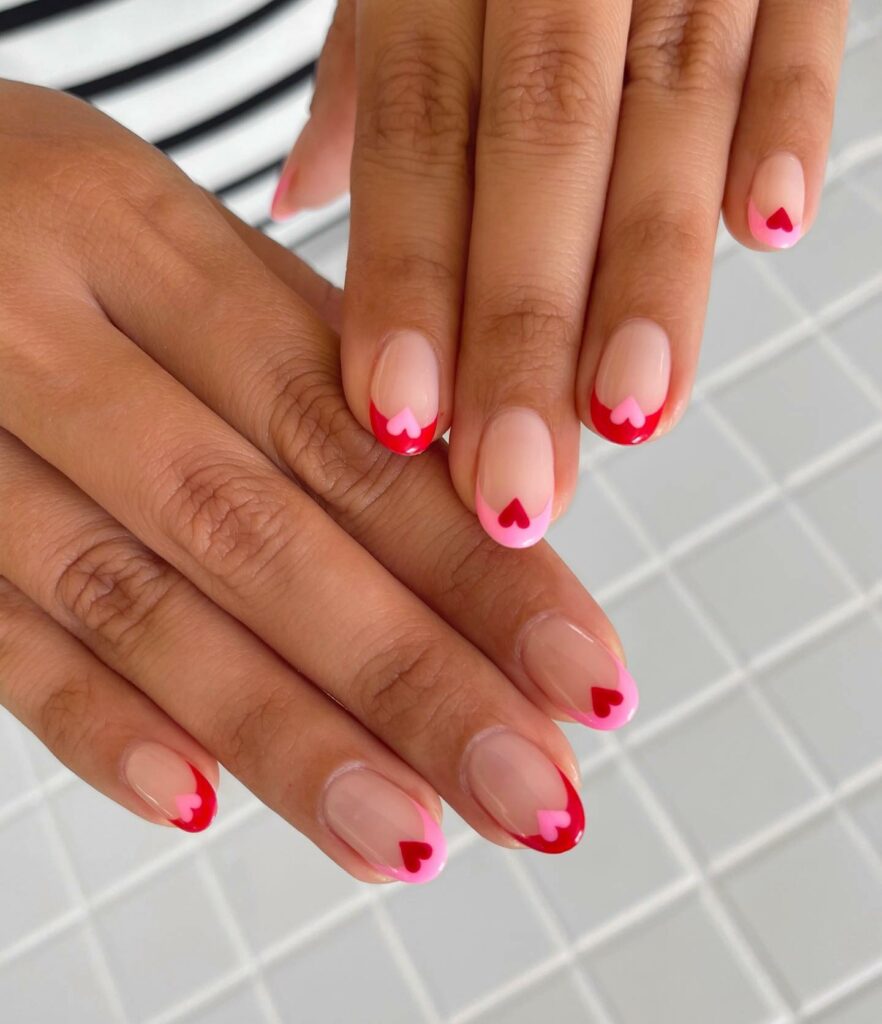 Explore the shades of pink that can adorn your short French tips nails. The romantic hues bring warmth and femininity, subtly making your nails stand out.
Glitter Infused Short French Nails
Embrace the sparkle with glitter-infused short French nails that radiate glam. The added glitter elevates the classic look, making your nails an ensemble's centerpiece.
Classic White Short French Nails
Discover why classic white short French nails have stood the test of time. The pristine white tips provide a clean, professional look with any outfit.
Coffin White Short French Nails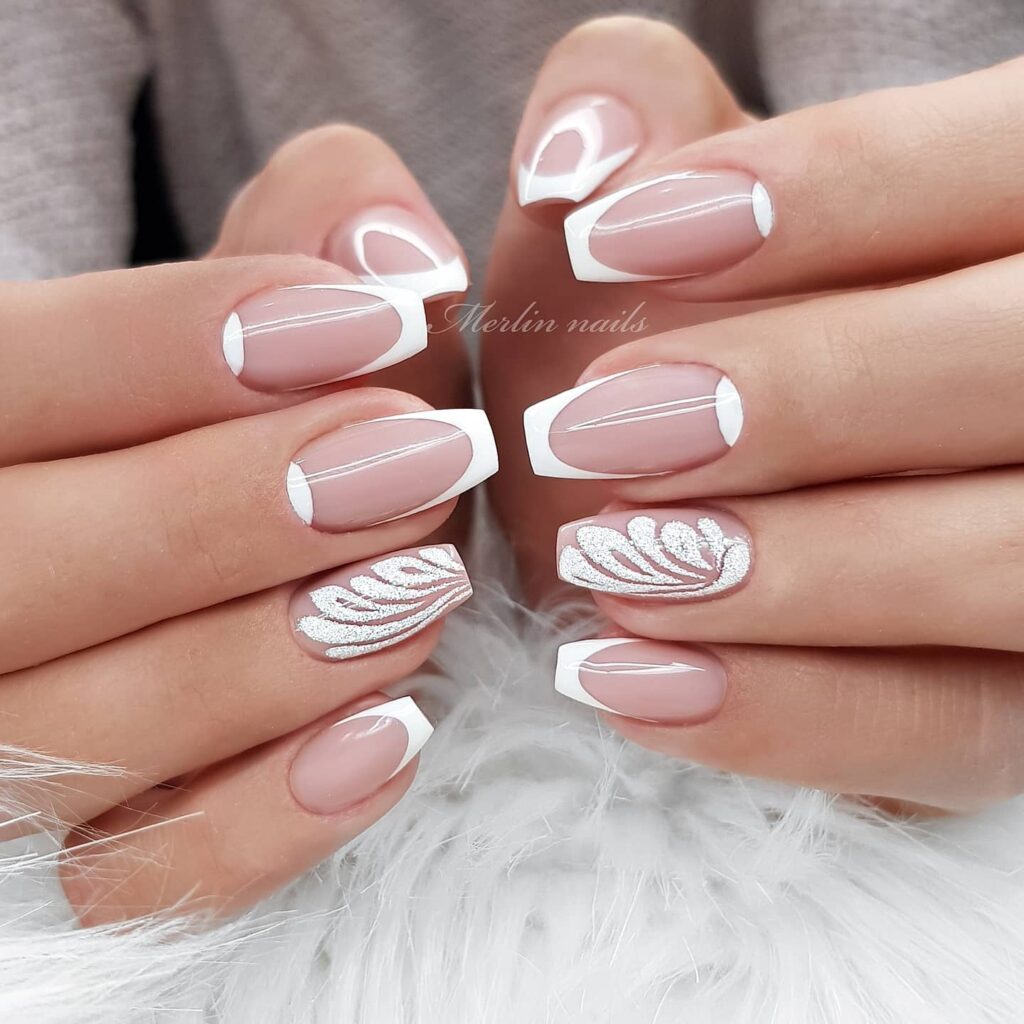 Experience the fashion-forward twist the coffin shape brings to short white French nails. This avant-garde form takes your classic French manicure to a bold new level.
Cow Print on White Short French Nails
Step outside the box and into the corral with this playful cow-print accented white short French nails. This trendy design adds a funky, modern touch to your manicure.
Blue Hue Short French Nails
Cool down your look with the refreshing tones of blue on your short French nails. The different shades offer a tranquil aesthetic that captivates attention.
Heart Accents on Short French Nails
Celebrate love and romance with adorable heart accents added to your short French nails. These sentimental touches offer a charming appeal that speaks volumes.
Gold Accents on Short French Nails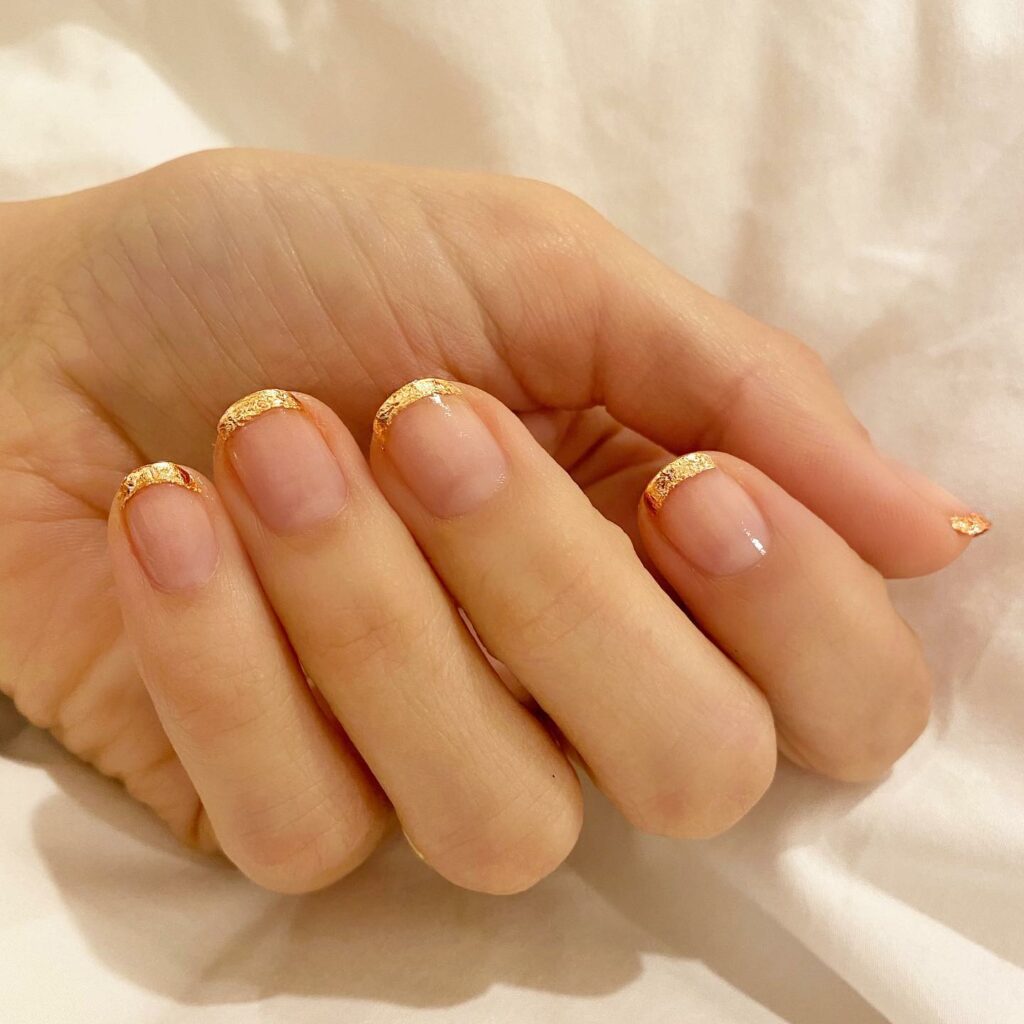 Transform your nails into a luxurious canvas with gold accents on short French nails. The golden tips add an opulent flair that captures light and attention.
Floral Short French Nails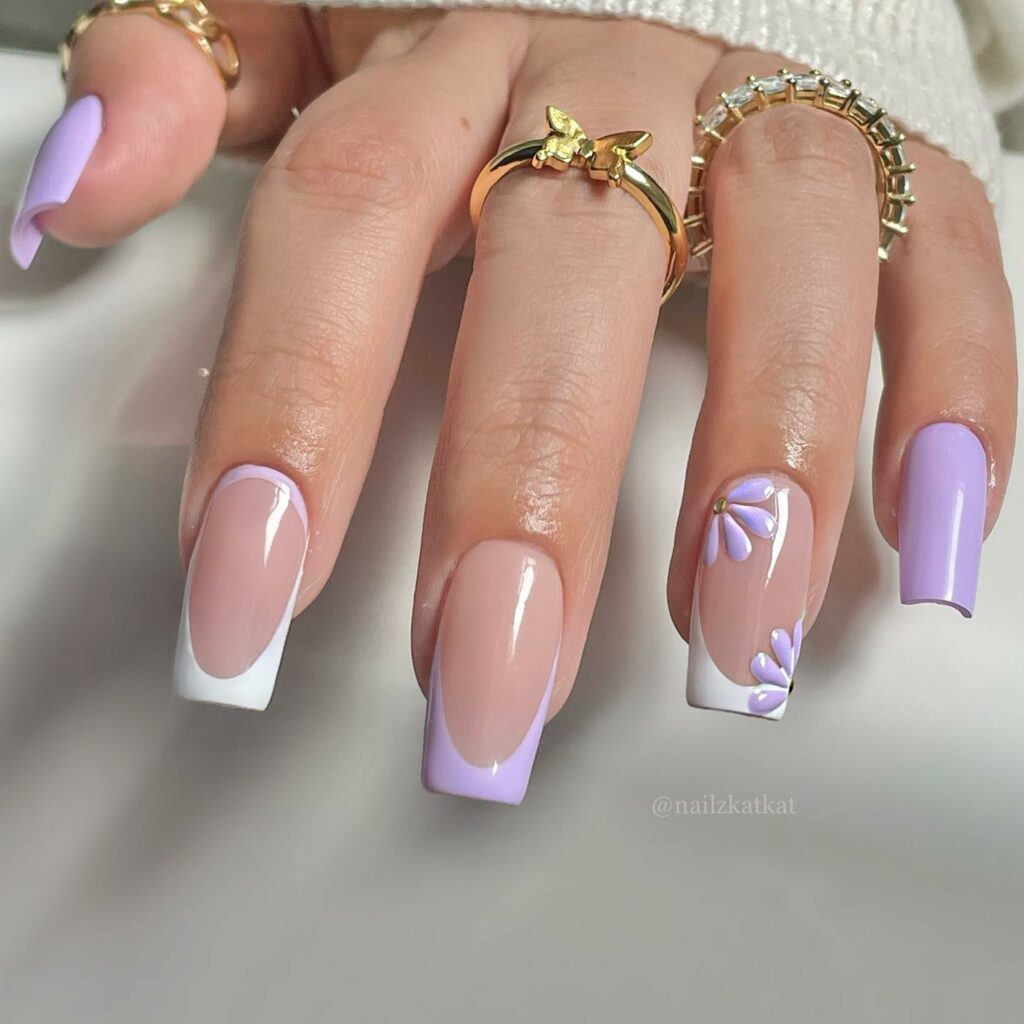 Let your nails blossom with the addition of floral designs on your short French tips. These dainty floral motifs offer a sweet and feminine touch that complements the classic elegance of French nails.
Pastel Short French Nails
Brown Ombre Short French Tips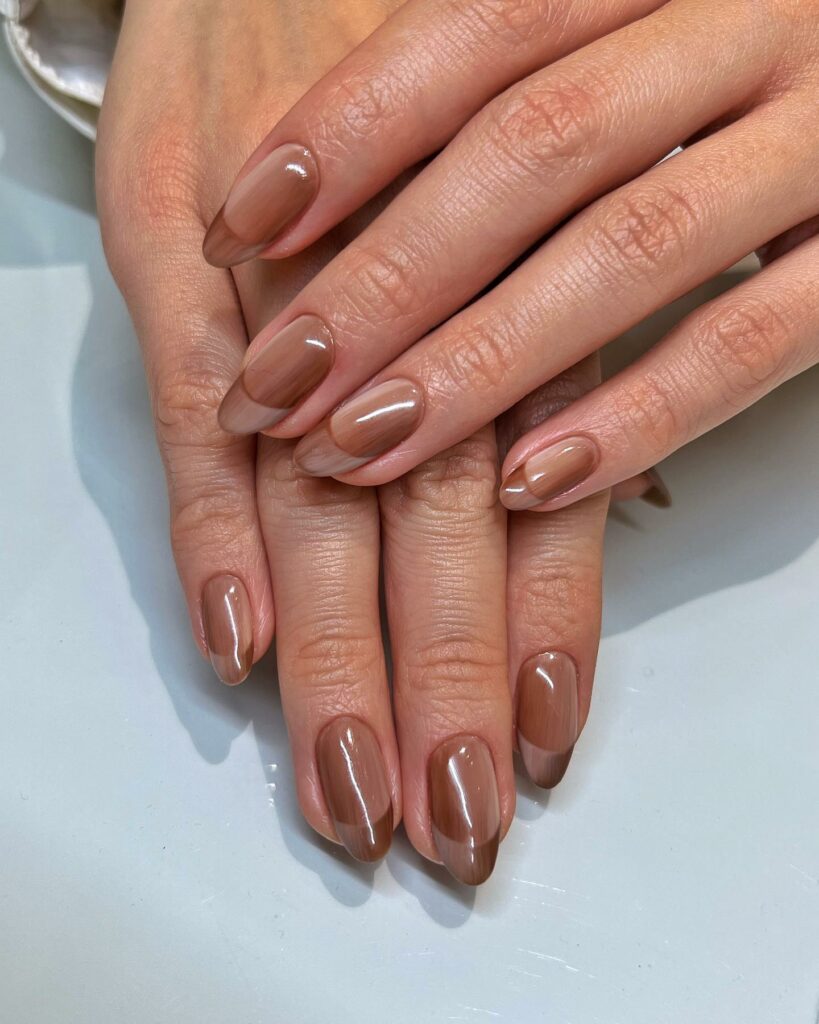 Experiment with the warm, earthy tones of brown ombre on your short French tips. This unique approach creates a gradient effect, adding depth and character to your nails.
Two-Toned Short French Nails
Play with a dual palette by opting for two-toned short French nails. This unique approach adds an extra layer of interest and complexity to the French tip design.
Matte Black Short French Nails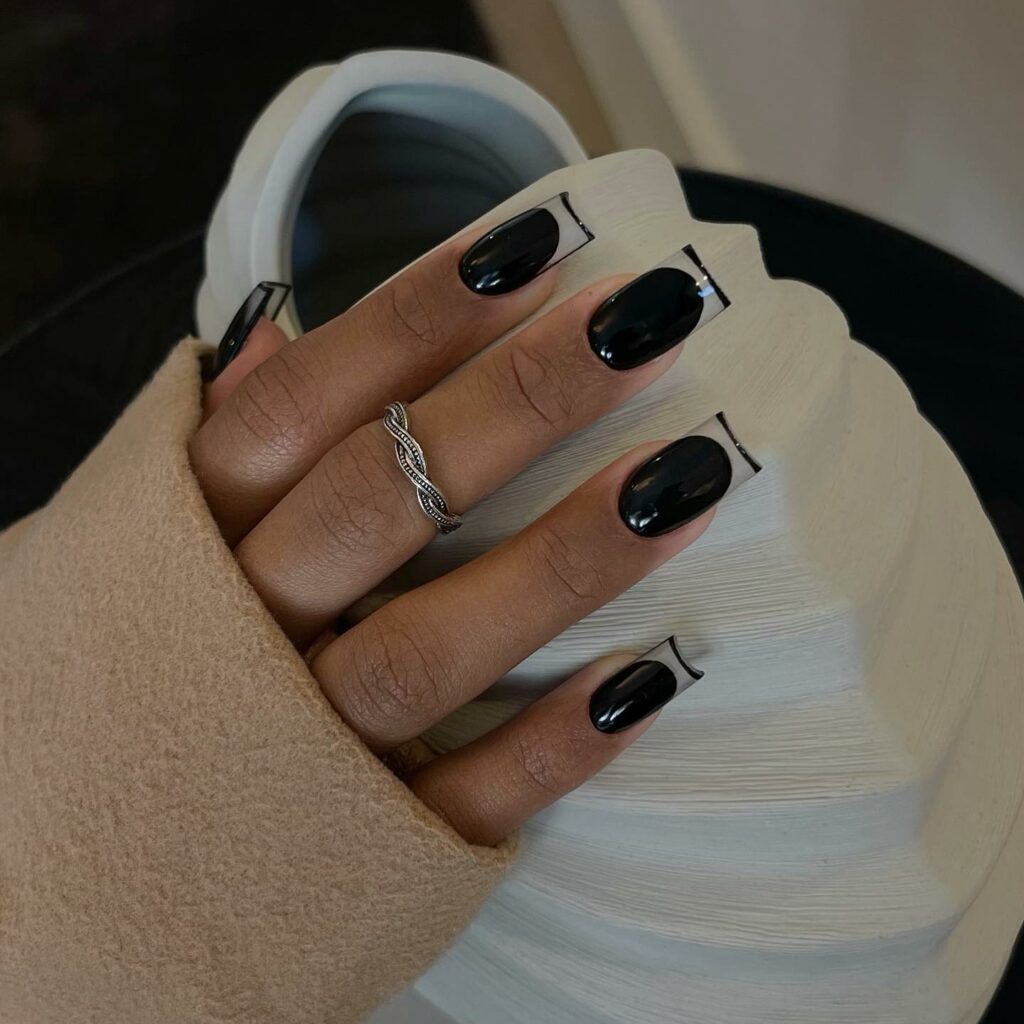 Delve into the softer side of dark shades with matte black short French nails. The matte finish gives the traditional black a more muted but equally chic appearance.
Short Heart French Nails
Celebrate love in style with short heart French nails. These tiny heart accents provide a sweet and romantic twist to the classic French nail look.
Brown Short French Nails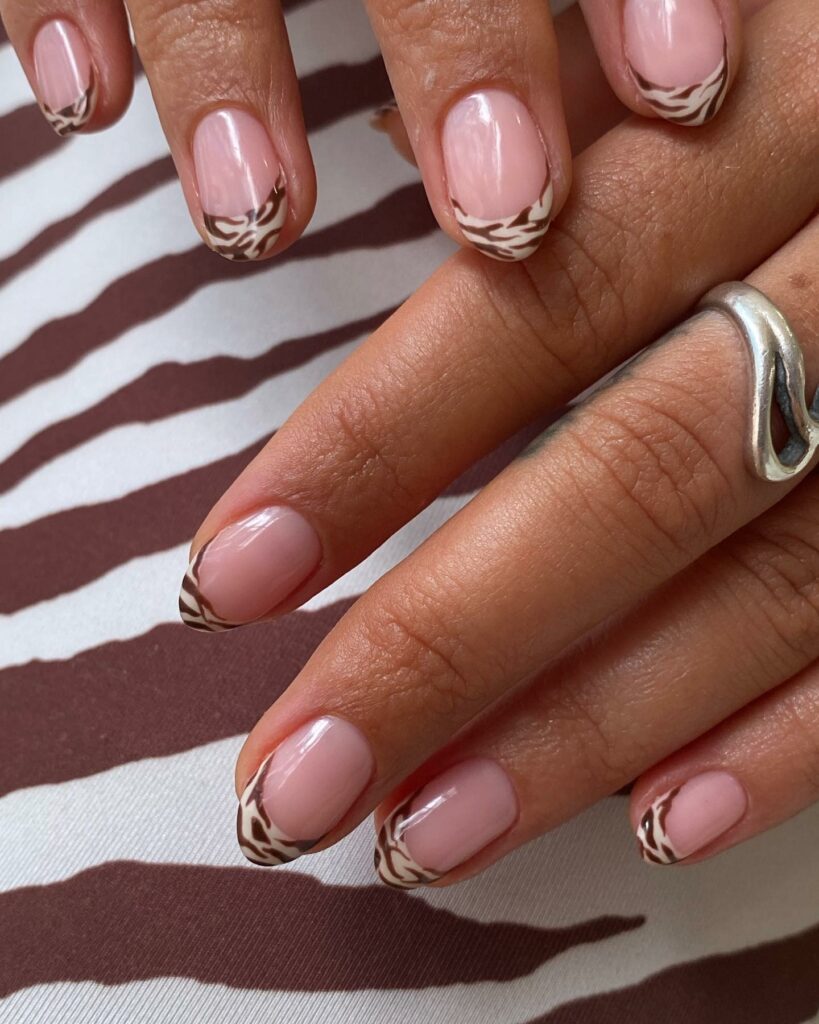 For a warm and comforting vibe, choose short brown French nails. This earthy hue brings a grounded, natural feel to your manicure.
Black Coffin Short French Nails
If you like edgier shapes, try black coffin-short French nails. The coffin shape combined with the black color makes for a daring and dramatic look.
Muted Green Short French Nails
Embrace the tranquil shades of nature with muted green short French nails. This understated green hue offers a serene and calming effect.
Silver Short French Nails
Go for the shimmer and shine of silver short French nails. The metallic accents provide a cool, reflective surface that will grab attention.
Minimalist Black Short French Nails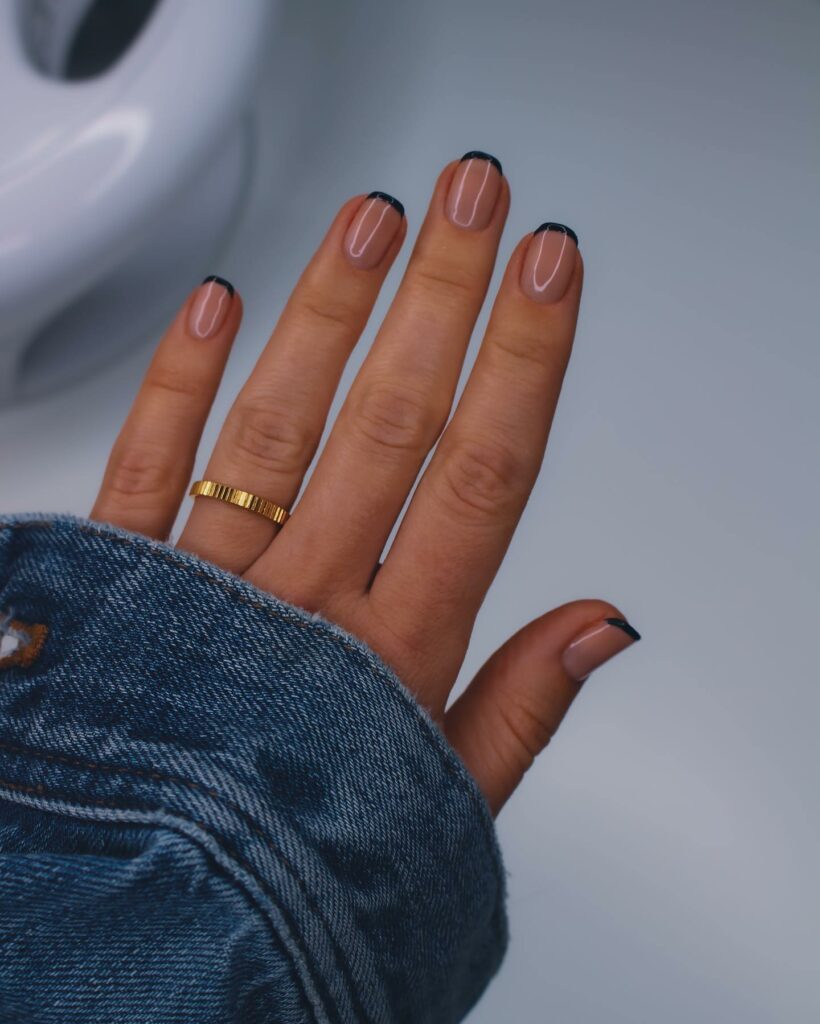 Embrace a streamlined aesthetic with minimalist black short French nails. This low-key design makes a subtle yet impactful statement, proving that sometimes less truly is more.
Blue Butterfly Short French Nails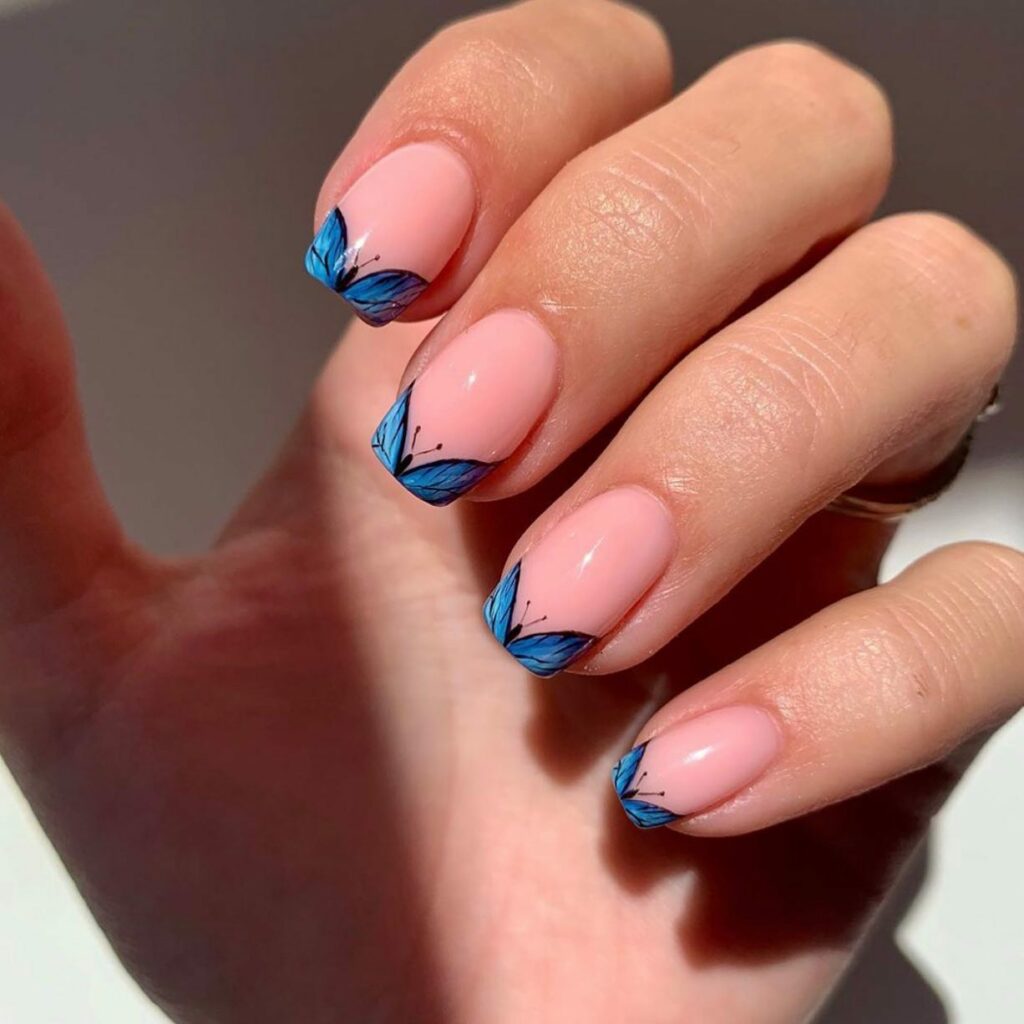 Flutter into a magical world with blue butterfly accents on your short French nails. The delicate butterfly motifs add a whimsical touch to the vibrant blue hue.
Short V French Nails
Discover the contemporary charm of short V French nails. This modern adaptation of the classic French tip forms a 'V' shape, adding a geometrical flair to your manicure.
Glitter Short French Nails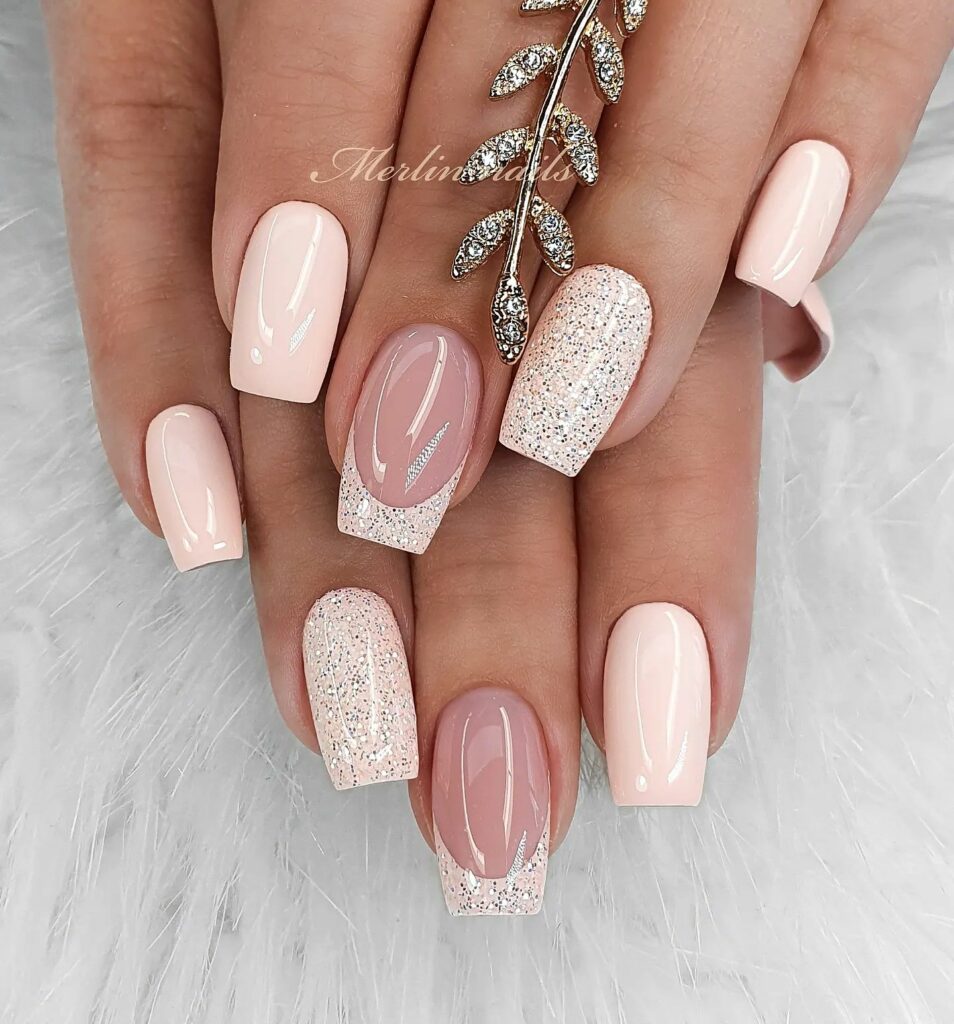 Elevate your classic French tips with a layer of glitter. These glitter-short French nails add just the right sparkle for an eye-catching look that still feels sophisticated.
Neon Pink Short French Nails
Turn heads with the bold brightness of neon pink short French nails. The electrifying pink shade is perfect for those unafraid to stand out.
Rainbow Short French Nails
Embrace your colorful side with rainbow short French nails. This multi-colored approach brings a whimsical and cheerful twist to the classic French manicure.
Winter Short French Nails
Dive into the icy allure of winter short French nails. These seasonal shades of blue and white capture the essence of winter wonder.
Green Short French Nails
Celebrate natural beauty with short green French nails. The green hue brings a fresh and earthy vibe, making your nails feel like fresh air.
Cow Print Short French Nails
Get playful with cow print accents on your short French nails. This quirky design is a fun and unexpected twist on the traditional French tip look.
Retro Black Short French Nails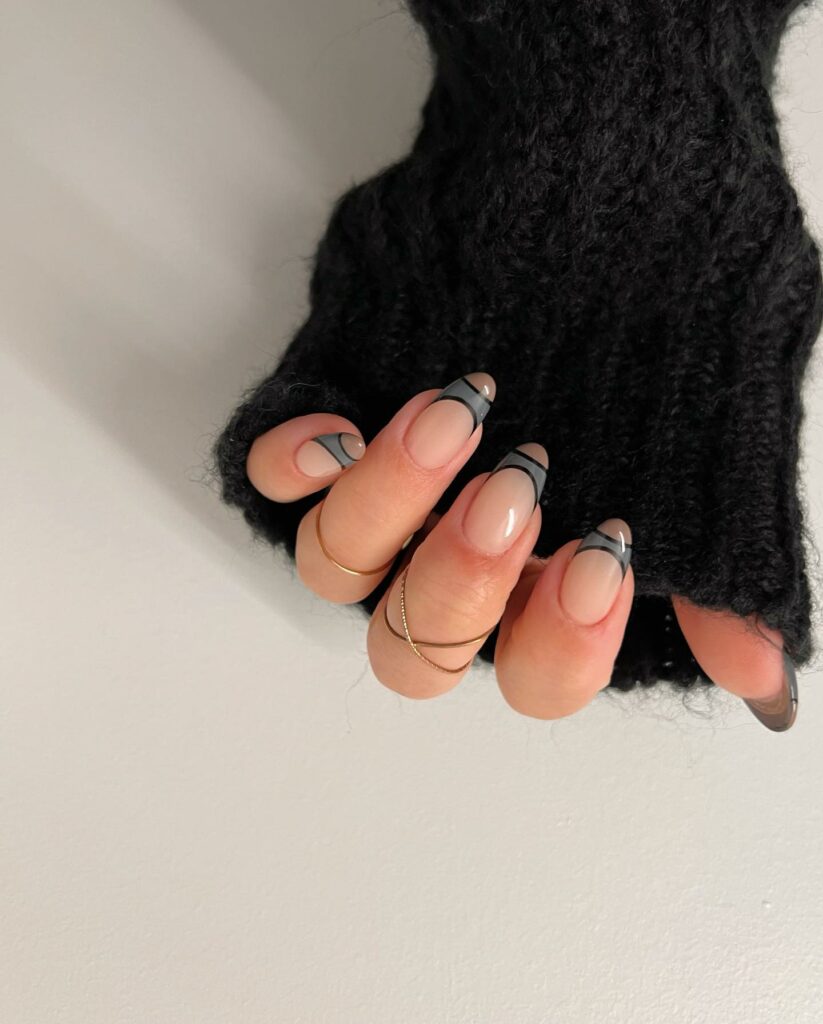 Transport your fingertips back in time with the classic allure of retro black short French nails. This vintage-inspired look combines old-school glamor with the sleek sophistication of black tips.
Glossy Red Short French Nails
Ignite passion at your fingertips with glossy red short French nails. The high-gloss red offers a sultry and alluring twist on the French manicure style.
Red Christmas Short French Nails
Celebrate the holiday season with red Christmas short French nails. The classic red hue pairs perfectly with festive accents for a manicure that rings in the holiday cheer.
Red and Pink Short French Nails
Combine the best of both worlds with a fusion of red and pink on your short French nails. This romantic blend creates a harmonious and affectionate aesthetic that's simply irresistible.
Marble Short French Nails
Take the plunge into the visually captivating world of marble short French nails. The swirls and veins of the marble pattern bring an added depth and artistry.
Pink Chrome Short French Nails
Dabble in a future-forward aesthetic with pink chrome short French nails. The metallic sheen elevates the pink hue into something otherworldly.
Monochrome Short French Nails
Explore the striking contrast that monochrome short French nails offer. This black-and-white ensemble delivers a timeless yet contemporary flair.
Santa's Hat Short French Tip Nails
Celebrate the festive season with Santa's hat designs on your short French tip nails. This holiday-inspired look is a delightful way to spread cheer, making each fingertip a tiny piece of Christmas magic.
Butterfly-Accented Short French Nails
Take a fluttering journey into the fanciful world of short French tips accented with delicate butterflies. These charming details add a playful yet sophisticated dimension to your manicure.
Classic Short French Tips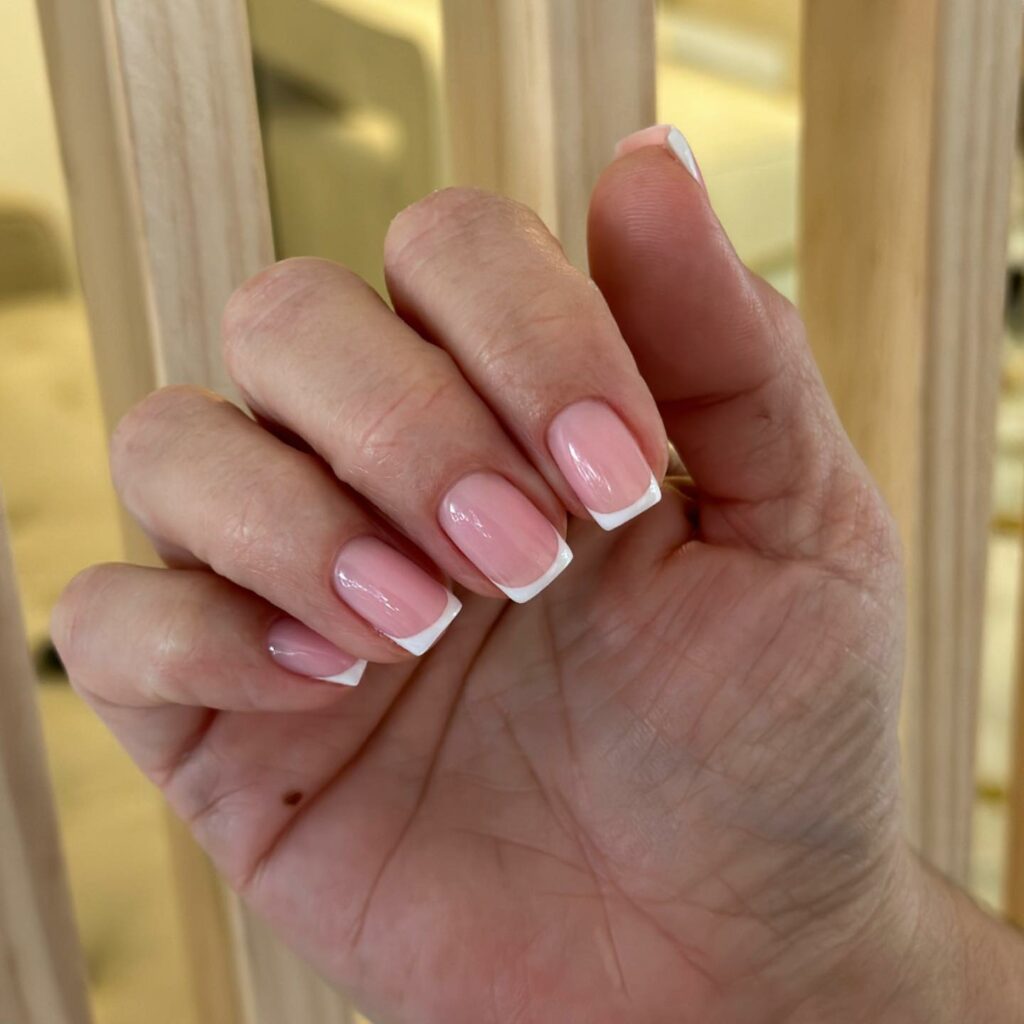 Uncover the timeless beauty and unmatched sophistication of classic short French tips. These iconic, well-balanced nails offer a polished and versatile look suitable for any occasion.
6 Common Mistakes and How to Avoid Them
When it comes to creating that perfect French tip on short nails, even a minor slip-up can alter the outcome. While the design might look simple, there are plenty of pitfalls to avoid. Don't worry, though; I've got your back! Here's a rundown of some of the most common mistakes and how you can steer clear of them.
Using Old or Expired Nail Polish – The culprit behind many a smudged or clumpy French tip is old polish. Using expired products can ruin the consistency and make application a nightmare. How to Avoid: Always check the expiration date on your nail polish bottles. Invest in high-quality polishes that have good consistency for smoother application.
Skipping the Base Coat – You might think you're saving time, but omitting a base coat often leads to uneven color and reduced longevity. How to Avoid: Always start with a clear base coat. It not only helps the polish adhere better but also protects your nails from staining.
Rushing Between Coats – Impatience can lead to smudging, denting, or bubbling as you apply subsequent layers or the topcoat. How to Avoid: Give each coat sufficient time to dry. If you're in a hurry, opt for quick-drying formulas or use a quick-dry topcoat.
Heavy-Handed Application – Applying the white tip in a thick layer can look unprofessional and uneven, besides taking forever to dry. How to Avoid: Use light strokes and build up the white tip in thin layers. You can always add another coat for opacity.
Uneven or Crooked Tips – Freehanding the tip can result in uneven or crooked lines, which are the antithesis of the sleek French tip look. How to Avoid: Use nail guides or tape to keep your lines clean and uniform. If you're going freehand, rest your hand on a stable surface to steady your strokes.
Neglecting the Top Coat – Missing the topcoat can leave your French tips vulnerable to chips and dings within just a day or two. How to Avoid: Seal your design with a high-quality topcoat. This will not only prolong the life of your manicure but also add a professional-looking finish.
Armed with these tips, you're now set to create flawless French tips right in the comfort of your home. So go ahead, grab those polishes and get started on a manicure that's nothing short of perfection!
12 Other Unique Designs That Can Be Created With Short French Tip Nails
Ombre French Tips – Instead of the classic white, create a beautiful ombre effect on the tips using colors that seamlessly transition from one shade to another.
Textured Tips – Utilize texture to elevate your design by using a matte top coat on the tips while keeping the base glossy, or vice versa.
Negative Space Designs – Play with negative space by leaving certain areas of the nail unpainted in creative patterns, making the French tips a part of a larger design.
Animal Print French Tips – Add a wild twist with animal prints like leopard or zebra patterns, specifically on the tips for a fashionable edge.
Metallic Accents – Use metallic polish or foil for the tips to give your nails a modern, shiny look perfect for a night out or a special occasion.
Geometric French Tips – Incorporate geometric shapes, like triangles or rectangles, into your French tips. These can be done using tape or freehand for those with a steady touch.
Asymmetrical Tips – Who says both hands have to match? You could design each hand differently but in a way that complements the other, providing an asymmetrical yet balanced look.
Line Art Tips – Add intricate line art on top of your French tips using a fine brush or nail art pen. Patterns like swirls, loops, or zig-zags can make the design unique.
Double French Tips – Create two parallel lines along the tip of each nail, either in the same color or two contrasting shades, for a unique, modern take on the classic French tip.
Glitter Gradient Tips – Start with a regular French tip and add a gradient of glitter polish that starts heavy at the tip and fades away as it reaches down the nail.
Half-Moon French Tips – Combine a half-moon manicure with a French tip for a unique design highlighting the base and the tip of the nail.
Seasonal Themes – Adapt your French tips to the season, whether autumn leaves, summer sunsets, or spring florals. Seasonal themes can be a playful and timely way to update your look.
Still Looking for Inspiration, Then Check Out This Video
Conclusion
In the ever-evolving world of nail art, short French nails offer an incredible canvas for creativity, merging timeless elegance with modern twists. Whether you opt for the subtle beauty of pastels, the festive joy of holiday-themed designs, or the striking allure of two-toned hues, there's a style out there for every mood and occasion. However, it's essential to remember that quality matters. Invest in good-quality nail polish and seek professional services to ensure your nails look fantastic and remain healthy. While there's minimal risk involved—aside from perhaps garnering excessive attention for your fabulous nails—it's always good to do a patch test with any new products to avoid potential allergic reactions. So explore your creativity and make a style statement right at your fingertips. With all these options, you're well-equipped to redefine your nail game.
Feature image @nailsbyalsn via Instagram
Last reviewed and updated on October 30, 2023