Hey everyone! Today, we're diving into the world of short, square nails. Forget the myth that you need long nails to make a style statement. Short square nails are chic, manageable, and absolutely fabulous! In this post, we'll explore the ins and outs of this classic nail shape, from its versatility to the best colors and designs to make it pop. Whether you're a DIY-er or a salon regular, I've got tips to help you make the most of this understated look. I love it for its ease of maintenance and timeless appeal. So grab your nail file, and let's get started!
The Classic Touch: French Tips On Short Square Nails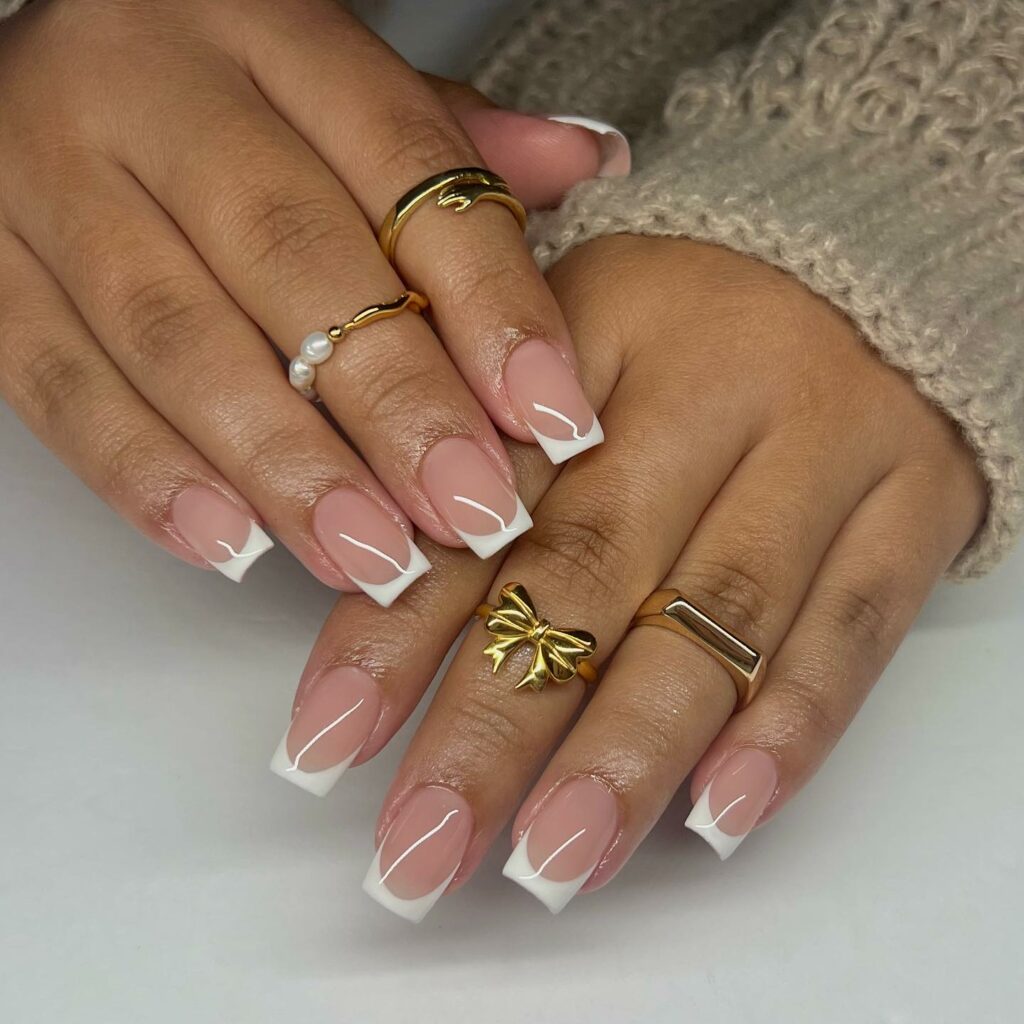 French tips on short square nails offer a nod to timeless elegance with a modern twist. They're the perfect blend of sophistication and simplicity, ideal for those who adore a chic look that goes with every outfit and occasion.
Shine On: Sparkling Square Nail Designs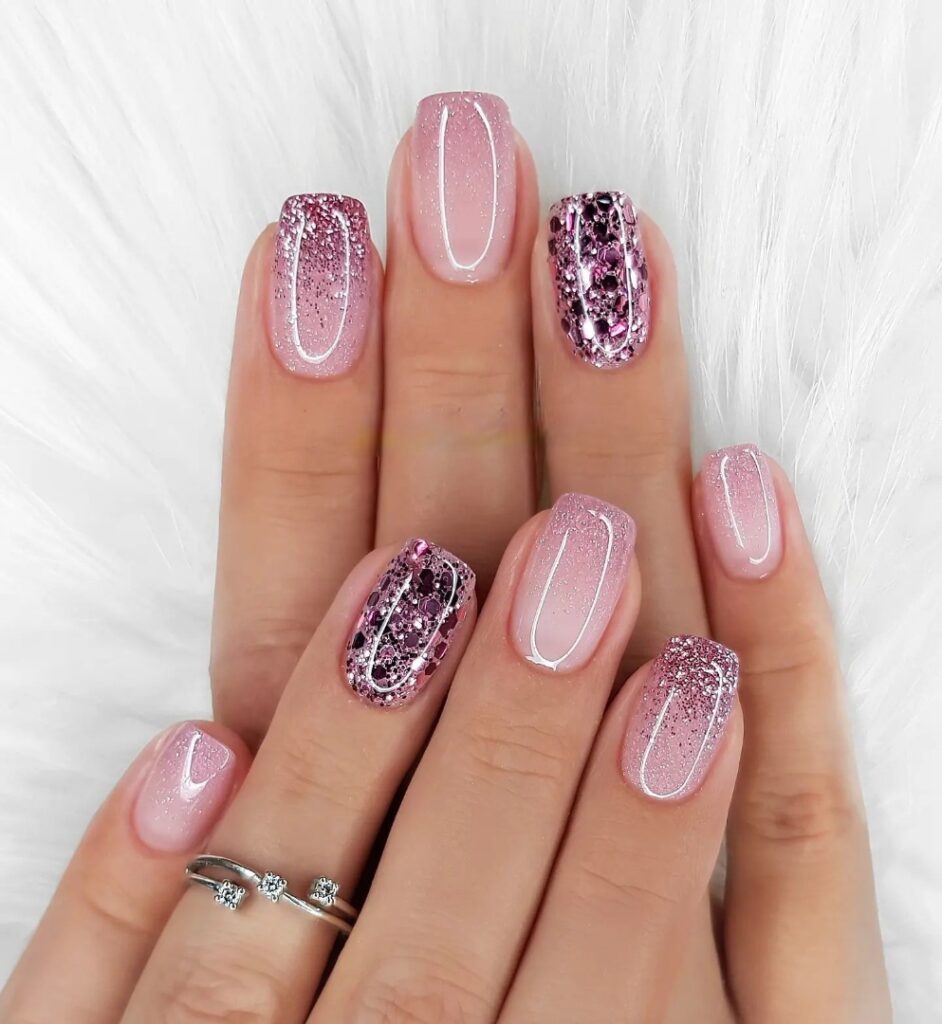 If you've got a party to attend or feel like dazzling, don't overlook glitter accents. A little sparkle can make you feel like the belle of the ball or the queen of the soirée!
The Sophisticate: Nude On Short Square Nails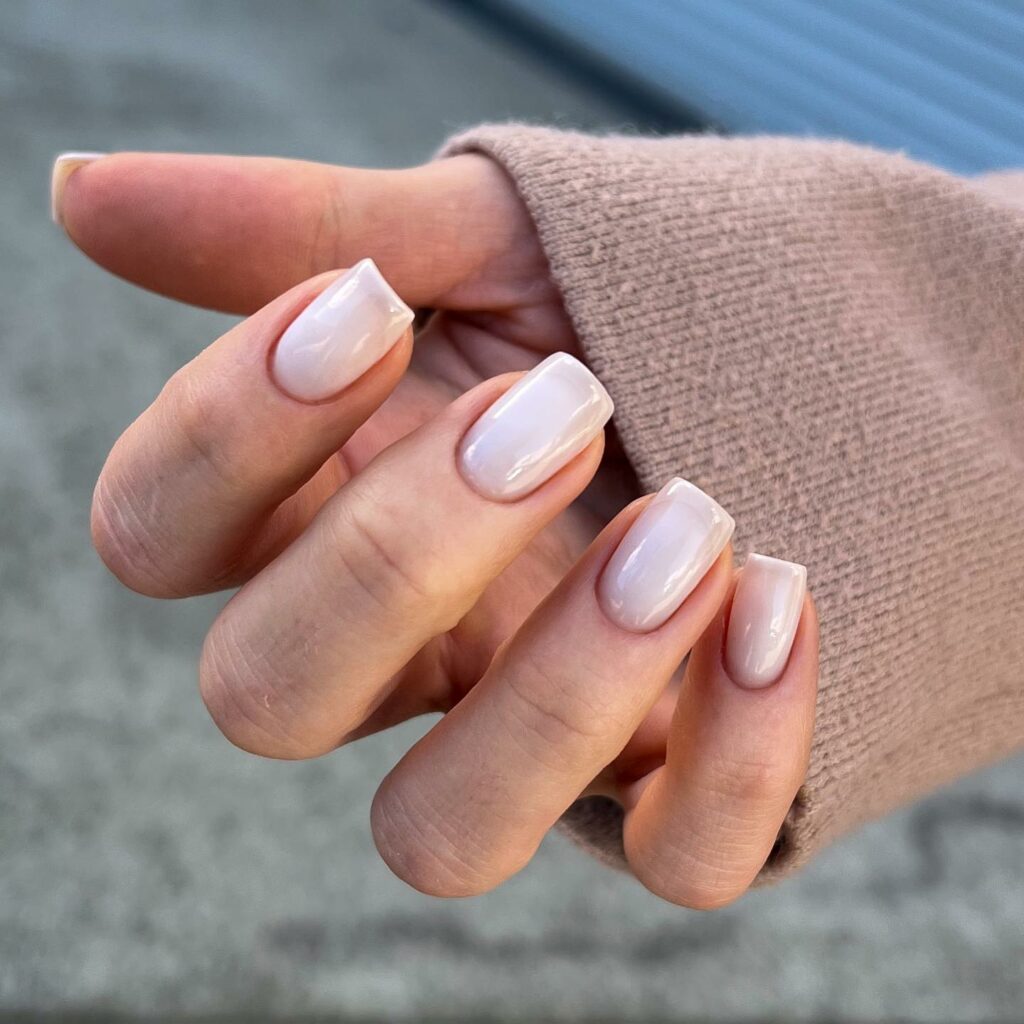 Nude short square nails are the epitome of understated elegance, providing a clean and polished look that's as versatile as it is stylish. They're a go-to for nail lovers who prize a minimalist aesthetic that pairs seamlessly with any and every ensemble.
Rossy Nude Square French Nails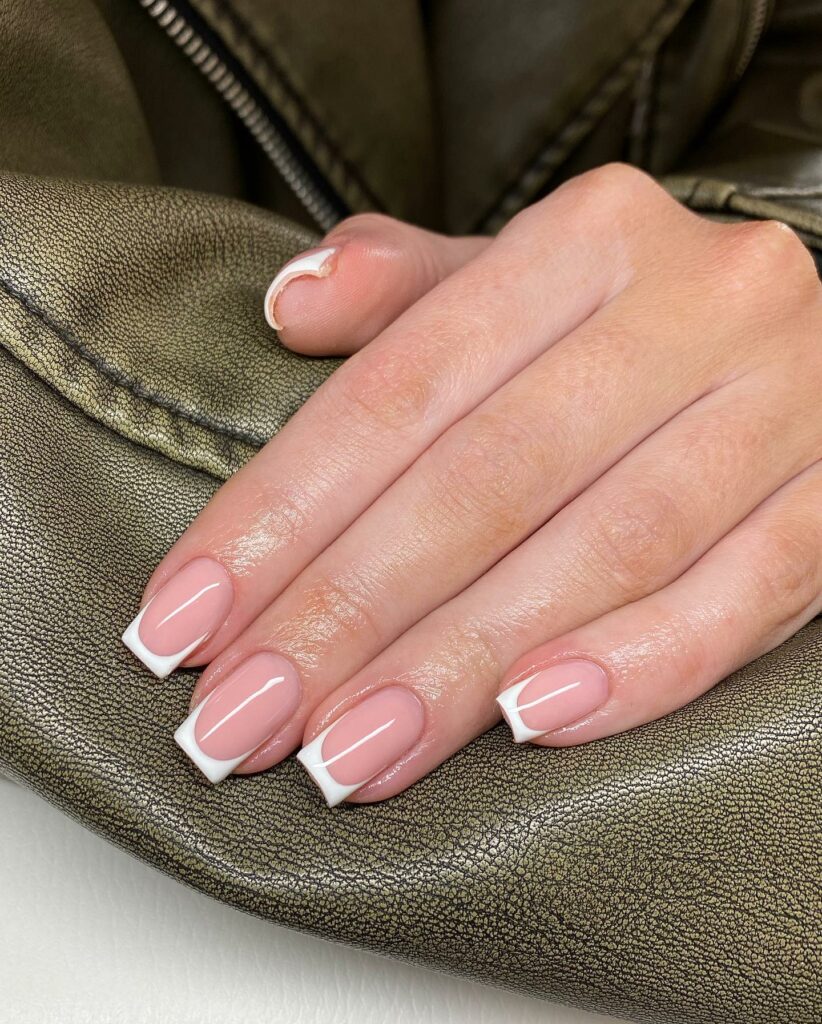 The rosy undertones in Rossy Nude Square French Nails offer a unique take on the classic nude color scheme. Discover how to get this romantic, blush-tinted look that's ideal for any occasion.
Glittering Gold Square French Nails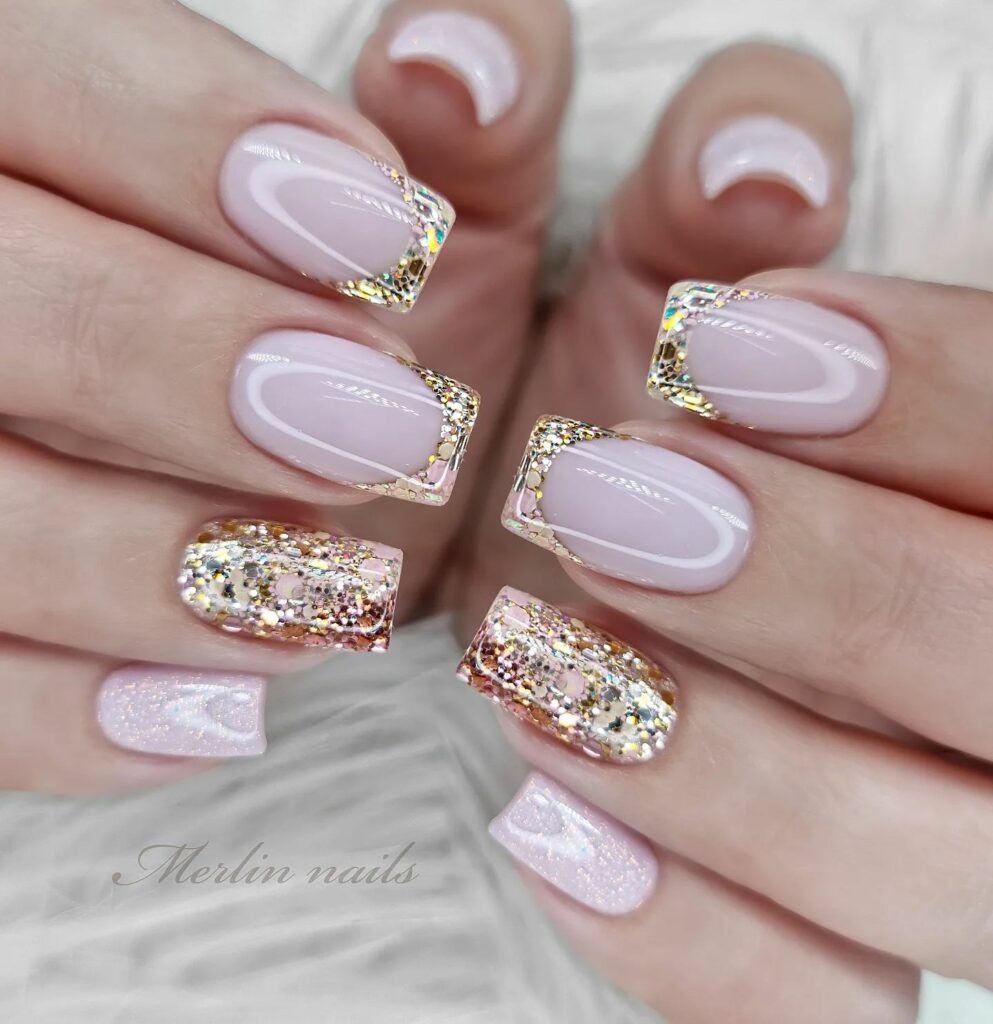 Add a touch of luxury to your hands with Gold Square French Nails. Learn how gold embellishments or accents can elevate your style, making your nails beautiful and regal.
Pop Art Vibes: Colorful Minimalism On Short Square Nails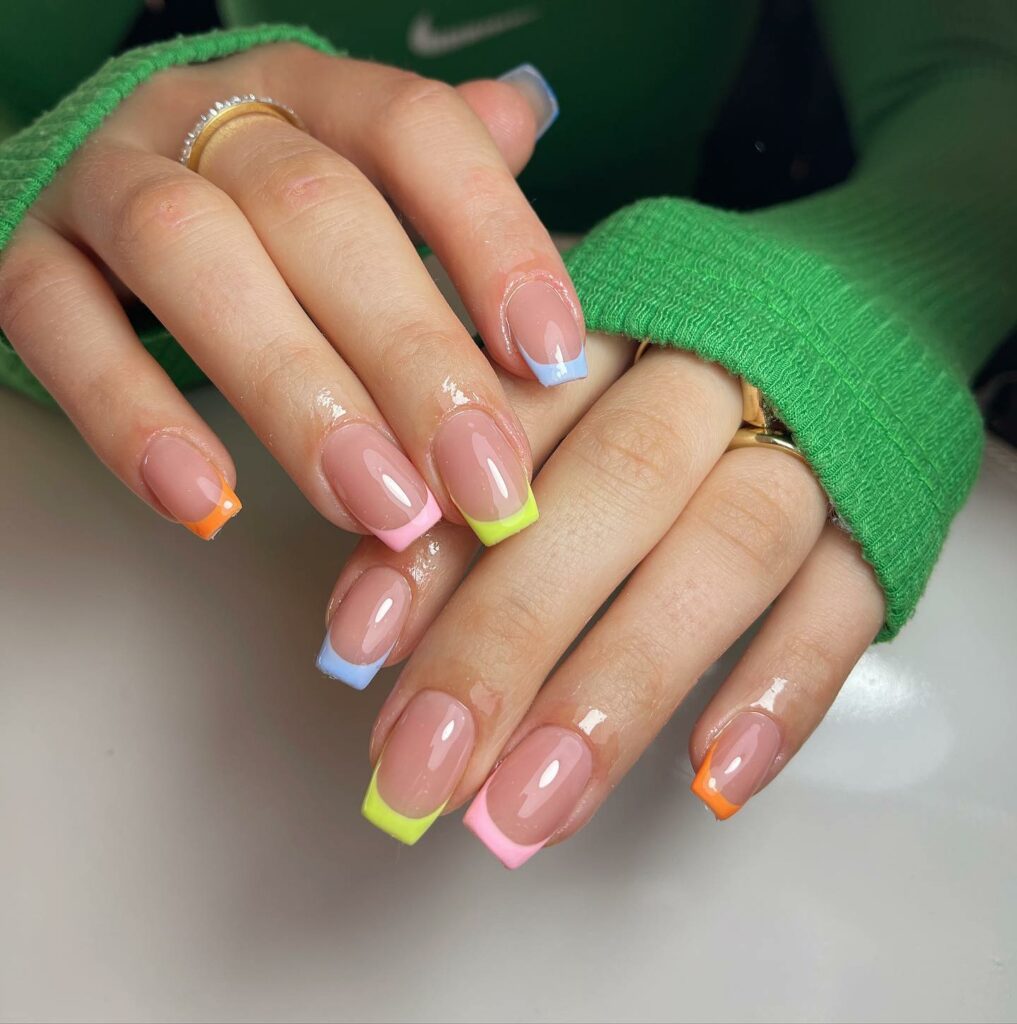 Short square nails become the perfect canvas for colorful minimalism, where pops of vibrant hues meet sleek, uncomplicated designs, channeling a pop art vibe with a modern, understated twist. It's an artistic yet refined way to infuse a dash of fun into your nail game without overwhelming the senses.
Matte Flower On Square Nails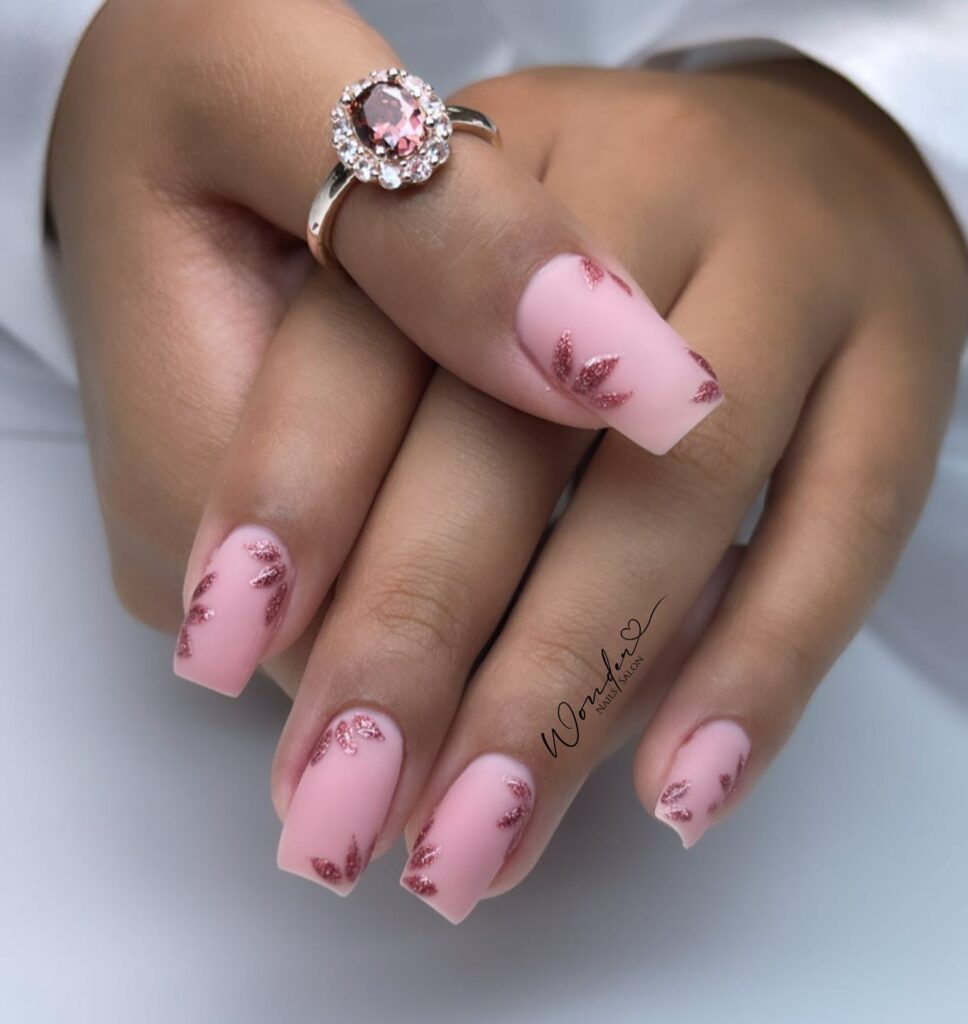 Floral designs in a matte finish offer a unique twist on a romantic classic. These aren't your grandma's flower prints; think modern designs with a muted background. The matte finish adds a contemporary touch, making your nails look like a garden for the 21st century.
Black French Tip Short Square Nails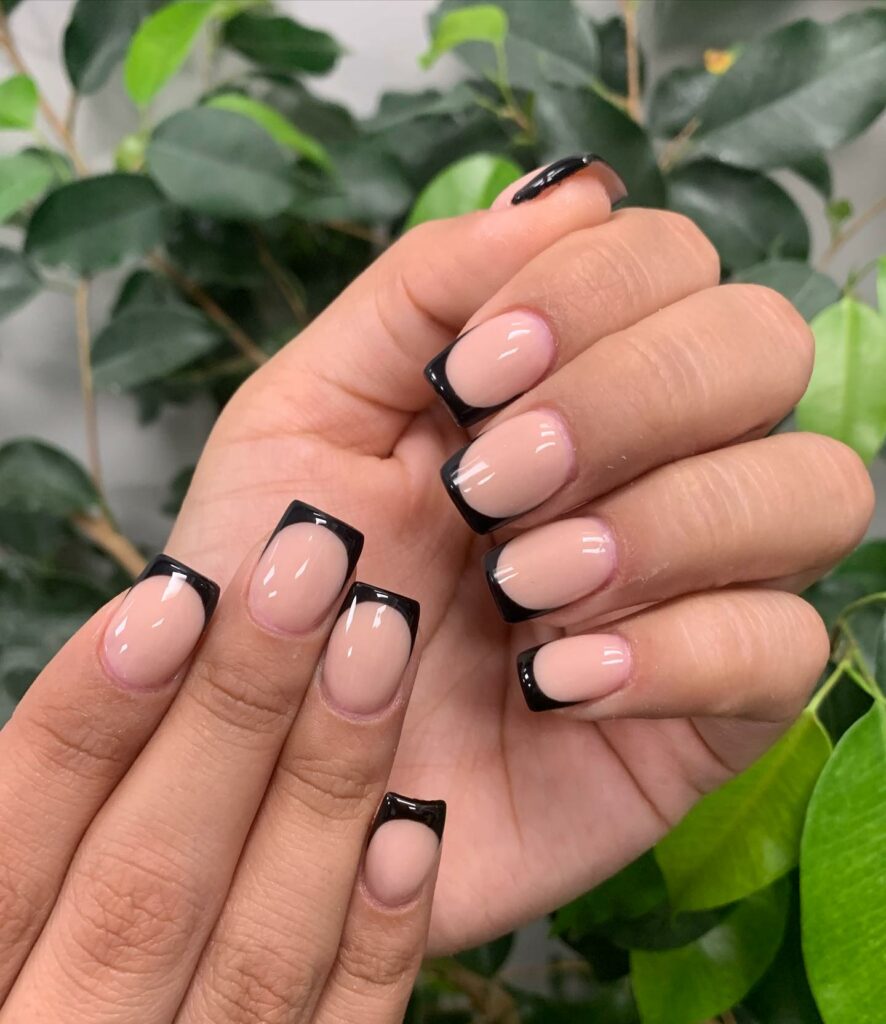 Switch out the traditional white for a black French tip on short square nails to bring a bit of drama to your look. This unexpected twist adds a contemporary vibe to the classic French, making your nails a perfect conversation starter.
Simple And Chic: Minimalist Design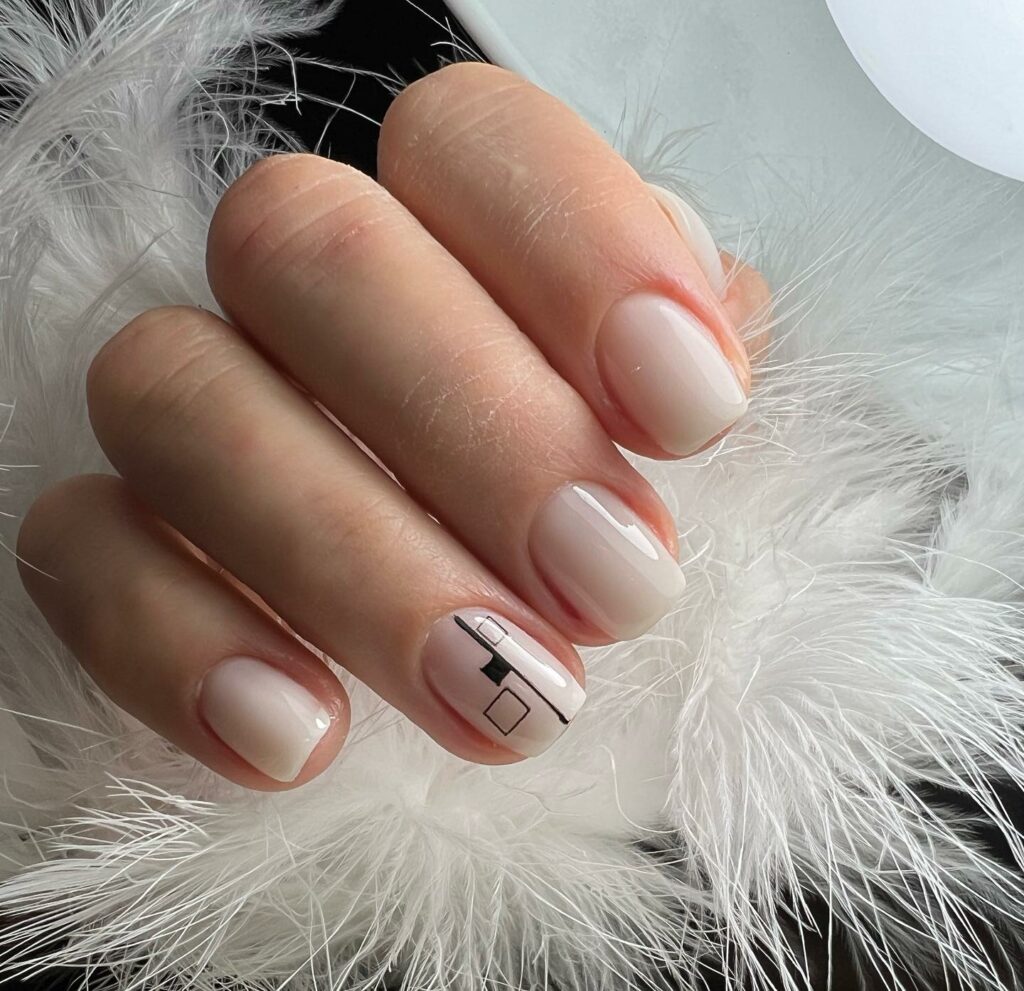 Let's talk about the art of simplicity. You can make a significant impact with minimal designs that feature clean lines and neutral colors. A single stripe across each nail can turn heads, believe me!
Nude French Nails Short Square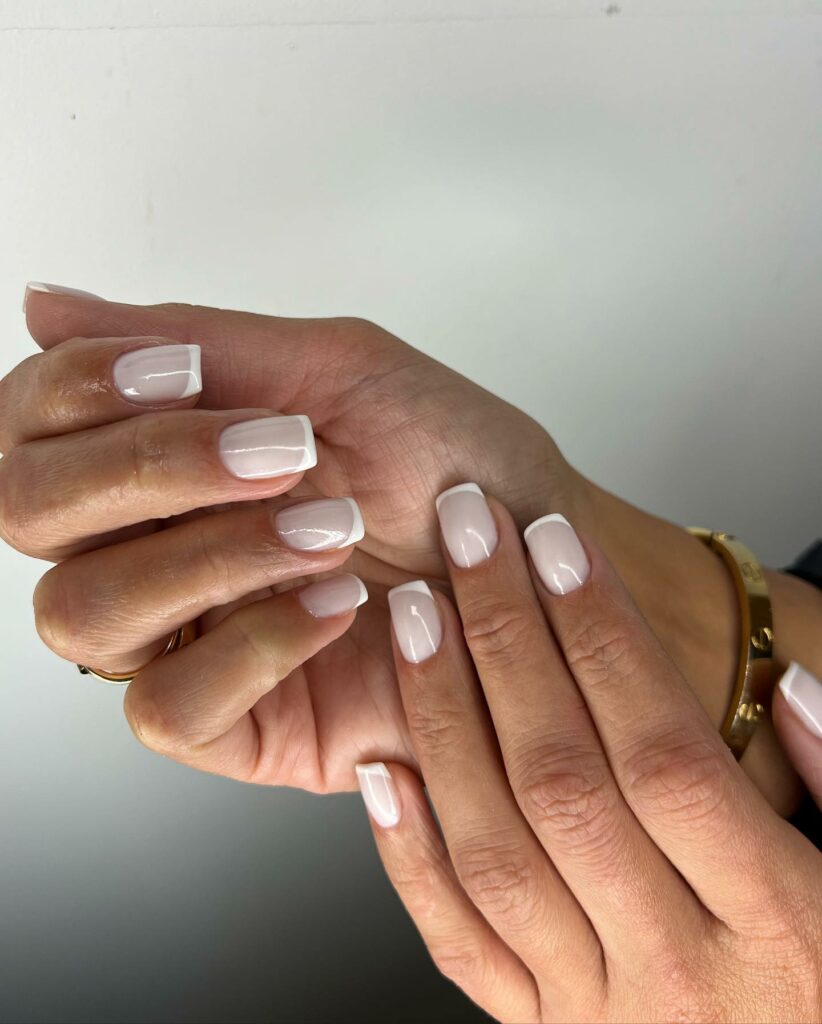 French manicures and nude tones are like peanut butter and jelly—perfect. This style is all about a clean, unobtrusive look that screams sophistication. The nude base, combined with the classic French tip, adds a hint of flair without being too flashy. Perfect for those who love a touch of classic glamour.
Red Wine Matte Short Square Nails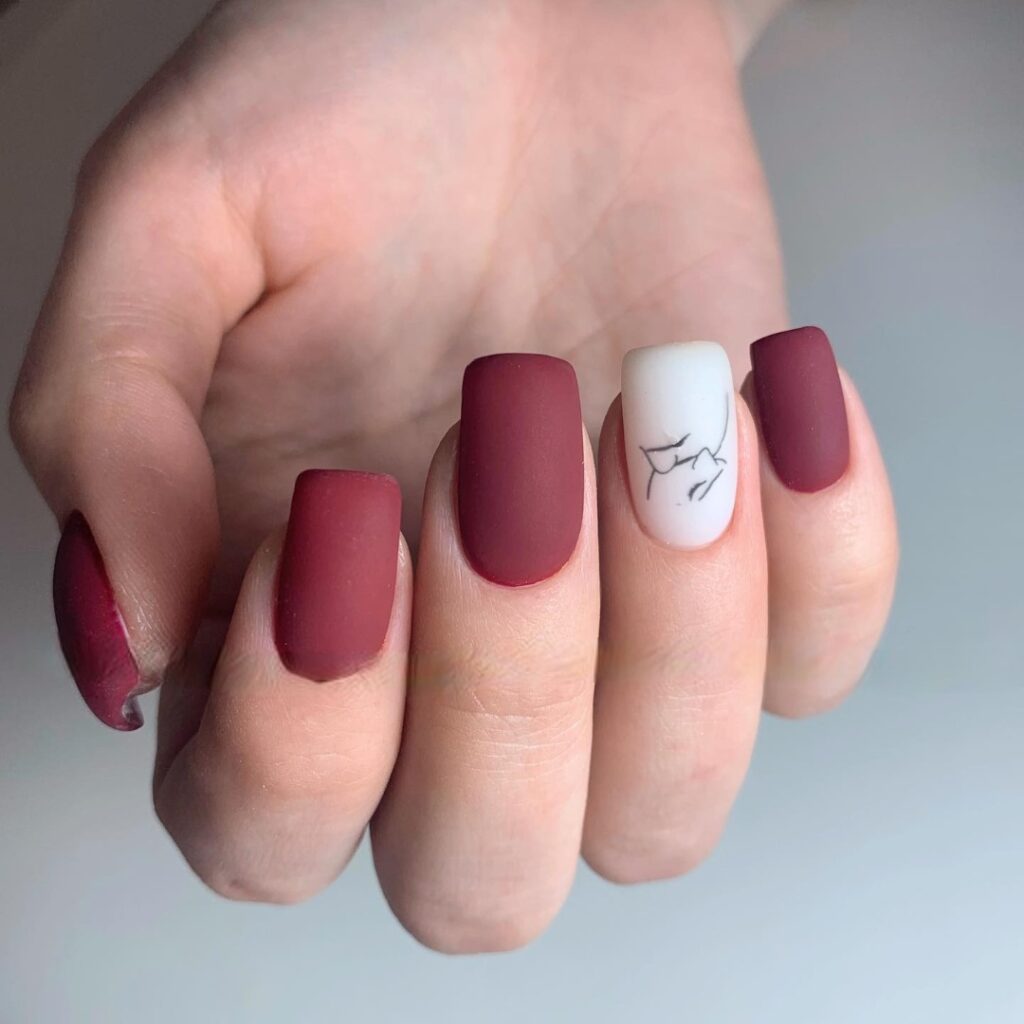 Who doesn't love a glass of red wine? Translate that richness to your nails with a red wine matte finish on short square nails. The deep hue and matte finish create a sultry, sophisticated look perfect for a romantic night out or an elegant event.
Deliciously Chic: Glazed Donut On Short Square Nails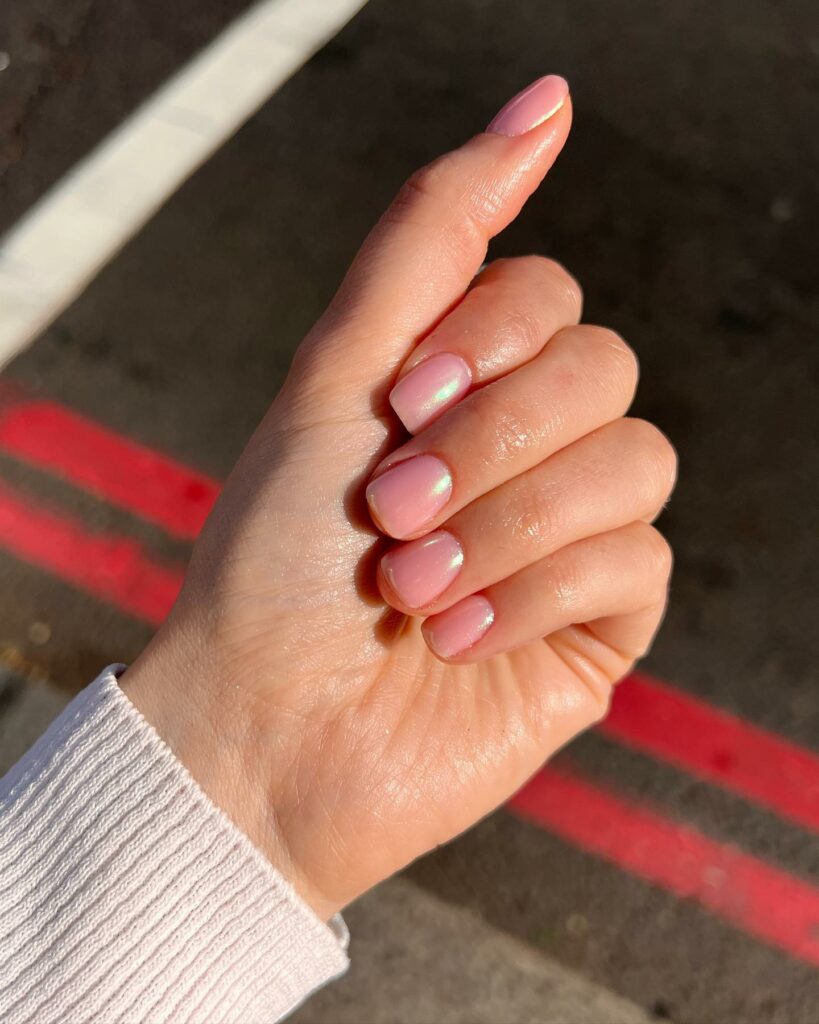 The "glazed donut" look is nothing short of luxurious. Imagine a pearl-like shimmer that catches the light just so. And if you're really vibing with summer, swap the traditional white for a zesty yellow or orange. Then layer on that glaze—just like the finest summer desserts.
Edge It Up: Black French Tip On Short Square Nails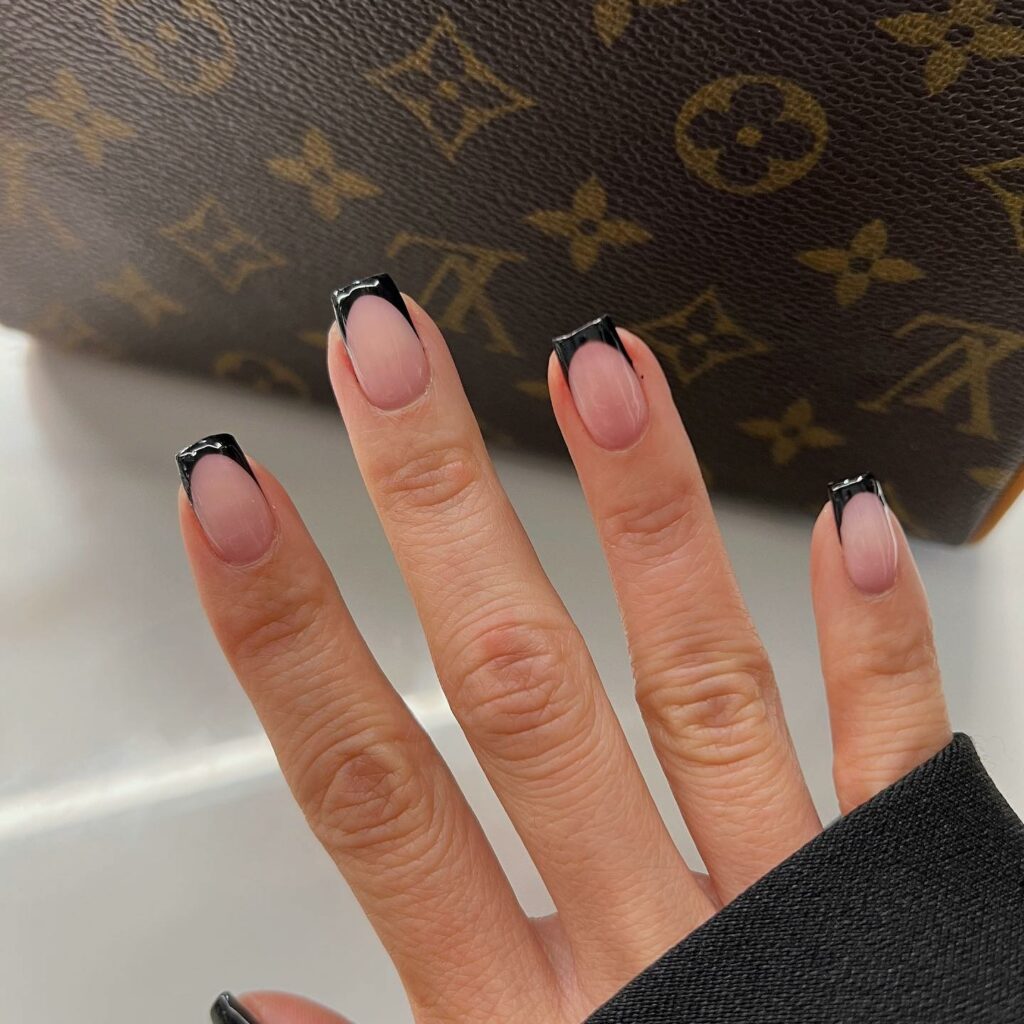 If you're like me and have a closet full of chic, monochrome pieces, black French tips on short square nails are your summer staple. It's the LBD of nails—so simple, yet a total showstopper. It's edgy, it's chic, and it goes with everything. Yes, everything.
Cool And Smooth: Matte Blue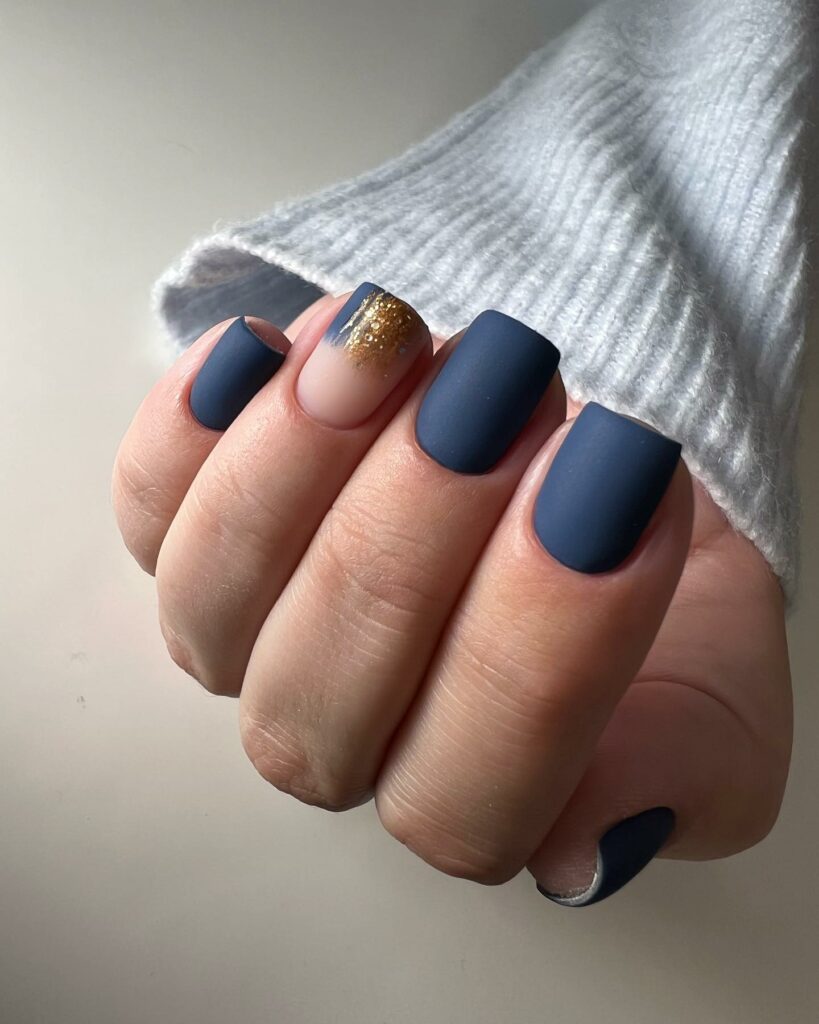 Matte finishes are super trendy, and when it comes to blue, it's a win-win. I recently tried a sky blue polish from AILLSSA, and oh my, it looked ethereal. Add a touch of gold glitters, and your nails will shimmer in the sunlight.
Timeless Elegance: French For Short Square Nails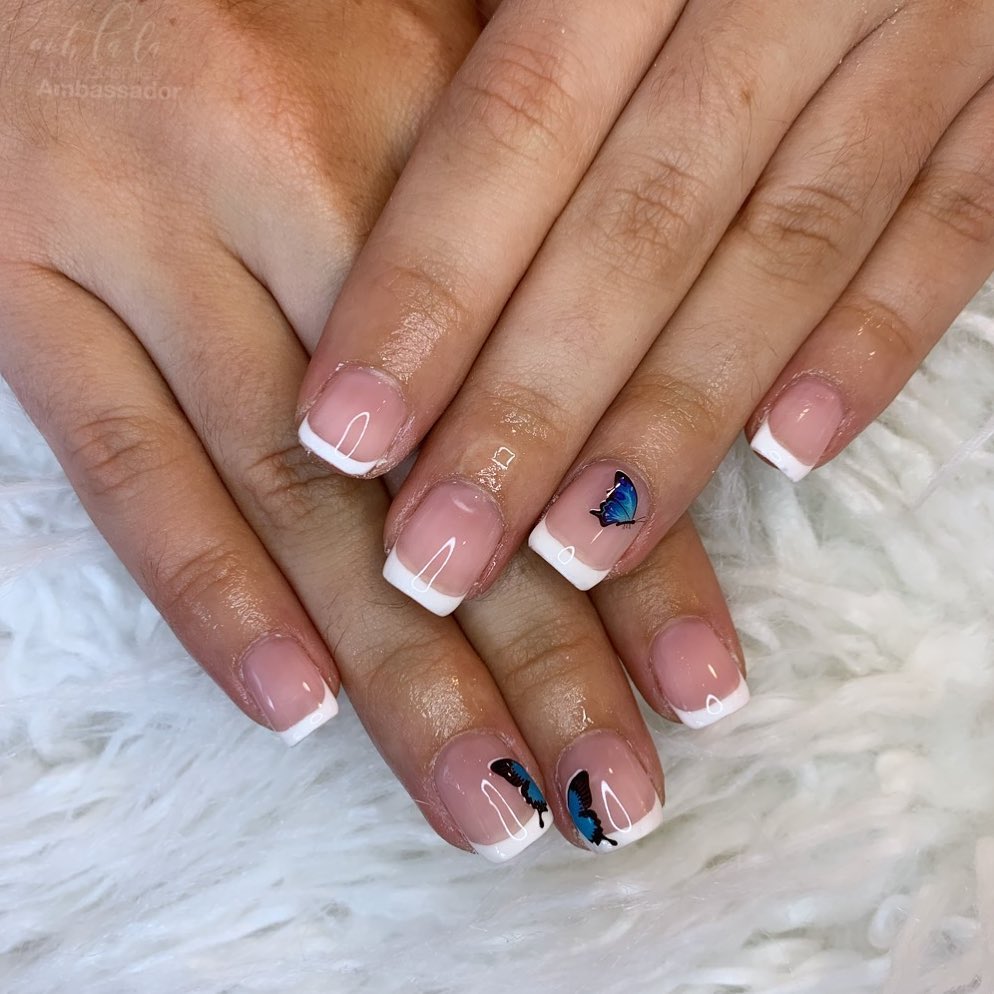 French manicures are to nails what Audrey Hepburn is to fashion—timeless. Incredibly flattering on short square nails, the French tip is a style you can never go wrong with. Switch it up with a dash of color if you're feeling adventurous.
Eye-Catching Duo: Blue And Pink Mix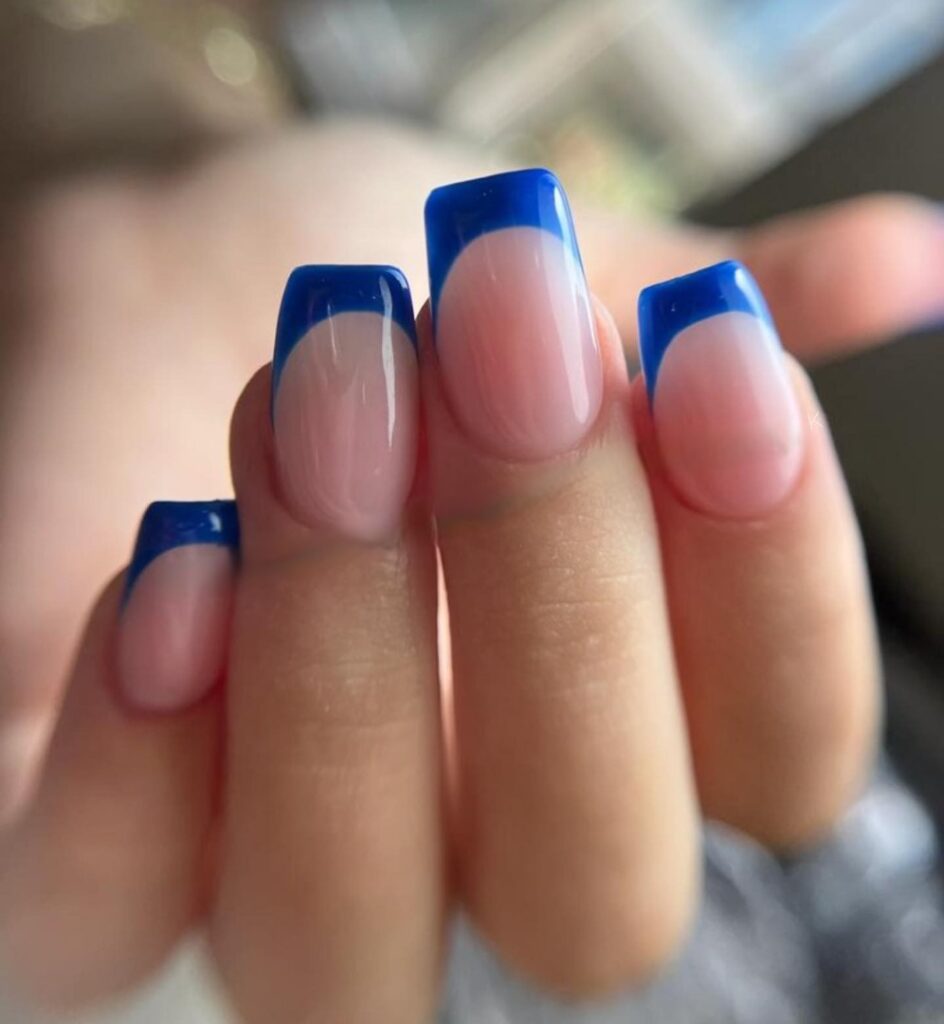 Why settle for one color when you can have two? Mix blue and pink for a vibrant mani and full of life. From gradients to stripes, the possibilities are endless. I once tried Essie's royal blue with a touch of pink, and it was a showstopper!
Romantic Flair: Square Nails With Floral Designs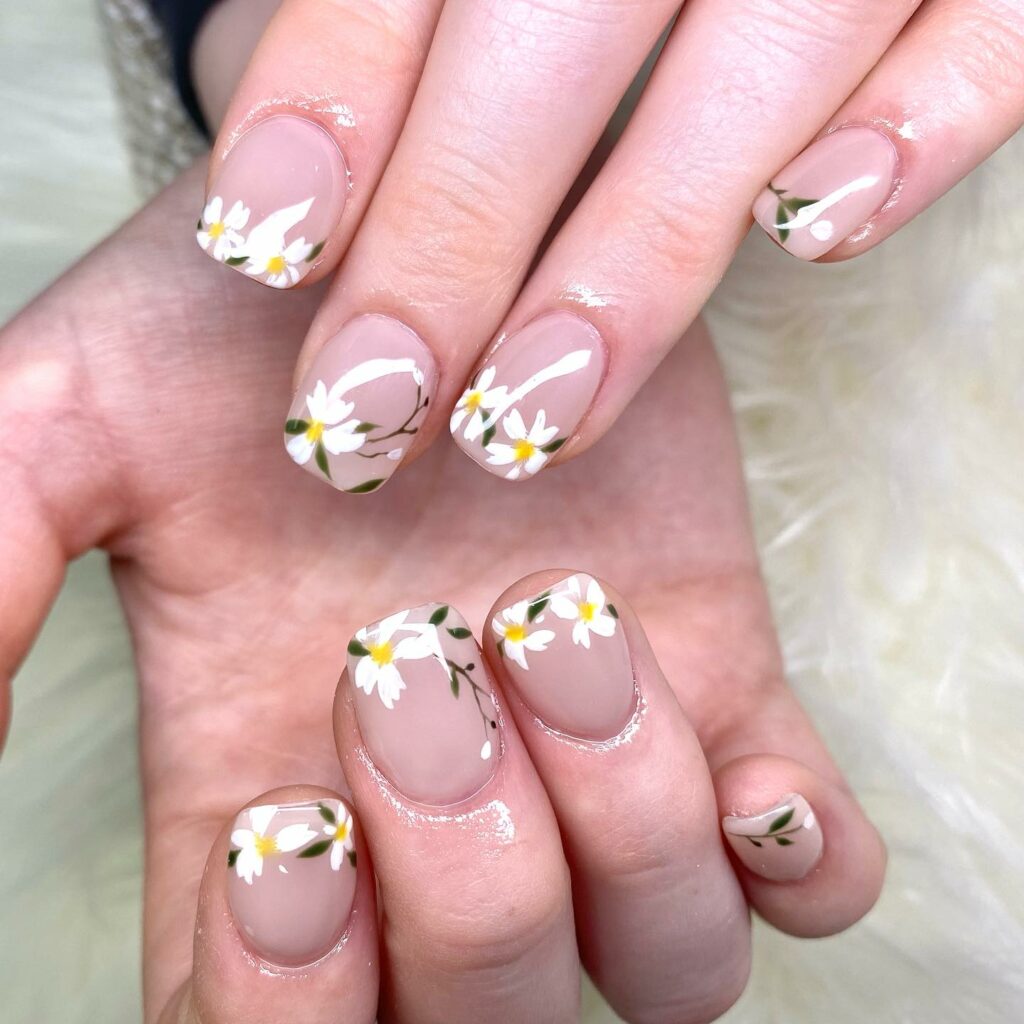 Floral patterns give a romantic and feminine vibe that's just irresistible. It's like wearing spring on your fingertips. So, if you're a romantic, why not let your nails do the talking?
Short Yellow Nails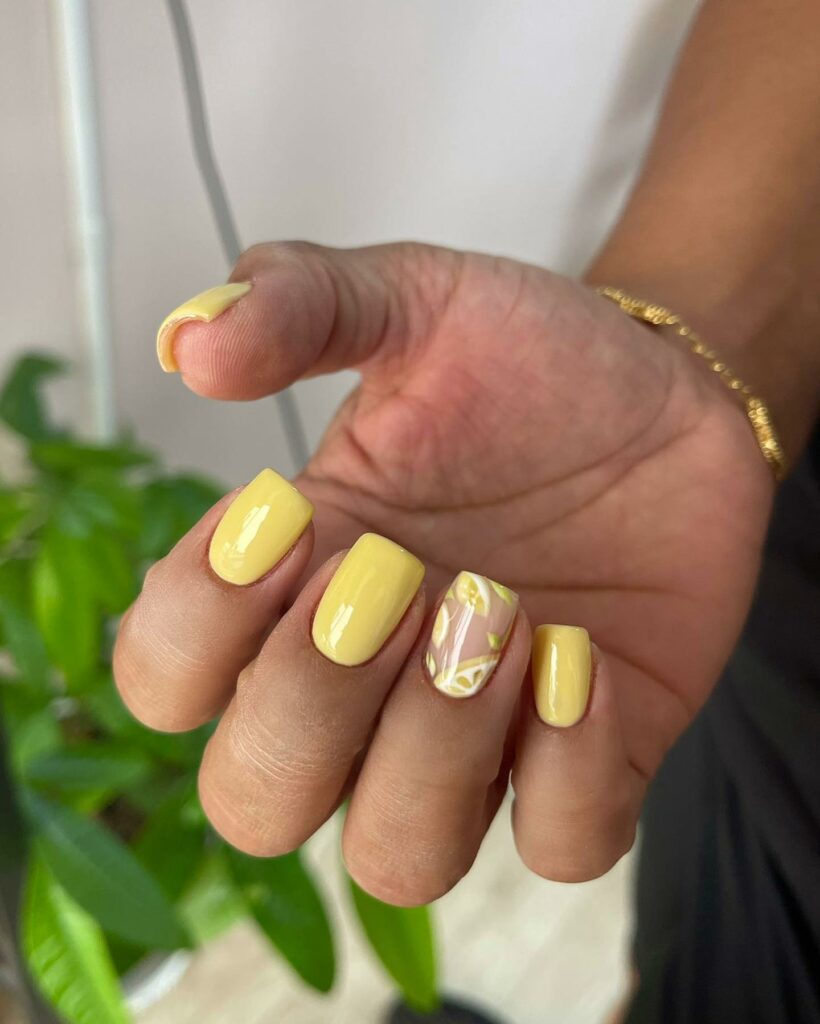 Let's hear it for vibrant yellow, a color that's all about happiness and positivity! On super short nails, this hue looks extra chic and is perfect for those who want to inject some energy into their look. It's like carrying a little
Dream In Color: Pastel On Short Square Nails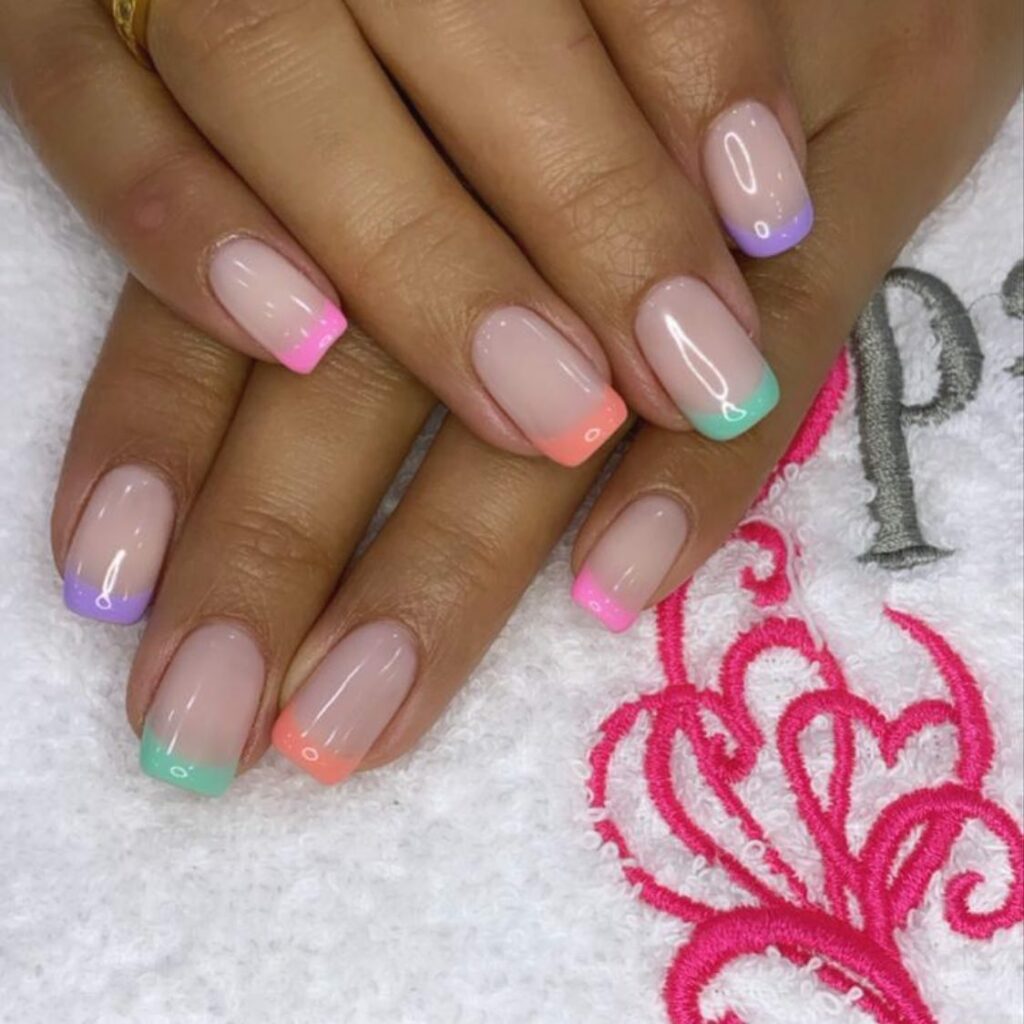 If pastels are your thing, let's bring that to your nails! Lavender, mint, soft pink—go crazy! I went all in with pastels for an Easter brunch, and it just elevated the whole look. The options are endless: multi-color pastels or a simple French manicure in pastel. Either way, you're going to rock it!
Short Square Matte Nude Press-On Nails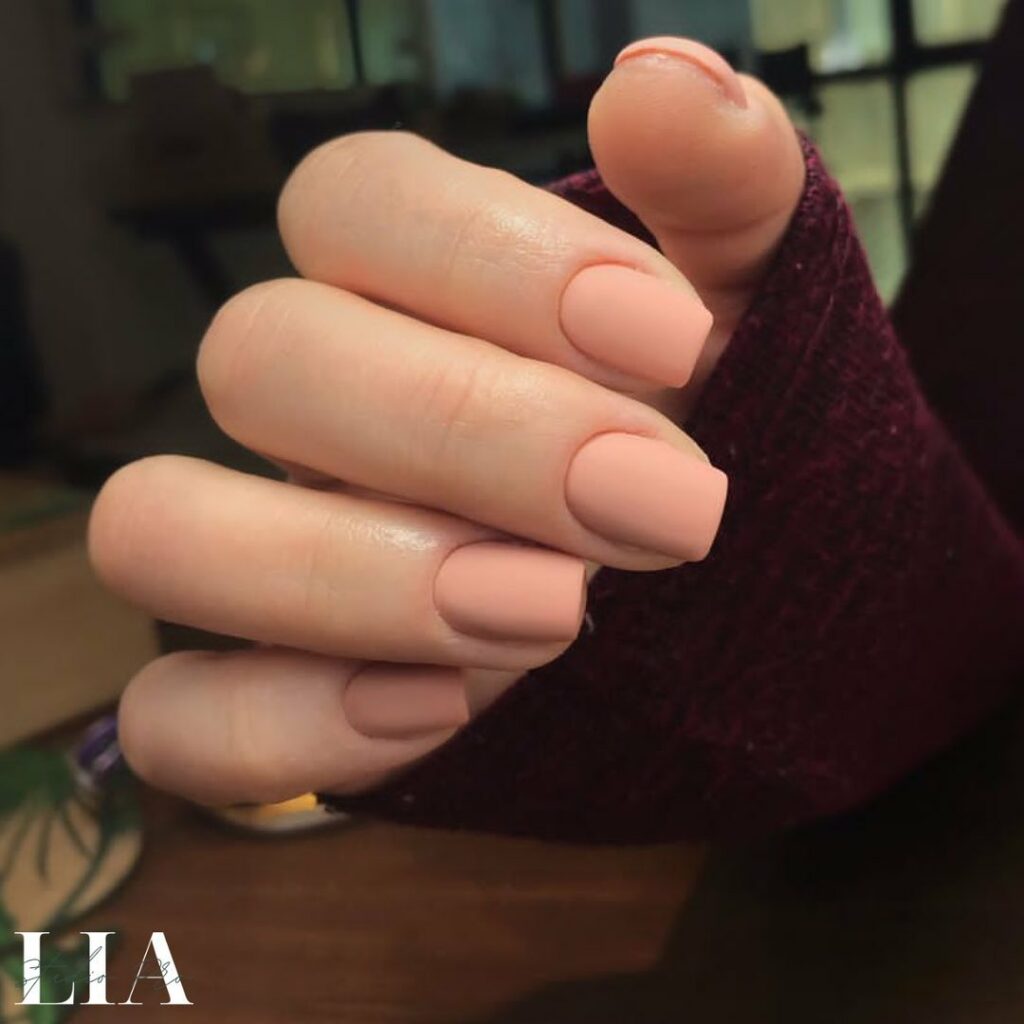 For those who love the look but lack the time, short, square, nude press-on nails are a godsend. Not only are they super easy to apply, but they also give you that elegant, natural look as if you've just walked out of a salon. It's ideal for a quick style upgrade when you're on the go!
Luxurious Marble Square French Nails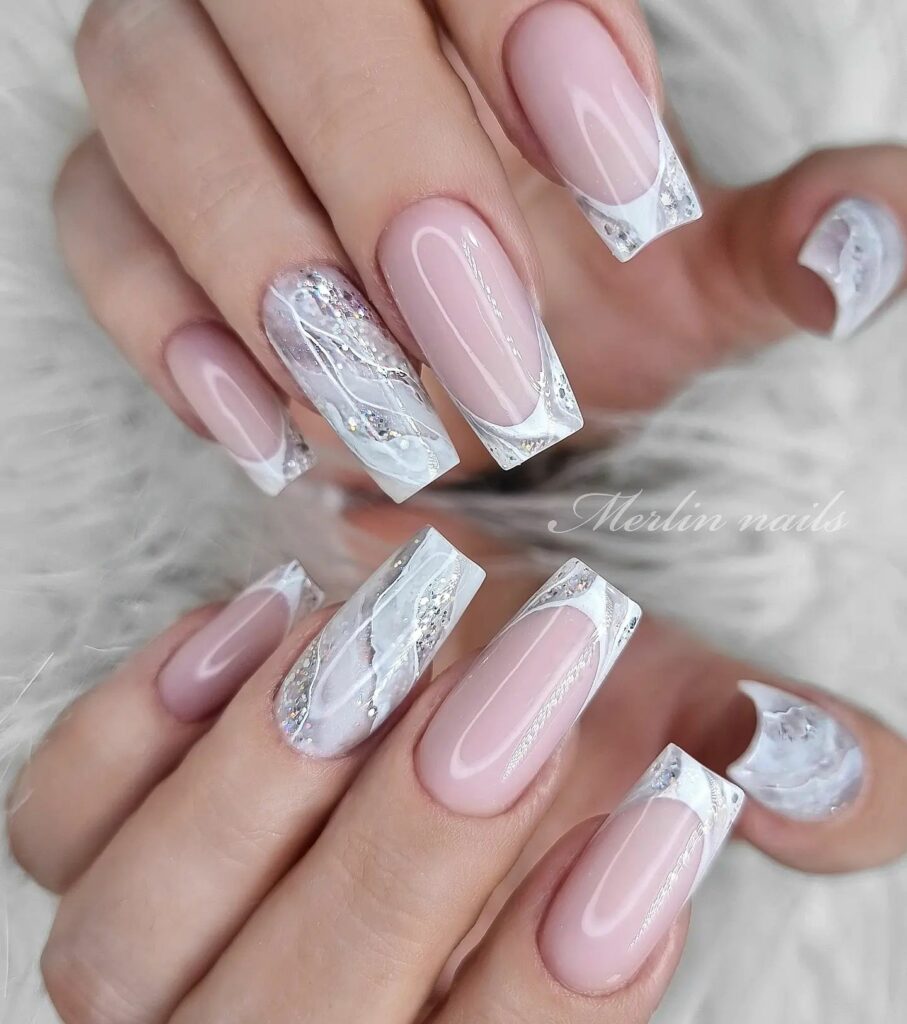 Marble is for more than just countertops and statues. Discover how to create a marble effect on your Square French Nails for a luxurious look combining traditional and contemporary aesthetics.
Shine Bright: Silver On Short Square Nails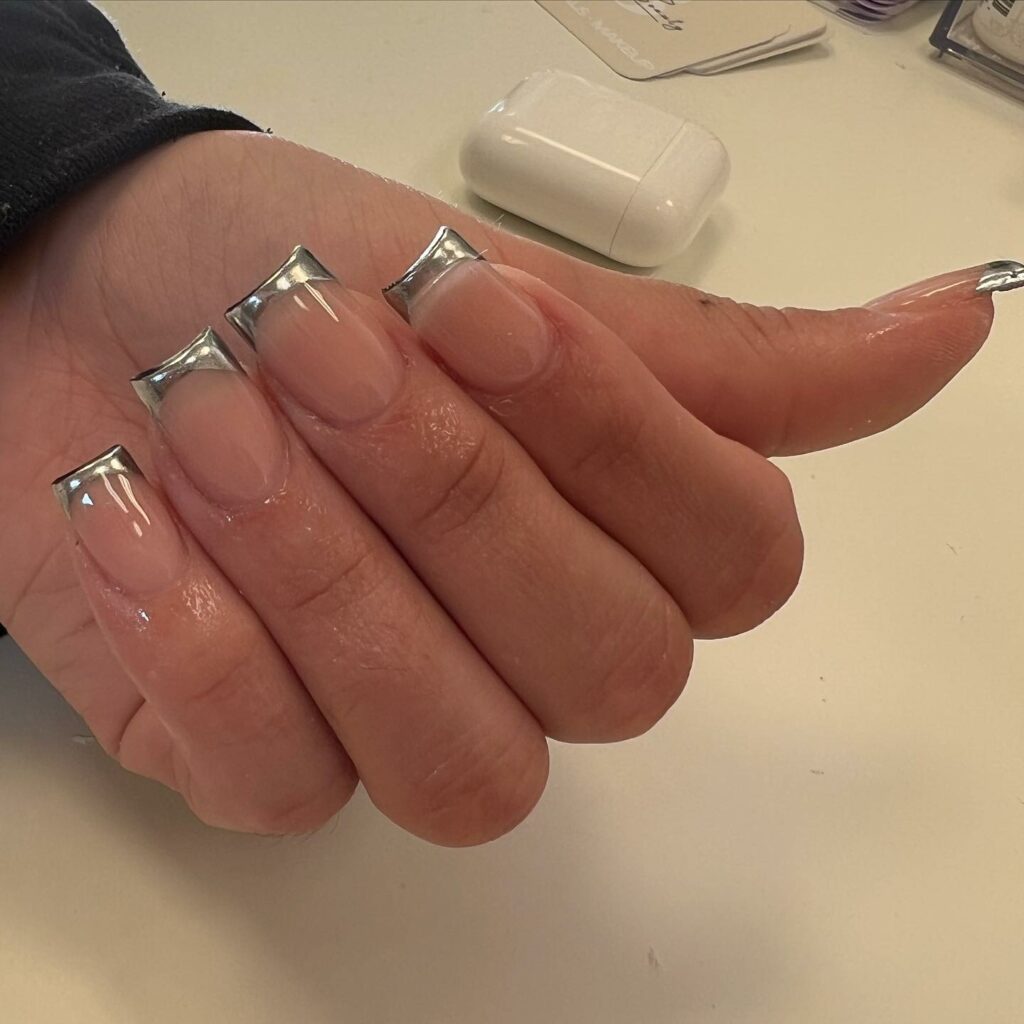 Let's talk silver. It's cool, it's crisp, and it's totally summer-approved. I tried this with metallic silver and a subtle glitter gradient, and wow—talk about a mood lifter. It pairs so well with minimalist summer ensembles, making it a versatile choice.
Get Your Nails Holiday-Ready: Christmas Inspo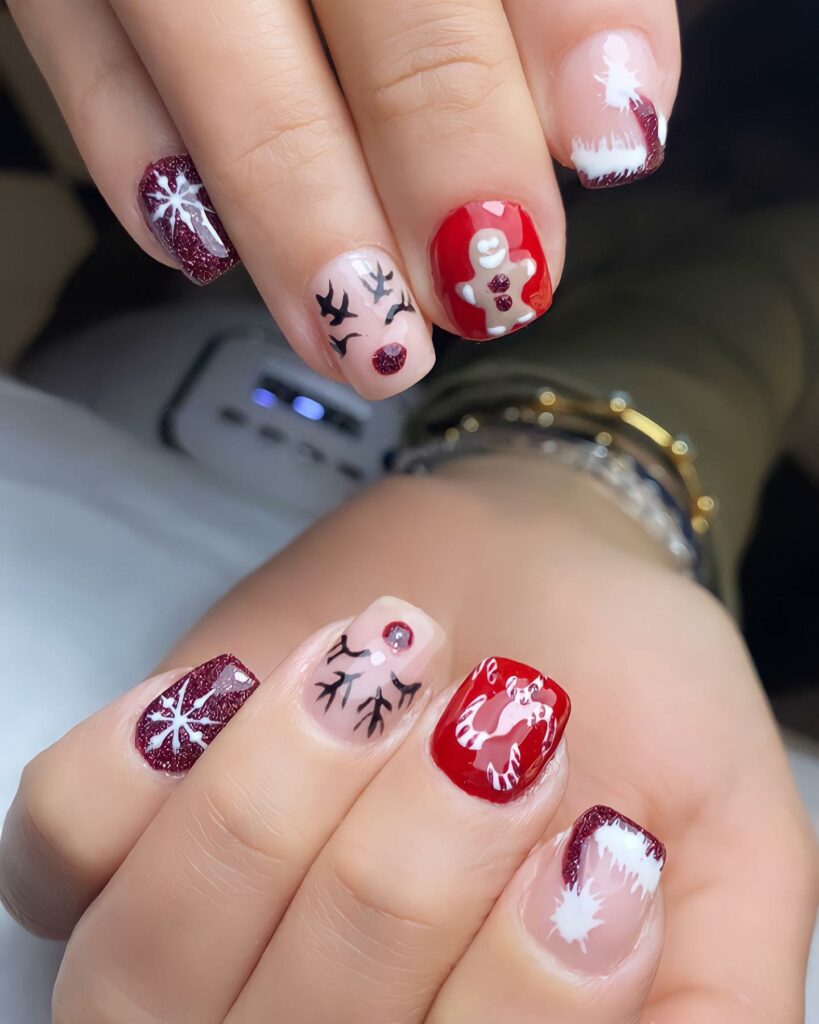 This is the season for sparkles, snowflakes, and red and green. Why not glam up those short square nails with Christmas-themed nail art? Celebs like Khloe Kardashian and Kylie Jenner are all about the classic red mani. Use high-quality polish like Dior or Essie to get that vibrant red, and jazz it up with snowflakes or cute little reindeer. Trust me, you'll be the star at every holiday party!
Less Is More: White Textured Nails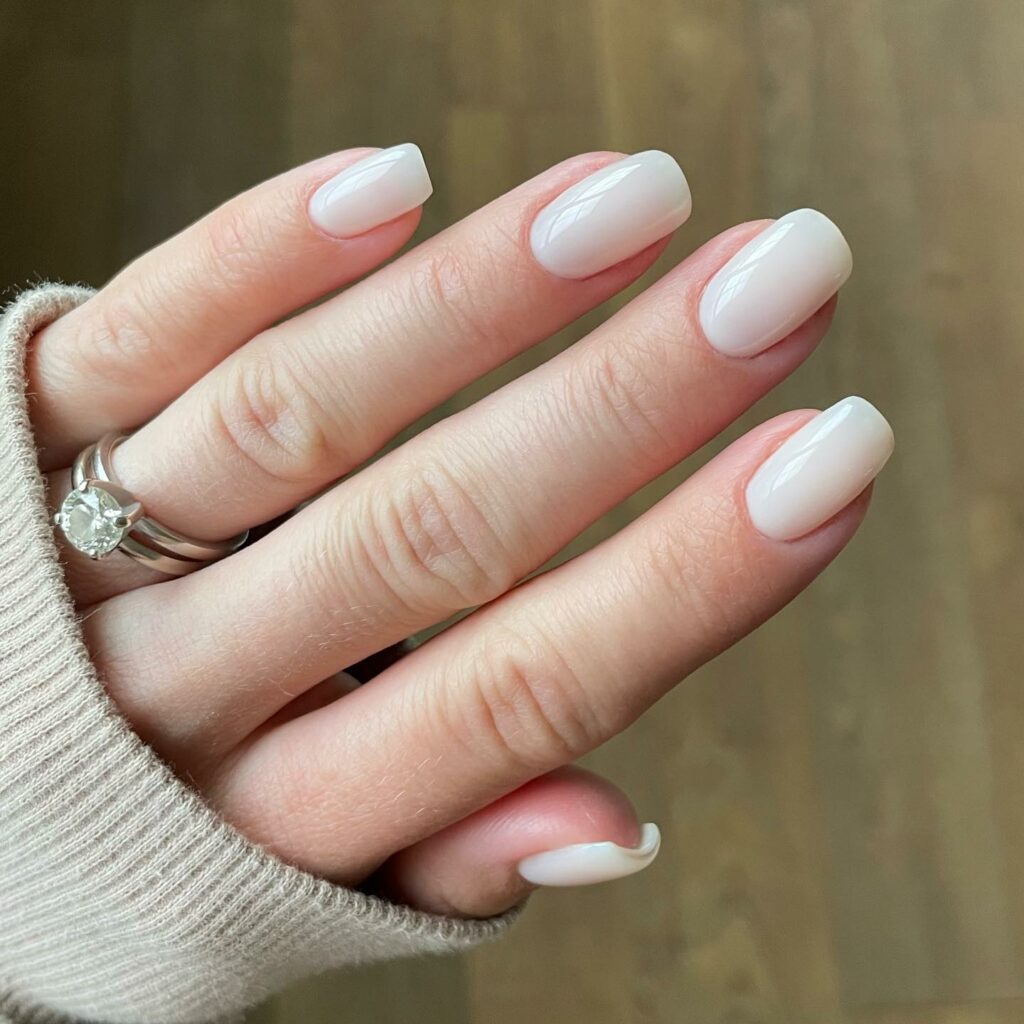 Okay, for those who love minimalist elegance, a white-textured design is your best bet. I'm talking about a finish that's so tactile that it practically beckons people to touch your nails. OPI's Funny Bunny shade offers a snowy look that's irresistibly chic. It's like wearing a little black dress but on your nails.
Nature's Calm: Sage Green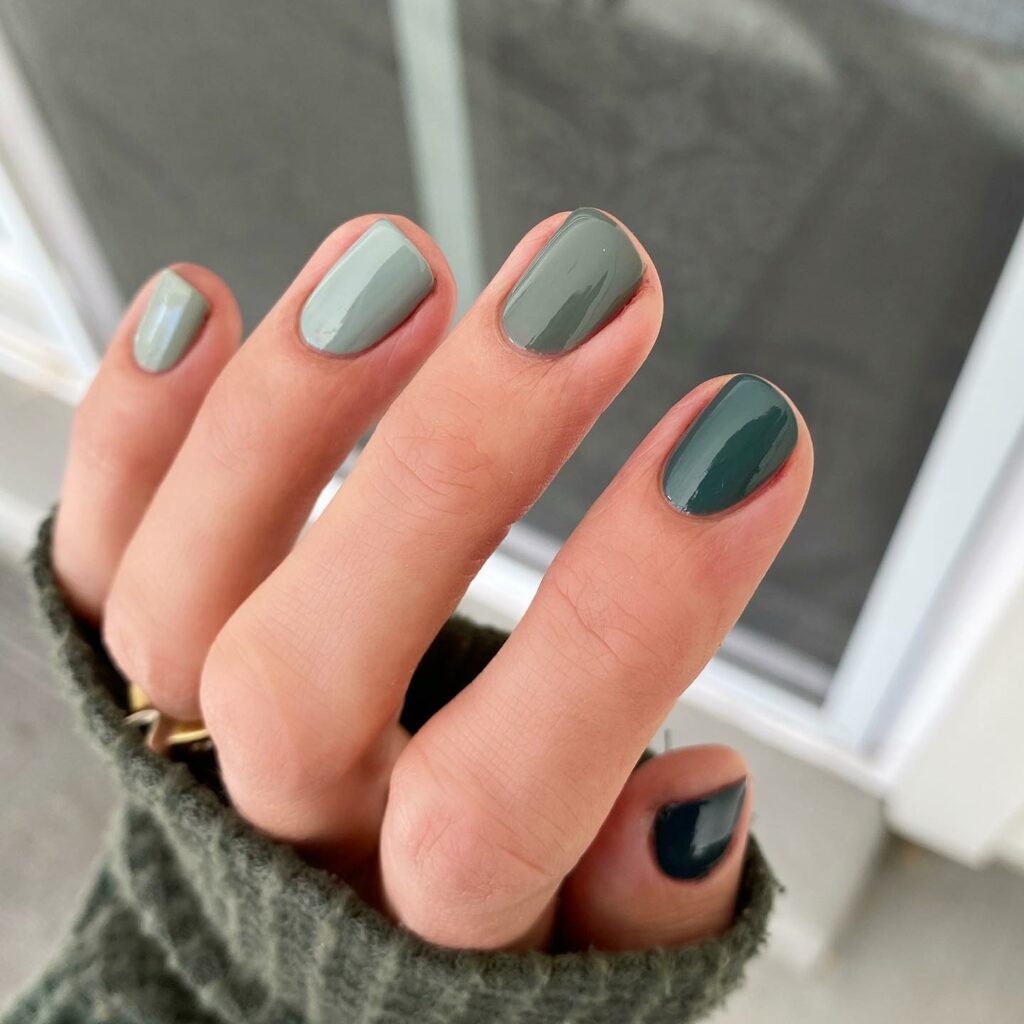 Something is calming about sage green. Celebs like Kourtney Kardashian and Selena Gomez agree, sporting this tranquil color on their nails. Whether you use Zoya or Beetles nail polish, sage green is an effortless way to add a touch of nature to your style.
Playful Palette: Pink And Aqua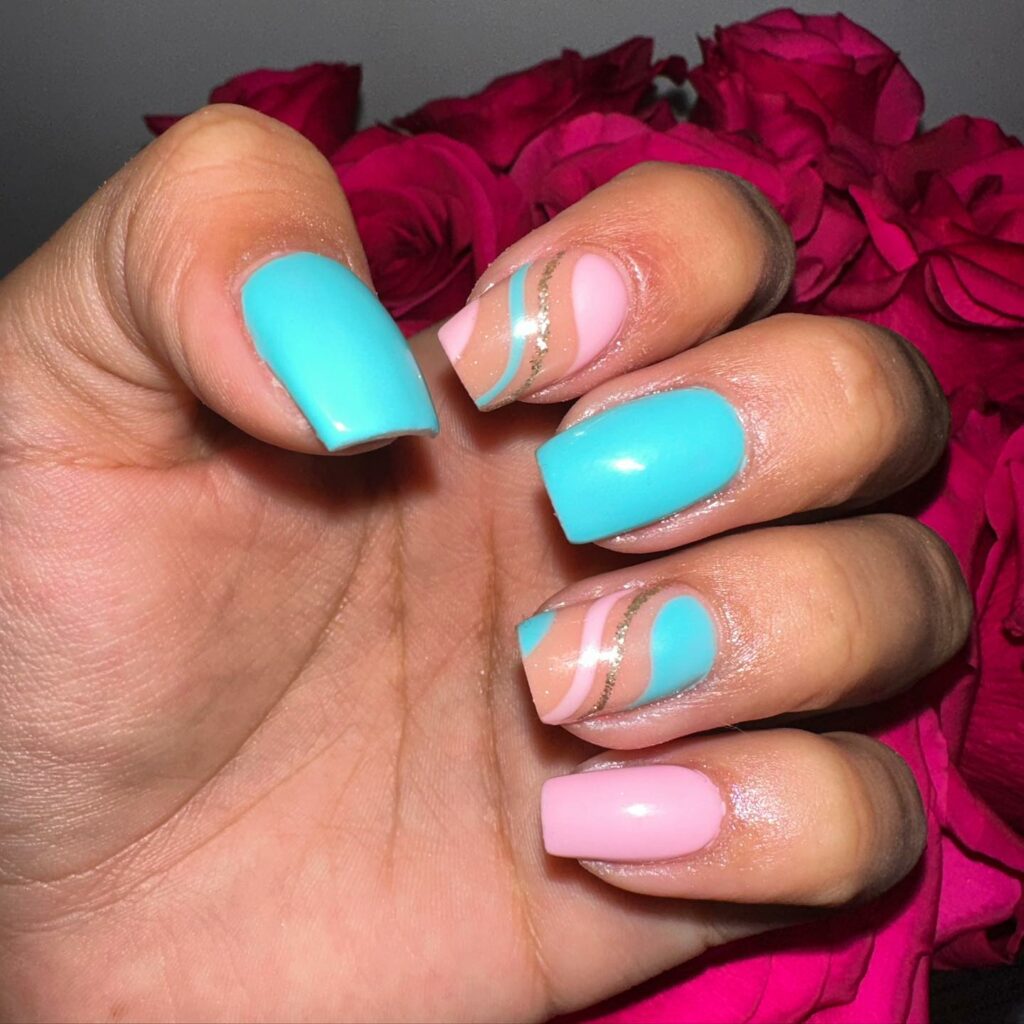 Looking for a fun and eye-catching combo? Pink and aqua are your besties! Last summer, I alternated these colors on each hand, which was a total hit at the beach. Mix and match patterns, or even go for a classic color-blocked look.
Animal Print Revival: Tortoise Nails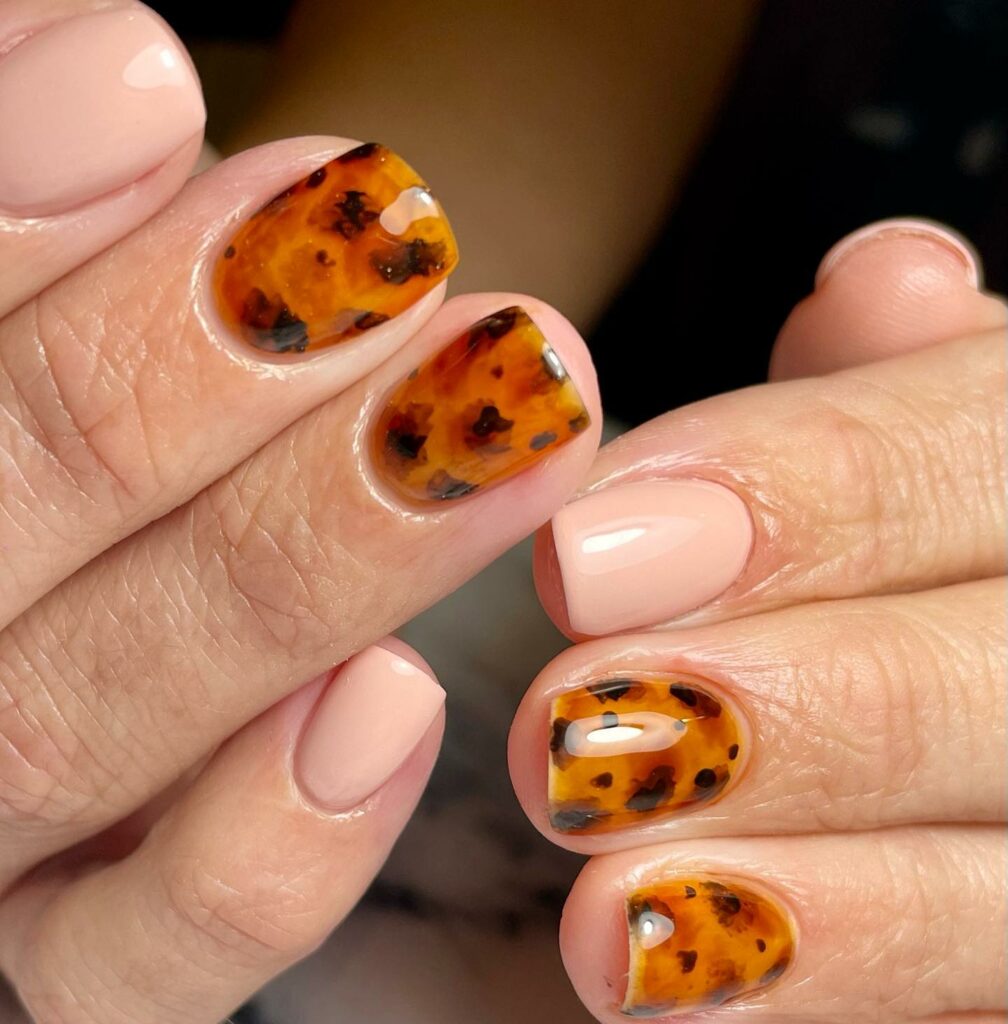 Animal prints have their own undeniable charm. And it's not just Blake Lively and Hailey Bieber who think so! Tortoise patterns, a classic in eyewear, are making their way to the nail world. Blend in earthy tones like brown and caramel with black for this fabulous look.
White Metallic Short Square Nails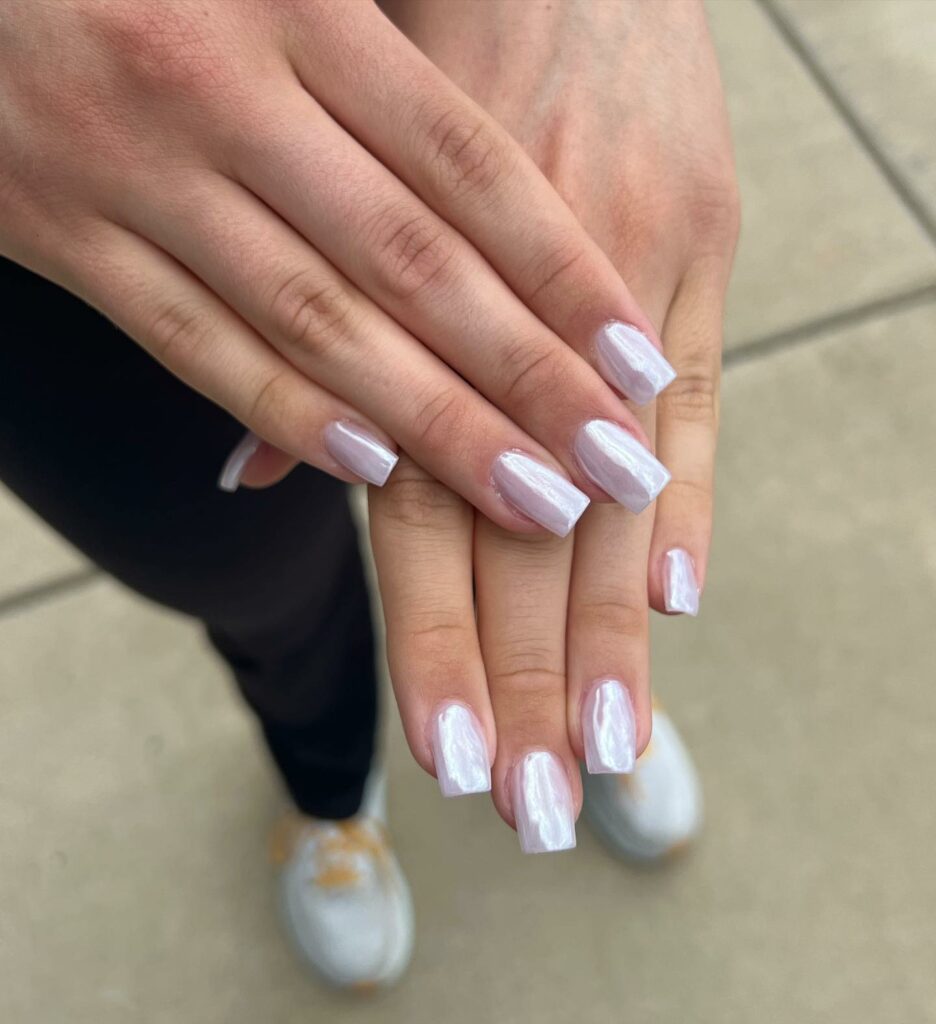 Metallic nails are having a significant moment, and they look incredibly chic in short, square shapes. Picture this: a pewter or silver metallic polish that catches the light every time you move. It's the perfect way to add a futuristic edge to your look without going overboard. These nails scream confidence and are versatile enough to go from a business meeting to a night out with friends.
Black And White Stripes, Short Square Nails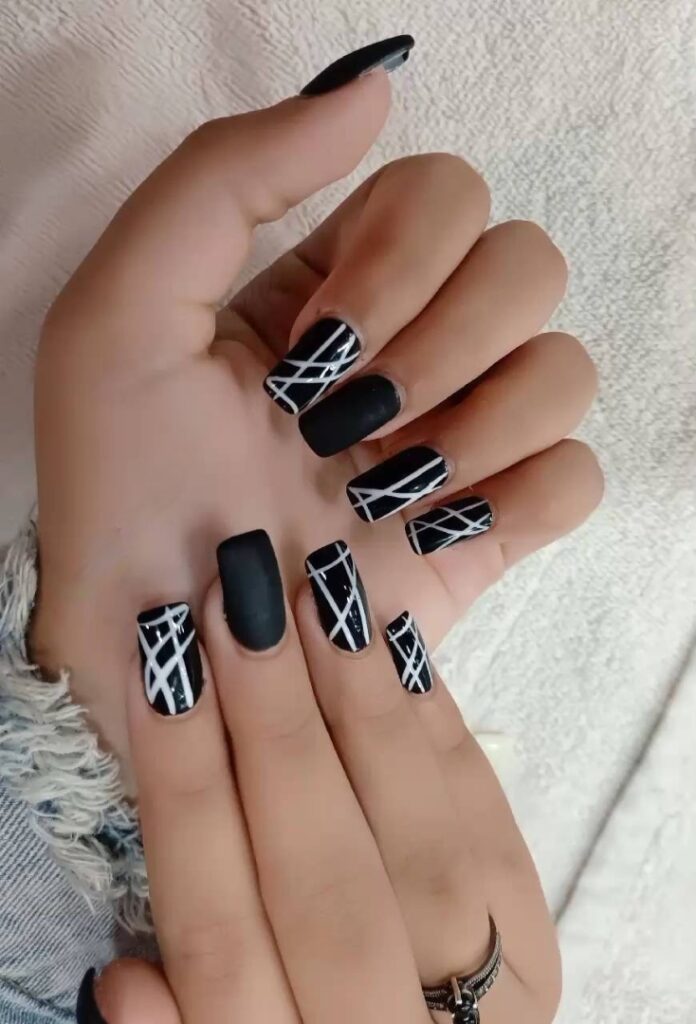 Ah, the classic black and white—timeless yet always on trend. Short square nails painted with alternating black and white stripes give you a zebra-esque charm that's playful and elegant. This look pairs well with nearly every outfit and gives a nod to both modern fashion and contemporary style. You can vary the width of the stripes for a unique touch.
Silver Mirror Short Nails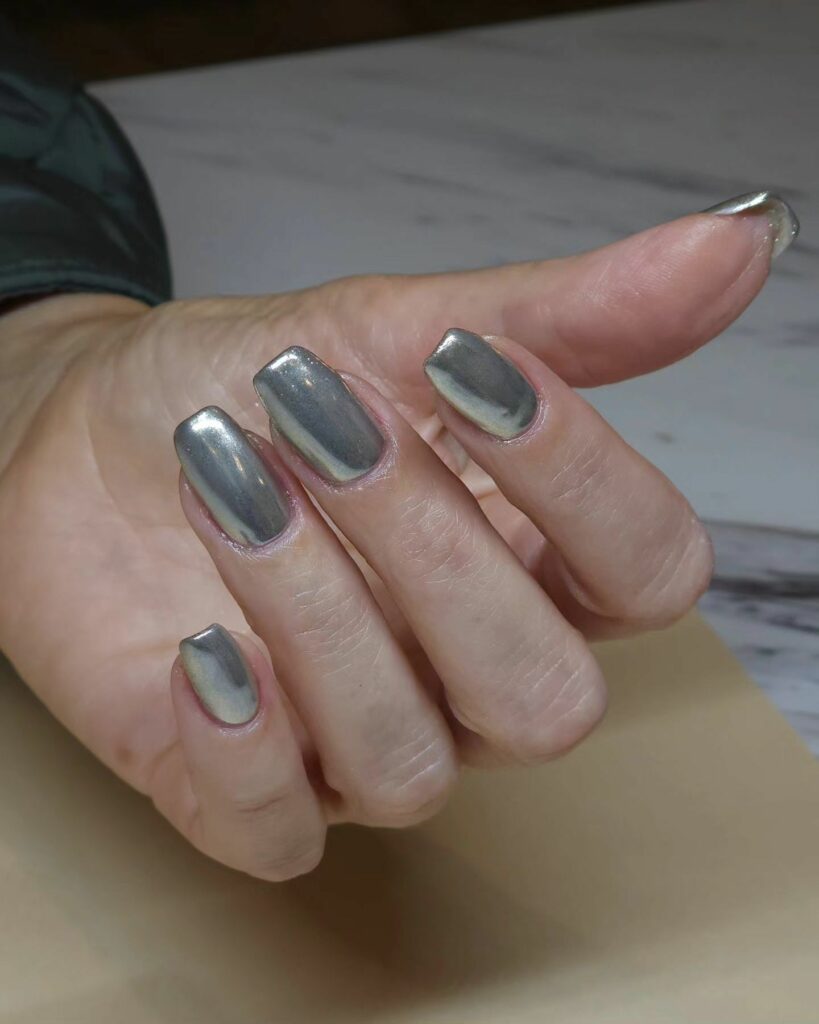 Silver mirror offers an unexpected twist on the metallic trend. These nails combine the sleek shine of chrome with the subdued elegance of gray for a look that's both edgy and sophisticated. The mirror-like finish creates a captivating effect, almost like you have tiny disco balls at your fingertips.
French Tortoiseshell Inspired Nails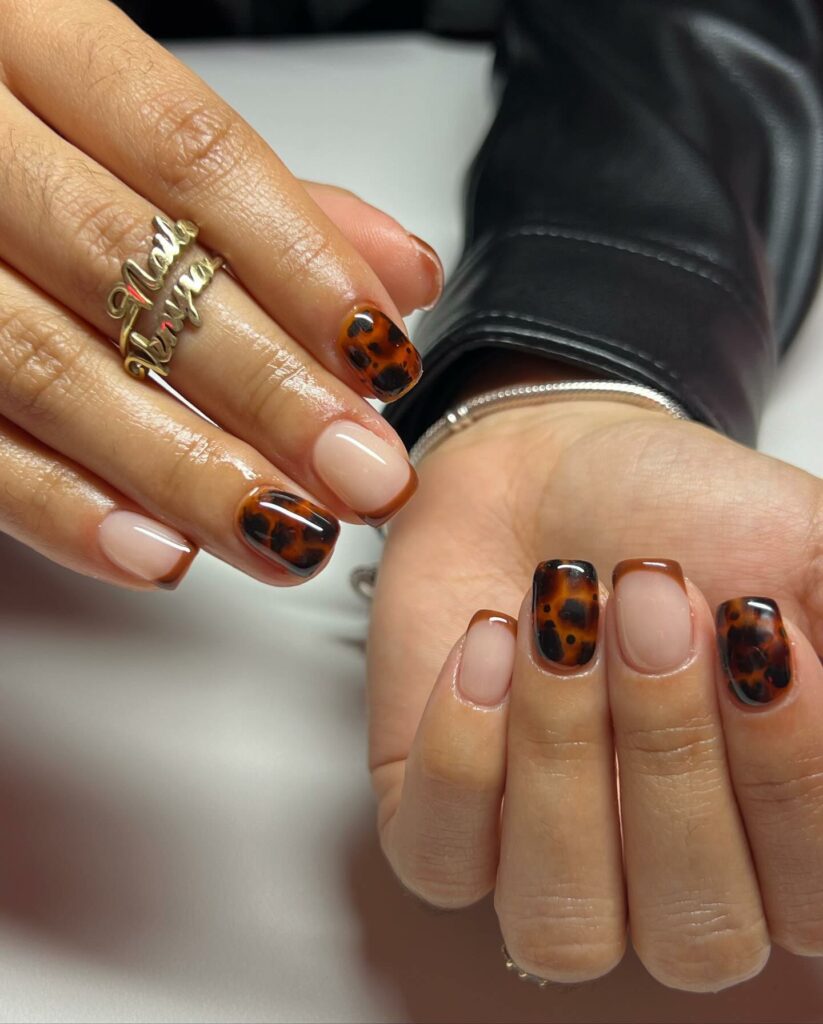 Take your regular French mani up a notch with tortoiseshell patterns. This look takes two chic trends and combines them into one luxe nail design. The warm, multi-dimensional tortoiseshell pattern pairs so elegantly with those flecks of gold that your nails will look like tiny pieces of art.
Eerily Chic: Dark Aura Mani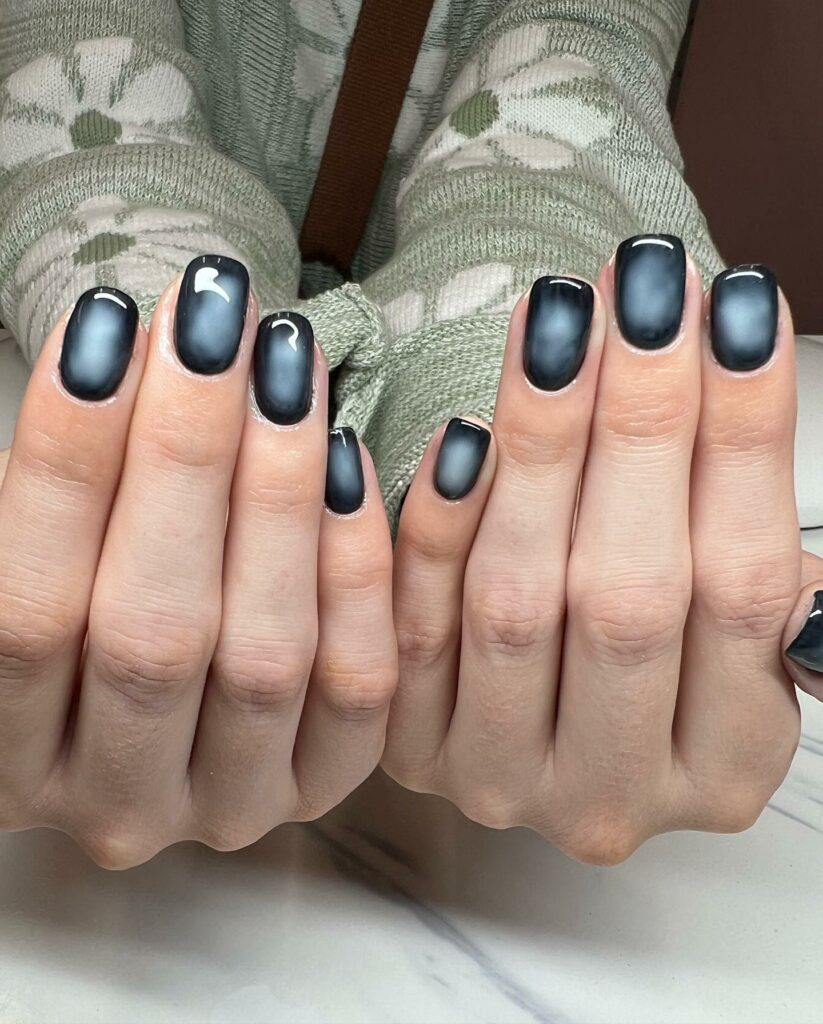 For my October darlings who live for Halloween vibes, consider the dark aura mani on your acrylic short square nails. Picture it: a fascinating mix of deep blues, blacks, and whites that'll make you the queen of the night. Last Halloween, I did this look and got so many compliments; it was hauntingly beautiful!
Nude Marble Square Nail Design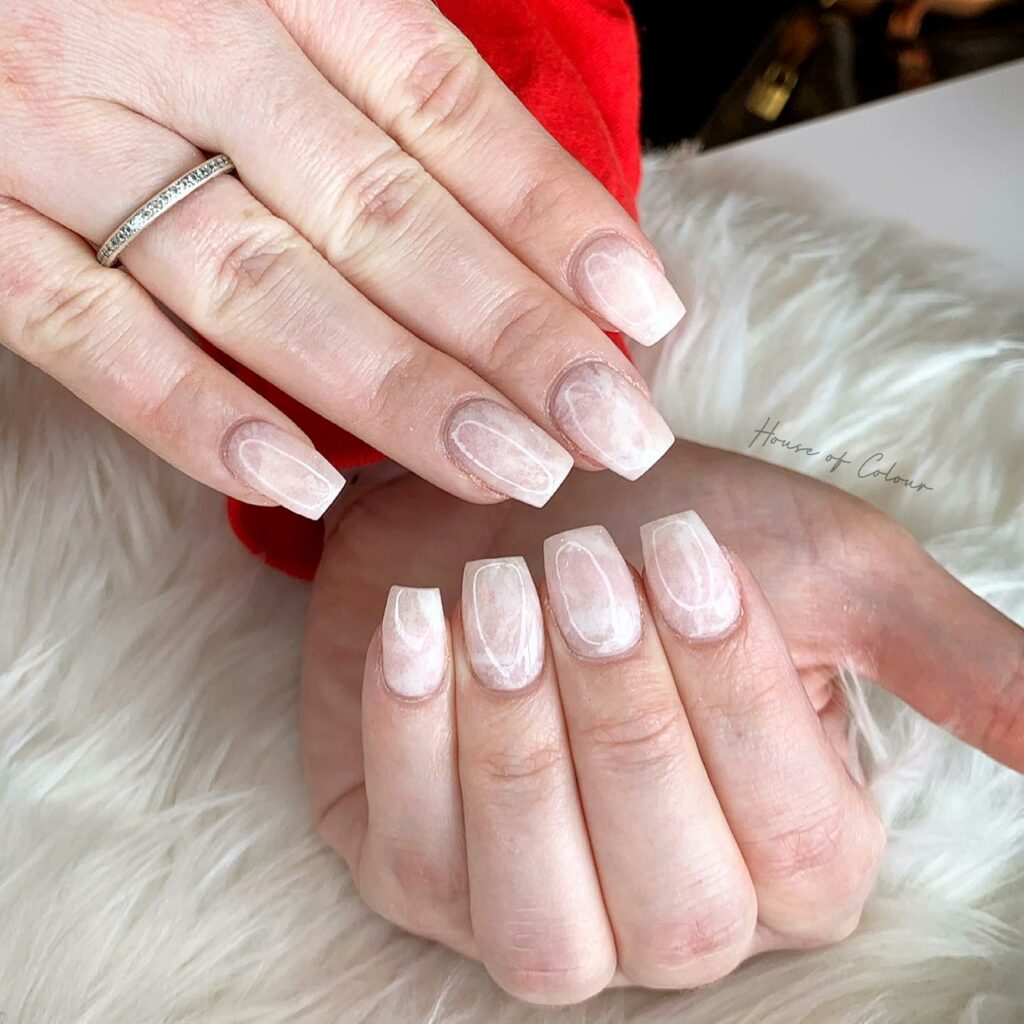 Marble designs are the epitome of luxe, and when combined with a nude palette on square nails, they bring understated elegance to your fingertips. The swirling pattern on a neutral backdrop adds depth and texture, making your nails look like mini sculptures.
Gold Glitter Nude Short Square Nails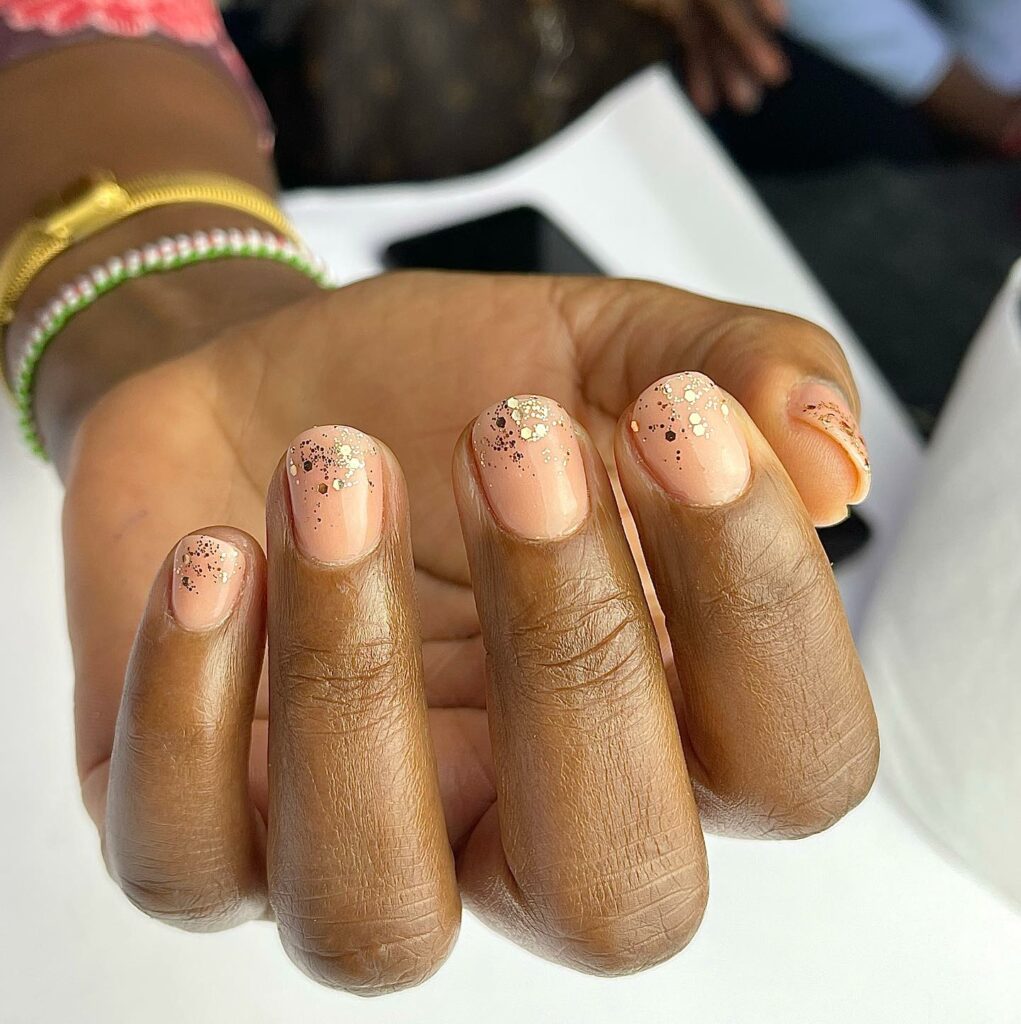 Elevate your neutral game with gold glitter accents on nude short square nails. It's like your nails are having their own little party! This look combines everyday chic with a dash of sparkle, making it versatile for both casual and formal events.
Matte Short Square Salmon Nails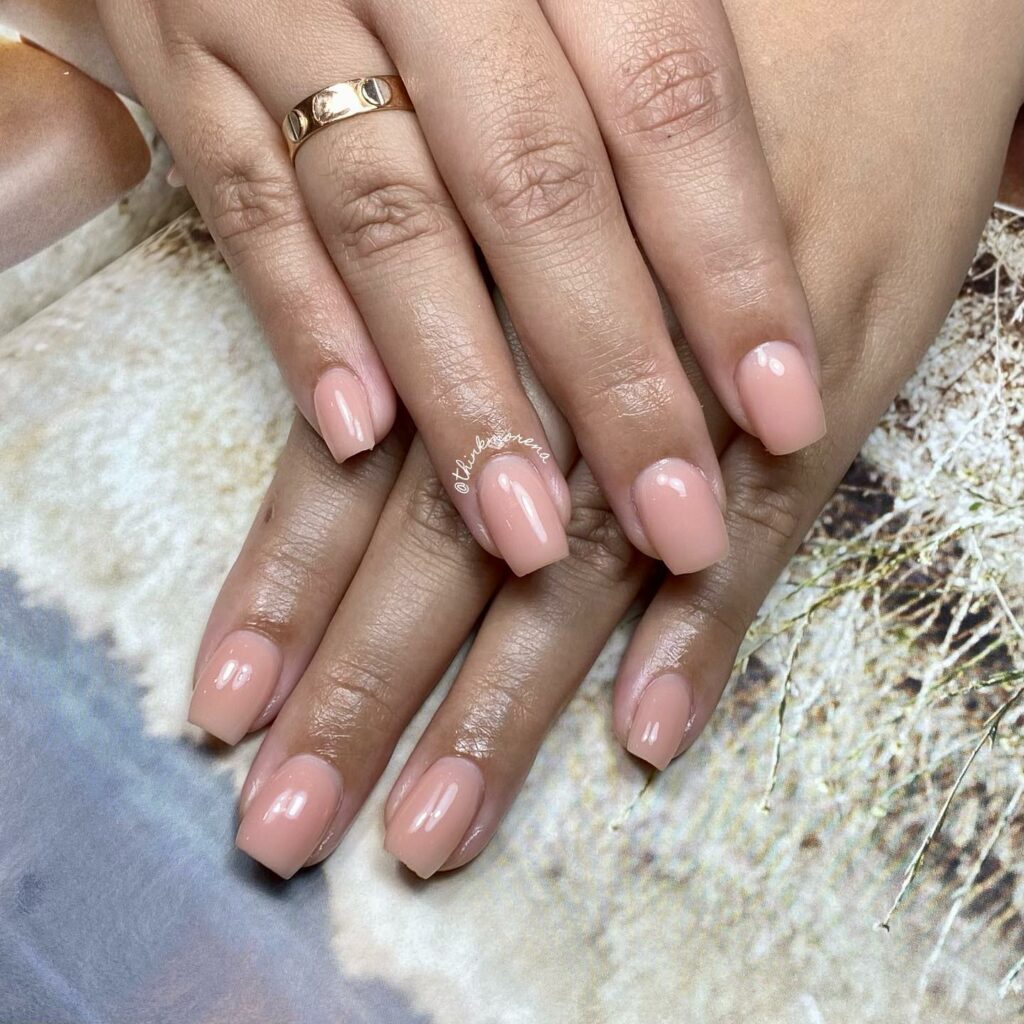 Salmon is such a gorgeous, underrated color, and in a matte finish on short square nails, it's simply sublime. This shade is a delightful mix of pink and orange that's not too loud yet not too subtle, giving off an understated yet fresh vibe.
Wave Hello: Swirl On Short Square Nails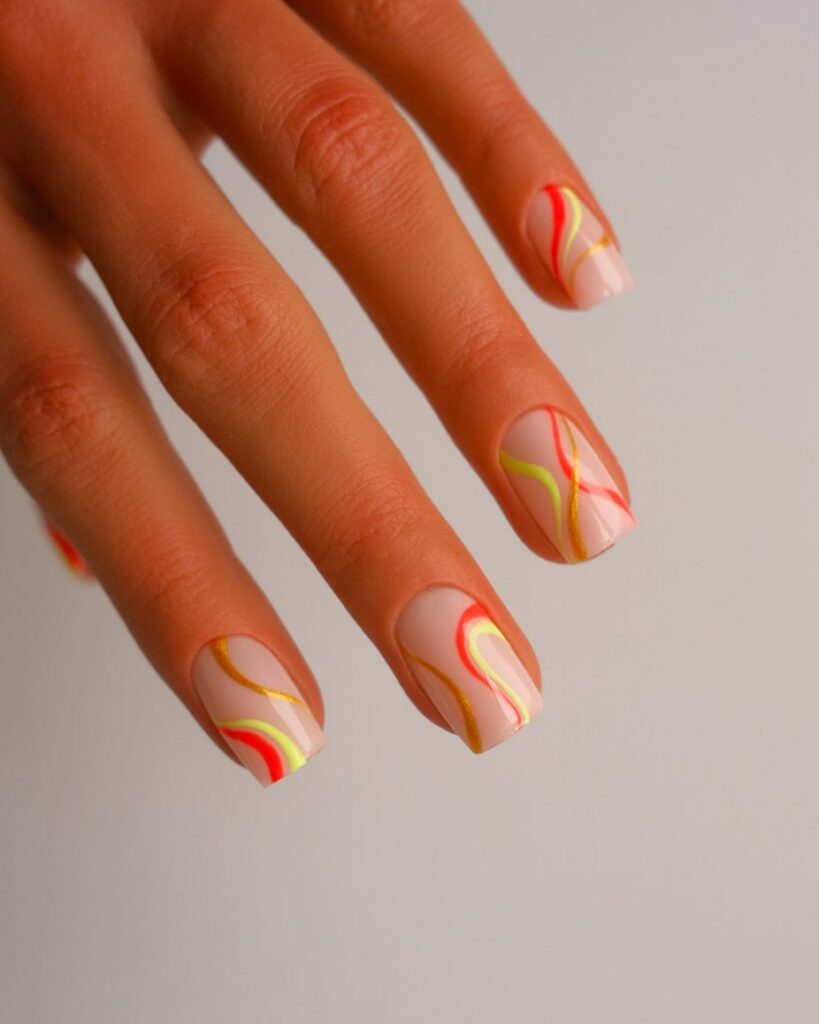 If you're feeling something understated yet playful, how about a swirl or wave design? I adore this because it adds a touch of whimsy without getting too wild. It's like your nails are dressed in business casual with a flirty twist.
Blossom Beauty: Floral On Short Square Nails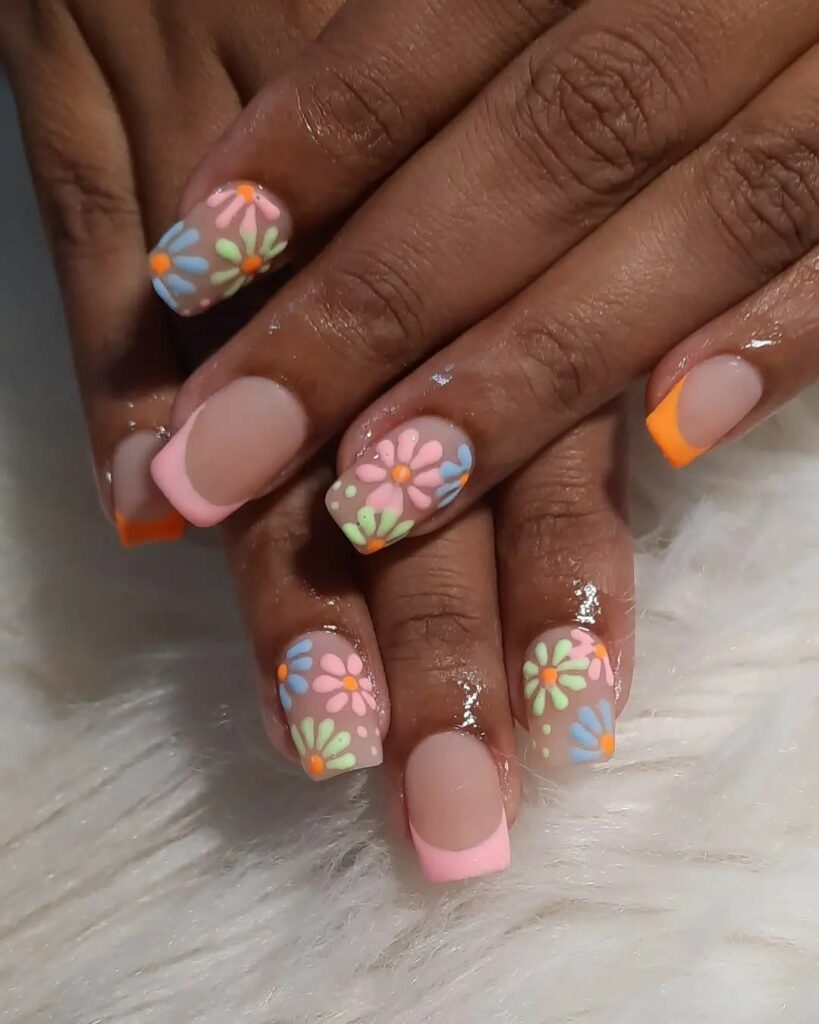 Summer and florals are practically best friends, aren't they? Adorning your short square nails with floral designs brings in that fresh, summery feel. Even if you opt for a tiny flower on a single nail, it's enough to be a conversation starter. Perfect for garden parties, picnics, or just capturing that summer essence.
My Top Tips To Maintain Short, Square Nails
Keeping those short square nails looking fab doesn't have to be a Herculean task, trust me. First, invest in a good-quality nail file—nothing too harsh; aim for one about 180 grit. File your nails in one direction to maintain that sharp square shape, and avoid seesaw motions, which can cause splitting. Moisturizing is critical, so keep a hydrating cuticle oil or hand cream handy. You know how your grandma always said, "Prevention is better than cure"? She was onto something. A base coat before painting will protect your nails from staining and add an extra layer of strength.
Regarding polish, consider gel or acrylic coatings if you're tough on your hands. They offer an extra layer of protection and help your natural nails grow underneath. But make sure to give your natural nails some breathing time every once in a while, too. Last but not least, routine maintenance. A weekly at-home mani or bi-weekly salon visit can go a long way in keeping your nails in tip-top shape.
For those who love DIY remedies, a little soak in olive oil can keep those cuticles and nails hydrated. But let's be honest, not all of us have the time for that, so a cuticle oil pen in your purse can be a lifesaver for on-the-go nourishment.
So, in a nutshell—file carefully, moisturize generously, and protect always. Here's to keeping those short, square nails looking as sharp as you are!
Still Looking for Inspiration, Then Check Out This Video
Conclusion
So there you have it! Whether you're vibing with the futuristic shine of metallics or leaning into the timeless allure of a French manicure with a twist, your short square nails are a blank canvas. Feel free to experiment with colors, textures, and designs that speak to your unique style. If you're short on time, press-ons are your new BFF, trust me. And don't underestimate the power of a matte finish—it turns any color into a sophisticated statement. My top pick? Well, I've got a soft spot for that salmon shade; it's the unsung hero of nail colors! Keep your nails chic and your spirit high. Until next time, keep those tips tip-top!
Feature Image Photo By @merlin_nails via instagram
Last reviewed and updated on November 20, 2023