Hey everyone! I hope you're all doing fabulously. Today, we're diving deep into the world of sparkly toenails—but not just any sparkly nails; we're talking pedicures. Trust me, after you read this post, your toes will twinkle like stars! We'll cover everything from prepping your nails to picking out the perfect sparkle polish and even how to maintain that dazzling look. As someone who's been experimenting with nail art for years, I can't stress enough the impact a little glitter can have. It's not just about looking cute (although you will); a well-done pedicure can uplift your mood. So, let's get those toes twinkling, shall we?
Sparkly Glitters On Nude Color Nail
Adding sparkly glitters to a nude color base gives you the best of both worlds: simplicity with a side of sparkle. It's like your nails are whispering, "I'm here, and I'm fabulous," without having to shout it from the rooftops.
Silver Sparkly Nail Pedicure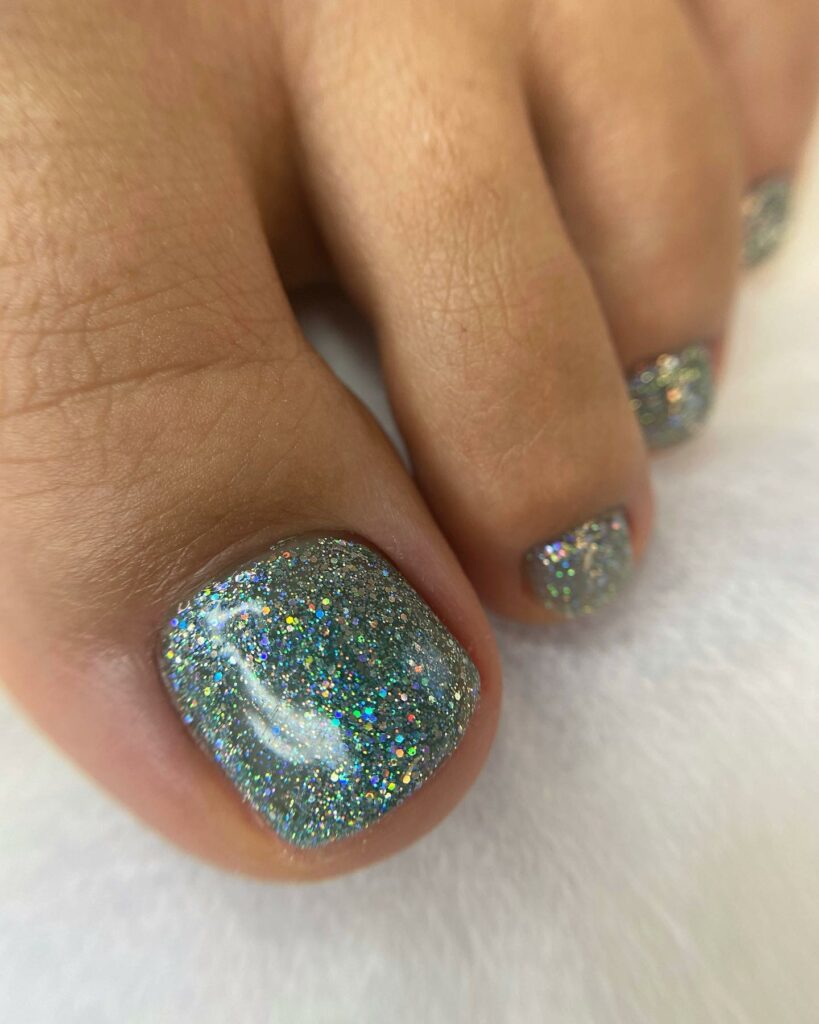 Silver is timeless and gives off that ultra-chic vibe. It's perfect for special events and adds a dash of glamour to your everyday look. I remember going for a sparkly silver pedicure before a big event and let me tell you, I got compliments all night long!
Purple Pedicure With A Little Bit Of Glitter
Ah, the mysterious allure of purple—combine that with a sprinkle of glitter, and you've got an eye-catching pedicure! Purple is a versatile color; it works year-round and for any occasion. A little glitter takes it to the next level.
Blue Pedicure With Glitters
Blue with glitters feels like you have the ocean at your feet. It's so refreshing and calming. Last summer, I did a sky-blue pedicure with sea-green glitters and felt like a mermaid whenever I hit the beach.
Sparkly Toenails With Golden Glitters And White Flower
Golden glitters with a white flower accent are the epitome of elegance. This design is excellent for weddings or any event where you're going for a refined yet spectacular look.
Sparkly Black Pedicure
Black is bold and edgy, and when you add some sparkle? Pure magic. A sparkly black pedicure is your go-to for an evening out or whenever you feel daring.
Pink And Black Sparkly Nail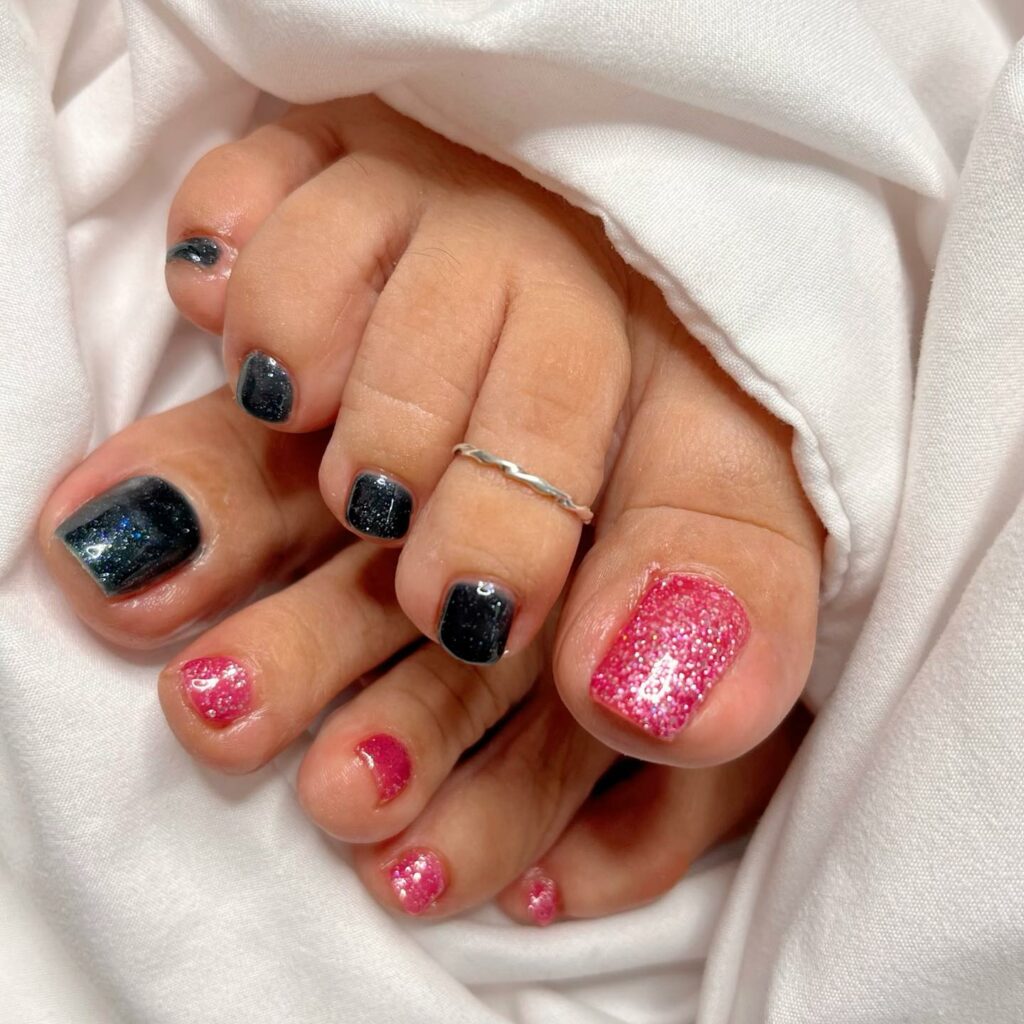 Pink and black are a match made in heaven. The sweetness of pink balances the edginess of black, and the sparkles add that fun factor. This combo is an attention-grabber for sure.
Nude Sparkly Nail Pedicure
A nude sparkly pedicure is perfect for those who love the natural look but want a little pizzazz. It's subtle but captivating, ideal for job interviews or first dates when you want to impress without going over the top.
Sparkly French Tips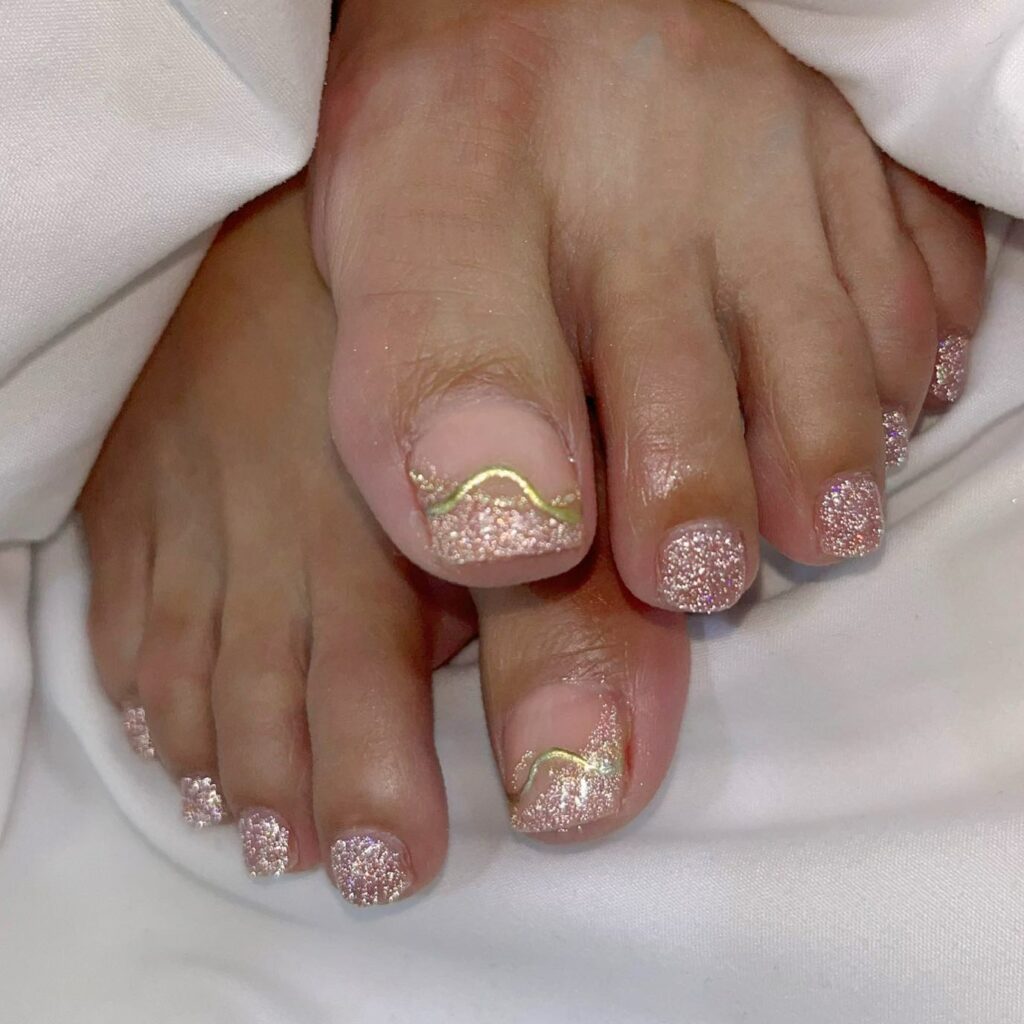 You can always go right with French tips, but add some sparkle, and voila, you've got a masterpiece! It's a classic design with a fun twist, perfect for any event or mood.
Glitters On Pink Nail Pedicure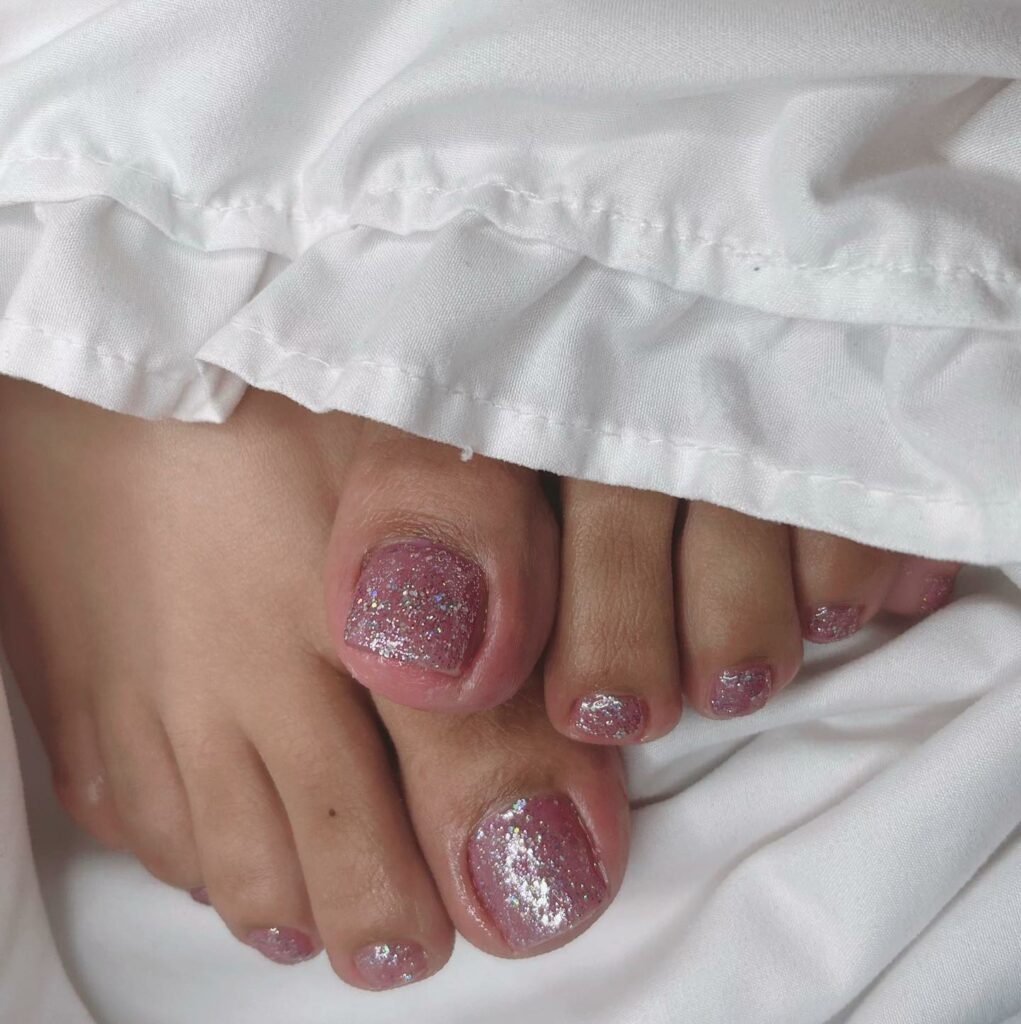 Pink is cute, it's flirty, and it's always in style. Add some glitters to a pink base, and your pedicure becomes a sparkling dream. This is my go-to for brunches and weekend getaways.
Glitters On Pink French Tips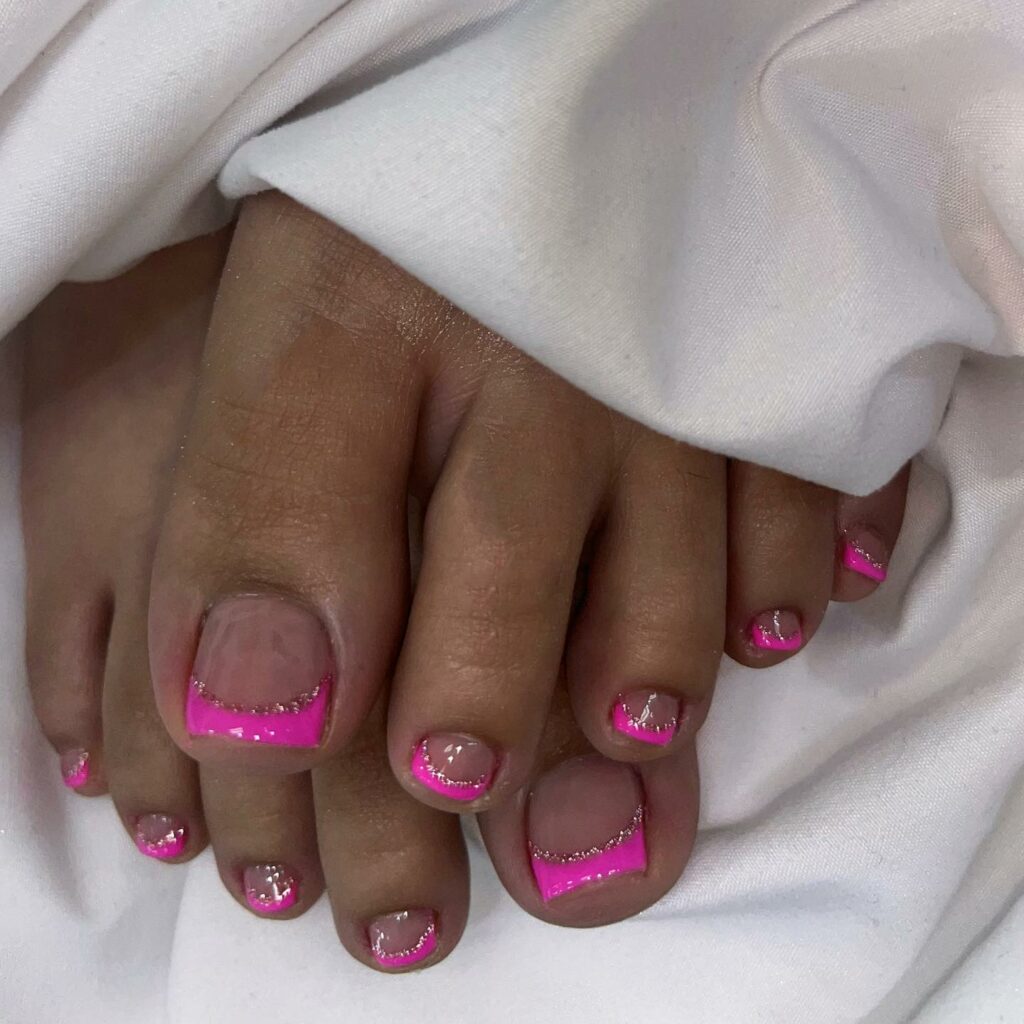 Taking the pink French tips up a notch, add some glitters for an irresistibly chic look. Its design makes you feel like you're walking on air, perfect for special occasions or whenever you want to feel extra fabulous.
Maroon Pedicure With Golden Glitters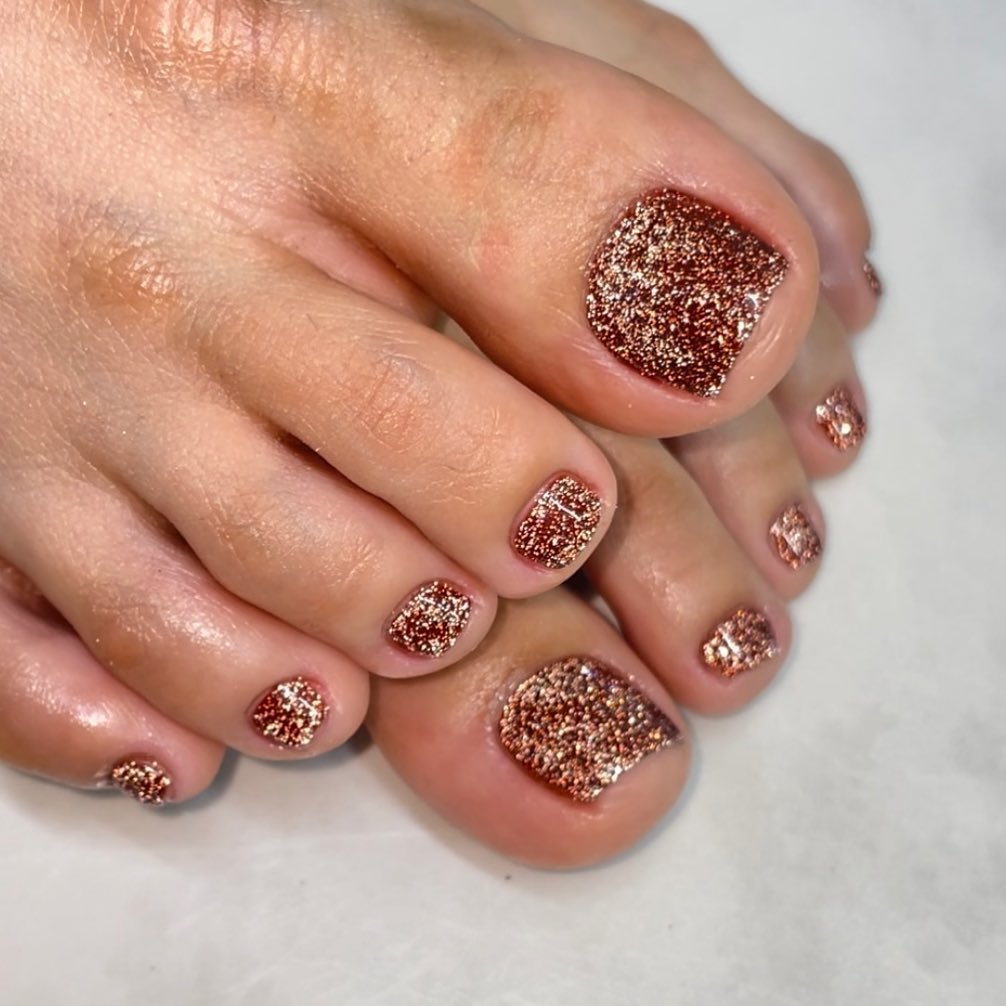 Maroon and gold are like the red carpet duo of the nail world—regal, sophisticated, and luxurious. A maroon pedicure with golden glitters is a statement, making it a fantastic option for those glamour-filled nights.
Dark Blue With Silver Glitters
If you're into deeper hues, a dark blue pedicure with silver glitters can give off a celestial, dreamy vibe. It's like having the night sky at your toes, giving you that sense of wonder every time you look down.
Nude Color Pedicure With Glitters On Base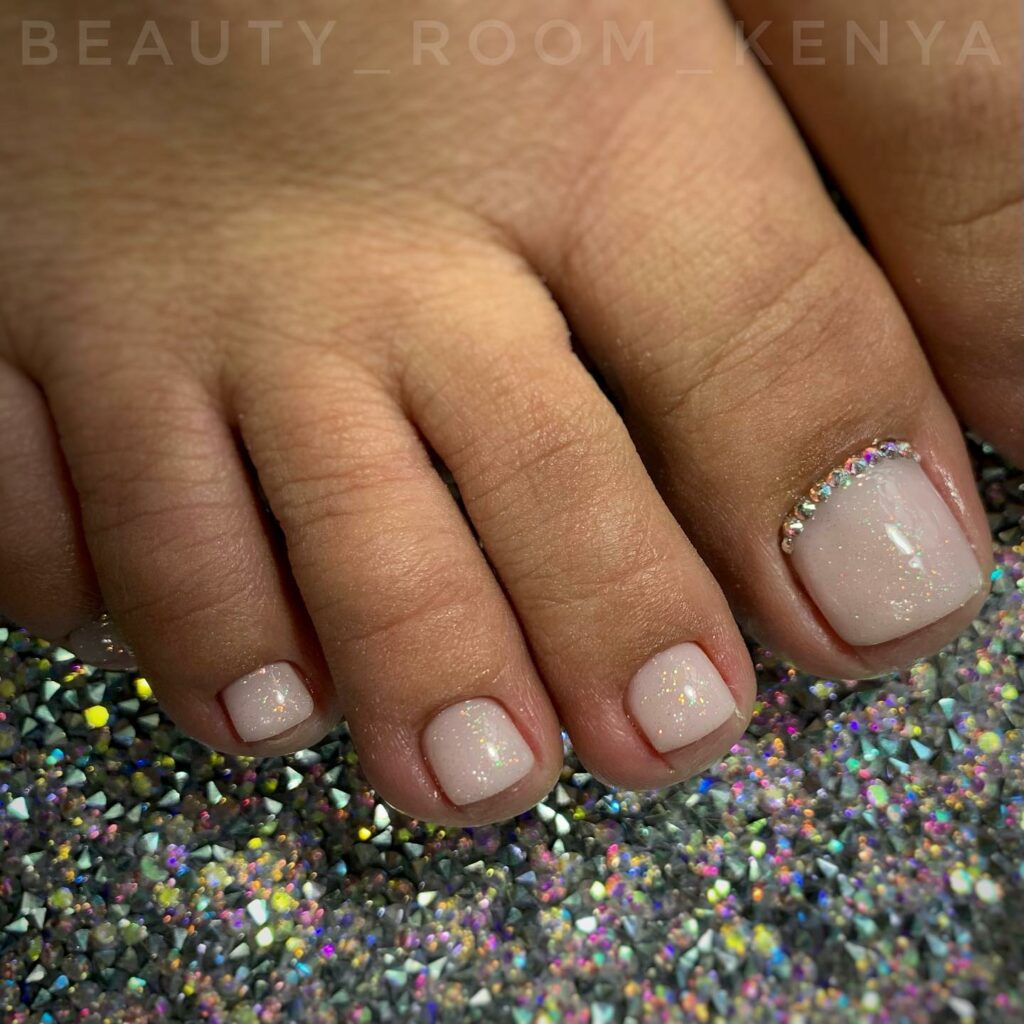 If you're all about that natural look but still want a sprinkle of flair, go for a nude color pedicure with glitters at the base. It's the pedicure equivalent of a champagne toast—understated and elegant but with a pop of fun. I like to do this when I'm in a 'less is more' mood but still crave that wow factor.
Sparkly Galaxy Pedicure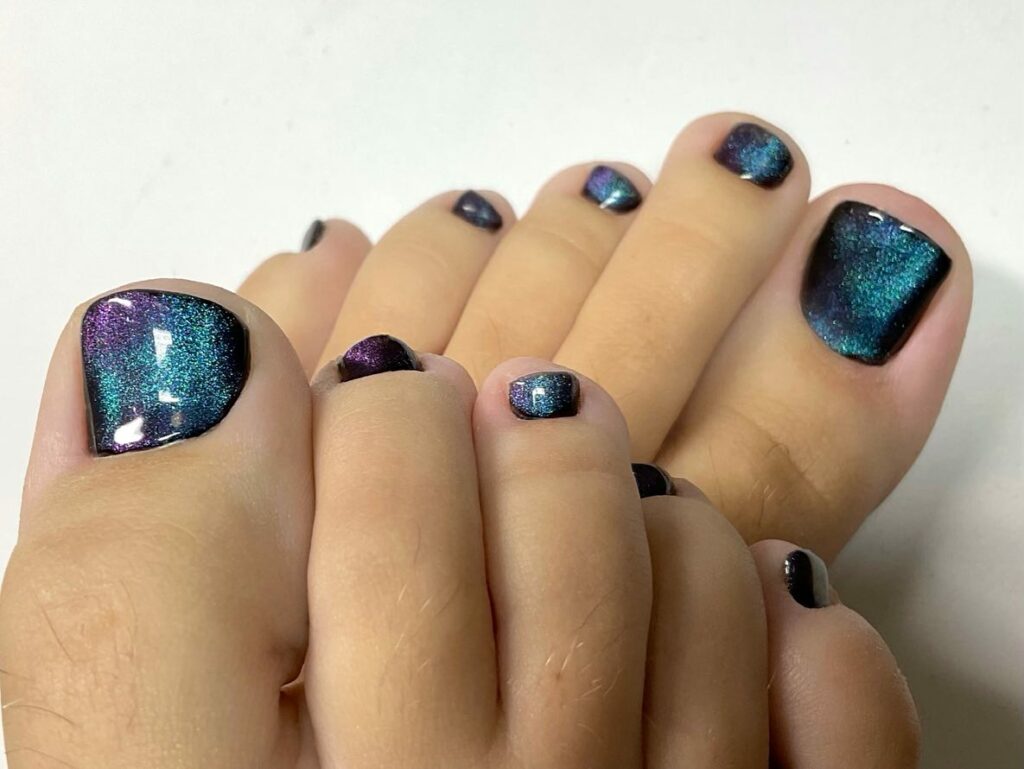 Unleash your inner space explorer with a sparkly galaxy pedicure. Combine deep blues, purples, and blacks with a sprinkle of star-like glitters. It's not just a pedicure; it's a cosmic experience. My first time trying this, I couldn't stop staring at my toes!
Sparkly Green French Tips Nail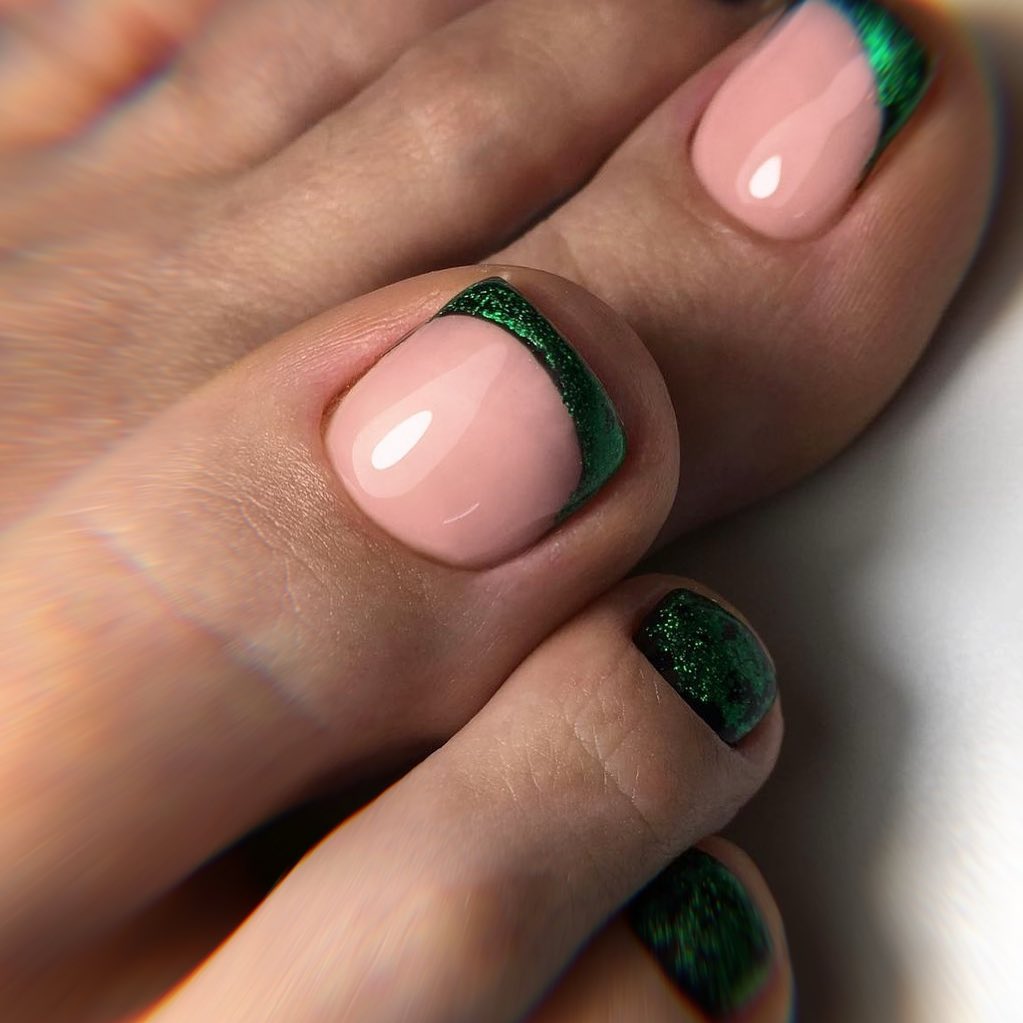 A twist on the classic French tip, the sparkly green version screams creativity and uniqueness. It's the perfect way to bring a dash of color while keeping things classy. I've rocked this during springtime, and the compliments kept rolling in.
Pastel Color Nail With Sparkly Glitters On Big Toe
Who doesn't love pastels? Soft, soothing, and infinitely charming. Add some sparkly glitters on your big toe, and you've got an irresistibly cute and fashionable look. This is my Easter brunch favorite!
Combination Of Pink And Sparkly Glitters
Pink is always a hit, but combined with sparkly glitters, it becomes a grand slam. It's the ideal combo for a flirty, fun, and eye-catching pedicure. This is my go-to for date nights or girls' night out.
Sparkly Dark Red Pedicure
For those who want to evoke a sense of drama and sophistication, a sparkly dark red pedicure is the way to go. It's rich luxurious, and gives off a 'lady in red' vibe. Trust me; it's a showstopper.
Combination Of Black And Sparkly Glitters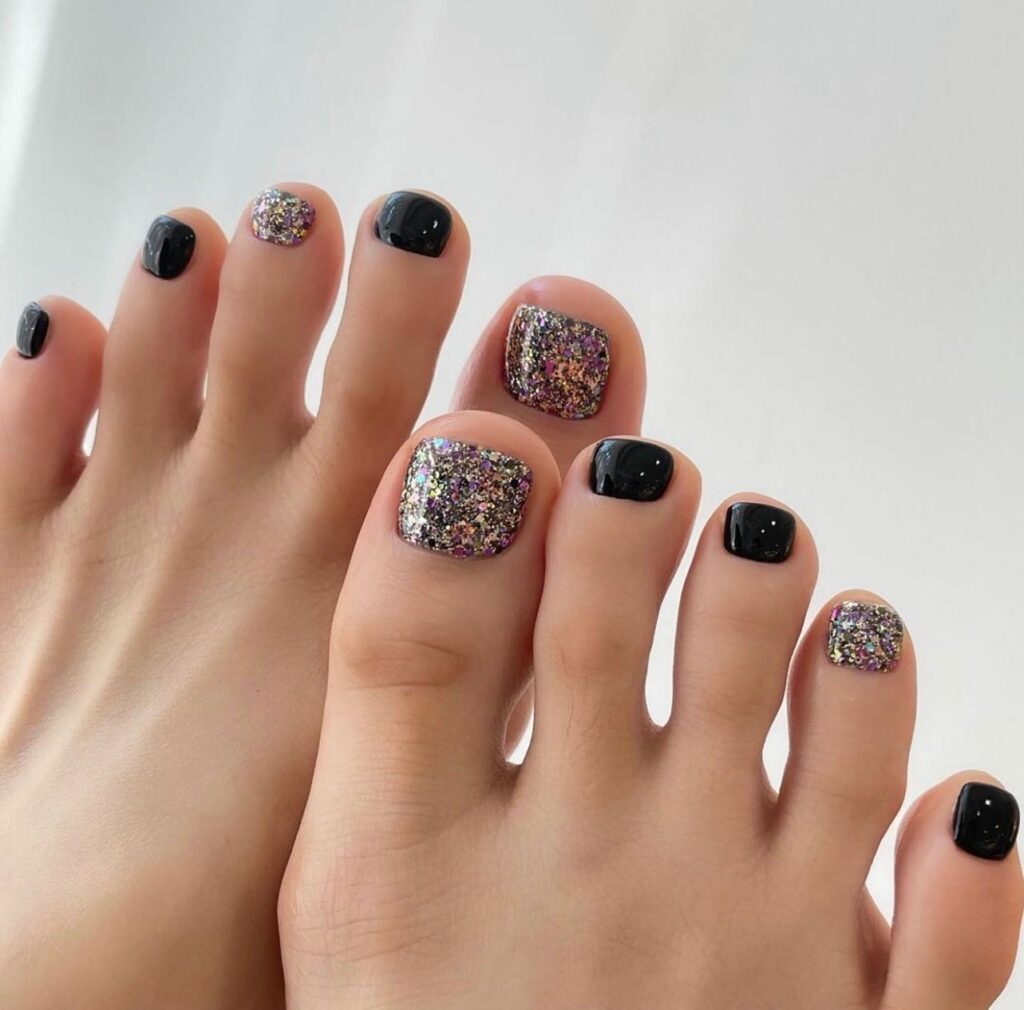 Black pedicures are edgy, but you get a fierce and fabulous ensemble when you add sparkly glitters. Perfect for when you're in a 'rockstar' mood or anytime you want to feel like a badass with a touch of glam.
Sparkly Gold Nail Pedicure
If you want to feel like royalty, a sparkly gold nail pedicure is for you. It's regal, luxurious, and downright stunning. I tried this before a black-tie event, and honestly, my toes stole the show!
Stunning Sparkly Nail Design
A stunning, sparkly nail design is a must for those who love to be the center of attention. Think geometrical shapes, multiple colors, and glitters—basically, the more extravagant, the better. It's the pedicure equivalent of a fireworks display.
Golden French Tips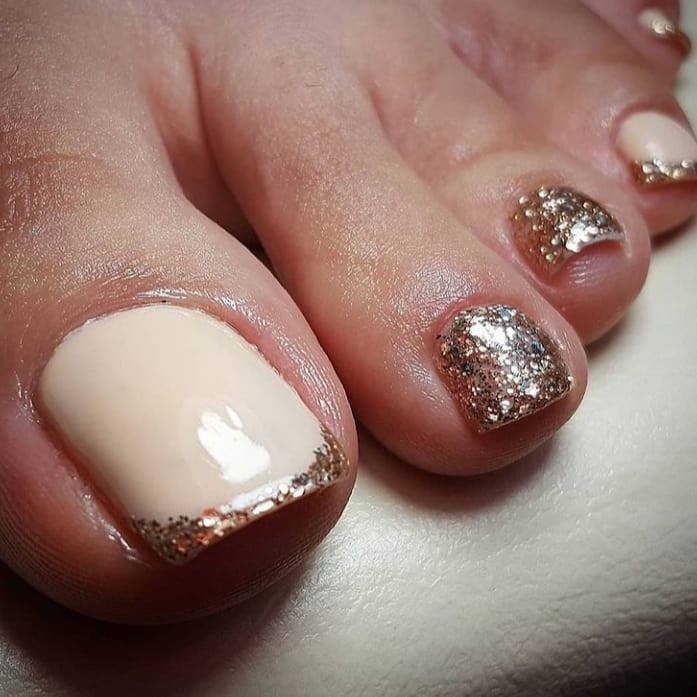 Golden French tips are the epitome of luxe. It takes the classic French tip pedicure and gives it a golden crown. It is ideal for special occasions or when you want your feet to feel as luxurious as they look.
Sparkly Glitters On Red And Silver Nails
Red and silver are already a classic color duo, but adding sparkly glitters elevates it to a new level of glam. This combination is perfect for holidays, patriotic events, or any time you want to make a bold yet sophisticated statement.
Shiny Pedicure For Holidays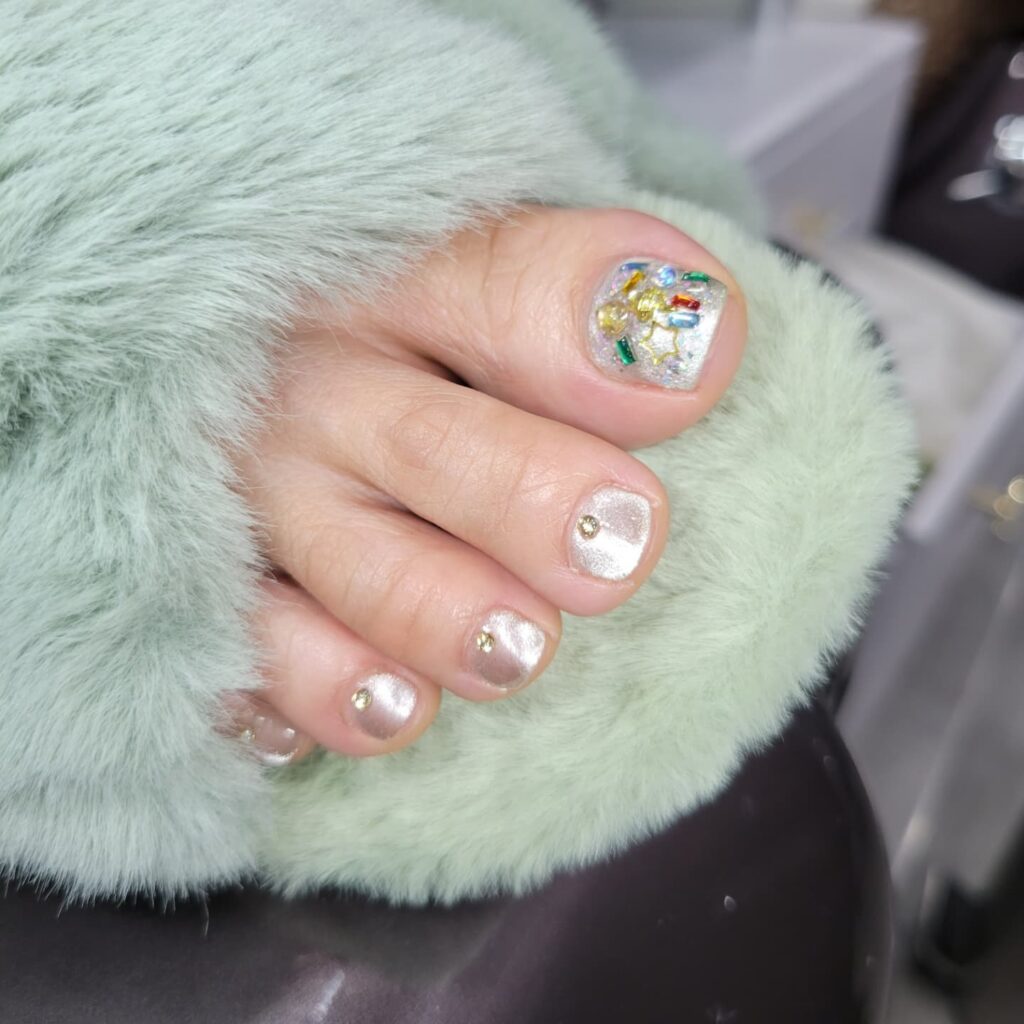 Regarding holiday celebrations, nothing screams festive like a shiny pedicure. Opt for bold reds, greens, or even metallic gold, and then layer on some gloss. Your toes will literally be the life of the party! It's an instant mood booster and goes well with those holiday jammies.
6 Tips For Maintaining The Sparkle In A Sparkly Pedicure
Top Coat Is Your Best Friend – Apply a clear top coat over your sparkly pedicure to seal in the glitter and add an extra layer of protection. Reapply the top coat every few days to maintain that glossy finish and prevent chipping.
Stay Away from Harsh Chemicals – When cleaning or doing chores that involve harsh chemicals, wear gloves on your hands and avoid any contact with your pedicured toes. Chemicals can dull the sparkle and even remove the polish.
Moisturize, Moisturize, Moisturize! – Keeping your feet and cuticles moisturized can extend the life of your pedicure. Dry skin can cause your polish to lift at the edges, so use a foot cream or lotion daily.
Gentle Footwear – Try to wear open-toe shoes or sandals for the first day or two after getting your sparkly pedicure. This will prevent any smudging or chipping. Even after that, be gentle with your footwear choices. Too much friction can dull the sparkle.
Avoid Hot Water – For the first couple of days after your pedicure, avoid soaking your feet in hot water or going for a swim. Hot water can weaken the adhesive qualities of nail polish and cause it to chip.
Quick Touch-ups – Feel free to do a little touch-up at home if you see any minor chips or dull areas. A dab of glitter polish and a top coat layer can work wonders.
Remember, a little maintenance goes a long way. Keep that sparkle shining, and your toes will be the talk of the town—or at least, the talk of the beach, the party, or wherever those fabulous feet take you!
5 Brands Of Polish That I Recommended For Achieving A Dazzling Look
| Brand | Description | Special Features |
| --- | --- | --- |
| OPI | Various sparkly options that are long-lasting and chip-resistant. Top-notch formula. | Quality & Durability |
| Essie | Luxeffects collection designed for those who love subtle, finely milled glitter. | Fine, Eye-Catching Shimmer |
| China Glaze | Perfect for those into bold, chunky glitters. Offers various shades. | Bold & Chunky Glitters |
| Deborah Lippmann | Offers a luxe range rich in color and sparkle. Unique shades and combinations. | Luxury Option with Unique Shades |
| Zoya | Healthier option with 10-free formula. Offers a range of dazzling but less toxic options. | Health-Conscious, Less Toxic |
| Sally Hansen | Xtreme Wear line offers budget-friendly sparkly shades. | Budget-Friendly |
There you have it! Now you can pick the brand that aligns with what you're looking for, whether it's boldness, subtlety, or even health-conscious options. Enjoy choosing your next sparkly adventure!
How Long Does A Sparkly Pedicure Typically Last Before Needing To Be Redone?
The lifespan of a sparkly pedicure can vary based on several factors like the quality of the polish used, how well your nails were prepped, and how hard you are on your feet. But let me break it down for you in easy terms.
Regular Polish – If you're using standard nail polish, you can expect your sparkly pedicure to last anywhere from 1 to 3 weeks. The thicker the layers, and the more top coat you use, the longer it will last. But remember, thick layers take longer to dry, and nobody likes smudged sparkle!
Gel Polish – Now, if you're going the gel route (which I adore for its longevity), you're looking at a solid 3 to 4 weeks of sparkle. The only downside? Unless you're confident in your at-home gel removal skills, you'll need to revisit the salon to get it properly removed.
Keeping the Sparkle Alive – Regardless of which type of polish you choose, you can extend the life of your pedicure with simple touch-ups and reapplication of the top coat every few days. Trust me, it makes a world of difference.
Still Looking for Inspiration, Then Check Out This Video
Conclusion
Alright, lovelies, that wraps up our fantastic journey through the sparkly universe of pedicures! If there's one thing to take away, a little glitter can go a long way in turning a regular pedicure into a work of art. Whether you're in a "go big or go home" mood or just looking for a dash of sparkle, there's a designfor you. My personal fave? The sparkly gold nail pedicure—nothing makes me feel more like a queen. So go ahead, let your toes steal the spotlight for once; they've earned it! Happy sparkling!
Feature Image Photo By laboratory.nail.s on Instagram
Last reviewed and updated on October 16, 2023