In this post, we'll unveil 35 spectacular nail art ideas that capture the essence of everyone's favorite superhero Spiderman! Whether you're a seasoned nail art pro or looking for a fresh way to pay homage to this iconic superhero, you'll find designs ranging from beginner-friendly to expert-level intricacies. As we explore these designs, you'll learn about the techniques used to achieve each look, the color palettes that perfectly match Spiderman's distinctive suit, and how to incorporate his signature spider and web motifs into your nail art. I'll guide you through the basics and provide step-by-step directions for some eye-catching designs. By the end of this post, you'll be equipped with a treasure trove of ideas and the know-how to create your Spiderman-inspired nails that will envy comic fans and fashion lovers alike. So, let's get those nails ready for action—it's time to let your inner hero shine at your fingertips!
Acrylic Spiderman Nails with Rhinestones
Capture the essence of Spiderman with a glamorous twist for these acrylic nails. The classic red and blue are complemented with shimmering rhinestones, mimicking the sparkle of the city skyline Spiderman swings through.
Almond-Shaped Spiderman Nails
Almond-shaped nails serve as the perfect backdrop for sleek Spiderman-inspired designs. The subtle curve of the almond shape mirrors the agility and elegance of our favorite web-slinger.
Bold Spiderman Square Nails
Square nails offer a bold and modern platform for Spiderman's timeless red and blue. The sharp, clean lines of the square shape provide an excellent canvas for web patterns and Spiderman silhouettes.
Romantic Valentines Spiderman Nails
Blending the romance of Valentine's Day with the thrill of Spiderman's adventures, these nails feature heart motifs entangled in Spidey's web, perfect for expressing passion and fandom alike.
Feminine Acrylic Spiderman Nails with a Soft Base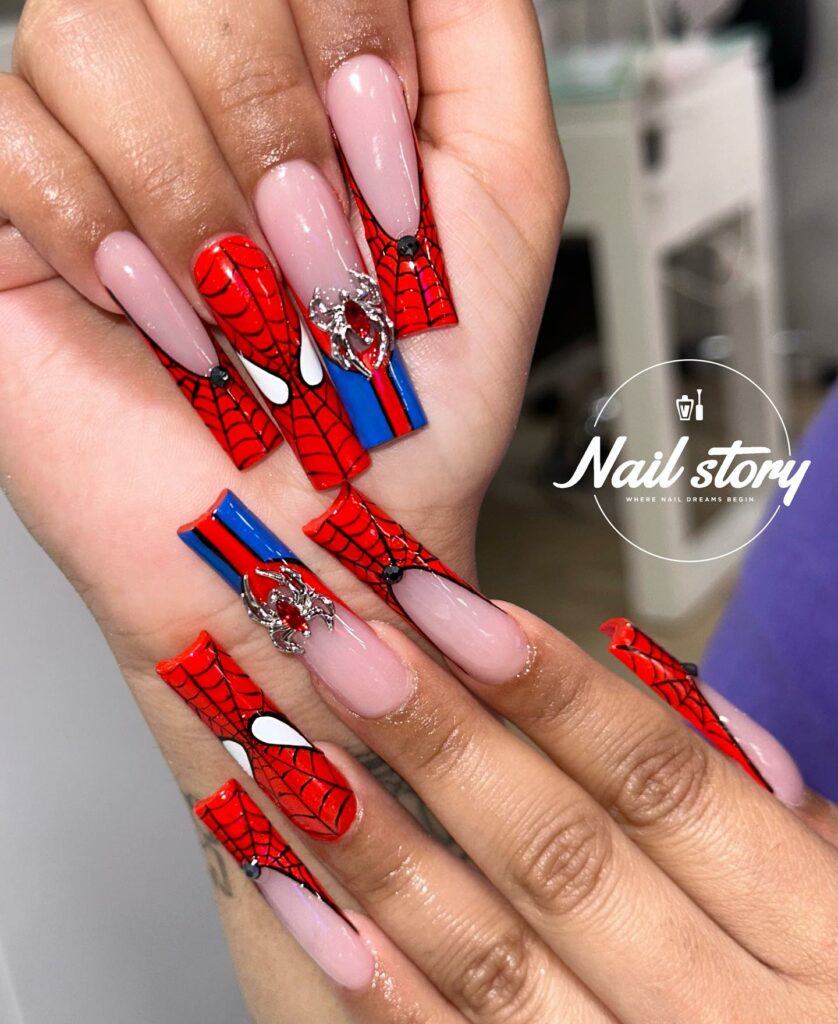 A soft pink base brings a touch of femininity to the bold world of Spiderman. These acrylic nails are for those who balance their love for the iconic hero with a soft, romantic aesthetic.
Classic French Nail Design with a Spiderman Spin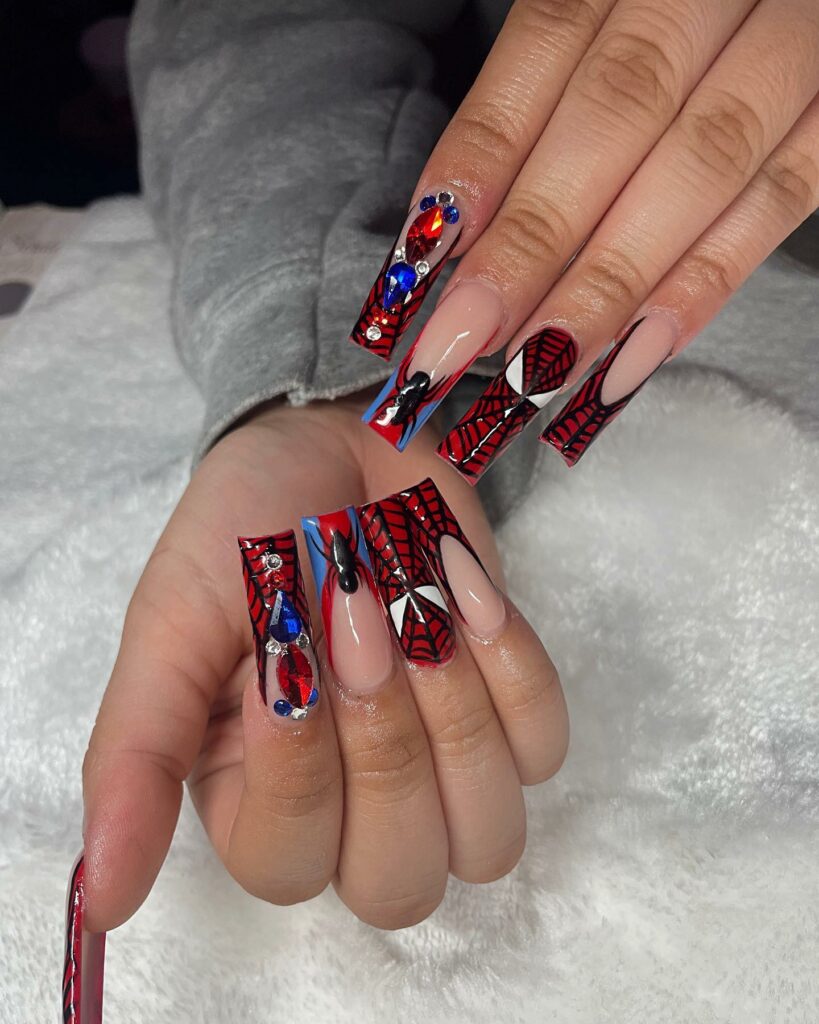 The timeless French manicure gets a heroic makeover with Spiderman-inspired web detailing. This design marries the French tip's understated elegance with the web-slinger's adventure.
Black and Red Spiderman Nail Contrast
Embrace the duality of Spiderman's persona with these striking black and red nails. They represent the fiery passion of Spiderman's mission against the darkness he battles.
Classic Spiderman Nail Designs
Celebrate Spiderman's enduring legacy with classic nail art that captures his iconic costume design. These nails are a testament to the timeless appeal of one of Marvel's greatest heroes.
Glossy Square Spiderman Nails
Enhance the visual impact of Spiderman nail art with a glossy finish that catches the light like the sheen of a spider's web on a sunny day in the city.
Long Square Nails with Extended Spiderman Scenes
Long square nails offer an extended stage for more elaborate Spiderman scenes. The additional length allows for a full display of Spidey's web-slinging action in exquisite detail.
Artistic Spiderman Nail Art Masterpieces
Dive into a miniature world of heroics with these Spiderman-inspired nail designs that blend bold colors and intricate detailing. From the iconic red and blue of Spidey's suit to the emblematic webbing and the unmistakable Marvel logo, this nail art promises to be a conversation starter.
Matte Pink Spiderman Nail Design
A soft matte pink base offers a unique twist on the traditional Spiderman color scheme, creating a superhero-inspired and subtly chic look. Perfect for those who love a touch of heroism with their femininity.
Glossy Coffin Spiderman Nail Art
Glossy coffin nails bring Spiderman's costume to life with a shiny finish that stands out. The coffin shape adds an edge, while the high gloss mimics the gleam of Spiderman's web in the moonlight.
Subtle Square Spiderman Nails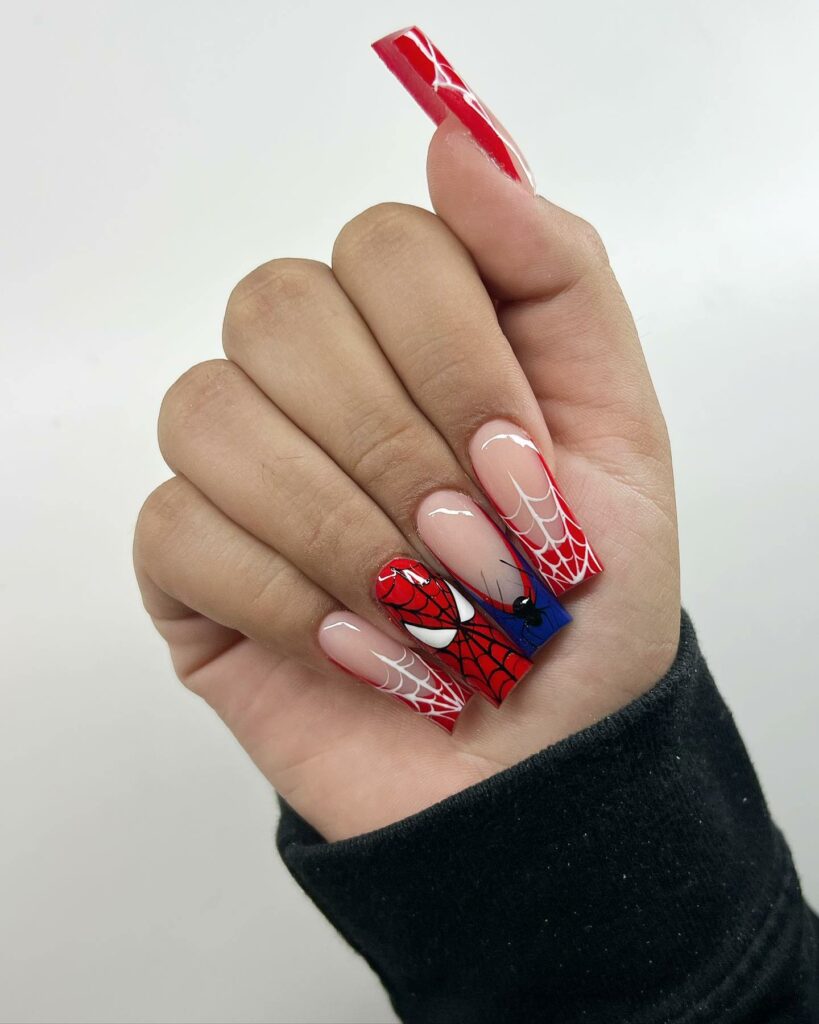 Square nails with a subtle nod to Spiderman feature minimalist web designs that are both stylish and understated. Ideal for those who prefer a hint of their hero while keeping it sleek and clean.
Elegant Spiderman Nail Elegance
Elegant Spiderman nails combine the boldness of Spiderman's suit with refined design elements, creating a sophisticated look for those who love their comic icons with a side of class.
Spider Verse Spiderman Nail Art
Celebrate the diverse aesthetics of the Spider Verse with nails that showcase different iterations of Spiderman from the multiverse. It's a nail art series that tells a story as varied and vibrant as the characters.
Black and White Acrylic Spiderman Nails
Black and white acrylic nails inspired by Spiderman nod to the Spiderman Noir universe. They're perfect for fans who appreciate the stark contrasts and the classic feel of old comic strips.
Elegant Spiderman French Tips
Elegant Spiderman French tips offer a fresh take on a classic style, with delicate webbing and Spiderman motifs adorning the tips. It's a way to honor your favorite superhero with a touch of finesse.
Spiderman on White Nails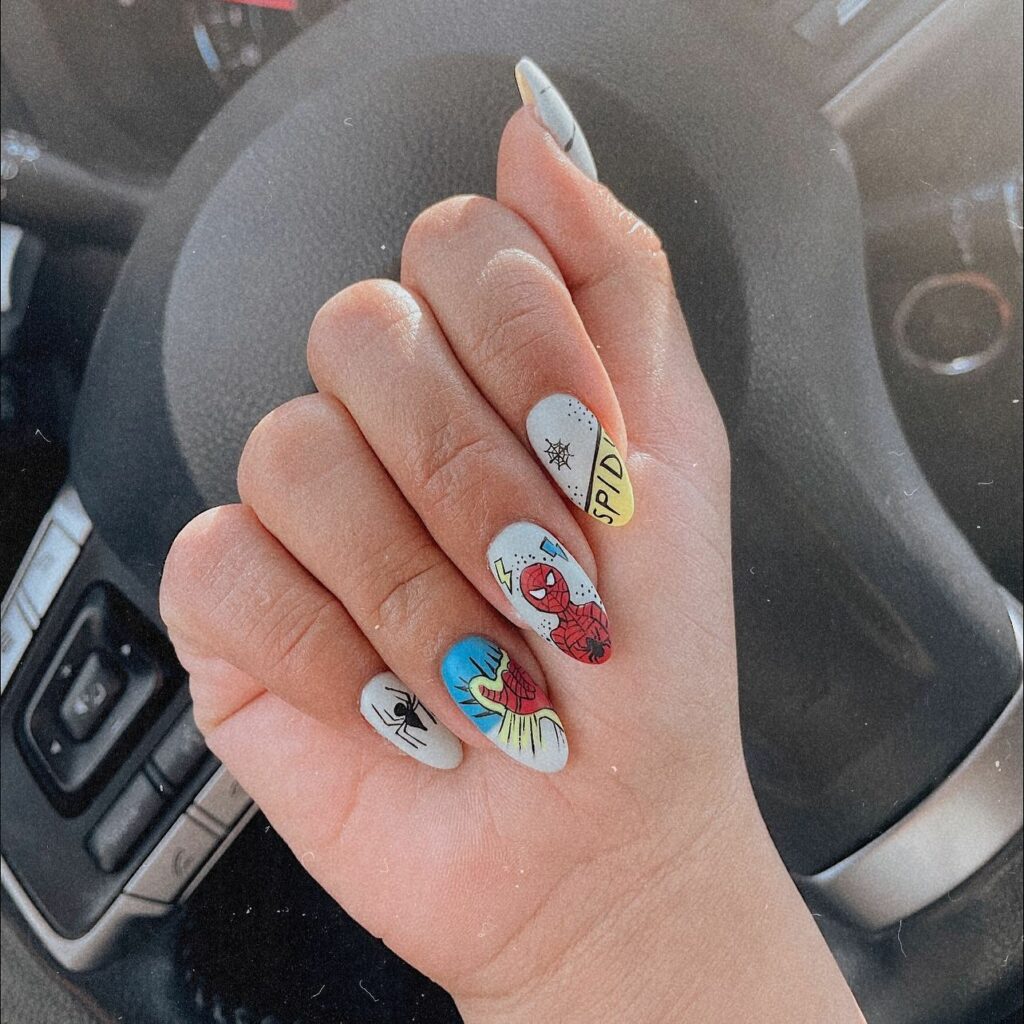 Spiderman's iconic imagery pops against a crisp white background, offering a clean and striking design. It's a canvas that makes the vibrant Spiderman red and blue stand out spectacularly.
Comic Inspired Spiderman Nails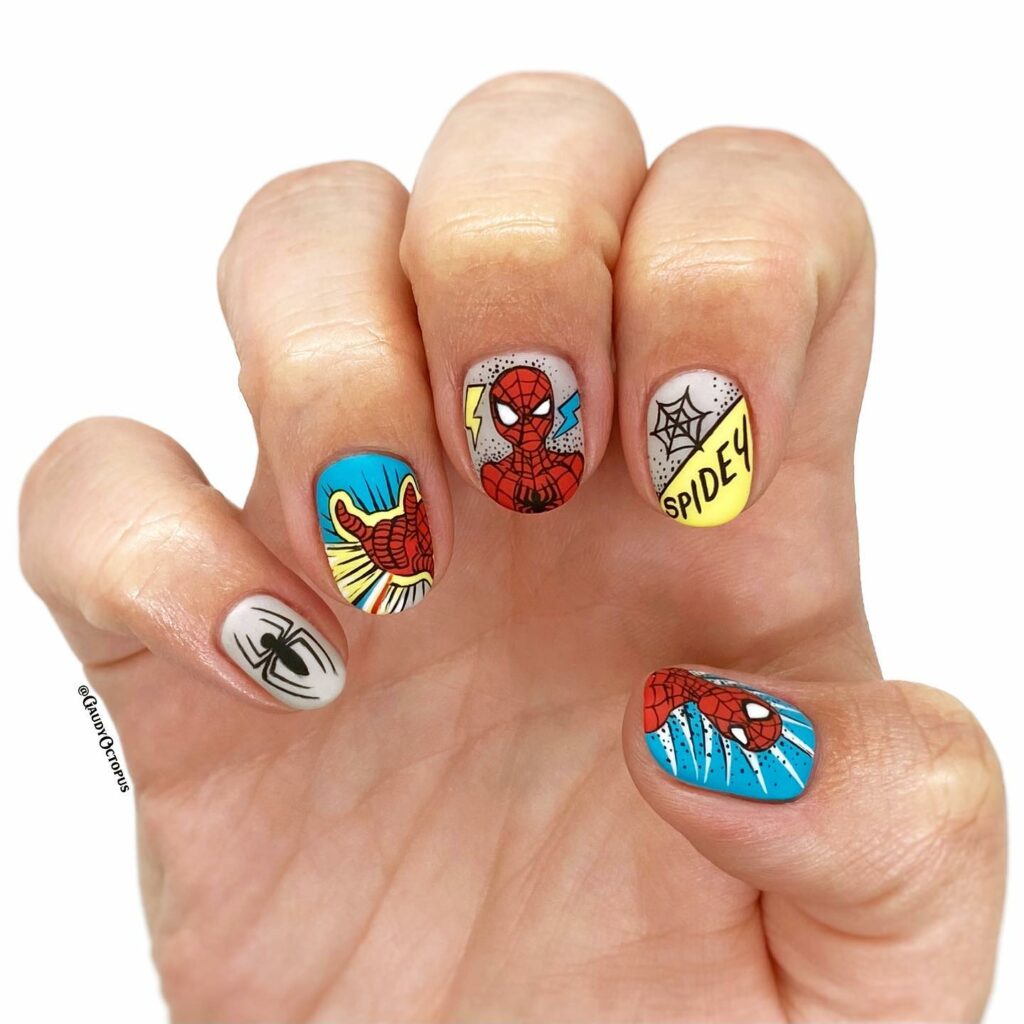 Nails that look like they've been plucked from the pages of a Spiderman comic book tell a story with each digit. This design is for those who want to carry the adventure of their favorite superhero right at their fingertips.
The Spiderverse at Your Fingertips
Experience the allure of the Spiderverse with these stunning nail designs, where monochromatic elegance meets the iconic Spiderman emblem. This collection showcases the artistry of nail design, featuring a sleek black web over a glossy nude base, and a pop of Spiderman red to captivate any admirer's gaze.
Glamour Meets the Web-Slinger
Embrace the dramatic fusion of glamour and the world of superheroes with this bold Spiderman nail design set. Each nail is a canvas showcasing the intricate web patterns and Spiderman's iconic mask, accented with sparkling gems that add a touch of luxury to your heroic ensemble.
Blush Square Spiderman Nails
Blush square nails provide a subtle and modern backdrop for Spiderman's web and symbol, blending a gentle color palette with the strength of Spiderman's heroic symbolism.
Two-Tone Spiderman Nails
Featuring a striking contrast between the classic Spiderman design and a nude polish, these nails bring a dramatic two-tone effect to life. Each nail is a testament to the duality of Spiderman's life as both a superhero and an everyday hero.
10 Tips To Help You Create Spiderman Nails At Home
Hand Painting: This is a meticulous process using fine brushes and nail paints to draw Spiderman's web, face, or logo onto the nail. It requires a steady hand and a good eye for detail.
Stamping: For those who want a more uniform look or need more confidence in their hand-painting skills, stamping plates with Spiderman designs can transfer the pattern onto the nail.
Stickers and Decals: Pre-made stickers and decals that can be placed onto the nail and sealed with a topcoat are available. This is a good option for beginners or those looking for a quick design.
Airbrushing: This technique uses an airbrush to spray paint onto the nails, allowing for smooth gradients and sharp stenciled designs. It's less common for at-home nail artists due to the equipment required.
Sponging: To create a textured look, such as a gradient sky behind Spiderman, a sponge can be used to dab on layers of color.
3D Art: For a more advanced and tactile look, some artists may use acrylic or gel to create raised 3D designs that pop out from the nail.
Rhinestones and Embellishments: Adding rhinestones or small charms can give the design a 3D effect and extra sparkle, often used to emulate city lights or the Spiderman suit's sparkle.
Tape and Guides: Tape or nail guides, such as Spiderman's web, can help create sharp lines and patterns.
Gel Polish: For designs that require a longer-lasting finish, gel polish can be combined with UV light to create intricate Spiderman designs that won't chip easily.
Mixed Media: Sometimes, nail artists combine techniques to create complex and detailed designs.
It's important to note that regardless of the technique used, a base coat is essential for protecting the natural nail, and a top coat is crucial for sealing the design and adding durability. Patience and practice are key, as well as a good set of tools and quality nail art supplies to achieve the best results.
Spiderman Nail Art Tutorial
Conclusion
As we wrap up our exploration of Spiderman nail designs, it's been an adventure through creativity and style that marries the vivid world of comics with the art of manicure. Remember, when embarking on your nail art journey, the key is to embrace and have fun with the process. While it's essential to consider the health of your nails — opting for quality products and giving your nails a break between applications to prevent damage — the possibilities for self-expression are nearly limitless. As you experiment with these designs, whether for a special occasion or just to add some superhero flair to your day-to-day, remember that practice makes perfect. Don't be discouraged if your first attempts aren't flawless; each stroke is a step toward mastery. And most importantly, let your nails be an extension of your unique style and personality. Now, armed with inspiration and tips, it's your turn to make a statement that even Spiderman would be proud of!
Feature image @avrnailswatches via Instagram
Last reviewed and updated on November 21, 2023