Today, we're unveiling the crème de la crème, the apex of fierce aesthetics — a finely curated collection of the best stiletto nail designs ready to be recreated by your nimble hands. From classic chic to eccentric and bold, this guide promises everyone a generous dose of inspiration.
Amid this beauty bonanza, you'll discover the top stiletto nail designs that are trending worldwide and glean insights into how these trends intersect with fashion, culture, and individual expression. Additionally, I'll be dropping some pearls of wisdom on how to tailor these designs to your style, the choice of colors and finishes that complement different skin tones, and the art of maintaining your stilettos in pristine condition.
Join me in this electrifying journey, and let's nail this art together. Don't worry if you're new to the stiletto game or a seasoned pro looking to switch things up – a perfect stiletto design is waiting for each of you. Now, grab your nail files, ladies, and let's step into the world of avant-garde allure, one nail at a time!
Timeless Elegance: White Stiletto Nails
Ever since my first foray into the nail art world, I've deeply appreciated the eternal beauty of white polish. It's the little black dress of nail colors – versatile, classic, and a perfect match for every outfit, every occasion, and every skin tone. But the magic reveals itself when this pristine hue graces the length of stiletto nails. A simple white lacquer or an ombre masterpiece — the choice is yours, darlings! Just remember to keep those precious hands moisturized, for the brilliance of white demands perfection!
Daring Duo: Black and Red Stiletto Nails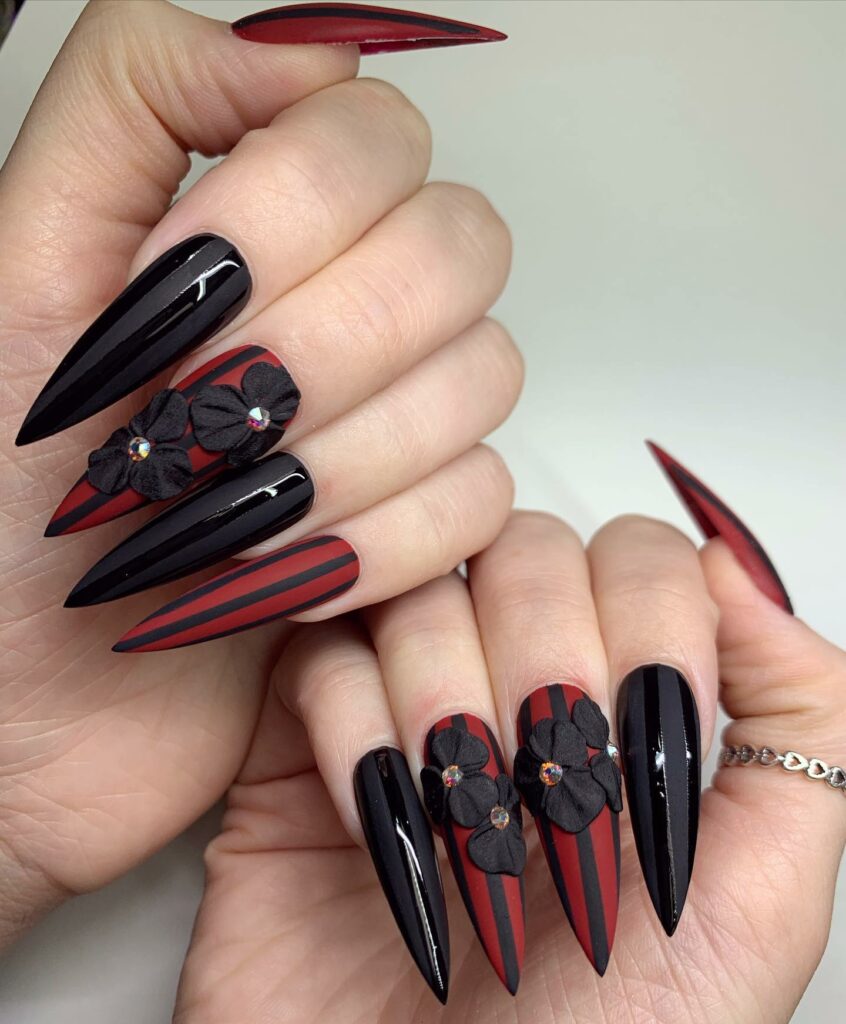 Black and red – a combination that shouts 'bold and beautiful.' Just like that time when I matched my nails with my little black dress and bold red heels, and oh, the heads I turned that night! Remember, ladies, a flawless black base with fierce red tips or a design inspired by Louboutin's iconic red-soled heels is the ultimate beauty statement. And for an added touch of seduction, coordinate your nails with your favorite red lipstick.
Feminine Charm: Pink and White Stiletto Nails
Think of pink and white nails and images of cotton candy clouds and cherry blossoms. One of my all-time favorite nail combinations, pink and white exude a timeless feminine allure. Go simple with a French tip, or dare to be different with polka dots, line art, or swirls. The choices are endless! But do remember, the finish can make or break your look – a glossy or glittery finish for that luxurious appeal or a matte finish for a more intriguing texture.
Simplicity at its Best: Natural Stiletto Nails
Remember the 'less is more' adage? That's precisely what natural stiletto nails stand for. They're the reliable friends you turn to when you need something simple yet striking. The sleek stiletto shape alone is enough to add that dash of excitement. I adore how these subtly-hued nails are versatile enough for everything from a corporate meeting to a casual brunch!
Spring Fling: Spring Stiletto Nails
Spring! The season that paints the world with vibrant colors inspires countless nail art creations. Think pastel tips on natural nails, exciting patterns, or tiny flower designs on a nude base coat. My personal spring favorite is a delicate floral design on a pastel background. It's like carrying a piece of the blooming spring wherever you go!
Subtle Glamour: Almond Stiletto Nails
While stilettos are daring and dramatic, their cousins, almond nails, offer a more rounded and practical option. They are the perfect pick for those days when I crave a change but still want to retain a touch of glamour. With almond nails, the art options are just as vast – from simple monotone polish to intricate designs, the world is your oyster!
Cozy Vibes: Fall Stiletto Nails
Oh, the warm hues of fall! As the leaves turn golden, so should your nails. Capture the essence of fall with cozy tones of yellow, brown, red, and orange. Just as I did last fall, with a rich burgundy base and golden leaf art – it was a hit at every pumpkin spice latte date!
Classic Contrast: Black and White Stiletto Nails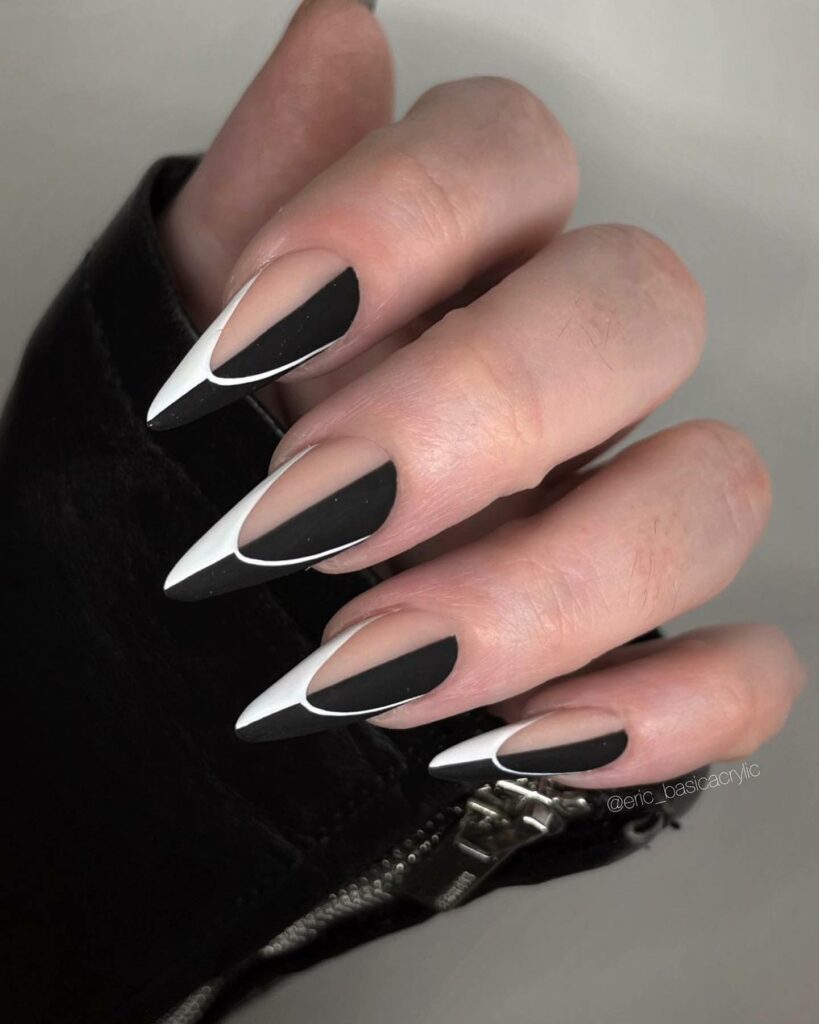 The iconic black and white pairing is like a symphony on your nails – a fusion of classic and contemporary. For a sophisticated finish, experiment with black French tips or feature nails in alternating colors. And here's a quick tip – pair this monochromatic manicure with a pop of color on your lips!
Sleek Sophistication: Long White Stiletto Nails
Remember when I mentioned how white is the go-to color for any manicure? Now imagine that on long, graceful stiletto nails. This combination can make your fingers look slimmer and add a touch of chic sophistication to any outfit. You can make a striking statement, be it a pure white hue or combined with pink, black, or any other color.
Peaceful Pastels: Baby Blue Stiletto Nails
I'm reminded of serene skies and calming waves when I think of baby blue stiletto nails. The color brings a sense of tranquillity, a refreshing change from the bold colors we often see. Don't be afraid to mix it with pink or white accents or glitter finishes for that dreamy touch. Trust me, your nails will be the envy of every summer picnic!
Express Your Creativity with Unique Stiletto Nails
Let me tell you, one of the best things about stiletto nails is the limitless possibilities they offer to express yourself. Just think back to that fun evening with my girlfriends last summer. We decided to have a "nail art" night, and my favorite creation was an abstract masterpiece using my beloved neon color palette. Talk about being the center of attention! There's no wrong option when choosing designs for your stiletto nails. Go wild with different-colored rhinestones, or add adorable nail stickers. The world is your canvas, my friend.
Love is in the Air: Valentine's Stiletto Nails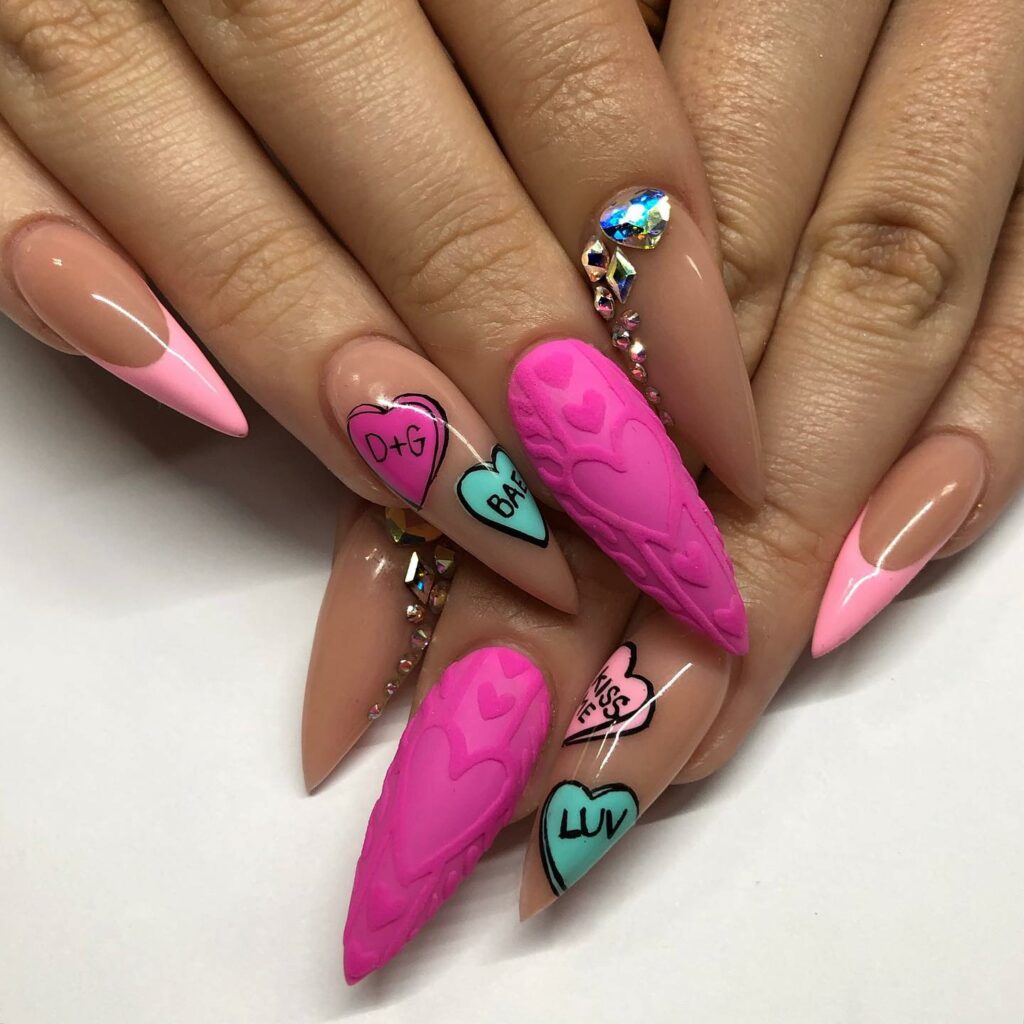 Remember Valentine's Day when I rocked a gorgeous red and pink heart-themed manicure on my stiletto nails? Well, you can show some love on February 14th! Your nails can be a constant reminder of love and affection. Experiment with different heart designs, or keep it simple with tiny hearts on one finger and solid lacquer on the rest. Either way, you'll get those "aww" s!
Go Bold with Black and Gold Stiletto Nails
Are you looking for an elegant and eye-catching nail art combo? I've got you covered. Once, I paired a dark black base coat with shimmery gold accents for a special night out. Let me tell you, it was a hit! The mix of darkness and shimmer screams bold, fierce, and fab. Plus, you can switch things up by adding gold flakes, nail stickers, or even line art for an abstract feel.
Elegance in Azure: Blue Stiletto Nails
My go-to for a chic and elegant look is always a rich blue hue. I remember a winter brunch where my frosty-blue, glittery stiletto nails perfectly matched the season's vibes. It was indeed a luxurious moment! Remember, if your nails are a showstopper, keep your outfit neutral to let your manicure do the talking.
Embrace Your Dark Side: Gothic Stiletto Nails
For my bold and edgy fashionistas, gothic stiletto nails can be your go-to. I once rocked a glossy black stiletto nail design with lace details for a concert. It was the perfect accessory to my dark, rocker-chic outfit. If daring, add chains, studs, or lace to give your nails a unique, rebellious finish.
Feel Fresh with Green Stiletto Nails
Once, I found the perfect shade of emerald green polish and decided to give my nails a fresh, vibrant look. The result? A stunning and refreshing manicure that perfectly complemented my spring outfits. Green is the color of renewal and growth, so why not make a statement with it on your nails?
Be a Ray of Sunshine with Orange Stiletto Nails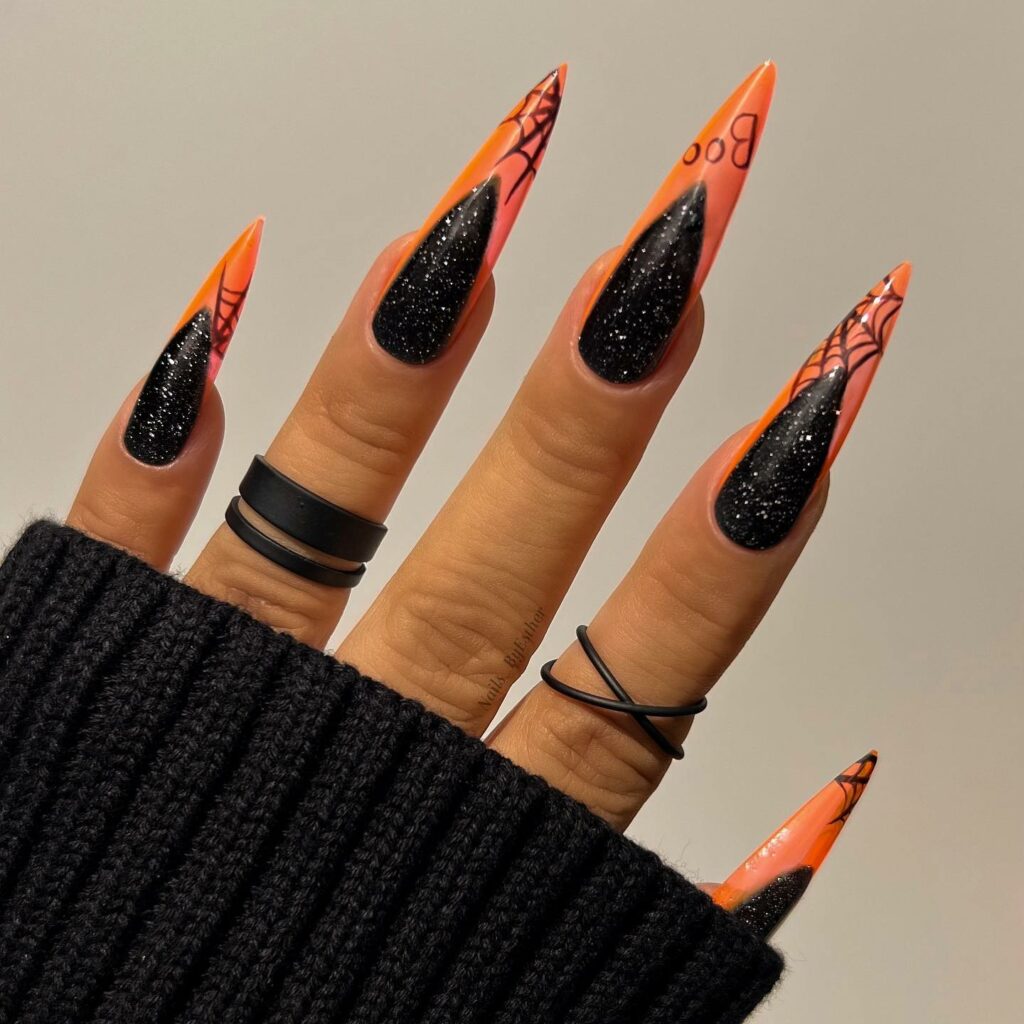 Every time I look at my hands sporting orange stiletto nails, I can't help but smile! Orange reminds me of sunny days, positive vibes, and endless creativity. You can keep it solid orange or add a pop of color to the tips. Trust me, it's a total mood-lifter!
Subtle Drama: Black Ombre Stiletto Nails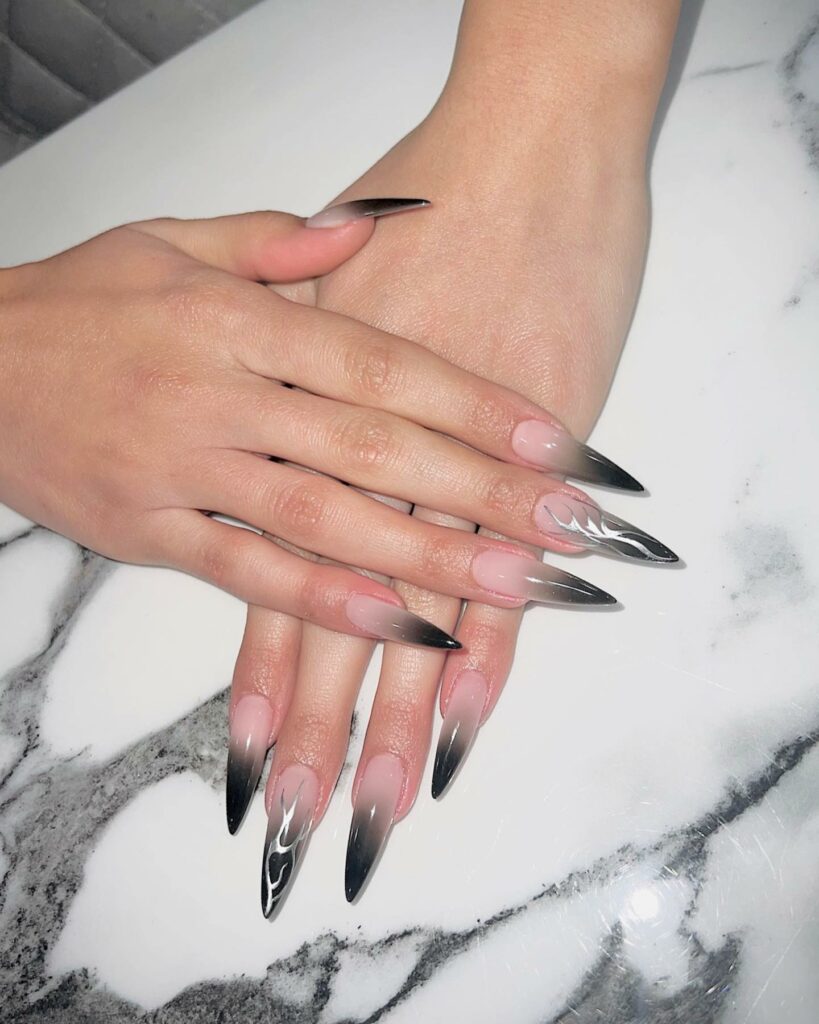 Remember that time I tried black ombre on my stiletto nails? Oh, what an absolute chic drama that was! The gradient effect of light and dark gave my nails a modern, sophisticated twist. Pair this with monochromatic outfits, and let your nails do the talking.
A Touch of Elegance: Burgundy Stiletto Nails
There's something about a rich burgundy manicure that screams elegance. I still recall compliments when I flaunted burgundy stiletto nails at a fall gathering. Add a mix of silver and gold rings to make your manicure more eye-catching!
Bright and Bold: Neon Stiletto Nails
Want to stand out from the crowd? Say hello to neon stiletto nails. This is for those days when you want to turn up the volume on your style. I once painted each of my nails a different neon shade; let me tell you, it was a showstopper! But remember, when your nails are this bright, keep your clothing more on the neutral side to maintain balance.
Embrace the Practicality: Short Stiletto Nails
Hey, there, lovelies! Let me introduce you to my secret weapon – short stiletto nails. These are the perfect mix of style and functionality for those who adore the fierce look of stiletto nails but also appreciate practicality in our daily lives. Think of them as your best friend, always there to make your hands look fabulous without disrupting your day-to-day tasks. Let's not underestimate the power of a sassy, short stiletto!
Dare to Go Dark: Black Stiletto Nails
Are you a fan of bold statements, edgy looks, and a sprinkle of fierceness? Then black stiletto nails might be your new favorite trend. From my experience, they're a powerful accessory that can express your personality, especially if you, like me, have a soft spot for a darker, more alternative style. And guess what? You can still jazz them with glitter or some nail art to give them that extra pizzazz.
The Perfect Foundation: Stiletto Acrylic Nails
As a seasoned beauty blogger, I've experimented with several nail techniques. But acrylic nails have a special place in my heart (and on my hands!). Combining a liquid monomer and a powder polymer creates a hard, protective layer over your natural nails, serving as a canvas for your desired colors, nail art, or shellac. Trust me, darlings, with acrylics, the sky is the limit!
Bold and Beautiful: Long Stiletto Nails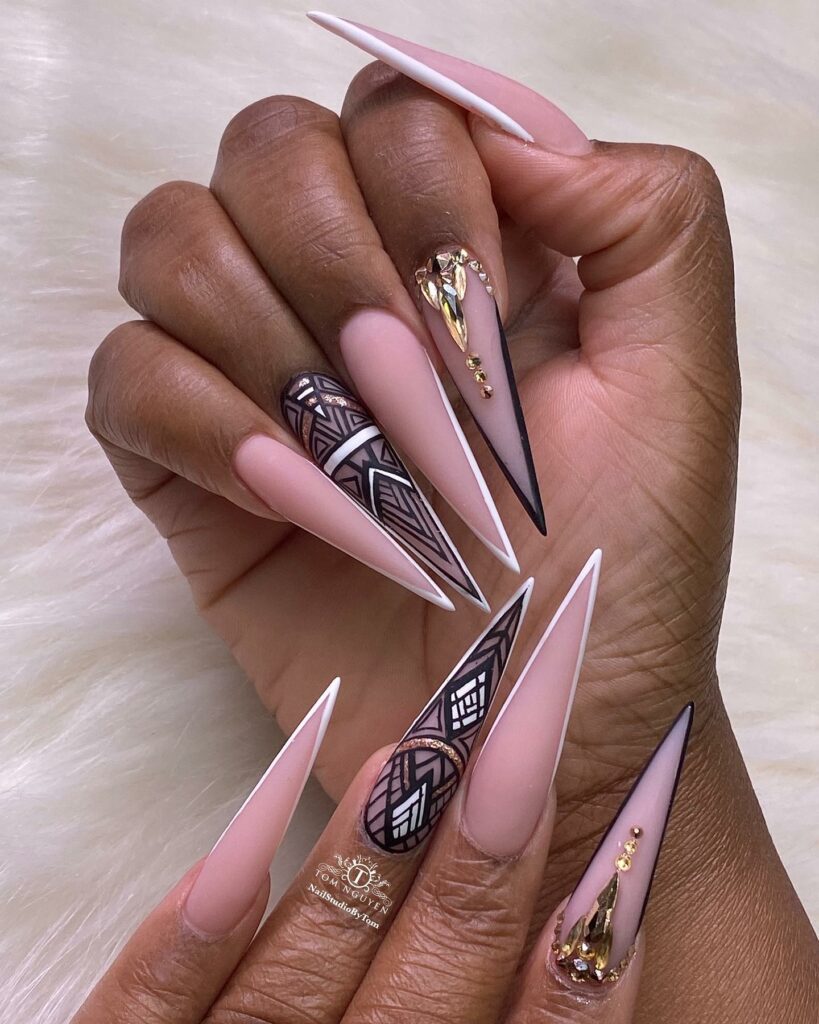 Oh, the allure of long stiletto nails! These are a sight to behold, but let's get real; they require a bit of getting used to. If you've ever seen me text with these bad boys, you'd be in for quite a show! But no worries, you'll get the hang of it with a bit of practice. The results are worth it. It's like a little piece of runway glam right at your fingertips!
Quick and Chic: Press-On Stiletto Nails
We've all had those moments where we need fabulous nails, but time isn't on our side. That's when I turn to press-on stiletto nails. Seriously, these lifesavers will have you event-ready in no time. Just peel, stick, and voila – you're ready to show your impeccable style.
Elegantly Subtle: Nude Stiletto Nails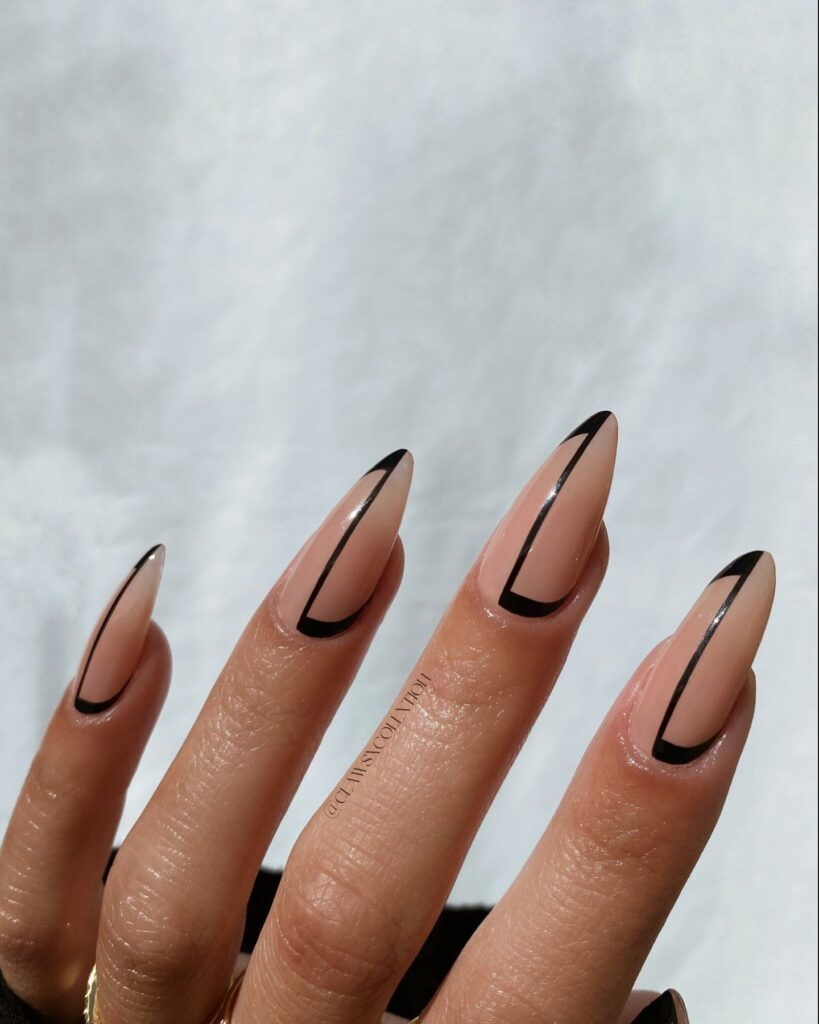 To my girly girls, I've got you covered with these chic nude stiletto nails. These are like your trusty little black dress of the nail world, pairing well with any outfit. The possibilities are endless, from clear to deep nude, matte, or high shine. Remember, 'nude' doesn't mean boring – it means classically chic!
Ignite the Passion: Red Stiletto Nails
Ready to paint the town red? Then embrace the fierce energy of red stiletto nails. As a vibrant and fiery woman, I love how these nails demand attention and spark a sea of compliments. Red is a powerful color – let your nails scream it loud and proud!
Sophisticated Style: Matte Stiletto Nails
Let me share a little secret: matte stiletto nails are my go-to when I want to feel fierce and fabulous. They've been my fashion companions for a few years, and I've fallen head over heels for their understated chicness. Be brave, be bold, try matte!
Pink Power: Pink Stiletto Nails
Calling all Barbie girls, pink stiletto nails are here for you. From hot pink to baby pink, these sweet and sassy nails are a total mood. I may have spent a little too much on pink nail polish, but self-pampering is priceless, right?
Sleek and Chic: Matte Black Stiletto Nails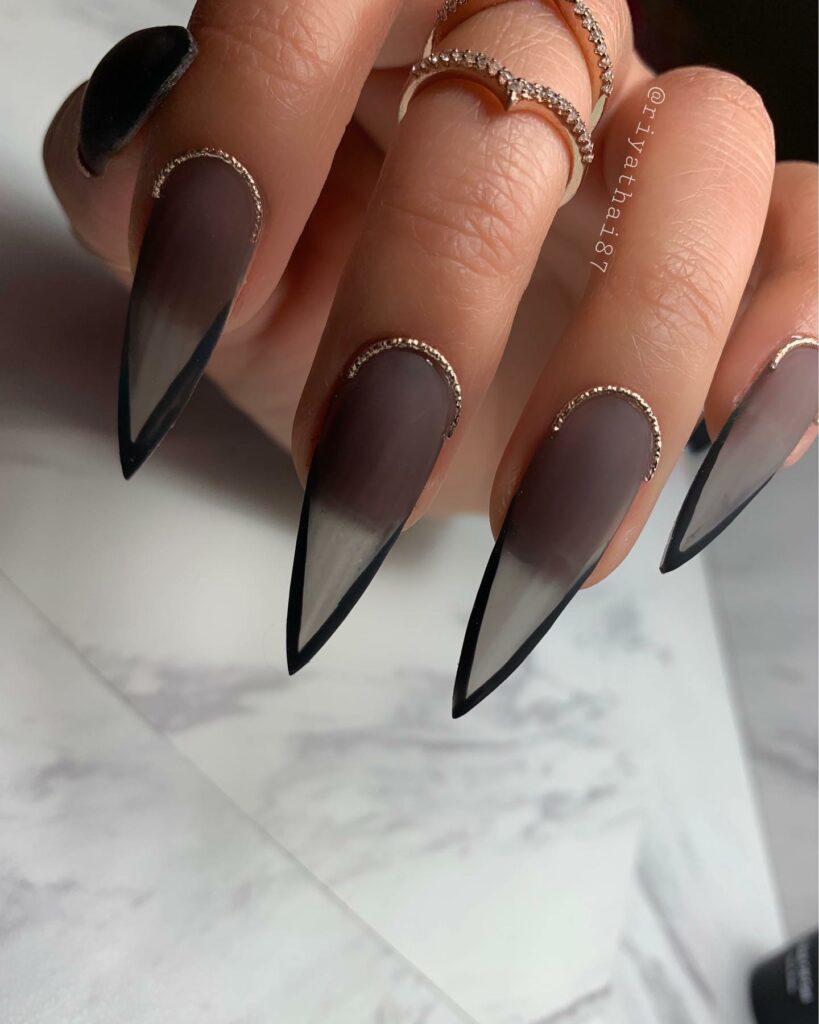 Lastly, we have the all-time classic – matte black stiletto nails. These nails are a perfect blend of sophistication and trendiness. Add a bit of nail art to one nail, and you've got a look that's as stylish as it gets. Trust me; you can never go wrong with this one.
Whimsical and Playful: Cute Stiletto Nails
Hello, darlings! Let's dive into the world of adorable and fun stiletto nails. This style is like a playground for creativity, with a universe of colors and designs at your disposal. The best part? Just waltz into your nail salon and request "cute stiletto nails." Your nail technician will be as thrilled as you to unleash their creative power. Let the cuteness overflow!
Dazzle with Elegance: Glitter Stiletto Nails
Are you ready to turn some heads and capture attention? Well, then, glitter stiletto nails are your sparkling secret weapon. These glitzy designs are perfect for any formal event, whether weddings, debutante balls, or a grand night out. Think of them as your 'red carpet' nails, making you shine bright like a diamond.
A Modern Twist: French Tip Stiletto Nails
Bonjour, my beauty enthusiasts! Let's pay homage to the timeless classic – French tips, but with a stylish spin. On stiletto nails, they take on a whole new edgy personality. Add a dash of modernity with a cute shape or pattern at the base of the tip. I once rocked a heart-shaped French tip on Valentine's Day, and trust me, it was a hit!
Sunshine on Your Nails: Yellow Stiletto Nails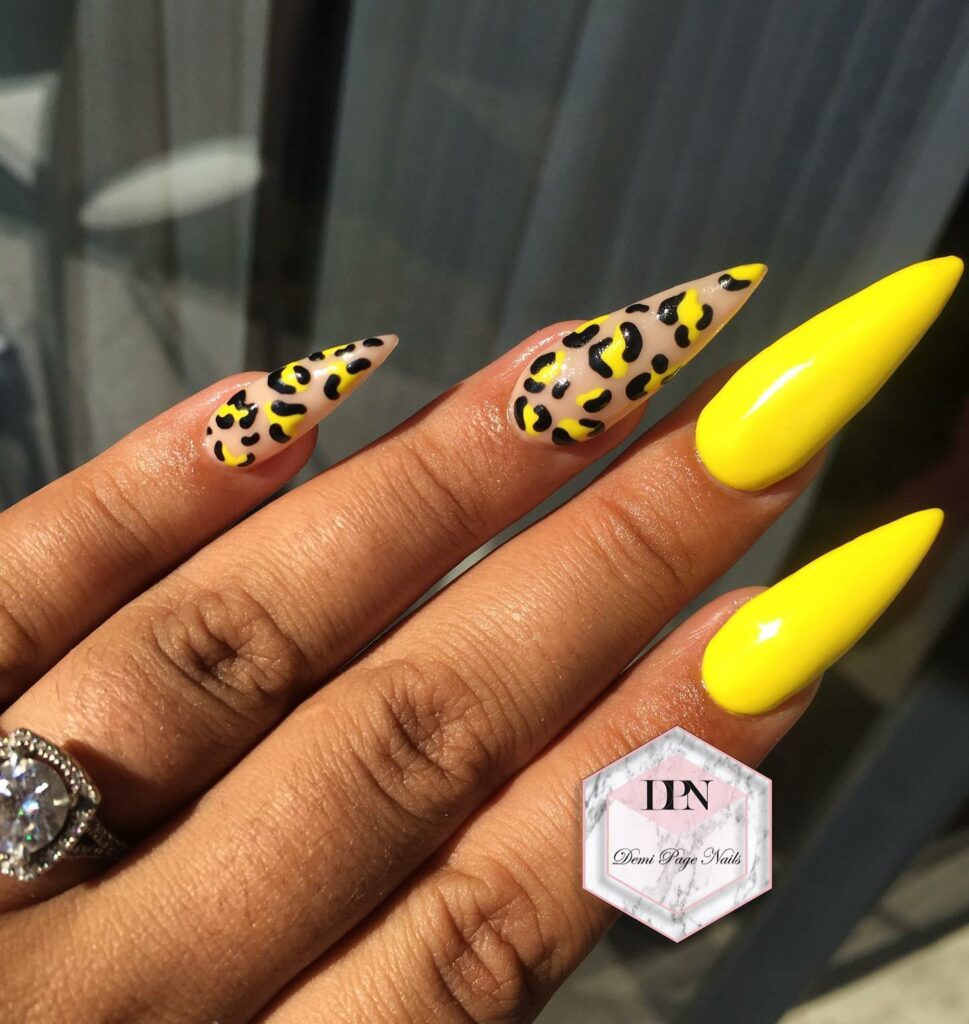 Ah, summer! The season of radiant sun, glowing skin, and… yellow stiletto nails! These sunny nails beautifully contrast against your sunkissed tan and ooze a warm, joyous vibe. So, whether you're heading to a beach party or a brunch date, remember – yellow is your ultimate summer color.
Long-lasting Glam: Glue-On Stiletto Nails
On the hunt for a nail style that'll stay fabulous a bit longer than your average stick-on? Well, meet your new best friend, glue-on stiletto nails. They require more skill – applying the right amount of glue, carefully placing the nail, and holding it till it dries. But trust me, the effort is worth it. Practice makes perfect, my lovelies!
Majestic Elegance: Purple Stiletto Nails
Let's move away from the usual blacks and nudes and venture into the vibrant world of purple stiletto nails. From royal deep purple to dainty lilac, these nails are your ticket to standing out this summer. Remember, life's too short for dull nails!
Smooth Transition: Ombre Stiletto Nails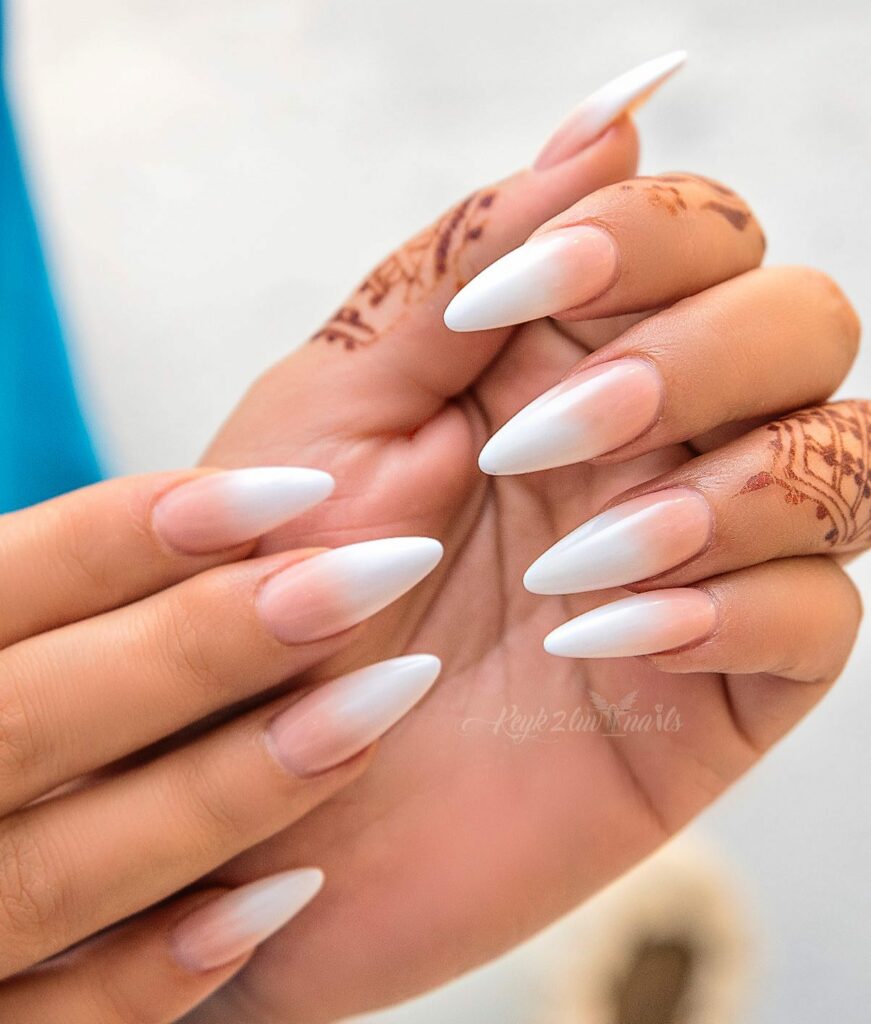 Let's talk about a trend that's taken the nail art world by storm – ombre stiletto nails. I'm a fan of nude-to-white or pink-to-purple transitions. But really, you can play with any two colors you love. So, next time you hit the nail salon, dare to try ombre – it's chic, cool, and oh-so-pretty!
The Midas Touch: Gold Stiletto Nails
Bring on the luxury with gold stiletto nails, your perfect accessory for all those grand events. From sparkly to matte, gold nails add an extra spark of elegance to your ensemble. Dress them up with formal or party outfits and shine like a star.
Deck the Nails: Christmas Stiletto Nails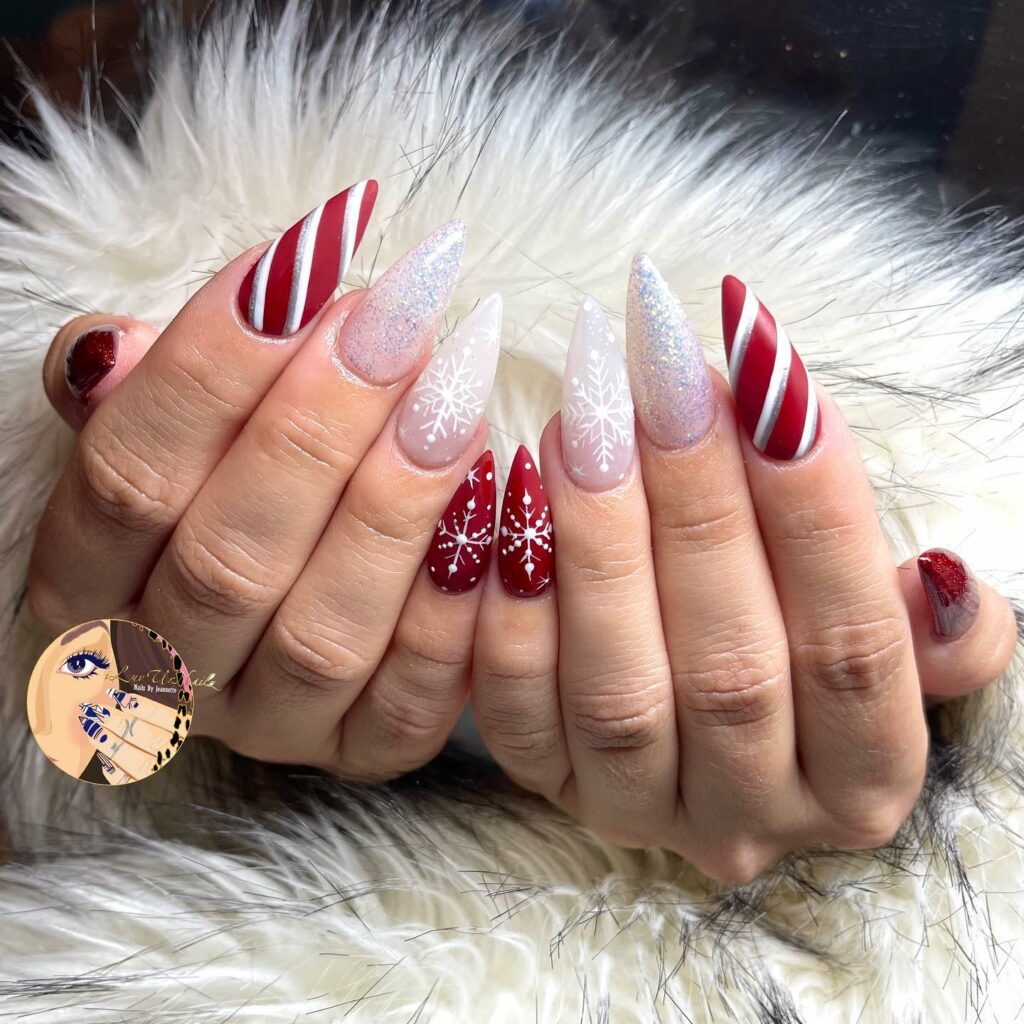 Oh, the joy of the festive season and the thrill of decking up our nails to match the spirit! Christmas stiletto nails offer a myriad of designs to play around with. From the classic Christmas colors of red, green, gold, silver, and blue to the fun of nail art, your festive nails are bound to be a conversation starter.
Celebrate Summer: Summer Stiletto Nails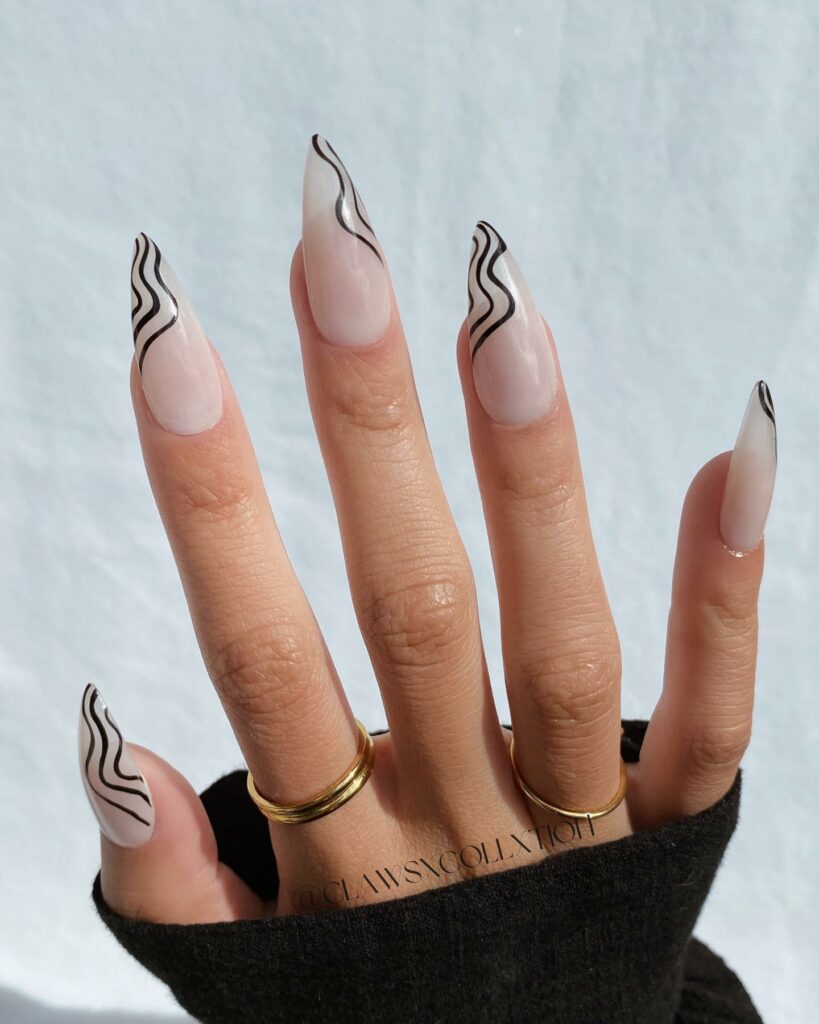 Imagine the colors of a stunning summer sunset or sunrise right at your fingertips. Yes, we're talking about summer stiletto nails! Think bright, happy, yellow, orange or even an ombre design blending your favorite summer hues. Go ahead, let your nails reflect the joys of the season!
Leopard Print Stiletto Nails
Unleash your wild side with leopard print stilettos! These nails are a fun, fierce way to spice up your look and are an instant conversation starter.
Galaxy-Inspired Stiletto Nails
Take your love for all things cosmic to the next level with a galaxy-inspired design. Dark blues and purples with hints of sparkling stars will make you feel out of this world!
Marble Effect Stiletto Nails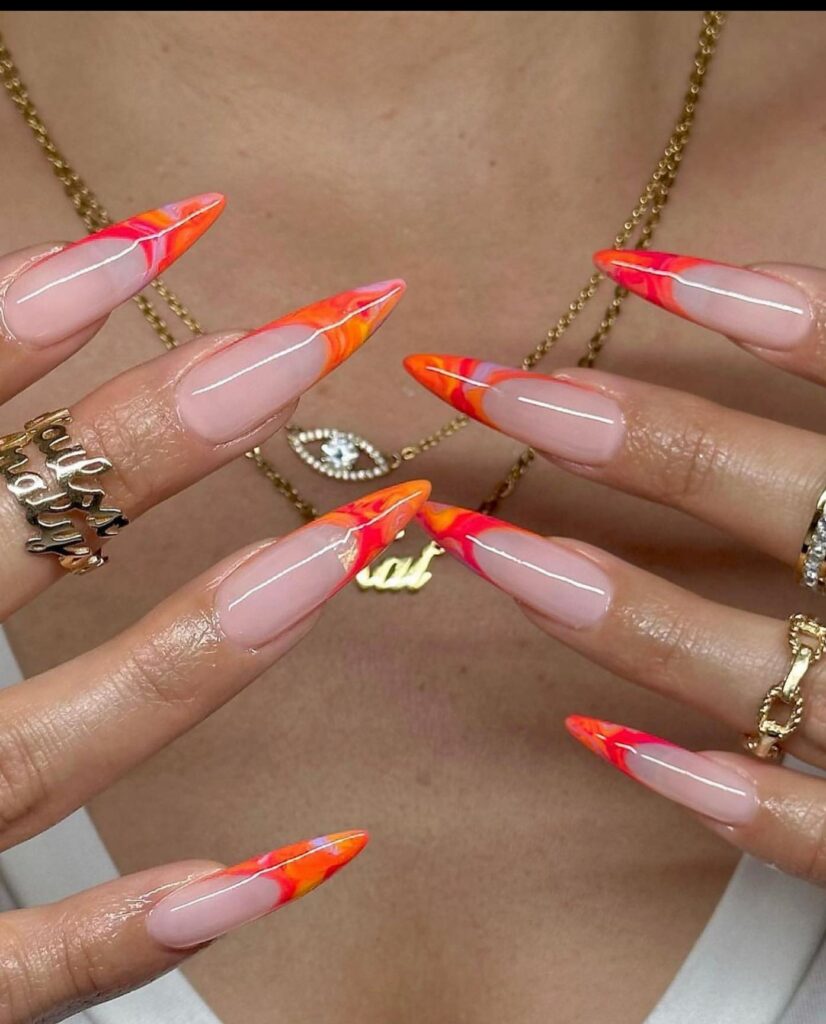 Chic and elegant marble effect nails are an eye-catcher. You can go with classic black and white or experiment with colors to make it uniquely yours.
Polka-Dot Stiletto Nails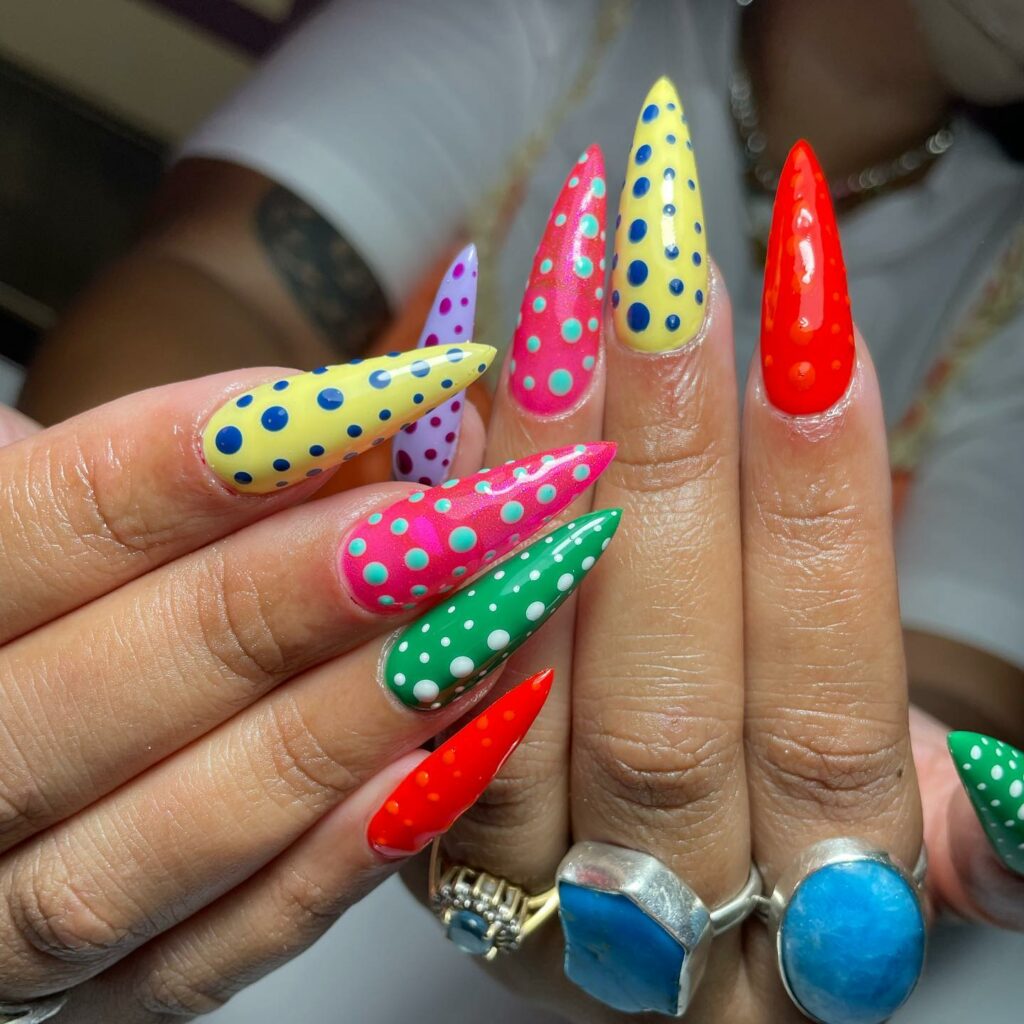 Cute and playful, polka-dot nails are a timeless choice. You can stick with monochromatic dots or use a rainbow of colors for a more vibrant look.
Metallic Stiletto Nails
These are perfect for a night out or any event where you want to feel ultra-glamorous. The shimmering metallic shades catch the light beautifully and add a touch of luxe to your style.
Lace-Effect Stiletto Nails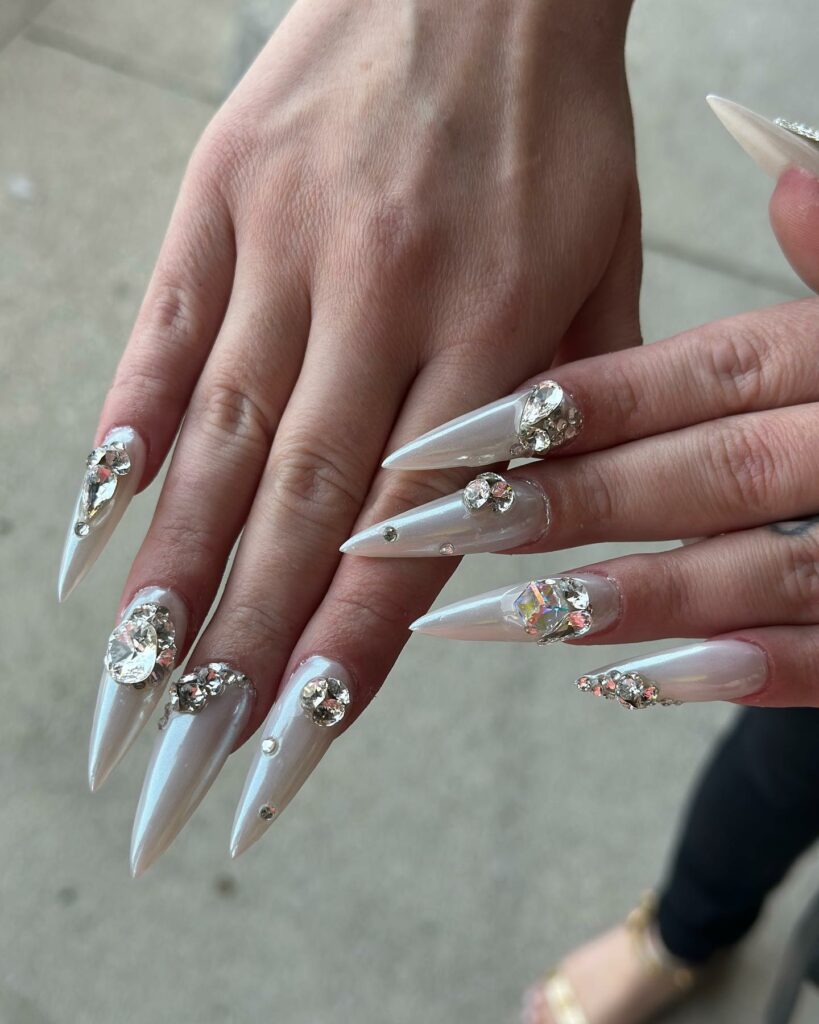 For those romantic moments or elegant occasions, lace-effect nails are the epitome of sophistication. Intricate designs mimic the look of lace, adding an exquisite touch to your fingers.
Floral Stiletto Nails
Incredibly wonderful for spring and summer, floral stiletto nails bring a fresh and youthful vibe. Go subtle with tiny flower accents or bold with large, eye-catching blooms.
Holographic Stiletto Nails
Want to stand out truly? Holographic nails reflect a spectrum of colors and will get everyone's attention wherever you go.
Neon Stiletto Nails
Neon stilettos are electrifying, perfect for music festivals or just brightening up an everyday look. The vibrant hues are hard to miss and scream fun.
Textured Stiletto Nails
Whether with tiny jewels, 3D elements, or unique fabric pieces, textured stiletto nails add depth and interest to your overall look. These nails are for those who want to step outside the box and try something different.
Two-Tone Split Stiletto Nails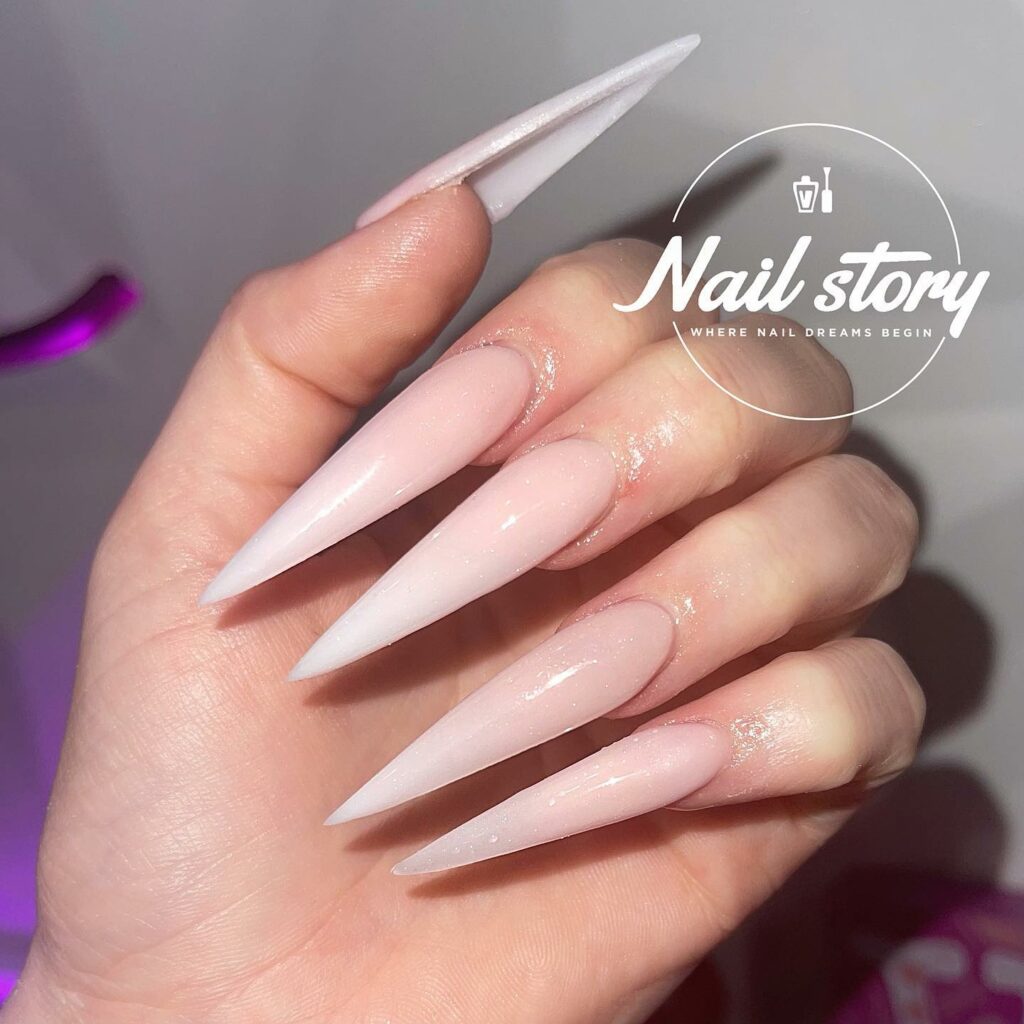 Divide and conquer with this eye-popping design that uses two contrasting colors split down the middle of each nail. It's a modern, edgy look that shows off your unique style.
Geometric Stiletto Nails
If you're all about shapes and angles, geometric designs can offer a sophisticated flair. Using straight lines, triangles, or even hexagons, you can create a captivating, structured look that's anything but ordinary.
5 Celebrities That Have Worn Stiletto Nails
Celebrities with stiletto nails include Lady Gaga, Khloe Kardashian, Cardi B, and Kehlani. Stiletto nails have become increasingly popular in recent years and have been embraced by many celebrities. Lana Del Rey is known for her signature pout and Old Hollywood waves, which are complemented by her stiletto nails. Other celebrities who have been spotted wearing stiletto nails include Kylie Jenner, Rihanna, Beyoncé, Kelly Osbourne, and Fergie.
Taking Care of Your Stiletto Nails Like a Pro
Alright, lovelies, now that we've dived into the enchanting world of stiletto nails, it's time to dish out some essential tips to keep your talons looking fabulous and well-maintained. Believe me when I say, these tips are going to be your manicure lifesavers!
The Magic of Regular Fills
Just like your favorite latte needs a top-up, your stiletto nails need regular fills to stay at their prime. The ideal time frame? Aim for every two to three weeks, depending on how quickly your nails grow. Regular fills help maintain the shape and strength of your stilettos, ensuring they remain as glamorous as day one. One of my regular haunts has this fabulous nail tech, Sarah, who won't let me go beyond the two-week mark – she's a stickler for well-kept nails!
Prevention and Handling Breakage
I've had my fair share of nail breakages – who hasn't, right? And let me tell you, a broken stiletto nail can be quite the party pooper. Here's a golden tip – to prevent breakage, be mindful of your nails. Simple things like using a knuckle to press buttons or the side of your hand to open doors can make a huge difference.
However, accidents happen. If you're faced with a break, don't panic! Reach for a nail adhesive or a tea bag for a quick DIY repair until you can get to your nail technician. It might seem unusual, but trust me, the humble tea bag can work wonders as an emergency nail fix.
Prioritize Your Nail Bed Health
Keeping your nail bed healthy is just as important as having killer stilettos. Here's a secret – the healthier your nail bed, the better your stiletto nails will look. Try incorporating a nutrient-rich nail oil into your daily routine. I swear by a good argan oil formula that works like a charm. It keeps my nail bed and cuticles nourished, ensuring a stronger foundation for my stilettos.
Additionally, every once in a while, consider giving your nails a breather from the acrylics and gels. Just a short break can do wonders for your nails' health.
Pros and Cons of Stiletto Nails: The Glamour and The Grit
Pros of Stiletto Nails
An Unbeatable Aesthetic Appeal: Let's face it, darlings, stiletto nails are undeniably gorgeous. They offer a daring, distinctive look that's a head-turner for sure. I remember the first time I rocked a set of ruby red stilettos at a party – the compliments wouldn't stop flowing!
Express Your Unique Style: With countless designs, colors, and embellishments, stiletto nails are your canvas for self-expression. From my mood-lifting summer florals to my edgy, all-black matte stilettos, I've always found a way to let my nails reflect my vibe.
Boosts Your Confidence: There's something empowering about wearing stiletto nails. They enhance your natural hand gestures and give you an elegant, more refined look. And who doesn't enjoy a bit of that 'I can conquer the world' feeling when sporting a fresh manicure?
Cons of Stiletto Nails
Challenges in Daily Tasks: Now, onto the not-so-glamorous part. Certain tasks can become a bit tricky with stiletto nails. Typing, buttoning a shirt, or even opening a can of soda can take some getting used to. But with a little patience and practice, you can become quite adept.
Potential for Nail Damage: If not properly cared for, stiletto nails can cause strain on your natural nails. But, remember those care tips we talked about earlier? Stick to them, and you'll significantly reduce the risk of damage.
Maintenance Time: To keep your stilettos looking their best, regular salon visits are essential. We all have busy lives, and sometimes, this added appointment can seem like a chore. But, think of it as a part of your 'me time'. A perfect excuse for some much-needed pampering, right?
Conclusion
And there you have it, my beauties – a fantastic journey through the diverse, exciting world of stiletto nails. They, indeed are a versatile canvas for expressing your individuality. Whether you're feeling bold with glitter, embracing your inner romantic with French tips, or exploring the trendy ombre, stiletto nails have something for every personality and occasion.
But remember, while they're undeniably gorgeous, they require more care and attention. Those points can be sharp, so handle them with care. And if you're opting for glue-ons or acrylics, it's essential to maintain good nail health underneath. So, don't shy away from pampering those natural nails with some love and nourishment.
The world of nail artistry is filled with endless possibilities. It's your chance to express, create, and shine. Feel free to experiment and find what styles resonate with your vibe. So, the next time you visit your nail salon or explore a DIY project, remember – your nails are your statement. Make them a fabulous one! Now go forth, explore, and most importantly, enjoy every step of your nail style journey!
Feature image @she.nails.it via Instagram