There's a certain magic in the air when summer rolls around, bringing with it a surge of sunshine and longer days and the promise of a fresh wave of creativity in fashion. This season, that innovation isn't just reserved for the clothes we wear or the accessories we flaunt; it's right at our fingertips. Dive into this post as we uncover the 44 ultra-cool summer nail designs making waves in 2023. Whether you fancy subtle elegance or love to make a statement with bold colors and intricate patterns, this curated list is your ultimate guide. Prepare to be inspired, get informed on the latest trends, and find your next obsession as we explore the world of summer nails. Get ready to elevate your nail game!
Pucci Prints
Remember that day when I saw Margot Robbie flashing those nails that looked straight out of a Barbie dream? It's a fresh take on Barbiecore, backed by the expertise of nail pro-Tom Bachik. If Robbie's doing it, you know it's worth a try!
Bright Angles
Once, during a beach trip, I sipped on a cool blueberry milkshake. That color is now THE nail trend! Baby blue nails with a dash of hot pink stripe? Pure summertime in a design!
Gradient French
The colorful French manicure, but make it blended! Trust me, it's the French twist we didn't even realize we needed.
Sherbet Ombré
We've all had those indecisive moments. Like, "Should I wear the red or the blue dress?" Now, you can blend two of your favorite shades and call it a day.
Barbiecore Glitter
Every time I look at a glitter top coat, it takes me back to those art projects from school – simple yet so impactful. Nail art in a bottle? Sign me up!
Neon + Metallic
Even the trendsetter Hailey Bieber couldn't resist the neon green this summer. And when her nail artist Zola Ganzorigt added hints of gold? Pure genius!
All of the Flowers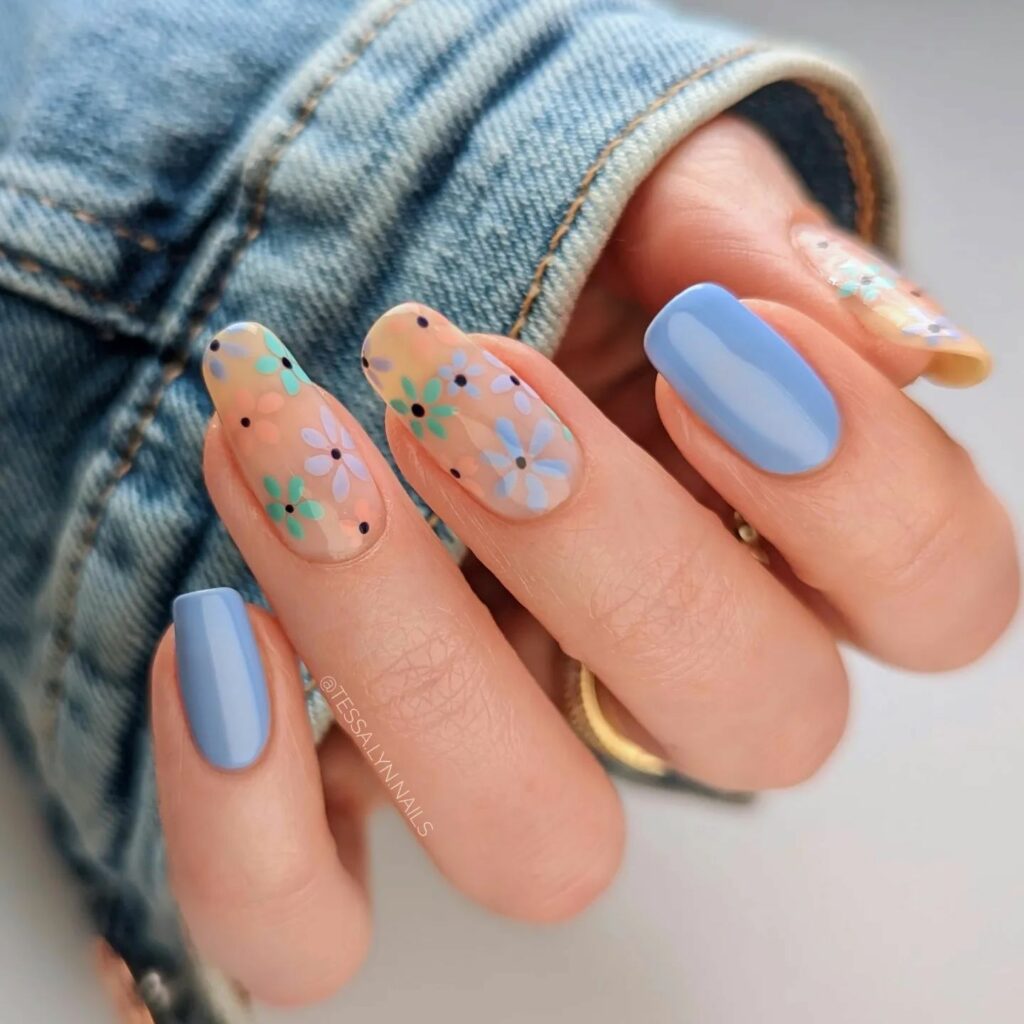 My lazy-day hack: Dotting tools! They're a lifesaver for creating easy retro flowers. Plus, having each nail is different? Adds to the charm.
Neon Aura
Those neon aura designs have been a favorite, but toss in tiny gems? It's like your nails have their jewelry.
3-D Squiggles
Combining neon with negative space is fresh, but throw in some 3-D details. It's like a summer party at your fingertips.
Rainbow Swirl
Feeling nostalgic? This design is like bringing back that childhood ice cream flavor without calories!
Mermaid Sparkles
Channel your inner Ariel with a metallic blue hue. Toss in some rhinestones, and it's an under-the-sea party.
Pink Aura
I remember seeing Megan Thee Stallion flaunting those long, lipstick-shaped tips with a hot pink aura design. Instant envy!
Grecian Goddess
Transport yourself to the sun-soaked beaches of Greece with nails that combine gold and turquoise. A matte finish? That's the cherry on top.
Dip Dye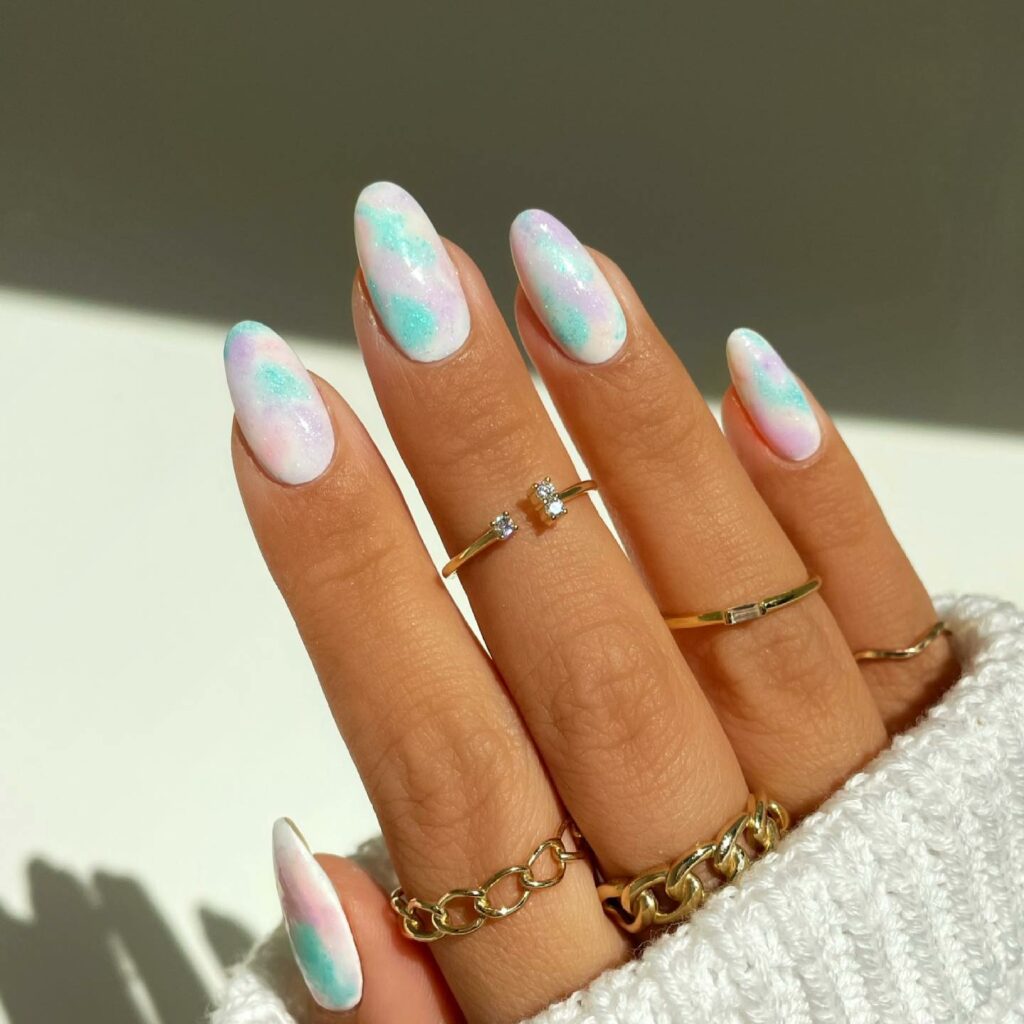 Ever seen a popsicle melt on a hot day? Addison Rae's fuchsia nails capture that essence beautifully.
Berry Nice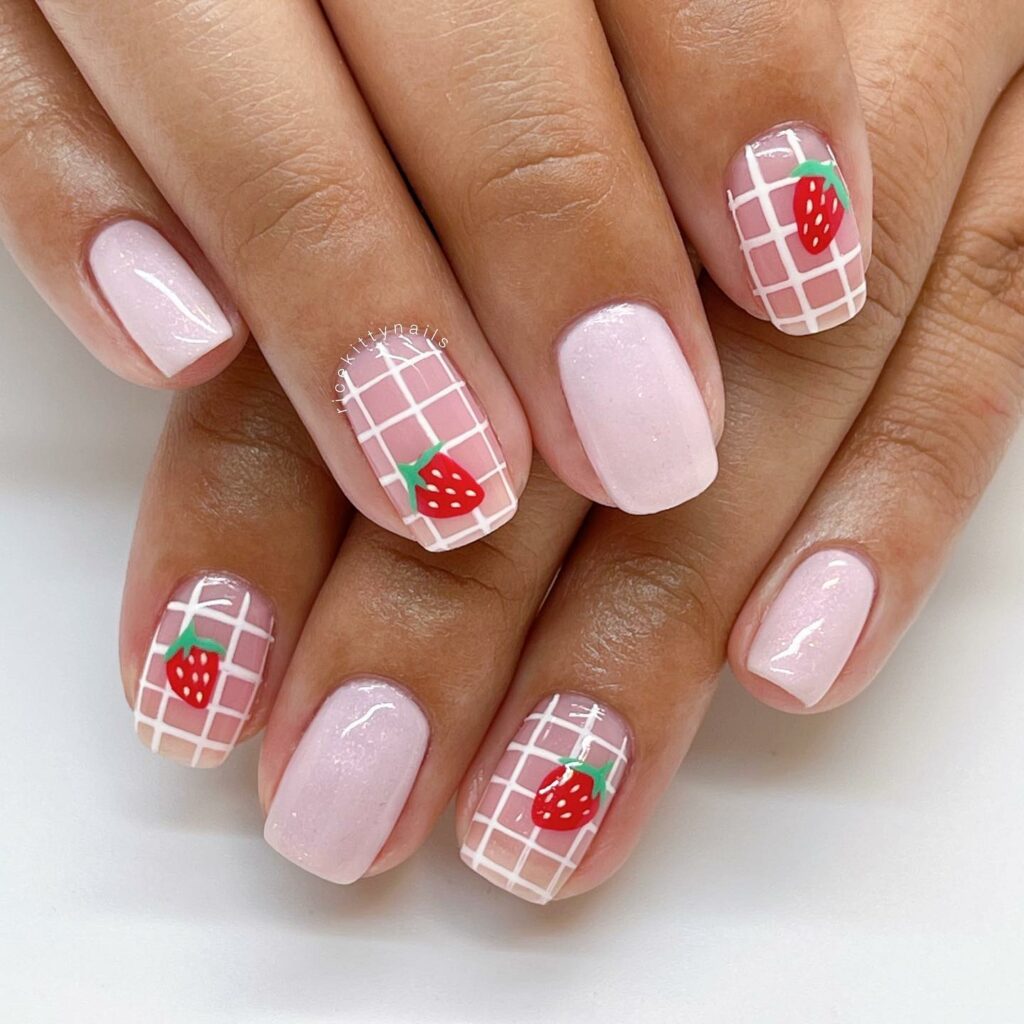 The fruit salad has now jumped onto our nails! Strawberries, tomatoes, or other juicy fruits are a fruity fest this summer.
Jade Marble
I stumbled upon the marble design during one DIY nail experiment. Not only is it deceptively simple, but using gel takes its shine to another level. A must-try!
A Milky French
Dua Lipa's nails are the stuff of legends. Those classic French tips she often sports? Timeless! And believe me, they feel extra refreshing with summer cocktails in hand.
Dark Florals
Who said summer is only about light and pastel shades? Break the mold with a black base accompanied by glittery florals. It's sunny without screaming sunshine.
Accent Petals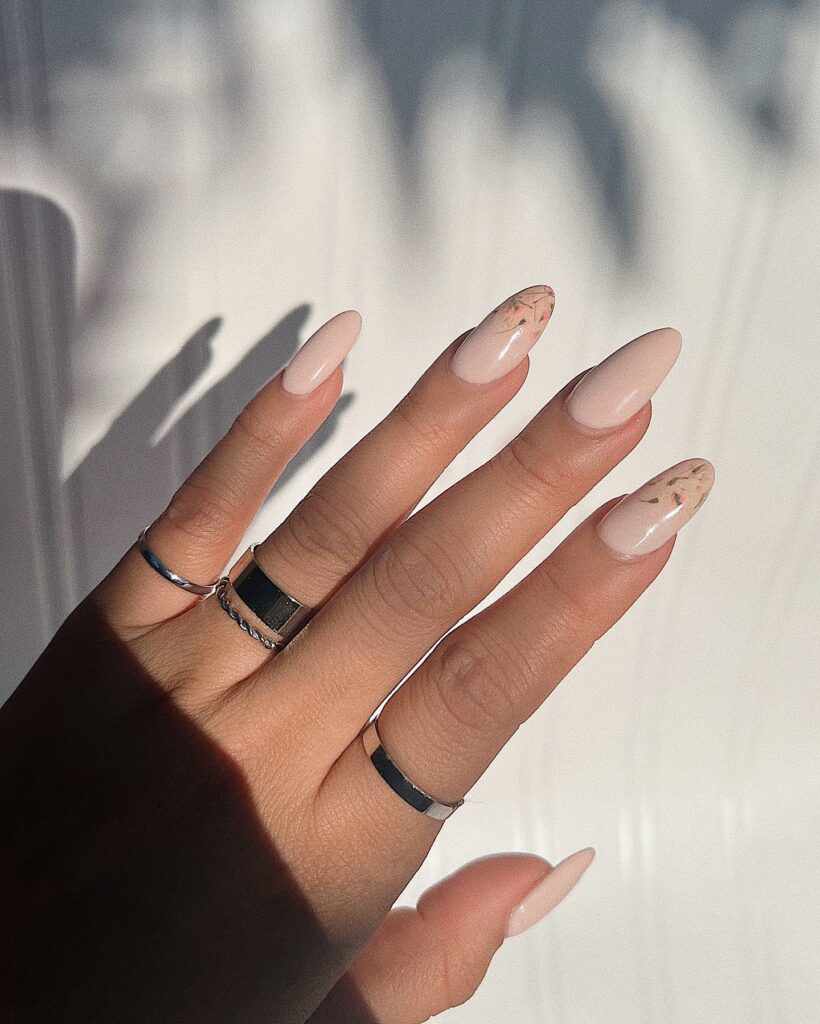 The beauty of florals? You don't have to cover every nail. A hint here and there, and you're summer-ready.
Cherry on Top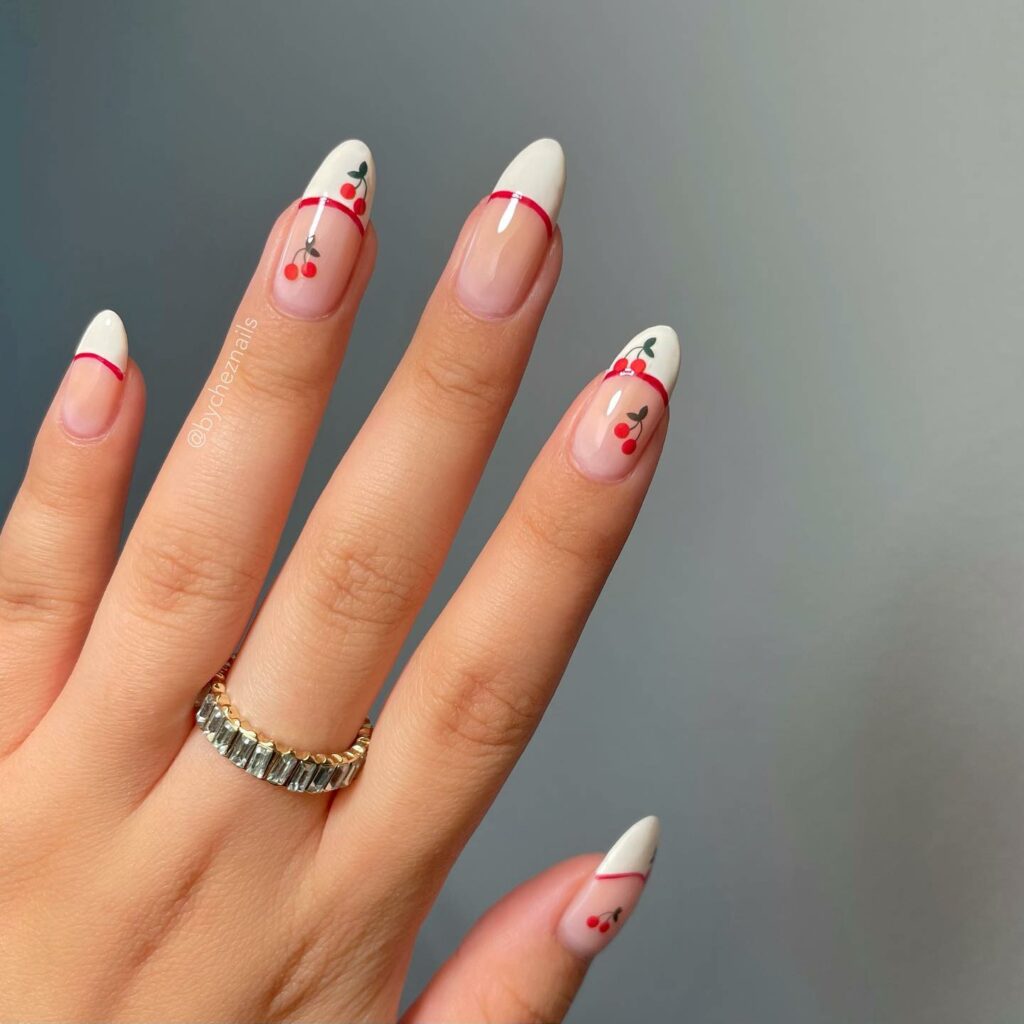 Taking inspiration from another Bieber classic: Imagine a French tip with an adorable cherry hidden somewhere. Cute, right?
Mermaid Scales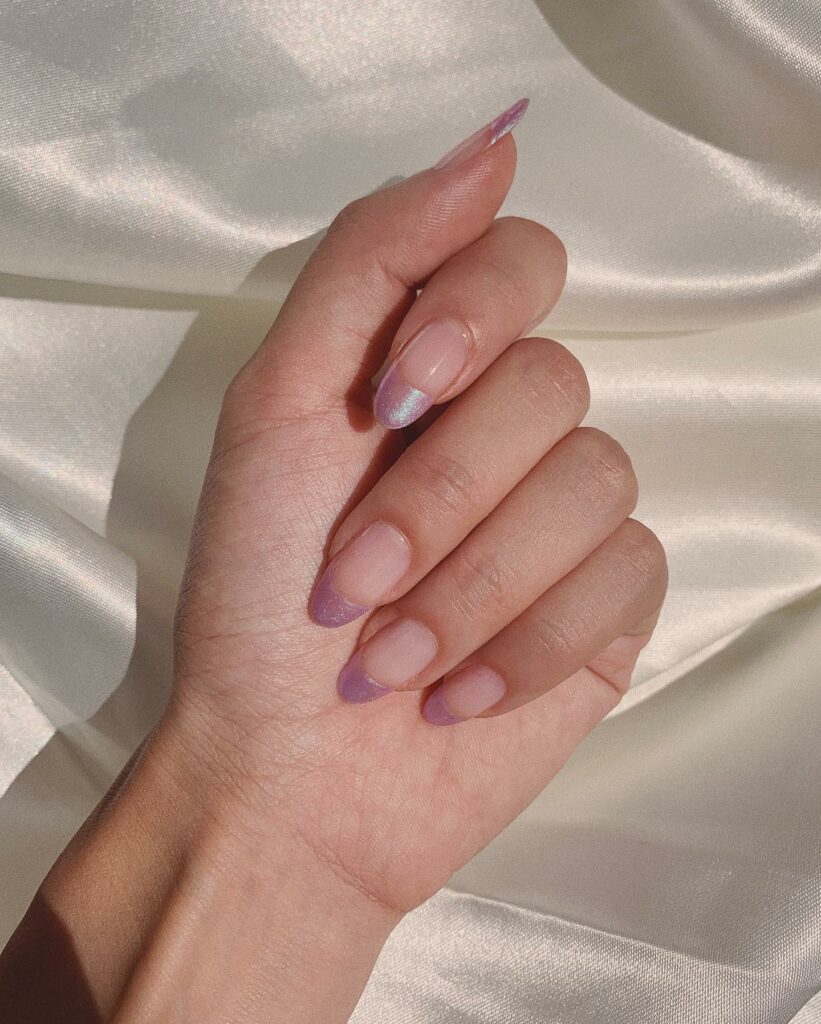 After binge-watching mermaid movies last weekend, I couldn't resist trying out the shimmery scales inspired by Hailee Steinfeld. Dive into the mermaid vibes with this one!
Vintage Print
Oh, how I adore vintage! And when nail artist Mei Kawajiri crafted this vintage-inspired toile print for Parker Kit Hill, it was love at first sight.
Check, Mate
The combination of berries and cream is not just for desserts; it's the fresh and seasonal vibe our nails crave!
Pink Glazed
Donut nails? Yes, please! The summer edition has a touch of petal pink that looks good enough to eat.
Coral Reef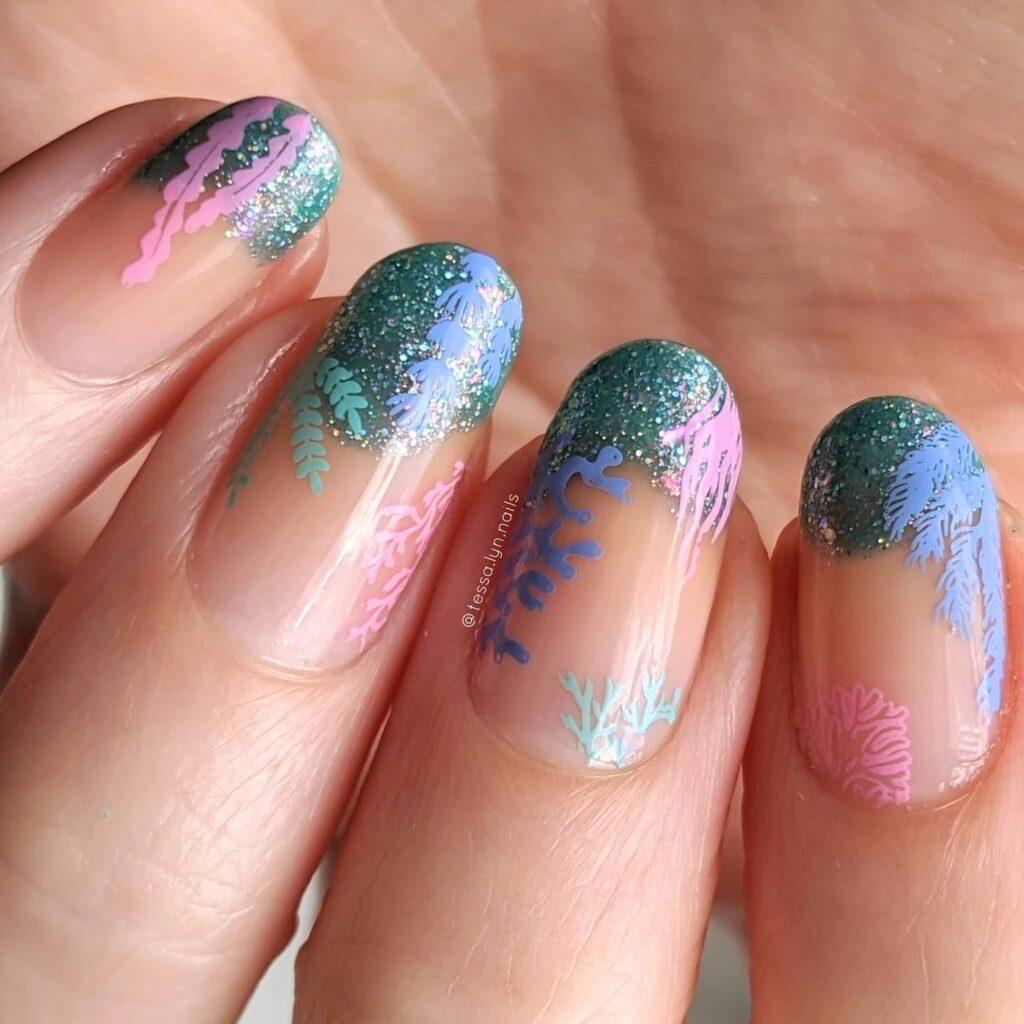 Stuck between cheery coral and bold fuchsia? Why choose? Pair them together for a match made in manicure heaven.
Color Swap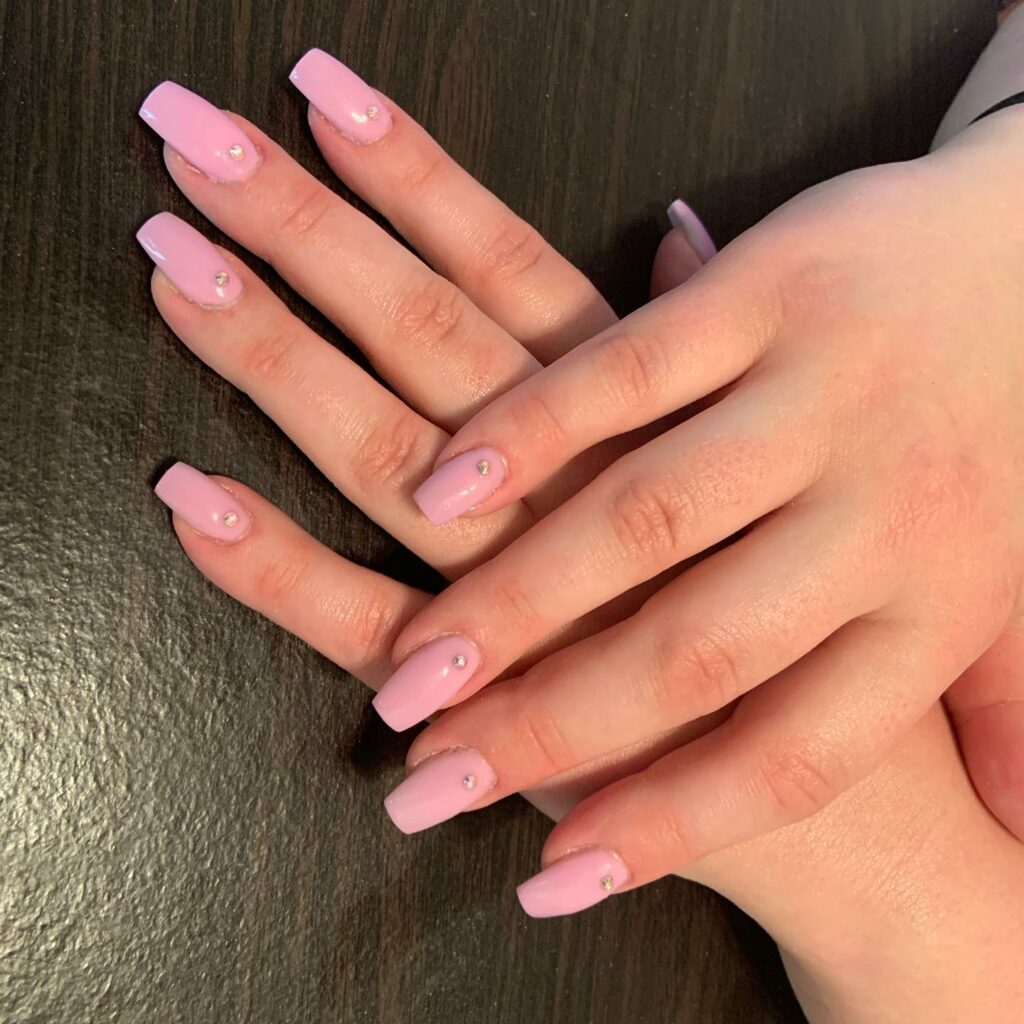 One hand has cream with pink wavy lines on top, and on the other, flip those shades. Asymmetry has always been more chic.
In Your Teals
The deep teal and shimmery turquoise blend creates a splashy under-the-sea aura for those longing for beachy vibes.
Pink Tips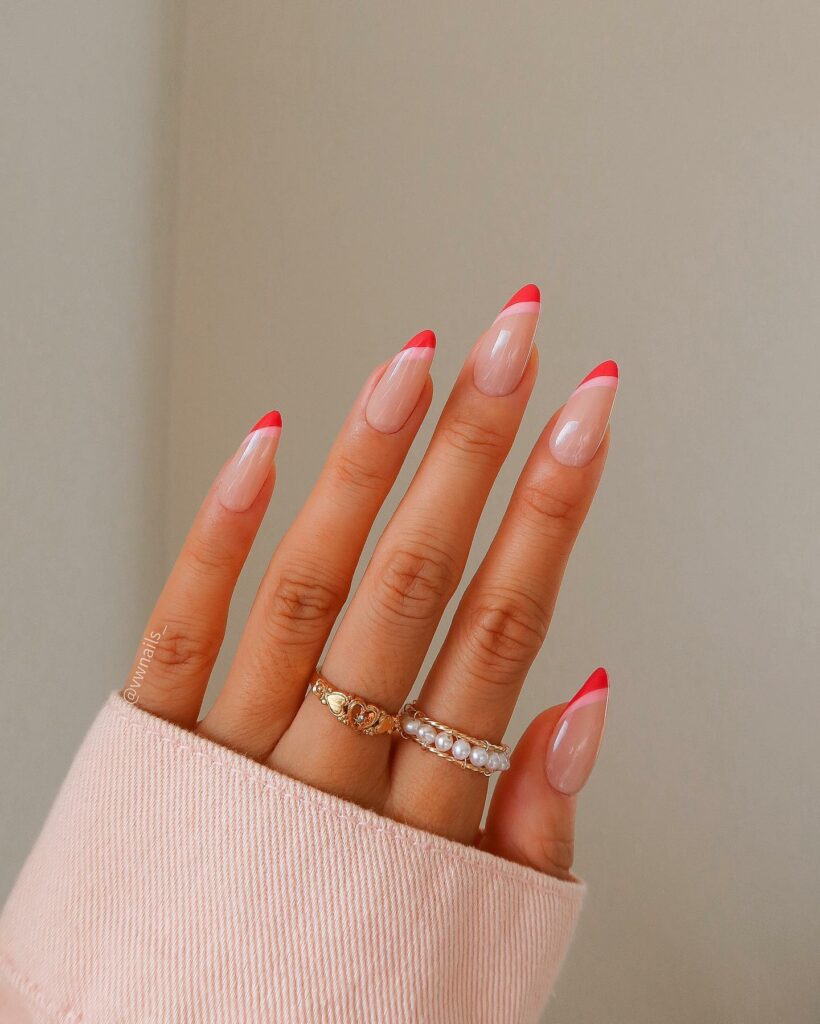 When all else fails, go for a vibrant French tip. Always a winner in my books!
Airbrush Details
Marsai Martin's airbrushed hearts and sparkles have me reminiscing about school art projects. And trust me, they look even better on nails.
Night Sky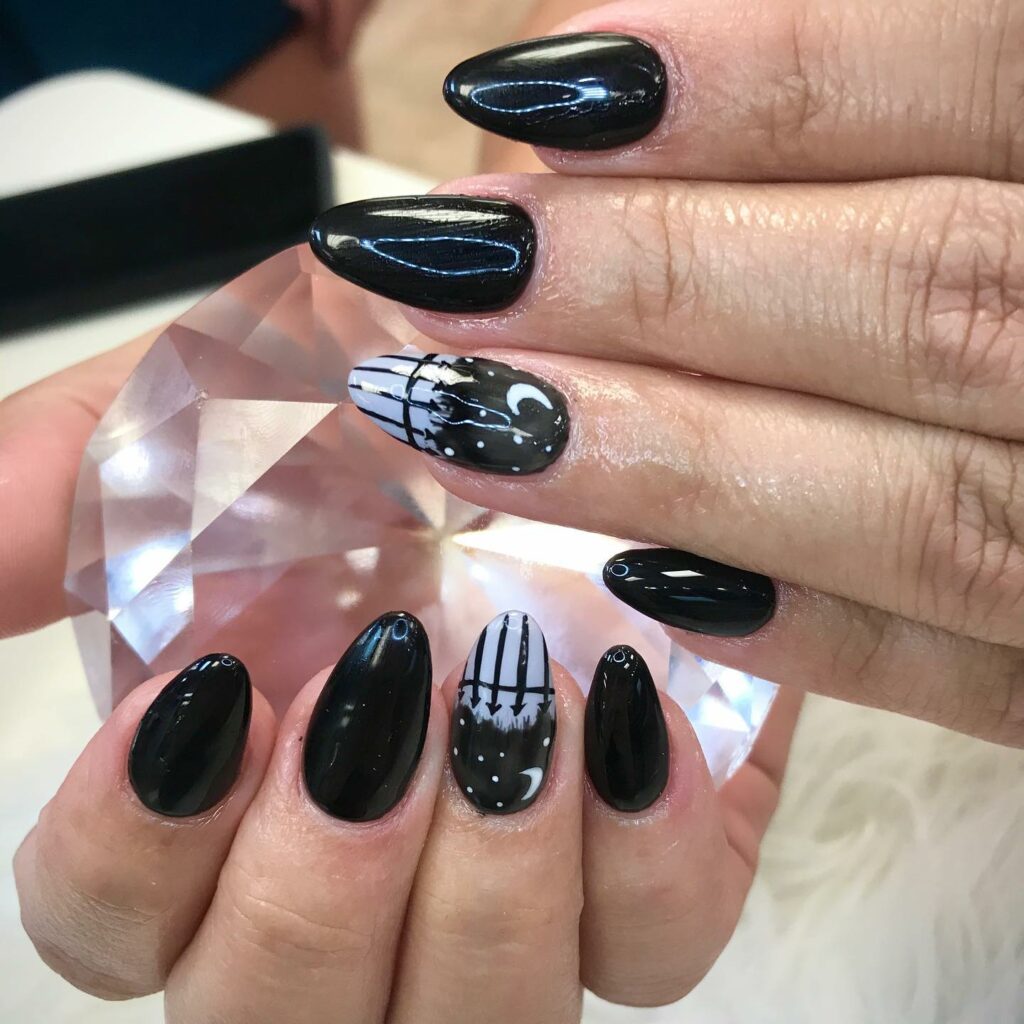 Lastly, relive the magic of those glow-in-the-dark star stickers from childhood with pastel stars on a neutral backdrop.
Gallery Girls
Consider your nails as mini canvases! Adding unique details on each nail speaks volumes about your personality, but trust me, they've been the starting point of many fascinating conversations at my summer brunches.
Float On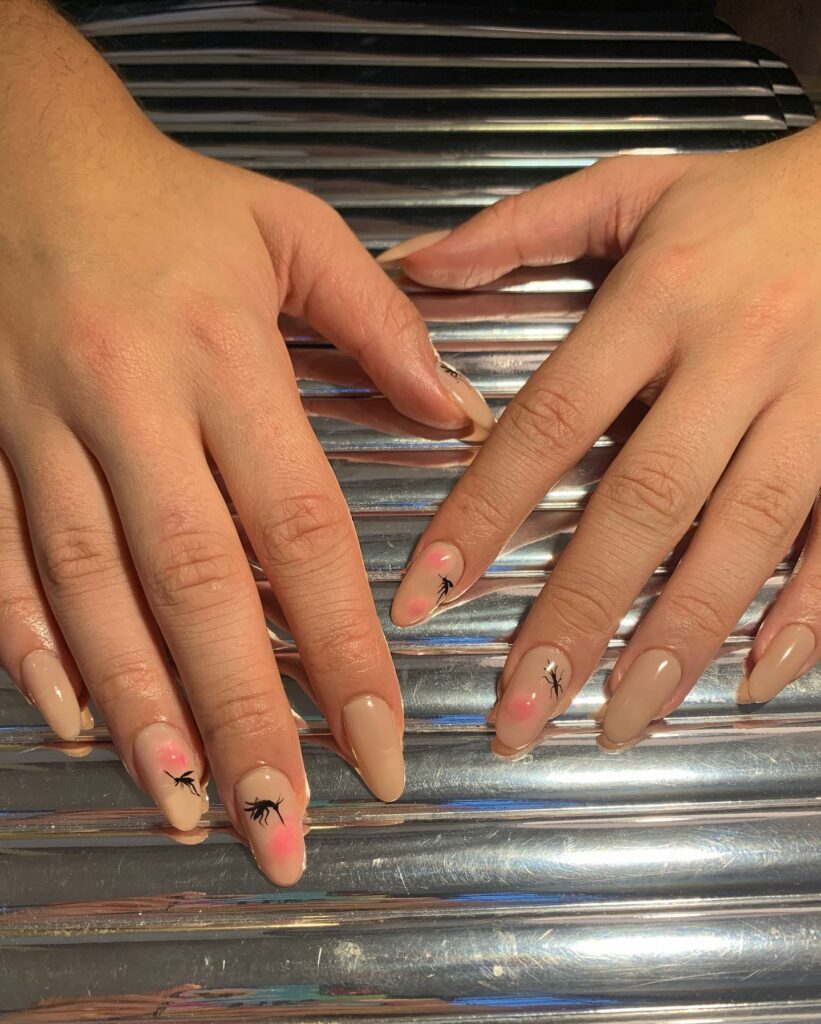 Nothing says summer quite like the delicate dance of insects. Why not capture their beauty on your nails when they're out in abundance?
Clear Tips
I was out for a coffee when a friend flashed what seemed like the regular French tips. On closer inspection, those transparent summery tips left me intrigued. It's subtle yet captivating!
Pride 365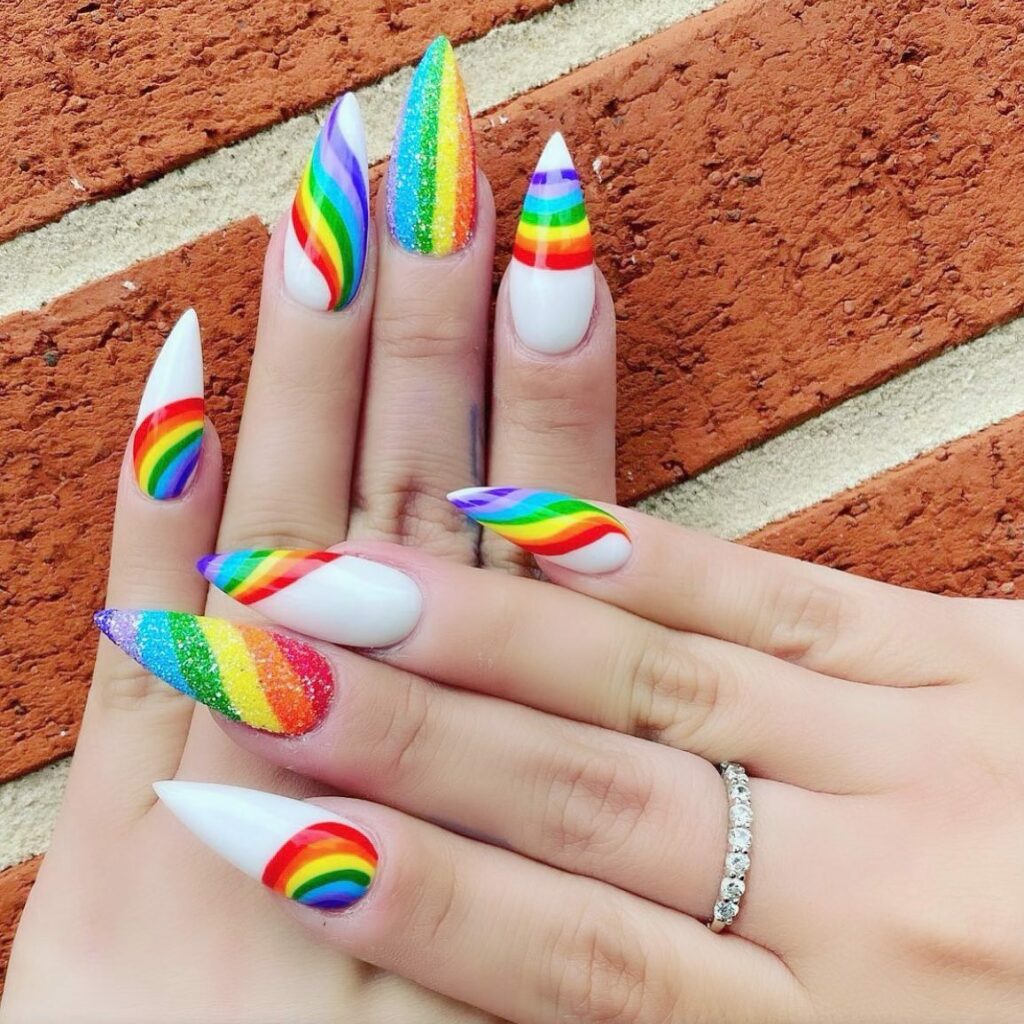 While Pride month is in June, expressing it knows no bounds. Metallic rainbow nails are not just a June affair but a summer celebration.
Colorblock Half Moons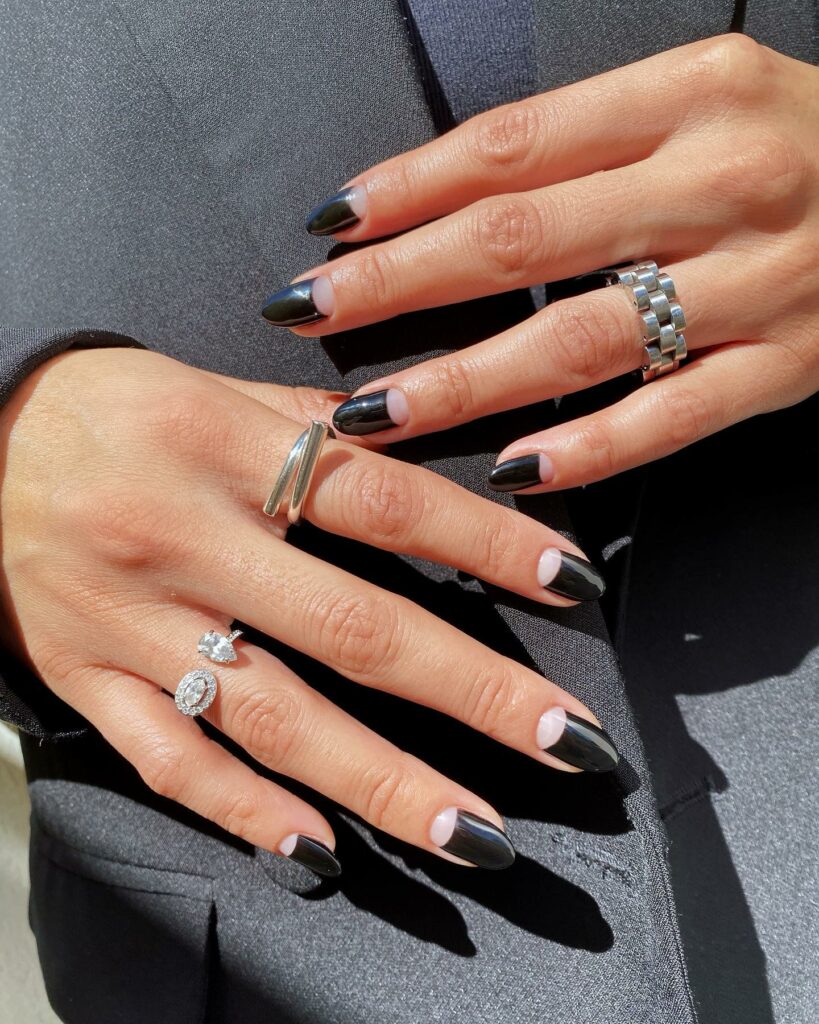 When I tried this, I initially went with two contrasting shades. But inspiration struck, and I jazzed it up with a third color. Let your imagination run wild with this one.
Lemon Squeeze
On a hot summer day, a cold lemonade is my go-to. And canary yellow nails? They're like a refreshing sip for your fingertips!
Coquette Dreams
The translucent pink base reminded me of my childhood diaries. Adding bows, hearts, and glitter? It's like revisiting those playful days.
Easy Swirl
I crafted an abstract design one lazy afternoon, armed with white nail polish and a skinny brush. It's simple yet makes a statement.
'80s Shades
Every time I sport those vibrant highlighter hues, it's like a mini-vacation to the bustling vibes of South Beach in the '80s. Time travel, anyone?
Milk Bath Nails
Remember the calm serenity of a milk bath? Imagine capturing that on your nails. Even Kim Kardashian has donned this look, paired perfectly with a light blue polish for the summer feel.
Pink nail
One hand has cream with pink wavy lines on top, and on the other, flip those shades. Asymmetry has always been more chic.
Flower Nail
My lazy-day hack: Dotting tools! They're a lifesaver for creating easy retro flowers. Plus, having each nail is different? Adds to the charm.
Ribbon Nail
Oh, how I adore vintage! And when nail artist Mei Kawajiri crafted this vintage-inspired toile print for Parker Kit Hill, it was love at first sight.
Gradient Nials
When I tried this, I initially went with two contrasting shades. But inspiration struck, and I jazzed it up with a third color. Let your imagination run wild with this one.
What Are the Specific Techniques Used To Create Each of the Summer Nail Designs?
Delving into the world of nail art requires a mix of creativity, patience, and technique. Here's a brief rundown of the methods that might be employed for each of the nail designs we've discussed:
Gallery Girls: This involves freehand nail art using fine brushes to paint detailed designs or patterns on each nail. Each nail can showcase a different art piece.
Float On: Stencils or decals can be used for intricate insect designs, or for those with a steady hand, freehand drawing with a fine brush works too.
Clear Tips: The technique for this involves applying a clear or slightly tinted base coat and then adding the white or colored tip for the French manicure. The distinction is that the main part of the nail remains transparent.
Pride 365: Start with a base coat, then use thin brushes or nail striping tapes to apply straight lines of each metallic rainbow color. Seal with a topcoat.
Colorblock Half Moons: Hole reinforcer stickers or special nail stencils can help achieve the half-moon design. Simply place the sticker, paint over it, and peel away to reveal a crisp line.
Lemon Squeeze: Start with a canary yellow base. For added detail, lemon patterns can be hand-painted or stamped using nail art stamps.
Coquette Dreams: Begin with a translucent pink base. Use nail decals or hand-paint designs with a fine brush for the girly additions. Sprinkle some glitter while the base is still wet for that sparkly touch.
Easy Swirl: With a white polish and a thin brush, paint freehand swirls, waves, or any abstract design over your base color.
'80s Shades: Neon polishes are key here. Use sponges for gradient effects, or paint each nail a highlighter hue.
Milk Bath Nails: This design often incorporates dried flowers or other elements encased in a clear polish. After applying these elements to the nail, they are sealed in with multiple layers of clear polish or gel, creating a "floating" effect.
Always remember that while techniques can guide you, the true beauty of nail art lies in your personal touch and creativity. Feel free to mix and match techniques or to invent your own. And as always, top it off with a good quality top coat to seal and protect your artwork!
Are There Any Tips for Achieving These Designs at Home?
Creating nail art at home can be a delightful and relaxing activity. Here are some general tips to help you achieve these summer nail designs in the comfort of your space:
Invest in Quality Tools: Get a set of nail art brushes with various widths for fine detailing. Dotting tools can also help in creating perfect circles or dots.
Base and Top Coats are Essential: A good base coat helps polish adhere better and prevents staining, while a top coat seals in your design and provides a glossy finish. Some designs, like the 'Milk Bath Nails,' may benefit from a gel topcoat for added depth.
Practice on Paper: Practice on paper or a nail wheel before diving into a complex design. It helps you perfect the technique without the pressure.
Use Tapes or Stencils: For designs that require straight lines or specific shapes, nail striping tapes or stencils can be very helpful.
Sponging: For gradient or ombre designs, use a sponge (a piece of makeup sponge works well) to dab on a transition of colors.
Clean-up: Keep a thin brush dipped in nail polish remover handy for cleaning up edges or any mistakes.
Patience: Allow each layer of polish to dry thoroughly before applying the next. This prevents smudging and keeps designs crisp.
Nail Decals and Stickers: If you need more confidence in your freehand skills, there's no shame in using decals or stickers to achieve certain designs. They come in a variety of patterns and are super easy to use.
Protect Your Workspace: Lay down paper towels or old newspapers to protect your table from spills or polish drops.
Stay Inspired: Keep a folder or Pinterest board of nail designs you love. Watching nail art tutorials online can also provide new techniques and inspiration.
Take Care of Your Nails: Healthy nails are the best canvas. Moisturize your cuticles, avoid using your nails as tools, and consider taking biotin supplements to strengthen them.
Stay Adventurous: The best part about nail art is that you can simply remove it and start again if you don't like it. Don't be discouraged if it doesn't appear perfect the first time. Practice makes perfect!
Remember, it's all about having fun and expressing yourself. With a little practice and creativity, you'll be rocking those summer nail designs in no time! Happy DIY nail designing!
Is There a Particular Brand or Type of Nail Polish Recommended for These Designs?
When it comes to nail art and designs, the quality of the nail polish can greatly influence the outcome. However, the "best" brand can be subjective and depends on individual preferences, needs, and budget. That being said, certain brands are consistently lauded by nail artists and enthusiasts for their quality, range of colors, and innovative formulas. Here's a list to guide you:
OPI: Known for its long-lasting formula and broad brush, OPI offers an extensive color range. It's a favorite for both professionals and home users.
Essie: This brand has been around for a while and is known for its delicate, chic shades and consistent formula.
China Glaze: Popular among nail artists for its vibrant shades and good consistency, China Glaze often releases themed collections, which are fun for nail art.
Zoya: If you're looking for a brand that's free from harmful chemicals, Zoya is a top choice. Their polishes are vegan and 10-free (meaning they don't contain the top 10 most harmful chemicals often found in nail polish).
CND Vinylux: From the makers of the popular Shellac, this brand offers a weekly polish that's known for its durability. Their top coat is especially praised.
Orly: Their rubberized base coat is a hit among nail enthusiasts for making longer manicures. Their color range is also commendable.
Sally Hansen: This brand offers various formulas, from quick-dry to gel-like finishes. The "Miracle Gel" line is a popular choice for those wanting a gel finish without the UV lamp.
ILNP: If you love holographic or ultra-chrome finishes, ILNP is the brand to explore. Their polishes are vibrant and have a unique shift in colors.
Morgan Taylor: A newer brand that's quickly gaining a reputation for its highly pigmented colors and smooth application.
Nails Inc.: Known for their innovative formulas and treatments. Their nail kale formula, which contains kale extract to strengthen nails, is particularly notable.
Stamping Polishes: If you're into nail stamping, specialized stamping polishes from brands like Konad or Mundo de Unas are recommended because of their thick consistency and vivid colors.
Investing in a range of good-quality acrylic paints can be a game-changer for nail art. They allow for detailed work and mix well to create custom colors.
Lastly, always use a good base coat to prevent staining and a durable top coat to seal and protect your designs.
Whatever brand you lean towards, it's crucial to ensure the product is stored correctly and is within its usage period for the best results. Remember, the world of nail polish is vast and ever-evolving, so there's always something new to explore and try!
Conclusion
Navigating the vibrant world of nail art offers endless opportunities to express oneself, but with great style comes great responsibility. While exploring these trendy designs, always ensure you use safe, quality products to minimize any risks to nail health. Hydrate those cuticles and give your nails a breather between manicures. Remember, true fashion lies in personal comfort and well-being as much as aesthetics. Stay informed, experiment fearlessly, and let your nails be the canvas of your summer tales. Here's to making every tip and stroke count!
Feature image by Element5 Digital on Unsplash