As summer heats up, aren't we all looking for a fresh style update? Move over pastels, it's time to embrace the sassy and vibrant world of Watermelon Nail Art. Dive into this article and get ready to uncover a trove of nail designs, ranging from the subtle whispers of watermelon shades to dramatic, full-fruit masterpieces. Why am I vouching for watermelon? It perfectly captures the essence of summer – fresh, fun, and oh-so-photogenic! Plus, it complements every hand, whether you're someone who likes to experiment at home or you've got your nail tech's number on speed dial. By the time you finish reading, you'll be geared up with enough inspiration to rock the watermelon trend with confidence. Dive in, and let's nail this look together!
Watermelon Slices Nail Design
Dive straight into the core of summer with this design that mirrors the slices of our favorite refreshing fruit. These nails capture the iconic red and green, making every hand gesture a mini celebration of watermelon season.
Blush Watermelon Nails Palette
Soft, delicate, and reminiscent of a watermelon's inner glow, these nails blend femininity with a summery touch. It's where the subtle beauty of a blush meets the signature watermelon aesthetics.
Fruit Basket Watermelon Mani Medley
A diverse collection of fruity designs, with watermelon taking center stage. This manicure combines the juiciness of watermelons with other summer fruits, offering a fresh and vibrant look.
Gradient French Watermelon Nails Fusion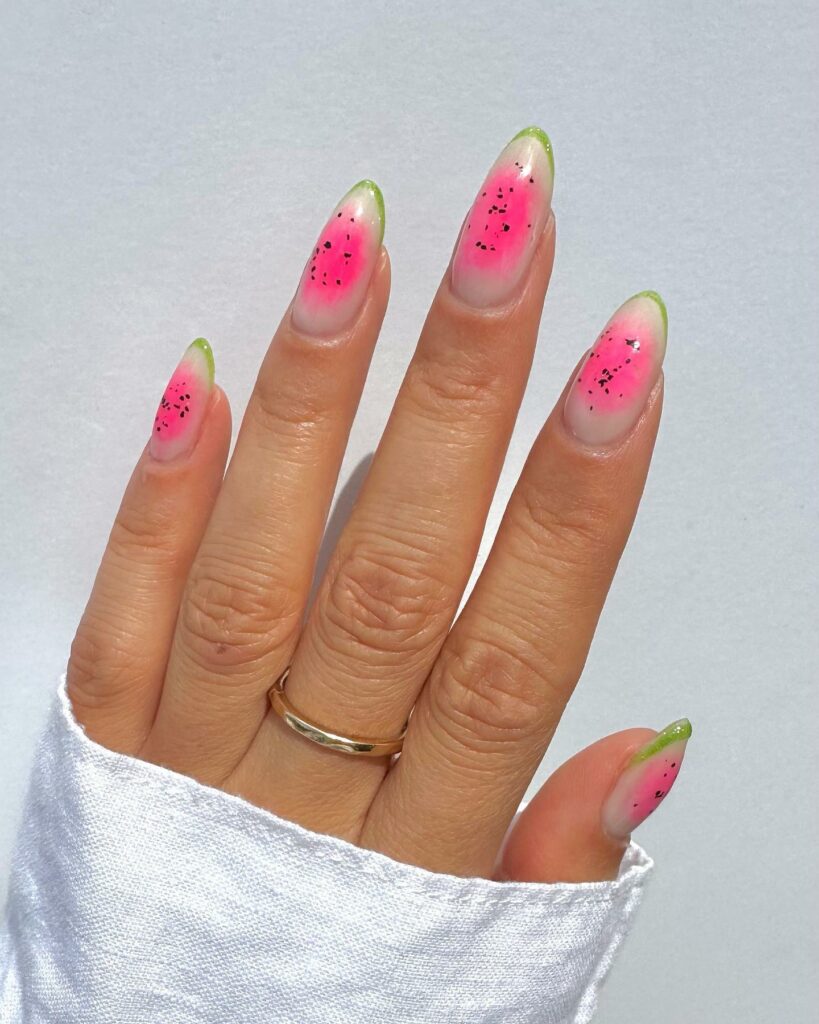 Classic French manicure gets a summer twist with a gradient transition from watermelon's lush green to its vibrant red. It's an innovative fusion that's both chic and refreshing.
Neon Watermelon Nails Pop
Illuminate your fingertips with the bright neon shades inspired by watermelons. Bold, vibrant, and unmissable, these nails are a testament to summer's energetic vibes.
Sugar Blush Watermelon Nails Delight
Imagine a watermelon sprinkled with a dash of sugar – that's the sweet subtlety of this design. The delicate shimmer adds more sophistication to the iconic watermelon colors.
Holo Watermelon Nails Spectacle
Dazzling holographic effects meet watermelon-inspired designs in this show-stopping manicure. It's where the magic of holography enhances the natural allure of watermelon patterns.
Short Watermelon Nails Charm
Perfect for those who prefer shorter nails, this design captures the essence of watermelon in a compact form. It proves that you don't need length to make a summary statement.
Almond French Watermelon Nails Elegance
The almond shape combined with the French tip and watermelon theme creates an epitome of elegance. It's a stylish way to pay tribute to the beloved summer fruit.
Reverse French Watermelon Nails Innovation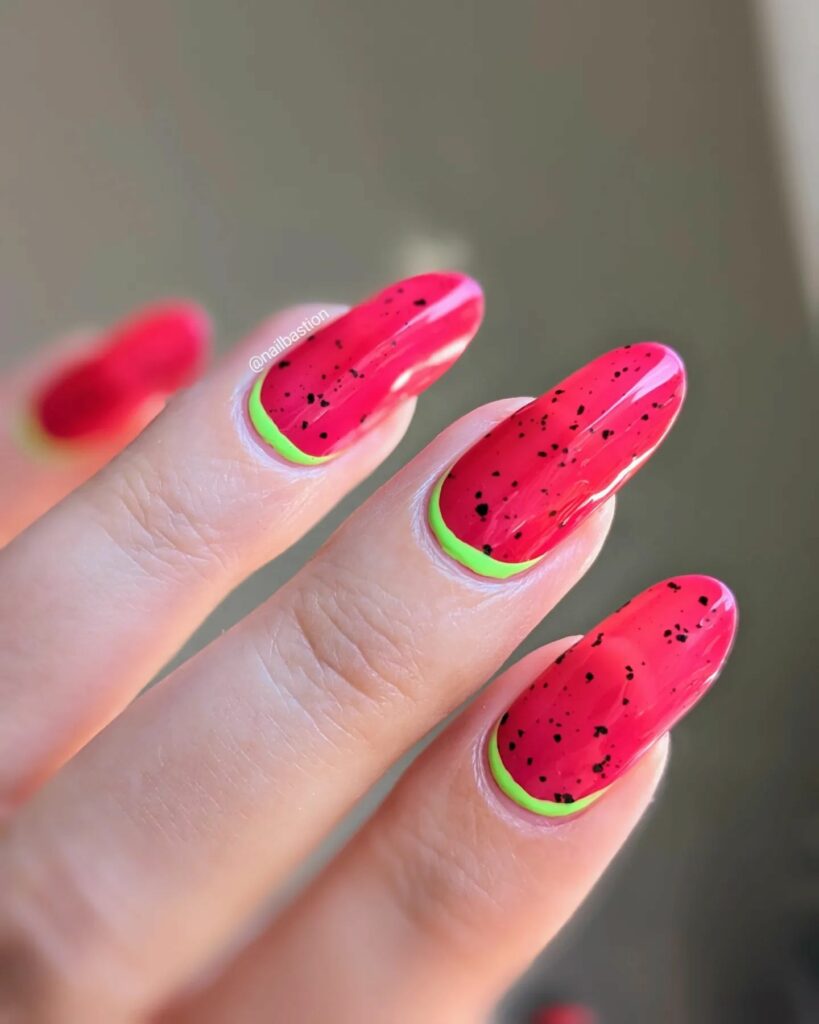 Flipping the script on the traditional French tip, this design places the watermelon colors in a reverse manner. It's an innovative approach that adds a contemporary flair to a classic style.
French Blush Watermelon Nails Sophistication
Pairing the softness of a blush hue with the iconic French tip, all while staying true to the watermelon theme. This design is a harmonious blend of sophistication and summer fun.
Abstract Watermelon Nails Artistry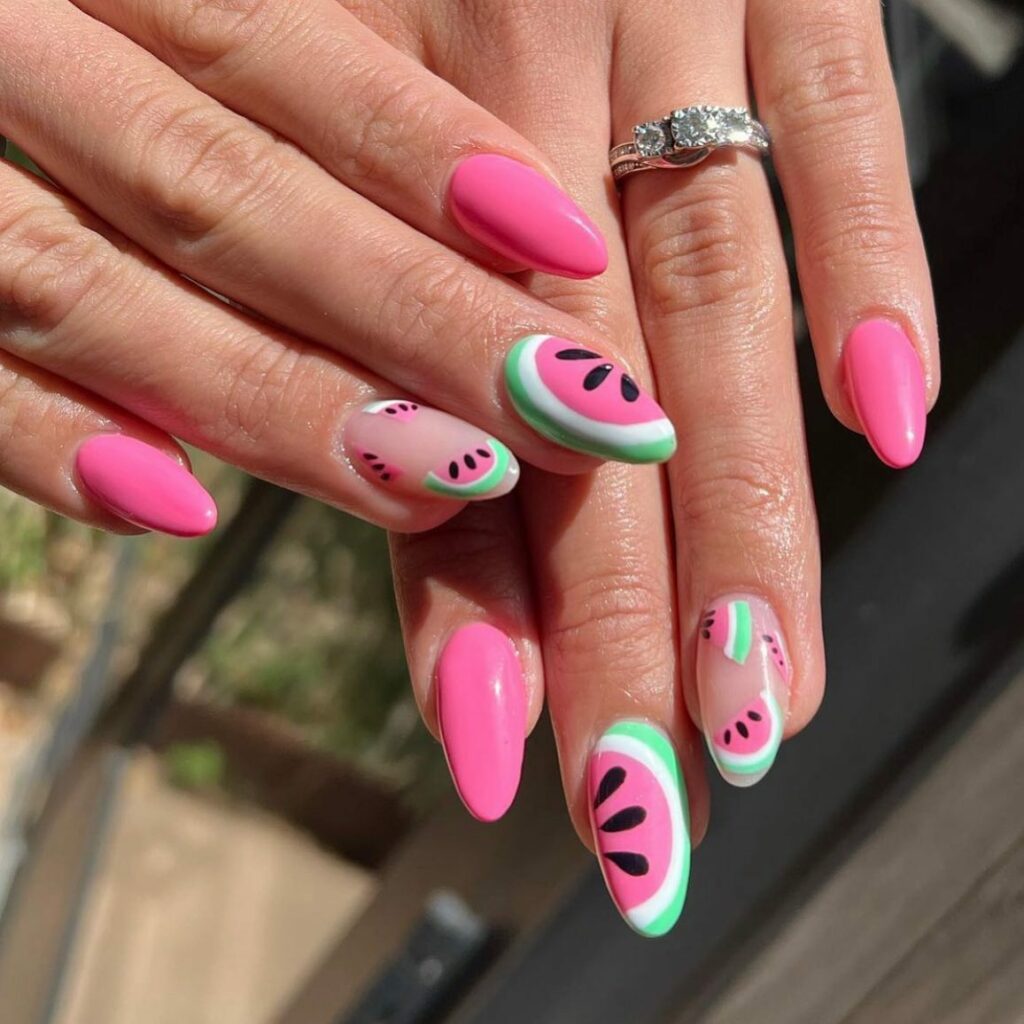 Break away from the conventional with abstract designs inspired by watermelon. It's a modern take on the fruit's essence, allowing creativity to flow freely.
Classy Watermelon Nails Rendition
Embodying grace and finesse, this design elevates the watermelon theme to a level of pure class. It's for those who want to celebrate summer with elegance.
Tiny Watermelon Nails Delight
Perfect for those who prefer minimalist designs, these nails capture the watermelon theme in dainty, small patterns. A subtle nod to summer's favorite fruit for every nail enthusiast.
Juicy Watermelon Nails Splash
Evoking the freshness and juiciness of a watermelon slice on a hot day, these nails are a vibrant testament to the fruit's allure. Dive into the season with this succulent design.
Watermelon Clear Nails Fusion
A blend of clear nail aesthetics with watermelon-inspired designs, offering a fresh, transparent look. It's a modern approach to subtly showcasing the beauty of watermelon.
Stiletto Watermelon Nails Edge
The sharpness of the stiletto shape combined with the playful watermelon theme creates a striking balance. It's where edgy meets fruity, making a bold statement.
Tiny Watermelon Nude Nails Elegance
Incorporating tiny watermelon designs on a nude base, this manicure blends subtlety and summer vibes. It's a delicate homage to the watermelon while keeping things understated.
Round Watermelon Nails Charm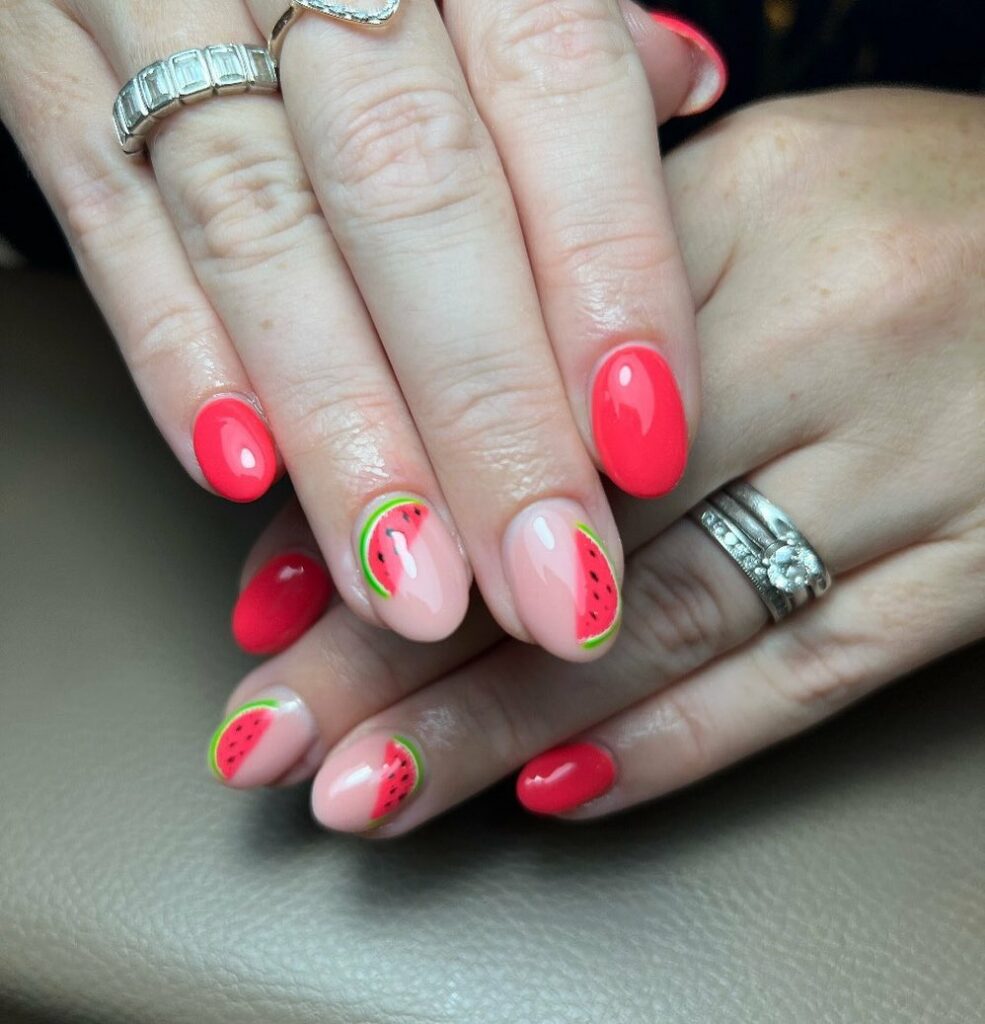 Round nails adorned with watermelon-inspired designs capture the fruit's essence in a classic nail shape. A timeless choice for watermelon lovers.
Glossy Watermelon Nails Shine
Celebrate the sheen of a freshly cut watermelon with these glossy nails. They radiate summer brightness, capturing the fruit's luster.
Classy Short Watermelon Nails Sophistication
Keeping things elegant and concise, this design brings the watermelon theme to shorter nails. It's a chic way to embrace summer's iconic fruit without going overboard.
Blush French Watermelon Nails Grace
The soft blush combined with the watermelon design in a French manicure style evokes grace and femininity. It's where classic meets summer in a harmonious dance.
Vibrant Watermelon-Inspired Nail Artistry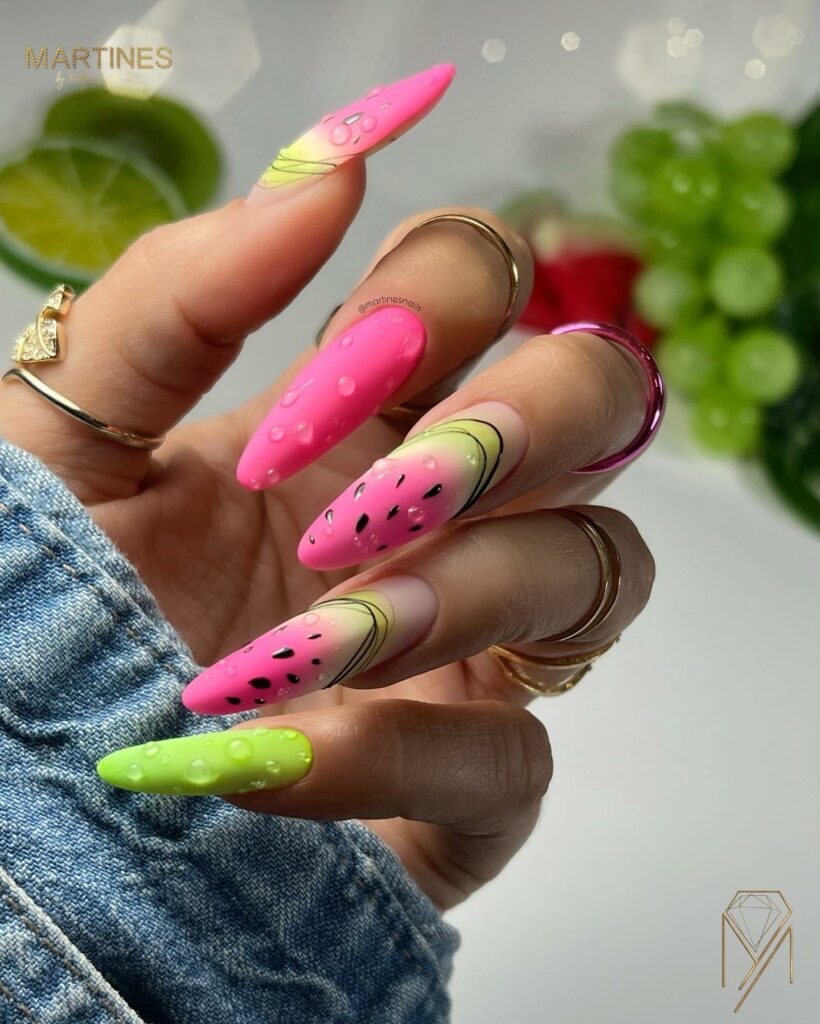 Drenching fingertips in vibrant hues, these nails beautifully capture the playful essence of summer with their intricate watermelon designs. The blend of electric pink, neon green, and delicate detailing emulates the refreshing fruit and showcases impeccable attention to detail, elevating the manicure game to new summery heights.
Square Watermelon Nails Precision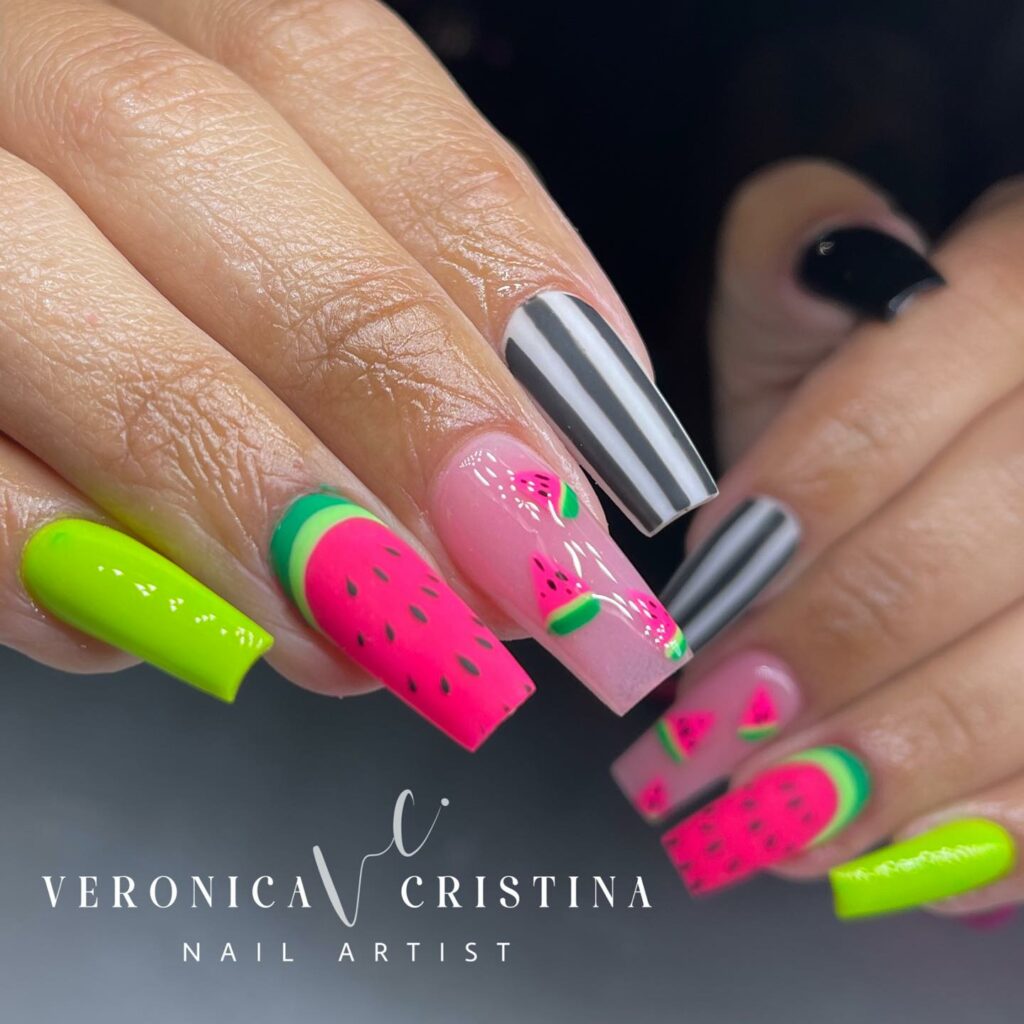 The defined edges of square nails paired with watermelon designs offer a precise and neat look. It's a structured way to flaunt the summer theme.
Diverse Watermelon Medley Nail Creations Fiesta
A potpourri of watermelon-inspired designs, offering variety for every mood and occasion. From abstract to detailed, it's a watermelon party at your fingertips.
Watermelon Long Nails Extravaganza
Embrace the expanse of long nails with intricate watermelon designs. It's a canvas that celebrates the grandeur and detail of the beloved summer fruit.
Minimalist Watermelon Nails Essence
Subtle and refined, these designs capture the watermelon theme with minimalistic patterns. It's a serene take on the vibrant fruit, perfect for those who adore understated elegance.
Flaming Watermelon Nails Flare
Infusing the fiery passion of flames with the coolness of watermelon, these nails are a visual treat. They're a bold embodiment of summer heat meeting refreshing fruitiness.
Elegant Watermelon-Tinted Simplicity
A breath of fresh summer air, these nails harmoniously combine the softness of pastel pink with a pop of vivid green at the tips. Their understated elegance embodies the essence of minimalist style while still paying homage to the fun and freshness of watermelon-inspired themes.
12 More Ideas For Watermelon Nail Art
Watermelon nail art has become popular due to its vibrant and playful nature. Here are some other design ideas that feature watermelon nail art:
Watermelon Seed Accents: A light pink or red base with black seed-like dots. This design captures the essence of a watermelon slice without needing intricate details.
Watermelon Rind Tips: Green-tipped nails that represent the rind, transitioning into a pink or red base to signify the fruit. This gives a twist to the classic French manicure.
Glittery Watermelon: Incorporate glitter polish in the pink/red part for some shimmer, or use green glitter polish for the rind for extra sparkle.
Geometric Watermelon: Abstract, geometric patterns using the iconic pink, black, and green of watermelons.
Watermelon Patch: Each nail represents a piece of watermelon; when fingers are aligned, it forms a complete fruit.
Ombre Watermelon: Transition from dark green to light green to pink, representing the watermelon from its rind to its center.
Half-Moon Watermelon Seeds: Incorporating the half-moon nail design with black seeds on a pink or red base.
Watermelon Wedges: Drawing small triangular wedges of watermelon on the nails, making it appear as if small slices are resting on each nail.
Pop Art Watermelon: Bold, vibrant colors with black outlines give the watermelon design a comic or pop art feel.
3D Watermelon Art: Using small beads or rhinestones to represent seeds or give the design a textured feel.
Watermelon with Bite: One or two nails showing a watermelon slice with a bite taken out, and the rest of the nails depicting whole slices.
Dual-toned Watermelon: Using two shades of pink or red in a single design to provide depth and variation to the nail art.
10 Tips For The Perfect DIY Watermelon Nails
Prep Your Nails: Before you start, make sure your nails are clean, filed, and buffed. Apply a clear base coat to protect your nails from staining and to ensure a smoother polish application.
Select the Right Colors: For the perfect watermelon hue, you'll primarily need a pink or red polish. Keep green on hand for the rind, black or dark brown for the seeds, and perhaps a paler pink or white for added dimension.
Sponging for Gradient Effect: For a gradient effect, use a makeup sponge. Apply your pink/red and white in bands on the sponge and then dab onto your nail. This creates a seamless blend between the flesh and rind of the watermelon.
Thin Brush or Toothpick for Seeds: Don't have a nail art brush? No problem! Dip the pointed end of a toothpick into your black or brown polish to dot on seeds. They don't have to be perfect; in fact, slightly irregular shapes look more authentic.
Tape for Clean Lines: If you're looking to create a crisp rind at the base or tip of your nail, use tape as a stencil. Place it where you want the color to stop, paint over, then peel away while the polish is still wet.
Quick Fixes with Cotton Swabs: Dip a cotton swab in nail polish remover to clean up any mistakes or polish that's landed outside the lines.
Try Different Tones: Every watermelon is unique. Experiment with darker pinks or even corals to see what shade you love most.
Seal with a Top Coat: To ensure your watermelon design lasts longer and shines brighter, always apply a clear top coat. This not only adds a glossy finish but also prevents premature chipping.
Patience is Key: Allow each layer of polish to dry completely before moving on to the next. This will prevent smudging and make your design look neater.
Inspiration is Everywhere: Check out online tutorials, images, or even slice open a real watermelon for inspiration. Remember, the beauty of DIY is making it your own, so don't be afraid to get creative!
Still Looking for Inspiration, Then Check Out This Video
Conclusion
Watermelon-inspired designs have truly carved a delightful niche in the vibrant world of nail art. The allure of these designs lies in their ability to merge summer's playful vibe with a touch of refined elegance. When diving into this trend, choosing high-quality nail paints ensures longevity and prevents potential nail damage. Also, if you opt for intricate designs, consider consulting a professional nail artist to achieve the best results. Maintaining proper nail health should be at the forefront, as with all nail trends. Regularly moisturize your cuticles and give your nails a break between applications. With these pointers, you're ready to embrace the watermelon nail trend. Dive in, experiment, and most importantly, have fun with it! Happy painting to all the art and style aficionados out there!
Feature image @martinesnails via Instagram
Last reviewed and updated on October 30, 2023