In today's post, we'll dive into the essentials of selecting the right style, color, and design that not only complements your outfit but also add a dash of your personality to the occasion. Whether you're leaning towards the timeless elegance of French tips or the modern charm of minimalist art, there's a little something for everyone. You'll also gain insights into the latest trends and how to ensure your nails stay chip-free throughout the event—because there's nothing more vexing than a flawed manicure when you're trying to catch the bouquet! And, of course, I'll share my personal go-to tips for that picture-perfect finish that stands up to the test of an all-night celebration. So, grab your polish (or your nail artist's number) and let's get those nails wedding-guest-worthy!
Almond French Nails
The almond shape lends a modern twist to the classic French manicure, making it a sleek choice for the contemporary wedding guest. Its elongated form flatters the fingers, offering a sophisticated edge.
French Nails With Rhinestones
Classic French nails get a luxe upgrade with the sparkle of rhinestones, adding a festive and fancy touch to your formal attire. Perfect for the guest who loves a bit of bling.
Gold French Tips
Elevate the classic French tip with a stroke of gold for a luxurious appeal. It's a nod to luxury suitable for formal ceremonies and extravagant receptions.
Daisy Flowers And Gold Flakes On Short Nails
Combine the clarity of a translucent base with the delicate daisy and the richness of gold flakes for an airy and ornate nail design. This style speaks to those who adore intricate details.
Black French Wedding Guest Nails
For the guest who loves a bold statement, black French nails offer a dramatic yet elegant contrast to the traditional wedding palette. It's a confident choice that pairs well with sleek, monochrome outfits.
Sparkling White French Mani
White French nails with added sparkle bring a fresh and airy feel to the wedding canvas. They shimmer elegantly and are versatile enough for day and night celebrations.
Glitter And Pearls Perfect For The Wedding Guest
For a touch of vintage glamour, small round nails adorned with glitters and pearls achieve a delicate balance of sparkle and sophistication. This nail art is perfect for adding a classic yet festive finish to your look.
White Almond Wedding Guest Nails
Sleek, thin lines on a white almond base offer a minimalist yet striking nail art choice, perfect for the modern and stylish guest. This design brings a contemporary edge to classic wedding elegance.
Short French Wedding Guest Nails With Rhinestones
The classic French manicure on short nails becomes a sparkling affair with the addition of rhinestones, blending practicality with a sprinkle of glamour. It is ideal for dancing the night away without worry.
White And Black French Wedding Guest Nails
For a graphic and bold statement, combine white and black in a French manicure for a look that defies convention yet retains an air of sophistication. This style suits the fashion-forward guest who enjoys a twist on tradition.
Pink Wedding Guest Nails With Gold And Orange Swirls
Set a playful and vibrant mood with pink nails adorned with gold and orange swirls for a touch of bohemian charm. This fun twist on wedding nail art is perfect for guests who love to stand out with a splash of color.
White Wedding Nails With Botanical Design
Immerse in the romance of nature with white wedding nails featuring delicate botanical designs. This elegant art choice whispers of garden parties and springtime vows.
Almond Wedding Guest Nails With 3D Flower Design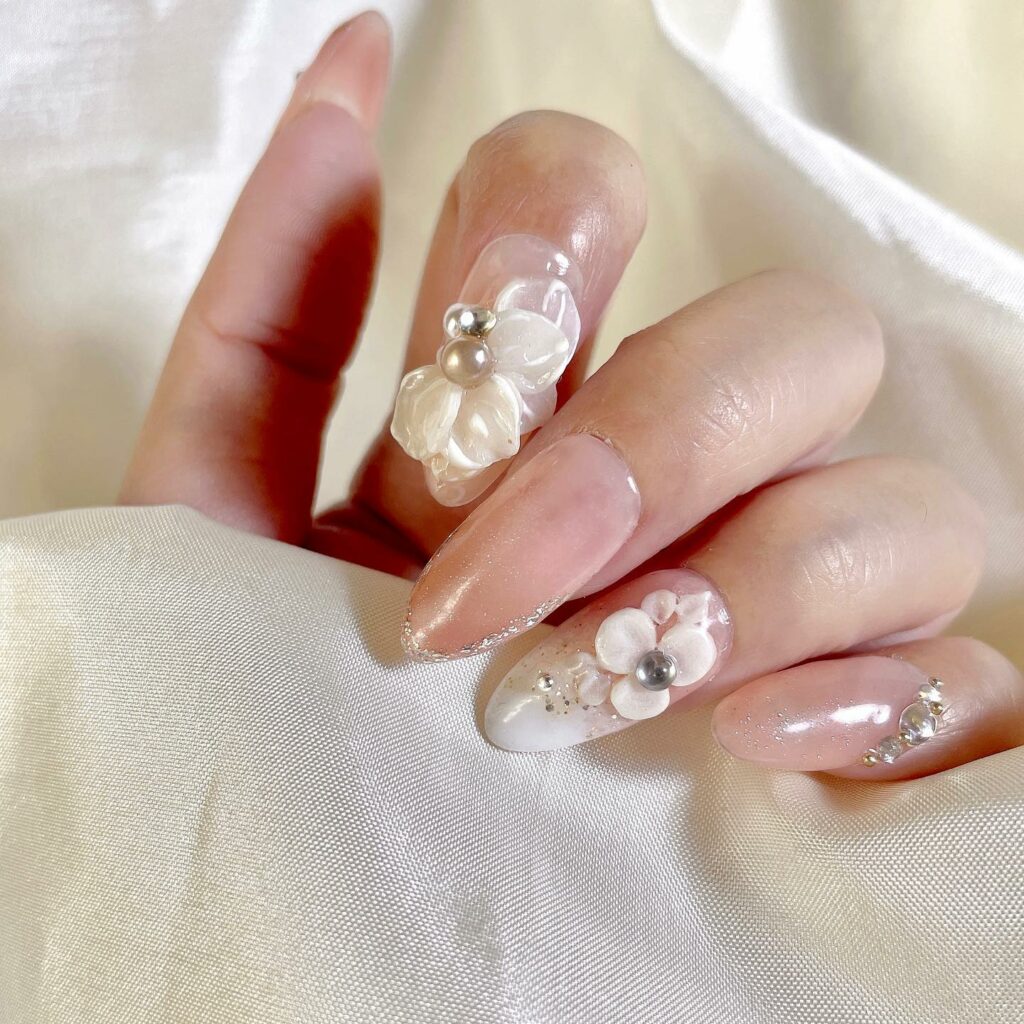 Give your nails a touch of sculptural beauty with 3D flowers atop an almond base. It's a tactile experience that adds dimension and a hint of romance to your look.
Brown French Wedding Guest Nails
Brown French nails bring a warm and earthy twist to the classic French tip, ideal for rustic or autumn weddings. It's a unique choice that complements a range of warm-toned outfits.
Almond French Wedding Guest Nails With White Pearls
Adding white pearls to almond French nails infuses your manicure with grace and sophistication. This design is perfect for the guest with a penchant for timeless elegance.
Milky White Almond Wedding Guest Nails
Milky white nails in an almond shape offer a dreamy and creamy canvas that's both soft and chic. It's a versatile style that suits any wedding theme.
White Almond With Rhinestones Wedding Guest Nails
Elevate your white almond nails with the shimmer of rhinestones for a look that's as glamorous as elegant. This design ensures your nails shine as brightly as the occasion.
Short French Wedding Guest Nails With Gold Flakes
Classic French tips on short nails are practical yet stylish, and with the addition of gold flakes, they exude a festive flair. This manicure is perfect for those seeking a blend of comfort and sophistication.
Ombre Almond Wedding Guest Nails With Gold Tips
An ombre gradient paired with almond-shaped nails and finished with gold tips creates a stunning visual effect. It's a trendy and artistic choice that's bound to draw eyes.
Fall-Inspired Wedding Guest Nails
Embrace the essence of autumn with fall-inspired nails featuring a palette of seasonal hues and designs. It's a thematic choice that celebrates the beauty of the season.
Green And Gold Wedding Guest Nails With 3D Designs
The regal combination of green and gold on nails, accented with 3D designs, offers a rich and textured look for a lavish event. It's a manicure that's as memorable as the wedding itself.
White Almond Wedding Guest Nails
Simple yet stunning, white almond nails provide a clean, polished, flattering, and effortlessly chic look. They're the perfect canvas for any wedding, whether black-tie or beachside.
Glossy Round French Wedding Guest Nails
The sheen of glossy round French nails brings a traditional, polished look that never goes out of style. This design is the epitome of timeless beauty, matching with any dress code.
Nude With Glitters Wedding Guest Nails
A subtle base with pop, nude nails with glitters offer a chic yet festive touch to your wedding attire. They sparkle under the lights, providing an understated elegance that complements any ensemble.
Daisy Flower Wedding Guest Nails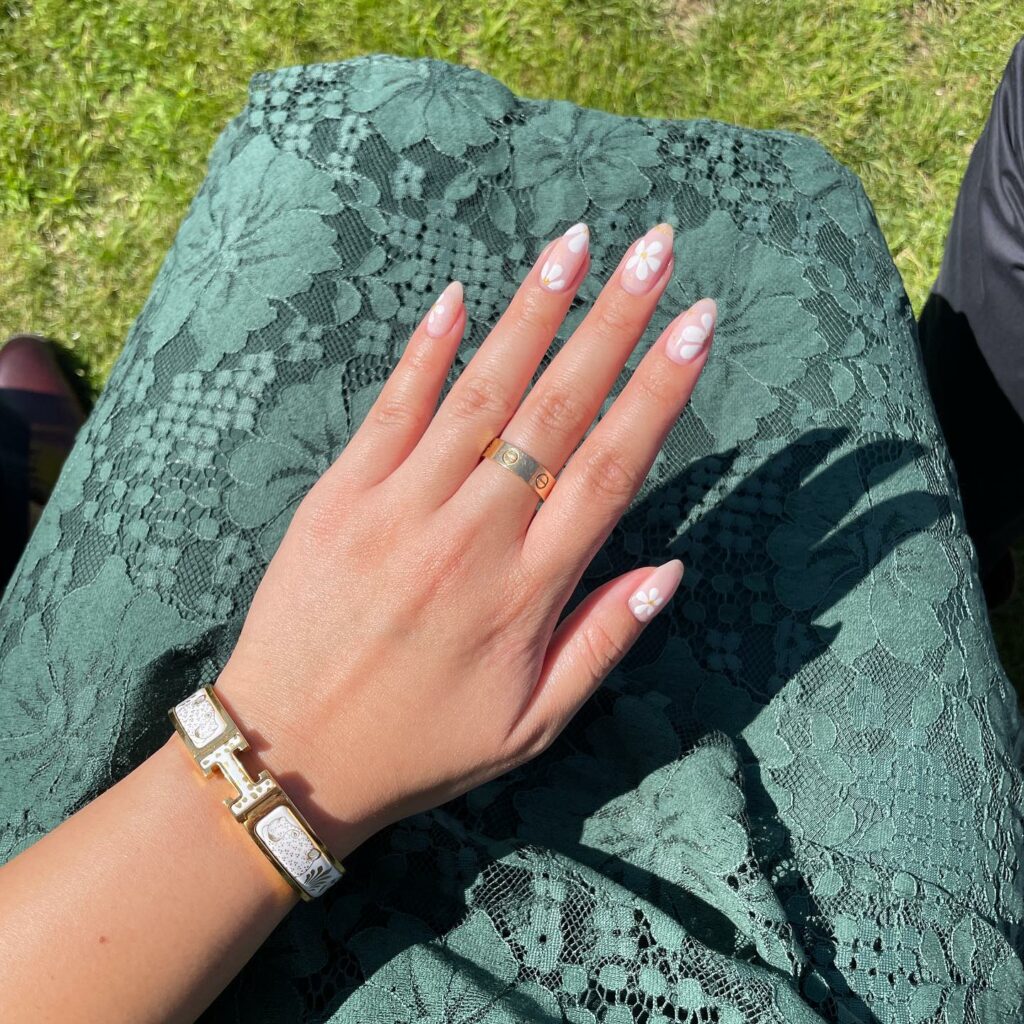 Fresh and playful, daisy flower nails bring a whimsical vibe to the wedding scene. They're perfect for daytime events or garden celebrations, adding a floral charm to your fingertips.
8 Tips To Stay Chip-Free Throughout The Event
Start with a Clean Slate: Make sure your nails are clean, filed, and oil-free before applying polish. Use a good base coat to protect your nails and help the polish adhere better.
Quality Polish: Invest in a high-quality nail polish known for its longevity. Sometimes, spending a bit extra on a bottle of polish can mean the difference between a manicure that lasts an evening and one that lasts a week.
Apply Thin Layers: Thick layers of polish can take longer to dry and are more prone to chipping. Apply thin layers of polish, allowing each layer to dry completely before applying the next.
Top Coat is Key: A top coat seals in the color and adds a protective shield. For extended wear, consider a top coat designed for chip resistance and apply it every few days to maintain the manicure.
Avoid Water and Heat: Excessive exposure to water and heat can weaken the polish and lead to chips. Wear gloves when doing dishes and avoid hot water for prolonged periods.
Nail Hydration: Keep your nails and cuticles moisturized with oils or creams. Dry nails are more prone to chipping.
Gel or Shellac Options: For events, consider gel or shellac manicures, cured under UV light and known to last much longer than regular polish.
Be Mindful of Activities: Be conscious of your activities; manual tasks or using your nails as tools can lead to chips.
10 Tips To Achieve A Picture-Perfect Finish
Smooth Foundation: Before you start painting, ensure your nails are buffed. A smooth nail surface helps the polish apply evenly and look more professional.
Edge Perfection: Use a small brush dipped in nail polish remover to clean up any polish on your cuticles or the skin around your nails.
Cold Water Trick: After your final coat of polish, some suggest dipping your nails into cold water to help them set. However, be cautious with this method and ensure your polish is slightly set to avoid streaks.
Quick-dry Products: If you're in a hurry, use quick-dry drops or sprays to speed up the drying process without compromising the quality of your manicure.
Matte or Shine?: Decide on the finish you want. A matte top coat can give you a trendy, velvety look, while a glossy top coat provides a classic, shiny finish.
Avoid Smudges: To prevent smudging, apply cuticle oil around the base of your nails. It can help the polish dry faster and prevent streaks if you accidentally touch your nails.
Lighting Matters: Good lighting is essential to ensure even application and to spot any missed spots or streaks.
Correct Mistakes Immediately: Have a small brush or cotton swab ready to correct any mistakes while the polish is still wet.
Healthy Cuticles: Push back and maintain your cuticles for a clean, expansive nail bed. Healthy cuticles contribute to a neat finish.
Nail Art Tools: If you're doing designs, use proper nail art tools for precision, or consider nail stickers for a professional-looking design that's easy to achieve at home. By taking the time to prep and polish your nails with care and using these additional tips, you can achieve a salon-worthy manicure right at home.
Conclusion
And there you have it, my fabulous friends—a whirlwind tour through the enchanting world of wedding guest nails! Remember, balancing comfort and style is the secret to nailing the perfect wedding guest manicure. My tip? Choose a design that speaks to you, whether it's the subtle sophistication of milky whites or the bold statement of black-and-white French tips. Don't forget to prep your nails well in advance and consider a gel or acrylic overlay for a long-lasting finish that will see you through the wedding toasts and beyond.
Most importantly, have fun with it! After all, weddings are celebrations, and your nails should be a festive part of your ensemble. So go on, pick your polish, or let your nail artist wave their magic wand—raise your glass with the confidence of a guest whose nails are as memorable as the day!
Feature Image Photo By @nailmartusa on Instagram
Last reviewed and updated on November 17, 2023