Hey there! I'm taking you through a little gem in the fashion world: white almond nails. This shape is a favorite – elegant, yet totally wearable. Imagine this: we'll walk through 25 fresh takes on this classic trend, each with its own vibe, from clean and simple to edgy and intricate. I'll share my personal tips on keeping that signature almond shape in top form – because nobody likes a chipped tip – and how to pick the perfect white to make your skin tone pop. Plus, I'll let you in on customizing these beauties to make them undeniably yours.
Stick with me, and by the end, you'll be ready to rock white almond nails that don't just look good but feel like a part of your signature style. Let's dive into this stylish journey together, and I promise, you'll step up your nail game effortlessly!
White Almond Nails with a French Twist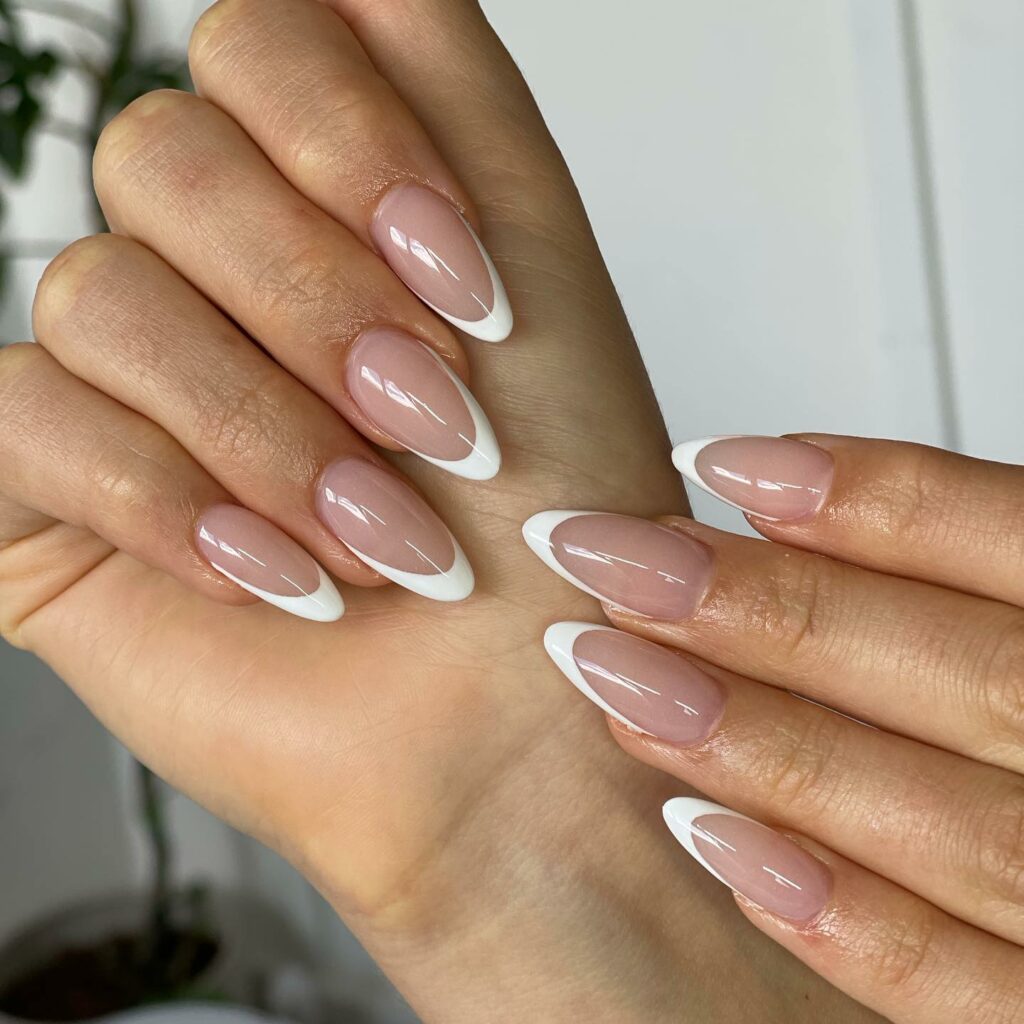 The iconic French manicure gets a twist with the almond shape, offering a refined and polished look. It's a timeless choice for those who appreciate understated beauty.
White Ying Yang Almond Nails
Drawing inspiration from the ancient symbol of balance, these nails blend dark and light elements. A design choice that's both meaningful and stylish.
Abstract White Almond Nails
For those with an artistic soul, the abstract patterns on these almond nails provide a canvas to express individuality. Each nail tells a story, wrapped in sophisticated white.
Rosy Pink Meets White Almond Nails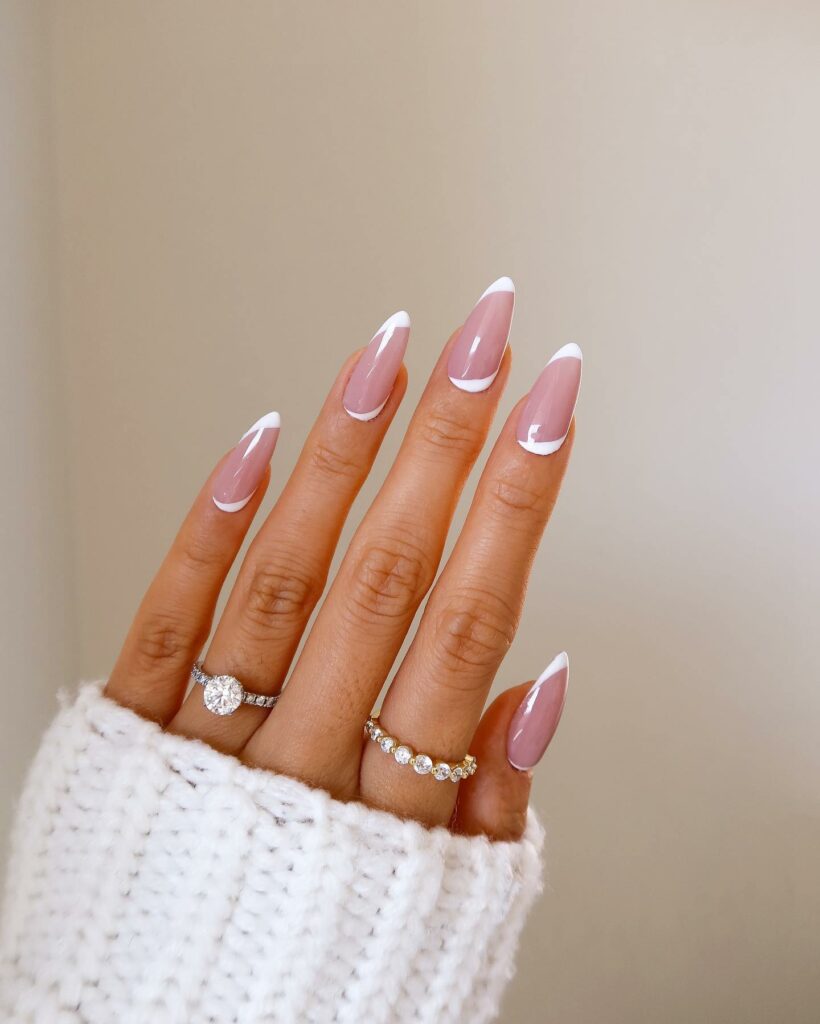 This color combination is the epitome of grace and femininity. The harmonious blend of pink and white offers a soft, romantic touch.
White French Almond Nails with Cherries
Elevate the traditional white French almond design with a splash of playful cherries. It's a delightful merge of classic and whimsical styles.
Lustrous Milky-White Almond Nails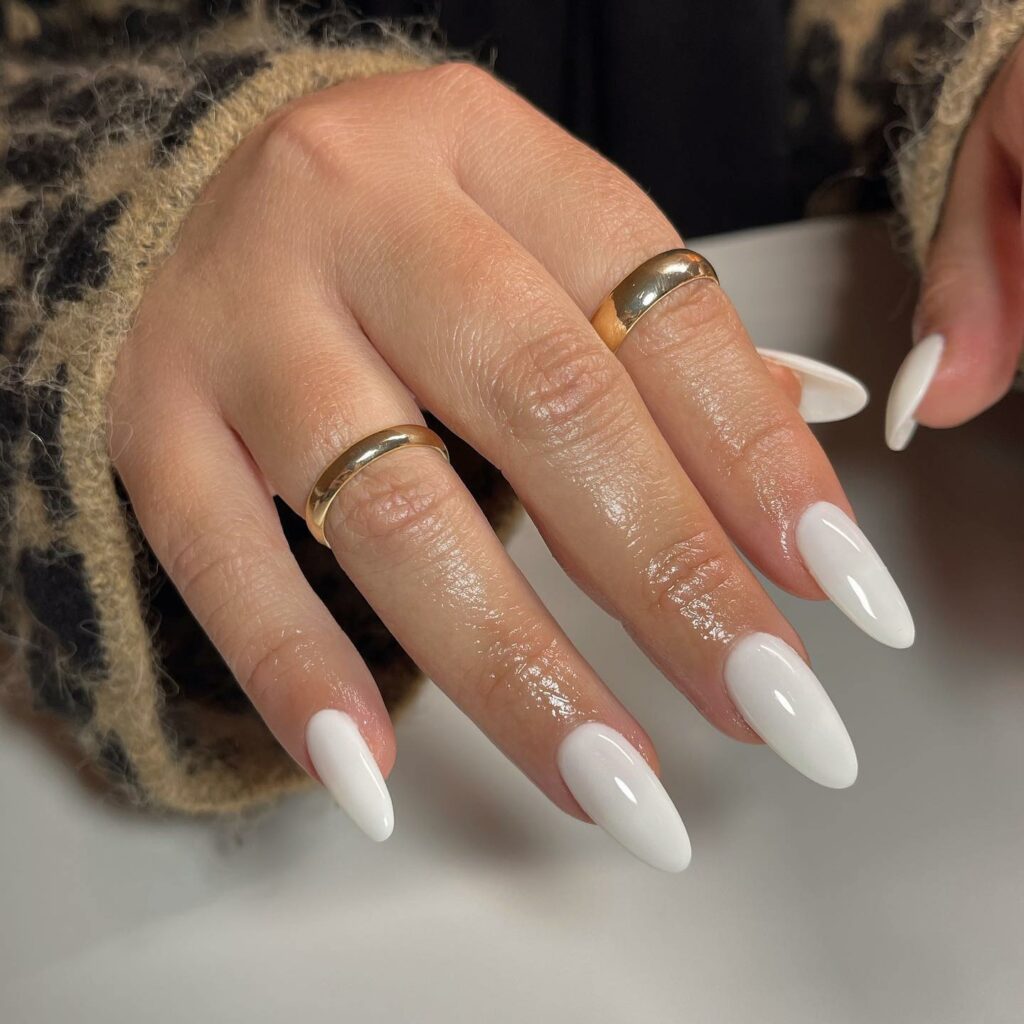 A muted shade with a hint of translucence, milky white is perfect for those seeking a soft, dreamy finish. It's like wearing a cloud on your fingertips.
White Almond Nails with Glitter
Infused with shimmer, these nails capture the spotlight. It's the ideal choice for those looking to sprinkle a touch of glam to their ensemble.
White Almond Nails in Ombre Shades
The gradual transition from one shade to white offers a captivating visual treat. It's a sophisticated take on the trendy ombre style.
Gold-Infused White Almond Nails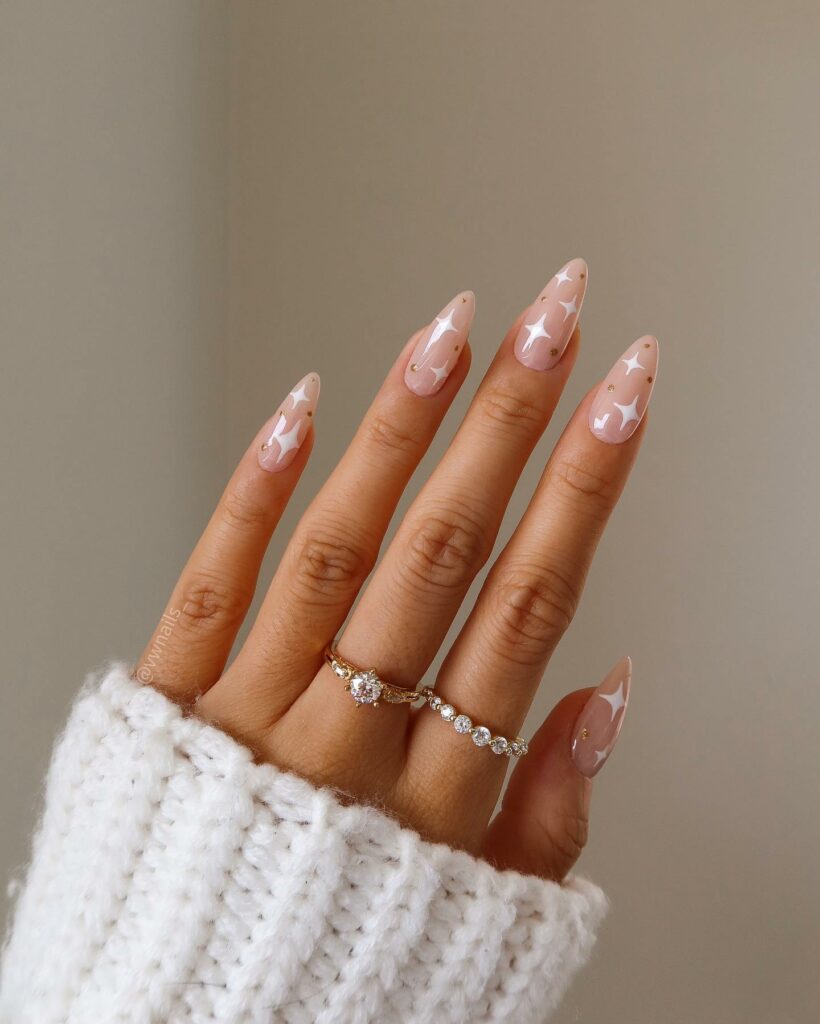 A combination that speaks luxury. The gold accents on a pristine white base are a testament to opulence and elegance.
Creamy Off-White Almond Nails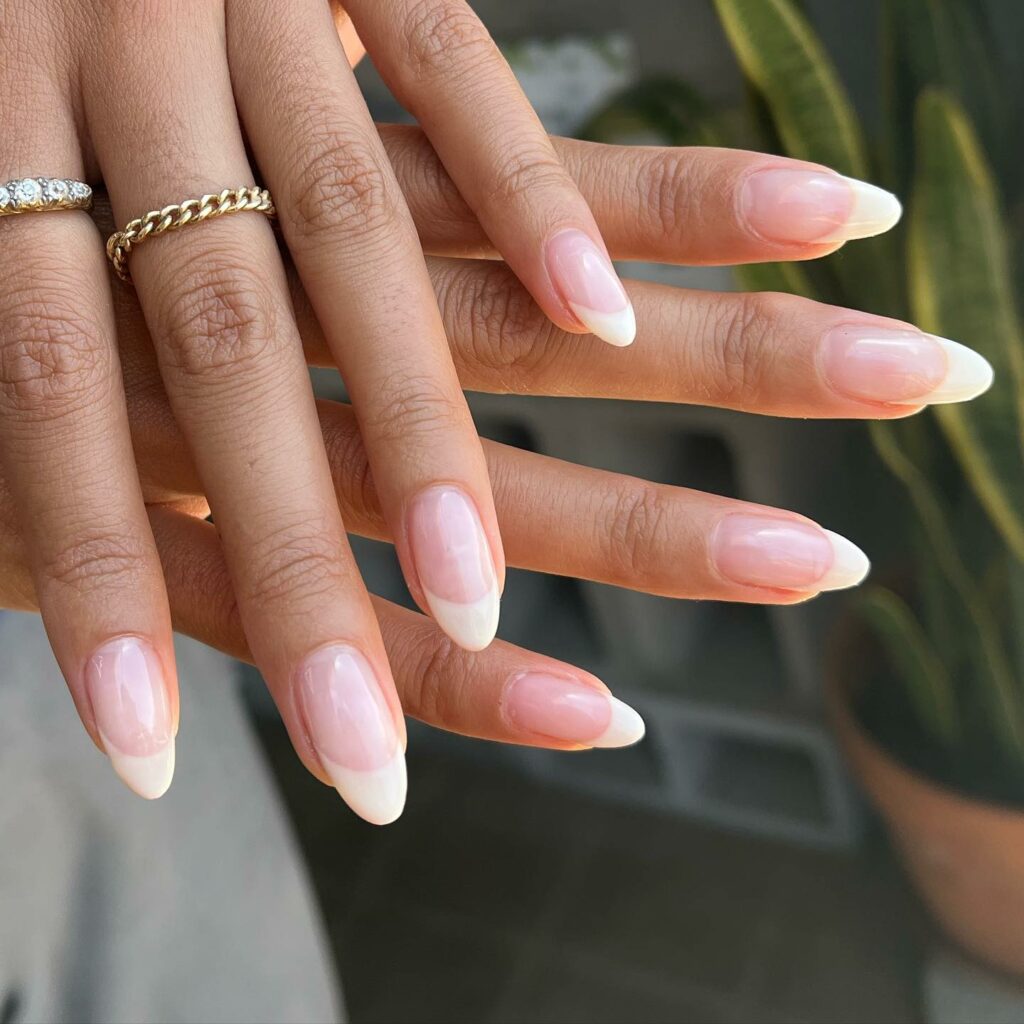 Straying slightly from the pure white palette, off-white offers a warmer, earthy vibe. It's for those who adore a hint of vintage in their style.
White Almond Nails with Golden Festive Touches
Marrying the spirit of Christmas with a French twist, these nails are festive yet sophisticated. Gold details add that special holiday sparkle.
Matte Finish White Almond Nails
Moving away from the gloss, matte white offers a smooth, velvety finish. It's a minimalist's dream, exuding pure sophistication.
White Almond Nails with Swirling Patterns
Inspired by the fluidity of water and wind, the swirls on these nails create a mesmerizing pattern. A design that's both delicate and dynamic.
White Almond Nails Adorned with Pearls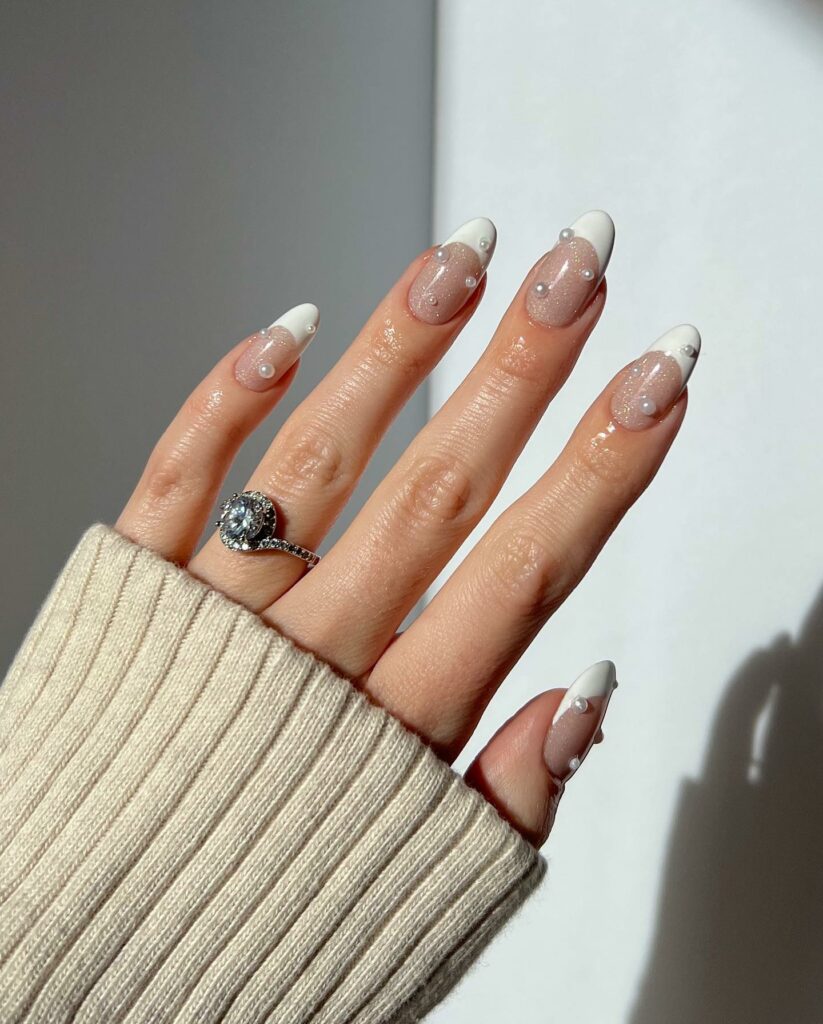 The timeless beauty of pearls meets the modern almond nail shape. Each pearl accent adds a touch of luxury, making every gesture an elegant statement.
Floral Designs on White Almond Nails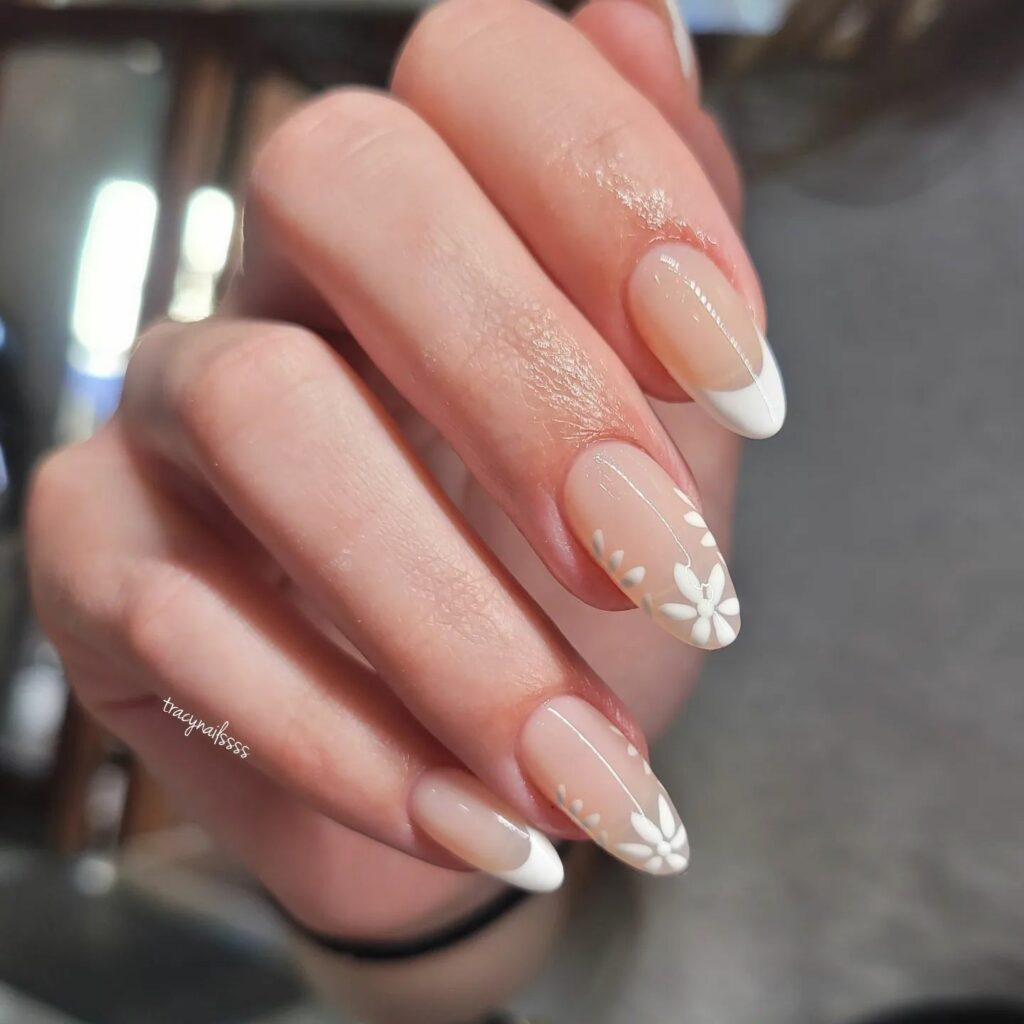 Embracing the timeless allure of flowers, these white almond nails serve as a delicate garden for your fingertips. The floral patterns stand out against the pristine white, creating a harmonious blend of nature and sophistication. Perfect for those who wish to carry a touch of spring with them, no matter the season.
White Christmas Almond Nails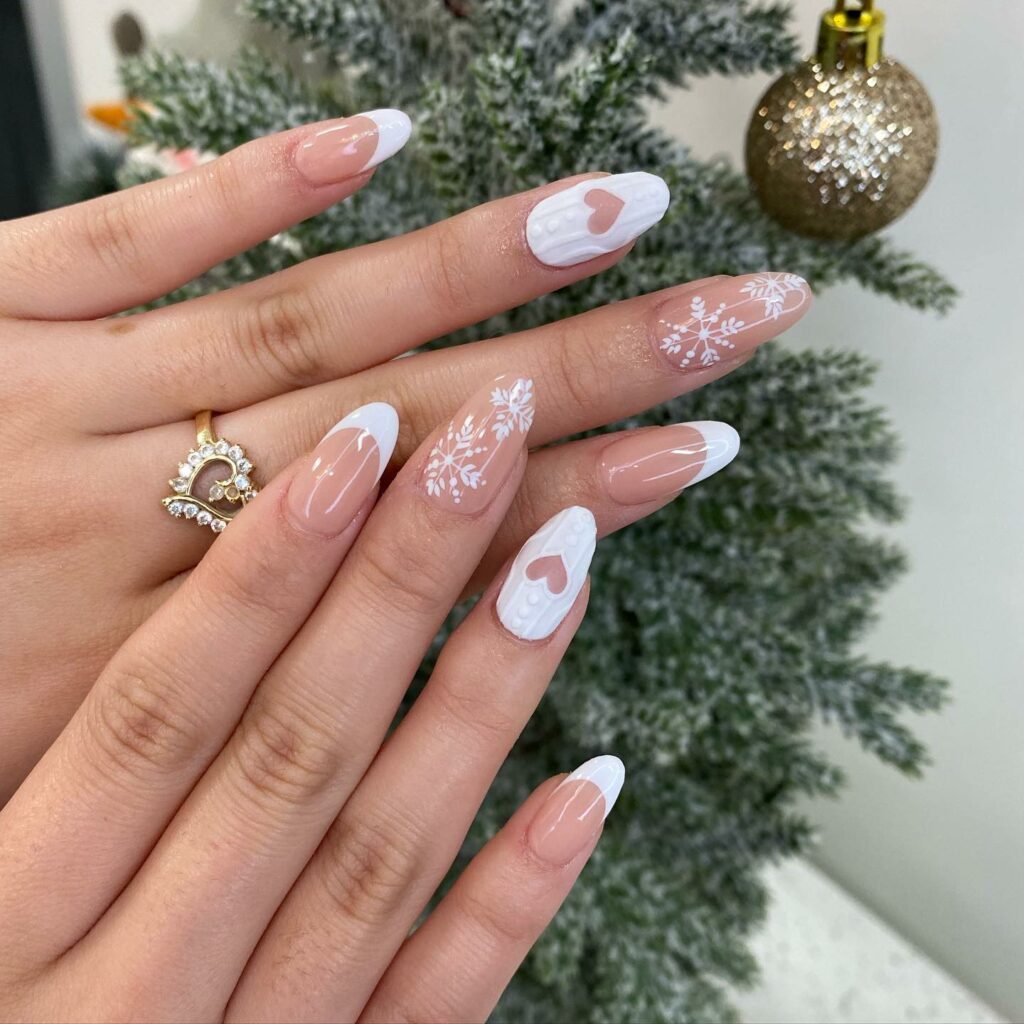 Celebrating the wintry charm of Christmas, these nails encapsulate the season's magic. The white base serves as a snowy canvas for festive adornments.
Plaid Patterns on White Almond Nails
Drawing from the classic plaid design, these nails offer a sophisticated twist to traditional patterns. They are a nod to heritage with a contemporary edge.
White Marble Almond Nails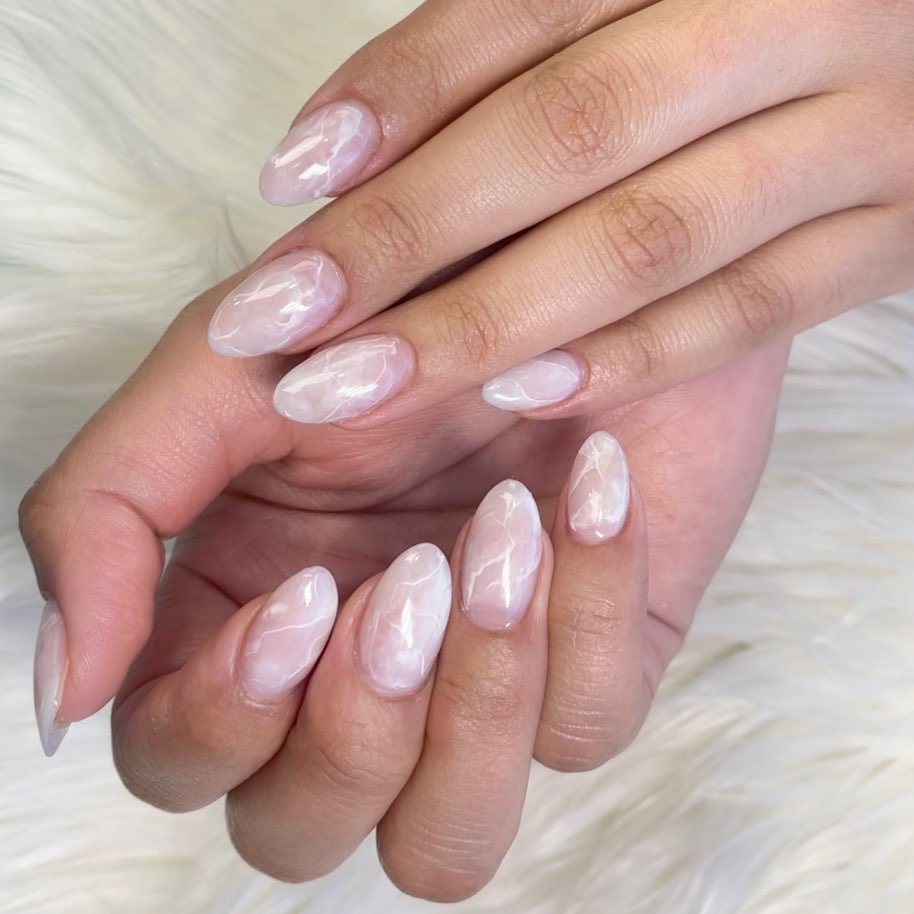 Mimicking the timeless beauty of marble, these nails are a masterpiece of design. The marbled effect offers a touch of luxury to the white almond base.
Chromatic Shine on White Almond Nails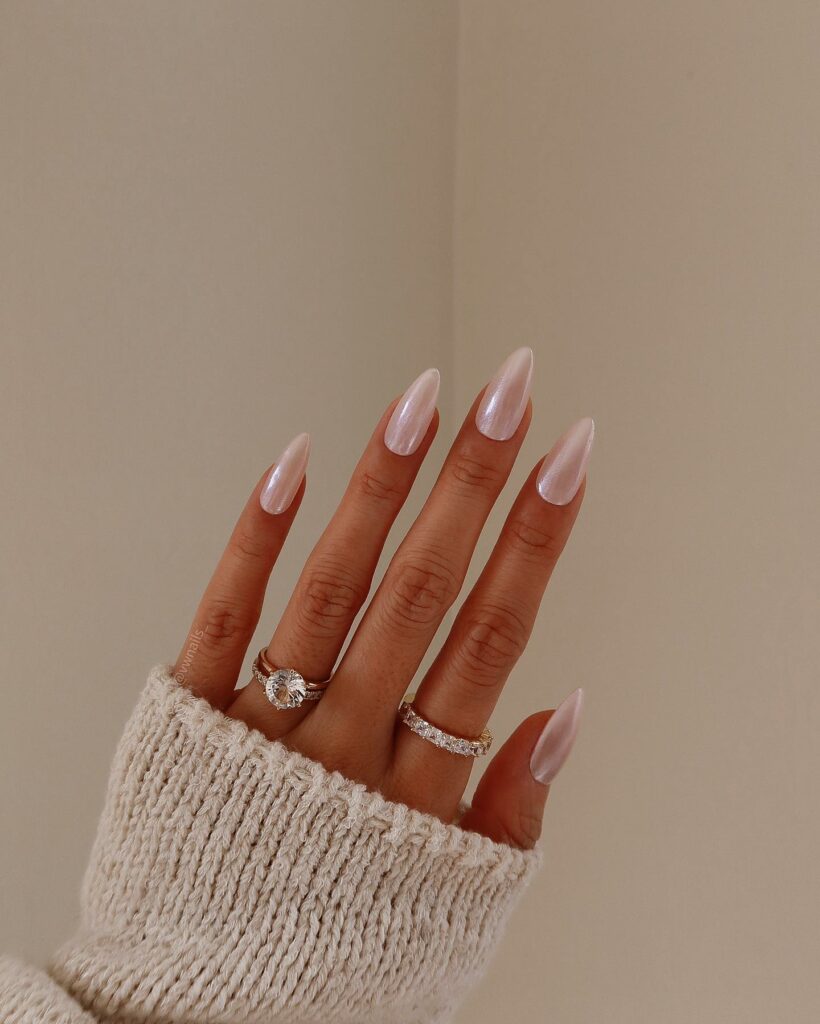 Featuring a subtle play of colors on a white backdrop, these nails shimmer with a chromatic glow. They are a celebration of light and color.
The Charm of Pink and White Almond Nail Designs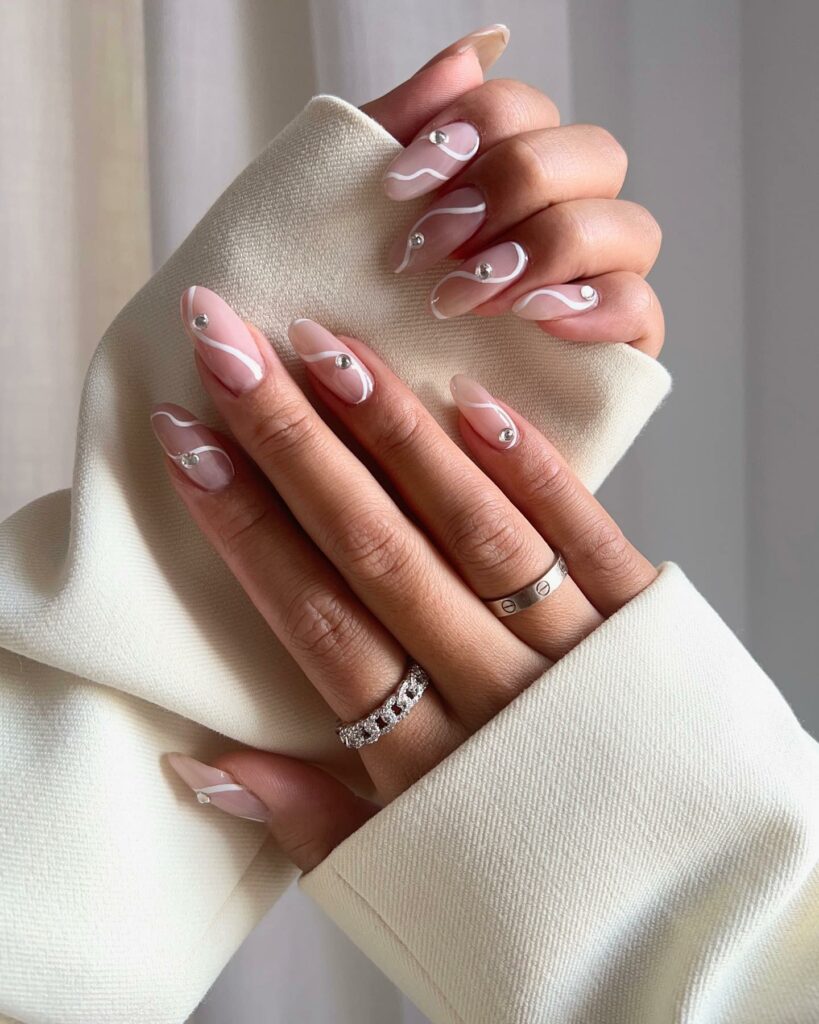 In the captivating world of nail design, the subtle blend of pink and white showcases a mesmerizing dance of color and form. These almond-shaped nails, adorned with delicate white accents and dainty gems, epitomize a look of understated sophistication, perfect for both everyday elegance and special occasions.
French White Almond Nails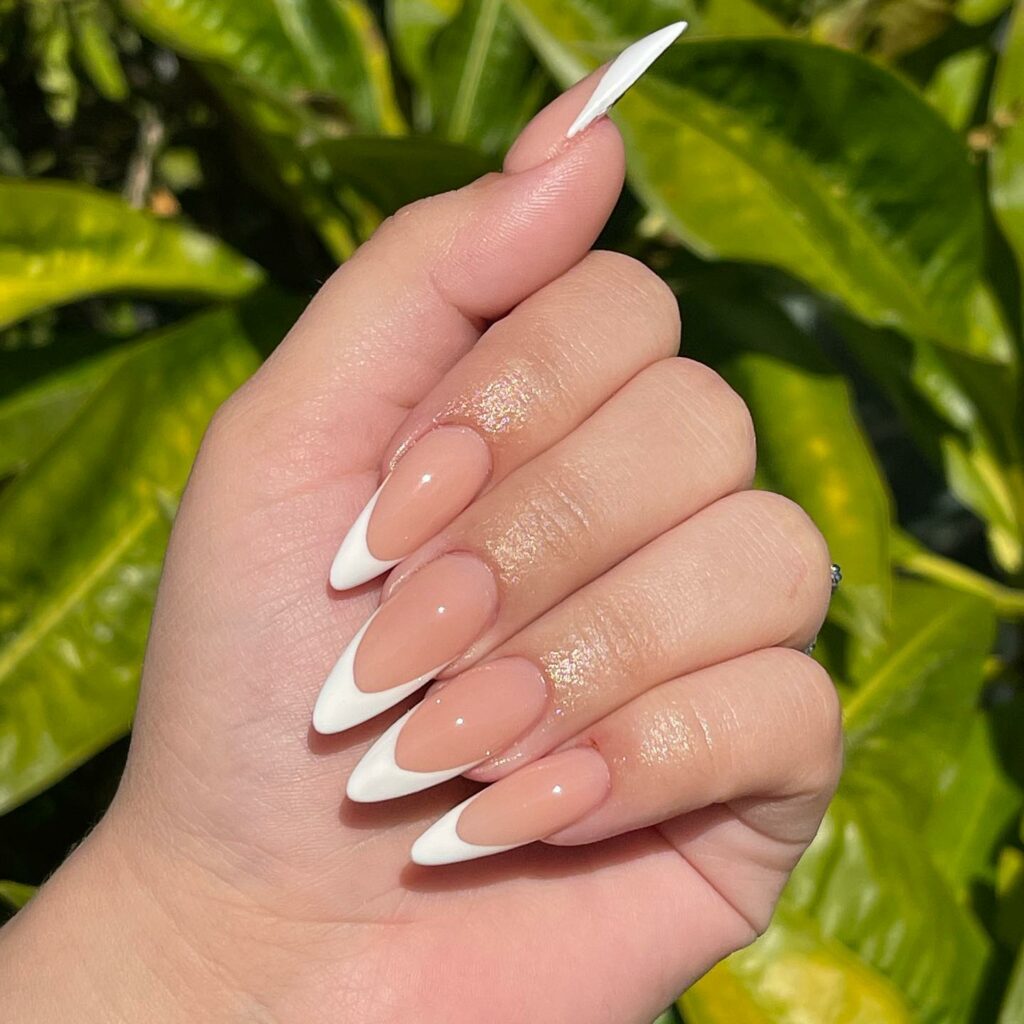 A chic combination of nude and white, these nails exude understated sophistication. The French design enhances the natural beauty of almond-shaped nails.
Pearl Finish White Almond Nails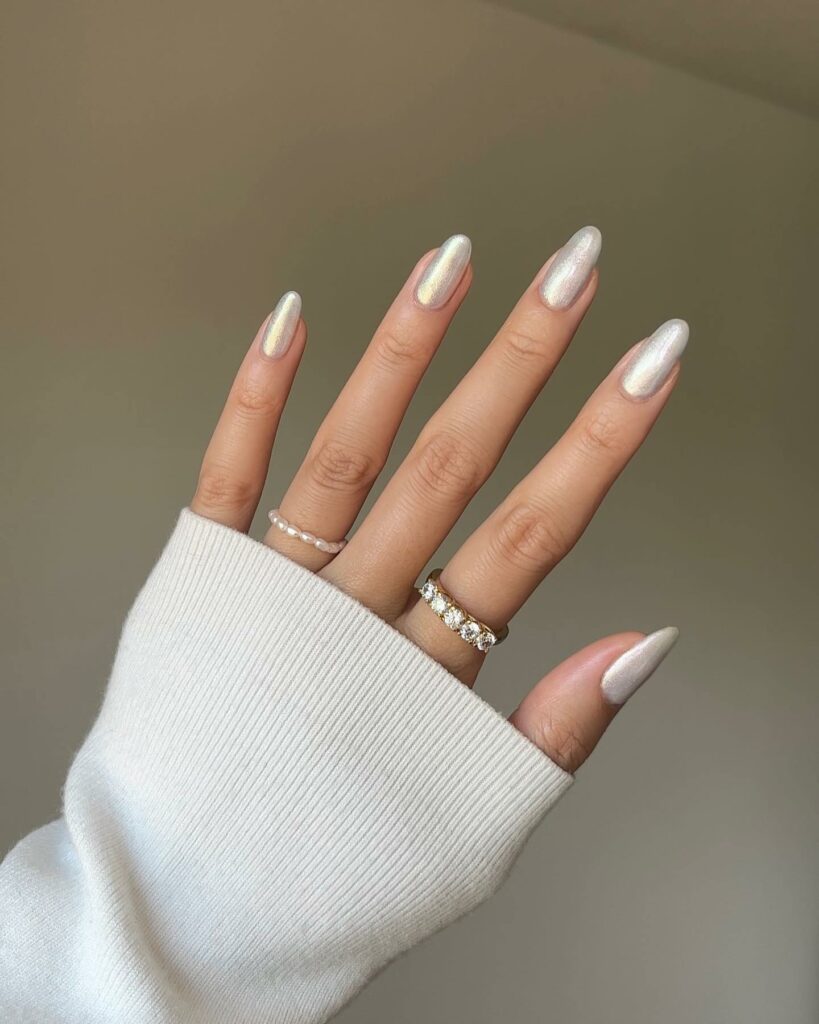 With a gleaming finish reminiscent of pearls, these nails shine with an ethereal glow. They're a perfect blend of sophistication and luminosity.
Coffee-Inspired White Almond Nails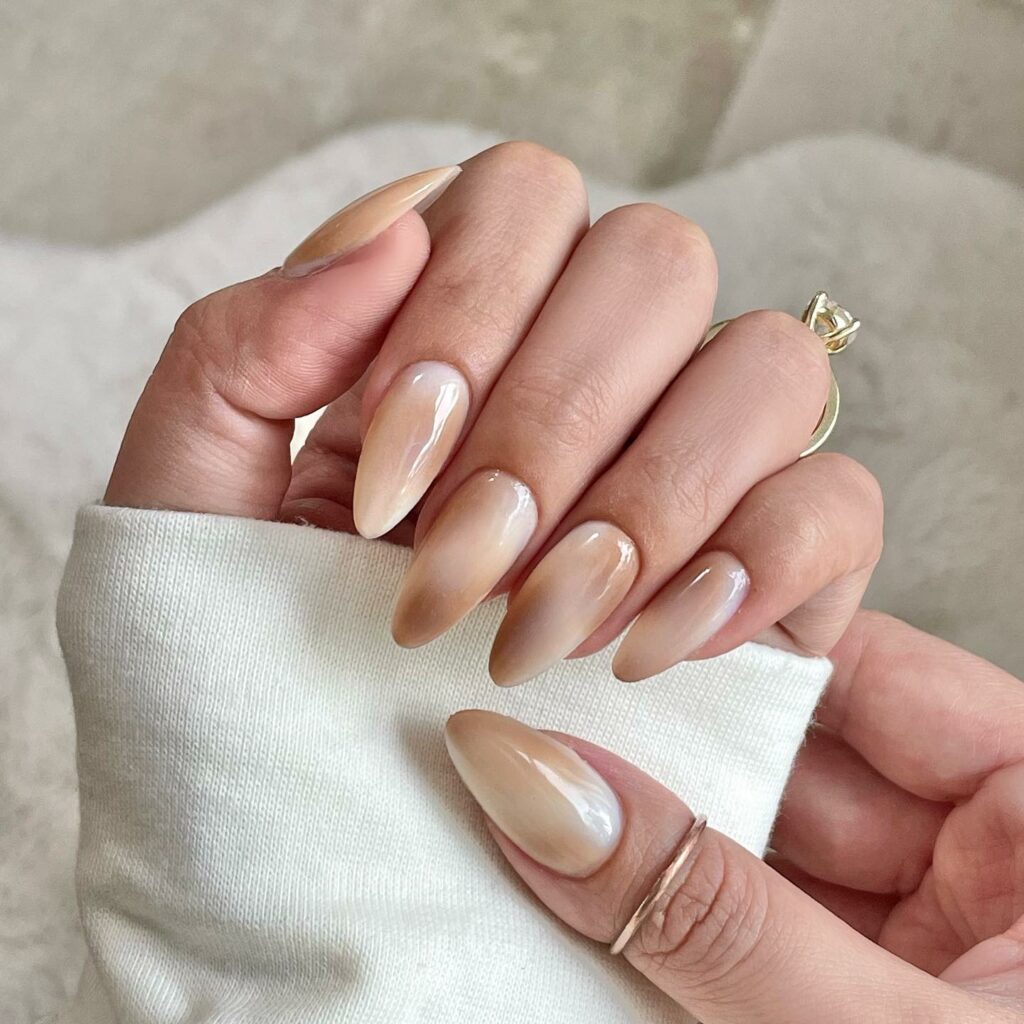 Infused with hues inspired by creamy coffee, these nails are a delightful eye treat. A rich blend perfect for coffee aficionados with a penchant for style.
Heart Accents on White Almond Nails
Adorned with heart motifs, these nails are a declaration of love. The crisp white base is the perfect canvas for tender heart designs.
My Top 10 Tips for Maintaining Almond Shape Nails
Regular Filing: It's essential to file your nails consistently. Use a gentle file and always move in one direction to prevent splits and breakage.
Strengthen Your Nails: Use nail strengtheners or hardeners to reinforce the nail. This will help prevent chips and breaks, especially since almond nails have a pointed tip, which can be more prone to damage.
Moisturize Daily: Keep your cuticles and nails moisturized. Dry nails are more likely to break, so use cuticle oils and hand creams regularly.
Wear Gloves: When doing household chores or anything that might expose your nails to chemicals or potential harm, wear gloves to protect them.
Avoid Using Nails as Tools: Don't use your nails to open cans, remove staples, or do any activity that puts pressure on them.
Regular Touch-Ups: Even if you're not changing your nail polish, it's a good idea to have regular touch-ups to maintain the shape and look of your nails.
Healthy Diet: A diet rich in biotin, protein, zinc, and omega-3 fatty acids can strengthen nails. Consider foods like eggs, salmon, and nuts.
Beware of Acrylics and Gels: While they look fabulous, prolonged use of acrylics or gel nails can weaken the natural nail. If you wear them often, take breaks in between and nourish your natural nails.
Use a Base Coat: Before applying nail polish, always use a good quality base coat. It not only protects the nail from staining but also strengthens it.
Avoid Biting: If you have a habit of biting your nails, it's time to stop. Biting can significantly weaken your nails and distort their shape.
Still Looking for Inspiration, Then Check Out This Video
Conclusion
Embracing the charm of white almond nails adorned with floral designs is truly a celebration of both modern fashion and timeless beauty. When diving into this trend, always prioritize nail health, ensuring you choose quality products and professionals. While these designs are undeniably elegant, it's essential to be aware of potential risks, such as nail damage from incorrect application or removal. So, do your research, seek recommendations, and indulge in a nourishing nail treatment once in a while. With the proper care and knowledge, you can flaunt these blossoming beauties with confidence. Ready to make a statement and let your nails bloom? Dive in, stay informed, and most importantly, enjoy the journey!
Feature image @merlin_nails via Instagram
Last reviewed and updated on November 6, 2023