Let's dive into a topic that's been stealing the limelight recently—White Almond Nails. No, it's not just the almond shape that has us swooning; it's the pristine, angelic white that elevates the whole look. In today's post, we will explore everything you need to know about this trend, from the type of polish that works best to the maintenance hacks you can't ignore. Trust me, once you go white almond, you might find it hard to switch back to anything else. So stick around because you won't want to miss my go-to tips for nailing (pun intended) this look every single time. Let's get started!
Timeless Elegance: White French Tip Almond Nails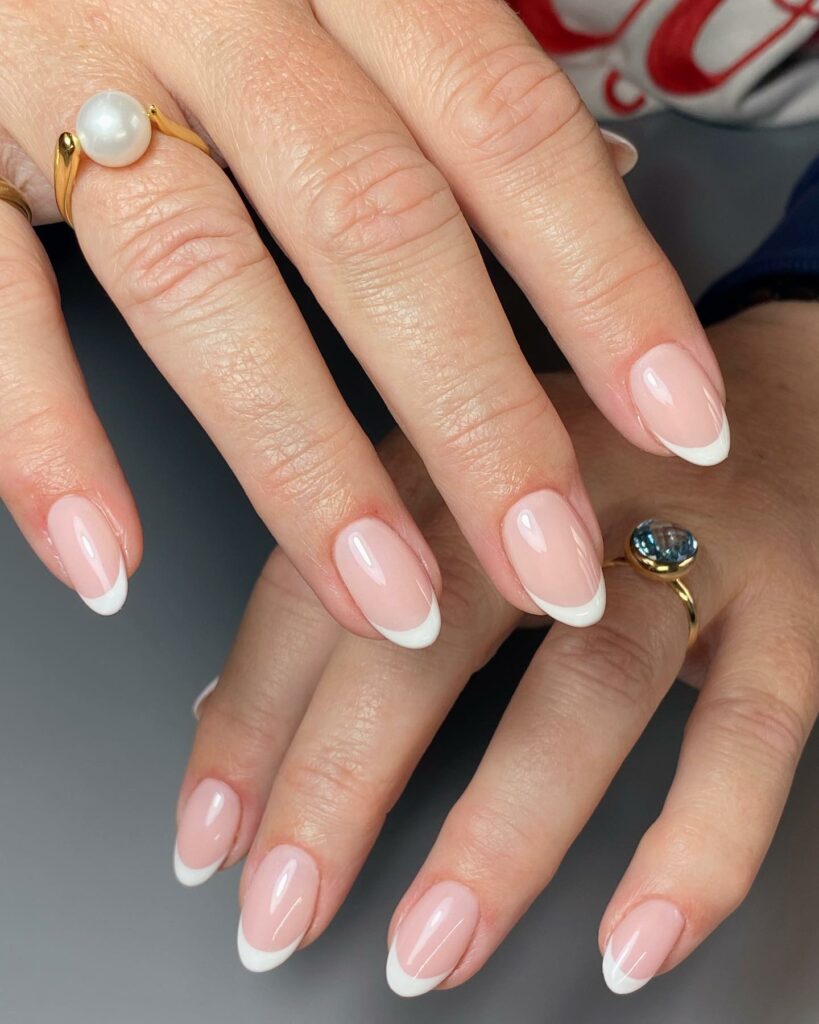 For those days when you're feeling timeless and understated, you can't go wrong with White French Tip Almond Nails. These are my go-to for job interviews and weddings. Seriously, they always impress.
Nude And White Almond Nails
Sometimes, a girl can't decide, right? Nude and white almond nails give you that sleek sophistication but with a fresh twist—think of it as an open French tip. Trust me, it's like having your cake and eating it too.
Cute White Almond Nails
Now, if you're like me and fantasize about picnics and cherry blossoms, these cute white almond nails are a dream come true. Tiny flower details make them perfect for that brunch where you want to look effortlessly adorable.
Glitz and Glam: Glitter White Almond Nails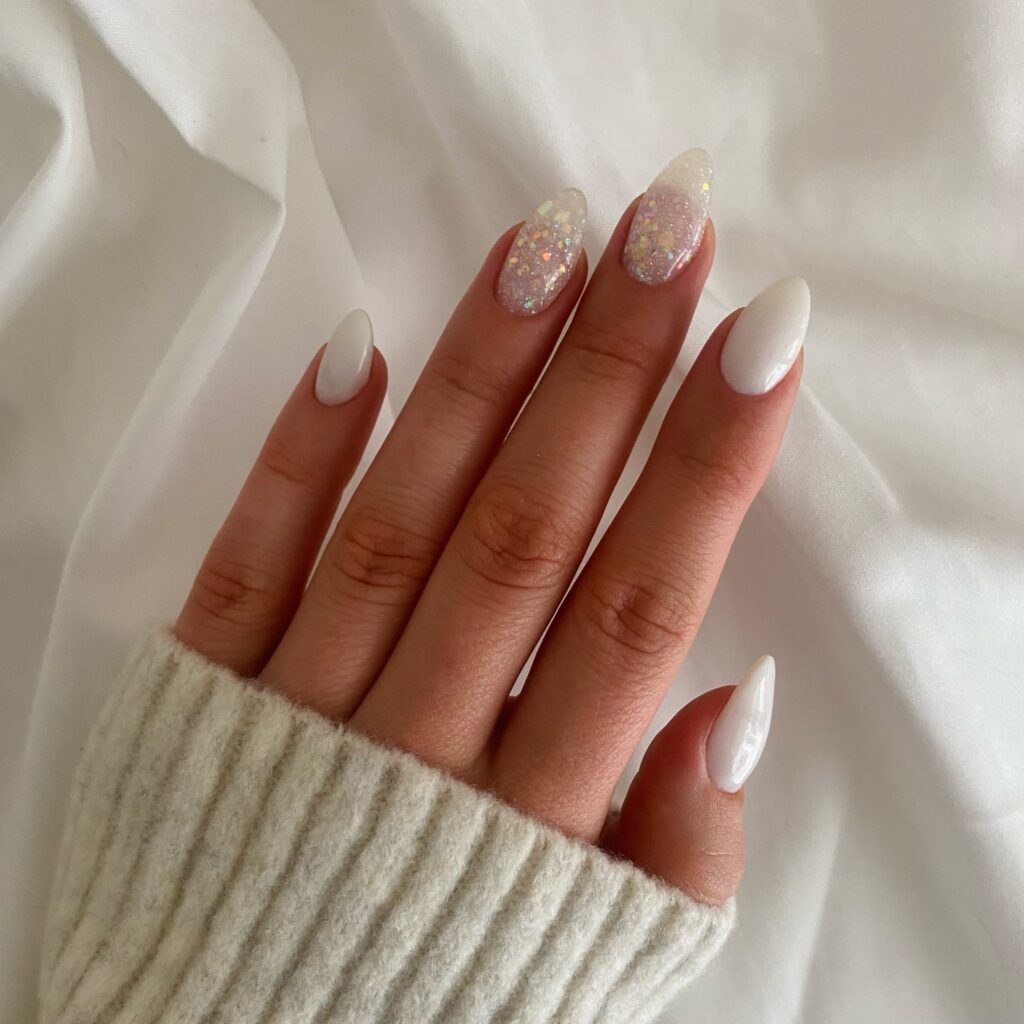 Weekend parties call for some sparkle. Glitter White Almond Nails are chic and fun, making you the life of the party. Just a touch of glitter can go a long way!
Four-Season Fave: White Ombre Almond Nails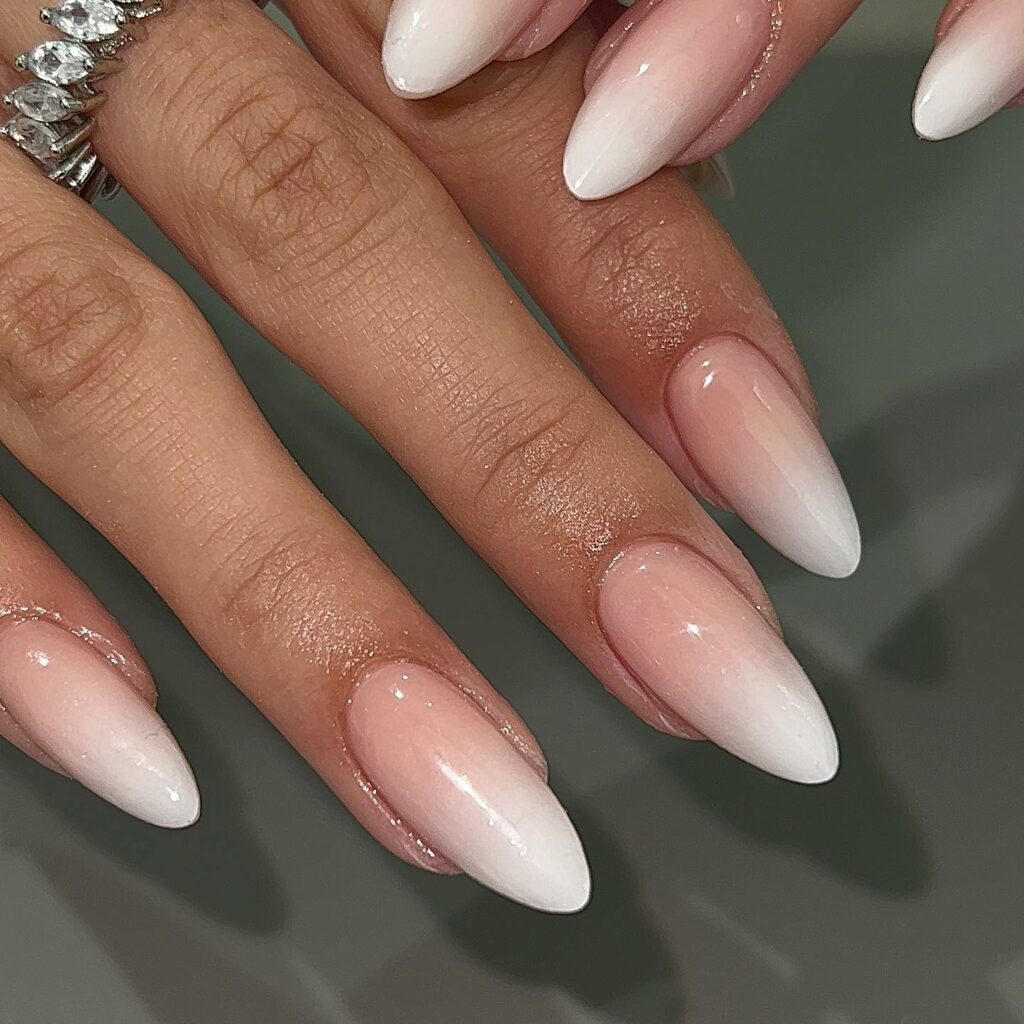 White Ombre Almond Nails is an all-year-round superstar. The gradient effect is mesmerizing and versatile. Perfect for when you can't make up your mind!
All That Jazz: White And Gold Almond Nails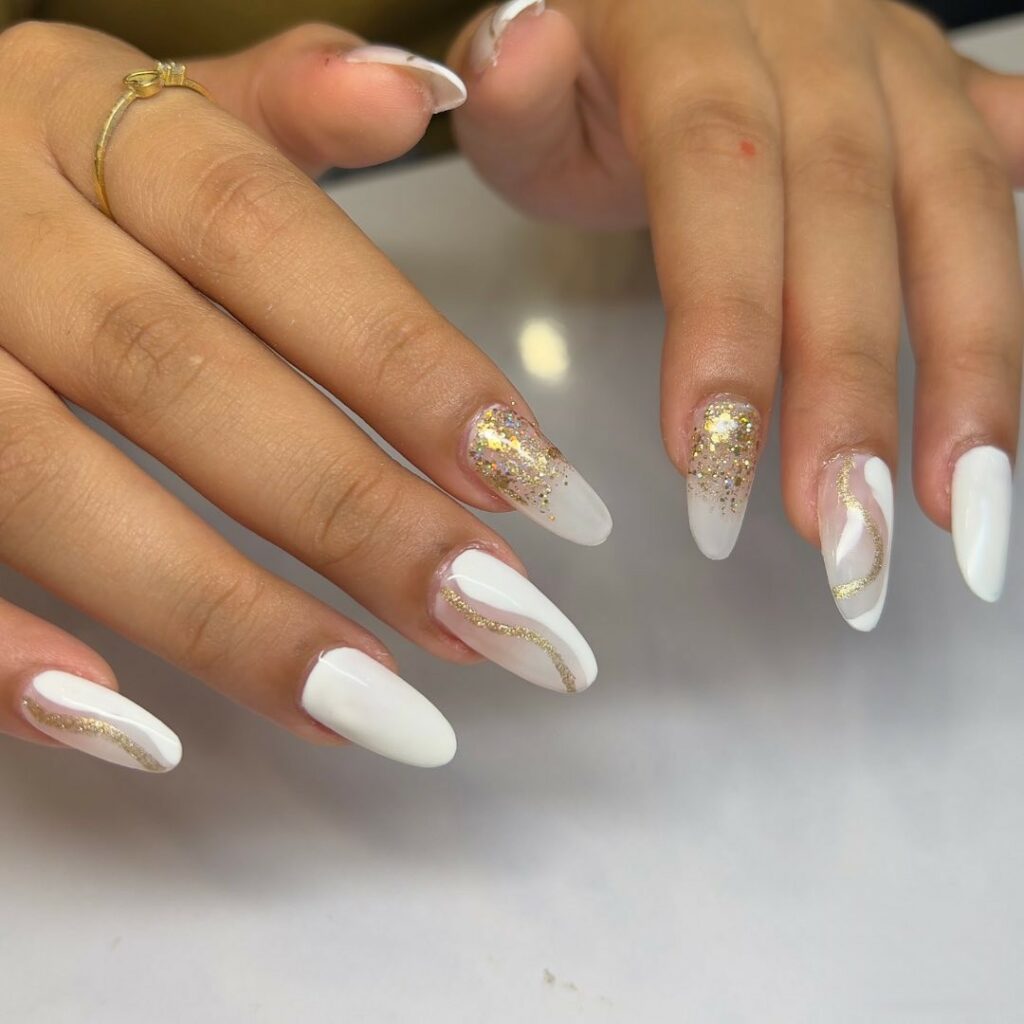 If you crave extra flair, pair your white almond nails with gold glitter. Trust me, this combo is a showstopper!
Casual Chic: Matte White Almond Nails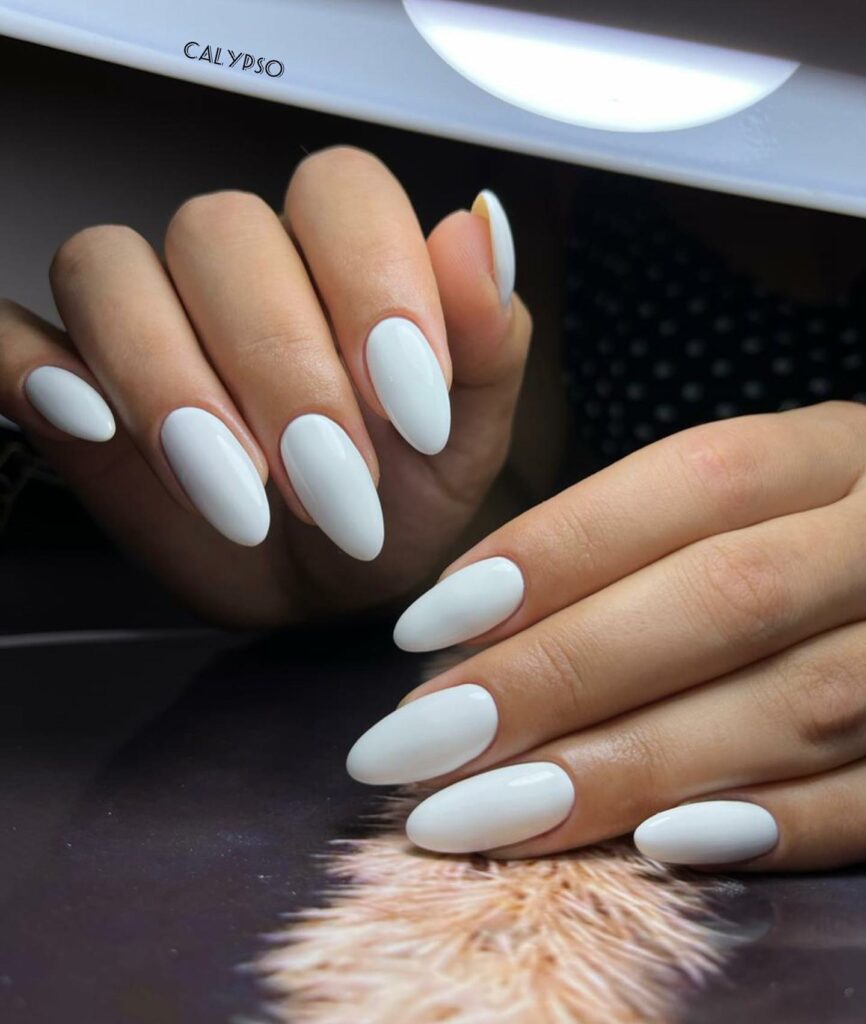 Matte White Almond Nails are the little black dress of the nail world—elegant, versatile, and trendy. The matte finish offers a chic twist.
Let Loose: White Abstract Almond Nails
Finally, a design that lets your imagination run wild — the white abstract manicure. I loved playing with splashes of pastels, metallics, and tiny polka dots for added dimension! It's a versatile design that fits any nail length and is perfect for almost any occasion.
Spirals And Curls: White Swirl Almond Nails
Bring some fun to your nails with swirls and twirls! And hey, if you're a coffin nail fan, this design softens the look fabulously.
French Manicure with a Pearl Touch
You haven't lived until you've added pearl bead accents to your pink and white French manicure. Trust me, it's like wearing a string of pearls but on your nails! Think of this look as the Audrey Hepburn of nail designs—classic with a twist. Rock this design whether you're attending a summer wedding or lighting up a winter soirée.
Bring on the Bling: White Almond Nails With Rhinestones
If you're the kind who believes that diamonds are a girl's best friend, these are for you. White almond nails with rhinestones are like the little black dress but with disco-ball-level sparkle! I wore these to a recent event, and my nails were spotlighted.
Romance and Sparkles: Sparkling Hearts
White almond nails with black hearts are a chic twist on a classic romance-inspired design, pairing the soft, feminine shape with a bold, edgy motif. This nail art choice is perfect for anyone looking to add a dash of modern flair to their look while keeping those lovey-dovey vibes in check.
White Glitter Glam With Almond-Shaped Nails
White glitter glam on almond-shaped nails brings the perfect blend of sophistication and sparkle to your fingertips, making for a dazzling statement piece that's hard to miss. This style is ideal for those special occasions where you want to shine or simply when you're looking to add a touch of luxe to your everyday ensemble.
The Softer Side: Milky White Almond Nails
A pure white might not be everyone's cup of tea. Enter Milky White Almond Nails. The cream undertones bring in a touch of warmth and subtlety, making it a universal favorite. They're like your favorite latte but for your nails!
Accessible On The Eyes: Off-White Almond Nails
For those who find bright whites a bit much, Off White Almond Nails are your saviors. They bring sophistication without the glare.
Tis the Season: White Christmas Almond Nails
Getting into the holiday spirit? Go for White Christmas Almond Nails adorned with snowflakes and candy cane swirls. I wore these last Christmas and felt like a walking winter wonderland!
A Floral Affair: White French Tips
White almond nails adorned with delicate floral accents and crisp white tips are the epitome of elegance and femininity, offering a fresh, garden-inspired touch to a timeless style. They're perfect for spring affairs or for anyone who wants to carry a bit of nature's serenity with them.
Just The Tips: White And Lilac Tip Almond Nails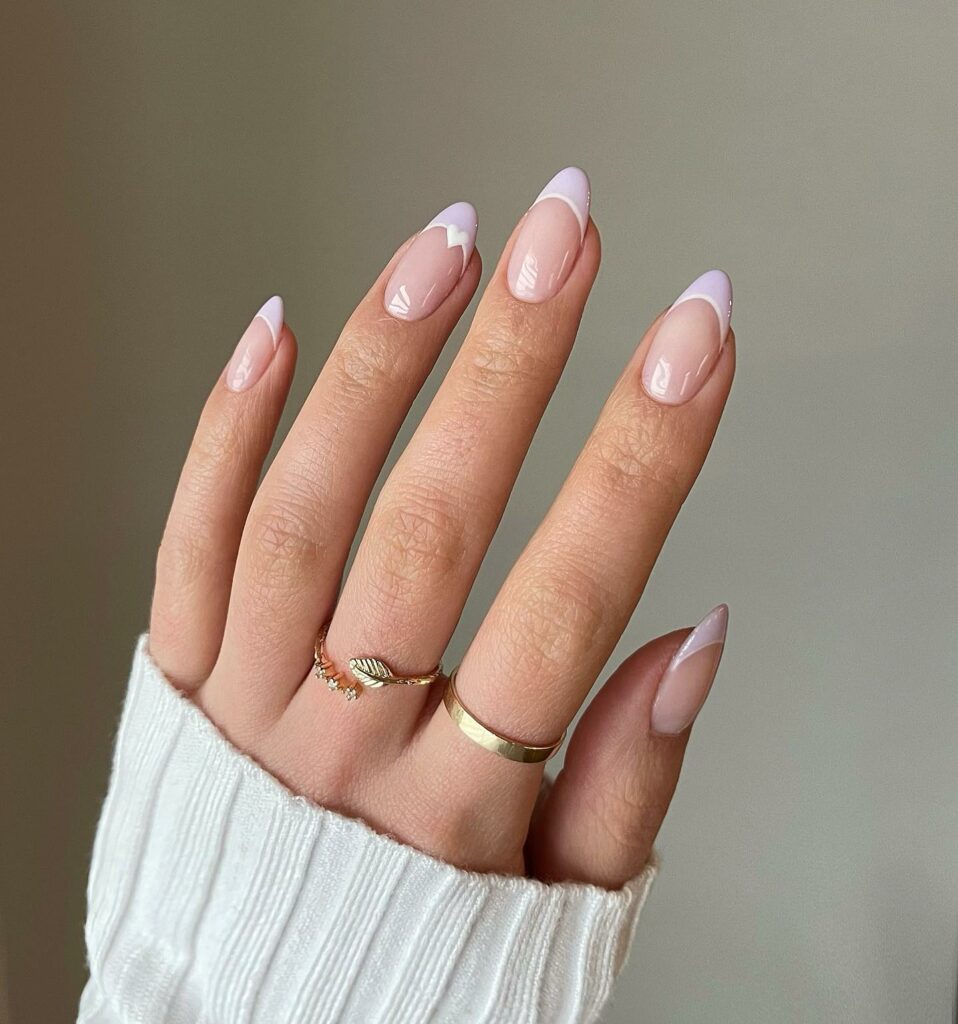 White almond nails with lilac tips present a soft, pastel contrast that's both refreshing and stylish, bringing a gentle pop of color to the classic white tip design. This subtle yet charming color combination is perfect for ushering in the warmer days of spring or adding a touch of whimsy to your look.
Starry Night Almond Nails
Create a dreamy, celestial look by painting your nails white and adding tiny white or silver star-shaped studs or decals. This design is perfect for adding a touch of magic to your evenings out.
Dreamy Weekends: Soft Pink + White Almond Nails
Let's wind down with something dreamy. Soft shades of pink with white waves are the epitome of elegant casual. Wear these to a weekend brunch, a casual Friday at work, or even your cousin's wedding, and you're good to go!
Midas Touch: White and Gold Nails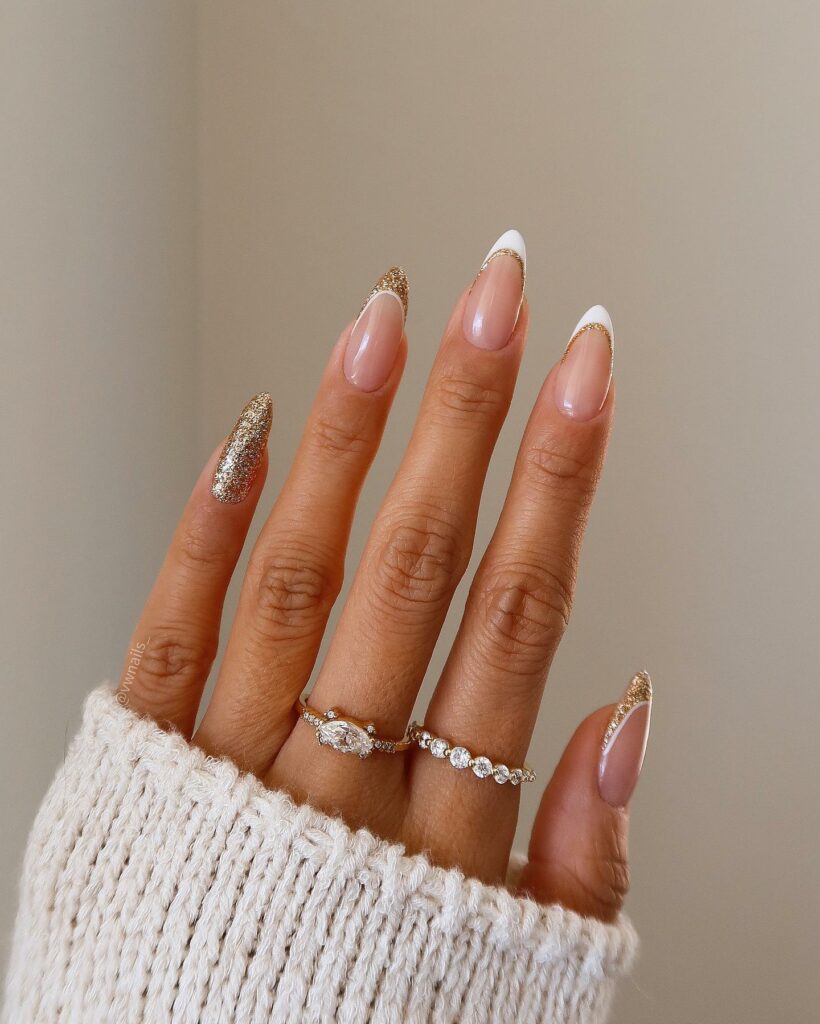 White almond nails with gold tips exude a luxurious charm, marrying the simplicity of white with the opulence of gold for a truly regal finish. This manicure choice is a surefire way to add a splash of elegance to any outfit, making it a go-to for events where you want your hands to make a sophisticated statement.
Classy Revamp: White French Tip with Pearls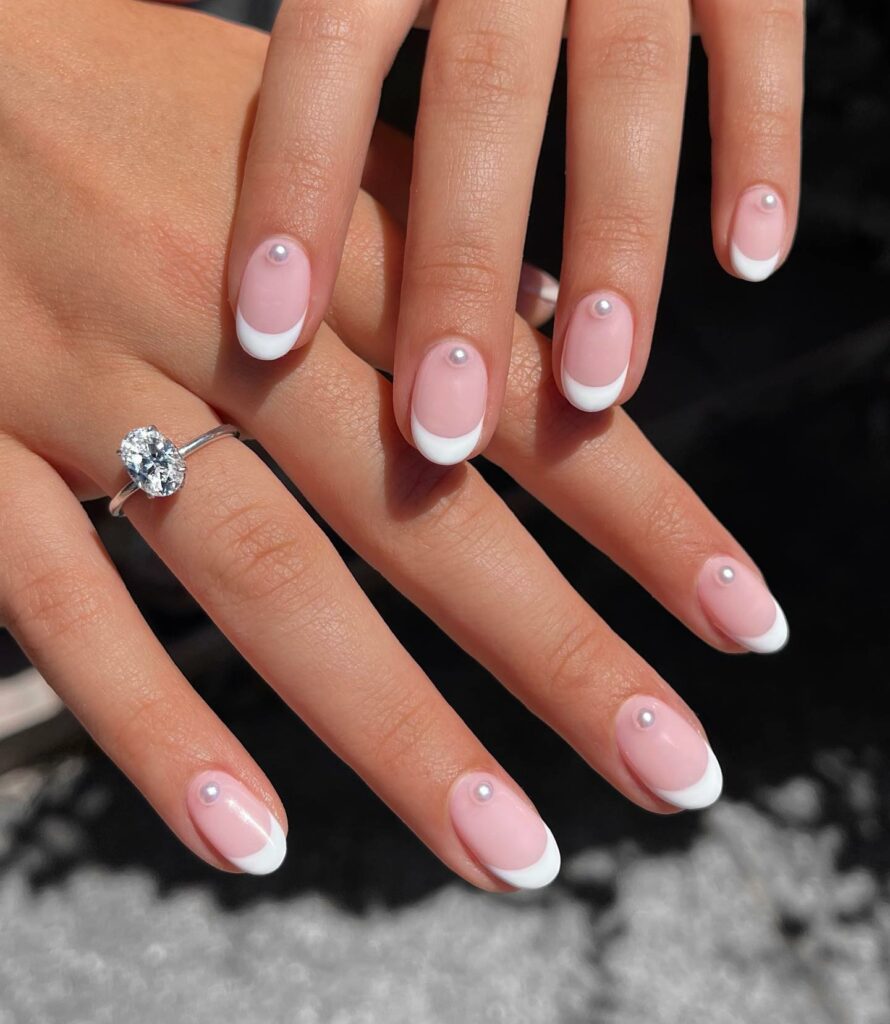 The classic white almond French tip nails get a touch of vintage grace with the addition of tiny pearls, offering a look that's both timeless and fashion-forward. This elegant combination is a subtle nod to classic jewelry, making your nails a piece of wearable art for any high-class event or a chic everyday style upgrade.
Starry Stunners: White Nail Design with Stars
Embrace your inner celestial goddess with this star-studded design. There's something magical about white nails adorned with twinkling stars and pastel accents.
Ying And Yang White and Pink Nails
Ying and Yang-inspired nails, where white and pink swirl together in perfect harmony on almond-shaped canvases, offer a playful yet balanced aesthetic. This manicure embodies the duality of softness and purity, ideal for someone who appreciates a nail design that tells a story of contrast and equilibrium.
Classic Charm: Simple White Nails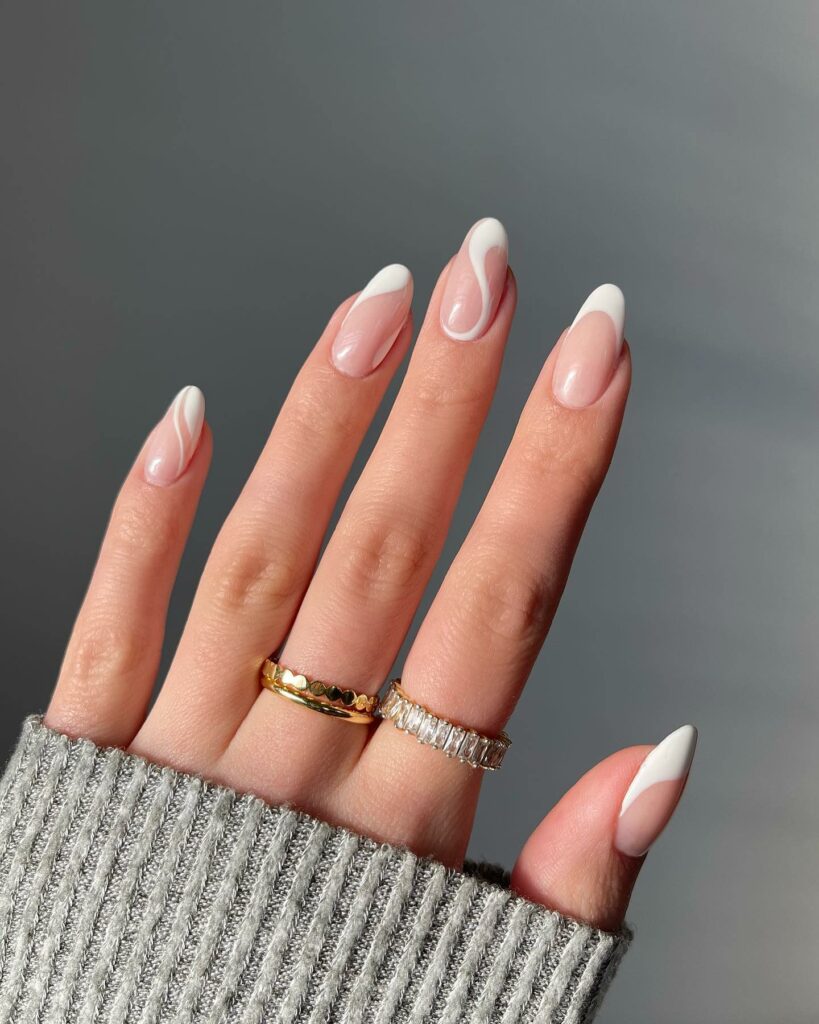 It's often said that simplicity is the ultimate sophistication, and these classic white nails embody that spirit. Perfect for any season and outfit, they're like your trusty white sneakers – reliable, timeless, and effortlessly chic. And guess what? They create the illusion of longer fingers too! A little nail jewelry can be a gorgeous finishing touch.
Dazzling Diva: White Design with Diamonds
Ready to jazz up your outfit? Try adding some crystals to your feature nail. T
Love on the Fingertips: White Nails with Hearts
Almond nails boasting pristine white polish serve as the perfect backdrop for charming little hearts, creating a look that's both sweet and sophisticated. This nail art, with its crisp base and whimsical heart details, captures a playful spirit while maintaining an air of elegant simplicity.
Reach For The Stars: Long White Almond Nails
Want to make a statement? The longer, the better. Long White Almond Nails are for those days when you're feeling extra and want the world to know it. They're classy and show-stopping without going overboard. Perfect for date night!
Classic French Tip Nails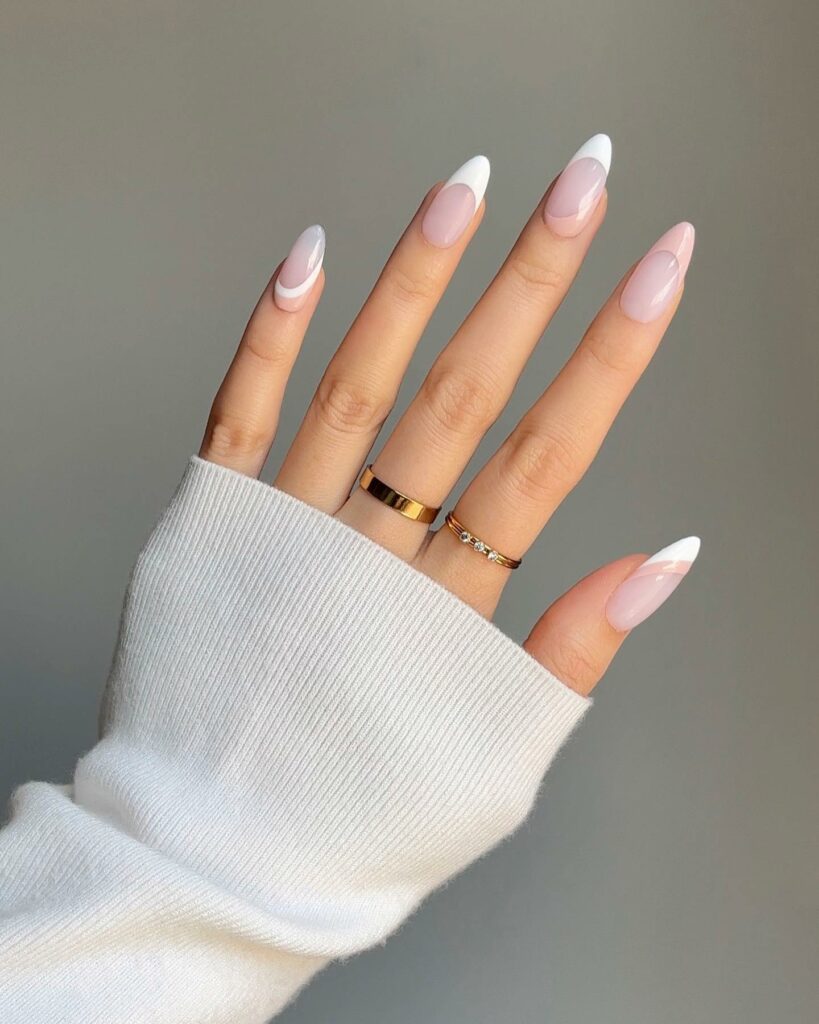 Ah, the evergreen French tips. It's like the little black dress of nail designs.
White Glitter Nails with Floral Accents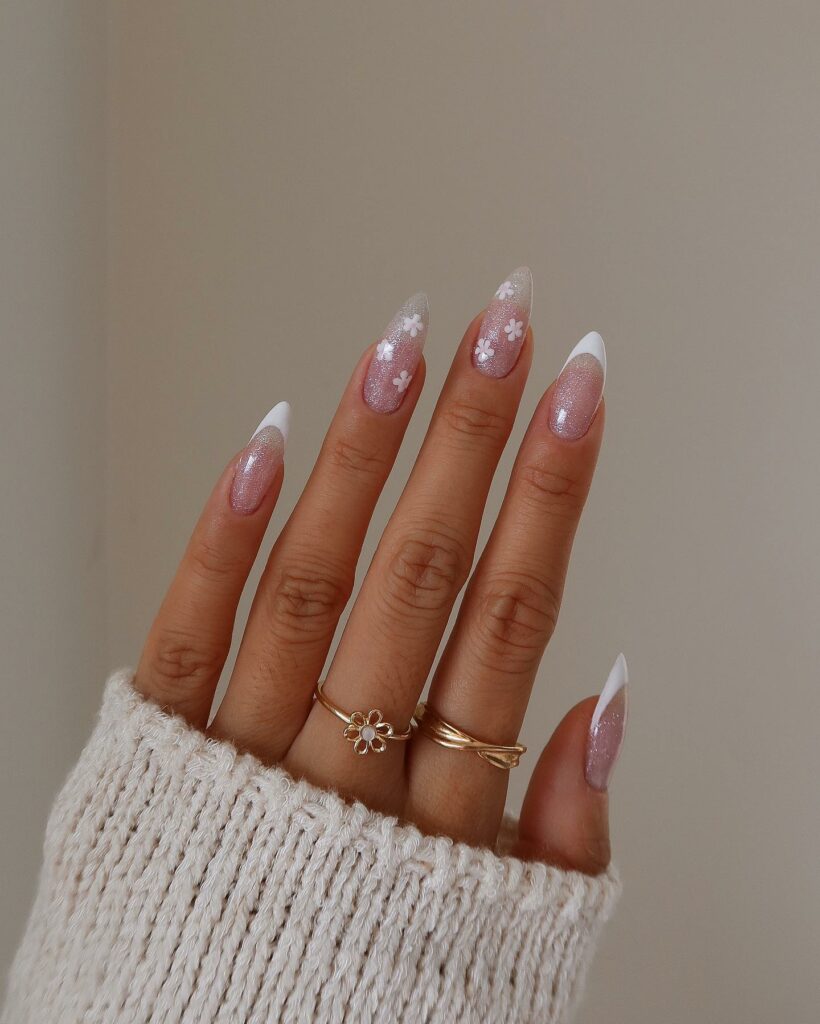 Celebrate nature with delicate floral patterns set against white glitter nails. A fresh and vibrant look that's perfect for spring and summer outings.
Animal Print on White Glitter Nails
Unleash your wild side with striking animal prints against a shimmering white glitter canvas. It is a bold choice for those looking to make a statement.
Pixel Art Designs
Give your nails a retro twist with pixel art designs, crafting tiny monochrome masterpieces right at your finger tips
Monochrome Magic: Black And White Almond Nails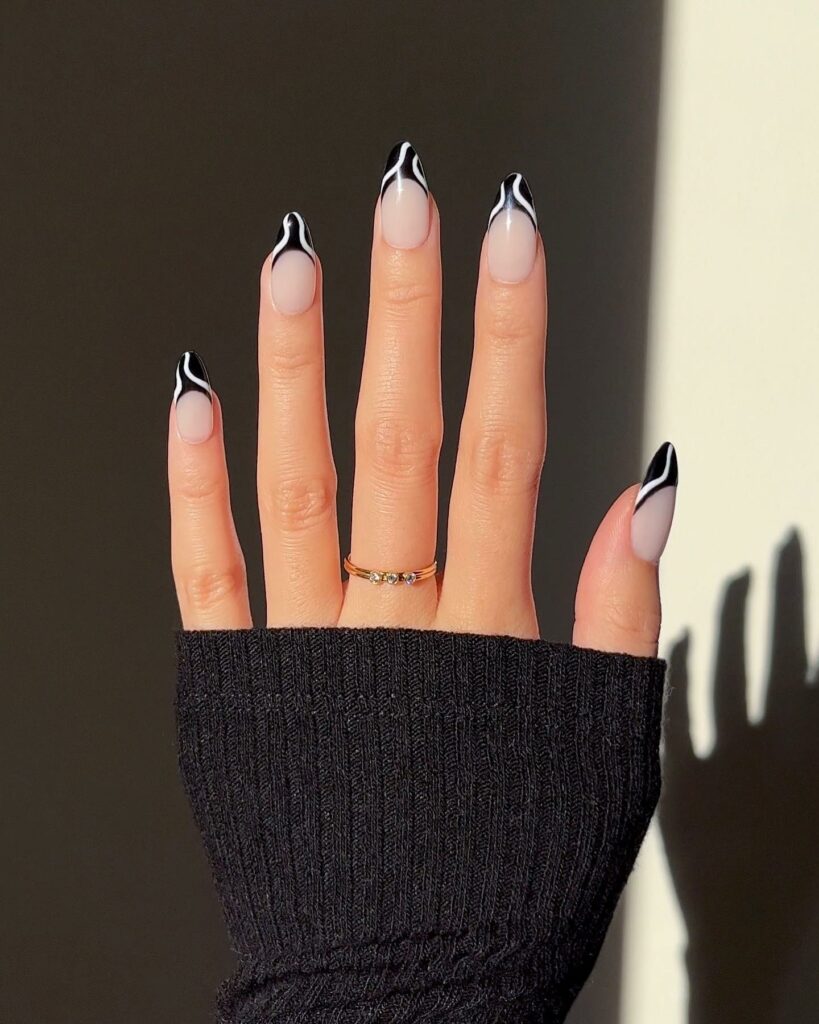 Now, who says you can't have the best of both worlds? Black and White Almond Nails bring a monochrome magic to your fingertips. It's like wearing a tuxedo but for your nails. The black and white combo is forever classic, and those swirls? A great conversation starter!
Crystal Clear: Clear White Almond Nails
Clear white almond nails are, quite literally, as clear as day. A balanced mix of clear and white, they're intriguing without being over-the-top. Do note that you'll need acrylics or tips to pull this off, but it's worth it.
Trend Alert: White Marble Almond Nails
Let me tell you, white marble almond nails are stealing the spotlight these days. They're the trendsetters of the nail world right now. So, if you want to be a trendsetter, you know what to do.
A Touch of Elegance: White Nails With Silver Details
Simple but far from basic! A matte white sets the stage and those tiny silver accents? Just the right touch of luxe. Perfect for when you want understated glam.
Mermaid Dreams: Seashell Manicure And Pearl Details
If you've ever wanted to channel your inner mermaid, now's your chance. Seashell nails adorned with pearls will make you feel like you're Ariel, whether you're by the sea or just daydreaming about it.
Timeless Beauty: Classic White Marble Nails
If you're after something elegant and versatile, you can't go wrong with classic white marbled nails. I've sported these from lunch dates to weddings—they're a trusty go-to.
So there you have it! A world of white almond nails is waiting for you to explore. Can't wait to see which one you pick for your next mani! Stay fabulous, beauties!
7 Brands That I Recommended For White Almond Nails
Gel Polish – If longevity is your goal, gel polish is where it's at. You'll need a U.V. or LED lamp to cure it, but you can expect up to three weeks of chip-free glam. Perfect for vacations or when you don't want to think about touch-ups.
Regular Nail Polish – Good old regular polish is a classic choice and is excellent for those who like to switch up their style more frequently. Opt for a high-quality brand to ensure good pigmentation and durability. Apply a base coat, two color coats, and a topcoat for the best results.
Quick Dry Polish – If you're short on time (or patience!), quick-dry formulas can be a lifesaver. They may last less than gel or high-quality regular polishes, but they're perfect for last-minute plans.
Acrylic Paint – For those intricate designs or small details like florals or rhinestones, some people swear by acrylic paint over polish. It's easier to control and allows for more detailed work. Just make sure to seal it in with an excellent top coat.
Matte Finish – If you're going for a more subdued, chic look, try a matte top coat over your regular or gel polish. It gives that luxurious velvet touch, which looks super trendy right now.
Breathable Polish – If you're concerned about the health of your natural nails, consider breathable polishes. They allow water and oxygen to penetrate, promoting healthier nails.
Nail Strengthening Polish – If your nails are weaker, a strengthening polish can add an extra layer of protection while still keeping your tips looking fab.
Are White Almond Acrylic Nails Safe For Natural Nails?
Great question, and it's one that I hear a lot. Here's the real deal: While acrylic nails are a fab way to get that length and drama you might be craving, they do come with some caveats in terms of natural nail health. So let's get into it.
The Pros:
Instant Length & Glam: Acrylics can give you long, gorgeous nails in the blink of an eye.
Durability: These babies are strong and can last up to 3 weeks if taken care of properly.
The Cons:
Weakening of Natural Nails: The chemicals and processes used for acrylics can weaken your natural nails over time.
Risk of Infection: If not applied and maintained correctly, acrylics can lift, allowing moisture to get trapped between the acrylic and the natural nail. This can lead to fungal or bacterial infections.
Chemical Exposure: The chemicals used in the application process can be harsh, and it's best to ensure you're in a well-ventilated area during application.
Tips for Safety:
Go to a Reputable Salon: Make sure you go to a salon that follows strict hygiene practices.
Take Breaks: If you love acrylics, that's cool, but give your natural nails a break every now and then to breathe and recover.
Follow Aftercare Guidelines: Your technician will give you some aftercare tips—follow them to a T.
Moisturize: Keep your cuticles and hands moisturized to maintain the skin around your nails.
So, are white almond acrylic nails safe? They can be, as long as you take the proper precautions and know the potential risks. If you love the look and are willing to invest the time in proper care and maintenance, go for it! But if you're concerned about long-term health, stick to more natural options or use acrylics sparingly. Whatever you choose, make sure it's the best fit for you.
Still Looking for Inspiration, Then Check Out This Video
Conclusion
Alright, remember, your nails are a way to show off your personality, so don't be shy to experiment a bit! Whether you're vibing with the minimalist rhinestones or want to go full-on mermaid with seashell and pearl details, there's something for every mood. My personal recommendation? Please don't shy away from those tiny embellishments; they elevate your mani game. And if you're concerned about your natural nails, opt for designs that are less damaging or give your claws a pause in between acrylics. Until next time, keep those nails looking as fabulous as you are, darlings!
Feature Image Photo By @nailsbyalsn via instagram
Last reviewed and updated on November 20, 2023