Welcome back to the blog, where today, we're dipping our fingertips into the sleek and chic world of White Chrome Nails. Trust me, if you love a manicure that meshes with every outfit and occasion, this is your jam. In this post, we will unravel the allure of white chrome nails that have taken the nail art scene by storm. Why white chrome, you ask? It's the high-gloss finish that reflects like a mirror, paired with the understated elegance of white—it's like your nails are dressed in their very own little black dress, but, you know, the exact opposite.

We'll start by looking at what exactly chrome nails are and the magic behind achieving that coveted metallic sheen. Then, I'll guide you on how to get this look at home—because, let's face it, we're not always about that salon life. Plus, I'll toss in my two cents on the best products to get you that salon-quality look without the salon price tag. When you finish this post, you'll have all the know-how to sport and slay the white chrome nail trend. And who knows, you might be the next trendsetter in your circle. Let's dive in and give your nails the spotlight they deserve.
White French Tip On White Chrome Nails
Elevate the classic French manicure with a twist of white chrome for a futuristic yet sophisticated look. This style gives your lips a subtle, pearly sheen that's timeless and on-trend.
Milky White Chrome Nails
Embrace the minimalist aesthetic with milky white chrome nails that offer a lustrous, satin finish. This look is perfect for anyone seeking a sleek and straightforward vibe that pairs well with any ensemble.
Almond White Chrome Nails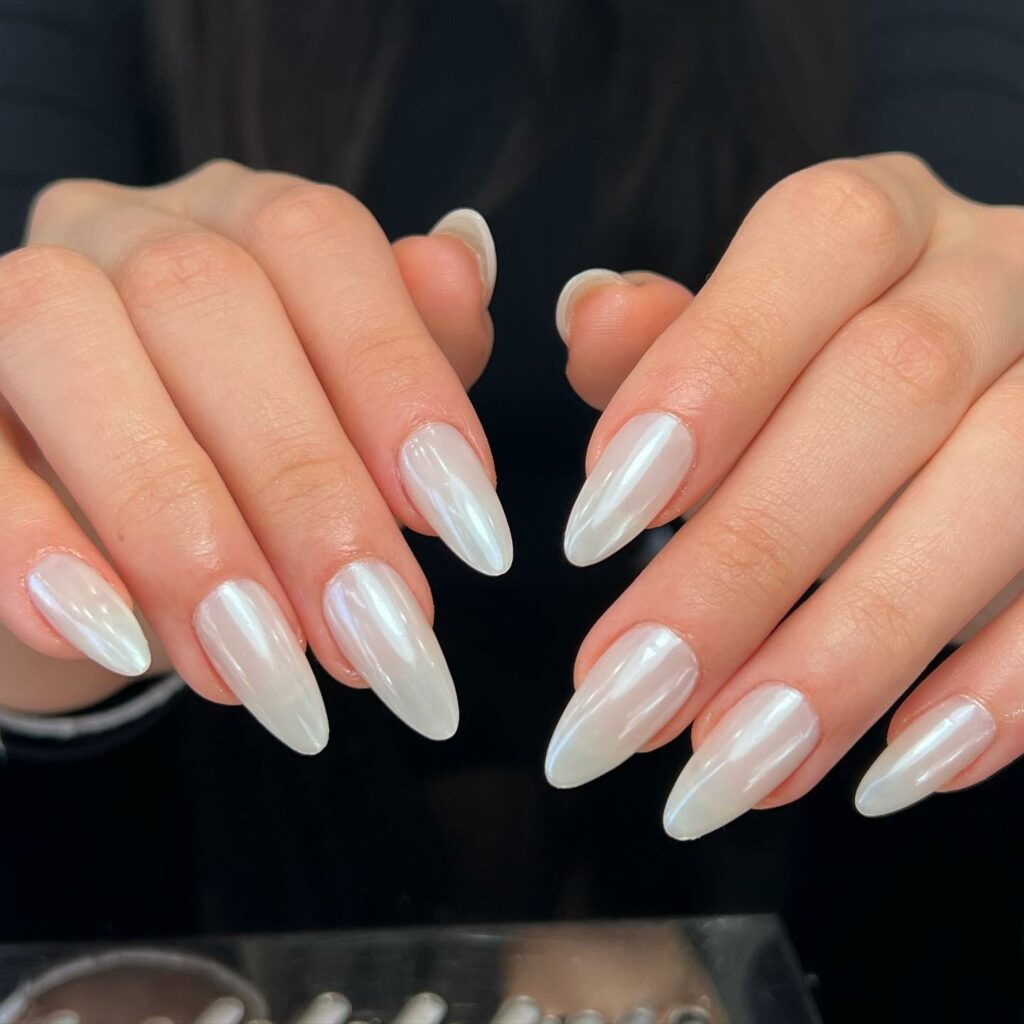 Almond nails are the canvas for the demure elegance of white chrome, marrying the nail shape's femininity with the chrome's modern edge. It's a versatile choice that flatters all hands, giving an elongated, graceful appearance.
Ombré White Pearl Chrome Nails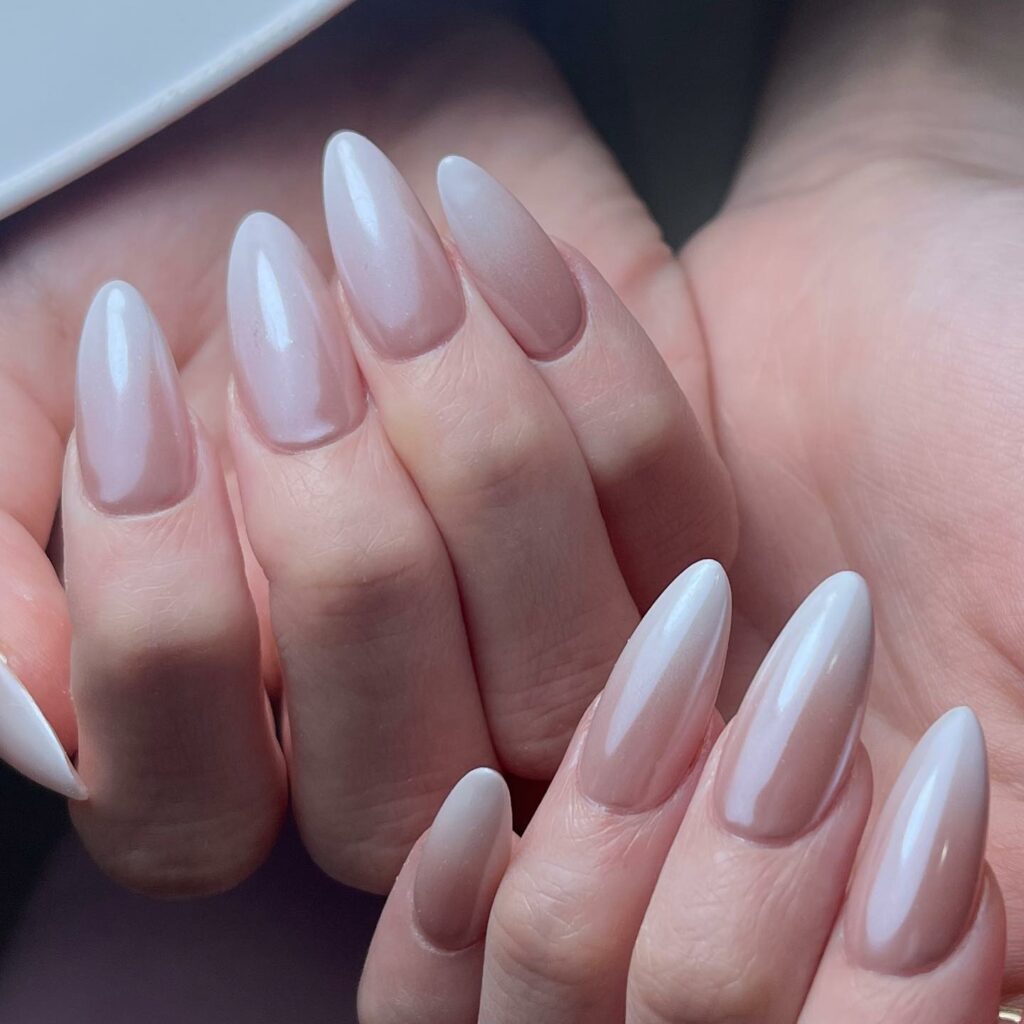 The ombré white pearl chrome nails are a delightful spin on gradients, blending the classic French tip with a lustrous chrome fade. They're a bridal favorite for their subtle shimmer and romantic transition of hues.
Simple White Chrome On A Coffin Nail
The coffin nail lends itself beautifully to the simple elegance of white chrome, offering a long, sleek canvas that highlights the chrome's reflective quality. It's a go-to for those who prefer a bold shape but a clean finish.
White And Silver Chrome Ombre Nails
Merging white and silver in a chrome ombre effect creates an icy, metallic finish that's cool and sophisticated. This look is a futuristic twist on classic ombre, perfect for those looking to blend tradition with trend.
White Creamy Chrome On A Small Square Nail
For those who love a more understated look, the white creamy chrome on small square nails offers a compact and contemporary style. This design maintains a low profile while delivering a high-impact shine.
Small Nails With Milky White Chrome Clouds
Small nails get a significant upgrade with the application of a milky white chrome color, proving that elegance comes in all sizes. This choice is practical and chic, perfect for a polished everyday look.
White Chrome Nails With Rhinestone
Add a dash of glam to your white chrome nails with strategically placed rhinestones for a luxuriously dazzling look. It's a showstopper that will turn heads and sparkle with every gesture.
White Chrome On A Medium Square Nail
The medium square nail is the ideal backdrop for white chrome, offering a broad, modern canvas for the reflective finish. This style balances edgy and classic, suitable for both work and play.
White Chrome Nail With 3D Swirls
Take white chrome nails to new dimensions by incorporating a 3D swirl design, adding a tactile element to the visual intrigue. It's a creative twist that invites both the eye and the touch.
White Chrome Stilleto – Super Glam
For the bold at heart, white chrome stiletto nails adorned with colorful rhinestones blend sharp sophistication with playful sparkle. It's a statement manicure that's unapologetically vivacious.
White Chrome Acrylics
White chrome acrylic nails are a durable and brilliant choice for those who want their metallic sheen to last. They're a sturdy option that doesn't skimp on the high-gloss glamour.
Nude And White Ombre Chrome Nails
The gradient of nude to white in this ombre chrome nail design offers an elegant and seamless transition, perfect for a refined yet contemporary look. This subtle blend works well for any occasion, adding a touch of chrome shine without overwhelming.
White And Pink Marble Nails
Intricate marbling combines white and pink in a luscious swirl, with touches of gold foil adding an opulent twist to chrome nails. The result is a luxurious nail art piece akin to carrying a piece of Renaissance art at your fingertips.
Aura White Chrome Nails
Aura white chrome nails boast a mystical sheen, reflecting a spectrum of colors reminiscent of a luminous aura. This design is for those looking to add a touch of the ethereal to their style, with nails that are as mood-shifting as they are fashionable.
Super Cool Stiletto Nails
On the daring stiletto shape, a white chrome design stands out with its mirror-like finish, ensuring every sharp tip catches the light—and everyone's attention. It's a perfect match for those who wield their style like a weapon.
Creamy White And Purple Chrome Nail
The fusion of creamy white and purple in a chrome finish offers a delightful contrast that's both sweet and edgy. This combination brings a playful pop of color while maintaining an air of sophistication.
White Chrome Nail With Glitters
White chrome nails sprinkled with glitter create a starry effect reminiscent of a frosted winter morning. It's an ideal pick for those who love their nails to sparkle as much as they do.
White Chrome With A Silver Line Design
The simplicity of a single silver line on a white chrome base achieves a balance of minimalism and flair, perfect for the modern minimalist. This nail art proves that sometimes, less really is more.
Square White Chrome Nails
Adorning a square nail with white chrome and accent stones combines structure with sparkle. This style provides a canvas for creativity while maintaining a geometrically pleasing aesthetic.
French and Pearly White Chrome Nails
A chrome twist to the French manicure with pearly white tips exudes a modern yet classic vibe, marrying the best of both worlds. It's a timeless style that's been given a shiny new update, suitable for both day-to-day elegance and special events.
White And Pink Ombre Chrome Nails
The soft transition from white to pink in a chrome finish offers a sweet and feminine touch to your nails, like a blush across a bright sky. It's an endearing choice for those who want a hint of color with their shine.
Milky White Chrome with 3D Cat Eye Design
The milky white chrome base sets the stage for a striking 3D cat-eye design, adding depth and intrigue to the nails. This technique gives a mesmerizing effect that changes with light and perspective, perfect for those who love to mesmerize with their manicure.
White Chrome Nail With Rose Design
Combining the softness of a rose design with the complex, reflective surface of white chrome creates a juxtaposition that's both modern and romantic. It's a nail art that speaks to lovers of intricate, detailed beauty.
6 Simple Tips To Achieve That Ultimate Metallic Sheen
Chrome nails are the shiny, metallic wonders of the nail art world that give your fingers that foil-like finish. This uber-reflective look is usually achieved using a special chrome powder buffed into a high-shine, mirror-like sheen over a gel base coat.
Here's the lowdown on getting that coveted chrome finish:
Prep Your Nails: Start with clean, well-shaped nails. Any bumps or ridges can mess up the smooth chrome effect, so take your time buffing and filing.
Base Coat: Apply a gel base coat and cure it under a UV/LED light. It's your canvas, so make sure it's adequately cured to avoid peeling or lifting.
Color Base: Most chrome powders work best over a black or dark gel polish because they enhance the metallic effect. But for white chrome, a lighter base might be better. Apply your chosen color, and cure it as per the instructions.
Chrome Time: Now, for the magic! Apply the chrome powder over the cured color coat. You'll use a sponge applicator or a silicone brush to gently rub the powder into the nail, building up that intense, metallic look.
Seal the Deal: Once you're satisfied with your sparkle, seal it with a top coat. A gel top coat is preferred because it preserves the mirror finish. Cure it under the lamp, and voila!
No-Clean Top Coat: Some prefer a no-clean top coat for a more lustrous finish. If that's your choice, apply, cure, and you're done—no wiping required. Remember, practice makes perfect with chrome nails. Keep going even if your first attempt isn't flawless. Have fun experimenting with different base colors and chrome powders. The possibilities are practically endless!
7 Products That I Recommend To Get A Salon-Quality Finish At Home
Quality Chrome Powders: Look for high-rated chrome powders. Brands like Born Pretty and Mirror Nail Chrome offer a variety of shades and are known for their intense shine.
UV/LED Lamp: A good curing lamp is necessary for setting gel polishes and top coats. Brands like Gelish and SUNUV have lamps that are reliable and widely used in both home and professional settings.
Gel Polishes: The base of your chrome look should be a solid, high-quality gel polish. OPI, Gelish, and Essie have gel lines that offer excellent opacity and staying power.
Top Coats: A no-wipe gel top coat will give you that glassy finish without tackiness, ensuring your chrome powder adheres smoothly. Look for top coats from the same brands as your gel polish for the best compatibility.
Protective Gear: Remember to protect your skin and nails. Wearing UV protective gloves that expose only your nails can help shield your skin from the UV lamp.
Nail Prep Tools: To avoid lifting and to ensure a long-lasting manicure, use a good-quality dehydrator and primer before you apply your base coat. Brands like Mia Secret offer products that prepare your nails perfectly for gel application.
Application Tools: You'll need a soft sponge applicator or silicone brush for the chrome powder—a makeup eyeshadow applicator can work in a pinch.
Conclusion
Alright, lovelies, let's wrap up this chrome nail journey. Whether you're swooning over the subtle nude and white gradients or glamming up with some pink marble and gold foil, it's clear that chrome nails are a versatile trend with something for everyone. My top tip? Don't shy away from a bit of DIY – with the right tools and patience, you can achieve these looks at home. Remember, the key to flawless chrome is a smooth surface, so get your buff on before you shine. And hey, if you're not into the whole do-it-yourself vibe, your local nail tech can help you find your chrome groove. Go forth and bedazzle those nails, and don't forget to tag me in your nailfiles (nail selfies, get it?). I can't wait to see how you rock the chrome! Shine on!
Feature Image Photo By glowiebyher on Instagram
Last reviewed and updated on November 17, 2023