Welcome to my world of beauty and nails! Today, I'm excited to dive into a trend that is turning heads and gracing the most stylish fingertips: White Marble Nails. This post is all about mastering this elegant, sophisticated style that mimics the timeless beauty of marble.
Here's the deal: White Marble Nails are not just a fad but a statement. They blend classic charm with modern flair, making them perfect for any occasion, from casual coffee runs to glamorous events. I'll guide you through the essential facts about achieving this look – from selecting the proper shades of white and gray to creating those iconic marble swirls that make each nail a miniature piece of art.
But wait, there's more. I'll also share my tips and tricks, honed from years of beauty blogging and nail art passion, to ensure your White Marble Nails are beautiful but also durable and practical. Whether you're a nail art newbie or a seasoned pro looking for new inspiration, this post is your go-to guide for nailing (pun intended!) this stunning style. Let's get those nails looking like luxe pieces of marble!
White Marble Coffin Nails With Gold Flakes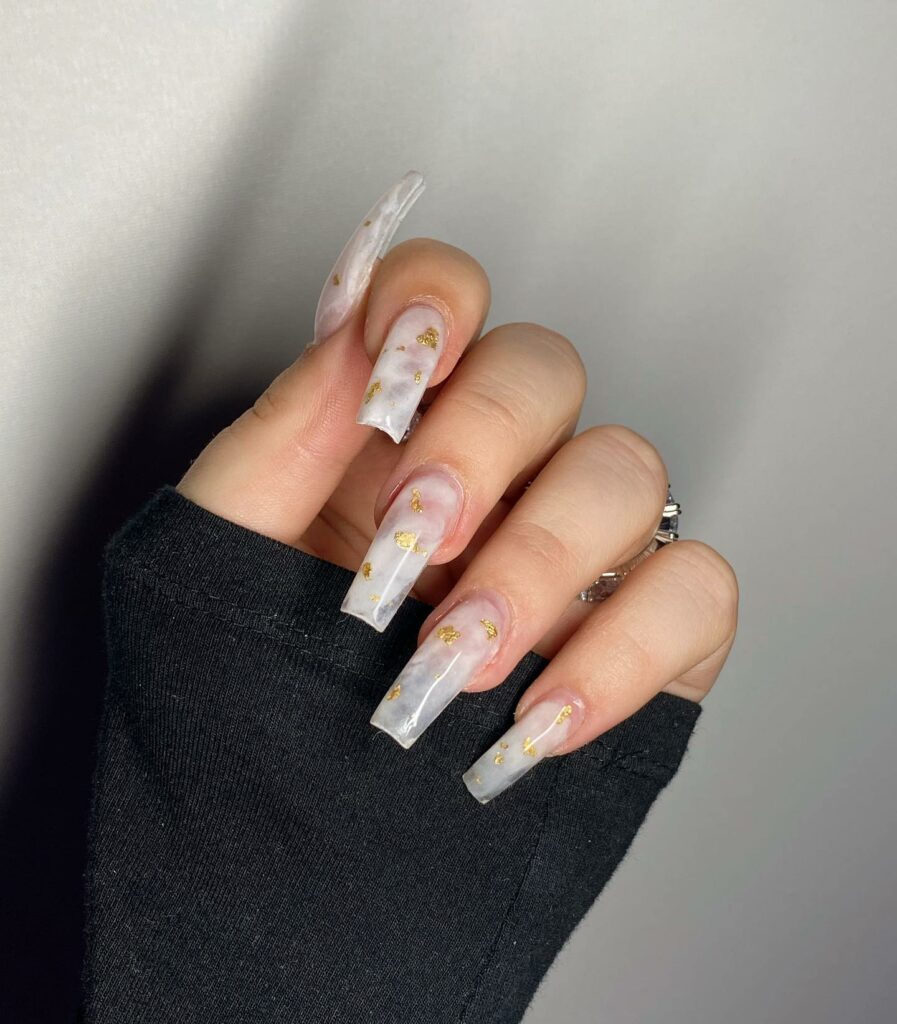 These nails combine the elegance of white marble with the luxury of gold flakes, perfect for a luxurious and sophisticated look. The coffin shape adds a modern edge, making it a popular choice for fashion-forward individuals.
White Marble Almond Nails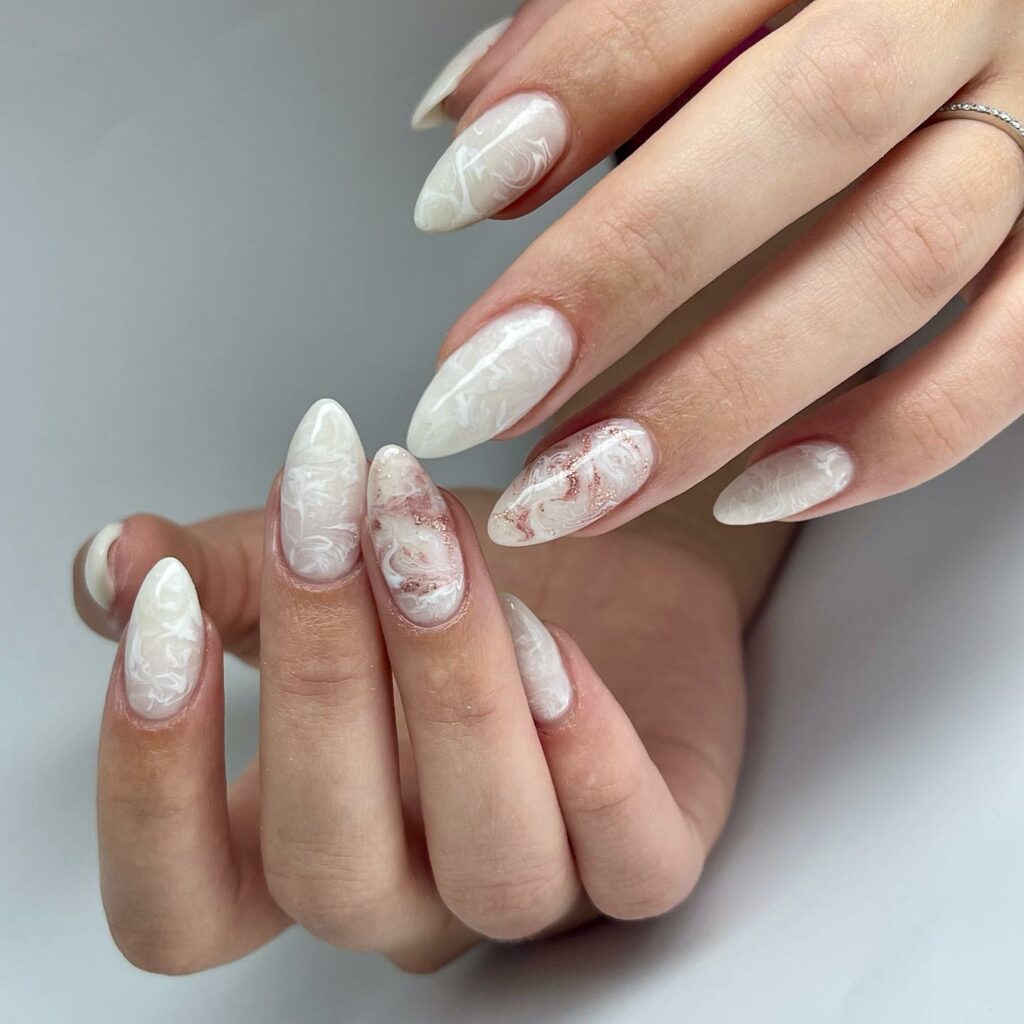 Almond-shaped nails are a classic, and when adorned with a white marble design, they exude a timeless yet trendy vibe. This style is ideal for those who prefer a chic and feminine nail aesthetic.
White Marble Coffin NailsWith Rhinestones
Adding rhinestones to white marble coffin nails creates a dazzling effect, perfect for events where you want to make a statement. The combination of marble texture and sparkling stones balances elegance and glamour.
White Marble Long Nails
Long nails offer a larger canvas for the intricate details of white marble art. This showstopper style is ideal for those who love to flaunt bold and artistic nail designs.
White And Brown Marble Nails With 1999 Design
This unique design blends white and brown marble patterns with a nostalgic '1999' motif, offering a retro yet chic look. It's a creative choice for those who love to incorporate a bit of personal or vintage flair into their nail art.
White And Gold Marble Nails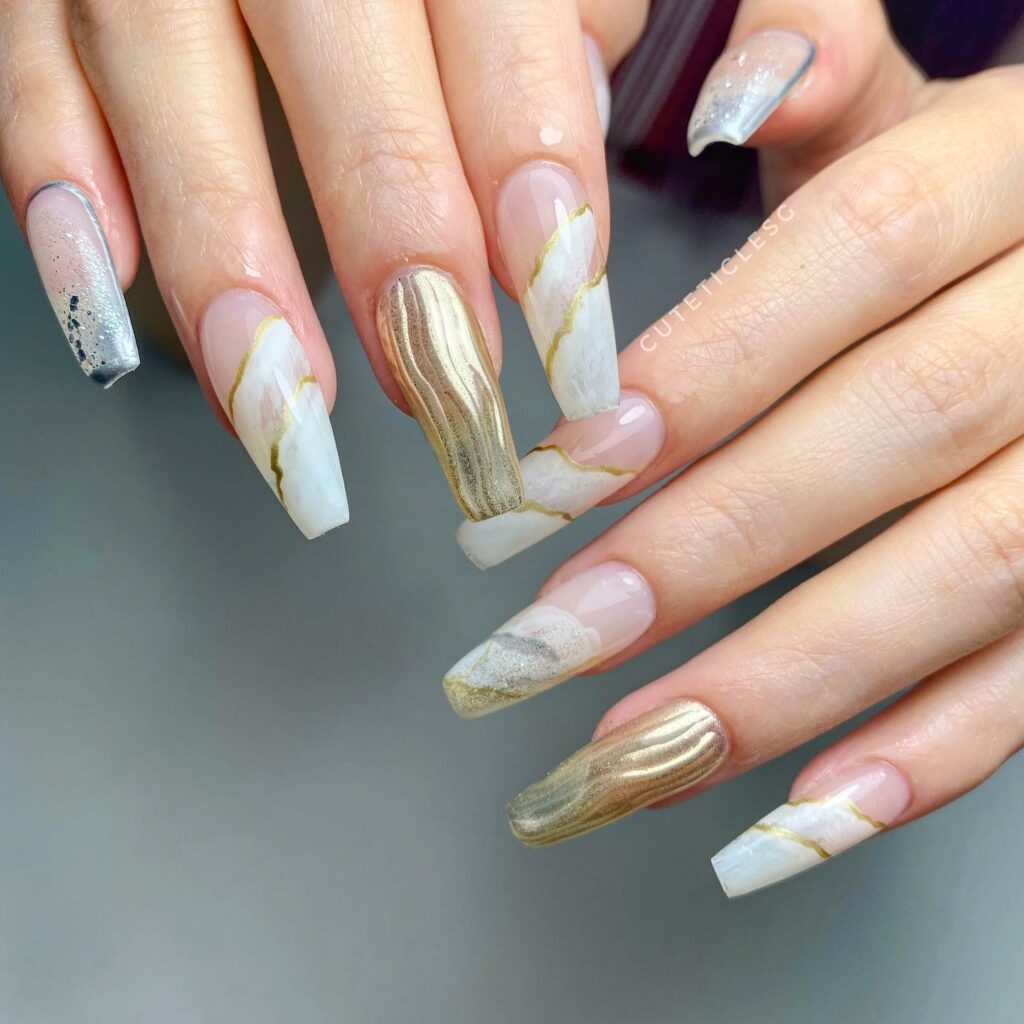 The fusion of white and gold in a marble pattern exudes luxury and sophistication. This style is perfect for adding a touch of elegance to any outfit, making it a versatile choice for various occasions.
White Marble Acrylic Nails With Gold Flakes
Acrylic nails provide durability and length, and when paired with a white marble design and gold flakes, they create an eye-catching and elegant look. This combination is ideal for those who prefer long-lasting and striking nail art.
White Marble Small Coffin Nails With Gold Flakes
The tiny coffin shape offers a subtle yet trendy take on the marble trend, with gold flakes adding a touch of luxury. This style is excellent for those who prefer a more understated but stylish nail design.
Long White Marble Coffin Nails With Black Design
These nails offer a dramatic and edgy look, combining the sleekness of long coffin nails with the contrast of black designs on a white marble base. Perfect for those who love to make a bold fashion statement.
White And Black Marble Accent Nails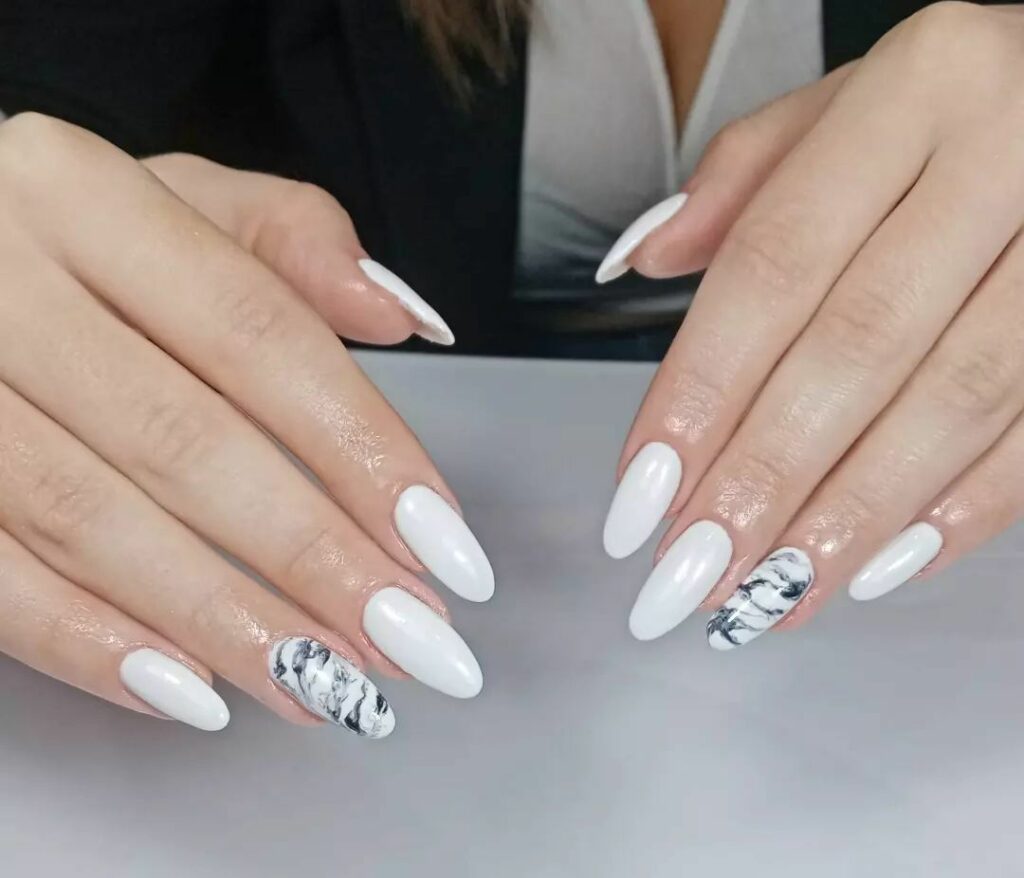 This design features a striking contrast between white and black marble, often used as accent nails to add a touch of sophistication to any look. It's a great way to incorporate a modern, artistic flair into your manicure.
White Marble Stiletto Nails With Colorful Glitters
Stiletto nails lend an adventurous and edgy shape, and when adorned with white marble and colorful glitters, they become a playful yet chic fashion accessory. Ideal for those who love to combine elegance with a pop of color.
White Marble Small Round Nails
Small round nails are a classic and comfortable choice, and with a white marble design, they exude a subtle elegance. This style is perfect for those who prefer a more understated yet stylish nail look.
White Marble Round Nails With Gold Design
Gold designs to white marble round nails create a luxurious and refined appearance. This combination is ideal for those seeking a sophisticated yet glamorous nail style.
White And Pink Marble Nails With Gold Foils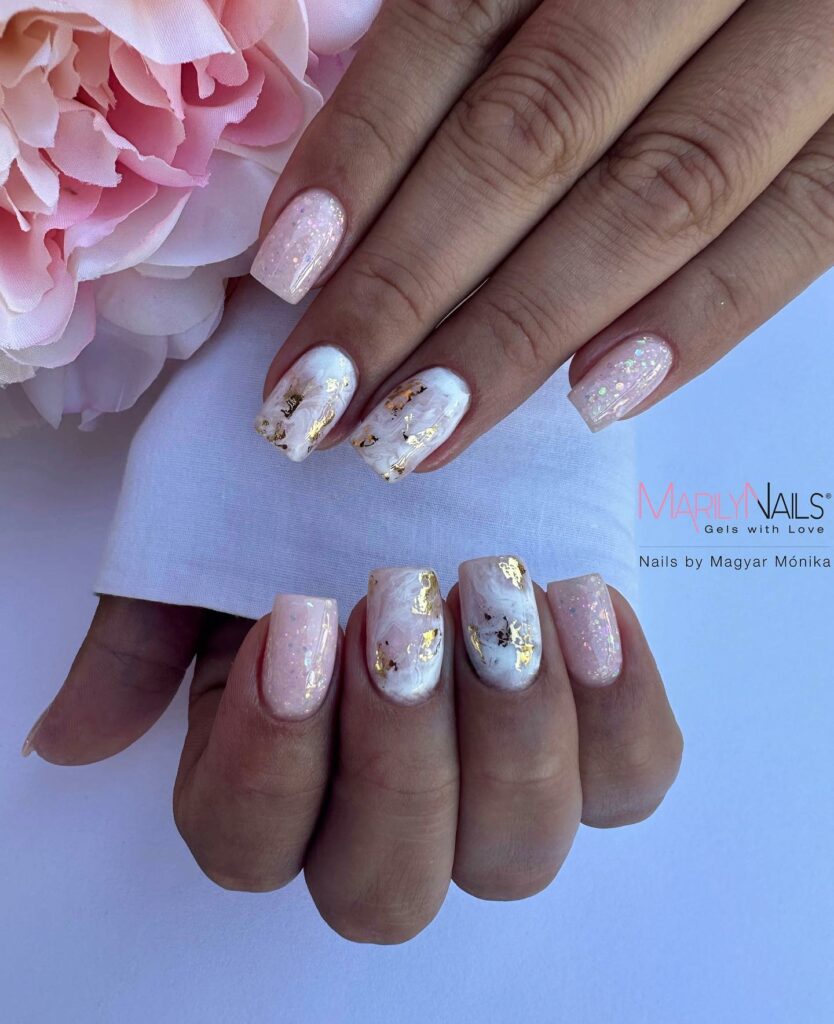 The soft white and pink marble blend, enhanced with gold foils, creates a romantic and sophisticated look. This design is perfect for those who love feminine and delicate nail art styles.
White Marble Short Nails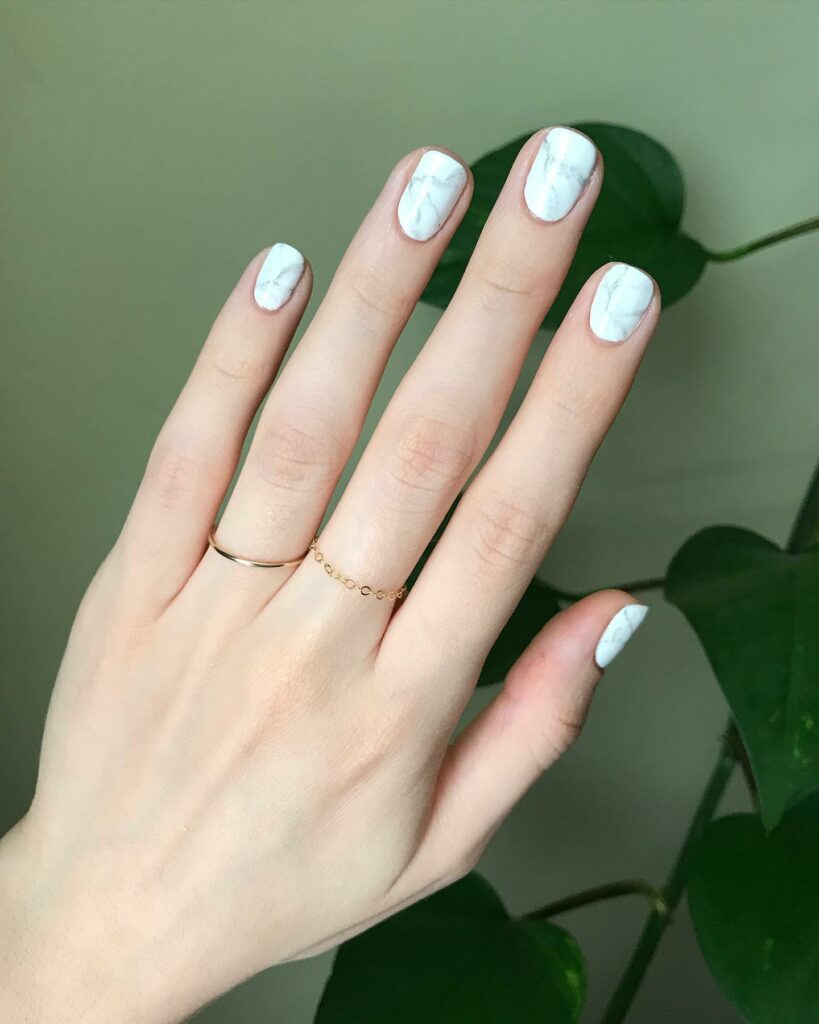 Short nails with a white marble design offer practicality without compromising style, making them an excellent choice for everyday elegance. This is perfect for those who want a chic look that's also low-maintenance.
7 Tips To Get The Perfect Color Combination For Marble Nails
Pure White: Start with a pure, crisp white as the base. It's the quintessential marble color and provides a clean, bright background for the marble effect.
Soft White: A softer, slightly off-white shade can add depth and a more natural look to the marble design. It's excellent for creating a more subtle marble effect.
Light Gray: A light, almost silvery gray is essential for those gentle veins characteristic of marble. It's perfect for creating delicate lines and swirls.
Medium Gray: A medium shade of gray adds contrast and helps to create a more realistic marble effect. It's useful for adding shadows and depth to the design.
Charcoal Gray: A darker charcoal gray can be used for more dramatic veining. It's great for making bold statements and adding a modern twist to the classic marble look.
Metallic Silver: Incorporating metallic silver can add a touch of luxury and mimic the sheen often seen in natural marble.
Creating the marble effect is all about layering these shades and playing with watered-down paints or diluted nail polishes to achieve that natural, flowing marble look. The beauty of marble nails is in their uniqueness – no two nails will ever look the same, just like natural marble!
.
10 Tips To Get The Perfect Marble Nails At Home
Watered-Down Polish Technique: Using a small brush and watered-down gray polish to create realistic marble veins. The thinner consistency allows for more natural, wavy lines that mimic real marble.
Saran Wrap Method: Apply a base of white polish, let it dry, then dab on spots of gray polish. Immediately use a crumpled saran wrap to lightly blot and spread the gray, creating a marbled effect.
Feathering Brush Strokes: Use a thin brush to draw delicate, feathering strokes with gray polish on the white base. This creates those soft, natural-looking marble veins.
Adding Dimension: Incorporate shades of gray and even a touch of black or silver to add depth to the marble effect. Layering these colors subtly can create a more authentic look.
Dotting Tool for Details: Use a dotting tool to add fine details and blend the marble lines softly into the white base. This can help in achieving a more organic marble pattern.
Matte or Gloss Finish: Experiment with different top coats. A glossy top coat can give a sleek, shiny finish, whereas a matte top coat can give a more stone-like, realistic marble effect.
Practice on Paper First: If you're new to marble designs, practice drawing marble patterns on paper with nail polish. This helps you get comfortable with the technique before applying it to your nails.
Patience is Key: Marble designs can be intricate. Take your time, and don't rush the process. Allow each layer to dry properly before applying the next.
Clean-up Brush: Keep a small brush dipped in nail polish remover handy to clean up any edges or mistakes for a professional-looking finish.
Incorporate Accent Nails: If you find all ten fingers challenging, start with one or two accent nails with the marble design and paint the rest in coordinating solid colors. Remember, marble nails are like little pieces of art – each unique. Don't worry about making them look identical. Embrace the variations; they add to the charm of this style!
Conclusion
Diving into the world of white marble nails is like exploring a treasure trove of styles – from the daring stiletto to the comfy yet chic short nails, there's a marble masterpiece for everyone. Remember, the key to nailing (pun totally intended!) this look is in the details – think contrasting colors, a sprinkle of glitter, or a dash of gold for that extra oomph. My top tip? Don't be afraid to experiment and add a twist to these designs. Whether you're a DIY diva or a salon regular, white marble nails are a fun way to express your style and add a touch of luxury to your look. So pick your favorite style, and let those nails do the talking!
Feature Image Photo By @merlin_nails via instagram
Last reviewed and updated on November 20, 2023