Welcome to the polished world of Pearl White Nails, the classic beauty staple making a grand return to the trend scene! In today's post, we'll dive into the lustrous charm of this elegant nail color and why it's not just a retro throwback but a timeless choice for anyone looking to add a touch of sophistication to their look. You'll learn the ins and outs of achieving the perfect pearl white manicure, from selecting the right shade to applying tricks to give you that flawless finish. We'll also touch on the best outfits and occasions to complement your pearly tips and how to maintain them so you can enjoy a lasting, chic look. As a seasoned beauty fan, I've seen trends come and go, but pearl white nails? They have an enduring allure. My top advice is to pair them with a bold statement piece or let them stand alone for that understated elegance. Ready to give your nails a brush with classic charm? Let's get started!
Long Coffin White Pearl Nails
The elongated shape of coffin nails offers a dramatic canvas for the soft sheen of pearl white, perfect for those who love a bold yet sophisticated statement. These nails are necessary for a modern, edgy look balanced with elegance.
White Pearl Stiletto Nails
Sharp and daring stiletto nails become even more of a showstopper when adorned with the iridescent glow of white pearl. They're ideal for anyone looking to add a touch of fierce glamour to their nail game.
Almond Nails With Pearl Stone Design
Embellishing pearl white nails with actual pearl stones create a textured, luxurious, captivating effect. This Design is perfect for special occasions where you want your hands to be the center of attention.
White Pearl Nails With Rhinestones
Amplify the classic beauty of white pearl nails by accenting them with large rhinestones for an opulent and eye-catching sparkle. It's a glamorous addition bound to turn heads at any event.
White Pearl Nails With 3D Design
Adding a 3D design to white pearl nails introduces an element of artful sophistication, making your manicure a three-dimensional masterpiece. This style is perfect for those who appreciate nails that are both tactile and visually stunning.
Creamy White Pearl Nails Edged With Rhinestones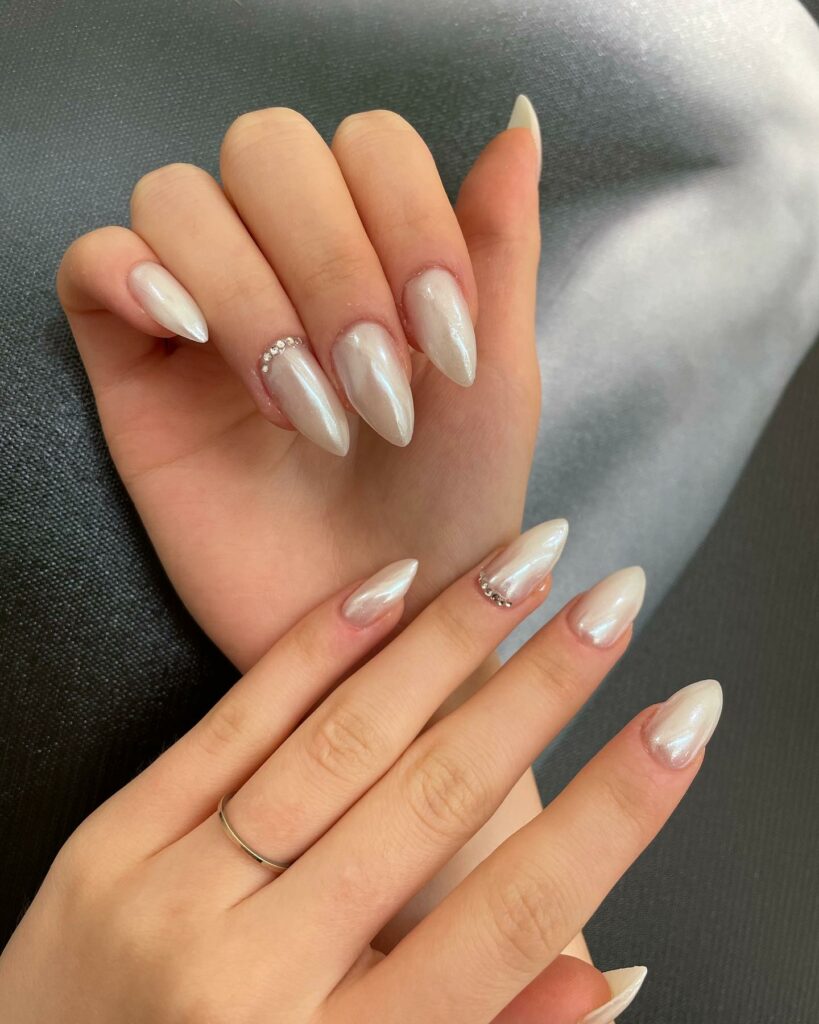 The creamy undertones of white pearl nails provide a softer backdrop for the gleaming accent of rhinestones, offering a subtly luxurious look. It's a refined choice for those who love a hint of sparkle without overwhelming their style.
Long Almond Nails With Rhinestones
The naturally elegant shape of almond nails pairs beautifully with the glitz of rhinestones, striking a balance between understated grace and dazzling flair. These nails are the perfect blend of sophistication and sparkle.
White And Pink Pearl Nails
Combining the gentle curve of almond nails with the delicate addition of pearl stones results in a truly romantic and feminine aesthetic. This manicure is a dreamy nod to vintage glamour.
White Pearl Nails With Rhinestones
White pearl nails get a dose of razzle-dazzle when paired with rhinestones, making for a classic and captivating manicure. It's a versatile look that can easily swing from day to night.
White Almond French Nails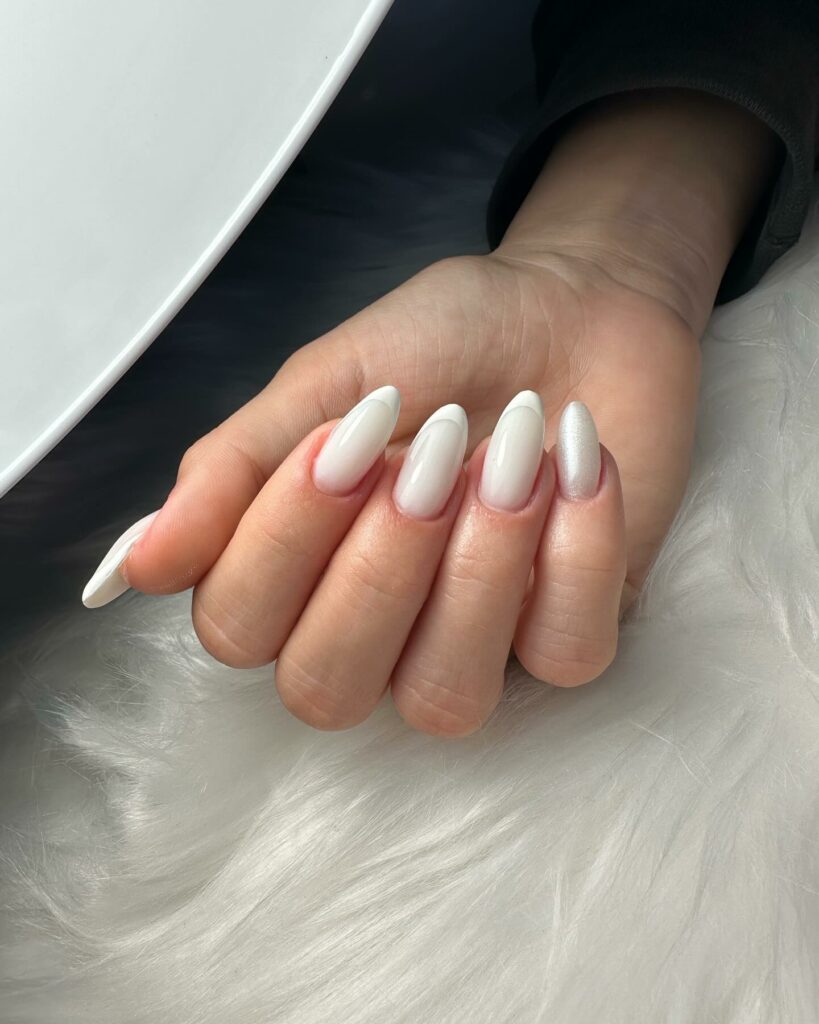 A twist on the traditional French tip, white pearl adds a pearly luster that elevates the look into something more luxurious and modern. It's a subtle yet impactful way to wear a time-honored style.
Small Pearl Nails
Petite and charming, small pearl nails are a nod to minimalistic beauty, proving that sometimes less really is more. They're perfect for those who seek a hint of luster without overpowering their natural nail.
Almond White Pearl Nails With Metallic Tips
The fusion of pearly white with metallic tips creates a harmonious blend of sheen and shimmer for a refined and trendy manicure. This look is perfect for adding a futuristic touch to the classic elegance of pearl white.
3D White Pearl Nails
This Design breathes life into the serene beauty of white pearl nails, with 3D flowers creating a tactile garden at your fingertips. It's an exquisite choice for anyone looking to blend the classic with the whimsical.
White Pearl Nails With Rainbow Dots
The addition of rainbow dots to white pearl nails infuses playful vibrancy into an otherwise understated look. This cheerful twist is perfect for those who want to sprinkle a little fun onto a classic palette.
White Pearl Nails With Silver Accents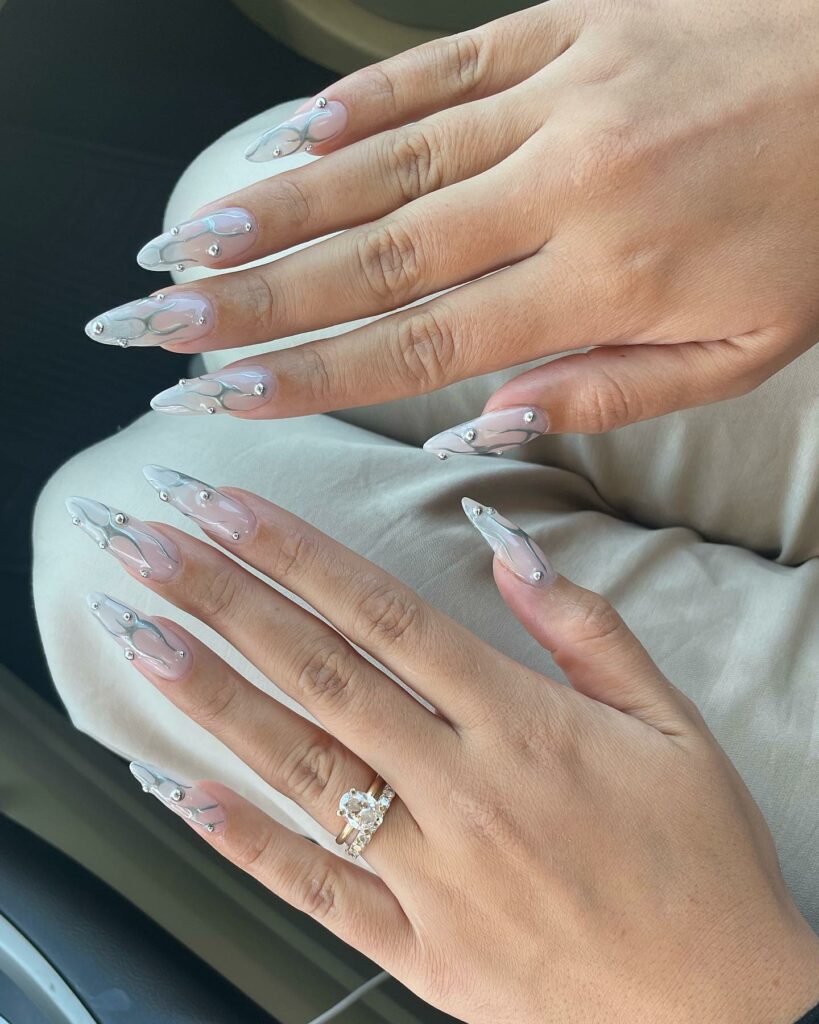 Silver tribal patterns etched onto white pearl nails bring an edgy contrast to the nail's smooth surface, marrying tradition with contemporary flair. Opt for this Design to make a bold statement that pays homage to cultural artistry.
Holographic White Pearl Nails
The holographic sheen adds a futuristic dimension to the white pearl base, while 3D elements and silver accents provide an intricate layer of detail. This complex Design is for the nail enthusiast who loves to stand out with a multi-dimensional look.
Stiletto Chrome White Pearl Nails
The reflective chrome finish on stiletto nails gives the white pearl a high-shine update, and delicate butterflies add a whimsical charm. This Design is perfect for those who embrace bold elegance with a playful twist.
White Pearl Nails With Silver Stars Design
Silver stars scattered across a white pearl backdrop offer a celestial take on nail art, perfect for anyone wanting to carry the night sky at their fingertips. It's a dreamy look that combines cosmic wonder with classic beauty.
Small White Pearl Nails
Small nails coated in white pearl polish exude a refined simplicity, proving that elegance often lies in the details. This minimalist approach is ideal for those who appreciate beauty in its most delicate form.
White Pearl Nails With Accents Of Silver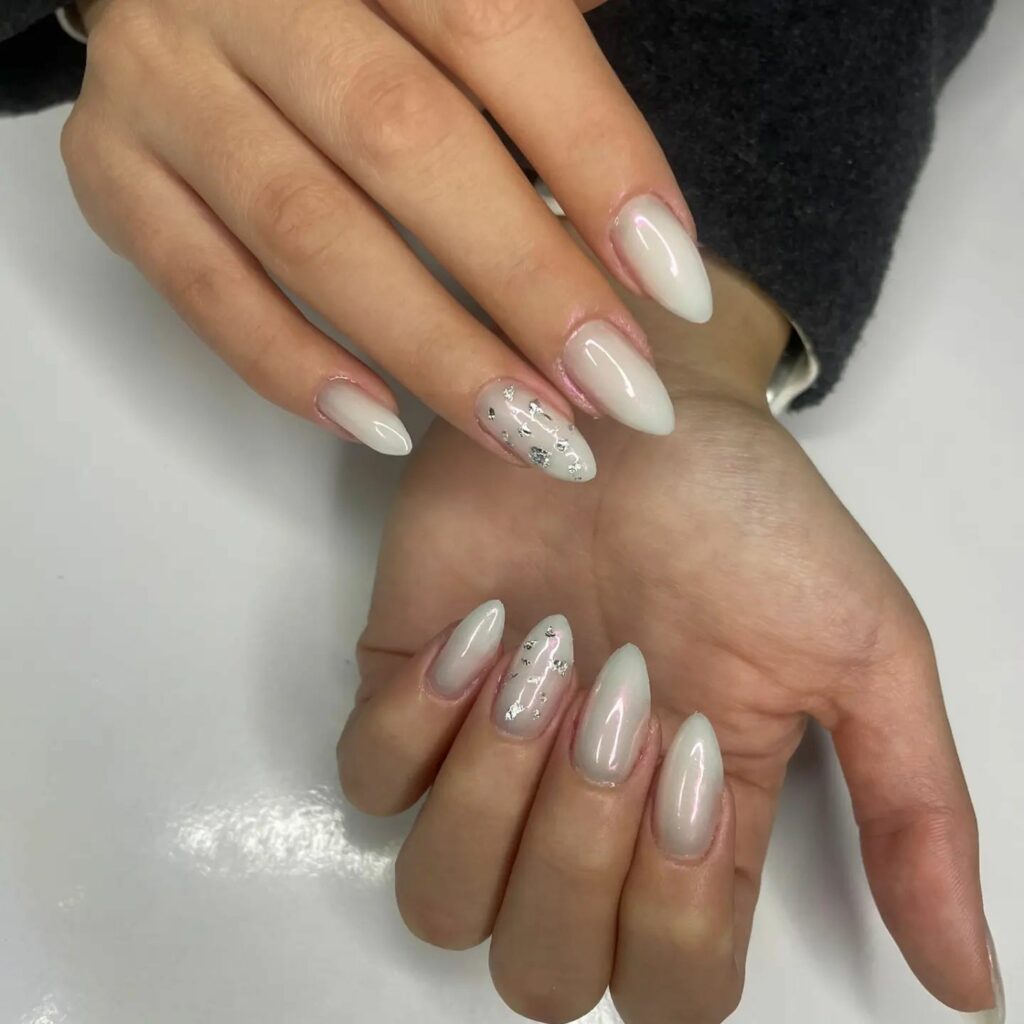 The incorporation of silver foils gives white pearl nails a modern edge, creating a metallic texture that catches the light with every movement. Choose this Design for a futuristic take on the timeless pearl finish.
6 Tips To Achieve A Flawless Pearl White Manicure?
Base Coat: This will protect your natural nails from staining and help the pearl white color adhere better.
Pearl White Nail Polish: Choose a high-quality polish for a smooth application.
Top Coat: A top coat will give your nails a glossy finish and prevent chipping.
Fine Detail Brush: For designs or to clean up the edges around your nails.
UV or LED Lamp: If you're using a gel polish, you'll need a lamp to cure the polish.
Cuticle Oil: Keep your cuticles and the skin around your nails moisturized after the manicure.
5 Rules To Properly Maintain Pearl White Nails
Gentle Use: Avoid using your nails as tools to prevent chips and wear.
Touch-Ups: Apply a top coat daily to maintain shine and protection.
Hydration: Regularly use cuticle oil and hand cream to hydrate your nails and cuticles.
Protection: Wear gloves while cleaning or doing dishes to protect your manicure from harsh chemicals.
Safe Removal: If you need to remove your nail polish, do so gently with a non-acetone remover to avoid damage to the nail surface.
Still Looking for Inspiration, Then Check Out This Video
Conclusion
And there you have it, my fellow beauty buffs – a treasure trove of pearl-white nail inspirations to adorn your fingertips! Whether you're jazzing them up with rainbow dots for a pop of fun, going bold with holographic 3D designs, or keeping it classically chic with tiny, unadorned pearls, there's a style for every mood and occasion. Remember, the key to nailing any of these looks (pun intended) is a steady hand, a good base coat, and the confidence to rock it. My advice? Don't stop experimenting – mix and match these ideas to find the pearl-fact look that speaks to you. So go ahead, choose your favorite, grab your nail kit, and let's get those nails looking utterly fabulous. Happy painting!
Feature Image Photo By nailsbyalsn on Instagram
Last reviewed and updated on November 11, 2023