Hey, beauties! Today, we're diving into something that'll add sunshine to your toes—yes, we're talking about the yellow pedicure. It's not just a color; it's a whole vibe. In this post, you'll learn everything there is to know about pulling off this bright and cheerful trend like a pro. From selecting the perfect yellow shade that complements your skin tone to tips on longevity and design ideas, I've got you covered.
Here's a little secret: yellow isn't just for summer. With the right undertone and design, you can rock it year-round. So grab your fave nail polish, and let's get those toes Instagram-ready. Trust me, you'll wonder why you stuck to safe neutrals once you go yellow. Stay tuned!
French Yellow Pedicure
Think French pedicure, but make it playful. Swap out the traditional white tips for yellow to modernize this classic look. It's a subtle twist that makes all the difference, suitable for formal and casual occasions.
Plain Yellow Pedicure
Remember to underestimate the power of a simple, solid color. A plain yellow pedicure screams confidence and gives your toes that "look at me" factor. Choose a vibrant, high-gloss finish for that extra punch. If you ask me, this one's perfect when you want your footwear to do the talking.
Pastel Yellow Pedicure
Pastel yellow is like that soft-spoken friend who still steals the show. This shade is your go-to for something delicate and eye-catching, ideal for springtime brunch or a laid-back weekend outing.
Long Nail Yellow Ombre Pedicure
Ombre isn't just for your hair or fingernails; your toes can join in on the fun, too. Going from a deep to a lighter yellow adds depth and intrigue, especially on longer nails. This style is perfect if you're looking to make a fashion-forward statement.
Yellow Sunflower Pedicure
This isn't just a color; it's a mood. Sunflower designs over a yellow base bring fun and whimsy, ideal for picnics or any outdoor gatherings where you're kicking off your sandals.
Yellow Pedicure With Pink Flower
The combination of yellow and pink is just unbeatable. A small pink flower design can add a feminine touch without overwhelming the yellow base.
Yellow Pedicure With Dot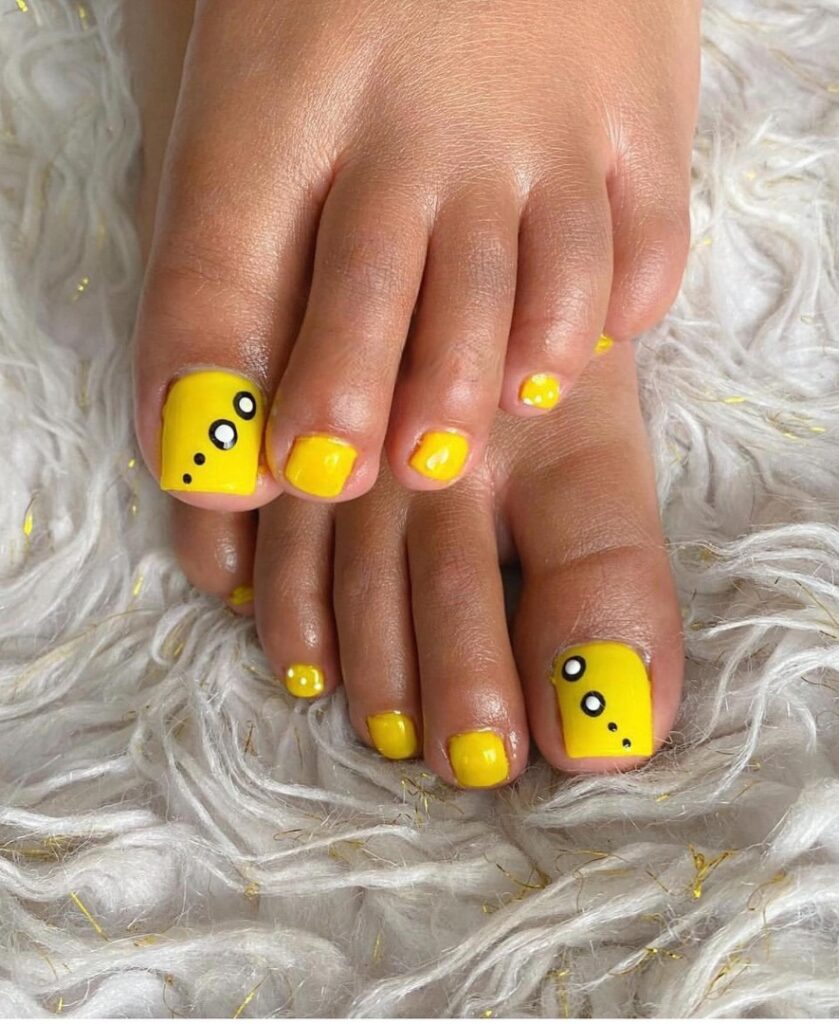 Sometimes, less is more. A yellow base with simple black or white dots can create a minimalist yet eye-catching look. Ideal for those who want a touch of artistry without going overboard.
Yellow Pedicure With Ribbon Design
Ribbon designs on a yellow base add a touch of elegance and playfulness. This style is perfect for special occasions or when you're feeling a bit more artsy.
Yellow Swirl Pedicure
For the free spirits, swirling patterns in contrasting colors can make your yellow pedicure unique. It's a look that says you're creative and unafraid to let your individuality shine.
Yellow And Orange Ombre Pedicure
If one color isn't enough, try blending yellow into orange for a warm, sunset-like effect. It's like having a summer vacation right on your toes.
Yellow Pedicure For Wedding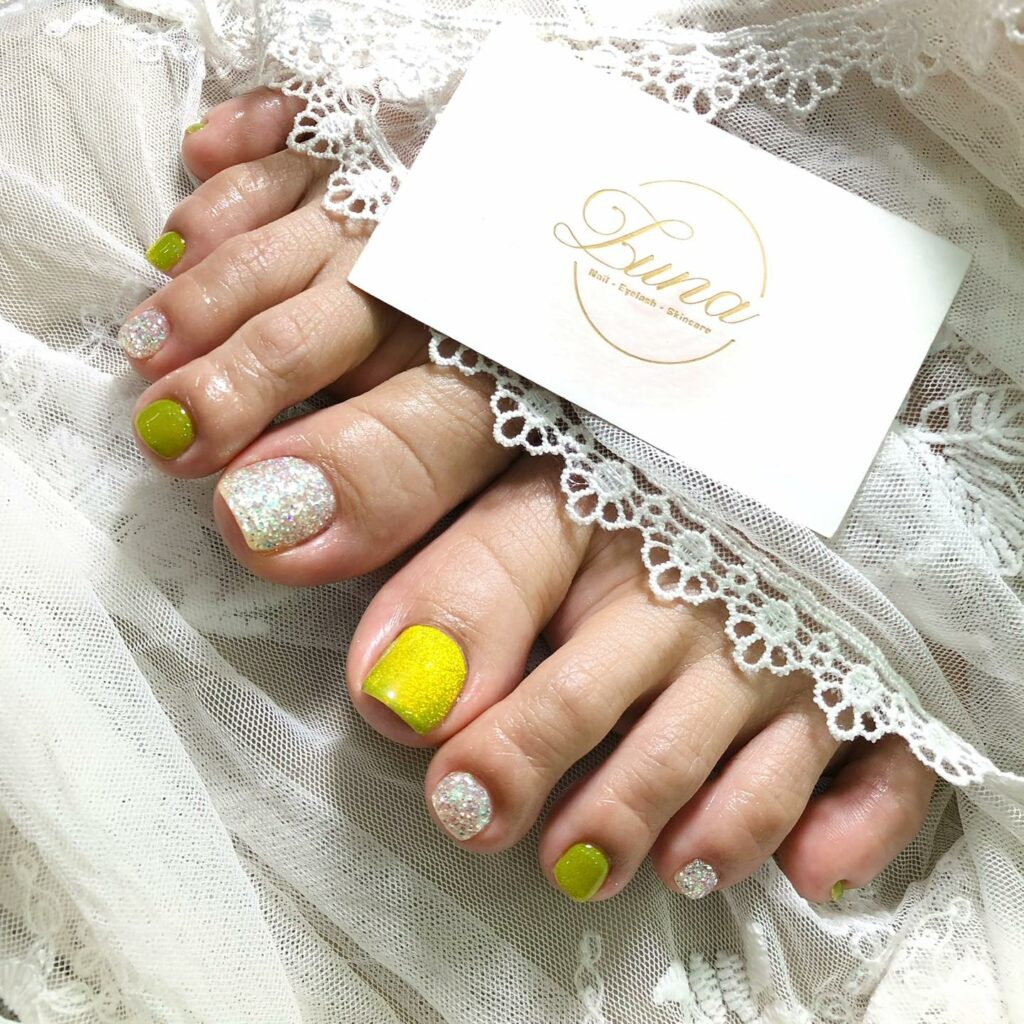 Who says brides have to stick with pale pinks or nudes? A sophisticated yellow pedicure can be a delightful surprise under that wedding gown, especially for a summer or beach-themed wedding.
Pastel Yellow With Gold Line
Imagine a soft pastel yellow pedicure accented with a thin gold line for a little extra bling. It's understated glamour at its best, fitting for everyday looks and special occasions.
Yellow French With Cherry Glitters Design
Take the French yellow pedicure up a notch by adding cherry-shaped glitters. This playful addition turns your toes into a conversation starter, perfect for days you feel particularly spirited.
Yellow French With Dots Design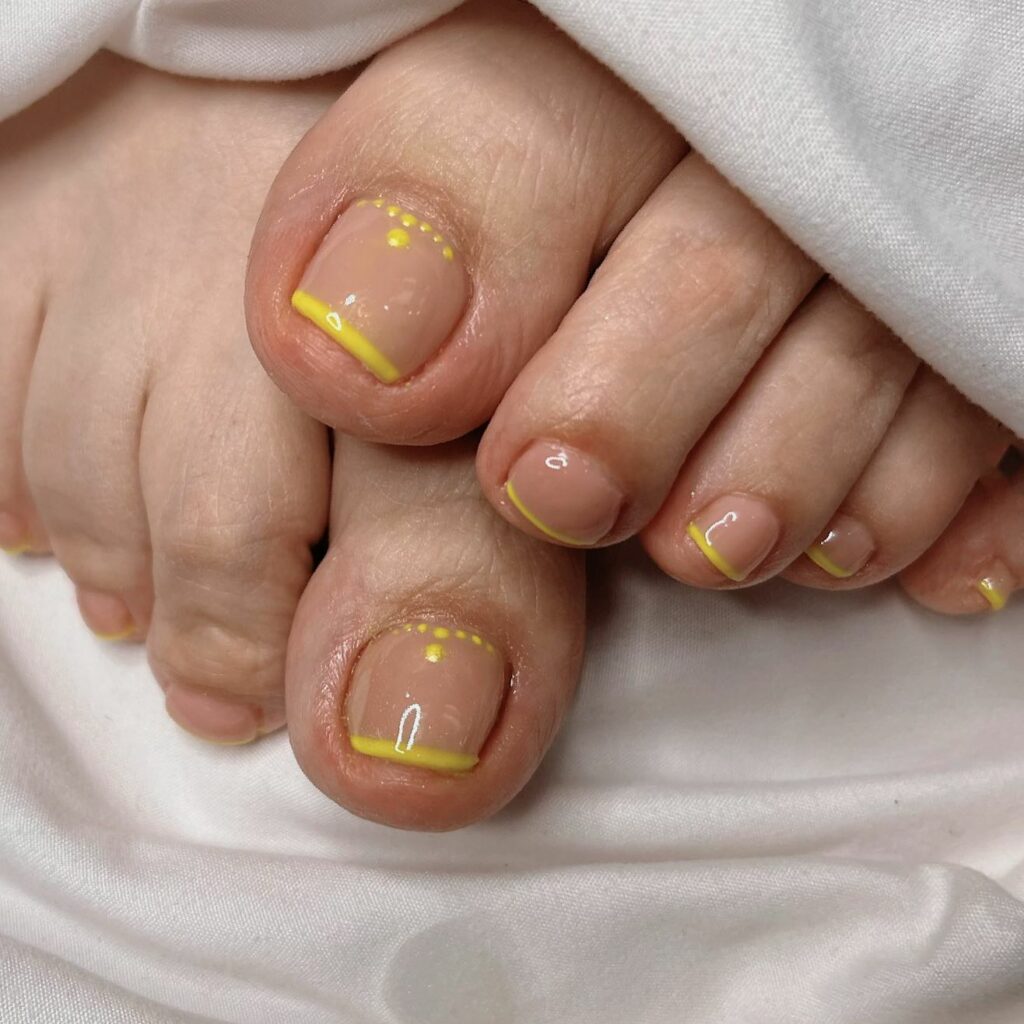 Switch up the classic French pedicure by adding cute dots along the yellow tips. This small yet impactful detail turns the timeless design into something fresh and chic. Great for when you want a look that's fun but still elegant.
Yellow French With Colorful Stones
Elevate your yellow French pedicure with the strategic placement of colorful stones. These stones can be your tiny pieces of jewelry for the toes, perfect for occasions where you want to sparkle more.
Simple Pastel Yellow Pedicure
There's beauty in simplicity. A basic pastel yellow coat can be just as show-stopping as intricate designs. This shade provides a subtle way to embrace the yellow trend without going too bold.
Yellow French With White Flower Design
Adding a white flower design to a yellow French pedicure can make your toes look like a piece of art. It's a floral twist on a modern classic, best suited for romantic dates or springtime outings.
Yellow Pedicure With Spring Flower
Capturing the essence of spring on your toes is easy with yellow as your base color, adorned with floral patterns. This design makes you feel like you're walking in a field of flowers every step of the way.
Yellow French With Swirl Pattern
If you're all about aesthetics, swirl patterns on a yellow French base are an eye-catching way to incorporate some artistry. This pedicure screams creativity and pairs well with your artsy mood.
Yellow Pedicure With Black Spots Design
Think ladybug, but make it fashion. Black spots on a yellow base offer a playful yet sophisticated look. This combination is surprisingly versatile, matching well with various outfits.
Yellow Pedicure With Rhine Stones On Nails
Rhinestones can make your yellow pedicure go from casual to glam in a heartbeat. Whether you opt for small or large stones, their sparkle adds luxury to your toes.
Neon Yellow Pedicure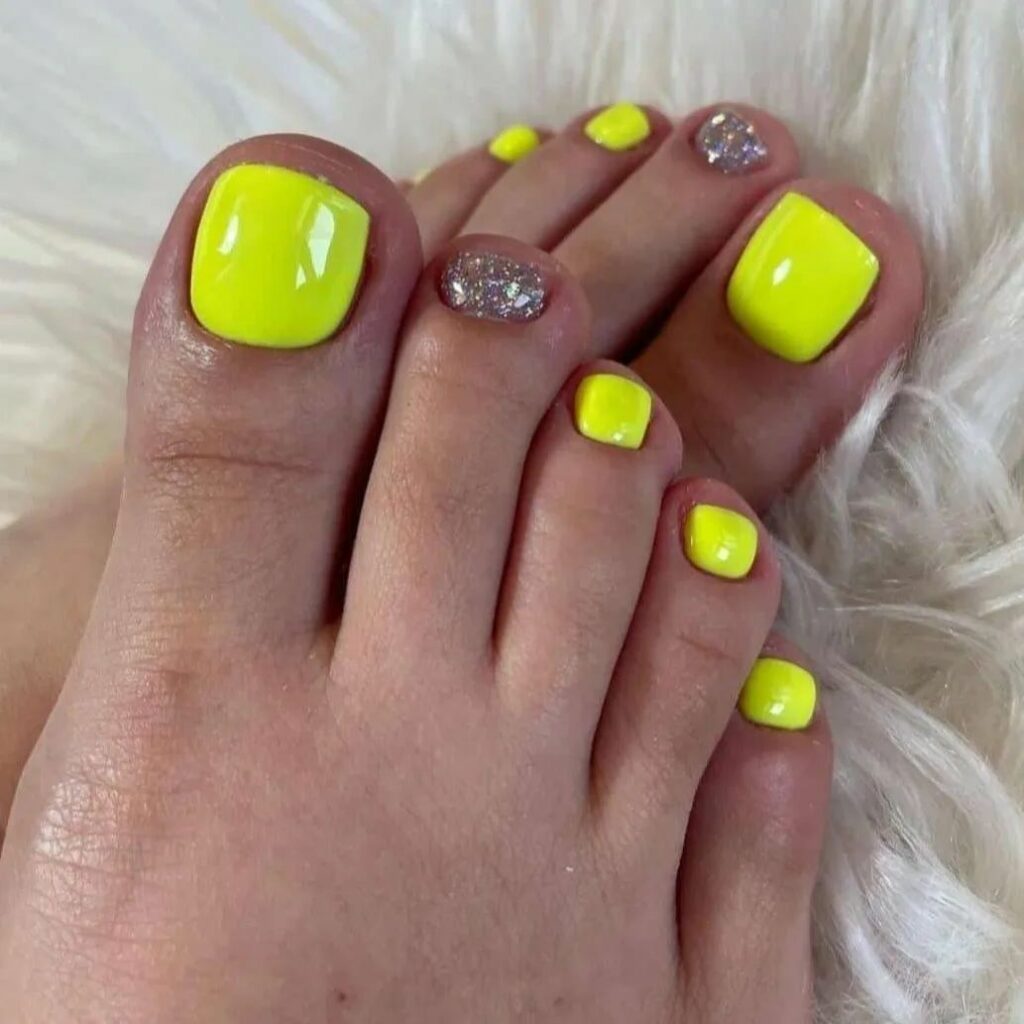 If you want to make a splash, neon yellow is your color. This shade is electrifying and draws all eyes down to your toes. It is ideal for parties, festivals, or any time you want to stand out.
Yellow Pedicure With Lion Dance Design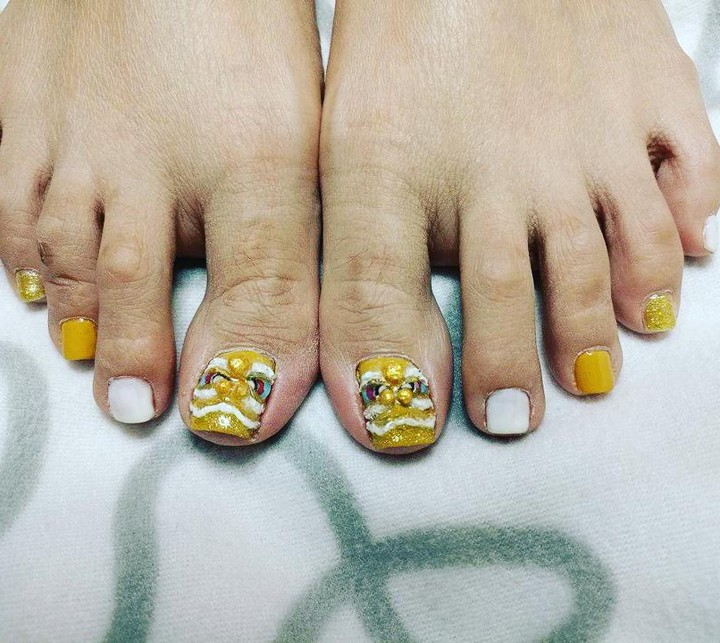 Here's a unique take: embrace cultural art with a lion dance design over a yellow base. This design is not just a style; it's a statement, perfect for Chinese New Year celebrations or cultural events.
Dotted Yellow Pedicure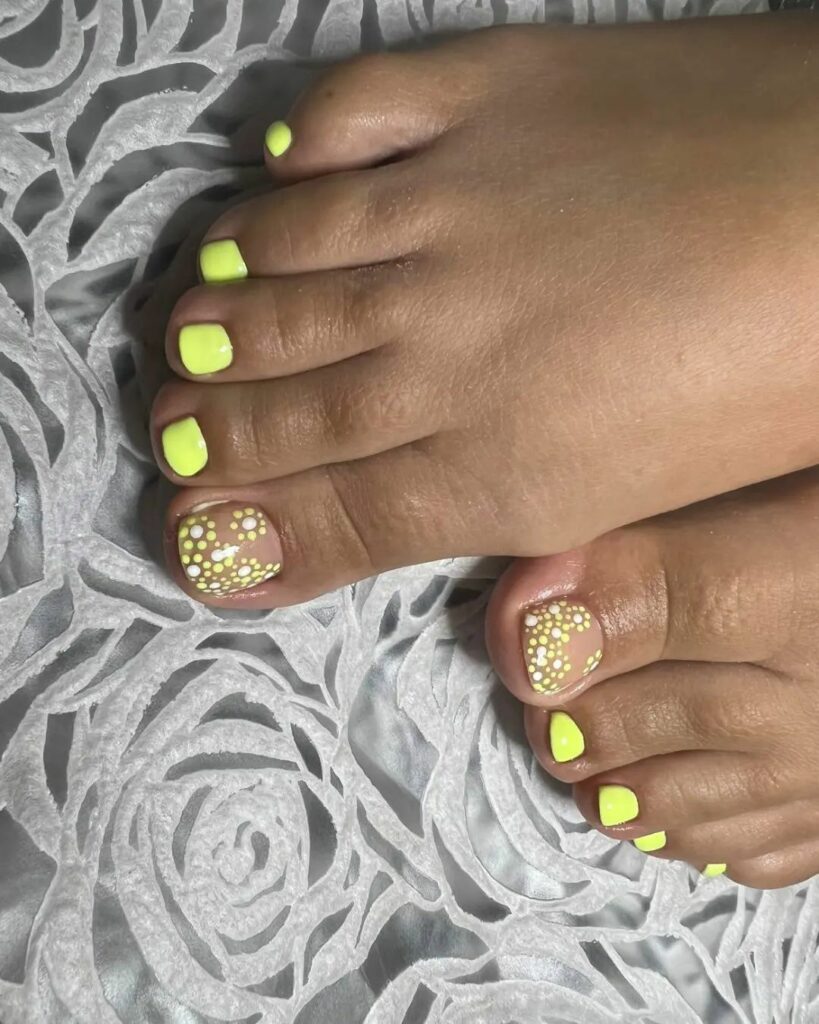 Simple yet striking, a yellow base with various-sized dots can create a lively, textured look. It's straightforward but far from boring, making your pedicure a focal point.
Yellow Pedicure Nail Art
Going for nail art over a yellow base offers limitless possibilities if you love intricate details. The yellow backdrop makes every detail pop, from geometric shapes to themed designs.
Yellow Pedicure With Emoji And Rainbow Art Design
Emojis and rainbows over a yellow pedicure can add a fun, youthful vibe. This design screams happiness and will lift your spirits whenever you look down.
Pastel Yellow With Butterfly Design
Butterflies are the epitome of grace, and when paired with pastel yellow, they offer a fairy-tale-like finish that's both elegant and whimsical.
Combination Of Yellow And Pastel Yellow
Why settle for one when you can have both? Mixing bold and pastel yellow on alternate toes or as an ombre can offer a dynamic and dimensional look.
Pastel Yellow With Colorful Dots
Make your pastel yellow base pop with colorful dots. This playful look adds a burst of color without overshadowing the pastel base.
Yellow Pedicure With Black Swirl
Black swirls on a yellow base offer a striking contrast for a more dramatic look. This design is perfect for those who want to make a bold style statement with a pedicure.
And there you have it! With these ideas, you're all set to bring sunshine to every step you take.
My Top Tips For Choosing The Hue Of Yellow For Your Next Pedicure
Ah, the beauty of yellow is that it's more versatile than people give it credit for! Let's break it down by skin tone, shall we?
Fair Skin: If you've got fair or light skin, pastel yellows or muted mustards work wonders. They're soft enough not to overwhelm your complexion but add that pop of color.
Medium Skin: You're in luck for those with a medium or olive skin tone—you can pretty much pull off any yellow shade. However, golden yellows or sunflower tones can look especially radiant.
Tan Skin: Opt for bright, vibrant yellows if you're tan or have a warm undertone. Think canary or lemon shades that will pop against your skin and add a lively touch.
Dark Skin: Deep or dark skin tones can rock bold, vivid yellows like nobody's business. Go for shades like saffron or amber for a standout look.
Neutral Undertones: If you're someone with neutral undertones, you can generally lean either way. Like a true, classic yellow, an excellent middle-ground yellow will usually look great.
So the next time you're eyeing that bottle of yellow nail polish but aren't sure if it's "you," go for it! Life's too short for boring pedicures.
How Long Can A Yellow Pedicure Last?
Great question! The lifespan of your yellow pedicure really depends on a few factors: the quality of the nail polish or gel, how well your nails were prepped, and your daily activities. Here's the lowdown:
Regular Nail Polish: With standard nail polish, you can expect your pedicure to last anywhere from 1 to 2 weeks. Tones usually fare better than hands since they're not subject to the same daily wear and tear.
Gel Polish: If you opt for a gel pedicure, you're in for a treat. These can last up to 3 to 4 weeks, staying glossy and chip-free longer. The downside? You'll need to revisit the salon for removal or be careful at home.
Preparation: A pedicure will last longer if your nails are prepped correctly. Please ensure they're clean, dry, and free of oils or lotions before application. Using a good base coat can also extend the life of your pedicure.
Daily Activities: If you're someone who's constantly on their feet, enjoys sandy beaches, or often wears closed, tight shoes, expect your pedicure to chip faster.
A quick tip: If you notice minor chips or fading, a top coat application can extend the life of your pedicure by a few days.
What Are Some More Complex Or Artistic Designs For A Yellow Pedicure?
Ooh, ready to take your yellow pedi game to the next level, huh? I love the enthusiasm! Here are some more complex and artistic designs to consider:
Yellow Mosaic: Imagine a variety of yellow shades—from pastel to mustard—arranged in geometric shapes or patches on each toe. This creates a mosaic effect that's super eye-catching.
Tropical Paradise: Think vibrant yellow bases with detailed palm leaves, flamingos, or even tiny sunsets painted on. It's like a vacation on your toes!
Marbled Yellow: Using swirling techniques, you can blend yellow with colors like black, blue, or gold to create a marbled effect. Every toe can be its own masterpiece!
Yellow Galaxy: Topped with swirls of lighter yellow-white dots and maybe a sprinkle of glitter, a dark yellow or mustard base can give the impression of a mini-galaxy.
Abstract Art: Use yellow as your canvas and go wild with abstract shapes, lines, and dots in contrasting colors like black, white, or metallics. No two toes have to look the same!
Yellow Lace: Delicate lace patterns in white or black over a yellow base can make your pedi look like a piece of intricate fabric.
Boho Chic: Incorporate earthy elements like feathers, arrows, or tribal patterns over a yellow backdrop for a bohemian vibe.
Textured Yellow: Add some 3D elements like tiny yellow beads or even rhinestones arranged in intricate patterns to give your pedicure some natural texture.
Geometric Yellow: Using striping tape, create geometric designs like triangles, squares, or more complex shapes to give a futuristic and edgy look to your yellow base.
Comic Book Pop: Picture small comic book expressions like "Bam!" and "Pow!" or smiley faces in black outlined boxes. It's fun, quirky, and definitely a conversation starter!
Remember, while these designs might require a steady hand and extra time, the result can be dazzling. Whether doing it yourself or entrusting a skilled nail artist, these complex designs can turn your yellow Pedi into a work of art!
Still Looking for Inspiration, Then Check Out This Video
Conclusion
Alright, lovelies, that wraps up our sunshine-filled tour of yellow pedicures! From playful dots and sassy swirls to elegant French twists and glammed-up stones, yellow offers endless ways to brighten your toes—and your day. If you're dipping your toes (pun intended!) into this trend for the first time, I'd say start with solid or pastel yellow. Once you're comfy, the sky—or should I say, the sun—is the limit. Don't be afraid to mix and match designs or throw in some nail art to make it uniquely you. Trust me, this pop of color is more versatile than you think and works all year round. So kick off those shoes, and let your yellow pedi shine!
Feature Image Photo By @nail_art_dubai via Instagram
Last reviewed and updated on October 13, 2023