Welcome back to the blog! Today, we're diving into color as versatile as chic—Navy Blue for your nails. Yep, you heard that right. Forget the primary reds and pinks; navy blue is where it's at for any season, any mood. In this post, we'll cover everything from choosing the perfect navy blue shade to nailing (pun intended!) the application. Plus, we'll go over how to style this shade for different occasions. I've found that a glossy navy blue can instantly elevate your look, giving it a vibe of understated elegance. So grab your manicure kit, and let's get started!
Get Glam With Ombre Navy Blue And Glitter
If you're all about that drama and glam, long acrylic nails with an ombre navy blue design are your jam! Adding some glitter? Even better. I remember the first time I tried this combo—I was headed to a fancy soirée, and let me tell you, the compliments wouldn't stop rolling in.
Short Navy Blue Square Nails with Glitter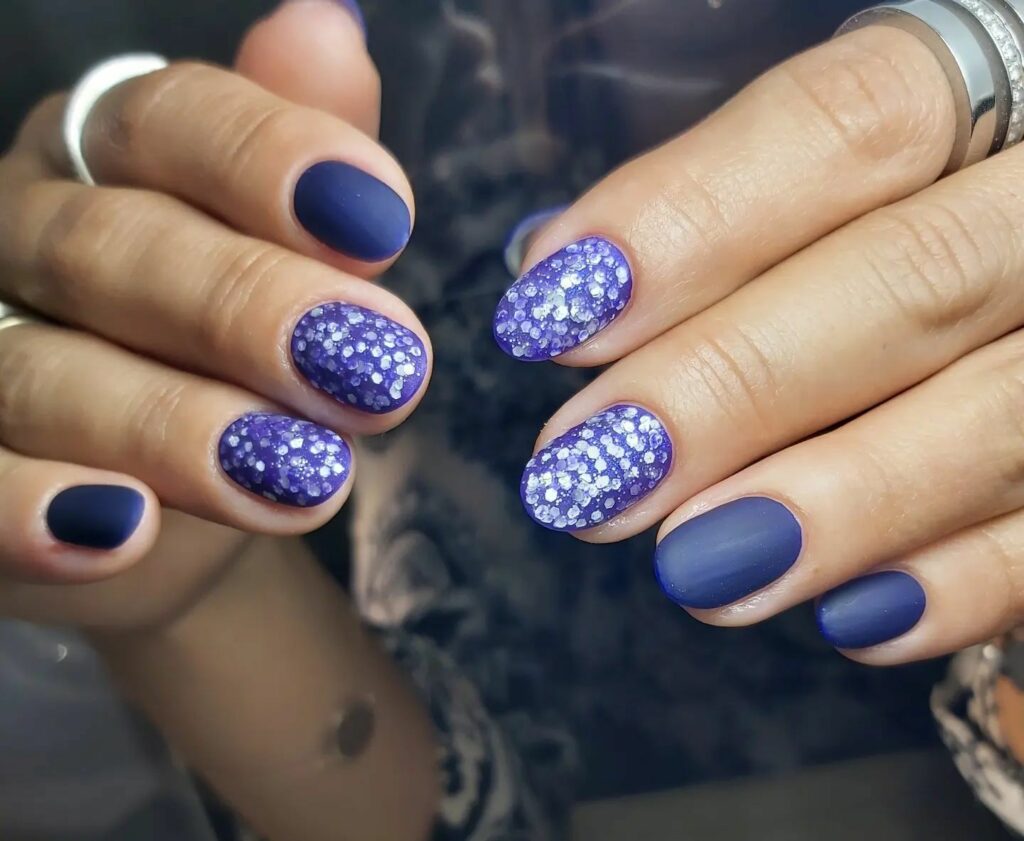 Who says you have to go long to be fabulous? Short square nails in navy blue can look just as chic, especially for the more mature crowd. A sprinkle of glitter makes them festive yet refined. It's my go-to when I want something that works from day to night with zero fuss.
Textured Elegance: Matte & Metallic Navy Blue Mani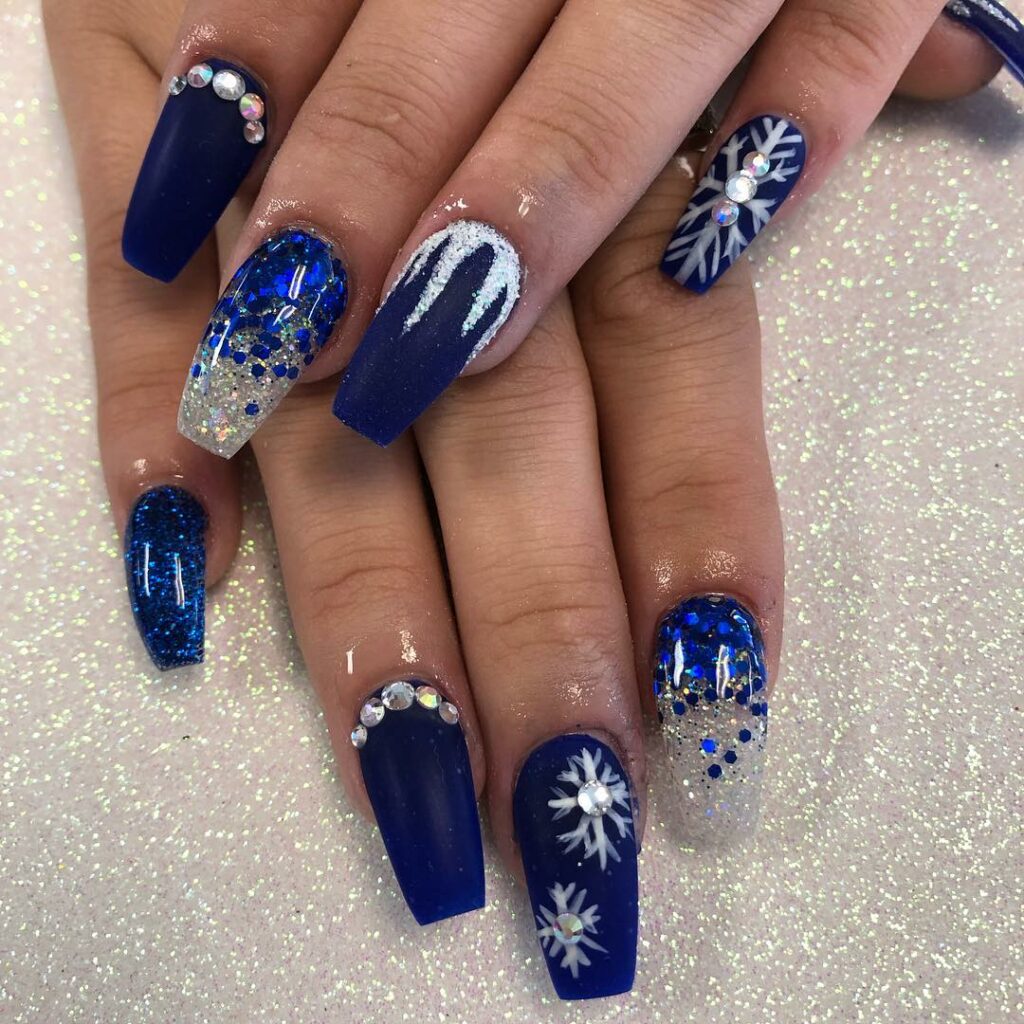 Switching up textures can breathe new life into a classic navy blue manicure. Imagine matte and metallic finishes dancing together on your nails—eye-catching, right? Trust me, you won't stop staring at your hands.
For the Floral Fanatics: Spring-Ready Navy Blue Manicure
If you're the kind of person who stops to smell the roses, why not wear them on your nails? A floral navy blue design is perfect for spring and anyone who appreciates the art of blossoms.
The Everyday Classic: Simple Navy Blue Nails
Sometimes, less is more. Shorter navy blue nails are your best bet if your style leans towards classic. They're low-maintenance, practical, and look great even as they grow out—a total win in my book.
A Fresh Twist: Navy Blue French Manicure
We all love a good French mani, but how about spicing it up with navy blue tips? It's the classic look you love but with a fun twist. Perfect for those who want to keep things natural yet interesting.
Square & Bold: Long Acrylic Navy Blue Nails
If you're a younger gal or just young at heart, long square-shaped navy blue nails could be your new signature look. They're a bit bold but entertaining, just like you!
Stilleto Super-Gloss Navy Blue Nails
When I first tried super-long navy blue nails, I was worried it might be too much—but wow, was I wrong! It's like adding a pair of high heels to your hands; you'll feel that extra bit fabulous.
Minimalist Vibes: Short Square Navy Blue Nails
Minimalism has charm, and these gel-polished short, square navy blue nails prove it. If you appreciate subtle details, this is your match made in mani heaven.
Royally Yours: Oval Shaped Navy Blue Nails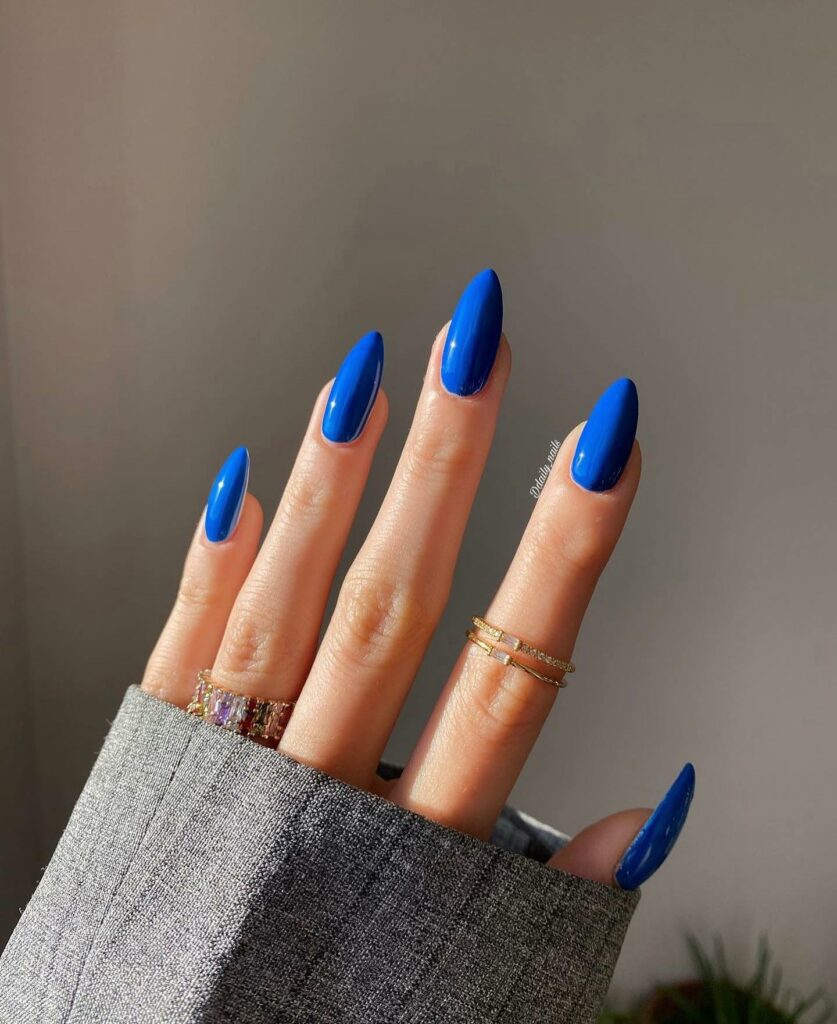 Oval-shaped nails in navy blue are for those willing to step out of their comfort zone. They are not commonly seen, but they make you feel like a queen when done right!
Sparkle On: Shimmery & Short Navy Blue Nails
Who can say no to a bit of sparkle? Especially when it's against a lush navy backdrop. Perfect for a night out or adding some pep to an everyday look.
Flutter with Style: Navy Blue Acrylics and Butterfly Art
Calling all fun-lovers with a daring fashion sense! These long coffin-shaped navy blue nails adorned with butterfly art are a total eye-catcher. The color contrast is perfect for standing out in the crowd.
Sophisticated & Sparkly: Long Navy Blue Glitter Nails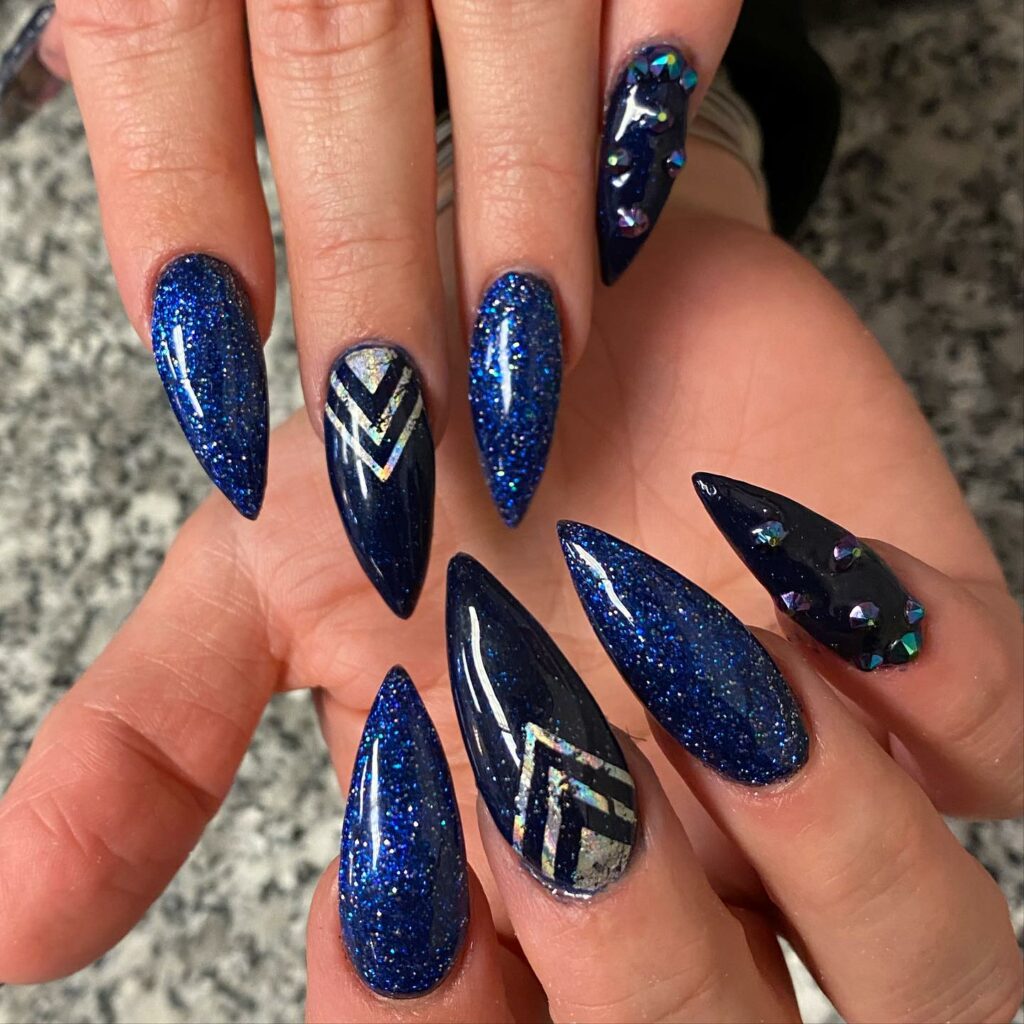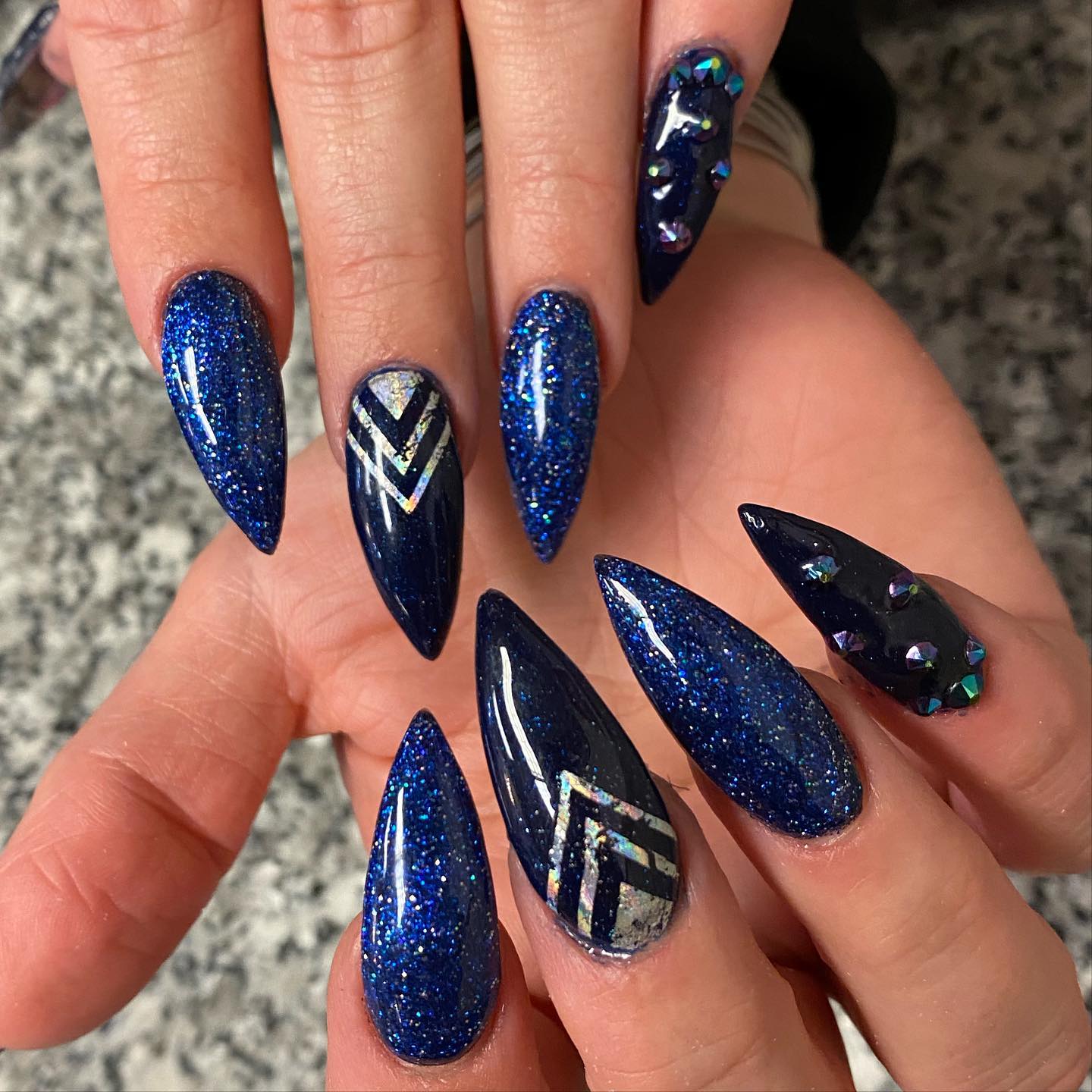 Long almond-shaped nails in navy blue are a classic for any occasion. Add some glitter, and it's perfect for anywhere from the office to a wedding. I wore this style to a friend's wedding, and it was a hit!
Abstract and Awesome: Navy Blue With Accent Nails
Want to add a playful twist to your navy blue mani? An abstract accent nail could be your answer. The light blue and white splash takes it to the next level while staying classy.
An Exotic Affair: Long Moroccan Tile Nails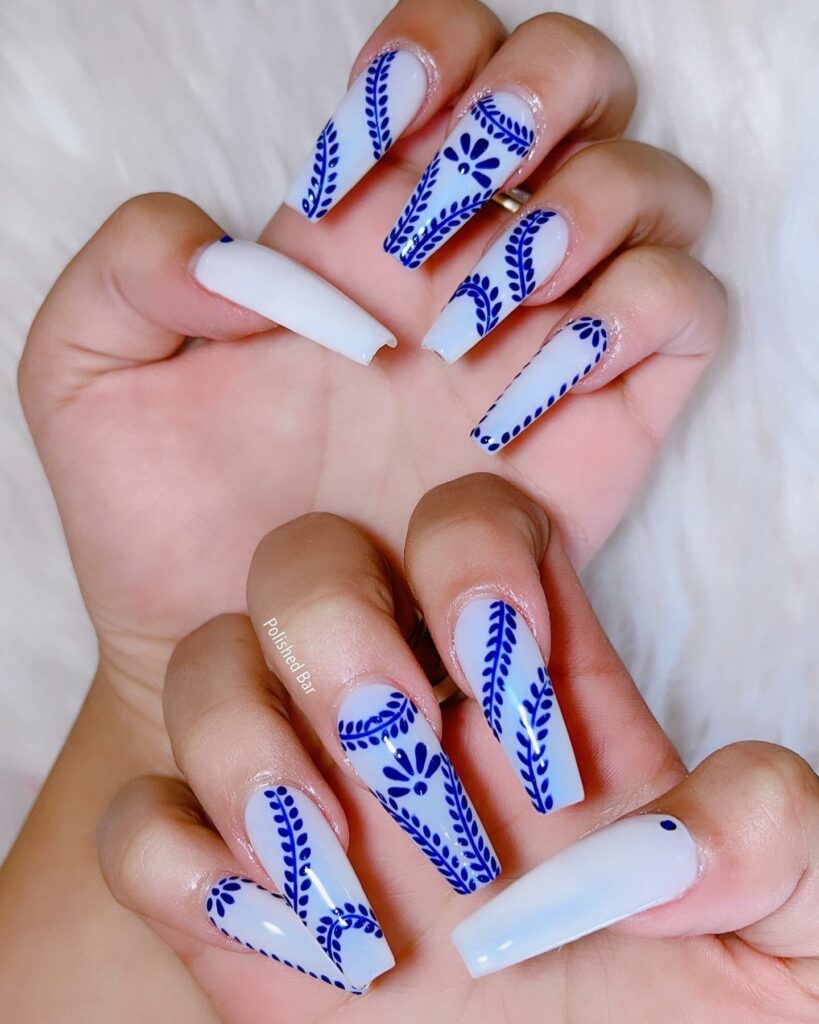 If you love intricate details, you will fall head over heels for these Moroccan-inspired navy blue nails. It's like wearing tiny pieces of art; let me tell you, it feels as good as it looks.
Matte Magic: Navy Nails with Subtle Artwork
You gotta love a matte finish. It's like the velvet of the nail world—elegant but not too flashy. This design kicks it up a notch with abstract lines and whimsical leaf details. Perfect for when you want to look pulled together but still keep things interesting. Personal tip? Go for a quality matte top coat to really make those details pop.
Flower Power: Navy Nails With Daisy Details
Can we talk about how cute these daisy details are? The contrast between the deep navy matte and the bright white flowers gives it a youthful and playful vibe. I adore almond-shaped nails, but this design would look fab at any length.
Sophisticated Duo: Cream And Navy Manicure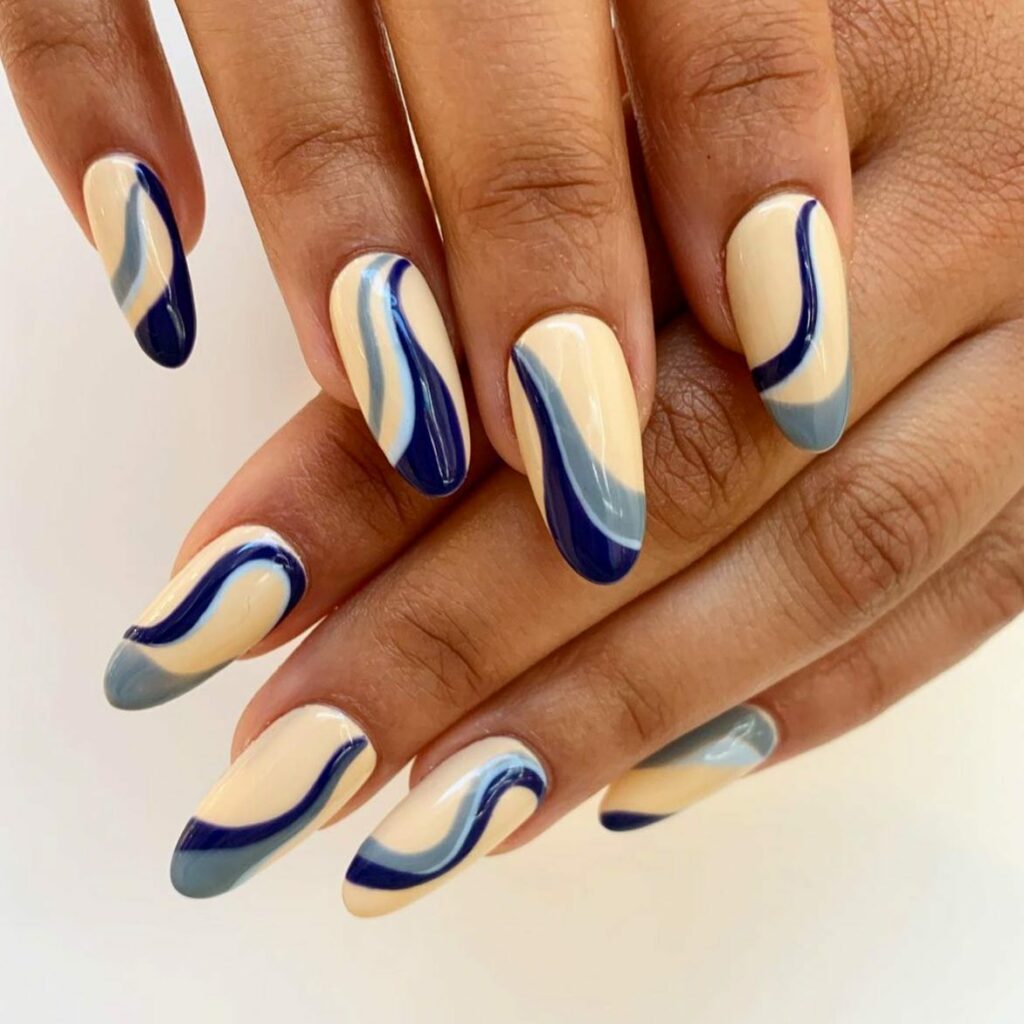 This one's got sophistication written all over it. The combo of cream and navy is a dream, and the silver accents elevate it to a whole new level. It's like the Audrey Hepburn of nail designs—timeless and chic. Pair this look with a string of pearls, and you're ready!
Marble Chic: Short Nails with Metallic Gold
Marbled designs have a special place in my heart. Maybe it's the unique swirls or the luxurious vibe, but either way, adding gold accents just takes it to the next level. This is your go-to if you want to add a dash of elegance to your look.
Turn Heads: Matte Navy And Bronze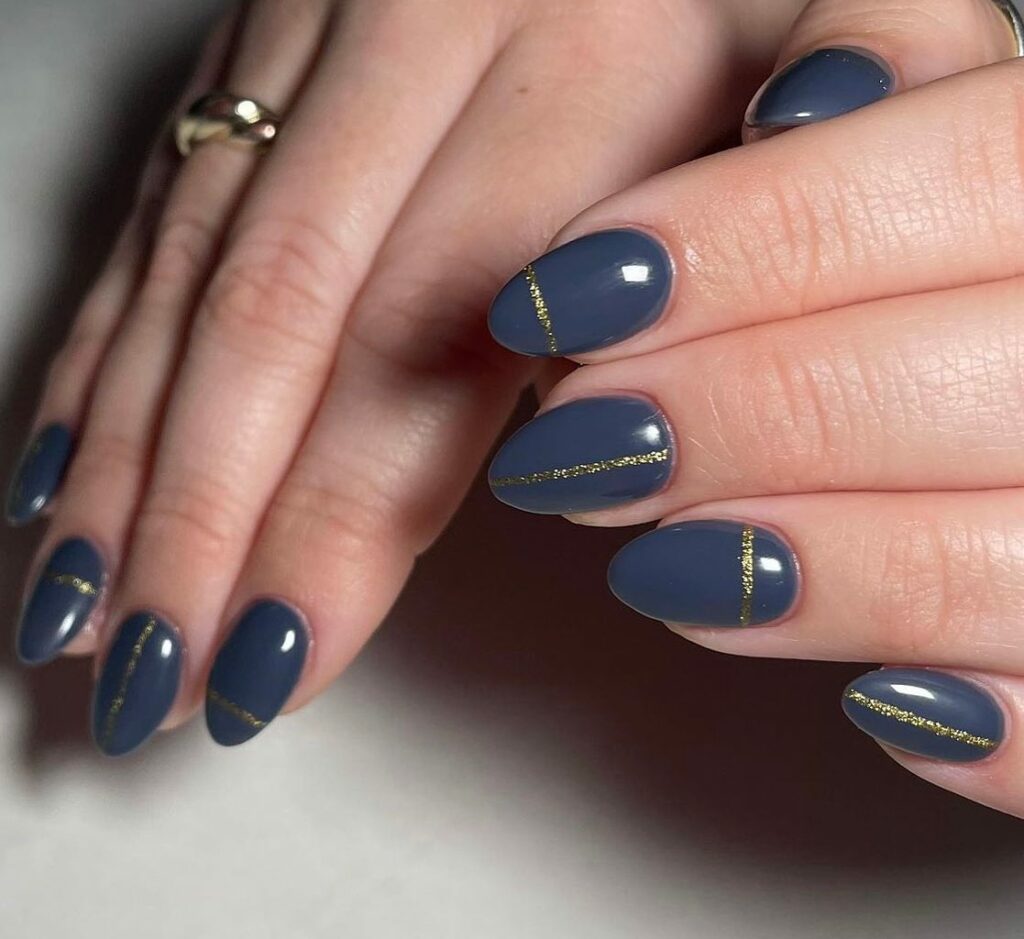 Decidant navy with a gold accent look amazing!
Floral Elegance: Dark Blue And Soft Details
This one's got me thinking of a midnight garden party. The pale blue accents and delicate gold-touched flowers give it a super romantic feel. It's like a Victorian novel, but make it fashion.
The Classic Twist: Glossy Navy with Green Shimmer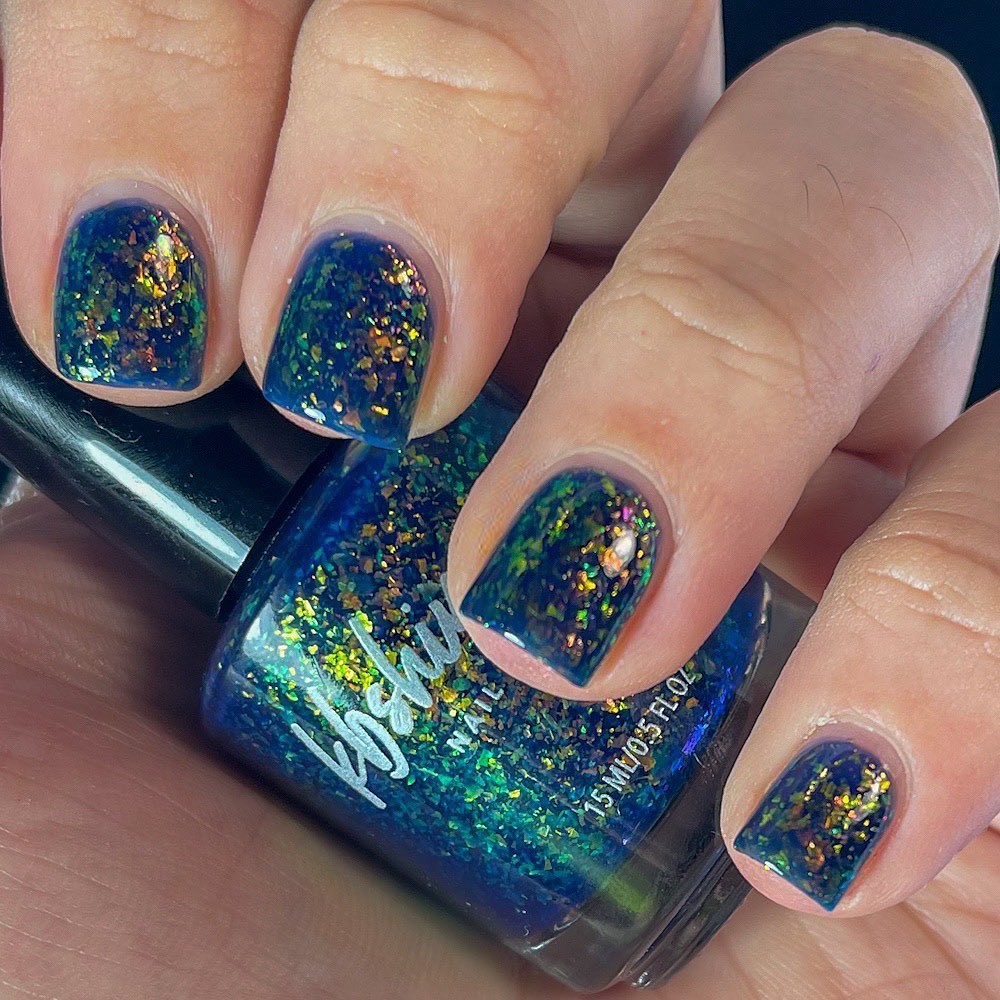 You can always go right with a classic glossy navy. But the real stars of the show here are the accent nails—matte textures and shimmering green polish. They bring a trendy twist to a traditional look.
Regal Vibes: Navy With Ombre Glitter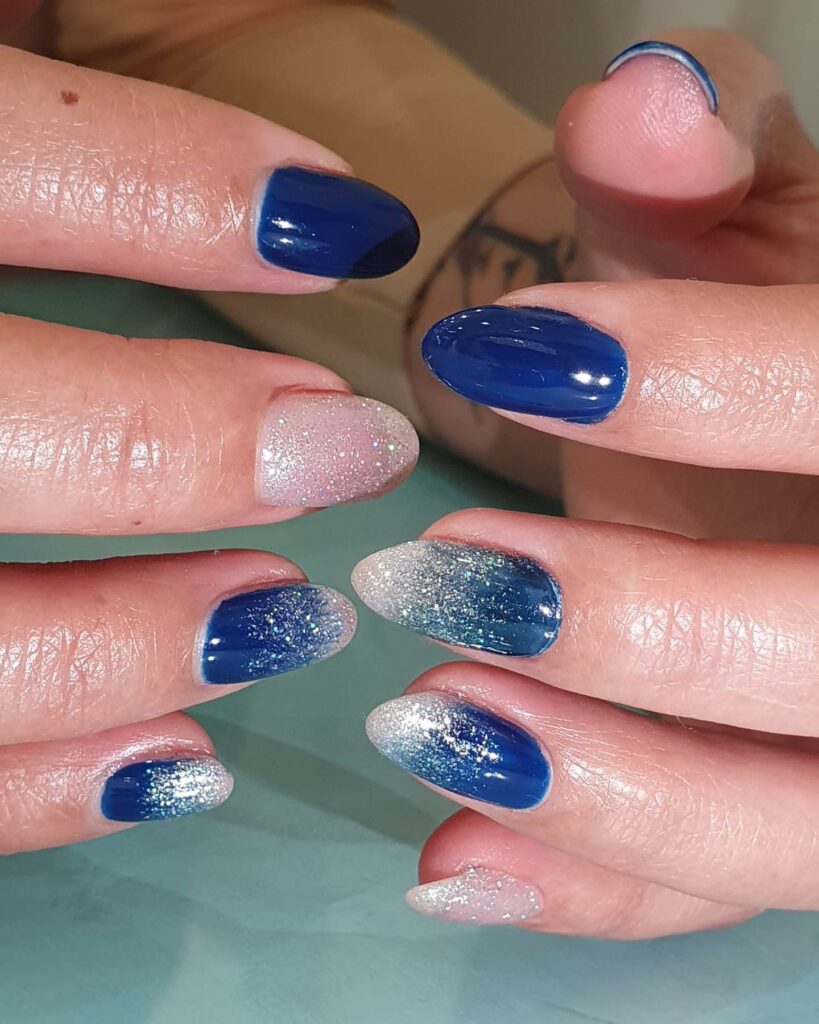 Who doesn't love a bit of glitter? This mixes gold and silver glitters in an ombre effect, making your nails look like they belong in a royal palace.
Play It Cool: Matte And Gold Combo
Have you ever tried blending matte and gold finish? It's a game-changer. This design uses a blend of deep navy and pale blue, accented with gold-toned polish. It's like mixing two of your favorite ice cream flavors and realizing they're even better together!
Starry Night: Stiletto Nails With Cosmic Appeal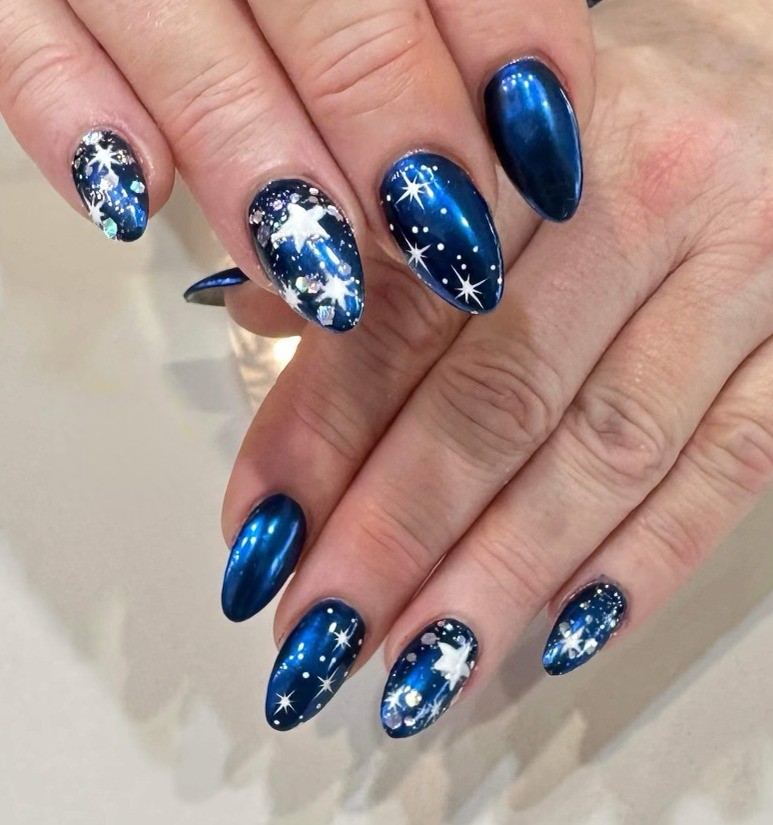 For the stargazers, this is your dream come true in a manicure. White speckles on a dark blue backdrop, these nails look like a constellation. Perfect for anyone dreaming of their next big adventure.
Trendy Contrast: Two-Tone Nails
Nothing says trendy like a two-tone design. Dark matte blue on one hand, glossy white on the other, speckled with gold—this manicure is fun with a capital F!
Keep It Subtle: Dark Blue Glitter and Grey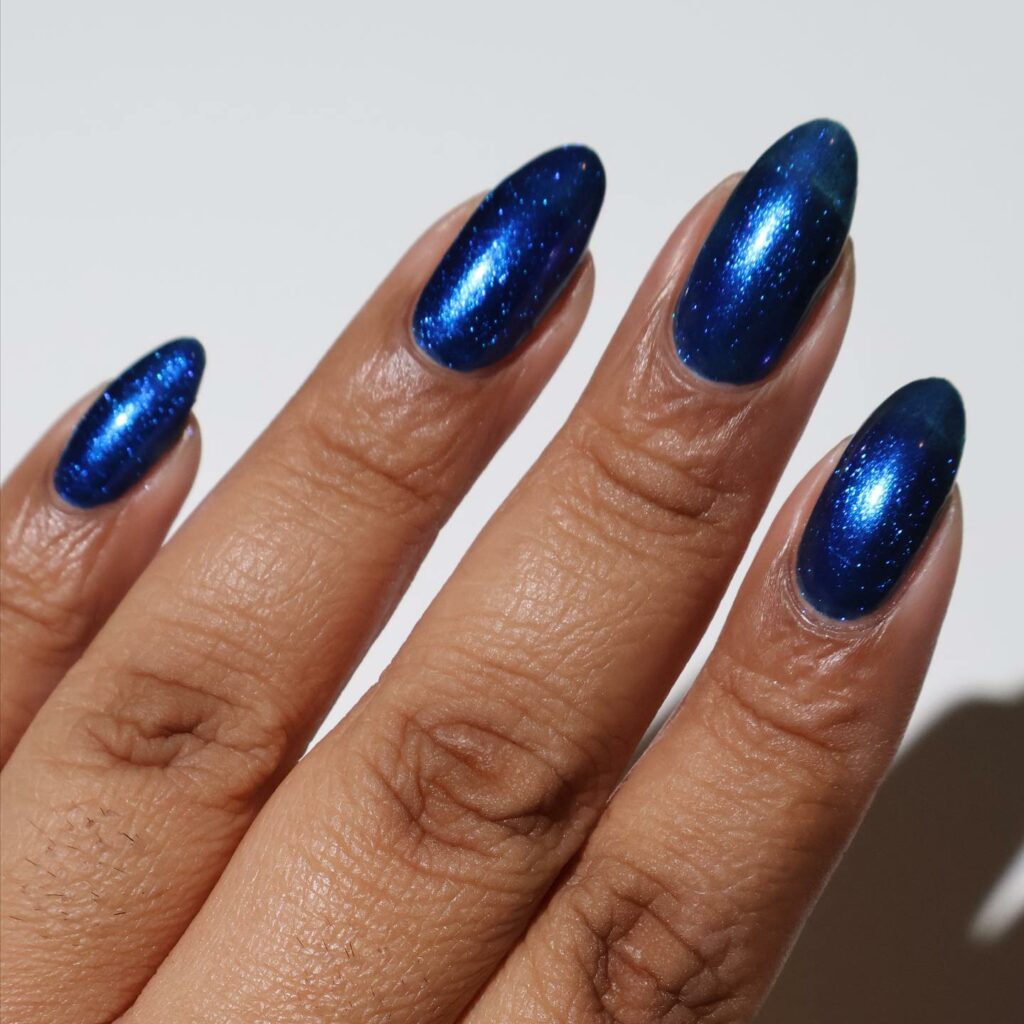 Looking for something a bit more subtle? This dark blue shimmering design is just the ticket. The grey accent nail is like the cherry on top, rounding off the look.
Cosmic Wonders: Nails With Constellation Art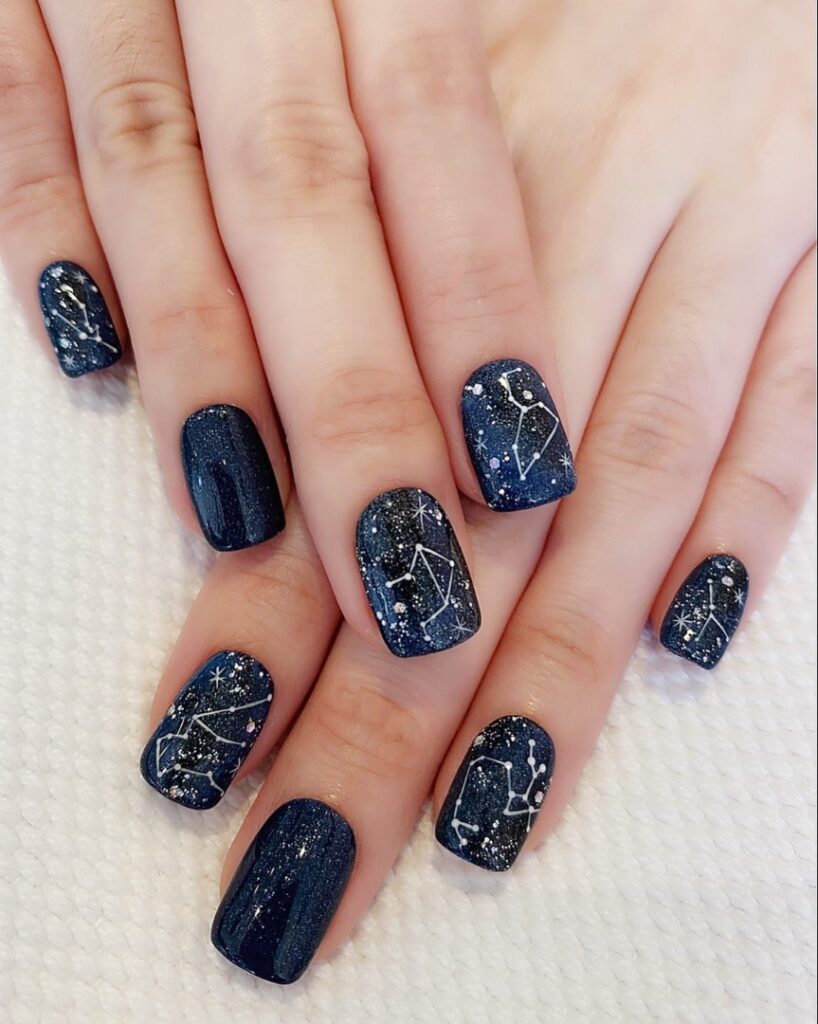 Is it astrological? These nails look like a slice of the night sky, complete with constellation art. Trust me, people will ask where you got your nails done!
Sleek and Stylish: Glossy Square Nails
These high-gloss square nails are like the little black dress of manicures—classic, versatile, and always in style.
All in the Details: Marbled and Gold-Accented
Last but not least, these short nails feature a marbled design on the ring finger, accented with gold flecks. It's like the icing on a very fashionable cake.
10 Navy Blue Nail Polish Brands That I Love
| Brand | Shade Name | Description & Special Features |
| --- | --- | --- |
| OPI | Russian Navy | Cult favorite with matte and shimmer finish. |
| Essie | After School Boy Blazer | Deep navy blue for a sophisticated look. |
| China Glaze | Up All Night | Offers a rich, dark blue hue. |
| Zoya | Sailor | Classic navy blue that's ultra-creamy and rich. |
| Deborah Lippmann | Rolling in the Deep | Alluring, mysterious midnight blue. |
| CND Vinylux | Indigo Frock | Long-lasting with a chip-resistant formula. |
| Revlon | Urban | Budget-friendly with a good balance of durability and vibrant color. Part of the Colorstay line. |
| Nails Inc. | Baker Street | Striking cobalt-blue hue. Brighter but still in the blue family. |
| Butter London | Royal Navy | Deep, intense blue. Free of harmful ingredients like formaldehyde. |
| Sally Hansen | Midnight Mod | Great drugstore find that's long-lasting. Miracle Gel, no UV lamp needed. |
I hope this layout makes it easier for you to compare these navy blue nail polish options! As always, remember to check reviews or swatches online to ensure the shade is just what you're looking for.
My Guide To Making Your Navy Blue Nails Last Longer
| Step | What To Do |
| --- | --- |
| Prep is Key | Clean your nails thoroughly with nail polish remover to get rid of any old polish, oils, or residues. |
| Base Coat Matters | Apply a quality base coat to protect your nails from staining and to help the polish adhere better. |
| Thin Layers Are Your Friend | Apply the navy polish in thin layers, allowing each to dry before adding the next. This ensures a smooth finish and quicker drying time. |
| Cap the Tip | Run the brush along your nail's tip after applying each layer. Helps to prevent chipping. |
| Top it Off | Use a high-quality top coat to seal your color and provide an extra layer of protection. Some even have UV protection! |
| Maintenance is a Must | Reapply the top coat every few days to freshen up your manicure and provide an additional barrier against chipping. |
| Oil Up | Use cuticle oil daily to keep your cuticles and nails hydrated, which helps to prevent chipping. |
| Hands Off! | Avoid using your nails as tools to preserve your manicure. |
| Go Glove Crazy | Wear gloves when doing dishes or cleaning to protect your nails from chemicals that can affect the longevity of your mani. |
| Mind Your Bedtime | Try to do your manicure several hours before sleeping to prevent smudging or sheet imprints. |
Still Looking for Inspiration, Then Check Out This Video
Conclusion
So there you have it, lovelies! Navy blue is basically the new black when it comes to nails. The color offers a world of possibilities, from classic glossy finishes to innovative art designs. Remember, your nails are like tiny canvases—don't be afraid to get creative! Whether you're a fan of glitz and glam or leaning towards the understated matte look, there's a navy blue style out there with your name written all over it. My personal fave? The cream and navy combo is like a classic movie but for your nails. Before you dash off to the salon or dive into a DIY session, just a quick tip: always, and I mean always, start with a good base coat to make your manicure last longer. Alright, it's time to say goodbye for now. Can't wait to hear all about your navy nail adventures. Until next time, keep those nails looking fab and feeling fine!
Feature Image Photo By @agalorynowicz on Instagram
Last reviewed and updated on October 20, 2023