Today, we're diving into the enchanting world of Purple Ombre Nails. I know the ombre trend has been around for a while, but trust me, when it comes to your nails, this is a game-changer. We'll go through the process, sharing insider tips on achieving that seamless gradient we crave. Plus, I'll spill the tea on my all-time favorite purple polishes and tools you need for flawless execution.
Why purple, you ask? Well, it's not just a color—it's a vibe! Purple brings a mystical yet chic allure that is perfect for any season. You can go light and whimsical for spring or deep and sultry for fall; the color is versatile. Stick around to discover how to elevate your nail game to professional levels with just a handful of supplies and a sprinkle of patience. Because if you're going to put in the effort, you might as well do it right. Let's get into it!
Lilac Light Purple Ombré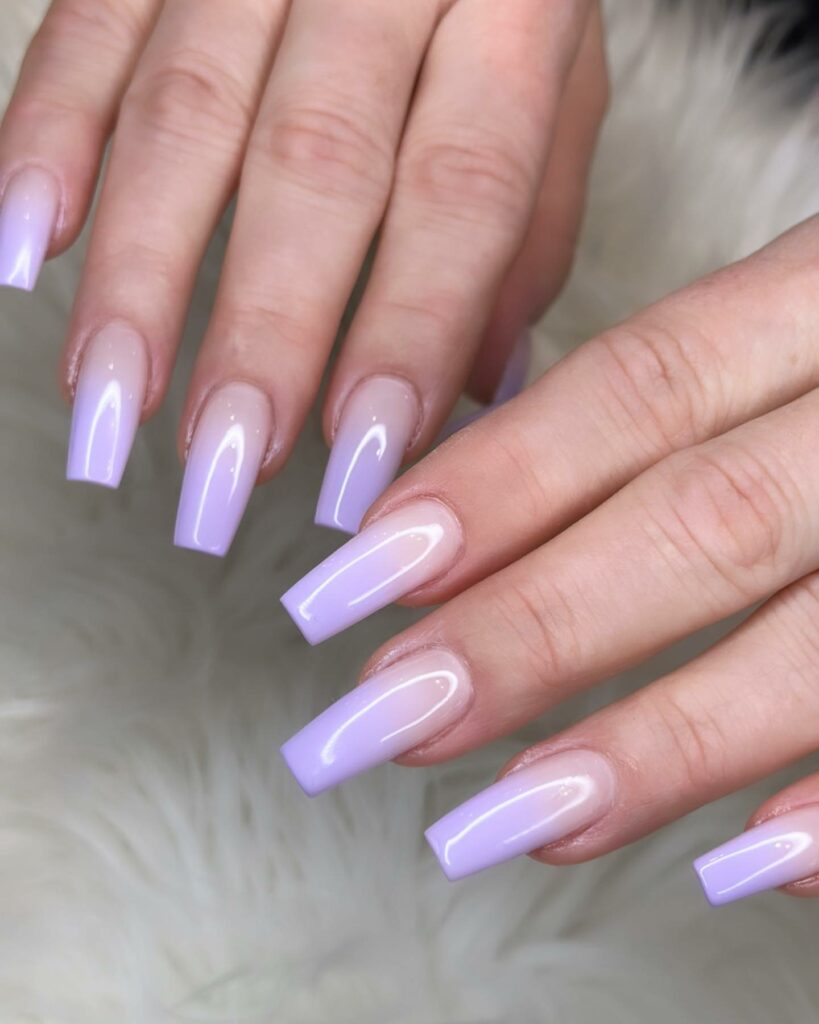 Let's start soft, shall we? Light lilac shades ooze elegance. Think Easter egg hunts and cherry blossoms—this look is an instant mood booster for spring. I pair these shades with light, flowy dresses for that ethereal vibe.
For The Love Of Pastels
If you're into pastels, adding white glitter on accent nails will take your ombré game from cute to absolutely irresistible. Trust me, I tried this last summer, and even my grandma said, "Honey, your nails look fabulous!"
Coffin Nails, But Make It Purple Ombré.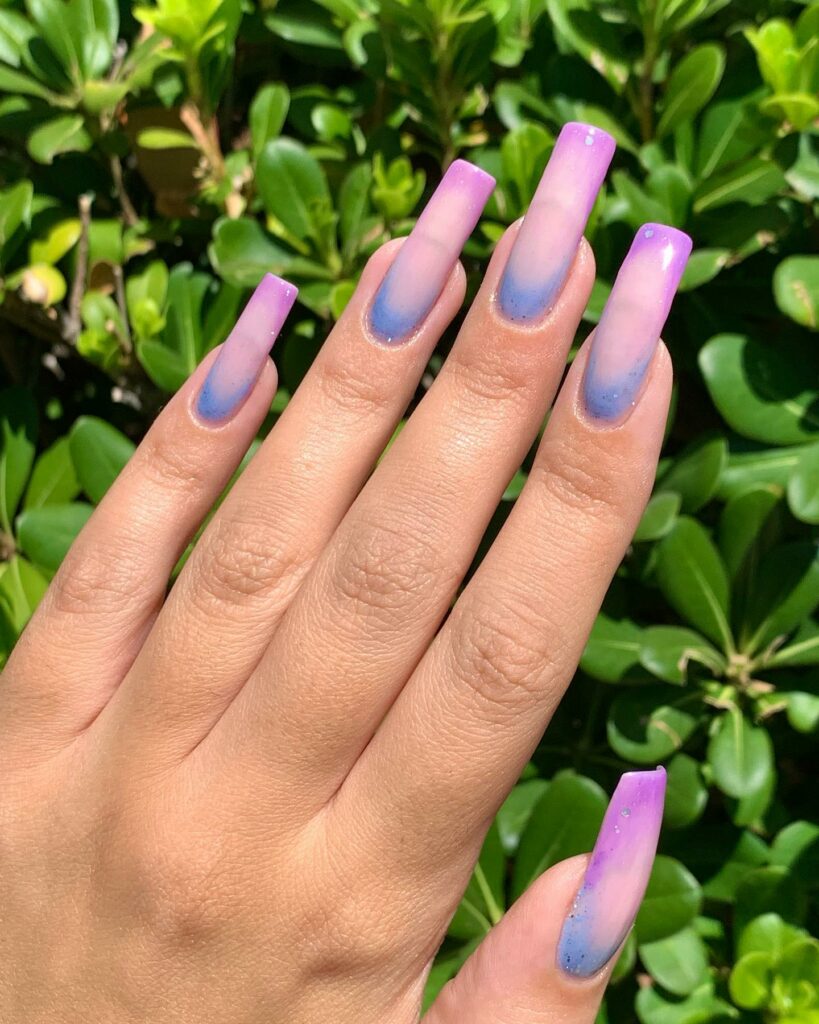 Coffin nails are drama incarnate, and when you add a gradient from soft pink to lavender, it's like a soap opera on your fingertips. This shape elongates your fingers, making your hands look slender and elegant.
The Glitter Galore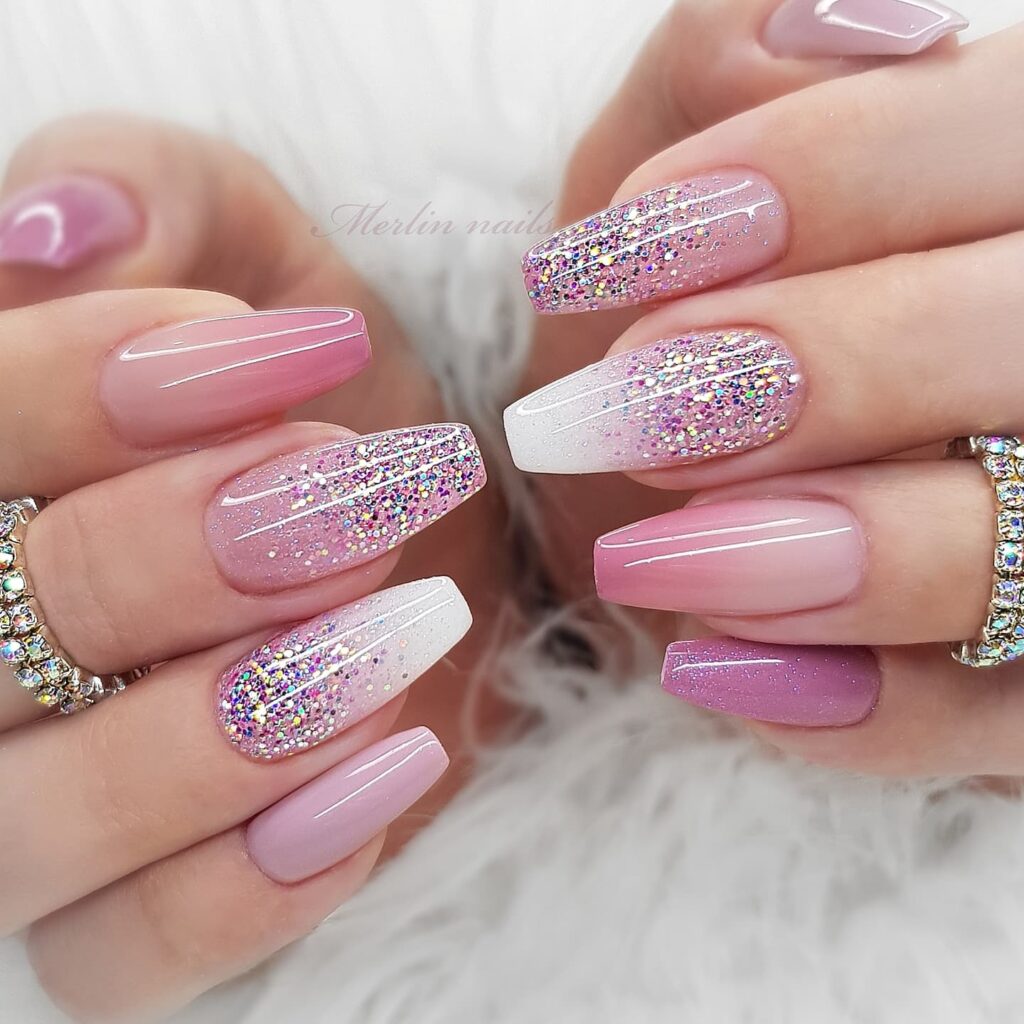 Don't be shy with chunky glitter. In fact, I've discovered that adding it to the tips of my ombré nails not only extends the life of my manicure but also earns me non-stop compliments. Go ahead, be the sparkle you want to see in the world!
Short And Sassy Purple Ombré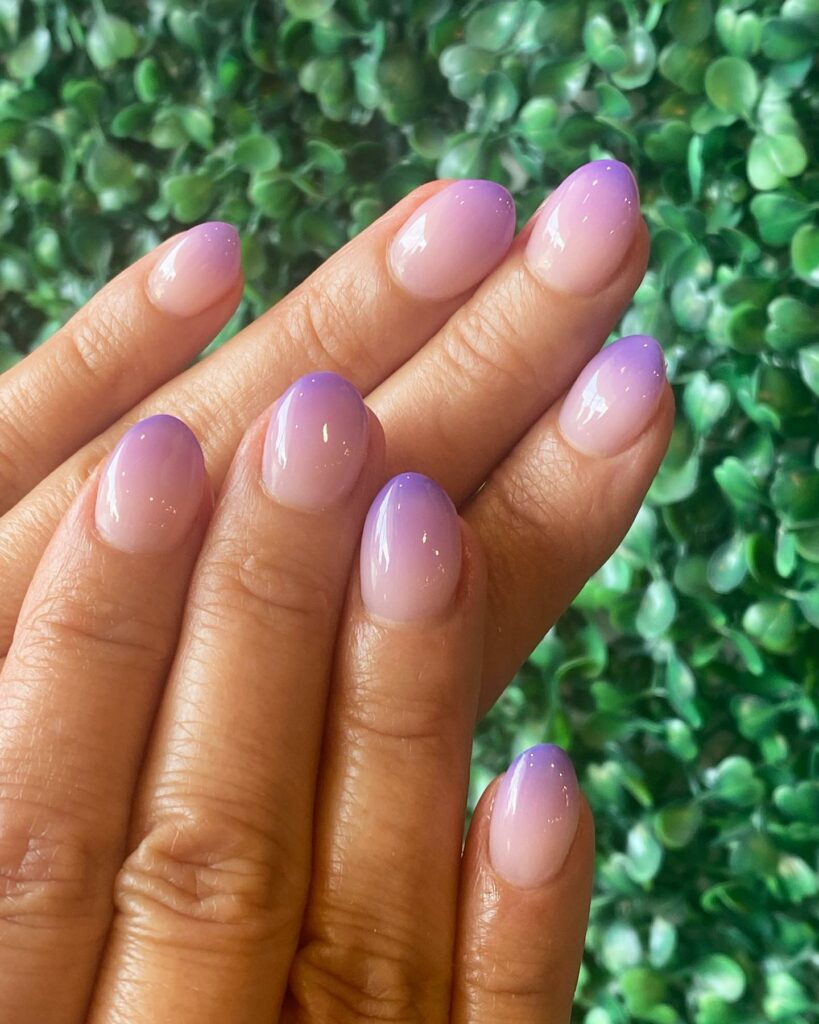 Who says short nails can't join the party? Add a color splash with greens and pinks, and why not throw in some floral art on an accent nail? Short nails have just as much to say; boy, do they say it loud!
French Elegance With A Twist
You can go right with a classic French tip, but how about we switch it up? Use a metallic lavender gradient and pop on some holographic glitter for that standout nail. It's like the little black dress of nail designs—always appropriate, yet far from boring.
Think Pink And Purple
If choosing between pink and purple feels like picking a favorite child, don't. Merge them together in a gradient design for a look that's fun, vibrant, and perfect for those endless summer days.
Drama Queen Vibes
Going to a formal event? A deep, matte purple ombré screams sophistication. I wore this look to a friend's wedding last year, and let's say my nails almost stole the show!
Classic Meets Shimmer
For a universally flattering look, go with shimmery lavender shades. They work for casual brunches and fancy dinners alike. The shimmer adds that extra something, trust me.
Cool as Ice: Purple and Blue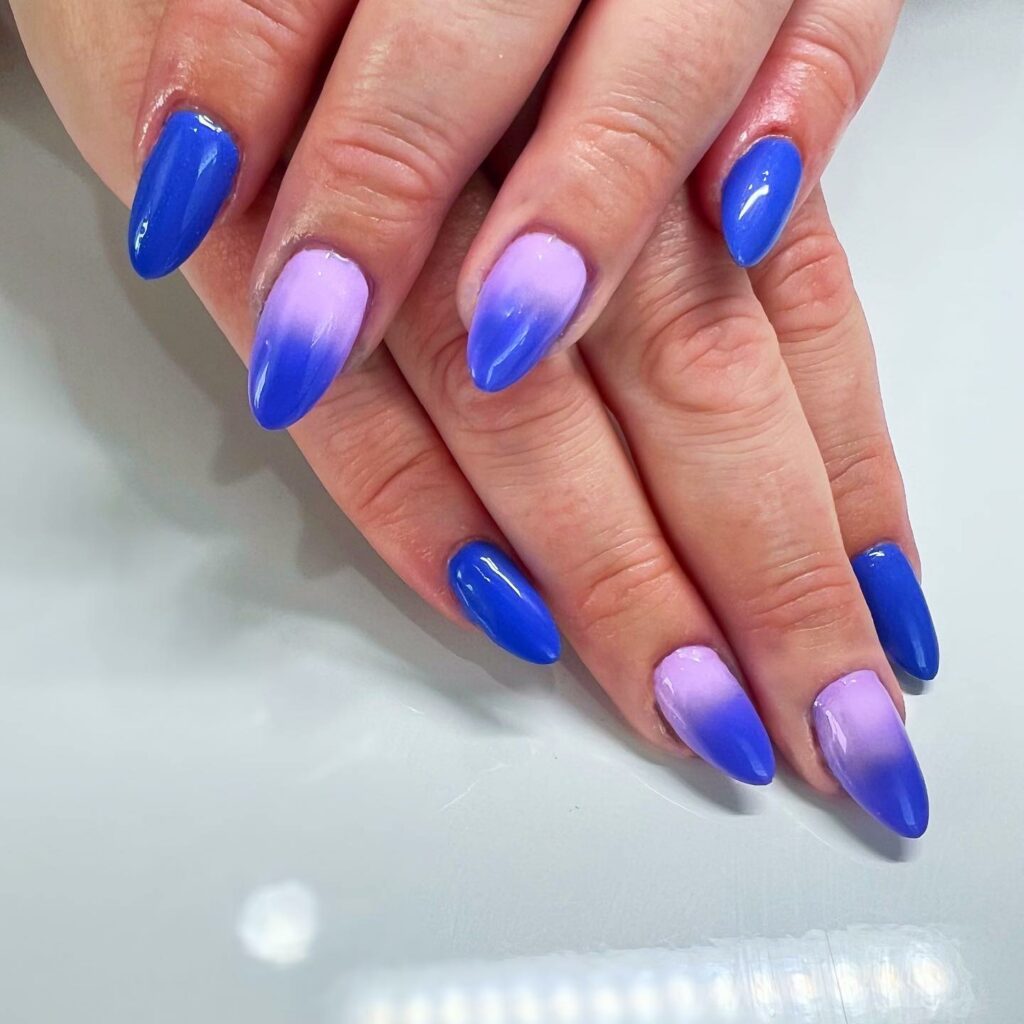 Let your adventurous spirit shine with a combo of blue and purple. This playful mix is like a tropical vacation on your nails, ideal for the bold among us.
Pastel Perfect: Purple and Green
This combo sounds quirky, but it works. It's like mint chocolate chip ice cream but for your nails. It's a conversation starter.
The Almond Sophisticate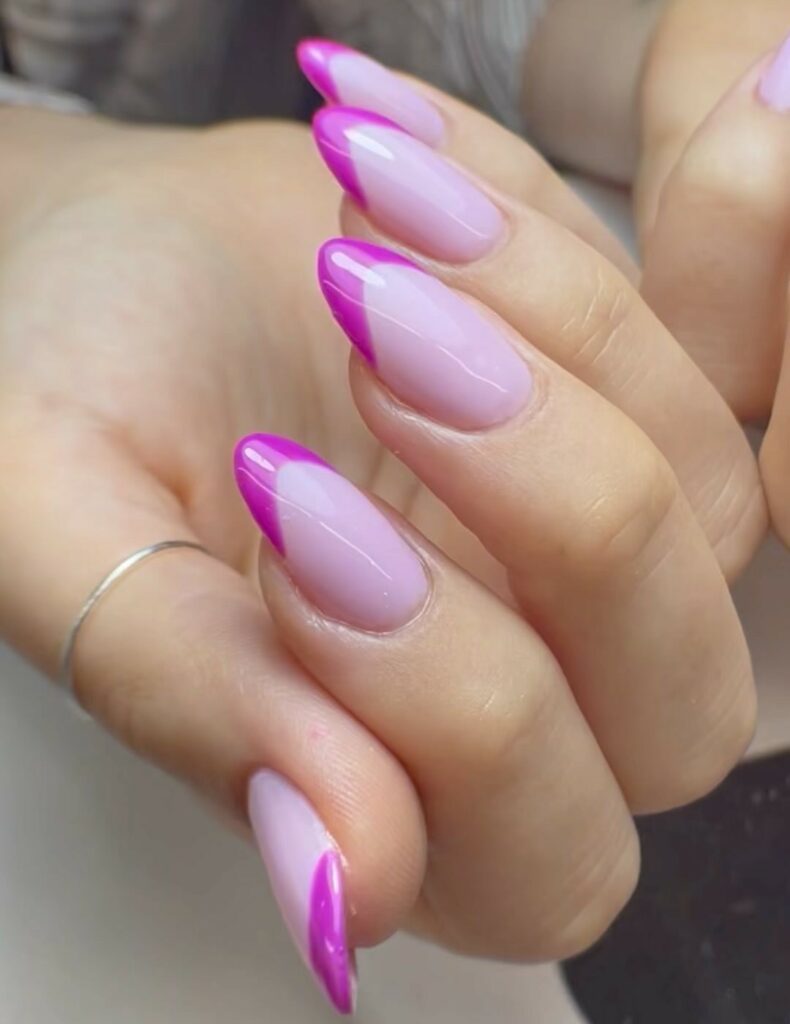 Almond nails are the high heels of nail shapes—always classy. Pair them with a purple orchid ombré; you're the epitome of sleek elegance.
Butterflies and Pearls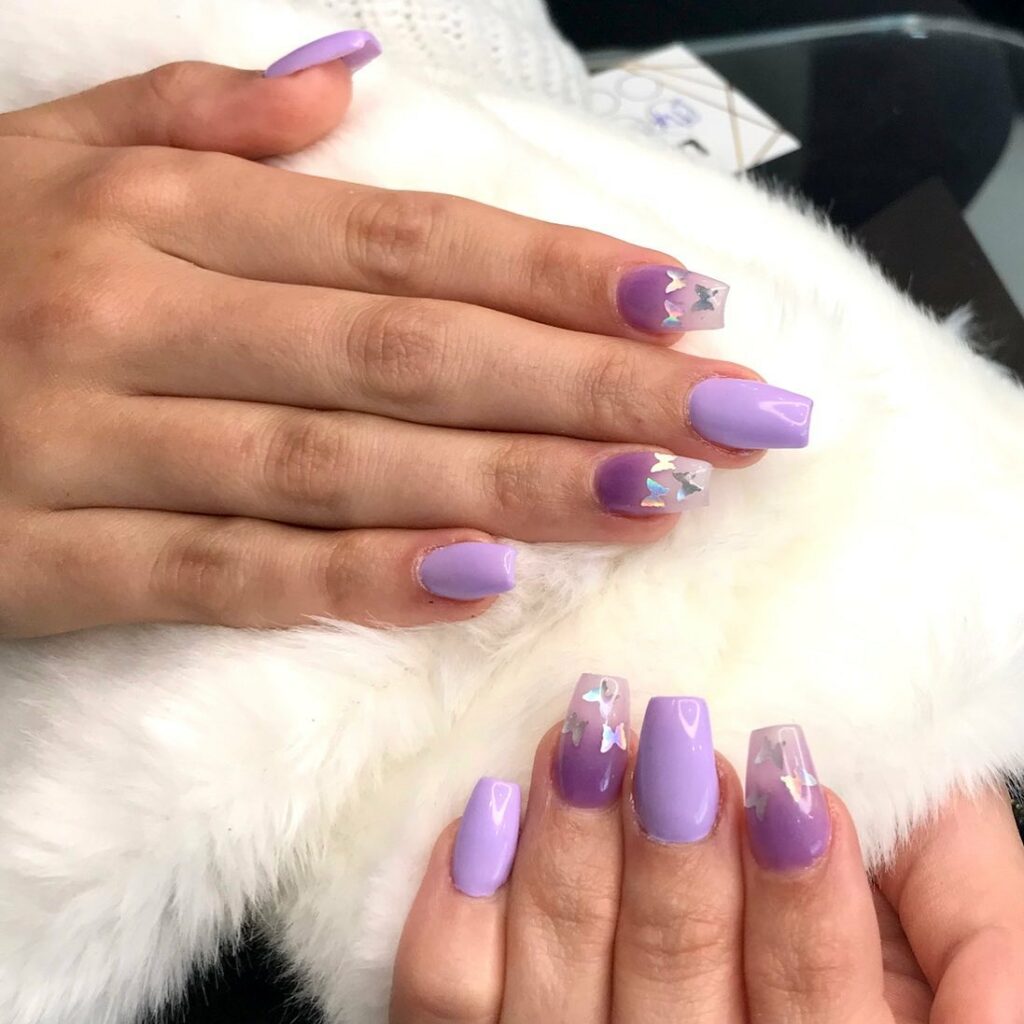 If you're in the mood for maximalism, butterflies and pearls are your best friends. It's a whimsical look that'll have people stopping you to look closer.
DreamWorks-Inspired Fantasy
Who doesn't love DreamWorks movies, right? Capture that vibrant spirit with a gradient reminiscent of their iconic opening sequence. It's like nostalgia, but make it fashionable.
Ethereal Butterfly Effect
Combine pinkish lavender shades with butterfly art for all you romantics out there. It's as dreamy as a midsummer night's romance and perfect for those Instagram selfies.
Lila Story Meets Pink Smile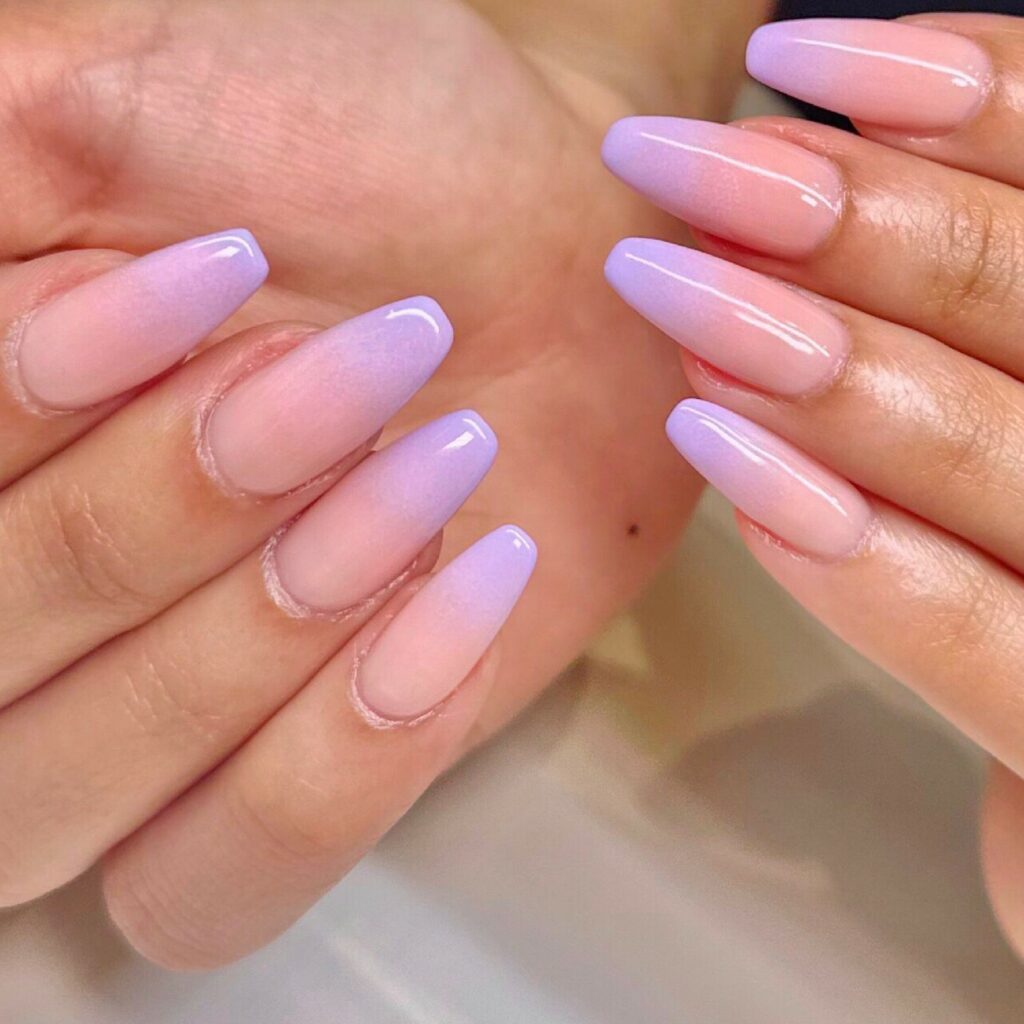 First off, imagine a mani that looks like a cotton candy dream. Blend light purple and pastel pink shades, focusing primarily on the middle finger for that magical ombré blend. A few diamonds and rhinestones later, and voila! Last summer, I rocked this look for a garden party, and it was an absolute hit!
The Butterfly Effect: Lilac and Butterflies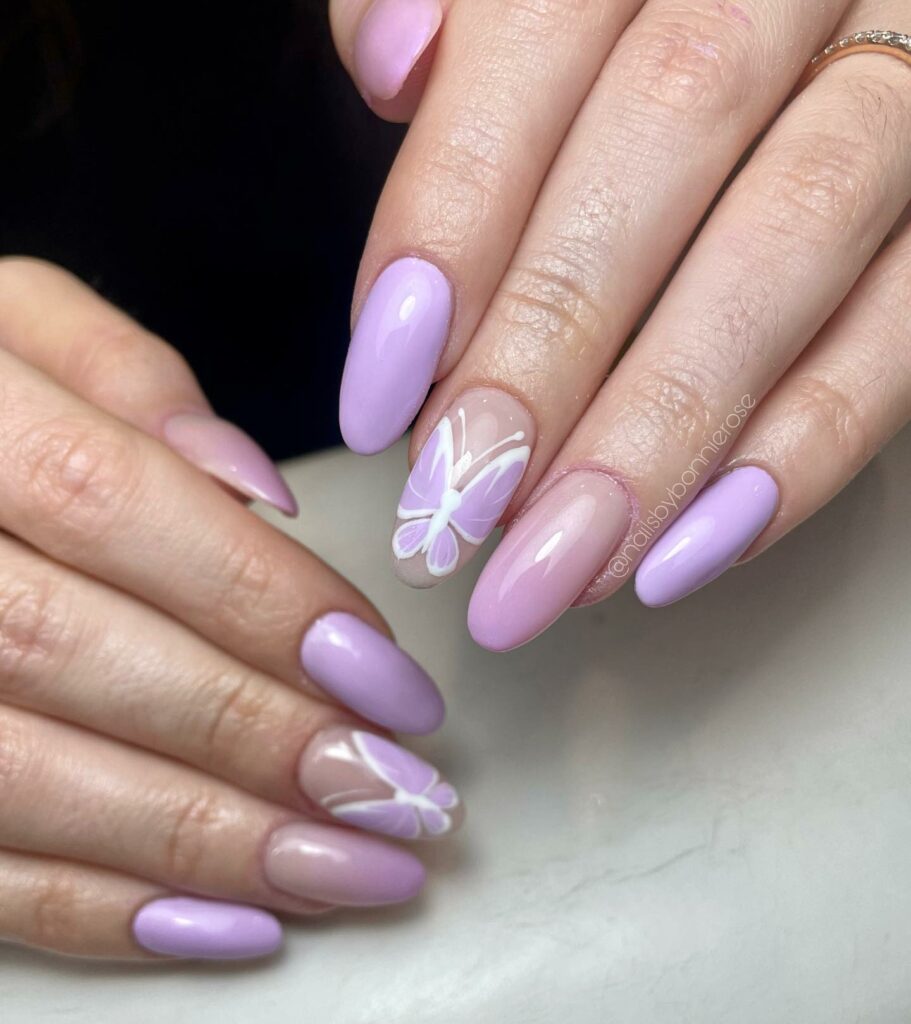 Let's dial up the notion with this next one—fading pink into lilac and accenting with delicate butterfly decals. This one's got "fairytale" written all over it. Butterfly decals are easy to apply, so don't worry if hand painting isn't your forte.
Floral Fantasy: Purple Ombré With Nail Art
Looking for something more personalized? Go for a lavender ombré base, then have fun with white flower nail art. I once tried adding tiny white dots as a floral pattern, and the end result? Delightful!
3D Drama: Lavender and 3D Decor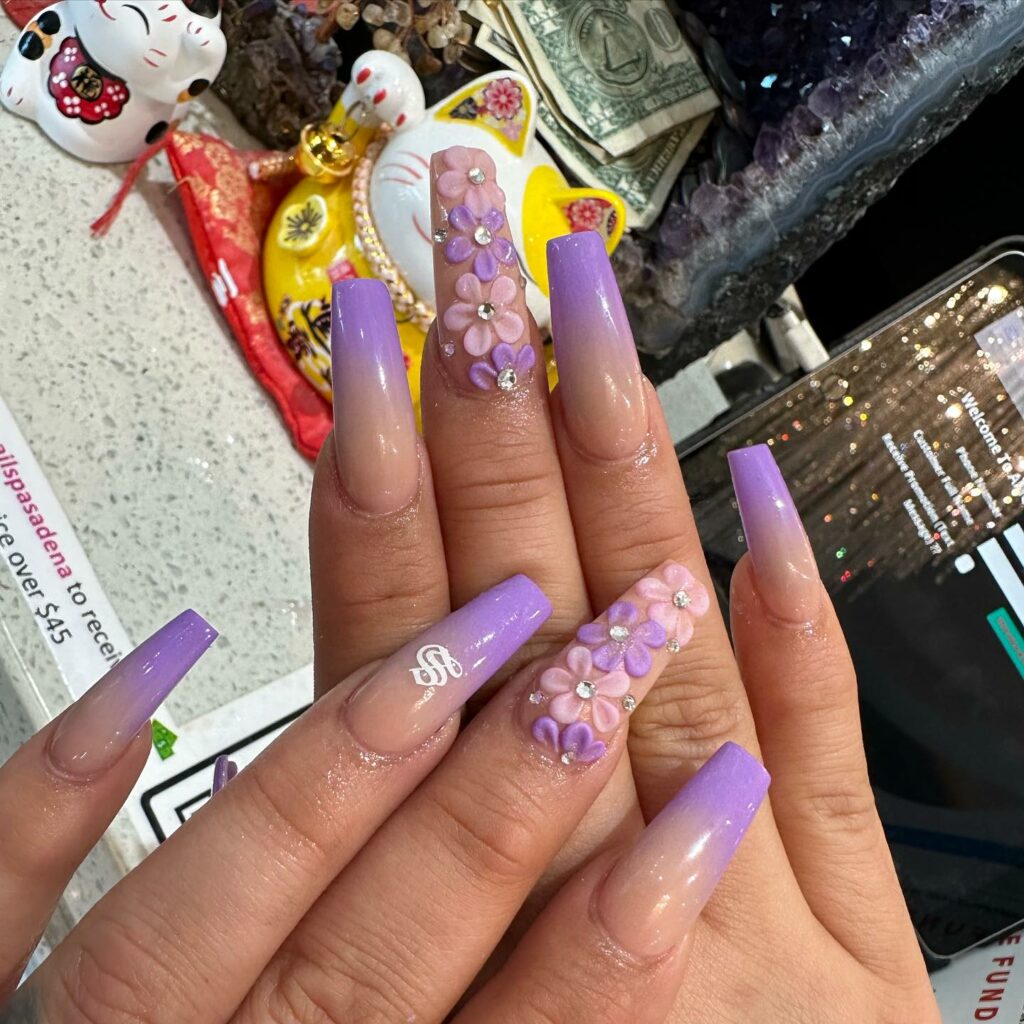 If 2D designs aren't enough for you, let's take it to another dimension. Start with a lavender base, then go wild with 3D flowers, swirls, and maybe even a glitter bomb on an accent nail. This mani is a conversation starter, guaranteed.
Night Out Chic: Lavender and Indigo Combo
Ready to bring the drama? Blend lavender and indigo for an ombré that transitions from ethereal to intense. This is my go-to for date nights. It's sexy yet sophisticated, making it perfect for whatever the evening holds.
Fiery Fusion: Purple Ombré With White Flames
Edge it up, ladies! Mix the soft allure of purple ombré with bold white flames. It's the ultimate fusion of soft and intense, and it captures attention like nothing else.
Dazzling Gradients: Purple Ombré With Rhinestones
Let's add a sprinkle of fairy dust to the mix. A purple ombré with rhinestones and a hint of glitter can give you a pure magic mani. When the light hits those shimmering elements, get ready for jaw-dropping moments.
Purple Palette: Mixed Tones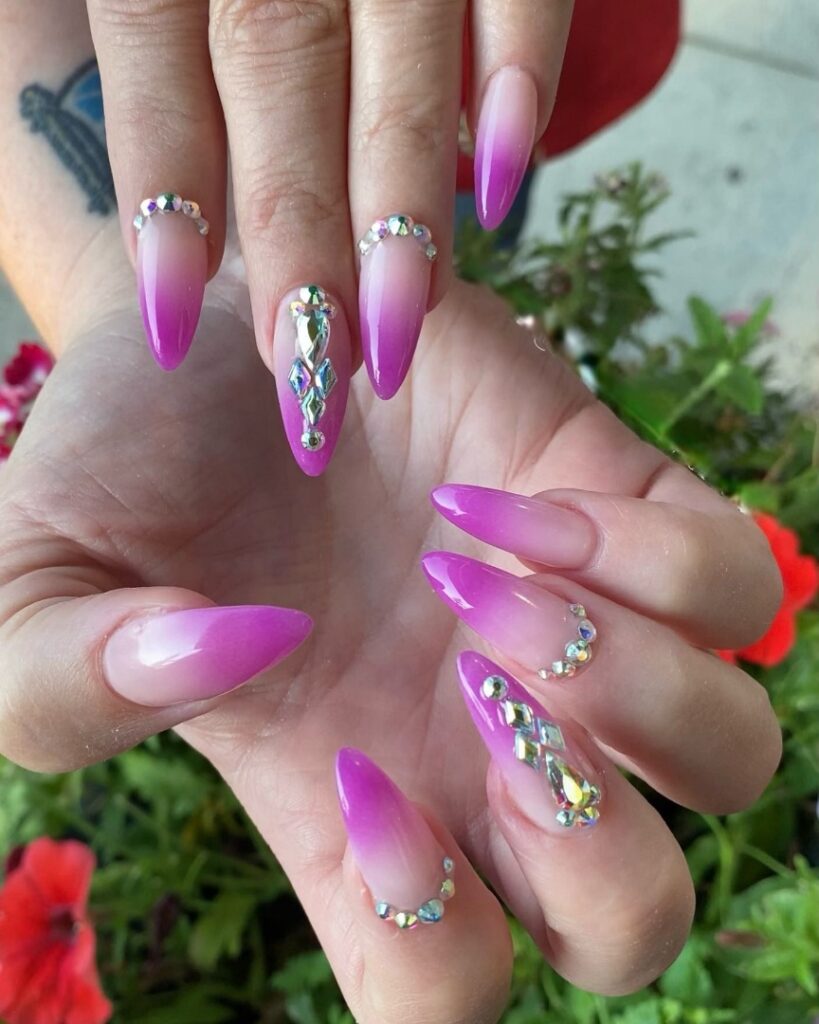 Need help deciding on one shade? Who says you have to? Paint each nail a different shade of purple, throw in some rhinestones, and add a splash of blue shimmer. This look is a celebration of the color purple in all its glory.
Mesmerizing Effect: Flaky Blurple Dip
Alright, ready to dabble in special effects? Apply flaky layers over a blue-purple (blurple, if you will) base. This creates a 3D shimmer effect that's just hypnotic. Don't be surprised if you catch people staring!
Elegance in Gradient: Milky Nyx Ombré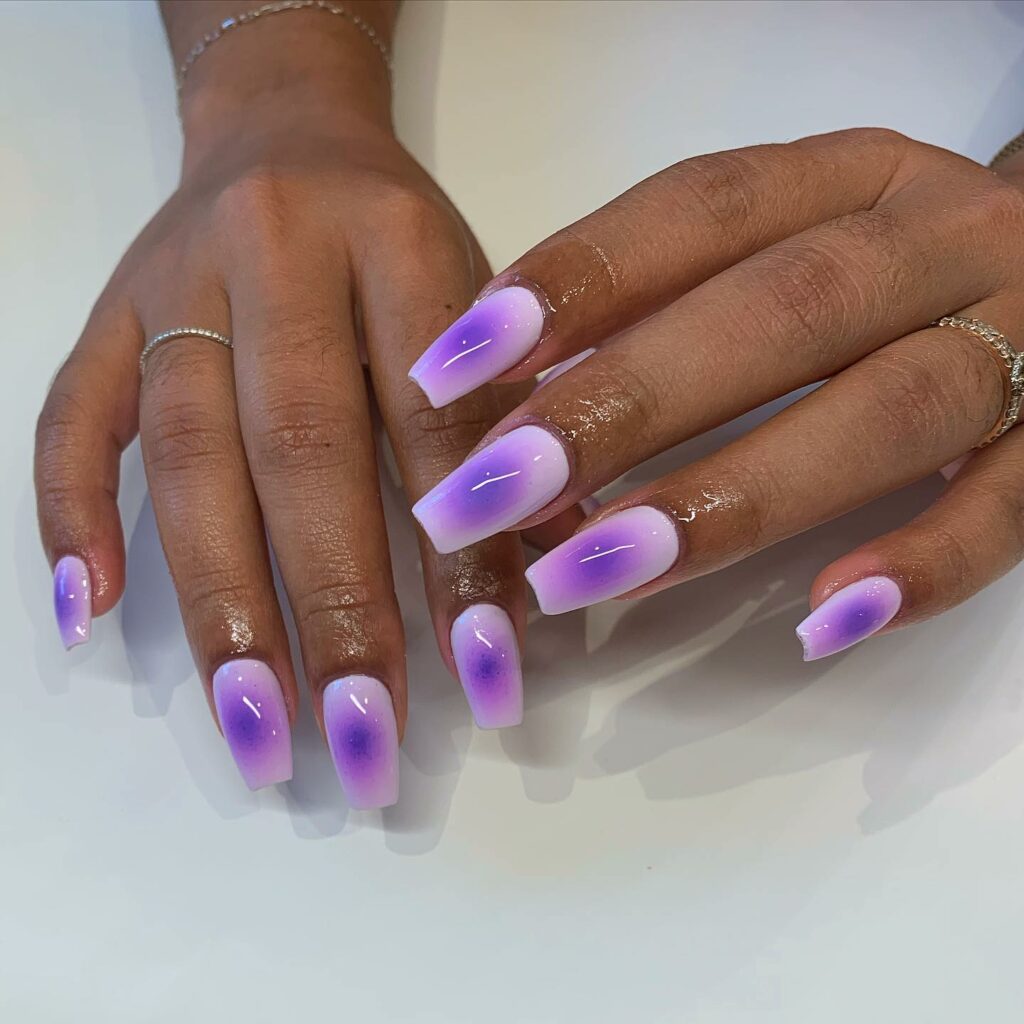 We have the Milky Nyx Ombré. Picture a dreamy milk-white base fading into a sumptuous deep purple at the cuticles. This look is so soft and ethereal that it's perfect for those special events where you want to shine.
Lasting Lavender: Builder Gel Beautiful Ombré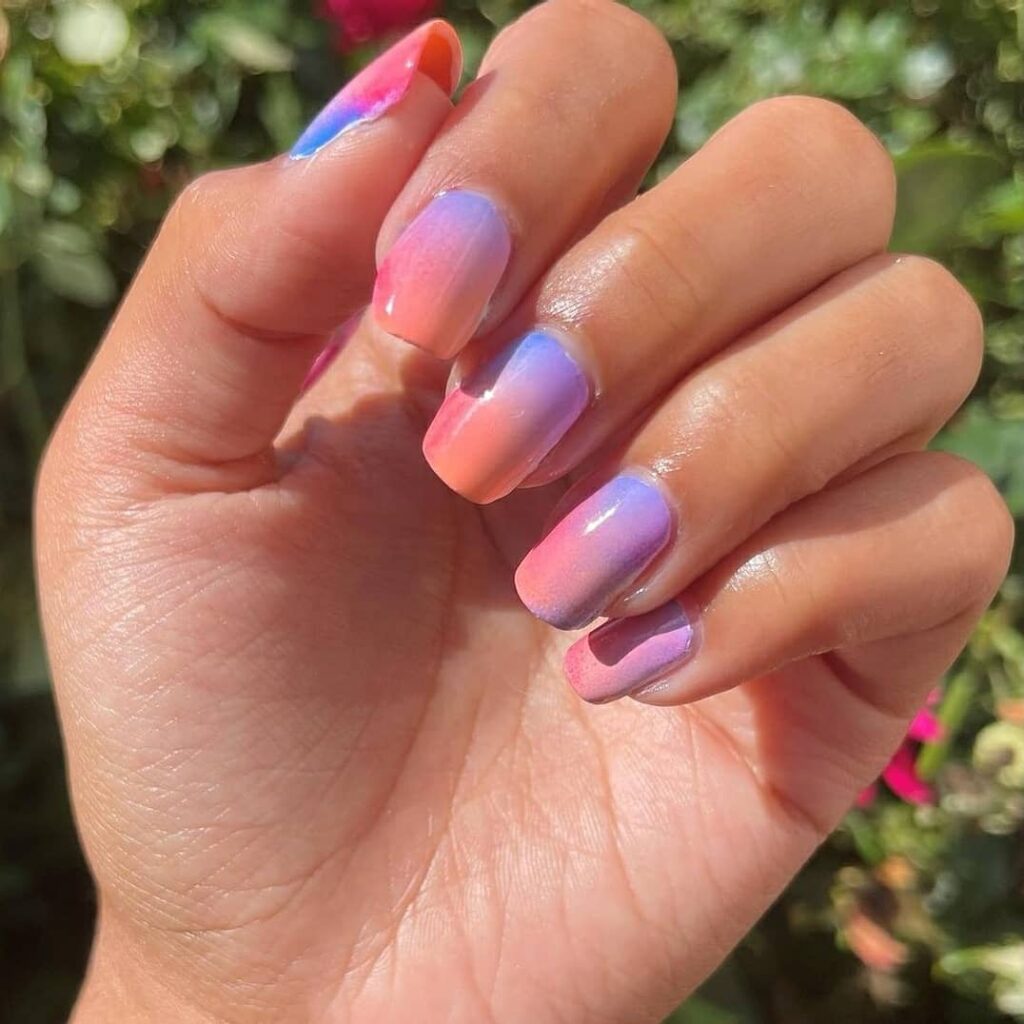 You know how some weeks are just mani-busters? If you're looking for something that can outlast life's chaos, consider Builder Gel Ombré. We're discussing a sweet fade from lavender to an ethereal pale pink. I wore this one on a two-week vacation, and let me tell you—it stayed impeccable!
For the Love of Sparkle: Glitter Fade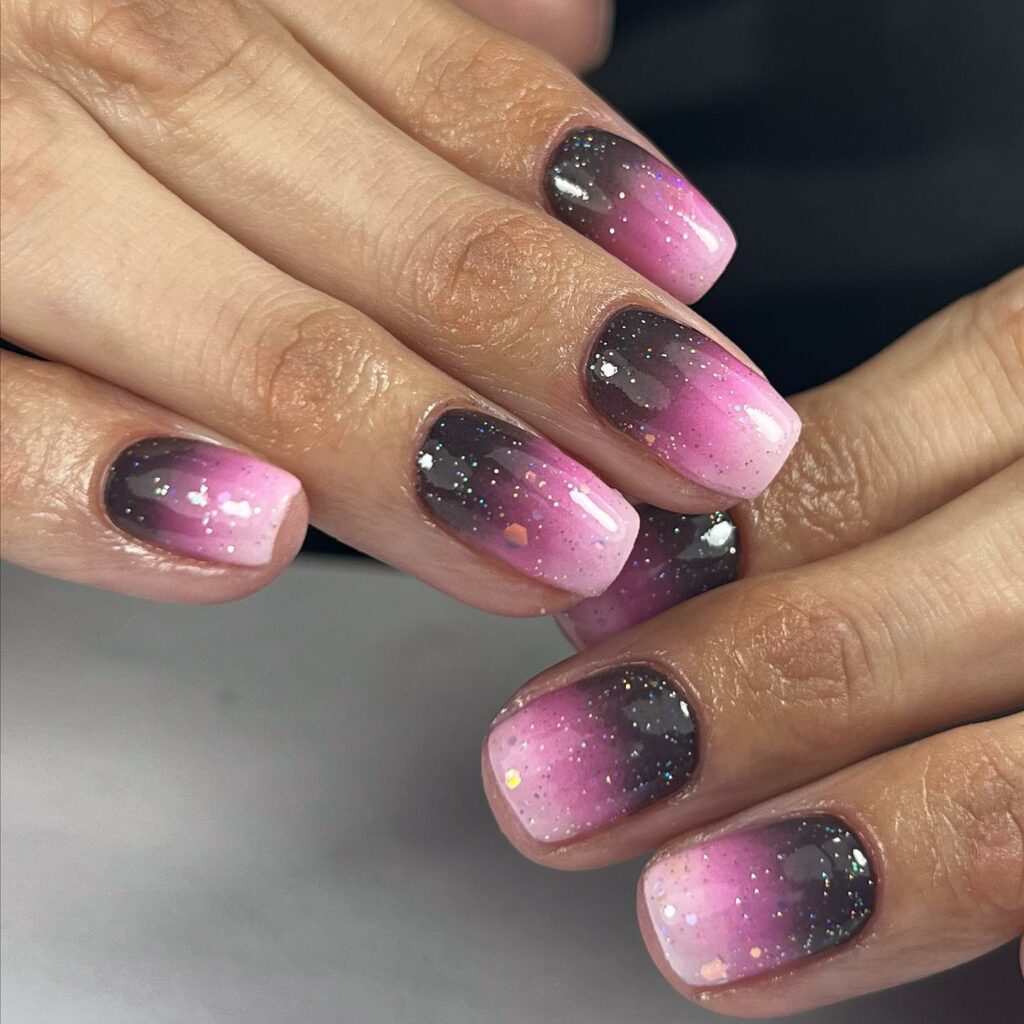 Who doesn't love a little sparkle? Start with your purple base and sprinkle some fairy dust—I mean, glitter—at the tips or base. I've tried it with silver and black, and I'm telling you, you can't go wrong!
Floral Flourish: Buckeye Nails
This masterpiece combines white swirls and dainty 3D flowers over a gradient of lavender to nude. It's like having a tiny piece of art at your fingertips. I rocked this look last Easter, and it was such a hit!
Celestial Vibes: Zodiac Sign (Virgo) Nails
Are you a fan of astrology? How about flaunting it on your nails? For the Virgos out there, try a color palette of purple and white to match your zodiac vibe.
Gradient Glam: Long Pink and Purple Ombré Nails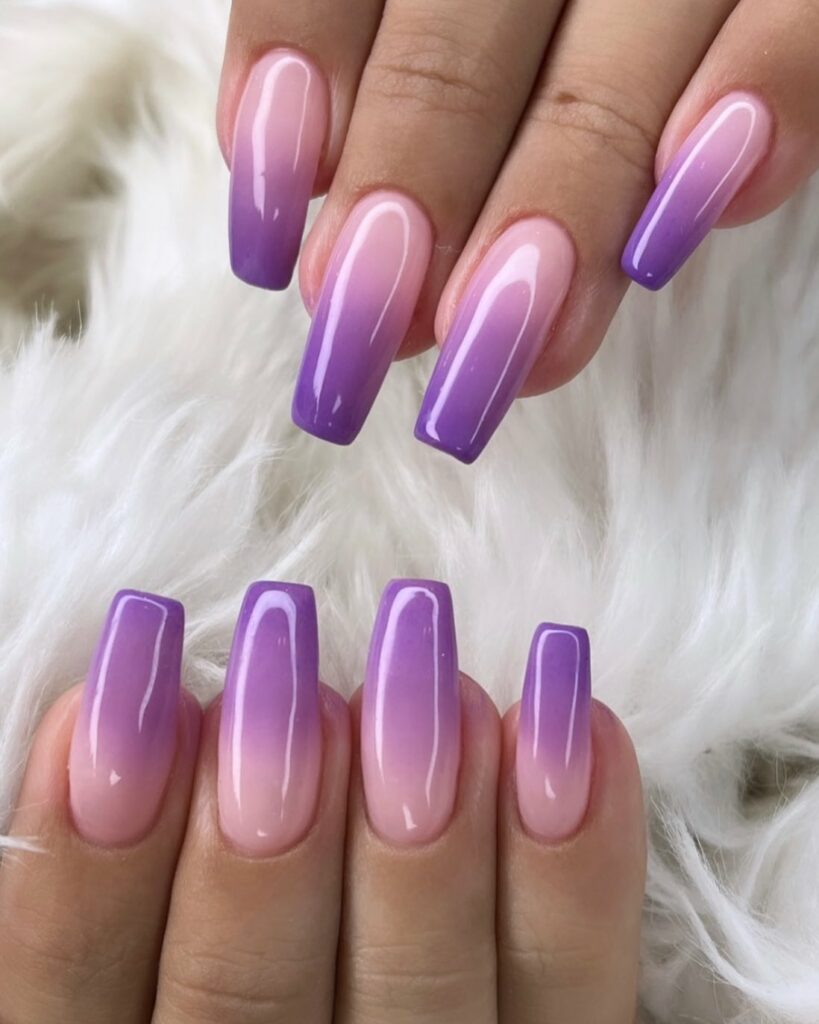 If long nails are your jam, feast your eyes on this: alternating gradients of pink and purple. Amp it up with rhinestones and a holographic accent nail. I sported this at a friend's wedding, and I can't even count the number of compliments I got!
Instant Wow: Purple Sparkles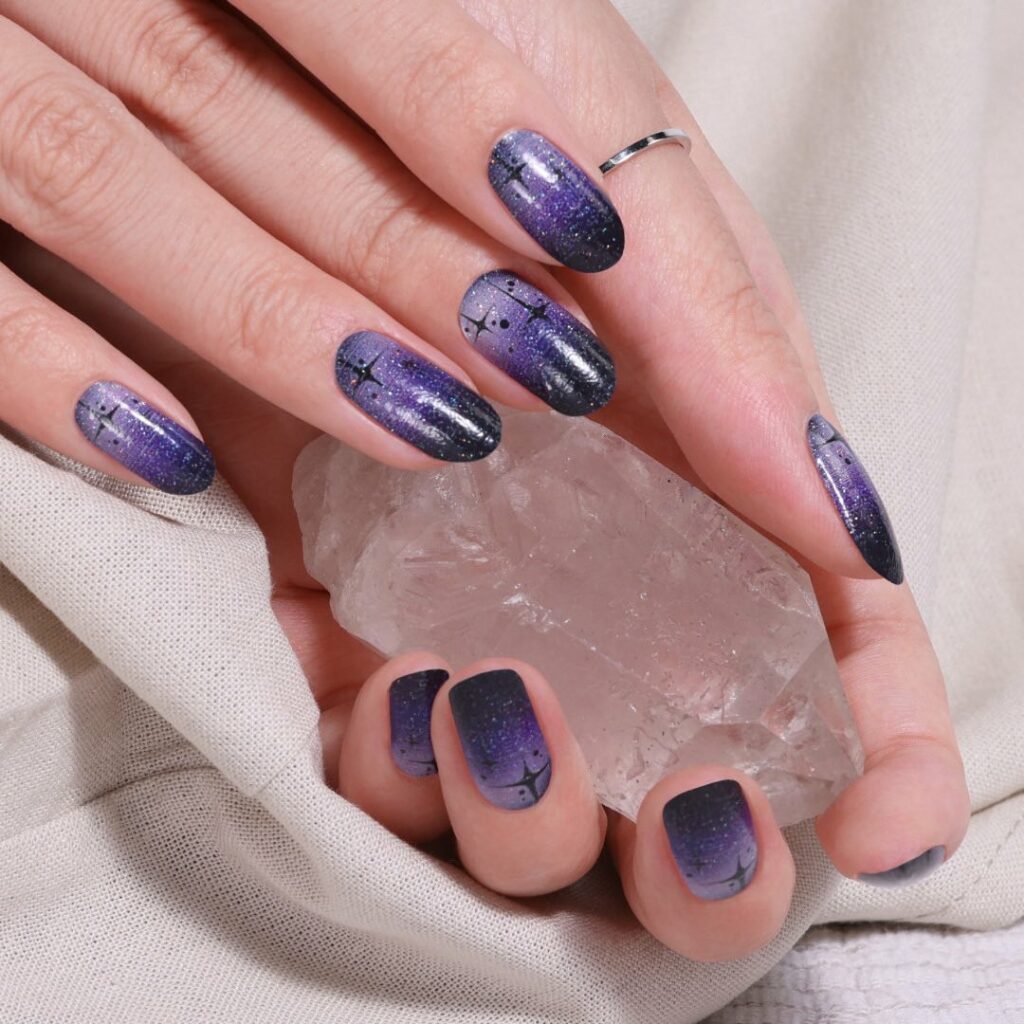 You wanna go from pretty to "Stop—let me see those nails!" level? Add glitter to rich shades of purple. It elevates your ombré game to the glam stratosphere, trust me.
Can't Choose? Go for 'All the Purples'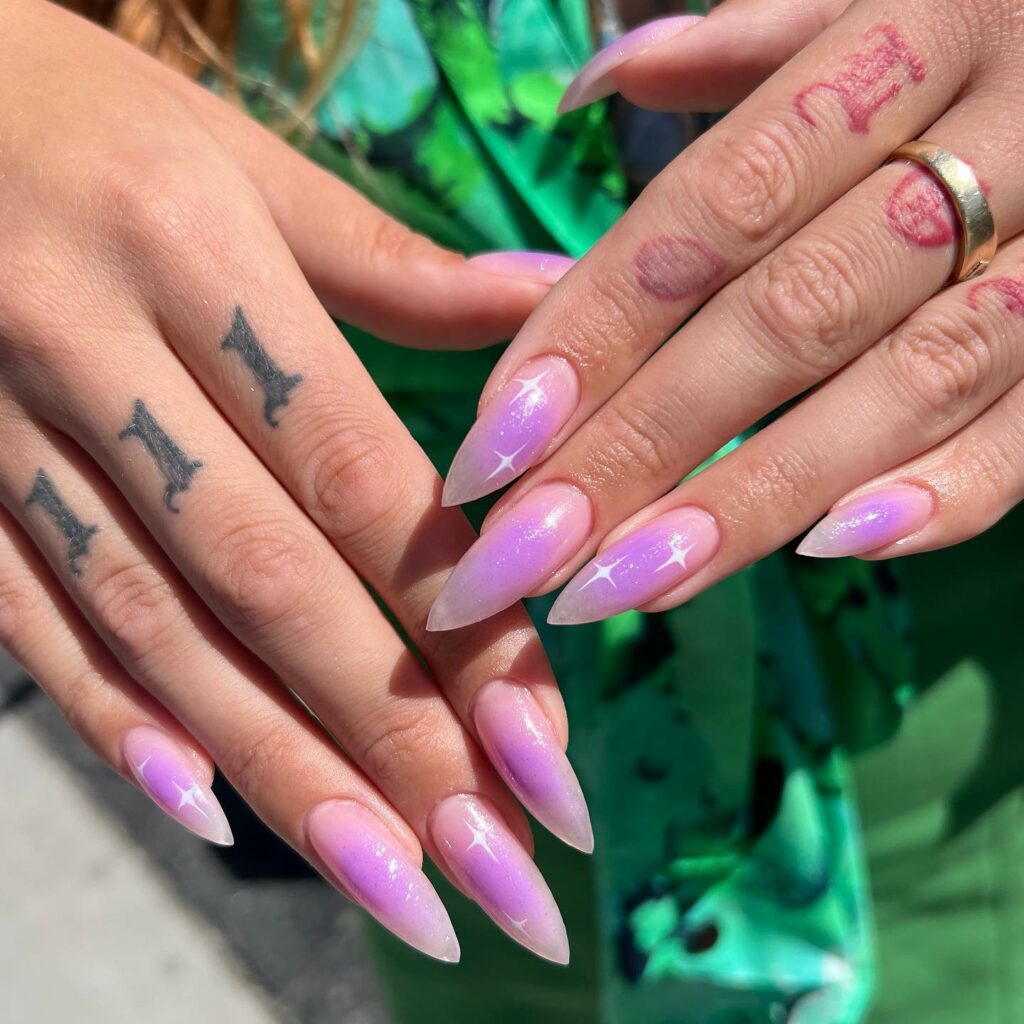 Do you need more time to decide about your purples? You don't have to settle for just one. Go for a gradient that flaunts a variety of shades, from lilac to plum. It's like a little purple rainbow on your fingers!
Dark & Daring: Black and Purple Ombre Nails
These are not for the faint of heart; these scream confidence! Picture this: in a sequin dress, you flaunt these at the next big bash. Tempted yet?
Pure Elegance: Purple and White Ombre Nails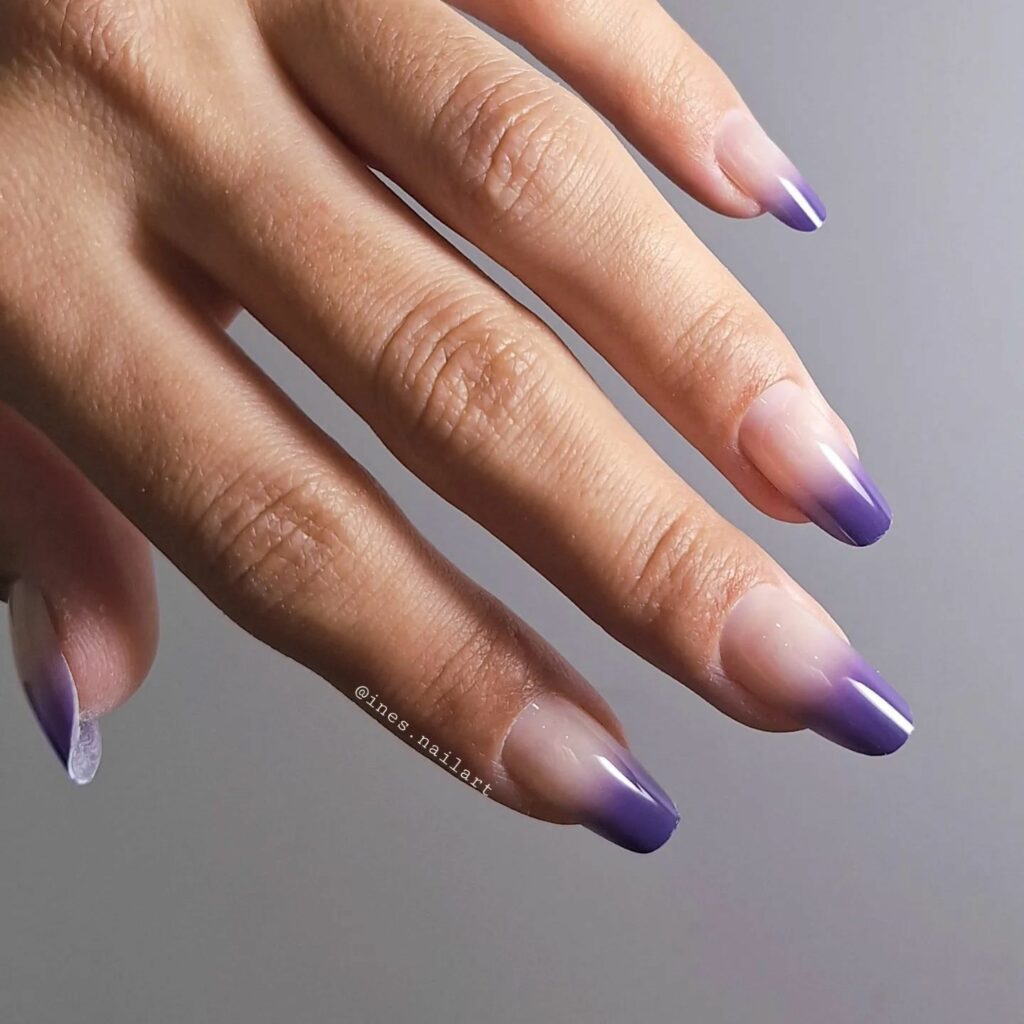 Okay, prepare to be obsessed. These nails are a surprise, contrasting vivid purple with pure white. It's ideal for those summery dresses or to feel like a million bucks any day.
Unapologetically Glitzy: Glitter Purple Ombre Nails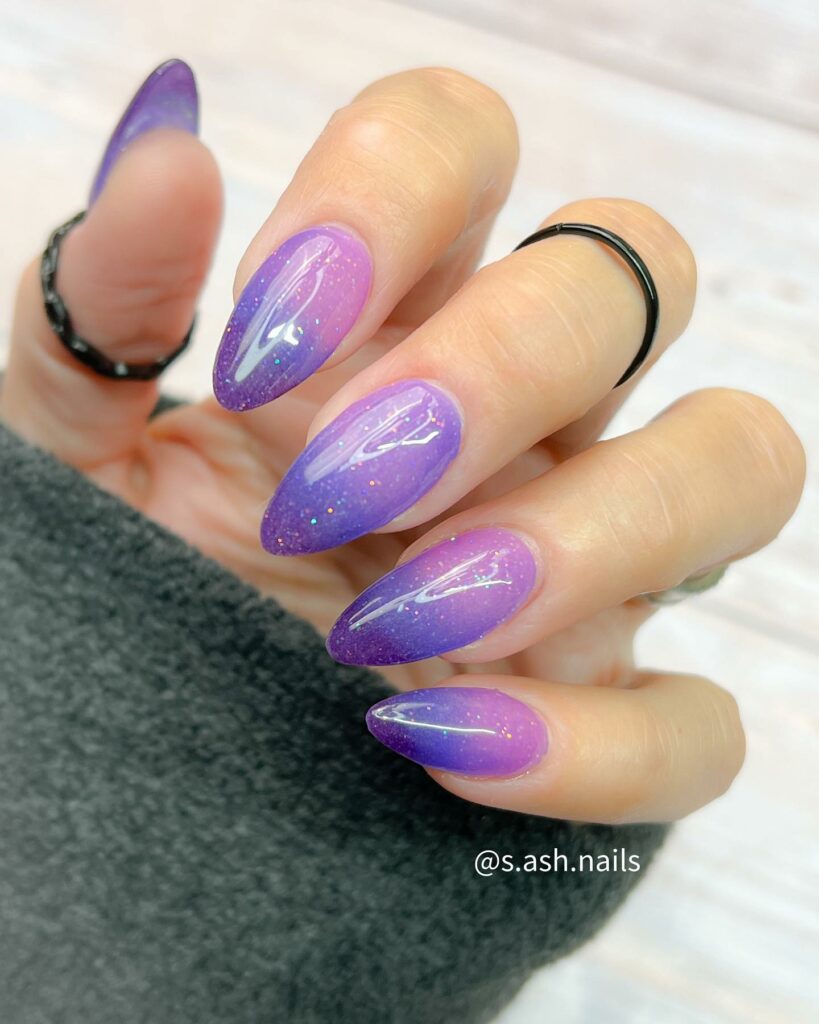 Special occasion, or need a mood boost? Bring on the glitter. These nails are so eye-catching they practically deserve their own zip code.
My Top Tips For Achieving A Seamless Gradient In Purple Ombre Nail Design
Start with a Solid Base – Begin with a clean, buffed nail surface and a good-quality base coat. This ensures your nail color sticks well and lasts longer. I swear by a quick-dry base coat for those days when I'm a bit impatient (we've all been there).
Choose the Right Shades – Picking shades that blend well together is critical. Go for a light lavender and a rich plum, or maybe a royal purple with a delicate lilac. You get the idea—make sure they're in the same color family.
Use a Makeup Sponge – A small makeup sponge is your best friend for this job. Apply your chosen shades side by side on the sponge, and don't be shy about overlapping them. This is where the magic of blending happens.
Dab, Don't Drag! – Gently dab the sponge onto your nail, starting from the base and moving towards the tip. This technique helps to blend the colors naturally. I like to repeat the process two or three times to get a rich, blended look.
Top It Off – Seal your art with a clear top coat. A glossy one can add that luxe finish, while a matte top coat gives a relaxed, modern vibe. Both are equally gorgeous, so it's all about your feelings!
Cleanup Is a Must – No matter how careful you are, some polish will likely end up on your cuticles or skin. A thin brush dipped in nail polish remover makes for an easy cleanup. Trust me, it's worth the extra step.
Take Your Time – The key to that seamless gradient is patience. Let each layer dry a bit before you apply the next. Rushing might lead to streaks, and nobody's got time to redo their nails.
My All-Time Favorite Purple Polishes
| Brand | Shade Name | Description |
| --- | --- | --- |
| OPI | Do You Have This Color in Stock-Holm? | A bright, almost electric purple. Bold without being over the top. Suitable for everyday looks and special occasions. |
| Essie | Play Date | A delightful lavender shade that exudes springtime vibes all year round. |
| Zoya | Savita | A matte plum offering a high-fashion, editorial look in just two coats. Dramatic and sophisticated. |
| China Glaze | Let's Jam | A lighter purple with subtle blue undertones. It has a beautiful sheen that catches the light. |
| Sally Hansen | Miracle Gel in Perplexed | A rich, gel-like purple that offers longevity without needing a UV lamp. An excellent drugstore find! |
| ILNP | Bishop | An ultra-chic, holographic purple. Multidimensional, ensuring you won't stop admiring your nails. |
| Deborah Lippmann | Purple Rain | Dark yet vibrant purple inspired by Prince's iconic song. Has a rock 'n roll backstory. |
| Butter London | HRH | Representing 'Her Royal Highness', this deep, royal purple will make you feel like royalty. |
This table features some of the top purple polishes to add a pop of color to your collection. Whether you're new or looking to expand, these shades are versatile choices for any season.
10 Tools I Recommend For A Flawless Execution Of Purple Ombre Nails
Base Coat – A solid base coat must ensure a smooth canvas and longer-lasting mani. Take advantage of this step!
Purple Nail Polishes – You'll need at least two shades of purple—a lighter shade like lilac and a darker shade like violet. But hey, if you're feeling adventurous, why not go for a multi-gradient look with three or even four shades?
White Nail Polish – White polish isn't a must-have, but it's a great way to make those purples pop. Apply it as your first layer if you want your colors to really shine.
Sponge – A makeup sponge is your bestie for blending those colors. Opt for the latex-free ones; they are softer and blend more seamlessly.
Tweezers – Hold the sponge so you don't end up with ombre fingers, too!
Liquid Latex or Tape – To protect the skin around your nails from getting all polish-y. Liquid latex is super easy to peel off; tape works in a pinch, too.
Fine Glitter or Rhinestones (Optional) – For that extra sparkle, you know? Because a girl needs options!
Top Coat – Finish off with a glossy or matte top coat to seal in your artwork. If you like the gel-like finish, go for a plumping top coat.
Cleanup Brush & Acetone – Ombre can get messy, so have a cleanup brush and some acetone ready to make those edges look crisp.
Dotting Tools or Toothpick – If you plan to add some tiny embellishments or intricate designs, a dotting tool or even a toothpick can be handy.
Still Looking for Inspiration, Then Check Out This Video
Conclusion
Alright, lovelies, let's wrap this up! Purple ombré nails are more than just a trend; they're a vibe, a statement, and an instant mood-lifter. Whether you're into the long-lasting magic of Builder Gel or ready to shine with all the glitter you can handle, there's something for everyone in the realm of purple ombré. My personal tip? Don't shy away from adding some 3D elements or rhinestones for that extra pop—your nails will thank you! Remember, your nails are a canvas, so go ahead and express yourself with shades of fabulous purple. Until next time, keep those nails on point and your spirits high!
Feature Image Photo By vivianmariewong on Instagram
Last reviewed and updated on October 17, 2023