Hey lovelies! Today, we're diving into the world of pink coffin nails—a look that's an absolute game-changer for anyone wanting to level up their nail game. Think of it as that perfect blend of edgy and cute, where the coffin shape brings the drama and the pink hue keeps things flirty and fun. In this post, we'll cover everything from choosing the right shade of pink to match your skin tone to DIY tips for nailing (pun intended!) the coffin shape at home. Trust me, I've been rocking this style for a while now, and it never fails to turn heads. So grab your nail kit, and let's get started!
Pink And Pearl Coffin Ombre Nails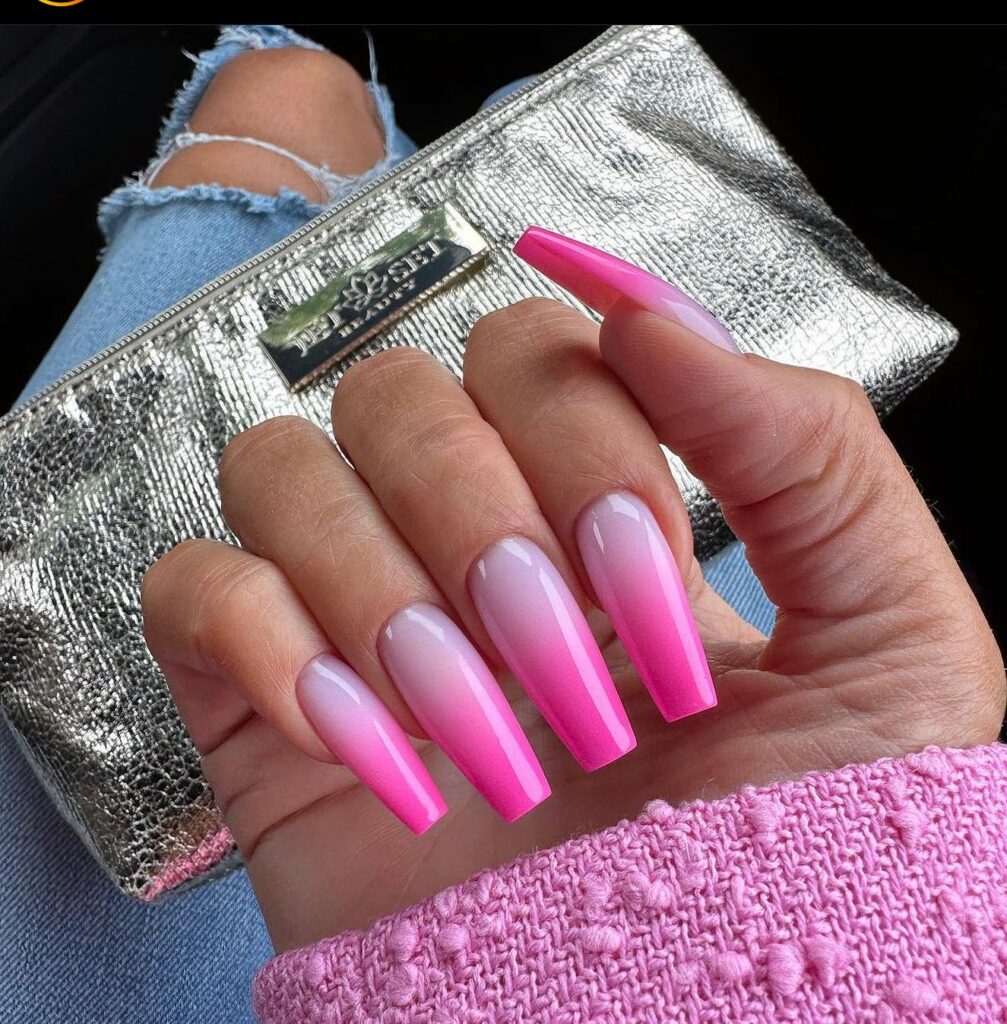 Why settle for one shade of pink when you can play around with different hues and finishes? Alternate between sparkly coral and glossy salmon pink to keep those eyes glued to your nails. This is a fab way to show off your multi-faceted personality.
Pastel Pink With Black Polkadots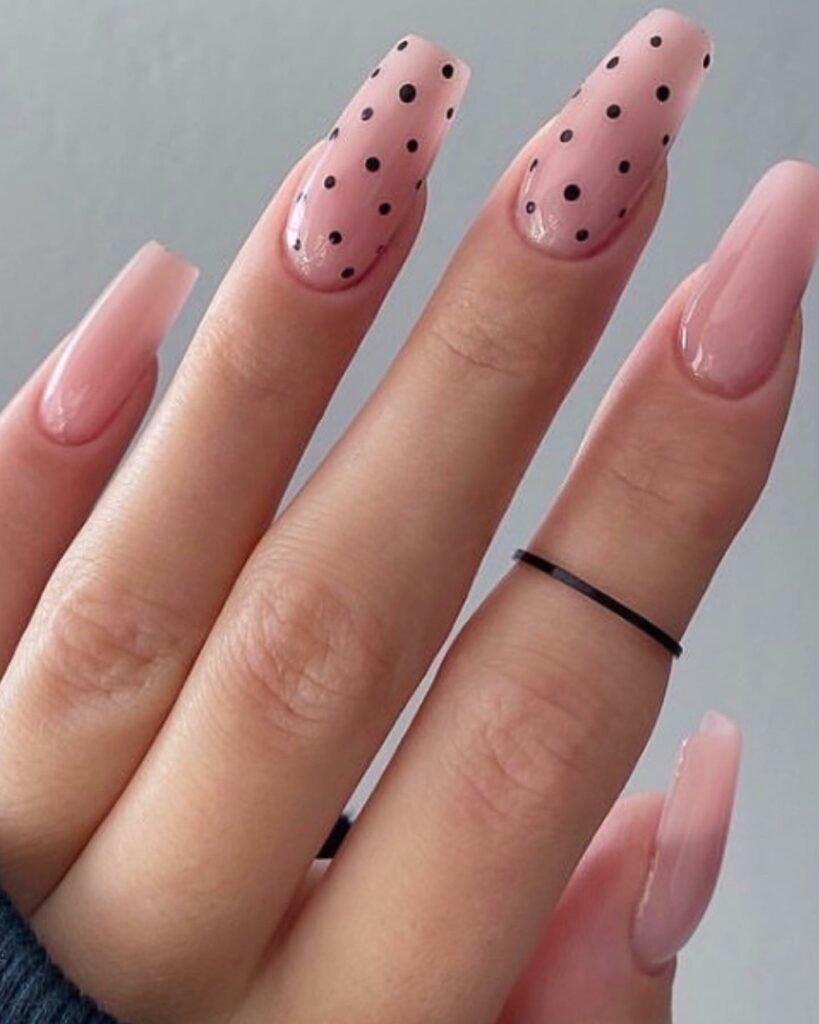 Pastel pink nails adorned with black polka dots offer a charming nod to vintage style while keeping things sweet and playful. This delightful combination pairs the soft femininity of pastel pink with the bold contrast of black
Light Pink Coffin Nails With Some Serious Glitter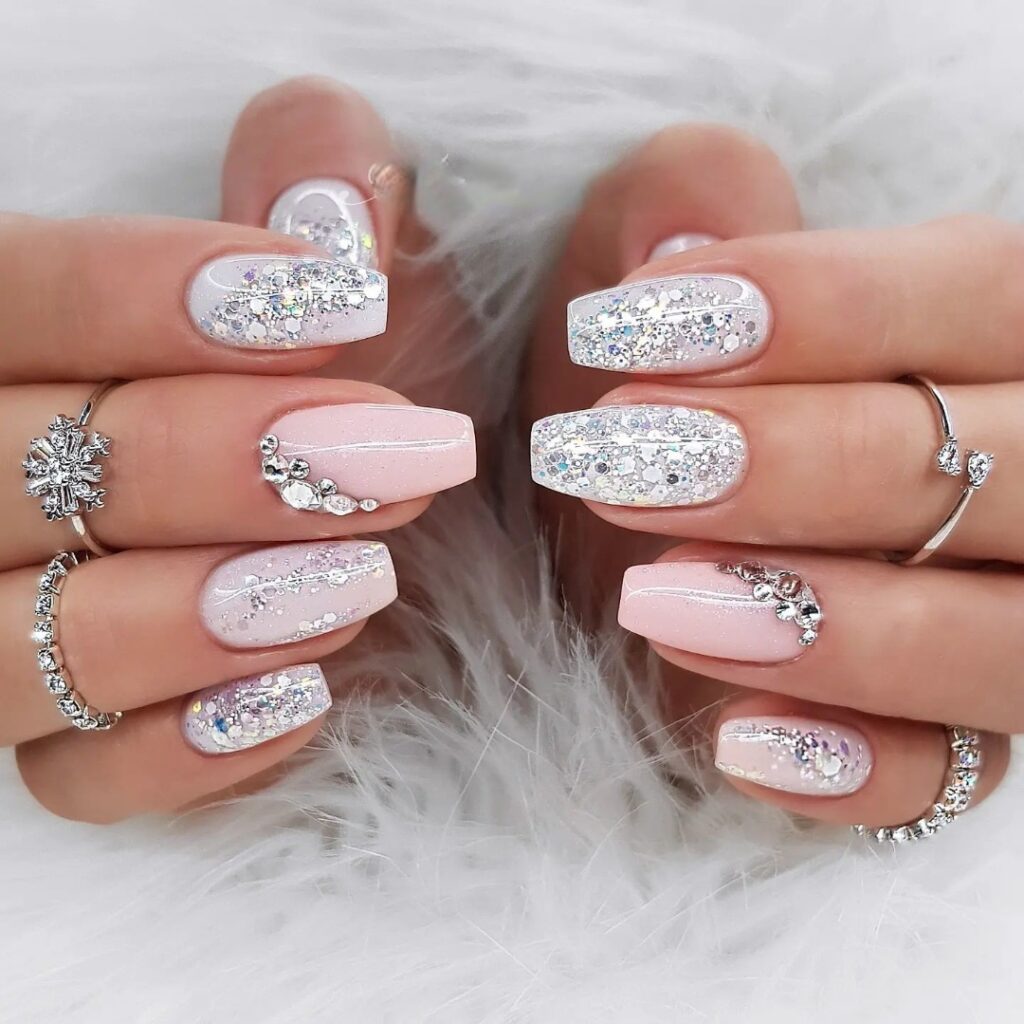 Enough of the hot pink; let's enter the ethereal world of light pink. And, oh, are we loving the bling!
Simplicity In Gradient: A Gradual Gradient
This look is very much like the last one but sans the hearts. If you're into a no-frills, understated gradient look, this one's for you. Sometimes less really is more!
The Elegance Of Heartbreak: Lost Love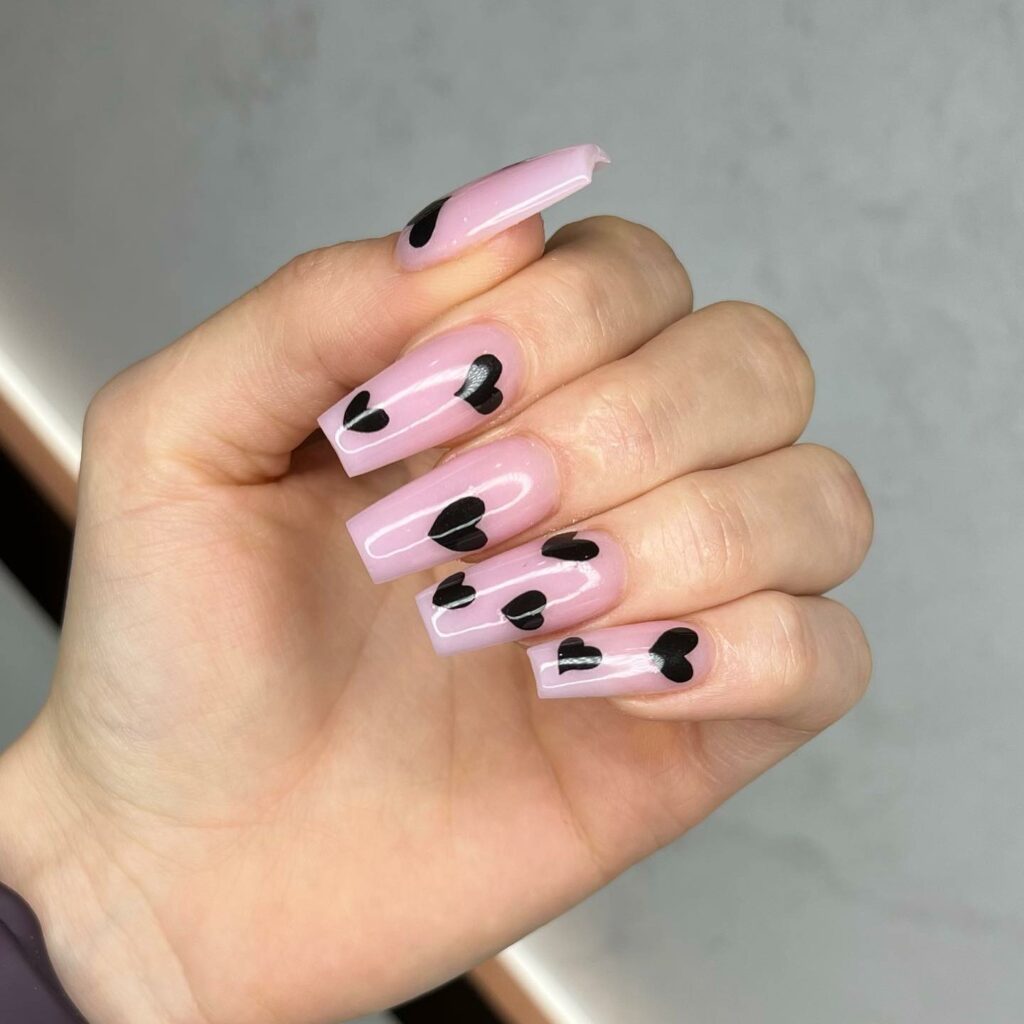 Ready for some drama? These coffin-shaped nails are not only chic but emotionally charged. Rocking a mix of black and pink bases, these nails feature dripping hearts that evoke the beauty of bittersweet memories. Perfect for channeling your inner romantic—or making an ex super jealous.
Classic Coffin Marble Nails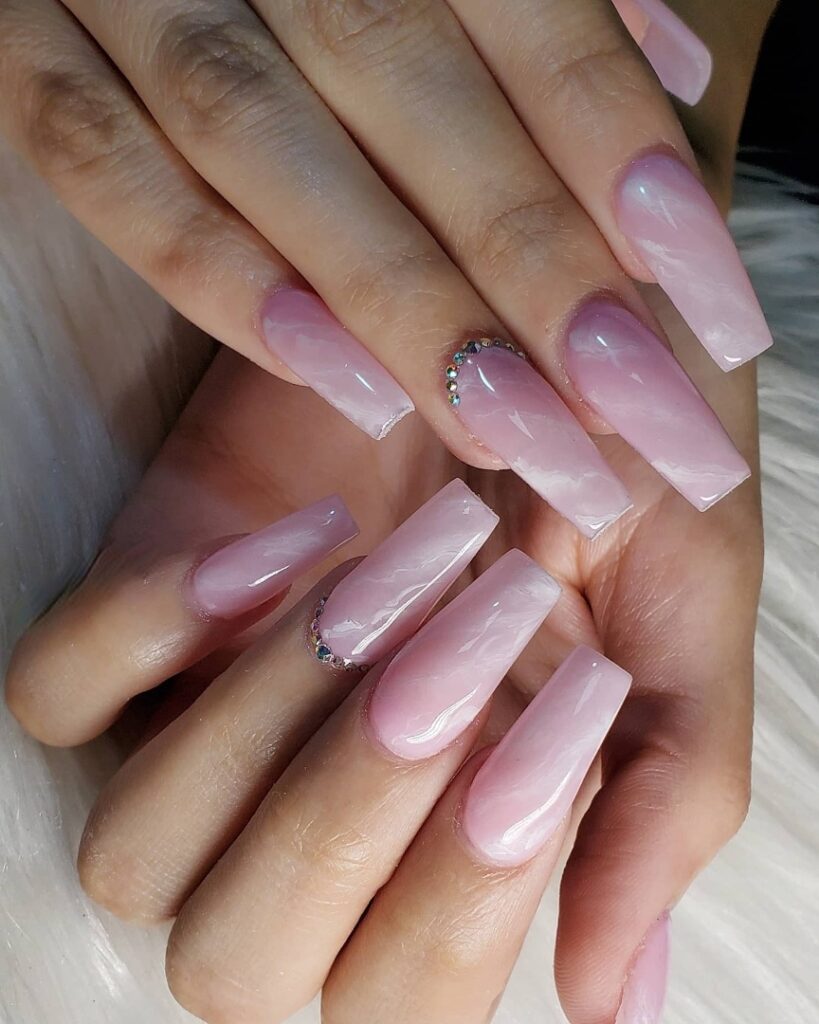 An evergreen style that works with almost any outfit, Classic Marble coffin nails are all about capturing natural elegance. This design is a must-try for those new to the marble trend.
The Simplicity Of Baby Pink Coffin Nails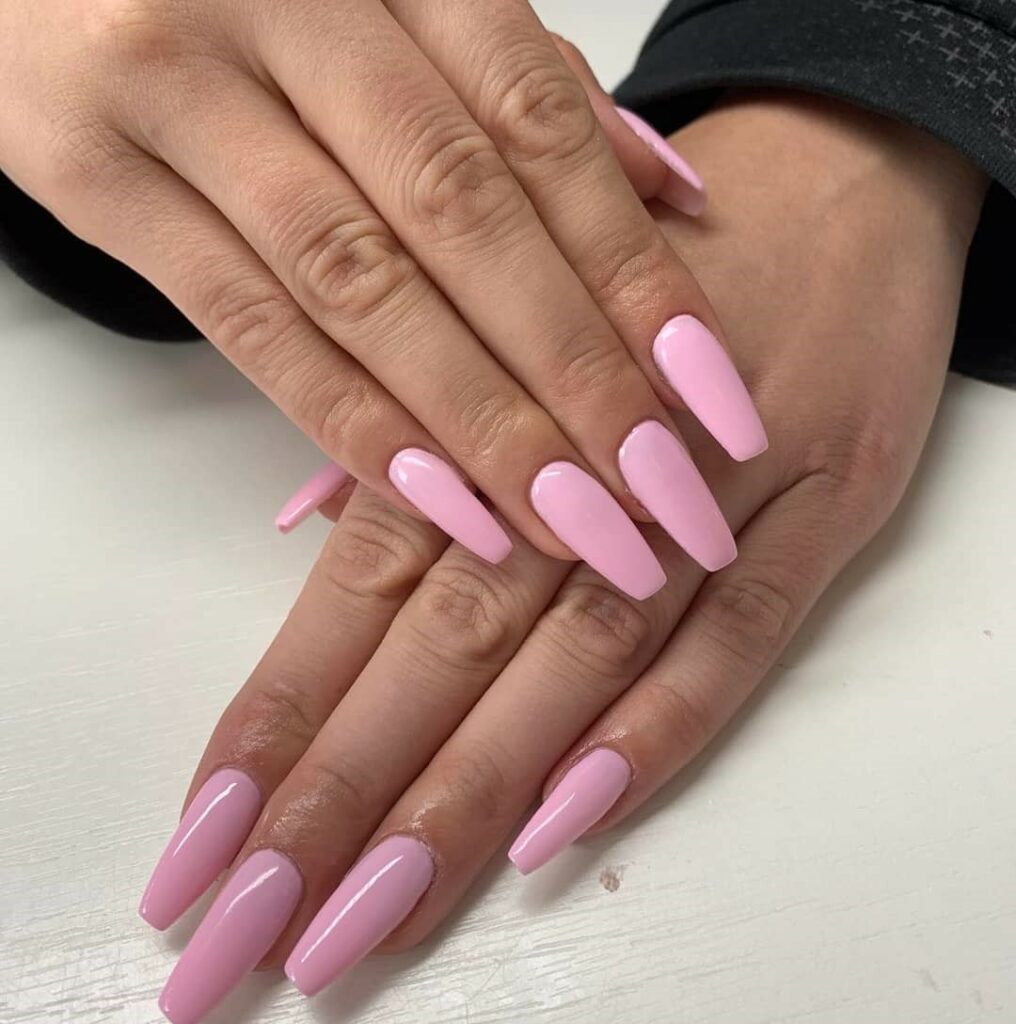 Baby pink coffin nails exude a soft elegance, with the gentle hue lending a touch of understated chic to the bold, contemporary shape of the coffin design. This combination creates a versatile look that's both demure and daring, perfect for those who want to make a fashion statement without shouting it from the rooftops.
Hot Pink Barbie Coffin Nails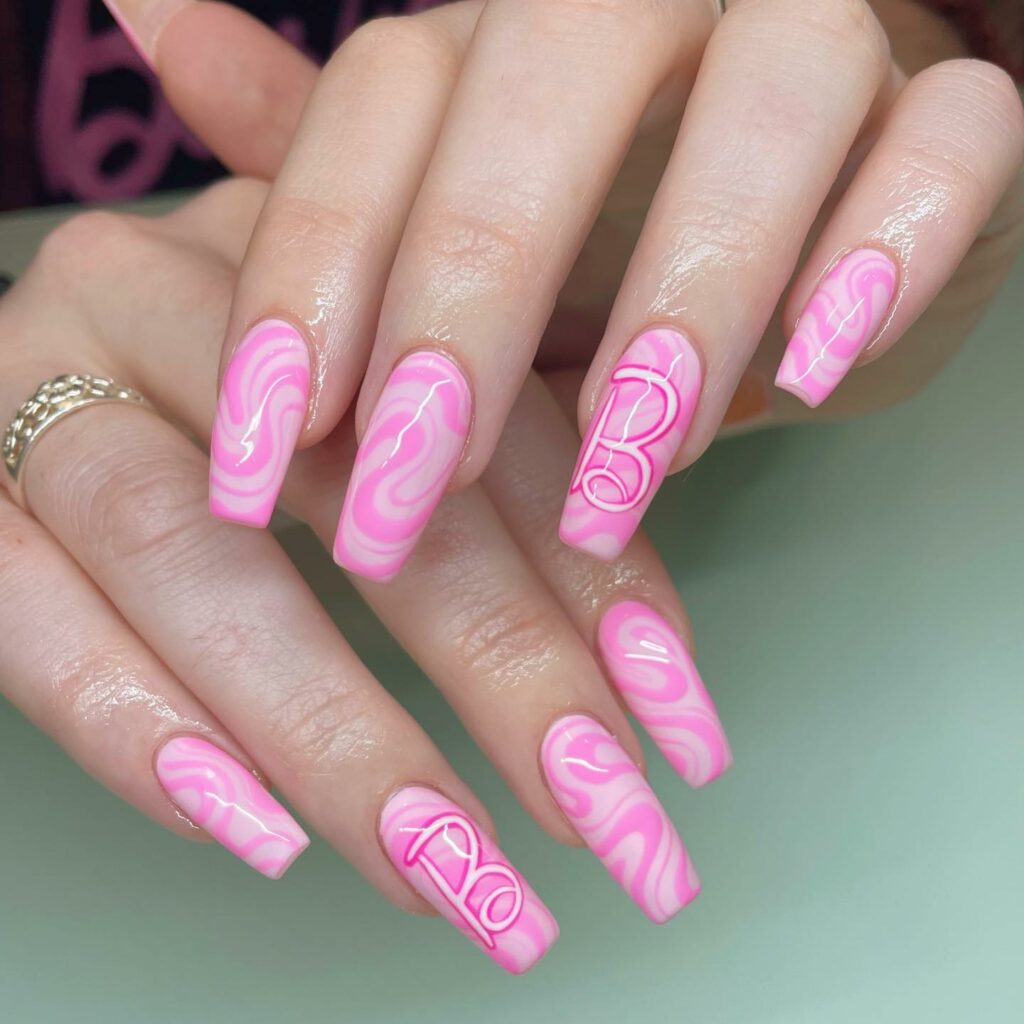 If you want to make a bold statement, hot pink nails are your best friend. These are what I like to call my "confidence boosters." Whenever I have an important meeting or date, I opt for hot pink—it's impossible to feel timid when your nails are this eye-catching. They have the power to turn even a mundane outfit into a head-turner.
The Best Of All Worlds: Gems & Marble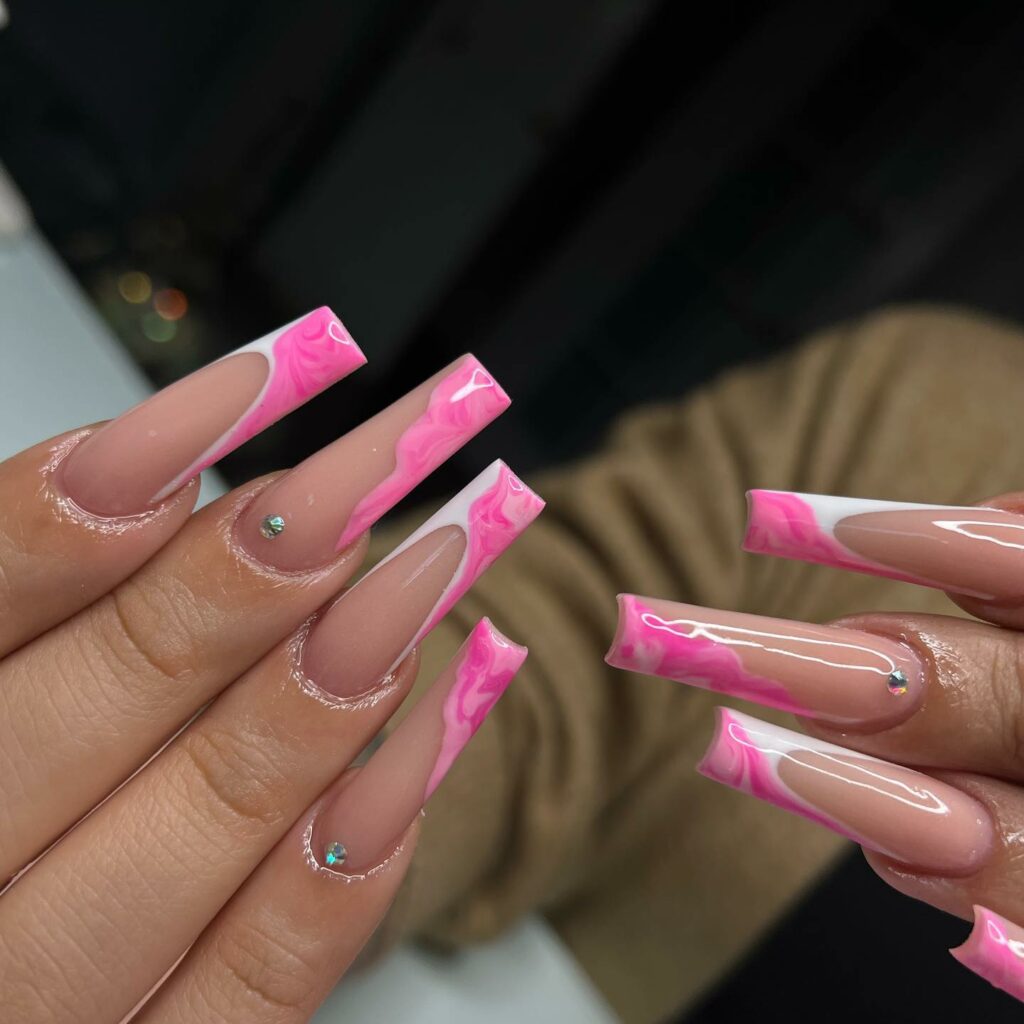 Why settle for one design when you can have it all? I'm talking solids, marbles, and bedazzled cuticle cuffs, darlings! This is a showstopper, especially when I feel extra and want to embody that "life of the party" vibe. Seriously, could you not hold back and mix it up?
Pink Coffin Nails With Chunky Glam Glitter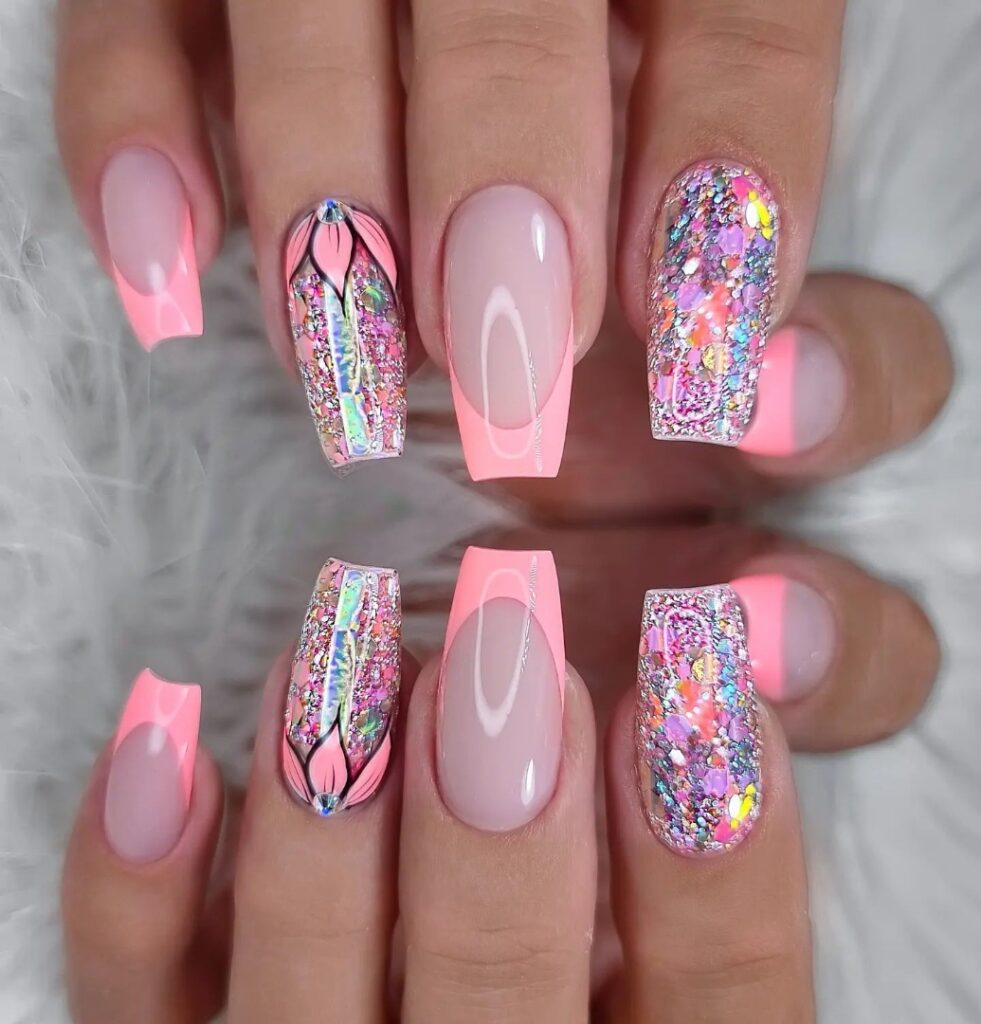 Mix it with chunky and fine glitter, a dash of rose art, and a soft pink base. It's like having a little party on each nail, and it's one of my personal faves for a weekend out.
Paisley Patterns For The Win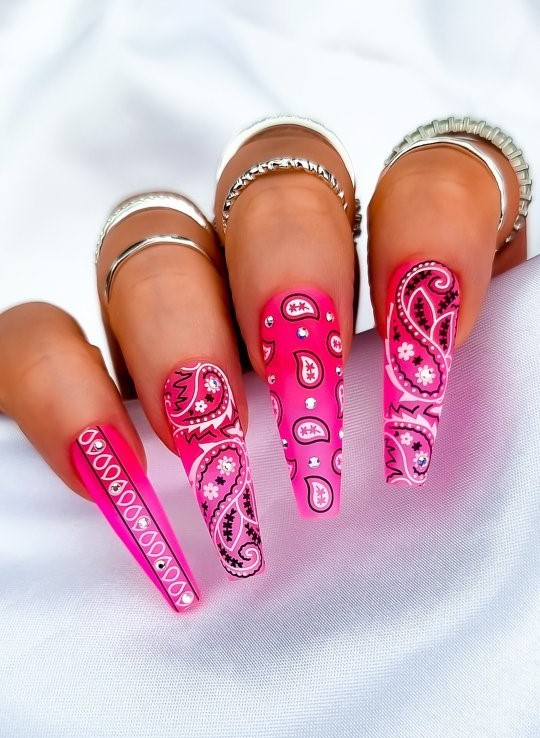 Paisley patterns on hot pink coffin nails fuse the playful zest of vivid pink with the intricate swirls and teardrops of traditional paisley, creating a look that's both eye-catching and artistically complex. This design is a celebration of color and culture, turning each nail into a canvas of bold, bohemian charm perfect for those who love to merge classic patterns with a modern nail silhouette.
Candy Crush: Pink Coffin Nails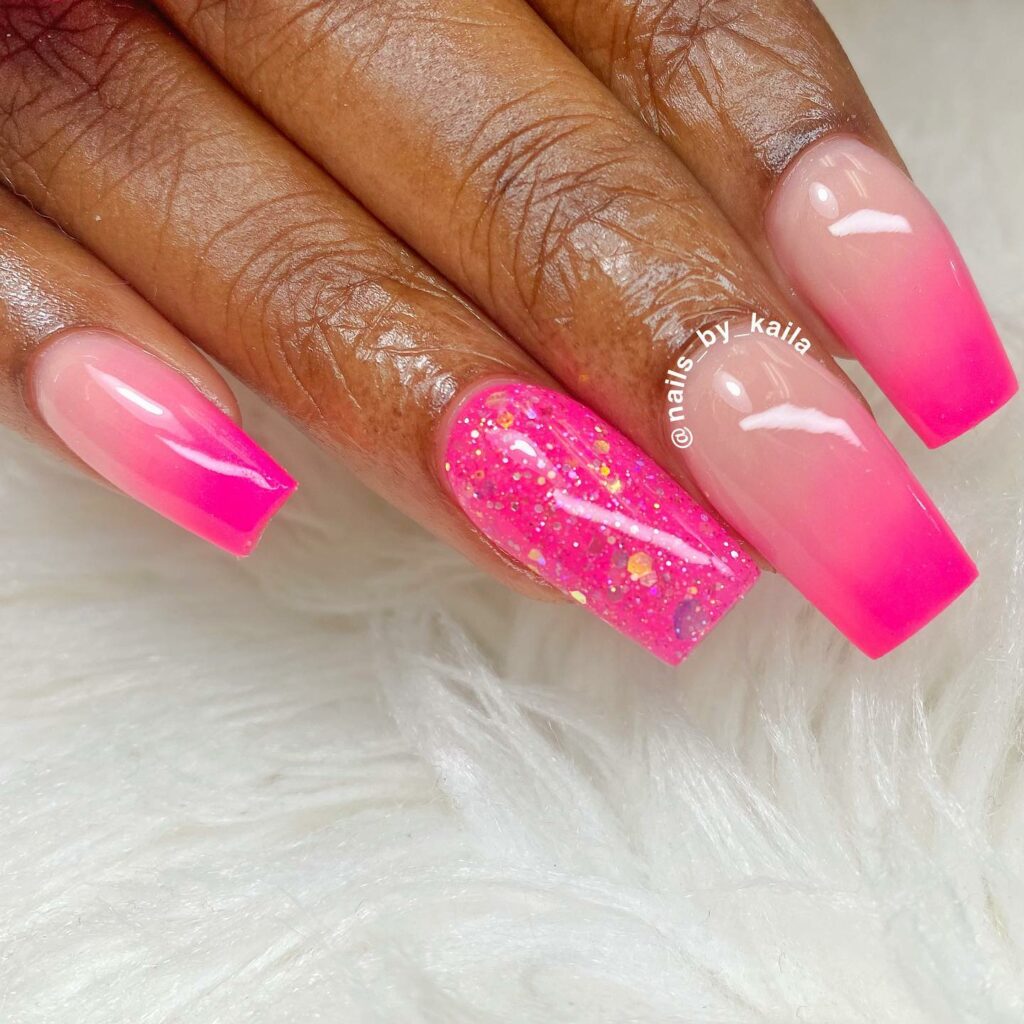 Ready to get juicy? Opt for a mix of bright pink hues on each nail. Put the spotlight on an ombre nail, and voila! It's like having your favorite jelly baby candies right at your fingertips.
Heavenly Ombre Pink & Blue Coffin Nails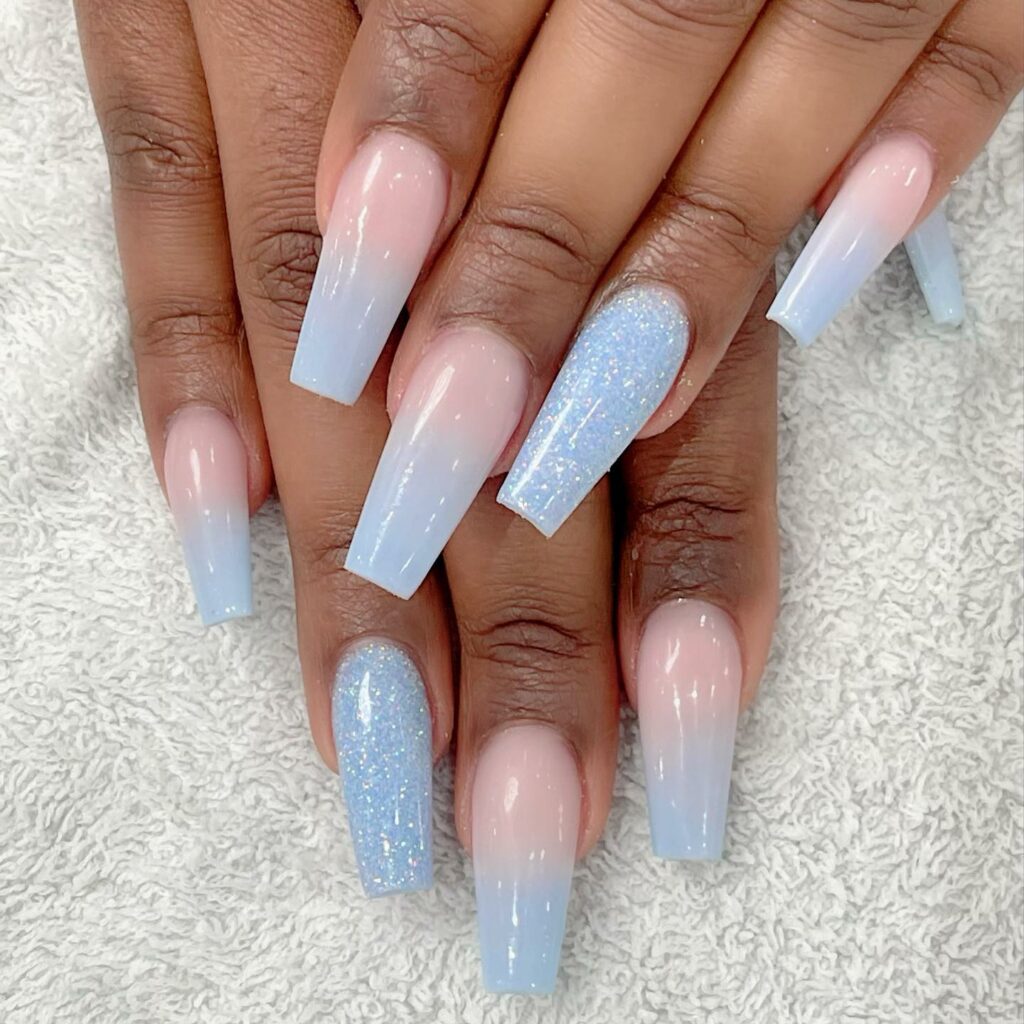 You've gotta try the Heavenly Ombre Pink & Blue Nails, trust me—it's a dreamy blend that's like a sunset and a clear sky all in one! Starting with a soft pink base that seamlessly transitions into a tranquil blue, this ombre look is an ethereal masterpiece perfect for any occasion.
Icy Blue Blended With Pink Ombre Coffin Nails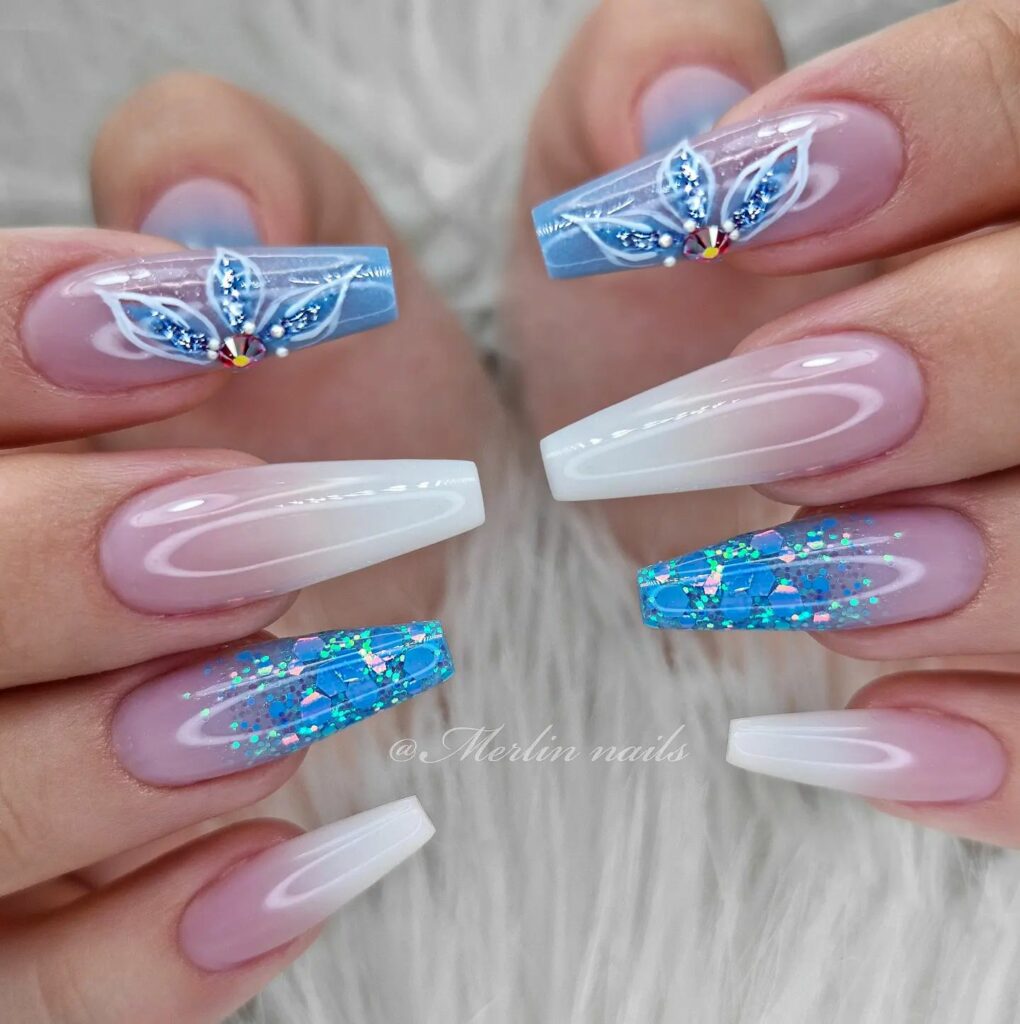 A translucent blue with a frosty finish, these tips give the illusion of ice-capped nails. It's a cool and unique twist on the classic blue French design.
Go For The Gold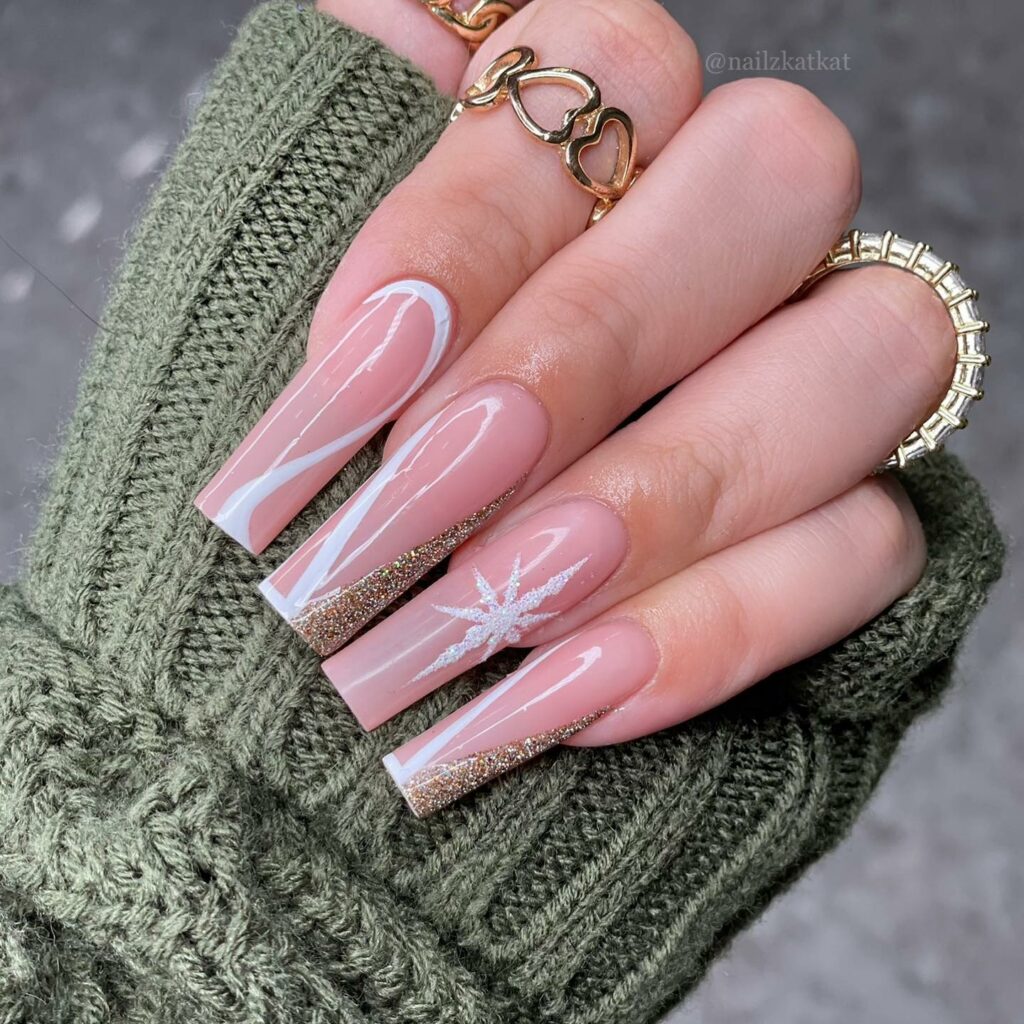 I'm all for that pink and gold aesthetic. It's the ultimate romantic combo—perfect for dates or when feeling yourself. Throw in some shaped stickers like ice crystals, and you're golden (literally).
Spring In Your Step: Pink and Daisies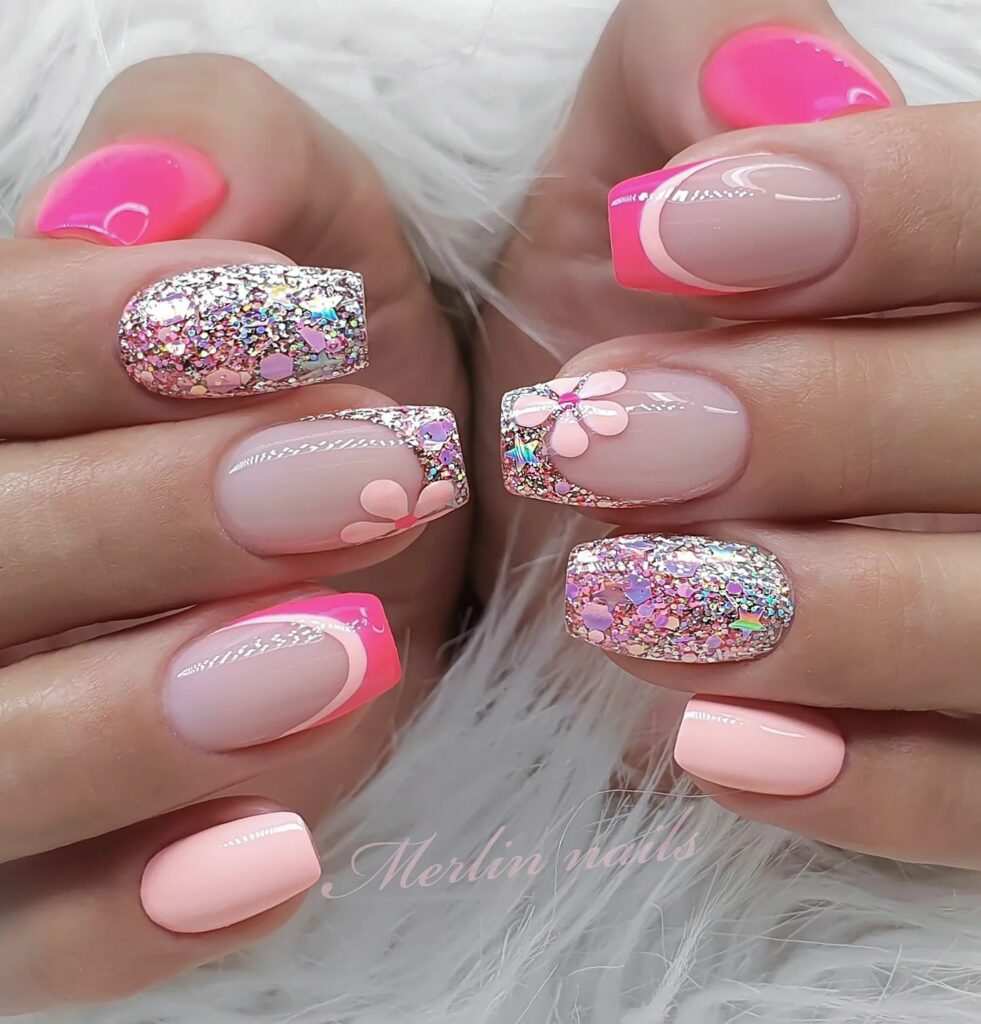 A design perfect for the flower child in you. Light pink nails set the stage for adorable white daisies on two fingers, and the pinky gets a sprinkle of silver glitter. Because who doesn't love flowers and glitter?
Cherry Blossoms: Pink And Lilac Coffin Nails
Look that screams springtime in Japan—think pink French tips on long, coffin-shaped nails. To make it extra special, add some flower petals in shades of pink for that gradient effect on one nude nail. I tried this look last spring, and let me tell you, it felt like having a little cherry blossom festival at my fingertips!
A Classic High Gloss French Ombre Coffin Nails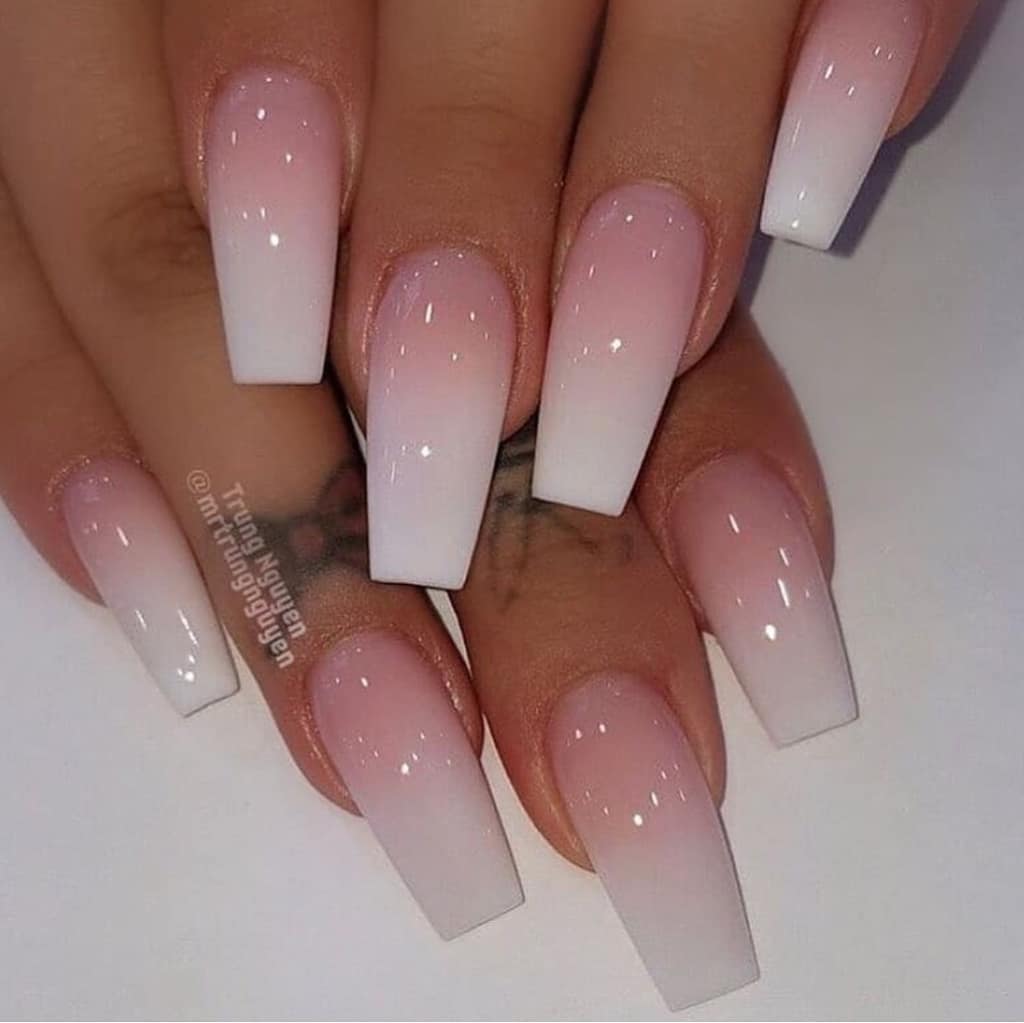 Ah, the timeless French ombre, a subtle yet chic cousin of the classic French manicure. If you're stepping into the alluring world of ombre, this design is your perfect entry point. It tastefully utilizes light pink and white, blending them seamlessly instead of the traditional stark white tips. This look is versatile, seamlessly transitioning from a business meeting to a night out with friends.
Flamingo Fantasy With Glam Glitter
If you're all about that shimmer and shine, you'll love this. Baby pink and white blend seamlessly into a bold magenta, with iridescent glitter to top it all off. I recommend this look for those nights you want to make a sparkling statement.
Ready to Party: Glitter, Flower, And Diamonds
Fancy a soirée-ready style? Flowers, rhinestones, and glitter are your BFFs here. Create a floral pattern using tiny gems, or even go 3D with your florals if you feel extra. Don't forget to add a few pink glitter nails to complete your glam transformation. Perfect for nights when you wanna feel like the belle of the ball.
Timelessly Elegant: Marbled Hot Pink
Marble isn't just for your kitchen counter, folks. Take dark and light shades of pink and swirl them together for this understated yet timeless look. Seriously, you can't go wrong with this—it's like the little black dress of the nail world.
Coral Pink Coffin Nails With A Glam Finish
Black and glittery coral pink bases alternate, topped with multicolored glitter flakes. Wear these to your next festival; you'll be as eye-catching as the main act.
Ombré Made Easy: Pink Gradient
Ombré can be tricky, but here's a hack: paint each nail a different shade of pink, from lightest to darkest. The result? A gradient look that's surprisingly easy to achieve.
The Ombre Love Affair: Pink and White in Gradients
Let's talk ombre—a technique that never disappoints. Sometimes, it feels like the chameleon of nail designs, effortlessly blending into whatever vibe you're going for.
Pink Animal Print Nails
Who says animal prints have to be brown or black? Go wild with pink animal print nails like leopard or zebra but rendered in shades of pink. These nails always make me feel fierce and fabulous.
White Coffin Nails with Pink Glitter Ombre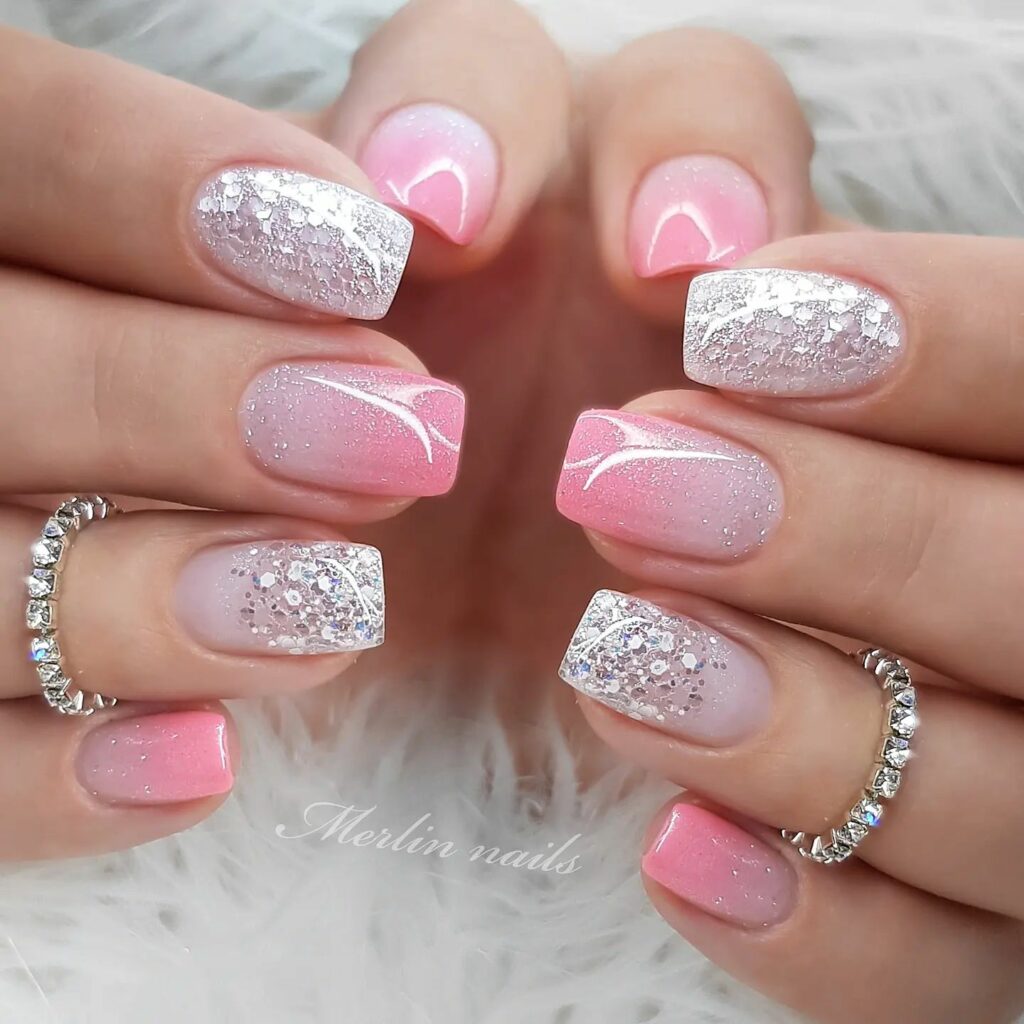 There's something ethereal about creamy white smoothly transitioning into sparkly pink. I first rocked this look during a weekend getaway, and it was a hit! The ombre effect adds a contemporary flair, making it ideal for those who want a bit of zest in their classic style.
Acrylic Pink Coffin Nails
Acrylic pink coffin ombre nails blend the smooth, gradual transition of color with the avant-garde edge of the coffin shape, creating a stunning visual effect that's both elegant and on-trend. The ombre technique adds depth and dimension to the nails, transitioning from a rich, vibrant pink to a softer shade, encapsulating a modern take on classic femininity.
Wild Side In Pink: Fabulous Leopard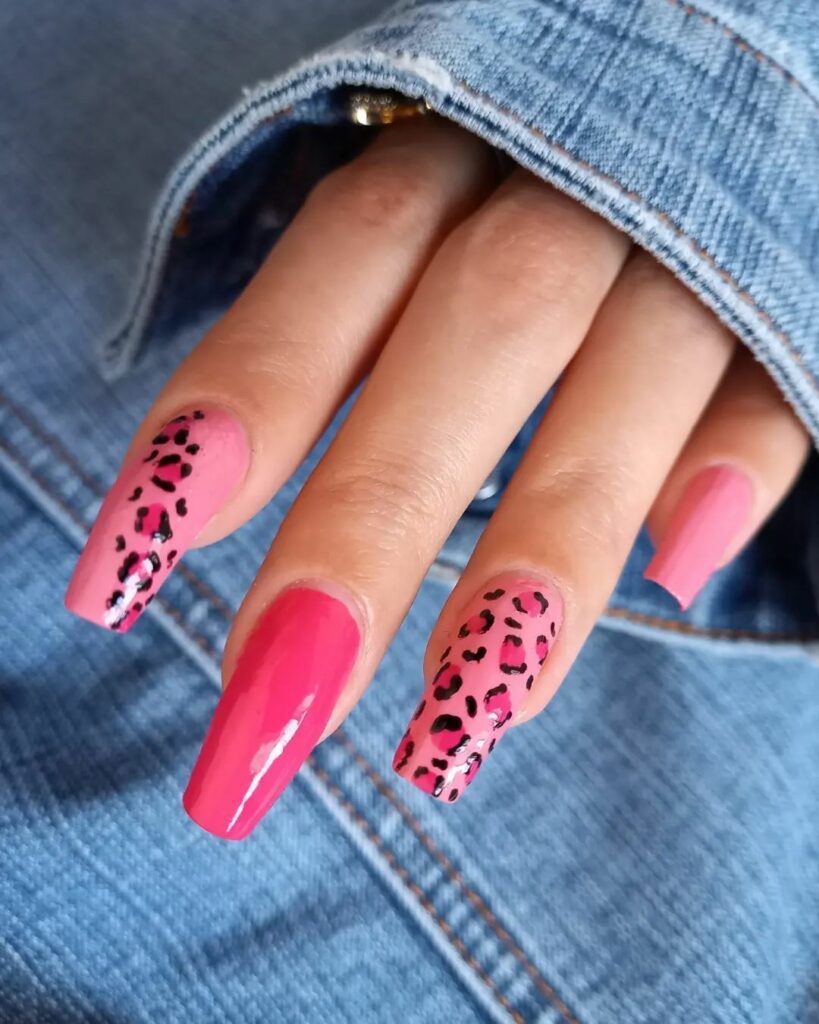 For those who like to walk on the wild side, spice up your hot pink mani with some leopard prints and confetti glitter. It's daring without being overly flashy, just the right mix!
Short Pink Coffin Nails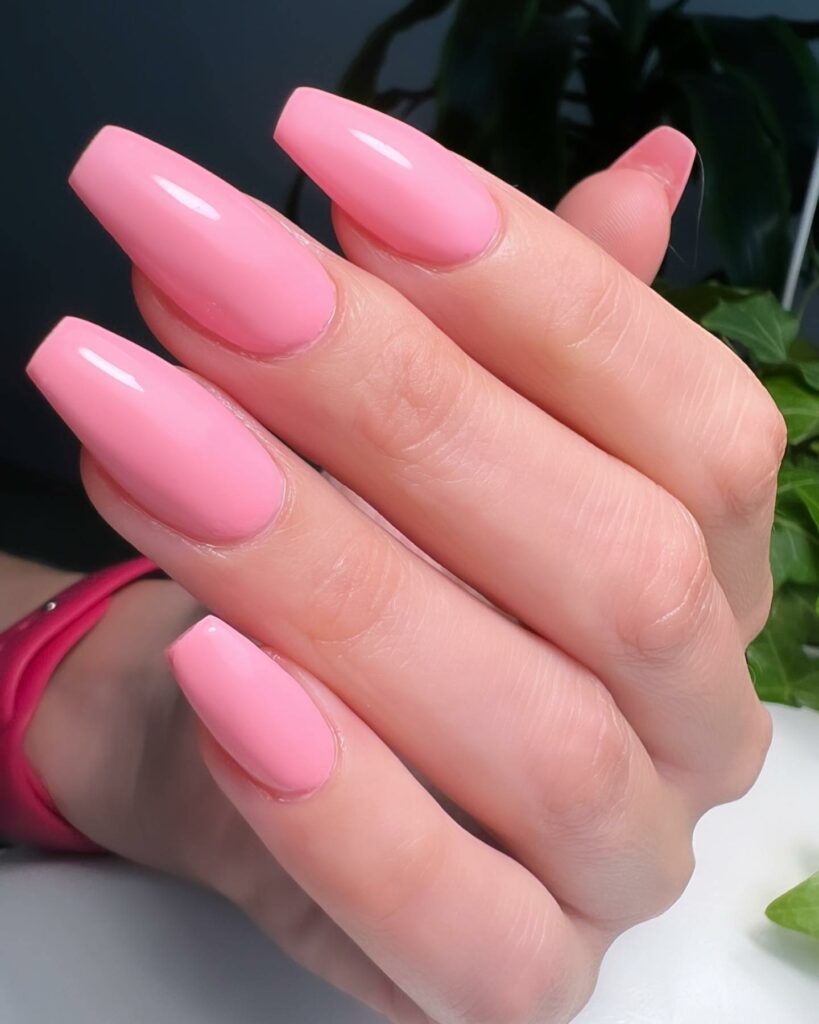 Short pink coffin nails offer a fresh and modern take on the coffin nail trend, making it accessible and practical for everyday wear while still keeping that edge of stylish sophistication. The soft pink shade keeps the look feminine and versatile, proving that even at a shorter length, coffin nails can make a chic, subtle statement.
Not Your Average Ombré: Pink Hearts In Ombré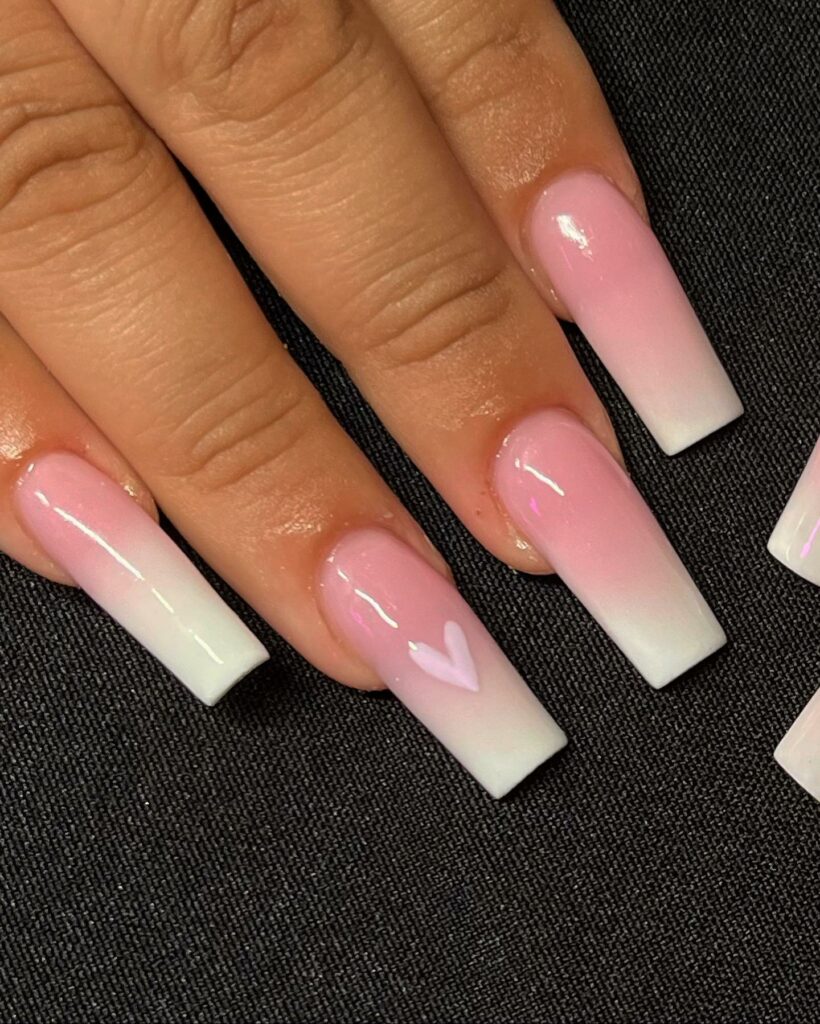 Want to be a heartbreaker? This design puts a twist on the usual ombré by featuring embossed hearts that gradually darken in color from thumb to pinky. It's a cute take on the classic ombré look.
Baby Pink with Red Heart Tips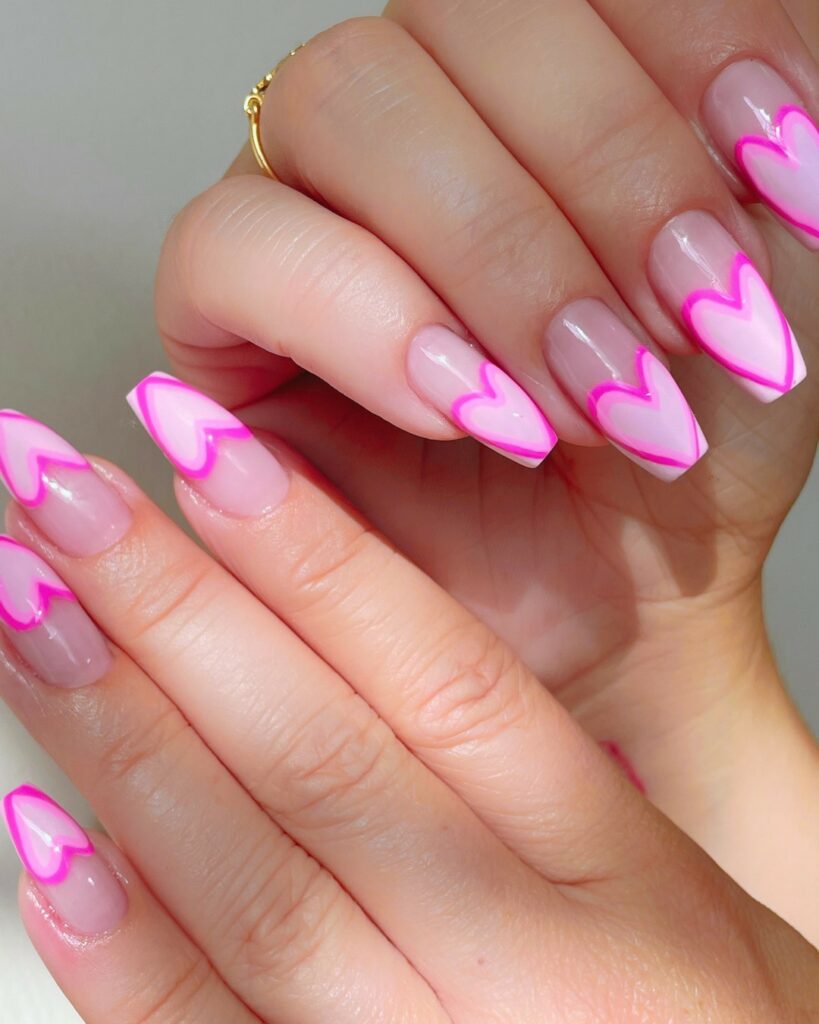 Turn on the charm with these adorable nails! Baby pink as the base, with cute red hearts at the tips, makes for an irresistibly romantic look. These became my go-to during my honeymoon; they're just the epitome of love and warmth.
Shine Bright With Rhinestones
If you want to keep it classy but make a statement, go for pink with rhinestone accents. I once wore this design to a friend's wedding, and let me tell you, even the bride was jealous. For that extra pizzazz, make one nail a full-on rhinestone extravaganza.
Fit For A Princess: Baby Pink Princess
For those days when you're feeling royally sweet, go for this baby pink coffin nail design. It's primarily simple but has a special touch—a pink and white ombré nail adorned with tiny silver jewels. And let's not forget the soft glitter accent
Cupid Would Approve
For all the romantics, adorn your pink nails with glitter hearts and maybe some lovey-dovey words. It's like sending a love note but via your nails. So adorable!
All Out Glitz & Glam
And when you want all eyes on you, go all out with maximalist pink coffin nails. Think rhinestones, swirls, and glitter ombré. The world is your runway, and your nails are the show's stars.
Neon Vibes And A Sprinkle Of Glitter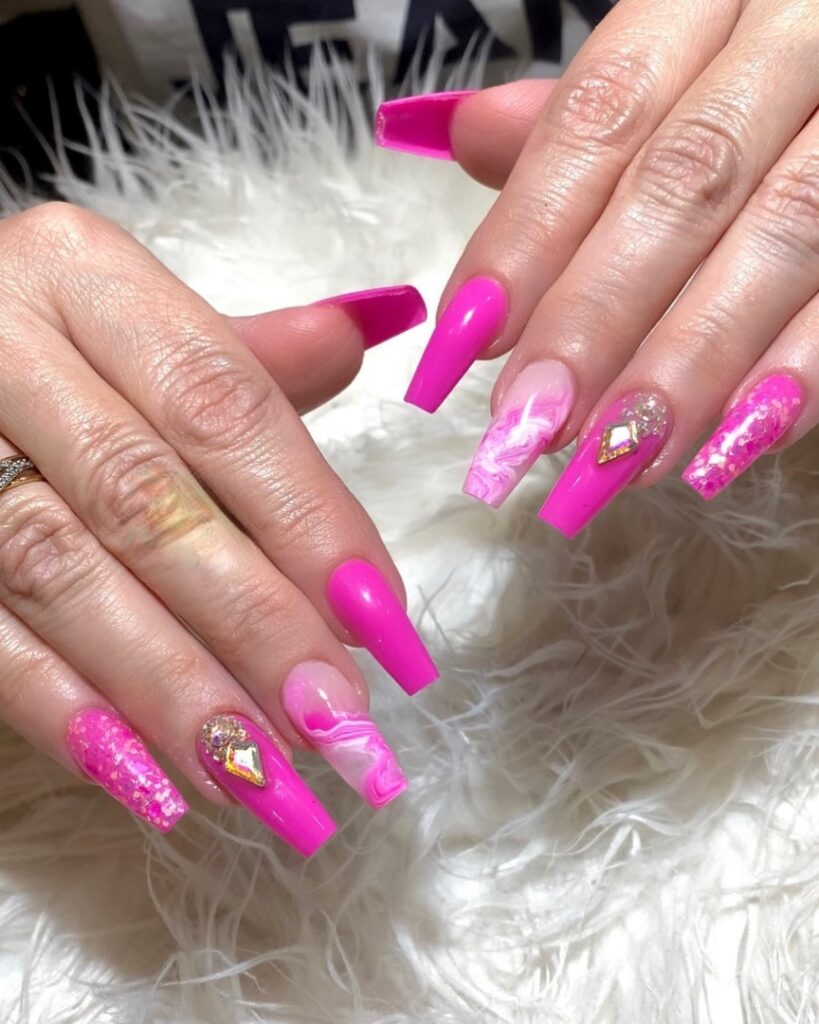 Ready to crank up the volume? I am OBSESSED with neon pink and a dash of glitter. It's like partying in Ibiza but on your nails. It's super fun for a weekend getaway or just turning a regular Tuesday into a fiesta. Swipe on that neon pink and hit it with a sprinkle of sparkle. Bam! You're good to go.
Hot & Edgy: These Nails Are On Fire
Turn up the heat with this pink-and-nude combo that adds a flame design for that extra edge. For more sass, throw in some silver chrome hearts and stars. I've sported this look at rock concerts, and it's always a head-turner.
Delicate As A Flower: Beautiful Bloom
For something more subdued but still downright gorgeous, try light pink acrylics with translucent tips decorated with flowers and a few side accents of silver rhinestones. This is my go-to look for romantic date nights, and it never disappoints.
Pop Culture Chic: On Wednesdays, We Wear Pink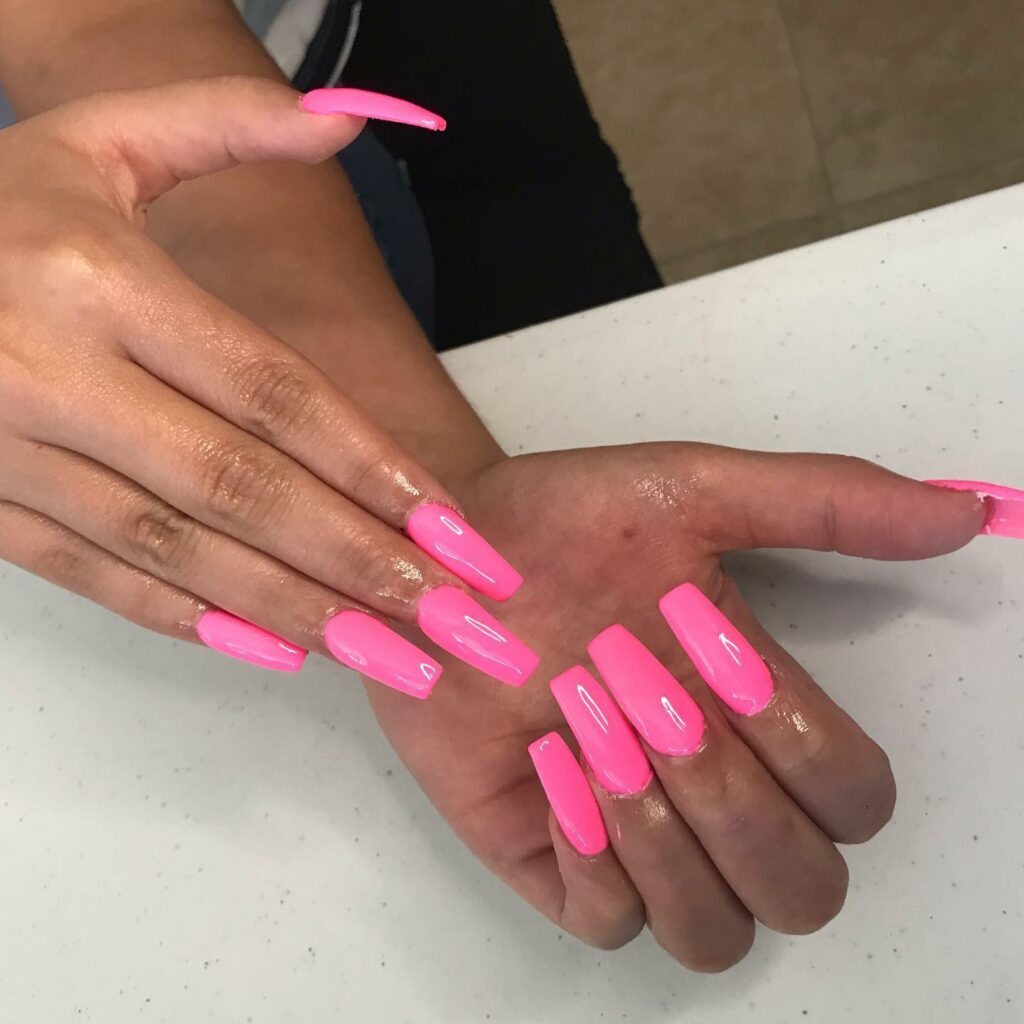 Channel your inner Regina George with these long, neon-pink coffin nails. Pair them with a cute pink top, and you're all set for your next "Mean Girls" marathon!
A Spring Fling: Matte Floral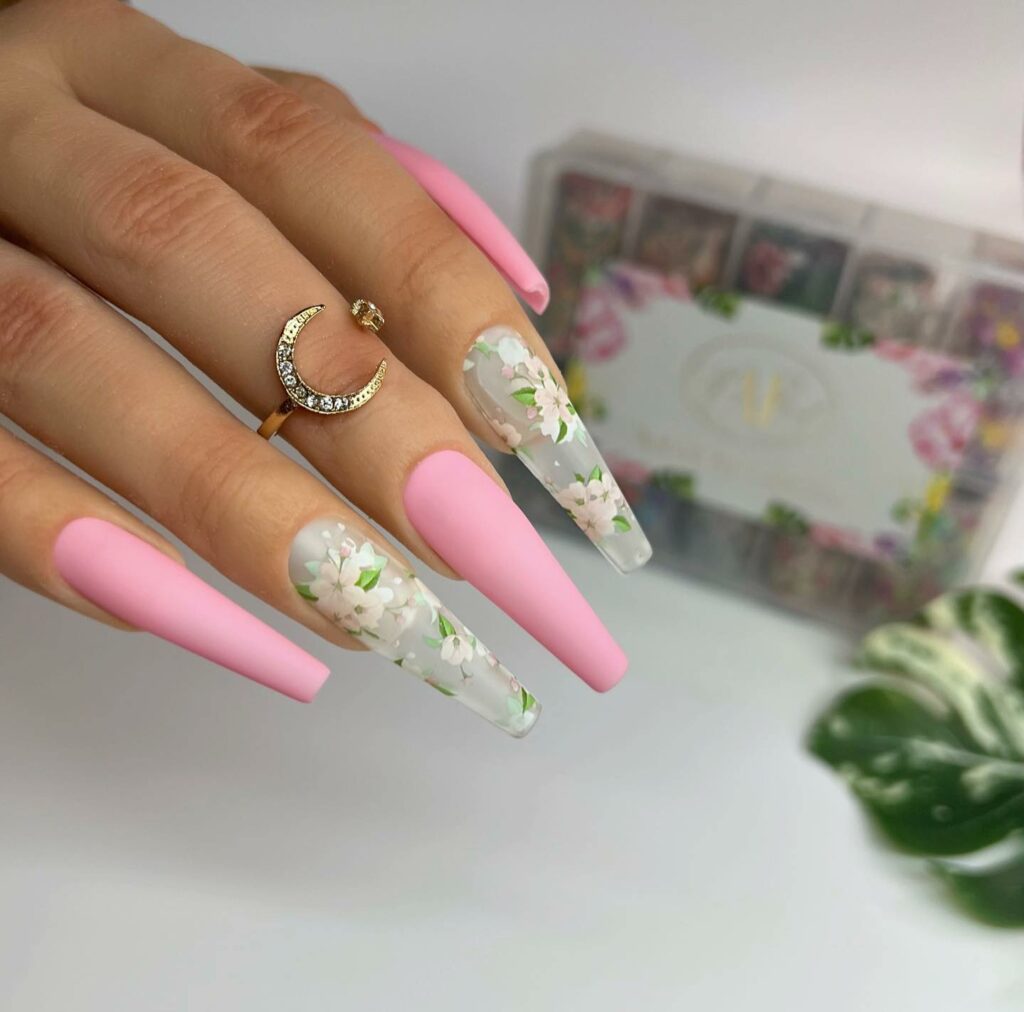 Spring has sprung right on your nails! Matte nude pink is the perfect backdrop for a burst of multi-colored leaves and flowers. I wore this look to a garden party, and let me tell you, I got more compliments on my nails than on my outfit. We're talking pinks, purples, yellows, and greens, all coming together in a gorgeous, youthful explosion!
Galaxy Dreams: Neon Galaxy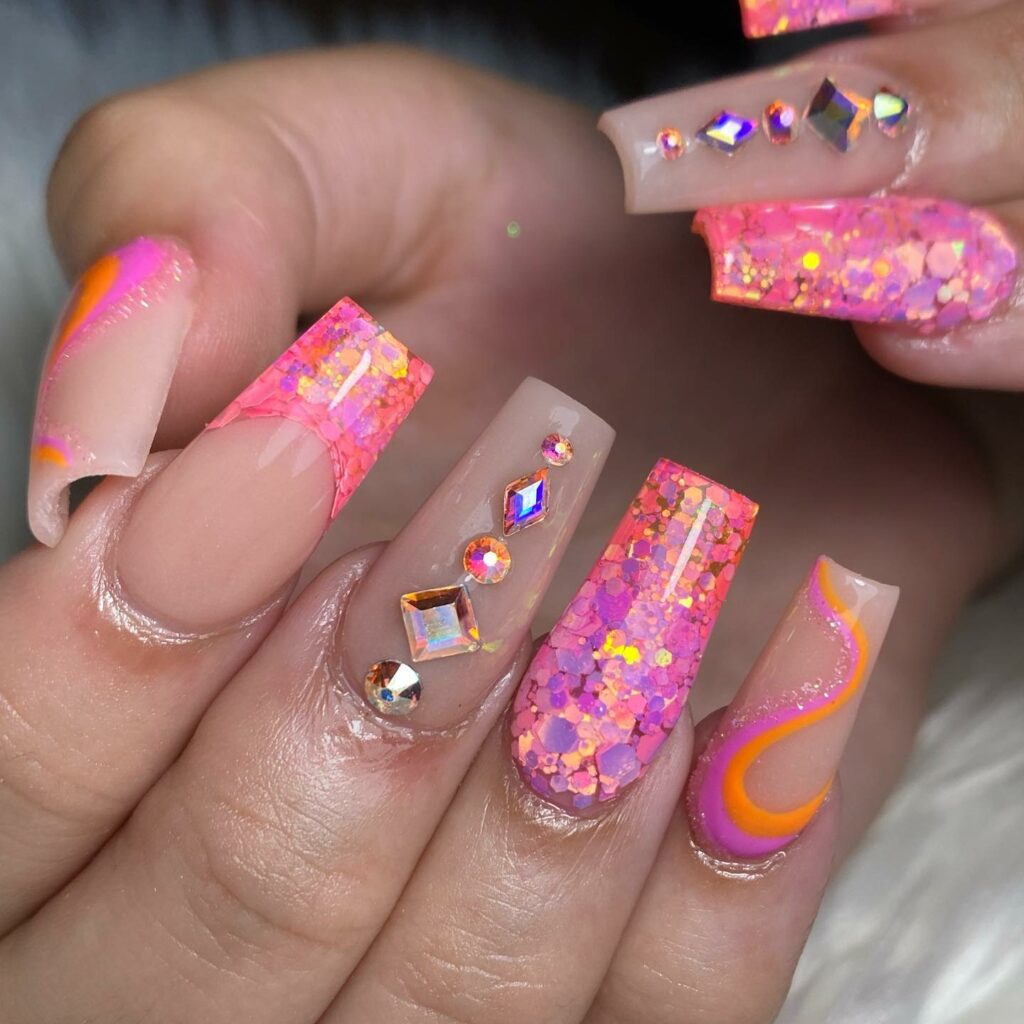 Crank up the volume with hot neon pink! I adore this look for summer festivals because it adds that extra oomph. Nude nails and pink French tips upgrade with a sprinkle of rhinestones and gold glitter. It's a galaxy on your nails, and you're the shining star!
Go Metallic: Chrome Pink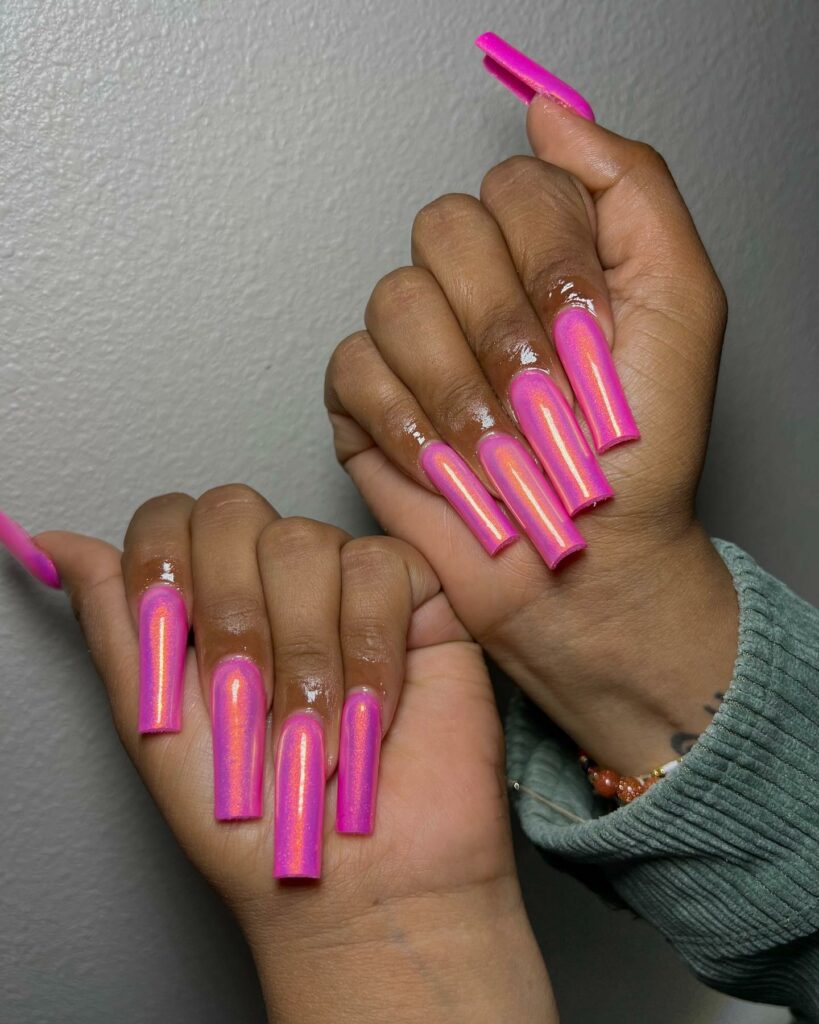 Sometimes, less is more, and these nails prove it. A straightforward mix of solid hot pink and metallic pink offers a look that's effortlessly chic and easy to achieve.
The Ultimate Pageant Look: Beauty Queen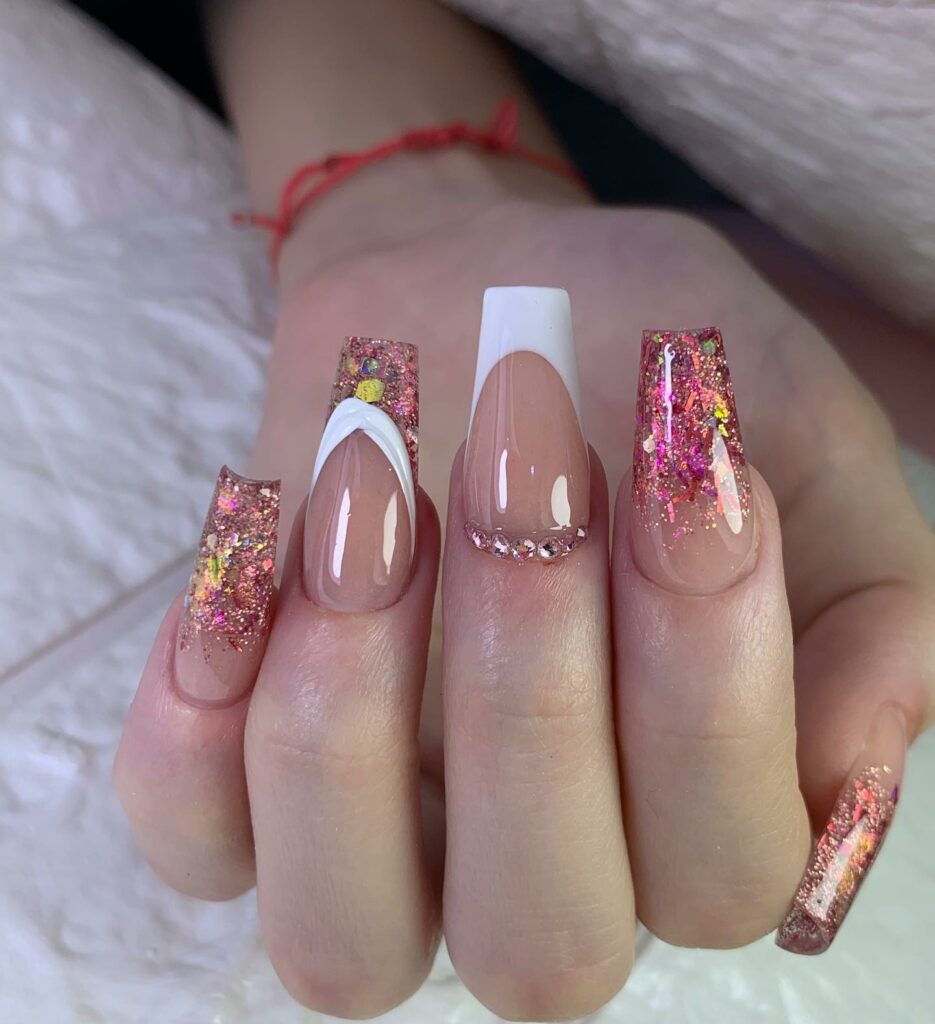 Calling all beauty queens! Here's a mani that'll make you feel like you just won the crown—pink coffin nails with pink glitter and white French. Talk about a grand entrance!
Dazzling Butterflies: Bejeweled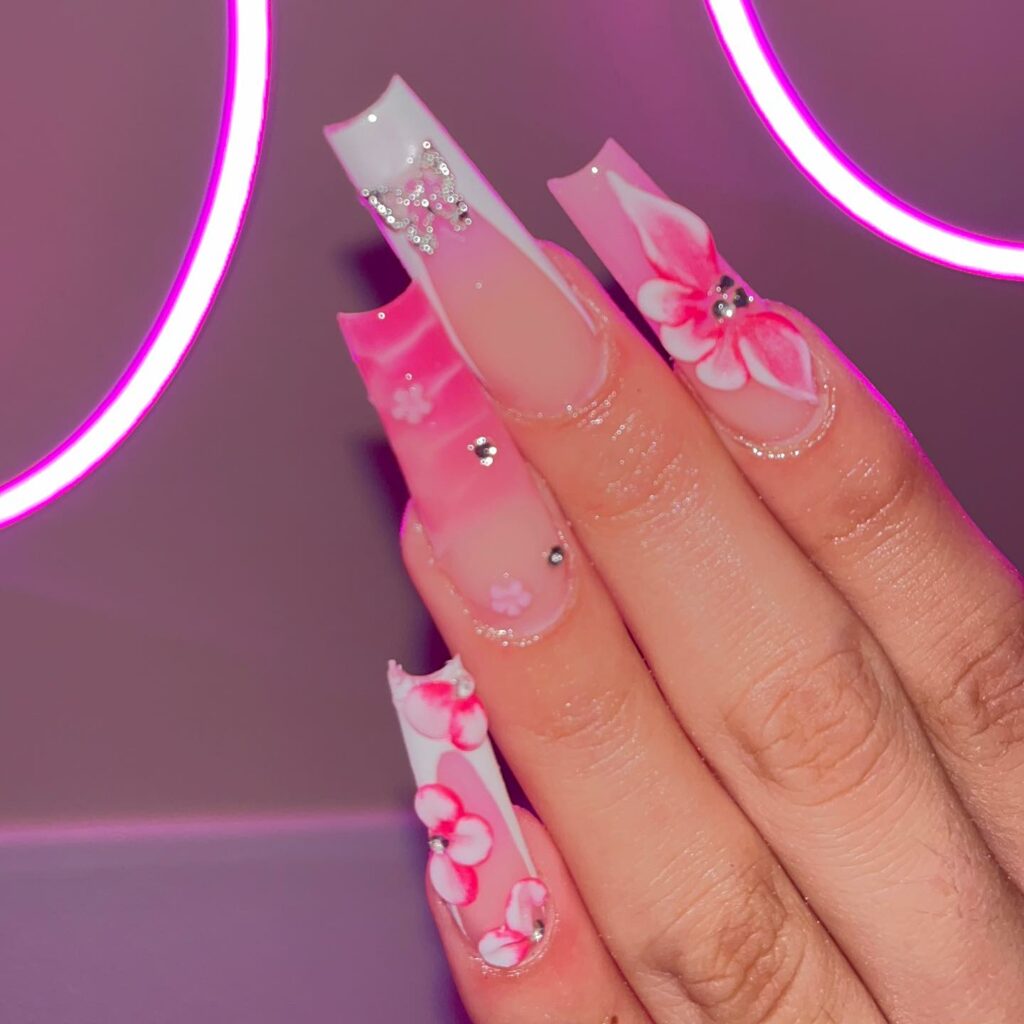 Basic doesn't have to mean boring. These white and pink coffin nails go to the next level with the addition of butterfly designs and rhinestones. I've rocked this look at networking events, and it's always a great conversation starter.
Glam Central: Marble To Purple
Channel your inner diva with marbled pink and purple nails that are anything but subtle. The gold cuticle cuffs and flakes add luxury, while the silver glitter makes you the life of any party.
Turn Up The Heat: Hot Pink And Glitter
Sometimes, you only need a hot pink to say, "Hey, world, I'm fabulous!" But add a glittery nail for that eye-catching pop, and you're golden. I wore this to a summer festival last year, and it was a hit!
Flower Power Daisy
There's nothing like a bold white daisy to brighten a pink backdrop. Add a gem or two, and you've got yourself a mani that's both simple and eye-catching. This look always gives me instant summer vibes.
A Sprinkle Of Gold Glitter
For a balanced yet dazzling look, try light pink nails dusted with gold glitter. Perfect for any occasion, whether you're hitting the town or just ordering takeout sushi for one (guilty as charged).
Flower Power Unleashed
If you're looking for something ultra-feminine, you'll love the pink acrylics with silver and rose gold French tips, complete with delicate white flowers. It's like a garden party at your fingertips.
All That Glitters: Goddess Nails
If Aphrodite had a go-to nail style, this would be it. Think muted pink nails with a translucent, ethereal quality. Add some golden lines and flakes, and go all out on one nail with gold glitter. A look fit for a deity!
Over-the-Top Chic: Pink Extravagance
Why stick to one design when you can have them all? This extravagant look combines solid pink nails, French tips, protruding gems, and glitter. Perfect for when you can't decide on just one style!
Udderly Adorable: Strawberry Milk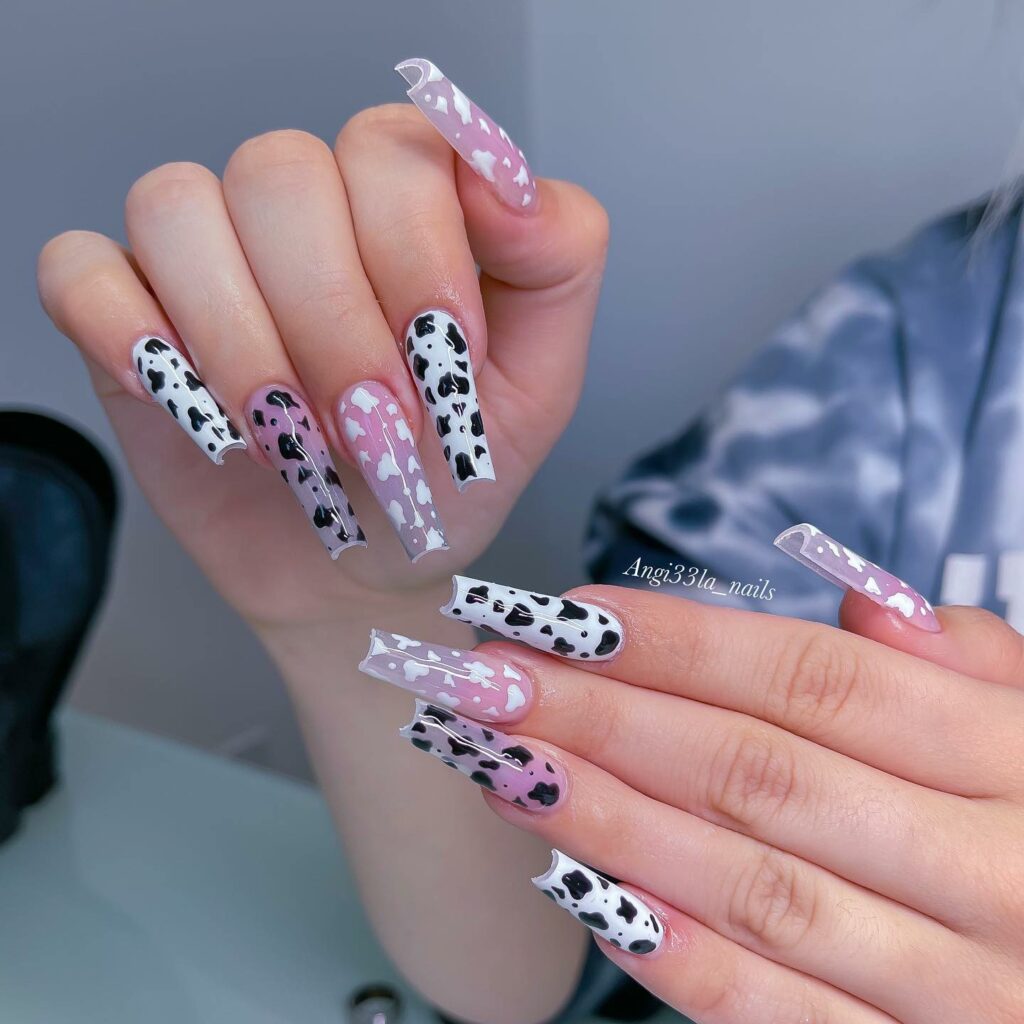 Last, let's talk about a design straight from the farm—with a fashionable twist. Light pink nails are accented with a black-and-white cow print, and the result is both cute and quirky. You'll be the talk of the corral in the best way possible!
Cherry-Picked Perfection
Cherries on pink? Yes, please! This design is both fun and playful, and it's an instant mood lifter. It's ideal for summer BBQs or that upcoming festival you've been dying to.
My Guide To Matching The Shades Of Pink With Your Skin Tone
Fair Skin Tones – Soft Baby Pink: A lighter, muted pink can pop on fair skin without overwhelming your hands. Cool-toned Fuchsia: This vibrant hue can really brighten up fair skin and add a dose of playful color.
Medium Skin Tones – Coral Pink: This warm, peachy pink beautifully complements medium skin tones. It's my go-to for summer barbecues, let me tell you! Dusty Rose: Consider this the "your nails but better" shade for medium skin tones. It's understated but absolutely gorgeous.
Olive Skin Tones – Salmon Pink: This one is like coral but a bit more on the pink side, and it works wonders with olive skin. Magenta: This deeper pink shade brings out the warmth in olive skin tones, making your hands look radiant.
Dark Skin Tones Hot Pink: No holding back here—hot pink looks stunning on darker skin tones. Berry Pink: This rich, deep pink shade adds a luxe feel to your nails and goes beautifully with dark skin.
Universal Shades – Classic Rose Pink: This shade generally looks good on any skin tone. It's a safe bet if you need help deciding what to go for. Metallic Pink: A slight shimmer never hurt anybody! Metallic shades catch the light and can complement all skin tones.
Remember, these are just guidelines—your personal preference and style should always come first. Don't be afraid to experiment and find the shade that makes you feel like the queen you are!
My 6 Simple DIY Tips For Achieving The Coffin Nail Shape At Home
Gather Your Supplies – First off, you'll need a good-quality nail file, a nail buffer, and some cuticle oil. If you have weak or brittle nails, a strengthening base coat is also a good investment.
Start with a Clean Slate – Remove any old nail polish and make sure your nails are clean and dry. A swipe of nail polish remover can help get rid of any oils.
Trim Those Tips – If your nails are super long, you might want to trim them down first to make the filing process more accessible. Use a nail clipper to trim them to your desired length, but remember, coffin nails look best when they're a bit longer.
Shape the Sides – Start by filing the sides of your nails into a tapered shape. The goal is to create a slight angle from the side of your nail to the tip, gradually narrowing the width. Take your time with this step; it's easier to take more off later than to deal with overly filed nails.
Perfect the Tips – Now, file the tips of your nails to create a flat, straight edge. This will give you that coffin-like shape.
Buff and Smooth – Once the shape is down, use a buffer to smooth any harsh edges. This will also prep your nails for polish, making for a smoother application.
Cuticle Care – Finish off by applying cuticle oil to hydrate and nourish your nails. Trust me, this little extra step makes all the difference.
Bonus Tip – If unsure of your filing skills, you can sketch the shape you want with a white eyeliner pencil beforehand. This serves as an easy-to-remove guide.
And there you have it! Your very own DIY coffin nails, no salon visit required. Remember, practice makes perfect, so don't stress if your first attempt isn't 100% flawless. You'll get the hang of it, and soon enough, you'll be the go-to nail guru among your friends.
Still Looking for Inspiration, Then Check Out This Video
Conclusion
Alright, my fabulous friends, that wraps up our pink coffin nail extravaganza! From porcelain-inspired artistry to neon galactic vibes, there's a shade and style of pink for everyone. My top tip? Don't be afraid to mix and match—throw in some glitter, maybe a 3D flower, or even a cheeky cow print. The sky—or, should I say, the nail polish bottle—is the limit! And hey, if you're feeling unsure, start with a more subdued shade and work your way up to the bolder designs. Your nails are your canvas, so have fun painting your masterpiece. Until next time, keep those nails pretty and your spirits high!
Feature Image Photo By @merlin_nails via Instagram