Today we're venturing into the vibrant realm of purple nail aesthetics—a sphere where elegance meets mystique. Purple, a color historically associated with royalty and mysticism, is tiptoeing its way to the forefront of the nail art scene, promising to drench the fashion streets in waves of lilac, lavender, and deep plum hues. As we stand on the cusp of this emerging trend, this blog post endeavors to be your guiding star, illuminating twenty trailblazing purple nail ideas proving to be the next big shade in the beauty cosmos.
I've delved deep to curate a stellar lineup of purple nail designs, harmoniously marrying the timeless charm with contemporary chic vibes. Whether you're a seasoned nail art connoisseur or a newbie eager to dip your nails into this burgeoning trend, this post promises a gamut of inspiration that caters to all levels of expertise.
Dive into the Plum Wonderland
Let's welcome the season with a splash of color and fun on our nails. I remember one spring morning, I decided to let loose and paint my canvas, which in my case were my nails, with an abstract splash of plum. Let me tell you, it was nothing short of a masterpiece! Dive into the plum wonderland with swirly designs and chic negative spaces that scream sophistication and playfulness. You'll be turning heads wherever you go!
Gemstone Magic: Ametrine Inspirations
Growing up, I had this little box filled with assorted gemstones, and Ametrine was one of my favorites. The blend of amethyst and citrine energies always felt like a creative rush! Now, imagine translating that energy onto your nails. Picture a soft purple canvas graced by the luxurious touch of gold outlining, encapsulating the balance and creativity of the gemstone. It's not just a nail art, it's a piece of jewel on your fingertips!
Velvet Dreams in Purple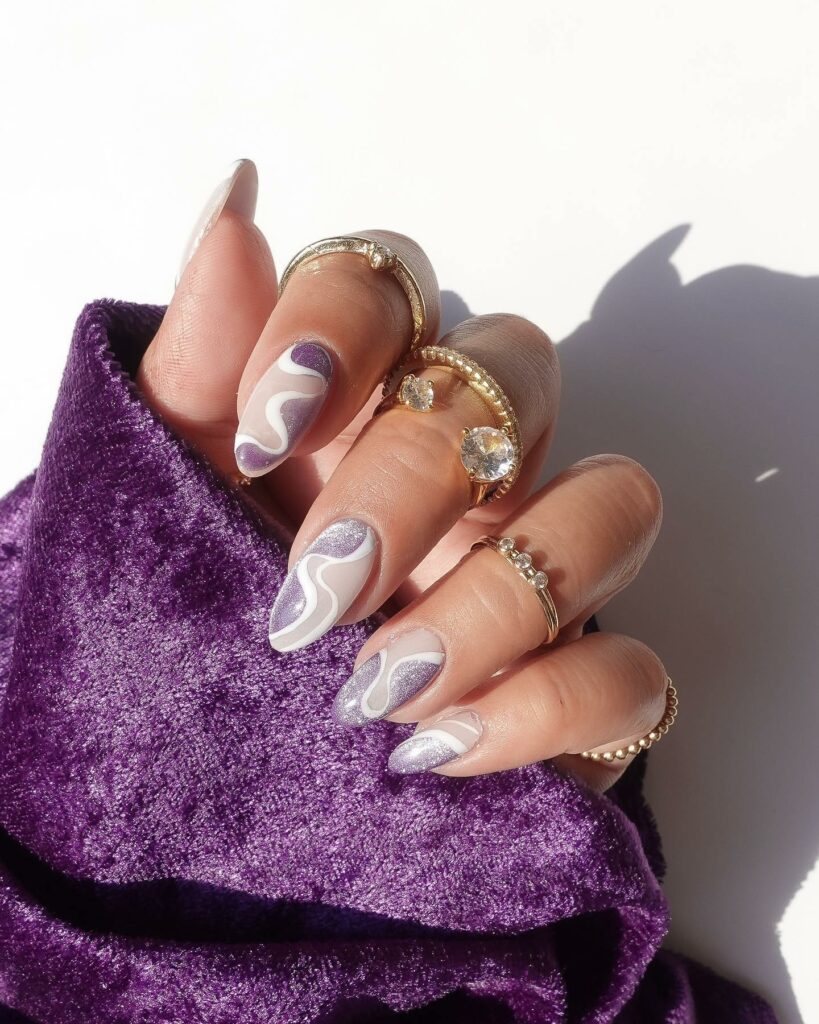 Oh, the luxury of velvet! I remember my first velvet dress; this lush, purple piece made me feel like royalty. Now, picture that on your nails! The sparkly purple nails, reminiscent of crushed velvet, carry a rich and magnetic aura that's not just for the holidays. It's a timeless choice with a shine that will captivate you and others.
A Swirl of Pink and Purple Delights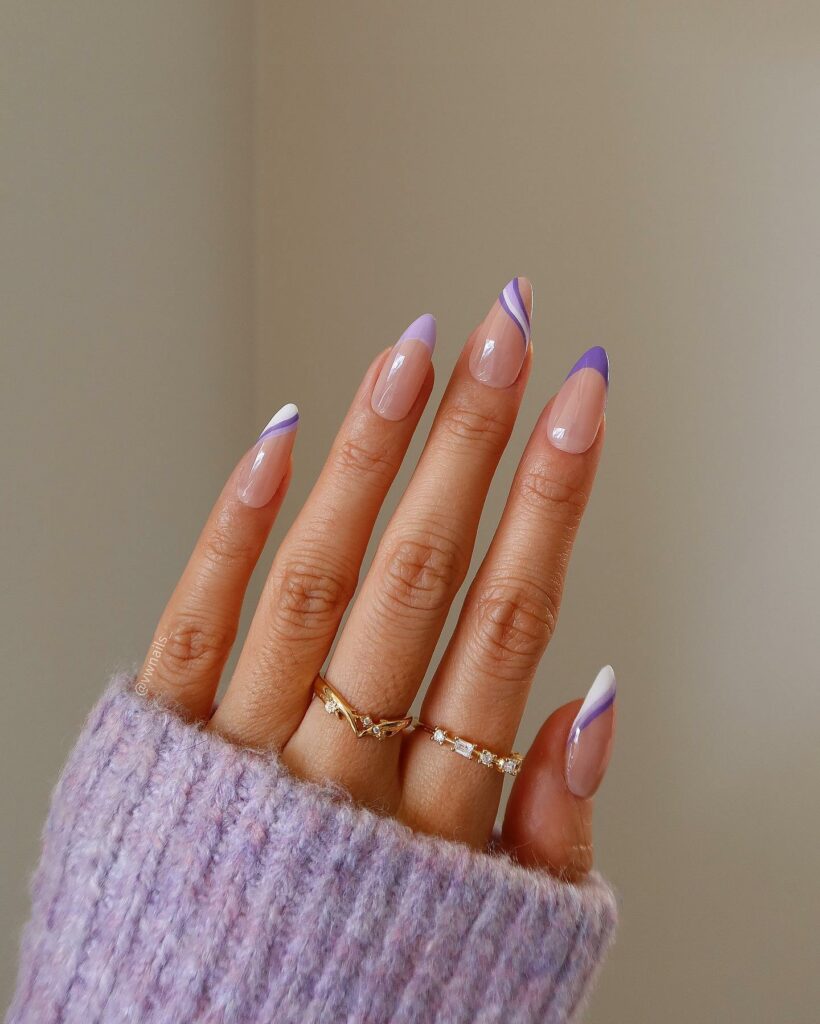 Picture this: a serene sunset where the purple night sky meets the pink hues of the retreating sun. That's what this mani reminds me of! Lilac blends seamlessly with blush hues, crafting curvy shapes that bring joy and a broad smile. It's a color combination that truly never fails to impress.
The Blossoming Metallic Purple Chrome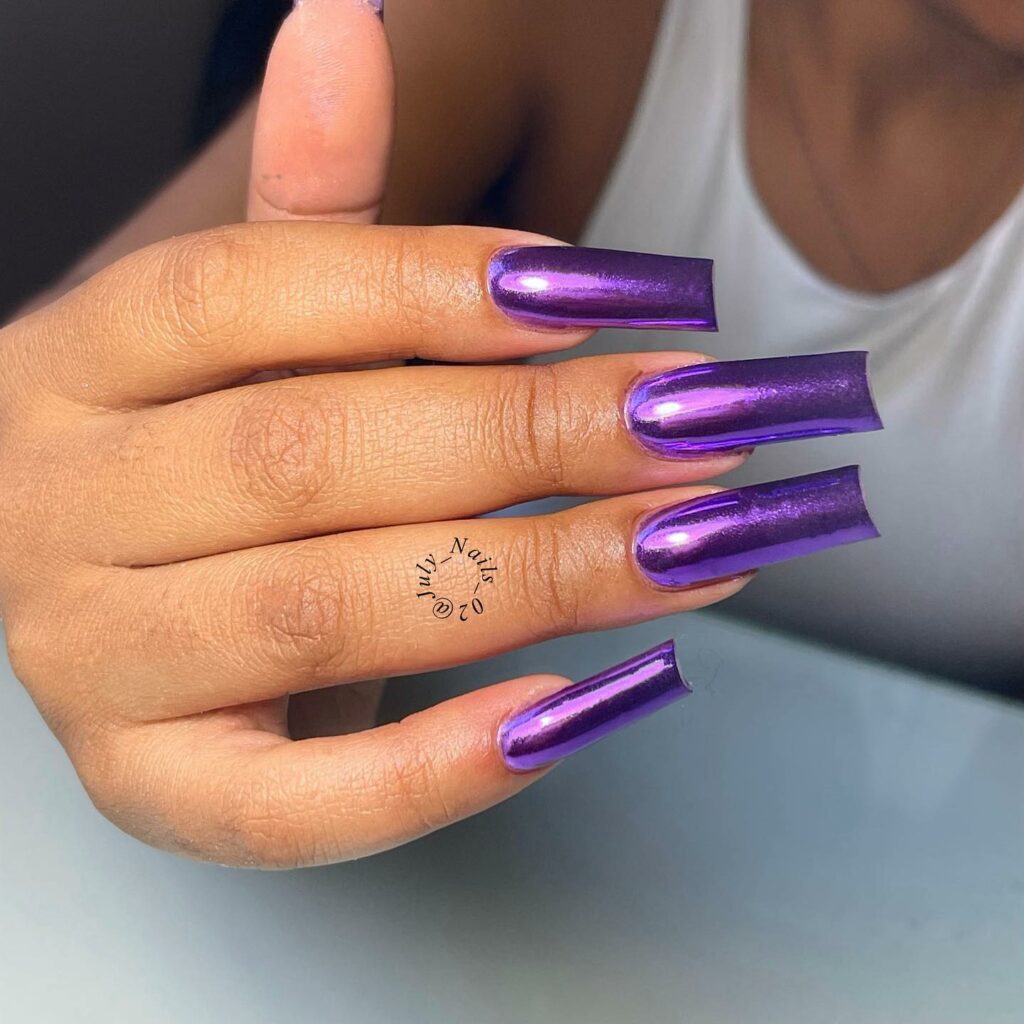 Metallic hues have always had a special place in my heart. They carry a futuristic yet elegant vibe, don't you agree? Now, combine that with floral details, and you have a striking design that's a feast for the eyes. As someone who adores flowers, this purple metallic chrome base adorned with delicate flowers and gem details feels like spring blossoming on my nails.
Whimsical Purple Daisies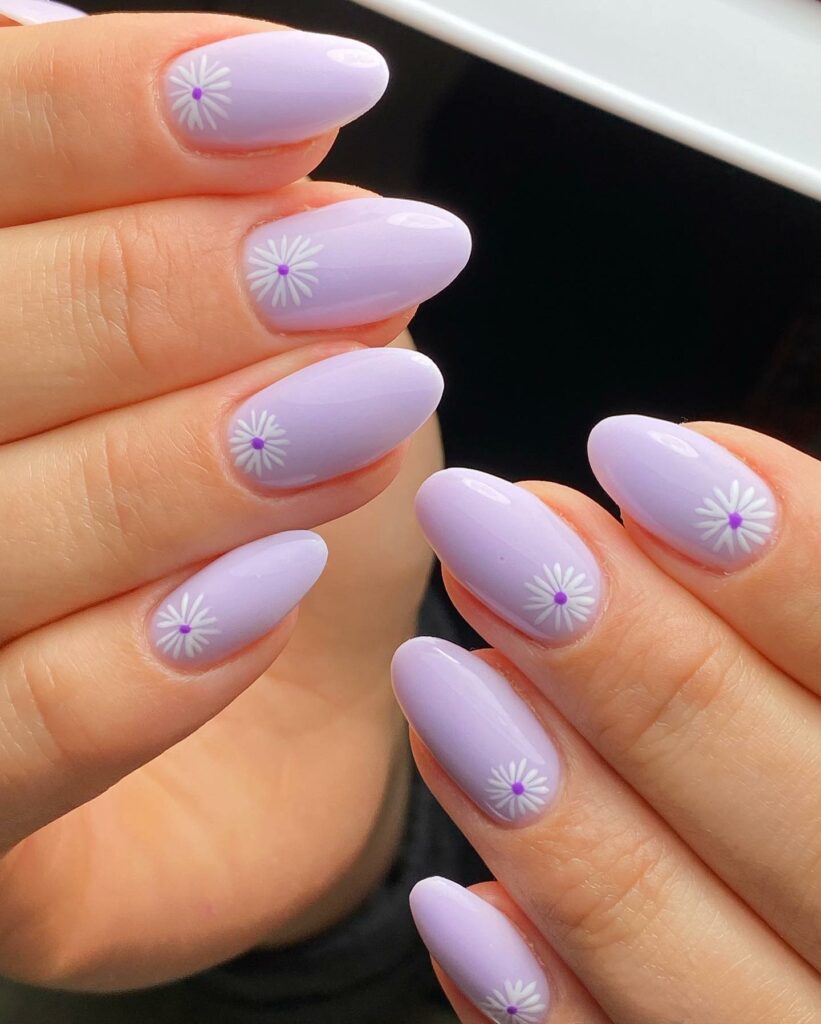 Remember those childhood days spent picking daisies in the garden? Let's bring that innocence and beauty to our nails. This silky design combines purple, white, and yellow hues to craft daisies that add a delightful yet sophisticated touch to your manicure journey.
Heartfelt French Tips in Purple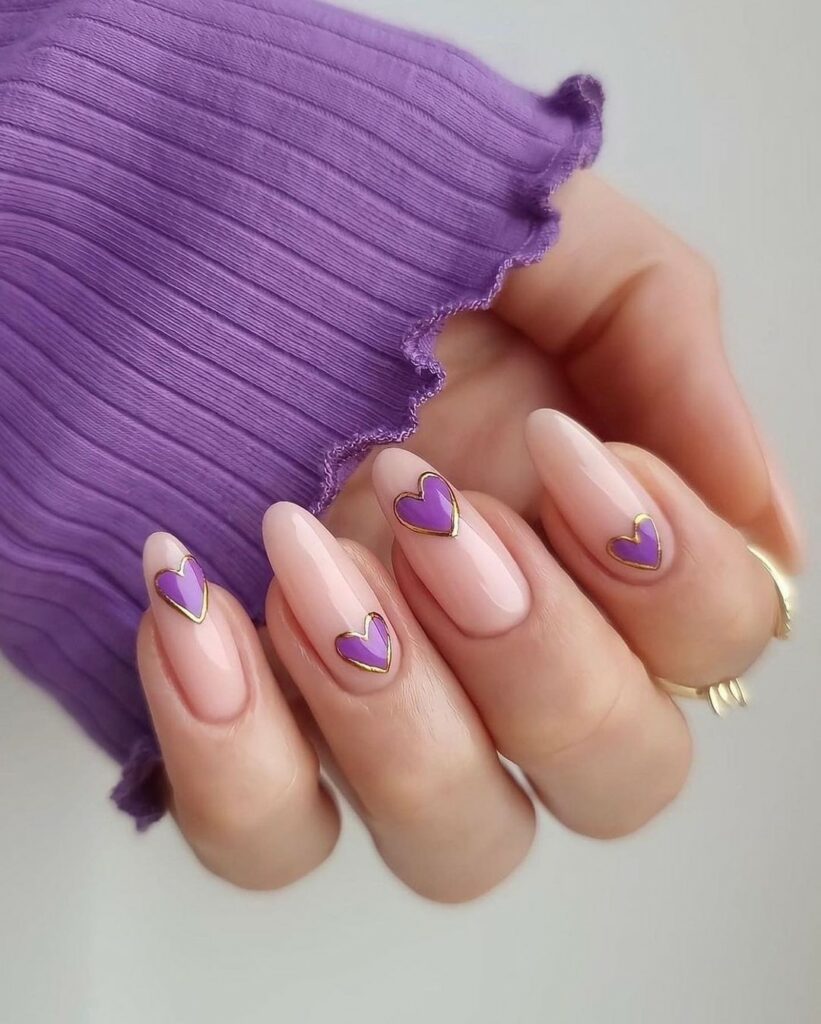 Oh, the classic French manicure! It always brings me a sense of elegance and refinement. But why not spice it up a bit? Swap the traditional white tips for heart-shaped lilac purple tips. It's a fun twist that brings a playful yet subtle charm to your nails, adding that sprinkle of fun your manicure truly deserves.
Dreamy Gold-Lined Hearts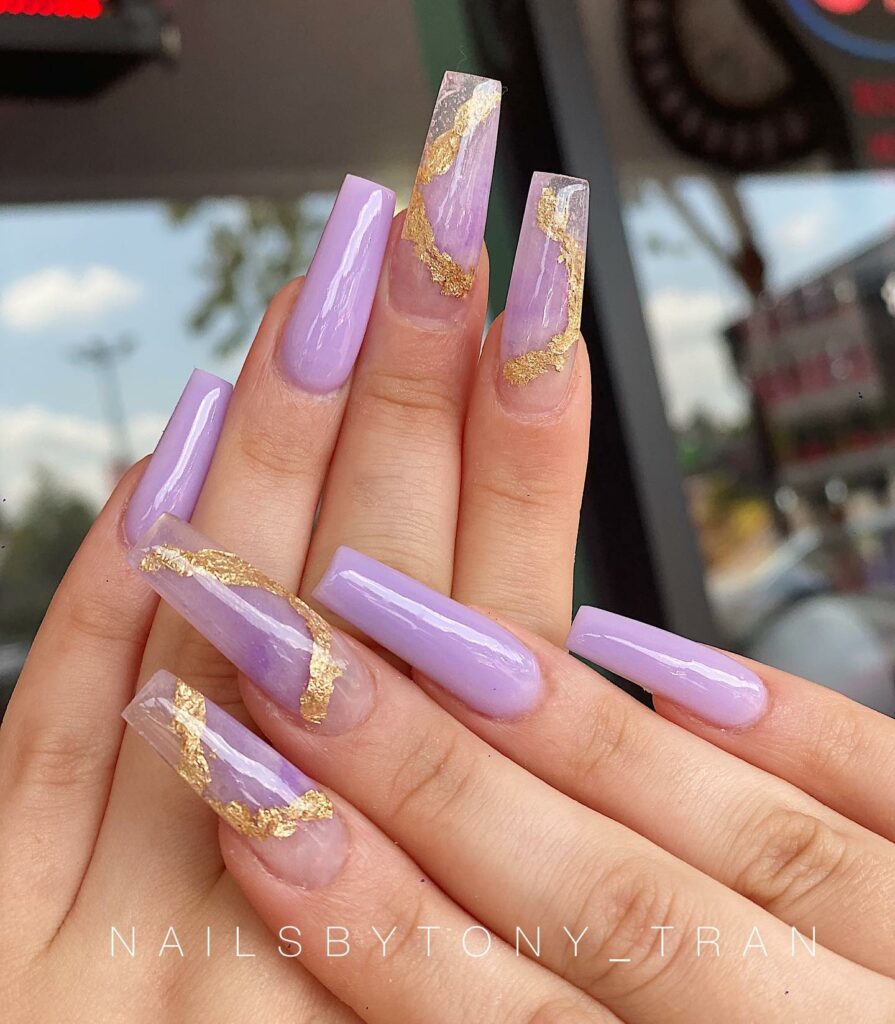 Gold has always been synonymous with luxury. These nails feature purple hearts gracefully outlined with gold, set against a gentle nude-pink backdrop, promising a dreamy and romantic vibe that will have your heart fluttering in no time.
Retro Swirls with a Purple Twist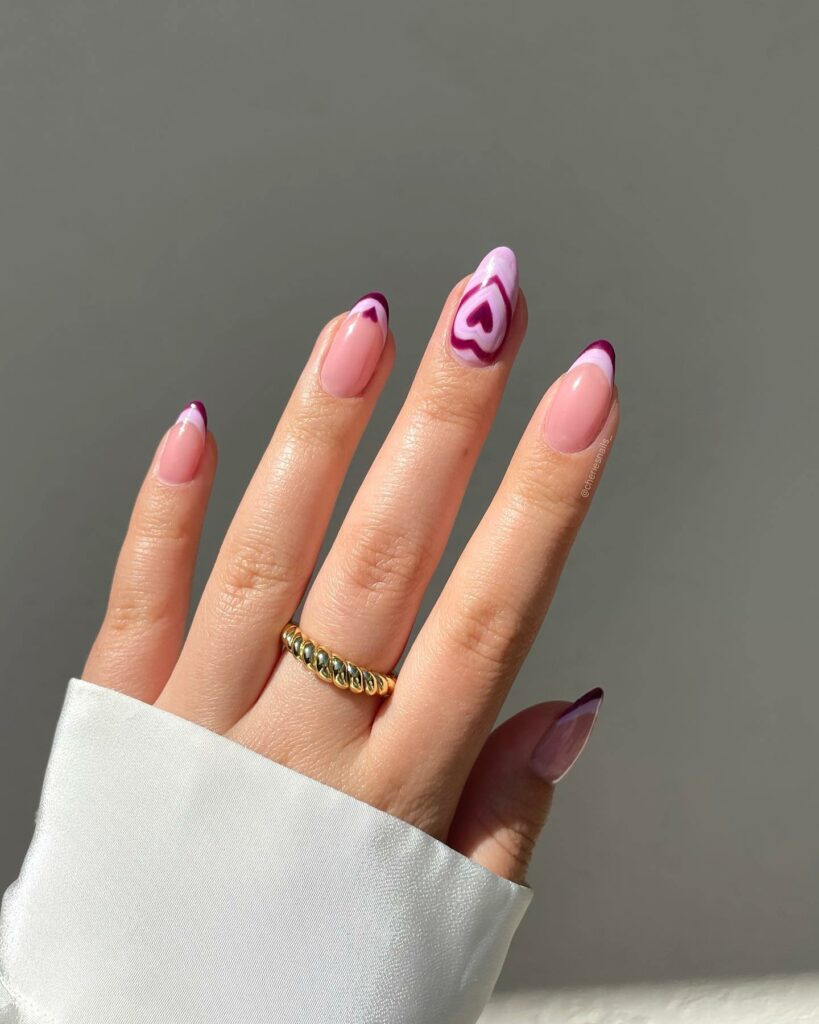 Swirls, squiggles, and retro have been making a grand comeback. Dive into this trend with a manicure that sports color gradients in multiple shades of purple, promising a nostalgic and joyous vibe, and keeping your spirits uplifted with every glance.
Lavender Donut Glaze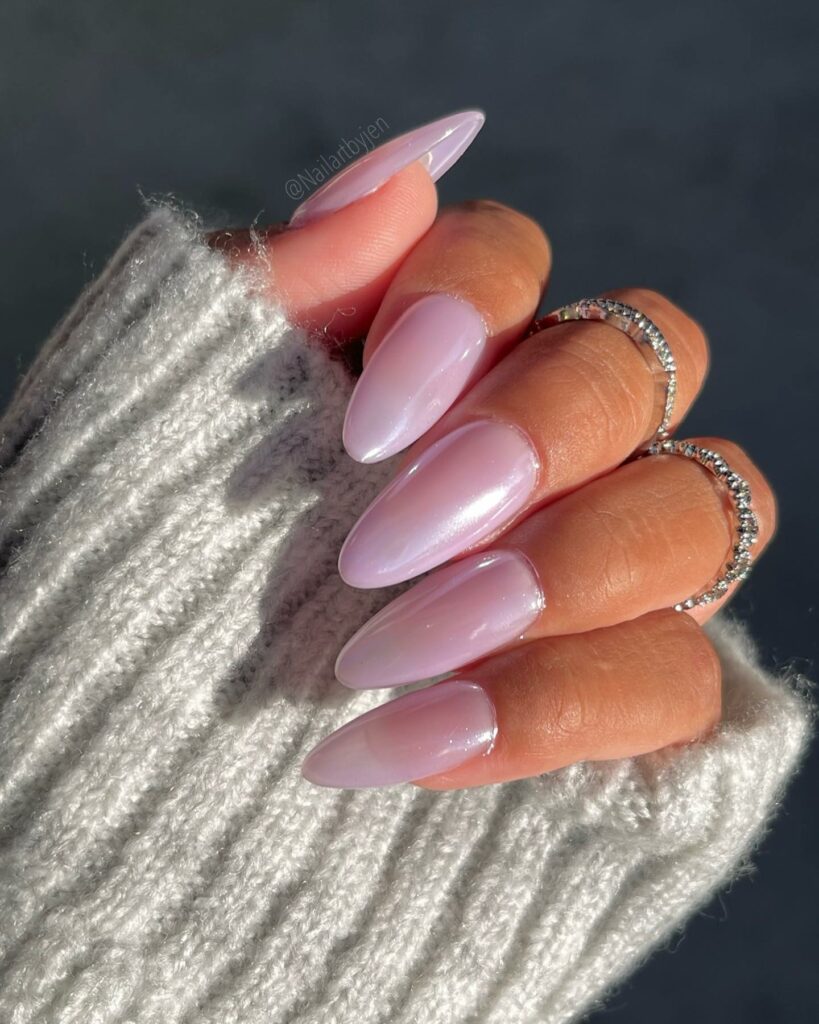 Ever been fascinated by the changing hues of a lavender donut glaze under different lighting? I certainly have, and now you can have that delightful spectacle on your nails. The light lavender chrome set reflects shades of pink and purple, offering a visual treat that's hard to take your eyes off!
Blossom in Glitter Florals
Alright, let's settle this – a trip to the salon can indeed buy happiness, especially when you walk out with a glittering garden on your nails! This set features a sparkling purple backdrop adorned with intricate floral designs, guaranteeing a radiant smile every time you glance at them.
The Enchanting World of Purple Marble
I have a soft spot for marble textures; they spell elegance and depth. With its purple dimensions and almost cloudy surface, this nail art beckons you to lose yourself in its intricate patterns, promising a sophisticated and artistic touch to your overall look.
Purple Hues: A Gradient Twist to French Tips
If you thought the French manicure was elegant, wait until you see this set! Gradient shades of purple, beautifully complemented by chic pearl details, redefine sophistication. It's a reminder of the time I tried a similar look for a friend's wedding, and oh, the compliments that flowed!
The Serenity of Milky Lavender
Who here has been charmed by the milky nail trend? 🙋‍♂️ I've always found it intriguing, and when combined with lavender, it's pure magic. It's a simple yet sensual look that radiates an understated allure. Trust me; it's a shade that'll make you feel serene whenever you glance at your fingertips.
Channeling Euphoria with Mauve & Berry
Let's wait for Maddy from Euphoria and her iconic nail game. If you, like me, were mesmerized by her swirly nails, here's a version for you. Shades of deep berry and mauve intertwine, creating a manicure that's an absolute showstopper. A toast to TV show-inspired beauty!
Mesmerizing Purple-Blue Chrome Shift
Confession time: I've never been able to resist a chrome manicure. This particular set—with its hypnotic purple hue shifting to blue—is no exception. Depending on the lighting and angle, the subtle shift offers a mesmerizing effect that fits any occasion or nail shape.
Two-Toned Elegance in French Tips
Traditional French manicures are timeless, but who says we can't play around with them? Enter this two-toned design, blending two striking shades of purple, proving that creativity goes a long way in the nail art world.
Rhinestone Florals: A Glimmering Garden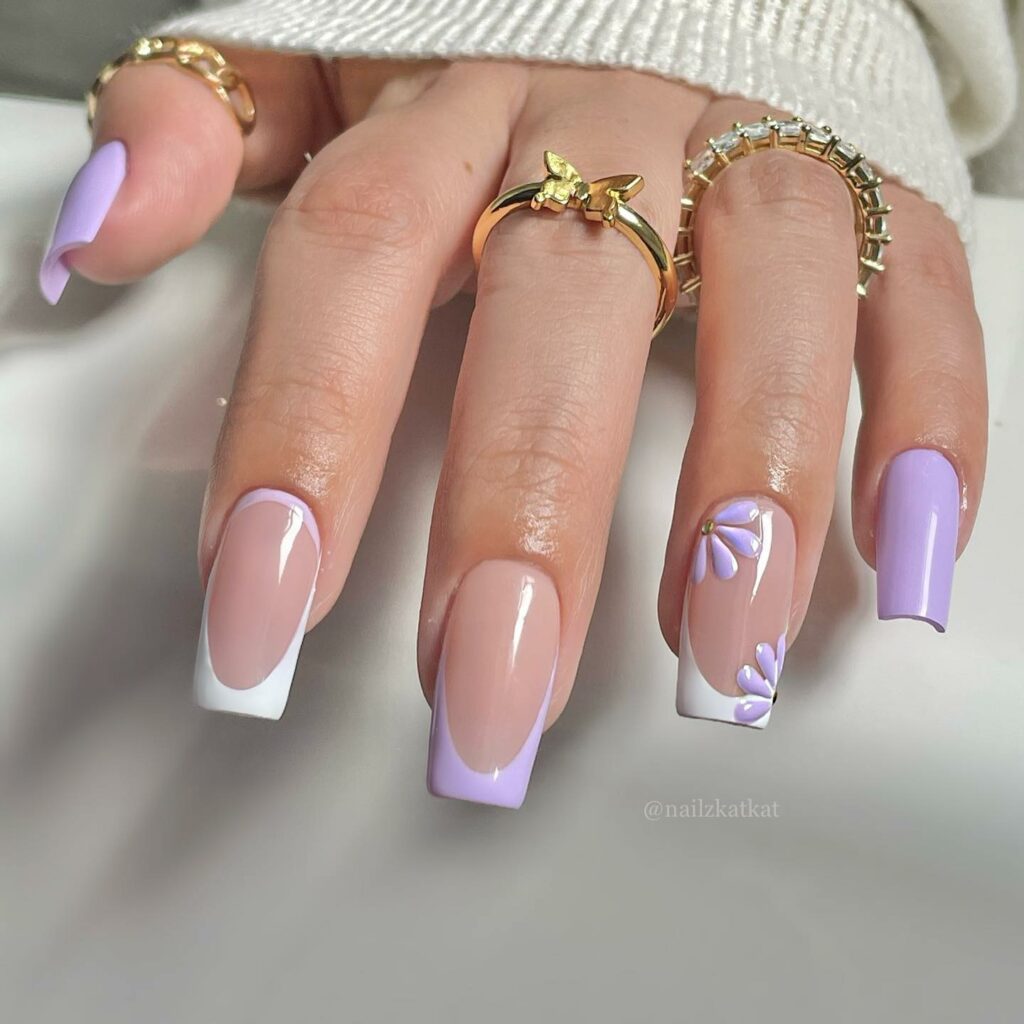 Rhinestones have always felt like tiny stars—each adding a hint of magic. This manicure sets sparkly floral designs against a delicate pinky-nude base, giving you an intricate and dazzling look that will be hard to resist.
The Charm of Simple Periwinkle
Sometimes, simplicity speaks volumes. There's something about a solid color that's both calming and captivating. This periwinkle manicure strikes the perfect balance between purple and blue, making it a quirky yet stunning choice.
Lavender Fields: Ombré Style
Imagine the soothing sight of sprawling lavender fields on your nails. Start with a deeper purple at the base of your nail and let it fade into a soft lavender at the tips. This ombré technique brings a beautiful gradient that's a sight for sore eyes. It reminds me of when I visited a lavender field during the golden hour—the colors were surreal!
Starry Night with Purple Glitter Accents
For those who adore a bit of sparkle, why not try a deep purple base with glitter accents that resemble a starry night sky? You can create this effect with a sprinkle of glitter or even tiny star-shaped decals. Every time I try this, I can't help but feel a bit of the magical night sky right at my fingertips.
Geometric Delights: Purple Meets Metallic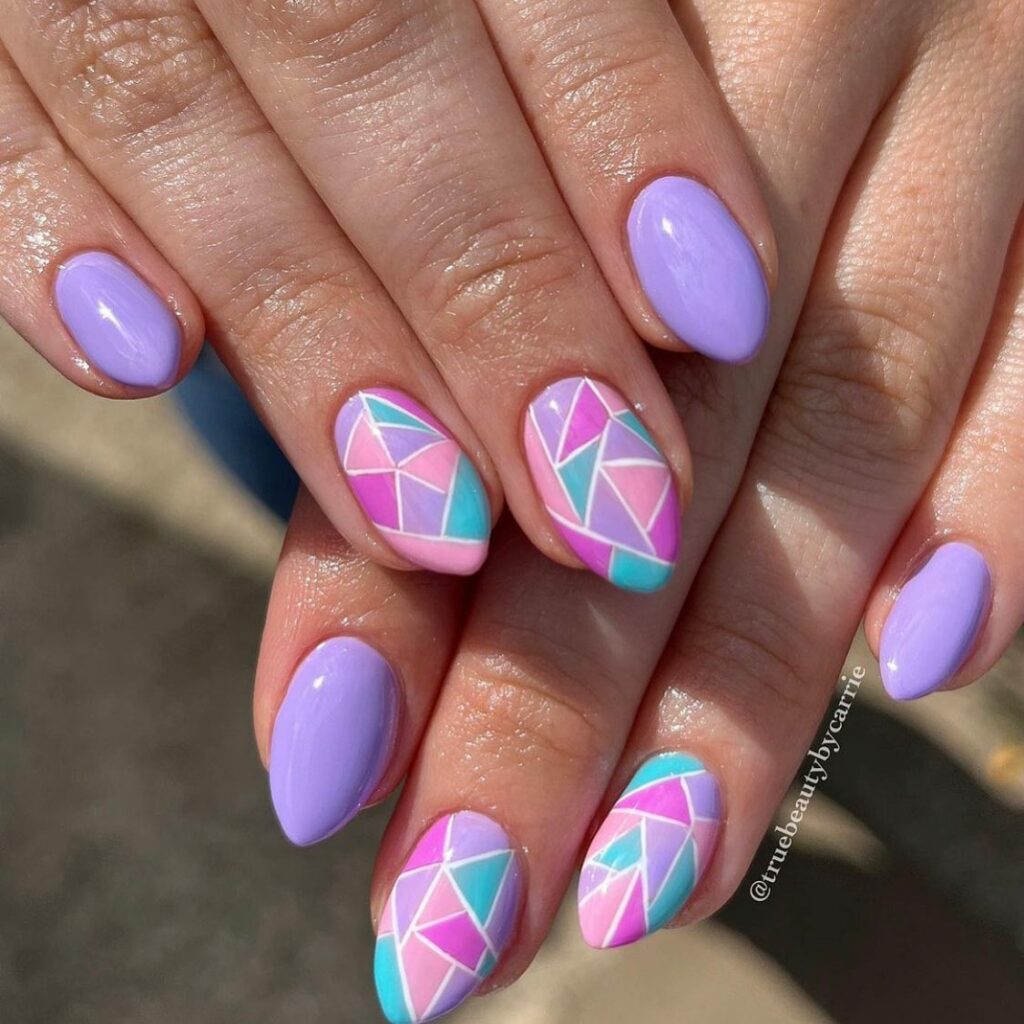 Geometric nail art has always fascinated me—it's like having tiny canvases showcasing abstract art. Try combining various shades of purple with metallic lines to create geometric patterns. It brings a modern and artistic vibe to your nails, making them a true conversation starter.
Watercolor Whimsy in Purple Hues
For a softer and more ethereal look, opt for a watercolor effect using different shades of purple. It's like having a dreamy watercolor painting on your nails. This style is incredibly versatile as you can blend hues to create a seamless and beautiful design, just like a watercolor canvas coming to life.
7 Other Colors You Can Combined With Purple for Awesome Nail Art Designs
The palette of options to pair with purple is rich and varied, allowing for a diverse array of nail art designs. Here are a few delightful combinations you might consider:
Purple and Gold: This royal combination brings a luxurious touch to your nails. Gold accents can be used as stripes, dots or even glitter over a purple base.
Purple and Silver: Similar to the gold combination, silver adds a sleek, modern touch to purple nails. It especially pops when paired with a deep purple shade.
Purple and Mint Green: This pairing is refreshing and brings a cool, calming vibe. The vibrant purple and soothing mint green contrast can create a truly striking look.
Purple and Coral: This combination is vibrant and cheerful, perfect for spring and summer. The warm coral tones beautifully complement purple shades.
Purple and White: A classic and sophisticated choice. White can help highlight the beauty of purple, whether in patterns, French tips or marbled designs.
Purple and Black: Try combining purple with black for a bold and dramatic look. It can be used in geometric patterns or to create a stark contrast in your nail art design.
Purple and Pastel Pink: These two colors create a gentle and romantic vibe, offering a soft contrast pleasing to the eye.
When you're pairing colors, remember to play around with different tones and shades to see what complements each other best. Also, incorporating different textures, like matte and gloss finishes, can add layer of depth to your designs.
How Difficult Are These Designs To Create?
The difficulty of creating these designs varies quite a bit, depending on the specific techniques and tools involved. Let's break it down a little:
Lavender Fields Ombré Style: This can be of moderate difficulty, especially if you're new to the ombré technique. It might take a few tries to get the gradient smooth and seamless. However, it's quite achievable even for beginners with a sponge and some patience.
Starry Night with Purple Glitter Accents: This one is relatively easy to pull off. You would apply a base coat of purple and then adorn it with glitter or star decals, which can be found readily at beauty stores.
Geometric Delights: Creating geometric designs can be challenging as it requires a steady hand and precision to get clean lines and shapes. Using striping tape can aid in achieving the desired look. It might be better suited for those with some nail art experience or patience to practice.
Watercolor Whimsy in Purple Hues: This design is difficult as it requires blending different hues smoothly to create a watercolor effect. It might take a bit of practice to master the blending technique, but the result is worth the effort!
Designs with Multiple Colors and Details: The more colors and intricate details involved, the difficulty level might increase due to the precision and patience required.
It's essential to have the right tools—like fine brushes, dotting tools, and sponges—to make the process smoother. If any of these seem a bit too challenging, remember you can always seek the expertise of a professional nail technician to bring your purple nail art visions to life.
Regardless of the difficulty level, the joy comes from the creative process and seeing your masterpiece at the end. So, equip yourself with some nail art supplies and don't be afraid to experiment and have fun with it!
11 Tips To Help You Master This Look
Achieving stunning nail art designs often involves utilizing various tools and mastering a few techniques. Here's a handy guide to help you get started:
Tools You Might Need
Dotting Tools: These can help create dots of various sizes and are great for making floral designs.
Fine Brushes: A set of brushes with different tip sizes is invaluable for drawing detailed designs and intricate patterns.
Striping Tape: This can aid in achieving straight lines and creating neat, geometric patterns.
Sponges: Perfect for creating gradient or ombré effects. You can gently dab the sponge on the nail to blend different colors seamlessly.
Stencils and Stickers: These can be a shortcut to achieving complex designs without the fuss. They come in a variety of patterns and styles.
Nail Polish Corrector Pen: This tool can be handy to clean up any minor mistakes without affecting the overall design.
Techniques to Master
Gradient or Ombré Effect: This involves blending two or more colors smoothly. A sponge can apply the polish, creating a gradual transition between the colors.
Marbling: It's a technique where you swirl different nail polish colors together to create a marble effect. It often involves using a dotting tool or a fine brush to swirl the colors on the nail.
Stamping involves using a stamping tool to transfer designs from a stamping plate onto your nails. It's a quick way to get intricate designs without drawing them freehand.
Layering: Sometimes, a design requires layering different elements, like starting with a base color, adding patterns, and then adding details or accents.
Using Rhinestones and Glitters: Adding these embellishments requires some skill to place them precisely without affecting the surrounding design. You might also need a good-quality top coat to seal them in place.
Before you start, practice these techniques on a nail art practice sheet or a piece of paper to get the hang of it. It's a journey of creativity and fun, so enjoy learning and creating!
Conclusion
In conclusion, fellow fashion adventurers, diving into the vibrant world of purple nail art can be an exhilarating journey. As we've explored, the spectrum of purple offers a rich canvas to play with, from subdued lavender tones to bold amethyst hues. While venturing into these exciting nail trends, always remember to prioritize the health of your nails—choose quality products and give your nails a break between manicures to prevent damage. And hey, don't shy away from experimenting! Maybe blend two styles or create a personalized purple palette that resonates with you. Let's embrace this purple wave with open arms and transformed nails, showcasing our individuality and stepping up our nail game to new, vibrant heights.
Feature image @heygreatnails via Instagram