Get ready to dive fingers first into the chic and vibrant world of dip powder nails. Whether you're a beauty lover always on the hunt for the next big thing or someone simply seeking a long-lasting, gorgeous alternative to traditional nail polish, you're in the right place!
In this sparkling new post, we will unearth every detail about the fabulous revolution that is dip powder nails. We're talking about its charming allure, the kaleidoscope of colors it offers, and the stunning designs it facilitates. And because knowledge is power (or powder?), we will also delve into the nitty-gritty of dip powder nails, how they compare to other nail techniques, and why they might be the perfect choice for your next nail adventure.
I'll be sharing my favorite dip powder colors for every season and mood, tips on creating gorgeous designs that'll make your nails a conversation starter, and even a sneak peek into my personally curated selection of the best dip powder kits in the market. I'll arm you with all the information you need to rock this trend confidently and even help you become your at-home nail tech!
So, let's say goodbye to chipped nails and the same-old nail polish routine. Dip powder nails are all set to take the beauty world by storm with their durability and infinite style possibilities. Prepare to be dazzled and inspired as we journey through this game-changing nail innovation, and who knows, your next manicure might turn out to be a 'dip into' style and sophistication like never before! Stay tuned, and let's prepare to dip, dazzle, and dominate!
Graceful Ombre Dip Nails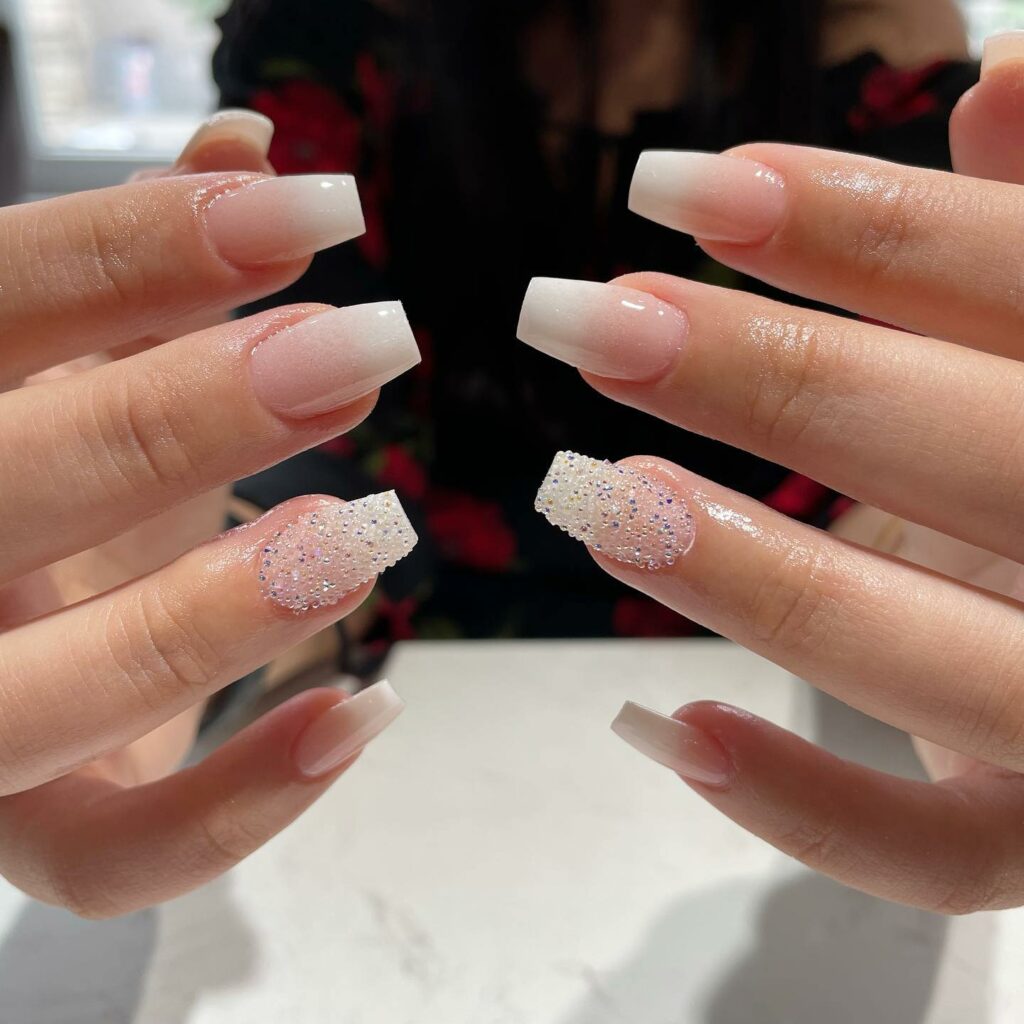 Ladies, isn't it magical when the sky transforms from a soothing blue to a fiery orange as the sun sets? Well, why not mirror this mesmerizing effect on your nails? Creating an ombre effect with dip powder is surprisingly simple, even for first-time DIY-ers like my younger sister, who tried it last weekend and ended up with nails worthy of a magazine cover!
All you need are two (or more) colors and a soft brush. After applying the base coat, gently tap the colors onto different parts of your nail. It's like painting a sunset right at your fingertips! The combinations are limitless – go soft and feminine with pastels, or turn up the heat with a bold yellow and blue. I tried a fierce red and black combo for a rock concert!
Classy French Dip Nails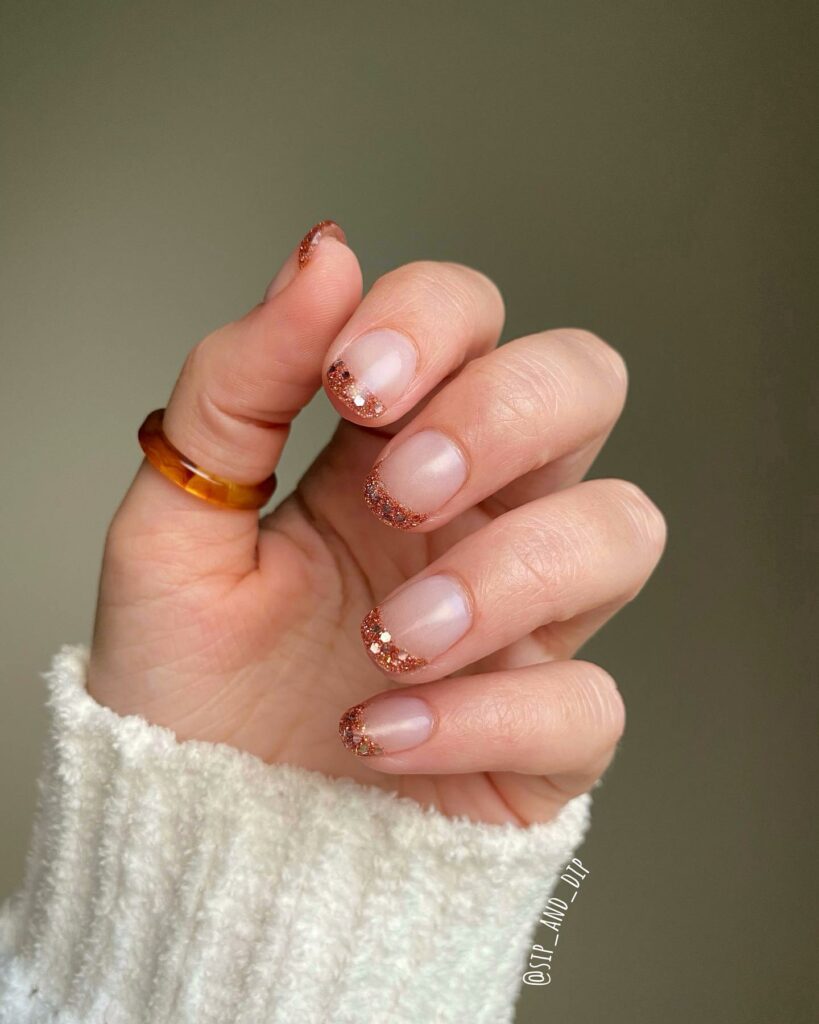 French manicures are like that little black dress that never goes out of style. I remember my first French manicure for my high school prom! To recreate that elegant look, use a pale pink and white powder. Dip the whole nail into the pink for a base color, then dip the tip into the white powder. Experiment with the angle of your finger to adjust the smile line. The finishing touch? An activating liquid and a top coat. Voila! You're ready for anything, from a work meeting to a wedding!
Alluring Dip Nails with Tips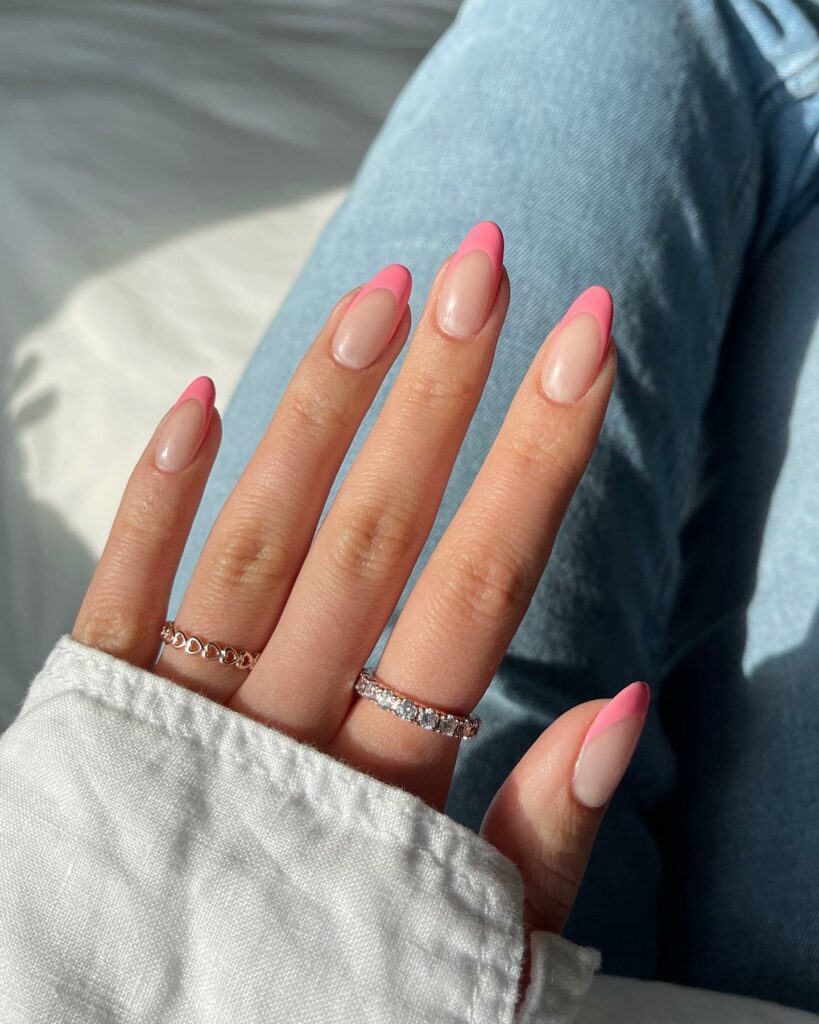 Have you bitten your nails out of anxiety before a big event? Don't worry, I've been there too. Thankfully, with dip powders and nail tips, you can flaunt long, chic nails no matter what. You can choose from shapes like round, oval, or go all out with a coffin, stiletto, or lipstick shape. Follow the usual process of shaping and buffing your natural nails, glue the tip, file it, blend it, and you're ready to dip!
Pure White Dip Nails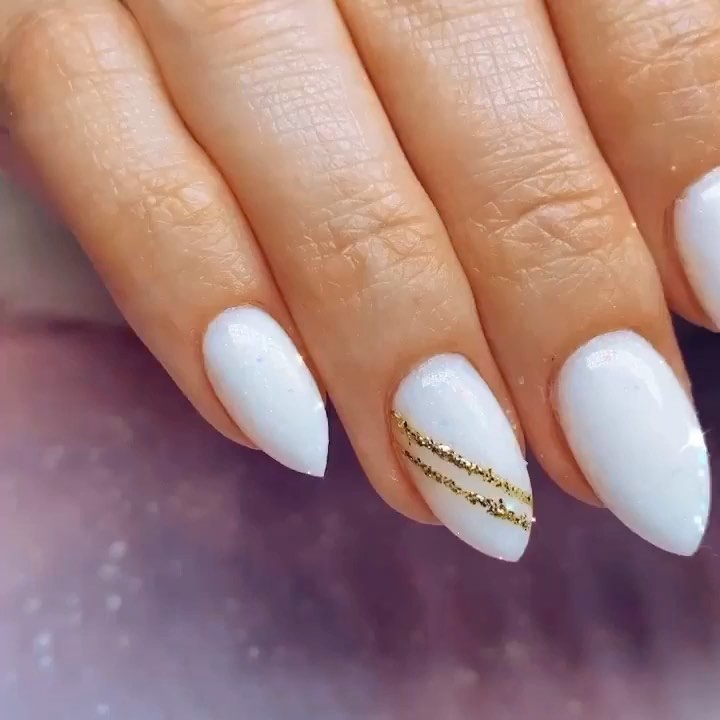 Nothing screams fresh and clean like a bright white manicure. Perfect for summer, it complements lighter shades of clothing wonderfully. Also, thanks to the acrylic polymers in the powder, you won't have to worry about it yellowing, unlike gel.
Playful Pink Dip Nails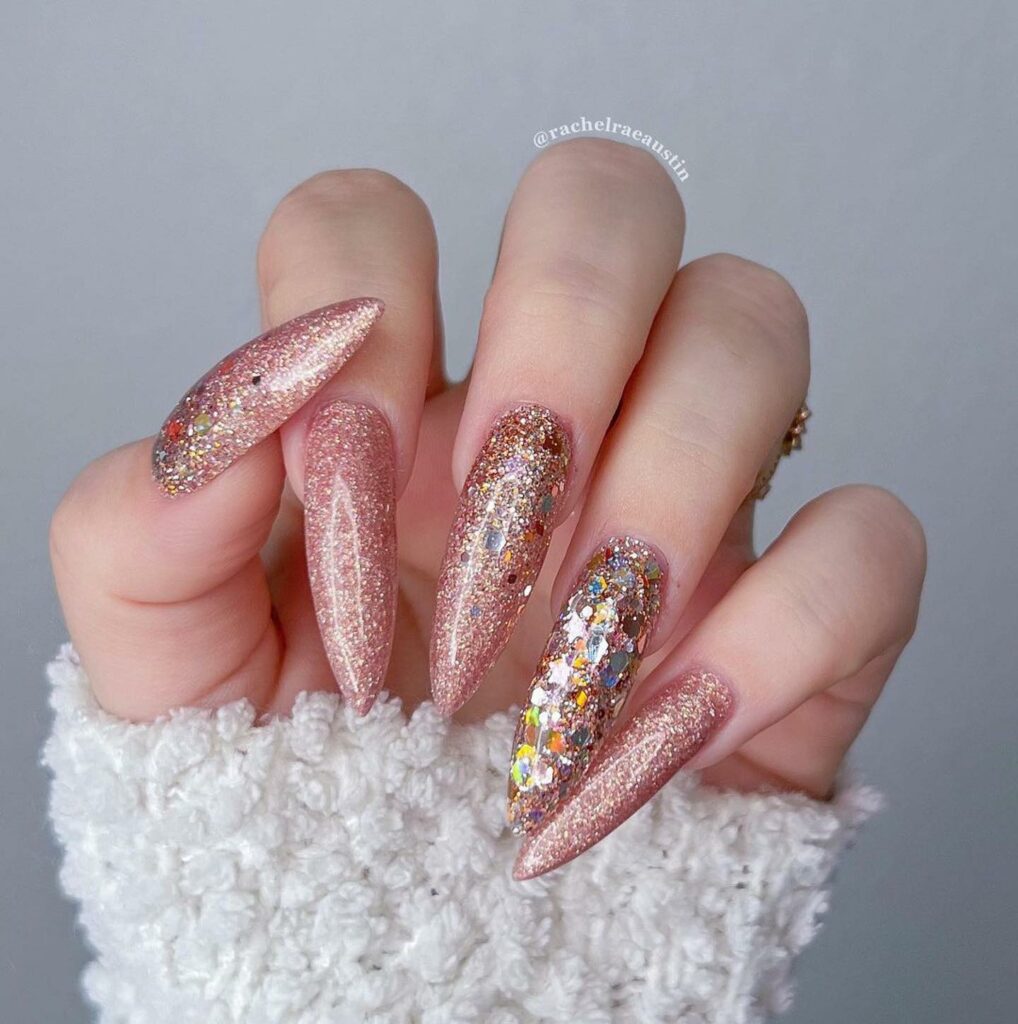 Pink is the color of youth, vibrancy, and fun! Choose from endless shades – from cotton candy that reminds me of fun fairs to bold Barbie pink. You could also opt for soft peach or pastel for a more subdued look. But if you're in the mood for something bold, how about a fluorescent hue or deep pink with plum undertones?
Festive Red Christmas Dip Nails
Let's bring the holiday spirit right to our fingertips! The possibilities are endless, from bright red glitter (which is also perfect for a New Year's Eve party) to a gold-dusted red nail for a luxe look. Last Christmas, I even had my nail tech paint delicate snowflakes on my nails! Try an ombre combination of red and green or red and silver for a unique style.
Adorable Dip Nails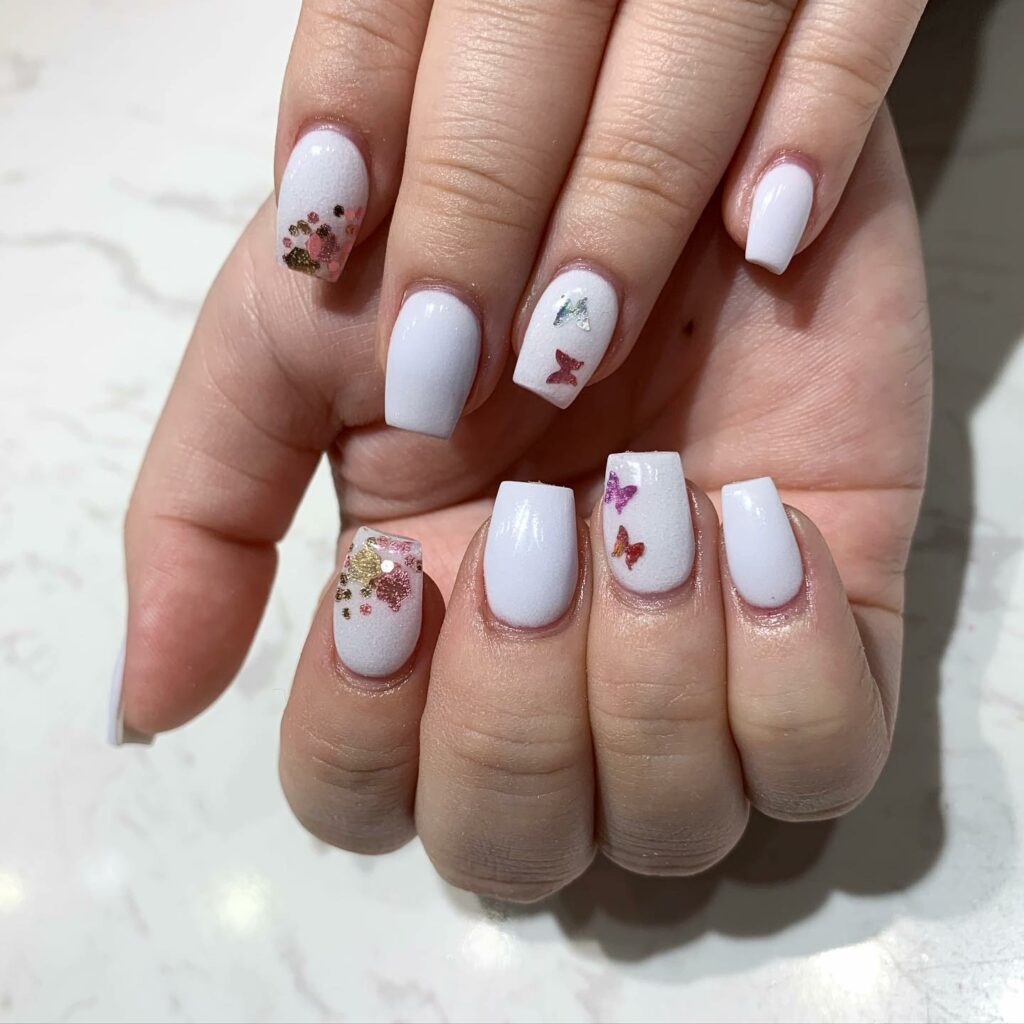 Finally, let's remember to have some fun! I once drew inspiration from flamingoes and created a pink and blue glitter combination that was an absolute hit at a pool party. You could also put a different color on each finger, making a rainbow or shades of the same color. Or channel the spirit of nature – from colorful macaws to watermelon-inspired nails. Let your imagination run wild!
Now that you're armed with inspiration and know-how, it's time to dip in and let your nails do the talking! Stay glamorous, darlings!
Let's Sparkle with Glitter Dip Nails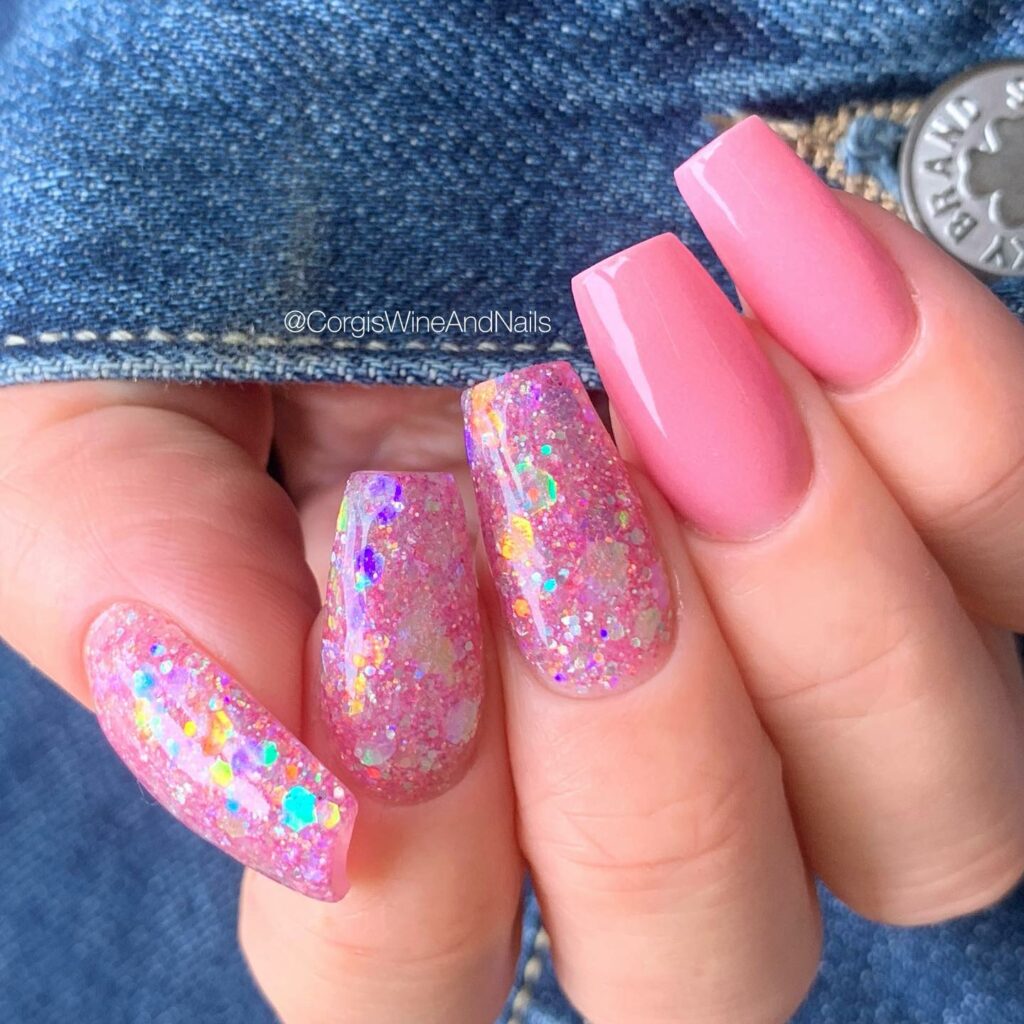 Is there ever a wrong time for glitter? I think not. Remember that glittery silver dress I wore to the New Year's Eve party last year? The compliments wouldn't stop! That's the magic of glitter – it instantly amps up the glam factor.
And the best thing about glitter dip powders is their incredible density. I've had my fair share of glitter nail polish fiascos where the glitter wouldn't spread evenly. But with glitter dip powders, your nails are dipped into a cloud of sparkling fairy dust.
The choices are aplenty, from embracing your inner ice queen with white glitter to making a bold statement with deep navy. Classics like gold, silver, bronze, reds, pinks, and purples are always there for you. Remember, darling, you're never too old to sparkle!
The Timeless Classic: Black Dip Nails
Ah, black! The one color that goes with everything. Black shoes, black bags, black dresses, and of course, black nails – it's a shade that screams 'effortlessly stylish.'
There's something about black dip powder nails – they're sleek and shiny. And the best part? They don't chip! So no more waking up to the horror of chipped black nails that make you look like a die-hard fan from a My Chemical Romance concert (not that there's anything wrong with that!).
You can keep it chic with plain black or add sparkle with black glitter. My favorite is to dip the tips in dark charcoal – it adds an incredible dimension to the nails. Whichever way you wear your black dip nails, rest assured you'll be turning heads!
Dip into Creativity: Dip Powder Nail Designs
Now comes the fun part – letting your imagination run wild with cool dip powder designs! The sharp lines you can create with dipping are perfect for chic designs like rainbow arrow tips.
You can also experiment with color blocks – start at the tip and dip higher into different powders. Switch up the angles to create abstract art. A while back, I created this multi-angle, multi-color look for a friend's art show, and it was a total hit!
Another design close to my heart is marbling. Once you've applied your base color, mix a small amount of powder with a second shade in a separate dish. Using a toothpick or a cuticle stick, swirl it around to create the pattern you love, and gently press your base-coated nail into it. Finish it off with a shiny top coat, and you have a unique, eye-catching design!
Metallic Dip Powder Nails
Get ready to dazzle with metallic dip powder nails that give a shiny, mirror-like finish, making your nails the show's star. Perfect for a night out, these nails will have you shimmering under the city lights, adding a luxurious touch to your ensemble.
Nude Dip Powder Nails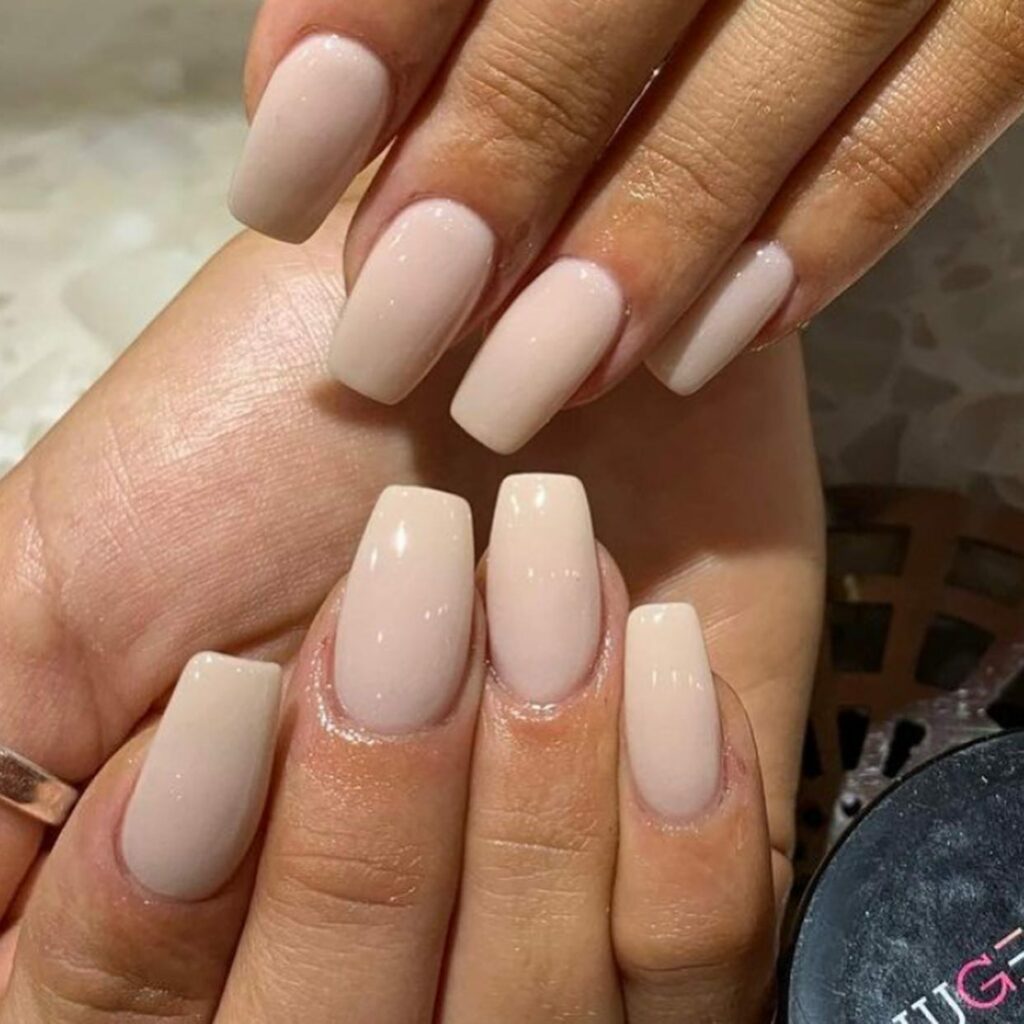 An eternal favorite, nude tones offer a classy and sophisticated touch, allowing for a clean, polished look that complements any outfit. It's a timeless choice that embodies elegance, effortlessly transitioning from a day at the office to an upscale evening event.
Ombre Glitter Dip Powder Nails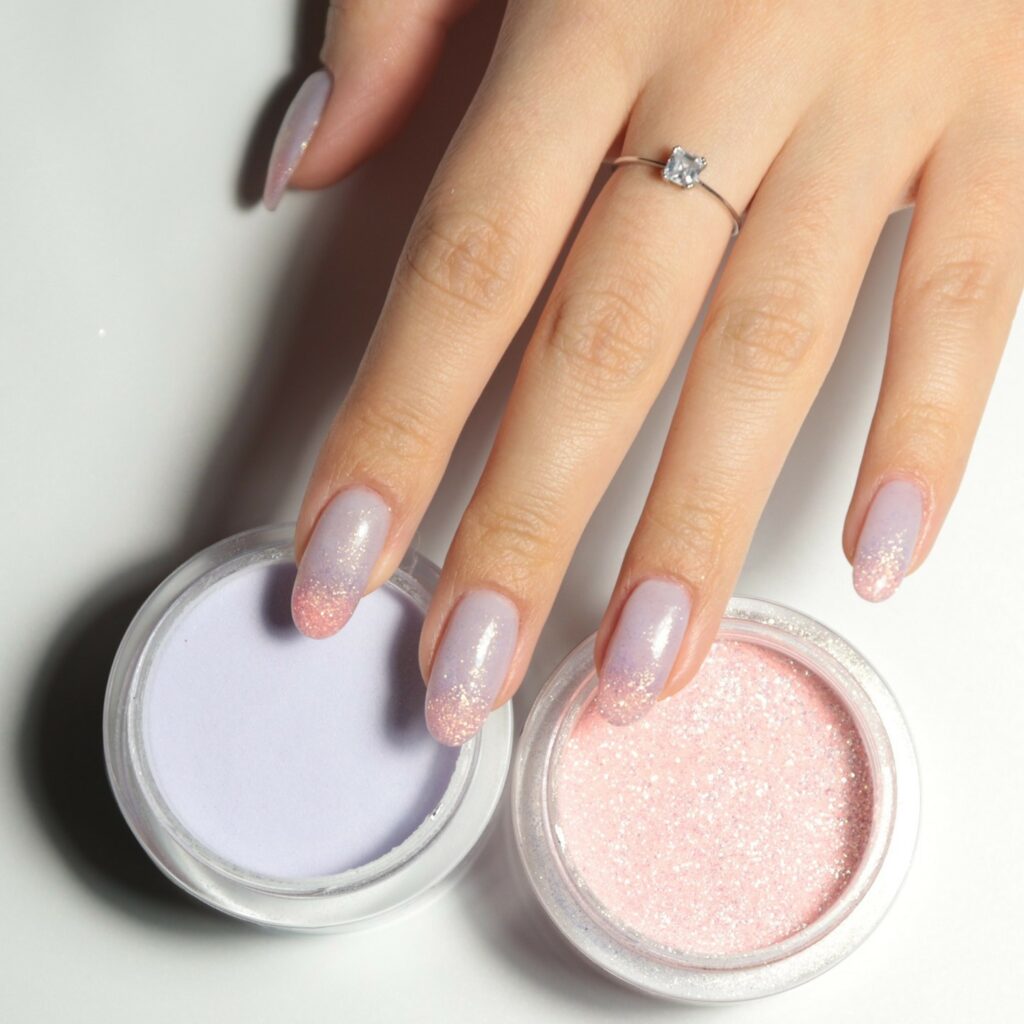 This one is a fabulously sparkling option where you can combine the subtlety of ombre with the glam of glitter, gradually fading one into the other for a sparkling masterpiece. It brings a magical allure to your nails, making them a beautiful statement piece for festive seasons or special occasions.
Mood-Changing Dip Powder Nails
These powders change color based on the temperature, adding a fun and dynamic aspect to your manicure, always giving you a new look to flaunt. Not only are they a conversation starter, but they also add a quirky, personalized touch to your everyday style.
Neon Dip Powder Nails
These bright, bold options are for the daring at heart, adding a vibrant and energetic burst of color to your style. Perfect for summer or to brighten up a dreary day, they echo a sense of youthful zest and are bound to turn heads wherever you go.
Marble Effect Dip Powder Nails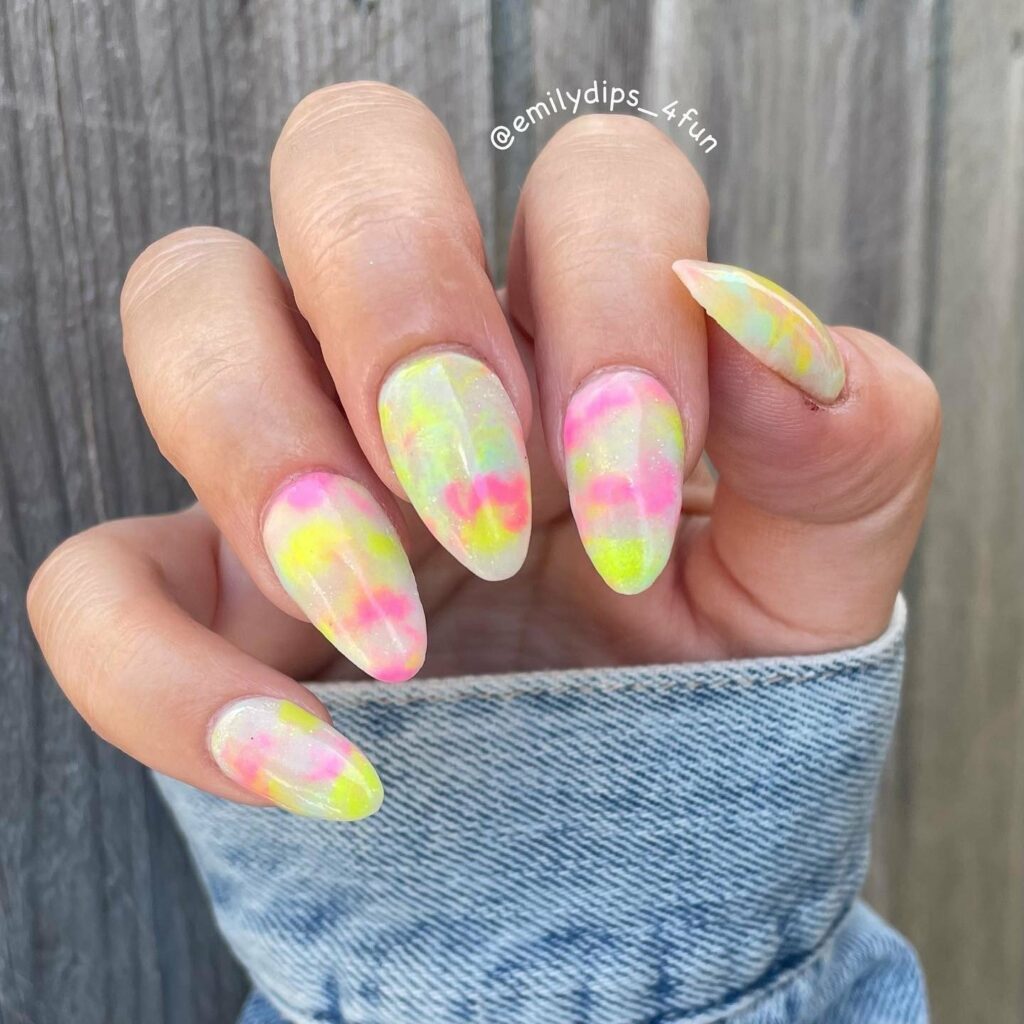 For a sophisticated and artistic flair, consider a marble effect where swirling patterns create a unique, intricate design on each nail. This technique mirrors the timeless beauty of marble, adding a touch of class and a splash of artistry to your fingertips.
Geode Dip Powder Nails
Inspired by the natural beauty of geodes, these nails incorporate glitter and rich colors to replicate the sparkling, crystal-like appearance of geode stones. They radiate a mystical charm, turning your nails into tiny canvases that showcase the splendor and wonder of natural geodes.
Animal Print Dip Powder Nails
Go wild with animal print patterns – think leopard spots or zebra stripes for a bold, fierce look. This style unleashes a primal, untamed beauty, perfect for showcasing your adventurous side and making a bold fashion statement.
Floral Dip Powder Nails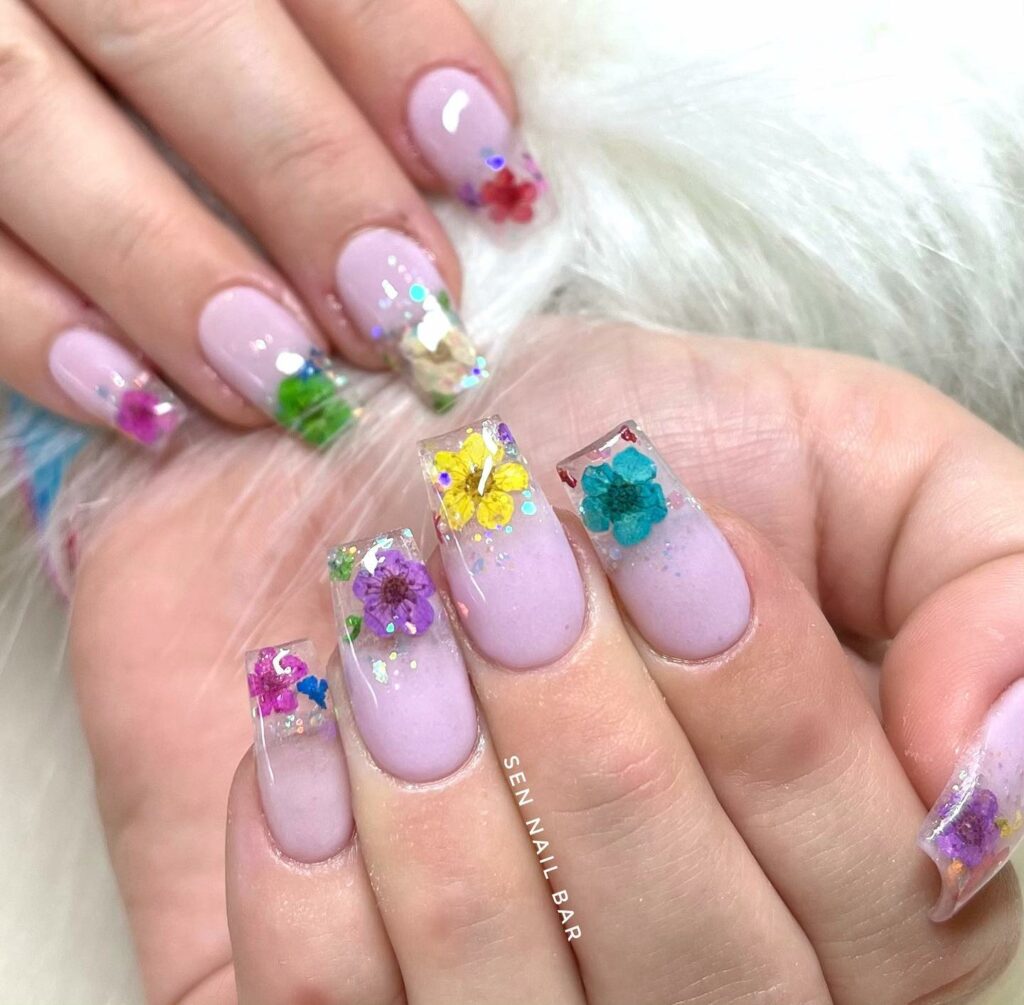 Embrace the beauty of nature with floral designs, where delicate patterns and soft colors create a garden of style right at your fingertips. It's a breath of fresh air, adding a splash of blooming charm to your appearance, making it a fantastic choice for spring and summer.
Galaxy Dip Powder Nails
Channel the beauty of the night sky with galaxy nails, using a blend of deep blues, purples, and sparkles to create a starry night right on your nails. This style will have you dreaming big and reaching for the stars, with a cosmic allure that's as boundless as the universe.
Holographic Dip Powder Nails
Step into the future with holographic nails, where a rainbow of colors shifts and changes with every movement. This ultra-modern look brings a touch of sci-fi glam to your fingertips, offering an eye-catching, mesmerizing display that's perfect for those who love to stand out in a crowd.
Gradient Dip Powder Nails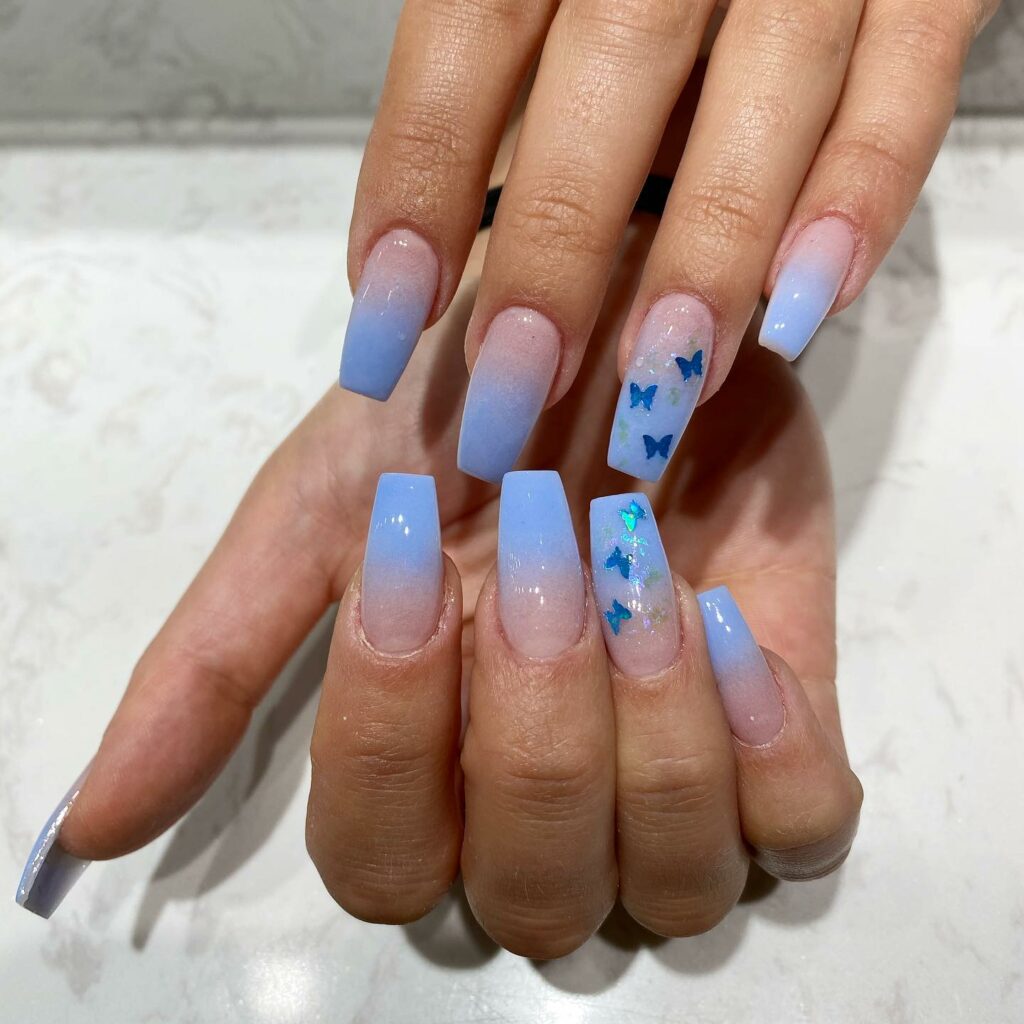 A gradient look offers a seamless transition between colors, creating a stunning visual effect that adds depth and intrigue to your manicure. Whether you choose a warm sunset palette or cool oceanic hues, gradient nails provide a versatile, artistic touch to suit any occasion.
Champagne Glitter Dip Powder Nails
For a touch of sophistication and sparkle, consider champagne glitter dip powder nails, embodying the effervescent spirit of celebration. These nails bring a luxurious touch, sparkling delicately like a glass of fine champagne, making them perfect for weddings, anniversaries, or any celebratory occasion.
Lace Effect Dip Powder Nails
Lace effect nails offer a delicate and romantic touch to your manicure, showcasing intricate lace patterns that are both feminine and elegant. This style is reminiscent of a vintage era, giving your nails a classic, timeless beauty that pairs wonderfully with both casual and formal attire.
Textured Dip Powder Nails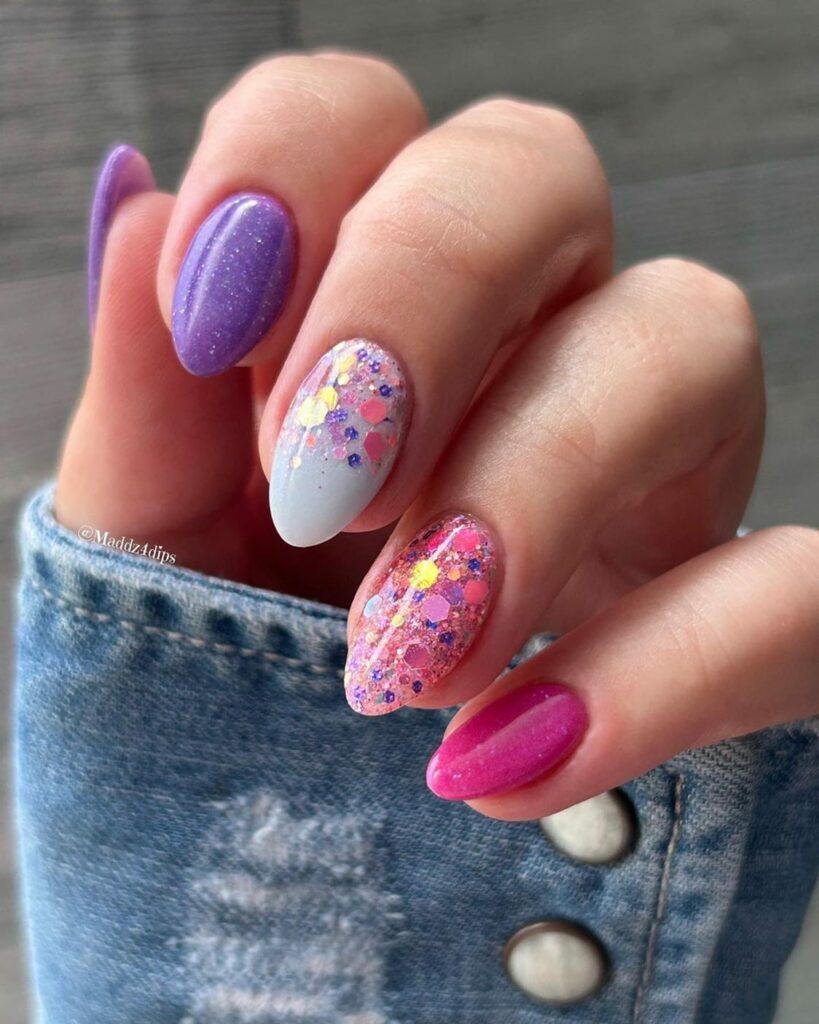 Experiment with different textures like sand or crushed shells to give your nails a unique, tactile dimension. This innovative approach transforms your nails into a piece of art, adding a fascinating, three-dimensional aspect that's both modern and chic, encouraging people to see and feel the creativity in your nail designs.
Metallic Shades Dip Powder Nails
Embrace a lustrous look with metallic shades that mimic the sheen of precious metals. These nails are all about making a statement, gleaming brilliantly in gold, silver, bronze, or even metallic pastels, ensuring your hands are the center of attention wherever you go.
Geometric Dip Powder Nails
Play with shapes and lines to create edgy and contemporary nail designs that stand out. With sharp angles, contrasting colors, and clean lines, geometric nails offer a fresh, modern aesthetic that perfectly complements minimalist or avant-garde fashion choices.
Matte Finish Dip Powder Nails
Ditch the gloss and opt for a sophisticated matte finish, offering a subdued yet stylish alternative to the traditional shiny manicure. Matte dip powders lend a velvety texture to your nails, and when paired with bold or neutral colors, they create a chic, understated elegance perfect for everyday wear and special occasions.
What's the Dip with Dip Nails?
Alright, so what exactly are these dip nails? Well, consider them your manicure's stylish cousin. They're a fabulous alternative to acrylic, gel nails, and the good old nail polishes we all know and love. The process is as exciting as getting ready for a Saturday night out.
First, you must say bye-bye to any existing polish on your nails, shape them to your desired style, and apply a bond or dehydrator. Why, you ask? To banish all those pesky oils and debris, darling! Next, you build up your nail surface using a base coat and natural powder for that enviable thickness and durability. And then comes my favorite part – the color!
You'll apply a couple of layers using the base coat and then dip the nail into a pot of oh-so-pigmented powder. It's like taking a plunge into a sea of color, or if you prefer a less messy approach, you could pour it on the nail. A few repeats later, depending on the effect you're going for, you'll seal it off with an activating coat to harden the powder and a top coat for that extra touch of freshly manicured gloss. The best part? You can dip powders on natural and false nails, making it a fab choice for everyone.
Dip Nails: The Highs and Lows
Like that chic pair of high heels that gives you blisters, every manicure option has pros and cons. Let's talk about dip powder nails.
On the upside, they're user-friendly, generally quicker to do than regular acrylics or gel nails, and they come without any unpleasant odors. If you're anything like me and your painting hand sometimes decides to have a mind of its own, these nails can be a mess-free blessing. Moreover, there's a world of DIY possibilities and an incredible array of colors – think neon pinks to white glitter and even understated nudes.
However, it's not all sunshine and rainbows. Removing dip nails can be a chore and potentially harm your nails if not done right. It can also get pricey if you have them done at a salon every three weeks. And, if you're visiting a salon, make sure they brush or pour the powder onto your nails rather than dipping — shared powder tubs could be a sneaky villain causing cuticle infections.
Dip Nails vs. Gel: The Showdown
How do dip powder nails stack against gel nails? The most significant difference lies in the curing process. Dip powders cure like acrylic, using a base coat, powder, or polish and an activator to cause a chemical reaction that hardens the mix. Meanwhile, gels need UV lights to cure. That means you'll have to sunbathe your hands under a UV light machine for a few minutes post-application.
Another area where they differ is the application time — dip powder nails can be faster than gels. On the common ground, both last around three weeks before needing a touch-up, and the removal process is similar for both, requiring filing and acetone. Ultimately, the choice between dip and gel depends on your preference.
How Long Can I Flaunt My Dip Nails?
How about a mani that lasts from your cousin's wedding to that office party three weeks later? Dip powder nails can last two to four weeks, depending on your nail growth rate. The best part? Unlike nail polish that chips off, these babies grow out. So, even when it's time for a touch-up, your nails won't look like they've been through a nail apocalypse.
Dip powder nails are a game-changer, offering a fun and long-lasting alternative to traditional manicure options. So, next time you consider a mini makeover, why not take the plunge and dip into something new?
Glam Up Your Dip Powder Nails: A Guide on Painting, Removal, and At-Home Kits
Hello there, gorgeous! Ever find yourself pondering the versatility of your dip powder nails? Or are you curious about the proper removal process or itching to try your hand at a DIY kit? Well, you're in the right place! Today, I'll be addressing all these topics. Prepare for some handy tips, personal stories, and a sprinkle of my trademark humor along the way!
Can You Play Picasso on Your Dip Powder Nails?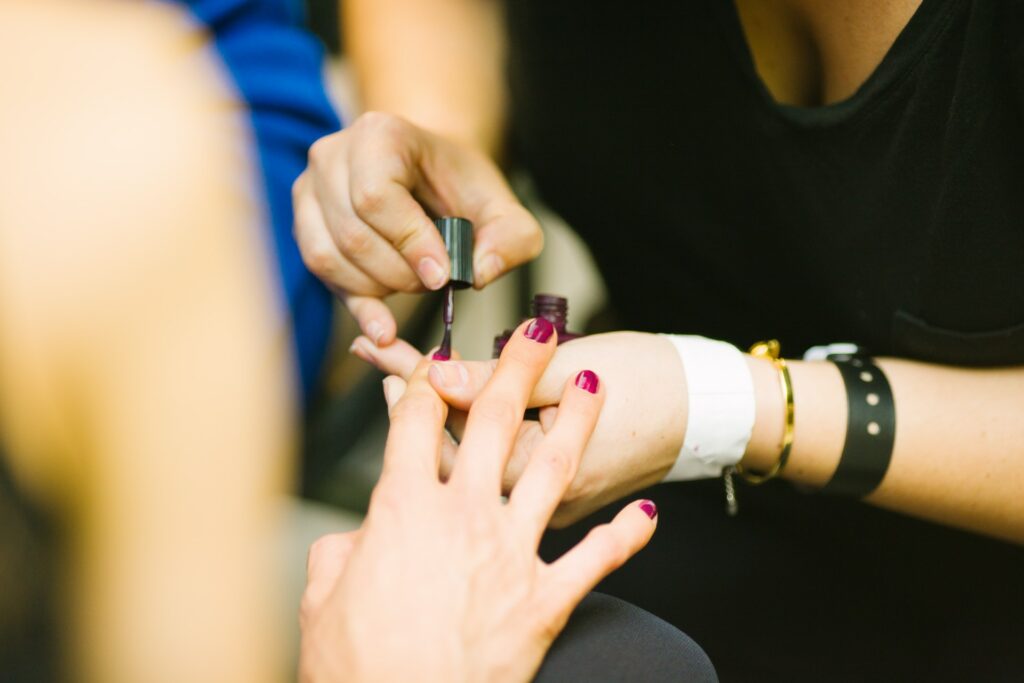 Darlings! Painting over your dip powder nails is as feasible as me trying out a new lipstick color – and we all know how often that happens! Let's say you're facing an occasion like a job interview, where that neon green might not strike the right chord. You can easily switch it up with a more subtle polish.
Here's the drill: The top coat you have protects the dip powder color, so to remove your temporary paint job, use a non-acetone nail polish remover. It's like waving a magic wand and getting your original color back, presto! You should reapply a layer of top coat for that fresh manicure shine and to safeguard your color.
A little caution, though: If you're frequently painting over your dip powder nails, considering a less permanent option might be more economical. It would be a shame to shell out for a long-lasting color you rarely flaunt!
Dip Powder Nails: The Gentle Break-Up
When it's time to bid farewell to your dip powder nails, my advice is to go pro. Head back to the salon for the safest, most effective removal. Much like that time, I tried to cut my bangs (we've all been there, right?), but doing it yourself can lead to some not-so-pretty results.
The removal process shares a few steps with gel polish removal. First, a nail technician will file down the top coat and some color, either with a standard or an electric nail file. After this, it's time for a soak in 100% acetone to dissolve the remaining color. This part reminds me of a spa day for your nails! You soak a cotton ball in acetone, place it on your nail, then wrap your finger in foil and let it sit for at least 10 minutes. By then, the color should have packed its bags and left.
Remember that acetone can be quite drying, like spending a day in the desert without a drink. So pamper your fingers with some cuticle oil after the process. Because, let's face it, even the prettiest of nails won't look good on lizard-like hands!
Dip Powder Nails Kits: The Key to At-Home Glam
Fancy channeling your inner nail technician? You can get salon-style nails at home with a dip powder nails kit! A plethora of kits are available online with hundreds of color variations – it's like having a rainbow at your fingertips.
Before you begin, ensure you have some manicure basics: a file, a cuticle stick or trimmer, an acetone nail polish remover, and cotton balls. The kit should include a base, an activator, a top coat, and your chosen color powders at the bare minimum.
Some extra but non-essential goodies include a soft makeup or kabuki brush, a natural powder, a brush restorer, and a cuticle oil or vitamin serum. My favorite part about these home kits? The bottles are numbered! It's a foolproof guide, helping you know exactly what to use and when. Now, isn't that handy?
Best Dip Powder Kits to Grab Today
Nicole Diary Dip Nail Powder Starter Kit Acrylic Dipping Nail Powder System Clear Liquid Acrylic Pigment
Dipping Powder Nail Kit With 6 Colors White Glitter
Rosemary Dipping Powder Nail Kit With 6 Colors Glitter
Joya Mia Beautiful Dipping Powder Starter Kit
These kits are like the keys to a treasure chest filled with dazzling colors. Grab one (or why not all?), and let's unleash the nail artist within us!
7 Tips For Creating Gorgeous Designs With Dip Powder Nails
1. Proper Preparation is Key, before you start with the color:
a) Make sure your nails are well-prepared.
b) Shape them, push back and trim the cuticles, and gently buff the surface.
c) Remember, a well-prepared canvas makes for a masterpiece.
2. Choose the Right Tools
Invest in a good-quality base, activator, and top coat. Your color powders will come alive with the right products. Also, ge ntly use a soft makeup brush to remove excess powder between dips.
3. Be Patient with Drying Times
Each layer needs to dry before you move on to the next fully. If you're like me and struggle with waiting, consider watching an episode of your favorite show or listening to a podcast while your nails dry.
4. Precision is Everything
When applying the base coat, stay slightly away from the edges and cuticles. This can prevent the polish from flooding the skin and gives a clean and professional look.
5. Play with Colors and Designs
Dip powder is perfect for ombre designs, French tips, and color blocking. Let your creativity run wild! You can even try a marbled look by mixing a couple of shades.
6. Practice Makes Perfect
Keep going even if your first few tries are imperfect. Keep practicing, and you'll master the art of dip powder nails in no time.
7. Nail Care Post-Manicure
Remember to moisturize your nails and cuticles post-manicure. Cuticle oil is your best friend. It helps to nourish your nails and keep them looking fresh and shiny.
Discover How Do Dip Powder Nails Compare To Other Nail Techniques
1. Dip Powder vs. Traditional Nail Polish
The most common way to paint our nails has been with traditional nail polish. It's quick, simple, and there are countless colors and finishes. However, the downside is the chipping, which can occur just a day or two after application. It also lacks the thickness and strength provided by dip powder nails. Plus, there's no denying that the longevity of dip powder nails is a winner in this comparison. My dip nails have lasted up to three weeks without a single chip!
2. Dip Powder vs. Gel Nails
Gel nails have been a favorite for their glossy finish and durability. They're hardened under UV light, meaning they're dry instantly – no more smudging while reaching for your car keys! However, UV exposure has been a concern for some, and removing gel polish usually involves more soaking and scraping than with dip powder nails. Also, dip nails feel more natural and less rigid than gel nails.
3. Dip Powder vs. Acrylics
Acrylics are known for their longevity and ability to add length and strength to the nails. They're great if you're aiming for dramatically long nails. However, the application process involves strong-smelling chemicals, and the removal process can be harsh, often leaving the nails thin and weak. Comparatively, dip powder nails are gentler and don't require the strong chemicals used in acrylics. While they're also durable, like acrylics, they feel more lightweight and natural.
4. Dip Powder vs. Nail Wraps
Nail wraps are stickers for your nails, and they can offer some intricate designs that are difficult to achieve with freehand painting. They're easy to apply and have no drying time, but they often don't last as long as dip powder nails and can start peeling at the edges after just a few days. And let's remember the satisfaction of mastering a new skill and creating our designs with dip powder!
4 Downsides To Dip Powder Nails
1. Sanitation Concerns
I'm super conscious of this when I head to the salon. When multiple people dip their fingers into the same powder jar, there's a potential hygiene issue. However, you can navigate this concern by choosing a salon that practices safe hygiene or doing your nails at home. My home kit has become a beloved part of my self-care routine!
2. Removal Process
Removing dip powder nails requires soaking your nails in acetone for about 10-15 minutes, which can dry your nails and skin. It's important to moisturize with a cuticle oil afterward to help rehydrate. I can't tell you enough how much of a difference regular cuticle oil use has made for my nails and fingers!
3. Potential Nail Damage
If not properly applied or removed, dip powder can cause some damage to your natural nails, leading to brittleness, peeling, or thinning. It's crucial to follow all the application and removal steps and give your nails a break in between applications. I love using that break to treat my nails to a strengthening and nourishing treatment.
4. Limited Design Flexibility
While you can get creative with dip powder, it is trickier to achieve intricate designs than traditional nail polish or wraps. With practice and patience, you'd be surprised at the beautiful designs you can create!
Conclusion
And that's a wrap, my beauty enthusiasts! Whether you're dusting on a cloud of glitter, rocking a sultry black, or expressing your creativity with unique designs, the world of dip powder nails offers many stunning possibilities. Remember, practice makes perfect, so don't be discouraged if your first attempt doesn't go as planned. On the flip side, although dip powder nails are fabulous, it's also important to let your natural nails breathe in between applications to prevent damage and keep them healthy. Treat yourself to some cuticle oil and a good hand cream – trust me, your nails will thank you! Above all, have fun with it. Unleash your creativity, and let your personality shine through your manicure. Grab that dip powder, and let's start creating some show-stopping looks! You got this, darling!
Feature image by allison christine on Unsplash