It's fair to say that it takes a bold woman to take out a dress (easily assumed as strictly 'night out' attire) and to don it in the day. Yet perfecting the art of how you dress down a dress is a guaranteed way to transform your wardrobe and inject some new life into your looks.
The ultimate two for the price of one, being able to adapt your items regardless of the hour is not only an inexpensive trick, but it's also easier than you think…
How to Dress Down a Formal Dress
Adding a casual feel to items that are classed as party-wear pieces is a great way to create surprisingly new and punchy looks. A dress that may once have been considered formal can suddenly be transformed into something flexible and eye-catching. These looks can work fabulously in an office environment, combining something a little more glam with a touch of comfort. It's the ultimate attire for a woman who means business.

We think it's definitely worth a go, and our list of style options below will certainly help you on your way to nailing the dressed down dress look.
How to Dress Down a Dress With Footwear
Choose flat shoes over heels. Not only is this great news for your feet, but it will also help enhance your new look without breaking the bank.
Alternatively, opt for contrasting footwear -such as chunky boots – to add some dimension to your look.
Some brightly coloured trainers will also help to tone down formality and add some character. Check out our save and splurge options below:
Clothing
Experiment with layers. You might like to opt for a shirt beneath your dress – a great option for those Autumn/Winter months.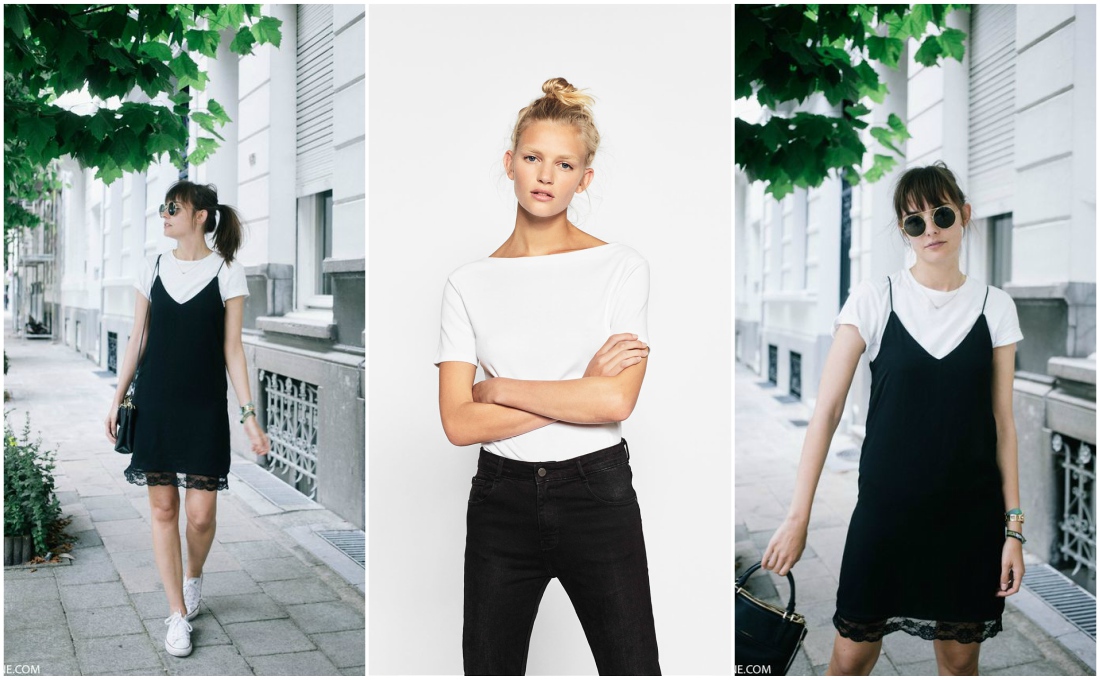 PHOTO CREDIT: Polienne. SHOP THE LOOK: Boatneck Top (Zara) £7.99
Or play it safe and stick to layers on top – a denim jacket will work particularly well. Otherwise, layering a baggy jumper on top will help keep you cosy.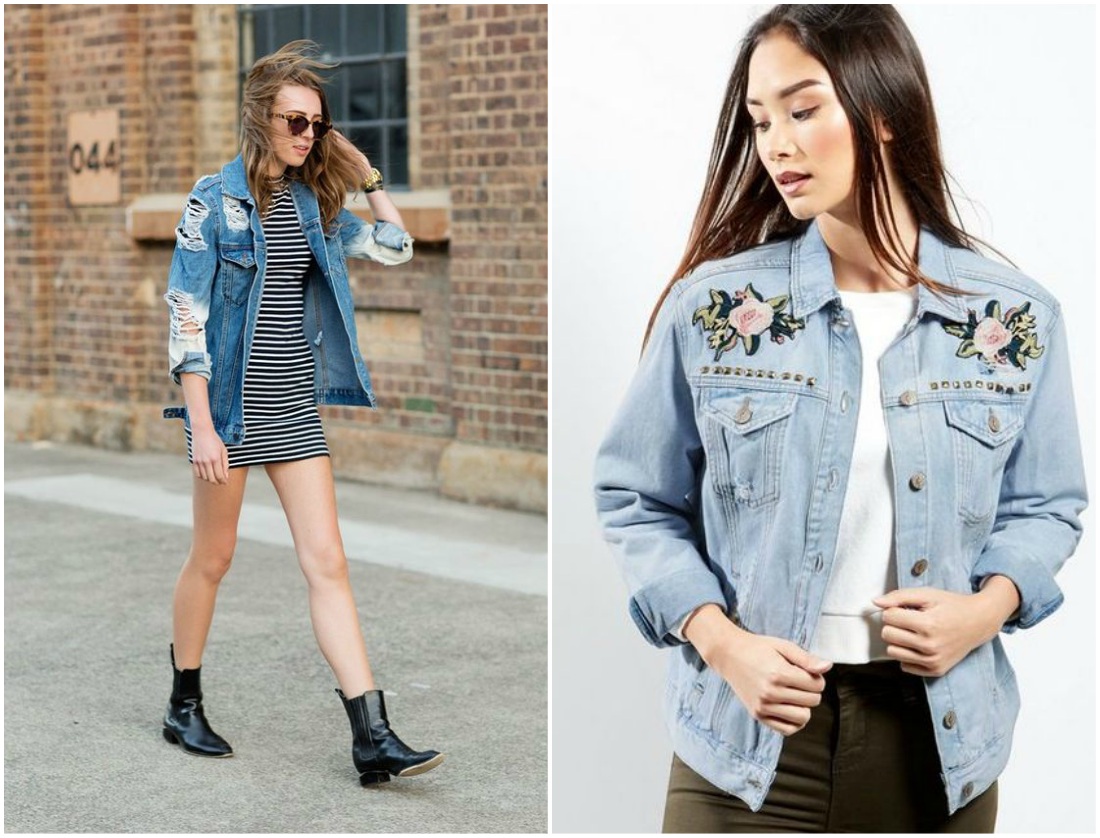 PHOTO CREDIT: British Vogue / Shop the Look: Blue Floral Embroidered Denim Jacket £34.99.
Layering
You could even tie layers around your waist for the ultimate casual-chic look.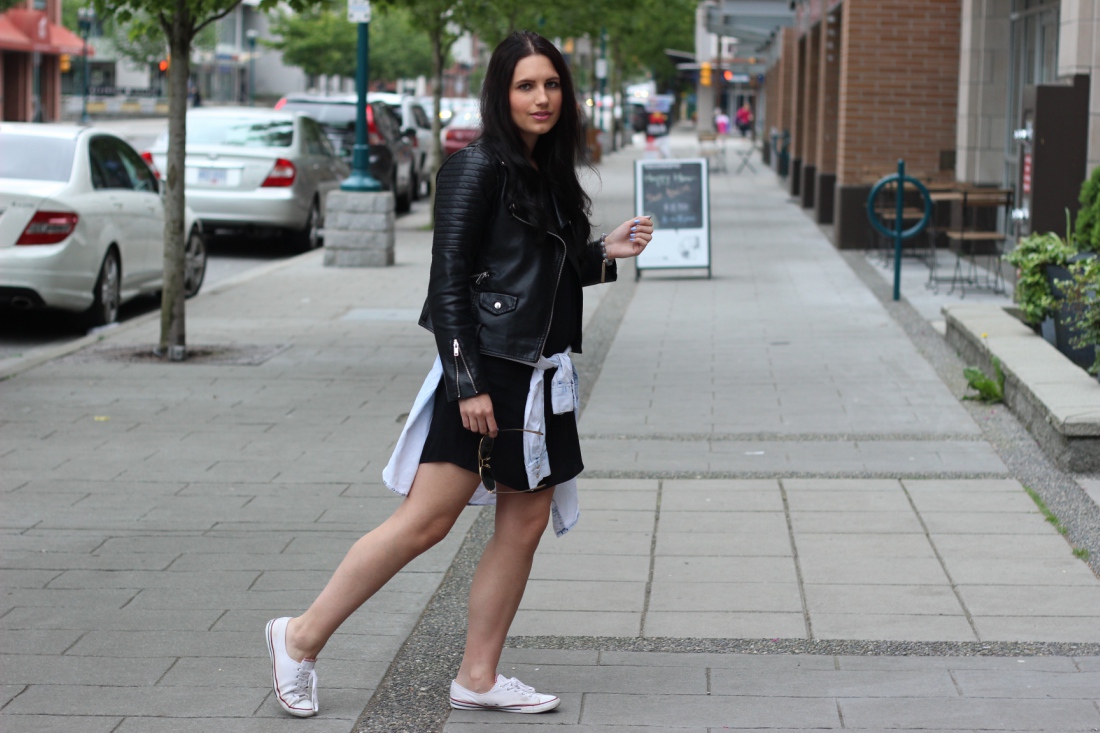 PHOTO CREDIT: Girl in Betsey.
Accessories
Stay playful – don't just stick to one colour, texture or pattern. Shake things up with an interesting pair of tights to keep things looking playful.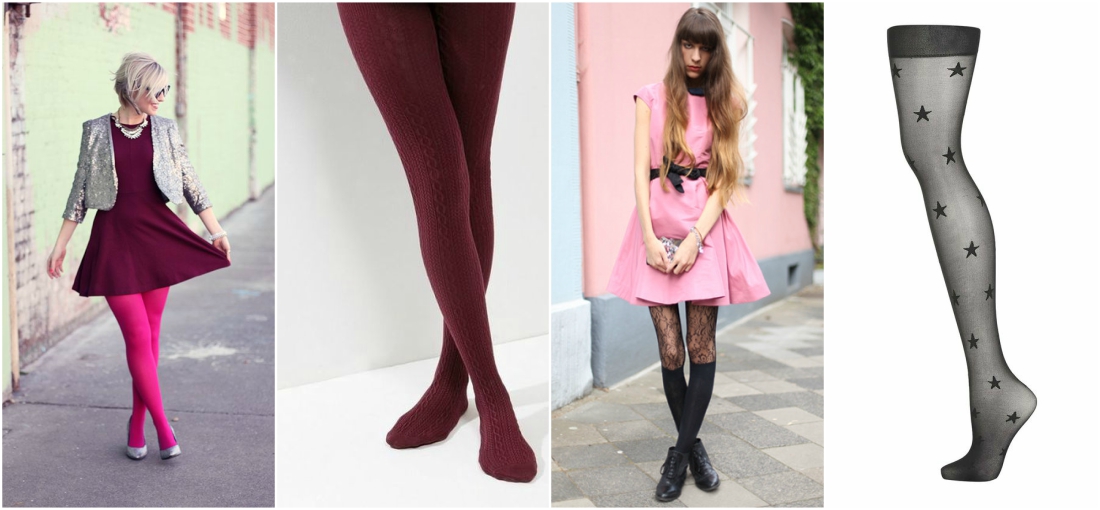 PHOTO CREDIT: Chictopia / Pinterest. SHOP THE LOOK: Burgundy Cotton Mix Cable Knit Tights £6.99 | Topshop Sheer Tights with Stars £6.50.
Or keep things cute and combine your trainers with some ankle socks.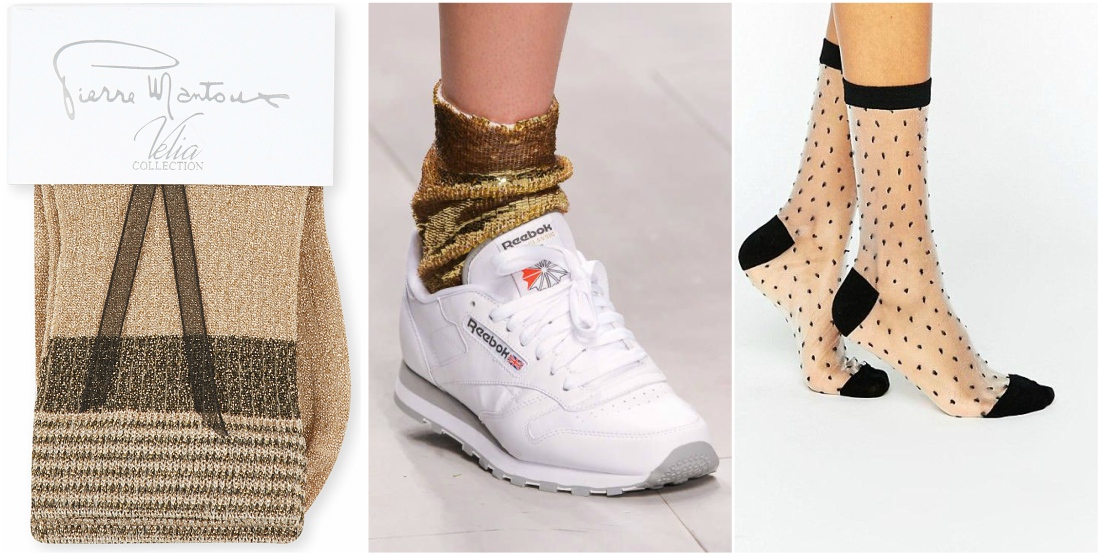 PHOTO CREDIT: Elle. Splurge with: PIERRE MANTOUX Calzino Tic Tac socks £22.00 | Save with: Gipsy Pretty Spot Socks £4.00
Accessories should be muted and simple – anything too glam will detract from the effortless effect you're looking to create. Avoid fancy clutches, instead opt for something casual and a little chunky.

PHOTO CREDIT: Who What Wear UK / SHOP THE LOOK: Splurge with Jigsaw Pink Blake Leather Backpack £180 | Save with Bucket Bag Backpack H&M £24.99.
And don't forget to keep hair and make-up looking natural.Maybe we've left you feeling tempted, but you're still looking to play it safe? Since you really can't go wrong when you keep things simple, there's nothing easier, or classier, than the little black dress. Custom-made enamel pins would be a great way to add a touch of personality to your outfit. You can choose a pin that matches the color of your dress or opt for a contrasting color for a more bold and eye-catching look. To dress down your dress using enamel pins, you can start by adding one or two pins to the collar or lapel of your dress. This will instantly add a fun and playful touch to your outfit, without overpowering it. You can also add custom enamel pins to the pockets or sleeves of your dress for a more unique and creative look. The great thing about enamel pins is that they are versatile and can be worn in different ways, so you can experiment with different placements and combinations to find the perfect look for you.
How to Dress Down a Little Black Dress
Diamonds may well be a girl's best friend, but the little black dress is the material mate that's really got you covered…literally! Suited to almost any setting, a black dress is an adaptable and timeless piece destined to help you achieve a genuinely effortless and stylish look. Whilst we're massive fans of the LBD, you'd be forgiven for feeling a little reserved in declaring your love for the somewhat sombre coloured garment.
But it's certainly the easiest way to approach the dressed down dress style. So, let us sway you with a swoosh of our skirts and check out our top ten little black dress options, especially for the festive period. Tis the season to be classy, and we're here to help you make the most out of your Christmas party dress.
Our Top Ten Little Black Dresses for Christmas
Having a trusted little black dress on standby is the ultimate must-have in any woman's wardrobe, regardless of whether you intend to dress it down. Consequently, it's an item truly worth its money, and below are some of our favourites.
Just combine your little black dress with the dressing down dresses hints and tips in this article and you'll know how to dress down a little black dress in no time at all.
Celebrities and Dressed Down Dresses
So, if we've left you longing for a little more inspiration, check out these celebrities wearing their dressed down dresses and demonstrating exactly how it's done.
Celebs are pros at dressing down formal get-ups for classy and convenient day wear, and from our collection of looks we've compiled a small 'shop the look' montage to help you on your way…

How To Dress Down a Dress
Opt for ballet pumps, trainers or boots to add dimension.
Be playful with colours and accessories.
Experiment with layering (beneath or on top).
If you're feeling less confident about pulling off this look, start with a little black dress.
Finally keep make-up and hair natural.
Exposing your night wear to the light of day might feel a little daunting at first, but with our handy tips on how to dress down a dress effectively you'll be (quite literally) fancy free in no time.
Read more great articles on women's fashion at Alexie.co