The peplum trend has been around since the 1940's, seeing a very popular comeback in 2013, and the trend is here to stay. Peplum dresses are classy, fashionable, and feminine – and look great on almost all body shapes!
They can be subtle at the hem, or bold in the in the middle of your outfit, either way, there is no denying peplums look great. Worn as day or night attire, either as dresses, tops or skirts, the peplum trend is a sure fire way to add a little extra fancy flair to your outfit, without trying too hard.

Peplum Dresses
What Are Peplum Dresses?
So what is a peplum dress? Well, any item of clothing with a short strip of material, usually gathered or pleated, attached at the waist of a woman's jacket, dress, skirt or blouse contains a peplum. They have been dubbed 'femininity's big comeback' due to their frill, flamboyance, and ability to add detailing to any outfit. Make like style icons, Kim Kardashian, Beyonce and Kate Winslet and don a pretty peplum frock.
Are Peplum Dresses Right For You?
The answer is yes. The reason peplums have stylish for so long, is that they are an easy, fashionable way to give women sexy curves. However out of all the body shapes, ladies with boyish frames could benefit the most from wearing a peplum piece. They are designed to give the illusion of an hourglass figure, commonly recognised as the most desirable female body shape. Peplums are also great for plus size women as they help to camouflage certain areas that can make some women feel uncomfortable, whilst also still enhancing curves.
Our Favourite 20 Peplum Dresses
If you are having trouble deciding on which kind of peplum dress to go for, have no fear. We know size, frilliness and general colour can sometimes all be difficult to get your head around, so we have made it easier with our favourite 20 peplum dress picks.
Best for Bold Colour
Bold colours are perfect worn in the summer sun, or even worn in autumn/winter with a jacket and tights to brighten up a dull day. A light blue always looks good on fair skin and blondes, whereas darker skin allows you to really go for a statement pink/purple.
Best for Pastel Colour
Whether it's a pale pink, baby blue, or a nude peplum dress, they don't have to be boring – this colour palette helps to freshen up any look! We're loving the feather detail for a bit of fun and glamour this peach peplum dress.
Best for Patterns
It doesn't matter whether you opt for stripes, spots or even a lace peplum dress, choosing something with a pattern, no matter how big or small, will help to add uniqueness to your outfit.
Best Little Black Peplum Dress
A black peplum dress will always be a style staple. Why not call them an investment?
Best Metallic Peplum Dress
Shine bright like a diamond! Metallic items of clothing have been a huge trend in 2016 and are set to continue for the foreseeable future.
Best White Peplum Dress
A peplum white dress looks great with a tan, ready for any occasion.
Best for Larger Ladies
Larger ladies will suit these dresses as the peplum will hide any problem areas. An asymmetrical peplum also distracts from these areas whilst adding a bit of detail.Best for Petite & Boyish Shapes
It's the larger the better when it comes to peplum dresses and boyish frames. The bigger the peplum, the more the illusion of curves appears. Check out the petite sections of stores and online shops to get an idea of what you should be looking for.
Best for Casual Wear
Peplum dresses can also be worn in daily life. Wear them looser and flowing for a more chilled out casual fit. Sensibility and style at its best!
Best for Girly Glam
Think floral, frills and fancy embellishments when opting for a girly glam peplum dress.
Best for Celebrity Copy Cat
Make like Kate Middleton, Taylor Swift and Blake Lively by wearing traditional, modern, or classic looks.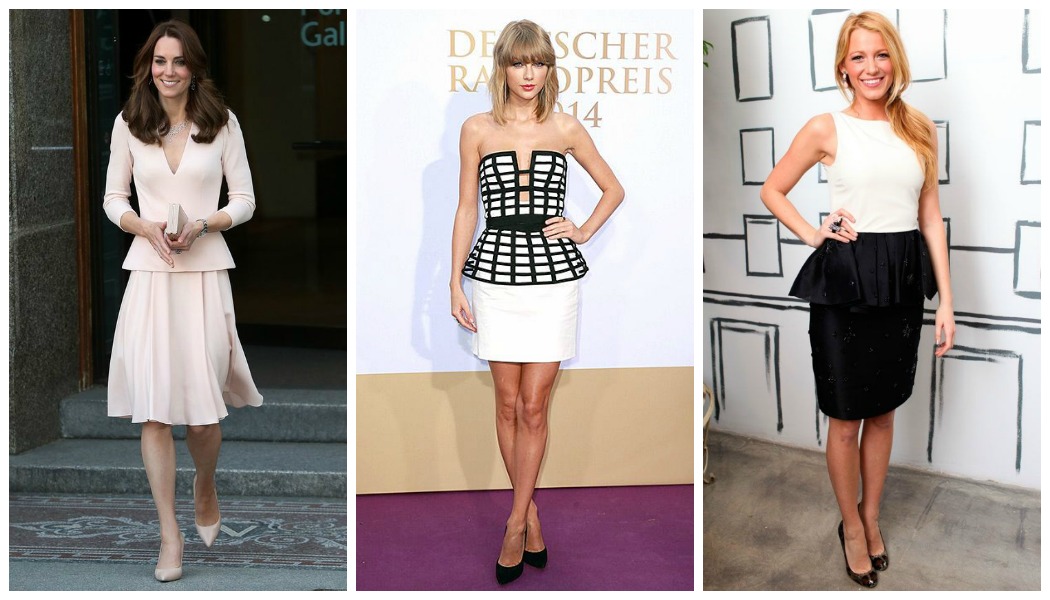 Best for Work
Most of the time, a peplum midi dress is probably your best bet for work. The length is appropriate but still looks stylish. However, all work environments have different rules, so by all means, opt for a short dress if you feel it is suitable.
Best High Street & Best For Budgets
These styles are cheap and cheerful but look fab.
Best Designer & Best For Splurging
Investment pieces are ideal things to buy as they are good quality and timeless – you can wear them over and over again.
Best for Summer
Go for bold colours and short lengths for fun in the summer sun. We're loving soft nude and peachy tones. To really emphasize your waist why not go for an exaggerated peplum top which you can highlight with a belt and layer over a simple pencil skirt.

Best for Winter
Knitted or sweater peplum dresses are perfect to fend off the winter chill!
Best Short Peplum Dresses
Short peplum dresses are great for the day time or evening time.

Best Red Carpet Event Dresses
Whether you're attending a dinner, gala or ball, sometimes we need to dress for the occasion.
Top 10 Peplum Skirts & Tops
If you don't fancy a peplum dress, there are other options. Why not choose a peplum skirt or top instead? Here are our top 10 picks – see if they tickle your fancy.
Our Favourite Peplum Tops
Our Favourite Peplum Skirts
Summary
Peplum dresses are amazing for giving the illusion of curves on a slender figure
They are also great for plus size women who want to hide problem areas whilst still enhancing their natural curve
Little black peplum dresses, tops and skirts are timeless and so therefore are a wardrobe staple
Peplum dresses are a great way to add a feminine flair to an outfit from their slight frill – brilliant if you are not overly girly but want to inject some femininity into your wardrobe
So whether it is a figure hugging pretty peplum dress, or some sexy peplum style separates, be sure to rock this forever trend, the world (and yourself) will thank you.
Read more great articles on women's fashion at Alexie.co
Still looking for inspiration, then checkout this blog post about st michael tattoo
Last reviewed and updated on April 26, 2023