In this blog post, I'll uncover my Top 8 Bottega Veneta Boot Dupes that offer that iconic look for a fraction of the cost. As we explore the elegance of Bottega Veneta's design, you'll learn to spot the details that define these trendsetting boots and discover affordable options that mirror their high-end charm. So grab your shopping bags (virtual or otherwise) and join me on a journey that combines sophistication, affordability, and a love for fashion that never fades. Your ideal boot awaits!
Jeffrey Campbell's Stormy Adventure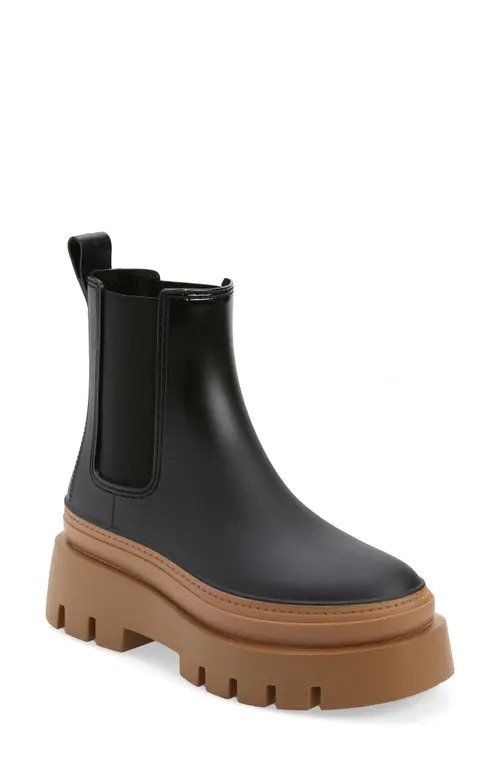 Remember that time I got caught in an unexpected downpour during Paris Fashion Week? Ah, memories! The Jeffrey Campbell Rain-Storm Platform Chelsea Boots would've been a lifesaver then. For just $70, they're a fantastic dupe for the iconic Bottega Veneta Tire Chelsea Boots priced at a whopping $1,450. What's even better? They're waterproof. So, come rain or shine, you can strut with confidence.
Wavy with Steve Madden
The wavy rubber midsole of the Bottega Veneta's Tire Chelsea Boots has had celebrities and influencers alike buzzing. But let's be honest; not all of us have a spare $1,450. Enter the Steve Madden CHARGES Black/Green Lug Platform Bootie at an incredible $49.99 sale price. Also, remember to check out the BUXTON variant with that rich teal sole!
Sixties Vibe with ALOHAS
My vintage soul couldn't help but fall for Bottega Veneta's Sea Salt Lug Boot. But with a price tag of $2,200, my bank account needed to be on board. Luckily, I stumbled upon the ALOHAS Go-Getter. These $310 beauties, with their all-white look, threw me straight back to the '60s. Talk about nostalgic chic!
Madewell's Moonlit Walk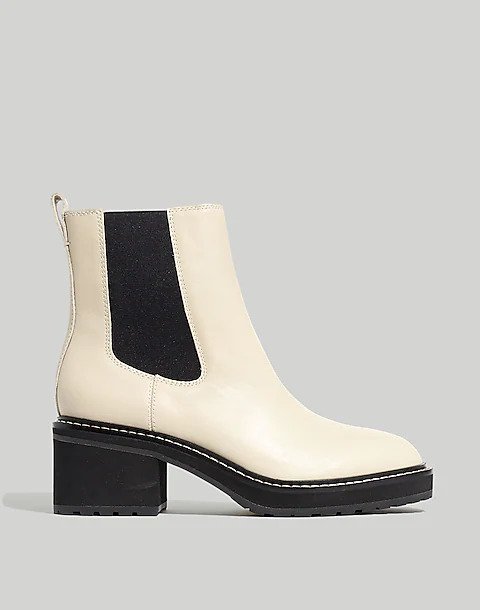 The Madewell Carina Platform Chelsea Boot, especially in the Harvest Moon shade, reminded me so much of those dreamy nights in Tuscany. An uncanny resemblance to the $1,450 Bottega Veneta's Sea Salt Lug Chelsea Boot but priced only at $137? It's a win-win!
Elegance with Schutz
Ah, the Bloc Ankle Boot. Every time I see them, I remember that chic rooftop party last summer. But $1,450? Ouch. The Schutz Mikki Leather Bootie, with its higher heel and pointed toe, is just as elegant and a snip at $168.
The ELISE Elation
Confession: I have a thing for names, and Steve Madden's ELISE boot sounds like a dream. An almost identical twin to Bottega Veneta's Cavallo Boot, these beauties give you the same classy feel without the $1,950 price sting. Instead, we're talking a sweet $160.
Statement with Franco Sarto
Bottega Veneta's Canalazzo Boot is a dream for those who want to make a grand entrance. But plans have their cost, precisely $2,450. Instead, why not opt for the Franco Sarto Koko Knee High Boot? With a slightly shorter heel and a price tag of $190, you can still rock the look without the splurge.
Flirty with Marc Fisher
Rounding off my list is the show-stopper: Marc Fisher's Garalyn Over the Knee Boot. They're the kind of boots that turn heads and spark conversations. Reminiscent of the Canalazzo Over-The-Knee Boot from Bottega Veneta, these dupes save you a massive amount by coming in at just $100 instead of the designer's $3,000!
8 Details That Define Bottega Veneta's Iconic Look
Over the years, Bottega Veneta has developed a unique and recognizable aesthetic that has garnered a dedicated following among fashion enthusiasts. While the brand has evolved over time, some defining characteristics contribute to its iconic look:
Intrecciato Weave: Perhaps the most recognized detail of Bottega Veneta is its "intrecciato" leather weave. This technique involves interlacing leather strips to create a woven pattern, and it's found on many of their products, from handbags to footwear and accessories.
Understated Elegance: Bottega Veneta adopts a more discreet approach unlike some luxury brands that lean heavily on logos. The brand rarely flaunts its logo on products, allowing the design, craftsmanship, and quality to speak for itself.
High-Quality Materials: Bottega Veneta uses high-quality leather, often in soft, buttery textures that feel luxurious. Their choice of materials ensures both longevity and a premium look.
Subtle Color Palette: While they do experiment with colors, especially in recent collections, Bottega Veneta is known for its earthy, neutral tones that add to the brand's timeless appeal.
Modern Silhouettes: Particularly in recent years under the creative direction of Daniel Lee, Bottega Veneta has introduced modern, bold silhouettes, especially in footwear. Their chunky boots and square-toed shoes are recent examples that have taken the fashion world by storm.
Attention to Detail: Every element in a Bottega Veneta piece showcases meticulous craftsmanship from the stitching to the hardware. This precision is evident not just in the brand's iconic bags but also in its clothing and accessories.
Versatility: Bottega Veneta pieces are known to transition seamlessly from day to night and from one season to the next, making them favorites for those looking for versatile luxury items.
Innovation with Tradition: While they maintain their traditional techniques like the intrecciato weave, Bottega Veneta is fearless in innovating. The brand frequently introduces new designs that blend tradition with modern aesthetics.
These are just some aspects that define Bottega Veneta's iconic look. Their commitment to craftsmanship and quality, paired with an unmistakable design language, has solidified their place in the annals of luxury fashion.
5 Things To Consider When Comparing Dupes With The Original
Finding the right balance between price and quality is a quest for many fashion enthusiasts. While Bottega Veneta is revered for its impeccable craftsmanship and quality, dupes offer a more affordable alternative to those iconic styles. But how do these dupes stack up in terms of quality and durability? Let's delve in.
1. Material:
Bottega Veneta: The brand uses high-quality leather, often luxurious, sourced from top-notch tanneries. Their materials are meant to last, lending to the brand's durability and luxe feel.
Dupes: The quality can vary significantly. Some high-end dupes use genuine leather of commendable quality, while others might use synthetic or lower-grade leather. The choice of material heavily influences the dupe's durability and feel.
2. Craftsmanship:
Bottega Veneta: Known for their meticulous attention to detail, every stitch and finish is carefully considered. The brand's artisanal craftsmanship is a significant factor behind its longevity.
Dupes: Again, there's a spectrum. Some brands offer excellent craftsmanship, even if not at Bottega Veneta levels, while others may need more consistency in stitching or finishing. These discrepancies can impact the overall longevity of the product.
3. Hardware:
Bottega Veneta: The brand often uses high-quality metals for its zippers, clasps, and other hardware, ensuring both function and aesthetics.
Dupes: Depending on the brand and price point, the hardware might need to be more durable and more smoothly functional. Cheaper metals can tarnish or break more easily.
4. Brand Reputation and Quality Control:
Bottega Veneta: With a longstanding reputation, the brand has strict quality control measures, ensuring each piece aligns with its luxury standards.
Dupes: The reputation and quality control can vary among brands. Some may have rigorous checks, while others might be more relaxed, leading to more variability in product quality.
5. Wear and Tear:
Bottega Veneta: Generally, their products age gracefully, with the leather often developing a beautiful patina over time.
Dupes: Depending on the materials used and craftsmanship, some dupes may wear out faster, showing signs like scuffing, fading, or tearing.
Final Thoughts: Dupes offer a fantastic alternative for those wanting the look without the hefty price tag. However, it's crucial to research and physically assess the dupe's quality before purchasing. Not all dupes are created equal, and while some might serve you well for years, others might not stand the test of time. Remember, investing a bit more in a higher-quality dupe can provide a better balance between style, quality, and affordability.
Conclusion
Hello, fashion enthusiasts! Navigating the luxury dupes world can be exciting and a tad overwhelming. When seeking alternatives, it's essential to prioritize quality alongside style, ensuring that the boots look the part and stand the test of time. Remember, while these dupes provide a more accessible way to rock high-end looks, consistently research brands and read reviews to avoid pitfalls like discomfort or premature wear. Most importantly, let your unique style shine through, and choose the dupes that genuinely resonate with your fashion sensibilities. After all, fashion is as much about individual expression as it is about trends. With this knowledge, you can make confident and informed choices, turning heads and stepping out in style without emptying your wallet. Happy shopping!
Feature image by freestocks on Unsplash
Last reviewed and updated on August 9, 2023