Now that you're entering your 30s you can say goodbye to those experimental style days of your late teens and 20s. But that doesn't mean you have to give up fashion. It simply means that you no longer need to be a follower but a dictator of your own fashion. You know your style and your shape and now its about picking and choosing what looks best for you.
Entering Your 30s
Knowing And Being Confident About Your Body Shape
You may find certain fits don't work as well as they have before. That whole crop top trend? It may scare you, but we'll show you how to fashion certain trends for women over 30. Our metabolism has started to slow, and for those of you in the midst of motherhood know how pregnancy and birth can change your shape. All these things can feel be stressful, but here's a couple things to consider:
Opt for healthier meals. We know, sometimes our lives are so hectic, but even squeezing in some better snacks can make a world of difference. Especially with our ageing physiology.
Motherhood (for your mums!) is beautifully life-changing, even when it does affect your body shape and perhaps your sanity a bit. Don't stress it, take the time to celebrate your new shape (and boobs!) and remember any weight you put on took 9 months to get there so take time to lose it and don't pay any attention to those celeb mums – they have a full team behind making them look amazing!
Hormonal changes and early menopause may happen, regular exercise becomes more important in this decade.
Celebrate your body! Love your legs or proud of your gym honed arms then be confident in yourself and find a style that shows these off.
Celebrity/Influencer Inspiration
Let's look at some of our Women crushes who just get better as they get older and show that you can look even better in your 30s than you did in your 20s!
Katie Holmes: As a major celebrity often in the lime light, she has tackled motherhood and her 30s with grace. Her makeup has become more natural and her style aims for classic cuts and modest necklines. Keeping to neutral tones that compliment her skin and hair, she sets herself as perfect style icon for women in their 30s.

Nicole Scherzinger: As a musician, her style goes from boho-luxe to rocker vibes very quickly. Even her 30s she still shows us that women can pull off edgier trends that you normally might see on younger women. From bright colours to monochrome black and metal details, she doesn't let age stop her dressing! She shows that you can never go wrong with a great fitting pair of leather trousers, no better way to look "sch-mazing" !
Shop the Look
Mango Leather look zip trousers £47.50 from ASOS.com
Saint Laurent Leather Skinny Pants £2,380 from Net-a-Porter

Carvela Jamie shoes £69 from Shoeaholics.com
Nine West Rustic2 £49 from Shoeaholics.com
Carvela Kaci1 £29 from Shoeaholics.com

Denim & Supply by Ralph Lauren American Flag T-Shirt £35 from ASOS.com
Gold Button Jacket £49 from Topshop.com
Lipsy Faux Fur Gilet £75 from ASOS.com
Arielle Noa Charnas from SomethingNavy.com: One of my favourite bloggers who never seems to put a foot wrong. She's a hot momma who makes even pushing the pram look glam!
Shop the Look

Pimkie White Pocket shirt £14.99 from ASOS.com
River Island Dark Authentic Jeans £40 from ASOS.com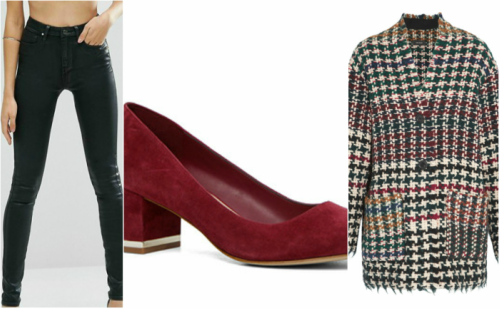 ASOS Black Coated Premium Jeans £38 from ASOS.com
Aldo red block heels £65 from Aldoshoes.com
Isabel Marant Houndstooth coat £650 from Netaporter.com

Limited Edition Cashmere coat £169 from Zara.com
Moto White Leigh Jeans £38 from Topshop.com
Wardrobe Staples
Here's 10 items that every woman should own by the time they are 30. They'll get you through any occasion from daytime to evening.
Classic, neutral pointed heels. No crazy platforms that are 6 inches and higher. By now we've had our fair share of blisters!
A solid pair of flat shoes for every day wear. Remember flat doesn't need to be boring – hello Charlotte Olympia Kitty Embroidered Velvet Slipper.
A clean, minimalist style tote bag for all your work essentials.
A form flattering trench coat. We suggest really try investing in a solid piece (think Burberry) that will last you instead of fast fashion options.
Have one tailored blazer that fits you to perfection. Black and navy will always be an essential fashion in your 30s.
Mid-rise and high-rise jeans are a great buy as these create a sexy silhouette with a clinched in waist. Again the key to dressing in your 30s is knowing how to style you look with shape rather than skin.
An evening clutch. A sleek design that will get you through any cocktail event or date night.
Silk blouses because they have elegance to them that works with your denim or blazer.
A beautiful, high quality black dress. Try to avoid the super short mini dresses.
Finally, a weekender bag. Something that you can fit all your basics in for those few days away from home.
Items You Need To Avoid
When you reach your 30s, it's definitely time to start putting away certain clothing articles you got away with in your 20s. Length and cuts need to become more sleek and modern.
Certain fabrics like fur and leopard can still work, but just don't think fuzzy all over. You're aiming for more luxurious looks. Keep animal prints to chic accessories and footwear.
Anything polyester or highly flammable! Quality over quantity is definitely key, save the cash and put towards some investment pieces that will instantly transform any look and make you feel a million dollars.
Crop tops are the trend that keeps going right now. You can still work certain shorter shirt hems into your wardrobe, but pair them smartly. Go for high-waisted pencil skirts and trousers so minimal skin is really showing. Consider layering them so your outfit has more depth. It's not that you don't have the body to show it off but by our 30s we know that being 'sexy' comes from our attitude and confidence and not the amount of skin we have on show.
Here's some imagery to inspire you on working these trends during your 30s.
Makeup and Beauty For 30s
If you haven't already started looking into anti-wrinkle skincare products, you must do it now. It's true, the earlier you start the better. Most cases, by our 30s acne isn't a heavy issue, so harsher chemicals found in cleansers aren't necessary.
We know that the social media is full of beauty blogs and Kardashian style make up routines, but to keep your skin healthiest, take a cue from French women—natural makeup styles and confidence. Skip the heavy liners, overly smokey eyeshadows and false lashes. There will be occasions you need to go glamorous, but for every day less can be more.
The Top 5 Lust After Accessories
Even for fashion in your 30s, when it comes to budget the price tag on seasonal must-haves can get high. Though if you look at certain investment pieces you'll find their value continues to increase as they age to vintage status. While you may be used to fast fashion options, having to replace items often can add up quickly to the same amount of a luxury piece.
Here's our top 5 picks lust after accessories:
We covered quite a bit of information for you, but here's a break down of some key points for women's fashion and beauty at 30:
Confidence is everything. Knowing your body shape and celebrating it.
Think key investment pieces – classic trench, tailored blazer, classic white shirt and great fitting jeans.
Less is more – think accent colours and prints.
It's not too early to start an anti-ageing skin care routine. At this decade keeping makeup more natural and less heavy will be better for your skin.
On A Final Note
Don't let this next decade of your life be a scary thought, but rather a new era of style and beauty that will keep you looking fabulous. Your 30s should be spent with joy!
As you continue to update your wardrobe, be sure to check out more fashion and beauty and makeup styling advice from Alexie.co
Still looking for inspiration, then checkout this blog post about how to dress in your 30s