One of the most iconic footwear brands of all time, there's no denying that Converse trainers offer both comfort and style. The perfect partner to any outfit, these all-American creations allow you to effortlessly transition your outfit from day to night without so much as a change of shoe. We take a glance at how to style Converse, and showcase some of the best outfits and items to pair with everyone's favourite footwear.
How to Wear Converse Sneakers
Converse shoes are very versatile, and pair pretty well with most outfit options. Depending on what style you go for, you can choose to dress up Converse with skirts and frocks, or dress down with jeans and shorts. Here are some essential tips on how to wear Converse.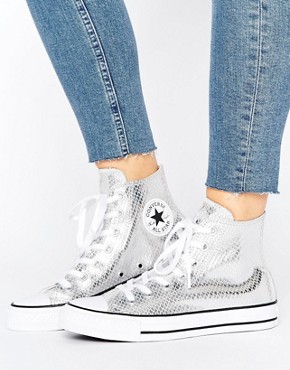 How to Wear High Top Converse
Wondering how to wear a dress with Converse high tops? Dresses or skirts are a slam-dunking success with Converse shoes, so feel free to mix it up with mini, midi or maxi lengths.
When it comes to how to wear Converse high tops with jeans, make sure they finish above the ankle to give the illusion of a longer leg. And remember, the lower the laces, the looser and more relaxed the fit.
Want to know how to wear high top Converse with shorts? The answer is: just go for it! High tops tend to pair well with most styles, with denim shorts looking consistently great for summer.
How to Wear X Hi Converse
As the name suggests, X Hi Converse sit a lot higher than most varieties of shoe. Shorts look great with this style, as do ultra-skinny jeans.
How to Wear Platform Converse
Platform Converse styles can look great with a cute pair of socks and a playsuit, or a mini skirt and looser top.
How to Style Converse: 5 Day Time Looks
When it comes to the daytime, Converse shoes are highly versatile. They're also famed for their comfortable, flexible fit, meaning you're unlikely to feel that dreaded pain in your feet at the end of a long day. Whether it's a day out, a look for the office, or a holiday outfit: the options are pretty limitless with a pair of Chuck Taylors.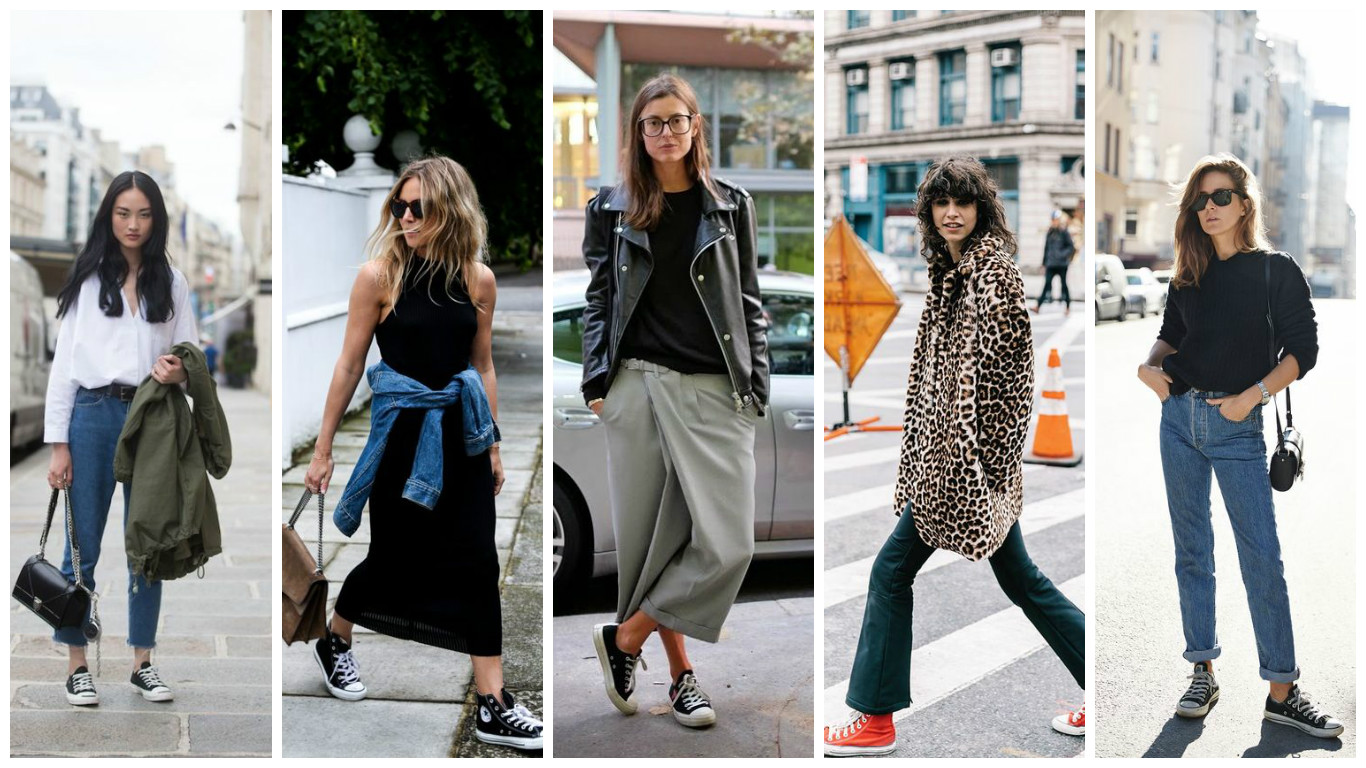 Outfit 1
The epitome of city chic, this look would be just as stylish for a day at work as it is for a day sightseeing in London or Paris. Pairing a smart white draped blouse with a pair of casual mom jeans and low top, the Converse shoes take this outfit from simple to sartorial, with the oversized parka and structured bag further adding to the perfect contrast of smart and casual.
[show_shopthepost_widget id="2559972″]
Outfit 2
An ideal look for a holiday or summer afternoon, this outfit is a nod to Scandi simplicity with a black racerback maxi dress, and loose, high top Converse. The shoes make a strong yet relaxed statement against the harsh black dress, whilst a denim jacket tied at the waist is the perfect way to break up the black and keep things bohemian. This look would also work pairing a t shirt dress with Converse.
[show_shopthepost_widget id="2559987″]
Outfit 3
A loose, crepe trouser paired with low top black sneakers will always make an ideal outfit for the office – and prove that there is no need to worry when it comes to debating how to wear black Converse. Cropped to avoid bulkiness, this minimal colour palette of blacks and greys is guaranteed not to look out of place in the boardroom.
[show_shopthepost_widget id="2559991″]
Outfit 4
If you were wondering how to wear red Converse, look no further for inspiration. Complete with an oversized leopard print coat, flared jeans and fringe, this colourful outfit is a definite nod to the 70s rock and bohemian looks of stars like Mick Jagger and David Bowie. Converse come in a variety of colours, and this girl wearing Converse opts for a red pair, really bringing the look to life.
How to Style Converse: 5 Evening Looks
You'd be forgiven for thinking that trainers are best left at home on a night out. Fortunately, Converse's slim, tapered style and variety mean that dressy Converse shoes make a cool accompaniment to most evening outfits. So, leave your heels at the door and take inspiration from some of our favourite evening Converse looks.
Outfit 1
The perfect summer evening style, this look pairs a typically more casual sweater and Converse with a leather skirt and studded mini bag. Converse sneakers tend to be tightly fitted, providing a neat finish.
[show_shopthepost_widget id="2560083″]
Outfit 2
A great option if you have a last minute event to attend, a simple black turtleneck dress and black Converse shoes prove that less really is more. Partner with a well cut trench and metal ring bag for a tailored, smart look.
[show_shopthepost_widget id="2560088″]
Outfit 3
A simple crew neck t shirt and cross body bag, paired with an embellished skirt and low cut Converse shoes, makes an excellent day to night outfit – proving the sheer versatility of Converse sneakers.
[show_shopthepost_widget id="2560111″]
Outfit 4
This elegant option matches Converse shoes with a well fitted blazer, an embellished shirt and black, rolled trousers – proof that great tailoring is the key to stepping up any outfit.
[show_shopthepost_widget id="2560144″]
Outfit 5
By now, we've established that Converse go with pretty much anything. This two-piece, loose fitting suit pairs perfectly with the casual look that Converse creates, taking you effortlessly from day to night.
[show_shopthepost_widget id="2560140″]
How to Style Converse: 5 Celebrity-Inspired Looks
With Converse offering style and comfort, it's no wonder our favourite celebrities like to wear them as well. Here are some of the most stylish celebs wearing Converse to inspire your next outfit choice.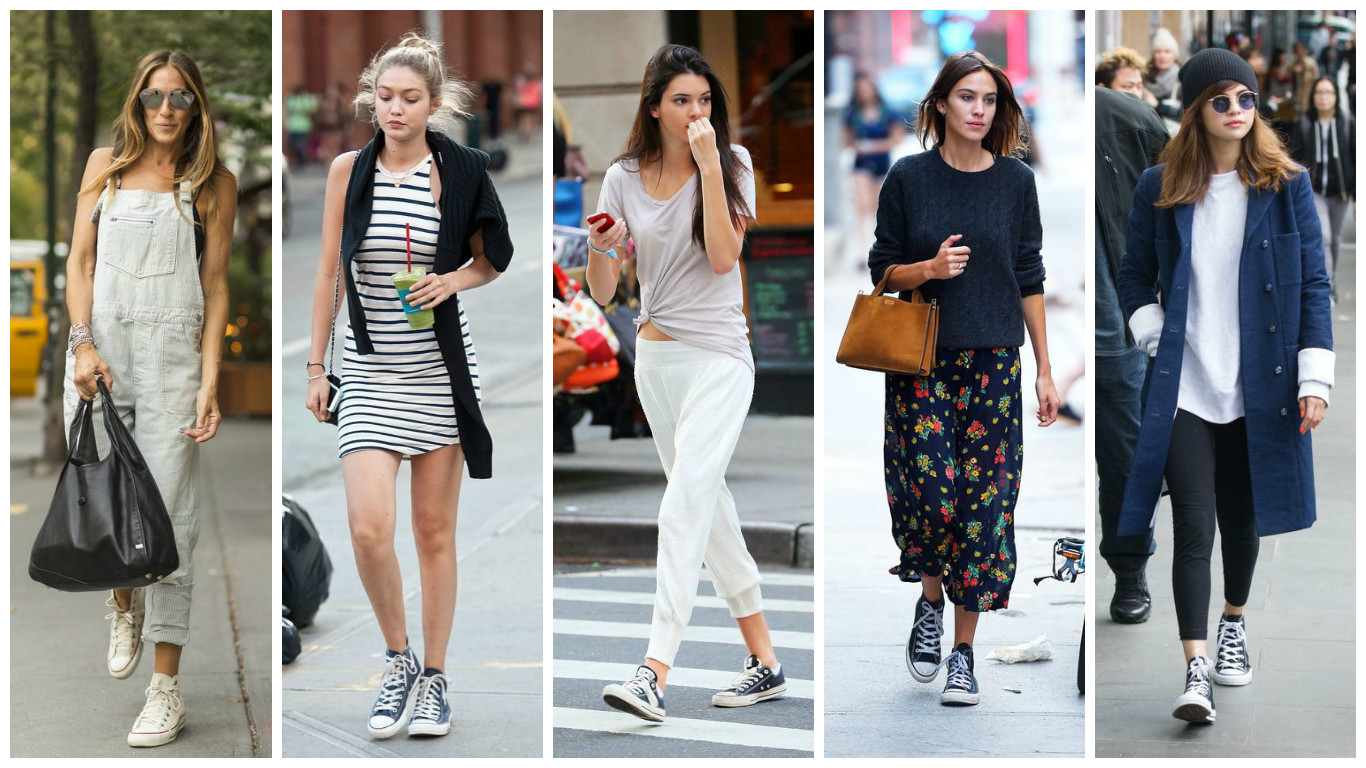 Sarah Jessica Parker
It's no secret that SJP loves a good heel, but did you know she's a fan of Converse shoes as well? Here she pairs her sneakers with pale dungarees, rolled at the ankle, a slouchy bag and sunglasses. A great look which proves you never need to be stumped as to how to wear white Converse.
Gigi Hadid
Gigi loves her casual and sports lux looks, so it's no surprise she opts for trainers on a regular basis. Here she pairs high topped, navy Converse with a simple striped racerback dress, small chain bag and sweatshirt – and, of course, no model's outfit is complete without a green juice.
Kendall Jenner
Like Gigi, Kendall loves to keep it casual. Here, her low top Chuck Taylor's are worn with loose fit white crepe trousers and a simple t shirt.
Alexa Chung
Alexa is famed for her tomboy street style, and this outfit is no exception. Whilst her flowing floral maxi dress is very feminine, the Converse give that familiar nod to Alexa's unruffled aesthetic. She pairs her two piece top and bottom with a small suede bag and cable knit jumper – perfect for a day in the city.
Selena Gomez
Unsure how to wear Converse with skinny jeans? Take inspiration from Selena, who keeps things relaxed but resplendent with this look. Her Converse stand out against her black skinny jeans tapered above the ankle, whilst the coat and sweatshirt prove that layering can add endless dimension to even the simplest of outfits. She accessorises with a black beanie and rounded sunglasses.
What are Converse?
Founded over 100 years ago in 1908, Converse gained worldwide recognition when worn on the basketball court by sports star Chuck Taylor. Quickly becoming the shoe of choice for basketball players, the brand saw its fame grow as people off the court began to wear their 'All Star' shoes. As time's gone on, Converse now carry several collections of styles, including the original All Star, Cons, and Jack Purcell. But what perhaps makes the shoe so popular is the endless style and design options, enabling the wearer to pull together many varied outfits with Converse.
How to Wear Converse 101
Converse shoes always look better when a little ankle is showing, so roll up, roll up!
For a dressier look, pair a smarter blazer or jacket and heavier embellishments with a casual pair of Converse – they should counteract each other perfectly.
Wondering how to wear socks with Converse? It's best to play it safe with ankle socks, so you still show part of the ankle. This makes the legs appear longer.
Black or navy Converse shoes are often easier to transition into a more formal look, whilst bright, bold colours can really amp up a simple daytime outfit.
Looser trousers can look great with Converse, but make sure they're cropped and your shoes are low cut. This will avoid the look becoming too baggy
Remember, when styled correctly, Converse shoes have the potential to go with anything, so experiment!
As much of a staple as the little black dress, a simple pair of Converse really are an essential in any woman's wardrobe. Dressed up or down, your feet (and fashion cred) will thank you.
Read more great articles on women's fashion here at alexie.co.
Last reviewed and updated on July 5, 2023