Some women balk at the thought of leather pants but, when done right, your look can be luxuriously heightened. We take you through the different grades of leather to help you find what is most suitable to your lifestyle, offer vegan-friendly leather alternatives, and check in with some of our favourite celebrities for chic references.
A Quick Guide to Leather Grades
Understanding leather grades is key to picking out the best leather pants to work into your daily wardrobe. Starting with full grain and moving down the hierarchy to bonded, when it comes to leather, everything is not made equal.
Full grain – This leather is not sanded, leaving its natural appearance in tact. This is best for footwear and luggage.
Top grain – More pliable and with a sanded surface, you'll find many of your high-end handbags have this grade.
Napa – Soft and flexible, originating from sheepskin/lambskin. There's cowhide Napa as well, but it's not as buttery feeling as lambskin.
Suede – Suede has a softer, buffed surface and is extremely flexible.
Corrected grain and bonded leathers – These two fall at the bottom. Corrected grains have a complete faux grain pattern on the surface that is dyed to look like top grain. Bonded is the leftovers combined together with latex. It won't have the feel of the higher grades and is not really used for clothing.
Why Leather Pants?
Outside of their style appeal, leather trousers or leather leggings are durable and last longer than manmade fabrics if cared for properly. Lambskin and suede are favourites for designers when it comes to creating leather garments, as both are extremely smooth and thin enough for movement.
Shop for supple Napa leathers for the highest comfort level when sitting and walking. Suede is extremely soft, but it wears down a lot quicker than Napa. Remember that leather has a natural stretch and will give over time, so you may want to size down – especially when shopping for leather leggings, which have less reinforcement at the waist than leather trousers. If you're really concerned, look for denim pants with leather panel designs: you'll get that edgy effect of leather without the fabric and leather loosening as quickly.
How To Wear Leather Pants
When putting together leather pants outfits, you don't have to stick to skinnies. There's more variety than ever before on the high street – from culottes to joggers, black leather pants to white leather pants (and every colour in between), leather look leggings to fake leather pants – to inspire your daily looks.


Different Looks: From Day to Night
Leather Trousers for the Office
Wearing leather in the office has some challenges, but you can make it work with the right cut. Look for leather trousers in a wide-leg cut, or leather tights that move when you walk. Pair them with a flowing blouse for the summer. Lightweight silks will offset the hard edge that leather gives to your appearance. You'll be fashion forward and professional.
Accessories and jewellery can provide the right amount of balance as well. Just avoid heavy chains and metalwork spikes: you don't want to look like you belong in a biker gang. Keep it smart and clean.


Leather Pants for a Night Out
After work provides more versatility. This is the chance to bring out your skinny leather pants and structured tops. Work the off-shoulder trend or layer on the accessories. Black leather pants make classic nights out outfits, but avoid sporting a leather biker over top.
Make sure all aspects of your outfit are complementary. For a casual, boyish charm, team your leather trousers with a classic wash denim jacket and fine knits. Or, go down the streetwear route and try leather joggers. Alternatively, ride out the 90's comeback with Taylor Swift leather pants, a lingerie-inspired slip top for a little flirtatiousness, and a thin chained necklace or ribbon choker. Blazers are always a great way to dress up your leather pants for a date. Add in a minimalist watch to keep it extra sleek.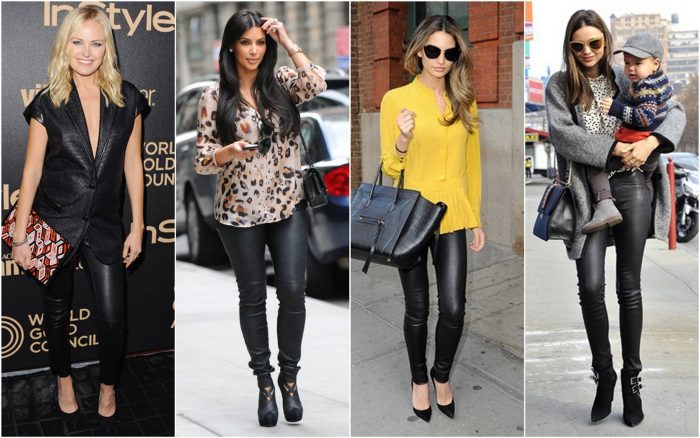 PHOTO CREDIT: Pinterest


The Best Shoes To Wear With Leather Pants
Not sure what shoes to wear with leather pants? This quick-to-follow guide will have you sorted from desk to dancefloor.
Shoes for Leather Trousers:
Classic pointed toe heels and open toe heels help lengthen your legs, especially with culottes and wider trousers.
Heeled sandals keep up with the dressier needs of the workplace.
Black leather pants allow you to explore any colour of shoe, from neutral to vivid neons. A splash of colour never hurts.
Shoes for Skinny Leather Pants:
Sneakers and slip-ons are great for those days when you want to throw on your favourite t-shirt and a pair of leather leggings.
Adventurous ballet style heels and flats can look lovely with their winding ties for cropped and ankle cut bottoms.
Stiletto and block heel ankle boots are always a solid go-to with a blazer and patent leather pants, but we suggest you avoid boots with higher shafts: you don't want them to rub and wear down your leather trousers.
Best Leather Pants Round-Up
Here's a quick edit of six lustworthy leather pants and trousers, from budget-friendly to luxury brands.
How To Wear Coloured Leather Pants
Deep blue and black leather pants are the classic colour of choice, but that's no reason not to venture towards brighter hues.
You can pair coloured leather with neutral tops and shoes so you don't feel like you're clashing too much. If you keep your tones along a dark-to-light spectrum you'll get some beautiful combinations. For example, deep maroon leather pants and a pale pink blouse will look simply lovely; green leather pants can be a great alternative to navy; and not forgetting grey leather pants to lighten and soften any look whilst still remaining chic.
Of course, you can always opt for monochrome styling. Even if it's not head-to-toe black or white, the minimalist approach can be ideal. Keeping jewellery simple and going for a no-nonsense handbag makes the leather stand out. Shoes should also remain neutral for balance.
When it comes to suede there are a couple of things to remember with colour. Lighter suede will show dirt easily, so try to be careful, especially around the ankles. Clothing dyes can rub off on light or white leather pants and leave marks. Taking your pants to a leather cleaning specialist is best before trying any DIY methods.
Faux Leather Pants: Affordable Alternatives
If you aren't up for the hassle of dealing with real leather, or lifestyle choices mean it's not an option for you, then fake leather pants are a great, affordable way to go. Indeed, gone are the days of plastic feeling pleather: some faux fabrics now look almost identical to their real counterparts.
If you don't care for the idea of black pleather pants or leather look leggings, and real leather trousers are out of your budget, then waxed or coated denim is a great alternative. Nearly every denim company has launched their own waxed collections, and some are so smooth and silky that they look like leather, especially in black and navy colours.
From classic black faux leather to bold red faux leather, there are lots of excellent options of leather look pants, for £50 and under.
Celebrities In Leather Pants
If you ever feel in a style rut trying to figure out how to make leather work, take inspiration from three celebrities that live in it.
Rosie Huntington-Whitely
Rosie Huntington-Whitely knows how to take relaxed, breezy looks to jet-setter ready. A spokesmodel for Paige Denim, she makes wearing leather pants seem easy. She tends to stick with a neutral palette of black, ivory and white, though every once in a while you'll see her rotate in some reds and oranges. She's also great celebrity to follow to work out what shoes to wear with leather pants. From sandals to comfortable block heels, Huntington-Whitely wears them all flawlessly and always on the move.


Cara Delevingne
Cara Delevingne is the badass sister you want on your side. Her striking looks and style are very fashion forward and she smoulders with confidence. Her city style knows no bounds in terms of trend or colour. She's an expert at pairing leather pants with classic button-downs and unisex style streetwear. If you like taking fashion risks, Delevingne will be great inspiration. In the world of influencers and fashion, there's followers and leaders, and she is a leader.


Gigi Hadid
Gigi Hadid is on everyone's feed; the social media world loves her. And little wonder; just check out her off-duty model outfits. One of our favourites was seeing her step out in a pair of Unravel red leather skinnies. No one can pull off head-to-toe red like Hadid, and she has no fear of standing out against the dark New York City crowd. We're a little partial to how clean black looks on her, too, but if you ever wanted to know how to wear coloured leather pants then look no further. Seeing how lively the red looked with her nude heels and top makes us want to try to be a bit more daring in our style choices.


Leather Pants Outfits: Style Guide
Before you start shopping for your first or next pair of leather pants, here's a quick guide for styling ease:
Leather grade is important. You want supple and durable hides. Lambskin tends to be a safe bet.
Suede will take more maintenance. Light suedes can show dirt and dyes quickly.
For the office, try wider-leg leather trousers or culottes for dressier silhouettes. Pair them with flowing blouses.
Try classic heels and stiletto sandals to lengthen legs with wider and cropped pants, or ankle boots and lace-up styles with leather leggings.
For the evenings and weekends, go for skinny leather pants. Pair them with lingerie-inspired tops and chokers or blazers over comfortable knits.
Try leather joggers with casual tees, denim jackets and a pair of sneakers or slip-ons.
Don't be afraid of coloured leather pants. Just keep your other clothes complementary and shoes neutral.
You don't need to break the bank to buy leather. There are plenty of quality fake leather pants that look just as amazing.
Leather Trousers: A Final Note
What you wear should make you exude confidence and feel great. If you aren't crazy about the leather, the cut or fit, keep shopping. Eventually you will find a pair of leather pants that you wish you could wear every day.
Keep checking back with alexie for more fashion styling advice.
Still looking for inspiration, then checkout this blog post about how to wear leather pants