Honeymoon, anniversary or just feeling a little indulgent? Then the Maldives is the place for you! Let me give you a quick overview of everything you need to know about in order to make this trip of a lifetime exactly that!
Put quite simply the Maldives is one of the most stunning holiday destinations in the world, if you have an Instagram account then you must already know this. How many pictures have we all seen of the Maldives and the insane blue ocean colours that just have to be achieved through an instagram filter?! The Maldives has been one of the UKs #1 destination for over 10 years now, and is located in the Indian ocean just off the coast of Sri Lanka. Made up of 26 beautiful atolls with around 1,190 individual islands, choosing an island resort can be somewhat overwhelming but don't worry, this is where I'm here to help.
Over the past decade or so the Maldives has grown to become one of the most luxurious holiday destinations in the world with each new resort upping the ante to try and outdo their competition. With almost 2,000 islands you are pretty much offered unrivalled privacy which is why it's become one of the celebrity go to vacation spots. No pesky paparazzi so if you're feeling truly relaxed to partake in a little naked stand up paddle boarding a la Orlando Bloom then this is the destination for you!
Obviously when you first see the prices of some resorts it can be quite eye watering but the first thing to understand is that the Maldives is so much more than a hotel room and a beach, you are going to want to pick a resort and vibe that suits you and your budget. What you're paying for isn't just a place to crash for the night but a bucket list experience that realistically you may never get the chance to do again!
Ultimate Luxury – Milaidoo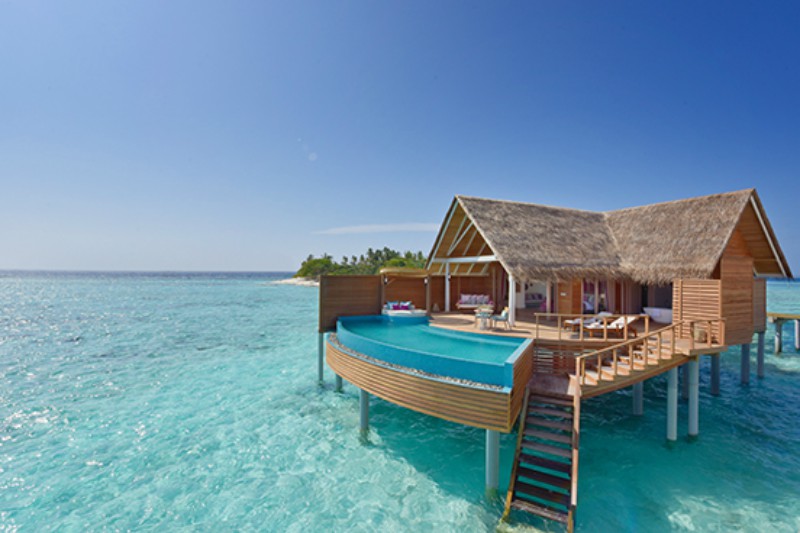 Milaidhoo is amazing, a 5* boutique resort on it's own private island made up of just 50 villa's, it offers the ultimate escape from the rat race. Every whim is catered to from meeting you off your main international flight and helping you board your seaplane to choosing the correct firmness of pillows that will guarantee the perfect night's sleep.
So you've worked hard all year and most likely been saving up to go somewhere special then this place won't disappoint. When you arrive on to the island you're introduced to your 'island host' (we had the brilliant Karen) who shows you to your private haven and becomes your personal go to person for anything and everything.
Whilst a water villa might seem like the immediate option to go for it is the beach side properties that will actually blow your mind. Bigger than most people's flats in London they have floor to ceiling doors that open up 180 degrees to reveal a private pool, decking area and secluded walkway to a deserted beach. In all the rooms the bed is ginormous and insanely comfortable. All rooms come equipped with every conceivable toiletry, fully stocked bar, TV & bose soundock and snorkeling gear, basically you are not going to want to leave. They can even deliver the food to your room, cooked in anyway you want. Which leads me nicely on to a topic very close to my heart… food!
Like any holiday, food is always an important topic and at Milaidhoo they've covered this off with excellence. Let's start with their breakfast buffet – you can choose from a vast selection of cheeses on their cheese station, have your own fruit smoothie whisked up for you, sushi selection, full english, cereal, eggs as per your liking and this is just a small sample of what they have to offer….plus did I mention the sparkling wine on ice?! The Sun goes down and guests venture out of their own private paradise to dine on a converted Maldivian ship to enjoy a la carte food by candle light with a huge selections of wines. Incredibly this is the only Maldivian restaurant in the country as most resorts tend to cater to the more traditional international cuisine. Essentially you can enjoy Michelin star style food in the middle of the Indian Ocean in 30 degree heat and sample some exceptional tastes that you won't find anywhere else.
What to do
The island has its own dive center, stand up paddle boards, kayaks laser class yachts and its own Sunseeker yacht. Feeling like you want to burn some calories off after breakfast then hit the fully equipped gym. However if you aren't feeling energetic just call your island host and they will happily arrange a sunset cruise or book you an appointment at their Serenity Spa. With the hotel being located in a UNESCO bio reef it is an absolute must to checkout the ocean and the sea life underneath. The reef that circles the island is amazing and literally teaming with life and the atol as a whole is one of the best places to see manta rays in the whole of Maldives.
In summary this is one of the most amazing resorts I've ever visited, a true definition of luxury without losing the personal touch.
Affordable Luxury – Fushifaru
Just opened at the end of 2017, and bursting onto the Maldivian hotel scene this boutique resort has it all. From the moment you touch down on the island you get and instant feeling of warmth and friendship and with a daily schedule of activities, you are sure never to be bored.
We stayed in one of their Sunrise Beach Villas, which was simply fantastic with its uninterrupted views across the Indian Ocean. The outdoor bathroom is also super cool, there is nothing quite as relaxing as lying back in a giant bathtub while watching the stars above you! Whichever Villa you choose you won't be disappointed as they all feature contemporary architecture combined with influences inspired by the natural surroundings.
This resort is definitely aimed at the active as it has a fully equipped gym, the Maldives most sought after dive spots and a Marine Protected Area at its doorstep and well equipped water sports and dive centre. The team can even arrange bespoke dive trips based on your abilities and the seasons or whisk you off to a deserted sandbank picnic for that Robinson Crusoe experience. Once back on dry land your next stop should be the spa which is surrounded by lush foliage and jungle plants and offers every treatment going from a simple mani/pedi to a blow dry and from a full body massage to a specialist facial. The plunge pool and day beds top off a fully relaxing experience.
The resort has also launched its 'Maldivian Mind, Body & Soul' retreat featuring an all-woman line-up – Kai for Muay Thai, Boxing, HIIT and Core Conditioning, Shifana Mufeed for dynamic aerial yoga and Iman Rasheed for colour therapy and mindful drawing all at the resorts Heylhi Spa.
Last but not least the dining experience at Fushifaru is first class, with their restaurants offering a selection of international dishes and delicacies, fresh seafood, cocktails, detoxifying drinks and snacks. Once you have had all your taste senses stimulated it is time to grab a cold beer and jump into one the many hammocks and swings dotted round the Island and watch the final sunset of the day.
In summary tranquillity and indulgence is guaranteed.
The Party Place – The W Hotel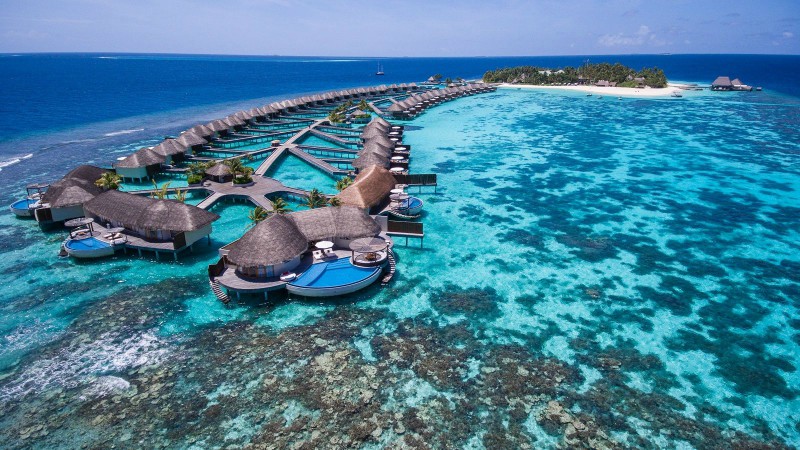 If you and your partner are looking for something more than just chilling on a beach and watching a few fish swim by then the W Hotel is the place for you. Pool parties, cold beers and sundowners all accompanied by a super cool DJ set, they even have an underwater club!
The rooms are massive, two stories in fact, so make sure you take plenty of photos for instagram and make all your friends jealous. The water villas are also excellent and all come with plunge pools, glass bottoms and sun decks. As standard the food at the W is first rate offering local and comforting dishes, BBQ delights and of course fresh fish.
If you get tired of drinking cocktails and partying then the island has plenty of activities and water sports to keep you occupied such as glass bottom canoes, stand up paddle boards and specialist boat trips. All in all you won't get bored.
Surfers Paradise – Tropicsurf
What can you expect from a Surf trip with Tropicsurf? A personalised booking service, expert guides taking you to the best waves of the day, and tranquil moments like this in luxurious, hand-picked resorts in some of the world's most tropical locations. If you've just won a £100m on the Euromillions lottery or closed sold your tech startup to facebook then they even have a service where they will fly you to the best waves of the day in a helicopter, SIC!
In case your other half does not surf don't worry the team will make sure they're every whim is taken care of as well. The offer access so to some of the best spas, diving island tours so you can go checkout the Sunset Dolphin Safari.
Diving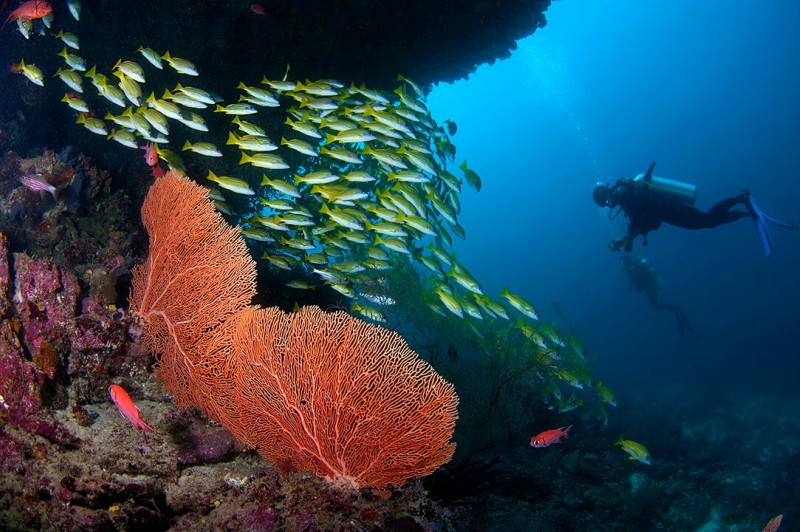 With 95% of the Maldives territory under water and some of the most pristine waters anywhere in the world you can't say you have seen this country if you haven't explored what lies below. The ocean teamed with marine life from manta rays, sharks, tuna and of course Nemo.
You can of course explore all this whilst snorkelling but to get really up close and personal you are going to need to go diving. This might seeming daunting but with a few lessons and PADI beginners crash course you will be away. Hotels such as Miladhoo and Fushifuru have their own accredited dive centers which run half-day tasters all the way to full on dive master courses.
On the "Discover Scuba Diving" course, you'll learn basic skills and experience the wonder of soaring weightlessly beneath a silvered surface—the closest most of us will come to the sensation of being an astronaut—and seeing coral reefs that are bursting with fish. It's fantastic. Small wonder many people sign up for the four-day qualification course.
You will obviously need to swim and be comfortable in the water but don't worry you don't need to be Michael Phelps as diving doesn't expend that much effort. All the resorts mentioned above have amazing reefs and dive locations just a short boat ride away so make sure you pull yourself up out of the sun lounger and go explore.
Underwater Dining
If you're looking for that additional wow factor then definitely look into trying out some of the underwater restaurants in the Maldives. Bear in mind that if there isn't one located in one of the resorts you're staying on then you need to contact the management of the resort and book your transfers & table in advance.
1. Ithaa Undersea Restaurant at Conrad Maldives, Rangali Island
2. Subsix at Niyama Private Islands Maldives
3. SEA at Anantara Kihavah Maldives Villas
4. 5.8 Undersea Restaurant at Hurawalhi Island Resort
5. M6m at Ozen by Atmosphere, Madhoo Islands
Essential info before you go!
Flight time from the UK 10hrs + 35min transfer to resort, the last bit can only be done generally during daylight hours so be warned if flying in late at night, you may need to book a hotel near to Male airport. Book direct flights with BA.com for the maximum time on the beach

You won't need a visa if flying on a British or American passport and have a return ticket out of the country

The local currency is Rufiyaa but your best bet is your flexible friend Visa and some US dollars for tipping.

Tipping isn't essential and not expected but a great way to show staff your appreciation. Read here for more details on

tipping etiquette

.

Language – most people speak English very well as it is taught at school from an early age

A beer will cost around $10+ due to the fact that everything has to be shipped into the capital and then out to the resort

For the best weather head out between Nov and March, perfect for escaping the winter blues of the UK.

Remember that 99% of the Maldives is under water so make sure that you get in the sea to say you've truly experienced what the Maldives is all about.

Crime is super low but like anywhere in life don't make yourself a target and go flashing all your wealth

Budget, as mention this is the playground of the super wealthy so don't expect to turn up and think you can grab a bungalow on the beach for $50.

Transfers, don't worry your hotel will most likely arrange a seaplane for you which is an amazing experience in itself but do be aware this is normally an extra cost to what you're quoted for as your room rate.

The Maldives is a muslim country and as such you can't bring alcohol into the country, both your luggage and hand luggage will be scanned. If they find anything it will be confiscated and not returned. Having said that you can get every conceivable type of alcohol in your hotel / resort.
What to pack
The Maldives average temperature is between 25°C and 30°C throughout the year. The dry season runs between January and March and the wet season between mid-May and November. If you visit in the wetter months you can expect some tropical thunderstorms and huge downpours – but still in paradise of course!
Try to pack light weight and leave your woollies and cardigans at home – even on an evening the temperature only dips by a few degrees so it's very unlikely you'll need a cover up. We've created a few outfits below but in summary you aren't going to need much so invest in some quality threads, less is definitely more in this part of the world!
[show_shopthepost_widget id="3037645″]
Last reviewed and updated on February 15, 2023