Hello there, fellow tattoo enthusiasts! Are you searching for a unique and meaningful tattoo design that reflects your spirituality and personal beliefs? Look no further than these amazing 222 tattoo designs, handpicked just for you!
Tattoos are a form of art that allow us to express ourselves in a deeply personal way. They serve as a visual representation of our personalities and beliefs, and are a powerful way to connect with the world around us.
One design that has become increasingly popular in recent years is the 222 tattoo. This angelic number holds deep spiritual significance for many people, representing a sense of balance and satisfaction in life. Some believe it reflects the will of the divine, while others see it as a reminder to trust in the journey and stay true to one's path.
Whatever your personal interpretation of the 222 tattoo may be, these designs offer a beautiful way to showcase your spirituality and connect with your inner self. So why not explore some of the most creative and stunning 222 tattoo designs out there, handpicked just for you? Check out our curated list below and find the perfect tattoo to express your unique style and beliefs.
Angel Number 222 Tattoo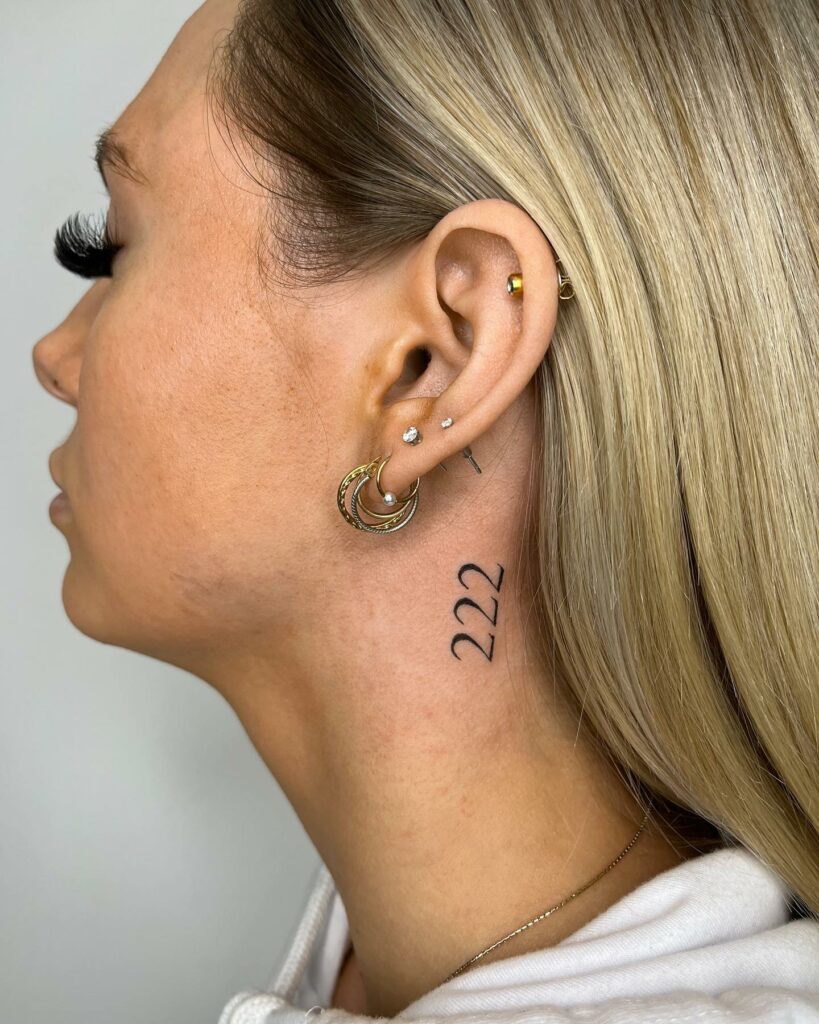 Getting a tattoo is a significant decision that requires careful consideration, especially when it comes to the meaning behind it. The 222 tattoo is one that carries a deep sense of harmony and faith. It is a reminder that each day brings with it new opportunities and possibilities, and it encourages you to embrace them with a positive outlook. Placing this design somewhere visible can be a great way to remind yourself of this message and approach each day with renewed hope and trust in yourself. This tattoo is particularly elegant and has been placed on the back of the neck using fine strokes of black ink. If you are considering a 222 tattoo, this design is definitely worth considering.
Simple 222 Tattoo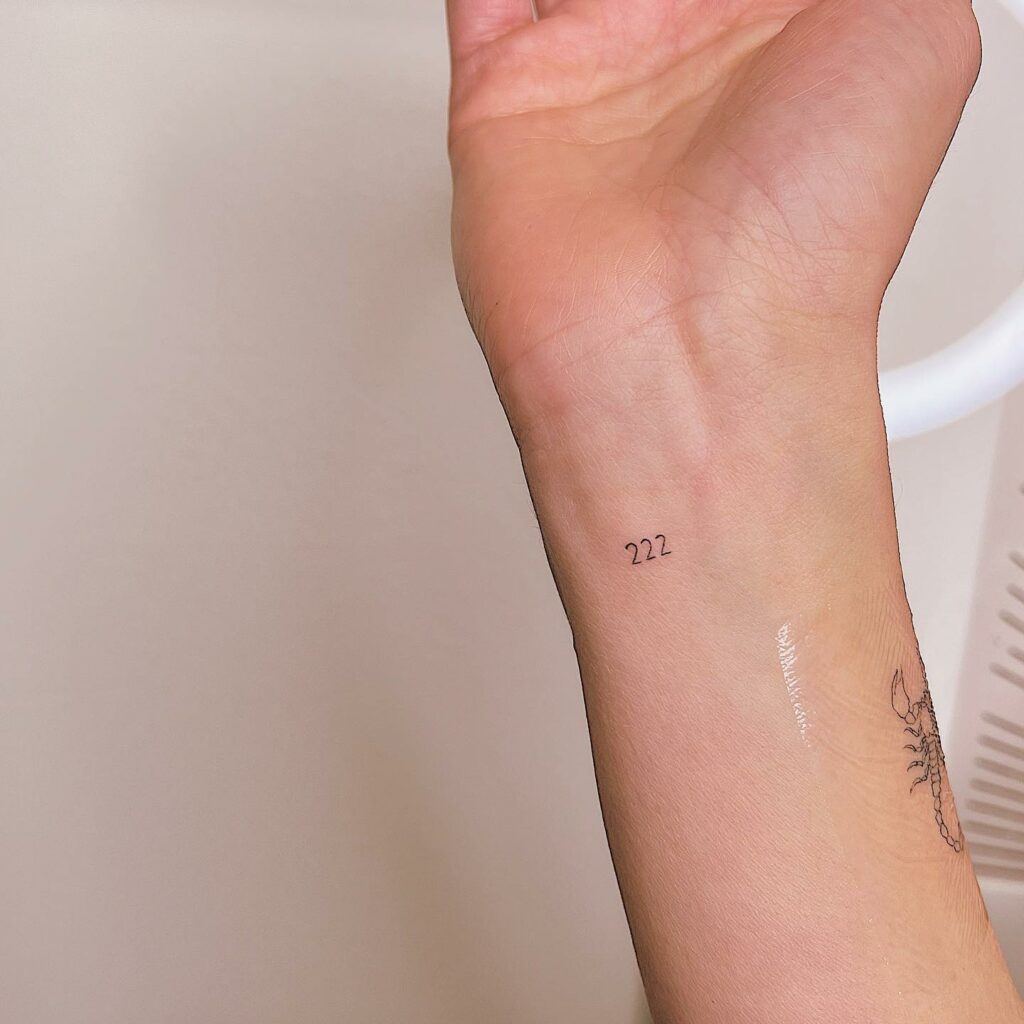 The digit 222 has a lot of significance attached to it, as it represents new opportunities and maintaining a positive attitude. For some people, it's considered a lucky number and a sign from the angels representing patience, faith, and love. There are even cultures that believe tattooing 222 digits on yourself brings luck and love. This design is simple yet elegant with the digits tattooed in fine line work of black ink on the wrist. It's a great choice if you're looking for a subtle design that's constantly visible as a reminder of positivity and good luck.
Angel Number Tattoo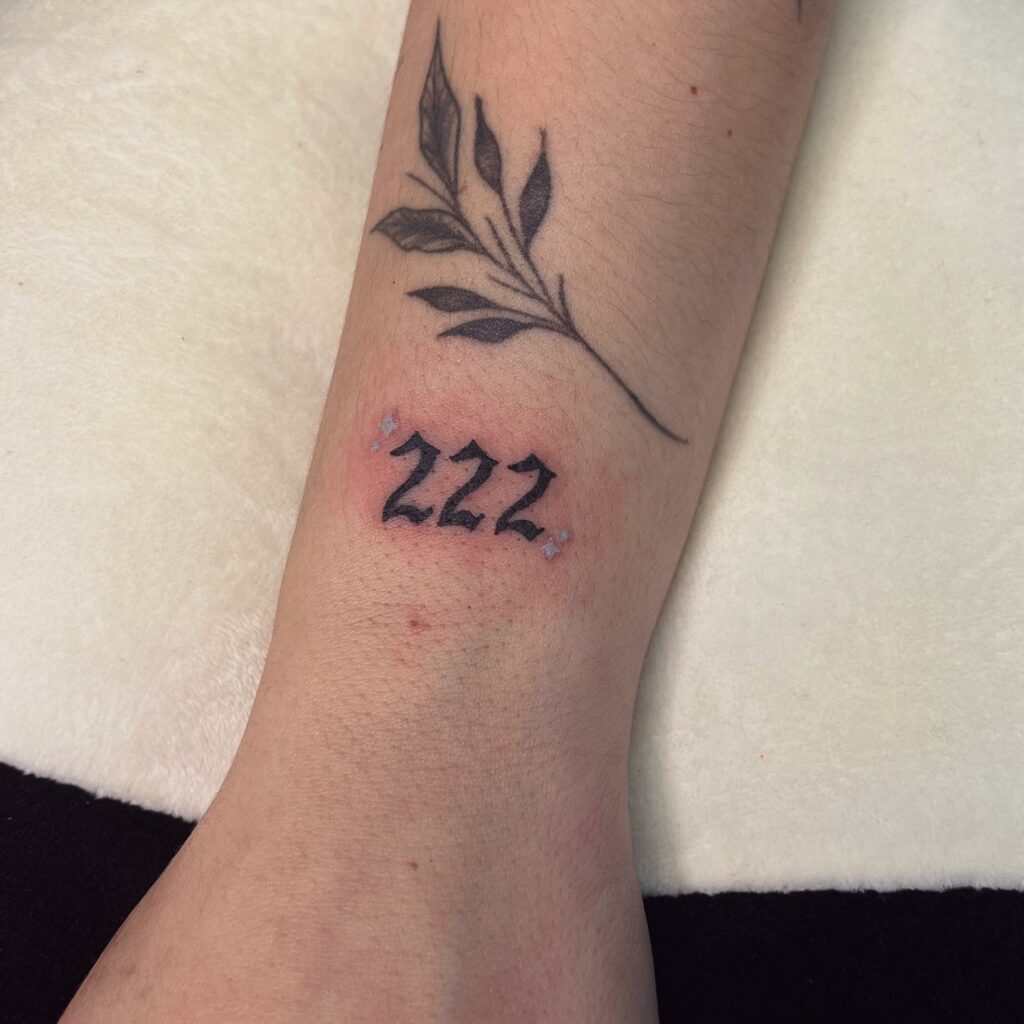 Are you looking for a tattoo that brings positivity and motivation to your life? Then the 222 design may be just what you need. According to Numerology, this design is linked to the Angel Gahetel, who represents luck and strength. Many cultures believe that this design has the power to change one's life for the better. The digits 222 will serve as a daily reminder to focus on what you want in life and let go of negative influences.
This particular design is unique and stylish. The digits 222 are written in a font that adds a touch of personality to the design, and small white stars add an extra pop. Above the digits is a plant, symbolizing new beginnings. This tattoo will be a constant reminder to stay on track and embrace new opportunities in life.
Red Ink 222 Tattoo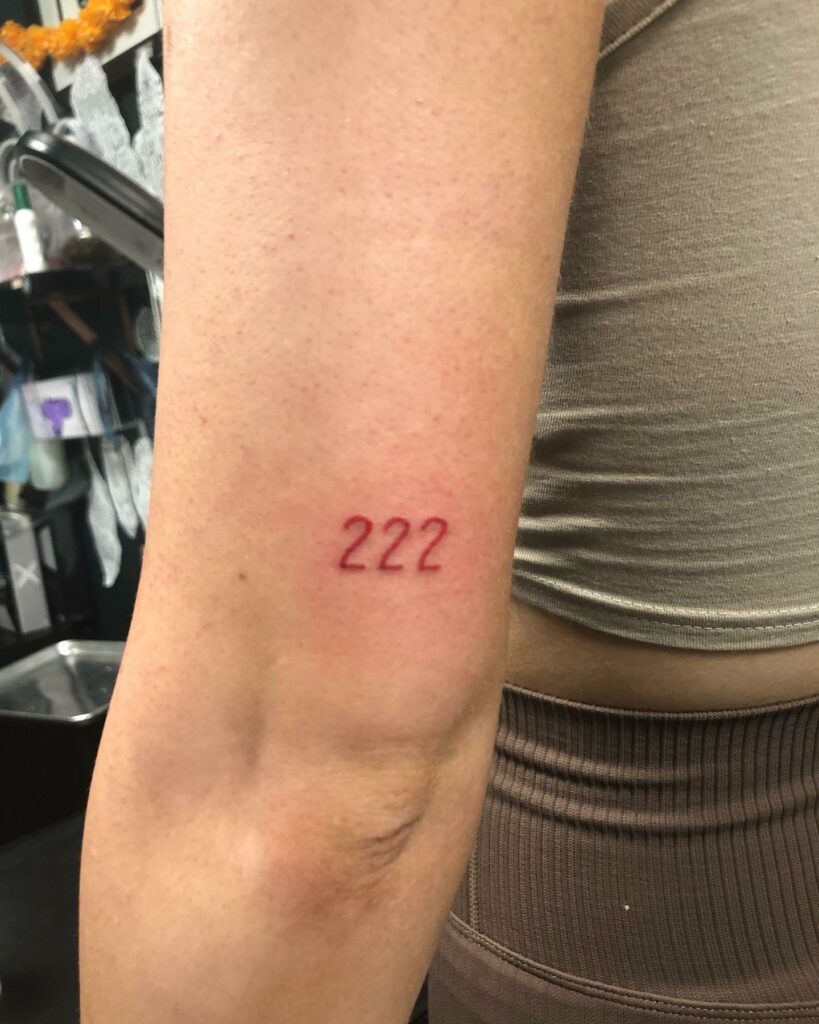 The color choice is not only eye-catching, but also represents the passion and love that you have for your significant other. This design serves as a reminder to put effort into your relationship and treat each other with respect. Some believe that getting a 222 tattoo can help you stay dedicated and committed to your partner for the long haul.
The design is placed on the back of the upper arm and features a simple yet stylish font. This minimalistic approach adds to the design's feminine charm and would be perfect for anyone looking for fine line work. If you're considering a red tattoo, this design is definitely one to keep in mind!
Arrow Line 222 Tattoo
The bow and arrow tattoo is a classic design that has always represented power and direction. It's no wonder that this tattoo is becoming increasingly popular. Combining it with the 222 digits, it becomes even more powerful and meaningful. This tattoo will inspire you to move forward in life with hope and determination. The design has been crafted with delicate, fine line work in black ink. It has been placed on the forearm, where it is easily visible and makes a bold statement.
222 Star Tattoo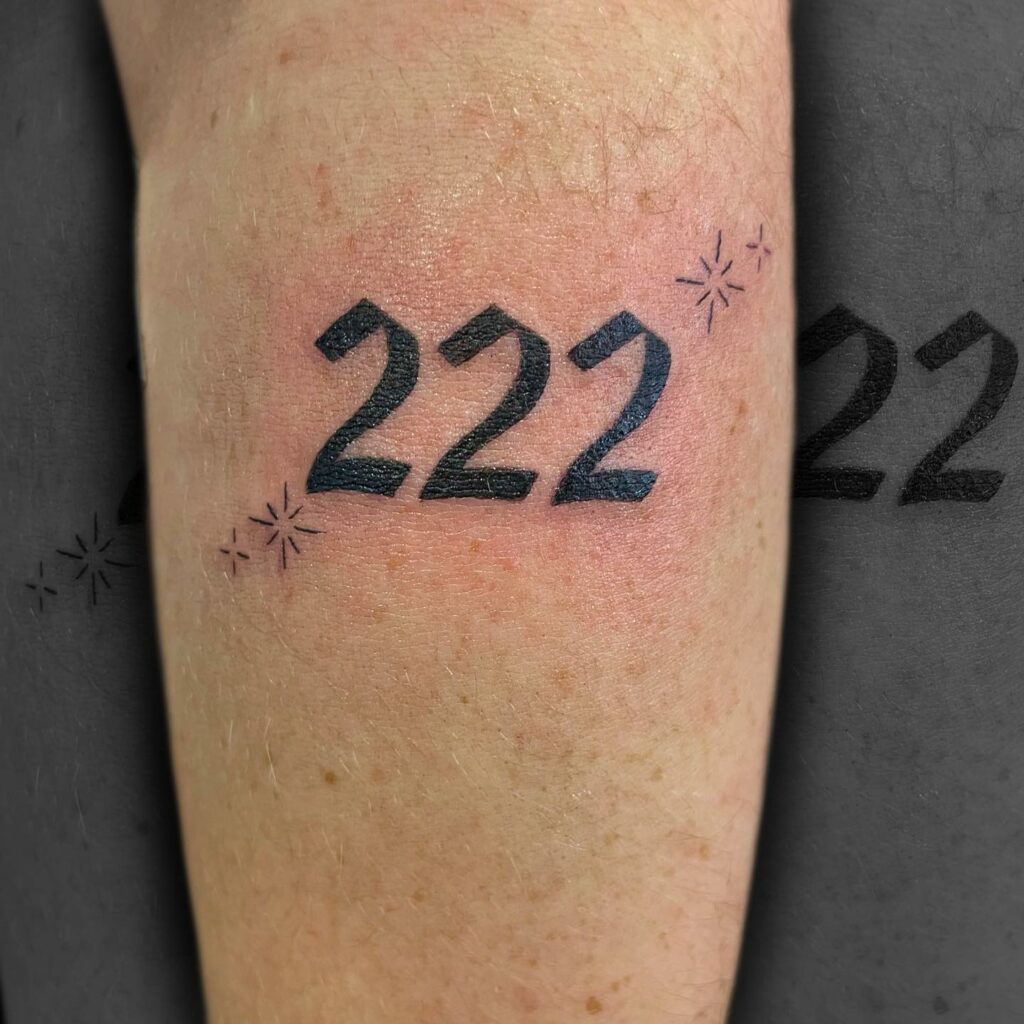 The 222-digit tattoo can serve as a daily reminder to focus on personal growth and seek out new opportunities. This tattoo is a reflection of one's inner self, reminding them to let go of past burdens and embrace new beginnings full of inspiration and motivation.
The design features the digits 222 in simple yet elegant black ink, accompanied by delicate stars that represent guidance and beauty. This combination adds a special touch to the tattoo and makes it more meaningful. If you're looking for a simple and meaningful design that inspires personal growth and positivity, this tattoo might be the perfect choice for you.
222 Butterfly Tattoo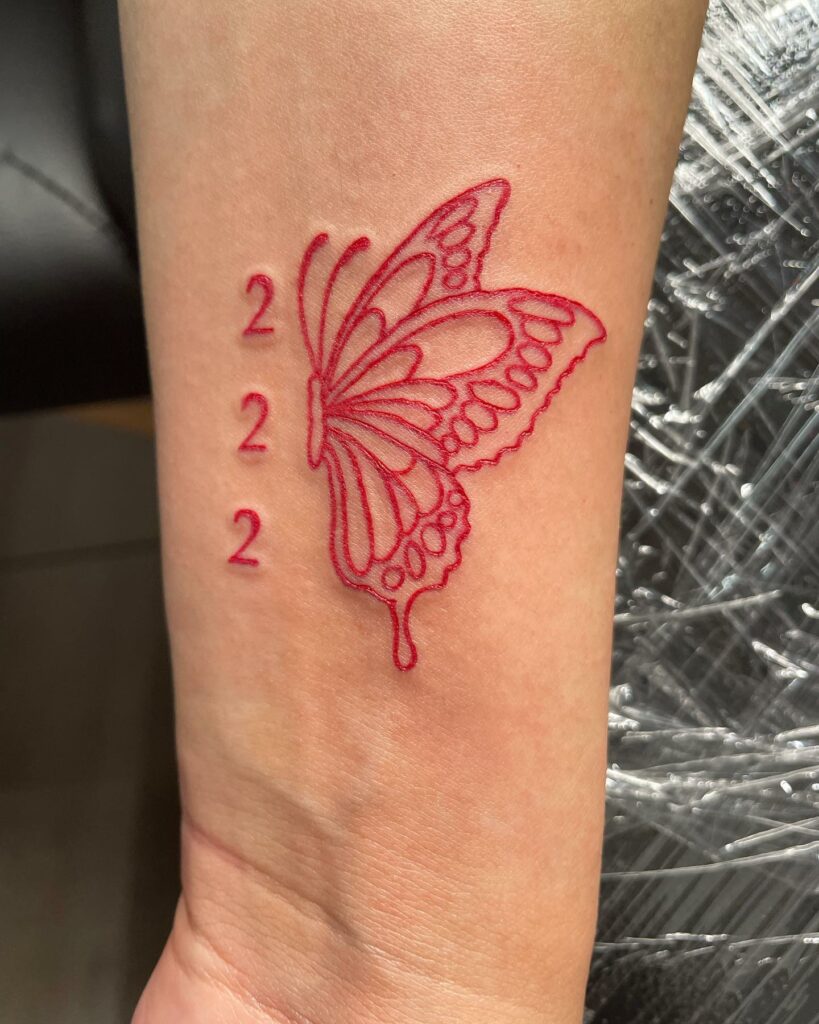 Butterflies have been a popular tattoo design for centuries, representing transformation and the beauty of life. For many, they signify a fresh start and a new beginning. In some cultures, they also symbolize young love and freedom.
This particular tattoo design features a beautiful butterfly alongside the digits 222. This combination represents the idea of living life on your own terms, free from constraints and limitations. The bright red color of the tattoo is a nod to love, passion, and balance.
Whether you're starting a new chapter in your life or simply looking to add a beautiful and meaningful design to your body, this butterfly and 222 tattoo is sure to inspire and uplift you every time you look at it.
222 Finger Tattoo
The 222 tattoo design symbolizes the idea of new beginnings and growth in life. It motivates individuals to strive towards becoming the best version of themselves. The placement of the tattoo is crucial, and it should be in a place where it is constantly visible. In this design, the tattoo artist has placed the 222 on three different fingers, creating a unique and stylish look. This placement ensures that the tattoo will always be in sight, serving as a daily reminder to stay focused and motivated towards achieving your goals.
222 Angel Number Tattoo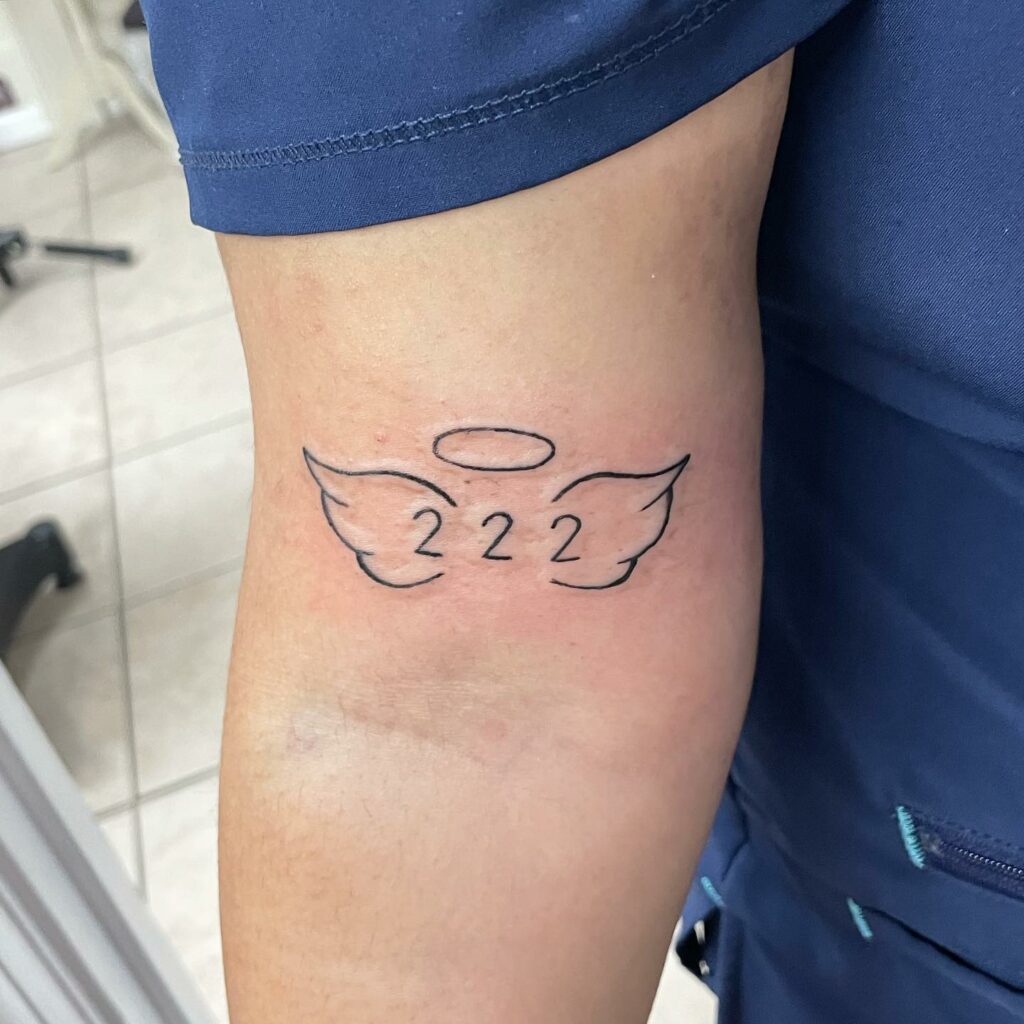 In the world of tattoos, the number 222 holds a significant meaning. It is considered an Angel number, and signifies that the digits represent the same soul in different bodies. When it comes to relationships, this number represents love, dedication, and commitment. It serves as a constant reminder to maintain the connection you have with your loved one and never give up on each other.
This particular tattoo design features the digits 222, along with angel wings and a halo. The wings and halo symbolize balance and guidance, essential elements for a successful relationship. The design is simple yet powerful, and is sure to remind you of the love and commitment you share with your partner every time you look at it.
Elegant 222 Tattoo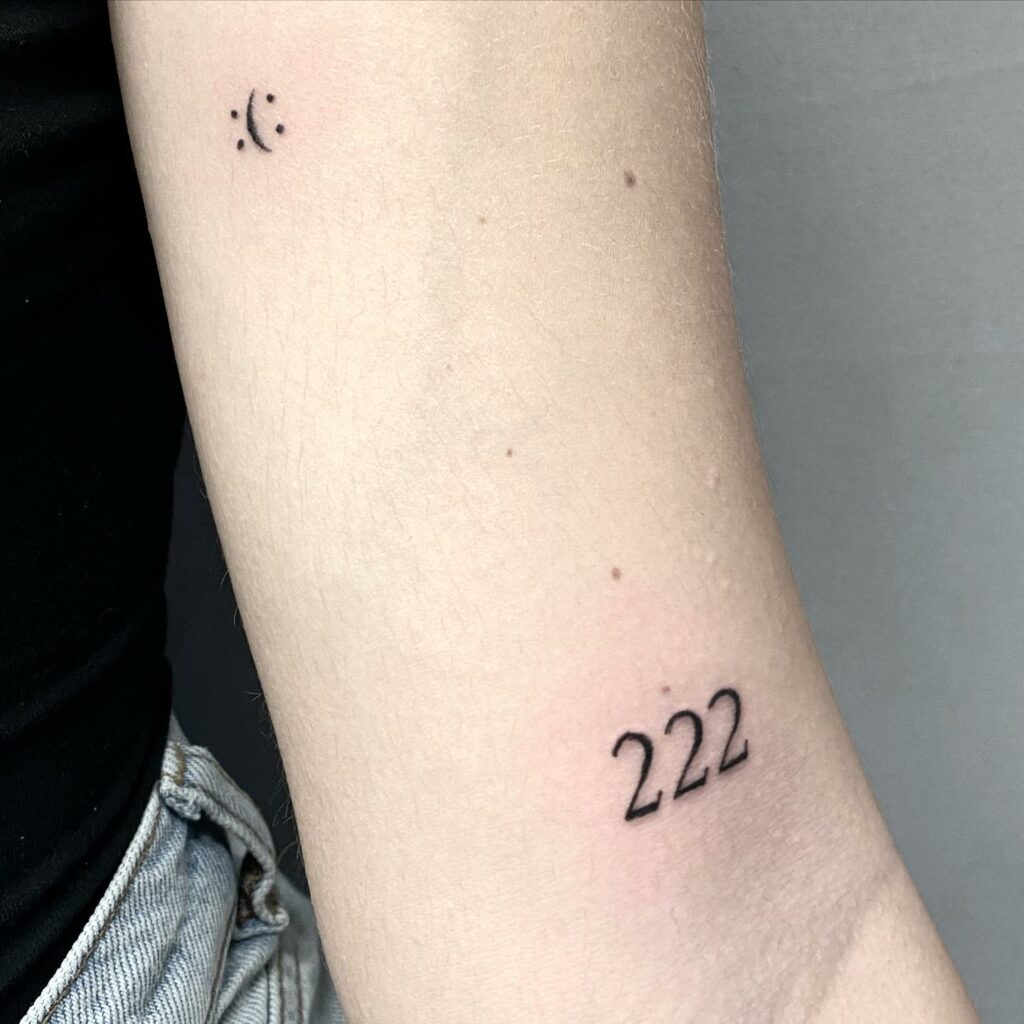 The 222 tattoo design represents harmony and faith in your life, and it can be a powerful reminder to focus on new beginnings and become a better person. For those who are spiritual, this tattoo can serve as a constant reminder to do the right things in life and trust in God's will.
This particular design is simple yet elegant, with the digits 222 written in fine black ink. The placement of the tattoo is key, as it should be in a visible location to serve as a daily reminder of your personal growth and connection to your faith.
Whether you're seeking to deepen your spiritual connection or simply want a beautiful reminder to focus on new beginnings, the 222 tattoo is a great choice. No matter where you choose to place it, this tattoo will serve as a constant reminder of your journey towards personal growth and fulfillment.
Still looking for inspiration, then checkout this blog post about blessed forearm tattoos
feature image from Pinterest – Want your tattoo to look brighter? Try "Tattoo Balm"
Last reviewed and updated on April 26, 2023