(Feature Image @macy.tattoos)
Have you always been drawn to the ethereal beauty of angel wings tattoos? Fancy one that's uniquely captivating? Let's explore an exquisite collection of 444 tattoo designs that are bound to make you a standout in the world of body art!
The number 444 carries a spiritual resonance that can soothe the soul, making it an intriguing choice for a tattoo.
Imagine the tranquility of knowing you're under the watchful eyes of guardian angels – that's the profound sentiment encapsulated in a 444 angel tattoo. It's a visual whisper, a tender reminder that celestial beings are guiding us toward the right path, inspiring us, and infusing our lives with meaning.
The 444 angel tattoo symbolizes a cosmic balance, embodying the harmony and unity of existence. It also represents protection, making it a deeply meaningful choice, especially if you're drawn to numerology. This design is bound to stand out, adding an extra layer of significance to your personal style.
The cultural importance of this number isn't confined to the West. It's highly regarded in Chinese and Korean traditions, and in Japan, it's interpreted as symbolizing the dawn of life.
In the contemporary world, the meaning of 444 continues to fascinate and inspire. It nudges us towards our inner wisdom, an invaluable quality we often overlook. Regularly seeing the number 444 is thought to amplify our intuition, signaling truths that we haven't yet acknowledged or acted upon. It's a gentle push towards acknowledging the divine presence assisting us.
So, ready to explore these enchanting 444 tattoo designs? Let's dive in!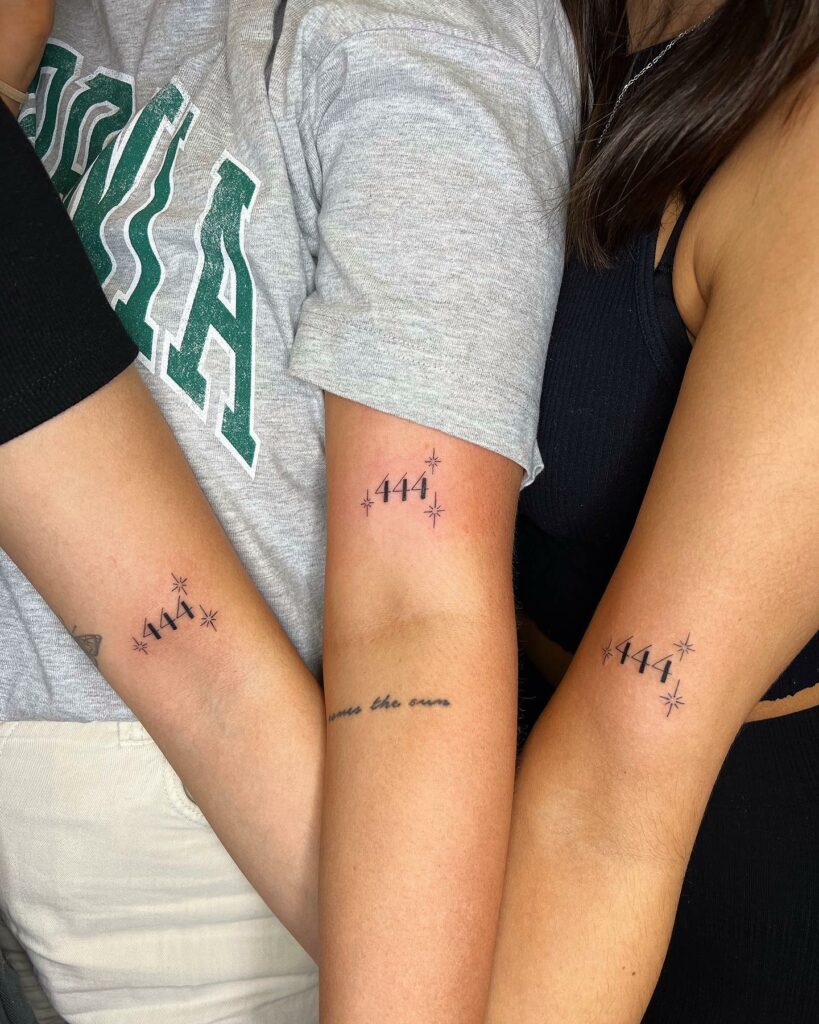 Kaia Gerber Tattoo Design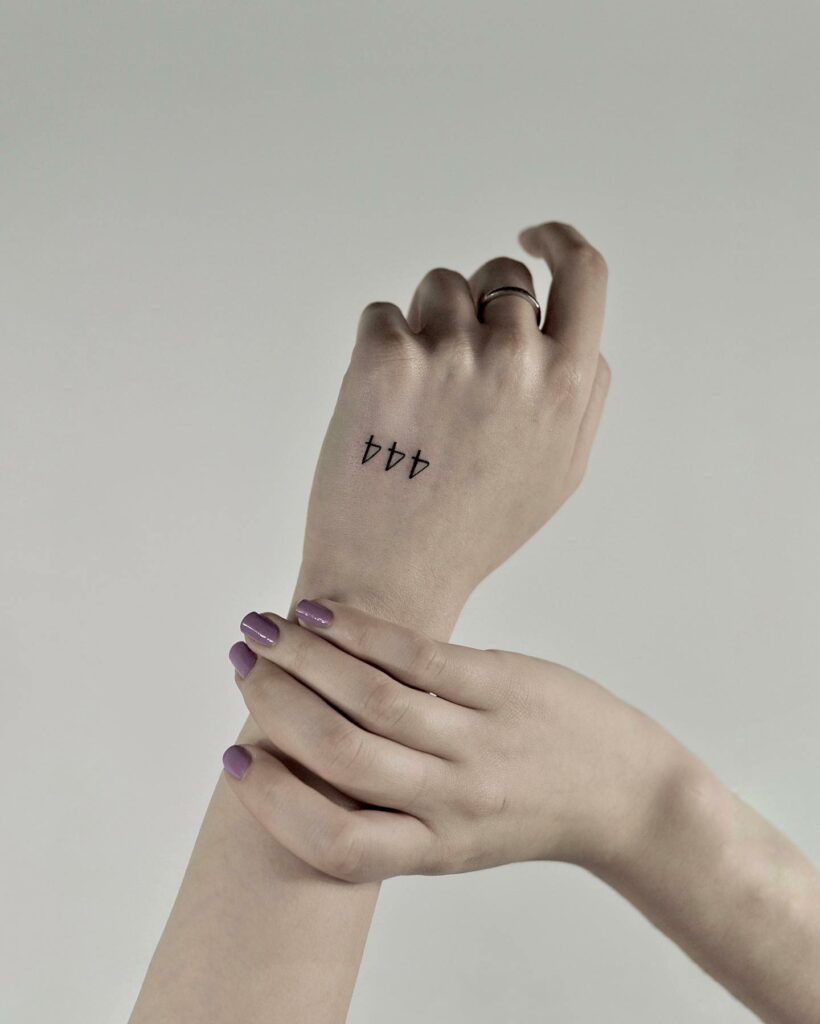 Kaia Gerber is known for her love of tattoos and has been inspiring many to get inked. One of her recent additions to her collection is the 444 tattoo which was spotted by the paparazzi as she ran errands. It's a simple yet stylish design on her right arm near the tricep muscle, and has become an inspiration for many looking for minimalistic tattoo ideas. Kaia has stated that the tattoo symbolizes her passion and ambition for her work, and reignites her excitement for life.
Although the picture accompanying this paragraph shows a similar minimalistic tattoo on knuckles, it's important to note that it is not Kaia's tattoo. Nonetheless, the design is still a great option for those seeking a minimalist look. The tattoo looks clean and isn't showing any signs of irritation, making it a safe and fashionable choice for anyone looking to express their inner passions through body art.
Angel 444 Tattoo Ideas
This tattoo design is simply stunning and exudes class! It's located on the left arm and features digits in an ancient font style. The tattoo is a symbol of a person's passion and ambition, and how it can be translated into their work. The ink work is exceptional and represents the incredible skill of the tattoo artist. However, there seems to be a slight inflammation in the outline portion of the tattoo. Nevertheless, this tattoo is a reminder of a simple and elegant life, representing a kind reality. The design is straightforward and perfect for those who want to flaunt their love for tattoos in style!
Angel Number Tattoo Design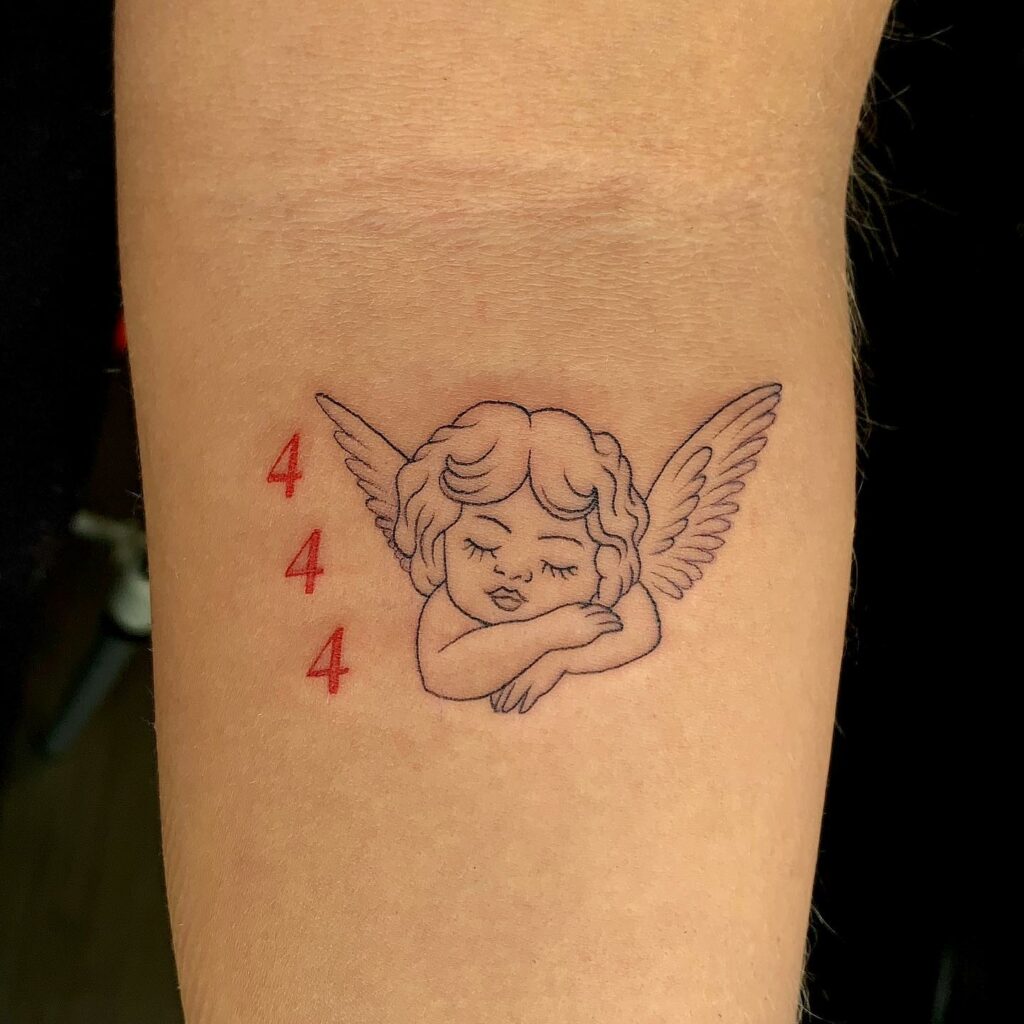 Angel numbers have been a popular choice among tattoo enthusiasts for a while now, and this tattoo design captures their essence beautifully. The tattoo features the angel number 444, written in bold red ink that makes it stand out against the skin. The angel in the tattoo appears to be dozing off, adding a dreamy quality to the design. The number 444 is said to represent stability, growth, and inner-wisdom, making it a great choice for anyone looking to convey these values through their tattoo. This particular tattoo is placed on the arm and is sure to turn heads with its striking design.
Numerology Tattoo Design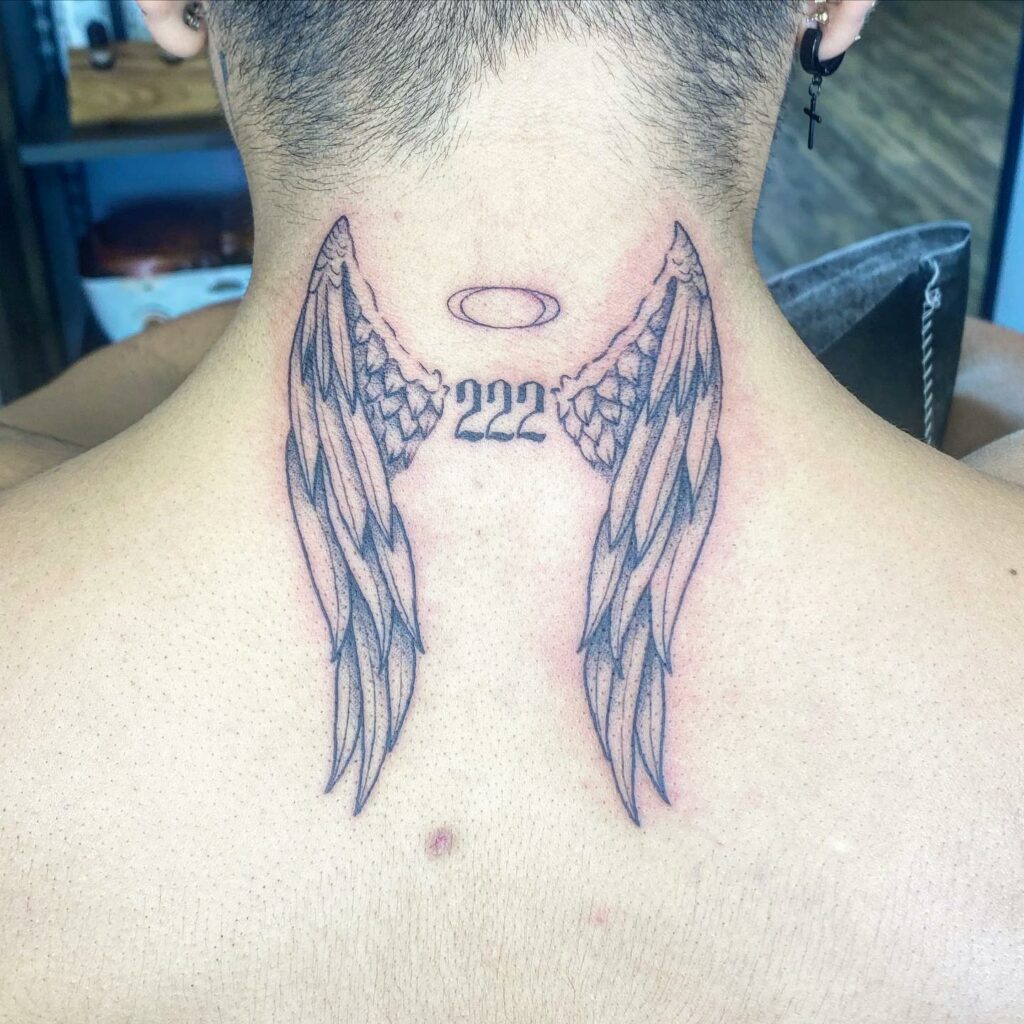 This tattoo design is a true masterpiece, with a beautiful and intricate structure that looks absolutely magnificent on the wearer. Numerology is a fascinating discipline that has captivated many cultures throughout history. In some Asian cultures, the number "4" is considered unlucky, so the number "2" has been cleverly used in this design. The tattoo features the sequence of 222, accompanied by the wings of an angel, representing the wearer's passion, ambition, and purity. The symbolism of this tattoo is both powerful and meaningful, making it an excellent choice for anyone looking for a beautiful and inspiring design.
444 Angel Number Tattoo Small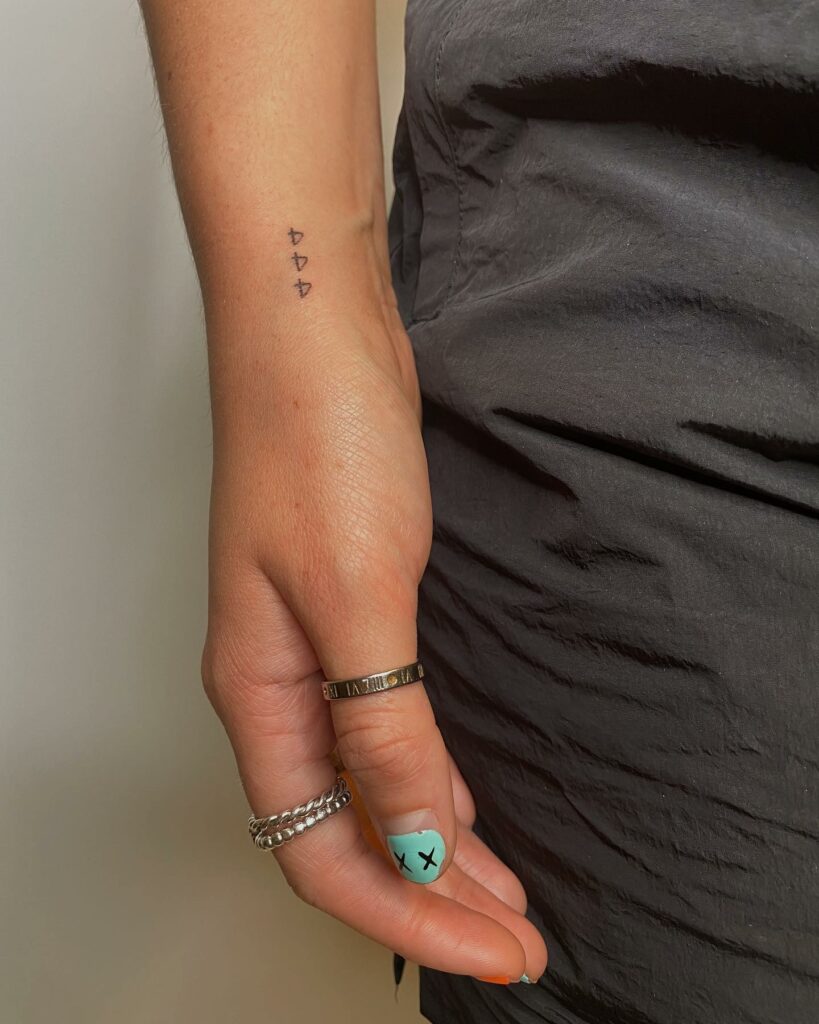 If you are looking for a tattoo that is small and minimalist, this idea is perfect for you. This design, inspired by Kaia Gerber's tattoo, is placed near the wrist and can have a significant impact on its wearer. Despite its small size, it looks stunning and is sure to stand out in a crowd. If you are hesitant about getting a tattoo due to the fear of needles or pain, this design is an excellent option. It is simple yet elegant and can be a perfect way to dip your toes into the world of tattoos.
Twin Flame Tattoo Design
Twin flame tattoo designs are perfect for couples who want to show their love to the world. This particular twin flame tattoo is a beautiful representation of love and spirituality. It can be inked on any part of the body, and serves as a reminder that love is eternal. The twin flames tattoo provides a sense of calmness and serenity to the wearer, similar to the 444 tattoo. Getting this tattoo alongside a 444 design can provide mental clarity and peace. If you are looking for more tattoo ideas to complement your 444 tattoo, this is a great option to consider!
Calligraphy Style 444 Tattoo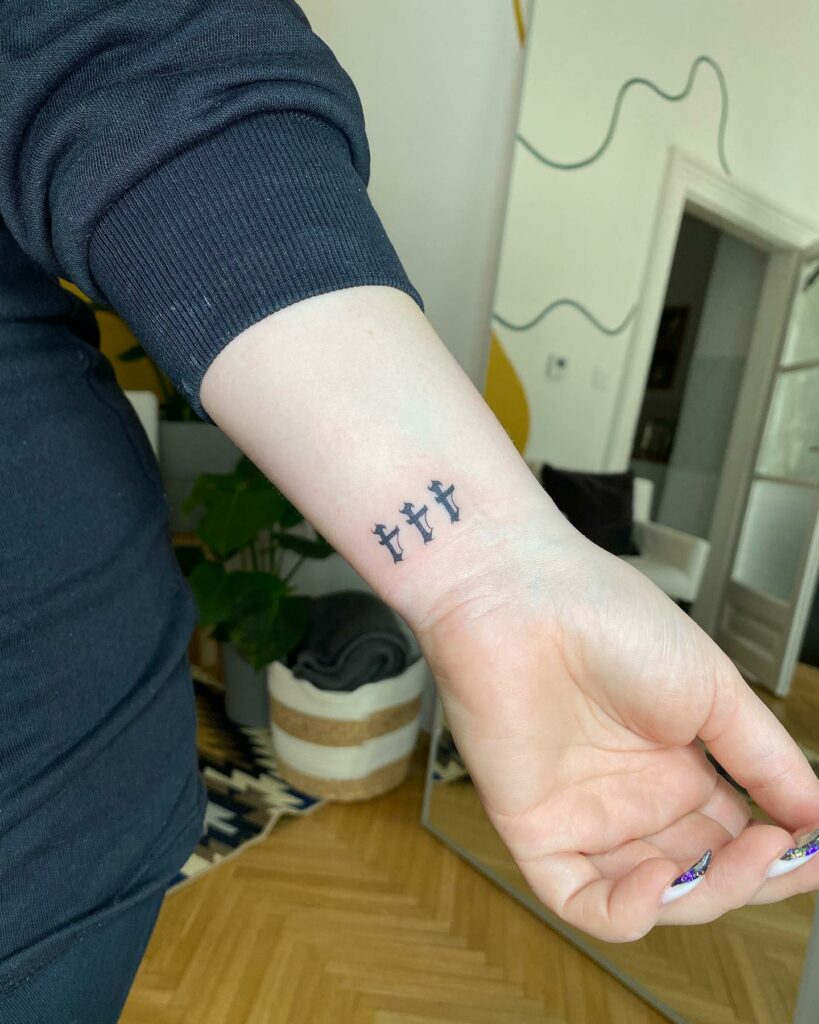 The popularity of 444 tattoos has skyrocketed since Kaia Gerber, daughter of Cindy Crawford, was first spotted with one. This tattoo design has become an inspiration to many and has gained a lot of attention. Kaia's 444 tattoo is located on her left hand and represents ambition, passion, and different aspects of life. The tattoo design in the image provided is also fantastic and looks great. However, it appears to be inflamed, so proper aftercare is important to ensure it heals properly. Overall, the 444 tattoo is a meaningful and trendy choice for anyone looking to express their ambitions and passions through body art.
444 Tattoo Ideas On Wrist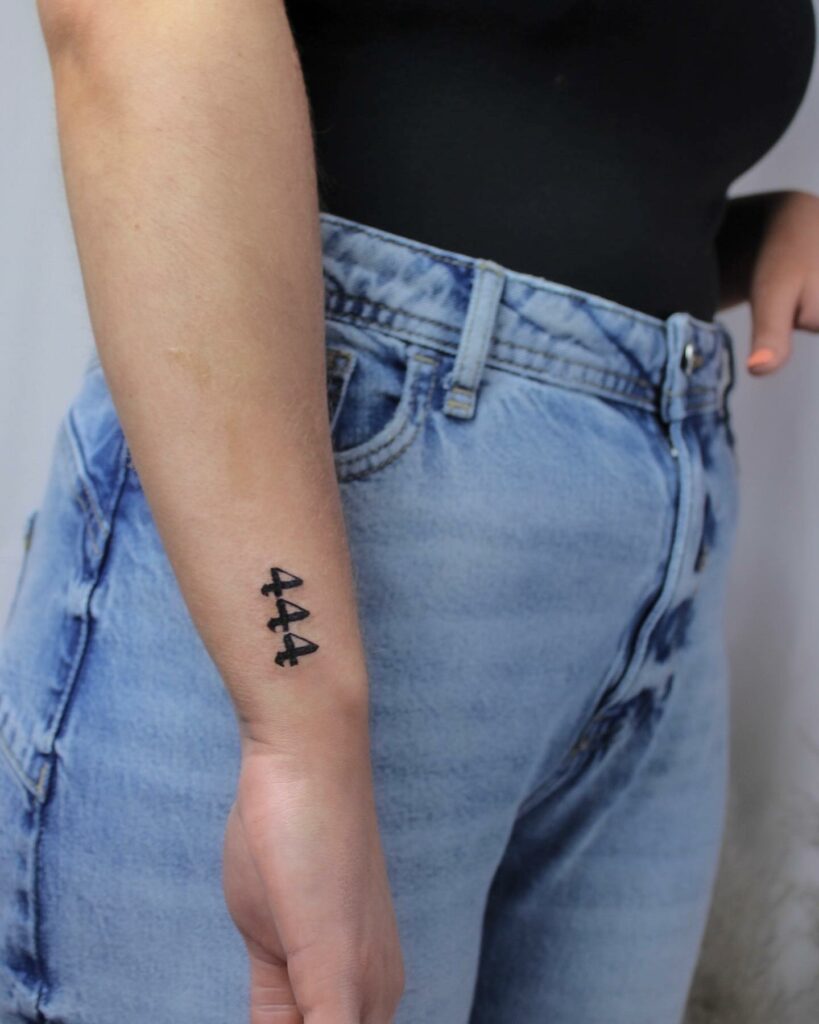 If you're looking for a simple yet elegant tattoo, this design on the wrist is a must-have for tattoo enthusiasts. The tattoo artist used black ink to create a minimalistic yet meaningful design. The fonts are simple, making the numerical digits stand out. The tattooed area looks soothing and not very inflamed. If you're a fan of 444 tattoos and want to add them to your body art collection, this design is a great choice. It's perfect for those who want to vogue their style and make a statement with a gorgeous tattoo.
Teal And Black 444 Tattoo Style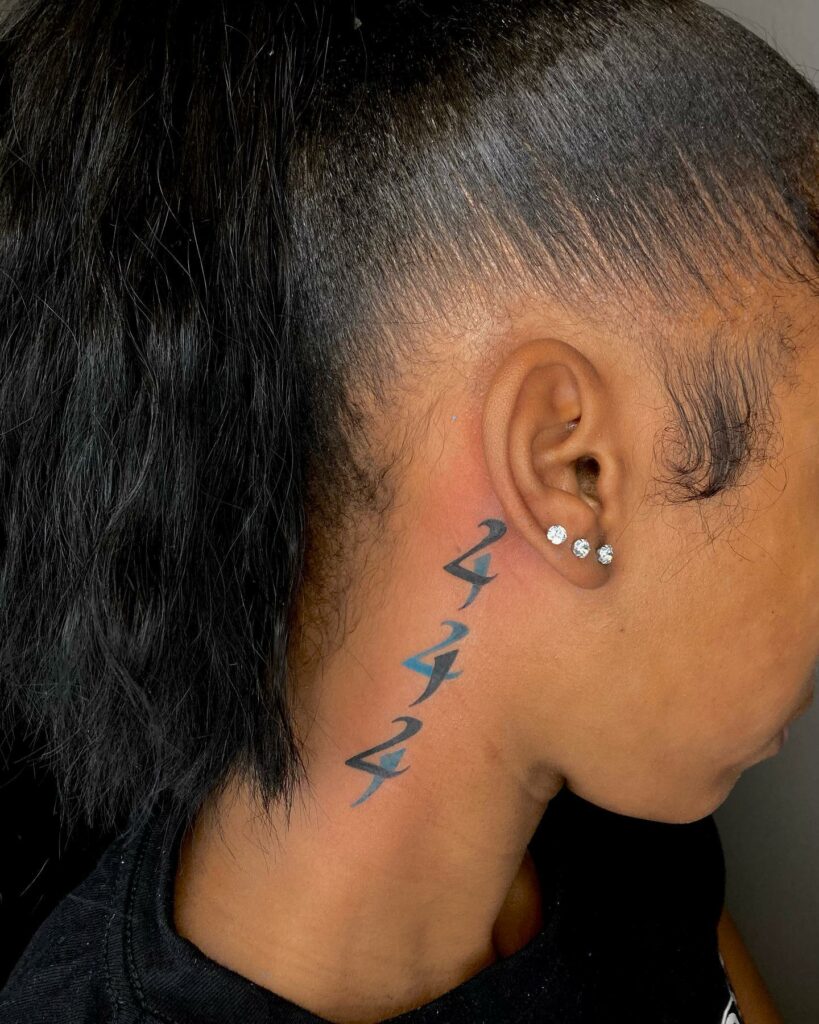 This 444 tattoo design is simply stunning and unique. The teal ink used in the tattoo is a beautiful touch that enhances the wearer's beauty. Angel numbers, like the 444, are said to bring good luck and fortune to those who believe in them. The behind-the-ear placement of this tattoo represents the wearer's willingness to listen to the guidance of a higher power, leading them on the right path in life. The teal and black colors used in this tattoo give it a sense of strength and tranquility. The healed state of the tattoo shows the skill and expertise of the artist who created it. If you're seeking a meaningful tattoo that embodies spirituality and good fortune, this 444 angel number tattoo may be the perfect choice for you.
444 Tattoo Ideas With Heart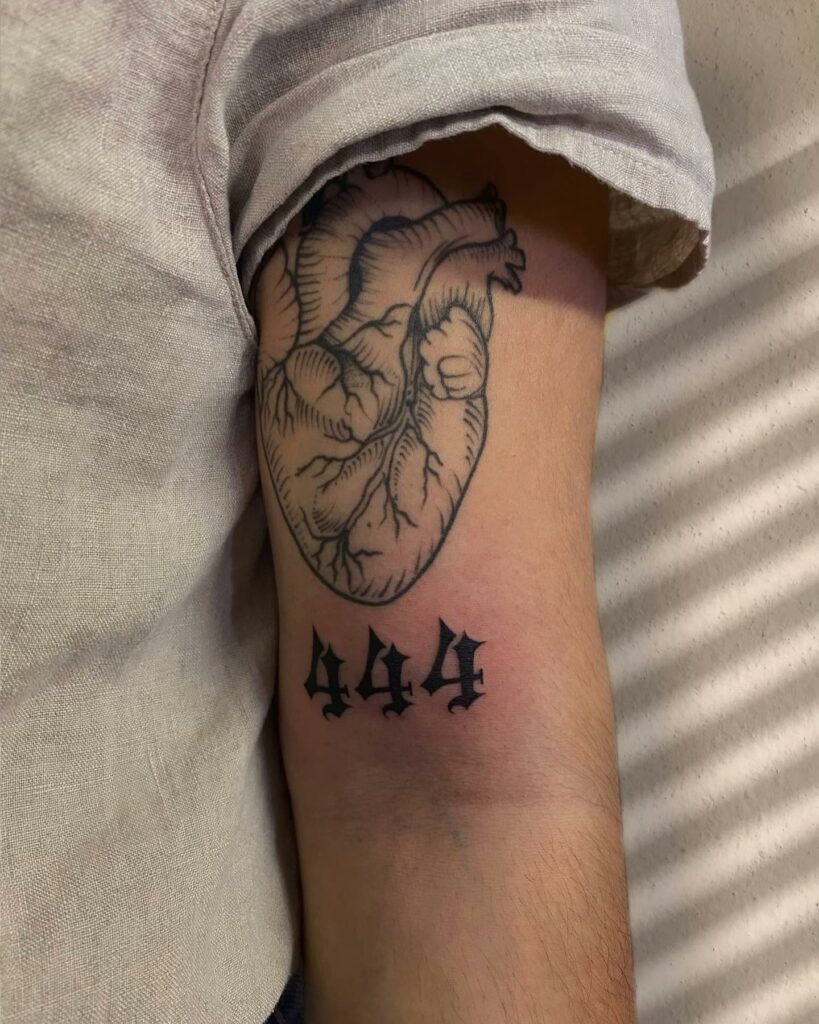 This particular tattoo is a perfect example of how intricate artwork can be used to create a meaningful design. Placed below the person's heart tattoo, this piece speaks to the importance of having your heart and mind in the right place when pursuing your passions and ambitions. While the area may appear slightly reddened, it's a small price to pay for a stunning and symbolic tattoo. This design is perfect for anyone who wants to make a statement with their body art and truly express their innermost desires and aspirations.
What Does 444 Tattoo Mean
444 tattoos have become a popular trend among tattoo enthusiasts, with inspiration coming from the likes of Kaia Gerber. The tattoos hold various symbols and meanings that are unique to each individual, showcasing their personal beliefs and perspectives on life. Careful attention should be given to the inkwork of this tattoo to ensure proper healing and to prevent any inflammation. Those seeking inspiration for their next tattoo can explore different sources and ideas to find the perfect design. Additionally, there are many complementary tattoo designs that can be paired with 444 tattoos for a truly unique and personal look.
(Feature Image Photo Credit @macy.tattoos)- Want your tattoo to look brighter? Try "Tattoo Balm"