Are you searching for a unique spot to showcase your latest tattoo? Look no further than above the knee tattoos! These creative and enchanting designs will leave you spellbound.
Unlike other tattoo placements, knee tattoos don't have a specific meaning. However, that all depends on the symbol or quote you choose to ink on this area. The most common knee tattoo is the eye, which is believed to ward off evil and serve as a talisman.
Above the knee tattoos offer endless possibilities for design, making them a popular choice for both men and women. Women, in particular, tend to favor above the knee tattoos for their stylish and meaningful appearance. From insects and flowers to quotes and dates, there's no limit to the creativity you can bring to this unique placement.
Keep in mind that above the knee tattoos can be moderately to highly painful due to the abundance of nerve endings in this area. But the stunning end result is well worth the temporary discomfort. So, join us as we explore some of the most captivating above the knee tattoo ideas that will leave you enchanted.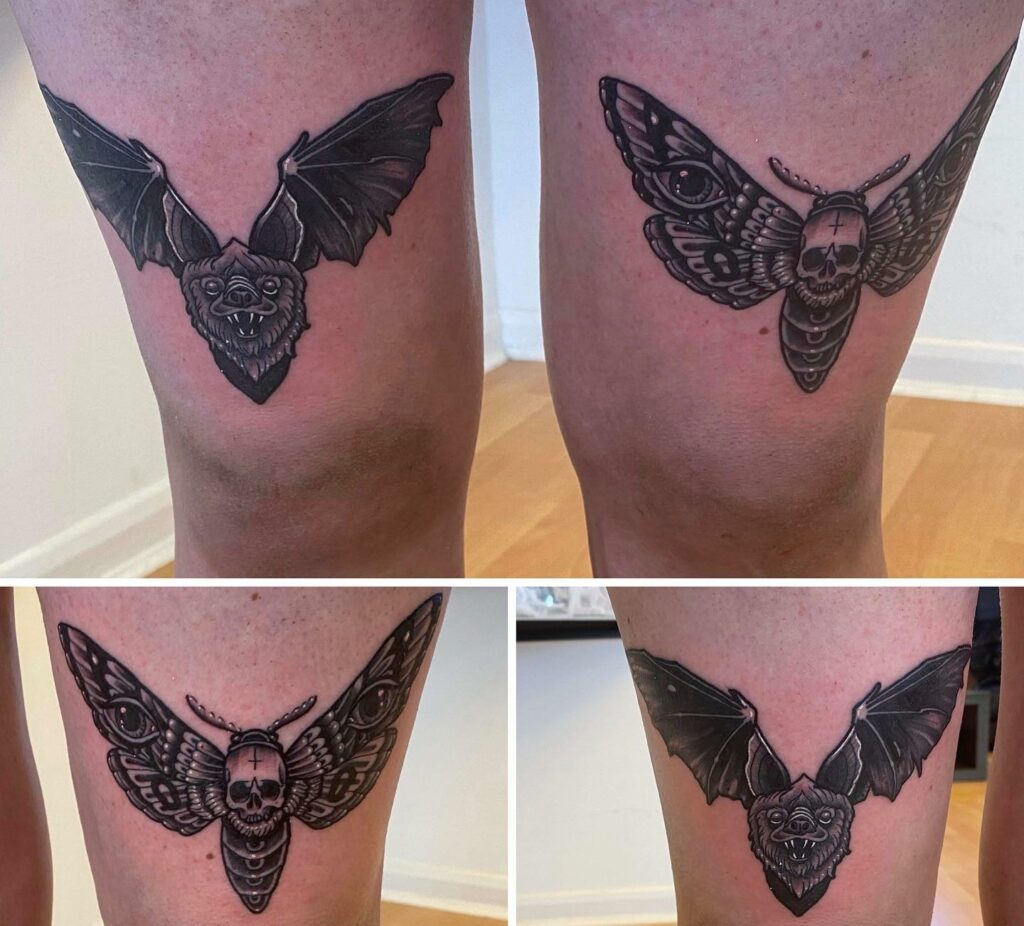 Fairy Above Knee Tattoo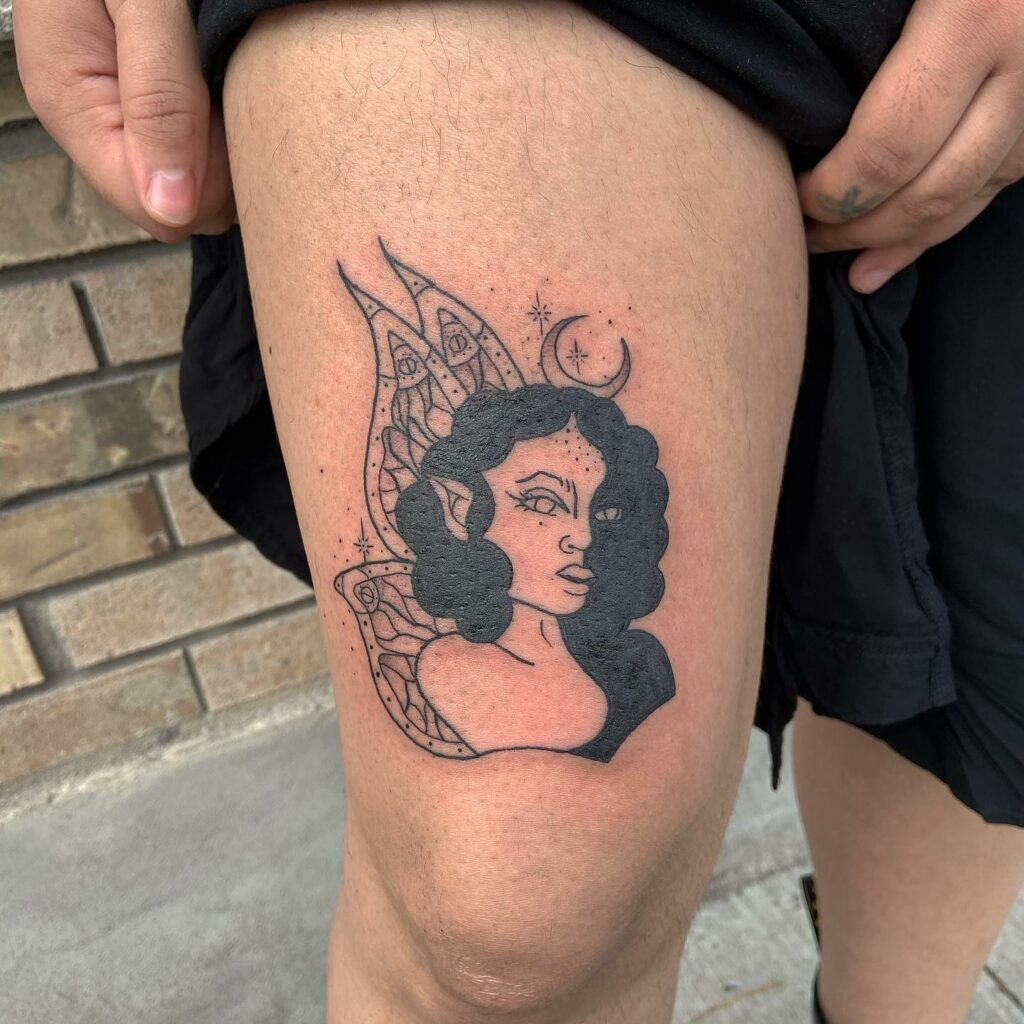 This stunning black and white tattoo features a fairy, whose image is connected with the Yin and Yang symbol. Fairies are mystical entities that protect people from negative forces, and this tattoo serves as a beautiful example of how a fairy tattoo can regenerate faith in the goodness of the world. The fairy in this tattoo has a gorgeous afro, which gives a nod to the African community and enhances the tattoo's beauty.
An elf-like ear is an important aspect of the fairy's design. The fairy has a crescent moon on its head, symbolizing fertility and virility. The fairy's wings are adorned with intricate geometric motifs and dot work, making them look stunning. If you are looking for a fairy tattoo that is both beautiful and meaningful, this design is a perfect choice!
Butterfly Above The Knee Tattoo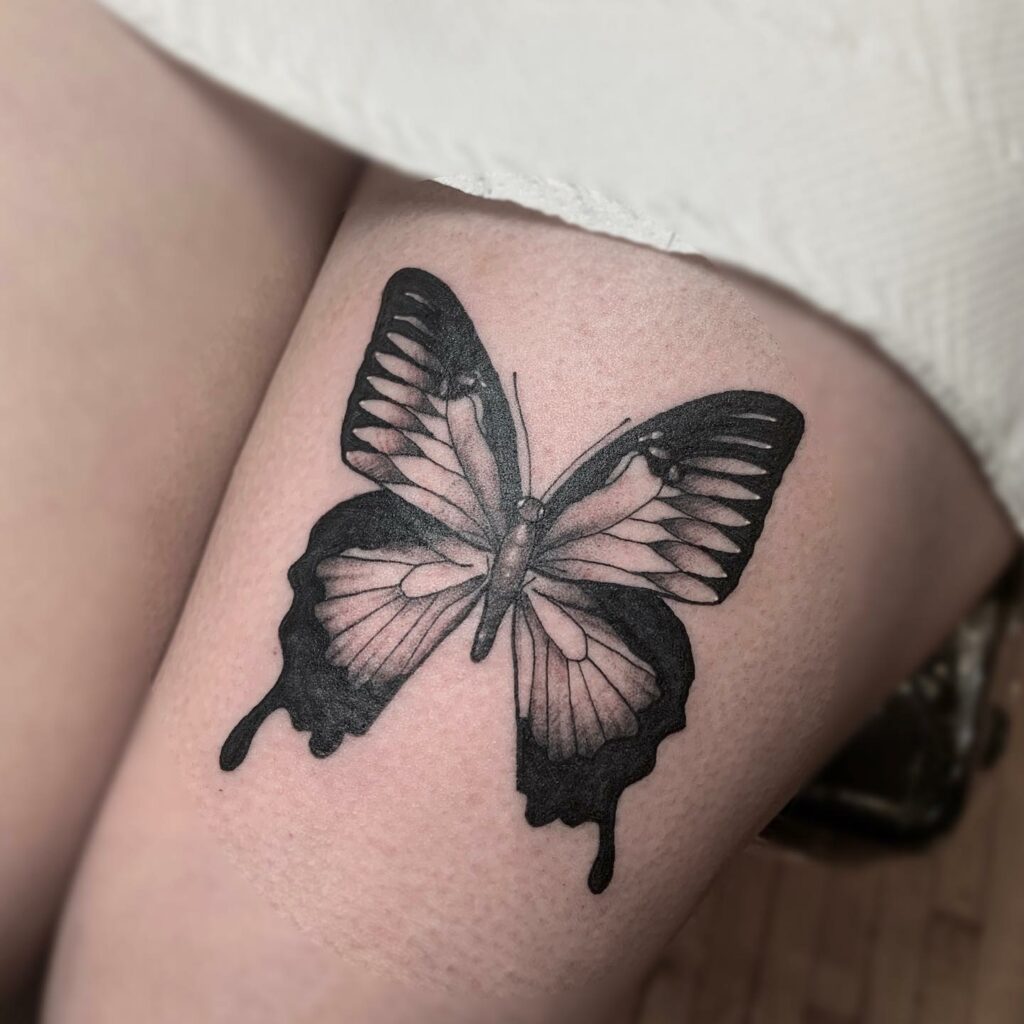 Insect tattoos have become increasingly popular, and this beautiful butterfly tattoo is a prime example of why. Made entirely in black ink, the delicate diamond-shaped wings are exquisitely detailed, with subtle grey shading on the outer edges. Butterflies have a deep symbolic meaning, representing freedom and new beginnings, encouraging us to take risks and embrace change. This stunning tattoo is not only visually impressive, but it also holds significant meaning.
Sun And Moon Above The Knee Tattoos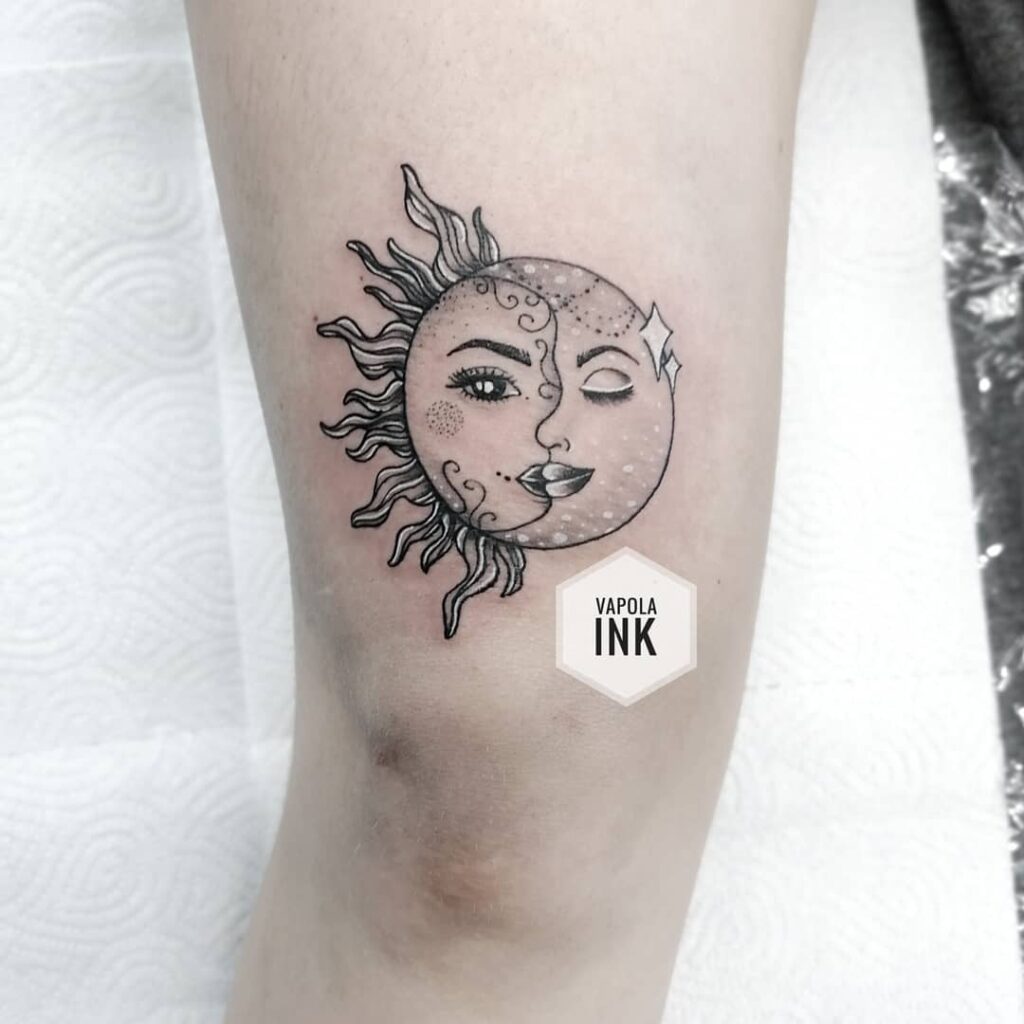 Sun and moon tattoos are a beloved and timeless form of body art. Often popular among women, these tattoos carry deep meanings such as life and death, masculinity and femininity, and good and evil. While knee tattoos don't typically have symbolic meaning, this sun and moon design is truly remarkable. The black and white ink work plays beautifully with grey hues, creating a mesmerizing effect. The sun is crafted with intricate detailing on the rays, featuring shades of grey, black and white. The realistic eyes of the sun and the glimmering white ink details make it a true standout. The moon has closed eyes and stars made with glimmering white ink on its side. The lips of both the sun and the moon are a stunning addition. This tattoo is an absolute must-have for those who appreciate stunning artwork.
Weather Changing Above The Knee Tattoo Men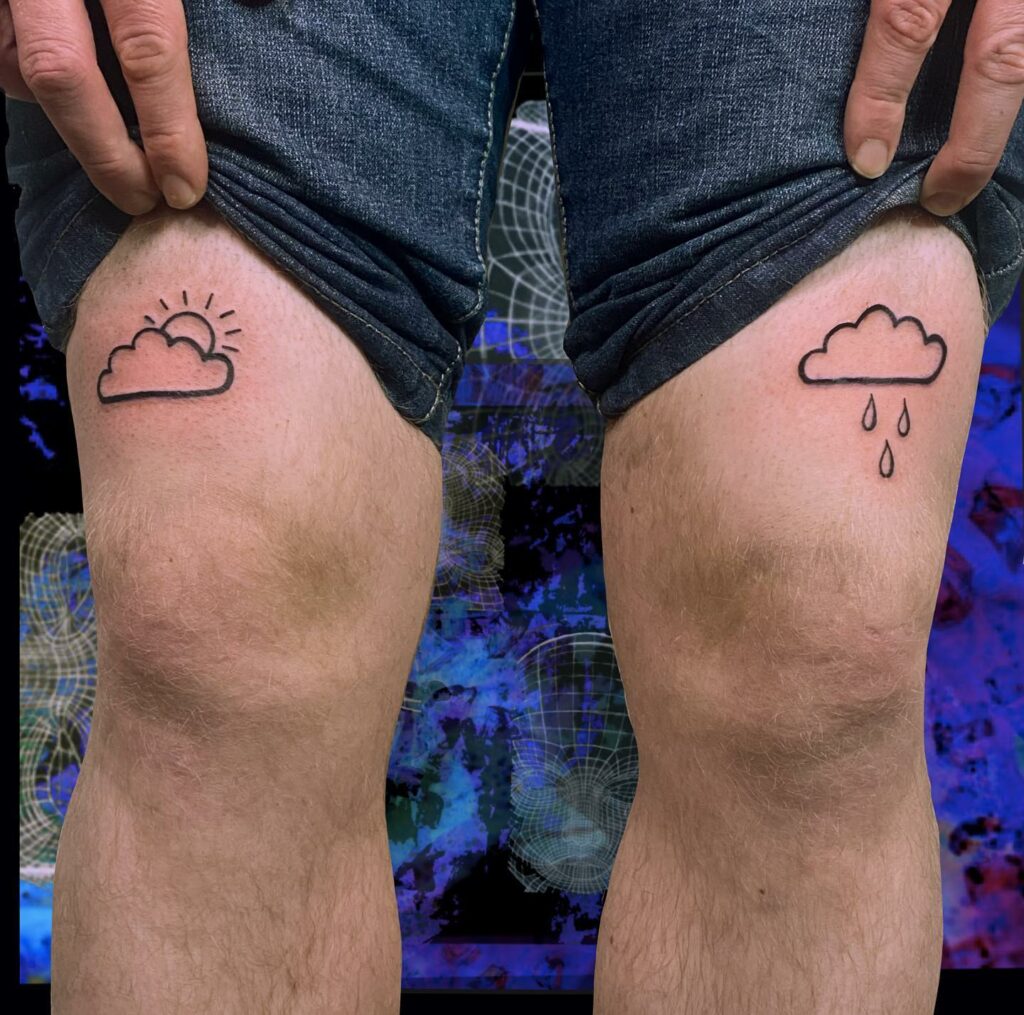 Weather changing tattoos are a creative way to express one's emotions and moods through body art. This specific tattoo design features two different weather elements, sun and rain, each representing a different mood. The sun is cleverly hidden between the clouds on the wearer's right leg, while the rain tattoo symbolizes a more melancholic and moody state of mind. The overall design is adorable and beautifully executed, making it a perfect option for those who want a fun and unique tattoo that showcases their emotions.
Mandala Style Above The Knee Tattoo For Women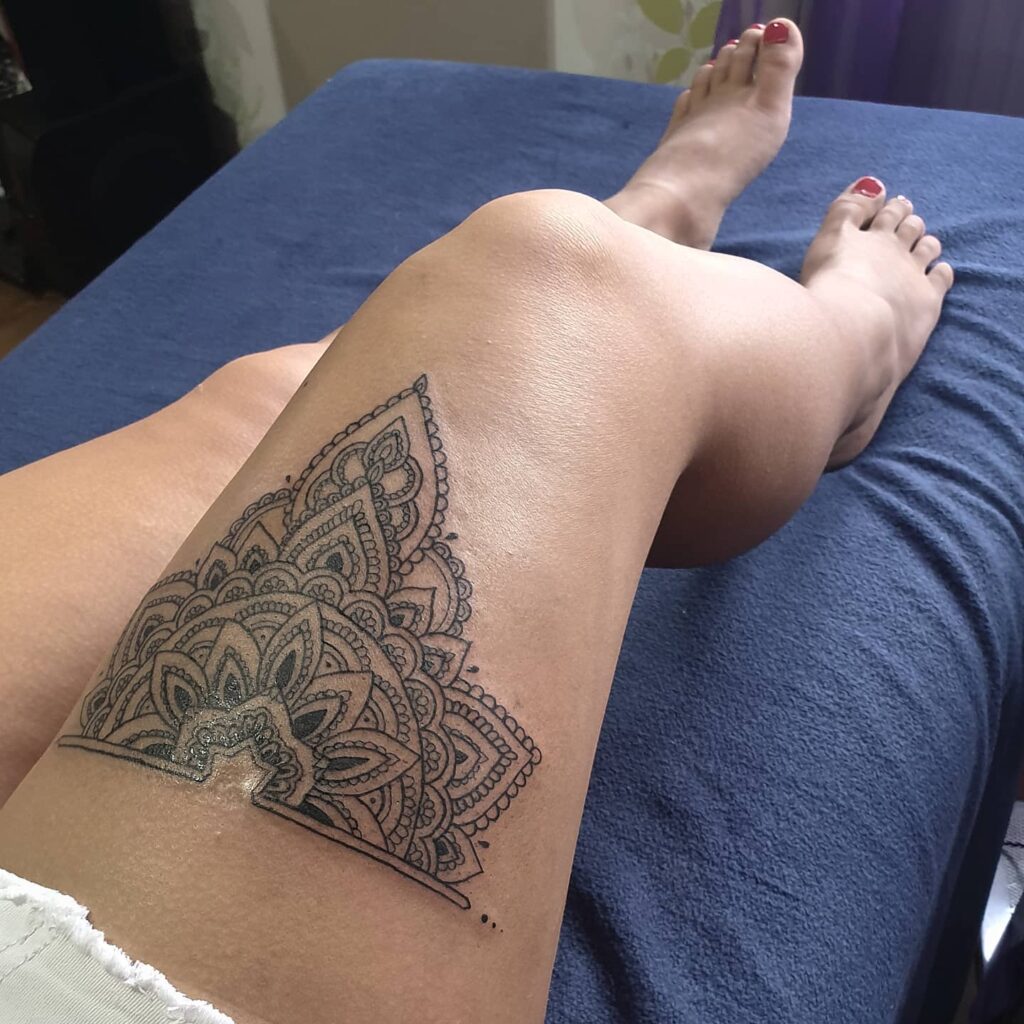 Mandala tattoos are a beautiful and ancient form of Eastern art that have become very popular as a design for meditation and stress relief. They're a perfect choice for anyone looking to bring calm and balance to their life. This particular mandala tattoo is drawn in a semicircle, which is a classic architectural design from medieval India. The top pattern features minimalistic semi-circles, while the inner patterns are made up of dome-shaped structures with circular designs inside them. The consistency and symmetry of the shapes and designs make this tattoo an absolute standout. Plus, it's easy to create and looks absolutely stunning!
Medusa Tattoo Above Knee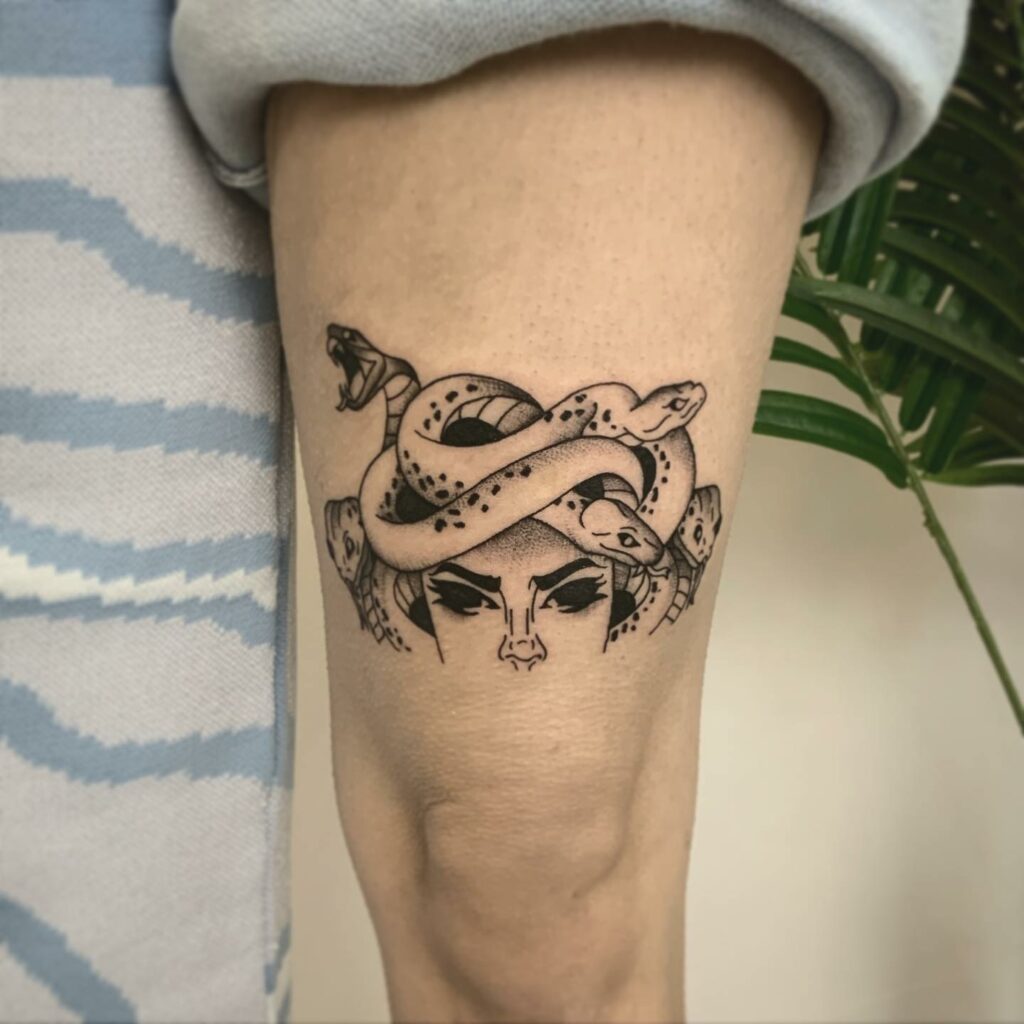 Medusa is a complex and fascinating figure in Greek mythology. She is often seen as a symbol of both terror and victimization. In this tattoo, Medusa's fierceness and strength are on full display. The snakes are depicted with simple yet striking dot-like structures, while the scales are rendered in a minimalist yet symmetrical style. The upper body of the snake is created with delicate dots that create an elegant and intricate design. Medusa's face is portrayed in a distinctive and unique way, with fierce and intense eyes that convey her strength and power. This tattoo is a beautiful and powerful statement that celebrates the strength and resilience of women.
Cute Cat Sign Tattoo Above Knee
Cat tattoos have always been a symbol of pride and resilience, particularly in Western culture where their paws are considered to be lucky. This specific tattoo is a perfect example of a cartoon-style art inspired by the Japanese anime Sailor Moon. The cat tattoo looks absolutely adorable and stunning, with realistic eyes that look gorgeous. The artist has done a brilliant job in capturing the essence of the cat in this tattoo. This tattoo is not only inspirational but also looks beautiful. If you are a cat lover, this tattoo would be a great choice for you!
Mountain Tattoos Above The Knees
Mountain tattoos are a perfect symbol of strength and perseverance. They represent the beauty of nature and its majestic creations. This tattoo exemplifies the essence of mountains with its serene depiction. The intricate details of the uneven terrains of the mountains are a testament to the tattoo artist's skill. The dot-like structures above the mountain peak add to its beauty and majesty. If you're a nature lover looking for a tattoo that embodies the essence of mountains, this one would be perfect for you!
Shark Tattoos On Both The Knees
Shark tattoos are a unique and bold choice for those looking to make a statement. Although not as common as other designs, shark tattoos are highly symbolic and can represent courage, protection, and guidance. This particular shark tattoo above the knee is a fine example of how to create a stunning and distinctive design. The black ink with white hues creates depth and dimension, while the dot-like structure on the second shark adds an extra level of detail. If you're looking for a tattoo that represents your inner strength and need for guidance, a shark tattoo may be the perfect choice for you.
Positive Quote Tattoos Above The Knees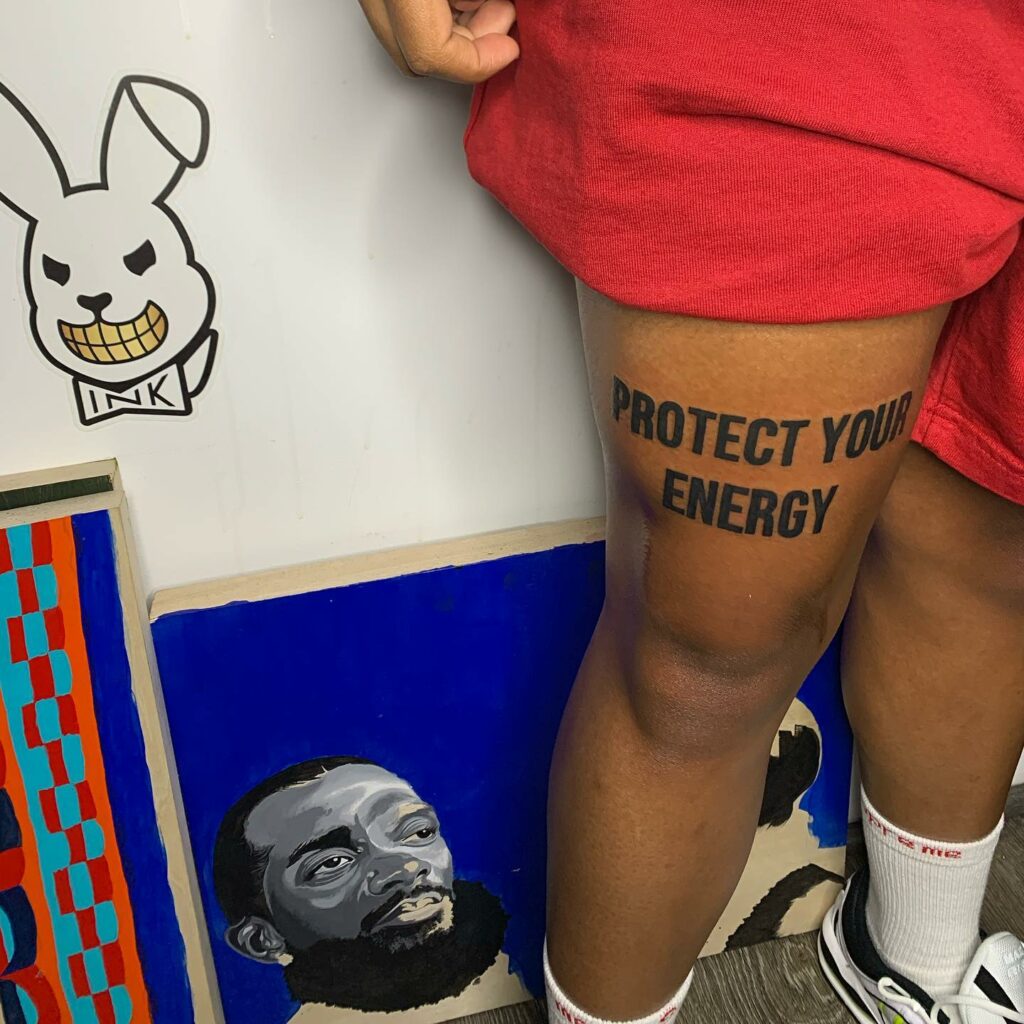 Positive quote tattoos are a great way to keep yourself motivated and focused on achieving your goals. This tattoo is a perfect example of that. The quote is beautifully inked and looks healed and well-maintained. It is no surprise that women love getting these tattoos as they provide a sense of empowerment and inspiration. As for above the knee tattoos, they are not very common due to the pain associated with the area, but that doesn't mean they aren't worth it. If you're considering an above-knee tattoo, do your research and gather inspiration from various sources like Google, videos, and content creators to find the perfect design that speaks to you.
feature image from Pinterest – Want your tattoo to look brighter? Try "Tattoo Balm"