Hey there, tattoo lovers! Are you tired of the same old heart tattoo? Fear not, because we have some incredible anatomical heart tattoo designs that are sure to blow your mind!
You see, the heart is one of the most fascinating organs in our body, and not all tattoo artists can accurately capture its complexity in their designs. But with today's technology and skilled artists, we can create hyper-realistic tattoos that showcase the heart's intricate structure.
Anatomical heart tattoos are a popular choice for those who want something more than just a simple symbol of love. These tattoos challenge artists to replicate the heart's actual form, including the valves, ventricles, and chambers. And the best part? You can customize your design with personal touches like your loved ones' names or some beautiful flowers.
If you're considering an anatomical heart tattoo, it's important to choose an experienced artist who can create a realistic and detailed design. Lucky for you, we've curated a list of some amazing anatomical heart tattoo designs to inspire you. So, what are you waiting for? Find your next tattoo and let your love for your partner or family shine through!
Anatomical Heart Tattoo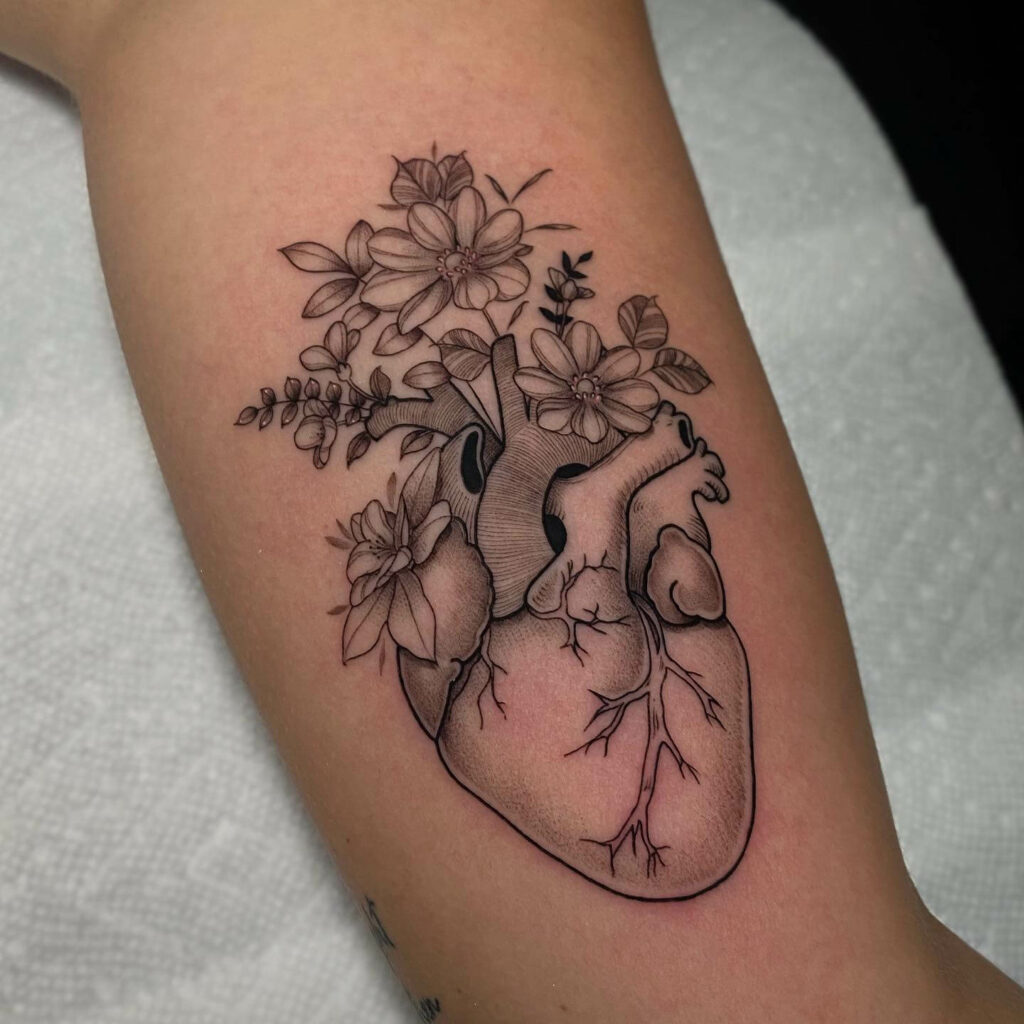 If you're looking for a tattoo that exudes self-love, look no further than this beautiful and simple design. At the center of the design is an anatomical heart, accurately depicting the human heart, with flowers growing from it. This tattoo can hold different meanings for different people, such as healing, self-acceptance, or a reminder to love yourself.
The tattoo is done entirely in black ink with some shading and dot work of gray ink, giving it a sophisticated and elegant look. Every time you glance at this tattoo, you'll be reminded of the love and passion you have for yourself, and that your heart beats for you and no one else. If you're looking for an anatomical heart tattoo, this design is perfect for you!
Heart Flower Tattoo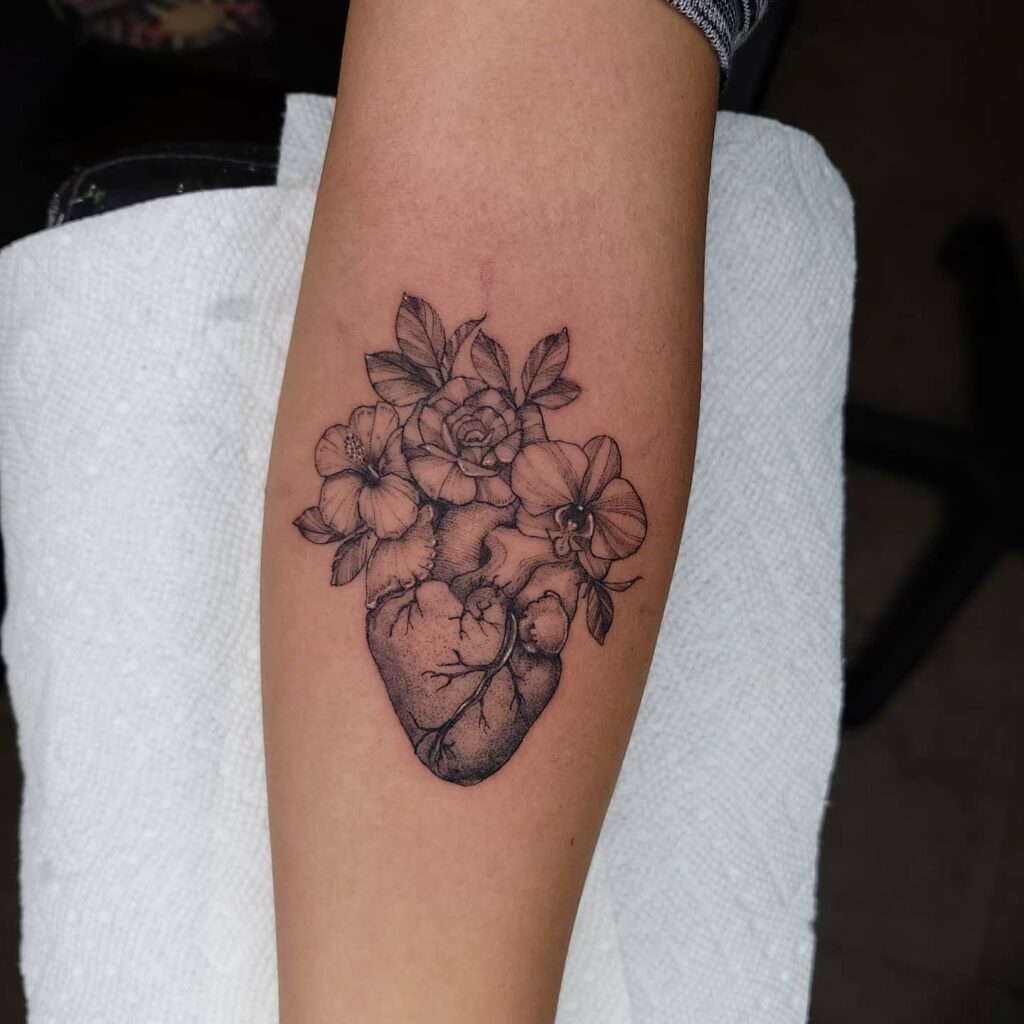 This stunning design is a wonderful expression of love and passion, blending the beauty of different flowers into a unique and meaningful tattoo. In this design, you'll notice the striking presence of a rose flower at its center, which is known to symbolize the highest and purest form of love and passion. Meanwhile, the hibiscus flowers surrounding it represent several things, such as purity, wisdom, and fortune, as well as love. The heart-shaped center of this tattoo is yet another representation of passionate love, urging you to look within and love yourself.
The tattoo artist has put great care and attention to detail into this design, creating a beautiful arrangement of flowers and a heart that looks almost lifelike. With the use of fine lines, shading, and dot work art, they've given it a stunning depth that's sure to catch the eye. If you're looking for a simple yet meaningful tattoo, this design could be just what you need!
Abstract Anatomical Heart Tattoo
This amazing tattoo is a beautiful representation of the human heart in an abstract style. As an expert tattoo artist or enthusiast, you know that abstract art does not have to represent reality in its exact form. Instead, it can use various shapes, colors, and textures to convey meaning. In this design, the artist uses these elements to capture the essence of the heart.
Although the tattoo may not appear as a realistic heart at first glance, it accurately represents the anatomical heart with creative abilities and ideas. The fine line work in black ink is beautifully detailed, making it a sweet and simple design that you might want to consider for your next body art.
Small Anatomical Heart Tattoo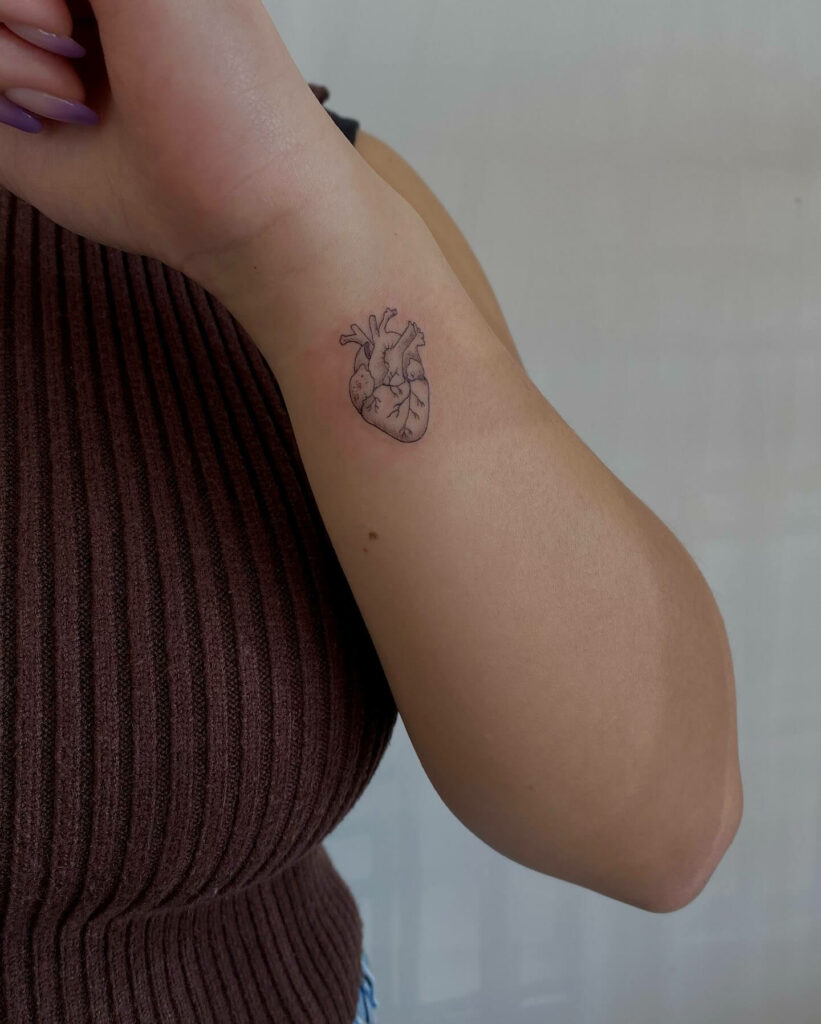 This minimalist tattoo design of the anatomical heart is a perfect representation of simplicity and elegance. The absence of added elements like flowers or arrows makes it stand out even more. Although this tattoo is often seen as a symbol of love for someone, it could also mean something different to you. It can remind you to trust your heart and follow your dreams, no matter what challenges you may face in life.
The tattoo artist has done an impressive job with the detailing of this design, using fine line work of black ink and subtle shading of grey ink to create a unique and personal design. If you're looking for a small and meaningful tattoo, this heart design might be the perfect fit for you.
Little Red Heart Tattoo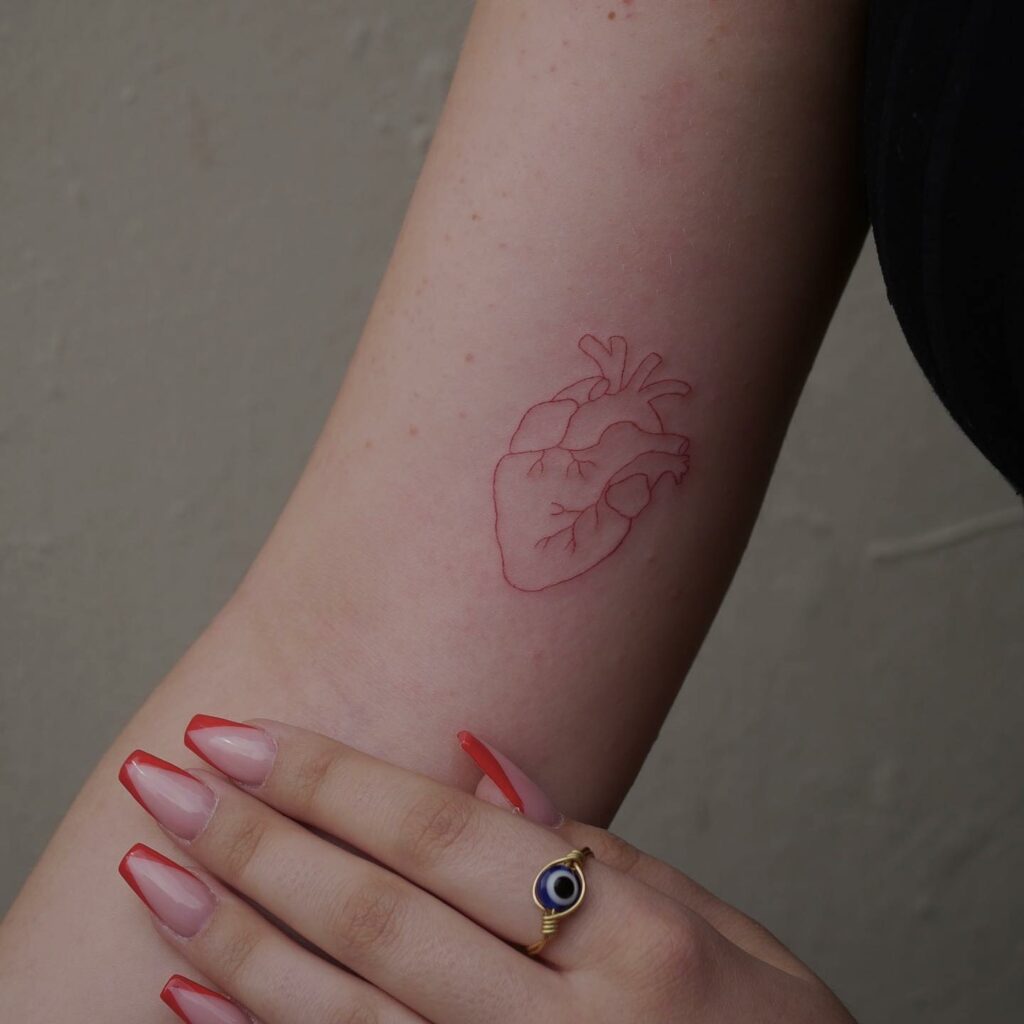 This beautiful tattoo design is a unique take on the classic anatomical heart. The artist opted to use vibrant red ink instead of the typical black and grey color scheme. The minimalist design features a striking outline of the heart, without any additional shading or dotwork. Red is a well-known symbol of love, and this tattoo speaks volumes with its bold, eye-catching color choice.
This tattoo is perfect for placement on the upper arm, wrist, or forearm, where it will serve as a constant reminder of the love and passion you hold in your heart. The simple design is perfect for those seeking a small, yet meaningful tattoo. It's a beautiful way to express your love for yourself and others, and a great option for anyone looking to add some color to their ink collection.
Heart And Sword Tattoo
Love is a powerful emotion that inspires tattoo art in many ways. This design includes several elements that represent love, such as swords, armor, blood, and, of course, the heart. The symbolism of the design is open to interpretation, but it ultimately conveys the message that love can hurt, and we must have the courage to protect ourselves and take risks.
The tattoo artist's attention to detail is impeccable, with each element of the design clearly defined. The use of black, white, and brown shading gives the tattoo a sophisticated and refined appearance, while the red blood drops add a powerful touch of realism. This tattoo is larger in size and has been placed on the thigh, but it can also be placed on the chest or back, where it can be admired and appreciated.
This design is perfect for anyone who wants to express their feelings about love in a unique and powerful way. Whether you're a seasoned tattoo enthusiast or a first-time client, this tattoo is sure to impress and inspire. So why not take the leap of faith and wear your heart on your sleeve, or rather, on your thigh, chest, or back?
Black And White Heart Tattoo
The phrase "wear your heart on your sleeve" has been immortalized in this beautiful tattoo design. The tattoo artist has created an accurate representation of an anatomical heart and adorned it with delicate flowers. This tattoo represents self-love and serves as a constant reminder that you should always put yourself first.
The artist has paid great attention to detail, creating the border with fine black ink linework. The tattoo also features intricate dot work shading, using only black and grey ink to complete the design. This simple yet meaningful design is perfect for anyone looking for a stunning tattoo with a powerful message.
Anatomical Heart Chest Tattoo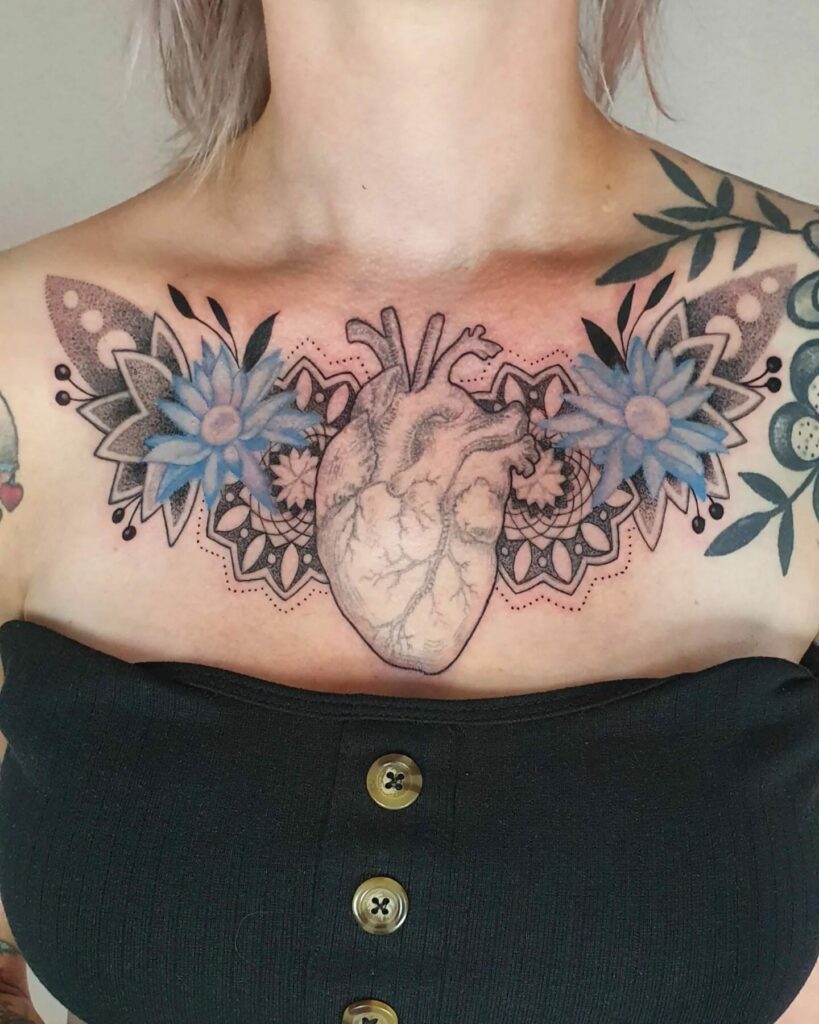 This stunning tattoo design is a true masterpiece and consists of several intricate elements. The centerpiece of this design is the beautifully detailed anatomical heart, delicately crafted with black ink to give it a lifelike quality. Flanking the heart on either side are two intricate mandala designs, symbolizing balance and beauty. Adjacent to the mandalas are delicate blue flowers, representing humility, and created using different shades of blue to give them a soft and subtle appearance. Finally, an abstract design made with dot work art of black ink adds a unique touch to this already amazing design. The artist's careful use of black ink and the combination of all these elements make this tattoo truly exceptional. It's a perfect choice if you're looking for a tattoo that represents love, balance, beauty, and humility, all in one stunning piece of art.
Red And Black Heart Tattoo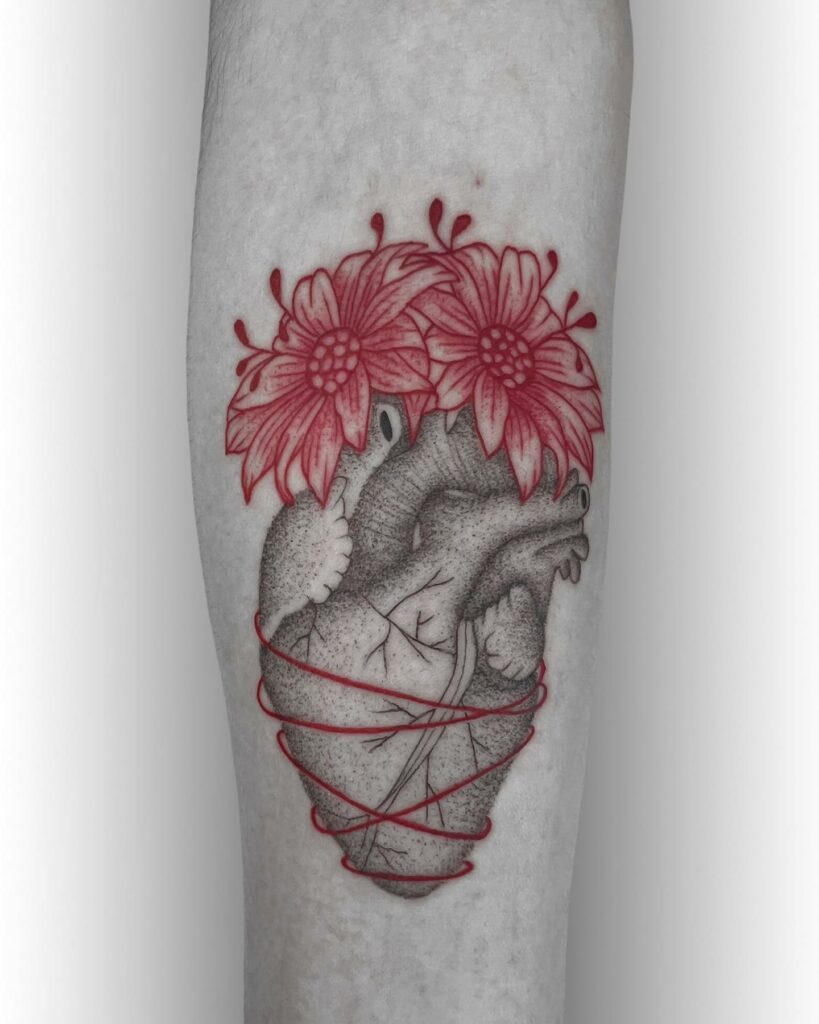 Love has the power to heal, and this tattoo design perfectly captures this sentiment. The tattoo artist has used black ink to create the anatomical heart, which serves as the centerpiece of the design. The heart is surrounded by vibrant red flowers and a rope that further emphasizes the theme of love and its ability to bind us together. The intricate details of this design have been crafted with fine line and dot work, giving it a sense of depth and texture. This simple yet powerful design is a great choice for those who want to showcase the transformative power of love in their lives.
Simple Heart Tattoo Designs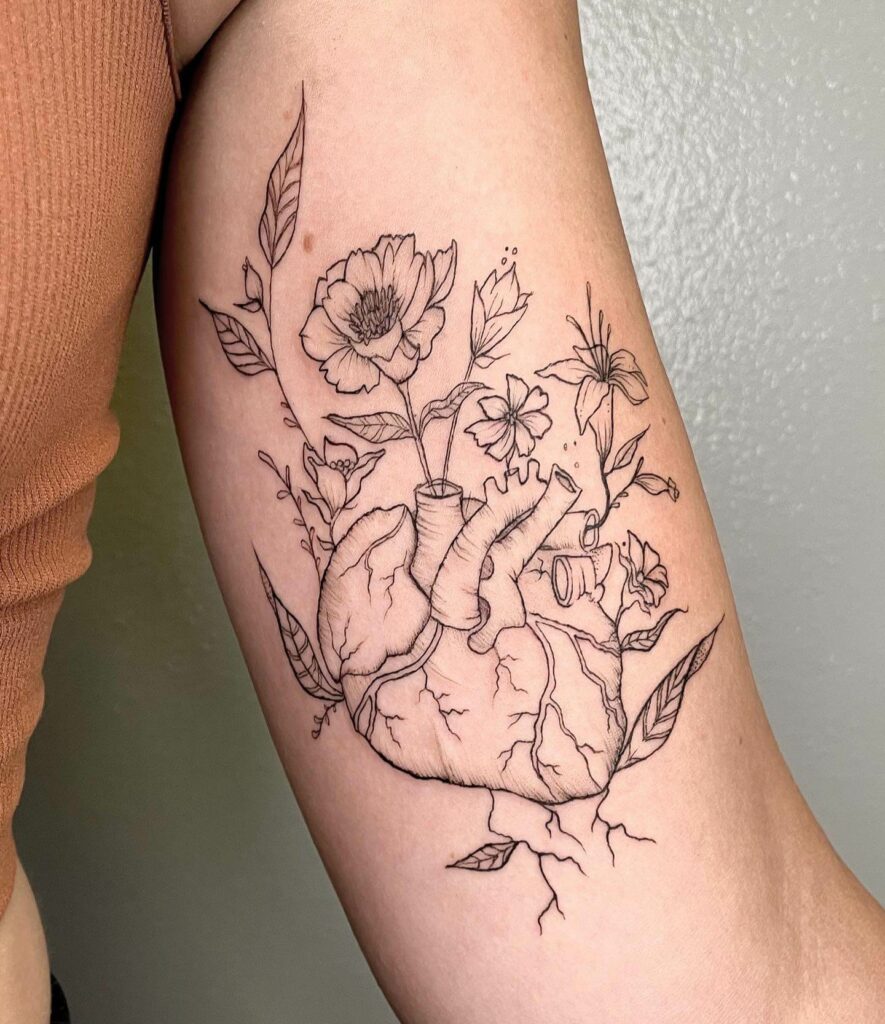 Creating an anatomically correct heart in a tattoo requires skill, and this design is a beautiful representation of that. The heart in the design symbolizes love and passion, while the flowers growing from it represent your inner beauty and the importance of your emotions. The tattoo artist has used delicate black ink strokes to create this stunning design.
This tattoo is not just about love; it also reflects the realities of life. That's why it's a popular choice for both men and women. If you're hesitant to get a permanent tattoo, you can try a temporary one and see if you like it. Once you're sure, you can transform it into a permanent design
Feature Image from Pinterest – Want your tattoo to look brighter? Try "Tattoo Balm"