Are you looking for some Ace tattoo One Piece ideas? Check out this Ace Toei animation tattoo idea for your upcoming tattoo session.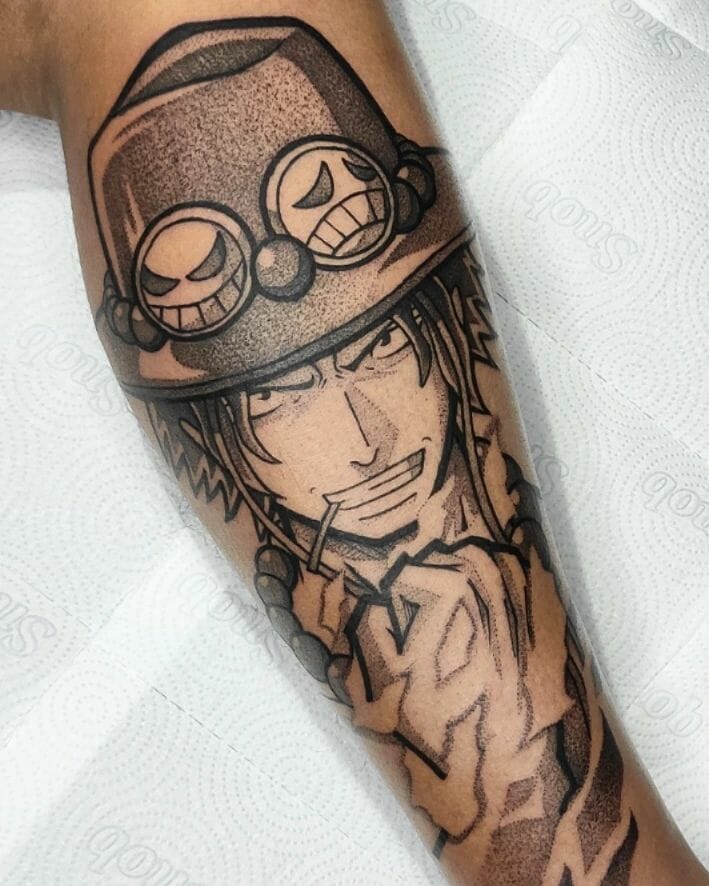 Ace tattoos look smashing because of the entire edgy look of the character.
Anime series is a favorite of many, and people always try to get a tattoo to remember the effect that these series had on their lives. A One-Piece Ace tattoo meaning can be different for different people, but it looks aesthetic no matter what.
Ace is a very popular anime character, and many anime series fans get Ace's tattoos. You might wonder what does Ace tattoo mean regarding One Piece? A true fan of the series can only appreciate the beauty of the tattoo. If you are in search of a tattoo that is going to be a tribute to your love for anime, check out these whitebeard pirates tattoos. These tattoos are a tribute to Sabo, Ace, and Luffy and their unforgettable characters. We have compiled a list of Ace tattoo ideas for your upcoming tattoo session.
Ace And Luffy Tattoo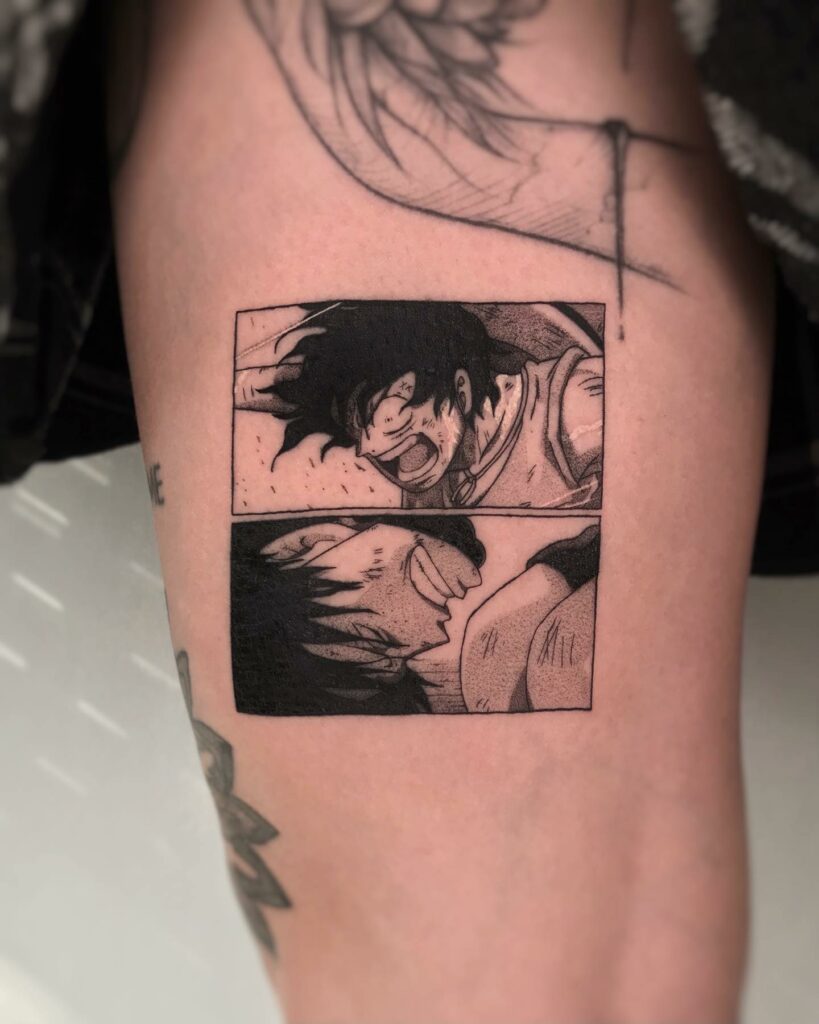 With cool and carefree characters, the One-Piece has been a great sensation from our younger days to till this date. There are many One-Piece themed tattoo ideas for the fans to get some super aesthetic inks. Some prefer to get the character tattoos or the One-Piece manga panel, but some fans go for the iconic moments of joy or very painful scenes to tribute to the characters.
This detailed black ink tattoo is about Ace's death and his younger brother Luffy who wants to be the pirate king. This scene was one of the saddest and heartbreaking scenes of One Piece. Ace found his long-lost cry baby brother, and Luffy never wanted to lose his brother again. So this is a very emotional and heart-touching scene from One Piece. This arm tattoo can be done on various body parts as you like.
Ace Tattoo Forearm Design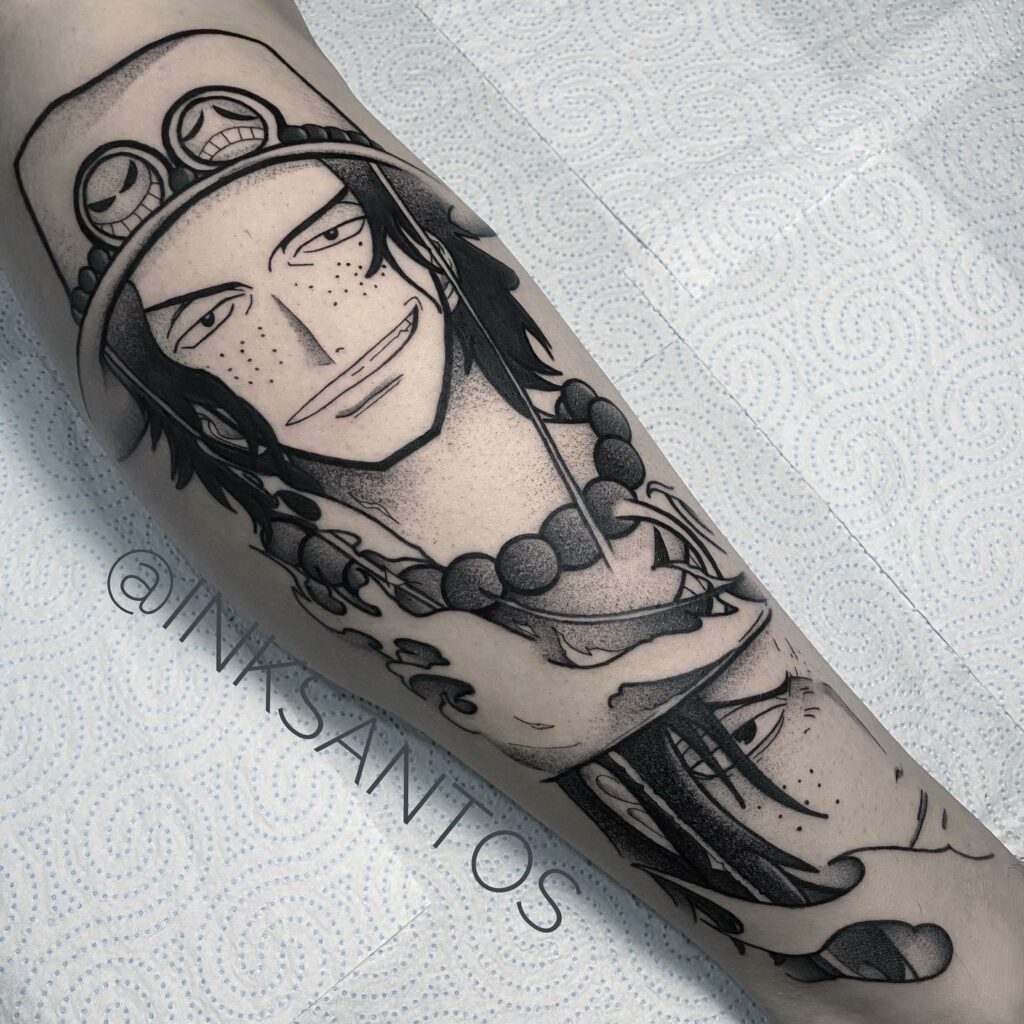 One-Piece holds a special place among anime and manga fans. Its cool and carefree characters have their own fanbases. So it's very common and obvious to get your favorite character's tattoo. And if your favorite character is Ace, the famous pirate, then this tattoo is just perfect to dedicate your arm to a super majestic and fantastic character.
This is an awesome majestic, heavy detailed black ink tattoo of Ace, and this tattoo is skillfully done by the tattoo artist, making it look as if it's straight from the creator's mind. You can get this sleeve tattoo as an open shirt tattoo or a leg tattoo.
Outlined Ace's Tattoo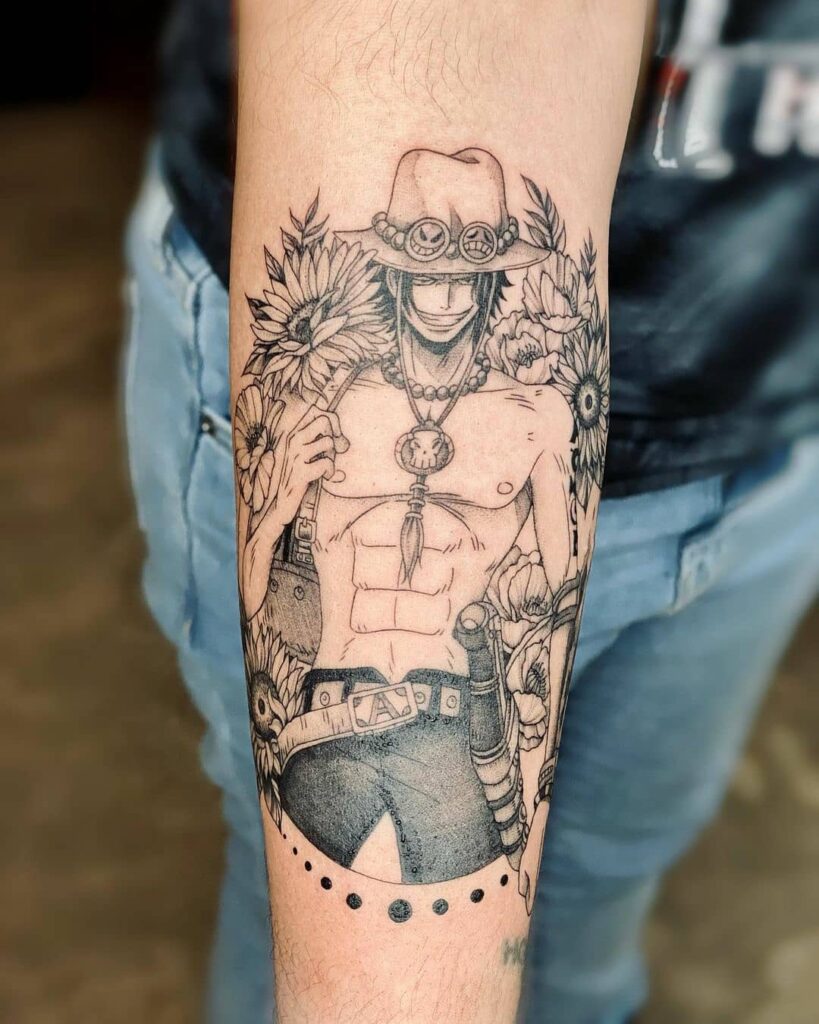 The One-Piece manga was a sensation from the very start of this series. The story of One Piece starts off by showing that a young pirate boy is in search of a crew in the sea. The young boy named Monkey D. Luffy wants to become the pirate king. He's also Ace's sworn brother. Whatever Ace wore looked fantastic, but this open-front shirt tattoo looks very attractive.
Luffy can be the main character, but Ace reveals many things which make the series much more exciting and better. So if you are searching for an awesome Ace tattoo, then this tattoo is just for you. You can customize this outline tattoo to your liking by adding anything that represents and stands for Ace.
Highly Detailed One Piece Manga Tattoo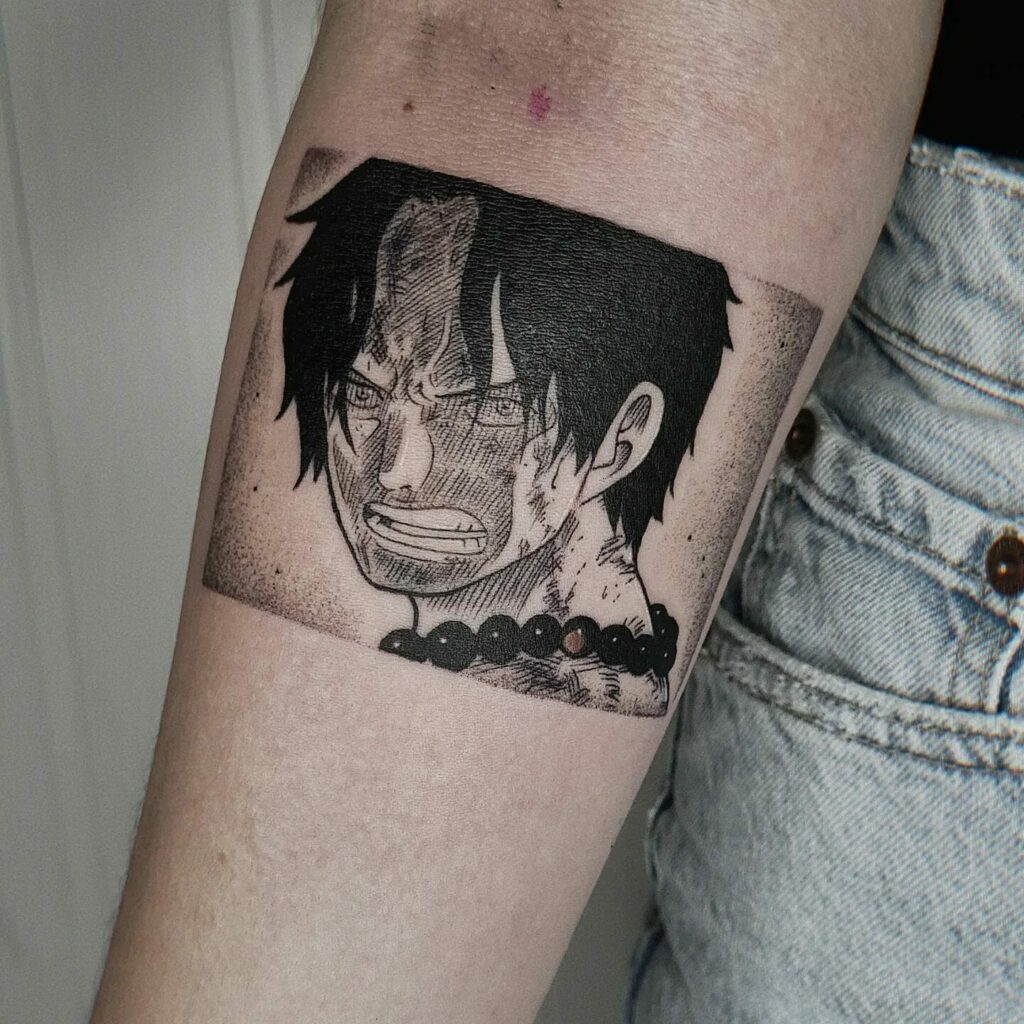 One-Piece has many fantastic characters like Robin, Tony Chopper, Frankie, Zoro, Nami, Nico, Sabo, Captain Edward Newgate, Ace, and Luffy. The crew that Luffy made had a crossed symbolization. So if you are looking for a character tattoo and can't decide on what to get, then this Ace One-Piece tattoo is for you.
This is a black ink high detailed piece Ace tattoo. Ace is one of the most famous and aesthetic characters in One Piece. This manga tattoo is best for the arm or upper left bicep; if you want, then you can add this tattoo to your tattooed sleeve.
Sculpted Body Ace Tattoo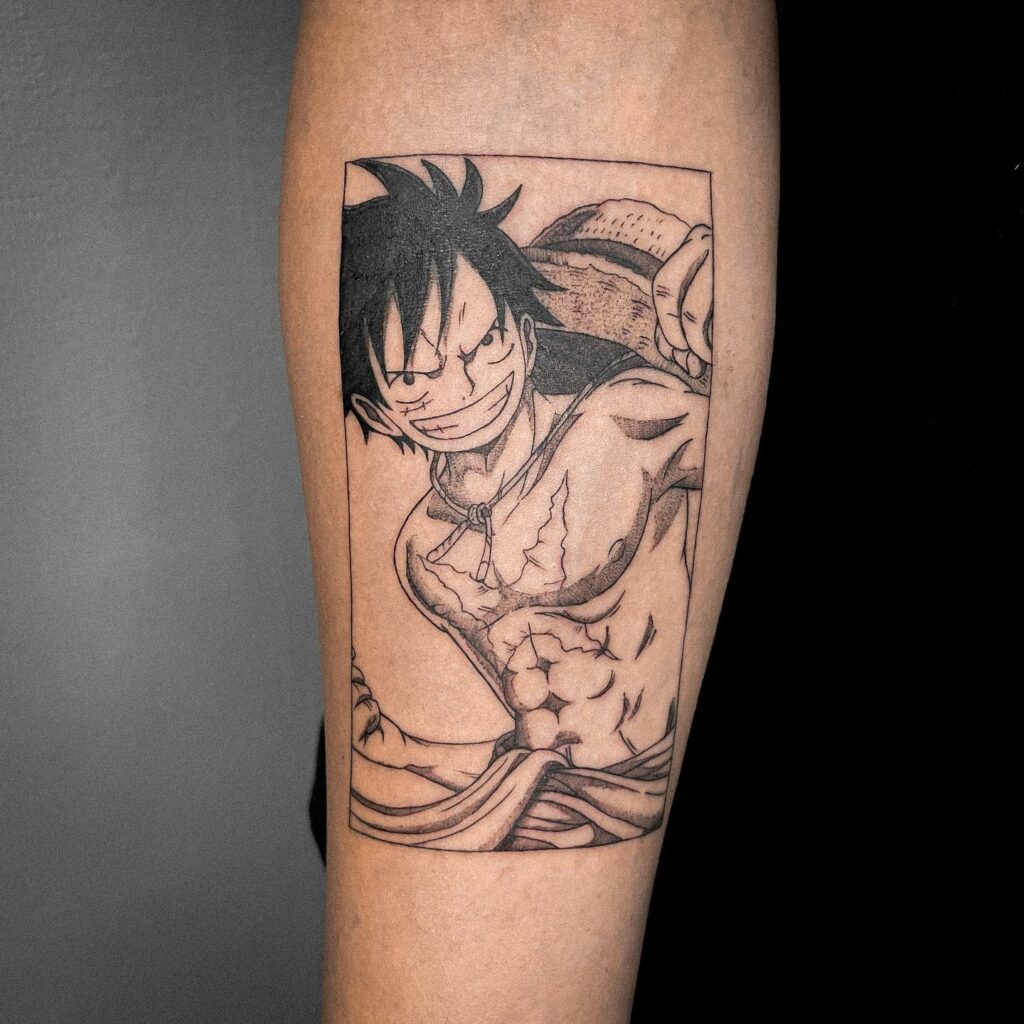 One Piece of Toei animation is a sensation throughout the world. It got a huge fan base and got fans all over. The straw hat pirates are famous among all the characters; it's not just for the iconic straw hat but also for Luffy.
This is a super aesthetic detailed outline tattoo of the sculpted body of Luffy with his scars which is a sign of his hardship and growth. Ace's tattoos show the sculpted figure that he had. So if you are looking for an ideal Luffy tattoo, then this tattoo is for you. This Edward Newgate tattoo will look great on your arms, legs, or back.
Super Cool Ace Character Tattoo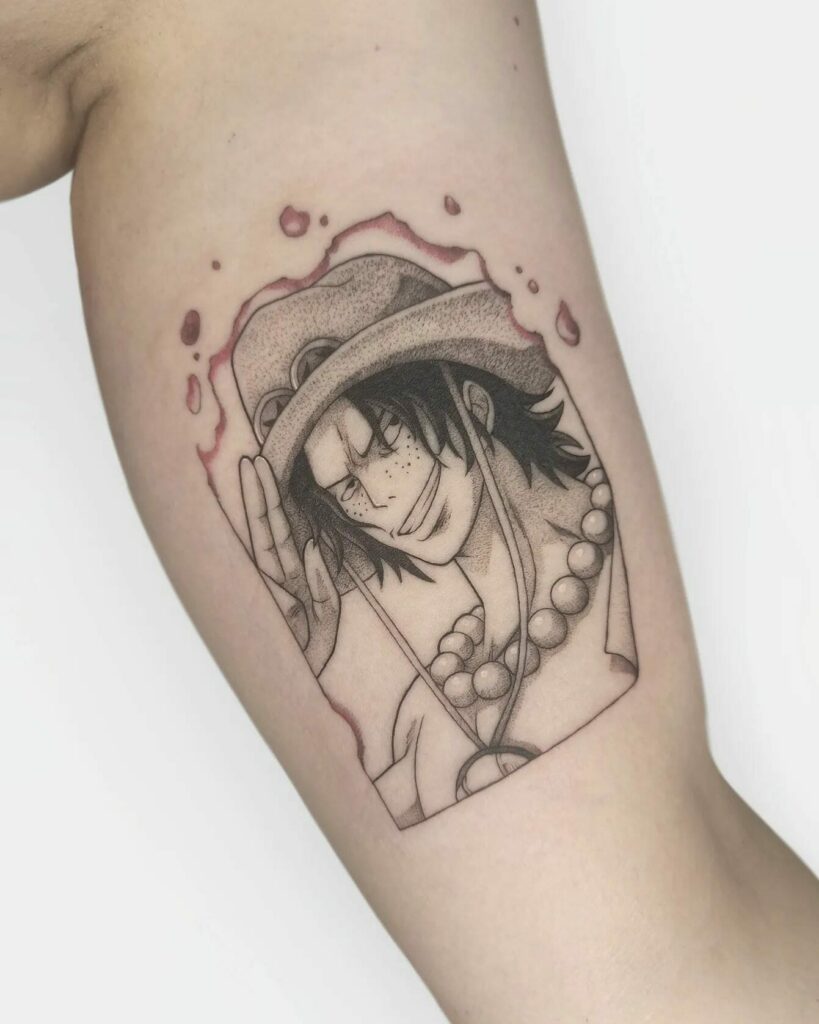 Ace is among the most popular characters for anime fans, and anyone who is a fan of Ace would like to have a tattoo depicting Ace's cool character. This tattoo of Ace depicts the character. Ace is drawn as an image on paper or a sticker placed on the palm of one's hand using black ink and a small amount of reddish-brown to create the effect of burning paper. The lower portion of the tattoo shows the thin paper that is rising from the edges.
The upper portion of the tattoo depicts the burning flames as well as edges that have lost their shape as the paper is burning. The flame part is depicted using reddish-brown color, and the remaining part of the design is drawn with a grey-colored hue using small dots and fine lines. The overall look is beautiful as it's sketched with great detail by the artist. Any Ace fan would want to have these tattoos on their hand, back, shoulders, or even ankles.
Back Ace's Tattoo Design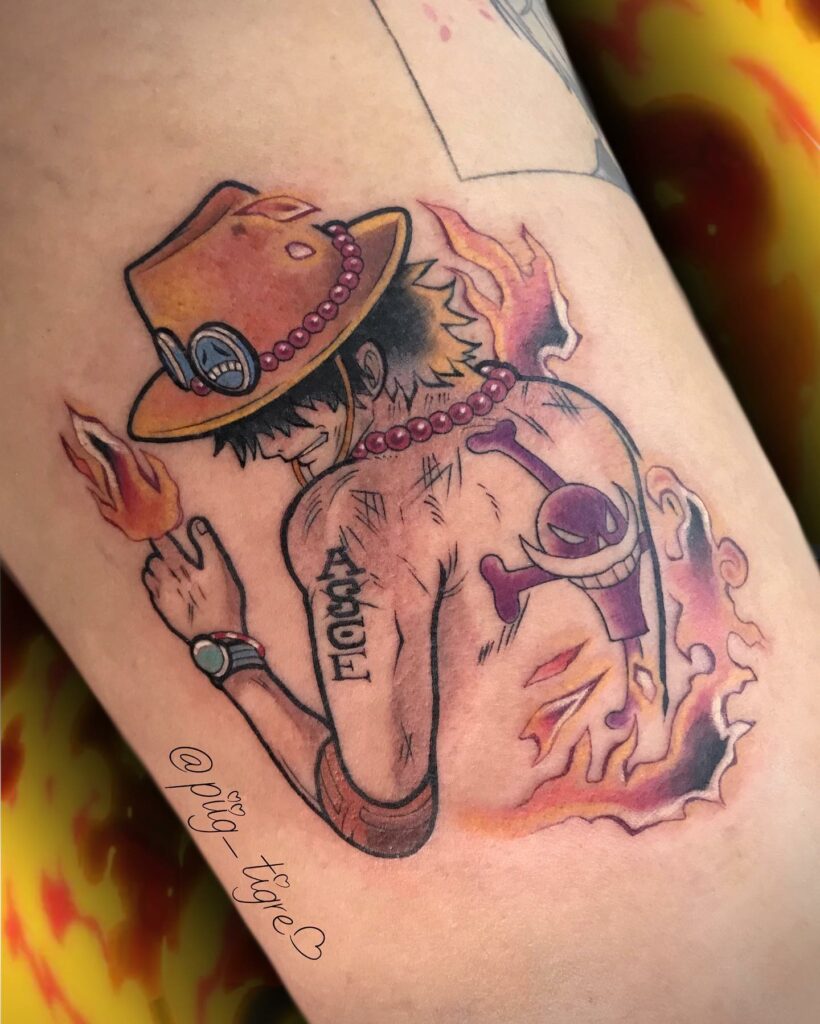 Ace is a distinct face on the planet of manga due to his unique outfit. The unique Hawaiian hat, along with his long, slender hair and necklace – each aspect of his appearance must be done with a delicate touch should you want to get an Ace tattoo.
The tattoo is a vibrant one that shows Ace's cool nature as well as the flames surrounding him beautifully. It was stated in One Piece that Ace's tattoo is his actual name. This tattoo depicts Ace thought was crossed out as an allusion to Sabo Ace's brother, who was sworn to him from his childhood and was believed to be to be dead. The hat Ace puts on top of his head.
Whitebeard Pirates Character Tattoo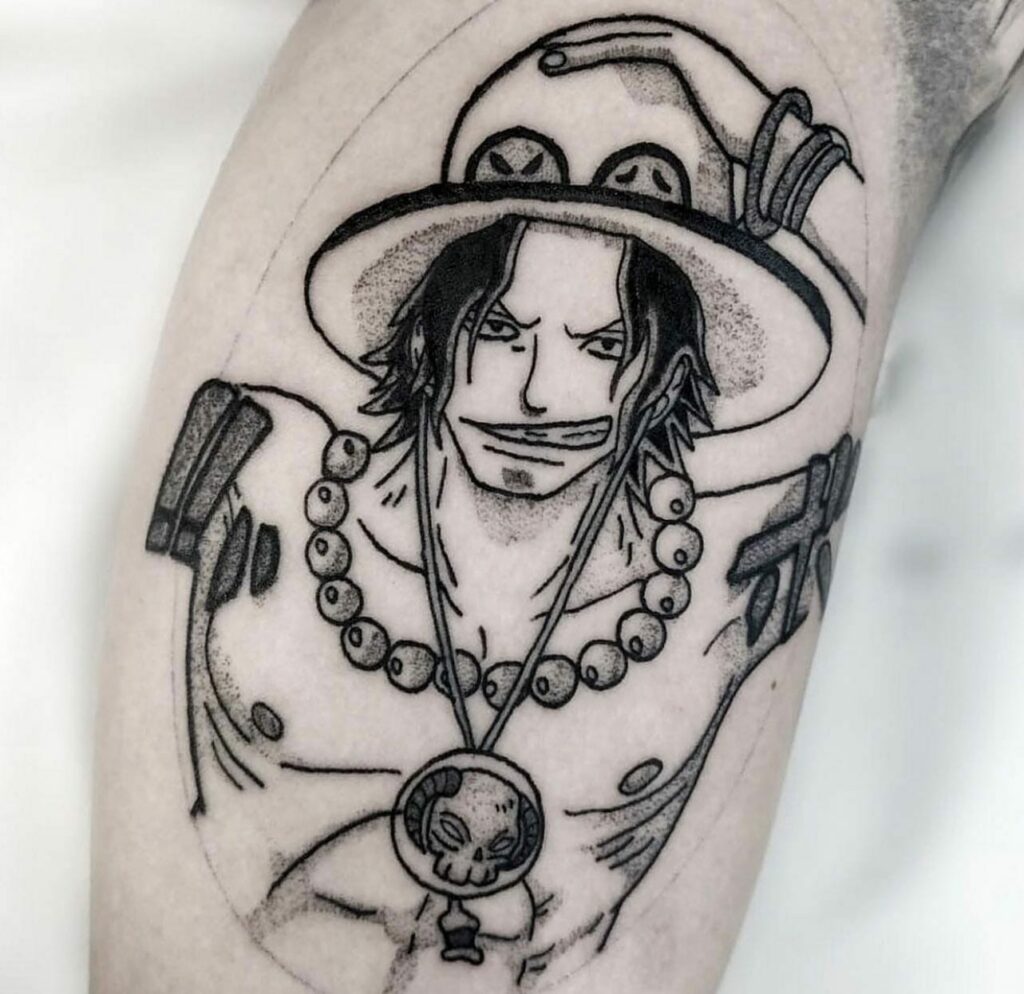 Animation has been popular as a tattoo design option, and this pirate's whitebeard tattoo is unique for captain Edward Newgate. The sketch is drawn in great detail, preserving all the features that make up the character. The large Hawaiian hat, with the sunglass, is placed upside down.
The neckpiece the character wears, as well as the details of the skull and the horn, are drawn with just black ink like straw hat pirates or spade pirates. When tattooed on the upper chest, upper arm, legs, upper arms, etc. is unique and is a part of the overall look of the individual. The Ace One-Piece tattoo meaning is sure to catch the attention of anime lovers.
Wrist Ace's Tattoo Idea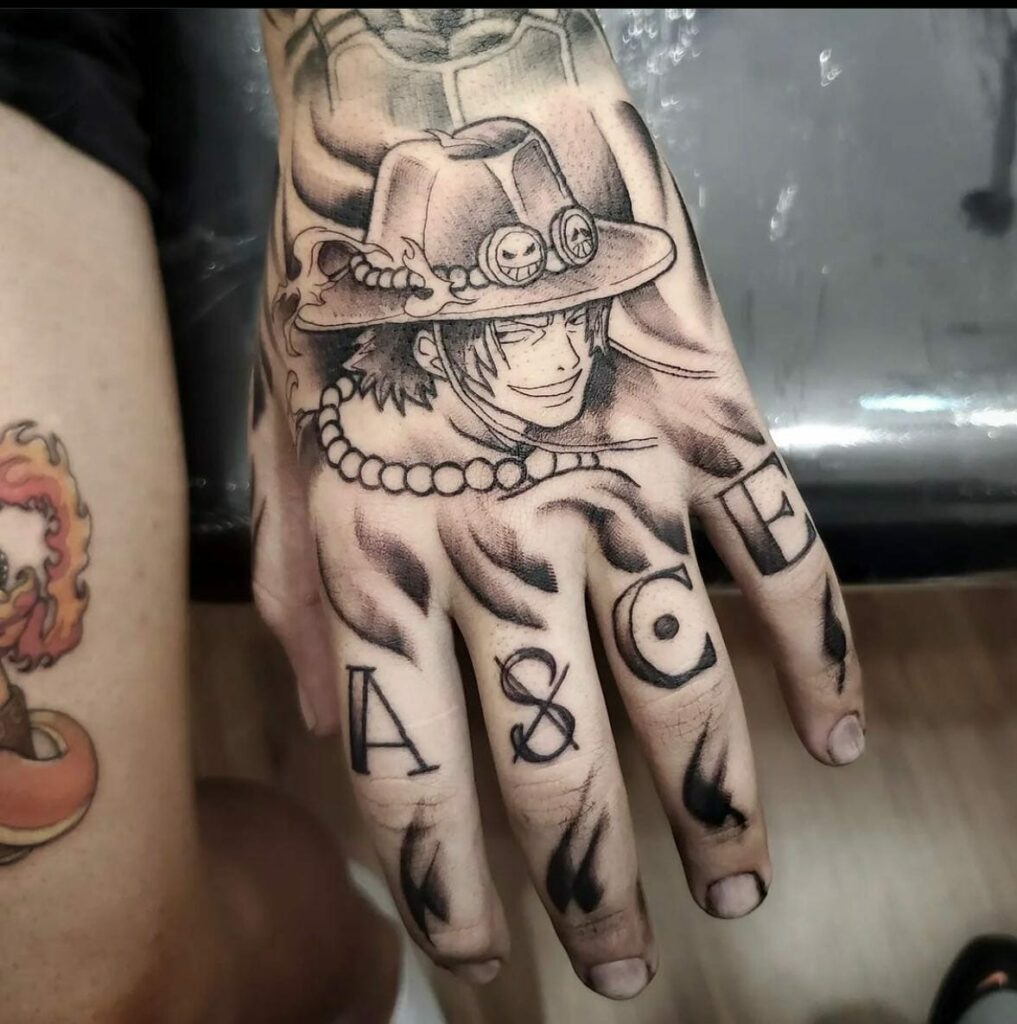 Ace is a cult anime for anime lovers due to its distinctive characteristics and fun personality. Anyone who is awed by this individual would surely want to get Ace's death tattoo on there. Ace's cool and carefree character is a distinct face within the realm of animation due to the unique outfit. The distinctive Hawaiian cap, an oversized necklace, and hair with long lengths – each aspect of his appearance must be drawn using fine fingers If you want to get Ace tattoos.
The fingers have the letter ASCE spelled on them, with each letter on each finger. The letter A stands for Ace, S with a cross stands for Sabo, C stands for crybaby or Luffy, and E stands for Edward Newgate or whitebeard. The spelled letter S has been crossed since Sabo was the sworn enemy of Ace and was presumed dead. The cross makes the tattoo look even edgier. This whitebeard pirate tattoo looks very magnificent due to its placement.
Flaming Hot Ace Tattoo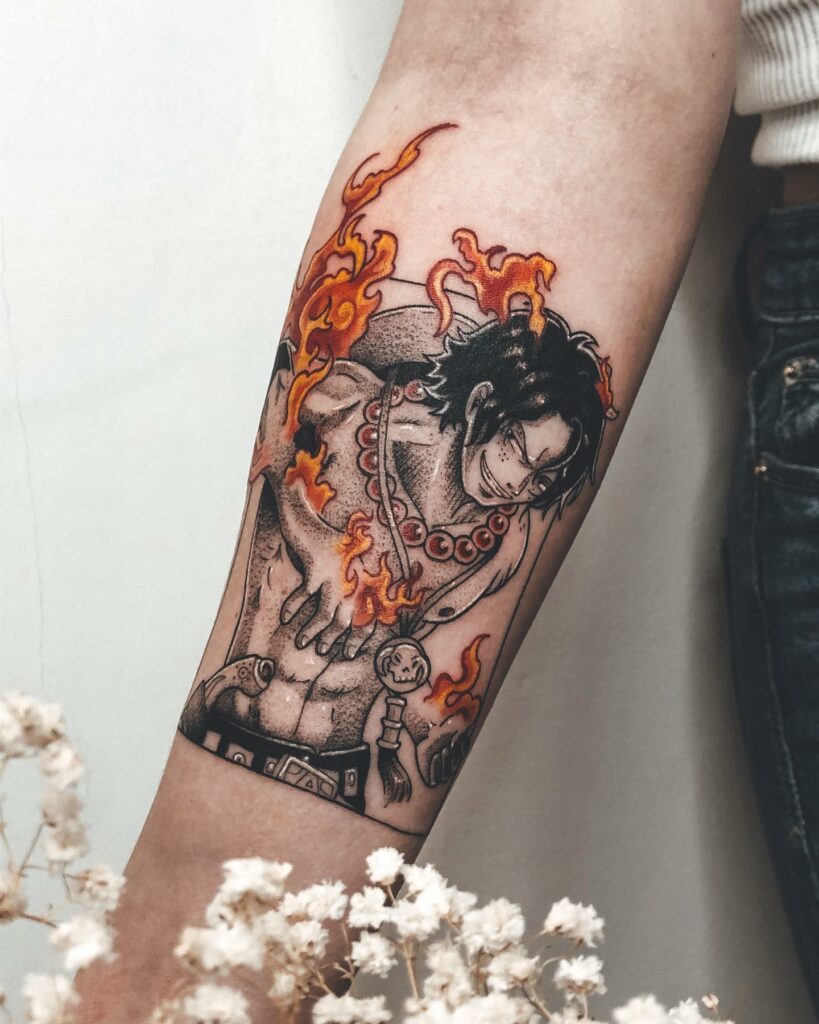 The combination of shadows and flames gives a unique flavor to the world of tattoos and their many variations. This is partly due to the contrast created by two particular shades, reddish-orange, and grey. These colors are the Ace tattoo that carefree character, where hair is inked using dark blacks and the entire body is drawn with thin line drawings of black. The shading for the character's features is done by sketching grayish hues, as well as flames inked with red, orange, and brown.
Ace From One Piece Tattoo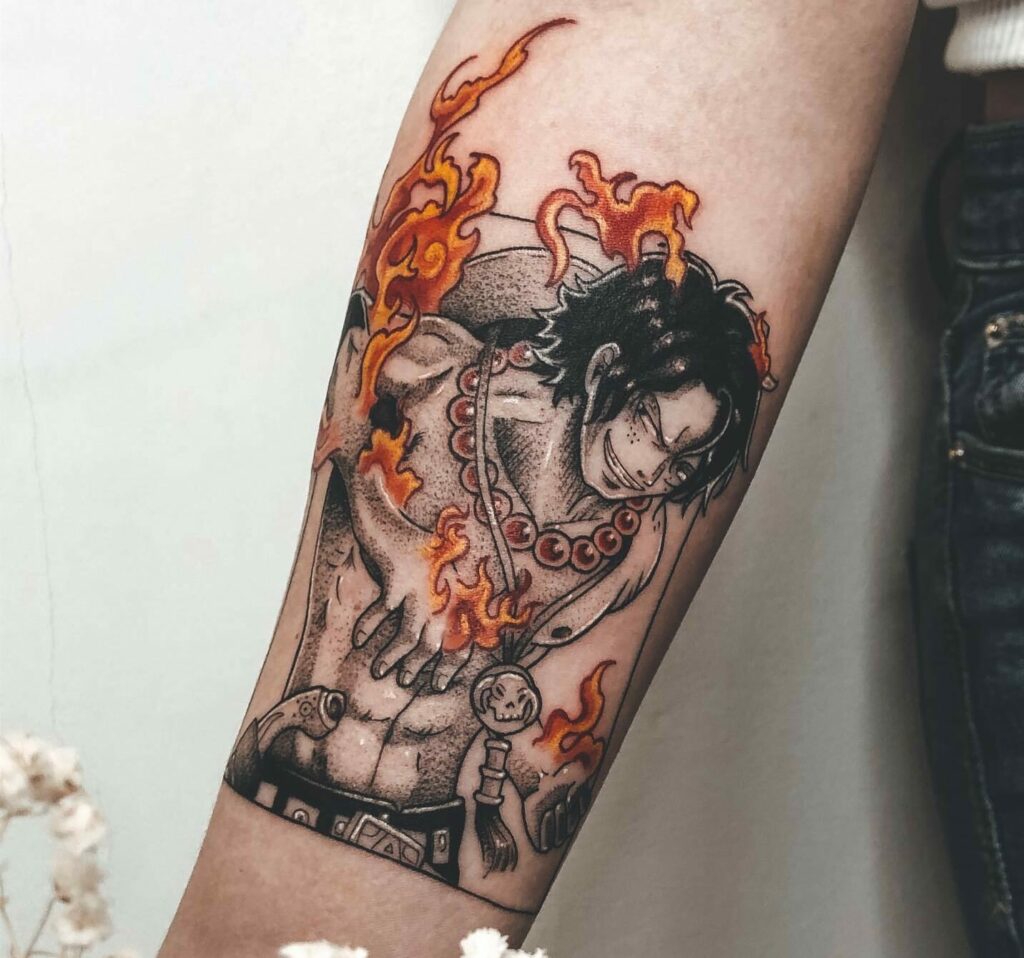 Details of the art from the anime, such as the dagger attached to his waist and the distinctive physical appearance, including the pendant with the skull of a bull and the ball-shaped necklace that the tattoo wears, have been preserved in the Ace tattoo. This tattoo is a perfect fit when it's inked on the back or upper arms or hands, will draw attention to it, and look stunning.
There are many pirates tattoos that you could choose from, but the Ace tattoos are some of the edgiest and most aesthetic. These posts have been curated for all the fans of Ace. He was very determined and protective, and many people honored these traits in him. People often get Ace tattoos to glorify these attributes. We have listed some more Ace tattoo ideas for you; if you used to watch the series, these are just for you.
feature image from Pinterest – Want your tattoo to look brighter? Try "Tattoo Balm"