Have you been looking for a tattoo to show your pride in your country? Here are the ten best American eagle tattoo designs you will ever find!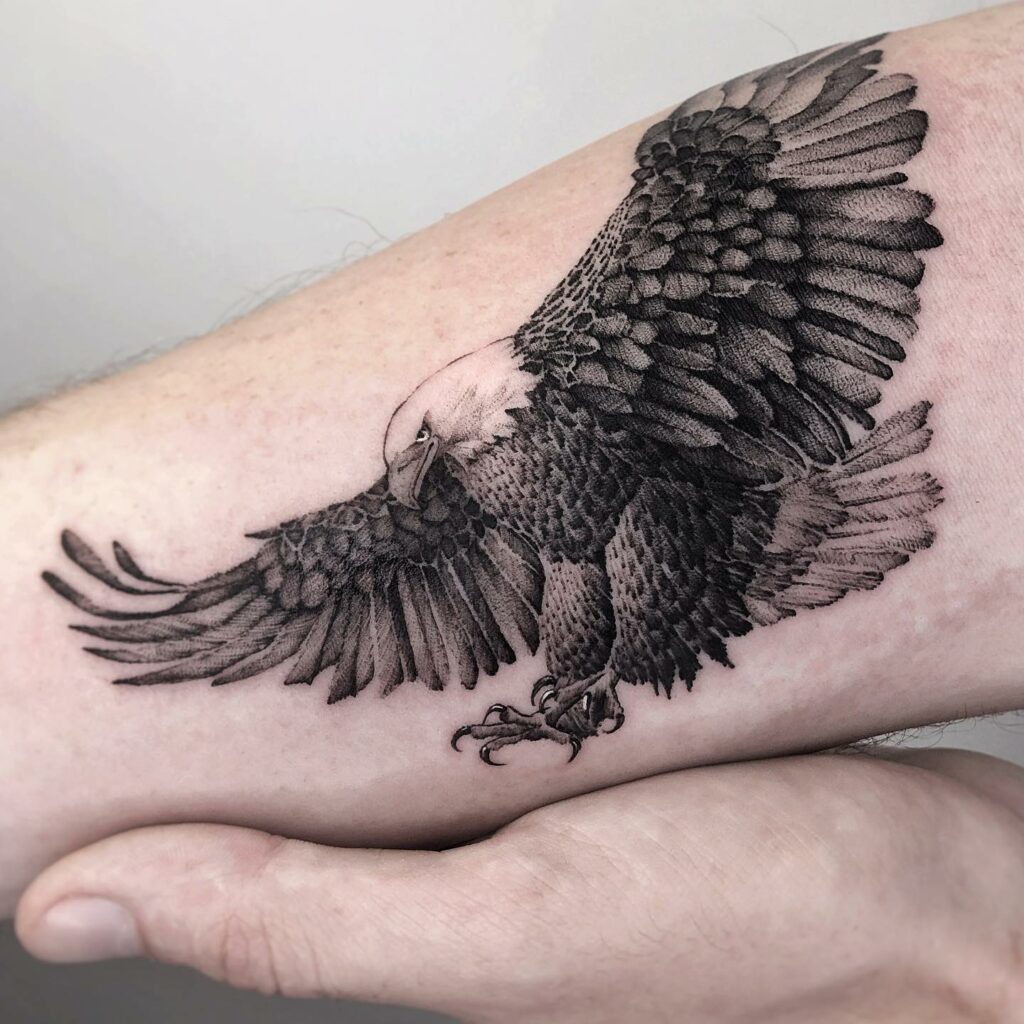 When the bald eagle was first placed on the emblem of the United States of America in 1782 and it has been the national bird of the country ever since.
Because the bald eagle has been illustrated in several government institutions and official documents, it also happens to be one of the most pictured birds in America. So, what does the American eagle mean?
Eagles have been a popular symbol in many countries across the world. Although the image of the eagle might vary in different places, they all almost have the same meanings. These fierce, massive birds have been considered a symbol of courage, power, and, most importantly, patriotism. The bald eagle is undoubtedly a perfect choice that was made by the Founding Fathers. The beauty, strength, power, and freedom of a bald eagle made them feel like they were meant to be in the mighty and independent America.
So, if you have wanted to show your pride as well, or maybe just because you want to bring out the courageous, brave, and independent side of you, a bald eagle tattoo is a great idea! With fierce eyes, massive wings, and hearts swelled with pride, these bald eagles make a badass tattoo image. However, these brave American eagles also have a spiritual meaning attached to them, and we promise that these tattoo designs will never fail you.
Although the bald eagle tattoo designs were first believed to have been inked by bikers, it was also used by Native Americans several years ago. For these Native Americans, the bald eagle was associated with supernatural achievements after a person died. However, the biker communities tattooed the bald eagle as a symbol of freedom. Often this would be incorporated with the red, white, and blue colors as the symbolism for the American flag. These bikers would also throw in some stars and stripes to make it look more authentic. The bald eagle tattoo designs have also been majorly seen worn by the veterans to proclaim their love for the country.
Bald eagle tattoos have also been popular amongst nature enthusiasts purely because of their love for the theme. These bald eagle tattoos have also been a go-to choice for bird watchers. These inspirational birds can be tattooed in various choices depending on the wearer. So, if you want some super-cool bald eagle tattoos, we are here with the ten best bald eagle tattoo inspirations that you will ever find!
Flying Bald Eagle Tattoo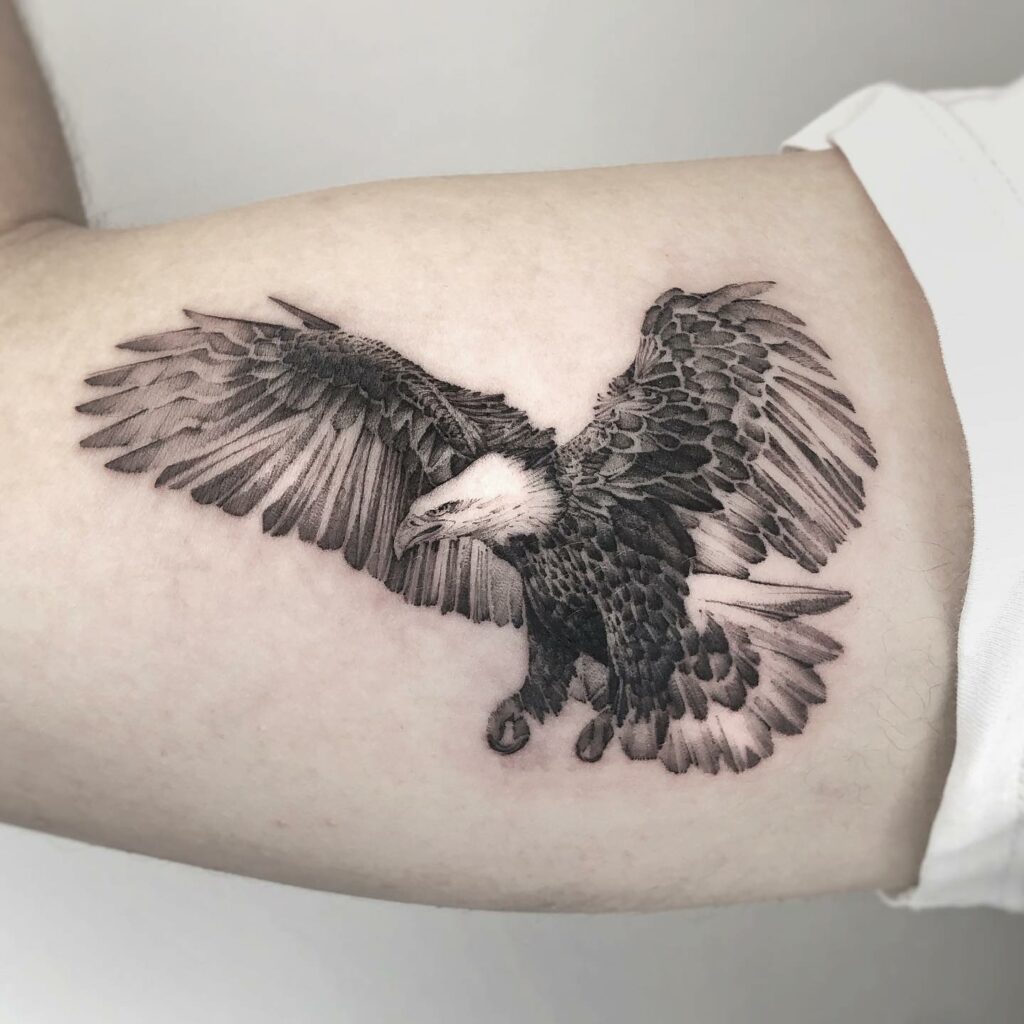 This bald eagle tattoo has been inked on the forearm of the tattoo bearer, and this eagle tattoo is colored using black ink. The eagle in this bald eagle tattoo is shown to be in a flying position with its wings open. A flying bald eagle tattoo often is a representation of freedom. This bald eagle tattoo has successfully captured a scenario after the eagle spots its prey and gets ready to attack.
This bald eagle tattoo is a symbol of freedom and focus, the distinguished feathers and colors on it is a sign of a good artist. If you are interested in simple yet artistic bald eagle tattoos, then we recommend you to consider this eagle tattoo.
American Traditional Eagle Tattoo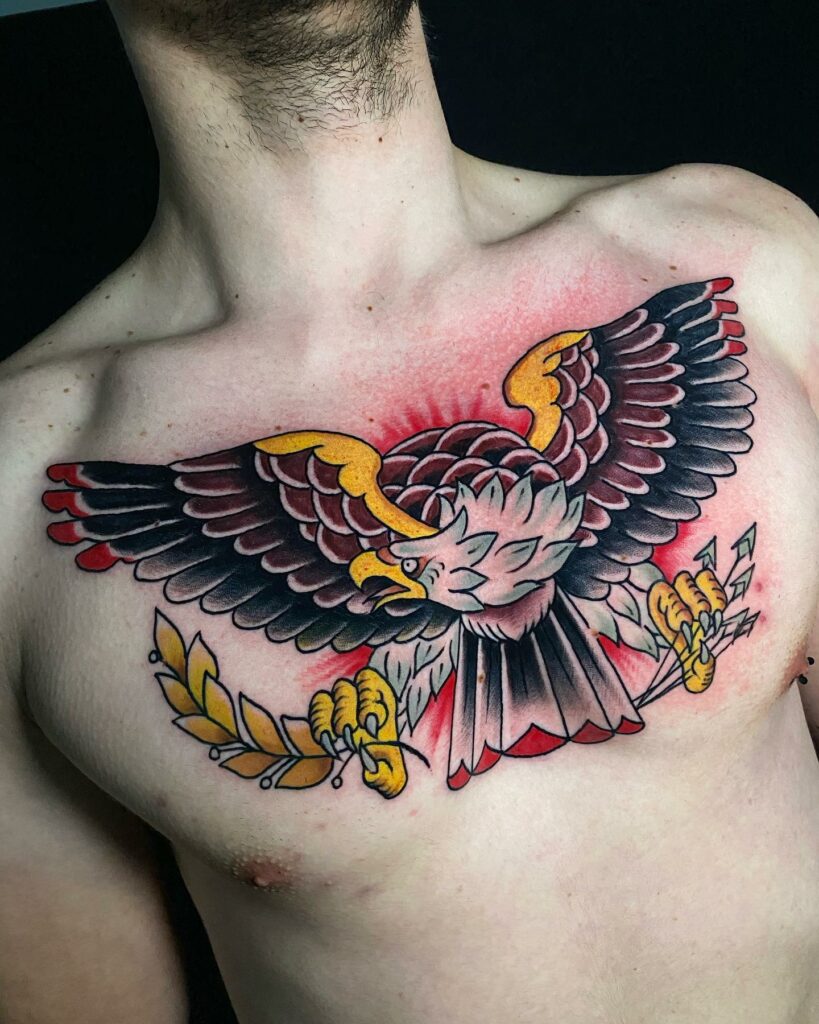 This American traditional eagle tattoo has been tattooed using multiple varieties of ink like red, white, black, yellow, etc. Chest tattoo designs typically represent the bearer's courage as well as the fact that he/she is ready to take on challenges head-on.
This bald eagle tattoo represents prowess, intelligence, and honor. In this tattoo, it is shown that the bird is holding yellow leaves in one claw and arrows in another. As the eagle's eyes are very sharp, so it can easily see the arrows coming. And the yellow color of the leaves is the symbol of sunshine, warmth, and happiness.
If you like bald eagle tattoos bearing deep meanings with it, then be our guest and check on our new collection of bald eagle tattoos on the chest.
Eagle With American Flag Wings Tattoo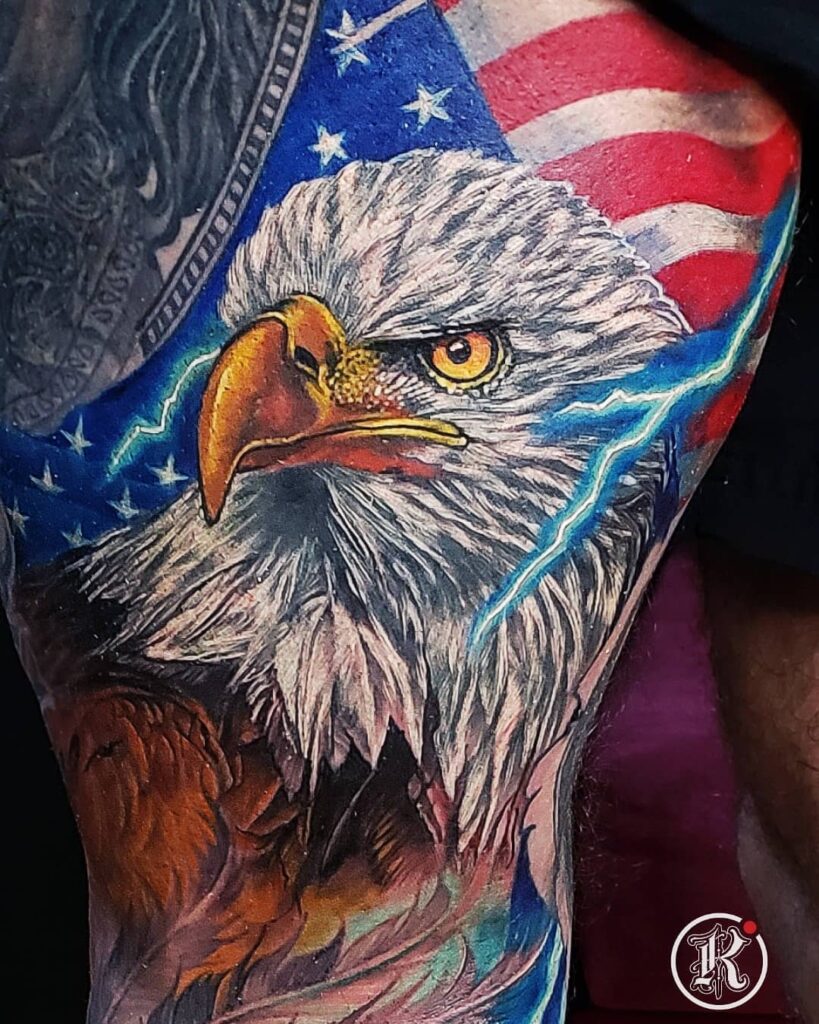 What is more powerful and patriotic than a flag tattoo, right? This is clearly why this bald eagle tattoo made its way into the list. What makes this American flag tattoo even better is the presence of an eagle in it which represents power, courage, and patriotism. This bald eagle tattoo has been tattooed using different colors. The American flag tattoo is a symbol of resiliency, justice, and freedom. And the eagle tattoo has been a symbol of manhood since ancient times.
This tattoo has been carved on the thigh of the tattoo holder. The big tattoo of the American flag and eagle in it looks bold. If you are also looking for a bold bald eagle tattoo to show your patriotism, then this American eagle tattoo featuring the American flag is the answer!
Bald Eagle And Snake Tattoo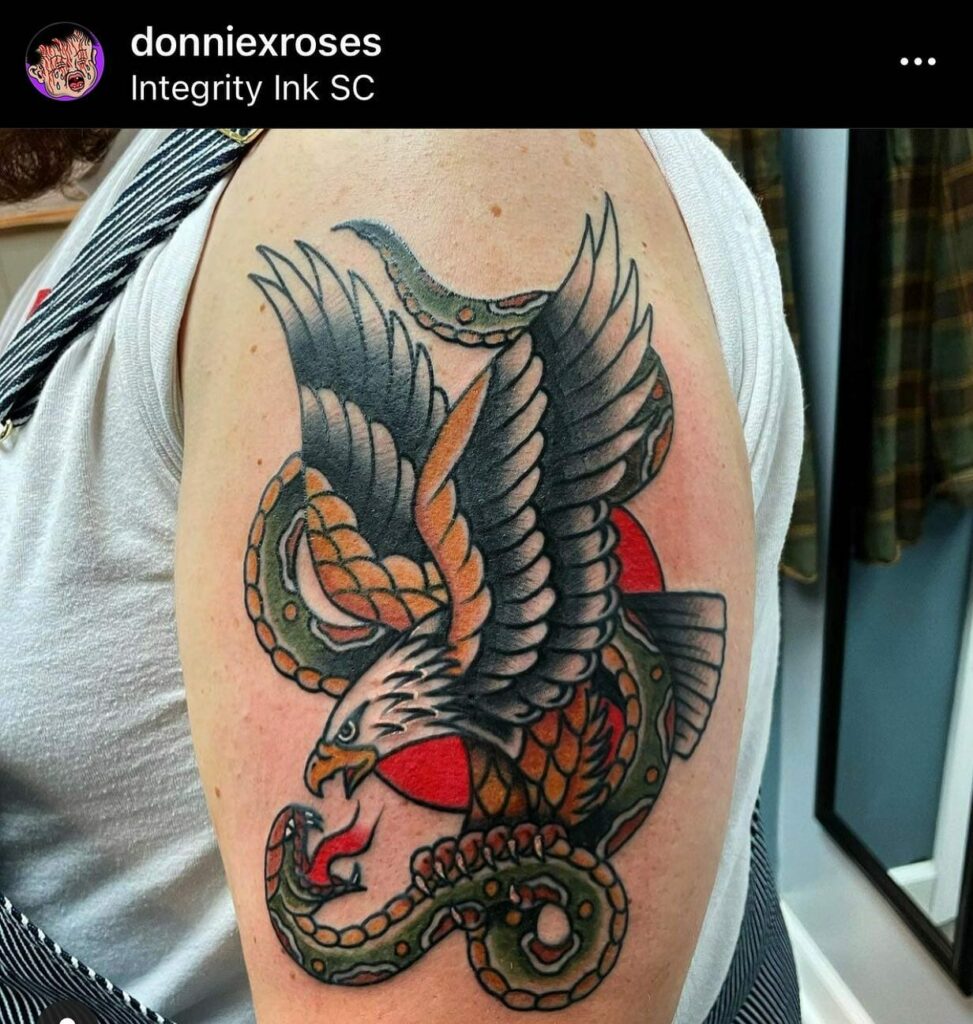 Another traditional bald eagle tattoo idea, this tattoo design features a bald eagle and a snake in a fight. Since eagles are one of the known predators of snakes, this snake tattoo totally makes sense. In this tattoo, the snake and the eagle are fighting in mid-air. With the wings of the eagle wide open, this tattoo has strong symbolism attached to it. Eagle and snake tattoo designs often represent the power of superiority and fierceness. The eagle is portrayed as having an authority over the snake. This tattoo tells us that the eagle is a majestic creature who fears none. The fight between the two animals represents in this tattoo. If you are searching for an eagle and snake tattoo for your arm, then this also could be your option.
Bald Eagle Skull Tattoo
This black and white skull and eagle tattoo is located on the arm of the tattoo holder. The skull in this tattoo represents overcoming difficult hardships and challenges, there is also another meaning for it, and that is overcoming death. The eagle in this tattoo has been tattooed in a sitting position, and the skull on its back looks as if it belongs there. Additionally, putting a skull and an eagle tattoo together also represents victory.
If you have been facing a dilemma with whether to go with an eagle tattoo or a skull tattoo for your next tattoo art, we would suggest you to merge them both just like this!
Bald Eagle Tribal Tattoo
Tribal tattoos are often inked as a sign of the bearer's achievements and history. They also signify belongingness. Tribal eagle tattoos can have different meanings depending on the tribe, but for all, the eagle always has been a spiritual symbol. For Native Americans, the eagle is a symbol of great achievements and protection. This tattoo looks simple, yet it is not, if you see the intricacy in the art, then only you can truly understand that.
If you are thinking of getting an eagle tattoo, then you can always choose a tribal eagle tattoo for a change.
Bald Eagle Forearm Tattoo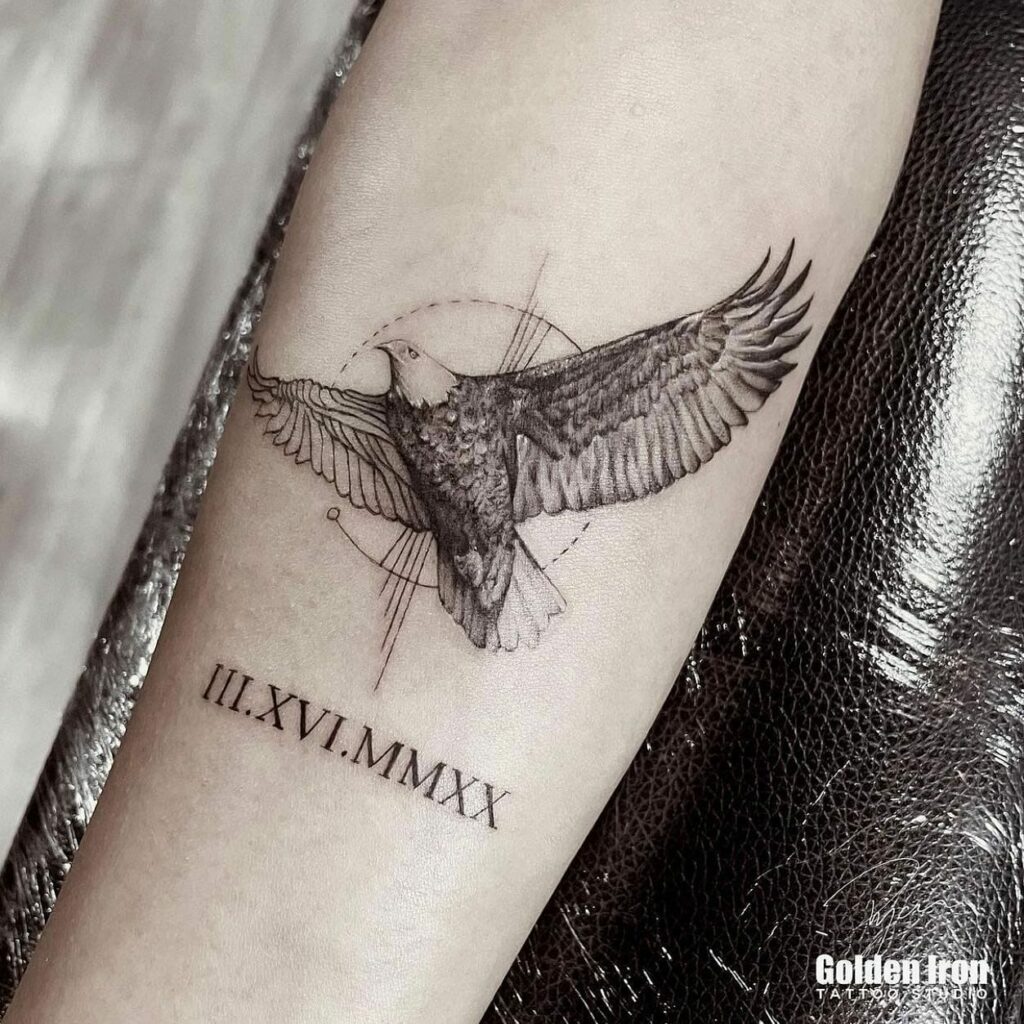 You can barely hide your forearm, and also, you are not trying to do so, which is exactly the reason why you choose that part of your body to be tattooed. A forearm tattoo means honesty and confidence, as you are not shying away from showing your thoughts to people in the form of a tattoo.
If you are also a person who doesn't shy away from showing your feelings to people. Then you should definitely consider this forearm bald eagle tattoo.
Bald Eagle Head Tattoo
This eagle tattoo has been carved on the head of the tattoo holder, as the name suggests. A tattoo on your head means you are a brave person with the attitude of sharing your thoughts with others. An eagle tattoo on the head represents boldness and confidence.
If you are also looking for a way to pass your message on to people whilst facing problems bravely along the way. Then try to think about this head bald eagle tattoo. Honestly, nothing can express more than an art.
Bald Eagle Shoulder Tattoo
The shoulder has always been the most popular place among men to get tattooed on. That is mostly because the shoulder is associated with strength and power. And tattoos always looks great on the skin of this part of the body. In this shoulder bald eagle tattoo, the eagle has been carved in-flight position. The black and white color is giving this bald eagle tattoo an authentic retro look.
If you are searching for bald eagle tattoos to fill your shoulder. Then consider your search has been completed with this tattoo.
Bald Eagle Wrist Tattoo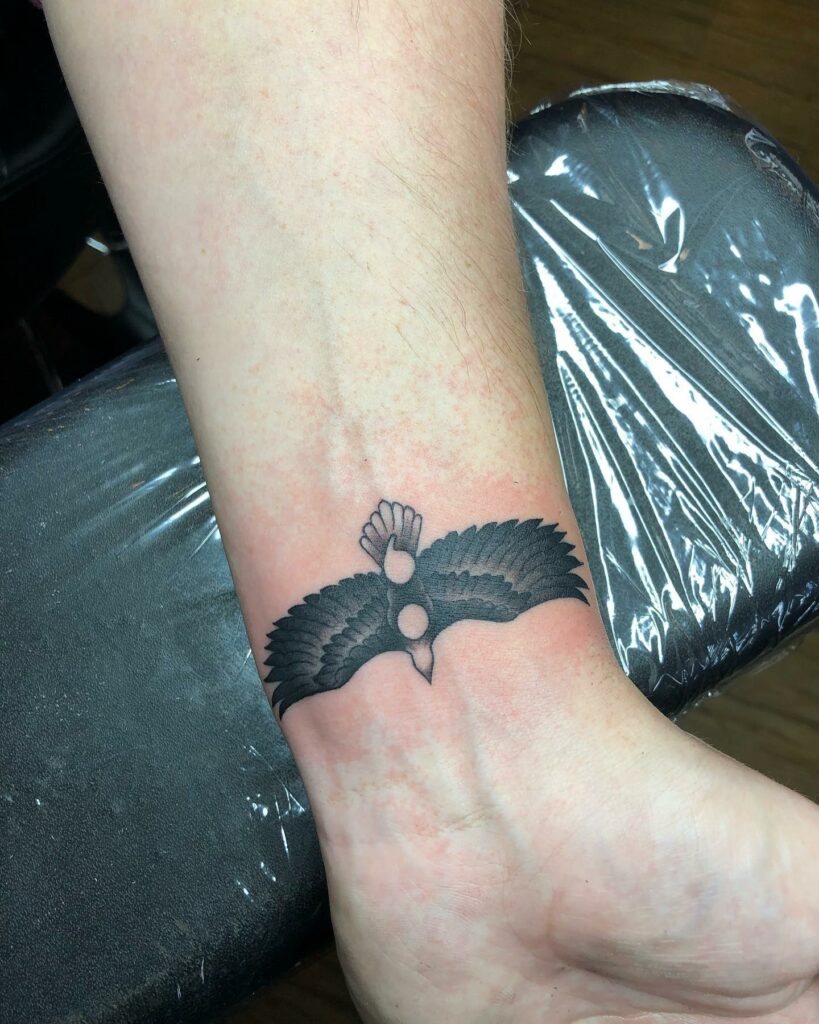 Since ancient times, it has been believed that the inner wrist part of the body radiates spiritual energy. And that makes it a perfect spot to place any symbol you look up to. Hance wrist tattoos are so popular among women. In this bald eagle tattoo, we can also spot a semi-colon right in the middle of the tattoo. Semi-colon tattoos hold deep spiritual meanings. In a sentence, semi-colons are used to continue a sentence that was about to end. However, in tattoos, this symbol has more to do with the fight against mental health.
So if you are searching for a tattoo for your wrist to enhance your spiritual boundary, this tattoo will surely fulfill your need for that.
A bald eagle tattoo is a symbol of power, strength, courage, and patriotism.
We bet you must have found your favorite American Eagle tattoo by now. However, if you are still not satisfied with our collection here, you can also check out our suggestions:
feature image from Pinterest – Want your tattoo to look brighter? Try "Tattoo Balm"