Anatomy tattoos are not only intriguing but can be depicted in a vast number of creative ways. Check out these amazing anatomy tattoo designs!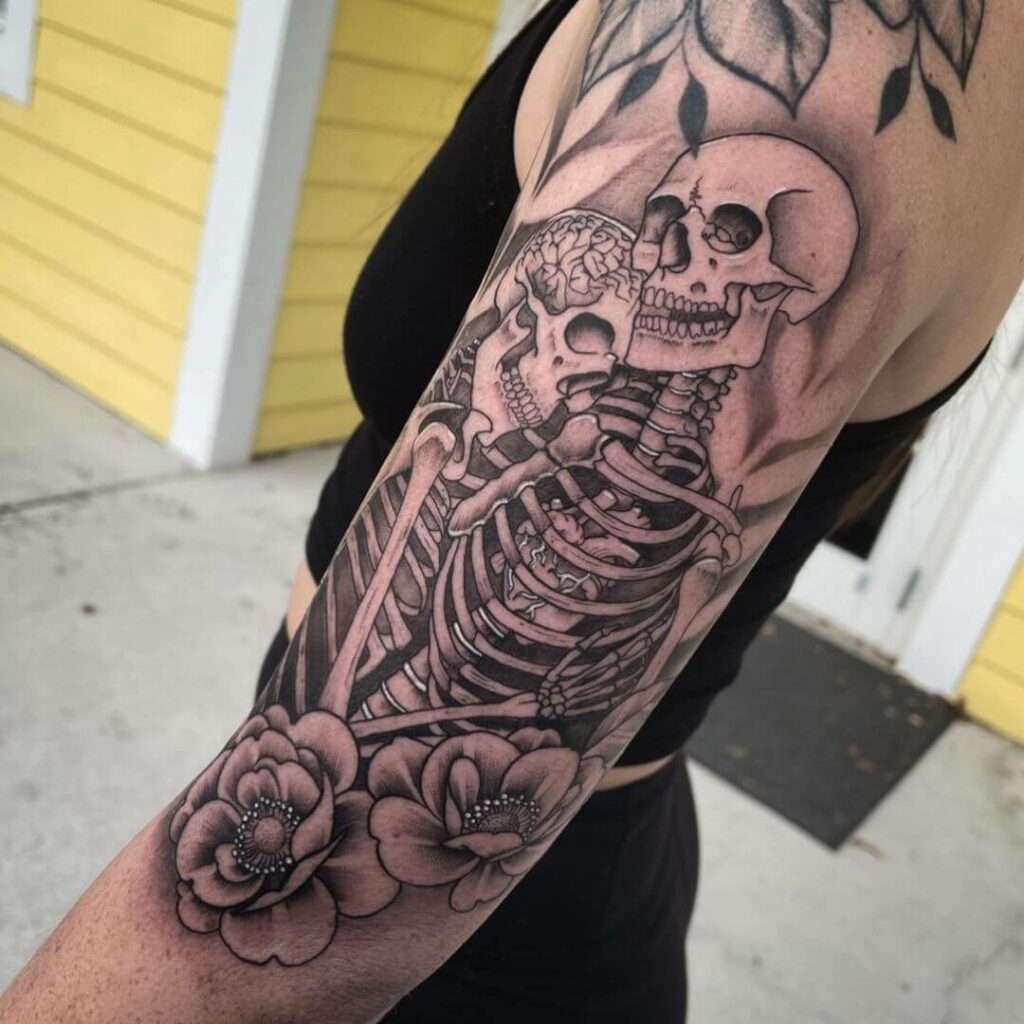 The human anatomy is a work of art and anatomy tattoos are quite an aesthetic representation of that.
For years, the human anatomy has fascinated both scientists and artists, alike. Hence, it is not surprising that a lot of people choose to get inked with anatomical designs, as such tattoos can be depicted in various ways and can have multiple interpretations.
Therefore, anatomy tattoos are open to people from all backgrounds who are captivated by the human anatomy or want to display a part of them on their skin. While there are several kinds of anatomical tattoos, read on to find out about some of the best and unique tattoos that will surely catch your attention! You are free to use any of these ideas that you will relate to the best.
Enticing Eye Anatomy Tattoo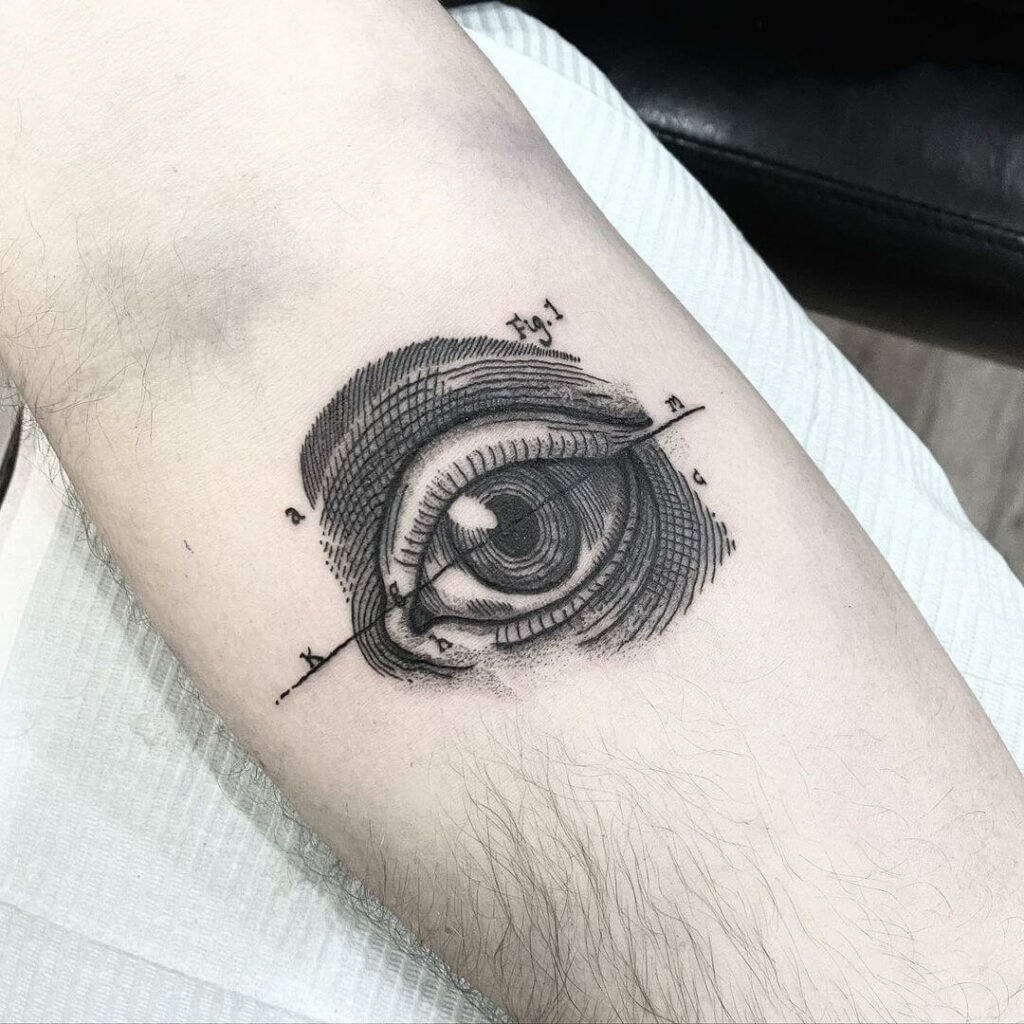 The eyes are one of the best features of a person. Hence, a realistic eye tattoo like this one, with intricate line detailing is sure to catch everyone's eye! The straight line across the middle of the eye and the 'Fig. 1' written right above it are added to make the tattoo look like an anatomical diagram. Additionally, the eye symbol is quite versatile and will have whatever meaning to ascribe to it.
Colourful Heart And Ribcage Anatomy Tattoo
Just because you want an anatomy tattoo, does not mean you cannot add vibrance to it. This tattoo is not only an accurate depiction of the human heart in its ribcage but also has some colorful and vibrant floral patterns to go with it. The artistic appeal of this design is greatly enhanced by the use of attractive colors and fine shading.
Black And White Teeth Anatomy Tattoo
You may be surprised to learn that a teeth tattoo has a great symbolic value. Just like we use our teeth to eat food and provide ourselves with nutrients, a teeth tattoo signifies the need to provide nourishment to our soul as well, by consuming wisdom. Hence, over time, lots of people have gotten different kinds of teeth tattoos. However, you may find a simple yet charming black and white design like this on the arm or hand to be a perfect anatomy tattoo idea for you!
Geometric Anatomy Tattoo
Geometric shapes and patterns never really go out out style. Hence, if you find such designs to be eye-catching, then pick this perfect tattoo! The tattoo has the human ribcage, backbone, and pelvic bone inside a diamond shape, with the skull on one corner of it. You may also ask your tattoo artist to add other geometric shapes that you find interesting.
Meaningful Heart And Lungs Anatomy Tattoo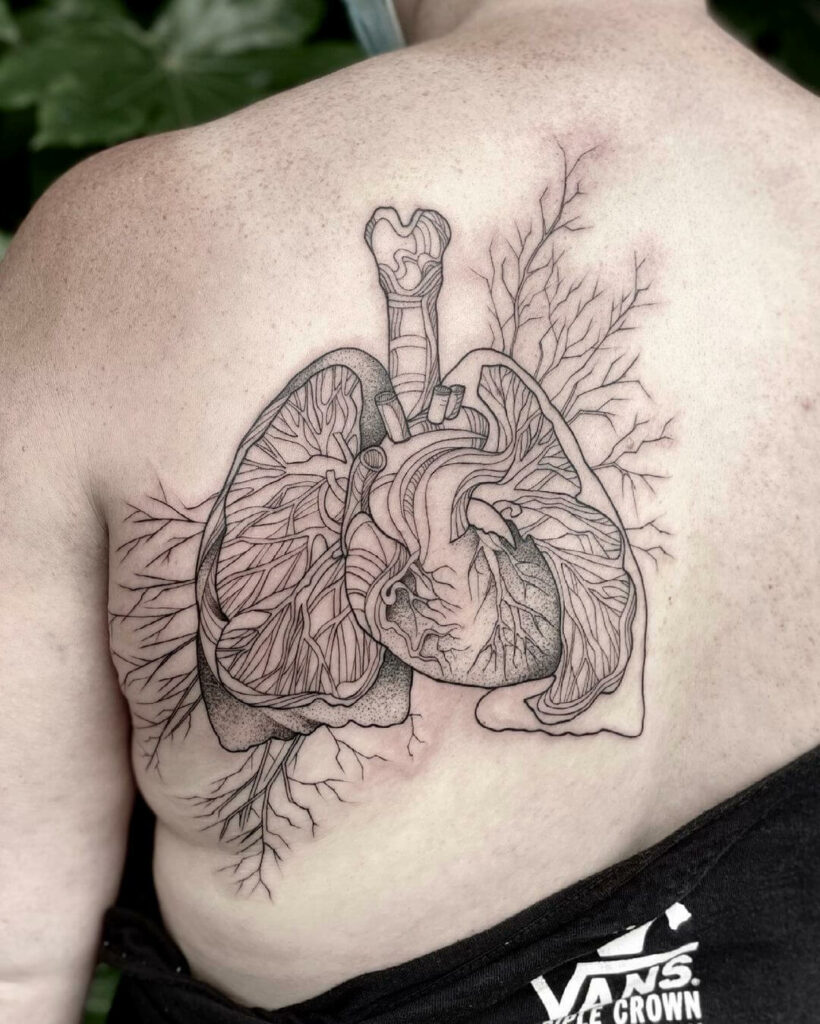 Most people are looking for tattoos that hold a deeper meaning. Hence, a meaningful tattoo as pictured above has got to be one of the best designs you have ever seen! The intricately detailed combination of the heart and lungs carries the message that just like these two organs need to function together to make the human body work, even you need to be in sync with your environment to work most effectively. Due to the size of this tattoo, it would be best if you get this inked on your back.
Realistic Backbone Anatomy Tattoo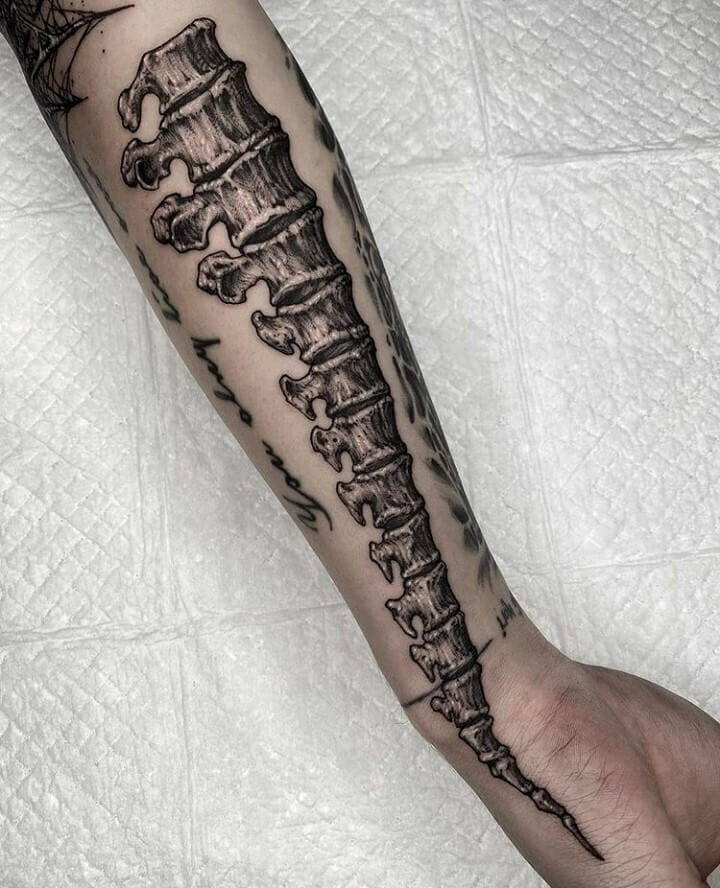 The backbone is an integral anatomical part without which no human being would be able to function. Apart from that, this part of the human anatomy is also quite aesthetically pleasing to look at. If you find the backbone to be appealing as well, then why not choose this tattoo design? The perfect shading and use of light and dark make this tattoo extremely realistic.
Heart And Brain Anatomy Tattoo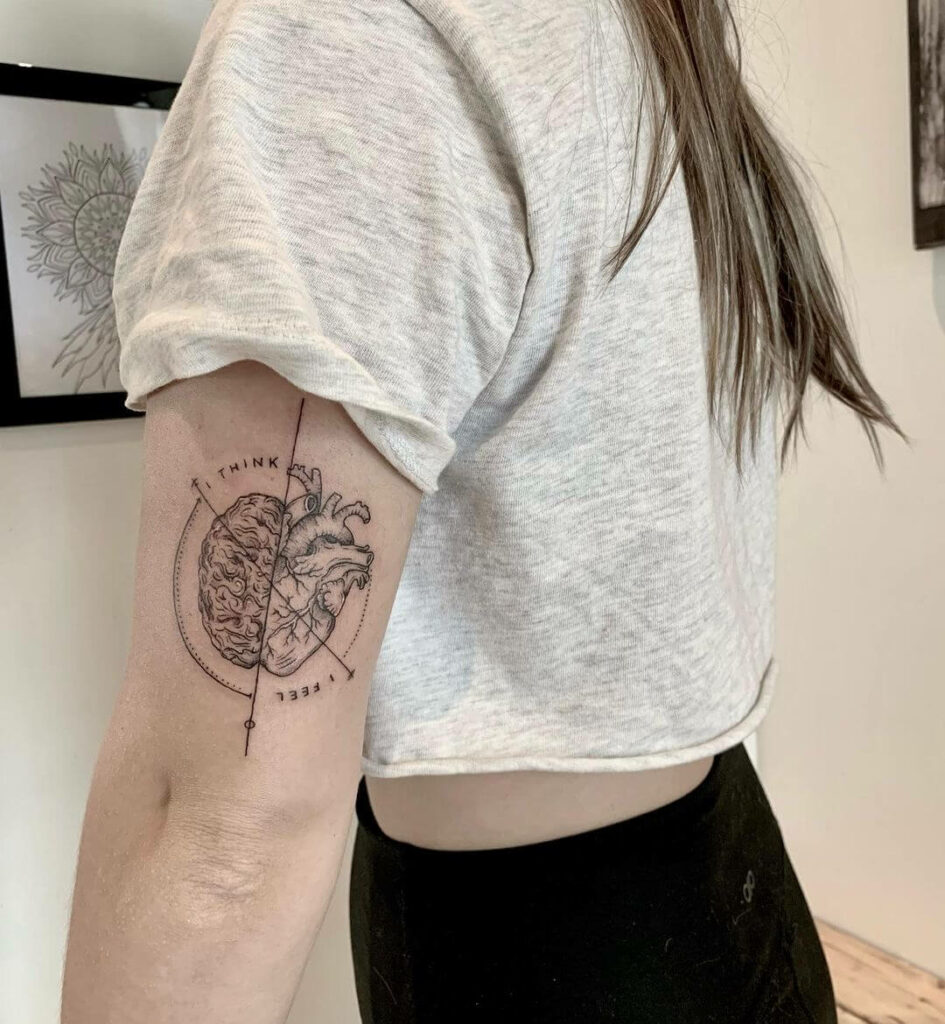 You will surely find countless references made by artists to the tussle between the head and the heart. Hence, a tattoo like this is certainly the best depiction of that struggle. The tattoo is made up of half a heart and half a brain with 'I think' and 'I feel' inked above and below it. Even though it is a black and white design, it still has an allure to it.
Floral Skull Anatomy Tattoo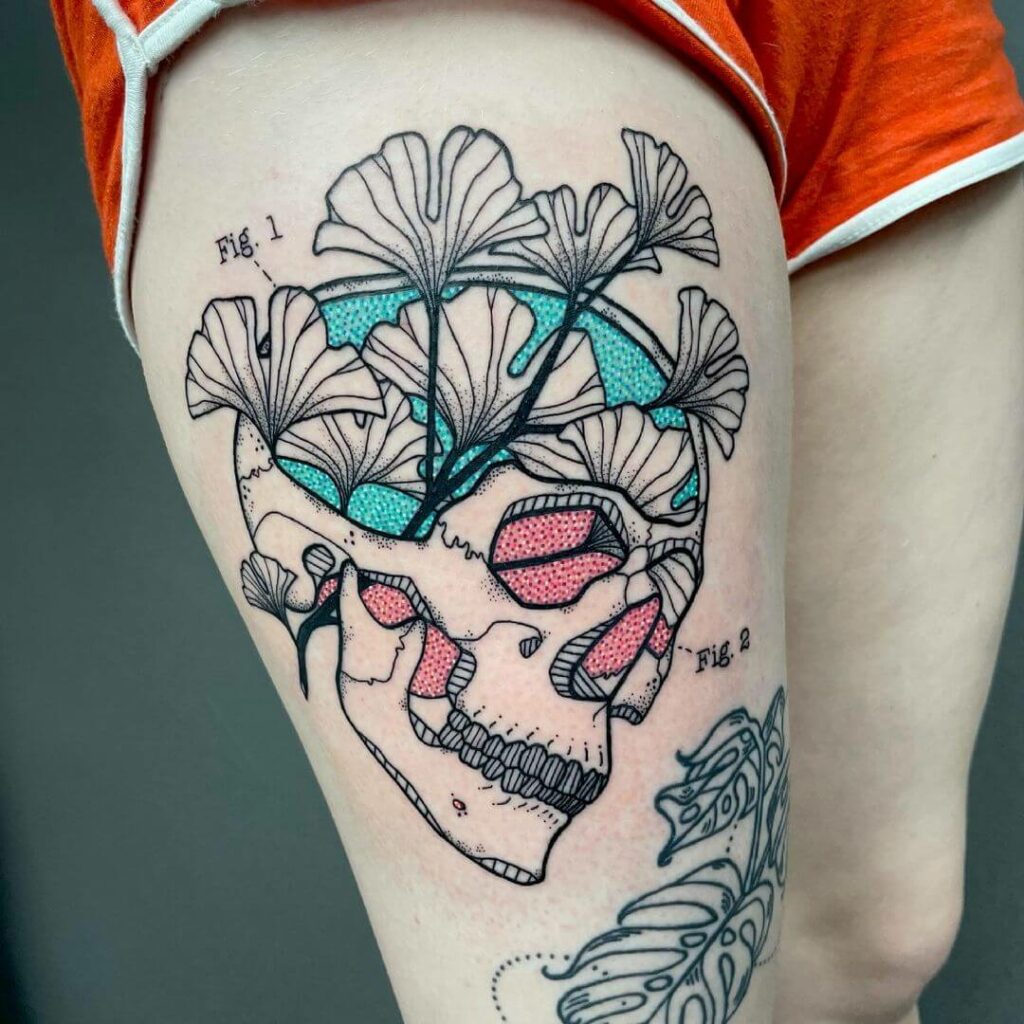 Both floral and skull tattoos are very commonly sported by men and women, due to their meanings and various symbolism. Hence, asking your tattoo artist to combine the two like this may be one of the best decisions you have ever taken. While the words 'Fig. 1' and 'Fig. 2' are in reference to anatomical diagrams, the rest of the skull with the colors and floral motifs look quite exquisite.
Detailed Skeleton Anatomy Tattoo
If you are a fan of elaborate tattoos or want to find the perfect half sleeve tattoo, then this might be your best choice. Not only is this tattoo colorful, but it also displays the human anatomy quite artistically. The use of flowers and honey bees may refer to being at one with nature.
Grey's Anatomy Tattoo
Free from the literal anatomy tattoos, if you are a fan of Grey's Anatomy and want to dedicate a tattoo to the series, then a simple quote from the show is a good option. Tattoo artists do not need a lot of time to complete a tattoo like this one, but it is still a nice way to remember one of the best TV series.
Now that you have an idea about different kinds of anatomy tattoos, you can easily settle for any of these designs. You can even ask your tattoo artist to incorporate two or three of these ideas and come up with a unique design that suits you best.
Feature Image from Pinterest – Want your tattoo to look brighter? Try "Tattoo Balm"
Last reviewed and updated on March 9, 2023