Today's post is about the profound meanings of ancient Greek tattoos, a subject close to my needle-pricked heart. It's a delightful cocktail of art, history, and culture, shaken, not stirred, that we're about to gulp down.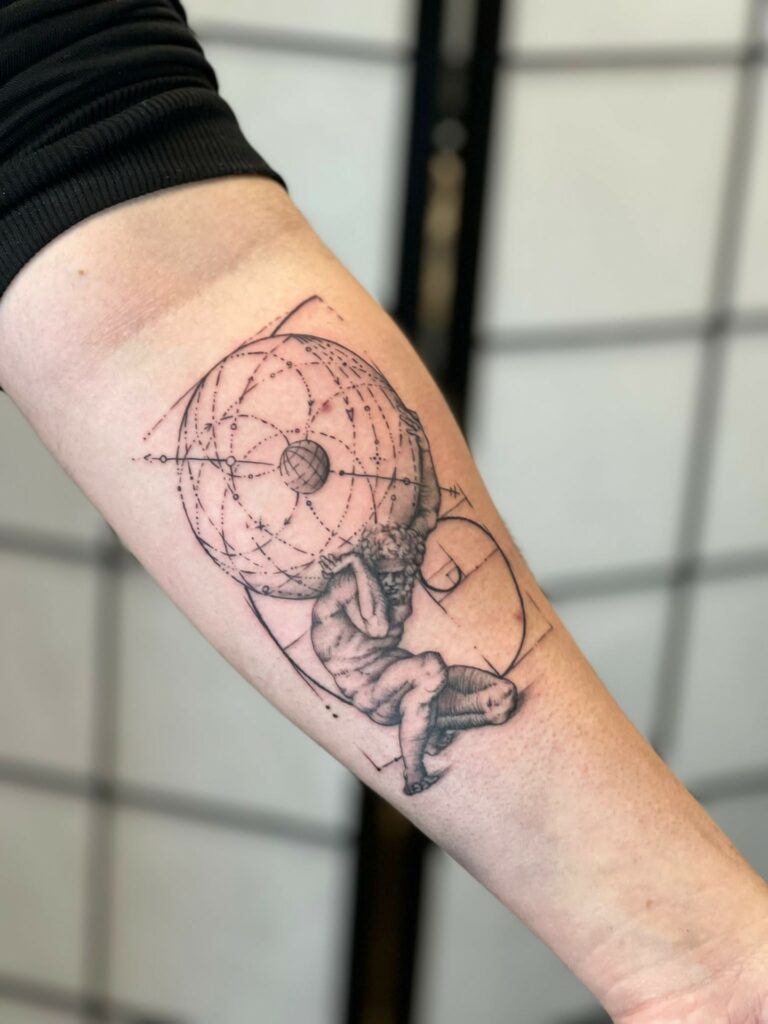 In this post, we will explore some of the most revered symbols of ancient Greece – a time when mythology was reality, and gods, goddesses, and mythical creatures were as real as the ink that will soon grace your skin. We'll delve into the cultural richness and artistic influences that have shaped these tattoos, reflecting the extraordinary depth of a civilization that's as ancient as it is influential.
From the laurel wreaths of victory to the enigmatic Eye of Cyclops, the intricate Labyrinth of Minos to the mighty symbol of Zeus, we'll dive into their fascinating narratives, unraveling their mysteries one by one. Not only will you learn their backstories, but also how these symbols can be woven into your tattoo story.
Aphrodite Tattoo Designs
Ah, Aphrodite! I recall a client asking for an Aphrodite tattoo. He was an artist, a romantic at heart, who loved the idea of wearing his feelings for beauty and love on his sleeve, quite literally. Aphrodite, the divine daughter of Zeus, is often portrayed in her birthday suit, or partially so, surrounded by roses and seashells. She symbolizes beauty, desire, love, and pleasure, making her a popular choice among lovers and artists alike.
Apollo Tattoo Designs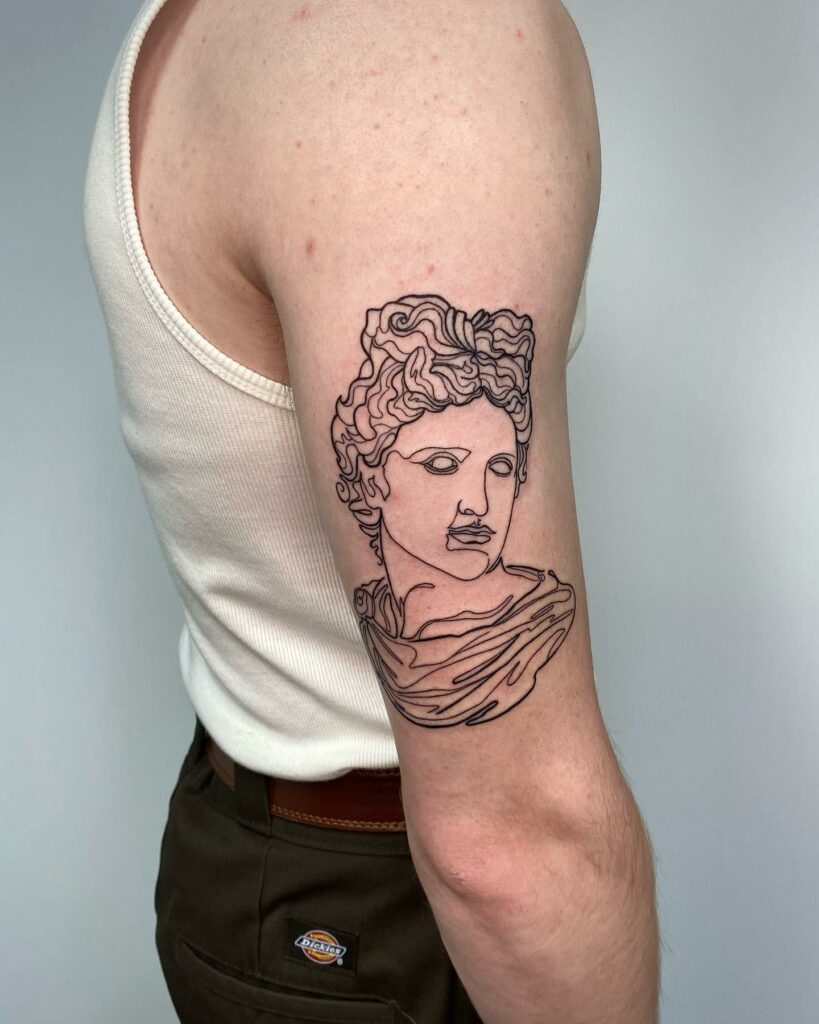 Who better than Apollo, another child of Zeus, to embody the arts, knowledge, and prophecy? I remember tattooing an Apollo design on a young musician who saw himself in the god's laurel-wreathed and arrow-carrying depiction. Apollo's symbol resonates with those seeking enlightenment, artistry, and wisdom in their lives.
Ares Tattoo Designs
Not everyone's cup of tea, Ares indeed has his fan base. A soldier I once tattooed wanted Ares inked as a badge of his profession and passion. Ares, the god of war, represents the chaos, bloodshed, and violence that often accompany conflict. An Ares design can be a symbol of courage and tenacity against life's battles.
Athena Tattoo Designs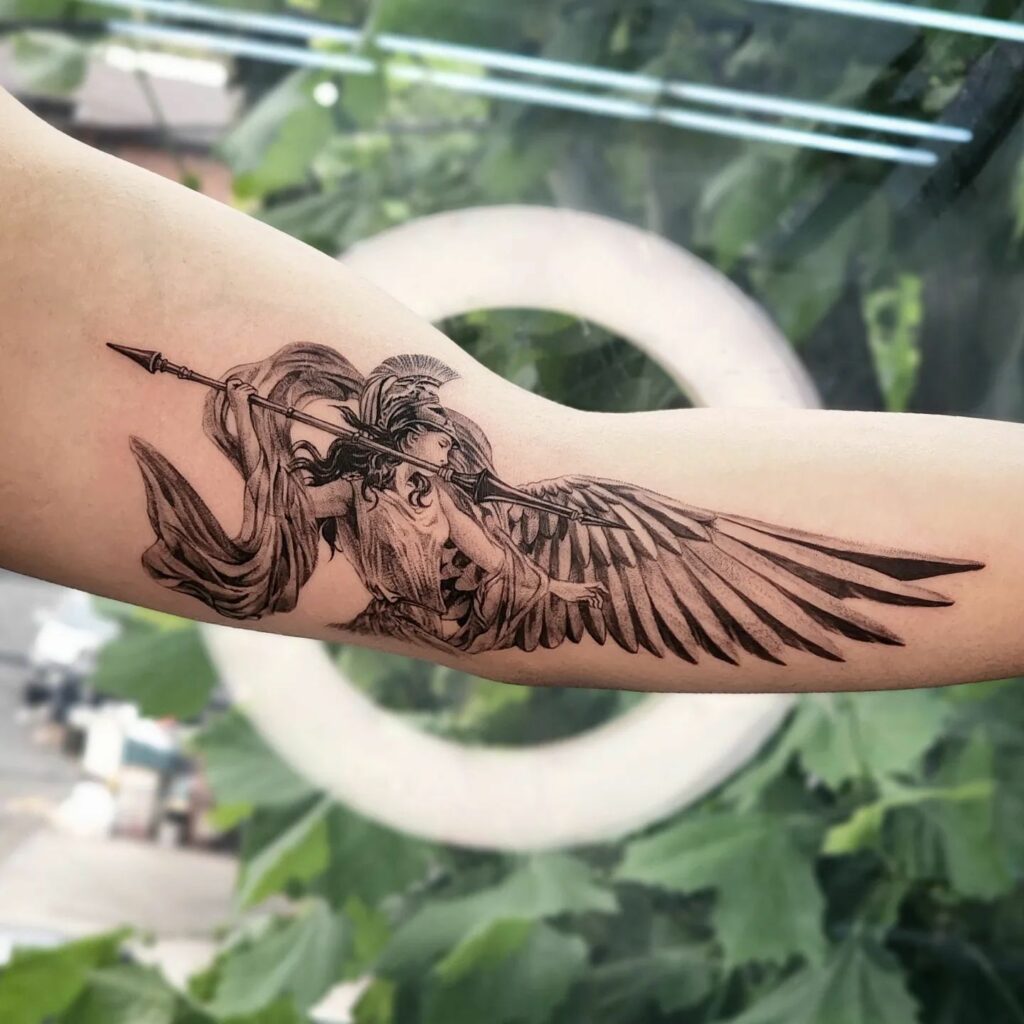 As a woman in the tattoo industry, I've always felt a kinship with Athena, the goddess of reason, wisdom, and strategic warfare. When I got my Athena tattoo, I had just started my tattoo apprenticeship, and I remember thinking how apt the symbol was. Commonly portrayed with a crown, shield, and spear, an Athena tattoo embodies the spirit of wisdom, courage, and strategic thinking.
Hera Tattoo Designs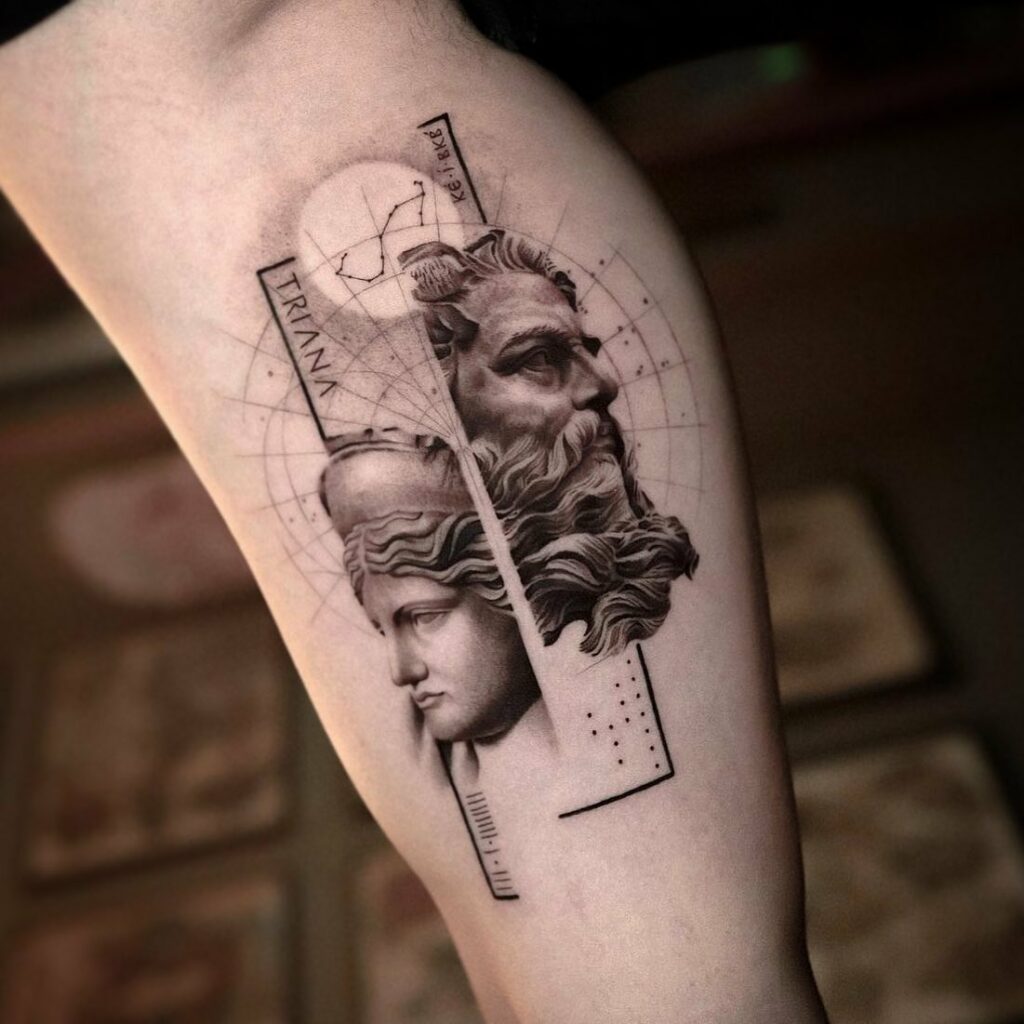 The goddess Hera, Zeus's wife and sister, rules as the Queen of the gods. In ancient Greek, her symbols revolve around marriage, childbirth, and femininity. Hera resonates with many women as a symbol of feminine power, motherhood, and matrimonial devotion.
Poseidon Tattoo Designs
Poseidon tattoos hold a special place in my heart, being a sucker for water and ocean-themed tattoos myself. The god of seas, floods, and earthquakes, Poseidon is often depicted with his trusty trident and a dolphin. A Poseidon tattoo could represent a deep connection with the sea or a love for the powerful and unpredictable nature of water.
Zeus Tattoo Designs
Zeus tattoos, oh how they command attention! As the ruler of Mount Olympus and the god of weather and universal order, Zeus embodies power and authority. Often inked as a stately figure holding a royal scepter, a Zeus tattoo can symbolize a person's belief in justice, law, and leadership.
The gods of Greek mythology, unlike many other deities, are incredibly human-like, flawed, and full of emotions. Their stories echo our human conditions, making these symbols not just beautiful designs, but also relatable tales inked into our skin. Whether you identify with the love-filled Aphrodite or the wisdom-bearing Athena, remember, every tattoo tells a story – your story. So, what's it going to be?
Conclusion
In the world of tattoos, the options are as diverse as the gods in the Greek pantheon. Just as these deities, each with their unique symbolism and persona, are an integral part of an age-old mythology, your tattoo becomes a part of your personal narrative. Placement and cost are both critical factors in this story. Consider prominent areas like arms or legs for showcasing these powerful symbols, or more intimate locations if the tattoo is a private reminder. Costs can vary greatly, depending on size, complexity, and the expertise of the artist. It's essential to remember that quality should never be compromised for a lower price; after all, this is a lifetime investment.
However, as with every form of body modification, there are risks to consider. Infection, allergic reactions, and scarring are potential issues, and one should always seek out a reputable and hygienic artist. Remember to follow aftercare instructions to the T, and keep in mind that these deities were not known for their impulsive actions. So, take your time, do your research, and make a choice that resonates with your personal mythology.
With every tattoo comes a tale. What tale are you ready to tell?