If you're looking for cool tattoo inspirations that also look super chic and have a deep meaning, check out this list of angel outline tattoo ideas!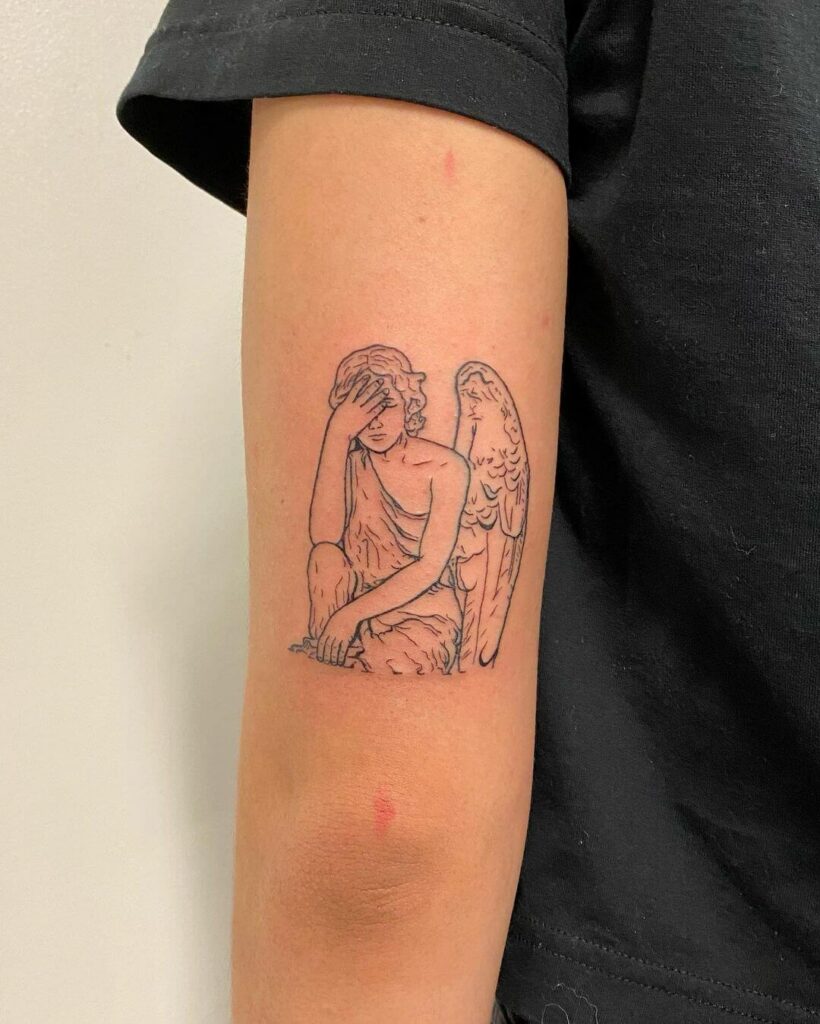 Angel tattoos need no new introduction to tattoo enthusiasts.
These have been a popular choice amongst people from all over the world, young and older, for years! The sheer number of variations in designs and colour palettes makes every angel tattoo as unique as the next one.
Angel tattoo designs are a symbol of protection. Many also get angel tattoos to commemorate the death of a loved one on their body and have it etched forever. Angels are considered to be messengers of God by people from the Abrahamic religions. They are also known to be protectors of the realm between earth and the spiritual world where souls are often lost.
Angels are known to be able to communicate messages from one realm to another, bring hope and offer protection against evil to the person who believes in them. The wings of an angel have been the inspiration to so many artists over the years. They often symbolise the power to protect. The halo of an angel represents divinity.
Angel tattoos can be made on any body part. However, the shoulders, wrist, neck and arms are preferred. They are often made in combination with tattoos that represent the dark and the devil. In many cultures, angels are depicted as father figures offering guidance and protection or even a woman who guides one to light from the darkness.
There are numerous categories of angel tattoos in every colour starting from blue to white. Designs could range from a simple design to something more detailed and intricate in combination with other elements such as the devil tattoos. The angels could be of any age you fancy, starting from a baby to a grown man or a woman. A baby angel is a special tattoo that often symbolises the death of a loved one who was only a child at the time of death.
Check out the list of angel outline tattoo designs we have curated just for you and pick the one you like most!
Angel Wings Tattoo Outline
This angel wings tattoo is what pops up in mind instantly when you think of simple angel tattoo. This angel wing outline tattoo is understated yet we can assure you that it will never go out of style. The angel wings outline tattoo and the halo in the top centre combine all the main elements of any angel tattoo and gives you the perfect package. You can get this tattoo exactly where the reference image indicates or you could experiment a little and think of getting it on your ankle!
Guardian Angel Tattoo Outline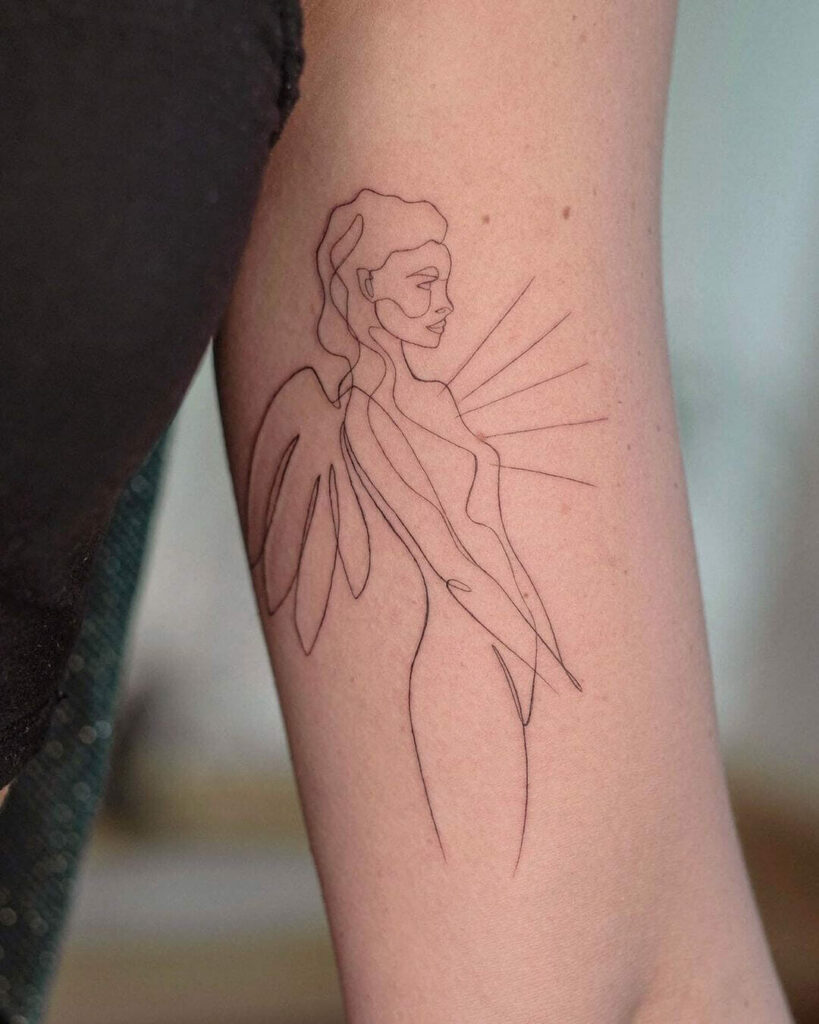 This simple angel outline tattoo is for those whose guardian angel is a feminine figure. A close female relative who passed away perhaps. This angel wings outline tattoo tribute is the perfect choice for both men as well as women. The artistic element of this tattoo gets full points. The outline of the angel's body is created solely through curved lines. The lines shooting out of the angel's bust radiate hope and light for the wearer of this unique tattoo.
Simple Angel Outline Tattoo
As the name suggests , this is as simple as it gets when it comes to an angel outline tattoo. This tattoo is both time and cost effective due to the minimalistic features of the tattoo. Any tattoo artist should be able to create this look for you with ease! The Alphabet featured on top of the halo could be the initial of a loved one you've lost including a pet you were extremely close to!
Flying Baby Angel Tattoo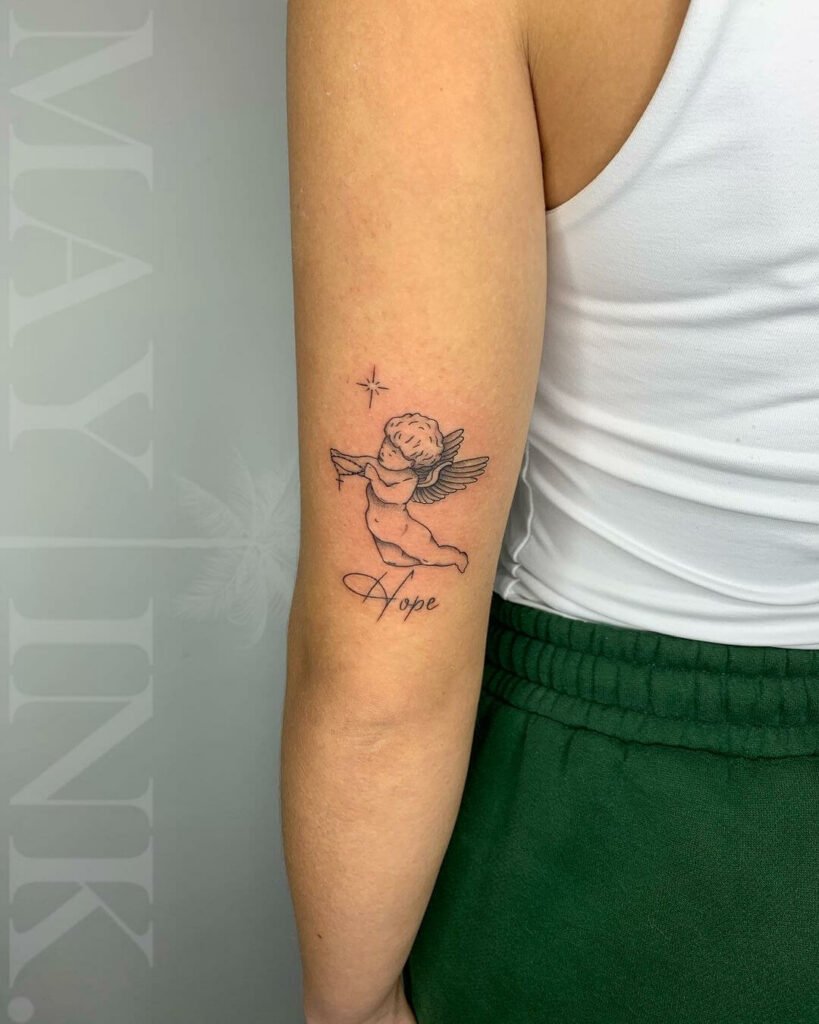 This angel tattoo is the epitome of cuteness. The tattoo comes with a message that says "hope" and is the perfect choice for anyone who is looking for that in life! The adorable baby angle has a string of rosary beads with the holy cross held in its hands which is the ultimate beacon of hope and faith. The gleaming north star is also featured in this tattoo overloaded with cuteness. It is the guiding light for all lost souls and brings clarity of thoughts amongst those who wear it!
Outline Of Cherub Tattoos
This tattoo is full of oodles of cherubic cuteness. It has depicted a scene from heaven of a beautiful baby angel with blushed cheeks. The artist has used tiny red hearts to highlight the blush on the cheeks of the cherub which is quite clever. The cherub is resting its head cozily on the soft clouds, dreaming away to glory. You should get this tattoo on the shoulder if you have the space for it!
Fallen Angel Outline Tattoos
This beautiful fallen angel tattoo is a work of art! It features Icarus the mortal with artificial wings according to greek mythology. Legend has it that Icarus flew too close to the sun and the wax on the wings melted ultimately leading to his untimely death. This tattoo is a work of creative genius as Icarus the mortal has been depicted as a fallen angel. This tattoo is perfect for those with a creative soul who may be looking for this type of tattoos.
Angel And Devil Kissing Tattoos
This bold tattoo depicts the good and the evil intertwined within our souls. The tattoo shows how both sides are inseparable in nature and is a creative spin on the traditional angel outline tattoos. The tattoo is created using curved lines like threads. The Devil which can be identified through its horns is seen kissing the angel which can be identified through its halo. The tattoo has a deep message that states that we must embrace the good and the bad in this world and within us in order to have a peaceful existence.
Cute Lost Angel Tattoo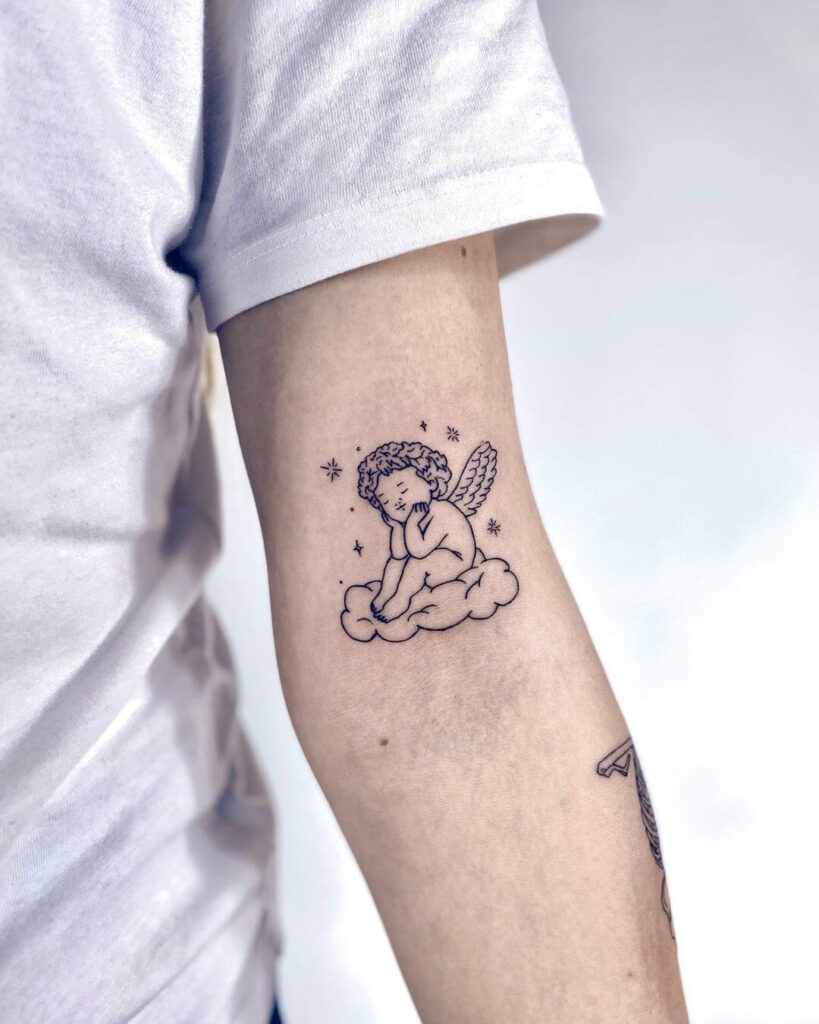 This cute tattoo depicts a sad little angel who is lost in its thoughts amidst the clouds. The popularity of this tattoo is big amongst the ladies for the sheer cuteness element. You can find plenty of variations of this tattoo on the internet if you wish to explore! This baby angel tattoo is perfect for the neck, wrist or shoulder.
Twin Baby Angels Tattoo
This angel outline tattoo has something cute and classic about it. The twin angels can be seen playing the flute and shooting an arrow in a playful manner. The placement of this tattoo is what makes it truly unique. The collar bones are the perfect spot to get this set of twin baby angels inked on!
Angel Of Peace Tattoo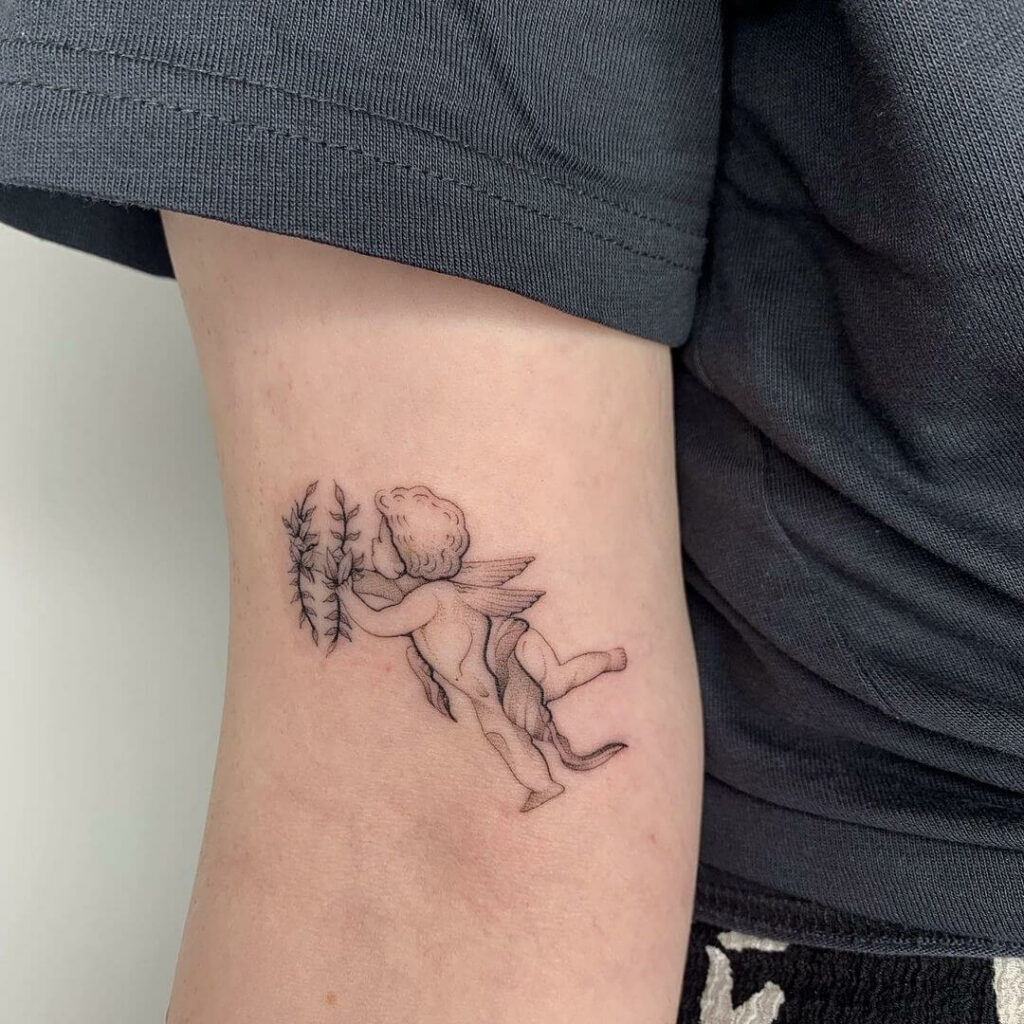 This beautiful angel outline tattoo has a very soothing effect on the eyes. The baby angel is pictured carrying a wreath of olive branches symbolising peace and prosperity. This tattoo can be created in different sizes depending on what you are looking for. It can be a small angel as well as one which is slightly bigger in size. It can also be made on any body part but the shoulder would be a nice spot for this charming tattoo!
Feature image from Pinterest – Want your tattoo to look brighter? Try "Tattoo Balm"