Angel statue tattoo ideas inspired by The Bible are now on trend for decades. Check out these amazing ideas to ink your body.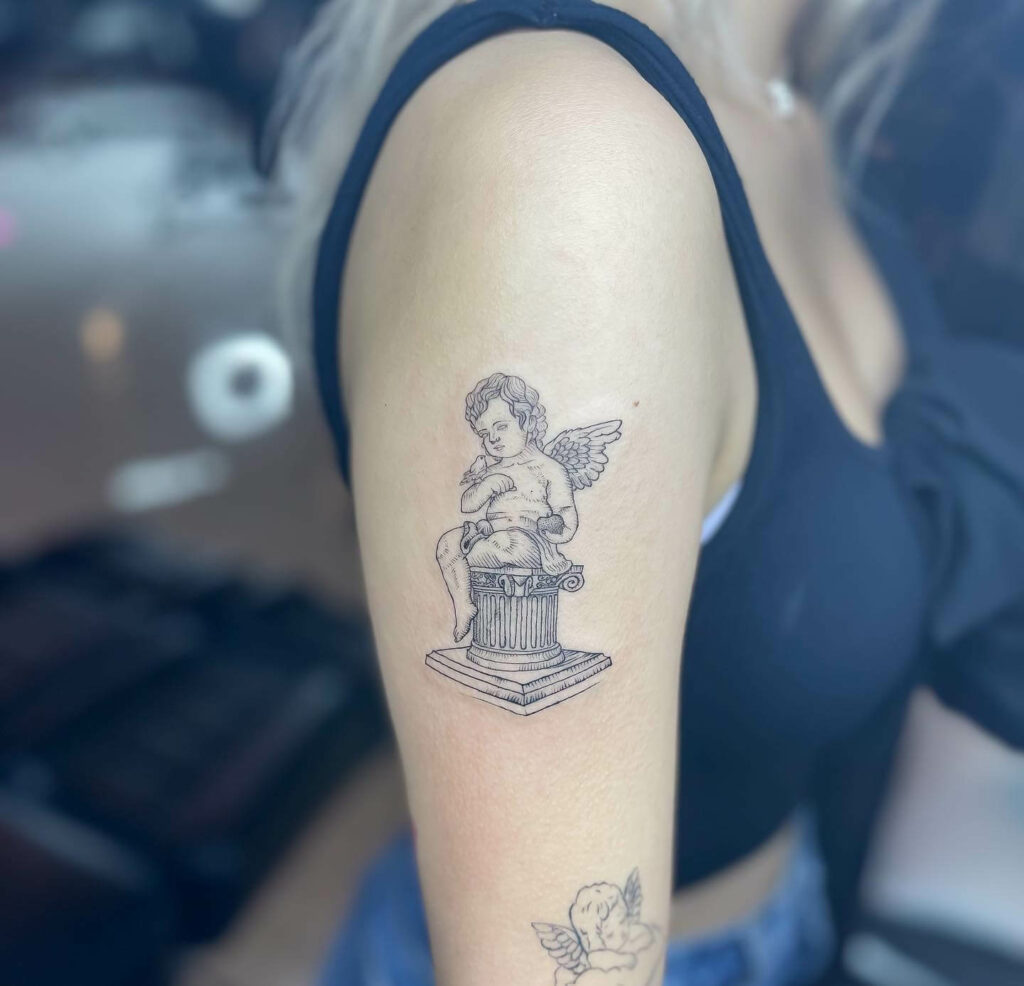 Angel tattoo with other heavenly forms is considered to be the reflection of purity.
Lots of celebs and famous artists are getting angel tattoos or demon tattoos. Apart from just getting tattooed with angel statues, try adding more earth signs or celestial signs to match your beautiful primary tattoo design.
Angel statues represent rebirth, hope, happiness, the celestial world, faith, protection, and peace. They are believed to be the connection or the linking bridge between Heaven and the Earth. Angel tattoos deliver a lot to the person who is inking it. There are many kinds of angels – warrior angels who protect the gates of Heaven- Lucifer, guardian angels who protect us from evil demons or spirits, dark angels who are the soldiers of God, and fallen angels: Lucifer's army. Choose your tattoo idea according to your liking and learn how it might affect you spiritually.
Little Guardian Angel Wings Tattoo Designs Link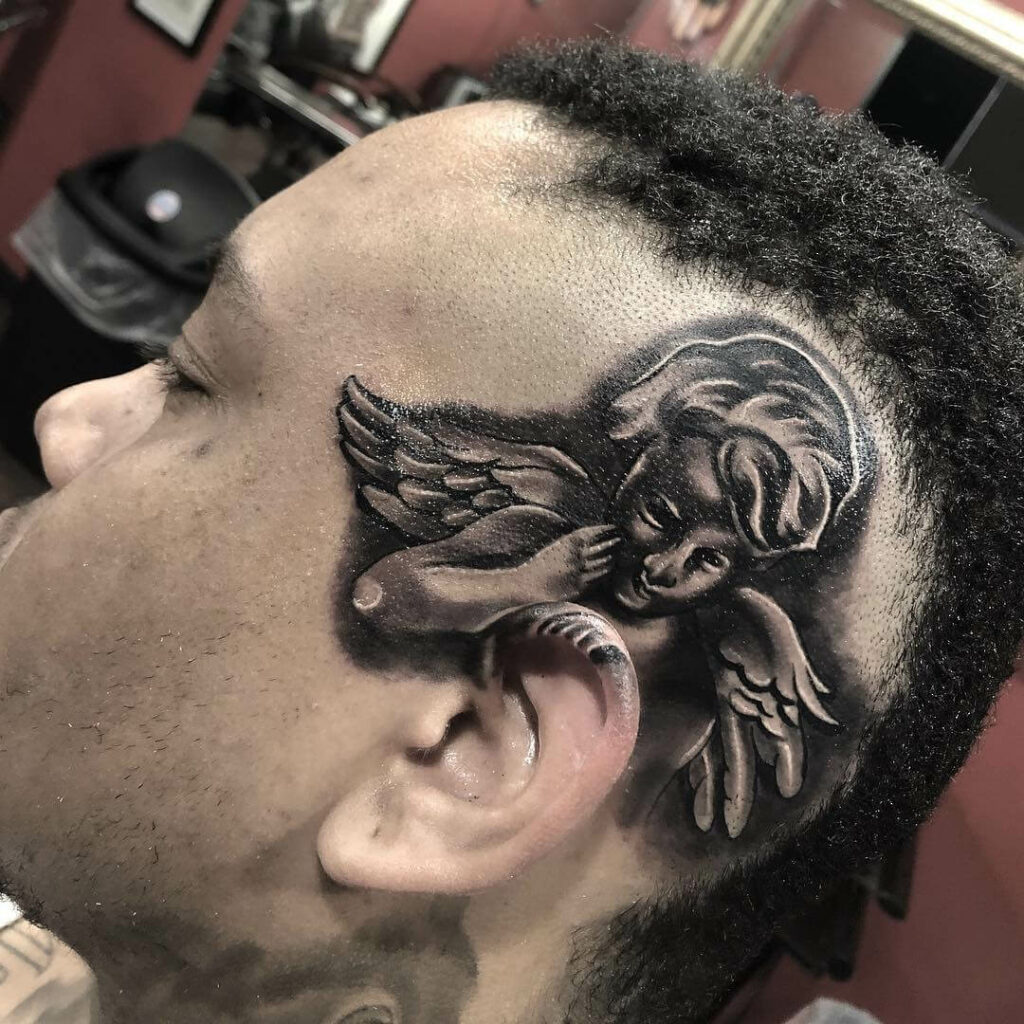 This tattoo is a splendid example of a guardian angel who protects us from evil spirits. They are supposed to be watching over us at all times and "deliver us from evil". They protect us from Lucifer, the Devil, and his temptation. In this marvelous piece of body art, it is evident how the guardian angel, in his little form, is reciting the lines of The Bible in your ears to overcome struggle and get a hold of your feelings.
You can choose the ink according to your preference. Black ink is the symbol of magnificence and royalty but also evil which brings a contrast to the angel statue tattoo meaning. You can also add other earthy forms to enhance the meaning of your tattoos.
Statue Angel Tattoo Black Ink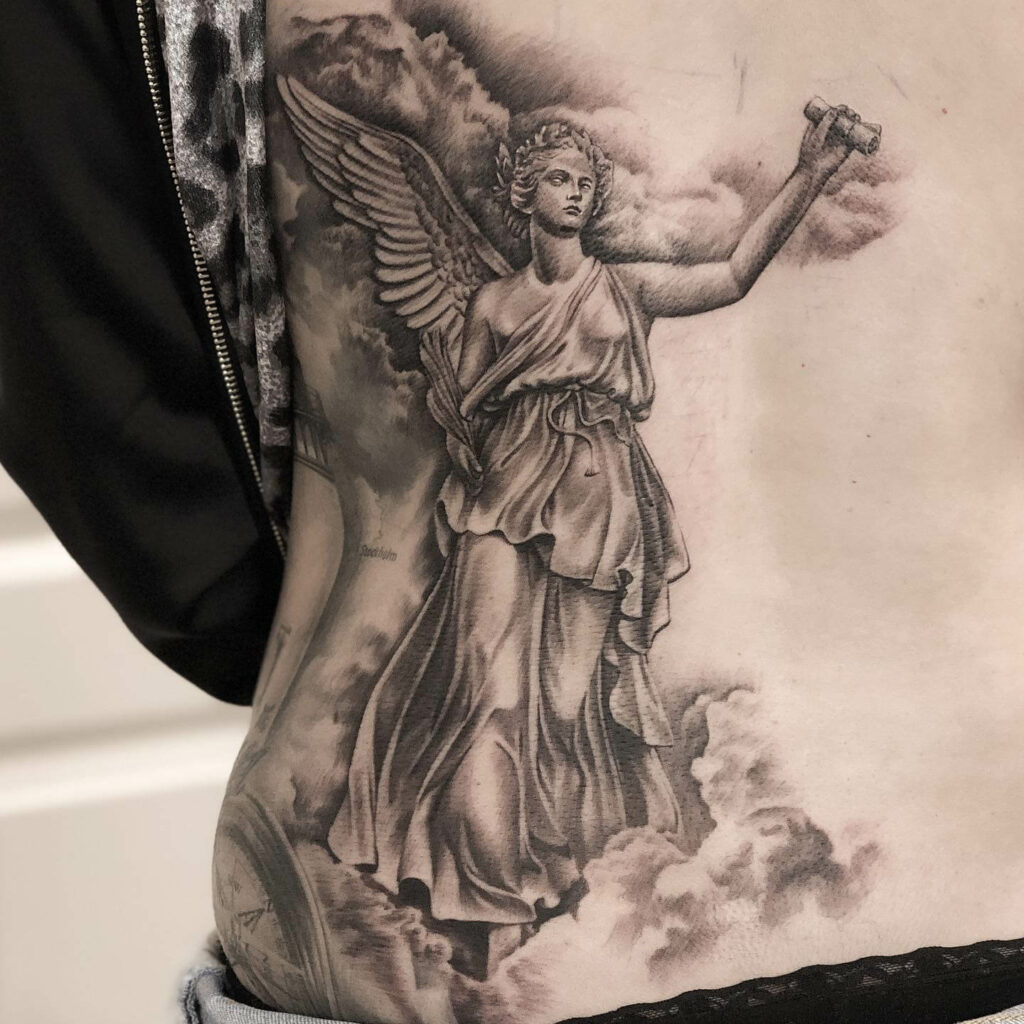 This angel statue tattoo shows how the guardian angel is carrying a paper or a note to deliver to God, or how when we pray, the guardian angels carry the benevolent prayers to our beloved God. The archangel Michael according to Bible and Quran, is considered and depicted as the host of the heaver.
This is a great choice for a sleeve tattoo, as the design gets ample space to span out. Choose to ink this on your body, and people will consider you to be fearless and faithful to God. Also, the design is large in size, so it can be a great option for a back tattoo.
Graceful Angel Statue Tattoo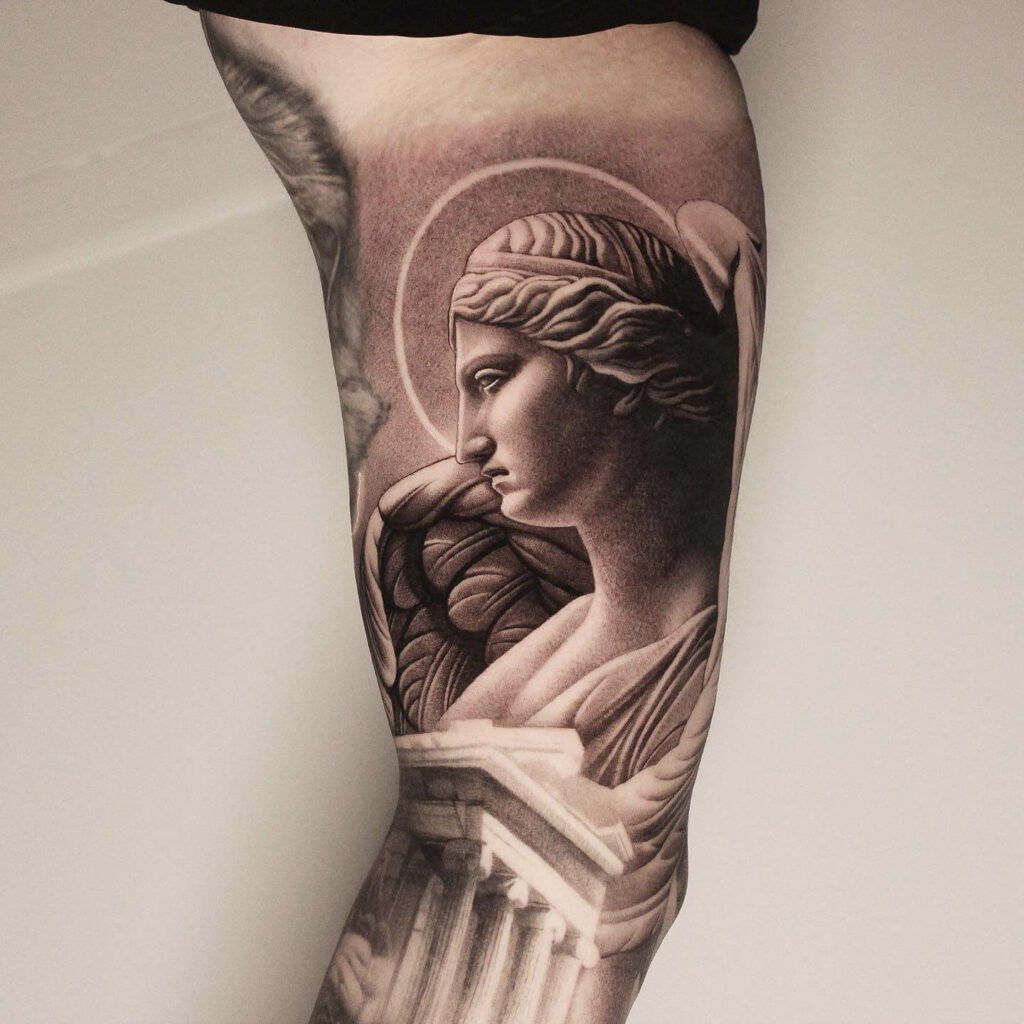 This graceful angel statue tattoo is about how angels are in agony at the sufferings of mankind. According to Bible, angels are considered to be immortal and acknowledged to be the holder of immense strength, grace, and kindness. This sad angel tattoo is looking downwards from Heaven. Angels have always been the universal symbol of protection.
If you are into mythology and The Bible, ink this on your body to portray your faith in God Almighty in front of the whole world. Keep it clean and simple, or add elements such as flowers or celestial bodies like stars and planets to enhance your spiritual power. This tattoo is a very complex design with a lot of intricacies. This huge tattoo is a great example of a chest angel statue tattoo idea.
Geometric Angel Tattoo Ideas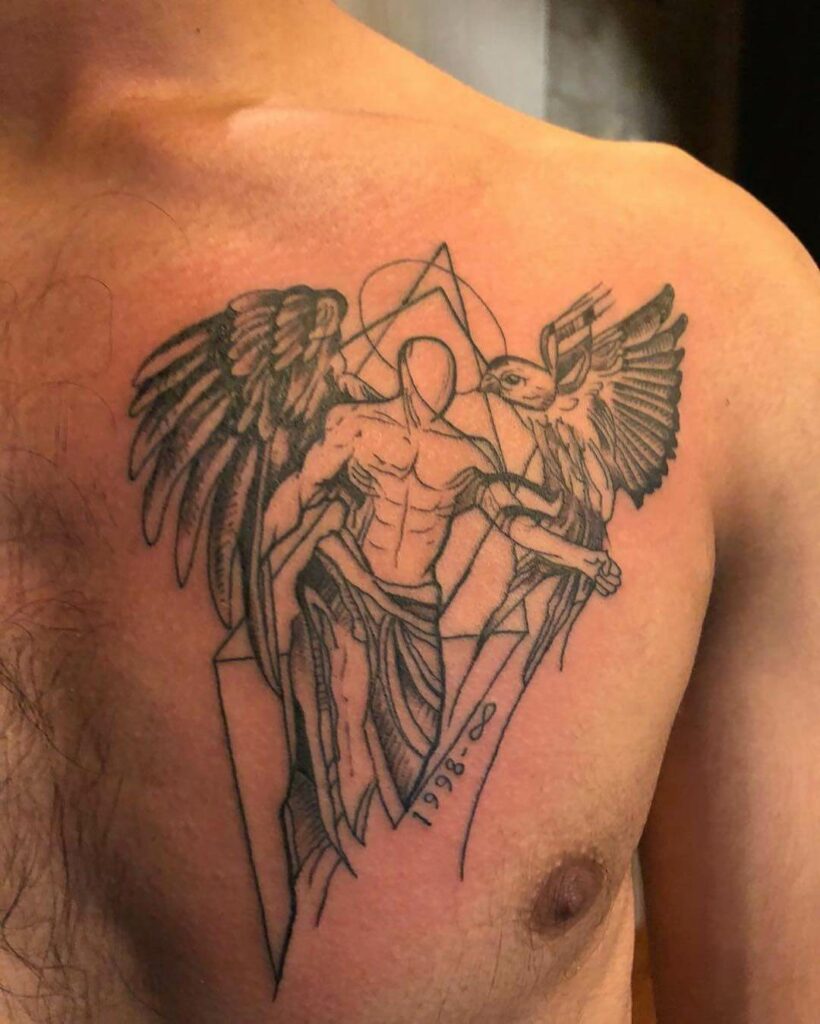 This is a mirror image of The Bible with a modern twist of geometric form. This warrior angel tattoo represents freedom. This angel statue tattoo design is based on the concept of belief in the Almighty, God, to deliver the crying prayers of children, women, men, and the needy to Him. The bird represents freedom and the sky or Heaven. The wings cover the ailed patients and protect them.
Be a bit more unique by adopting different tattoo forms. Geometry tells a lot about your identity and personality. Keep it simple by inking it in just black as it is the color of aesthetics. If you are a seeker of dark academic time, then get this tattoo ink on your arm or chest. The tattoo says "1998-∞"; this could signify a special birth year, or it could also be used to commemorate a special relationship. Archangel Michael is seen with his arm outward and a big bird on it. This symbolizes protection.
Angel Sleeve Tattoos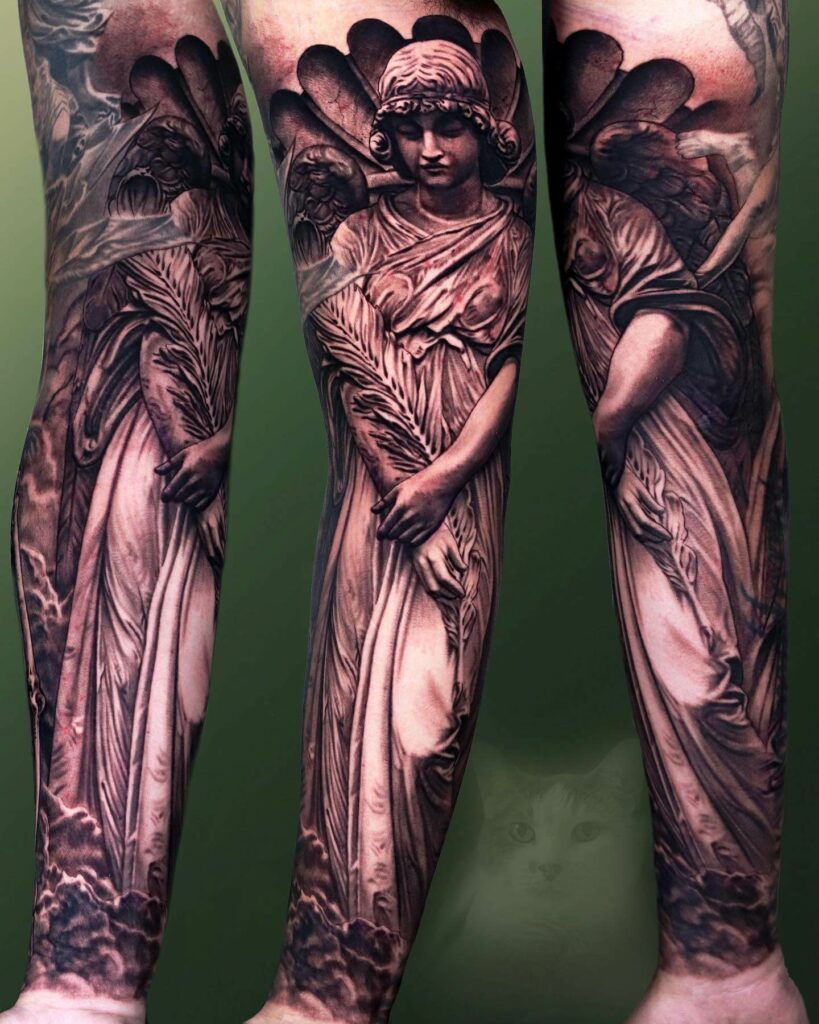 This sleeve angel statue tattoo is an excellent work of art. As discussed earlier, angels are the soldiers of God. They are faithful to God even after being so powerful. God has given them manipulative and healing powers, and they use them to control the concept of life and death in the universe.
Get this dark angel statue tattoo to portray a hidden flare to your personality. Dark angel tattoos usually have magnificent designs on their wings and are exceptional angel tattoos to have. The tattoo artist has depicted the flares of Hell under the sword of the dark angel statue tattoo. This gives the tattoo a royal effect which many tattoo enthusiasts die for!
Fallen Angel Tattoo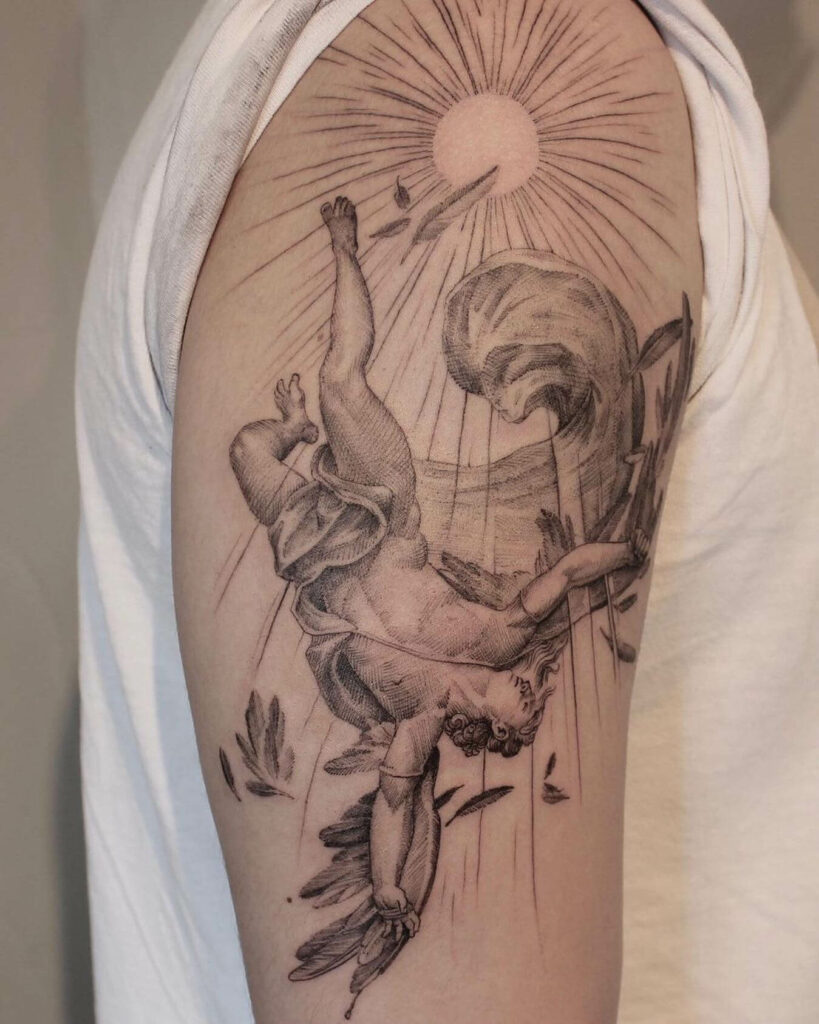 This is a magnificent piece of art that portrays what happens when you are self-absorbed. God has created the universe, and all the beauties are gifted by him. Lucifer was God's angel. He was a beautiful celestial being with all grace, magnificence, and power. He robbed himself of this glory and landed up as the fallen angel, the Devil.
Once he thought he had greater power than God and defied him, he fell from the grace of the Almighty and was thrown out from Heaven. Later, Lucifer created a world where he trapped all the sinners. God reigns in Heaven, and Lucifer reigns in Hell. The tattoo is also interpreted as the figure of Icarus. Both Icarus and Lucifer are characters who want to surpass their father's legacy and are met with drastic consequences.
Praying Angel Statue Tattoo Design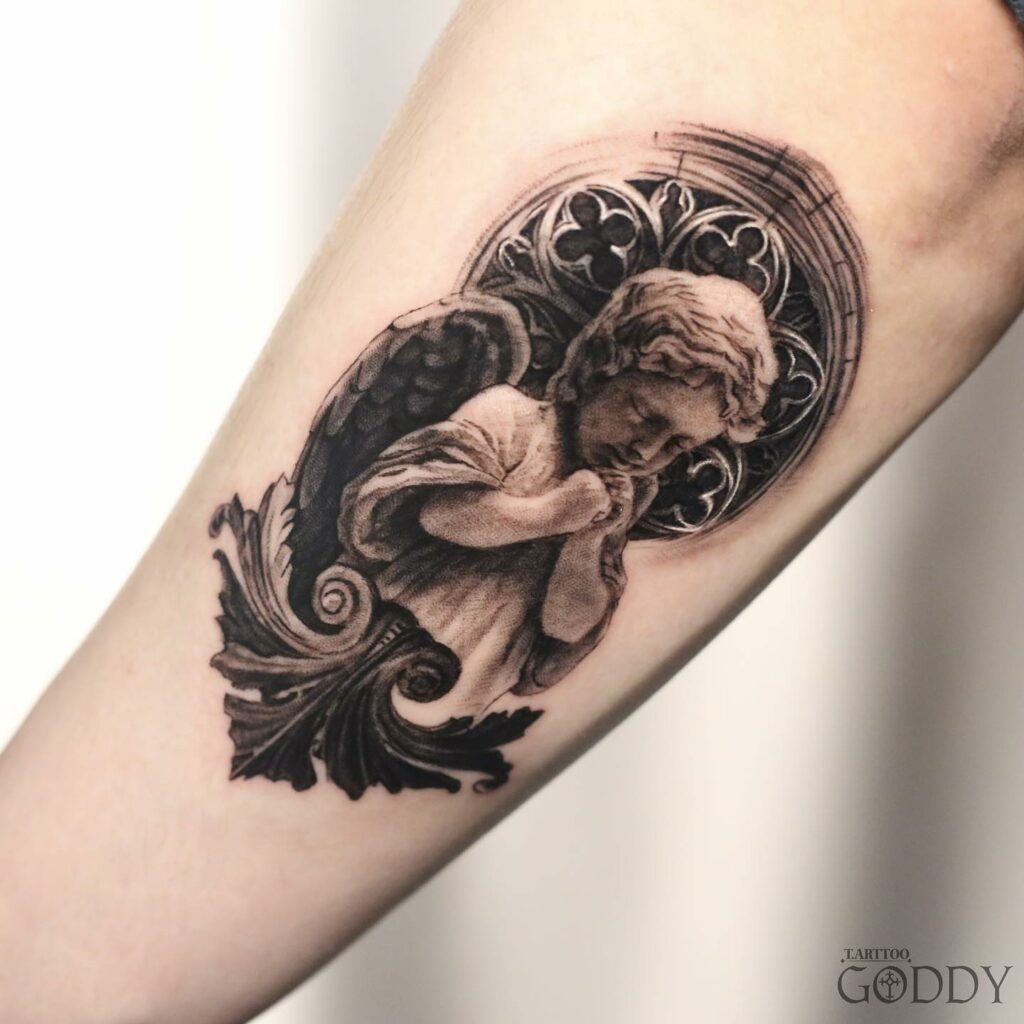 This tattoo tells a lot about your personality. You are the one to choose your guardian angel, whether Archangel Michael, Gabriel, or even the Devil. A guardian angel tattoo stands for faith, conformity, and guidance. This tattoo is intricately detailed with the figure of an angel landing on Earth. The tattoo has used black and skin tones, which makes it more appealing than multicolor tattoos.
If you want your guardian angel to rule your character, then this is the perfect tattoo. Feel confident, powerful, and unstoppable with this intricate design inked on your forearm or any other body part, which gives the tattoo enough space to span out.
Baby Angel Statue Tattoo Design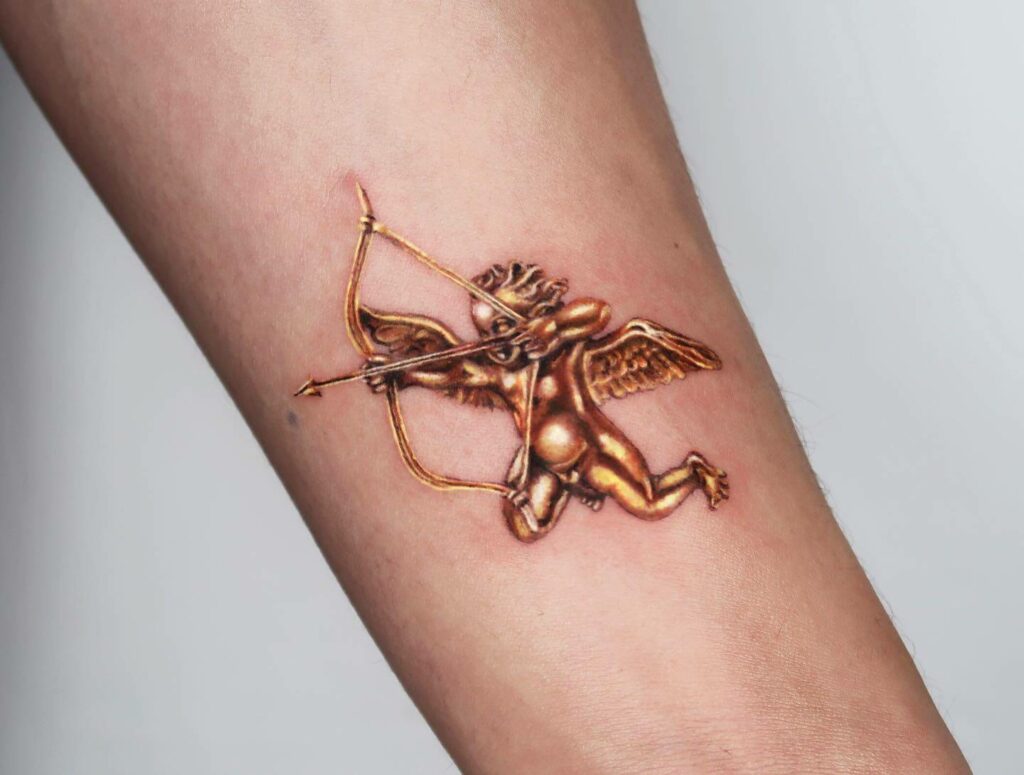 This baby angel statue tattoo depicts a biblical cherub or a cupid. It bears the symbolism of love, affection, playfulness, purity, benevolence, and innocence. These baby angel statue tattoo designs have always been a favorite of tattoo enthusiasts and artists alike. Young couples get these baby angel statues tattooed to commemorate their relationship.
If you want a bubbly, gentle, positive area surrounding you, adopt this kind of angel statue tattoo. You can also add more colors to enhance your chakras. The tattoo is golden, and it has been shaded to give a hyper-realistic appearance. The cherub is pointing his arrow outwards, and this is a sign that he has spotted someone to shoot his love arrows at. The tattoo is a great choice for a first-timer who wants to get a biblical form inked.
Guardian Angel Tattoo Ideas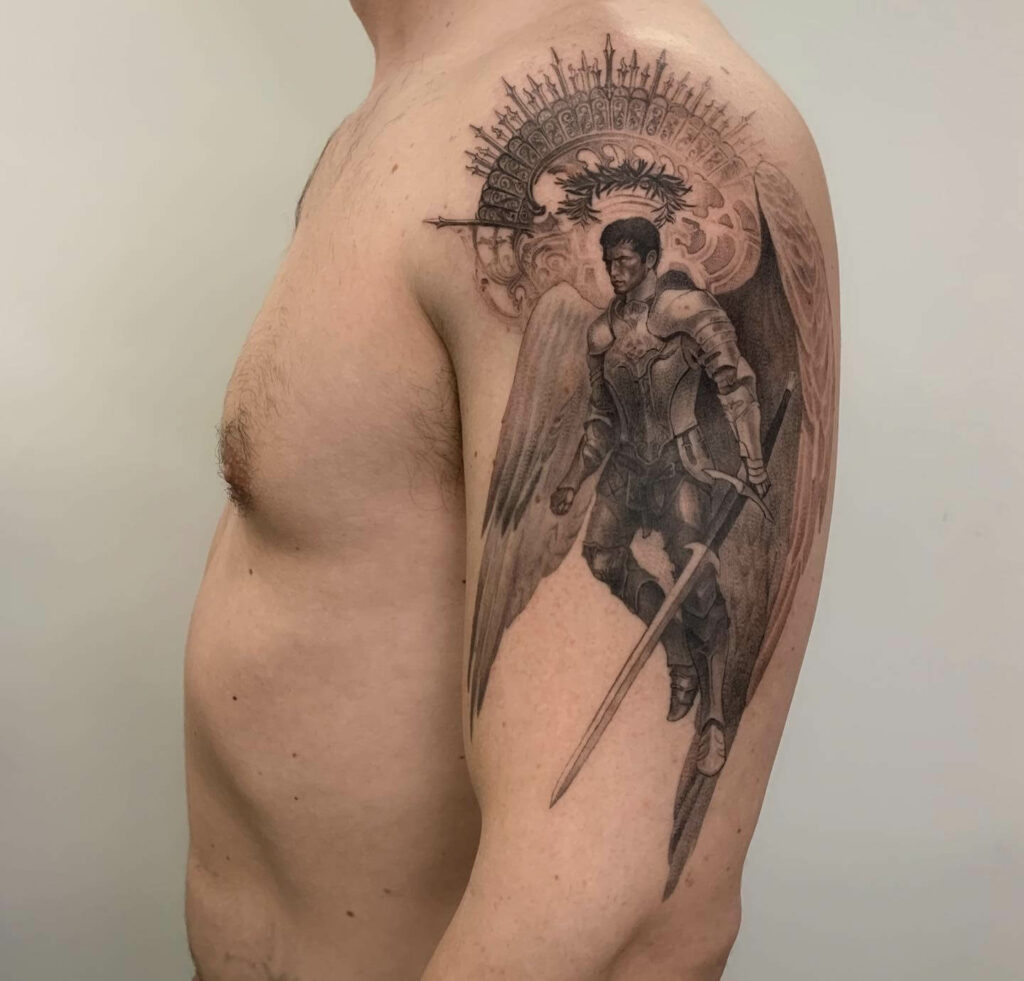 This tattoo design is monochromatic and powerful. The face of the angel statue is full of determination, and he holds a sword which is used to represent the Archangel Michael. The orb of the Gates of Heaven is seen behind his head, meaning he has descended from Heaven.
An olive branch above the head of the angel statue tattoo design represents peace and harmony. No matter what havoc ensues in our lives, faith in our guardian angels will always bring peace to our souls. Guardian angels are also representatives of wisdom. Getting this angel statue tattoo on your arm is a great way to portray fearlessness and extroverted nature.
Traditional Angel Statue Tattoo Design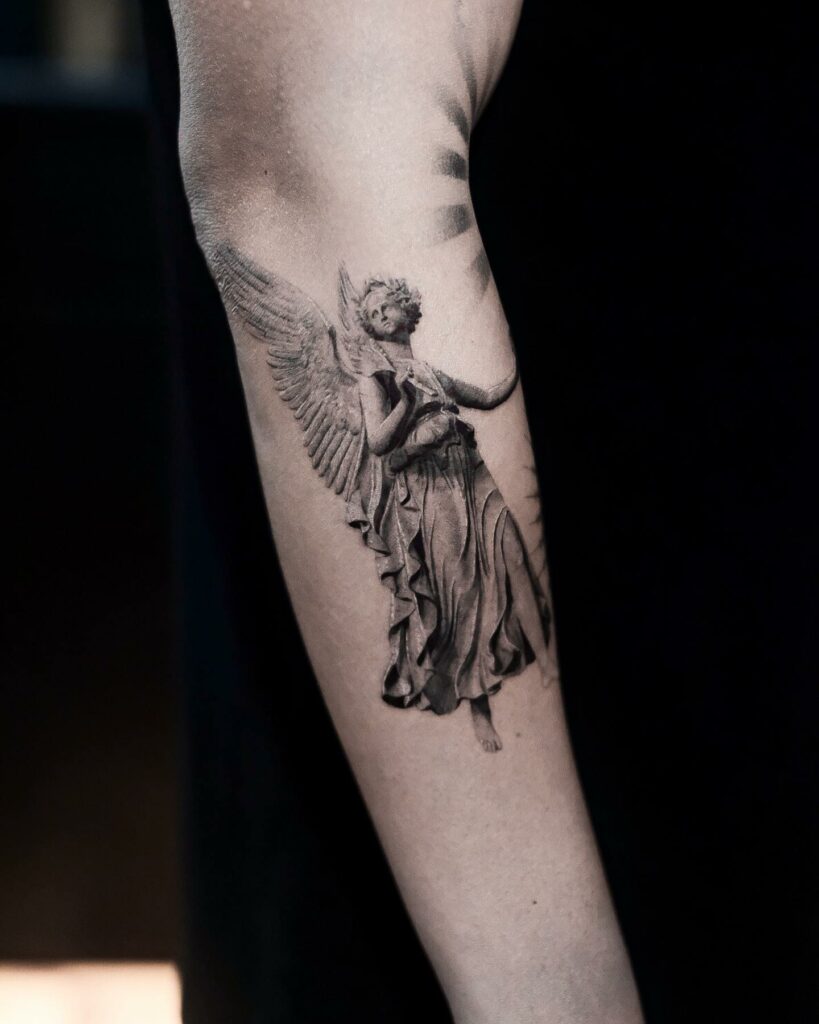 This angel statue tattoo design is the go-to angel tattoo design for tattoo enthusiasts. This tattoo is dedicated to serving as a reminder of the power of good over evil. This angel statue tattoo has not been paired with any other tattoo design, which might imply that before the grace and innocence of an angel, no evil stands.
These traditional angel statue tattoos are usually customized with the face of the favorite angel of the wearer. This tattoo is usually made on a visible body part so that the wearer can bring his soul some peace and relief in hard times simply by looking at the tattoo and reinstating their faith in their guardian angel. The beauty of this tattoo is unparalleled, and the halo of Heaven from which the angel seems to emerge is symbolic of everything good in life.
Angel statue tattoos, demon tattoos, and angel wing tattoos are now in trend like always. You cannot go wrong with these tattoos, and they are a great source of encouragement in times of fear and distress. Here are some of the best angel statue tattoo suggestions for you:
Feature Image from Pinterest- Want your tattoo to look brighter? Try "Tattoo Balm"