Hello there, Aquarians! Are you on the hunt for a gorgeous floral tattoo that'll reflect your Aquarius Zodiac sign? Look no further, because we've got some amazing Aquarius flower tattoo ideas that'll blow your mind!
As an Aquarius, you're likely known for your optimism, strength, cleverness, and passion for taking on life's challenges. There are many ways to represent the Aquarius sign in visual art, whether it's through the water bearer symbol or the owl, which is closely associated with the Aquarius Zodiac.
If you've decided to get a tattoo representing your Zodiac sign, lucky for you, there are plenty of Aquarius tattoos to choose from. You can opt for the two blue waves symbol, an Aquarius constellation tattoo, or an Aquarius tattoo featuring the wise old owl. But if you're looking for something floral and pretty, why not consider an Aquarius flower tattoo? The bright yellow bird of paradise flower (also known as the crane flower) is the official Aquarius flower and makes for a stunning tattoo design.
So, if you're ready to take the plunge and get some ink that reflects your Aquarius spirit, a lovely Aquarius flower tattoo might just be the perfect choice for you.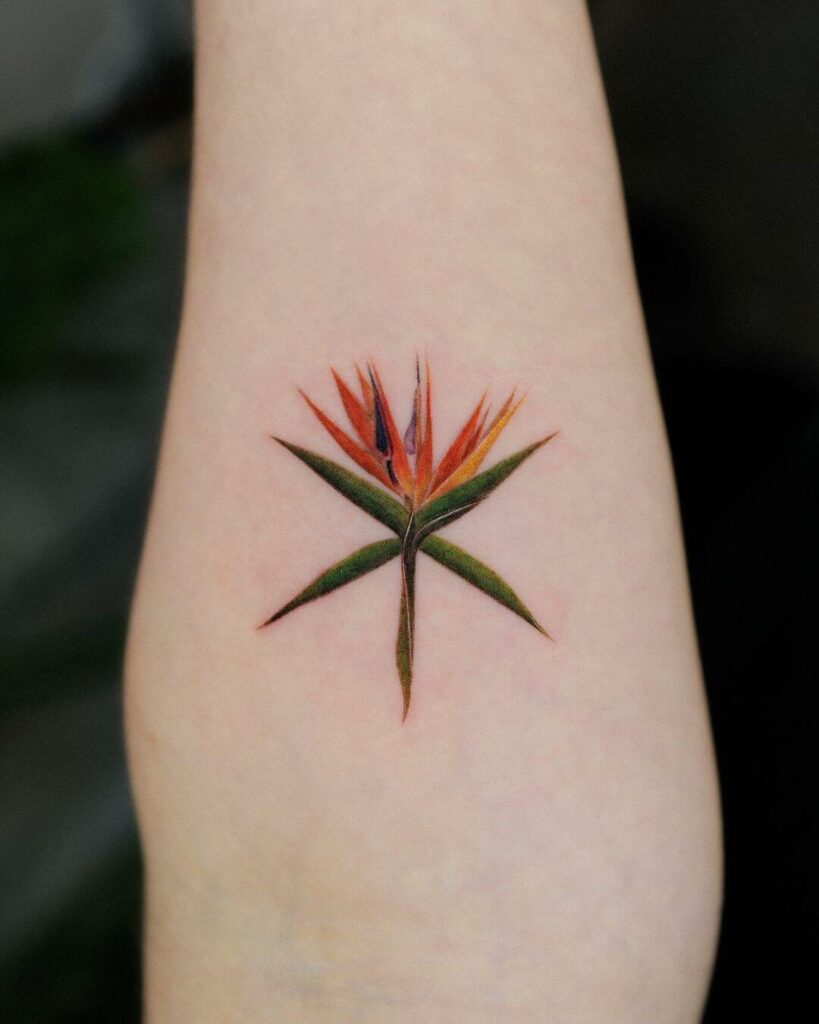 Minimal Aquarius Flower Tattoo Ideas For Novices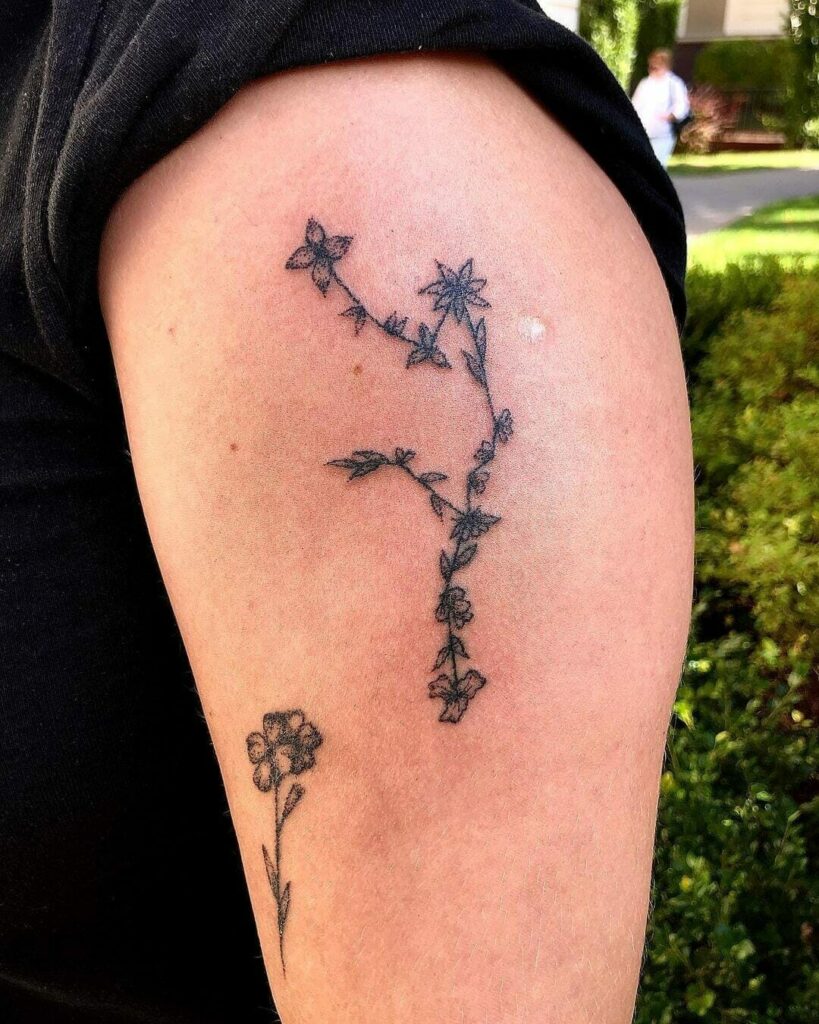 Many people believe that the celestial bodies, such as the sun, stars, and the moon, have a significant impact on our lives. If you share this belief and were born under the sign of Aquarius, then you might be interested in getting a tattoo that reflects your birth month.
Aquarius tattoos can be designed in various ways, from dainty Aquarius flowers to the beautiful bird of paradise. The bird of paradise flower is a popular symbol for the Aquarius sign, as it represents freedom and adventure. Another great option is to have an Aquarius constellation tattoo on your hand, which will incorporate more Aquarius signs in your body art.
Take a look at some of these fantastic Aquarius tattoo designs to inspire your next inked masterpiece.
Stunning Aquarius Flower Tattoo Ideas With Heavy Shading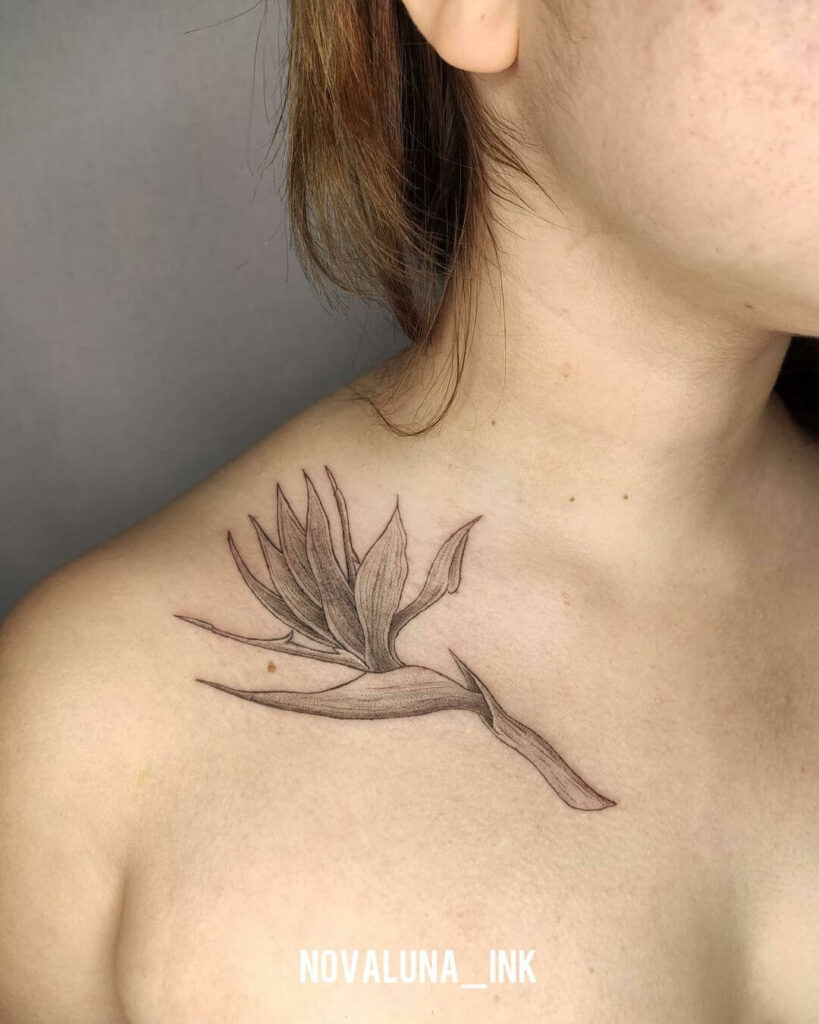 Aquarians are known to possess both strength and sensitivity, and this duality can be portrayed through beautiful and meaningful tattoo designs. A stunning bird of paradise tattoo with a heavily shaded effect can capture the contrasting elements of an Aquarian's personality. While most Aquarius flower tattoos are usually vividly colorful, you can also opt for a unique and unconventional approach by choosing a monochromatic design with black ink. This will give your tattoo a bold and striking look that will stand out. Whether you prefer a colorful or black-and-white design, an Aquarius tattoo is a perfect way to celebrate your unique personality traits.
Amazing Tattoo Sleeve Designs With The Aquarius Flower
For those interested in Zodiac tattoos and the Aquarius sign, there are a variety of designs to choose from. You may want to consider an Aquarius constellation tattoo, which showcases the stars that make up the sign. Alternatively, the Aquarius flower, also known as the bird of paradise, is a beautiful and meaningful option for an Aquarius symbol tattoo.
When it comes to placement, many tattoo enthusiasts opt for a sleeve tattoo as it covers a large area of the arm from the shoulder to the wrist. Sleeve tattoos are a popular choice as they are relatively painless and offer maximum visibility. If you're considering a bird of paradise tattoo for your sleeve but unsure of how it would look, take a look at the picture above for inspiration.
Vibrantly Colourful Bird Of Paradise Flower Tattoo Designs
Are you looking for some unique and colorful Aquarius symbol tattoo ideas? Look no further! One of the most popular and vibrant options is the Aquarius floral symbol tattoo featuring the stunning bird of paradise flower. With its vibrant yellow and orange hues, this tattoo is sure to catch the eye and bring a cheerful touch to your body art. If you're someone who prefers colorful designs over dark, monochromatic tattoos, this is the perfect choice for you. For an even more unique take on the design, consider an Aquarius tattoo with a holographic flower effect. So why wait? Choose the perfect floral Zodiac tattoo to show off your Aquarius sign today!
Unconventional Bird Of Paradise Flower Tattoo Ideas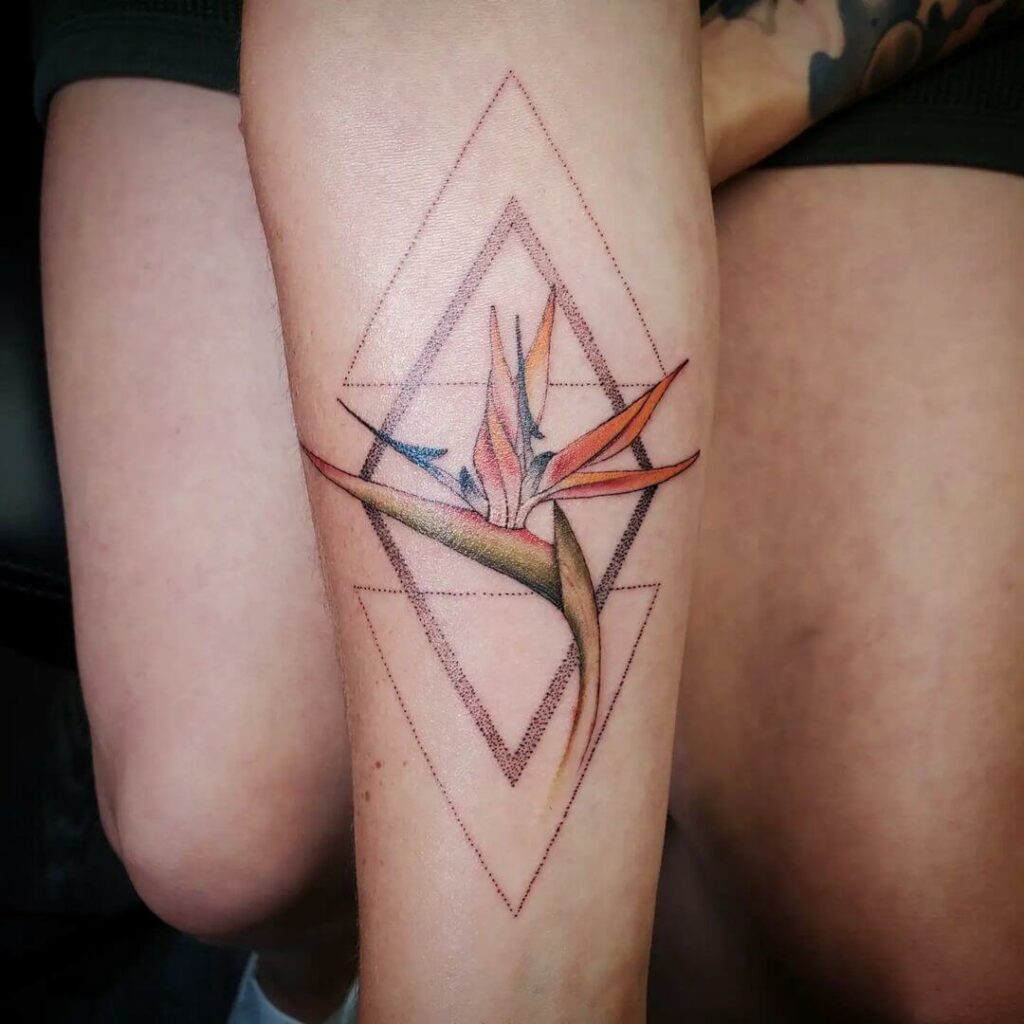 The Aquarius sign is known to be an air sign, which means that using geometric shapes is an excellent way to showcase the sign. One unique way to represent Aquarius through your tattoo is by incorporating various geometric shapes like the wearer has done in the picture above. The combination of the Aquarius symbol, the bird of paradise flower, and the rhombus-shaped pattern creates a fantastic tattoo design. If you're looking for an Aquarius flower sign tattoo, this design can be a great inspiration for you. Additionally, incorporating Aquarius elements like the bird of paradise flower in your tattoo can give you the strength and motivation to excel in all aspects of your life.
Beautiful Bird Of Paradise Flower Tattoo For Your Body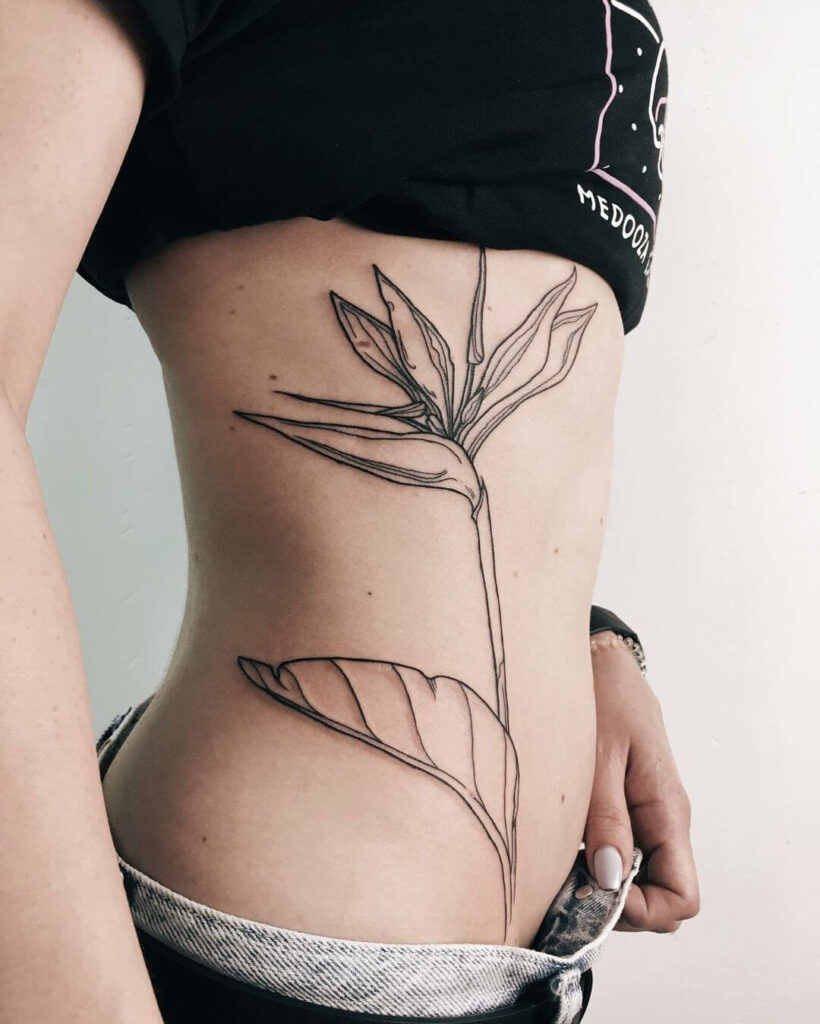 For those who hold a deep fascination with astrology, and who believe that celestial bodies can influence our lives, getting a tattoo that reflects their Zodiac sign can be an excellent way to express their personality and beliefs. Aquarius, one of the most popular Zodiac signs, offers many exciting options for body art.
If you are looking for an intricate and striking Aquarius floral tattoo, you can draw inspiration from the image above. This particular tattoo covers a large area on the wearer's stomach and ribs, and its vibrant colours and bold design make it stand out. Whether you are looking for a small, minimalist Aquarius tattoo or a larger, more elaborate design, there are plenty of options to explore.
Tiny And Graceful Aquarius Flower Tattoos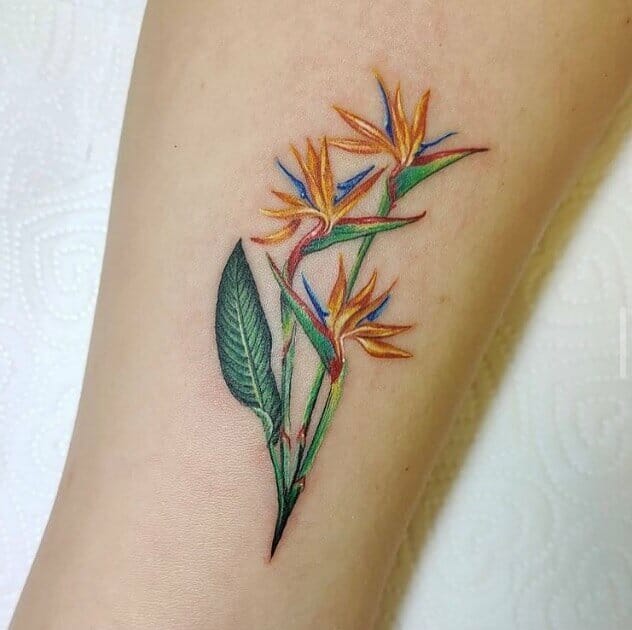 For women born in January or February who believe in astrology, the Aquarius Zodiac sign can hold a special place in their heart. If you're considering getting a tattoo to represent your Aquarius sign, an Aquarius constellation flower design could be the perfect fit. However, if you're looking for a smaller design, there are many options available, such as the beautiful floral tattoo in the picture above.
For those looking to combine the Aquarius flower and constellation, an Aquarius lotus flower constellation tattoo could be a unique and eye-catching option. Alternatively, adding your favorite flowers, such as roses, can also personalize your tattoo.
If you're interested in more constellation tattoo ideas, check out our top picks for Aquarius constellation tattoos.
Lovely Aquarius Flower Tattoo Ideas For Your Arm
For a personal and meaningful tattoo, women can choose a design based on their Zodiac sign. If you are an Aquarius looking for a beautiful tattoo for your arm, bird of paradise designs are a great option, especially for young women. In the picture above, the wearer has a lovely floral tattoo near their elbow, with flowers filled in with pastel colors. The soft and delicate palette adds to the overall beauty of the tattoo. Many women also opt to place the floral tattoo near their wrist, which can be a graceful and elegant placement.
Elaborate Aquarius Flower Tattoo Designs For Your Back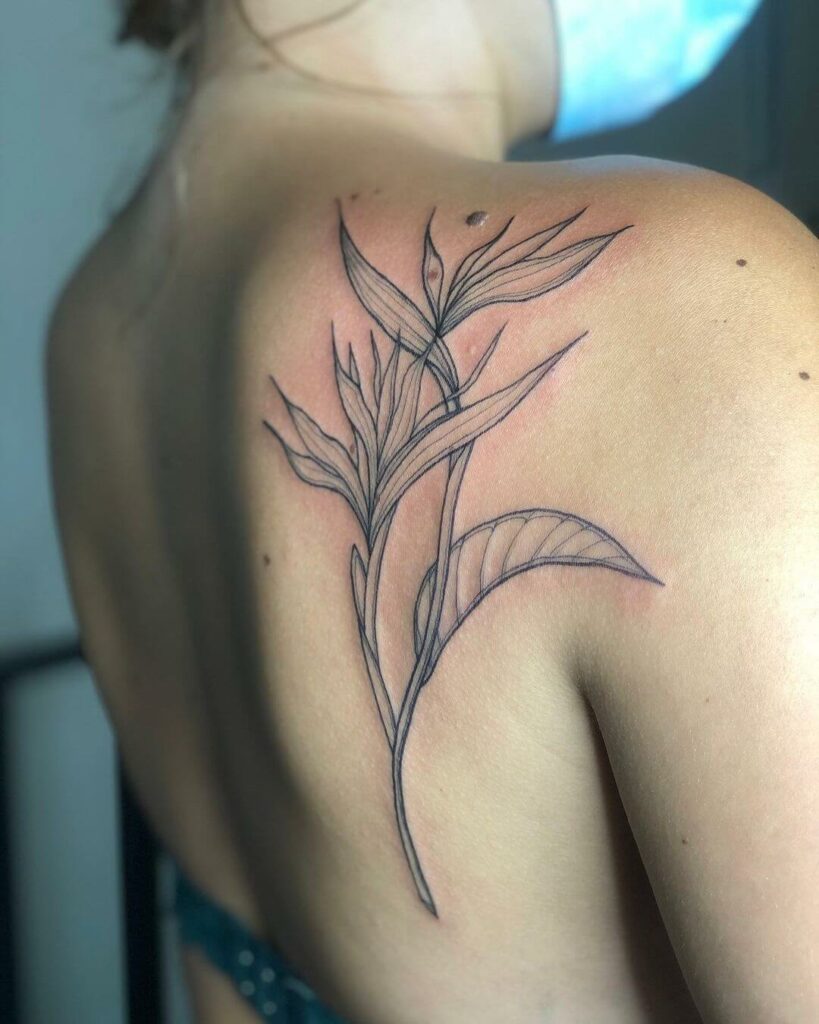 Many women want a tattoo that is both bold and symbolic of their personality. For instance, the individual in the above picture has a large, monochromatic bird of paradise flower tattooed on their back, representing their Aquarius Zodiac sign.
The artist did a phenomenal job creating a precise outline of the delicate flower. While the tattoo doesn't feature any colors, it's still an eye-catching design. This type of tattoo would look especially beautiful paired with an off-shoulder or crop top, allowing the intricate details to be on full display.
Ideas For Aquarius Flower Tattoos With Other Symbols And Motifs
Aquarius is a Zodiac sign for people born between January and February. Those with an Aquarius sign are known for their independent and forward-thinking nature, always striving for perfection. A great way to express your unique traits is by getting an Aquarius flower tattoo. You can even add other symbols that represent your personality, like a lion to reflect courage, or stars to represent your dreamy nature. As seen in the picture, adding a skull, butterfly, or moth can give your Aquarius tattoo a gothic effect.
In recent years, tattoos have become more personal, with people choosing designs that represent their individuality. Floral tattoos, especially those related to one's birth month or Zodiac sign, have become increasingly popular. For Aquarius individuals, an Aquarius flower tattoo is a beautiful way to show off your sign.
Feature image from Pinterest – Want your tattoo to look brighter? Try "Tattoo Balm"