Are you searching for a memorial tattoo but with a more personal interpretation? Then there are some amazing ashes tattoo ideas for you to check out!
Different people express grief and sadness over the passing of a loved one in their own way.
Recently, it has become a popular trend for people to get memorial tattoos to commemorate and honour the loved one who has passed away. They may get a beautiful memorial or RIP tattoo designed for a family member, a dear friend or even a loving pet.
While most people use regular ink for a memorial tattoo, some people even use ash infused tattoo ink to get that tattoo. While this may sound like a unique service that requires an experienced artist, you will be surprised to know how many people opt for such unconventional ashes tattoos to get on their skin.
The ash infused tattoo has been extensively studied to see if the process is safe for the skin of a person or not. While people claim that ashes tattoos can easily fade in very high temperatures, it actually depends on the molecular size of the ashes as well as the very fine consistency. Firstly, a small amount of the ash after the cremation of a deceased loved one has to be sterilized. After sterilizing the ash, it has to be finely mixed into the tattoo ink before getting a tattoo on the skin. Following such a careful, responsible process will ensure that the skin does not start itching after getting the tattoo.
Minimal Ashes Tattoo Design For Your Loved One
A tattoo made with ash infused ink is also known as a ritual tattoo as it is made with human ashes after the cremation ritual of a dead person. If you want to get a memorial tattoo for someone whom you love and miss deeply, the ashes tattoo might be a wonderful and unique idea to forever keep a part of them with you. While many people prefer to keep the ash after cremation in an urn, you can carry around some of their ashes with you through a tattoo dedicated to their memory.
Lovely Memorial Tattoo Design With Ashes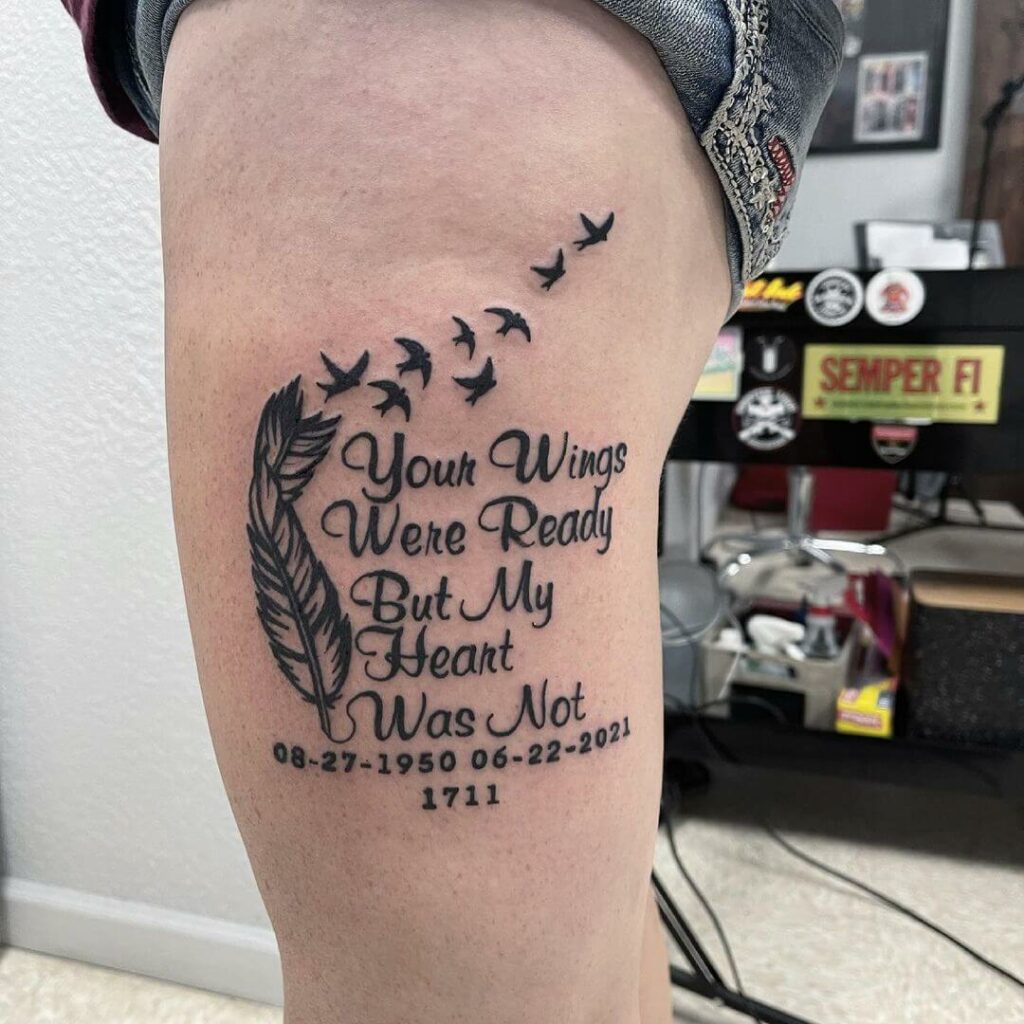 The cremation ash tattoo is definitely different from a traditional tattoo which is made with regular ink. A lot of people are also worried about the hygiene of adding cremated remains to a tattoo that will be put on the skin. However, if the ashes have undergone proper sterilization before adding them to the tattoo pigment, the tattoo will not hurt or itch at all. It will also not fade unless you interfere with the healing process or do not take adequate care of the tattoo. An ashes tattoo can also be a unique 'Rise from the ashes' tattoo as well as it will show that you have grieved but have come back stronger.
Sweet Memorial Tattoo For Your Cat
Many pet owners love their pets like they are a member of the family. After the passing of their pet, many of them also choose to pay tribute through ashes. As can be seen in the picture above, the wearer has gotten a beautiful cremation ashes tattoo with a cat's paw on their arm. This is a really sweet example of a cremation ashes tattoo if you have lost a furry loved one.
If you have lost a pet dog in the past and want to have a cremation ashes tattoo for them, you should see these beautiful dog memorial tattoo ideas.
Colourful Memorial Tattoo With Ashes In The Ink
Most memorial tattoo ideas are dark and monochromatic. However, if you feel that you want to celebrate the life of your loved ones with joy and cheer, then you can also engrave a colourful memorial tattoo on your body.
Cremation ash tattoos cost a bit more than the usual traditional tattoos which are done with plain ink. For a custom ash ink, one can expect the prices to be around $200-$300 which may increase if someone is getting a tattoo with two different colours of ash infused ink.
Unique Ashes Tattoo To Honour Your Grandfather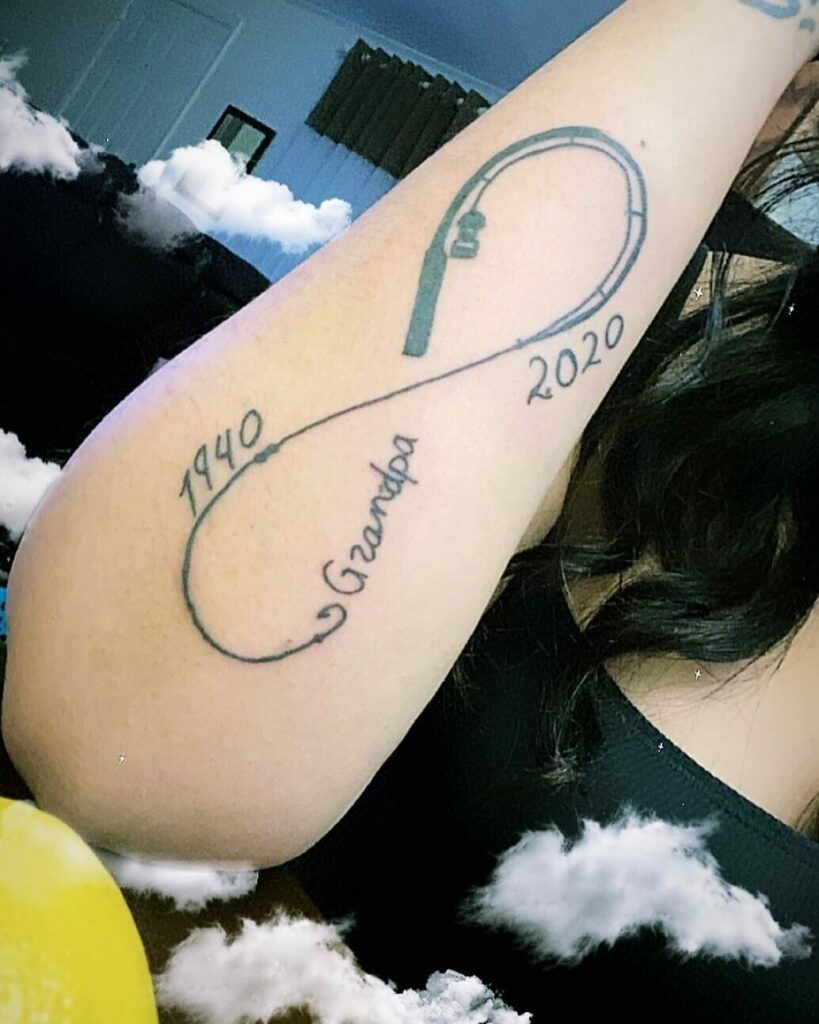 The cremation process involves burning the body which leaves behind ashes for the family members. While some store those cremation ashes in an urn, others also choose to get a cremation tattoo. These cremation ashes tattoos would be an amazing idea no matter whom you have lost. In the picture above, the wearer has gotten a heartwarming cremation tattoo for their grandfather.
Amazing Ashes Tattoo With Floral Motif
Many people use floral motifs in their tattoos to express their feelings or to add a beautiful element to their tattoos. If you have recently lost a loved one whose favourite flower was the rose, you can also add a black rose tattoo as a subtle way of honouring their memory. You can also add some carnations or lillies to your ashes tattoo as they are the most popular flowers associated with death and funerals.
Beautiful Memorial Tattoo For Your Mother With Ashes In Tattoo Ink
The loss of a mother is felt deeply by all her children. If you have lost your mother, then you may also want to get a cremation tattoo in her memory. If you want a more subtle and minimal cremation ashes tattoo, then you can draw some inspiration from the picture above. Here, the wearer has gotten a stunning colourful floral tattoo made with cremation ashes in her mother's memory.
Heartwarming Ashes Tattoo For A Father From His Daughter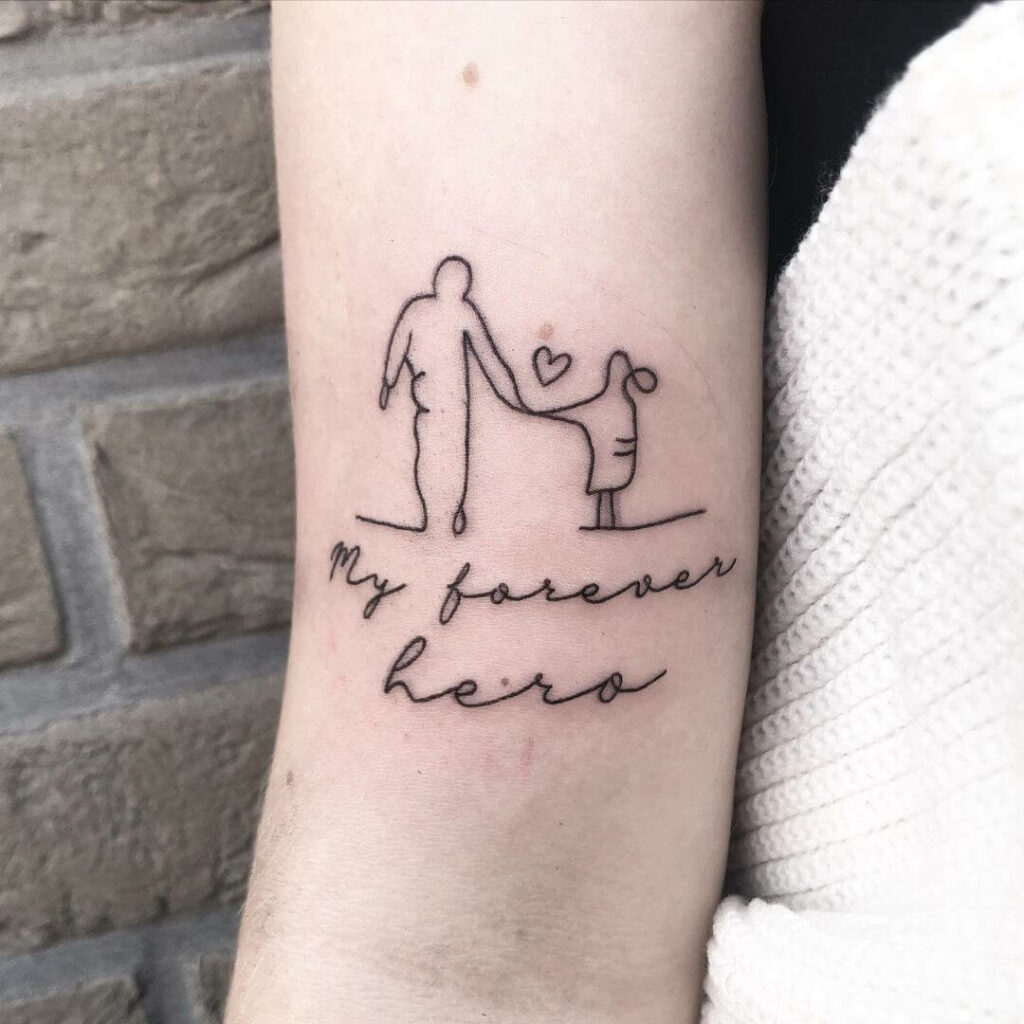 If you want cremation tattoos or memorial tattoos, you have to ask your tattoo artist to use ash infused ink with your loved one's cremation ashes. In addition to that, you also have to check if cremation tattoos will suit your sensitive skin or not.
If cremation ashes tattoos suit you, you can get them to honour and remember any loved one whom you have lost. For example, in the picture above, the wearer has gotten a lovely cremation tattoo for her father who was also her hero.
Ashes Tattoo With A Wonderful Phrase
If you want to get an ashes infused tattoo ink instead of regular tattoo ink, you have to check if your local tattoo studio will be a reliable place to get such a tattoo. After all, one has to properly sterilize the ashes which are left over in the cremation process so they can be used in the tattoo. You can also search on the internet to look for an expert and proficient tattoo artist near you.
As can be seen in the picture above, the expert tattoo artist has done a stunning job of adding a deeply personal and meaningful phrase to the ashes tattoo to make it more significant for the wearer.
If you are looking for some inspiration for RIP tattoos, check out these amazing RIP tattoo ideas which you can take to your local tattoo studio!
Elaborate Tattoo Sleeve With Ashes In The Tattoo Ink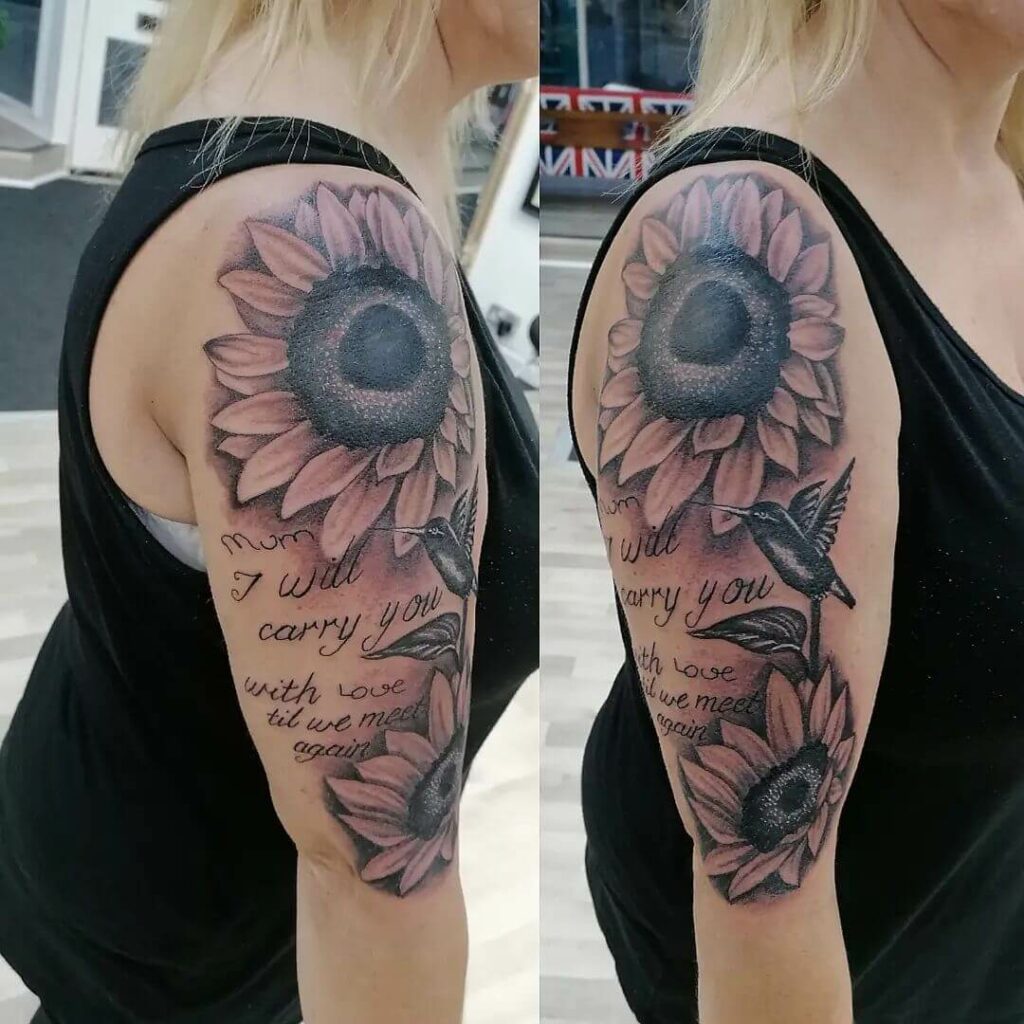 While most ashes tattoos are small or minimal, you can also get a large, complex and elaborate tattoo sleeve if you want. After all, many people prefer tattoo sleeves because they offer maximum visibility. They are also really easy to design as some people choose a single continued theme while some people choose a number of designs to draw on. As can be seen in the picture, the wearer has made a lovely sunflower tattoo sleeve along with some lovely words to express their feelings.
A commemorative tattoo or a cremation tattoo with the cremated ashes infused in the ink was not a very popular trend in the past but more people are embracing the idea nowadays. After all, a commemorative tattoo made with cremated ashes means that a person will always carry a piece of their lost loved one with them. If you have found the perfect tattoo artist for such a tattoo, go ahead and choose a design to honour your dear departed ones.
Man's Best Friend
Losing your best friend who is also a major part of your family can be very difficult. This is one feeling that all the pet owners will understand very well. There are many people who have lost their most beloved loyal dogs and have never really gotten over it. You know what is the best way to always remember your dog and also keep him close? To make a tattoo with his ashes in it. This will leave a part of him with you forever.
In this tattoo, the person is wearing the impression of his dogs paw on his leg. The paw is surrounded by beautiful flowers, which are a symbolism of love and passion. This beautiful design has been made with fine strokes of black ink and Dot work design within the paw.
Cat Love
Cats are said to have a longer life than dogs. But that does not mean that you do not miss your cat after it's death because during their lifetime these innocent creatures showered you with love and affection. There are a few people who want to have their cats as close to them as possible even after their passing. And the only ay to do that is, to add their ashes to the traditional tattoo ink.
In this design, a couple has gotten matching tattoos of their cat, Bibo, who passed away in 2005. The tattoo artist has used black ink to make the picture of the pet, and under the cat, they've written the words Bibo and the date of his passing.
Initial Tattoo
This particular tattoo is an honour for a deceased loved one. It is a difficult time when someone close to you has passed, but you want to feel their presence near you at all times. A great way of doing that is adding a small number of their ashes to regular ink and getting their initials tattooed on themselves. In this particular design, the weather has the initials J&R tattooed along with a heart. The heart is a symbol of love and passion. This design has been made with thin strokes of black ink. The Jnr has been styled in a way that is incorporated within the heart. This is one of the best memorial tattoos that you can get for your loved one.
Feather Tattoo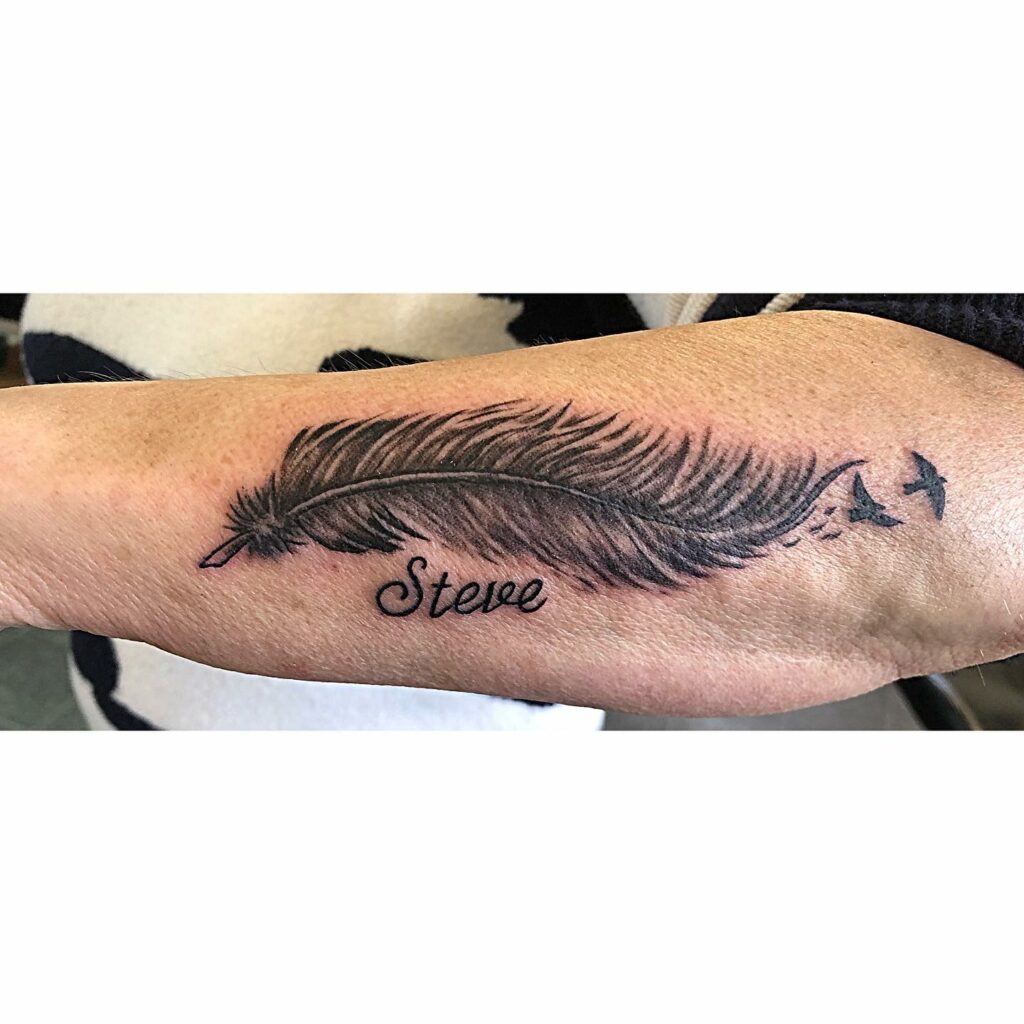 Feather tattoos are actually a very common memorial tattoo design. These are also used alongside inspirational words and quotes. A feather is a representation of trust, freedom, strength and honour. It has a powerful meaning and makes a great tattoo.
In this particular design, there is a feather with two flying birds beside it. Birds are a representation of a desired and eagerness to live a free and happy life. Under the feather is the word Steve written in honor of the deceased loved one. His remains have been mixed with the ink pigment. The tattoo artist has done a great job with the fine strokes and curves of this design.
Cremation Ash Tattoo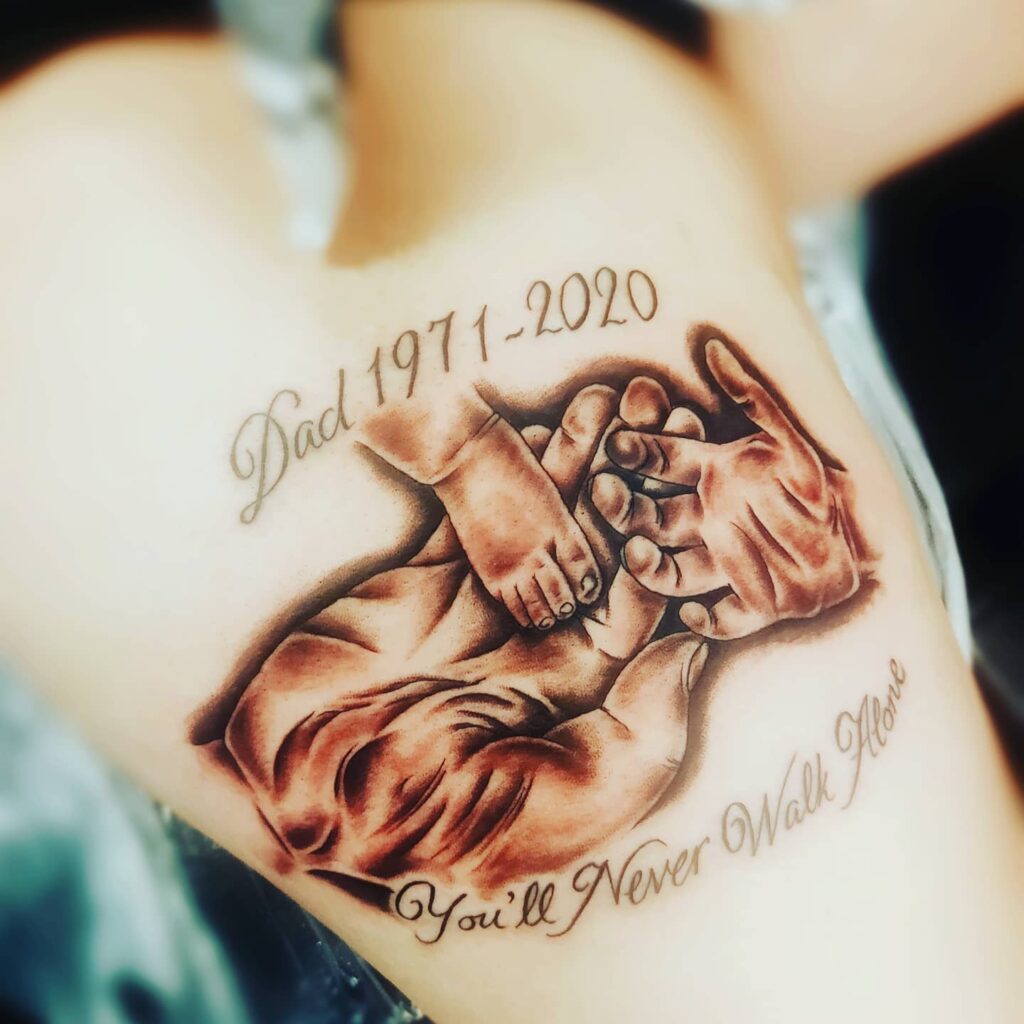 This particular tattoo design has been made in honour of the father of the wearer. After the Cremation process of their father, the person went on to add small amounts of their fathers ashes into the regular ink and then meet the starting with the ash infused ink. The tattoo shows a father's hand holding his daughters hand and leg. Over the tattoo are the words dad and his birth and death here return. Below the hands are the words 'you'll never walk alone.' The artist has used brown and black ink to complete this design. This tattoo is a beautiful way to commemorate your father or a loved one who has passed.
Handwriting Tattoo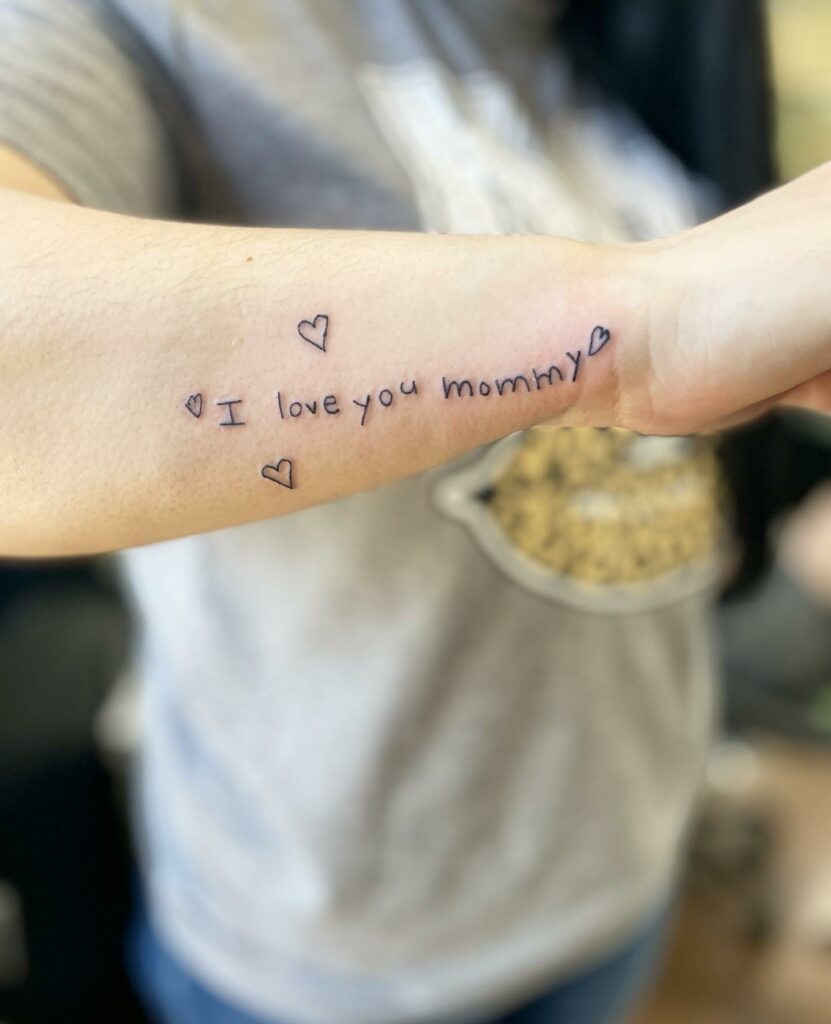 One of the most beautiful ways of commemorating a loved one is by getting a tattoo in their handwriting. This particular data has been written by the persons dad in his handwriting. The process of making such tattoos is very simple. All you have to do is get a sample of the deceased persons handwriting and ask the artists to copy it in the same way. To make it more memorable, you can add the ashes of the loved ones in this tattoo ink. In this tattoo, the words 'Every step of the way. Lots of love, Dad' has been written in black ink. A beautiful tribute to the father while also keeping him close forever.
Rememberance Tattoo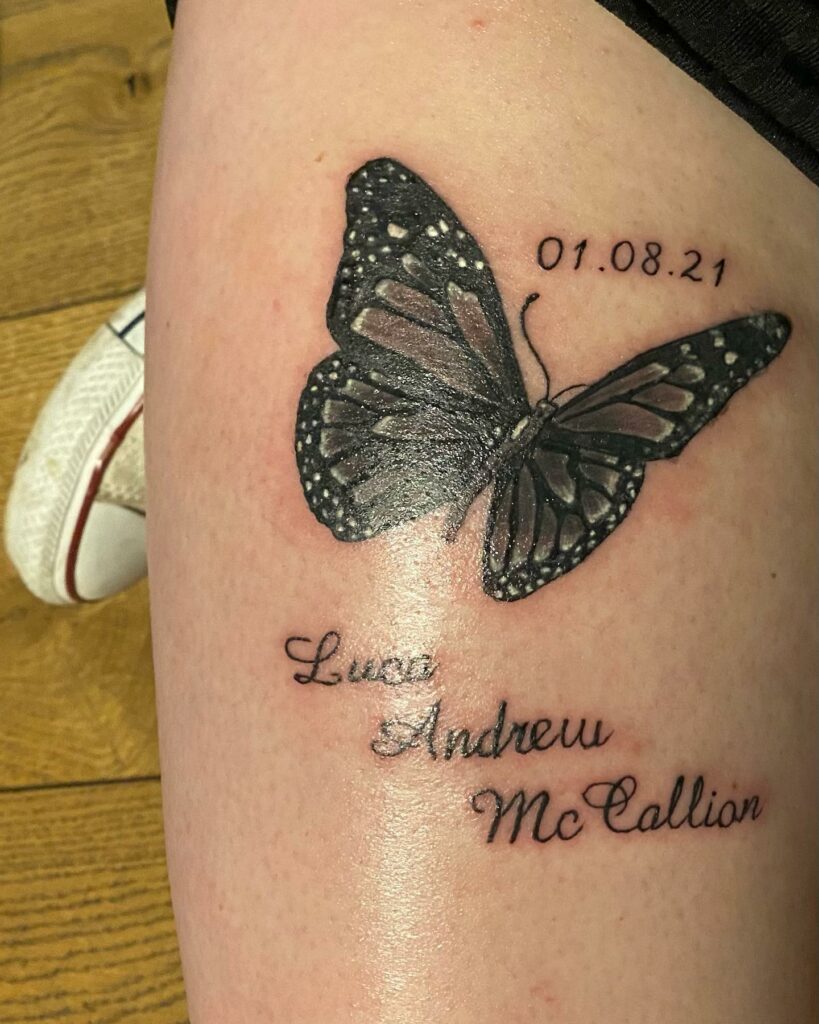 A butterfly tattoo is a very common choice for a memorial tattoo. Butterflies are often connected with a romantic meaning that represents young love. The butterflies generally fly from one flower to another, and this represents the beauty of love. In the Chinese culture, butterflies are also a representation of joy, race and immortality.
This particular tattoo has been made in memory of the persons son. She lost him in 2021 and to keep him close, she added a very small amount of his ashes in tattoo ink and made this very beautiful tattoo in honor of him. This beautiful design has been made in colors of black, brown, grey and white. Thin, fine strokes have been used to complete this design. If you are looking to honor a loved one, this is the tattoo that you should go for.
Eternal Love Tattoo
A mother's love is said to be incomparable and eternal. Losing a mother is one of the greatest loss in life. To feel like your mother is always there with you on every step up to me, you can make a tattoo in her memory. In the tattoo ink, you can add a small amount of her ashes so that she is there with you for life.
This tattoo shows a father elephant, a mother elephant and a baby elephant. Elephants are a universal symbol of loyalty, divinity, strength, and good luck. The design is a very simple one with thin strokes of black cake. Some dashes of bright colors like yellow, red and green have been added to complete the tattoo. A unique design for a beautiful memorial tattoo.
Baby Love Tattoo
A loss of her child for the mother is greater than any losses on this planet. A mother always loves and cares for her child internally, no matter what happens. When she loses her child, it is a pain that is unbearable. This particular design shows the imprints of the feet of the child. From the wheat is generated a plant full of blue flowers. These flowers are associated with constancy, an everlasting love. The ink of this tattoo has been mixed with small amounts of ashes of the boy. This is a great commemorative tattoo design and a perfect way to pay tribute to your child.
Missing Grandma Tattoo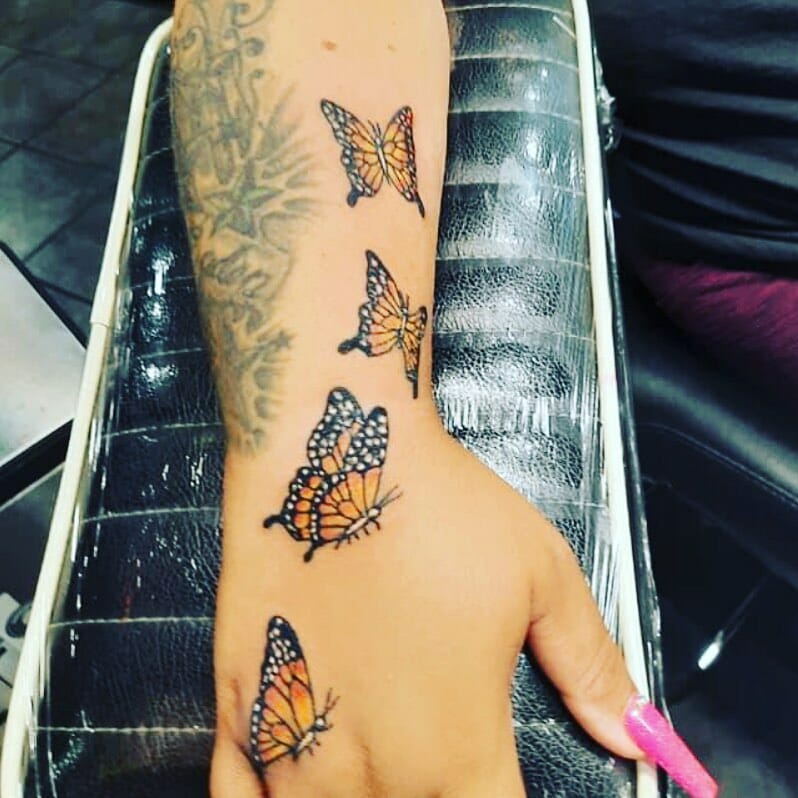 Are you looking for a way to make a commemorative tattoo of your grandma? Then this design is perfect for you. Barfly tattoos represent resilience, change, hope, and endurance. These tattoos are a powerful statement for anyone who gets them.
In this tattoo, the weather has 4 different stages of flight of a butterfly inked on her. Her grandmas ashes have been added to the ink to make it more personal and special. The colours used to complete this design, are upright yellow, black, and white.
We hope that you liked these ideas for memorial tattoos. A tattoo with cremation ashes holds a very personal meaning to the wearer. That is why you need to make sure that a cremation ash tattoo is what you need right now. Be thorough with your decision and interview reputable professional tattoo artists before you get a tattoo on you and also consult them with the right approach.
feature image from Pinterest – Want your tattoo to look brighter? Try "Tattoo Balm"
Last reviewed and updated on March 17, 2023