Hey there! If you're a proud parent looking for a special way to show your love for your little one, baby footprint tattoos might just be the perfect choice for you.
These adorable tattoos have become incredibly popular in recent years, with more and more parents choosing to commemorate their child's birth with a beautiful and meaningful design.
Becoming a parent is an incredible experience, and many moms and dads want to remember the special moment forever. That's why baby footprint tattoos are such a great option – they allow you to capture the tiny details of your child's little feet and create a lasting reminder of the joy they brought into your life.
Whether you want a simple and sweet design or something more intricate and unique, there are plenty of baby footprint tattoo ideas out there to choose from. So why not take a look at our list of designs and find the perfect one to express your love for your little one?
Colorful Baby Footprints Tattoo Ideas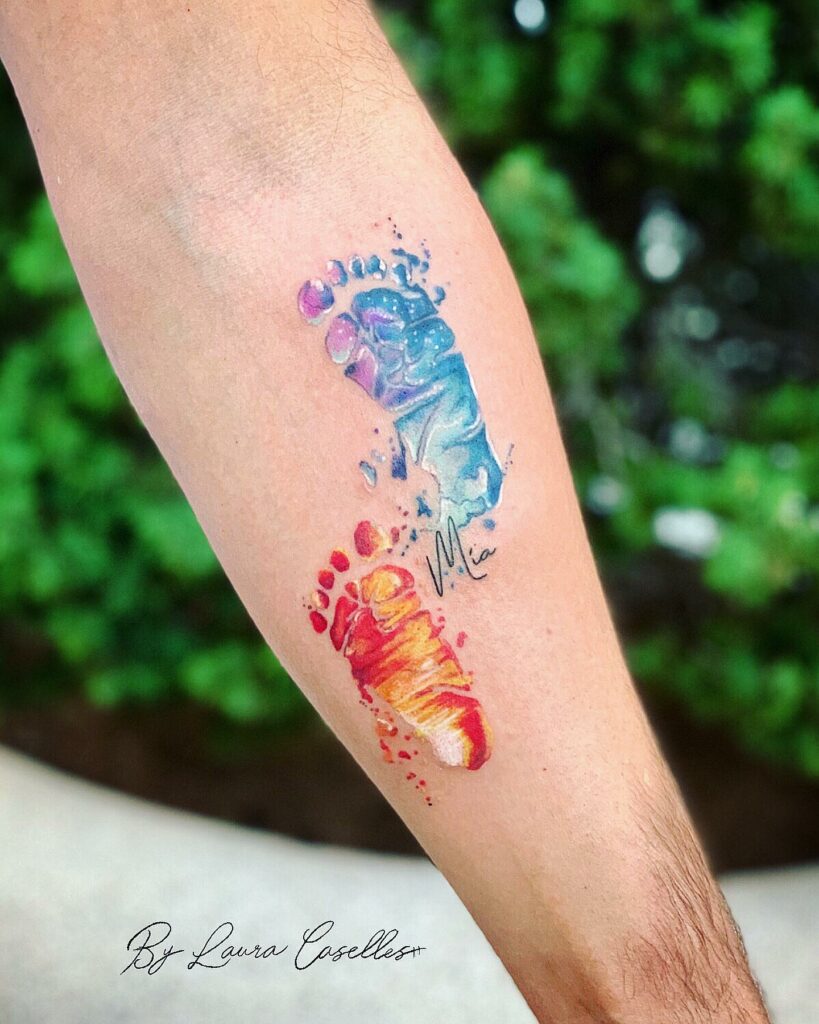 This tattoo features two baby footprints, each done with a different color. One of them is in fiery shades while the other is in watery shades, creating a beautiful contrast. This tattoo is perfect for parents who want to celebrate their child's birth in an artistic way. To get a personalized touch, you can take a picture of your baby's footprints and bring it to your tattoo artist. They can create a masterpiece like this, and you can even add your baby's name to the tattoo.
This tattoo is also a great option if you're a mother of two! You can get prints of one of each child's footprints and create a unique tattoo on your body. It's a meaningful and heartwarming way to celebrate the special bond you have with your children. This tattoo is sure to bring a smile to your face every time you look at it.
Cute Baby Footprint Tattoo that Show Parental Love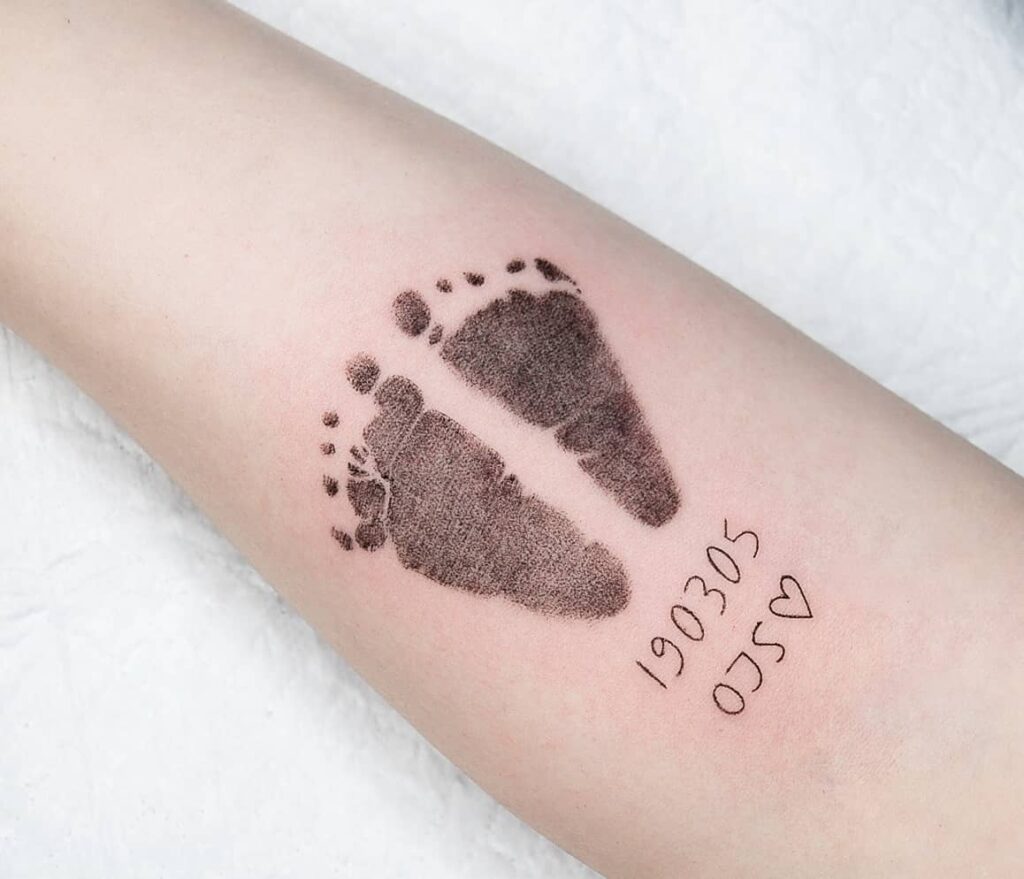 Are you looking for a sweet way to commemorate the birth of your child? Consider getting a baby footprint tattoo! This is a great mom tattoo idea that will remind you of the special moment when you held your baby for the first time. The size of the tattoo can be adjusted according to your preferences. It's a great idea to take a print of your baby's foot on paper and bring it to a skilled tattoo artist who can replicate it on your skin. Adding your child's name and birthdate, as shown in this example, can make the tattoo even more special. A baby footprint tattoo is a beautiful and timeless way to celebrate the joy of motherhood.
Sweet Baby Name Footprint Tattoo Ideas for Moms
If you're looking for a unique and meaningful tattoo to represent your love for your children, then this is the perfect design for you. This design features three baby footprints, each representing one of your children. The names of your children are written inside each footprint, and their birth dates are cleverly incorporated into the toes. This is a fun and creative design that will not only show your children how much you love them, but also create a lasting memory that you can cherish for years to come. Unlike traditional baby footprint tattoos, this design is more personalized and allows you to showcase the unique qualities of each of your children in a beautiful way.
Tiny Footprints With Baby's Name Tattoo Ideas
When it comes to baby footprint tattoos, the size doesn't always have to match your little one's actual footprint. In fact, some people prefer a smaller version of the print, especially if they want to add other elements to the tattoo. This is a great option if you're looking for a small, meaningful tattoo that still captures the essence of your baby's precious little feet.
One popular way to enhance the design is by incorporating beautiful lettering, which can include your baby's name, birthdate, and time. This not only adds a personal touch but also makes the tattoo more unique and special to you.
The best part of a small baby footprint tattoo is that it's perfect for those who prefer minimalist designs. It's a simple yet beautiful way to commemorate your baby's birth and keep them close to your heart. The artist can also add their own flair to the design, as seen in the example provided. The black ink lettering on the small replica of the baby footprint really makes it stand out and looks fantastic, even in a tiny size.
The great thing about a small tattoo like this is that you can place it almost anywhere on your body, such as your wrist, ankle, or even behind your ear. It's a great way to show your love for your little one and keep their memory alive.
Amazing Baby Footprint Tattoo for Mother of Two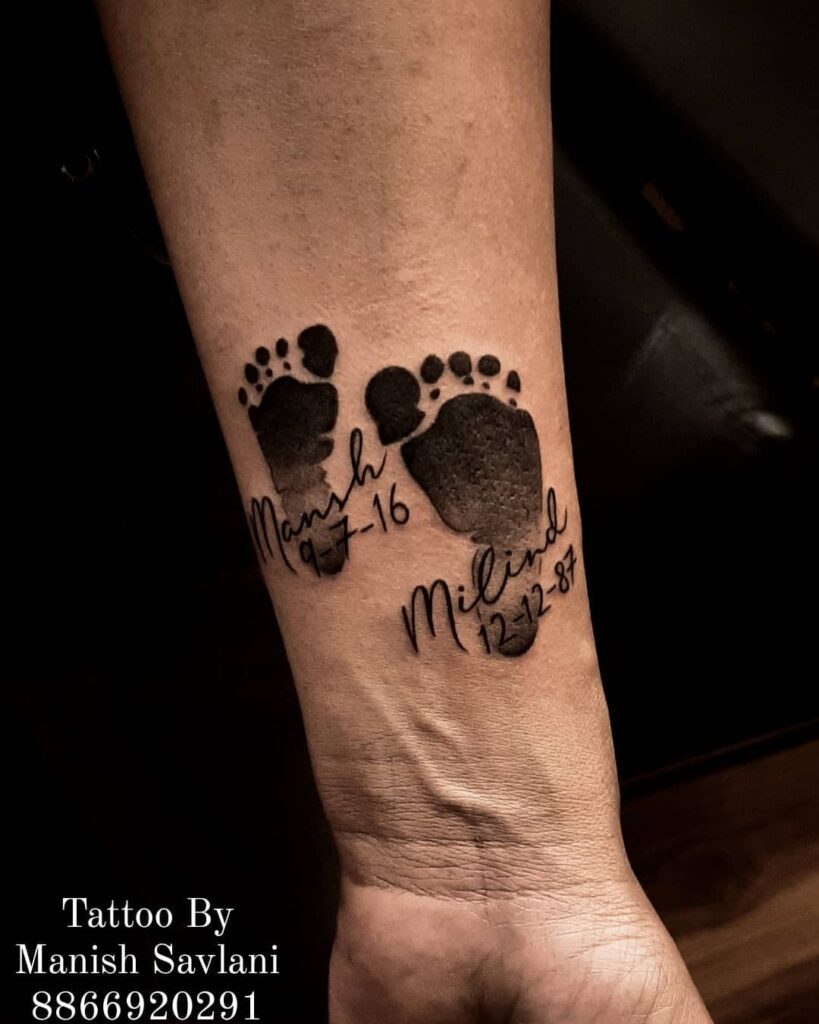 If you are a proud mother or father of two and looking for a meaningful tattoo idea that will showcase both of your children's footprints along with some unique elements, then this baby footprints tattoo is a perfect fit for you. This design not only features the adorable footprints of your two little ones but also includes their names and birth dates, making it a truly personal and special design. The tattoo symbolizes your unconditional love and appreciation for your children and is a beautiful reminder of the joy they bring into your life. Overall, this is one of the best baby footprint tattoo designs for parents of two and is sure to be a cherished tattoo for years to come.
Vibrant and Beautiful Tattoo of Baby Footprint
Watercolor tattoos are all the rage these days, and it's not hard to see why. They are known for their vivid hues and unique designs, which can really make a statement. If you're looking for a unique baby footprint tattoo, you'll love this idea. It features a charming footprint design filled with a rainbow of colors. This tattoo is a celebration of the joy and color your little one has brought into your life. Plus, the name of your baby is written in a delicate script underneath the footprint. You could even add butterfly wings to make it even more special. This is a perfect tattoo for anyone who wants to keep the memory of their little one close to their heart.
Tiny Baby Footprint and Time of Birth Tattoo Ideas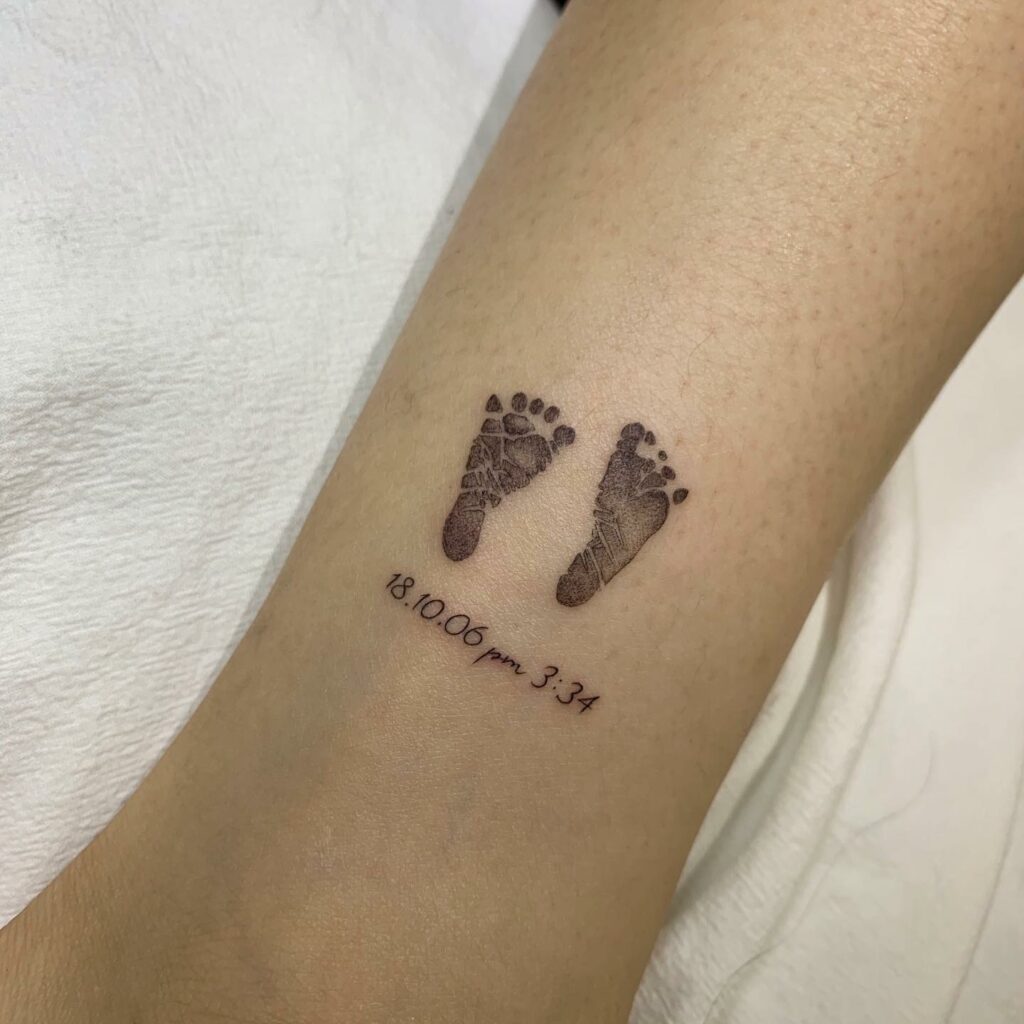 Becoming a parent is a magical moment that deserves to be cherished forever. A small but powerful way to celebrate this moment is with a baby footprint tattoo design. This tattoo can be as small as a wrist tattoo and feature two tiny footprints, mirroring the actual size of your child's feet at birth. The tattoo can also include the birth date and time, making it a beautiful memento of your child's arrival. Every time you look at your tattoo, you'll be reminded of the joy you felt when you first became a parent. And as your child grows, they'll know how much they mean to you every time they see your loving tattoo.
Baby Footprint Tattoo Ideas for Mom on Arm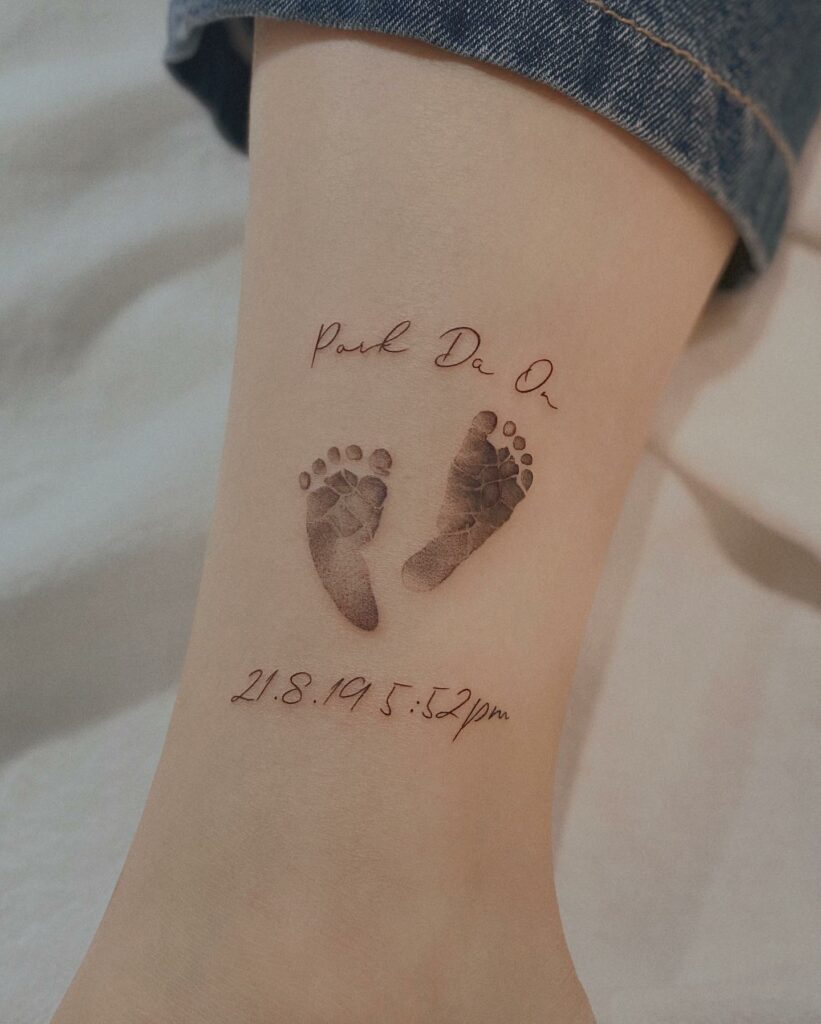 I highly recommend getting a baby feet tattoo on your arm or forearm. It's the perfect way to show your love for your child and remind yourself of the special bond you share. These tattoos are small and painless to get, making them an ideal choice for anyone. You can even add some lovely lettering to personalize your design. Take inspiration from this tattoo that features the name of the child, along with their birth date and time. Adding a meaningful quote is another great way to make your tattoo stand out. If you prefer a larger design, you can opt for a single, bigger footprint tattoo instead. Either way, your baby feet tattoo will be a beautiful and heartfelt expression of your love for your child.
Baby Footprint Tattoo Ideas for Mom on Chest
Are you a parent looking for a way to show your unconditional love for your child? Consider a footprint tattoo! It's a great choice for parents who want something meaningful and beautiful. However, it's worth noting that chest tattoos can be more painful and require more commitment than other body areas, so make sure to choose a design that you truly love. While the chest is one option, you can also get it on your upper arm or ribcage if that's more comfortable for you. This design features a striking and unique red baby footprint, which is a great option if you're looking for something eye-catching. The birth date is included above the footprint, but you can customize it to add your child's name or even a special quote. Remember to find a talented tattoo artist who can help make this special moment in your life even more unforgettable with a beautiful tattoo.
Minimalistic Child's Footprint Tattoo Ideas for Parents
If you're a fan of simple and clean tattoo designs, you might be interested in a minimalistic baby footprint tattoo. This design features two tiny and delicate footprints that are perfect for anyone looking for a subtle and charming tattoo. What's even better is that this design is virtually painless, so you can get it on your wrist or ankle without any trouble. You can also choose to personalize your tattoo by adding your child's name or birthdate in small text. If you want to get really creative, you can even add a special message or symbol that has a hidden meaning to you. Overall, this design is a beautiful and uncomplicated tattoo option, and is especially perfect for first-timers.
feature image from Pinterest – Want your tattoo to look brighter? Try "Tattoo Balm"