Are you searching for the perfect way to preserve the memory of your child's birth? Look no further than a baby footprint tattoo – a beautiful and heartwarming reminder of the precious little life you brought into the world.
Footprint tattoos are a popular choice for parents looking to commemorate the birth of their child. These tattoos serve as a reminder of the beauty of life and the importance of family. And with our curated list of baby footprint tattoo designs, you're sure to find the perfect one to capture the essence of your child's unique personality and spirit.
But baby footprint tattoos aren't just a sentimental keepsake – they also have a deeper symbolic meaning. Footprints represent the path we take in life, reminding us to always stay true to ourselves and follow our hearts. And like footprints in the sand, these tattoos serve as a permanent reminder of the love and joy that our children bring into our lives.
Of course, the cost of a baby footprint tattoo will vary depending on factors such as size, complexity, and the skill level of the artist. But with the right design and a talented tattoo artist, you can rest assured that your baby footprint tattoo will be a priceless work of art.
So why not explore our list of amazing baby footprint tattoo designs and find the perfect one to celebrate the newest addition to your family? And if you're looking for more tattoo inspiration, be sure to check out our other curated lists of Amazing Lily of the Valley tattoos and Amazing Faith Hope Love tattoos.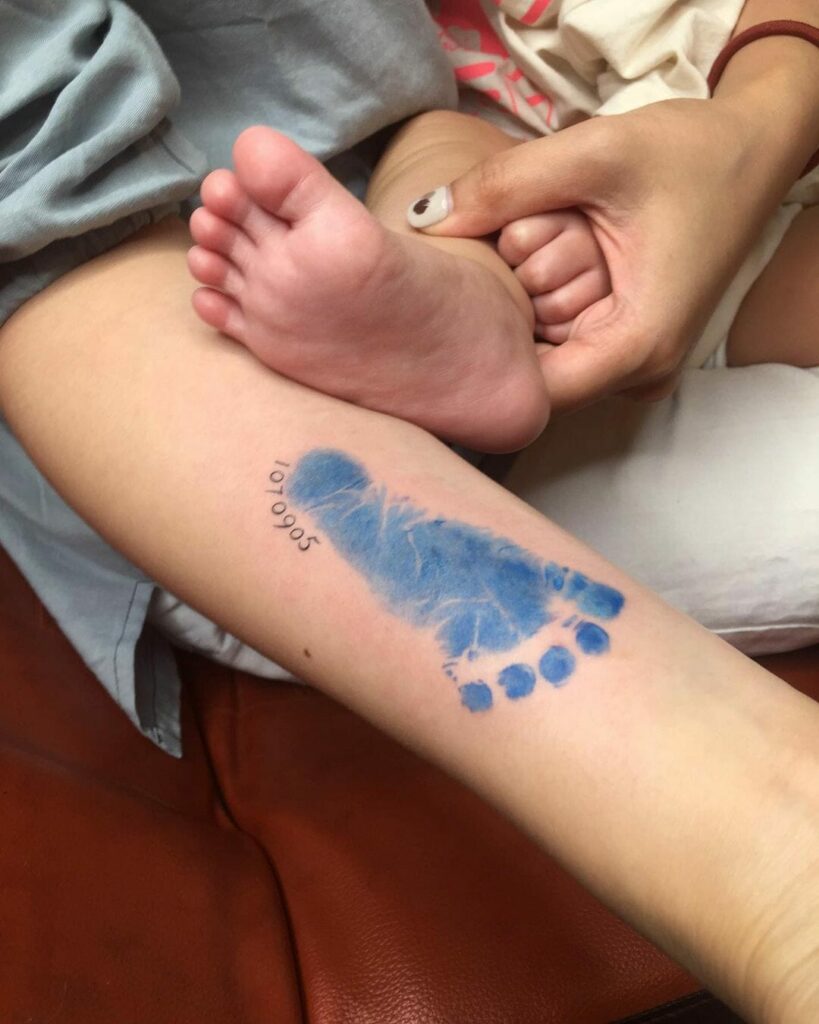 Cute Baby Footprint Tattoo
The bond between a parent and their child is a beautiful thing, and what better way to celebrate it than with a baby footprint tattoo? This tattoo captures the first memory of a parent's little one and is a lasting reminder of their cute and tiny feet. A baby footprint tattoo is a timeless design that looks absolutely adorable on parents, and it can be easily inked by a skilled tattoo artist. As for placement, there are several great options to choose from, including the thigh, arm, ankle, chest, or shoulder. With a baby footprint tattoo, you'll always have a piece of your child with you, no matter where life takes you.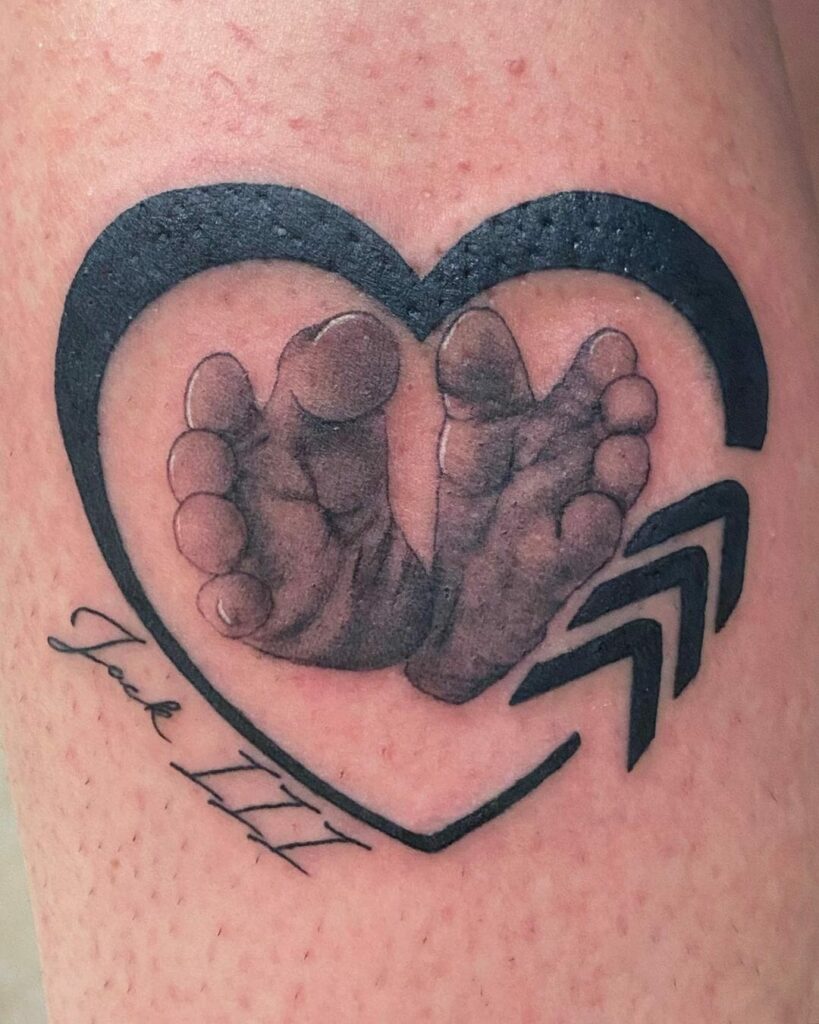 Baby footprint tattoos are a beautiful way for parents to immortalize the memory of their little ones. This particular design features the baby's footprints enclosed in a small black heart, with the child's name written beside it. The simplicity of this tattoo design adds to its charm, and it is sure to tug at the heartstrings of any parent who wishes to capture a special moment with their child in ink.
Unique Baby Footprint Tattoo
Parents who want a distinctive and meaningful tattoo can choose to add unique design elements such as dates or numbers and incorporate a variety of colors. While every tattoo is inherently unique, adding special details and design elements can make it truly one-of-a-kind. So, if you're a parent looking to create a tattoo that's both personal and distinctive, consider incorporating some creative elements that are meaningful to you and your child.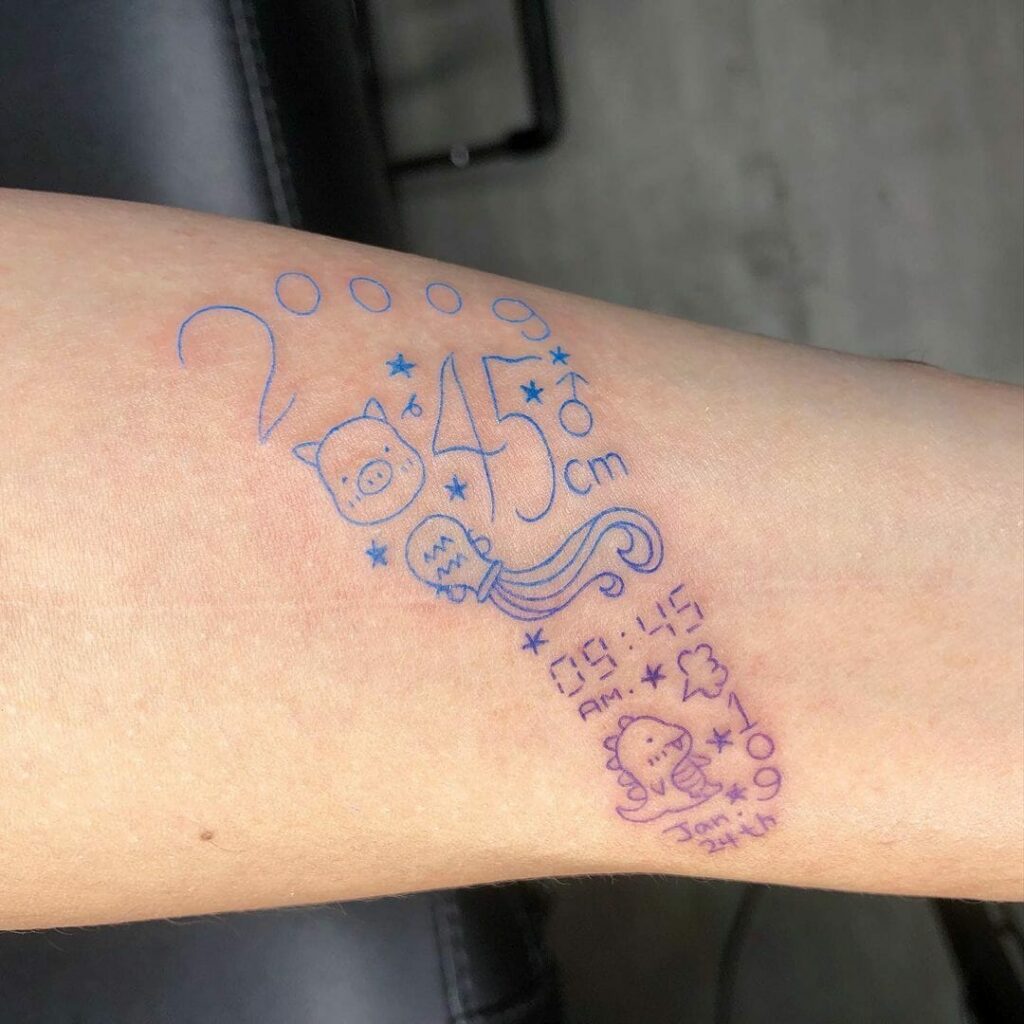 The image above showcases an exceptional tattoo design that captures various meaningful elements such as the date, time, year, as well as the size and shape of the baby at birth. It's an excellent way to memorialize a special moment in one's life. However, if you prefer a simpler tattoo design, a baby footprint tattoo on your wrist can be a great option too.
Simple Footprint Tattoo
As the saying goes, sometimes less is more. When it comes to baby footprint tattoos, simplicity can be the key to a great design. Rather than overcomplicating the design, a simple and clean approach can be just as effective. You can ask your tattoo artist to ink a clean and straightforward baby footprint tattoo on your desired part of the body, such as the foot, chest, shoulder, arm, ankle, or feet. A minimalist approach can create a timeless and classic tattoo that you can cherish forever.
Baby footprints tattoos can be made more meaningful by incorporating personal elements that represent a special moment or symbol for the family. For instance, a simple design that includes a heartbeat sign and numerical digits that hold significance for the parents or child can make for a beautiful and sentimental tattoo. The addition of personal art or imagery can further enhance the design and add to its overall significance. A skilled tattoo artist can work with you to create a unique and meaningful design that will be cherished for a lifetime.
Angel Baby Footprint With Wings Tattoo
Parents always want to honor and celebrate the blessing of their children, and baby footprint tattoos are an excellent way to achieve that. However, when you add an angel's halo and wings to the design, it takes the tattoo to a whole new level of significance. This type of tattoo is often chosen as a tribute to a child who passed away too soon, a symbol of their love for their little one who is now an angel watching over them. With the intricate details and meaningful symbolism, this tattoo design is a beautiful way to honor and remember a beloved child.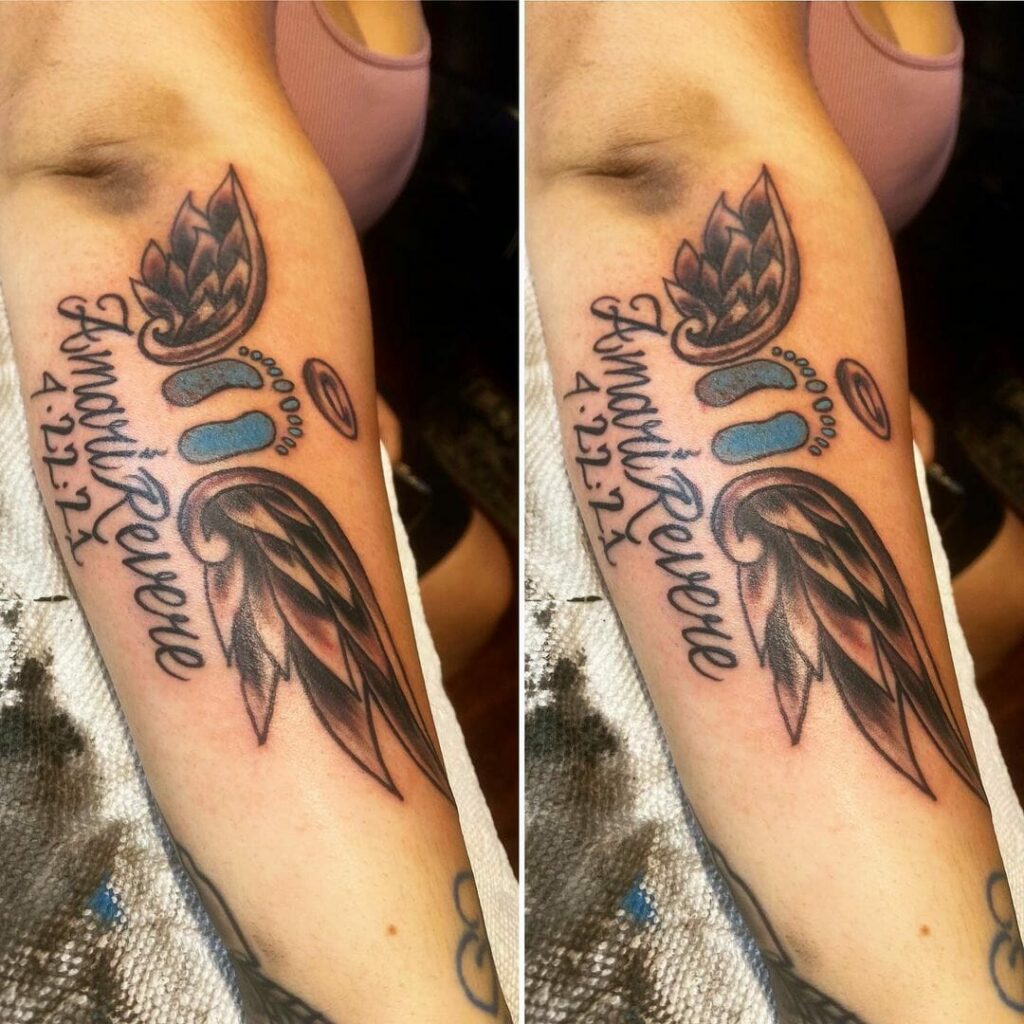 As a parent, you can create a truly special and personal baby footprint tattoo by adding unique elements that hold great meaning to you. One popular design is a realistic baby footprint with a halo above and wings on the side, representing your little angel. You can also add your baby's name or birthdate, or both, to make it even more meaningful. This type of tattoo is a beautiful way to honor your child and create a cherished memory that will last a lifetime.
Baby Footprint Butterfly Tattoo
Baby footprint tattoos have evolved, and the latest trend is a butterfly tattoo made from your baby's footprints. The design is intricate, and the footprints are positioned in a way that resembles the shape of a butterfly. The butterfly is a symbol of beauty, change, and rebirth, and it represents the growth and transformation of your baby into a wonderful person. This is the perfect way to express your love for your child and create a unique memory that will last forever.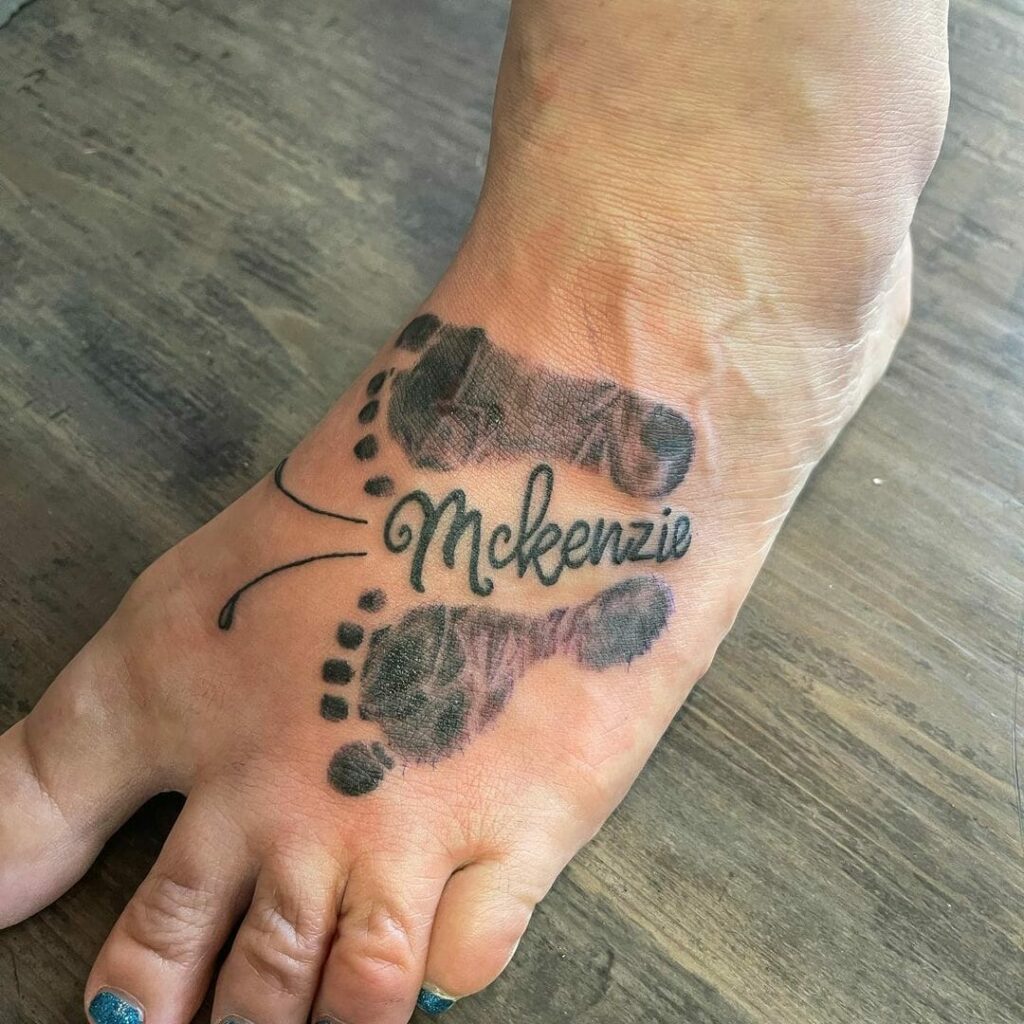 The butterfly baby footprint tattoo is a unique design where the two footprints of the baby are arranged to resemble the wings of a butterfly. The body of the butterfly can be customized with the name of your baby, as seen in the picture. You can add more design elements to enhance the beauty of the tattoo and make it more personal to you. It's a great way to celebrate the growth and transformation of your child and add a touch of beauty and elegance to your body art.
Baby Footprint And Kids Name Tattoos
If you are looking for a popular and classy baby footprint tattoo, a simple design with the baby's name and footprints on the side of your arm, shoulder, legs, chest, or feet is a great choice. Black ink tattoos add a timeless charm to the design, and adding a name in a single font can create a beautiful and meaningful tattoo for you and your family to cherish. The possibilities are endless when it comes to designing your baby footprint tattoo, but simplicity and elegance always make a statement.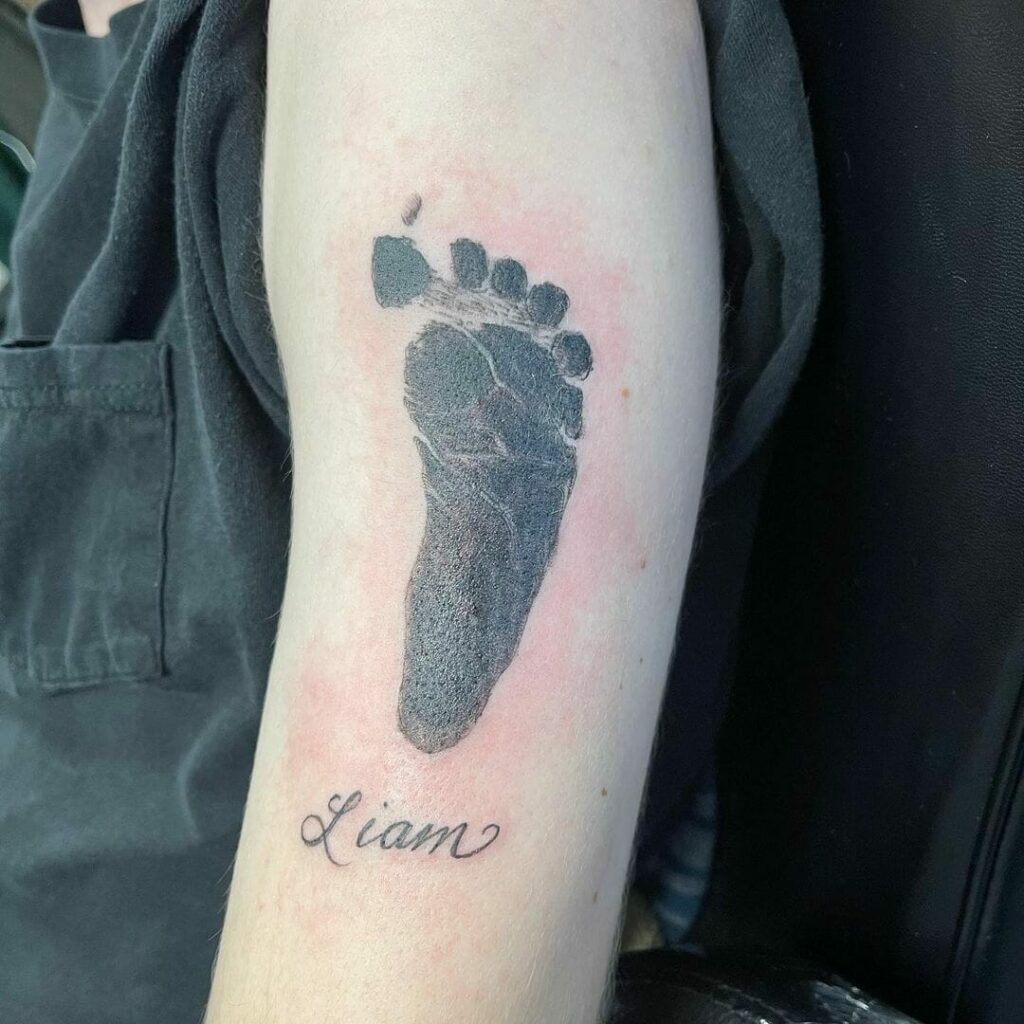 For parents, nothing beats the feeling of capturing a beautiful memory of their child forever. A great way to achieve this is by getting a tattoo of your child's footprints along with their name on your arm or foot. These tattoos not only look elegant and classy, but they also hold a special meaning for parents who want to celebrate the love and bond they share with their children.
Baby Footprint With Birth Date Tattoo
What better way to celebrate the start of life than with a tattoo that captures the special moment of your child's birth? A baby footprint tattoo with the birth date is a wonderful and unique way to commemorate the bond between you and your child. The design of these tattoos is personal and meaningful, and the footprints serve as a permanent reminder of your child's birth date.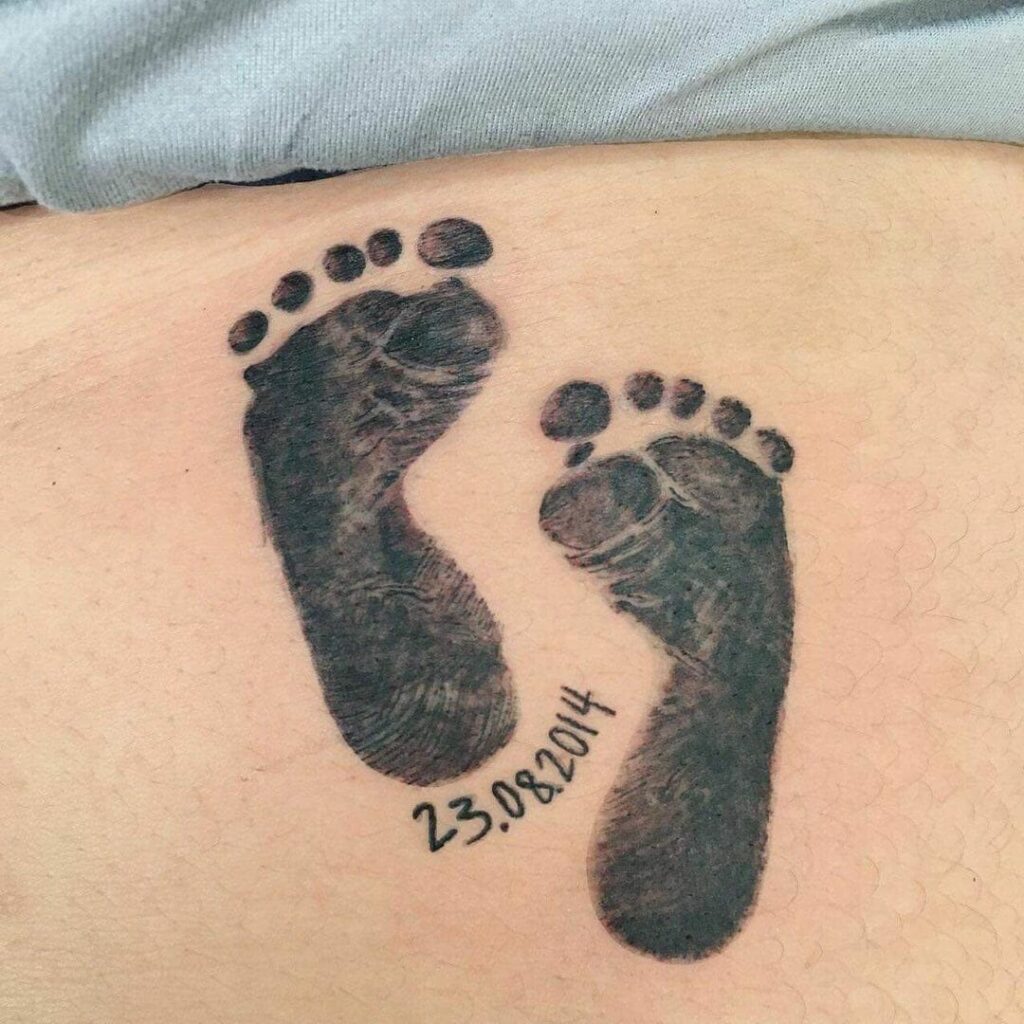 The baby hand and footprint tattoo is a unique and creative way to commemorate the birth of your child. The design is not only cute but also serves as a beautiful reminder of the miracle of life and the joy of being a parent. Unlike other tattoos, this design does not require the inclusion of your child's name, and the prints themselves are enough to create a lasting and meaningful tattoo.
Baby Footprint With Message Tattoo
These messages become treasured memories that we want to hold onto for a lifetime. What better way to do so than by getting a tattoo of those messages, along with their baby footprints? This tattoo will serve as a constant reminder of the love and guidance that you want to impart to your child. It is a unique way to honor your child and show them how much they mean to you.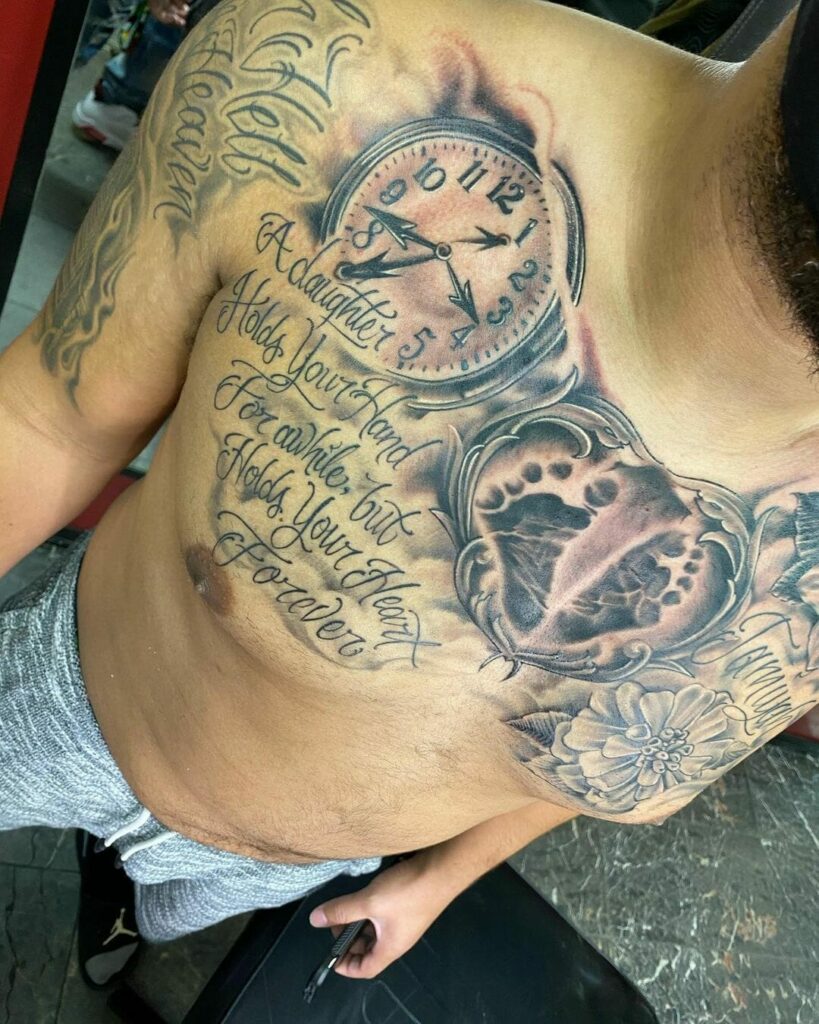 A baby's footprint tattoo is already special, but you can make it even more unique by adding a personal message that you hold dear. With this tattoo, you can showcase your love for your child in a creative and meaningful way. Adding extra designs like a birth clock, flowers, or their name can elevate the beauty of the tattoo. Let your tattoo artist help you create a customized design that captures the essence of your love for your little one.
Baby Footprint And Handprint Tattoo
Parents are often looking for unique and meaningful ways to commemorate their child's growth, and handprint tattoos are a beautiful and creative option. While footprint tattoos are common, handprint tattoos offer a unique twist that can set them apart. These tattoos are a relatively new trend in the world of baby tattoos and have gained popularity due to their elegance and uniqueness. Whether it's a handprint or a footprint, these tattoos capture the essence of a child's innocence and are a cherished reminder of their growth and development.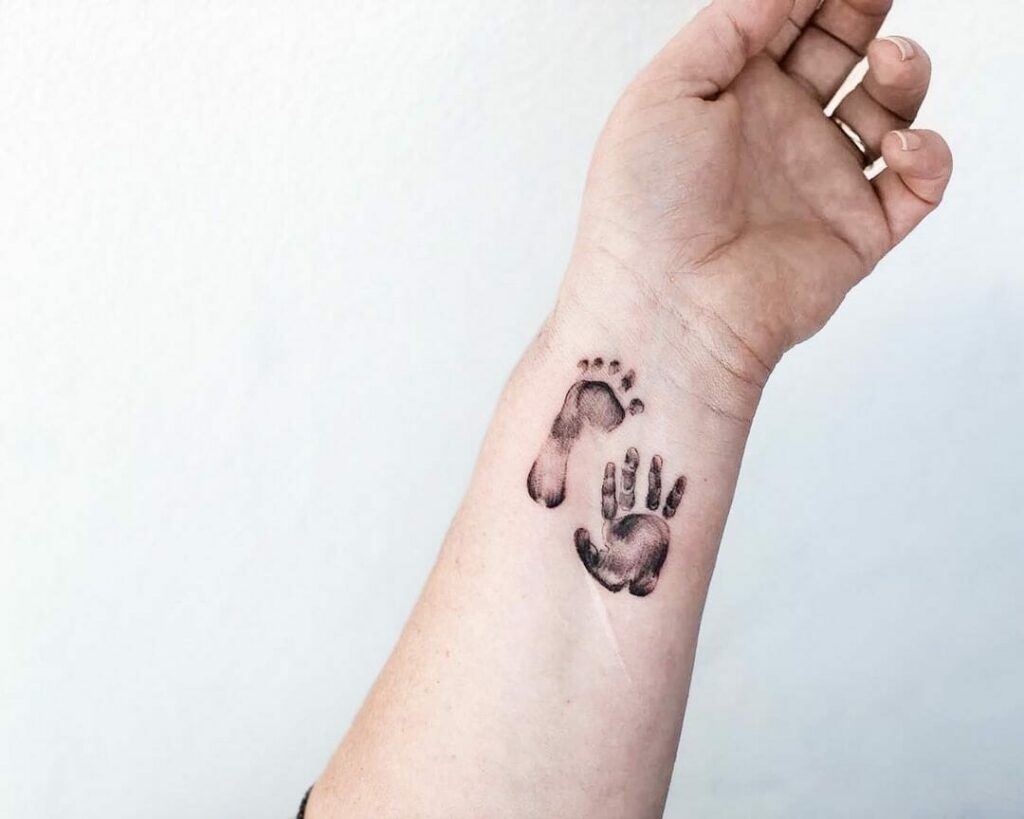 Handprint and footprint tattoos are popular among parents and they can be either singular or in pairs. These designs are simple and cute, but you can customize them by adding elements like the baby's name or birthdate. You can also incorporate other symbols and designs that hold personal significance to you. The possibilities are endless when it comes to making these tattoos unique and special to your family.
Baby Footprint Tattoo Of Your Pet
Pet owners consider their pets to be family members, and many express their love for their furry companions through tattoo prints of their pets on their skin. Pets may not be humans, but they hold a special place in their owners' hearts. If you are searching for a unique and cool tattoo design to honor your pet, you have come to the right place.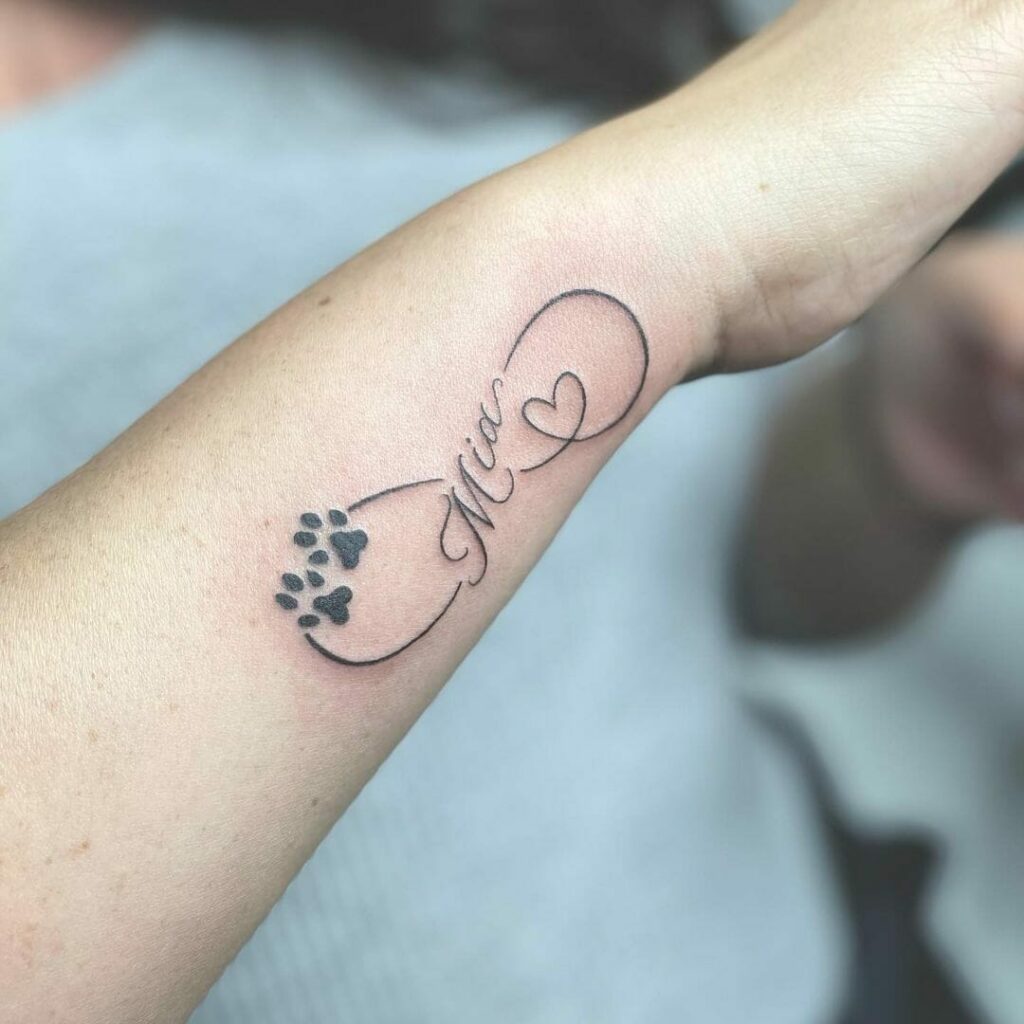 Pet owners often share a special bond with their furry friends, and some choose to express their love through tattoo prints. Just like the heart-shaped tattoo above, you can have your pet's name enclosed in a heart with a paw print to honor your pet. You can also add symbols or personalize it further to make it unique to you and your pet.
Similarly, baby footprint tattoos are also a meaningful way to cherish memories of your child, such as their name or date of birth. You might be wondering how to get the baby footprint for a tattoo. The answer is simple: you can create a silhouette of your baby's foot and trace it for the tattoo design. These designs are both unique and beautiful, so take your time to find the perfect one for you!
Feature Image from Pinterest – Want your tattoo to look brighter? Try "Tattoo Balm"
Last reviewed and updated on May 30, 2023