Are you on the hunt for some of the most stunning baby's breath tattoos of 2021? Look no further! In this article, we've gathered a captivating collection of baby's breath tattoos, perfect for inspiring your next ink adventure.
Delicate and charming, baby's breath (Gypsophila) is a popular and budget-friendly choice for bouquets and floral arrangements. Despite its slightly poisonous nature, this enchanting flower has captured the hearts of many. Baby's breath tattoos have become increasingly popular in recent years, and with countless design possibilities and interpretations, it's easy to see why.
So, let's explore the world of baby's breath tattoos together, and find the perfect design that speaks to your soul!
What Does A Baby's Breath Flower Tattoo Mean?
Floral tattoos are timeless and each flower has its own unique meaning. Among them, the Gypsophila or baby's breath tattoo design stands for pure love, innocence, and everlasting affection. It's an ideal choice for those who want to represent the love and affection that they share with their loved ones. This flower tattoo is perfect for anyone who cherishes the true essence of love and wants a constant reminder of it. With this guide, you can now easily find the perfect floral tattoo design that suits your style and represents your values.
Simple Baby's Breath Tattoo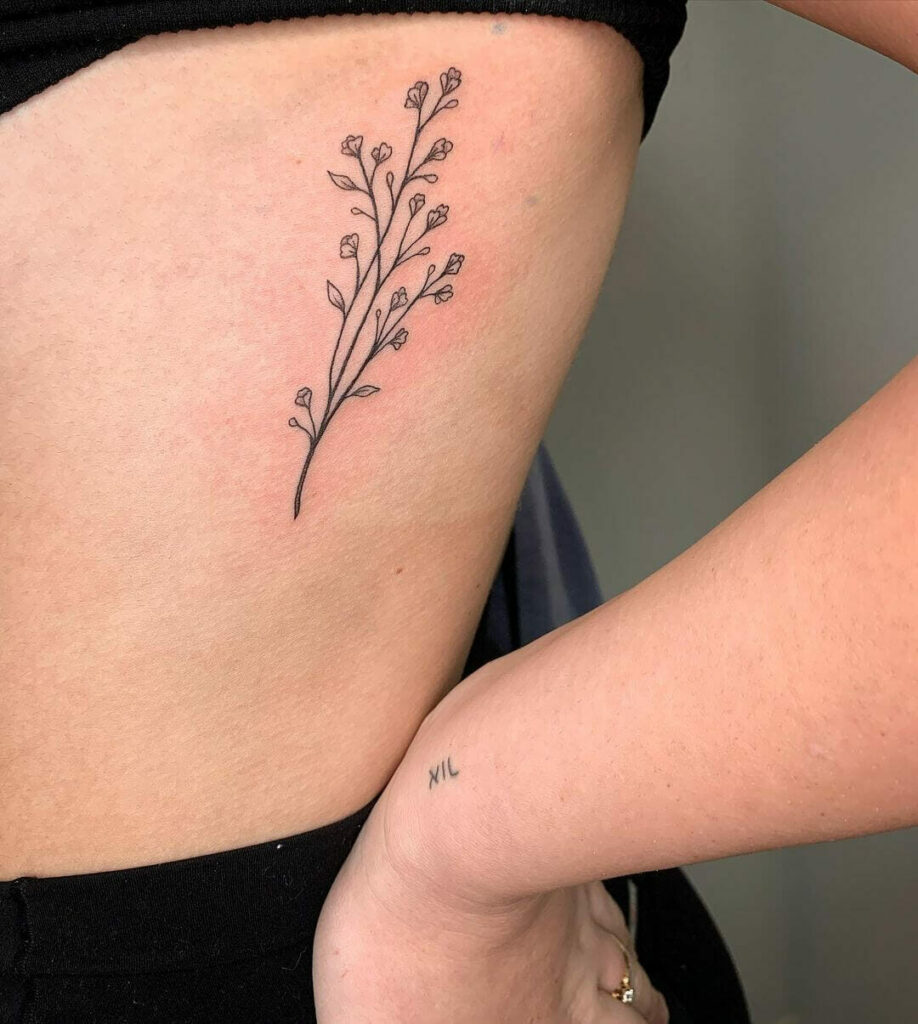 If you're someone who appreciates the beauty of minimalistic designs, then a simple tattoo of baby's breath flowers like this one might be perfect for you. With its clean and elegant look, this tattoo conveys the meaning of baby's breath in a subtle yet effective way. The design features just the flower itself, making it a great option for those who want a tattoo that's both understated and meaningful. This versatile design can be inked on the side of your ribs, on your arm, or even on your back, giving you plenty of placement options to choose from.
Bouquet Baby's Breath Tattoo
Gypsophila, also known as baby's breath, is often used with various types of flowers to create stunning bouquets. This tattoo design showcases baby's breath mixed with other flowers, creating a beautiful and artistic look on your skin. The intricate outlines and shading on each flower make this design truly one-of-a-kind. You won't find a more breathtaking tattoo than this!
Geometric Baby's Breath Tattoo
Geometric designs have been trending in the tattoo industry, and this baby's breath tattoo with a diamond-shaped frame is a perfect example of that. Although the design is simple and doesn't use any bright colors, the addition of the geometric shape around the flowers makes the tattoo unique and eye-catching. This design can be inked on your forearm, as shown in the picture, or on any other part of your body that you prefer.
Vibrant Baby's Breath Tattoo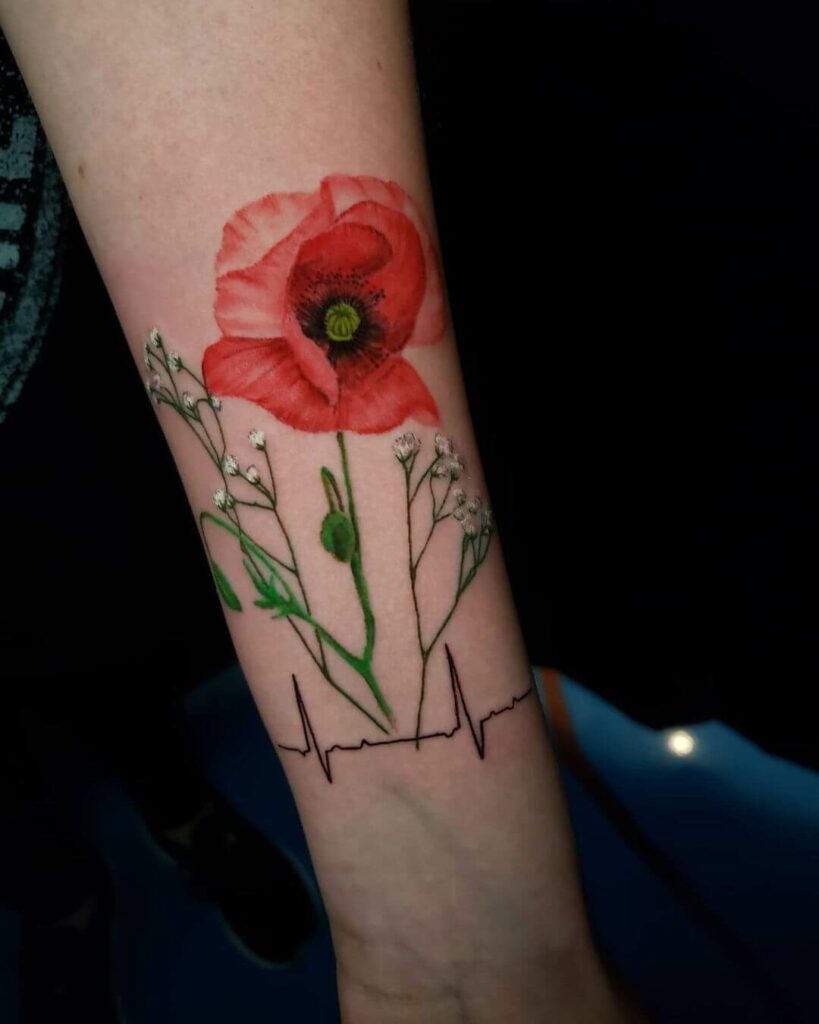 Floral tattoos are a beautiful way to express your personality, and this baby's breath tattoo design is an excellent choice for those who love colourful and vibrant tattoos. In this design, the baby's breath flowers have been paired with a red poppy flower to create a stunning contrast. However, you can always choose to replace the poppy with any other flower that has a special meaning to you, such as a rose. The intricate detailing and shading techniques used in this design make it look like a beautiful painting. The white baby's breath flowers on either side of the red flower add to the aesthetic appeal of the tattoo. It's a perfect choice for those who want a stunning and meaningful tattoo.
Elaborate Forearm Baby's Breath Tattoo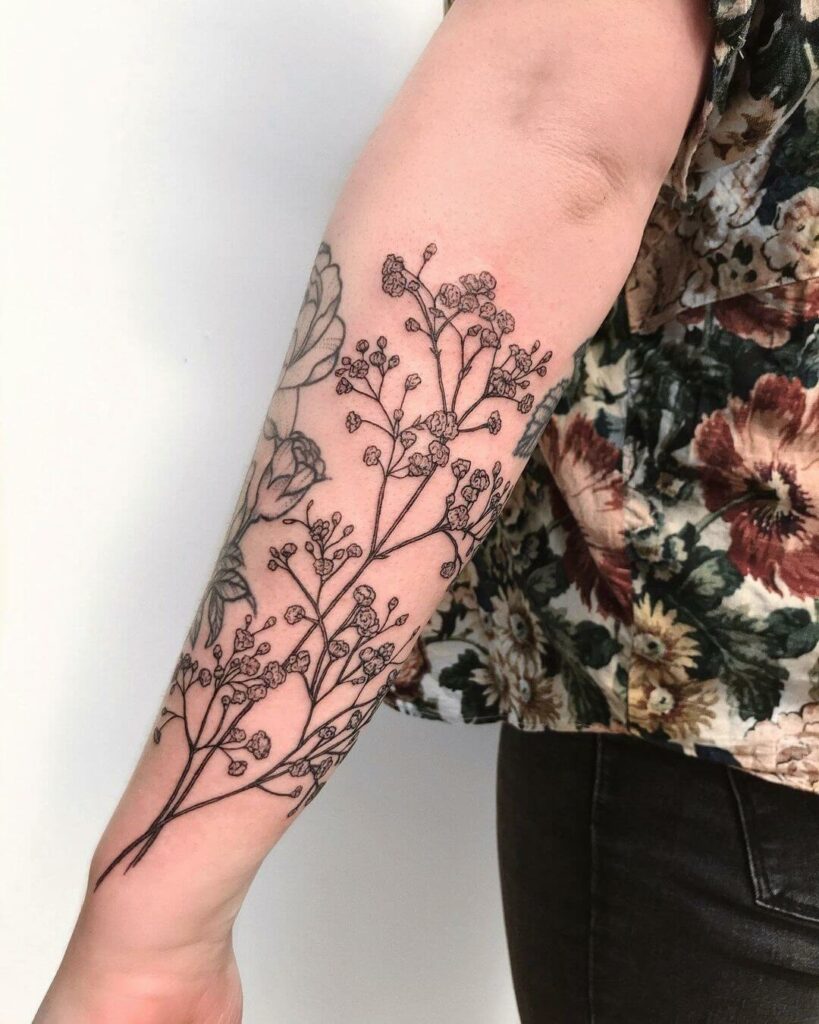 If you are looking for a bold and eye-catching baby's breath tattoo, then this design may pique your interest. The tattoo is of considerable size, which makes it difficult to ignore. With this design, you can easily cover your forearm with a beautiful and elaborate floral piece. While the tattoo is in black and white, you can always ask your tattoo artist to add some colours to make it stand out even more.
Aesthetic Moon And Baby's Breath Tattoo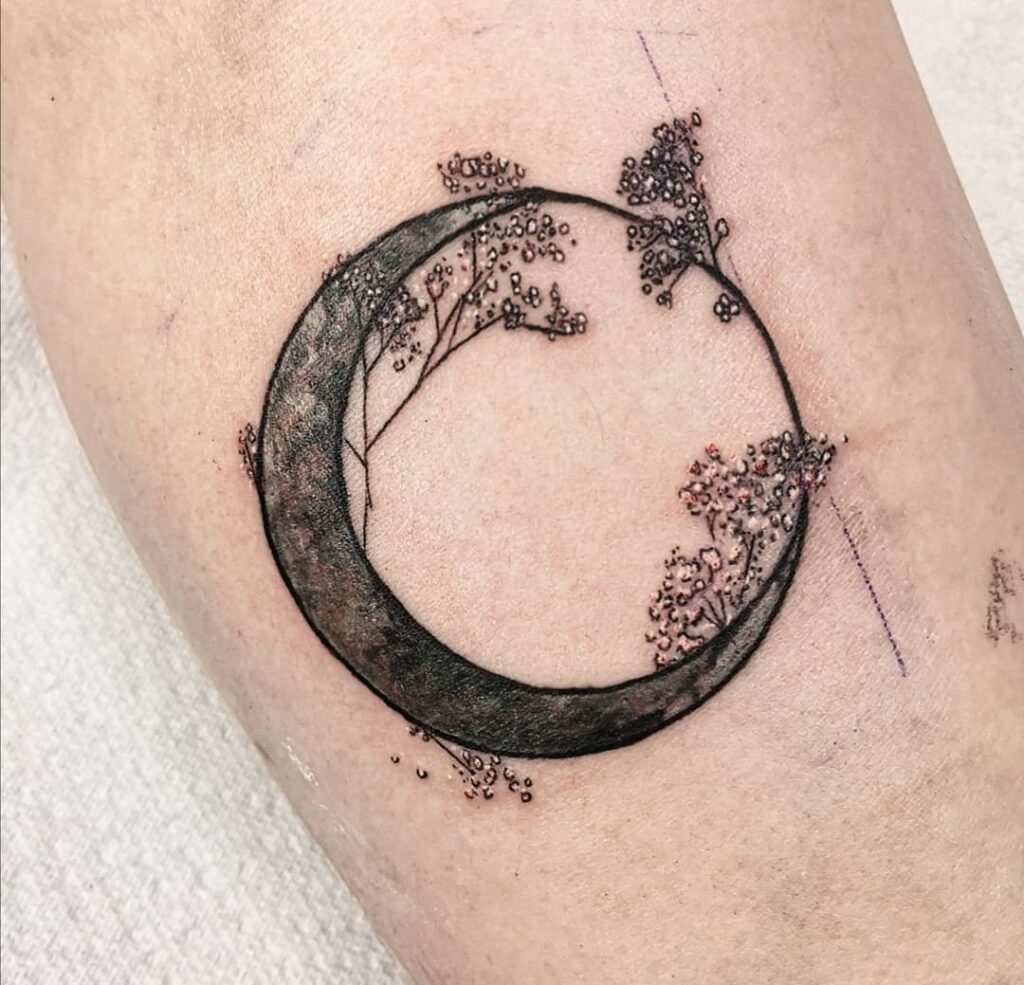 Floral tattoos can be made even more meaningful with the addition of other elements, and this baby's breath tattoo with a crescent moon design is a great example. Crescent moon tattoos have been long associated with motherhood and the inclusion of the baby's breath flowers further emphasizes the deep love and bond between a mother and child. The moon in this tattoo is depicted in a dark shade, while the flowers are in white, creating an eye-catching contrast. With its deep symbolism and elegant design, this tattoo is perfect for anyone who cherishes the special bond between a mother and child.
Minimalist Baby's Breath Tattoo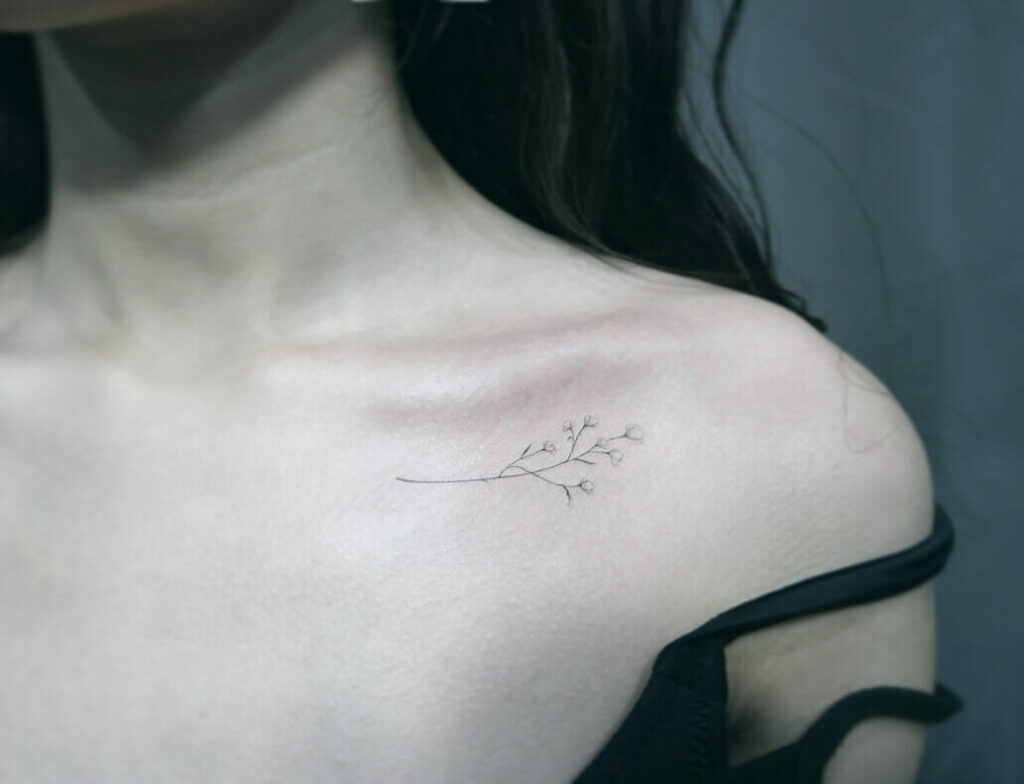 Are you new to the tattoo world and looking for a small and simple design to start with? Then this baby's breath tattoo may be just what you need! Small floral tattoos are a popular choice, and this design perfectly captures the essence of minimalism with its elegant simplicity. With no intricate patterns or detailing, this tattoo lets the beauty of the flower speak for itself. And as a symbol of love and innocence, this tiny tattoo is sure to make a big impact!
Unique Baby's Breath Tattoo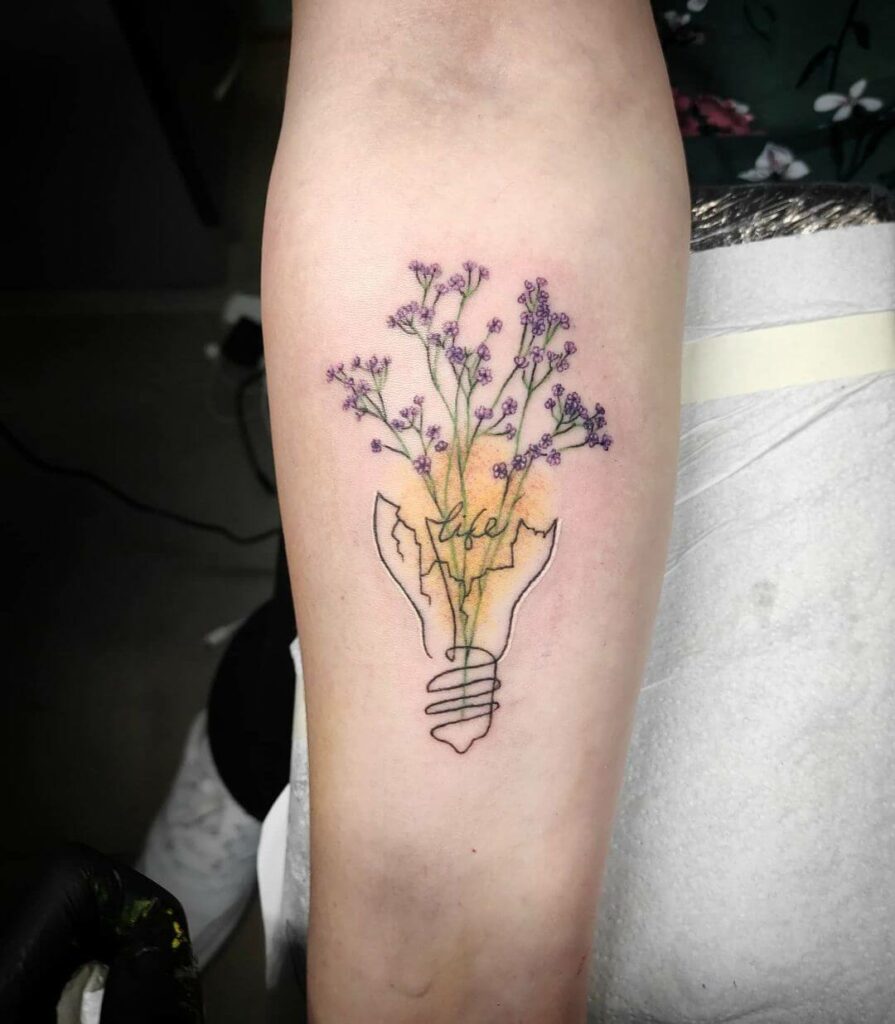 This baby's breath tattoo design is one-of-a-kind and full of symbolism. The combination of the flowers growing out of a broken lightbulb is a powerful representation of letting go and growing through the pain of loss. The addition of the word 'life' in the center of the design adds even more depth to its meaning. This tattoo is sure to catch the eye with its unique and creative concept.
Heart And Baby's Breath Tattoo
This tattoo design is all about love and the heart, literally! The unique concept of this tattoo involves a human heart with flowers growing out of it, symbolizing the deep connection between love and the heart. Though this tattoo has been done using black ink, the artist has added a touch of white ink to the flowers, creating a stunning contrast. The heart and flowers have been intricately detailed, making it look like a piece of art on your skin. This design would look perfect on your shoulder or arm, showcasing your love to the world.
Matching Baby's Breath Tattoo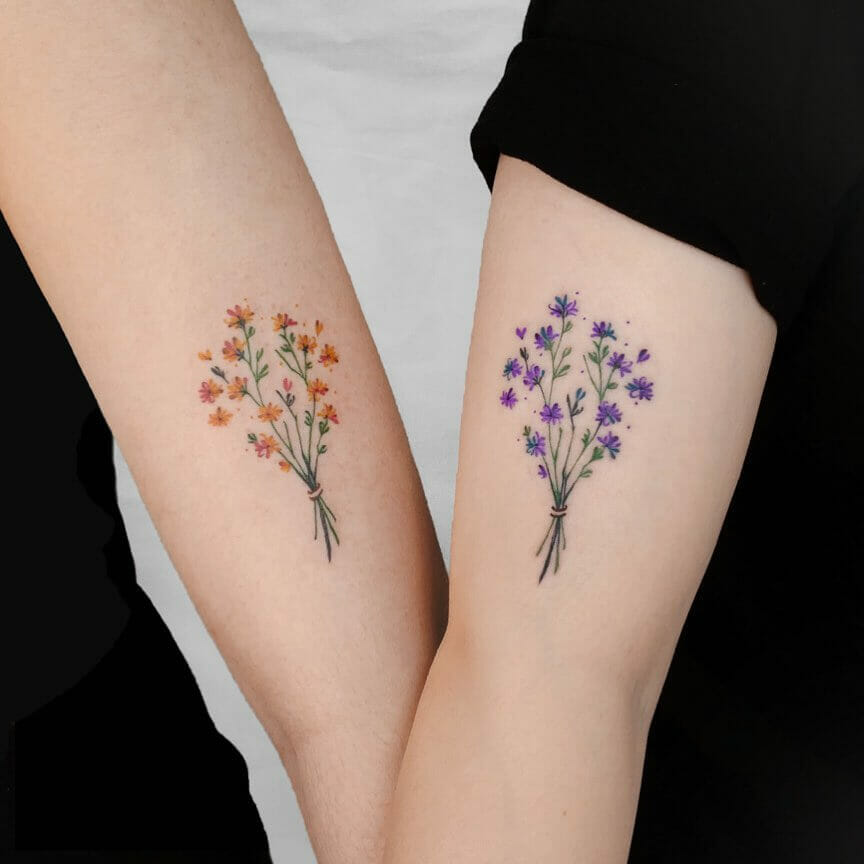 Baby's breath tattoos are a timeless symbol of everlasting love, making them a great choice for matching tattoos with your loved one. You can choose to get identical tattoos, or opt for different colours to represent your individuality while still sharing a meaningful symbol. Baby's breath can also be combined with other flowers like roses or lavender for a unique and personalised design. With the popularity of baby's breath tattoos in 2021, you can be sure that this design will remain relevant for years to come.
feature image from Pinterest
Last reviewed and updated on May 25, 2023