Flaunt your inner wanderlust with our compiled list of fantastic backpack tattoo ideas that will inspire you to get yours soon!
From skulls to flowers, a backpack can be the source of many things, even your next cool tattoo!
Backpack varieties allow equal variety for tattoo ideas. A formal bag carrying essentials for a business trip or a simple Loungefly tattoo mini backpack for ink artists, backpacks are significant in every setting.
Do not restrict your love for travelling in souvenirs. Let the magic of ink speak your travelling stories with amazing and unique backpack tattoos. Travelling tattoos are usually inked in the form of maps, statues, ornaments, or planes, but what else can be essential to symbolize travelling without inhibitions than a backpack!
A simple Loungefly tattoo backpack for supplies or the one you carry for fun trips, your tattoo design can include an image of either of your favourites. All you need is the right tattoo inspiration. Find yours here with our complete list of backpack tattoos.
Traditional Backpack Tattoo
The tattoo takes inspiration from Sailor Jerry's traditional tattoo style, using bright colours and thick outlines. Traditional tattoos are some of the most loved tattoo styles that one may not ever regret to have in their pages. This simple tattoo may inspire you to imagine how a bag tattoo would look on you.
Bright And Bold Tattoo Design
A bright bag-carrying frog can add a funky touch to your tattoo collection. The exotic-looking frog might be a traveller or going on a business trip, no one knows; yet the vibrancy catches attention. It's an intricate piece with multiple aspects depicting different stories through ink. The bright and bold colours blow life into the tattoo you might want in your future ink.
Camper Traveling Tattoo
This illustration is the perfect example of a travel tattoo that captures all the right ingredients of a joyful trip. Mountain, beaches, camp, and a bag, that's all a traveller needs for endless navigation. The minimalistic illustration hardly takes up space as body art still manages to convey the root spirit of travel and fun. So consider giving this small piece a space on your skin.
Neo-Traditional Tattoo Inspiration
The neo-traditional tattoo is an indirect dedication to one of the most loved seasons, Autumn. Oak leaves, acorns, and binoculars aren't the perfect depiction of walking under the red and orange hues to fall to see beautiful birds and sceneries. The tattoo uses bold colours to bring out the real spirit of fall through deep colours. A tattoo inspiration you must have in your pages!
Shaded Travel Tattoo Design
Artist has created a delicate work using basic black ink to create a bag tattoo with all the containing elements directing towards the wearer being an ardent fan of travelling. This tattoo design is simple, dressed in light greys and meticulous dot work to add shades instead of filling solid colours. The illustration makes for a wonderful shoulder, wrist, ankle, or shin tattoo.
Vibrant Shin Tattoo Idea
A beautiful tattoo reflecting the vibrancy of a traveller's life, this tattoo holds gorgeous, bright colours to create a bag. Although the bag contains simple things like a loaf of bread, a camera, a bottle, and a map, these offer an exact representation of a traveller. Very neat use of ink can be seen in the illustration, which you can note in your tattoo inspiration pages for the next ink.
Wanderlust Tattoo With Globe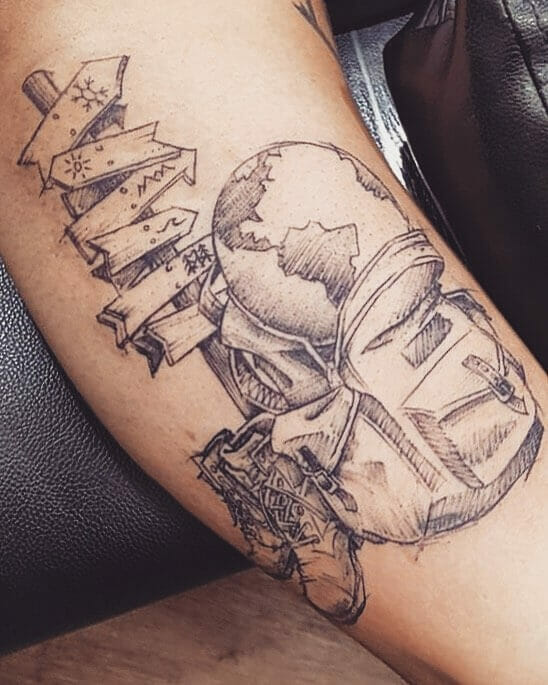 A traveller's bag carries the whole world in itself; that's what travelling lovers believe in, and this tattoo does too! The bag contains an entire globe within itself to show the truest spirit of wanderlust, while the signboard behind reflects seasons and various locations. The delicate use of ink to outline and shade elements makes this illustration extremely unique and fresh.
Sunset At A Beach Tattoo
Capturing natural elements in a tattoo is a well-known design idea, yet using a bag to depict its essence for a traveller is quite a unique idea. The simple illustration of sunset at a beach may have been done in black and white, but it is as expressive as coloured sunset art looks. Bold ink with grey shades creates a perfect blend to deliver nostalgia through a tattoo.
Watercolor Business Bag Tattoo
The tattoo with a watercolour base shows how simple colour splashes can create a beautiful background for body art. The tattoo above is a simple fine line illustration of a business bag, yet watercolours, with the combination of blue and pink, add a distinct charm to its overall appearance. The tattoo illustration hardly has to be detailed; if it's watercolour, it works!
Christ The Redeemer Inspired Tattoo
A perfect tattoo dedicated to the Rio visitors, this bag tattoo design carries beautiful mountains and the iconic Christ the Redeemer statue as its highlight. Tattoos of the most celebrated places can work as an ink souvenir; you can keep collecting on your sleeve. An ink travelling diary on your skin is comparatively better than boring passport pages with stamps, isn't it?
We hope you find the right inspiration from this list to find your own unique backpack tattoo creation. Aside from deciding the right tattoo design, make sure you choose a professional tattoo artist for the task. Tattoos are permanent, so seek an artist who is reliable, right from the moment they open their Blaq Paq tattoo case to choose a needle till the time they send you off. An expert ink artist would acquaint you with all the apt information and a safe, comfortable ink experience.
Feature image from Pinterest – Want your tattoo to look brighter? Try "Tattoo Balm"