Seeking inspiration from the charismatic allure of Bad Bunny for your next tattoo? We've assembled a splendid collection of top-notch tattoos channeling this artist's dynamism that are sure to captivate your heart.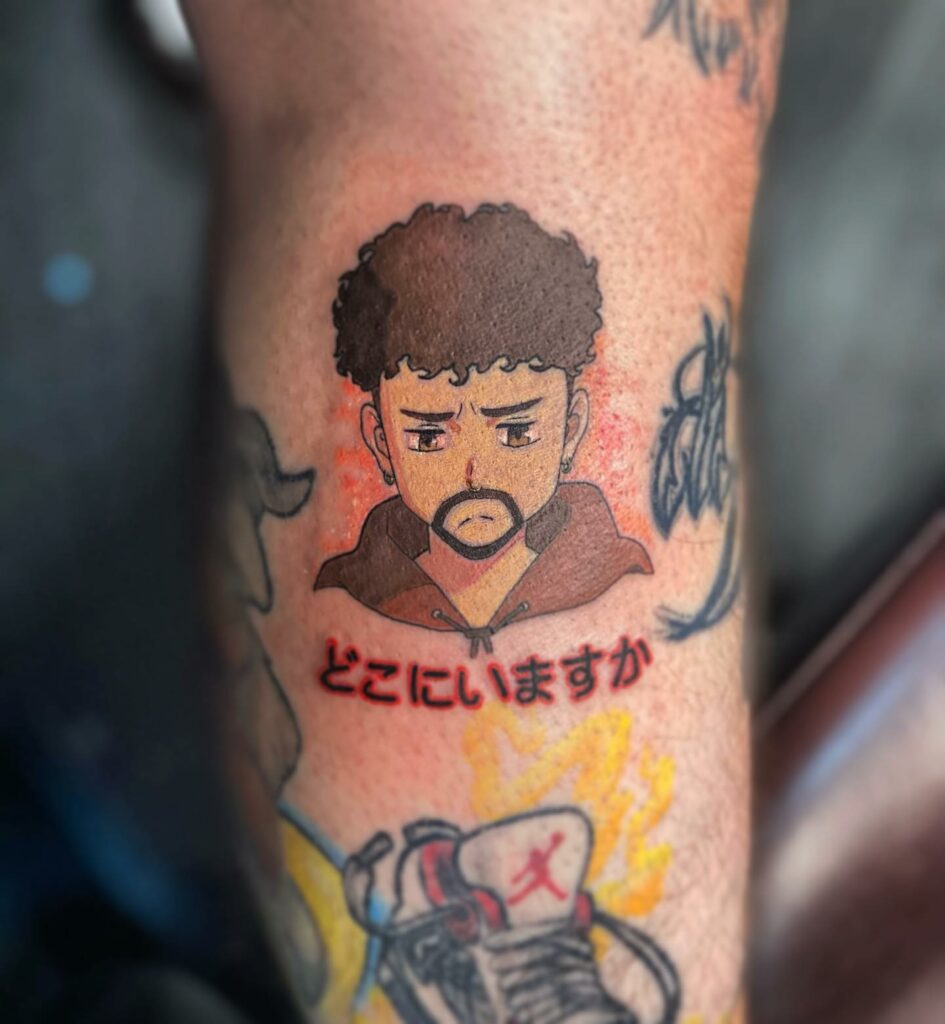 Now, you may be familiar with him as Bad Bunny, but his given name is Benito Antonio Martínez Ocasio. Born in Almirante Sur, Puerto Rico, this dynamic individual isn't only known for his intoxicating musical abilities, but also for his innovative contribution to fashion and culture.
Benito Antonio Martínez Ocasio, a graduate in audiovisual communication from the University of Puerto Rico at Arecibo, wasn't born with a silver spoon in his mouth. Indeed, he started his musical journey at a tender age of 5, and by 14, was uploading his original compositions to SoundCloud. Before long, his talent was discovered by renowned Puerto Rican music producer DJ Luian, thus catapulting him into the realm of professional music, where he's since delivered a plethora of chartbusters, both solo and in collaboration with other artists.
More than just a rapper and singer-songwriter, Bad Bunny is a pivotal figure in propelling reggaeton and Latin trap music to wider audiences. His linguistic versatility extends to rapping in both Spanish and English, with a unique fusion, his own brand of 'Spanglish', as a distinct feature. Recognized for his distinctive slurry, conversational tone, his passions were not confined to music alone, as he also displayed an affinity for skateboarding and wrestling in his early years. Furthermore, his impeccable fashion sense often lands him in the spotlight.
In the midst of his ever-evolving career, Bad Bunny's longstanding girlfriend, Gabriela Berlingeri, has been a pillar of support since 2017. An embodiment of their deep connection is the matching tattoo they both sport — a picturesque palm tree with a sun setting in the background, accompanied by calligraphic elements. The singer adorns his tattoo on his thigh while his girlfriend has hers etched on her right arm. Gabriela also has two other tattoos: a stylized representation of waves, and the word 'Barbara'.
While Bad Bunny may express himself predominantly through his sartorial choices rather than extensive body ink, this hasn't deterred his diehard fans from immortalizing their favorite artist on their own skin. Tattoos inspired by Bad Bunny's persona, including anime interpretations, musical symbolisms, and portrait variants, have gained popularity, exhibiting the infectious influence of this multi-faceted artist.
Crying Bad Bunny Tattoo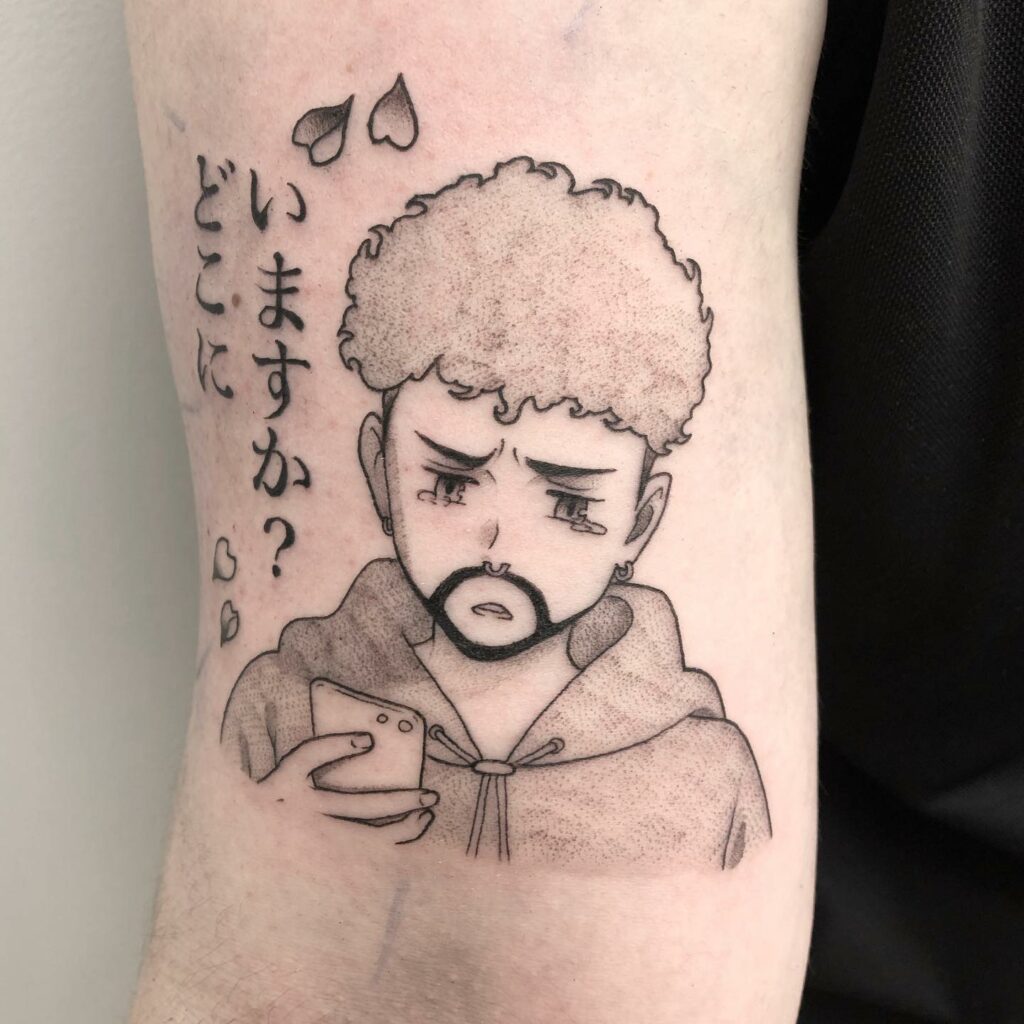 Here we have a poignant depiction of Bad Bunny, his eyes brimming with tears as he gazes upon his cell phone, a French cut beard framing his expression of despair. With its striking black and grey palette and intriguing dot work within a cloud-like outline in his hair, this design bears an anime influence. A Japanese message, bookended by heart shapes, further enhances its appeal. It's a choice fit for those with a soft spot for the emotional side of Bad Bunny.
Bad Bunny In Hoddie Tattoo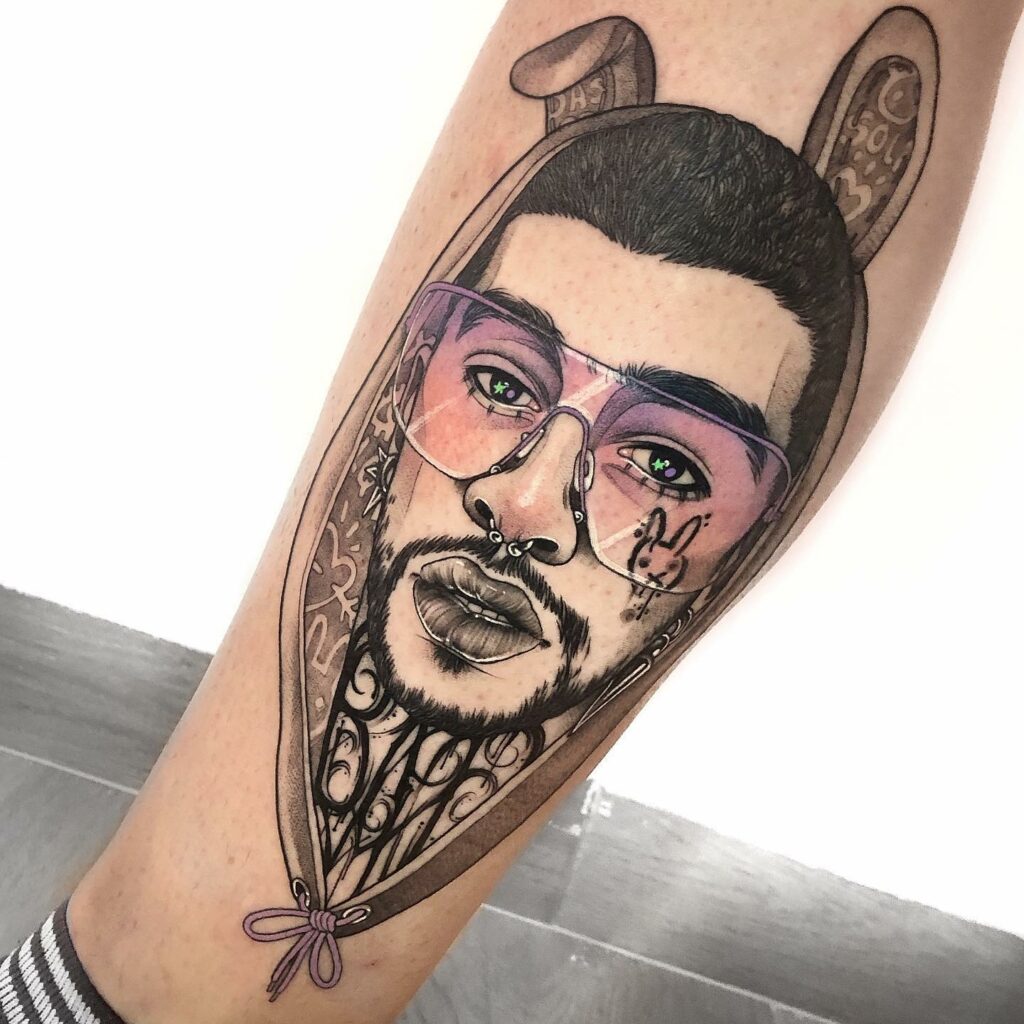 Next, we have the 'Bad Bunny in Hoodie' piece, a beautifully rendered three-dimensional portrait featuring our hero sporting a bunny-eared hood. Notably, this depiction of Bad Bunny includes his own bunny face tattoo, adding a fascinating layer of depth. Enhanced by pink oversized shades, a nose ring, earrings, and captivating green stars in his eyes, this meticulous design screams HD precision, a must for any diehard fan in pursuit of a lifelike homage.
Emotional Bad Bunny Tattoo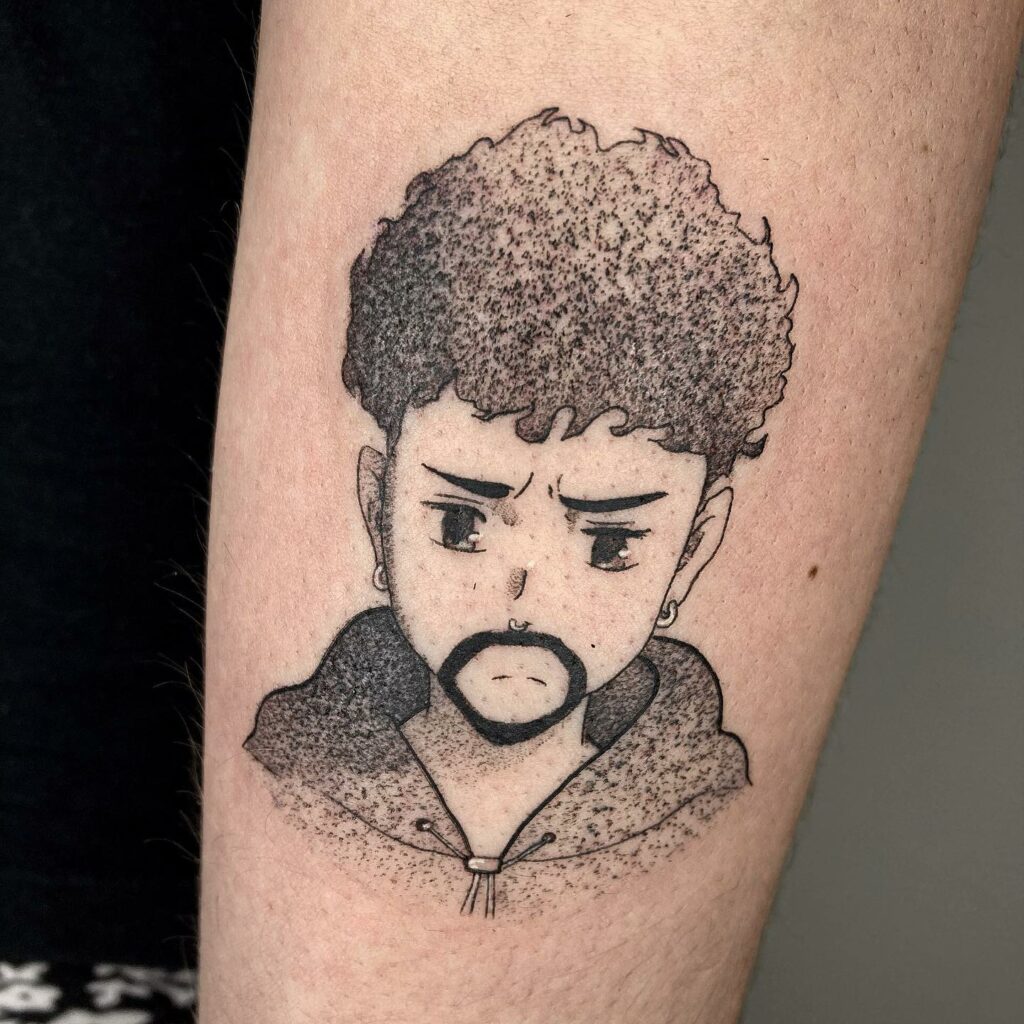 The 'Emotional Bad Bunny' design captures a contemplative moment, with Bunny's gaze fixed downwards, a gloomy expression adorned on his face. Employing an anime style with gradient dot shading, this piece, a stark symbol of resilience, will resonate with those who have traversed through life's darker phases.
Chilling Bad Bunny Tattoo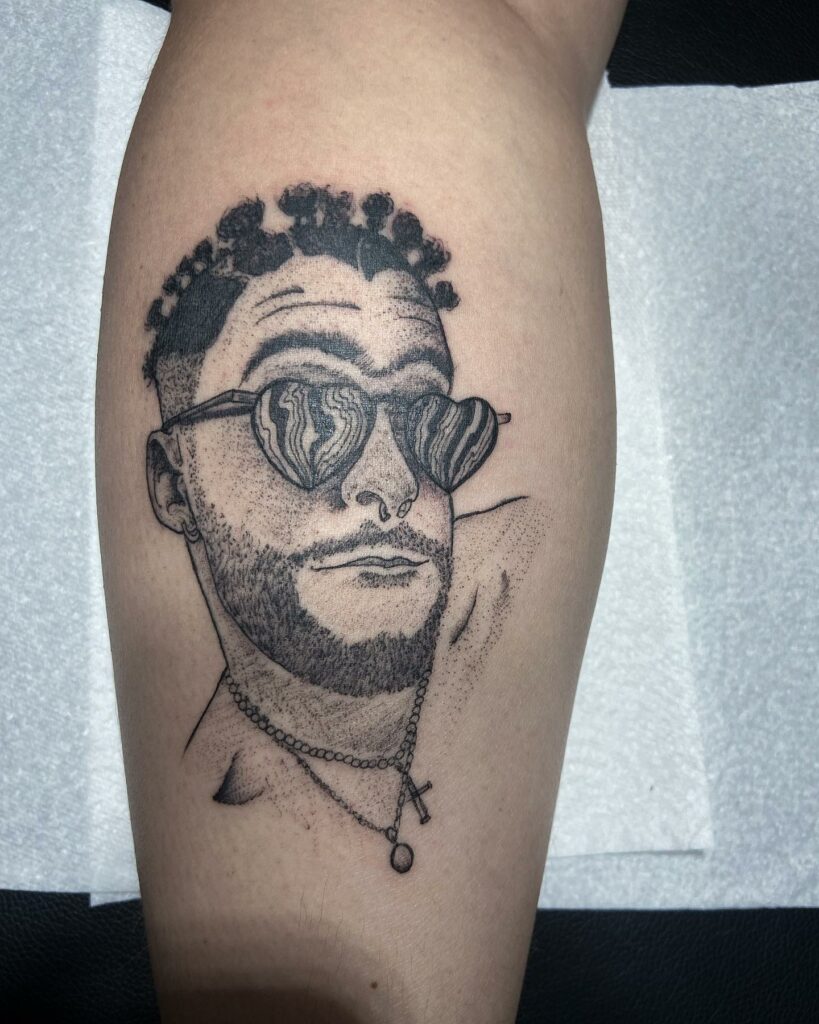 On a lighter note, the 'Chilling Bad Bunny' piece captures the reggaeton star in holiday mode. An African styled hairstyle, heart-shaped goggles, and two chain lockets complete his shirtless, carefree look, conveying the essence of savoring life's sweet moments. Particularly suited for a fan who is yearning for a break, the shading in this design playfully hints at a beachside tan.
Portrait Bad Bunny Tattoo
'Portrait Bad Bunny' represents a fusion of lifelike realism with a surreal twist. In this design, Bunny is portrayed with his eyes rolled upwards in ecstasy, mysterious thorn-like structures emerging from his head. This piece channels a divine aura, symbolizing achievement and contentment.
Colourful Bad Bunny Tattoo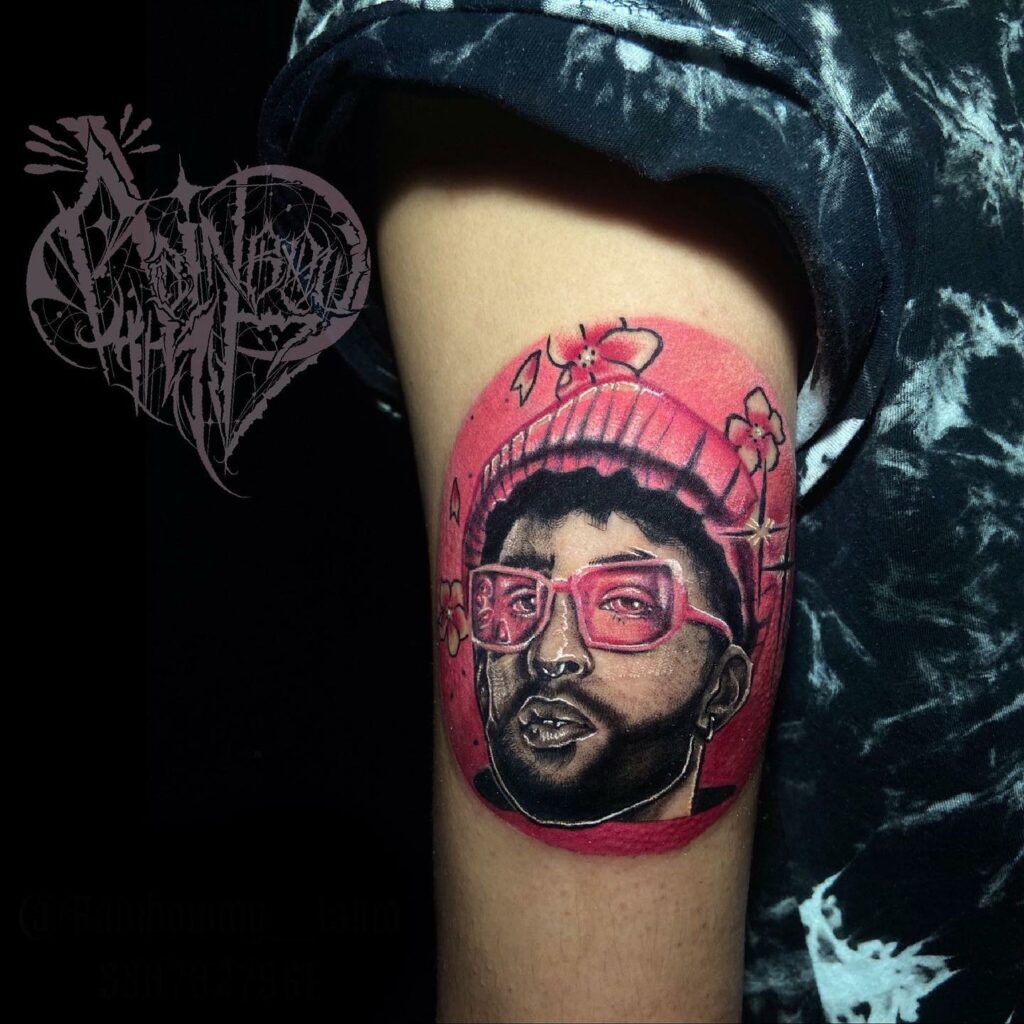 The 'Colorful Bad Bunny' design merges a traditional Bad Bunny portrait with a pop of color. Primarily inked in black and brown, an orange hue forms the backdrop, accompanied by a red and black lettered message. The universal size makes this versatile design adaptable to any part of the body.
Anime Bad Bunny Tattoo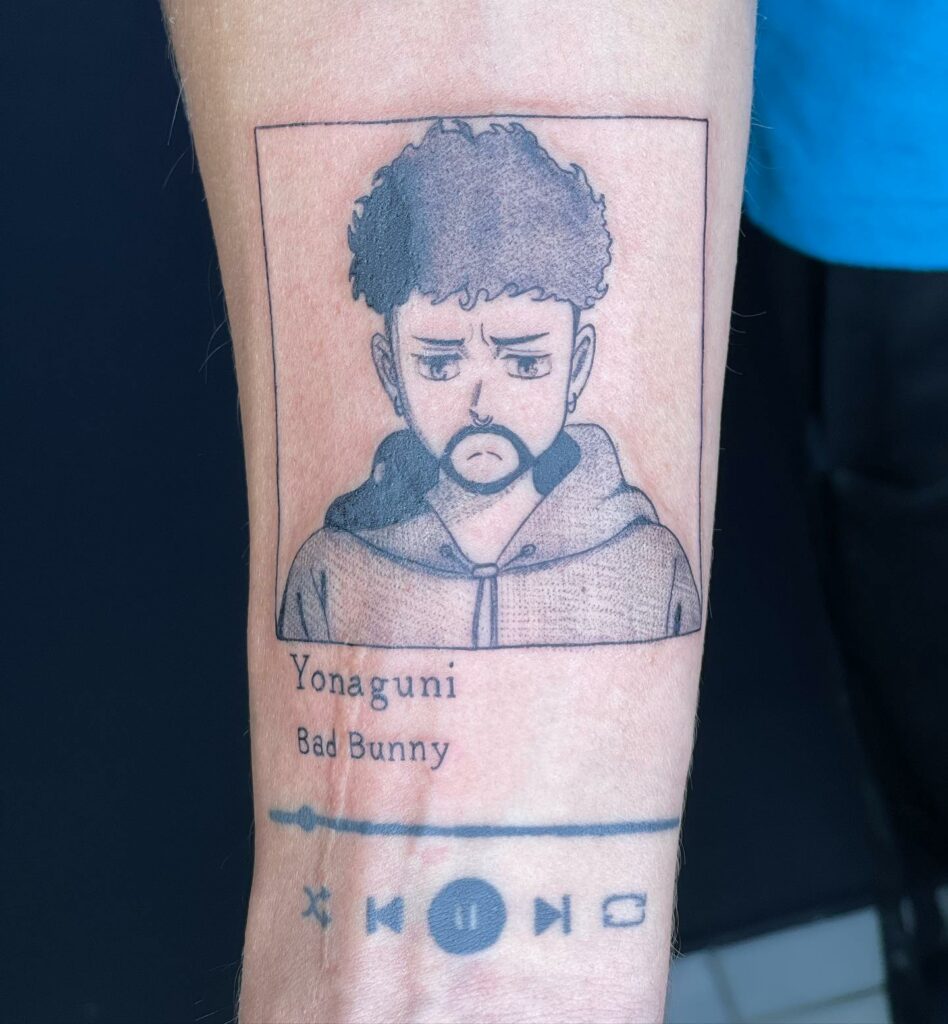 For music lovers, the 'Anime Bad Bunny' piece beautifully encapsulates the artist's iconic 'Yonaguni'. This customizable design allows you to pay tribute to your personal favorite Bad Bunny song, making it an ideal choice for those besotted with his music.
Edgy Bad Bunny Tattoo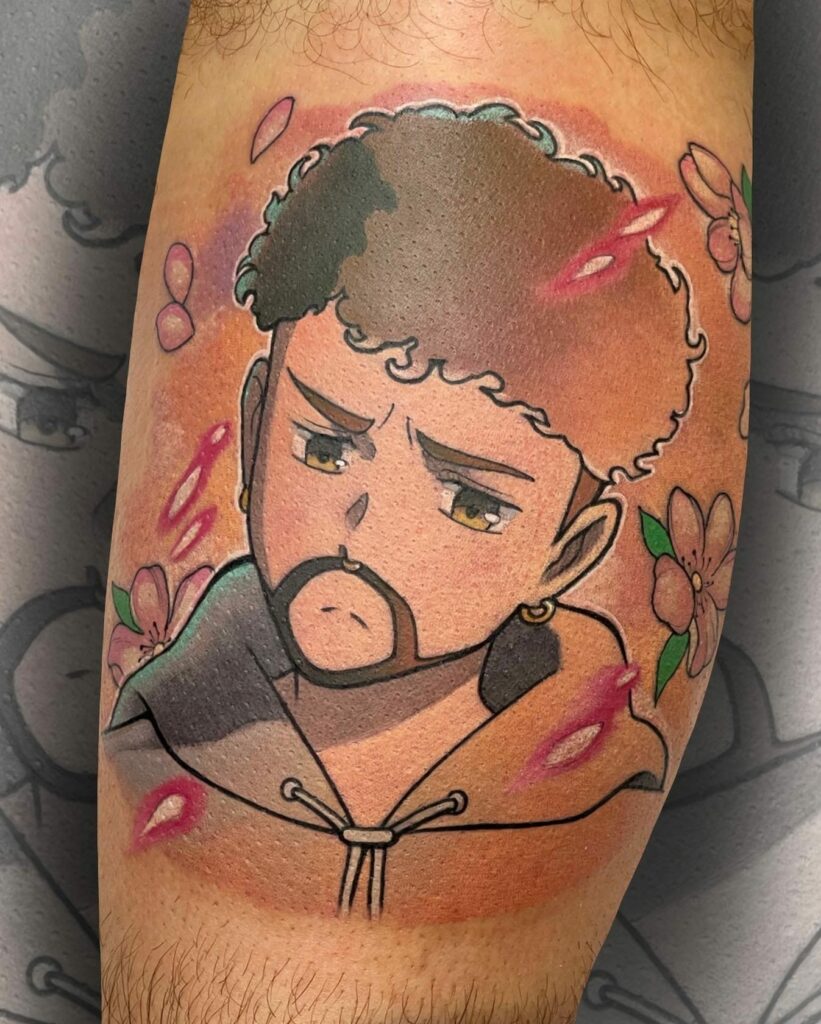 'Edgy Bad Bunny', as the name suggests, explores the softer side of the artist. This melancholic piece, defined by frowned eyebrows and unhappy eyes, is bathed in shades of pink, adorned with floral elements. Ideal for those who love pink and possess a soft spot for the artist.
Dippy Bad Bunny Tattoo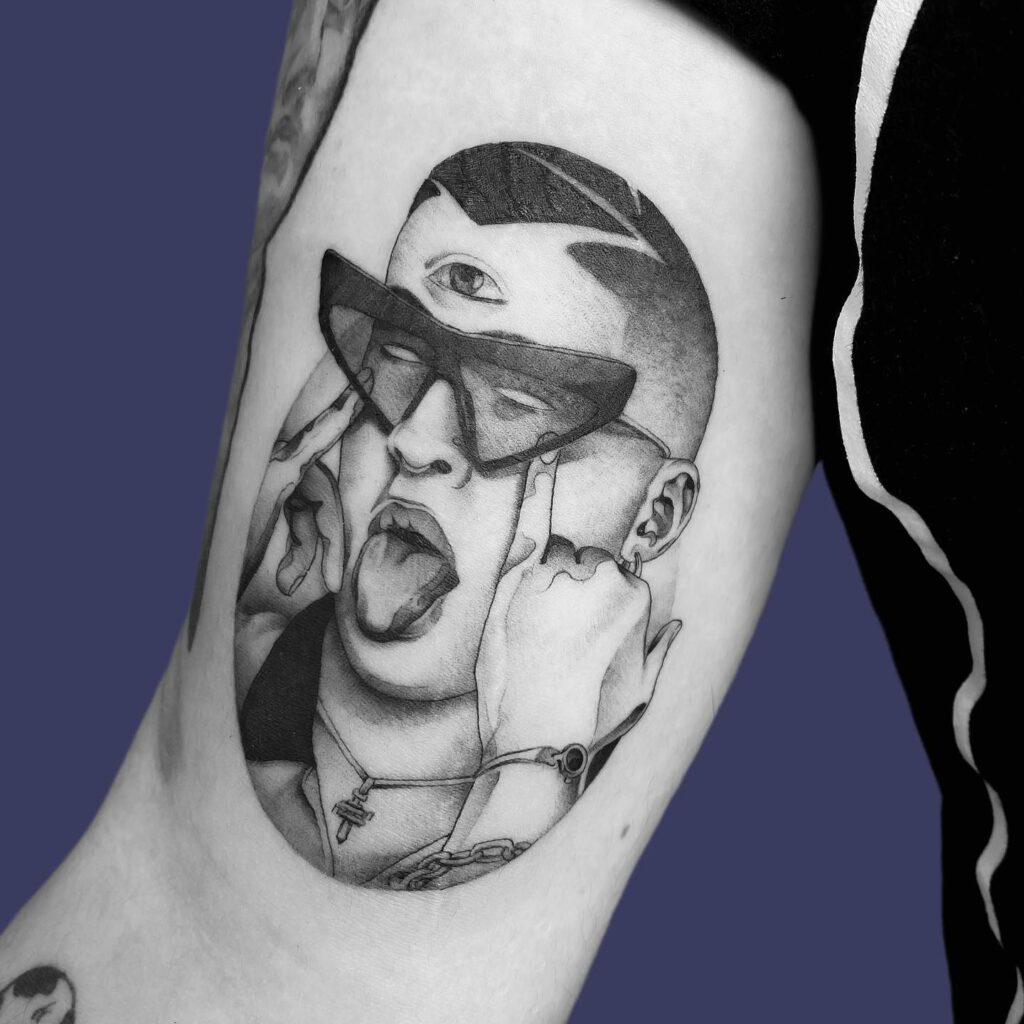 The 'Dippy Bad Bunny' design encapsulates the artist's free-spirited nature, portraying him pulling down his eyes and sticking out his tongue, sporting funky goggles and a zig-zag hairstyle. With a third eye on his forehead and a cross locket around his neck, this monochromatic tattoo is perfect for those who identify with their rebellious side.
Nasty Bad Bunny Tattoo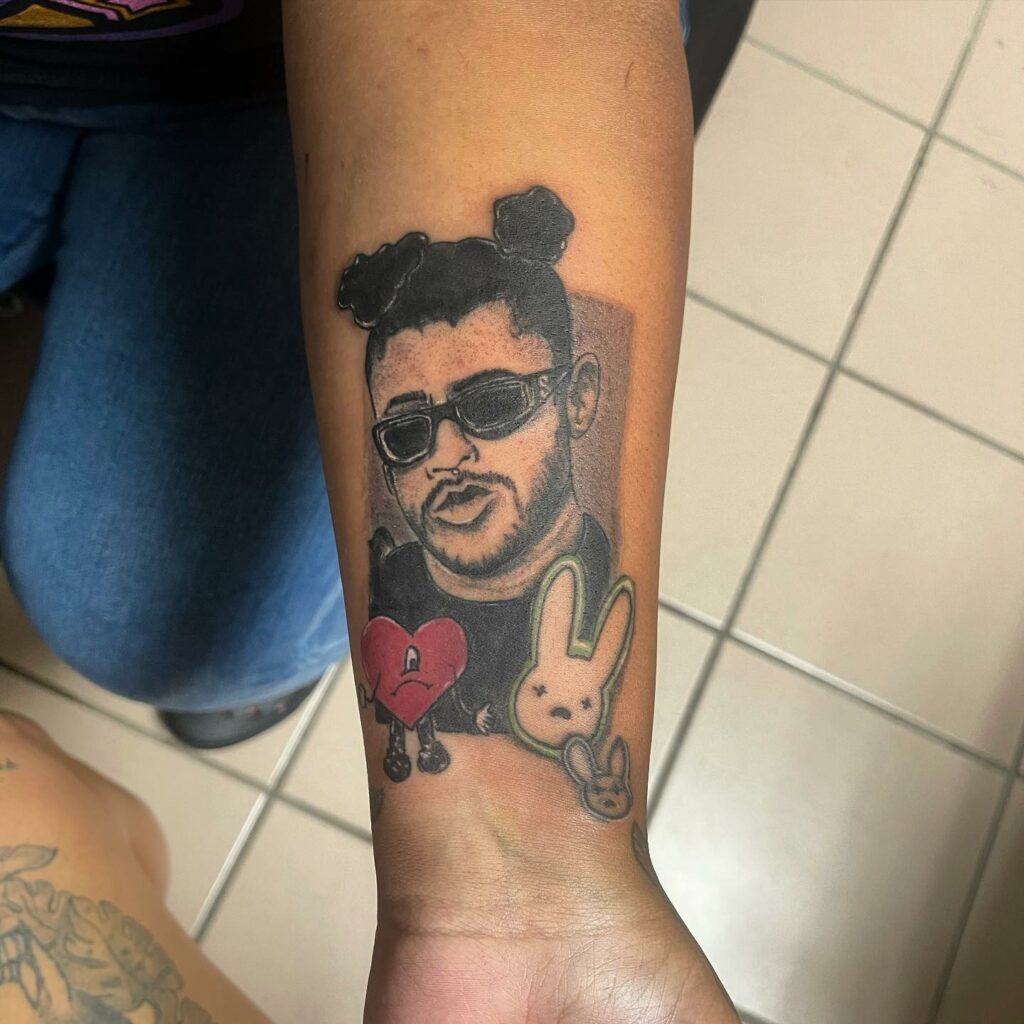 'Nasty Bad Bunny' design exudes a cool and defiant vibe. Featuring the artist donning dark sunglasses and two high buns, this design includes a heart emoji in vibrant red, contrasting the black-grey palette of the design. Ideal for the eternally youthful or those who resonate with a rebellious spirit.
Bad Bunny Tattoo Heart
Conclusion
As we wrap up our exploration of these diverse Bad Bunny inspired tattoo designs, remember, my friends, that your tattoo's placement is a personal decision that should reflect not only your individuality but also your comfort. For larger, more intricate designs such as the 'Bad Bunny in Hoodie' or 'Portrait Bad Bunny', expansive canvases like your back, chest, or thigh are ideal. Smaller designs, on the other hand, would fit perfectly on your forearm, ankle, or behind the ear.
Now, talking dollars and cents, the cost of your tattoo will vary based on the complexity of the design, the size, and the artist's expertise. Be prepared to spend anywhere from a hundred bucks to a few grand for top-tier artistry. Always remember, it's worth paying a premium for a well-executed tattoo that you'll love for a lifetime.
Despite the enticing appeal of these captivating designs, it's essential to be aware of the potential risks and negative side effects associated with tattooing. Always opt for a reputable tattoo studio that adheres to the highest hygiene standards. Risks can range from skin infections and allergic reactions to complications with MRI examinations. So, while your love for Bad Bunny and his empowering music may tempt you to rush to the nearest tattoo shop, remember, a thoughtful and informed decision will serve you best. Happy tattooing, folks!
feature image from Pinterest
Last reviewed and updated on May 22, 2023