Are you an ardent fan of ancient Asian mythologies and folklore? Then these traditional Japanese Baku tattoos are perfect for you.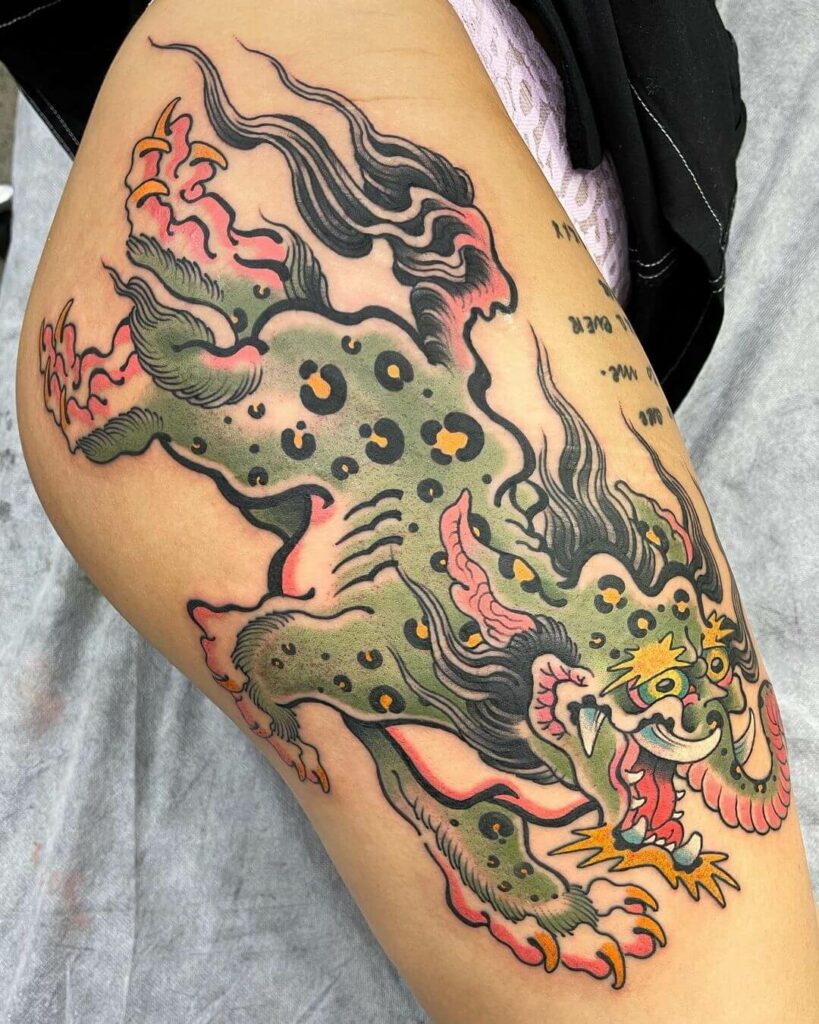 Borrowing inspiration from Chinese and Japanese mythological tales, the Baku is one of the most interesting ideas for a tattoo.
A Baku is a creature made up of multiple animals and is known as a Chimera creature. 'Chimera' is a legitimate scientific term pertaining to animals with mixed sets of DNA.
Stemming from Japanese mythologies, these mythical being has found its place in manga and anime too in recent times. This traditional Japanese creature is said to provide protection from nightmares by devouring them. It is said to have the trunk of an elephant, an ox's tail, the eyes of a rhinoceros, and the paws of a tiger. In Japan, it is a normal custom for kids to use a Baku talisman in their rooms to bring good dreams and chase away nightmares.
According to Japanese legends, people waking up from sleep having bad dreams need to call out to Baku. The Baku may then descend and devour the nightmares, allowing the person to sleep peacefully. However, the Baku needs to be called a limited number of times as legends also state that if it remains hungry even after devouring nightmares, then it will also feed on the person's dreams and aspirations. Here is a specially curated list of a wide type of Baku tattoos that you can choose from according to your personality.
The Vivid Baku Japanese Tattoo For The Colour Lover
Looking for tattoos that are rich in colours to match your fashion sense? Then this vivid Baku Tattoo is perfect for you with its richly drawn shades and various hues. This tattoo goes with all types of dressing styles and is apt for those who want to show off their colourful personality to the world.
The Traditional Baku Tattoo For The Purist
Are you more of a conservative when it comes to choosing tattoo designs and do not accept those new simplistic or jazzed-up styles of the traditional designs? Do not worry because this traditional Baku design has got you covered. This tattoo is for those purists who prefer the classic portrayal of Baku as found in the Japanese mythologies over new, modern interpretations of the same.
The Comic Book Styled Baku Tattoo For The Comic Geek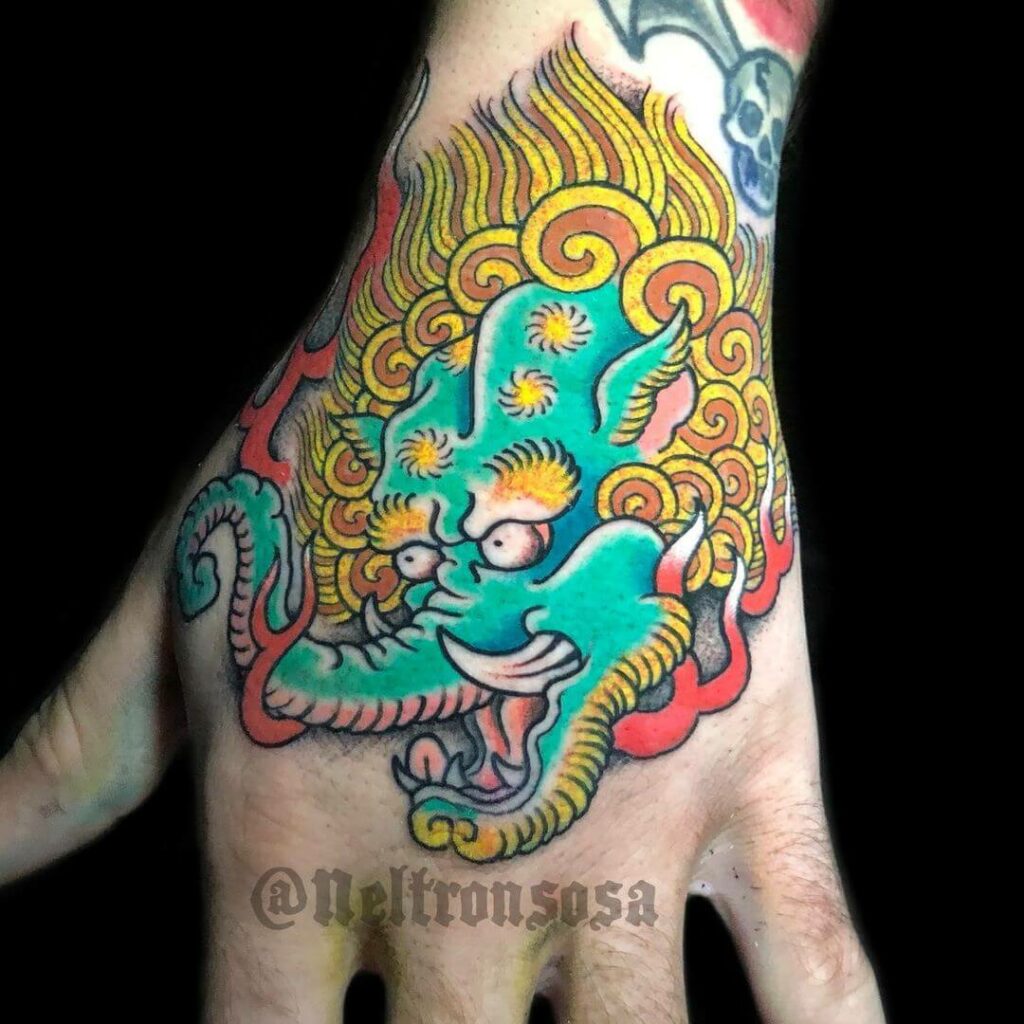 Comic book themed tattoos are in the groove at the moment and almost all geeks prefer tattoos that are in accordance with that theme. And what is a better idea for a tattoo than a mythological creature styled like a comic book character? This comic book themed Baku tattoo is for all those comic geeks out there vying to get inked in designs suited according to their passion for comics but also with a mythological twist.
The Dark Themed Baku Tattoo For Goth Fans
The Baku is thought to be a mythological creature that devours nightmares. But what if gothic Baku tattoos are the dark twisted reasons behind your nightmare? If you are a fan of gothic fashion sense as well as someone who relishes this delicious irony, then this classic dark-themed Baku tattoo is the one design you are looking for. The beautiful dark shades combined with skulls also adds a Halloween inspired twist to your personality, apart from being an eye-catcher.
The Head Of The Baku Tattoo For The First Timer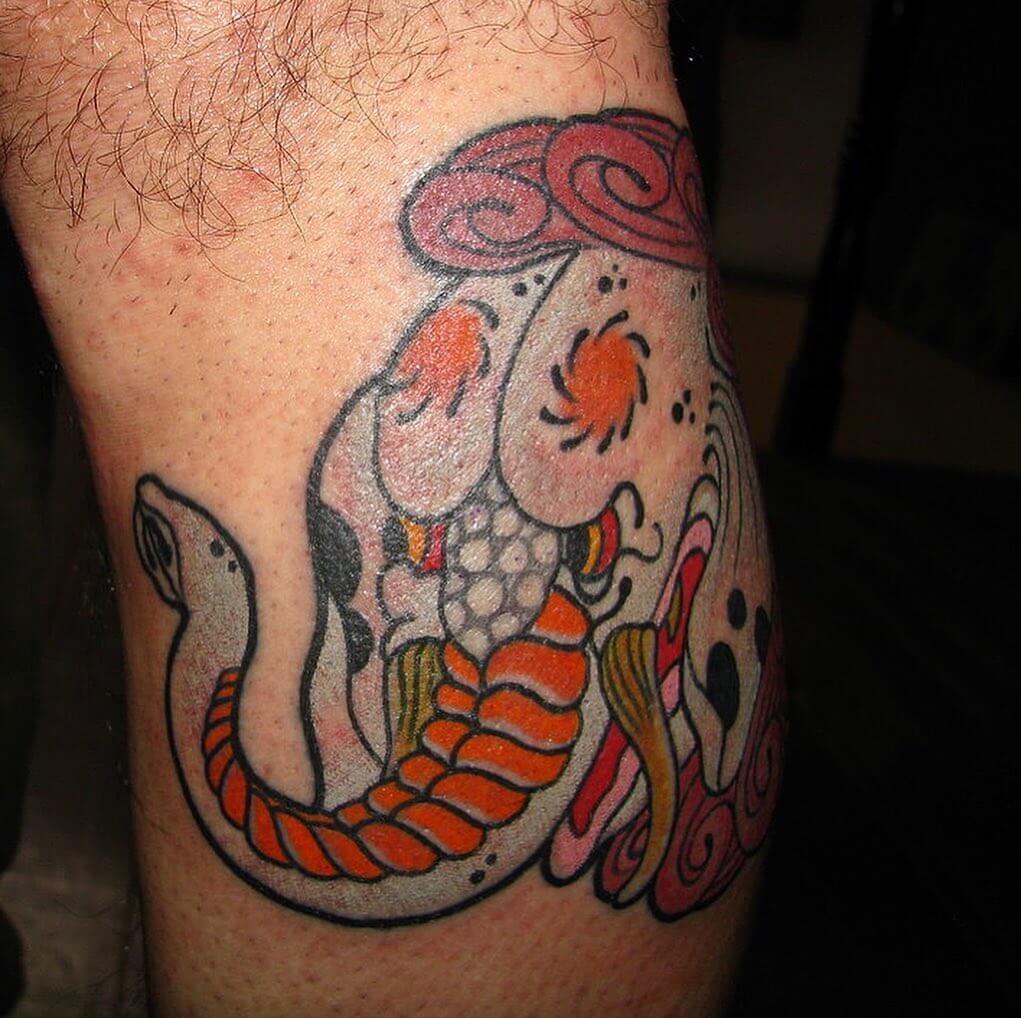 Getting inked for the first time and a little terrified of the whole experience? Well, Baku tattoos can be a little too intricate or detailed for the first-timer, especially if you are going for the full-blown figure of the mythological being. But a Baku head tattoo can be the perfect first tattoo to get for fresher in this department who want to look good without getting into too much trouble for it.
The Leg Sleeve Baku Tattoo On Women
The Baku tattoos are ideal if you are a woman looking to have leg sleeves. The nightmare devouring mythical being has all the intricate art detailing, aspects, and mythological background to make legendary leg sleeves. Search for the perfect designs, select a competent artist and ink that suit your skin, because leg sleeves are a pretty big and time taking project. However, leg sleeves done perfectly will not only set you apart from other people but will help your personality to bloom also.
The Baku Arm Tattoo Of Redemption
What do we have if we combine a traditionally angry mythological being with fire? Apart from very cool and chic tattoos obviously, we get a beast that looks bent on getting redemption from all the wrongs done to it by the Gods. This might be a tattoo to keep for all the young people out there seeking redemption too in one form or another, finding it hard to live in an inflation-riddled, polluted world.
The Classic Angry Baku Tattoo
The Baku is rarely portrayed in a friendly manner and it always has a grim facial expression going. Then again, according to Japanese legends, the Baku was created by the Gods with all the spare pieces left over after creating all other animals. Hard to look satisfied after this, isn't it? This Baku tattoo is particularly angry at everything and everyone but there is a classic humorous look on its snout too.
The Baku and Blossom Tattoo For Nature Lovers
The Baku is a mythical being that eats the nightmare and chases away the bad dreams, giving way to positive dreams in our life. According to the Japanese, the blossom or the sakura is a representation of uncontrollable life itself. Hence, tattoos coupled with the Baku and blossoms will symbolise all the positive vibes in life and will be a meaningful addition to your body art.
The Nue Vs The Baku Spirit Tattoo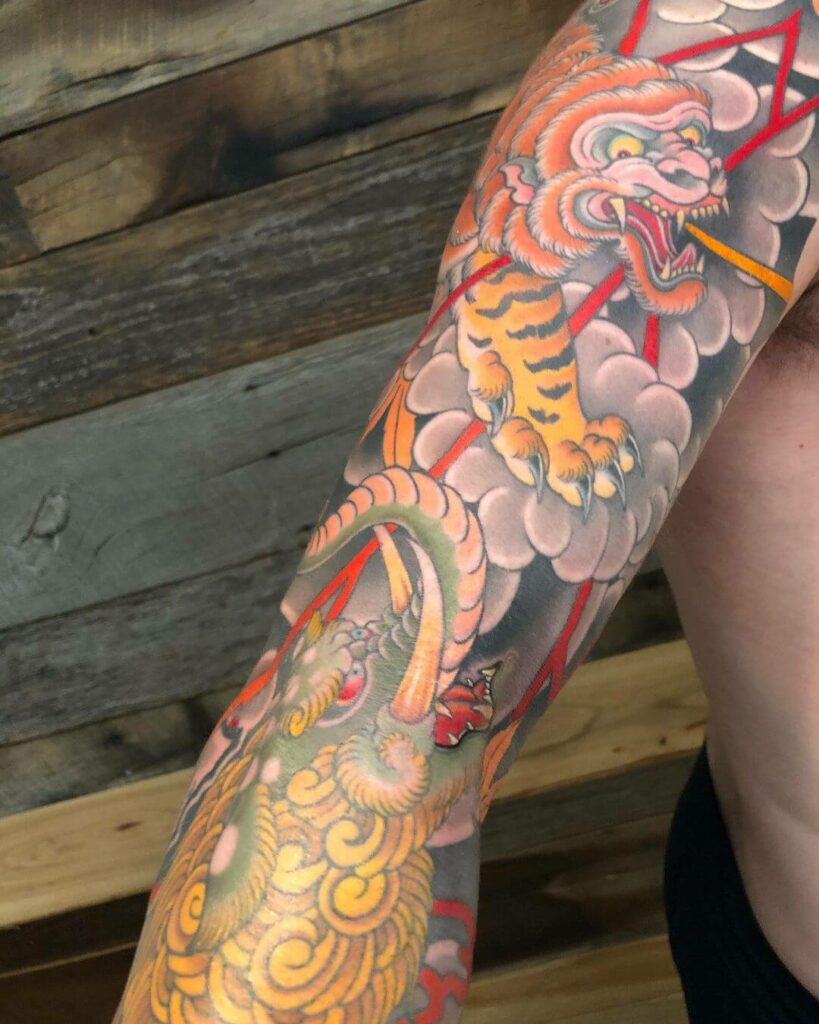 The Nue is another Chimera being found in the folklore of Japan. A few legends state that it has the body of a dog, the head of a monkey, legs of a tiger while other stories attribute different sets of animal features to it. All in all, it is a worthy opponent of the Baku and tattoos depicting a fight between the two mythical beasts from Japan is the type of crossover battles that are in vogue nowadays (think DC or Marvel).
The Japanese Baku tattoo, meaning a mythical beast that protects you from bad dreams and wards off nightmares, can be a traditional addition to your body art. This being is made up of separate body parts of different animals such as the trunk of an elephant, the paws of a tiger, etc. Search for a competent artist and ink that suit your skin because Baku tattoos are a very hard art project that can be easily messed up if not done with expertise. You should be careful about the tattoos and be comfortable with what they signify and see that they complement your personality.
Feature Image from Pinterest – Want your tattoo to look brighter? Try "Tattoo Balm"