Are you struggling with hair loss and hesitant to undergo hair transplant surgery? Fear not, as bald head tattoos or scalp micro pigmentation might just be the perfect solution for you! This non-surgical method uses tattooing techniques to create the illusion of a full head of hair, and it's becoming increasingly popular. Unlike laser treatments, it's also much less painful and delivers great results. Not only can bald head tattoos conceal scars and burn marks, but they can also hide the bald spots that come with male pattern baldness. Tattoo studios are well-versed in this technique and can provide amazing results with just a few sessions. Plus, they can help enhance your style statement and boost your self-esteem. Whether it's for a meaningful design or just for fun, head tattoos are a great way to rock your style and stand out from the crowd. Keep reading for some amazing ideas for bald head tattoos that will suit your taste and personality.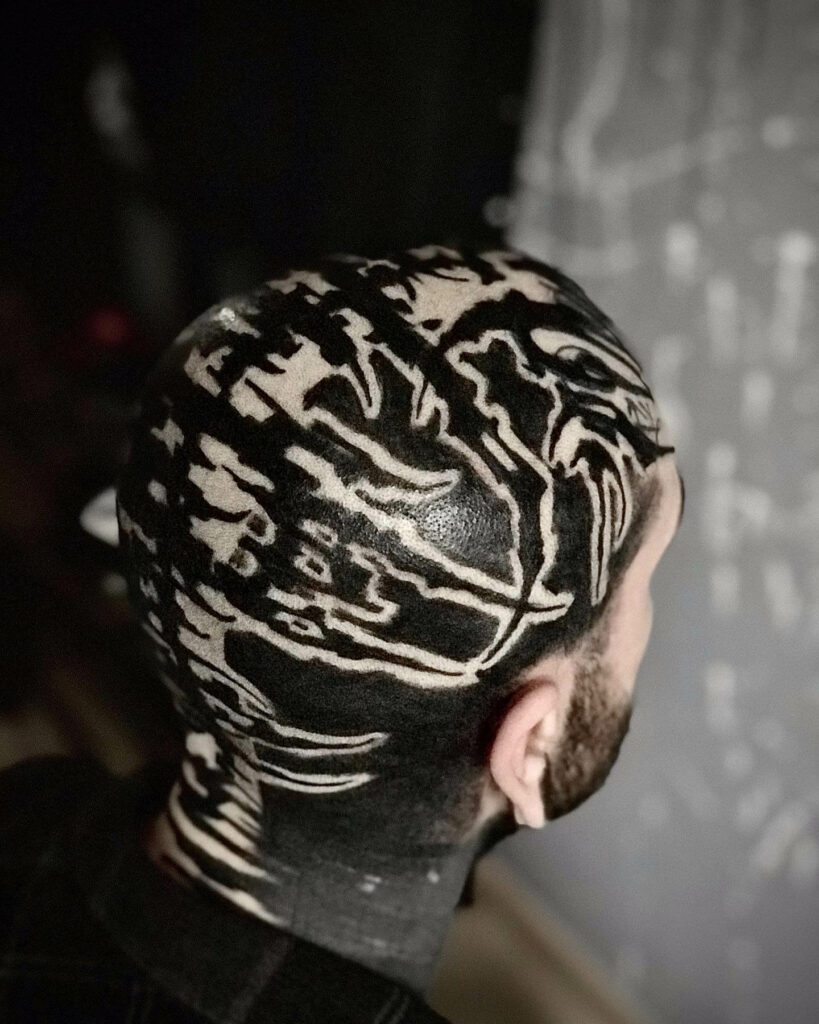 Butterfly Mandala Tattoo On Bald Head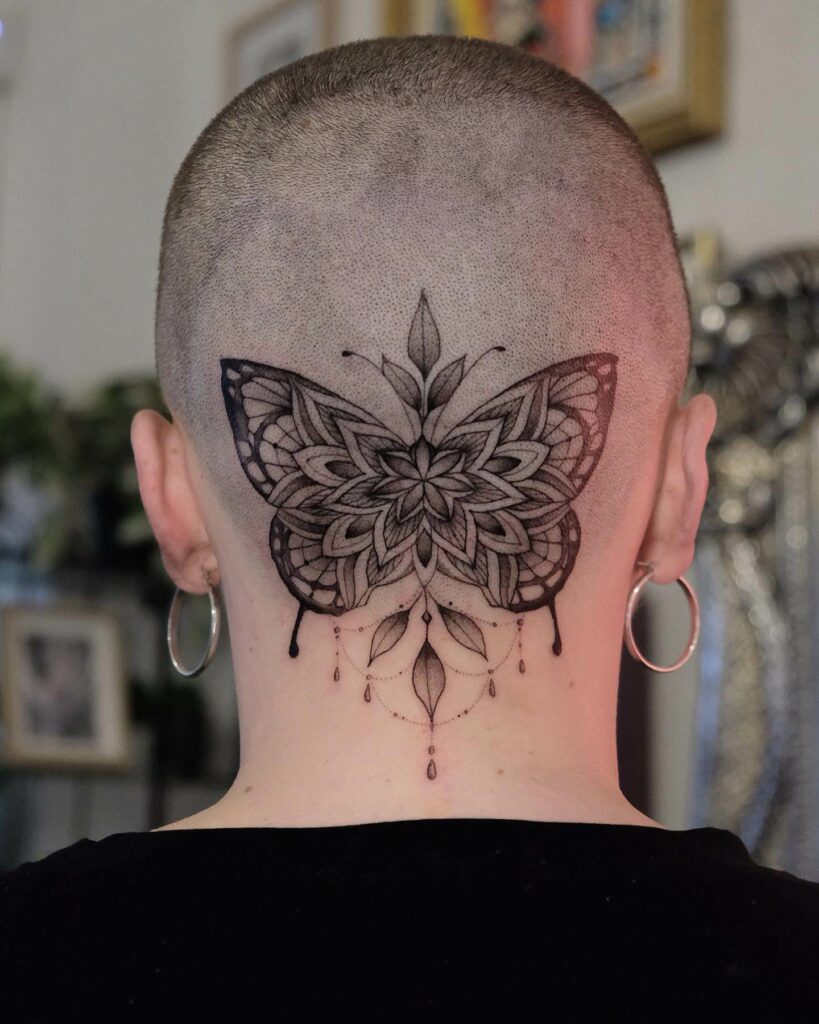 Butterflies have long been regarded as symbols of beauty and transformation, bringing positive energy to the wearer's life. This butterfly mandala tattoo, situated at the back of the wearer's head, is a unique and stunning representation of these ideals. It's speculated that the wearer may have been diagnosed with alopecia, as they are bald and the tattoo covers that area. The intricate geometric patterns and motifs create a mesmerizing design, with a dreamcatcher-style image at the bottom of the head that makes the tattoo truly stand out. The shading of the leaves is expertly done, adding depth and texture to the overall piece. It's a cool and distinctive tattoo that showcases the wearer's style, and it's a great option for those looking to add some flair to their bald spot.
Abstract Art Scalp Tattoo On Bald Head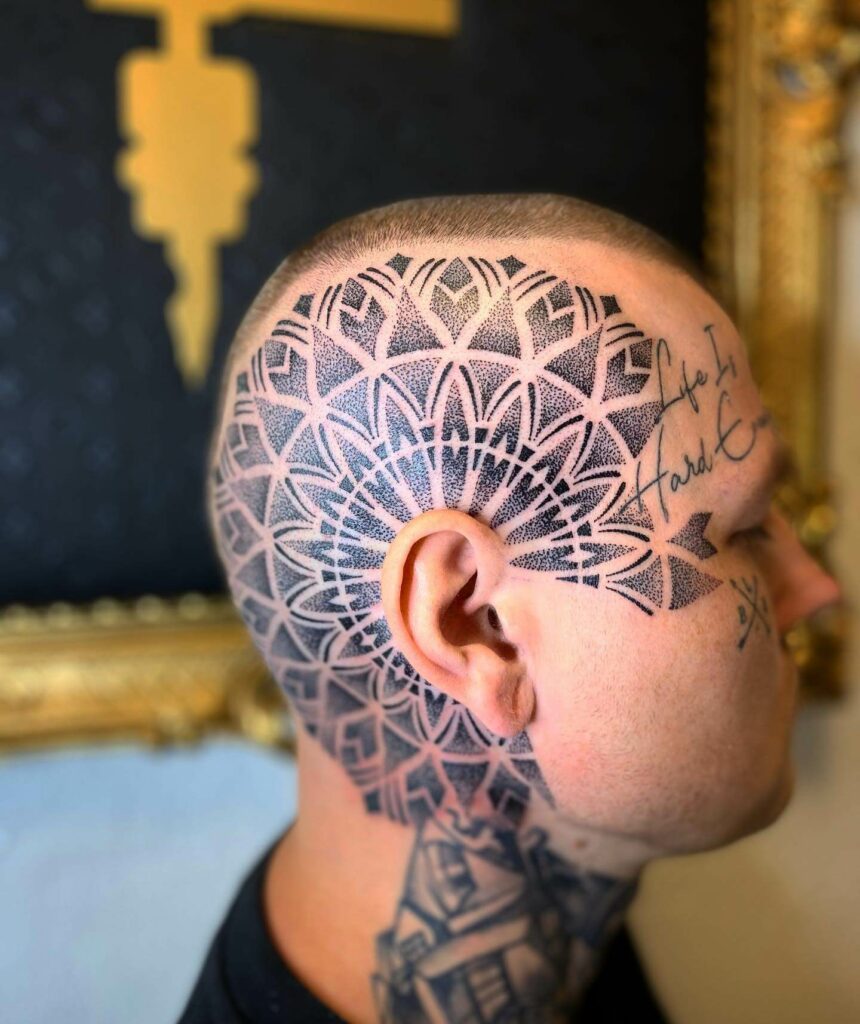 Positioned on one side of the head, this stunning tattoo is the perfect complement to a bald head, covering the entire spot in a gorgeous display of abstract patterns. The design features arch-like structures and dot-like patterns that are truly breathtaking. The creativity and skill of the tattoo artist are clearly evident in this masterpiece. If you're looking for inspiration for your next tattoo, look no further! Head to your nearest tattoo studio and elevate your style with this incredible design.
German Style Bald Head Tattoo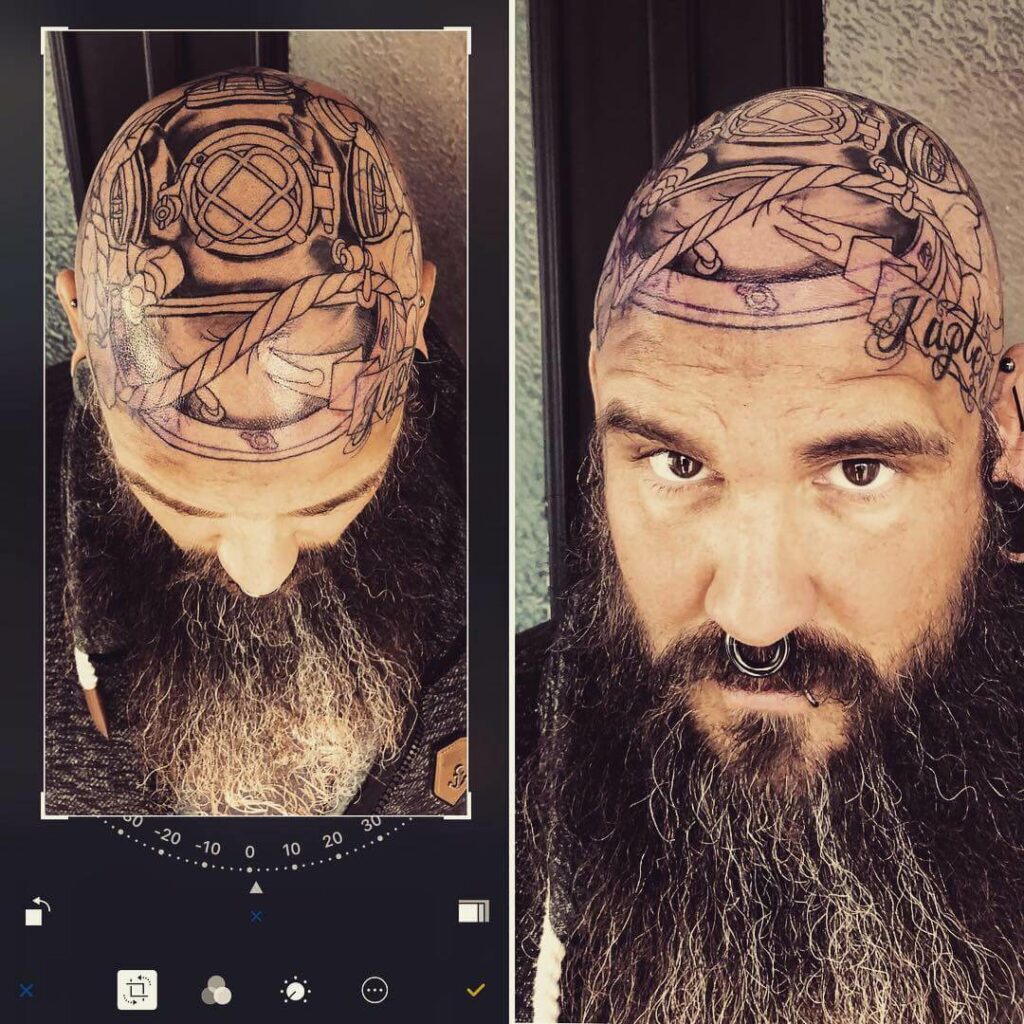 This tattoo draws inspiration from ancient German art and features an outline pattern of a diver helmet. The design is impressive and makes the wearer look truly unique. On the side, the word "Kaptein" is written in cursive, translating to "Captain" in English. This tattoo exudes strength and gives the wearer a commanding presence. If you're searching for a tattoo that makes a statement and showcases your power, this design is sure to inspire you.
Full Head Flower Tattoo
Flower tattoos are timeless and classic. They are loved by both men and women, and are a popular choice among tattoo enthusiasts. This particular tattoo features stunning petunias and peonies, which have been delicately etched onto the wearer's head. The leaves are beautifully detailed and complement the flowers perfectly.
The buds on this tattoo are incredibly lifelike, making it a true work of art. Flower tattoos often represent love and passion, and this design is no exception. It's a simple yet elegant way to cover a bald spot and add some style to your look.
The best part about this tattoo is that you can make it your own by customizing the colors and style to suit your preferences. If you're looking for inspiration for your next tattoo, this is a great example to follow. Head to your local tattoo studio to turn this design into a beautiful addition to your body art collection.
Celtic Designs Tattoo All Over The Head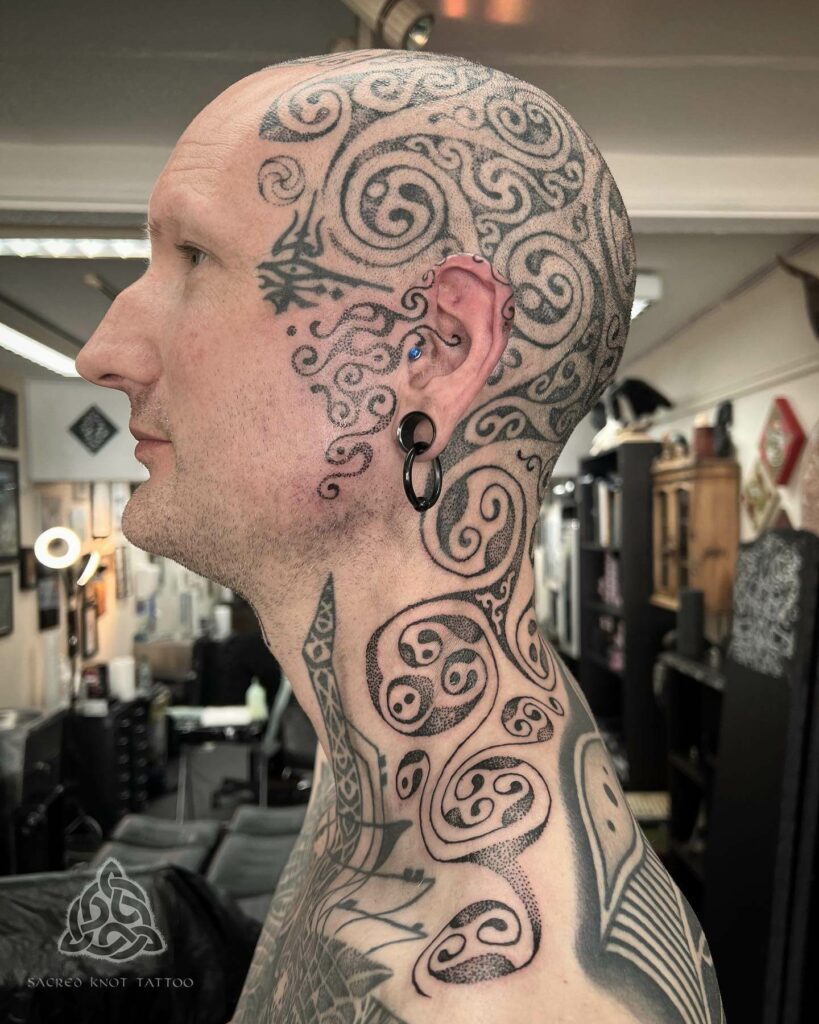 If you're a fan of Celtic art and culture, then this tattoo is perfect for you. The intricate designs on this bald spot draw inspiration from the rich and fascinating history of Celtic civilizations dating back over 2,000 years. This tattoo allows you to connect with your roots and showcases your love and appreciation for this unique and beautiful art form.
The Celtic-inspired pattern on this tattoo is truly mesmerizing and it's a great way to express your love for the heritage and culture that made our world richer. The wearer of this tattoo even chose to conceal a birthmark on their cheek, giving them an added boost of confidence and style.
If you're drawn to the beauty and history of Celtic art, this tattoo can serve as a wonderful source of inspiration for your next tattoo. Whether you want to get it on your head or anywhere else on your body, this tattoo is sure to bring a touch of magic and mystique to your personal style. So why not visit your nearest tattoo studio today and discover the world of Celtic art for yourself?
Colorful Head Tattoo Designs
If you're a fan of bold and vibrant tattoos, this piece is sure to catch your eye. This striking tattoo features three eyes inked in bold red and black hues that stand out beautifully against the wearer's skin. The artist has incorporated a pop of yellow to add depth and dimension to the design.
Eyes are a common symbol in tattoo art, often representing vision, awareness, and intuition. In this case, the three eyes may represent the wearer's ability to see beyond the surface and tap into their inner strength and courage. The intricate details of the design showcase the artist's skill and attention to detail, making this tattoo a true masterpiece.
If you're on the hunt for a unique and eye-catching tattoo that reflects your inner spirit, this design is a great option. The bold colors and intricate details are sure to turn heads and add a touch of personality to your look. Head to your nearest tattoo studio and make a statement with this stunning work of art.
Venomous Snake Tattoo On Head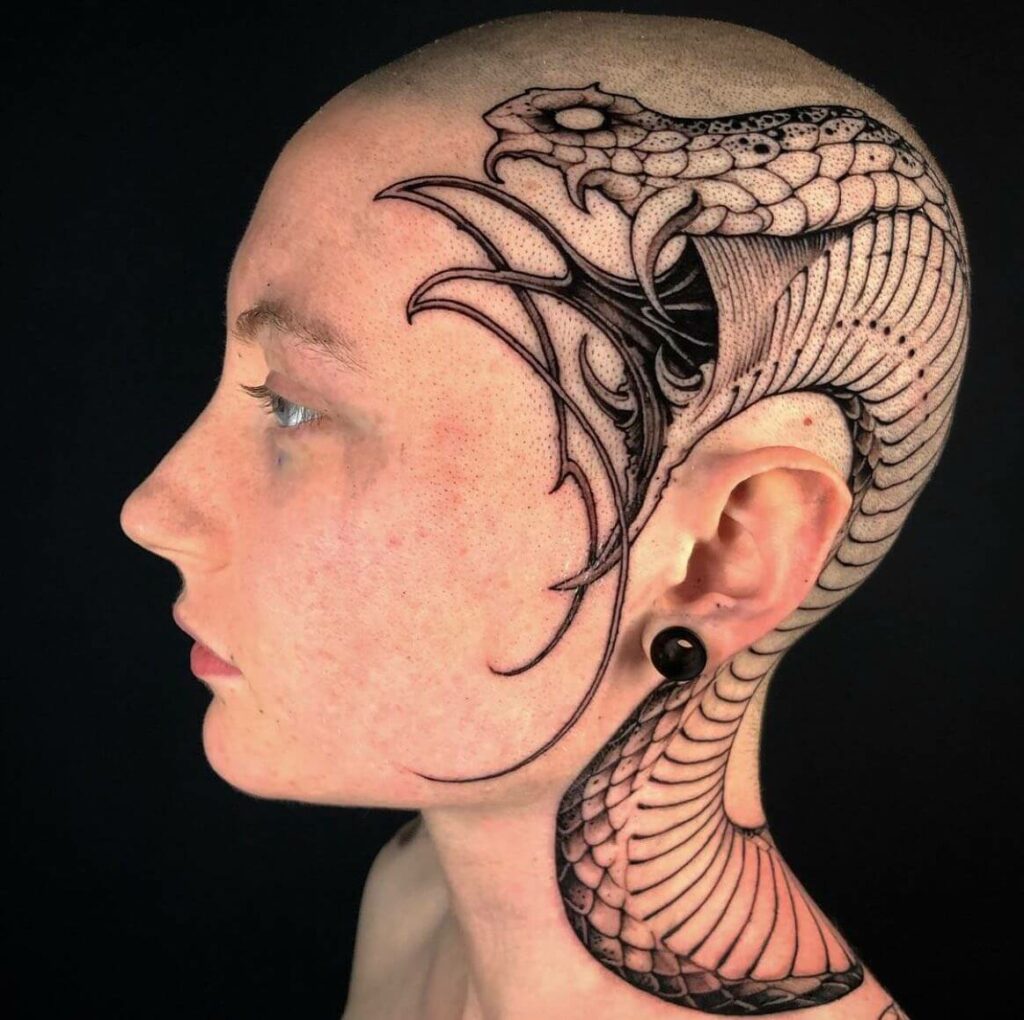 Snakes have long been associated with feminine power and positive energy, helping us overcome our fears and emerge stronger. This venomous snake tattoo perfectly embodies those qualities. The snake appears to be on the attack, with sharp fangs and scales that have been inked with intricate geometric motifs and patterns.
The tattoo is a free-hand line design, giving it a unique and edgy look that perfectly complements the wearer's style. This tattoo looks particularly striking on the bald spot, covering it entirely and making a bold statement. If you're a fan of snake tattoos and want to express your inner strength and power, this tattoo is an excellent choice. It's a symbol of resilience and triumph over adversity, reminding you to keep fighting and never give up.
Scorpion And Rose Tattoos For Bald Head
For those who crave a tattoo that exudes both edge and style, this design is an excellent choice. It features a striking combination of a scorpion and a vibrant orange rose. The rose is exquisitely detailed, with lifelike leaves that add to its realistic beauty.
The tattoo artist has skillfully captured the intricate details of the scorpion, making it look menacing and powerful. The symbolism of the tattoo is deep, as it represents the duality of life and death. However, the presence of the rose adds a touch of softness to the design, creating a balance that is both unique and captivating.
The flow and shape of the tattoo are also noteworthy, as they follow the natural contours of the bald spot. The wearer of this tattoo sends a clear message about their passion for life and their courage in the face of adversity. This tattoo is a bold statement that is sure to turn heads and inspire awe.
Norse Tattoo On Bald Head
The tattoo features a Nordic compass known as Vegvisir, an ancient Wayfinder that guided the lost and protected the Vikings. The Vegvisir symbolizes finding the way in the midst of chaos, channeling your inner strength, and seeking ultimate protection.
The tattoo's design is intricate and beautiful, with each fragment of the compass representing a different point in time. The wearer of this tattoo is sure to feel empowered and protected, with a sense of connection to the rich Norse mythology and its gods such as Thor, Odin, and Freya.
The tattoo's placement is also versatile, allowing you to choose any part of your body to showcase this majestic piece of art. So, if you are passionate about Nordic culture and mythology, this Vegvisir tattoo is a perfect choice for you!
Grim Reaper Bald Head Hair Tattoos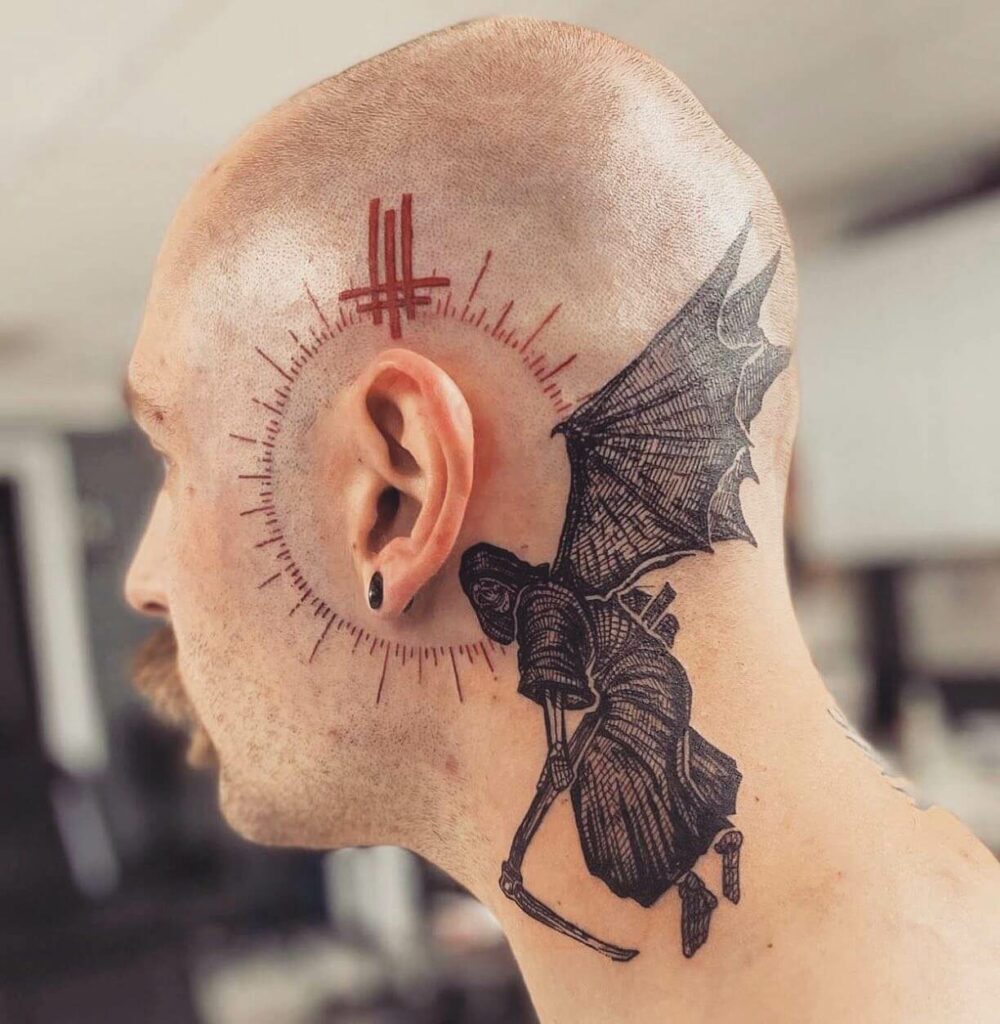 If you're looking for a tattoo that's both captivating and daring, this Grim Reaper tattoo might be just what you're looking for. The tattoo features the Grim Reaper, a common symbol of death and the afterlife, and is located behind the ear, making it a great option for those seeking to cover up any bald spots.
The detail work on the Grim Reaper's body is truly impressive and makes for a stunning visual on the wearer's skin. The tattoo might suggest that the wearer is unafraid of what lies beyond this life and ready to embrace their fate.
If you're drawn to tattoos with a bit of an edgier vibe and a touch of Gothic influence, this tattoo could be a fantastic choice for you. While it may garner some negative attention, it's undoubtedly a striking and meaningful addition to any collection of body art.
Still looking for inspiration, then checkout this blog post about japanese snake tattoos
Feature Image from Pinterest – Want your tattoo to look brighter? Try "Tattoo Balm"
Last reviewed and updated on April 26, 2023