If the soulful twang of a banjo sets your heart on fire, and you're looking to add a little of its charm to your personal style, then you've strummed the right chord here. Over time, the appeal of banjo tattoos has transcended the confines of music lovers, etching their way onto the skin of individuals who may not know their way around the frets, but still resonate with the instrument's folksy vibe.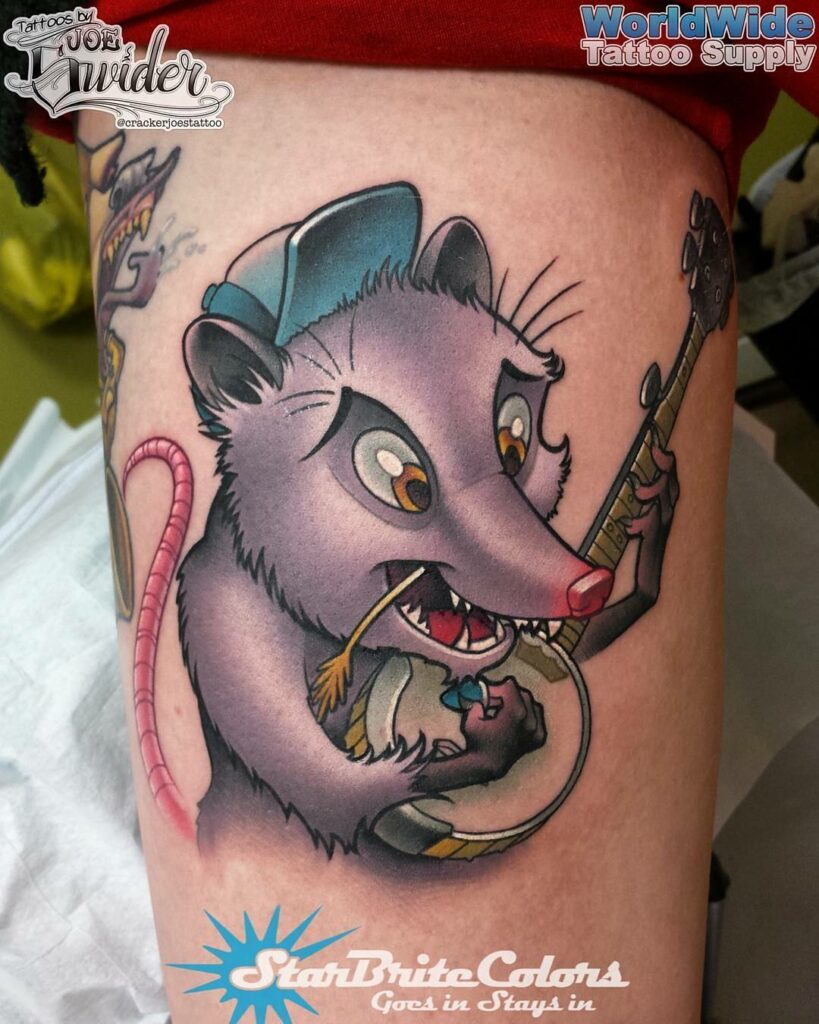 Whether you're a seasoned tattoo enthusiast or a newcomer looking for that perfect, uncomplicated design, our line-up of banjo tattoos will be music to your ears. For those of you whose fingers dance on the banjo's strings, a traditional tattoo design is just another way to show your love for this expressive instrument.
A curious connection has emerged between banjos and our amphibian friends – the frog. If you're intrigued by the whimsical imagery of a frog playing a banjo, you'll be delighted to know that it's not just a fanciful concept. This unusual pairing symbolizes the similar sounds they both produce, and it's also seen as a joyful symbol of transformation.
Living in a place blessed with exceptional tattoo parlors like Sanctuary Tattoos, all that's left is to select a design that speaks to you, consult with their skilled artists, and let the melody of the banjo leave an indelible mark, not just on your spirit, but on your skin as well.
Stunning Blackwork Banjo Tattoo
Elegance and mortality entwine in this striking blackwork tattoo, depicting a skeleton serenading the moonlight from under a mushroom canopy, the banjo in its skeletal hands painted with gradients of black ink. The meticulous linework that brings to life the skeleton and its banjo casts a spell that makes this design a real standout.
Colourful Banjo And Bear Tattoo
Switching gears, imagine a bear – not the ferocious kind, but an affable one dressed in a tie-dye shirt, strumming a banjo. The richness of its fur, the multi-colored shirt, and the realistic detail of the banjo are all brought to life by Ghost Light Tattoo's seasoned artists. The result is a vibrant, bear-shaped ode to your love for banjo music.
T-Rex Playing Banjo Tattoo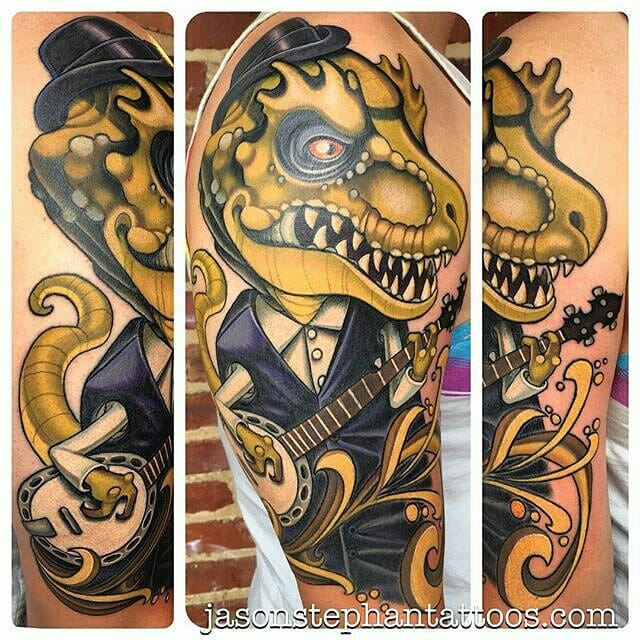 Nothing says unique like a banjo-playing T-Rex, right? This design's almost surreal charm stems from the T-Rex's vibrant green-yellow skin, its sophisticated black suit and hat, and the classic banjo in its claws. For those brave enough to wear this green giant, a trip to Ghost Light Tattoo, and an allergy check are all you need.
Banjo Skeletal Tattoo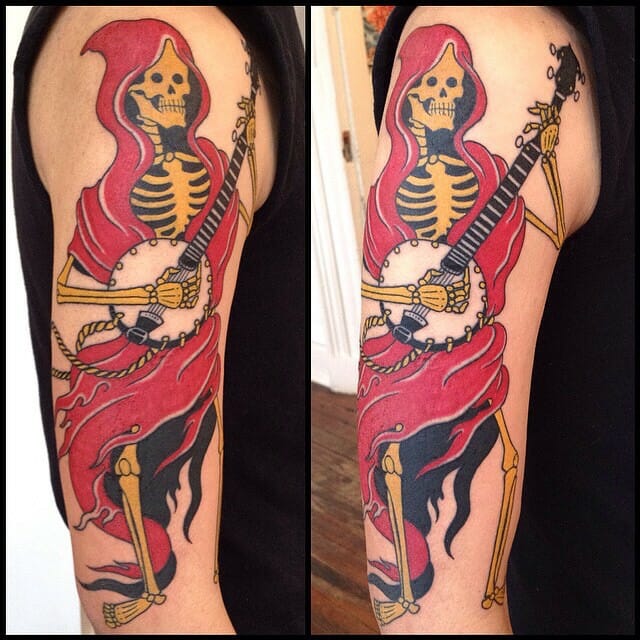 In a more ominous note, we have a skeletal banjo player, draped in brilliant red. The design leans on the negative space to create depth and contrast, leaving the banjo unpigmented. While not recommended for first-timers, those who embrace the dark side might find it hard to resist this spectral strummer.
Opossum Playing Banjo Design Tattoo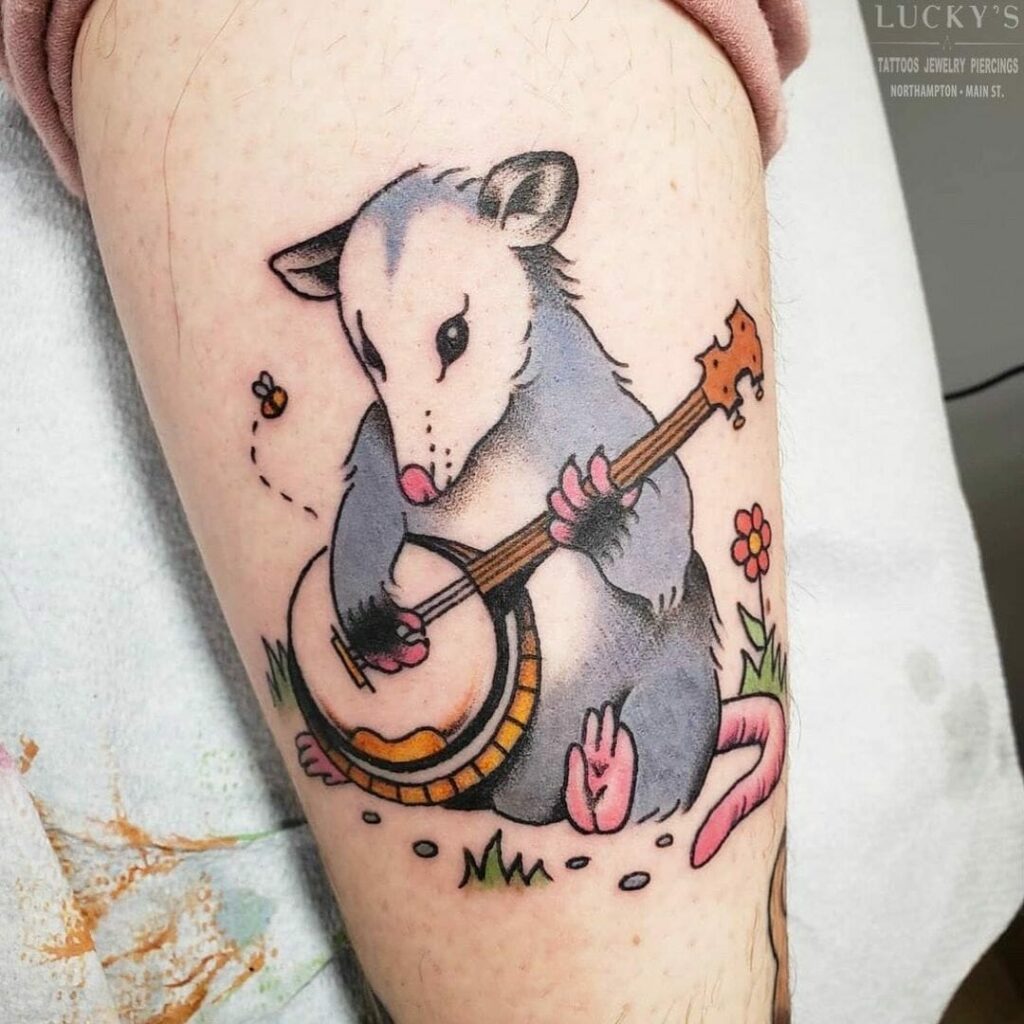 Did you know opossums have a thing for banjos? Well, not really, but their vocalizations do carry a similar tune. A grey and pink opossum, strumming on a yellowish-brown banjo amidst a tiny patch of green grass and a single red flower, embodies this whimsical connection.
Black Cat Playing Banjo Design Tattoo
Ghost Light Tattoo does it again with a hauntingly beautiful black cat playing a banjo. This widely beloved design, with its high-contrast black lines and clever use of skin space, can add a dash of mystery to your body art.
Flowery Banjo Design Tattoo
If you're a fan of fine-line work and black ink, this banjo design might just be your next tattoo. An intricately drawn banjo, adorned with blooming coneflowers and a perched chickadee, creates a visual symphony in black. Plus, blackwork tattoos are less likely to lead to complications.
Blackwork Banjo Opossum Tattoo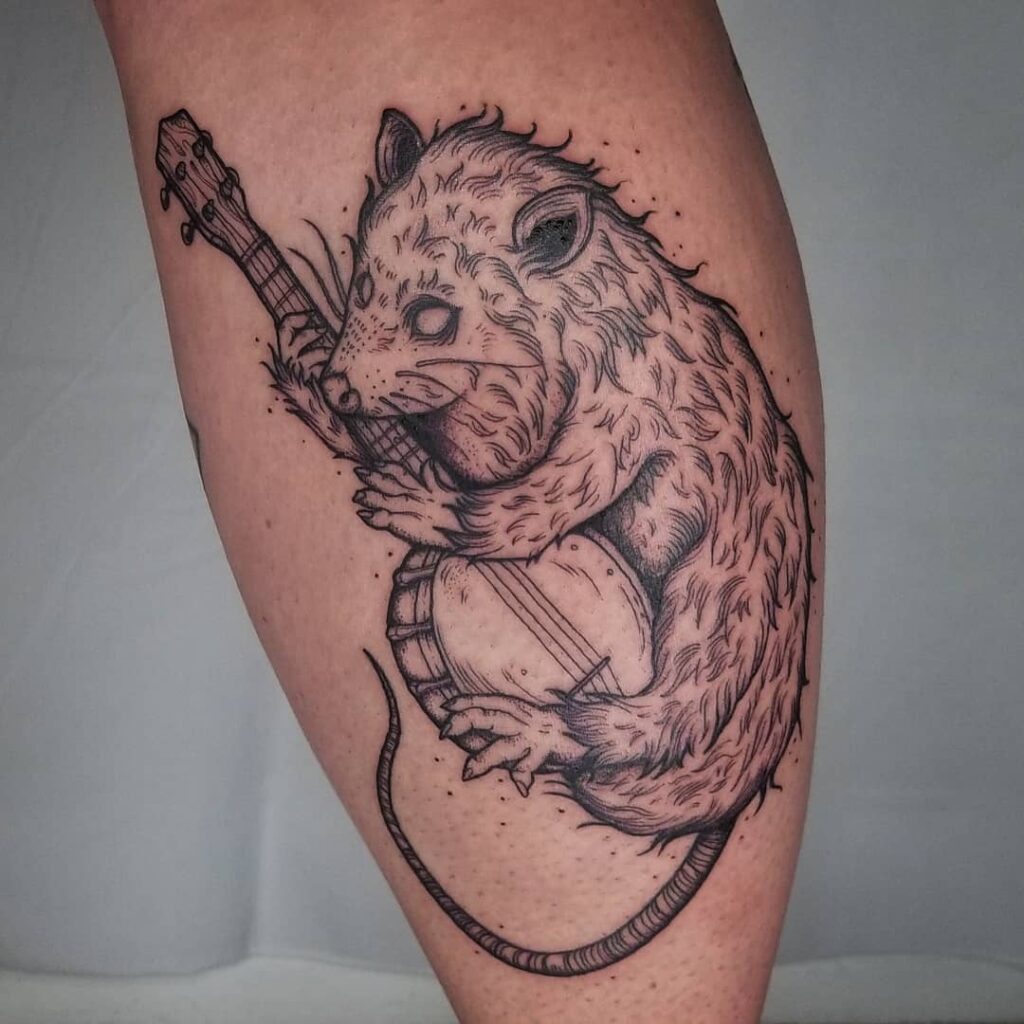 On a similar note, we have another blackwork opossum and banjo duo. The opossum's detailed fur and shaded underbelly contrast beautifully with the crisp lines of the banjo. This piece is yet another testament to the popularity and versatility of this quirky combination.
Banjo And Baby Doll Tattoo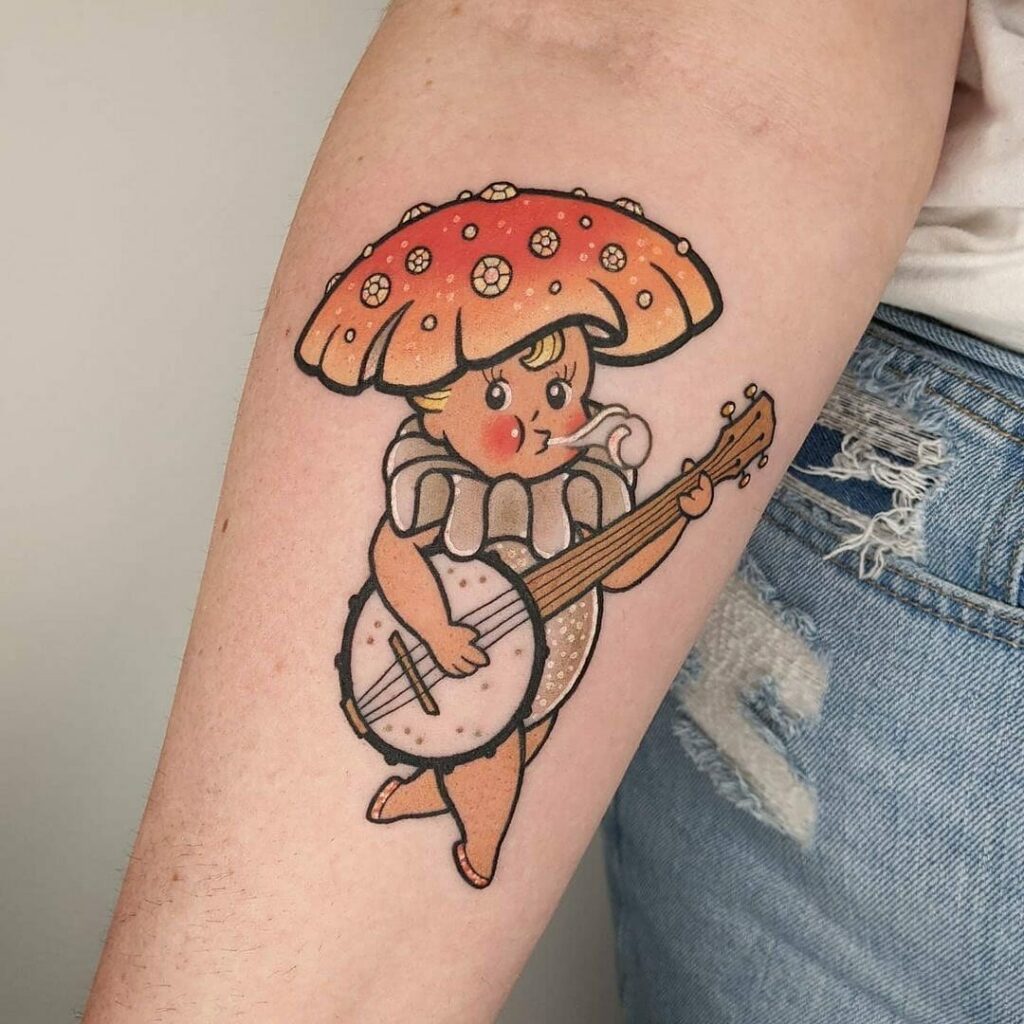 Now, who wouldn't adore a baby doll (or kewpie) playing a banjo? The doll's reddish-orange hat sparkling with diamond studs, her greyish-white dress, and the banjo, decorated with simple spots, come together to form a heartwarming tableau. Add to that the smoke whistle, peachy skin, rosy cheeks, and blonde hair, and you have a tattoo that's nothing short of delightful.
Classic Frog Banjo Tattoo
This cheerful amphibian, rendered in vivid teal ink, seems quite at home under a golden moon, strumming its banjo on a patch of grass, beside a red-spotted mushroom. Ghost Light Tattoo can bring this lively design to life, letting you sport your love for banjo music and its unusual mascot on your sleeve.
Conclusion
A deep-dive into banjo-inspired tattoos reveals a world where creativity plays an unstoppable tune. The possibilities stretch from the harmoniously somber to the jubilantly quirky. But remember, choosing the right tattoo is just the first step. Placement is key. Think about your lifestyle and profession, and consider how a visible tattoo might be received. Talk to your artist, and remember, larger and more intricate designs often require more space to maintain their detail over time. Pricing varies widely, depending on the complexity of the design and the reputation of the artist, so do your homework before settling on a budget. Make sure your artist adheres to stringent hygiene standards to avoid any risk of infections or allergic reactions. Lastly, every tattoo tells a story – ensure your banjo tattoo resonates with yours, and don't be afraid to tweak it until it's pitch-perfect. Happy inking!
Feature image from Pinterest